Amazing Halloween Costume >
---
It's the most wonderful time of the year has come.
Christmas?
NO!
New Year?
NO!
Summer Holiday?
NO!

URANEZU.COM thinks...it is Halloween!
At TDL, the guest can enjoy dressing up for Halloween during the allotted time period.
The main rule of TDL and TDS Halloween in this year 2016 is,
Can be dressed as ONLY the Character in Disney Animations, Disney Attractions, Disney's Live-action film, Disney's TV program, and Disney games.
The basic is not change in 2010, however, in this year 2016, there are many character we can enjoy, so need to check the rule more carefully.


2016 Disney Halloween Rules
During this period many guests come and enjoy the Halloween disguise who has prepared their costumes over a number of months, some people over a year for this Halloween moment.
Before 2016 Halloween starts, let's look back a best-of selections.
Feel their passion. Touch their love. Praise their devotion for Disney characters!
So, please enjoy with greater respect!
---
Please do not use uranezu pictures on other websites without our permission.
Please do not use uranezu.com cosplay pictures on other websites.
All of the cosplayers of this site gave me a permission to use only on my website "uranezu.com". Thank you for your understanding.
If you find any copies of the uranezu cosplay pictures in any other places being used on a web site, printed or sold without my permission, please inform me as soon as possible, for there is a possibility of an infringement of copyright. It is also helpful if the URL(if there is one) or the place they are being printed or sold is indicated, so that it is possible to warn or to take legal actions against the person involved.
For many cosplayers gave their pictures to uranezu.com., please understanding and support this.
Amazing Halloween Costume 2016 Part 1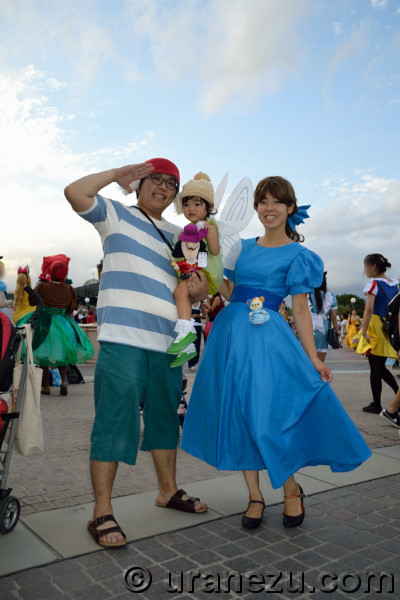 A New Sequel!
I'm really happy to start to share with you this family in this 2016 year. This merrily Peter Pan unit have welcomed a new key character. Yes, look at adorable Tinker Bell! What a perfect size for Tink! She wore a lovely Tink-bun the knit hat. They began to step into their new Halloween world.
(Did you know they are same as "Big Hero 6 unit" in 2015?)
"Mr. Smee, Tinker Bell, and Wendy" from "Peter Pan".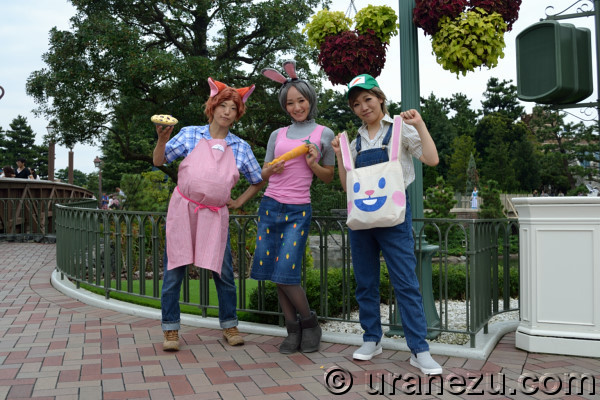 Love from Bunnyburrow!
It's a wonderful to see a chummy chatting of predator and preys. Their clean and perfect costumes and beautiful wigs with their cute smiles made my heart warm. They're lovely, lively and peacefully.
"Gideon Grey, Bonnie & Stu Hopps" from "Zootopia".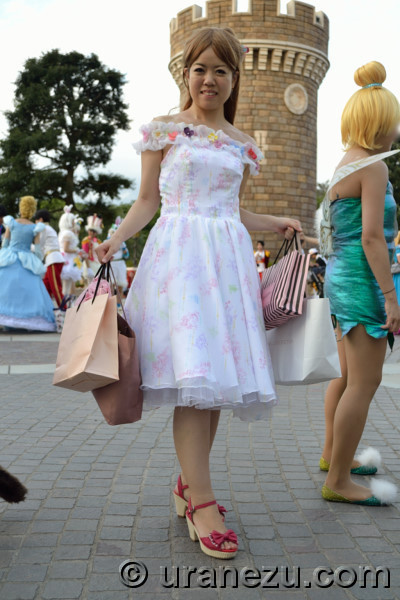 Happy TDL Halloween Emergency!
What a happy girl with gorgeous dress! Unbelievably, she told me that she started to stencil tiny flowers on the white organdy first! I really felt adequately rewarded for her passion. She's so shining.
"Giselle" from "Enchanted".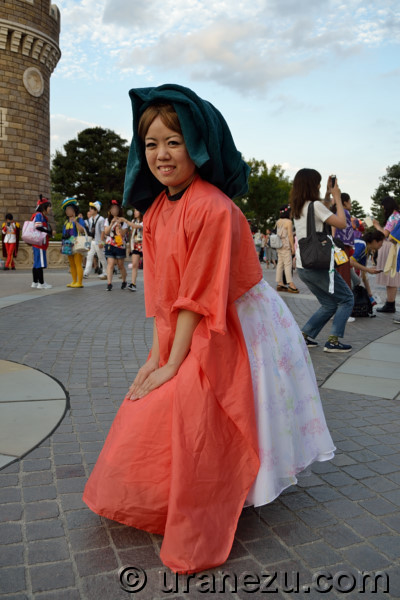 Happy TDL Halloween Emergency, Tak2!
She never forgets Halloween humor. Not only cute Giselle, she prepared alternative appearance. Her stance on TDL Halloween makes her really attractive. Where could you find exactly same color towel and cape, anyway?
(Did you know she is same as "Giselle" in 2015?)
She'll visit to WDW on end of OCT. When saw her at NSSH, say hello to her!
"Giselle" from "Enchanted".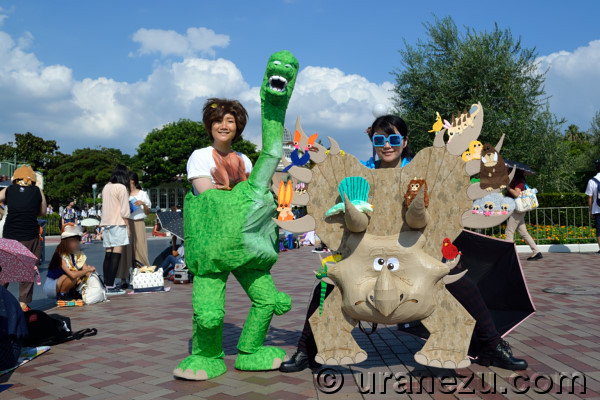 Come on out, that's TDL Halloween!
I was surprised their great ideas. She's Arlo, and also is Spot. I really love this. And I also excited that pretty Styracosaurus. It's great character choice as a partner of Arlo. Their Halloween costumes and style make me happy.
(Did you know they are same as "Dory & Marlin" in 2014?) "Arlo with Spot & Forrest Woodbush" from "The Good Dinosaur".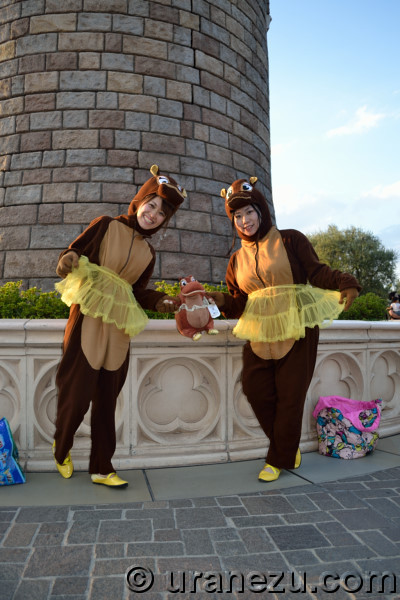 Halloween Etoiles
Did you notice that? They wore a yellow tutu and same color pointe shoes. They're a special stars different from pink tutu hippos the corps de ballet. We're really lucky to meet these lovely ballet dancers.
"Hyacinth Hippo" from "Fantasia, Dance of the Hours".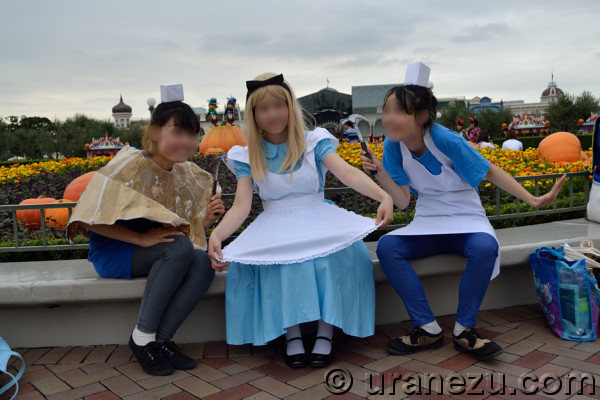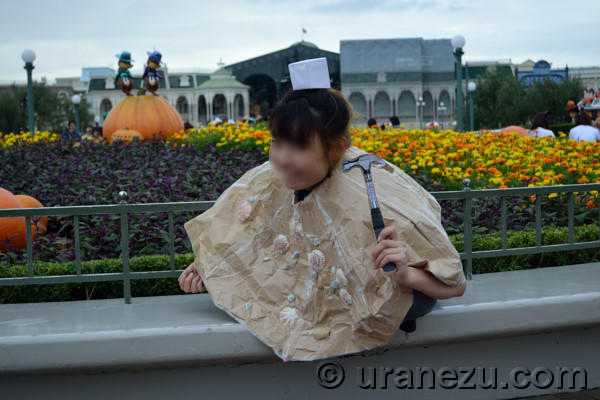 The Carpenter and the Carpenter. Or The Story of TDL Halloween!
I saw three cute girls who are enchanted by Alice In Wonderland. I was really enjoyed the carpenter who sand from his shoe at beach. Her sand cape with seashells is great idea.
"Sand the Carpenter, Alice and the Carpenter" from "Alice In Wonderland".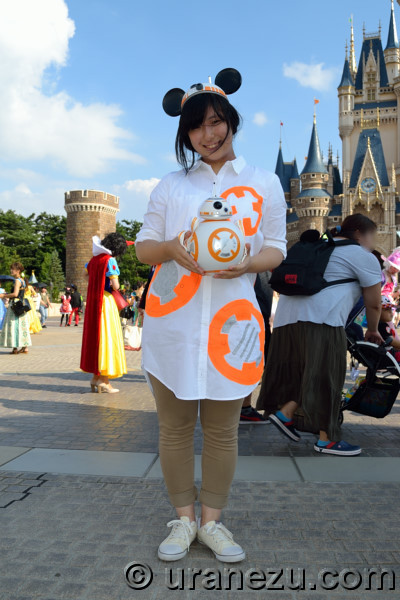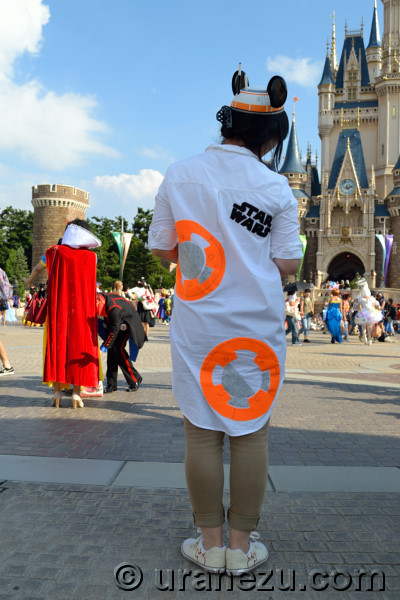 BB-8, My Halloween Buddy!
A simple but really impressive, I almost fall in love this pretty girl's BB-8 costume. She chose a Jakku's sand color skinny pants. That's really cool and stylish.
"BB-8" from "JJ's Star Wars".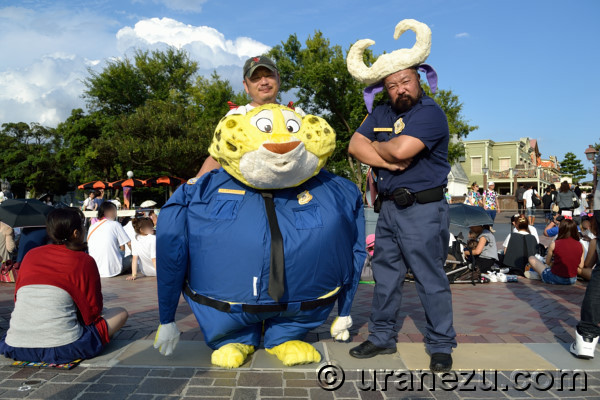 Try Every Character!
Here comes our favorite TDL Halloween costumer duo. In this year they use artificial fiber sponge marvelously. The enormous body cheetah and great horns buffalo gave a powerful but something humorous impression which is really suitable for their characters.
(Did you know they are same as "Bing Bong" in 2015?)
"Clawhauser and Chief Bogo" from "Zootopia".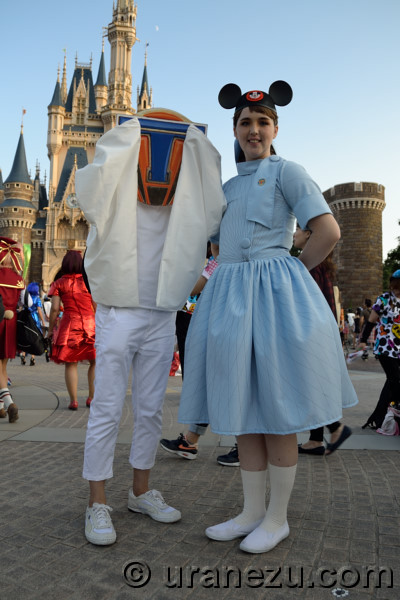 To Find TDL Halloween Dreamer!
They had a powerful presence in crowds at TDL Halloween. The bashful pin and graceful audio-animatronic robot girl enhanced TDL Halloween atmosphere. They're so lovely.
"Pin to Tomorrowland and Athena" from "Tomorrowland".