Amazing Halloween Costume
> 2012 Part 03
---
---
Please do not use uranezu pictures on other websites without permission.
Please do not use uranezu.com cosplay pictures on other websites. All of the cosplayers of this site gave me a permission to use only on my website "uranezu.com". Thank you for your understanding.
If you find any copies of the uranezu cosplay pictures in any other places being used on a web site, printed or sold without my permission, please inform me as soon as possible, for there is a possibility of an infringement of copyright. It is also helpful if the URL(if there is one) or the place they are being printed or sold is indicated, so that it is possible to warn or to take legal actions against the person involved.
For many cosplayers gave their pictures to uranezu.com., please understanding and support this.
Part 3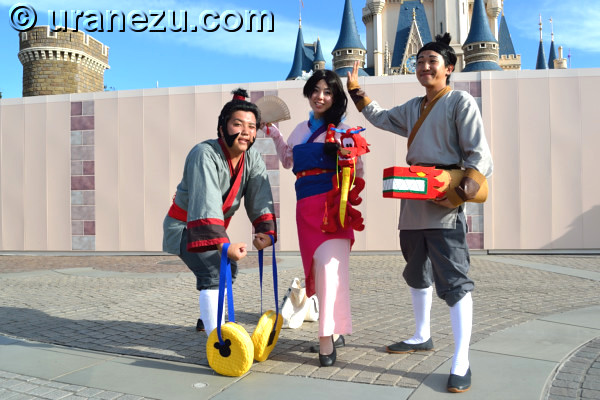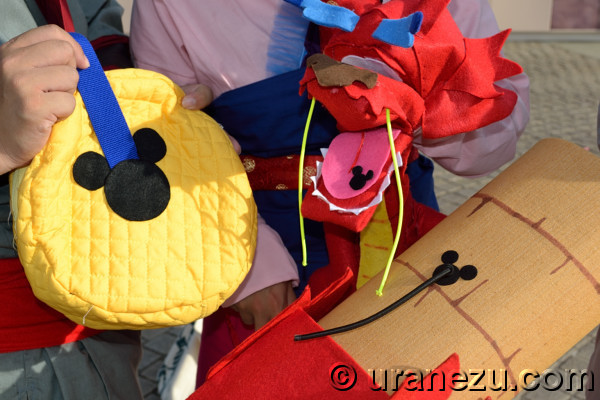 I'll Make a Fan of Me!
The familiar group in uranezu.com, in this year, 2012, they returned as Mulan unit. I'm big fan of the group. One of my favorite of this group is their props. They are thoroughly detailed handmade props with a faithful design of the original and amusement. Three Hidden Mickey in their props, the training weight's hole, Mushu's mouth, and the blasting fuse.
(Did you know they are same as "Lady and the Tramp" in 2011?)
2011 Part 1 "Yao, Mulan, and Ling" from "Mulan".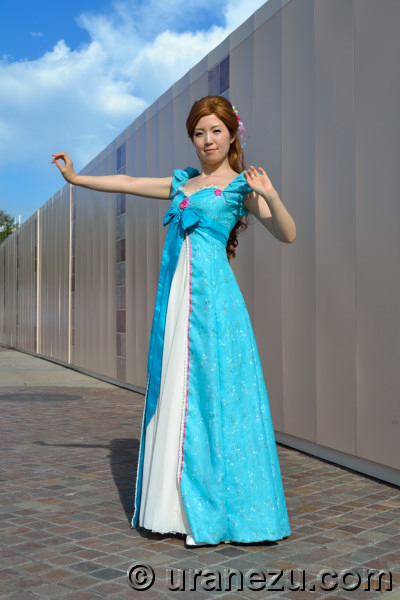 That's how you know!
Her dress was very beautiful, especially when she walked. The green part and center white tulle are made of four layers of each different fabrics. I was impressed by her detailed work. That's how you know she's beautiful.
"Giselle" from "Enchanted".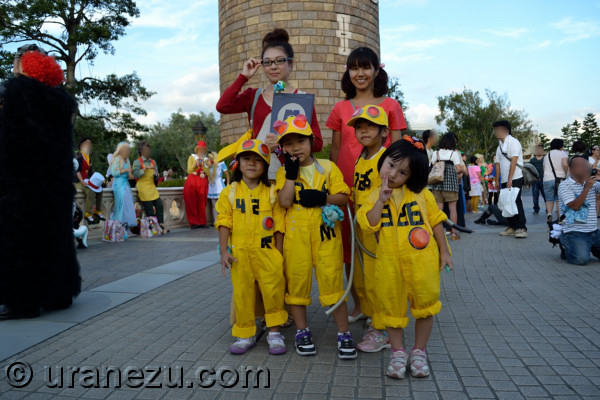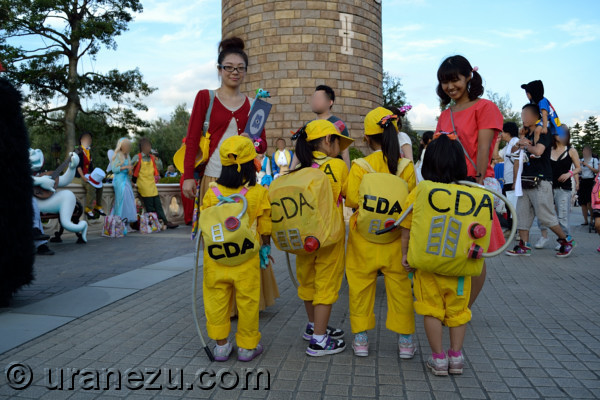 Many Positive Reactions, but Can't find the source of the outbreak!
This small CDA group is very adorable. And surprisingly, Pretty Roz & Boo are their Mother. The covered backpack recreated the CDA's back device that is wonderful idea.
"Roz, CDA, and Boo" from "Monsters, Inc.".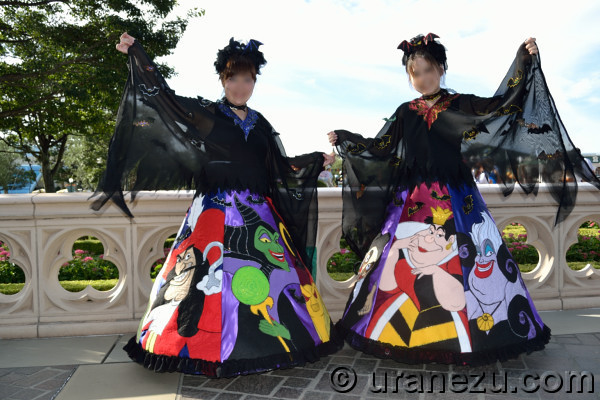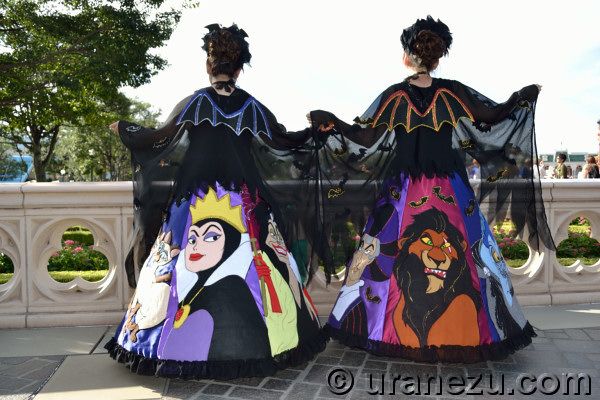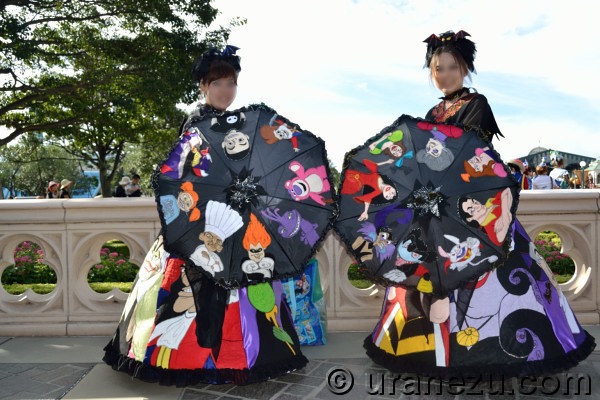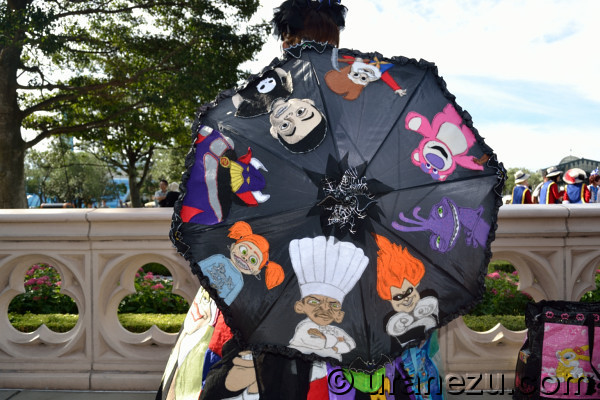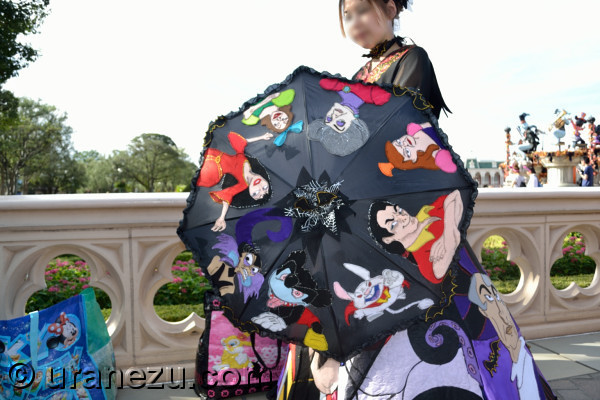 Colorful Dark Power!
It was very happy moment for me to encounter this party again. Their costumes always magnificent. Every villains' expression are lively which like popped out from the film. And look at their wonderful decorated parasols! It's like an artistic villain's encyclopedia. It's just amazing.
(Did you know they are same as "Disney Sweets" in 2011?)
"Villains' Shadow"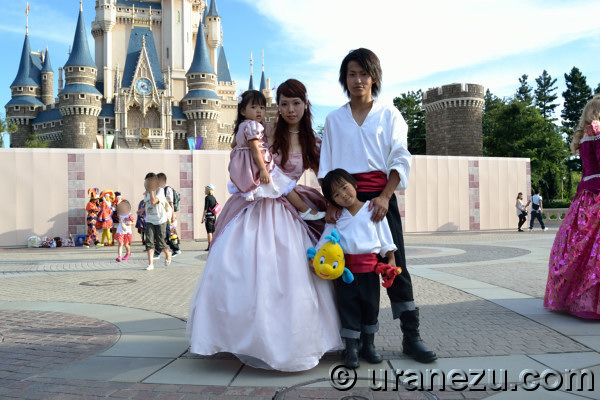 Tour of the Magic Kingdom!
Here are the two pretty Ariel and two charming Prince Eric. I love her softly colored dress. It's really beautiful in sunny days. I admired the color choice of the dress fabric.
"Ariel & Prince Elic" from "The Little Mermaid".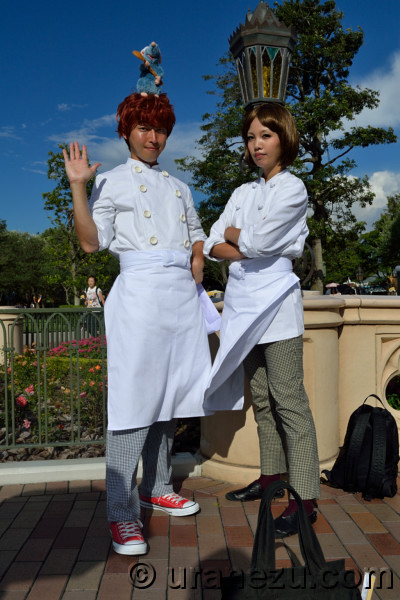 Waiting for you at La Ratatouille!
I admired that the two really got their characters. A warm smile Linguini and independent Beauty Colette, they are wonderful!
"Alfredo Linguini and Colette Tatou" from "Ratatouille".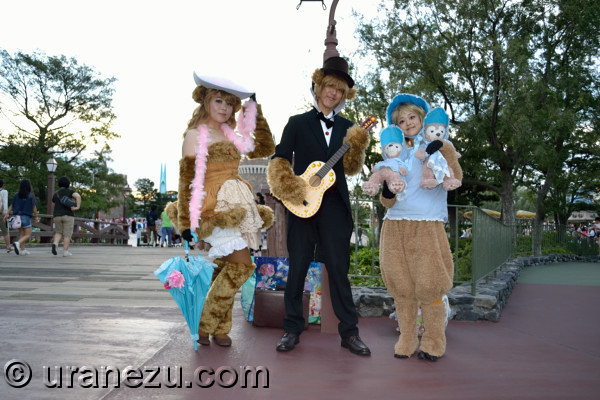 Show Time!
The beautiful diva, the cool MC, and the pretty the life of the party unit from "Country Bear Theater" the one of my favorite attraction. Teddi's ruffle skirt, Henri's exactly like a real decorated guitar, and Bunny's paw, I was impressed by their arrangements and details.
"Teddi Barra, Henry and Bunny" from "Country Bear Theater".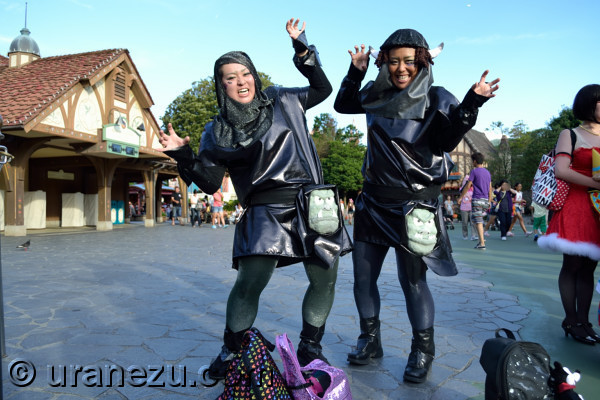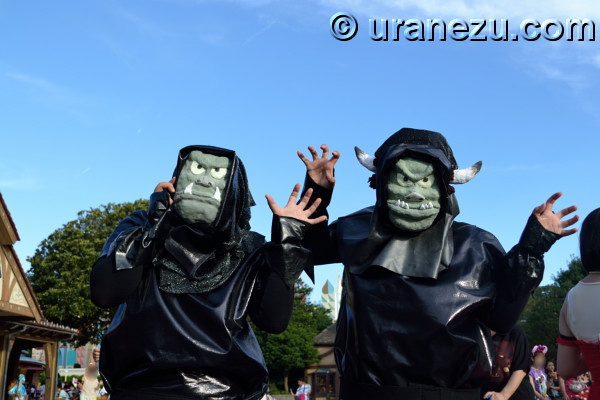 Goos's G is good!
Her cheerful and joyful expression told us how much they loved the character. They are lovable goons just as the film's goons. I can't wait to see them in next Halloween!
"Maleficent's Goons" from "Sleeping Beauty".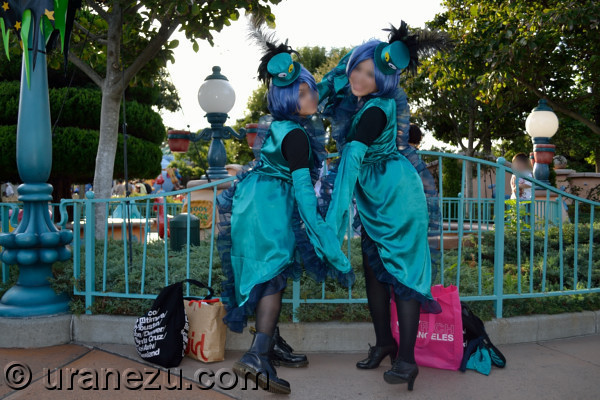 (cover their faces by their own request.)
Merrily Morays!
Here are the very attractive Flotsam & Jetsam. A smooth glossy texture, very characteristic head-dress that captures its special features, and curvaceous sleeve and hemline, everything is nice. The thing that I regret the most is not being able to share the beautiful their smiles with you. (Don't be shy.)
"Flotsam and Jetsam" from "The Little Mermaid".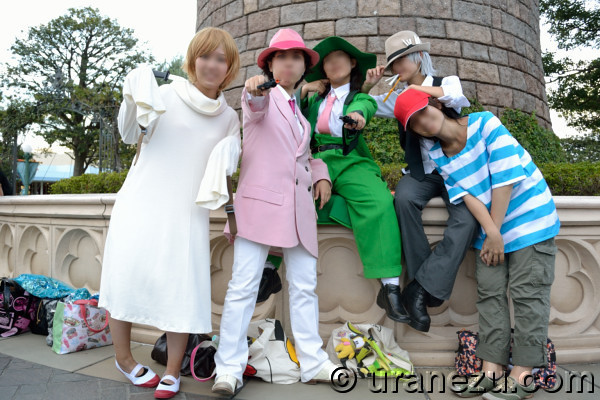 In this year, many wonderful the weasels unit in TDL. This is one of the cute the weasels party. I love their perfect costumes, it's wonderful.
"Psyco, Smarty, Greasy, Wheezy, and Stupid with Jessica Rabbit" from "Who framed Roger Rabbit".