Amazing Halloween Costume
> 2016 Part 05
---
Amazing Halloween Costume 2016 at TDS

Part 1 Part 2
---
Please do not use uranezu pictures on other websites without permission.
Please do not use uranezu.com cosplay pictures on other websites.
All of the cosplayers of this site gave me a permission to use only on my website "uranezu.com". Thank you for your understanding.
If you find any copies of the uranezu cosplay pictures in any other places being used on a web site, printed or sold without my permission, please inform me as soon as possible, for there is a possibility of an infringement of copyright. It is also helpful if the URL (if there is one) or the place they are being printed or sold is indicated, so that it is possible to warn or to take legal actions against the person involved.
For many cosplayers gave their pictures to uranezu.com., please understanding and support this.
Amazing Halloween Costume 2016 Part 5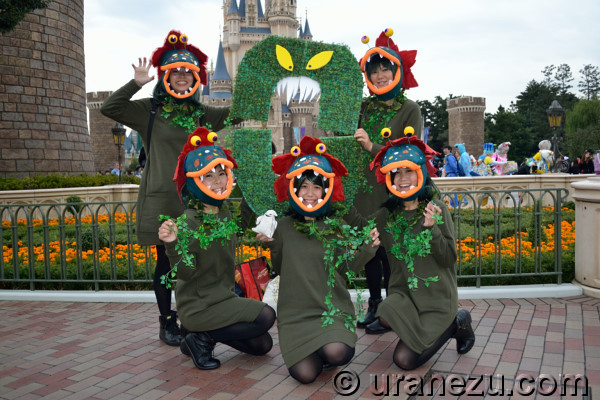 Wreck the Halls with Halloween Costumes!
Their vivid pretty costumes and bright smiles enhanced TDL Halloween atmosphere. I'm glad to share ferocious and humorous plant from "Haunted Mansion Holiday" with you especially WDW people. I wish they'd be last until holiday season.
"Halloween town Poinsettias" from "Haunted Mansion Holiday Nightmare (AKA. Haunted Mansion Holiday)".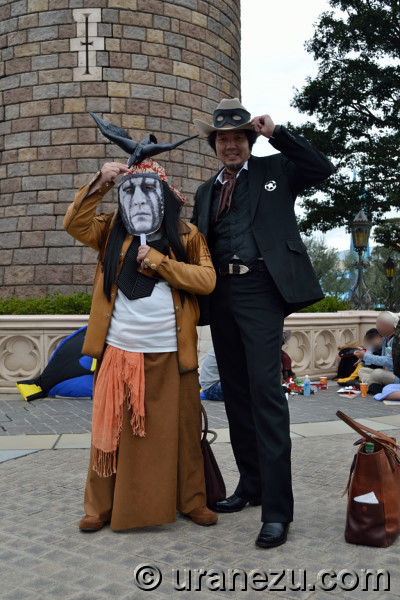 TDL Halloween is what I seek, Kemosabe!
Wow, look at these two cool heroes. John's costume is real authentic Western wear which enhanced his coolness. One of my favorite point is a balloon crow on her top which is an item for discourage pigeon.
(Did you know he is same as Liver Lips in 2011?)
"Tonto and John Reid" from "The Lone Ranger".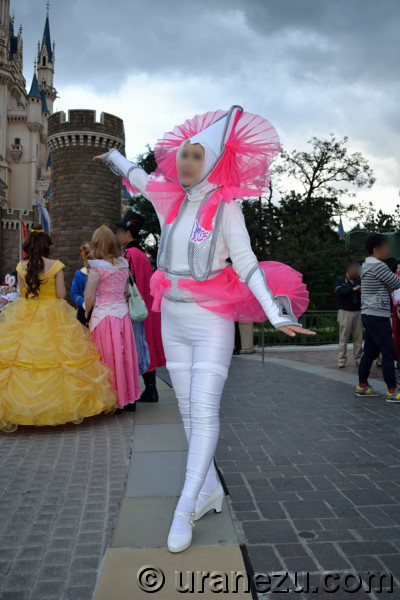 Join In You're Invited Too!
A beautiful dancer returned from "It's Magical" the TDL 10th anniversary castle show. Her perfect stage costume brought me a good old day's memory and spectacle TDL Halloween.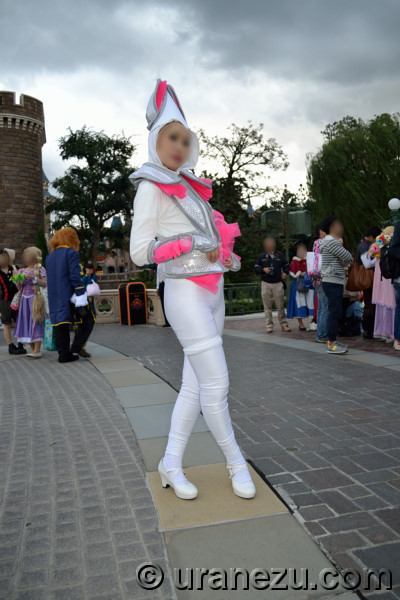 Her costume have a gimmick same as the original. Her pretty pink color vanishes with Maleficent's spell. "Say Goodbye to Your Precious Colors!". What a wonderful!
"Pink the color for Minnie Dancer" from "It's Magical!" the TDL 10th anniversary castle show.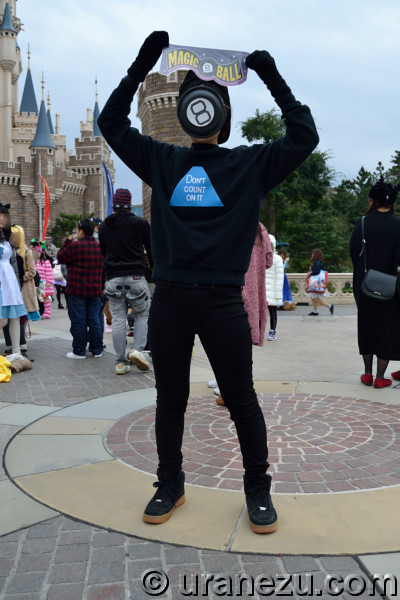 In this case, I Count On You!
I never expect that I met this really important toy which was a catalyst for a change a relationship of Woody and Buzz. So the encounter of this little cute black fortune teller was wonderful experience to me.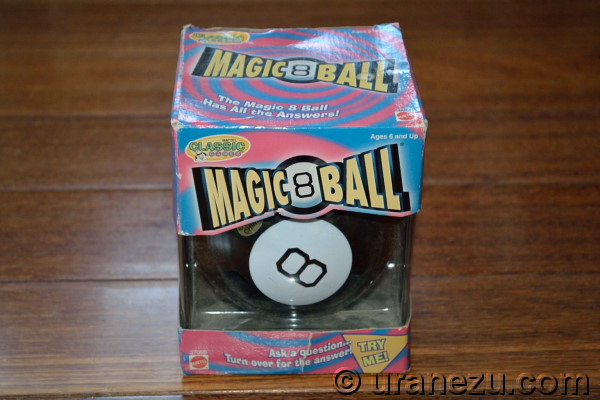 This is mine from FAO Schwarz the Fifth Avenue store. (Ah, it's good old days…)
"Magic 8 Ball" from "Toy Story".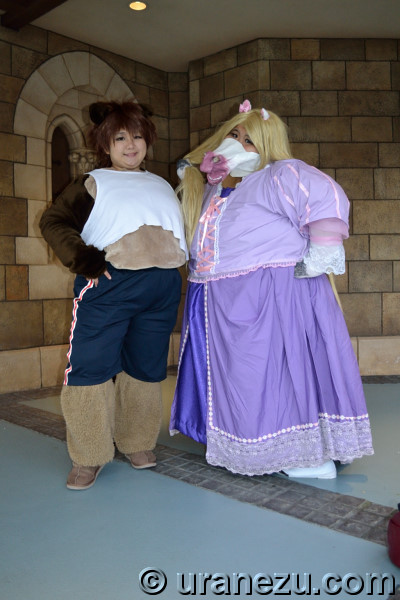 TDL Halloween Special Offer!
It's so exciting that I met this splendid duo. Not only an impact of their character choice, but their costumes was made so beautifully and carefully which are so great.
"Duke Weaselton and Heroine from Wrangled the pirated DVD" from "Zootopia"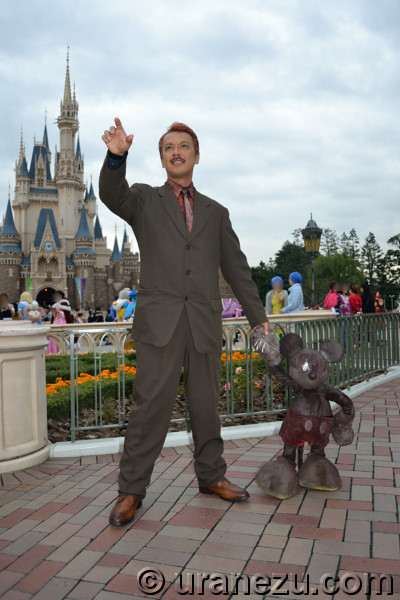 In Celebration of TDL Halloween!
I'd like to give a great idea award him in this year 2016 Halloween. Great color, amazing pose, he looks really popular photo spot statue. It's very fun to see him and his around guests.
A statue of "PARTNERS".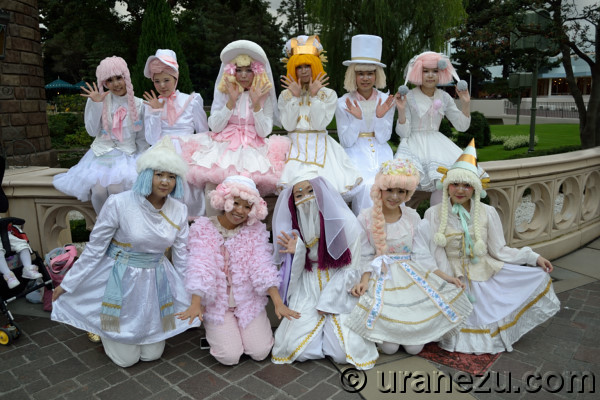 There Is Just One TDL Halloween!
Did all of them buy a same textile for their one theme costumes? Wow, It really works. It's a great sight to see beautiful dresses with their big cute smiles. I was admired their ability of dress making and solidarity.
"It's A Small World".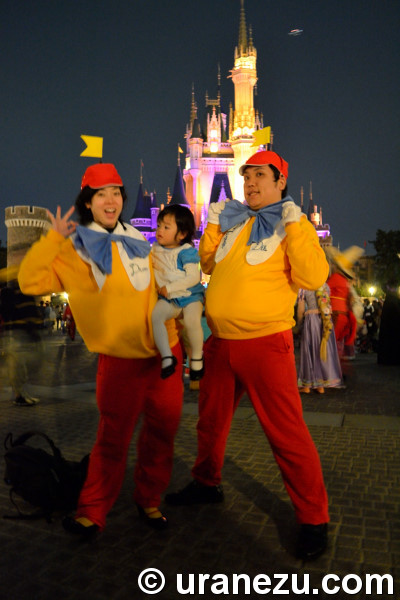 Alice in Parent's Halloween Wonderland!
Delightful Dee the mother arranged merchandise Alice T-shirt to a neat and tidy dress for a daughter Alice. It's a wonderful idea for an infant costume. I'm glad to see beautiful sight of smart and pretty Dee and cheerful Dum with adorable Alice. A Halloween style of this harmonious family always made us fun and encouraging.
(Did you know they are same as Zootopia unit in 2016?)
"Tweedle Dee, Alice and Tweedle Dum" from "Alice in Wonderland".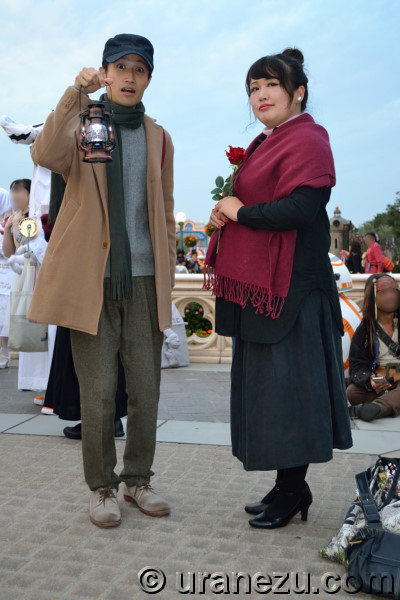 Halloween Love from in the graveyard and on the gravestone!
They are so pretty and graceful, so looked superficially some prince and princess, but they're dweller who I really love to see in TDL Halloween. In this year, luckily I met nice combination of handsome caretaker and beautiful black widow.
"The Groundskeeper and Constance Hatchaway" from "Haunted Mansion".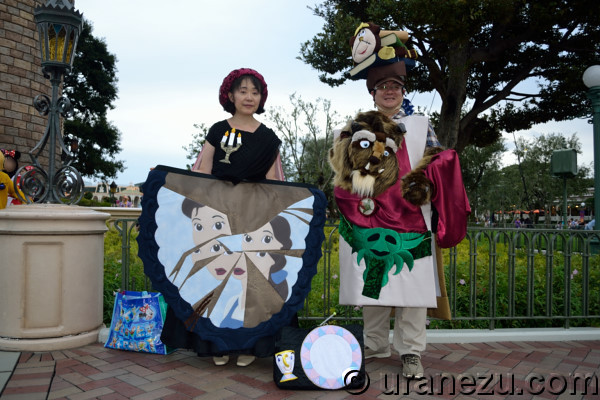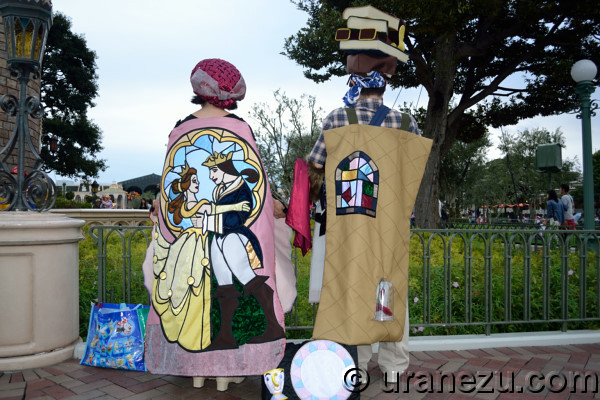 Who'd Have Ever Thought that They Could Be!
It's my great honor to share their amazing costumes with you again. Her finely honed sense picked only three seconds scene which is one of Mark Henn the great animator's favorite as it happens at 25th BB anniversary event. I'm so impressed that the two great artists love this same part of film.
Did you know that they expressed the important part of the story in their costumes? The story begins beautiful in front of her which is impressive scene of mirror the Bell's sneaking off the West Wing.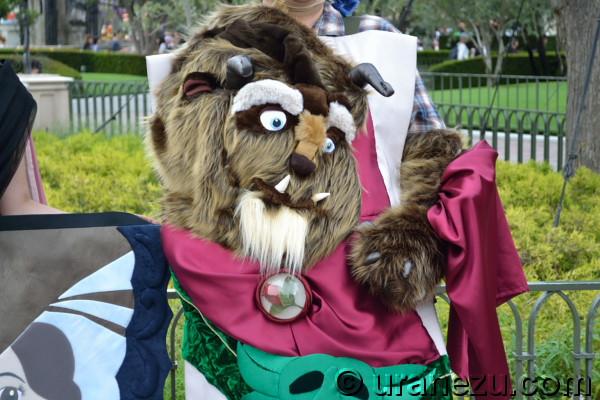 Then look at the wonderful front of him. We can see the Beast's anguished face in the magic mirror through the Bell's eyes.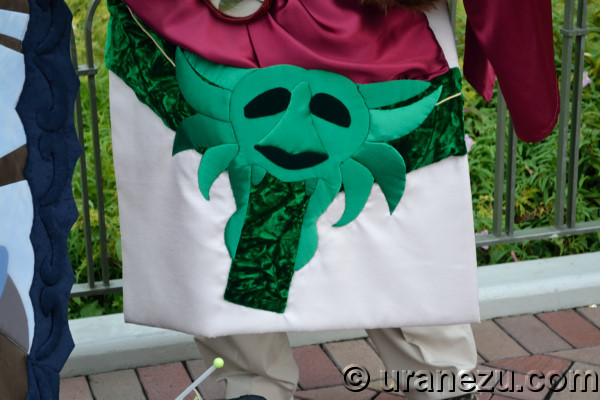 The scene from "Show me the beast" that's why she used green velvet which can see the mirror was boosting a magic power.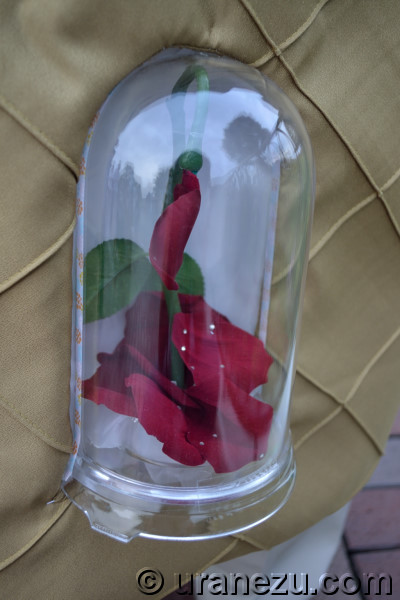 There are magic rose which the most petals are fallen. Inside the glass case (actually plastic case) shows you a moment gone by makes the time nearer when the last. Can you see the magical glitter as the beads on the petal?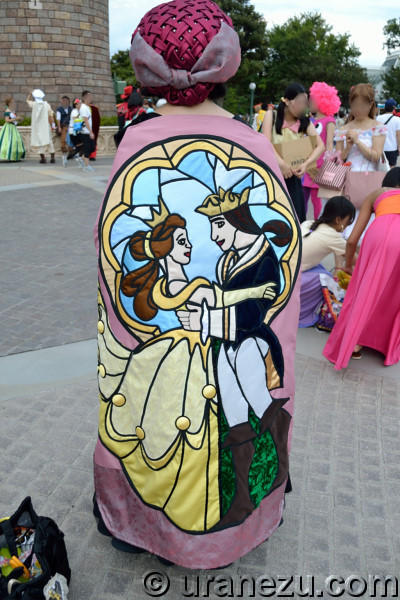 But don't worry very beautiful happy ending waiting for you on her back. I take a deep breath of admiration of them.

The below is my some of my favorite parts.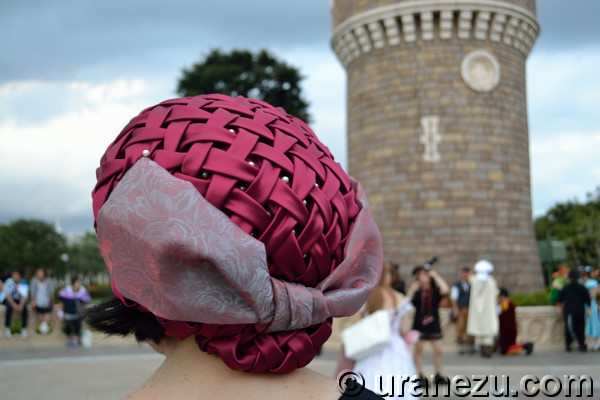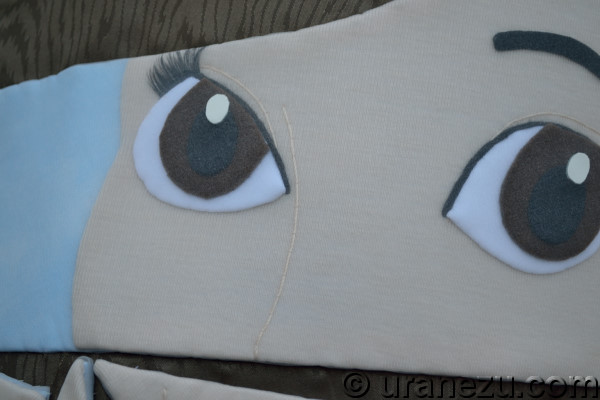 I really love her headdress which always delights to the eye. It's so awesome of pinch works with pearls rose bonnet. Yes, you rediscover the fact that her creation is so arrestingly beautiful. They are really fine and delicate art not only the light of pupil, but eyelashes. But surprising to me, is bridge of Bell's nose and eyelid line! Just amazing.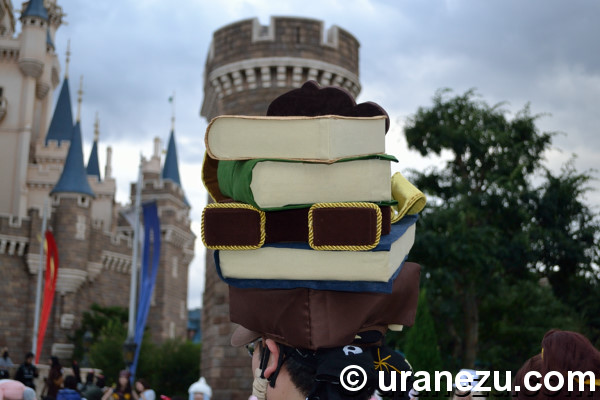 His hat consists of piled books. But wait; there is a something funny thing between the books.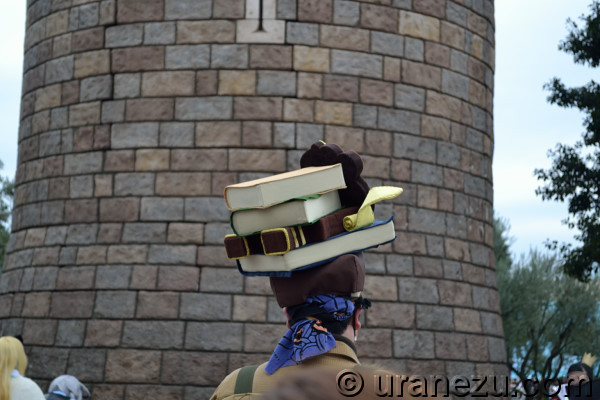 I think it looks something hand between the books.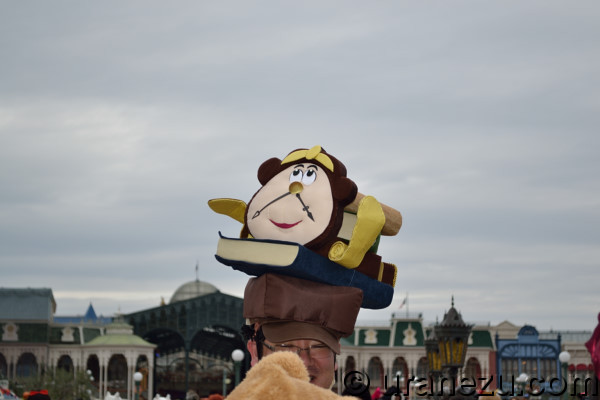 Oh, my! There is Cogsworth is hiding on his head dress.

They never forget an entertainment of their fantastic arts.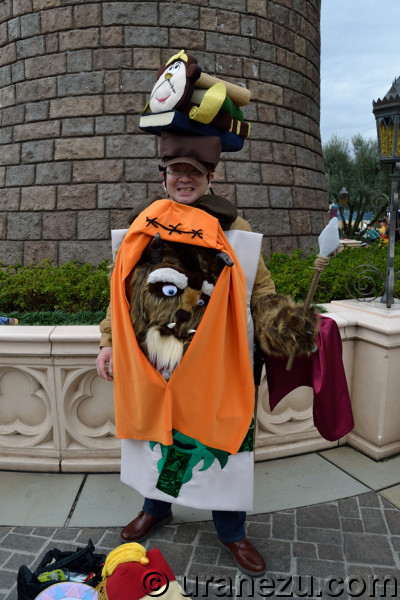 Amazing! Beast dressed as Wicket the ewok! And he holds really nice javelin!

And more!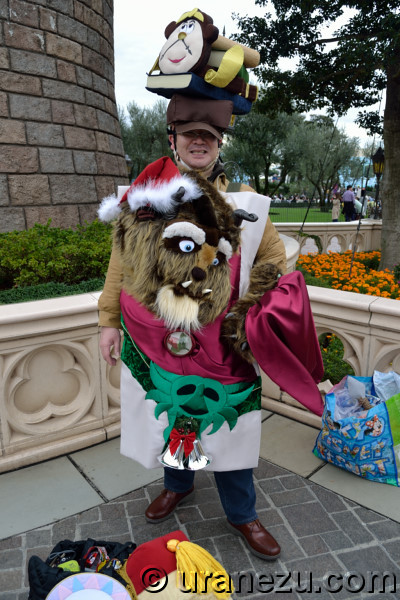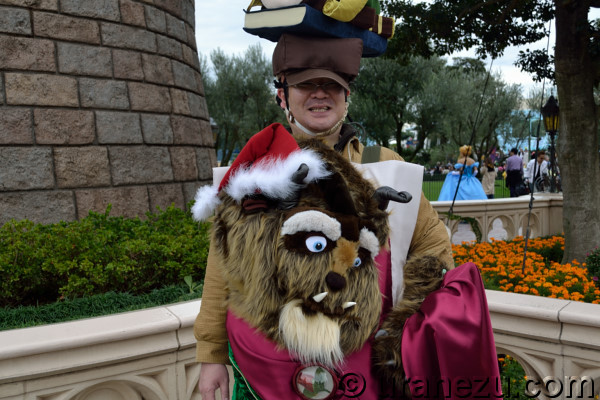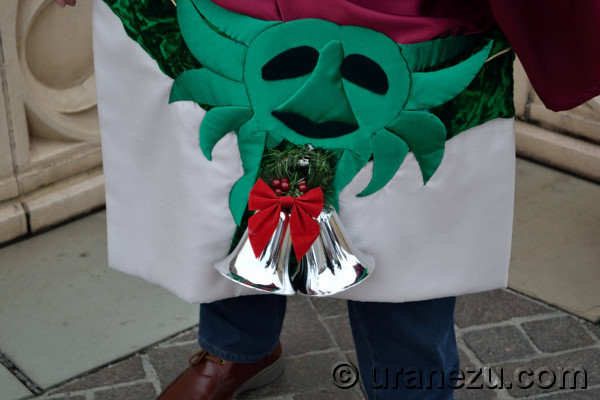 I can't believe that they also prepared Christmas hat with an ornament for the Beast.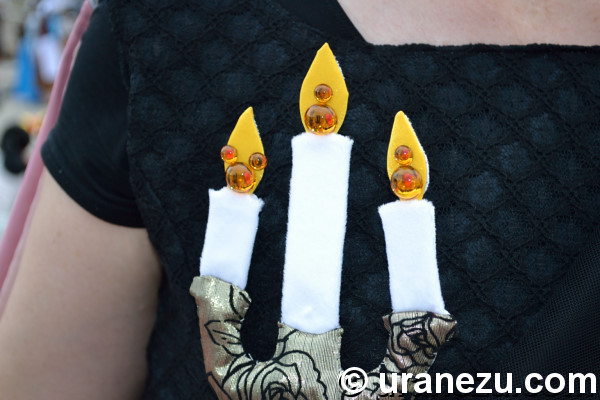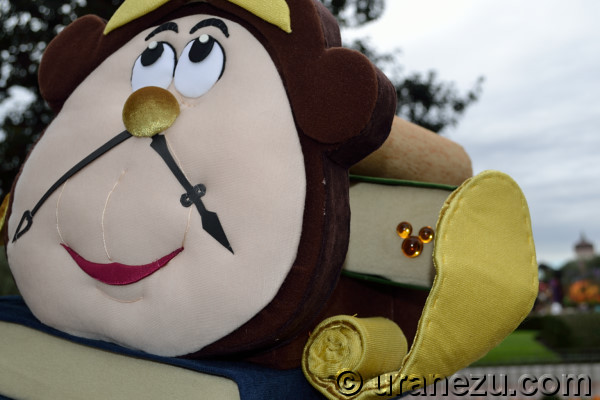 Each of them has a hidden Mickey.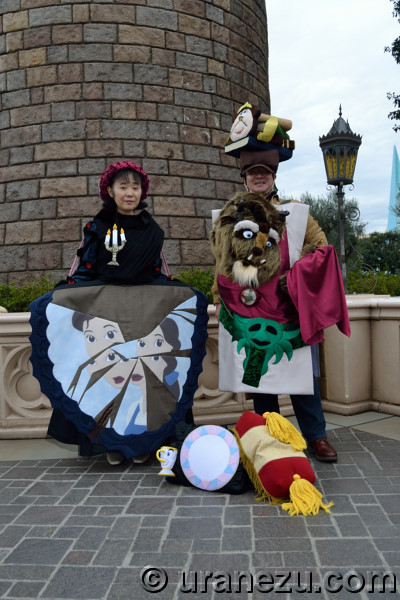 They are so wonderful.
(Did you know they are same as Cinderella unit in 2015?)
"Bell and the Beast" from "Beauty and the Beast".