Amazing Halloween Costume
> 2016 at TDS Part 1
---
Amazing Halloween Costume 2016 at TDS

Part 1 Part 2
---
Please do not use uranezu.com cosplay pictures on other websites.
All of the cosplayers of this site gave me a permission to use only on my website "uranezu.com". Thank you for your understanding.
If you find any copies of the uranezu cosplay pictures in any other places being used on a web site, printed or sold without my permission, please inform me as soon as possible, for there is a possibility of an infringement of copyright. It is also helpful if the URL (if there is one) or the place they are being printed or sold is indicated, so that it is possible to warn or to take legal actions against the person involved.
For many cosplayers gave their pictures to uranezu.com., please understanding and support this.
Halloween at Tokyo Disneysea Part 1 2016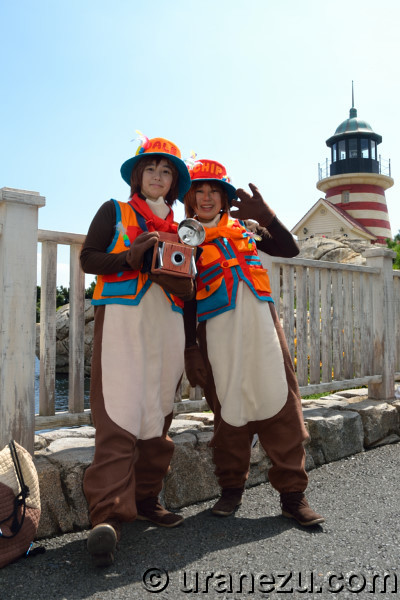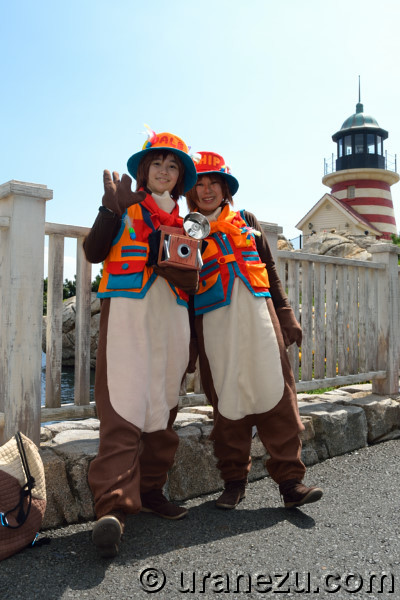 Hi, Chip! Hi, Dale!
If you've seen "Donald's Boat Builder" the original Cape Cod Cook-Off show, you'll understand how this cute duo prepared completely and perfectly from their costume to the props.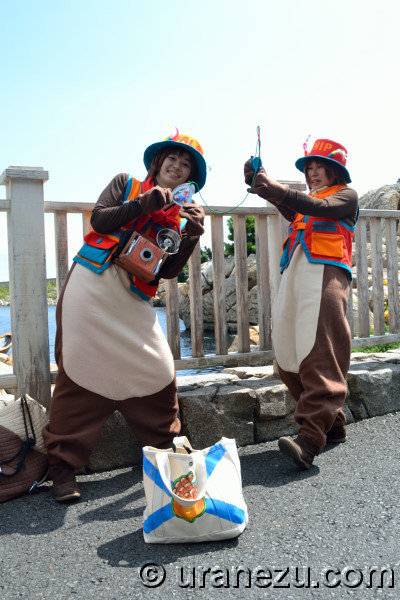 They acted a funniest moment of mischief Donald fishing scene.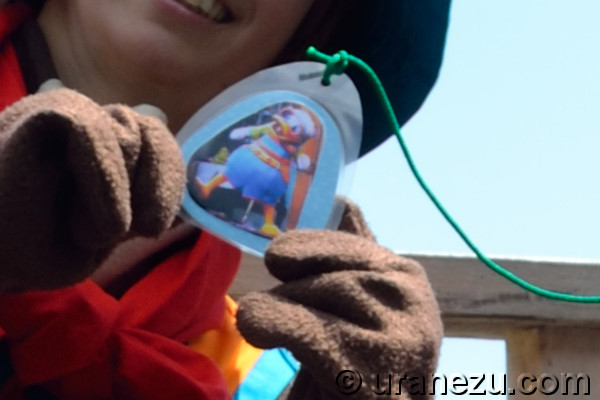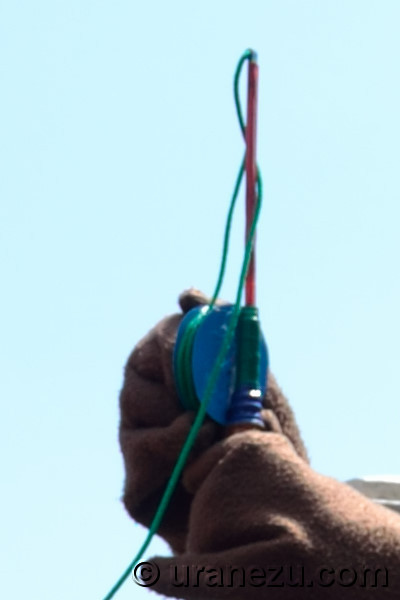 Their miniature fishing rod with Donald is so perfect which really same as the real props.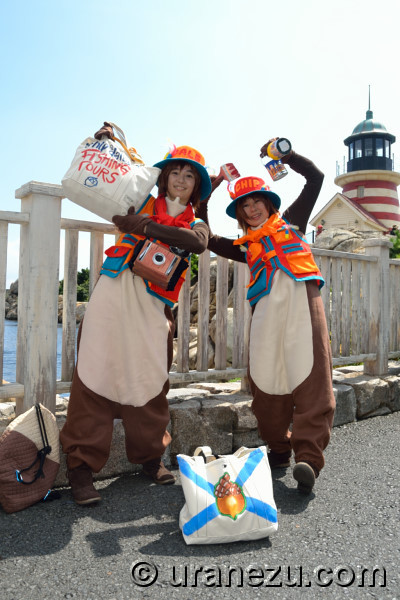 Also amazing things is their pretty bags. The acorn bag on the ground which design came from a flag of S.S. Chip & Dale, and "Fishing Tours" bag mimicked of a graffiti signboard. Both of them could see for a brief second during the show! Chip's camera, and Dale's Paint cans with blush are also astonishing well-made.
I hope a devotion and love of these fantastic fans will call back the show to the stage.
"Chip and Dale" from "Donald's Boat Builder the original Cape Cod Cook-Off show.".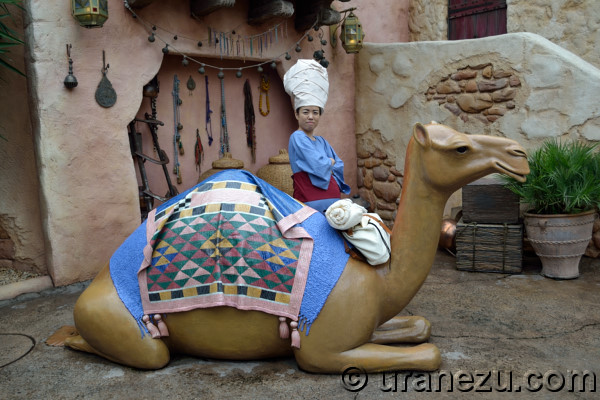 Where the TDS Camel Roam!
What a perfect location for an opening merchant of Aladdin! But no matter how wonderful place can't bear fruit without this passionate devotee, like her. I mean, she's really nice.
(Did you know she is same as Tiana unit 2016?)
"Peddler" from "Aladdin".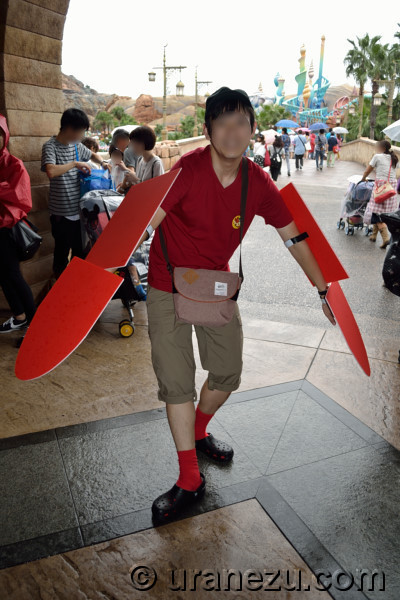 Carries the Disney love to TDS Halloween!
He always talked about his love and devotion for a minor character as he chooses. Not only a fun to see, but also gave us an interesting knowledge. I wish he allowed me to share his handsome smile with you!
(Did you know he is same as Peter Pan unit 2014?)
"Pedro" from "Saludos Amigos".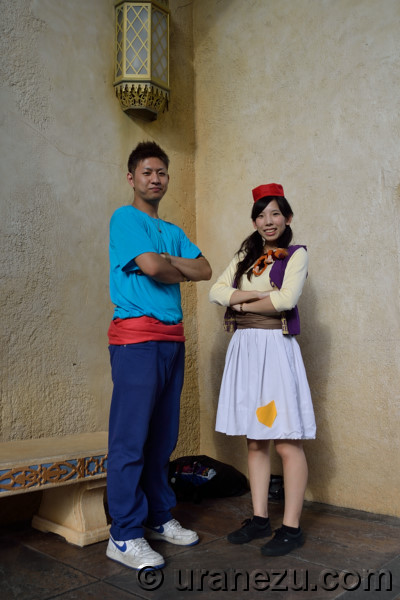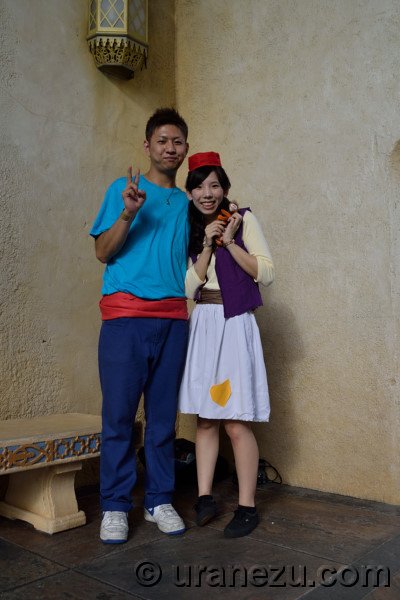 Never Had a Partner Like Me!
Friend, mate, lifelong companion, the photo talks us a wonderful relationship of this cool Genie & lovely Aladdin. Their neat and clean costumes emphasize attractiveness of their characters and themselves. I really love her Aladdin costume like skirt. It's really cute.
"Genie and Aladdin" from "Aladdin".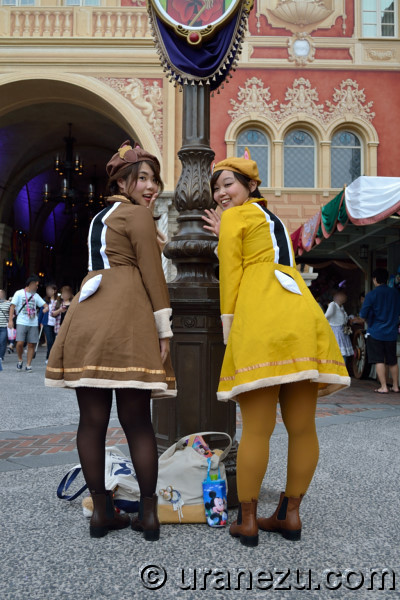 Private Chip & Dale at TDS!
These two lovely chipmunks looked so happily and enjoyed Disney Halloween. It's really great to see a cute big smile guest just in the park.
"Chip & Dale".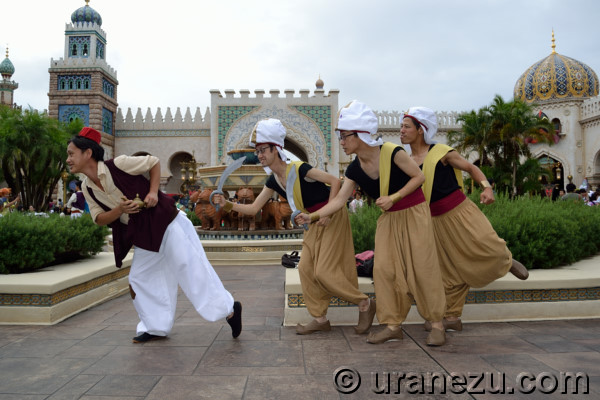 15th Jump Ahead!
I wondered that I wandered off into Agrabah. Their fantastic costume and pose gave me really "Unbelievable sights, Indescribable feeling!" moment. I'm so looking forward to see this group again. And hardly wait to which character they will choose in next Halloween.
(Did you know one of the guard is same as "Milo" 2015?)
"Aladdin and Royal Guards" at "Aladdin".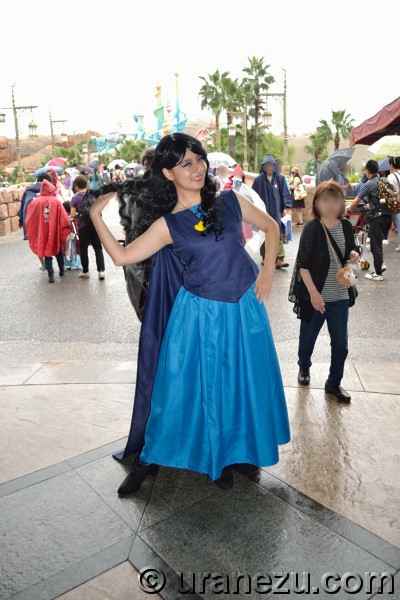 Halloween Ocean Will be Mine!
The perfect pose, shimmering pretty dress, and beautiful but mysterious smile, she's really attractive a witch came from under the sea. It's happy to take her photo in front of Mermaid Lagoon.
(Did you know she is same as "Naveen" in 2015?)
"Vanessa" from "The Little Mermaid".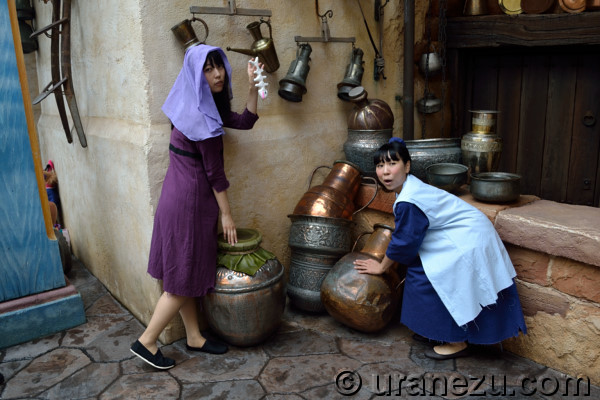 The little two know there so much more to him!
Look at their pose! Every moment of them who dressed as a completely same color and shape with perfect fish bone prop in the film is like a scene straight out of a movie.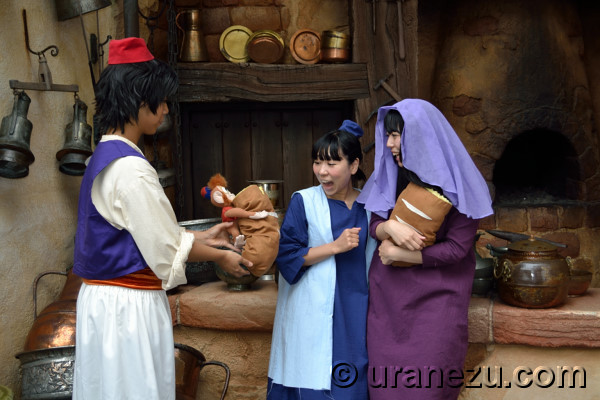 Wow, handsome Aladdin suddenly appeared, and then he presents some bread for them!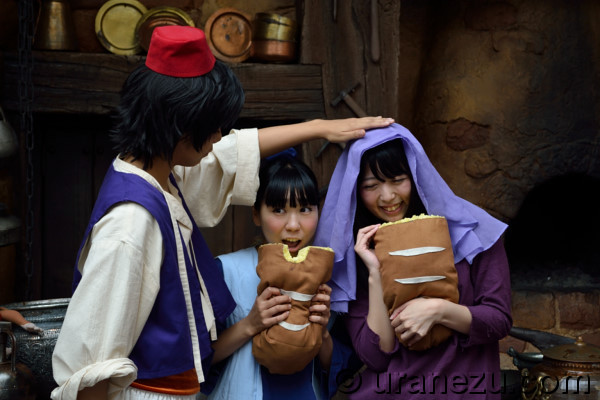 It's really just like in a film.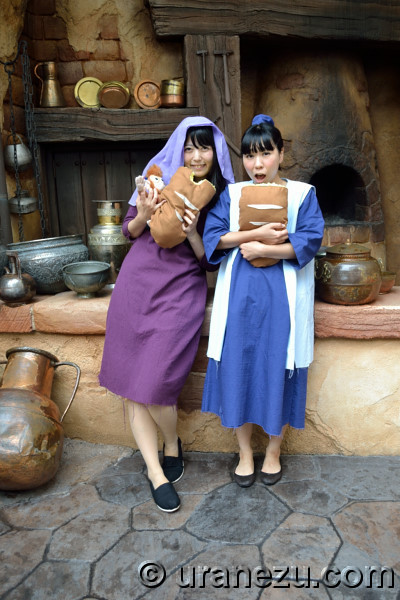 They are so cute and look very happy with big loaf of bread. It's just a lovely moment.
(Did you know they are same as "Franny" in 2016 and "Penny" in 2015?)
"Two Hungry Children, and Handsome Aladdin as a cameo appearance" from "Aladdin".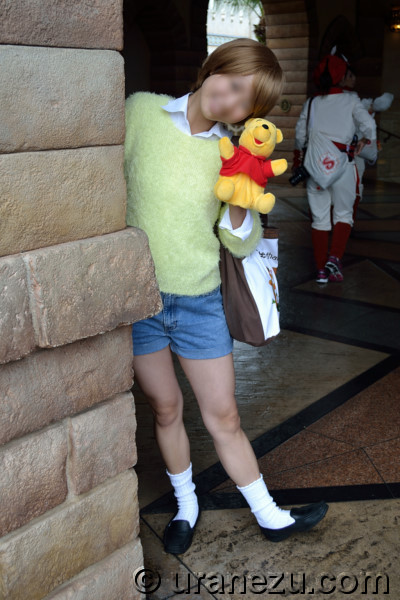 Deep in Arabian Coast Where Christopher Robin plays!
I run into a cute and shy boy (actually cute girl) at Arabian Coast. It's something funny to take a picture at this area with UK character, but look at this picture. Is it as though he enjoyed hide and seek near castellated wall? I love this pretty shot.
"Christopher Robin" from "Winnie-the-Pooh".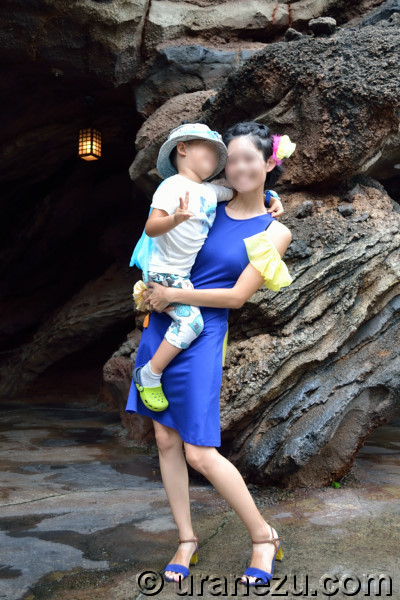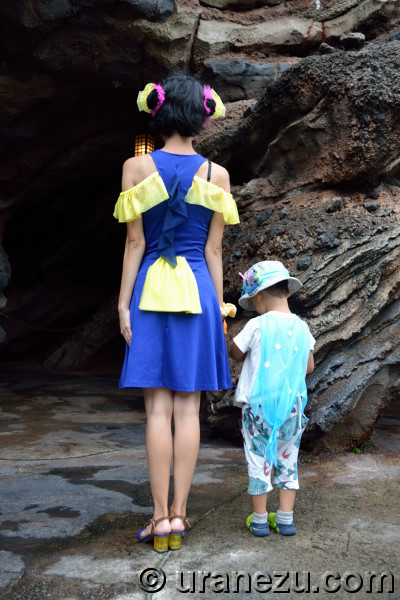 In a Big Blue 15th World!
I really like their so wonderful sea costumes. A boy with a beautiful white spotted cape is so adorable. The back fin of them is also amazing. I was especially impressed that she expressed a characteristic of childhood Dory's red eye as cinnamon buns hairstyle.
"Mr. Ray and Dory" from "Finding Dory".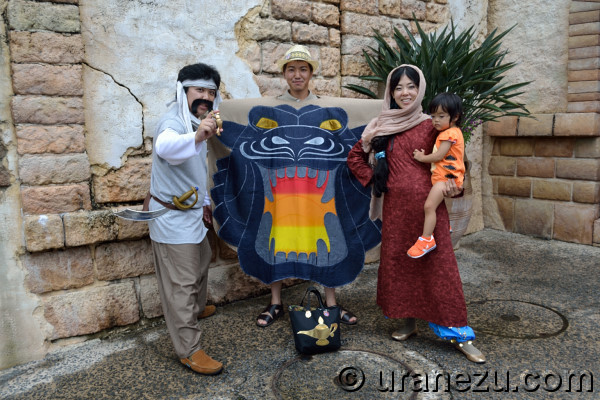 Diamond in the Rough at TDS!
I was so happy that I met this group who prepared so nice and so perfectly costumes for Arabian Coast at TDS. Who's expected that can see a people who dressed as a cave or Gazeem the humble thief? I really love Gazeem's outfit, especially his hood. And did you know the cave man care of even his hat? It's a color of dune!
One of my favorite points is a glimpse of incognito pretty Jasmine's beautiful green dress over a coat. And look at an adorable kitty Rajah! It's so cute.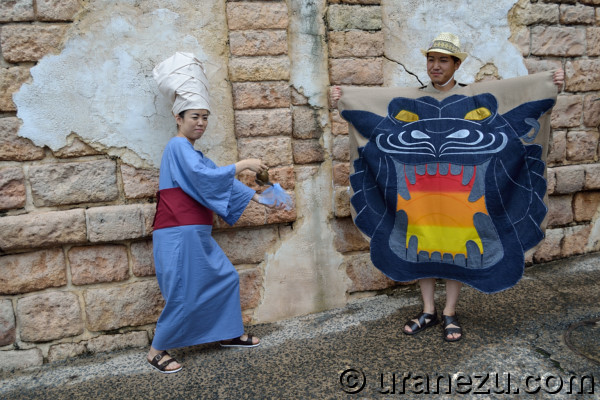 They replayed a fantastic opening scene!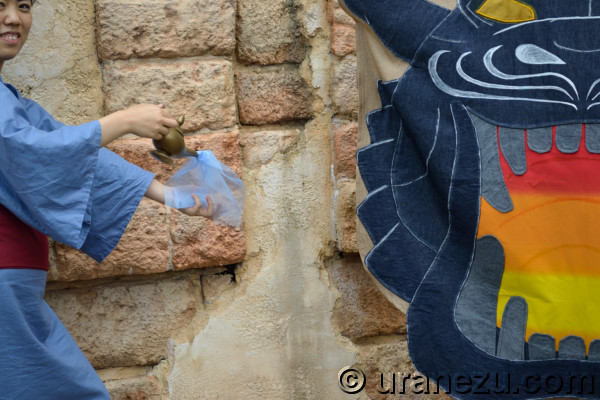 A light came from Peddler the merchant' lump change into a stars above the dune where sleeps the Cave of Wonders.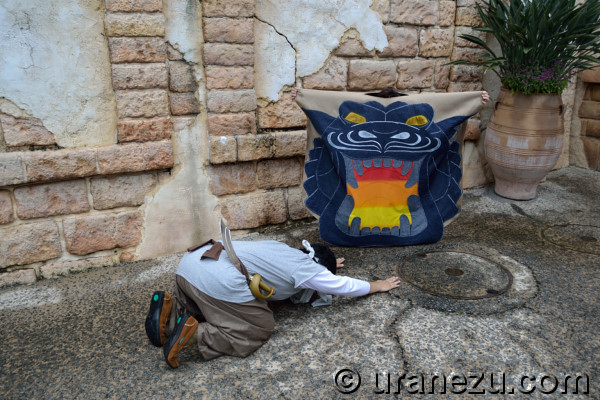 Then a humble thief Gazeem tried to enter the cave, but he was excluded furiously.

I was too excited to see their perfect opening scene costumes, so I forgot to take a photo of their amazing props. I'll take the pictures in near future and will share with you soon.
"Gazeem, Cave of Wonders, and Jasmine with Rajah" and "Peddler as a cameo appearance" from "Aladdin".
(Did you know they are same as Tundratown Mafia in 2016 ?)

TDS Amazing Halloween Costume 2016 Part. 2 is coming after 31th October!