Amazing Halloween Costume
> 2012 Part 06
---
---
Please do not use uranezu pictures on other websites without permission.
Please do not use uranezu.com cosplay pictures on other websites. All of the cosplayers of this site gave me a permission to use only on my website "uranezu.com". Thank you for your understanding.
If you find any copies of the uranezu cosplay pictures in any other places being used on a web site, printed or sold without my permission, please inform me as soon as possible, for there is a possibility of an infringement of copyright. It is also helpful if the URL(if there is one) or the place they are being printed or sold is indicated, so that it is possible to warn or to take legal actions against the person involved.
For many cosplayers gave their pictures to uranezu.com., please understanding and support this.
Part 6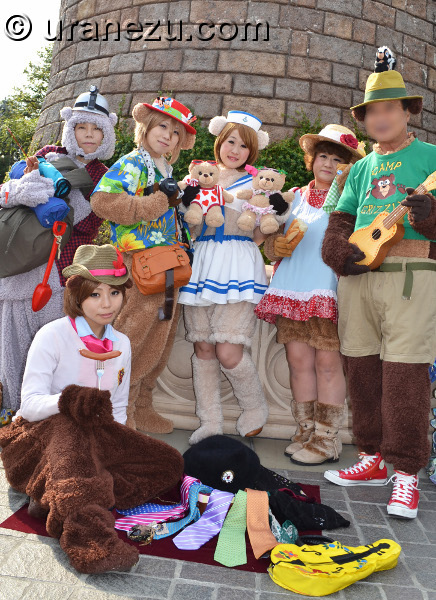 Big Jamboree!
What a wonderful gathering! Every singly lovely bear are so lovely and perfect. I was really impressed their love of Country Bear Theater. And It's Look at the Ernest's props! The extra hats, and colorful extra ties. It's absolutely Ernest and gorgeous.
(Did you know they are same as "Henry" & "Ernest" and "Trixie" & "Henry" in 2011?)
"Big Al, Wendell, Bunny, Trixie, Henry, and Ernest" from "Country Bear Theater (Vacation Hoedown version)".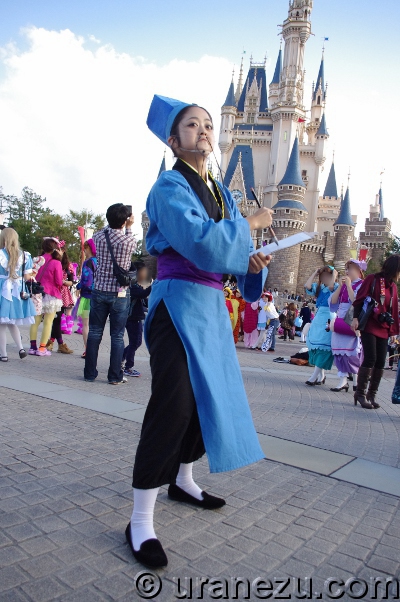 I'll make a verbatim record of Halloween!
What a special guest! It was my first time to meet a wonderful minor character from Mulan at TDL Halloween. I amazed her costume, props, and posing the faithful reproduction. (Did you know she is same as "Bunny" in 2012?)
"Chi-Fu" from "Mulan".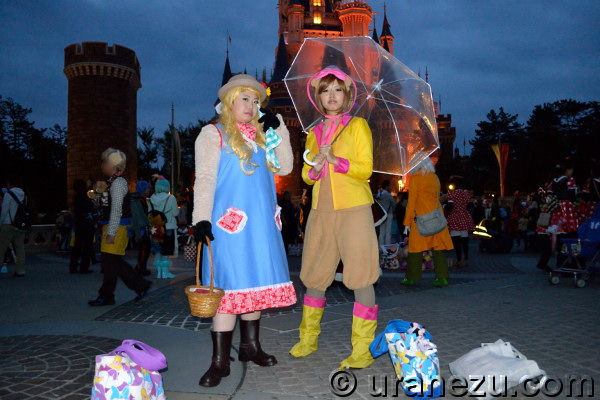 Divas!
Here are the another attractive bears from Country Bear Theater. I had a great time thanks to pretty bears.
Their vacation version dresses are really neat.
"Trixie & Teddi Barra" from "Country Bear Theater (Vacation Hoedown version.)".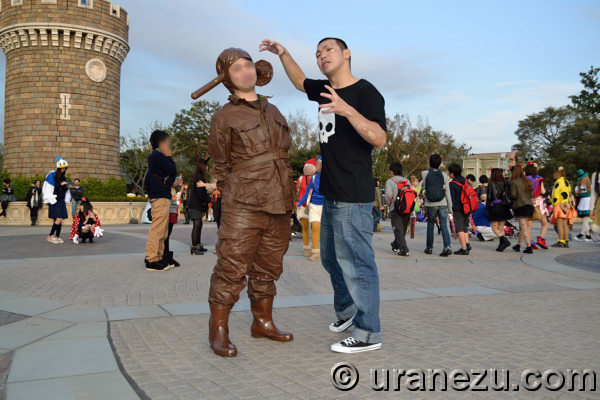 (cover his face by his own request)
Play Nice!
Here are a hilarious unit from Toy Story. They acted the last scene which he coming out of the ground to frighten Sid perfectly. But don't worry, they are really enjoyed Halloween together.
"Combat Carl & Sid" from "Toy Story".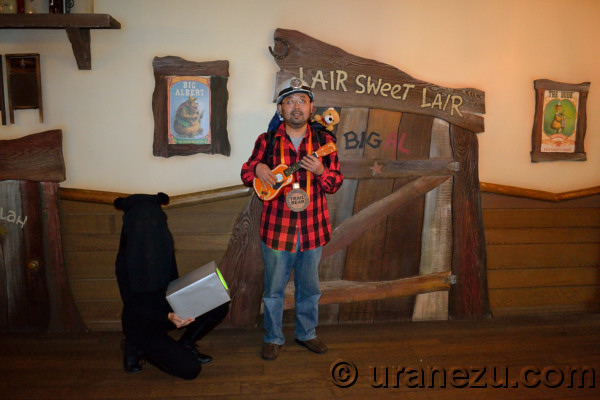 "(Japanese)Rufus & Big Al" from "Country Bear Theater (Vacation Hoedown version.)".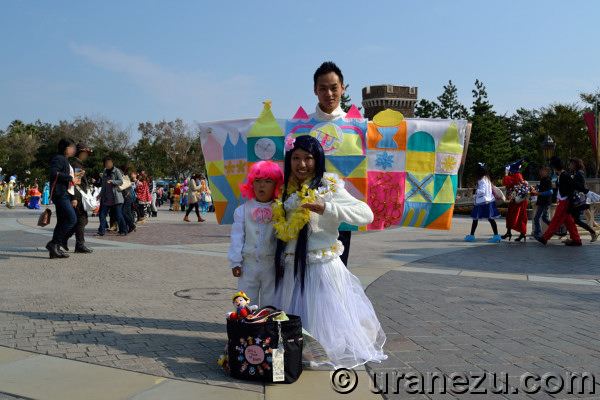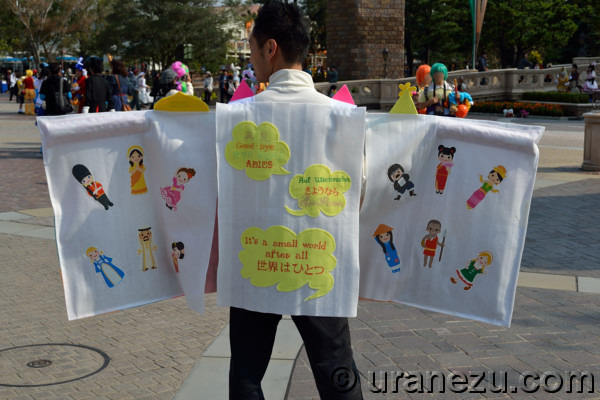 The finale!
In TDL, there is a girl who hold Pinocchio doll at the white and glittering scene the end of the attraction. And it is said that she will bring you good luck if you can find her. The girl dressed as exactly as that lucky Pinocchio girl. And I love father's farewell board, it's exactly same as the attraction.
(Did you know they are same as "Cinderella unit" in 2012?)
"The lucky girl with Pinocchio doll from Italy & a hula Girl from Hawaii" from "It's a Small World".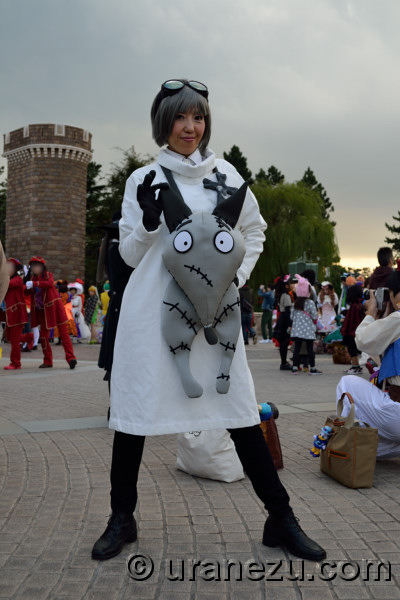 Congratulation, a Remake!
The pretty Victor in TDL. She made and elaborately-crafted costume. Especially, Sparky is very lively and cute. I was impressed her delicate design balance.
"Victor Frankenstein with Sparky" from "Frankenweenie".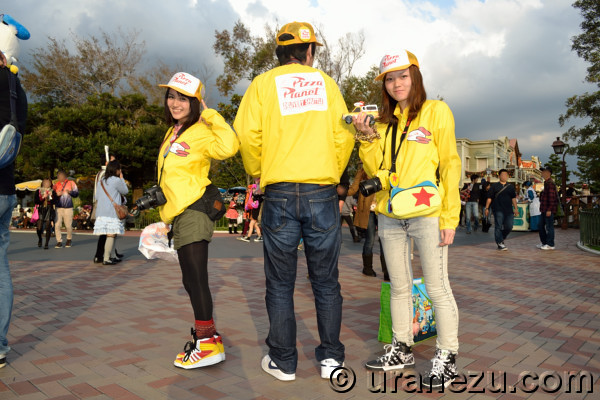 Pixar Deliverer!
Wonderfully idea, costume design, and their love of Pizza Planet! I tip my hat to them for their power of love. Additionally, they are really cool!
"Pizza Planet Staff" from the Pixar's.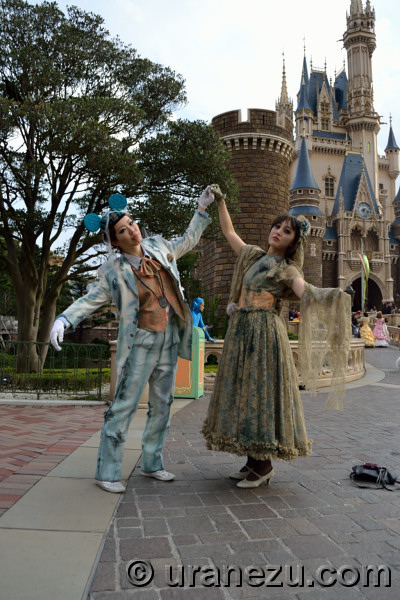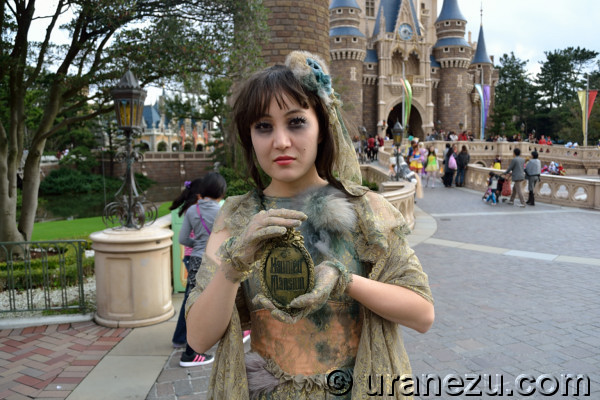 Endless Waltzer!
One of my great pleasure in TDL Halloween is to meet the Haunted Mansion characters. They are absolutely beautiful and graceful. You can feel the chill wind of they passed elegantly.
"Spectral Waltzers" from "The Haunted Mansion".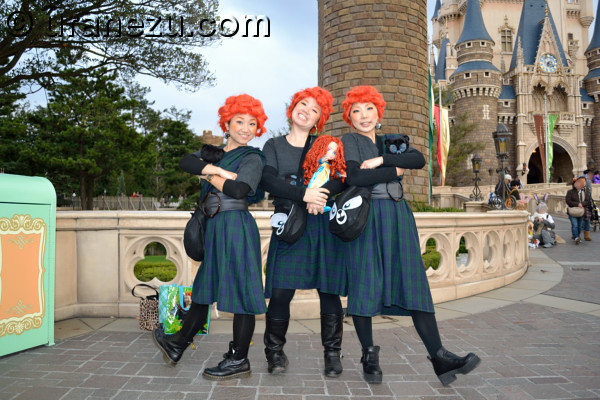 Mischievous youngster!
They are very pretty for the liveliness of their expression. That outfit and red-haired wig are very becoming on you. It was like real character from the film.
"Harris, Hubert, and Hamish" from "Brave".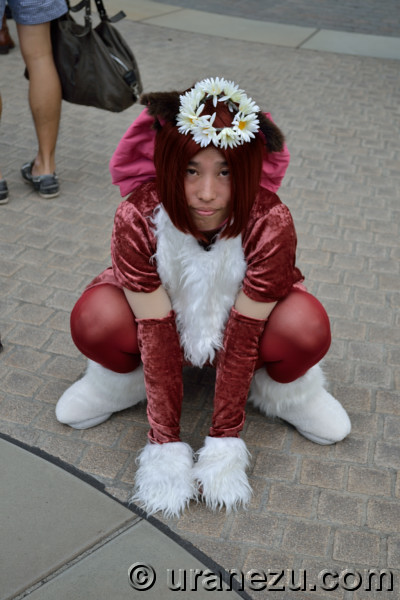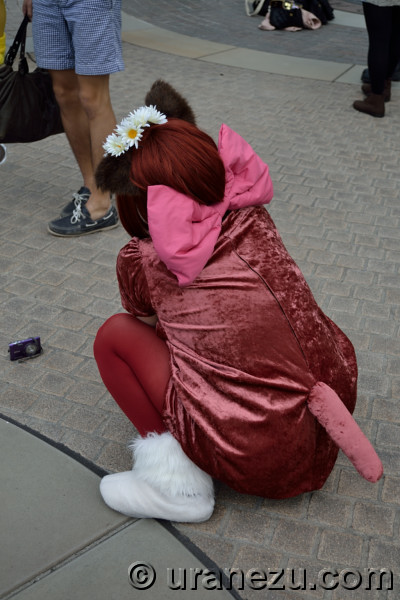 In a World of Dinah!
I really happy to meet again her. In this year, it's another pretty Disney cat, Dinah. She always made her dress perfectly. I love her big ribbon and exactly Dinah's color wig. (Did you know she is same as "Figaro" in 2010?)
"Dinah" from "Alice in Wonderland".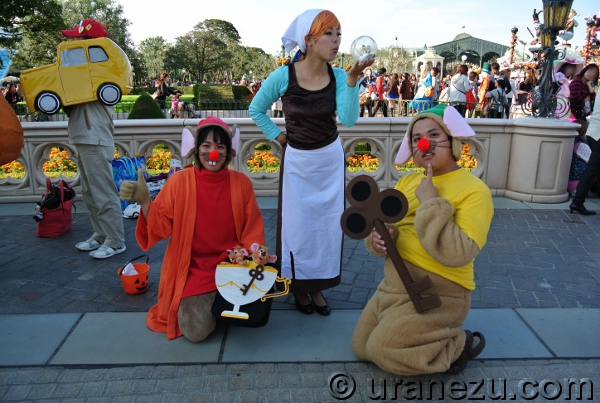 The famous scene!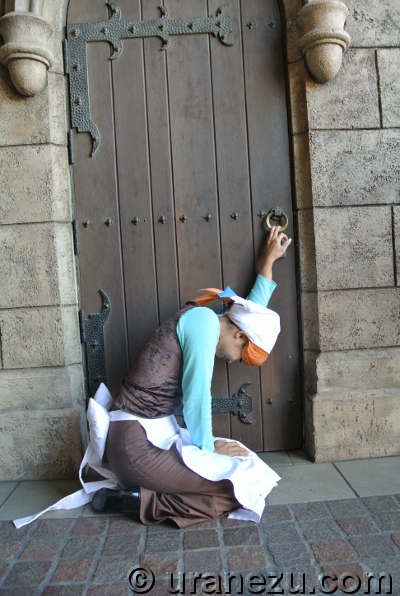 Oh, Please...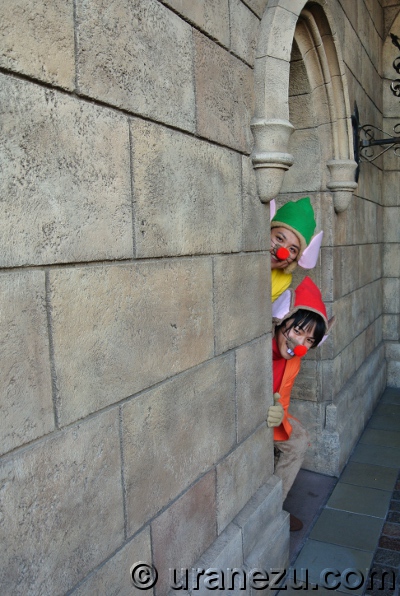 We have to do something!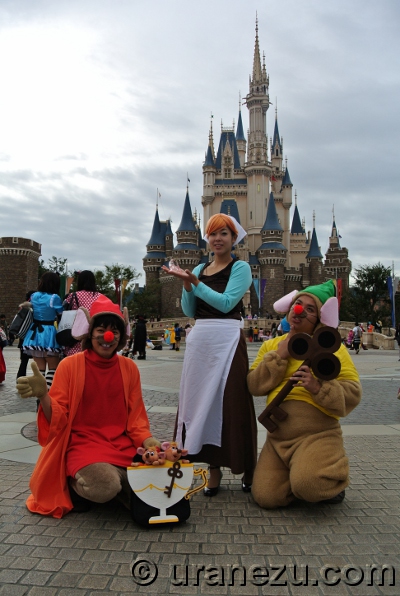 Just Only waiting for Prince Charming!

What a spectacle show! Can't you believe it? There are a reflection of Cinderella inside the bubble!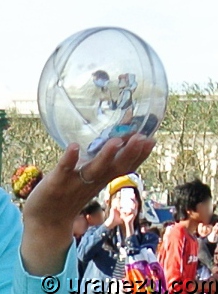 They are absolutely amazing!
"Jaq, Cinderella, and Gus" from "Cinderella".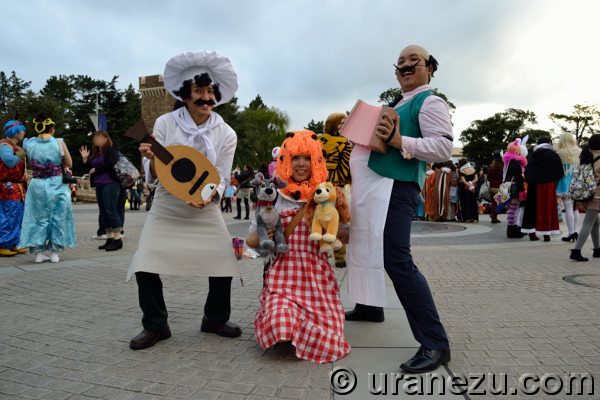 Take 2!
Here are the one of my favorite group. This awesome theme first appeared in last year 2011. I really excited about the wonderfulness of them, so I didn't notice that the Lady & Tramp soft toy which the pretty spaghetti girl hold was upside down. It was very lucky for me to meet this costume again and to retake a picture of them. Now we finally settled.(Do you want to look at the original picture in 2011?)
"Joe" & "Tony" with "Romantic Spaghetti" from "Lady and the Tramp".
Please move the cursor onto the pic!