Amazing Halloween Costume
> 2016 Part 06
---
Amazing Halloween Costume 2016 at TDS

Part 1 Part 2
---
Please do not use uranezu pictures on other websites without permission.
Please do not use uranezu.com cosplay pictures on other websites.
All of the cosplayers of this site gave me a permission to use only on my website "uranezu.com". Thank you for your understanding.
If you find any copies of the uranezu cosplay pictures in any other places being used on a web site, printed or sold without my permission, please inform me as soon as possible, for there is a possibility of an infringement of copyright. It is also helpful if the URL (if there is one) or the place they are being printed or sold is indicated, so that it is possible to warn or to take legal actions against the person involved.
For many cosplayers gave their pictures to uranezu.com., please understanding and support this.
Amazing Halloween Costume 2016 Part 6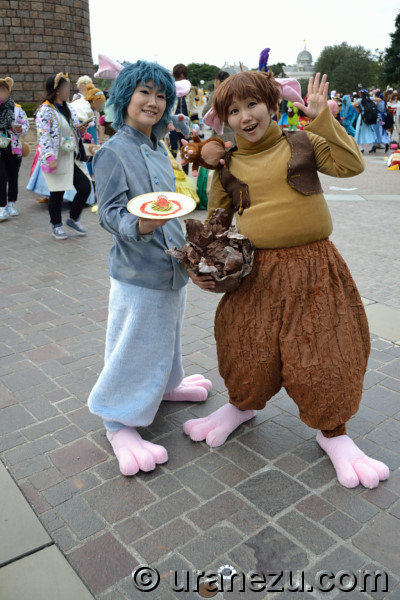 Halloween Feast!
The rich material, gentle color, sophistication of design, everything is wonderful. But "I think it was some sort of wrapper once." the amazing prop is highly important. I'm so impressed that they prepared a wide variety of beautiful costumes.
(Did you know they are same as Inside Out unit in 2016?)
"Remy and Emile" from "Ratatouille".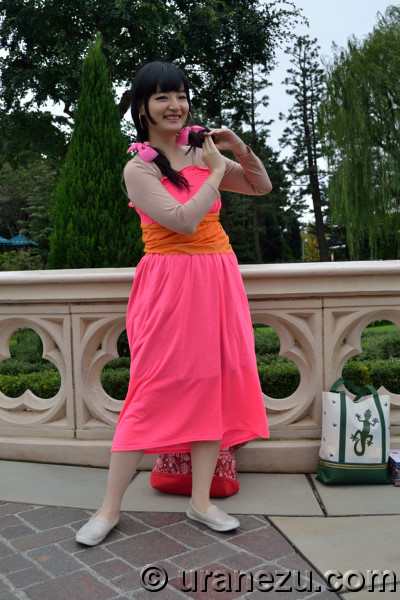 My Own TDL Halloween!
I met her some times in this year, but every time she showed me a different charm in every character which was surprised me. Her cute looks gave a motivation to me to watch the film.
(Did you know she is same as Vanessa in 2016 TDS?)
"Shanti" from "The Jungle Book".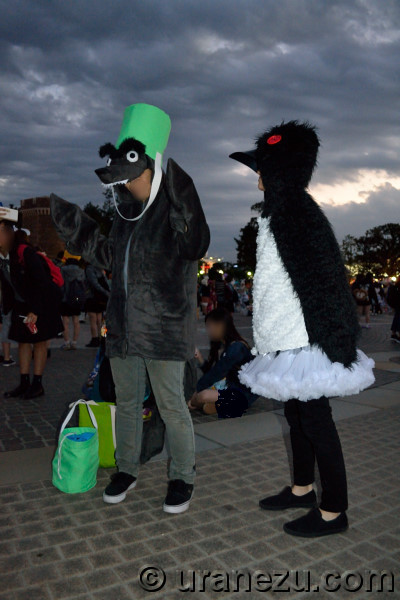 Never Fully Dressed Without A Bucket!
It' very fun to see this entertaining duo. There are so many my favorite points including their pretty costumes which incredible. Especially I love their character combination and amazing idea that she used as a big button for the bird's mysterious eyes.
"Gerald and Becky" from "Finding Dory".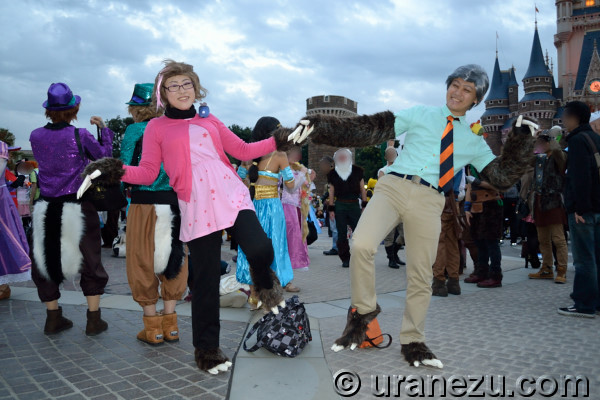 Come On, Everybody, Put Your Paws Up!
A characteristic beautiful hairs and dresses with long nails are really cool. Their lively pose with enchanting smiles brought us to a concert of the last scene!
"Priscilla and Flash" from "Zootopia"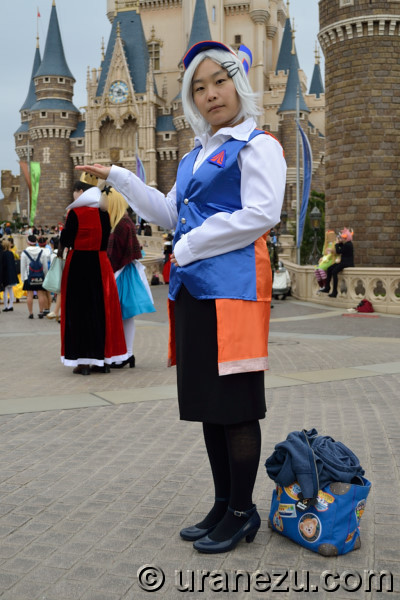 Please Pay Attention to Following TDL Halloween Info!
It's happy to see this cutie again with her brand new costume. And she dressed as an attendant of New Star Tours which is my personal favorite character. I was very surprised that her uniform-like dress is not only beautiful but also well-tailored two pieces.
(Did you know she is same as Red-crowned crane in 2014?)
"Aly San San" from "Star Tours: The Adventures Continue".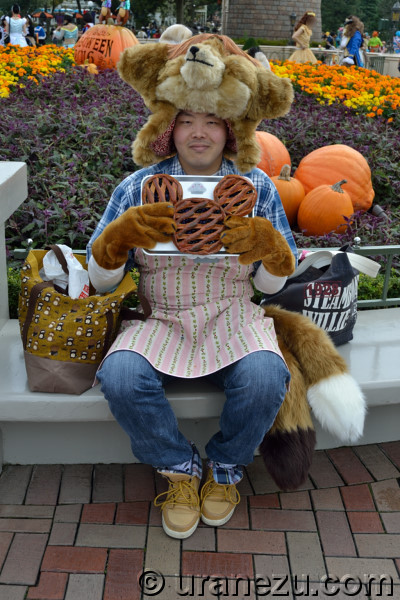 The Top Pastry Chef in TDL Halloween!
A nice fox that have beautiful and fluffy fur brought you a pie to TDL. Look at the big fresh baked pies! It's as though I could smell the blueberry with crispy crust in the air.
"Gideon Grey" from "Zootopia".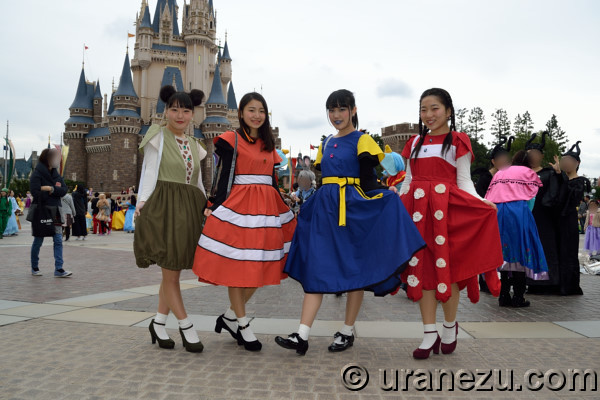 Unforgettable That's What You Wear!
These enchanted fishes full of beautiful astonishments. My most favorite point is grace curving sleeves which expressed a turtle back. Most amazingly, these splendid dresses were made by one mother. She's absolutely marvelous.
"Squirt, Nemo, Dory, and Hank" from "Finding Dory".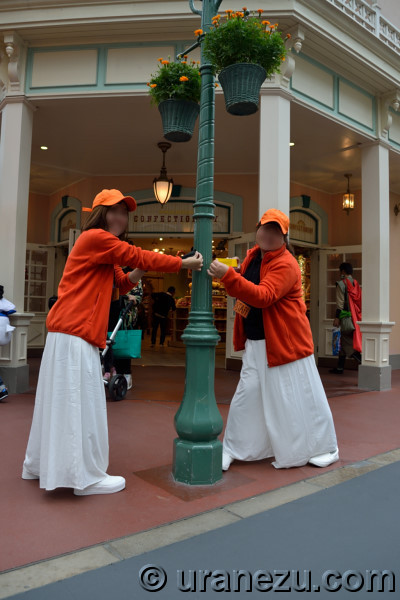 You Did Excellent Work!
I was thrilled that unforeseen encounter of this lovely good laborers. It's very lucky to take a photo with pretty ghosts on the ground.
"TDL Halloween Ghost Cast Members" from "World Bazaar decoration of 2016 TDL Halloween".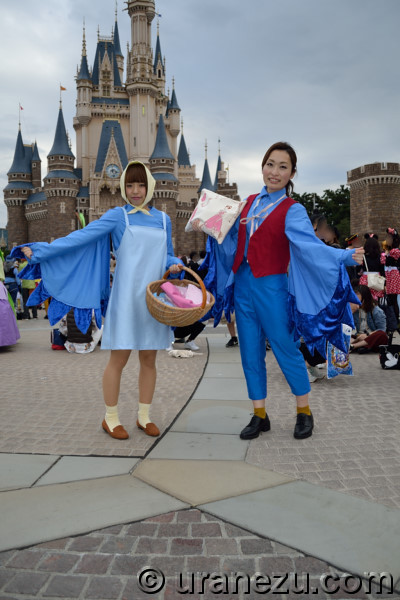 Quick Get Halloween Time!
Look at the lovable flutter of them. I'm very delighted to see these lovely birds, because this is my first time to meet an avian friend of Cinderella at TDL Halloween. It' so beautiful their shimmered satin costumes.
"Cinderella's friends" from "Cinderella"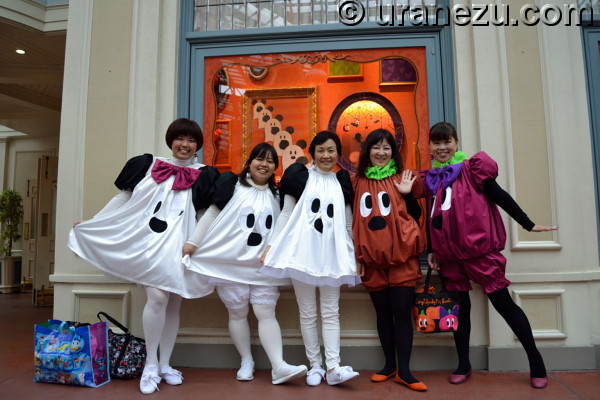 Catch their Love, OLC Merchandise Division!
Wow, I really admired their loyalties of TDL. Their wonderful dresses are as same as 2016 TDL Halloween merchandise design. (You can see the window of their behind.) It's so perfectly the same and more beautiful than the items, because with their big nice smiles add as extra point.
"Minnie the ghost, Mickey the ghosts, Mickey pumpkin and Minnie the pumpkin" from "2016 TDL Halloween merchandise".