Amazing Halloween Costume
> 2012 Part 04
---
---
Please do not use uranezu pictures on other websites without permission.
Please do not use uranezu.com cosplay pictures on other websites. All of the cosplayers of this site gave me a permission to use only on my website "uranezu.com". Thank you for your understanding.
If you find any copies of the uranezu cosplay pictures in any other places being used on a web site, printed or sold without my permission, please inform me as soon as possible, for there is a possibility of an infringement of copyright. It is also helpful if the URL(if there is one) or the place they are being printed or sold is indicated, so that it is possible to warn or to take legal actions against the person involved.
For many cosplayers gave their pictures to uranezu.com., please understanding and support this.
Part 4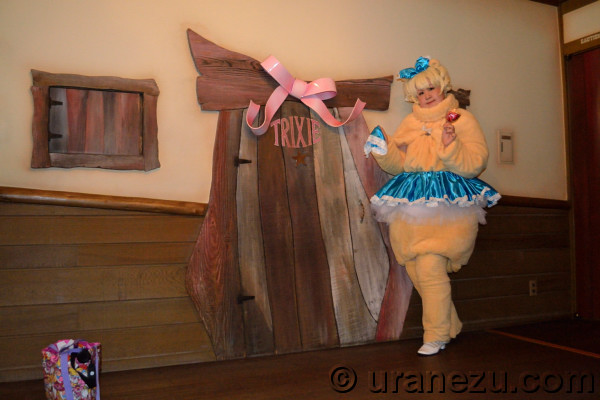 It was worth the wait at stage door!
I really lucky to encounter this pretty Trixie at Country Bear Theater. The wonderful location, the adorable fluffy fur with beautiful pleated dress, it is best Trixie!
"Trixie" from "Country Bear Theater".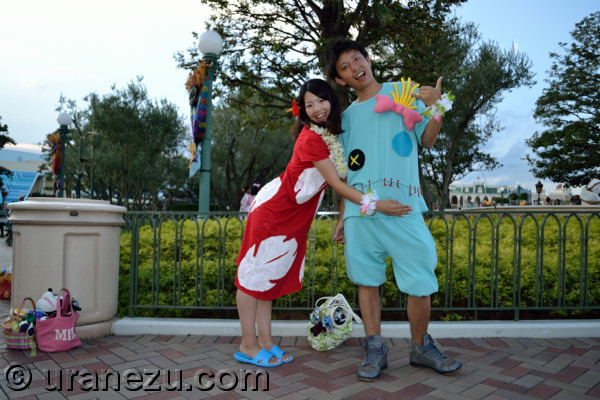 Always Together!
It's very impressive ability to select their own characters. It's a wonderful idea that their steady relationship put on these characters. And very effective costumes are just awe!
"Lilo & Scrump the doll" from "Lilo & Stitch".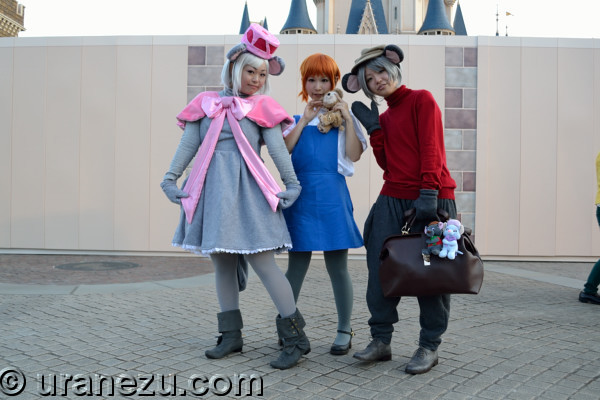 The World is Waiting For You!
I always enjoy the Rescuers' unit in TDL Halloween, but this unit is very special. Remarkably, there is Penny with the famous Rescue Aid Society's member. Their skillful costumes invite us the story.
"Miss Bianca, Penny and Bernard" from "The Rescuers".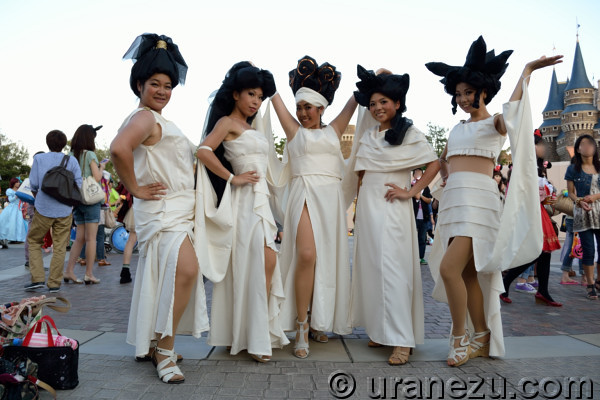 You Go Girls!
Here are the powerful attractive muses. I was super surprised at how amazing the muses are. They are so wonderful. I just can't say anything except marvelous unit!
"Muses (Thalia, Melpomene, Calliope, Clio, and Terpsichore)" from "Hercules".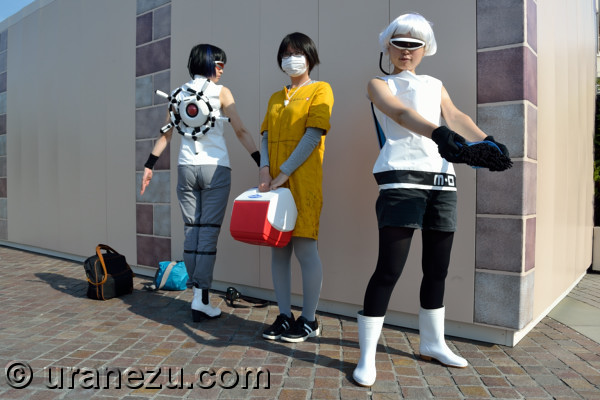 Very unique characters from "Wall-E" film. I've never seen the characters in Disney Halloween. It was very happy moment for me. I love their wonderful personalization of the robot.
"AUTO, WALL, WALL・E and M・O" from "WALL-E".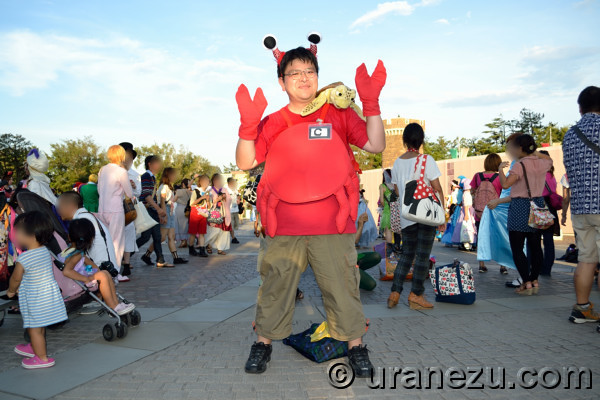 C! C???
If you recognize his character, then you are a master of TDS. He dressed as a crab from pre-show character of "Turtle Talk with Crush" at TDS.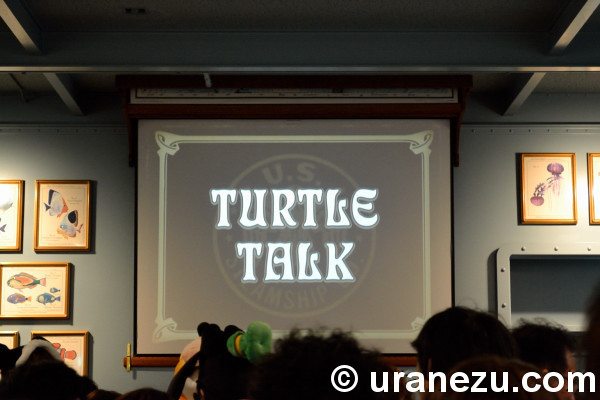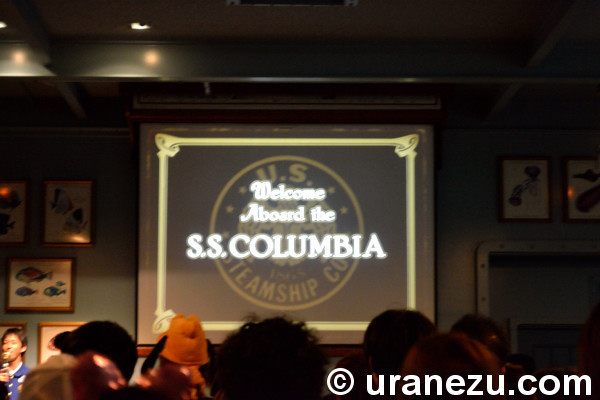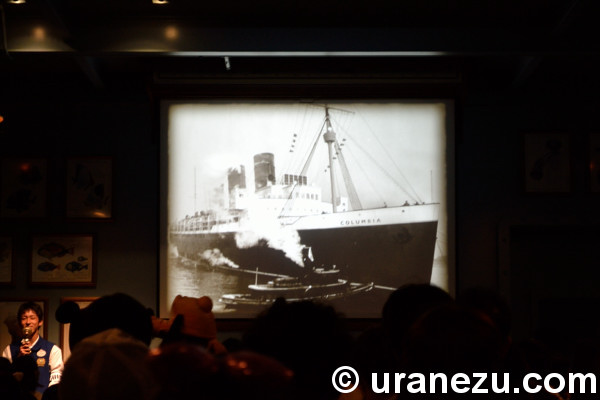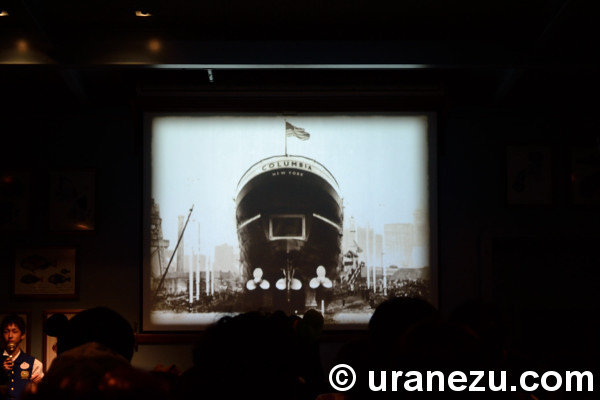 The pre-show of the attraction is a slides to introduce the ocean floor deck and the hydrophone. After the explanation of the structure and machinery, there are a quiz who we can talk with at the observation deck. The answer has three selections, A & B are mob fish, and C is Crush. However, before the real answer the Crush projection, a child who dressed as a crab popped up.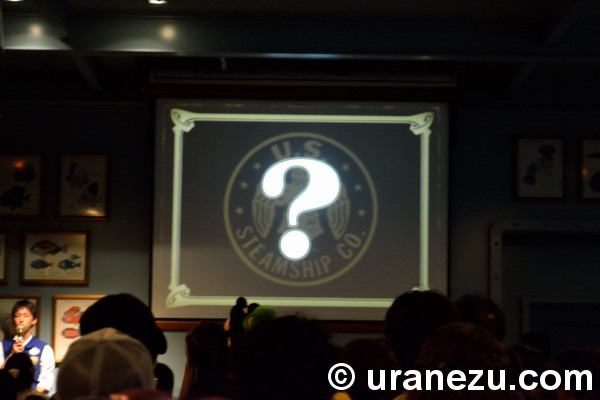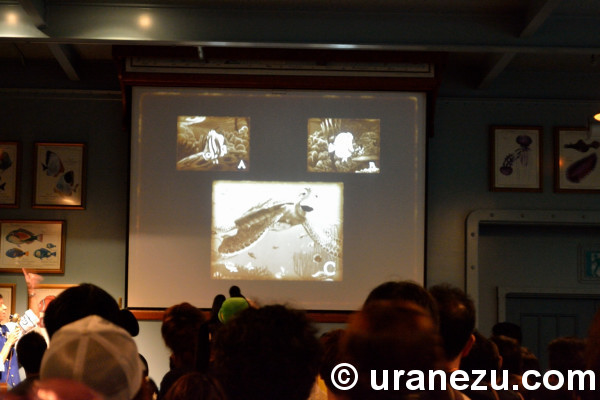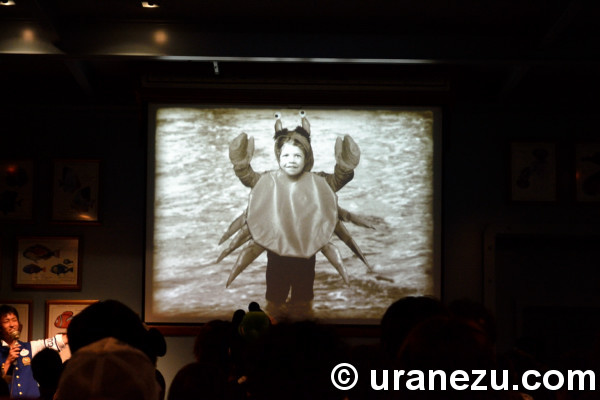 That's is his character. Amazing! I am really big fan of him.

(Did you know they are same as "R2-D2" in 2010?)
"C? Crab" from "Turtle Talk" the attraction at TDS.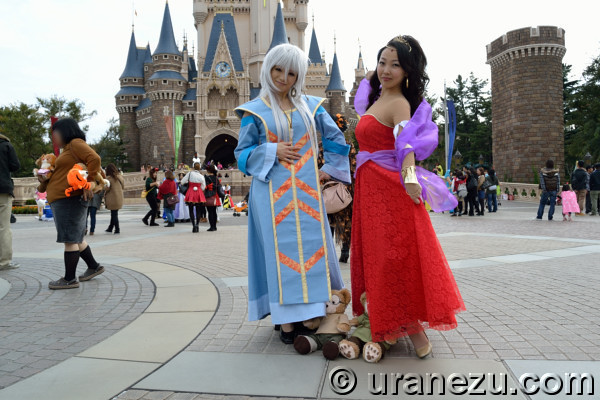 Mysterious Heroines!
Here come Mysterious and attractive heroines. It is very unique combination. Their dresses are very beautiful and I love their luxurious dress fabrics. The Duffies dressed each as Milo and Quasimodo. It's really cute! (I'm very sorry that my photo couldn't gives you wonderful their Duffies.)
"Kida (Kidagakash)" from "Atlantis: The Lost Empire" & "Esmeralda" from "The Hunchback of Notre Dame".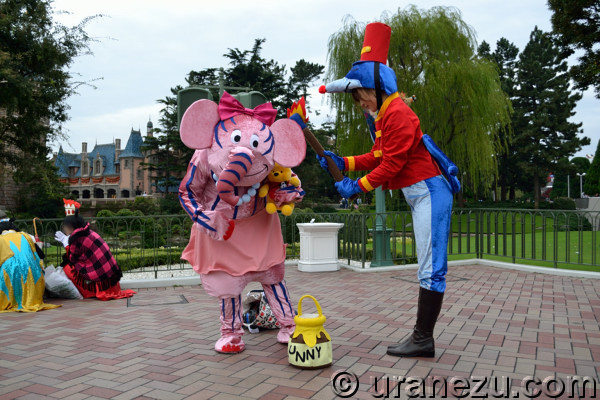 Inside the Pooh's Dream!
It's almost like actually riding through "Pooh's Hunny Hunt" the attraction. I admire their passion for the character's expression.
(Did you know they are same as "A pair of gloves" in 2011?)
"woozl and heffalump" from "Pooh's Hunny Hunt".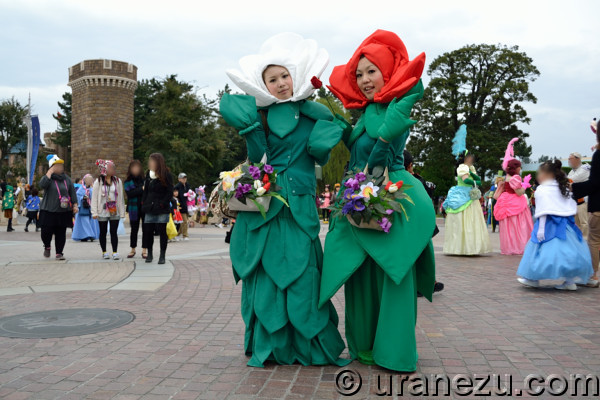 Golden Afternoon!
My favorite scene of the film spread out before me. It was wonderful time, beautiful sight. It's just Golden Afternoon at TDL Halloween. I was impressive by their perfect dresses.
"White Rose & Red Rose" from "Alice in Wonderland".
Pretty Magical Spell Is Not Broken!
Here are a charming unit from "Beauty and the Beast". Their beautifully-crafted dresses are stand out in the crowd. I love their characteristic costume design. (I'm very sorry that my photo couldn't gives you wonderful their details.)
"Beast, Belle, Mrs. Potts, Lumiere, and Featherduster" from "Beauty and the Beast".