Amazing Halloween Costume
> 2016 Part 07
---
Amazing Halloween Costume 2016 at TDS

Part 1 Part 2
---
Please do not use uranezu pictures on other websites without permission.
Please do not use uranezu.com cosplay pictures on other websites.
All of the cosplayers of this site gave me a permission to use only on my website "uranezu.com". Thank you for your understanding.
If you find any copies of the uranezu cosplay pictures in any other places being used on a web site, printed or sold without my permission, please inform me as soon as possible, for there is a possibility of an infringement of copyright. It is also helpful if the URL (if there is one) or the place they are being printed or sold is indicated, so that it is possible to warn or to take legal actions against the person involved.
For many cosplayers gave their pictures to uranezu.com., please understanding and support this.
Part 7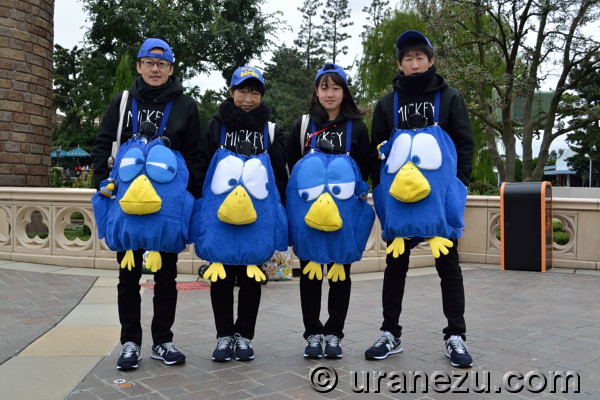 for the tdl halloween!
I really fascinated at the idea that they picked up this blue little birds from a great number of Disney friends. It's so perfect character for the happy unite family, isn't it? And look at these, every bird's expression is so great. (of course the human too!) If you'll stand just middle of them, you'll enjoy the large bird's feeling!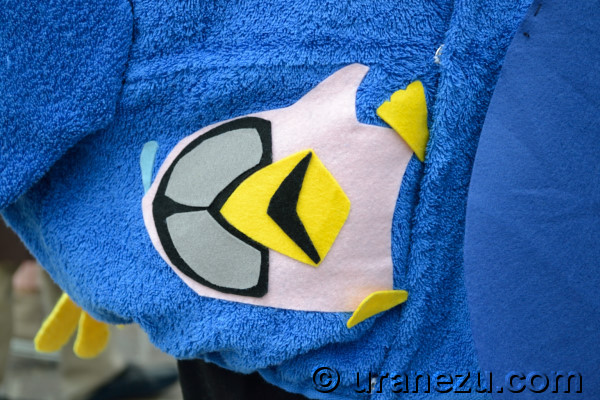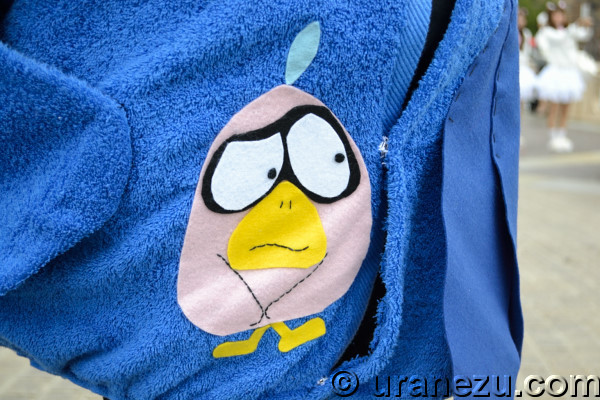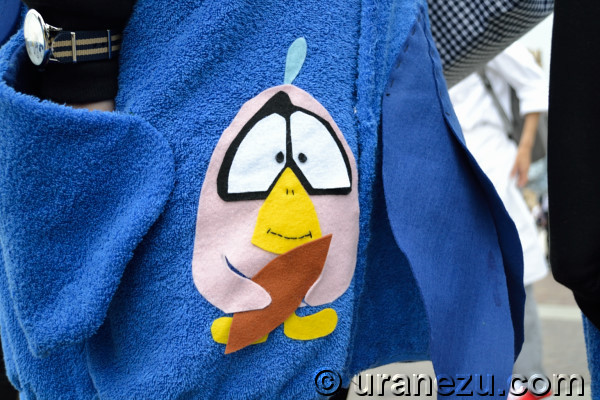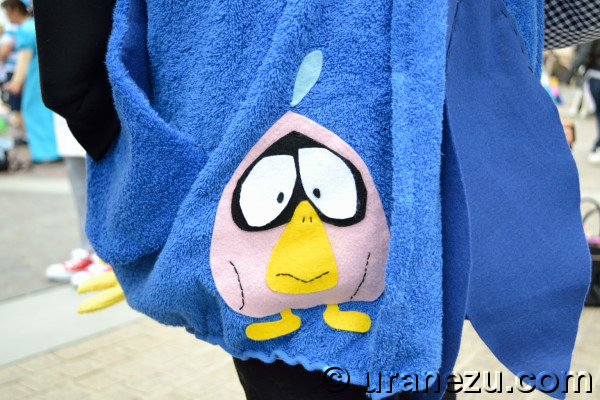 We can enjoy the last part of the movie on their back. I love this wonderful idea.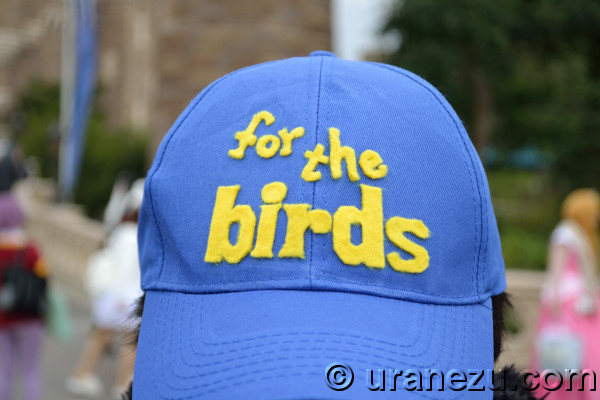 How can I cut the felt so small pieces and neat like these? I really enjoyed their excellent art works.
(Did you know they are same as Toy Story unit in 2015?)
"A small blue birds" from "for the birds".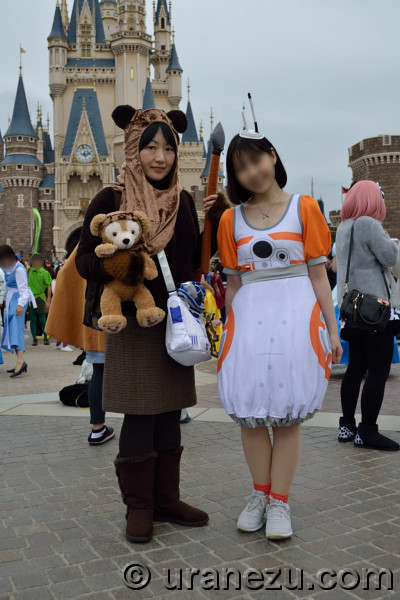 A Little Furball & Ball!
This pretty duo's latest costumes in this year are cute and trendy. I'm happy to see cute fuzzy guest from Endor and stylish visitor from ***. I always attracted by their great creations which based on their wonderful design senses and amazing skills.
(Did you know they are same as Danny in 2015?)
"Wicket and BB-8" from "Star Wars".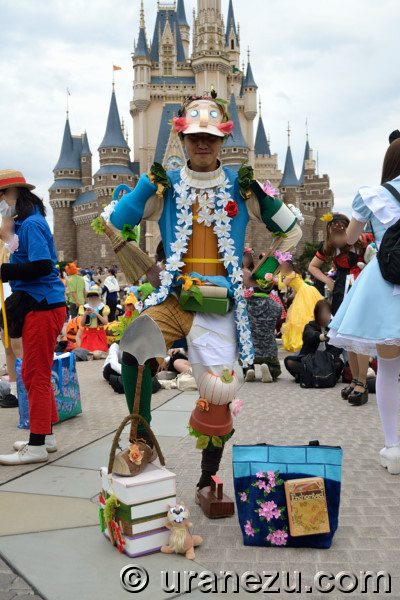 A True Love Work!
What an elaborated costume he made! He told me that this Giselle's longing prince was also his long-cherished character for TDL Halloween. His every part is incredibly well detailed and flawless. My favorites are the heaps of books at his waist and right arm water jug!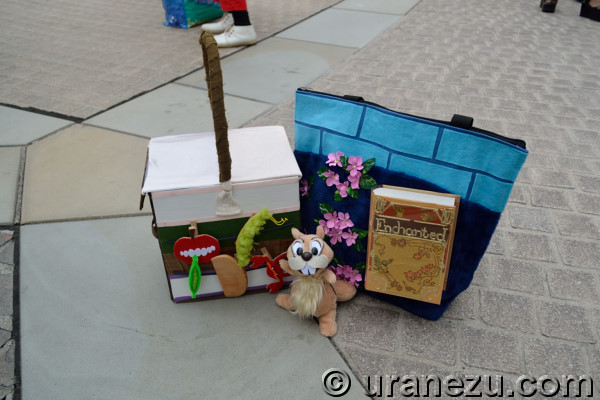 His carry bag is also his handmade. I love this beautiful blue castle wall and the book from the opening design. And He also prepared alternative lip collection. I feel overwhelmed how he made so perfectly in details.
(Did you know he is same as Lizard Footman in 2016?)
"Giselle's Dream Prince" from "Enchanted".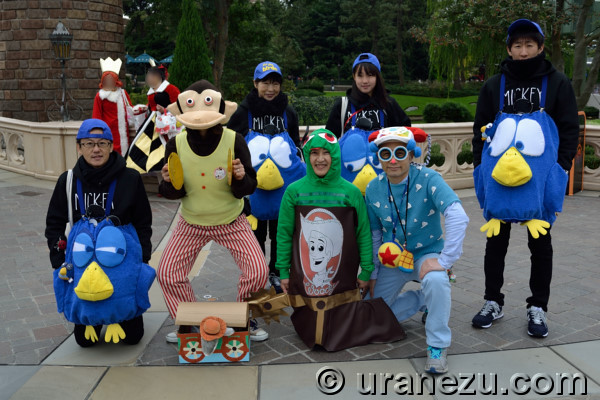 We've Got Friends in Them!
I am so happy to see them again who dressed as Pixar's characters, especially very very minor characters. A Cool helper telephone, very impressive watcher Monkey, and momently appearance Woody's boot toy! Amazingly I've just started to share their great photos a couple of years ago, but they've participated in TDL Halloween from the very start. Not only their costumes are very beautiful, but their firmly love for Pixar and family-friendly attitude is so remarkable. It is applaudable endeavor.
(Did you know they are same as Toy Story unit in 2015?)
"Chatter Telephone, The Monkey, and Woody's Boot Toy" from "Toy Story" series with "Little Blue Birds" from "for the birds".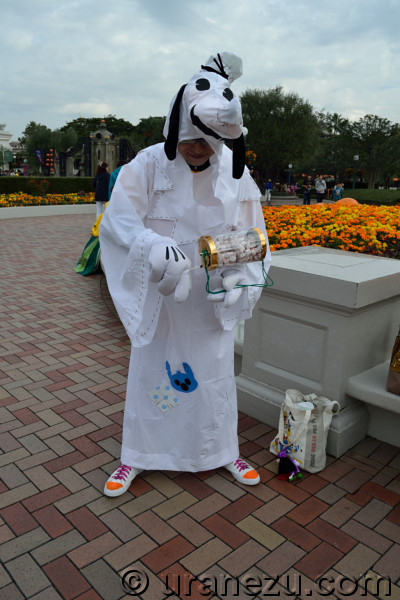 Halloween Special Flavor!
It is perfect costume for TDL Halloween which is really good idea and I love it. I was impressed that he wore a normal Goofy dress under this special ghost sheet. I really want his popcorn machine prop more than real popcorn, even the fresh.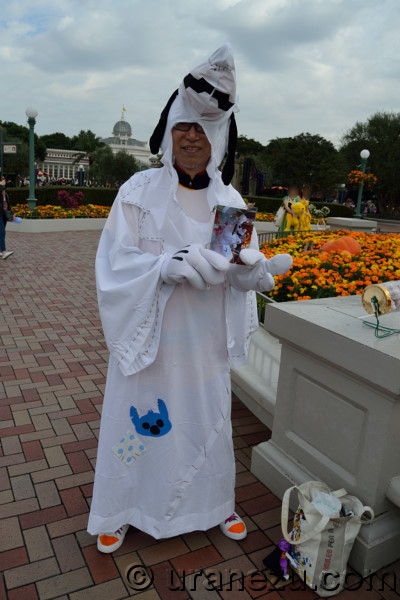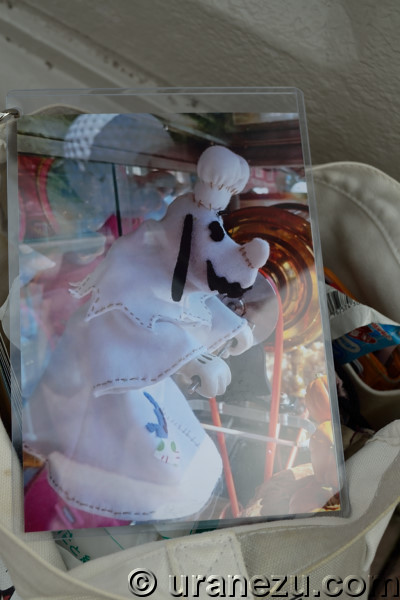 On the right picture, this is the special decoration at the popcorn machine which can only see Halloween season.
(Did you know he is same as Seagull in 2013?)
"Toon Pop Goofy Halloween version" from "Toon Pop the Toontown popcorn wagon".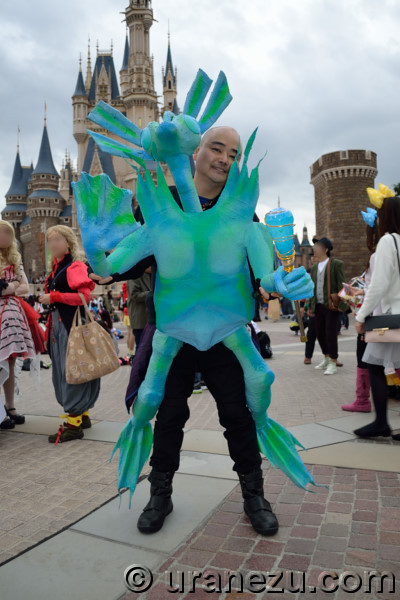 Reunion with The Lifesaver!
I'm really look forward to his unique Halloween costume, and he is never disappointed me. We could greet an underwater dweller on the ground by his eagle eye and great skills. I was dazzled by his one and only wonderful costume.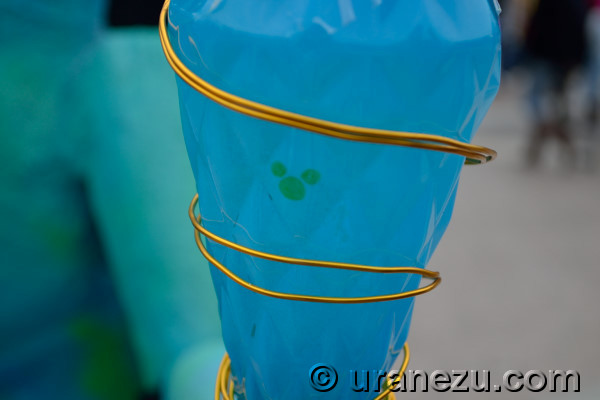 He always made extra fun for us.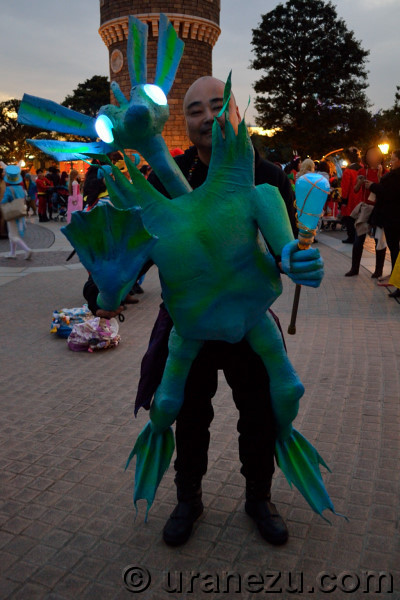 In the night, the eyes are glowing! It reminds me that his great power in the deep sea.
(Did you know he is same as Primo Zambini in 2016?)
"Mysterious Lifesaver" from "20,000 Leagues Under the Sea".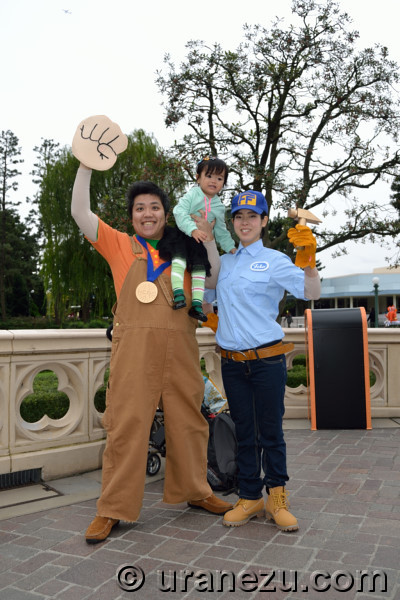 Family-Friendly Game Ever!
Look at a perfect role allotment of them which is based on the character size! The powerful Ralph father with heft-able little Vanelope, and smart Filix made me exhilarating.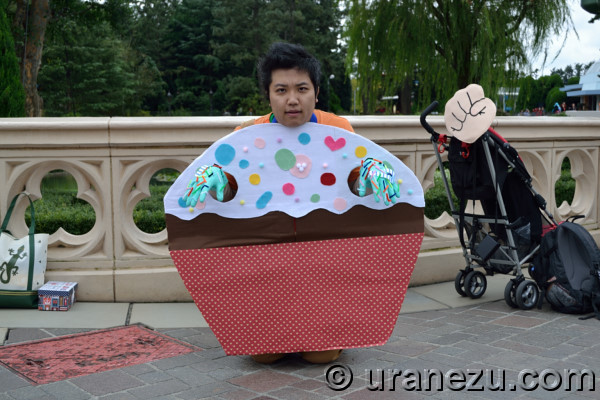 In this year, he prepared his cupcake-bound on his own! I like green chocolate dipped hands which he used a laundry rubber glove.
(Did you know they are same as Alice In Wonderland unit in 2016?)
I was moved that a succession of great racer princess from lovely mother to adorable daughter.
"Wreck-It Ralph, Vanellope, and Fix-It Felix, Jr." from "Wreck-It Ralph".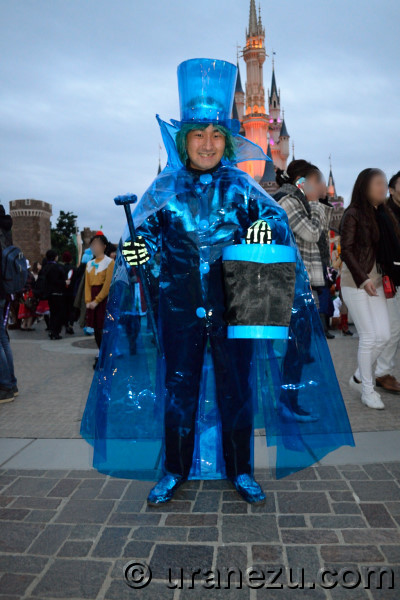 1000th Ghost of TDL Haunted Mansion!
Yes! That's Disney Halloween! I never expect that I could see him in TDL, so I was really excited. I really impressed that he used a blue transparent soft plastic for his costume which expressed "black light growing" so well. It's really amazing imagination. I really love it.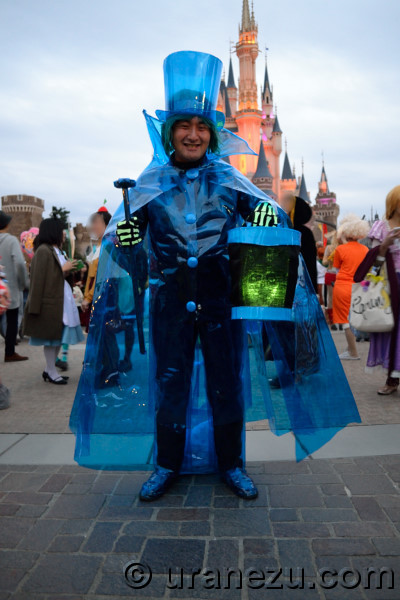 He asked OLC for confirmation if this return ghost to DL is OK in TDL Halloween. His attitude of respect the TDL Halloween rule takes the park to a new level.
(Did you know he is same as Trader Sam in 2013?)
#The Hat Box Ghost" from "Haunted Mansion".
That's all 2016 TDL & TDS Halloween.
I do appreciate that you kindly agree to share your wonderful pictures.
I am always moved by their enthusiasm, devotion, zeal, and all kinds of pure love for TDR Halloween. Especially, I really impressed their perpetual spring of imagination.
Your passion made me keep continuing my website, because I'd like to spread your wonderfulness to the world.
Thank you very much again, and I hope that I'll see you again in next TDR Halloween!
(I understand that even permanent TDL cast members want to see their costume, buy why do they come and see slinkingly without hide their nametag in the park? I hope permanent TDL cast member will come see them in a normal way!)