Amazing Halloween Costume
> 2011 Part 05
---
---
Please do not use uranezu pictures on other websites without permission.
Please do not use uranezu.com cosplay pictures on other websites. All of the cosplayers of this site gave me a permission to use only on my website "uranezu.com". Thank you for your understanding.
If you find any copies of the uranezu cosplay pictures in any other places being used on a web site, printed or sold without my permission, please inform me as soon as possible, for there is a possibility of an infringement of copyright. It is also helpful if the URL(if there is one) or the place they are being printed or sold is indicated, so that it is possible to warn or to take legal actions against the person involved.
For many cosplayers gave their pictures to uranezu.com., please understanding and support this.
Part 5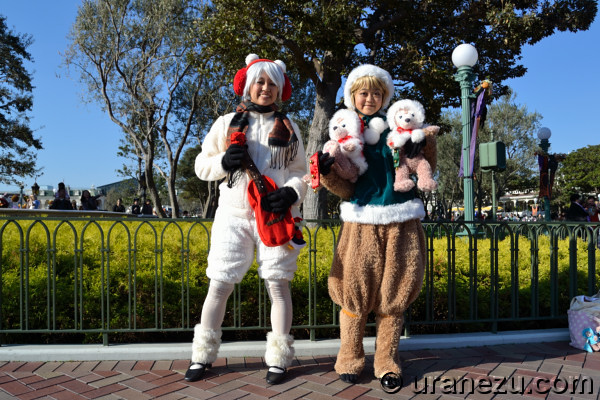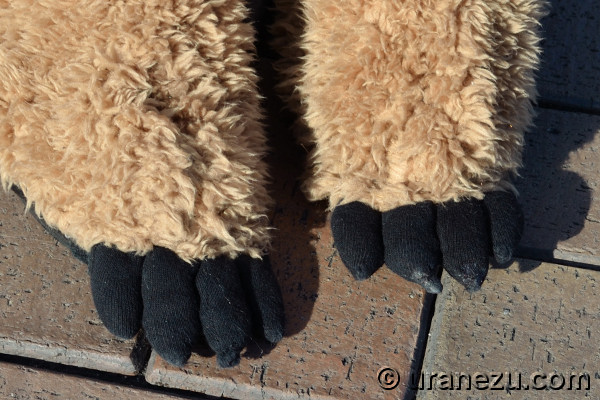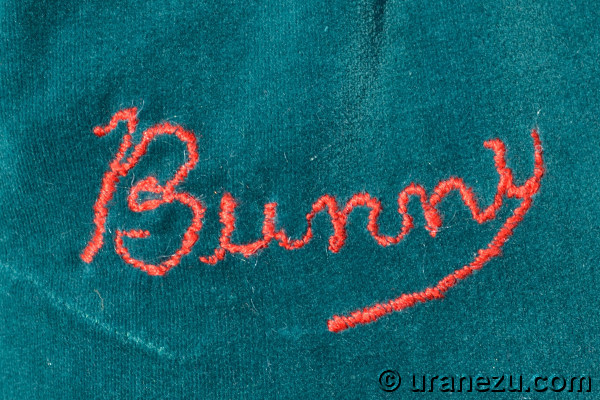 Winter Wonderland!
Here are a cute Christmas version Shaker and Bunny. Look at the details! They love Country Bear so much. It's a wonderful!
"Terrence (AKA. Shaker)" & "Bunny" with Bubbles, Beulah the Duffy from "Country Bear Theater Christmas Special ver.".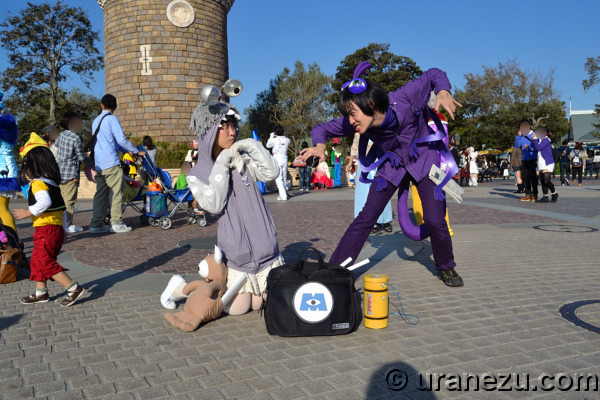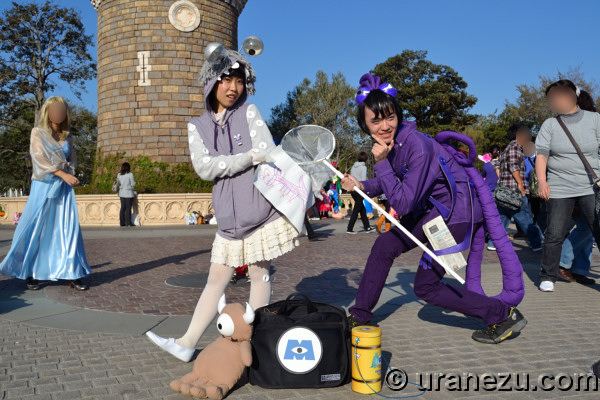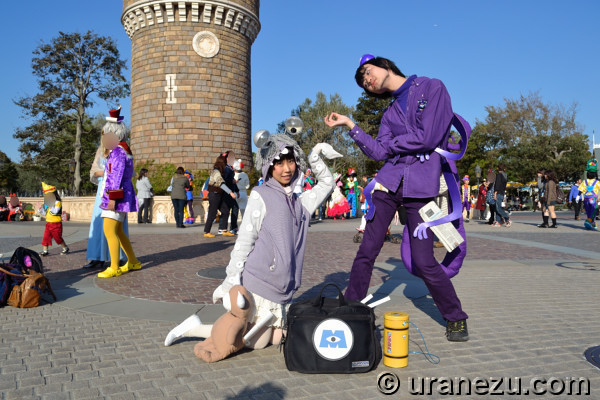 Watch out!
What an elaborate costumes and props! They gives me a very cool posing for a photos. Awesome!
"Boo" & "Randall" from "Monsters, Inc.".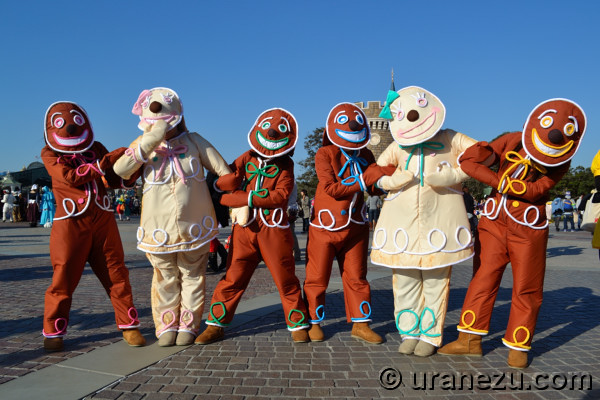 Our time is just round the corner!
It's an interesting choice of the Halloween costume. They really enjoyed being the Gingerbread boy and girl.
"Gingerbread boy & girl" from Disney Christmas.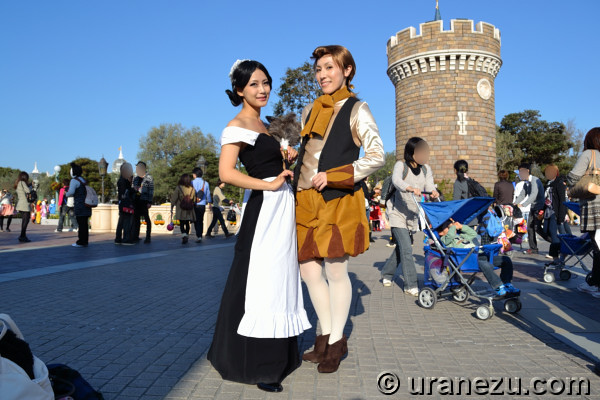 Happy ending!
Here are the spell is broken Babette and Lumiere. They are beautiful...
"Babette" & "Lumiere" from "Beauty and the Beast".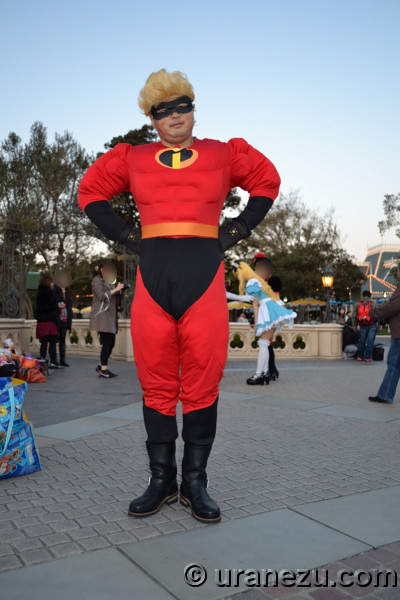 Grown up!
I thought he was a Mr. Incredible at that time, but when I checked the photo carefully, his hair is fluffy not sleek blonde as Robert (Mr. Incredible). So I think he is a big Dash..
"Dash" from "The Incredibles".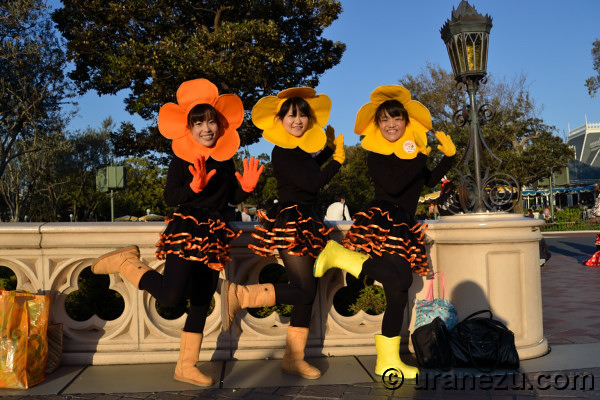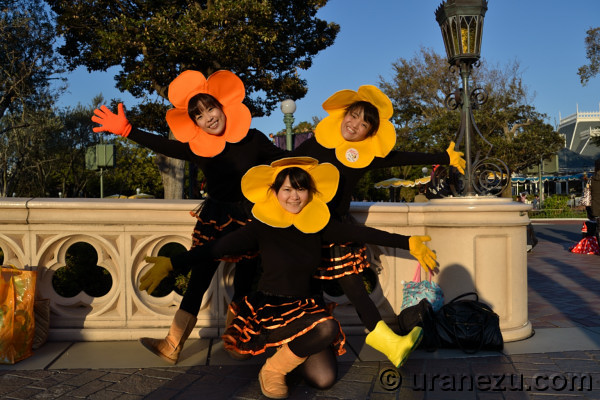 Classic!
They explained their intent in being a character of the "Flowers" from one of the classics "Silly Symphony". They said, "We would like to be a geeky character". Yes, you are exactly! It is so nice! I got to hand it to you!
"Flowers" from "Flowers and Trees / Silly Symphony".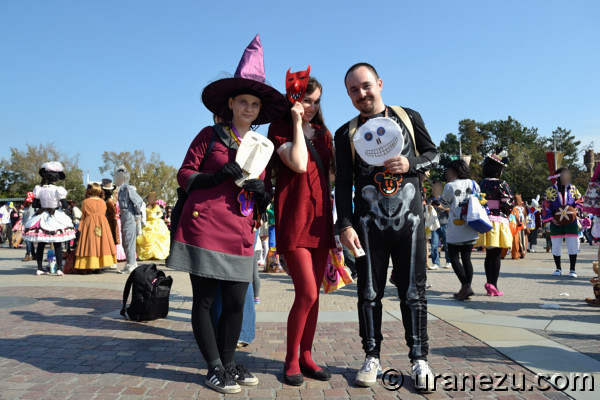 Where's Sandy Claws?!
A cheerful trio from Yamanashi prefecture to kidnap the Sandy Claws. I am happy that the number of foreigner enjoy the TDL Halloween. It is good for TDL to be an international flavor.
"Shock", "Lock", "Barrel" from "The Nightmare Before Christmas".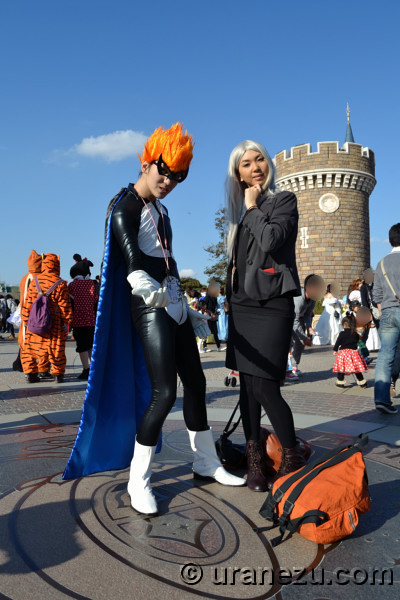 Scheming!
A slim Syndrome and an adorable Mirage. There are many Incredibles in this year, but it is not easy to find this couple, so it is a happy encounter for me.
"Syndrome" & "Mirage" from "The Incredibles".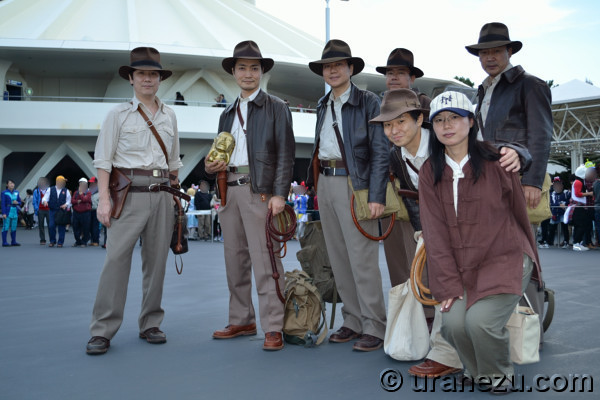 Any adventure will do!
It's impressive to see a six Dr. Jones at once. Look at their cool Indiana Jones standing position. Cool!
"Indiana Jones" with ("Short Round") from "Indiana Jones Adventure: Temple of the Crystal Skull".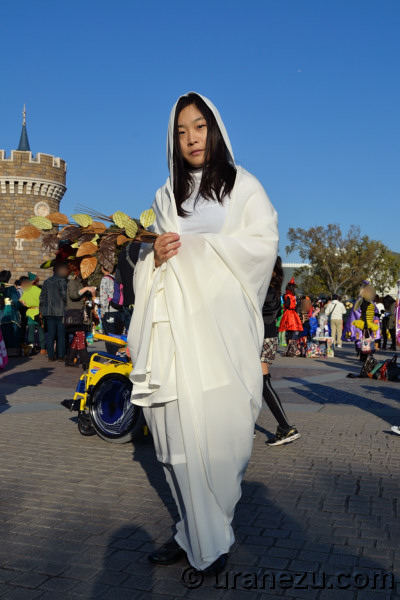 Hurry back!
She moaned that never noticing who she is. Don't be sad! Uranezu.com recognize you easily. It's a wonderful choice, Madame Leota! I support your spirit!
"Little Leota" from "Haunted Mansion".