Park Now >
---


Jan. 15 2018 about A Happy New Year from TDR.


Nov. 18 2017 about TDR Christmas 2017.
Jan. 15 2018 about A Happy New Year from TDR.
A Happy New Year, readers!
I'm so glad you to visit my site again and read this post.
I'll try to share many interesting TDR information from my point of view with you!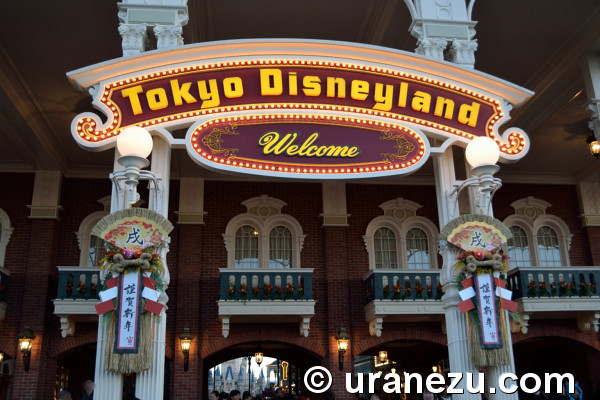 TDL and TDS the both parks took place only 5days special New Year event, 5th to 1st January
There were Japanese traditional decorations, special merchandise, and some special food.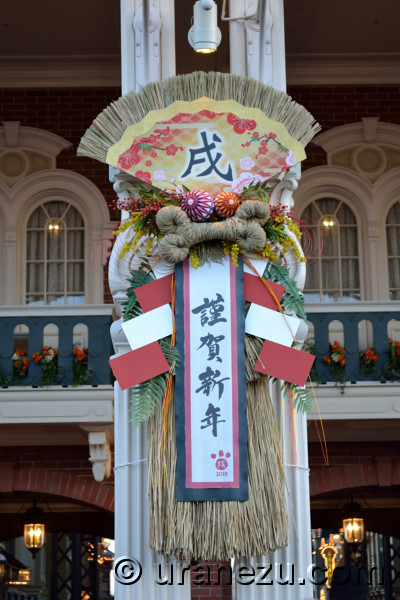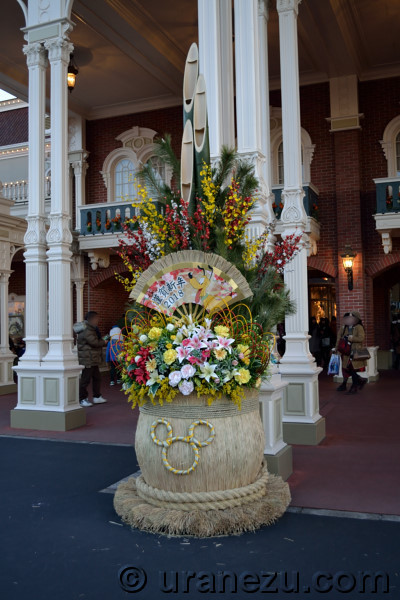 The above New Year decorations were located in TDL.
In this year 2018's zodiac is "dog", so it's year of Pluto!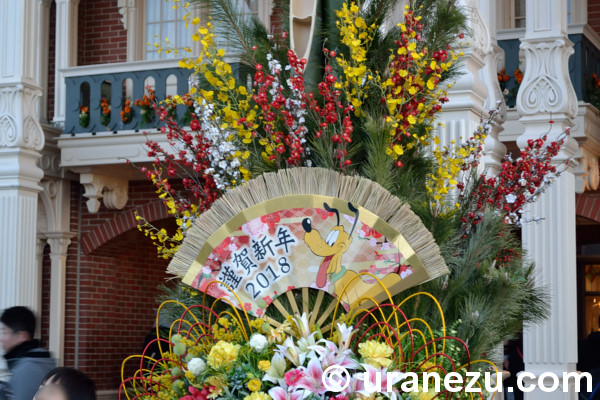 TDS also has a special banner of New Year.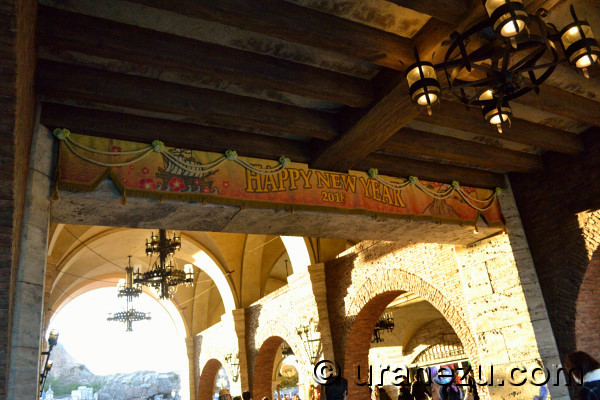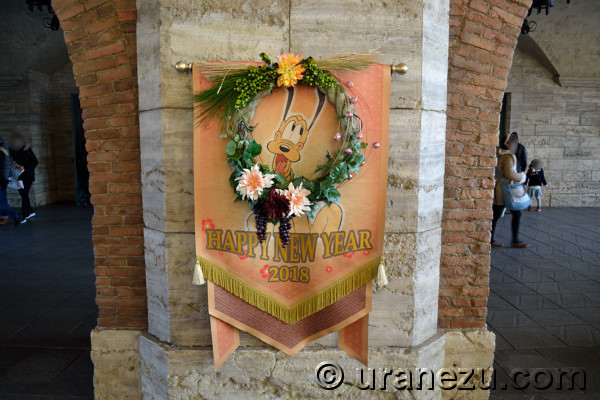 And also there are some Pluto and fifi.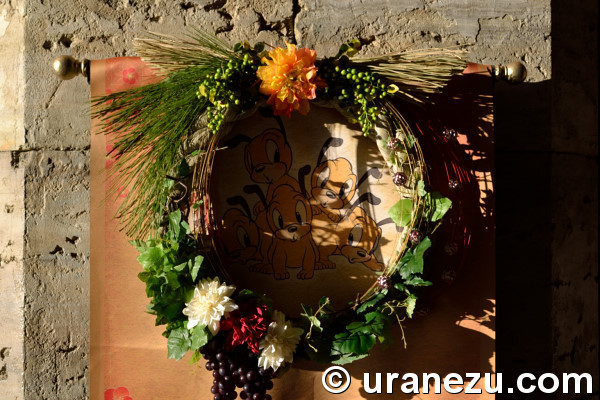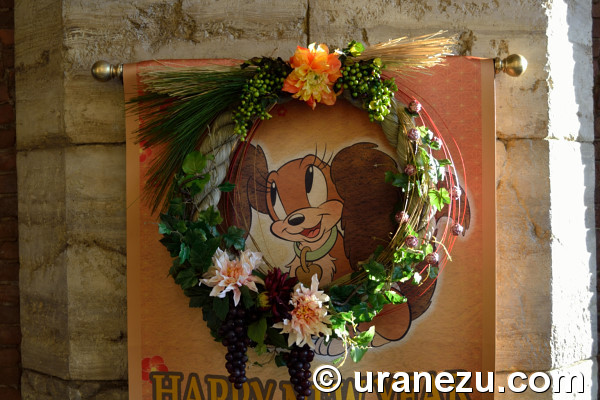 This very short term event become popular year after year.
Too many guests, so I couldn't take a photo of Kimono Disney friends.
Therefore please enjoy a front cover of TODAY the park information brochure.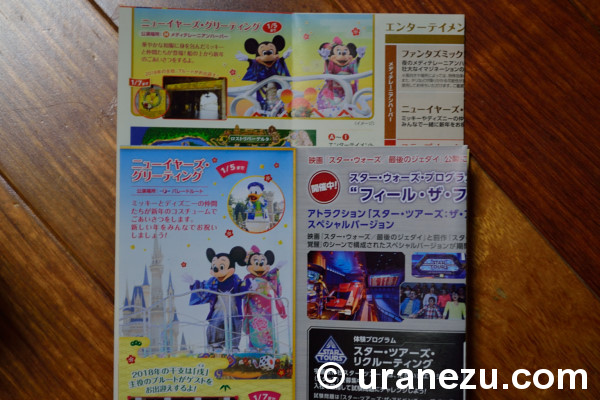 It's very special opportunity to see their Kimono attire. We can only meet this Japanese traditional costume Mickey and Minnie to 5th January from 1st January.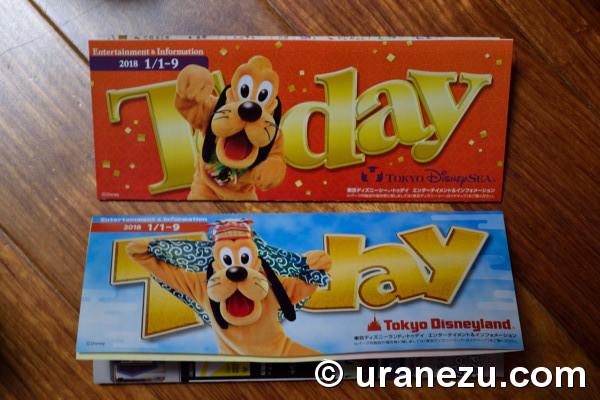 If you come to the park during time of the year, I recommend you to try a special dessert without hesitate. The below 2018 was Sweetened Milk Mousse & Strawberry Jellied Dessert. (for 750JPY.)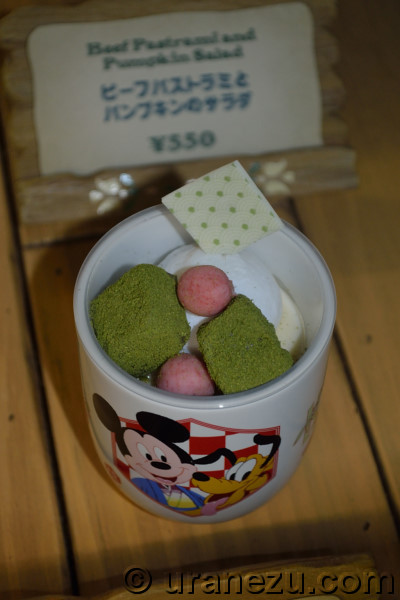 The souvenir cup was sold only about 10 days!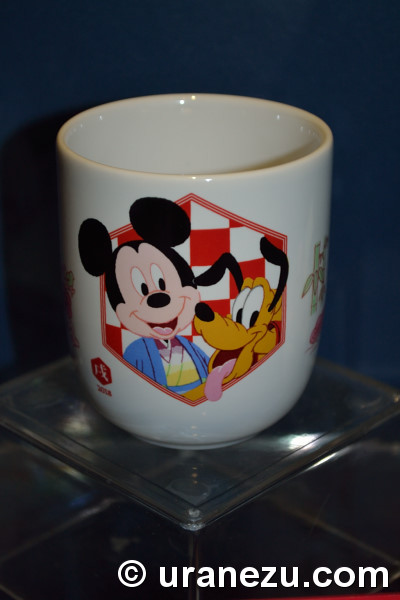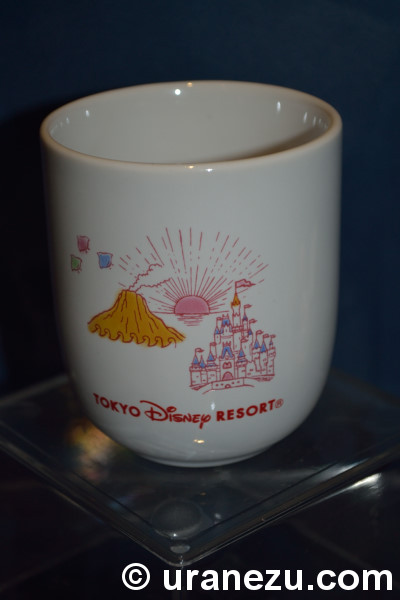 The first sunrise of the New Year is very lucky and happy design which perfect suit for the New Year dessert cup.
It may be bring welfare to you. So let's try to get one next year!
My expectation or highlights of 2018 are;

Spring

The closing of "Happiness Is Here" the five years long-run day parade, and new day parade "Dreaming Up!" debut.
Renewal opening of "It's A Small World".
Fall
2018 Halloween costuming date and new coming lifting-of-the-ban-character to dress up.
What's your focal point of 2018 TDR?
I hope you will have a great year!
If you have any questions, opinions and requests,
please contact us.
Nov. 18 2017. about TDR Christmas 2017.
I can't and I don't want to believe the Christmas has come to TDL already. I'm still working on TDR Halloween!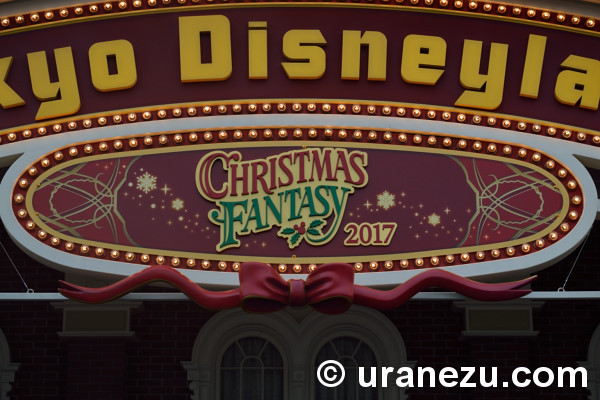 In this year's TDL Christmas theme is "storybooks filled with the Disney Friends" same as the last year.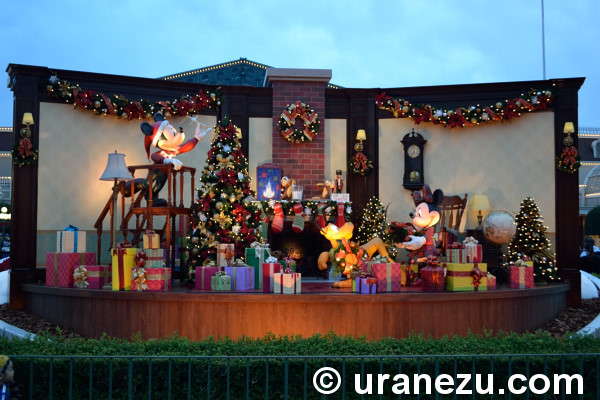 It looks like a very young couple house. I think the wall is too empty. I'd like to adorn the walls with some family pictures or paintings.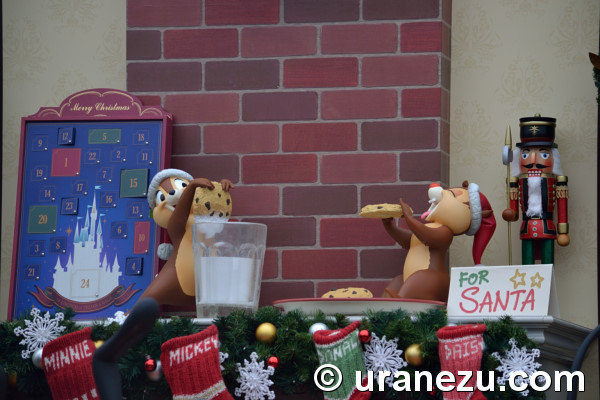 A cookie for Chip, and another one for Dale, so only one cookie serve for Santa Claus. I hope Father Christmas on a diet. I don't think the milk in the glass made very well.
This advent calendar looks can be open.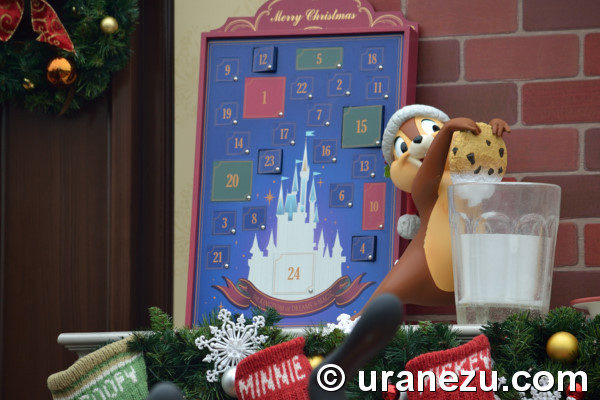 I will report it you in December!
Let's check a photo decoration on the hub.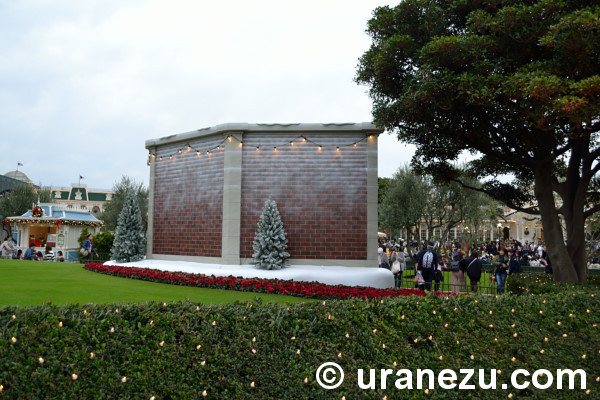 If you can see snow covered wall, you are almost there.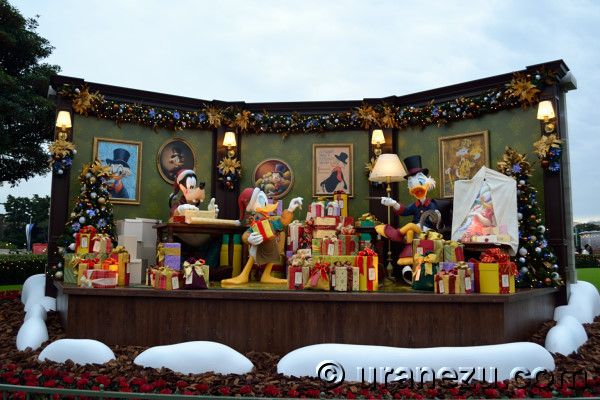 Yes, this is the inside of richest house.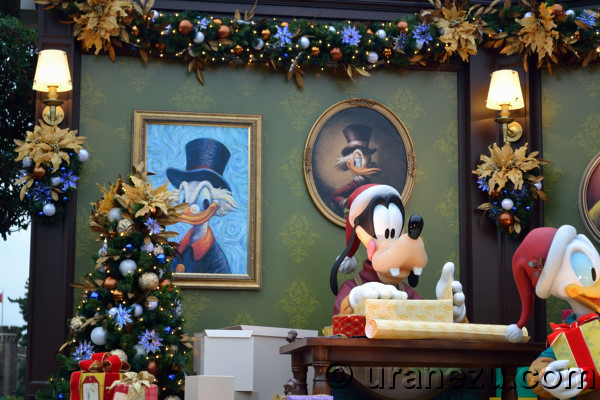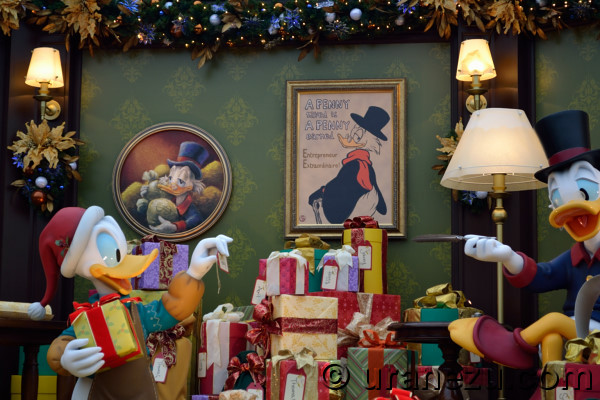 I think, Gogh, Rembrandt, who's this?, Lautrec, and Klimt. And the new collection is Renoir?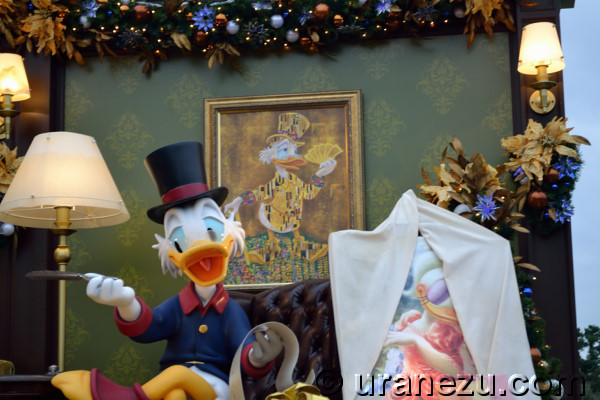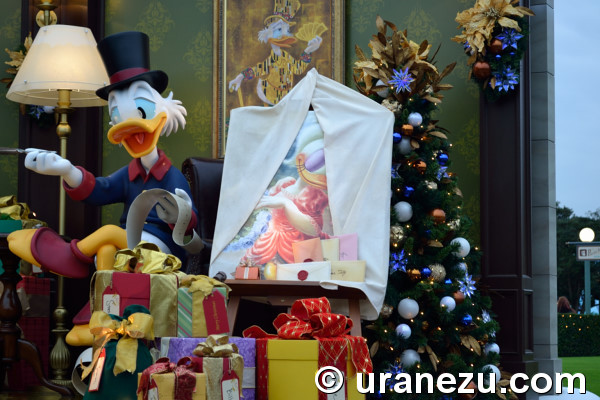 Another side of the hub is also lovely.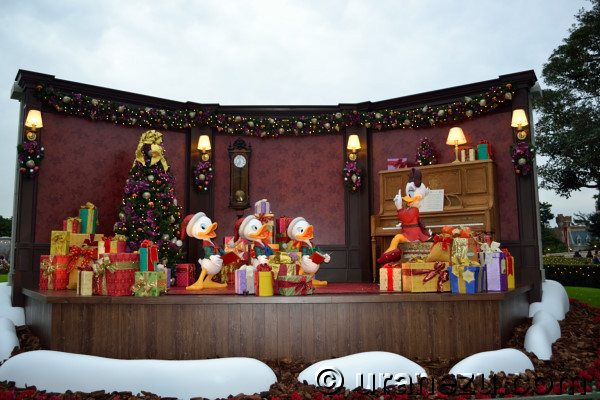 It's a practice time for caroling.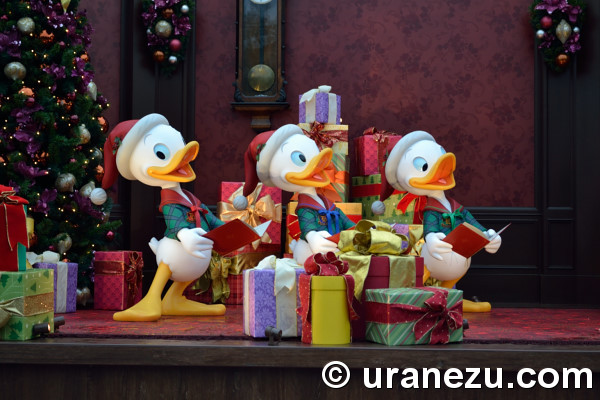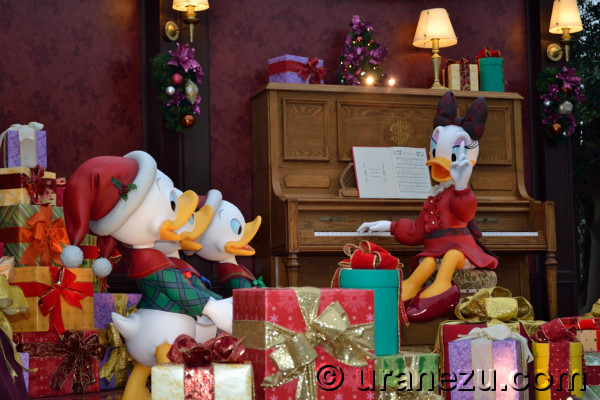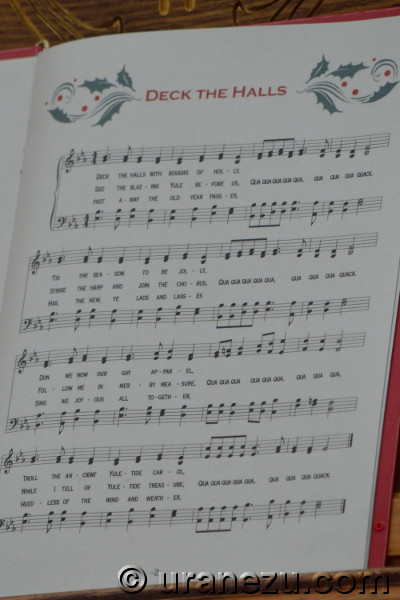 Oh, my! This is not the song which I know! I also need to practice this song right now.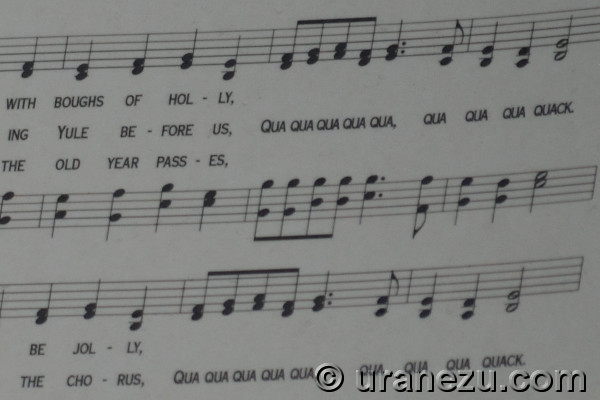 Above all three photo locations are very pretty, but where is the theme of "storybooks filled with the Disney Friends" in this year's TDL? (Oh, it's Christmas time, so forget about it!)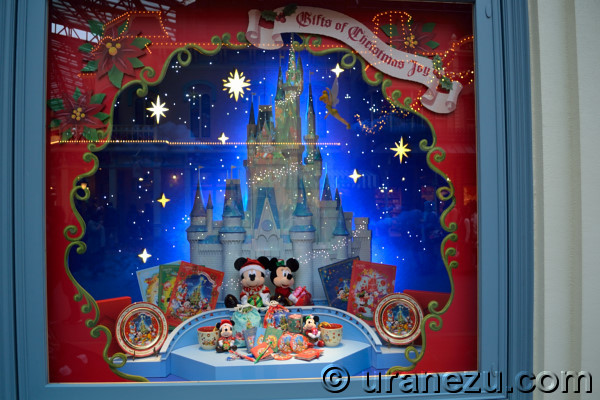 A decoration of three windows at Grand Emporium the biggest merchandise ship in TDL is a seasonal tradition.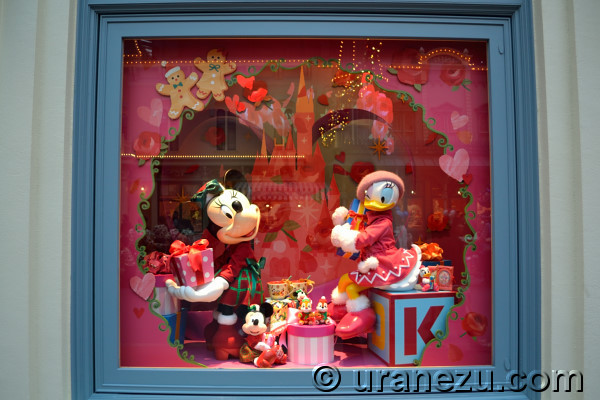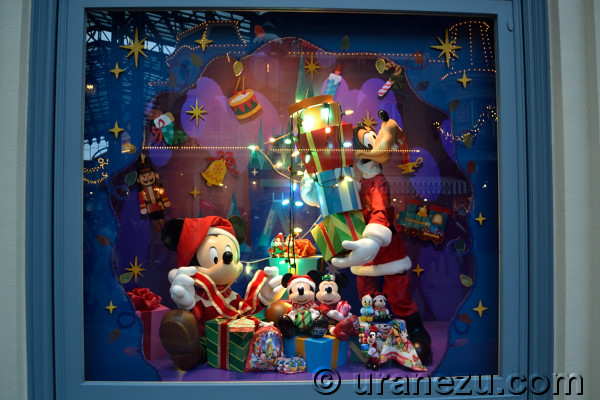 The attractive girls get many present, the boys need to preparing for her.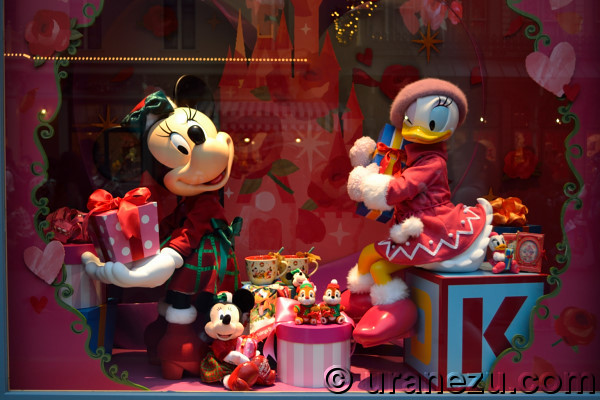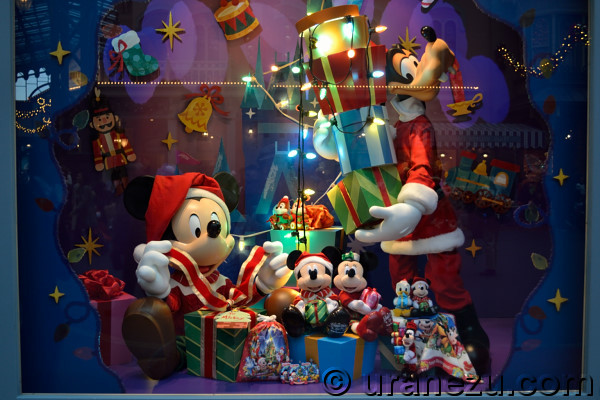 Anyway, it's a cute decoration, and these windows are merchandise shop, so no problem.
So many people came to see "Disney Christmas Stories" the special holiday parade.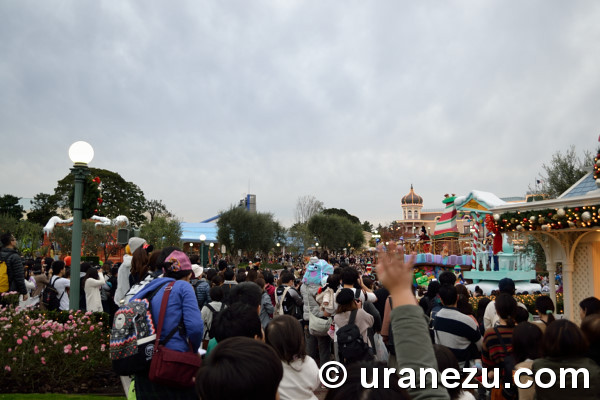 I gave up the photography of the parade, so I'm share with the many guests hold very expensive camera.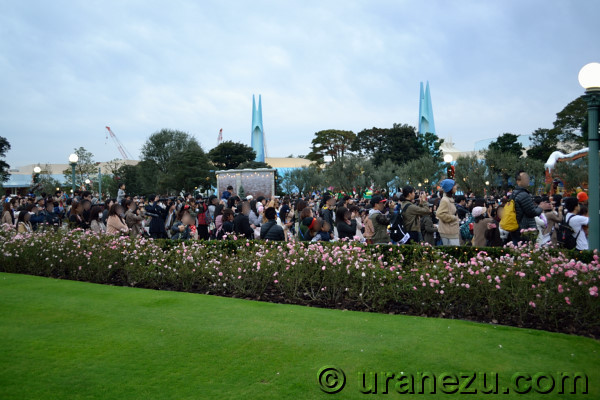 This is a great time to take a good picture while the parade.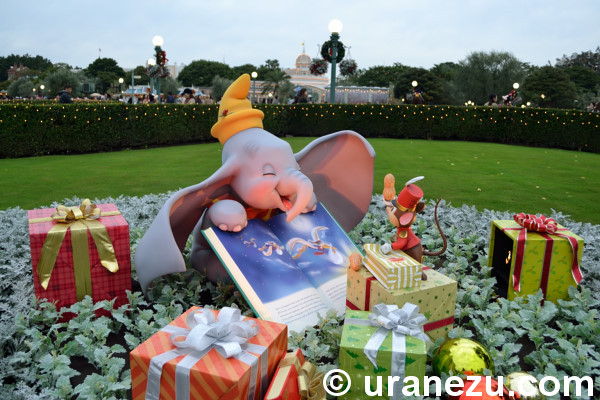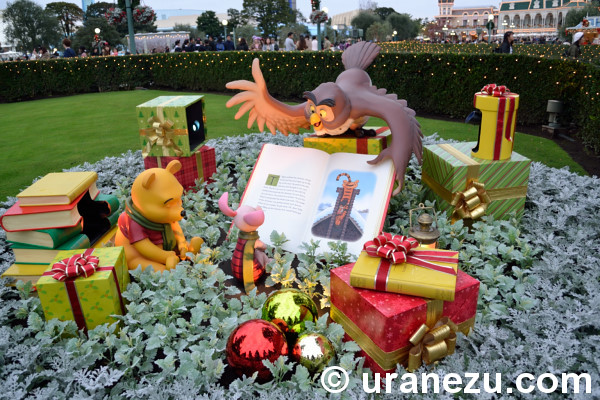 These two sub photo decoration are same as the last year. But's there are something new.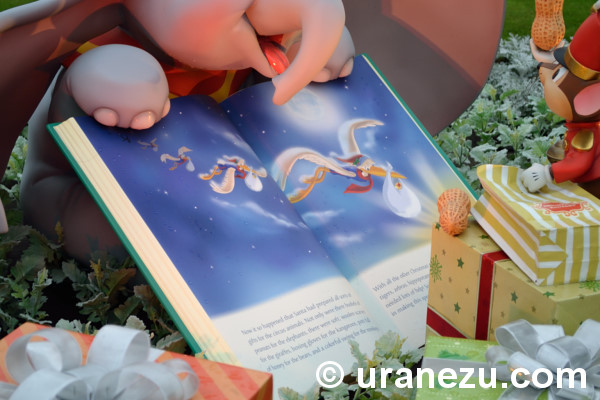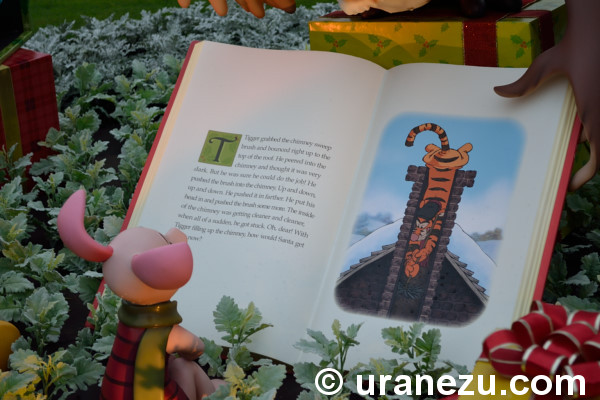 The above pictures are this year, the below photos are the last year.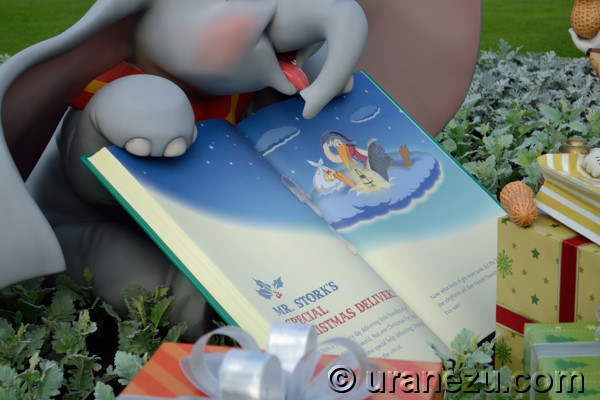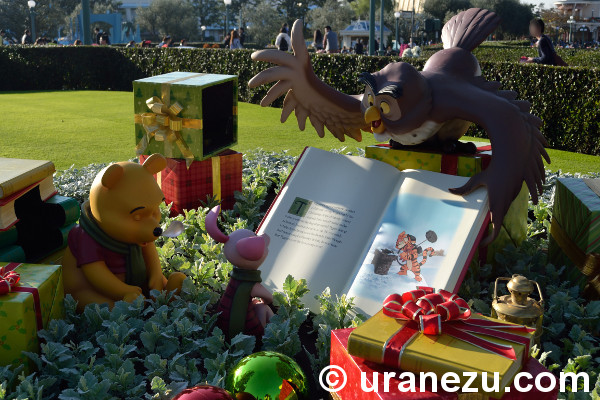 A page of these books were flipped, the story is proceeding!
Not only the park, a handrail in Disney Resort Line the monorail is also dressed as holiday attire.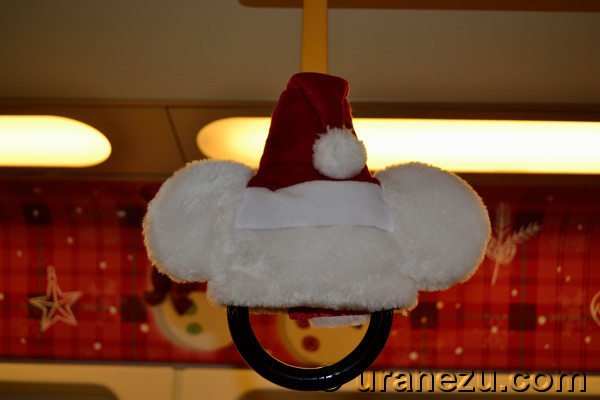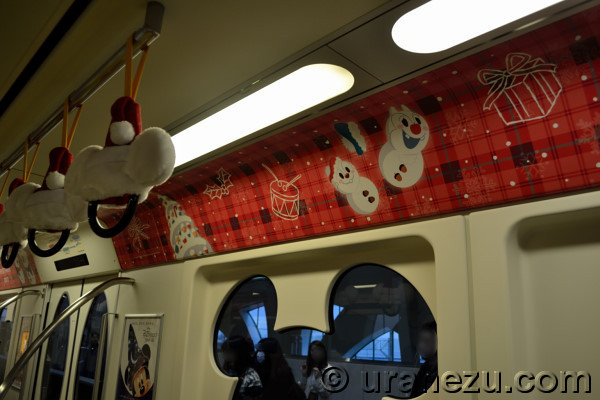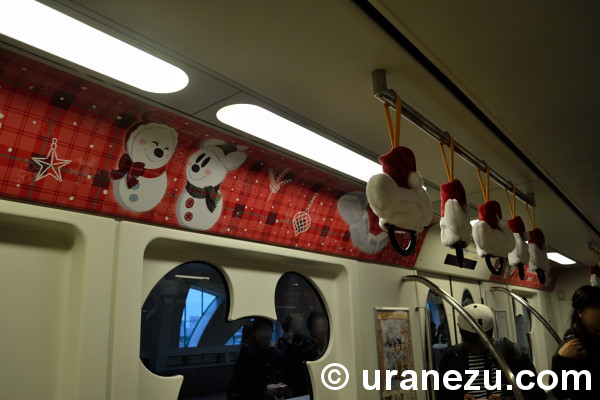 Each station has a nice holiday decoration and tree.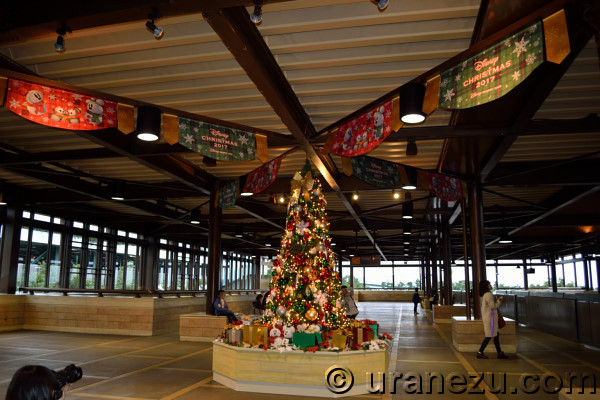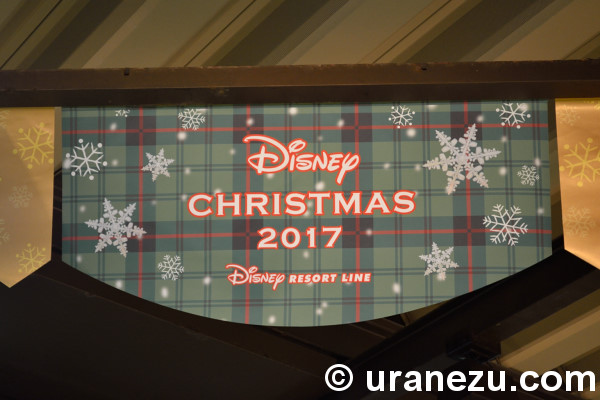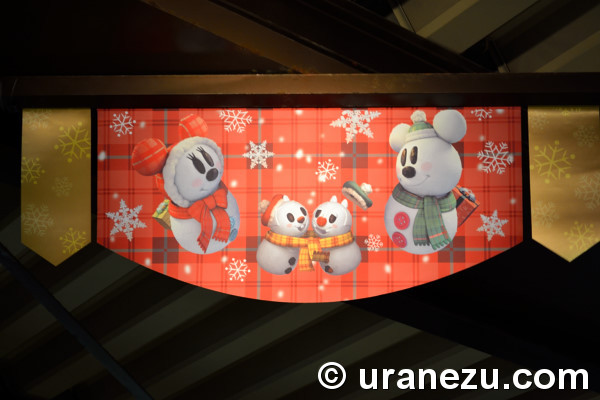 The above is from TDS station.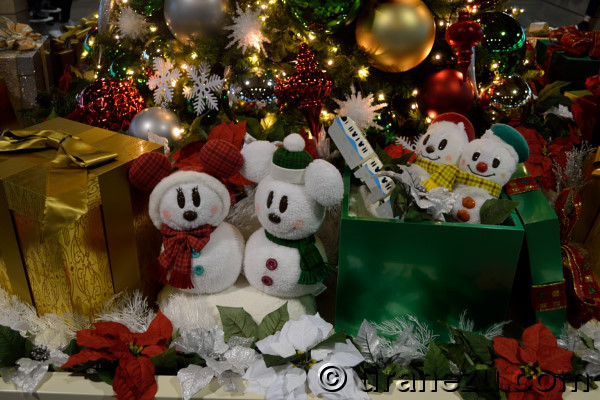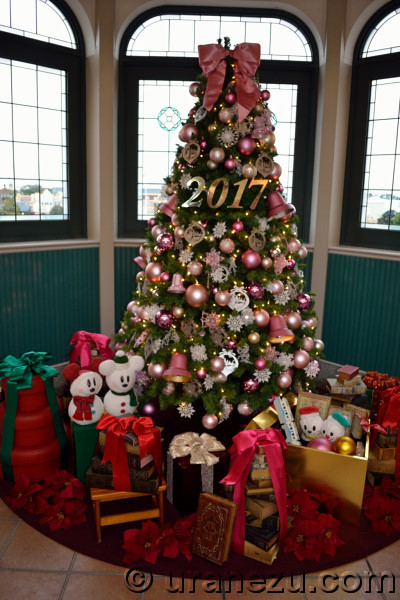 The tree is from TDL station.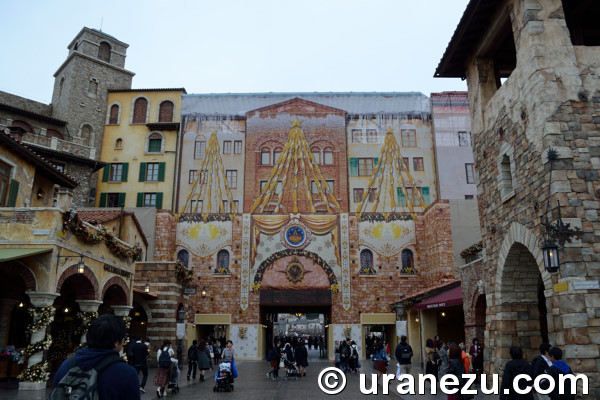 Yes, Christmas also has started at TDS. I was little bit surprised that a below sight.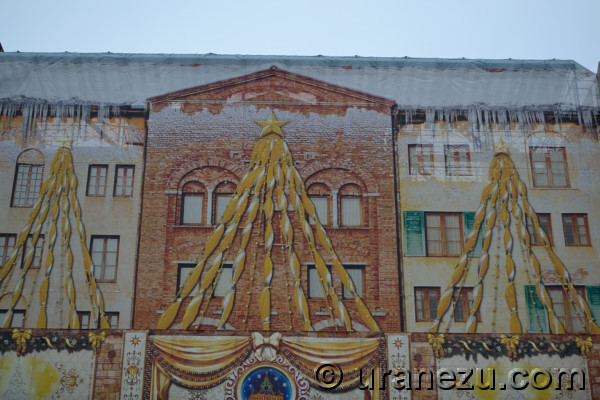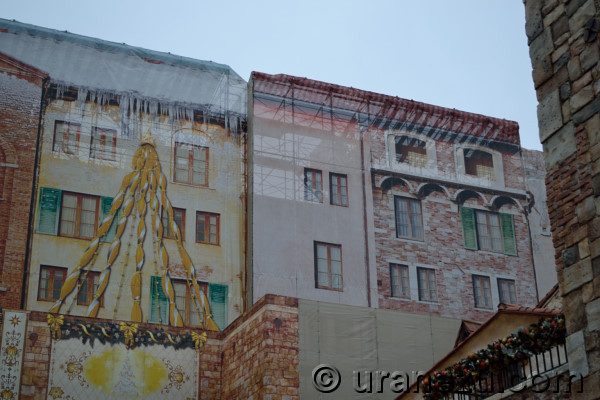 Did you notice?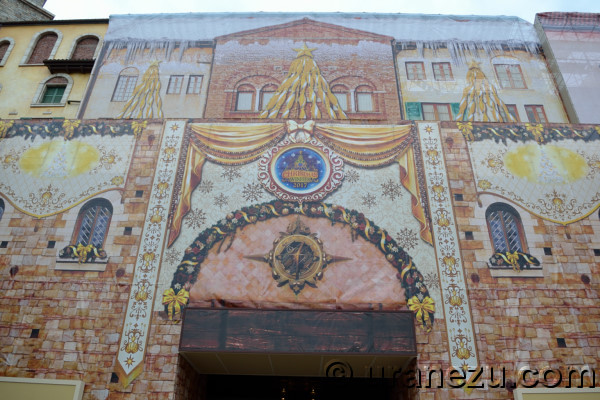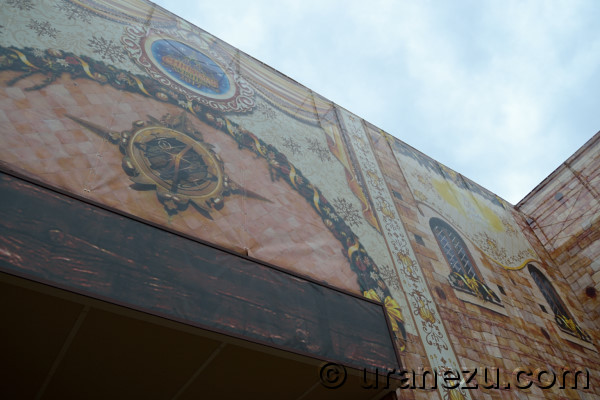 It's all covered the main surface of building.
I know very well the priority is the refurbishment for safety (or keeping beauty). But I hope some three-dimension decoration.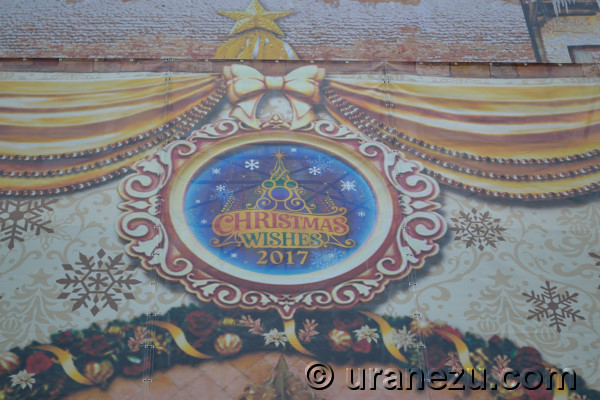 This is the physical-projection mapping! yeaaaah!
There are no small trees in front of the columns. It's little bit sad.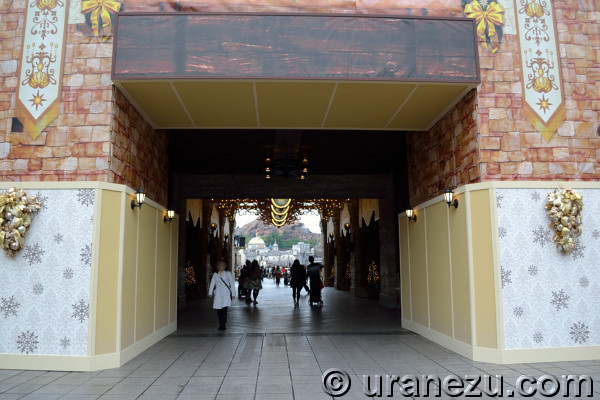 But don't be so disappointed, there are beautiful lighting garland and banners are hanged on the ceiling.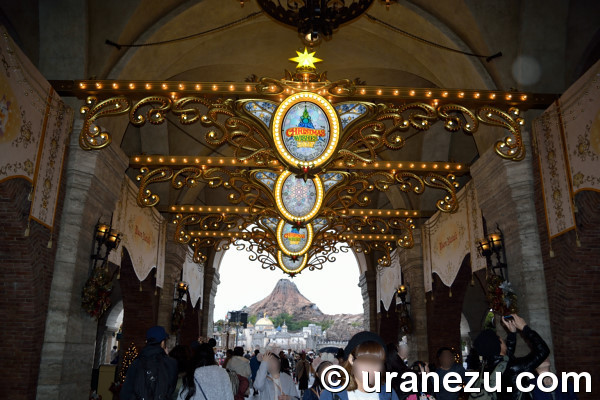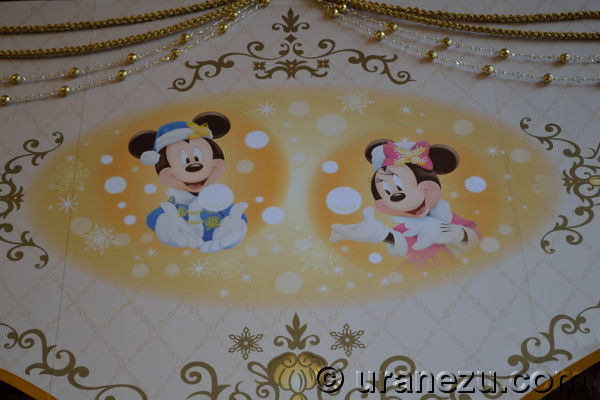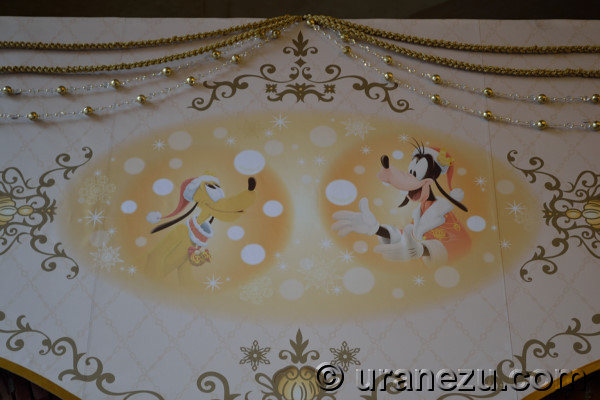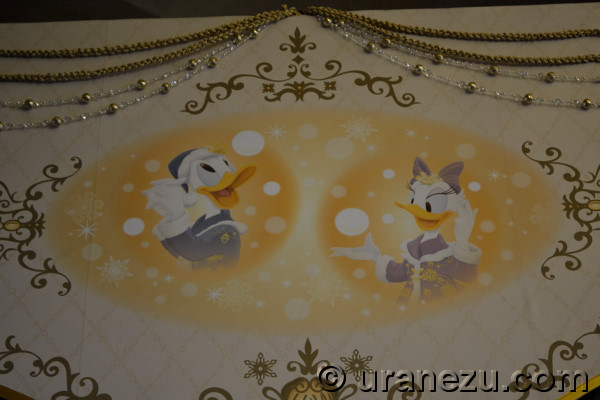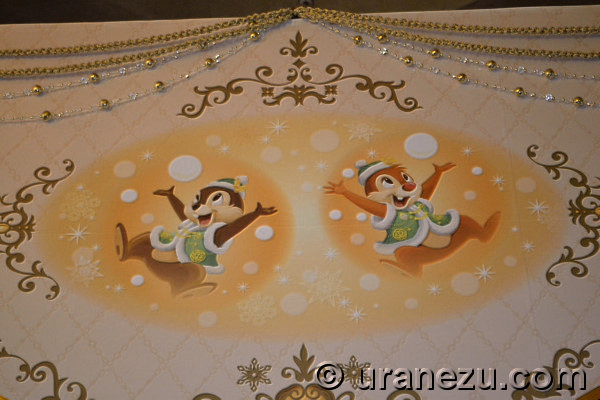 Let's look around some ports.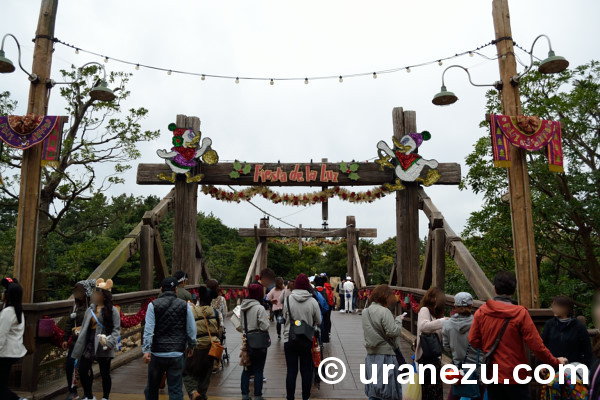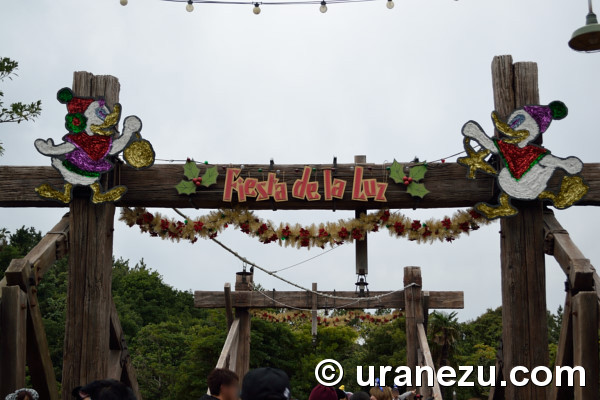 This is a bridge of Lost River Delta.
The cute ceiling is from "Aunt Peg's Village Store" in Cape Cod.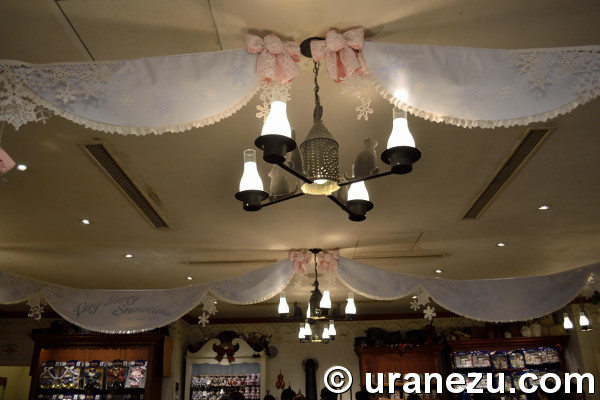 The store is filled with Duffy and his friends' merchandises.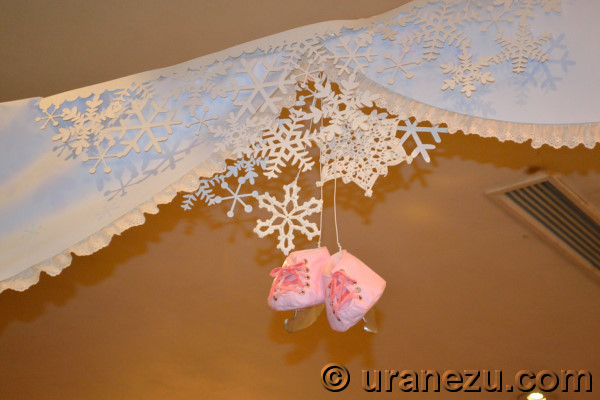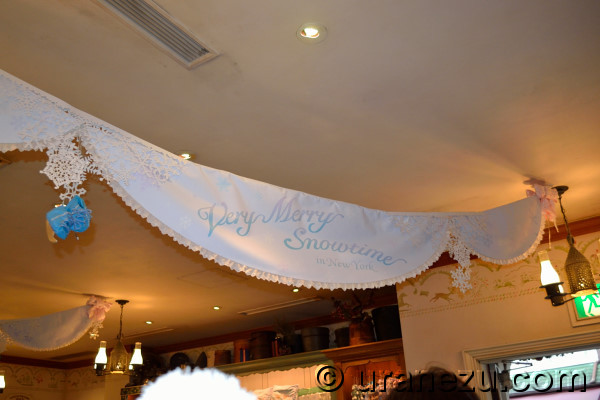 A Special holiday banner is also very cute for most buyers' favorable taste.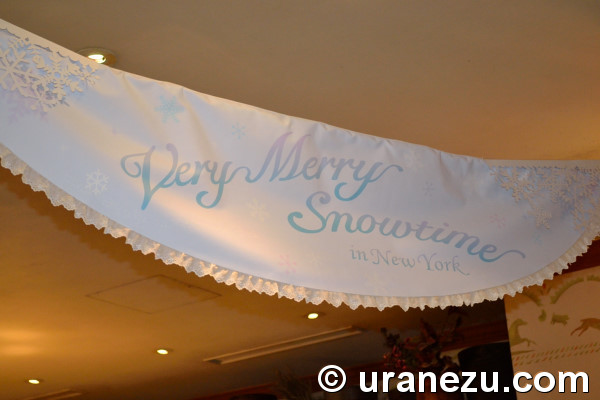 I think this place is in Cape Cod.
There is a sweeeet holiday tree outside of the store.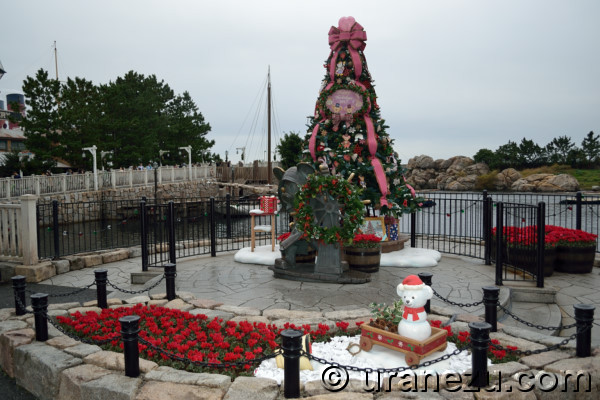 In this year's holiday theme of Duffy is "Nut Cracker".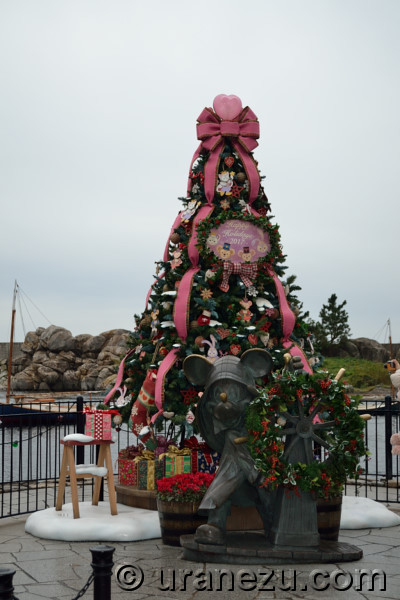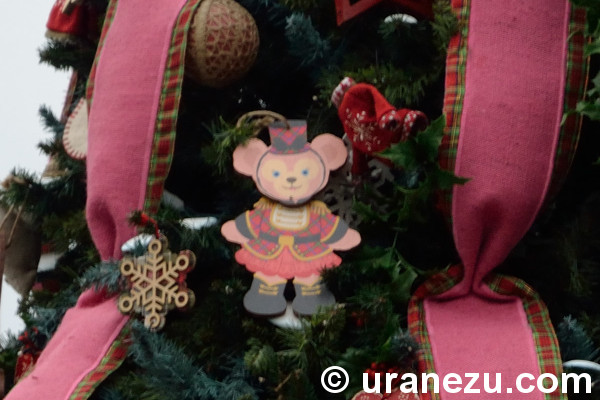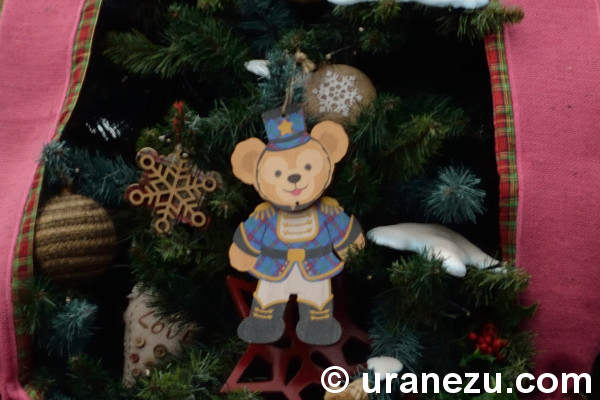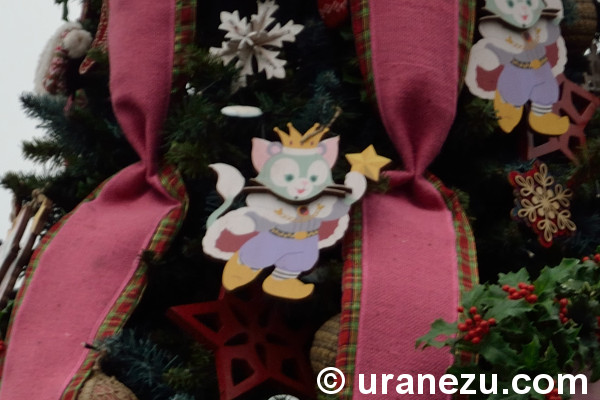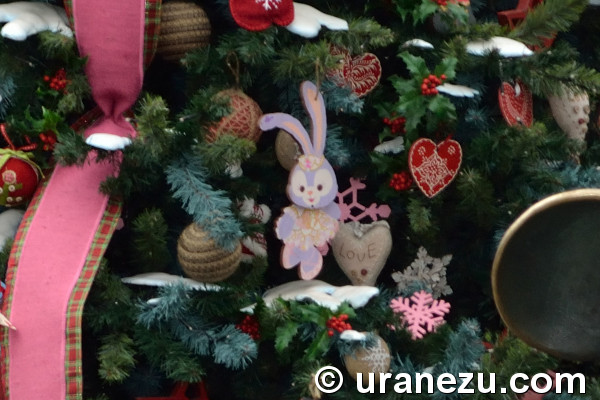 Hmm, It's very interesting casting. Sherrie May is Nutcracker, Duffy is too, or just soldier. Gelatoni is Mouse King, and Stella Rou is Sugar Plum Fairy.
This is a hustle bustle area, a place has a big Christmas tree.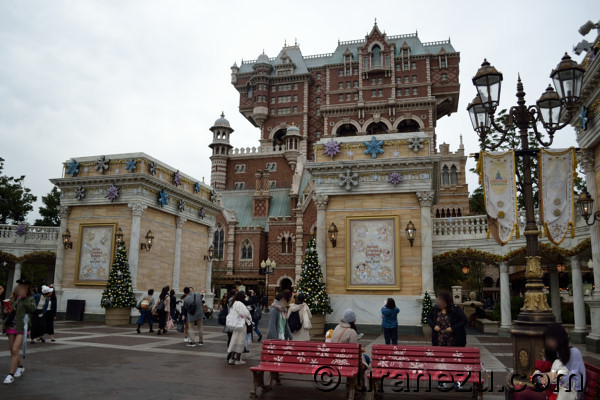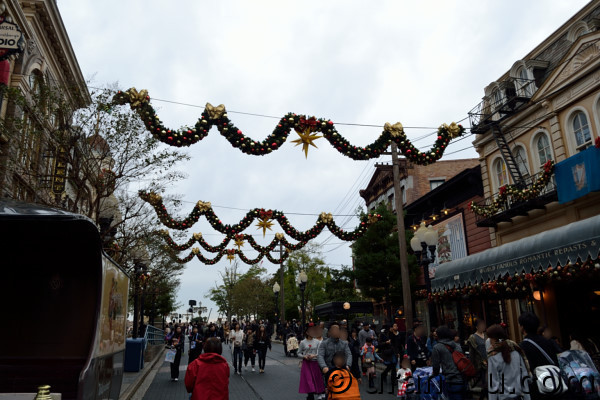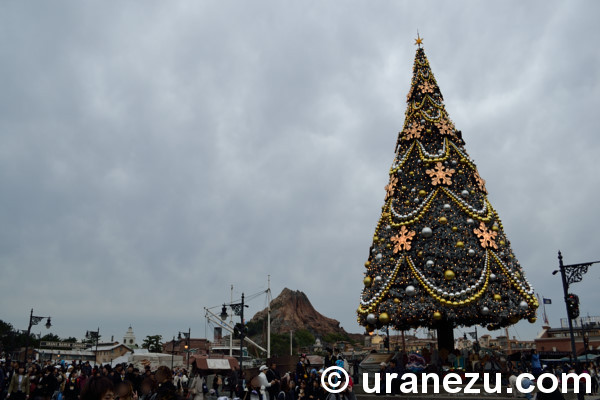 The Christmas is coming!
If you have any questions, opinions and requests,
please contact us.
If you have any questions, opinions and requests,
please contact us.