Park Now >
---


Oct. 31 2021. Toy Story Update.


Oct. 18 2020. No Special Event, but Pin Comes.


Oct. 11 2020. My Feedback about BB the new attraction.


Jul. 26 2020 Reopening Report on Covid-19.


May 30 2020 After Report of Duffy & Friends' Heartwarming Days.

Apr. 10 2020 After Report of Pixar Playtime.


Mar. 28 2020 After Report of "Very Very Minnie!" the winter-spring event.


May 30 2020 After Report of Duffy & Friends' Heartwarming Days.


Mar. 06 2020 A Rare Scene at TDR.

Feb. 28 2020 Temporary Closure of TDR.


Feb. 23 2020 Progress of (literally) NEW Fantasyland.


Feb. 11 2020 Think about TDR Annual Passport.


Jan. 31 2020 Face masks at TDR.


Jan. 25 2020 January TDR Operation Hour.


Jan. 05 2020 A New Year at TDR.

Sep. 05 2019 Disney's Halloween 2019.

Aug. 04 2019 About Scattered Toys in TDR.
Oct. 31 2021. Toy Story Update.
Yes, I know it's Halloween, but I've not gone to the park since July 2020. It's still difficult to get the ticket, due to a limitation of attendance. And there is no annual passport announcement.

In this year, TDL (TDS does not allow.) allows guests a full costume. But only people who stay at Disney hotels with a "Halloween Morning passport" special package. There is no changing room outside the park entrance, as usual, so they must ride a shuttle bus or come from a home with the full equipment. The official website says this special ticket is 13,000JPY can enter 2 hours before the normal passport 7,900-9,400JPY and includes a shoulder bag the special souvenir.
Anyway, the package was sold out right away.
So today I post an update on Toy Story Hotel (Because the official website has launched it recently.), instead of cosplayers. And some gorgeous Halloween music.

TDR waits fourth Disney Hotel coming next spring, named Toy Story Hotel. It was built on the ruins of Tokyo NK Hall. It is mostly used for live concerts. Once there was a venue for a "Casting Satellite" for the TDL part-time jobber. That's a long time ago, before the TDS construction plan. At that time, part-time job at TDL was more popular than nowadays, so many people visited there for longing to be cast member.


OK, back to the story,
My first impression when I saw the exterior of the main building was a little bit disappointing.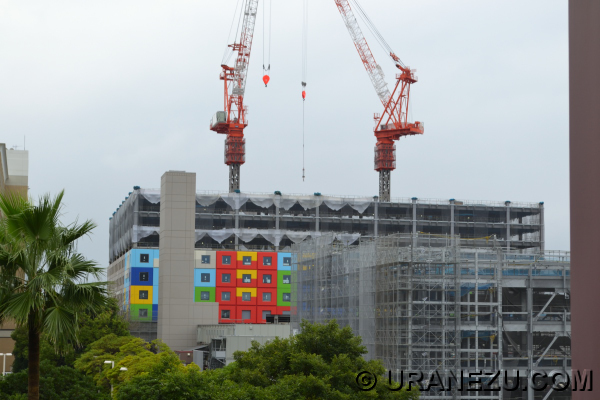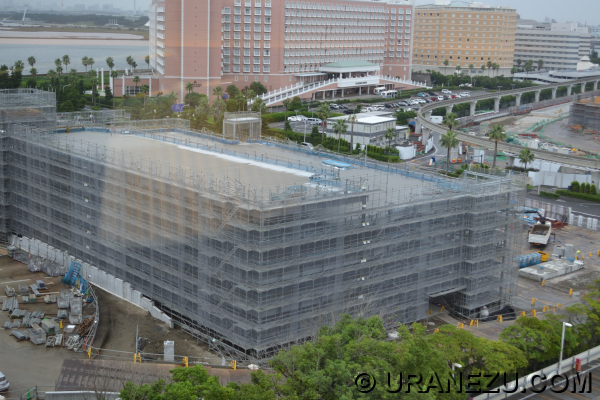 Because when it comes to "value resort" to me, "All-Star" or "Pop Century" popped in my mind. So just colored blocked flat panel without any huge decorative objects looked boring.

But this is Disney, the whole image appeared gradually now, my expectation was changed.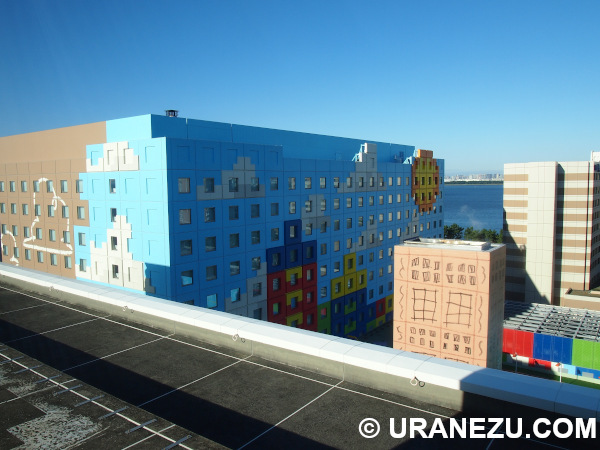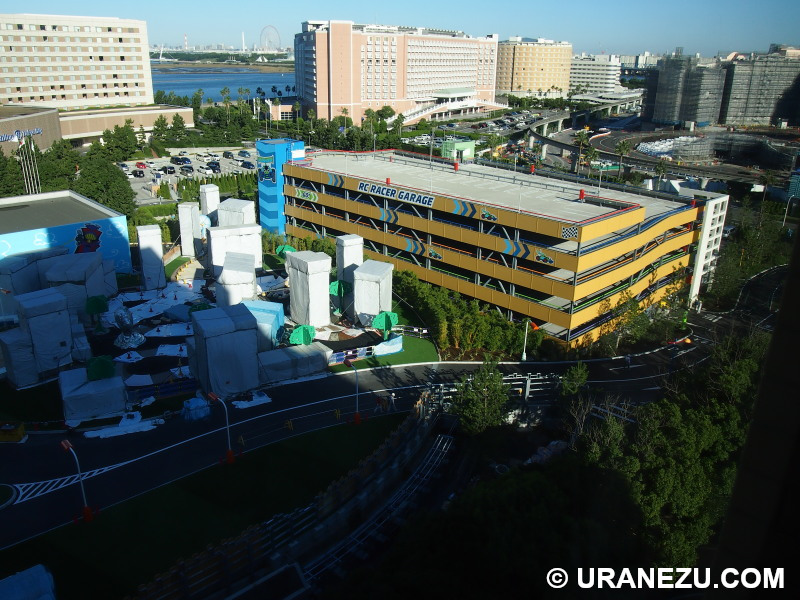 I really like the cardboard with hand drawn building.

Still under constructing, so keep eye on the progress.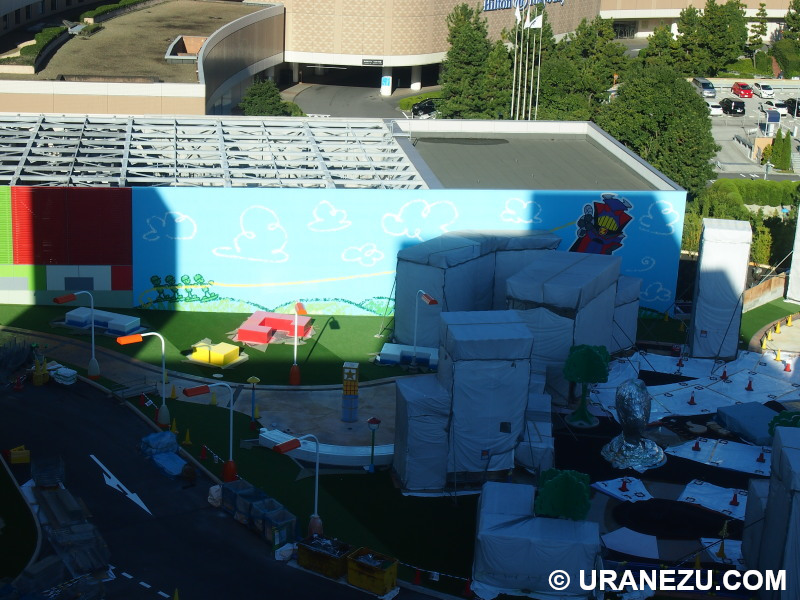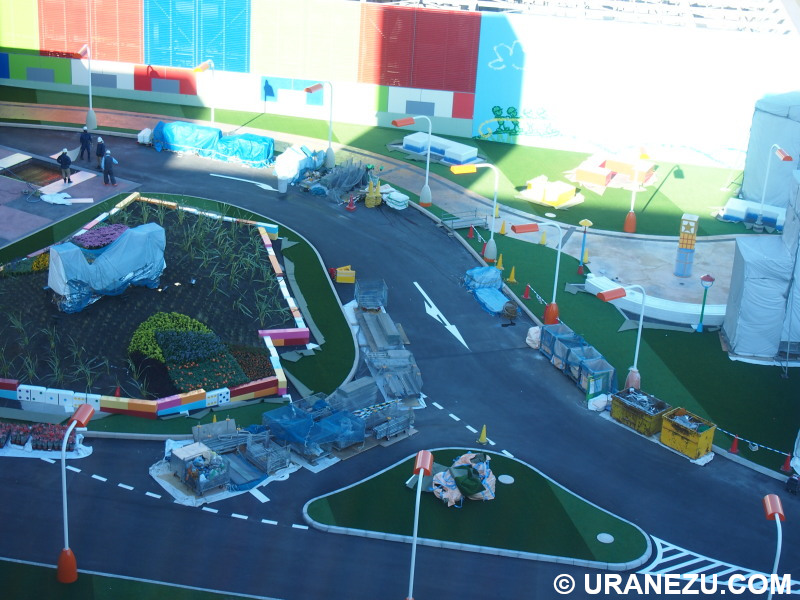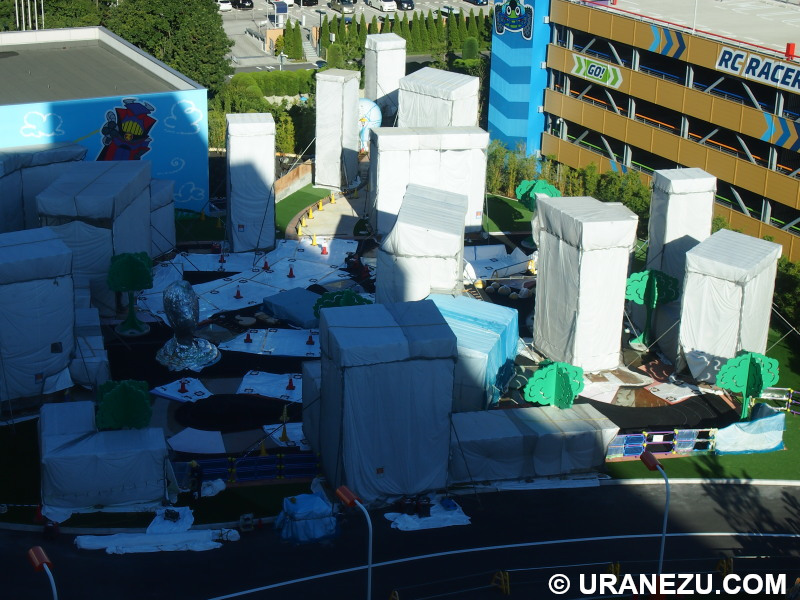 Let's check some images on the official website.
https://www.tokyodisneyresort.jp/en/hotel/tsh.html
Here is a music clip from Mitsukoshi.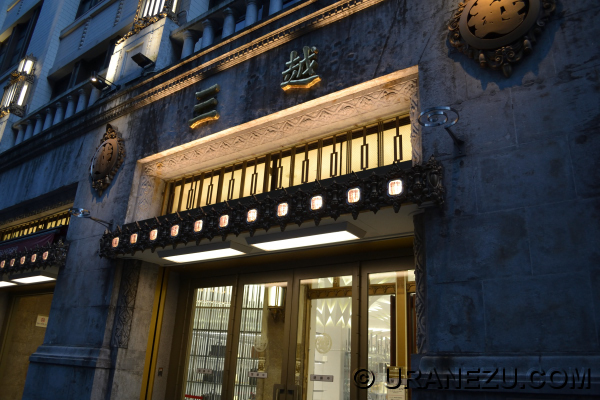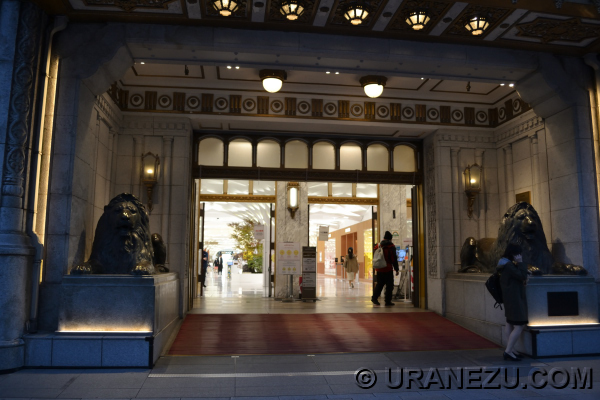 Yes, that's the "Mitsukoshi"!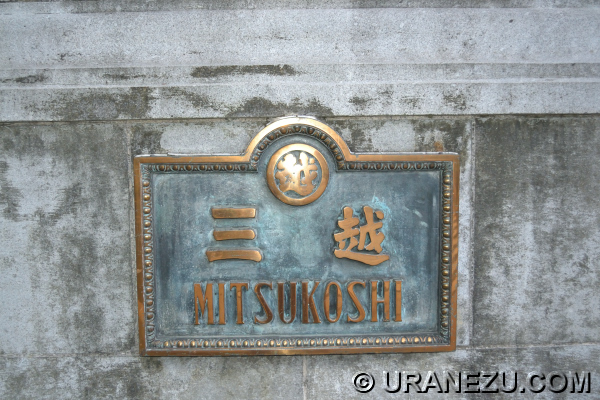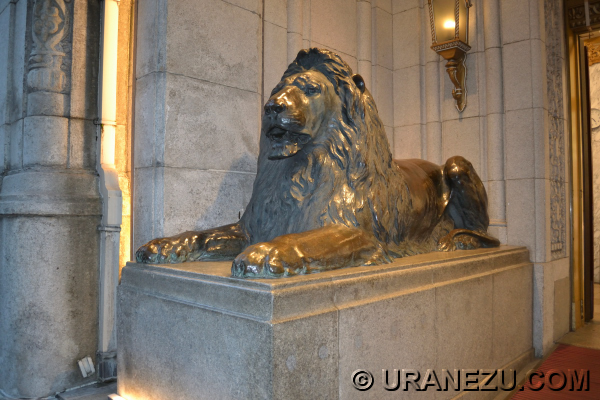 As you know the same name "Mitsukoshi Kiosk" at World Showcase, this department store is the original store of it.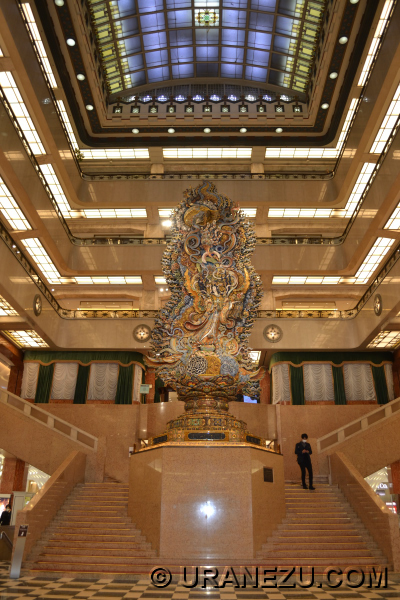 They have a Wurlitzer's pipe organ in the atrium.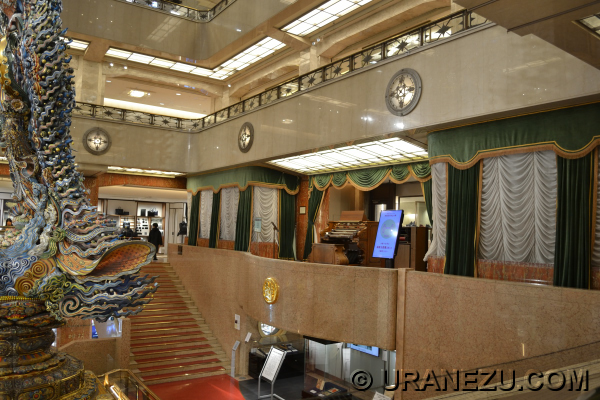 I'm very sorry for my cam was so shaking… I hope to enjoy the music.
Hedwig's Theme, Yo-Ho!
Grim Grinning Ghosts, Baroque Hoedown.
Happy Halloween!
If you have any questions, opinions and requests,
please contact us.
Oct. 18 2020. No Special Event, but Pin Comes.
As you know TDL and TDS have announced that the cancelation of all special events until 2012 spring. It's reasonable that their decision under this circumstance, but it's quite shock that there are no seasonal decoration either. It means we will not able to see any Halloween or holiday adornments, of course even one single Christmas tree in the park!

Cancel Event;
(TDL & TDS)
Disney Halloween
Disney Christmas
New Year's Greeting
(TDL)
Beauty and the Beast program
(TDS)
Disney's Easter
CookieAnn's Greeting Drive
Duffy and Friend's Sunny Fun
Disney Pirates Summer
New Duffy and Friends program
But they have to earn a money, at least a royalty for Disney.

So they've launched every canceled special event pin. (And that's the way we spend the money for Disney. That's another circle of life.)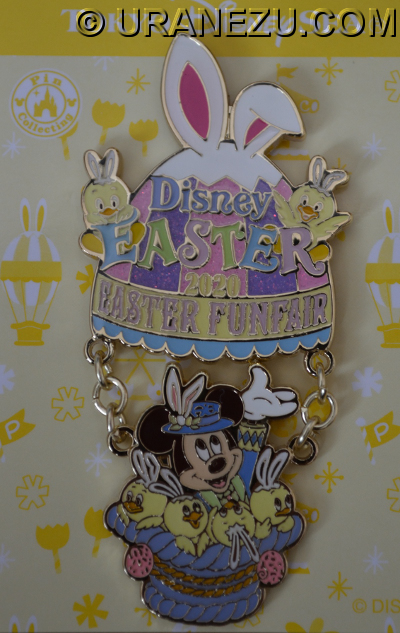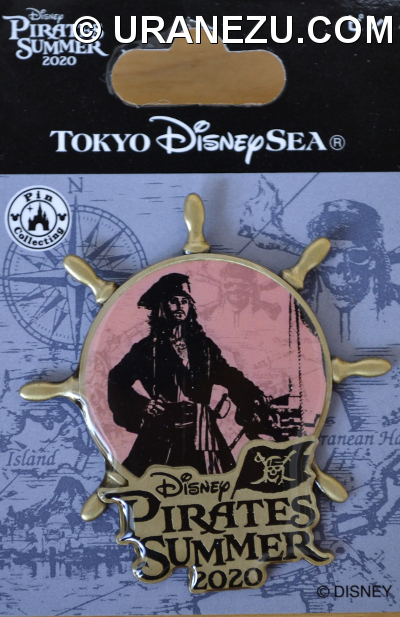 Cancelled Easter event pin from TDS, and cancelled TDS summer event.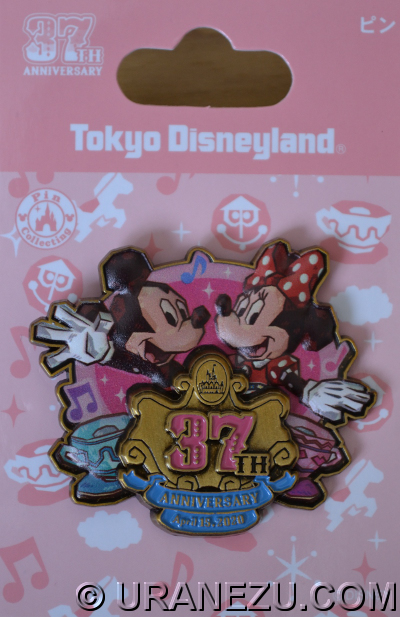 TDL 37th anniversary pin the actually opening month was closed.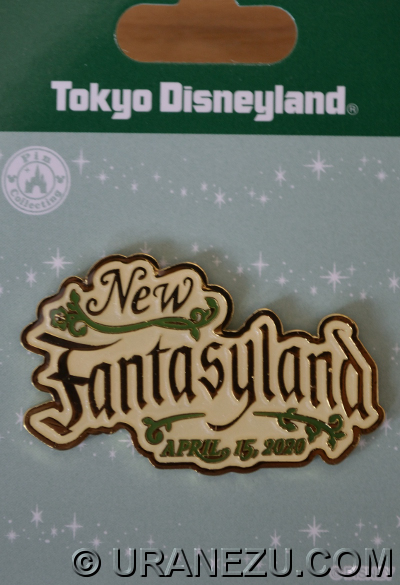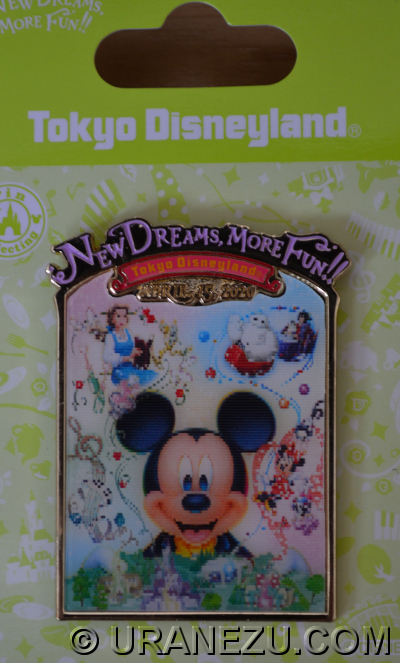 New Fantasyland's pins are also came.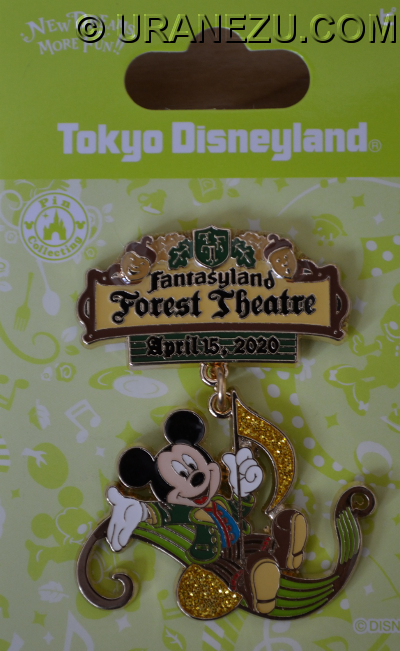 The above facility is located in the New Fantasyland, but this are still not opened.

It's very interesting to get these cancel-event pins. But some of them are really hard to get, because they might miss the number of orders, so it's very annoy us many bad people who is scalping the merchandises and OLC operation team who won't take no measures.

And they've already announced that they'll also sell Christmas merchandises without a park decorations. Be prepared!
If you have any questions, opinions and requests,
please contact us.
Oct. 11 2020. My Feedback about BB the new attraction.
I think you'd like to know my feedback about "Enchanted Tale of Beauty and the Beast" the new attraction is …
"Yes, I like it!"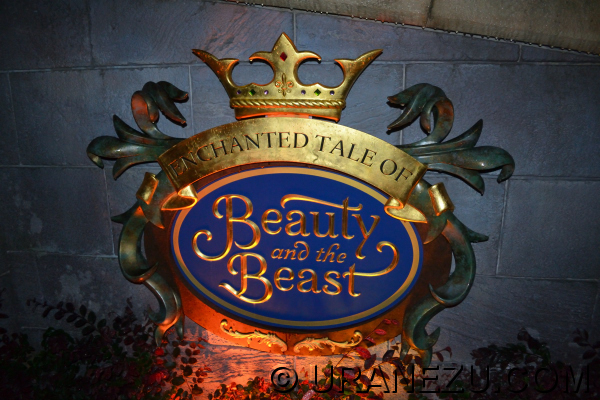 Most of the guests think it's just a pretty dark ride in a new age. Yes, I admit that it's not so dramatic experience like "Rise of the Resistance". Many enthusiastic fans in Japan who gave negative reviews about this new attraction, they may be shackled by the Star Wars ride.
But I enjoyed it very much, and I like it. I'm sure that it's a really fantastic ride for me. So I shared why I thought so today.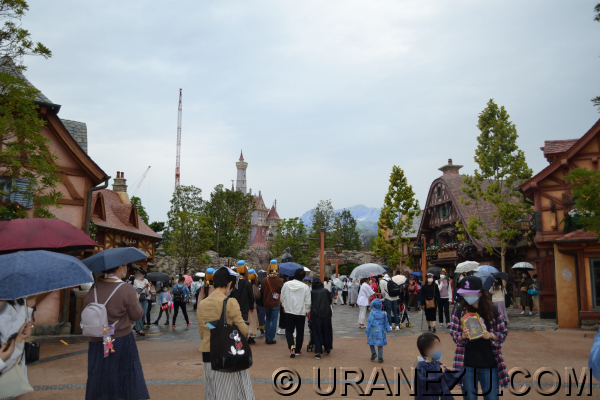 Finally, new Beauty and the Beast themed area and some more have opened now. These new things (two new attractions, one greeting facility, and some shops and counter-service restaurant) opened 5 months and a half behind from the original schedule.

Before the new ride and area, I'd like to explain the annual pass holder's situation now.
They've started a park-entry-allocation for Annual Pass holders. We have to pre-entry for five slots (if you have the 2-parks, you can choose both parks in one day, but use for two slots.) every month on the official website then can go to the park if we won the lottery.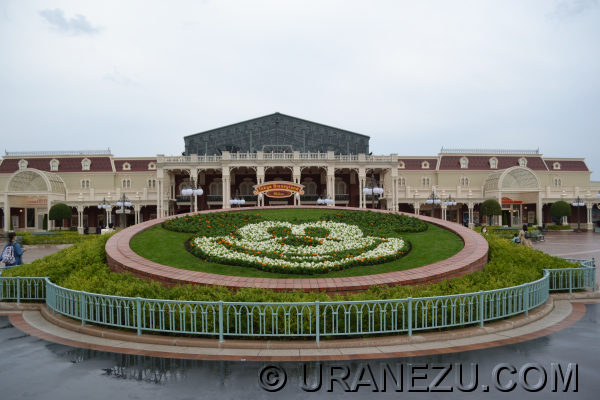 Horribly, the Annual Pass holders allow to enter after 14 pm, which means can't taste low attendance park. Now the park full with official hotels guests (with the park entry stay plan is fewer than the usual, though.) and 8 am -entry, 10 am -entry and 14-entry-ticket guests, so the inside of the park is quite busy.

On November 1st, the Annual pass can enter from 12 pm. And the other tickets will be changed earlier as from park-open-entry, 10:30am-entry, 12pm-entry, from October 31st.
Anyway, the opportunity of the park visit is back to life.

So let's move on to the new attractions.
The two new attractions and all greeting facilities as below require a win of an entry request (it's like a lottery via TDR official app) for now.


Entry Request needs;
(TDL)
Enchanted Tale of Beauty and the Beast
The Happy Ride with Baymax
(TDS)
Toy Story Mania!
Soaring: Fantastic Flight
And all the greeting facilities.

There are no Fastpass or Stand-by lines, so you have to try the lottery in the park.

So it's really tough to get a chance for new BB ride through the two difficulties, one wins the park entry, second is win the attraction entry.
Very very luckily, I could ride "Enchanted Tale of Beauty and the Beast" the brand new attraction.

I strongly recommended that try this attraction in the evening, not fully sunshine time. There are two reasons why the night is the perfect time for the ride.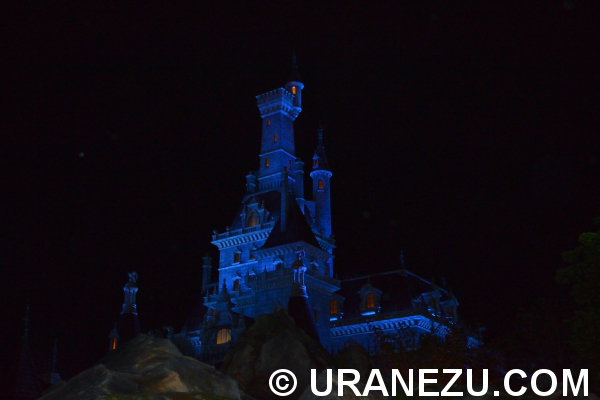 One is you can feel great ambient between the queue with trees and the bridge to the castle area which is the last outside queue lines.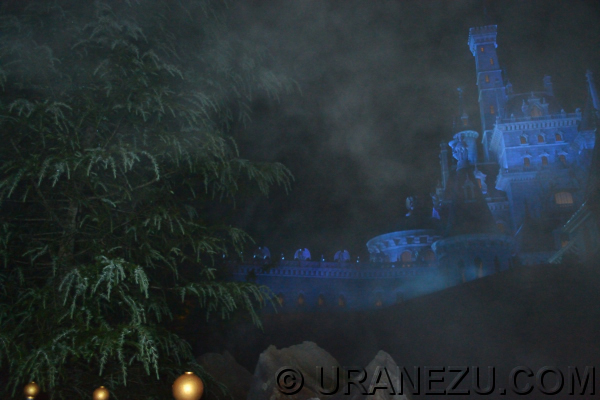 There are wolves howling or mountain lion crying at the green surrounded queue area, which gives you something chilling feelings that is the same as Maurice or Bell in the forest or Phillipe.
After the horrifying howling, you can see the enormous misty castle.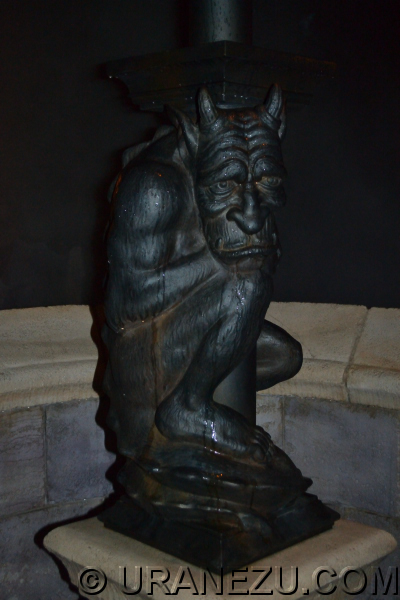 Walking toward an entrance of the castle passing through some gargoyle statue lamp post in the deep fog which comes from beneath the bridge is a really can't-believe-it-is-not-a-dream feeling.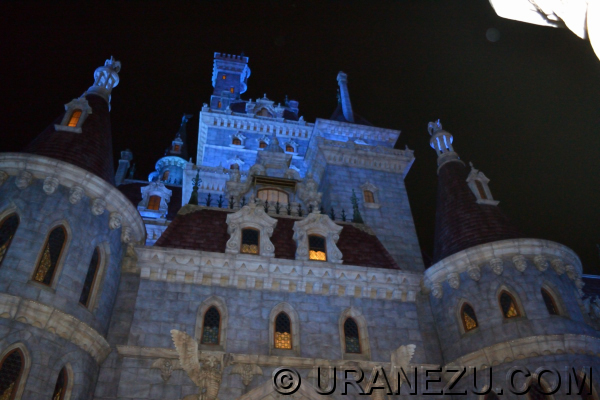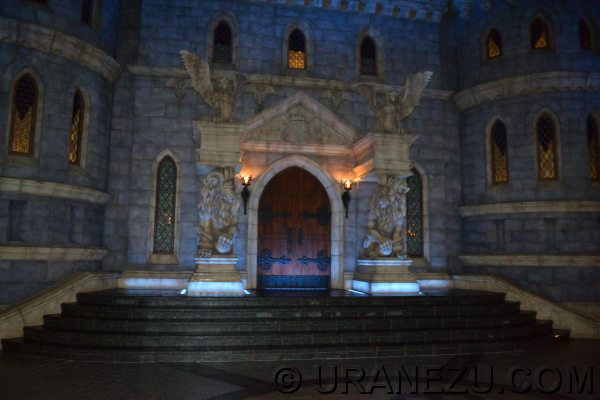 The night time experience will really take you to Beauty and Beast's story.

And the second reason why I insist you to ride after sunset is smooth to go to a pre-show.
After the nice inside queue area in the castle, finally we arrived at the hall in front of the staircase which leads to a forbidden west wing. This hall is the pre-show area, actually. Then we witnessed the girl we have been waiting for.
I'm sure that you remember the scene that she came into the castle for the very first time at the nightfall.
That's why the night time enhanced your experience.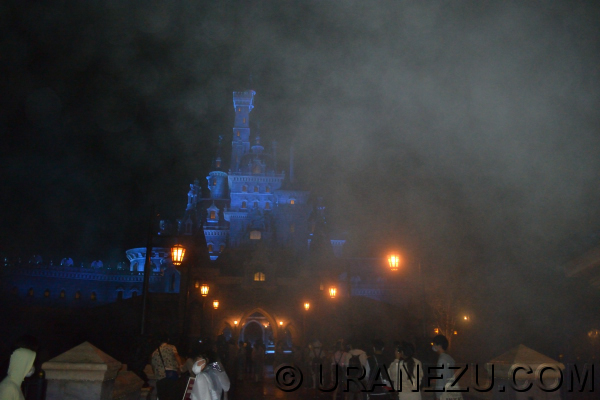 Finally, I'd like to talk to you why I like it. "Enchanted Tale of Beauty and the Beast" is the trackless dark ride. Guests get into a magical cup (there is no handle on this cup, so it looks like a finger bowl or cup for Japanese tea?), and go through the familiar classic story.

For most of all reasons, I think the attraction amazing is the very first introduction part before the first door open. The landing place is a big kitchen where supervised by Chef Bouche the enchanted stove.
After our safety belt check is clear, the door to the dining room is open with Be Our Guest intro. This is the moment that I become one member that entertain with lead by Lumiere for Bell.

I felt like I was the high spinning tea napkin (do you remember that they're dancing very sharply around Mrs. Potts?) at the moment. (The ride is comfy rotating, not like them, but in my mind, I was as fast as them.)I know I understand this feeling, don't you?

This magical start makes the ride is fantastic to me. And popped champagne express air blowing glitter ribbons, and the Cogsworth' jelly is a thick soft transparent vinyl which really classic dark ride materials that really moves me. I'm happy that the latest projection mapping tech with an almost lost tech but evokes our nostalgia.

Someday, this expansion area settle down, I think this attraction will become a great dark ride like "Peter Pan's Flight" which favorable-call-it-a-night attraction.
If you have any questions, opinions and requests,
please contact us.
Jul. 26 2020 Reopening Report on Covid-19.
Welcome back me, welcome back you! It's really happy to see you again here.
Today I'll give you a reopening report at TDS.

Very luckily, I could get a ticket on 7th July, so I'd like to give you some photos of inside the park.

Now the park only allows entering a guest who has fixed-dated tickets via the official TDR website. There are 3 kinds of passport, 8am-entry (from park start), 11am-entry, and 14pm-entry.

8am-entry: 8,200 JPY.
11am-entry: 7,300 JPY.
14pm-entry :6,300 JPY.
It is said that the parks have a limitation with only about 15,000 guests in each. So The Resort Liner the monorail station and inside the car was incredibly empty.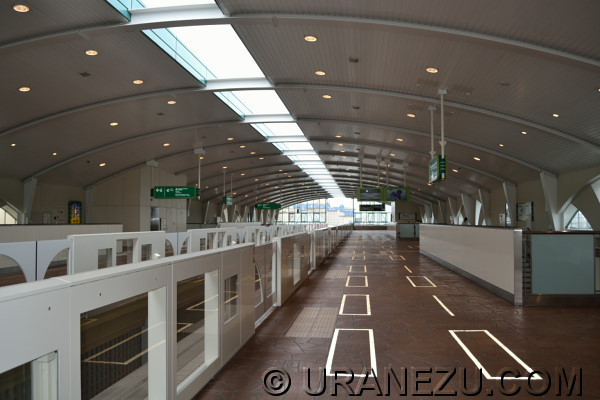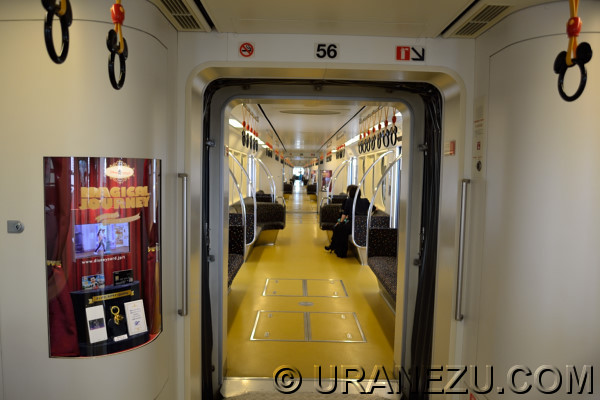 There are many lines or square marks on the floor which show you the social distance space to wait.

This is a weekday of the TDS entrance with 14pm-entry guests.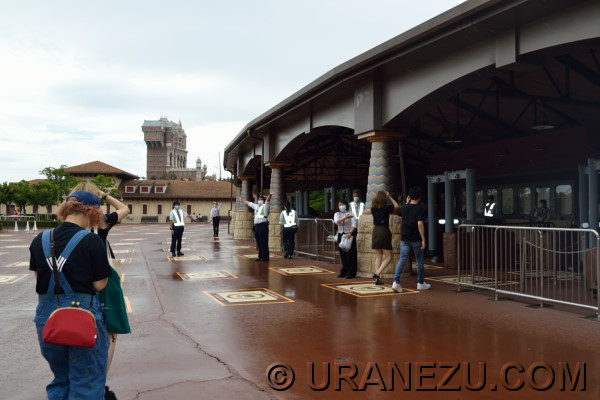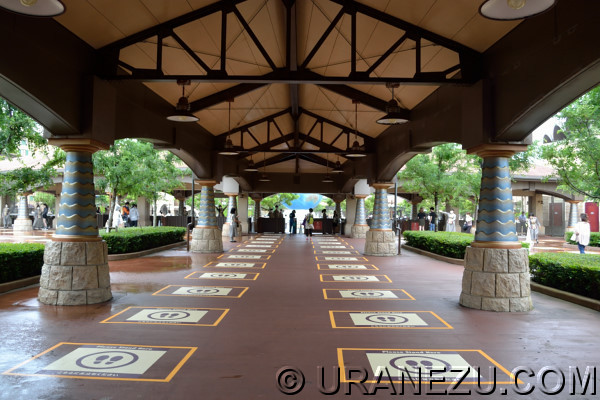 You can find everywhere set the marks which indicate social distancing.
The cast member take temperature after the belongings inspection.

As you know, the park entertainment is all canceled for a while, and the facilities are also reduce operating, so there are no guide map or show schedule brochures.
Shop:
For a number of guest control at the shop, each store decides one entrance and one exit strictly.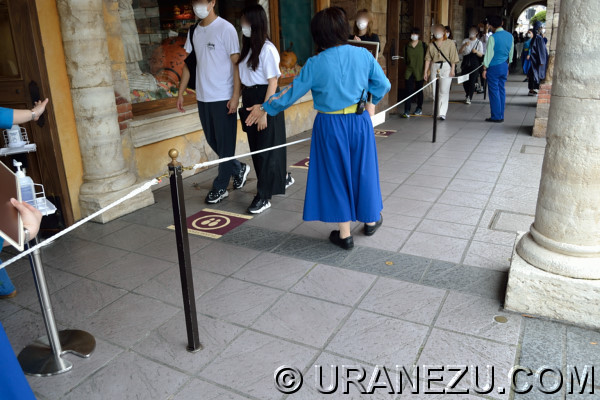 And every entrance has a hand sanitizer, so please use it and rubbing your hands while shopping.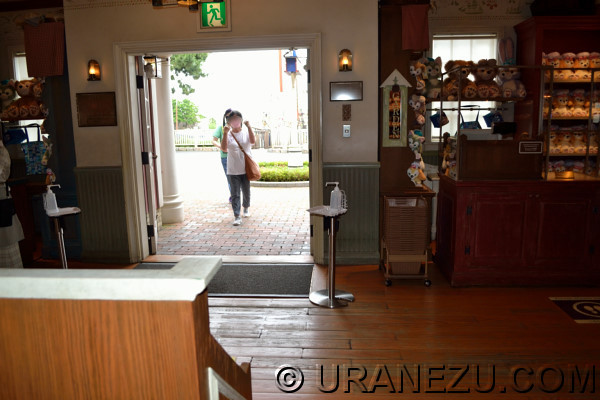 All cashier is enclosed a transparent shield.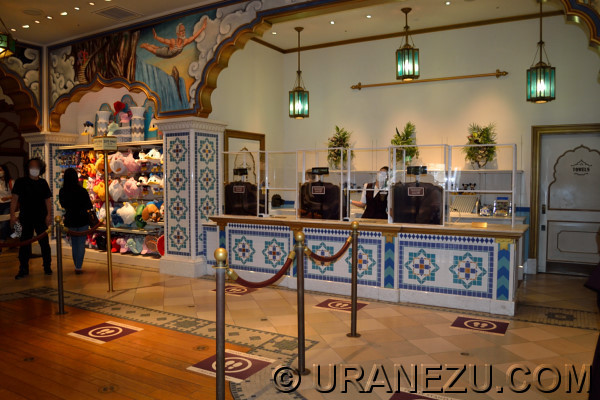 And please follow the floor mark for the social distancing.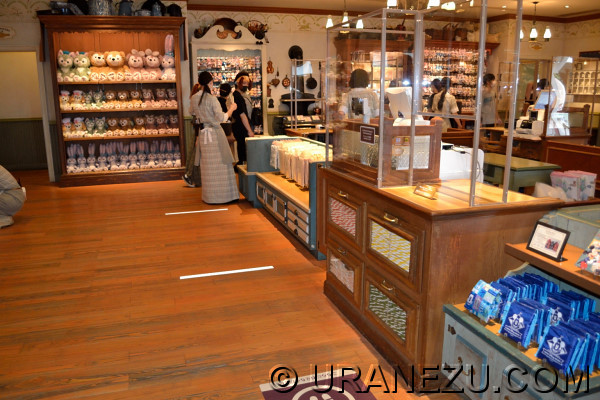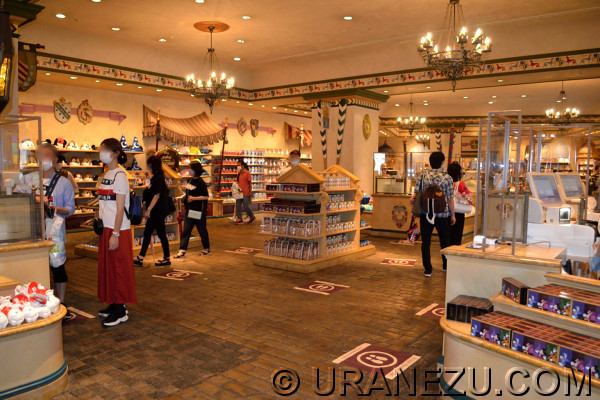 Temporarily Closure:

Rimembranze
Steamboat Mickey's
Slinky dog's Gift Trolley
Discovery Gifts
Abu's Bazaar
Grotto Photos & Gifts
Nautilus Gifts
Restaurant:
Every eatery also has the hand sanitizer at the entrance.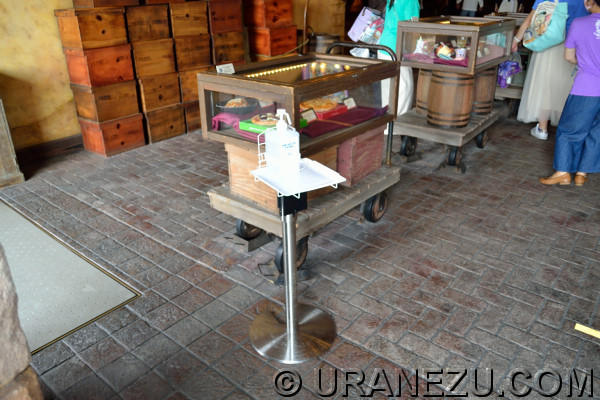 Please don't forget to keep the social distancing when you check the menus.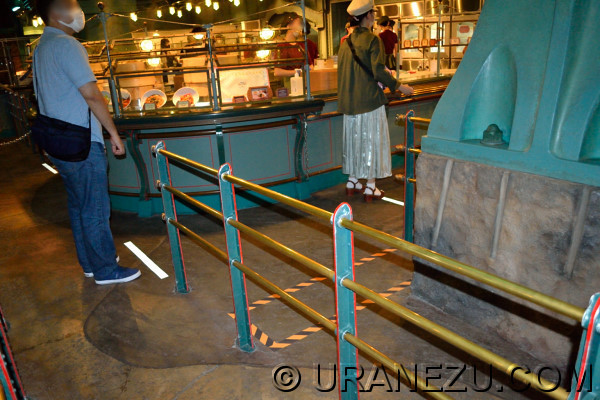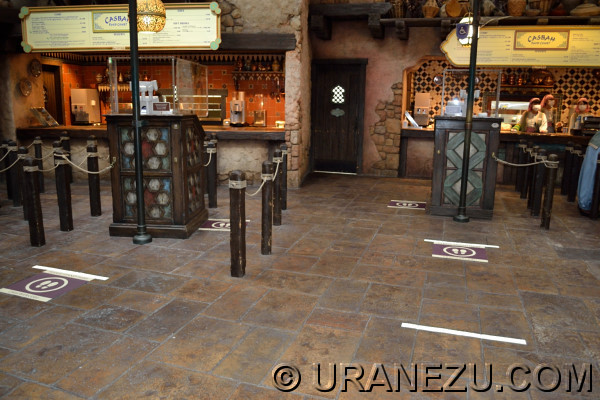 Don't worry, there are droplet infection prevent board at the cashier.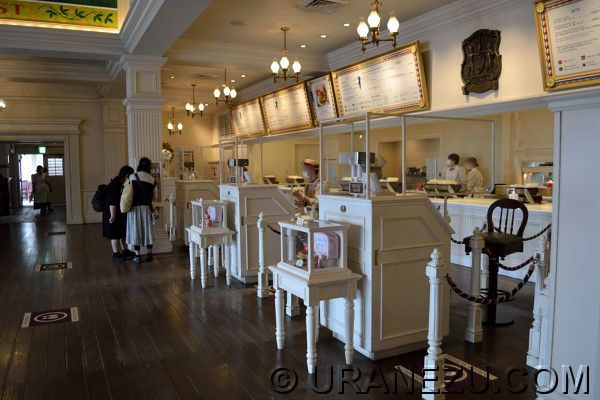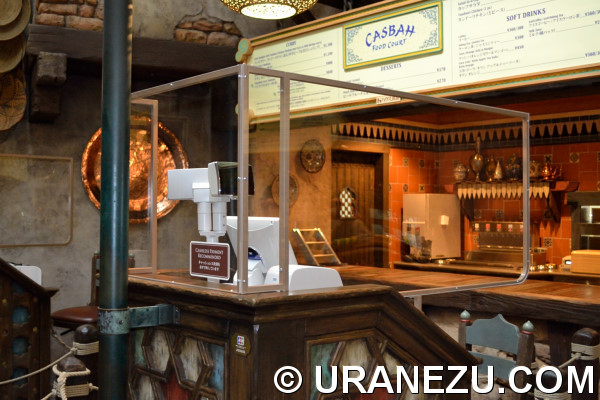 The dining area was thin out.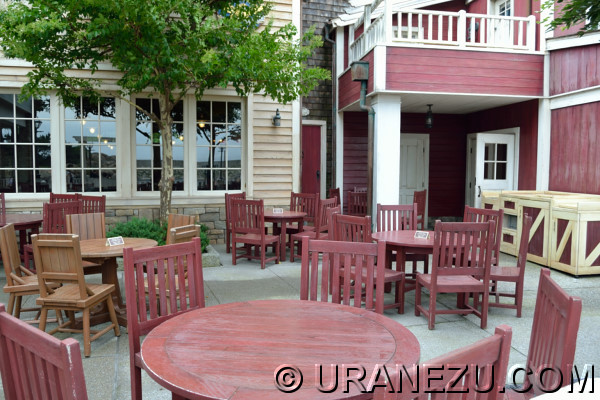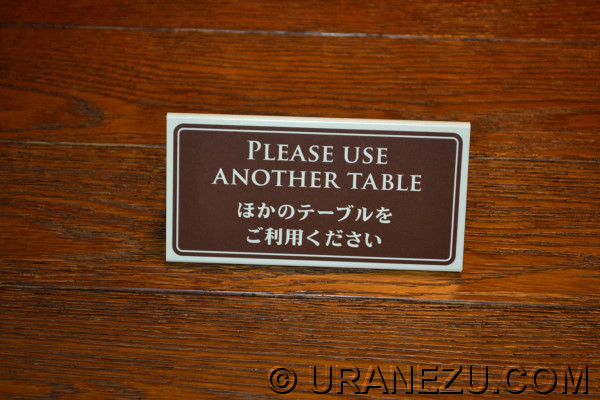 All entertainments include dining show, so you can easily to eat at in front of the stage of "My Friend Duffy".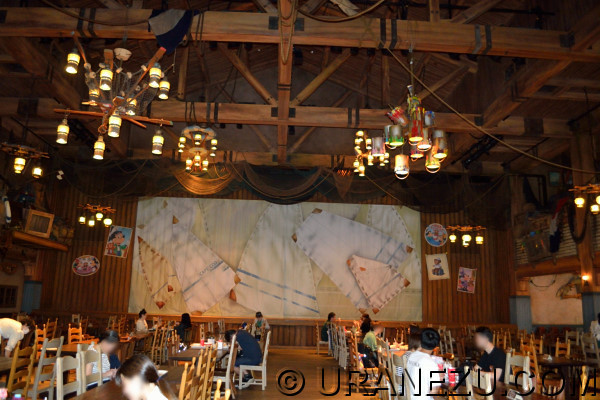 Temporarily Closure: (All wagon are closed, except a few popcorn wagons.)

Gondlier Snacks
Mamma Biscotti's Bakery
Magellan's Lounge
Cape Cod Confections
The Teddy Roosevelt Lounge
Delancey Catering
High Tide Treats
Hudson River Harvest
Papadakis Fresh Fruit
Liberty Landing Diner
Seaside Snacks
Breezeway Bites
Bayside Takeout
Expedition Eats
Tropic Al's
Miguel's El Dorado Cantina
Open Sesame
Refreshment Station
Attraction
The park was with very low attendance, so most of the attraction required for only a little patient.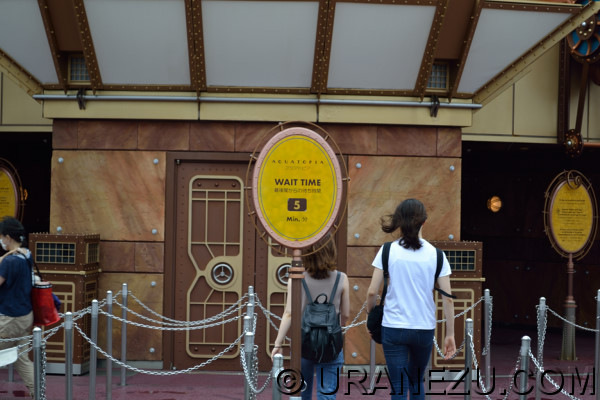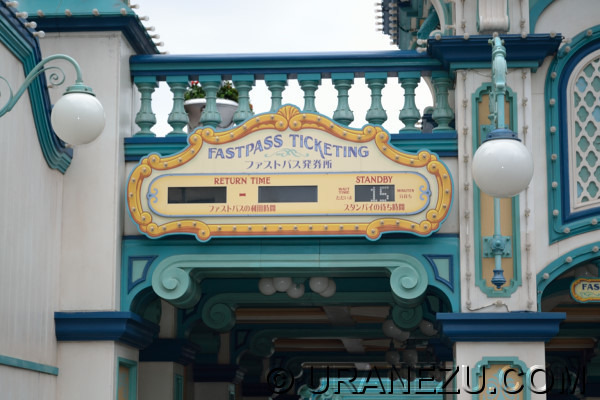 Even the Toy Story Mania the still very pop attraction was only for 15 mins. There are no Fastpass for a while under the operation with Covid-19.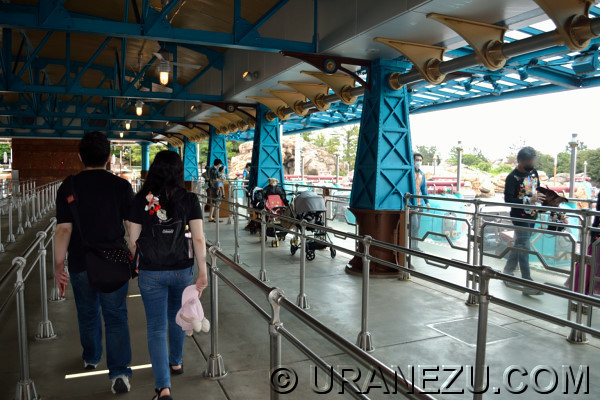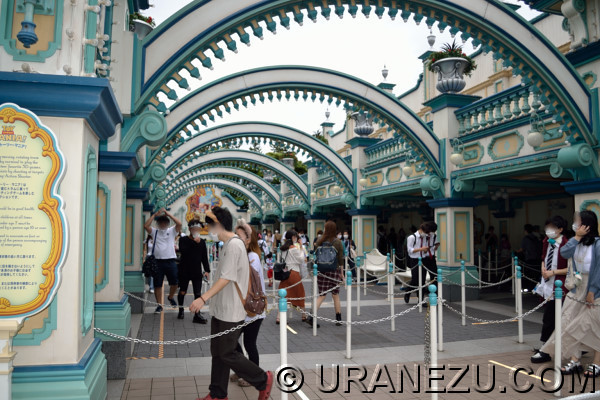 The queue line has the social distance the point, and also the loading area has it too, so we could wait to keep away from the other group.

The-very-last-before-to-ride area is very narrow, but they do the best way as an alternate arrangements. It's very nice.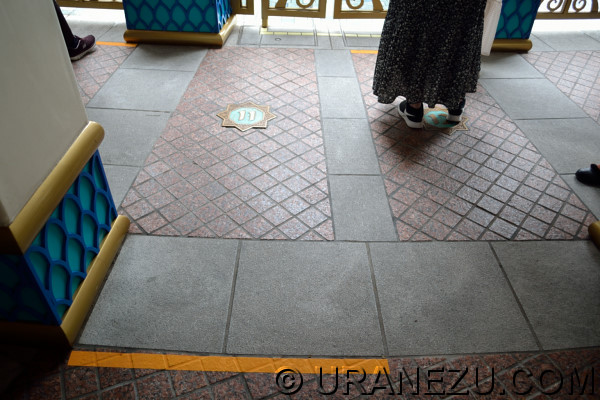 No. 12 the other guest waited near the gate on the yellow line, and I, No.11 waited behind on the other yellow marking.
You can see instantly which one is available or not.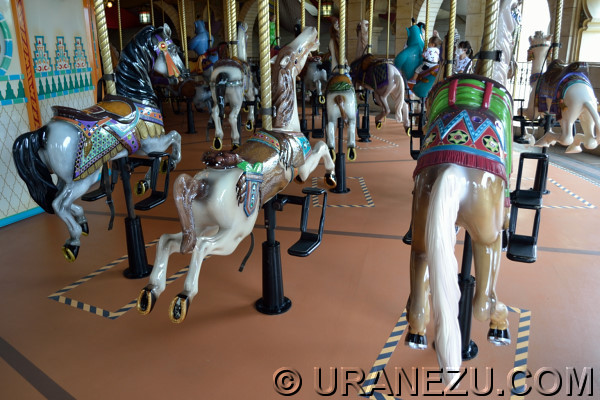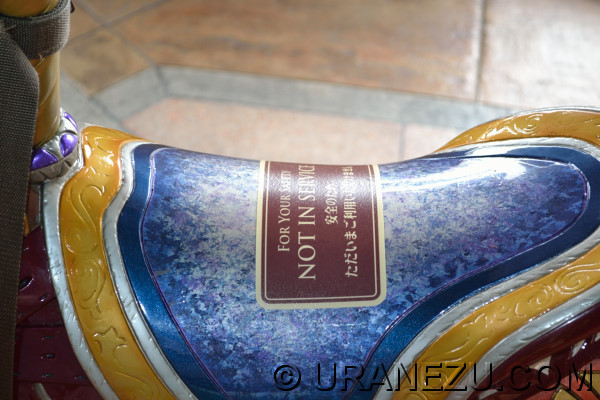 The ride thins out for your safety.

And every entrance or exit has a hand sanitizer.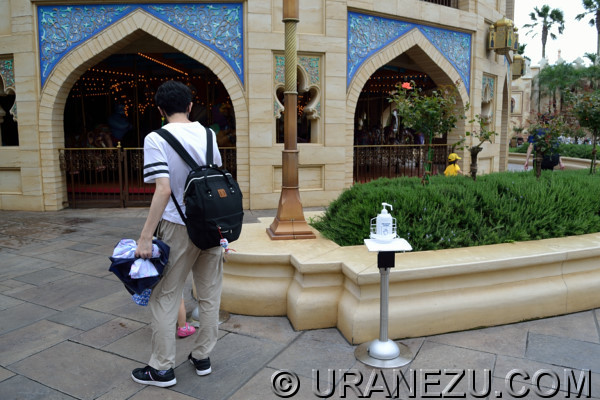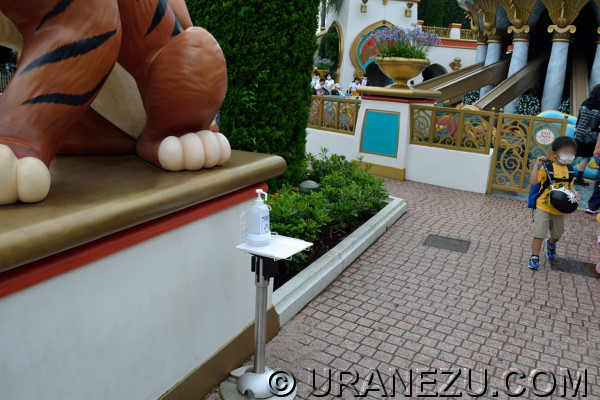 Temporarily Closure:

Fortress Explorations
Ariel's Playground
Mermaid Lagoon Theater
20,000 Leagues Under the Sea
Soaring: Fantastic Flight
As you know this is the latest attraction at this point, so the queue is longest among all the attractions in TDS, there is another little lovely care for the waiting line based on SCSE. (Disney's operation motto, safety, courtesy, show, and efficiency.)
To maintain a space between each guest during in the standby line, the queue need to take longer than the usual, so they used a queue area of "20,000 Leagues Under the Sea" the closed attraction.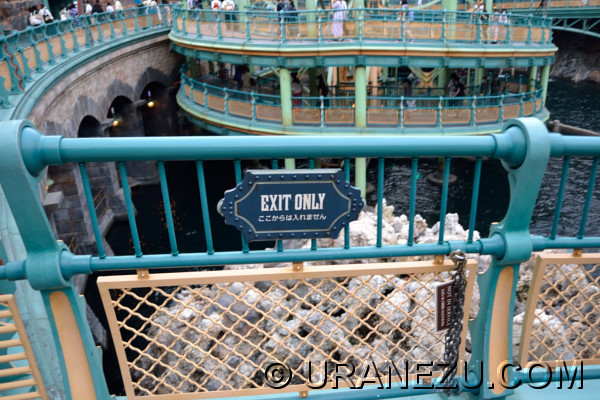 So we run backward from the exit of "20,000 Leagues Under the Sea".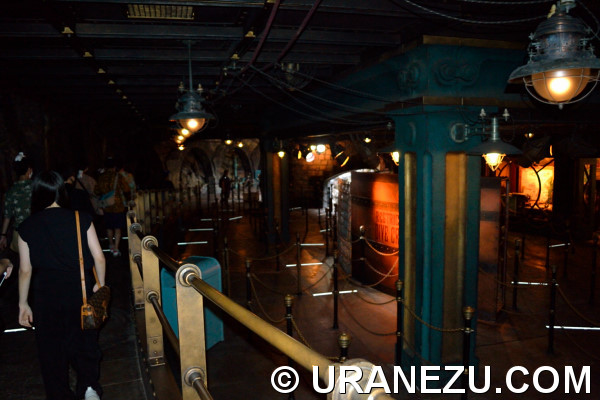 The inside the que area of "20,000 Leagues Under the Sea" was really nice to avoid against heat under the sun.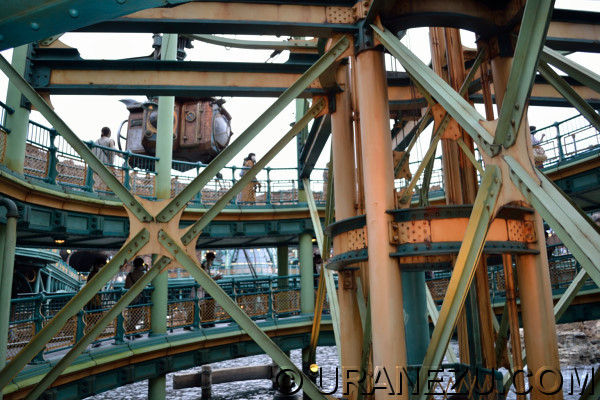 And we went upwards which totally against as usual.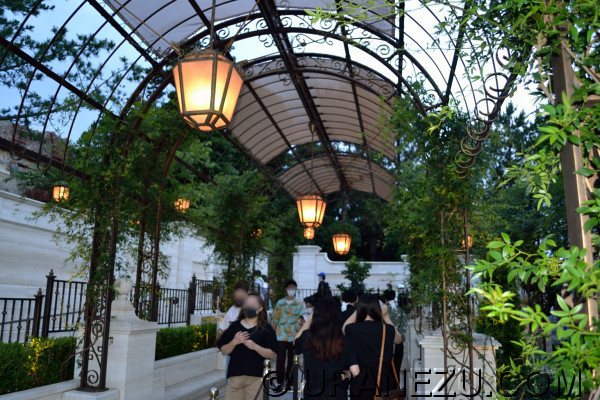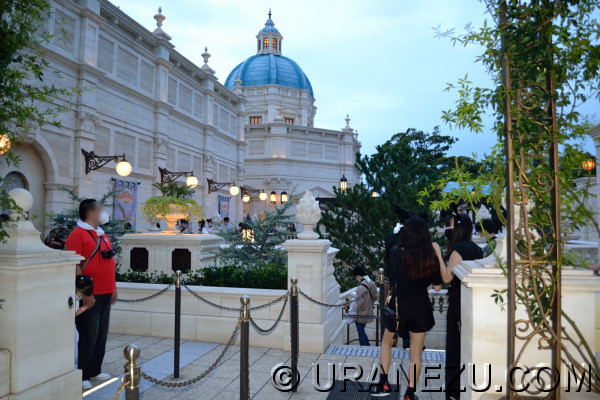 After the property of "20,000 Leagues Under the Sea", we reached "Soarin: Fantastic Flight" original que zone.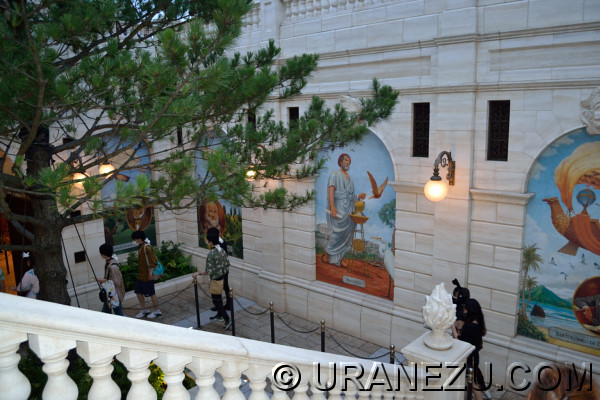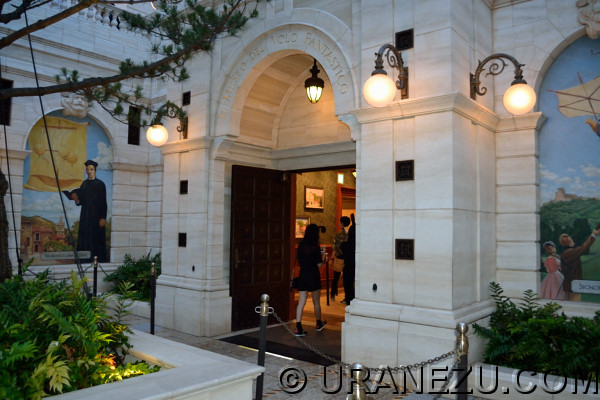 Keep going with space in each group.
Surprisingly and sadly, there were no pre-show which made TDS Soarin special and fantastic literally. The casts said that for the safe operation to avoid the 3Cs (Closed spaces, Crowded places, and Close-contact setting.), TDS Soarin keep operates without the pre-show for a while.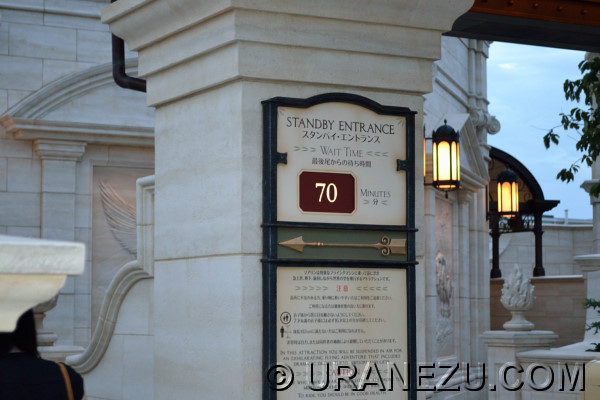 Anyway, it was 70 mins the stand-by line.
Special Event and Park Decoration:
Every year on 7th July, TDL and TDS Park fulfilled with a romantic atmosphere, because of Tanabata the Star Festival day.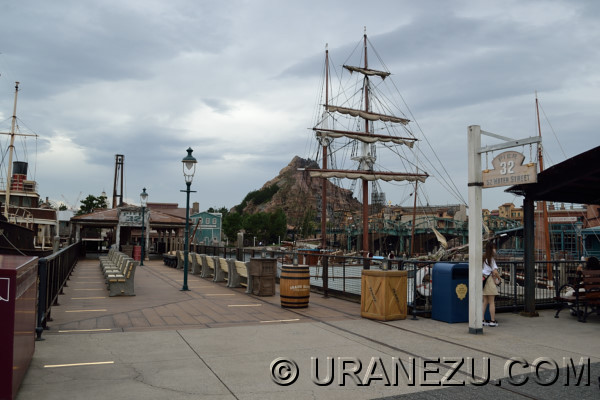 Unfortunately, TDR announced that they decided all special event include the seasonal special decoration are canceled to next summer.
Canceled:

TDR

Halloween, Christmas, New Year's program.

TDL

Beauty and the Beast program for winter to early spring.

TDS

Cookie Ann's Greeting Drive
Duffy and Friends' Sunny Fun
Disney Pirates Summer
New Duffy and Friends program for winter to early spring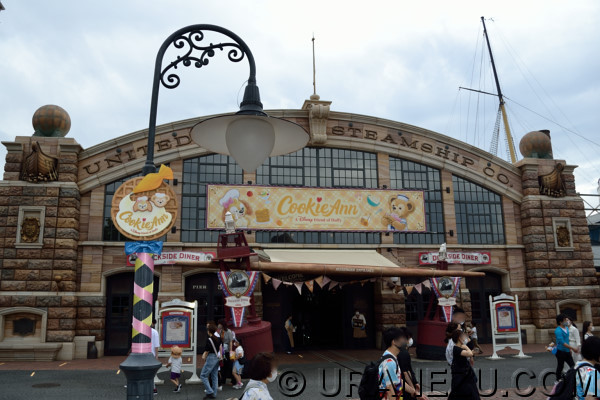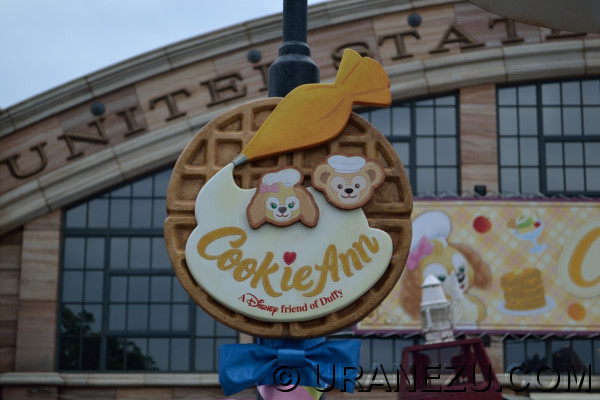 The only a banner the canceled special the event was left at American Waterfront where the car greeting was planned originally.
Miscellaneous:
The casts measured and marked for another social distancing marks.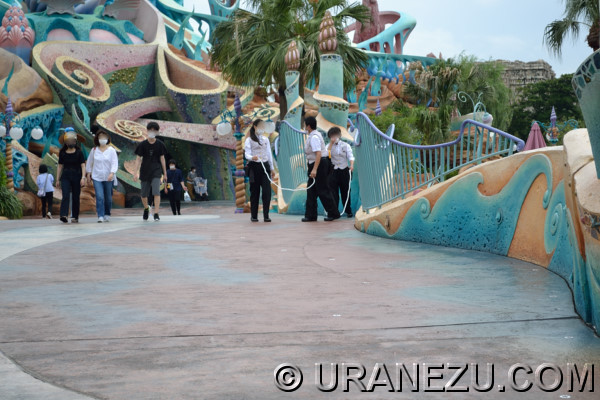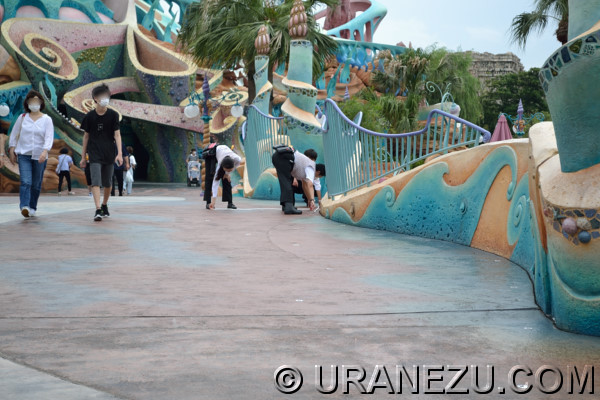 So you have to find and see a non-announcement character greeting on the barge on the spot.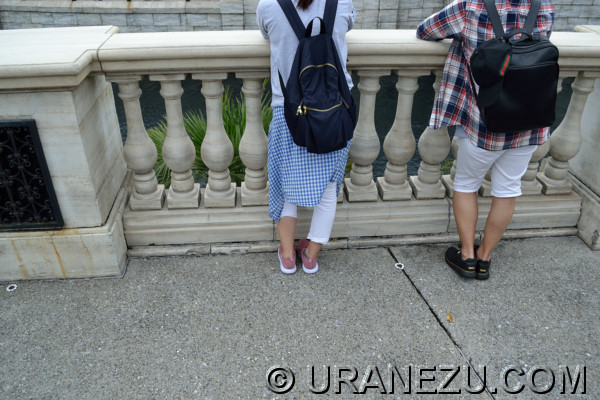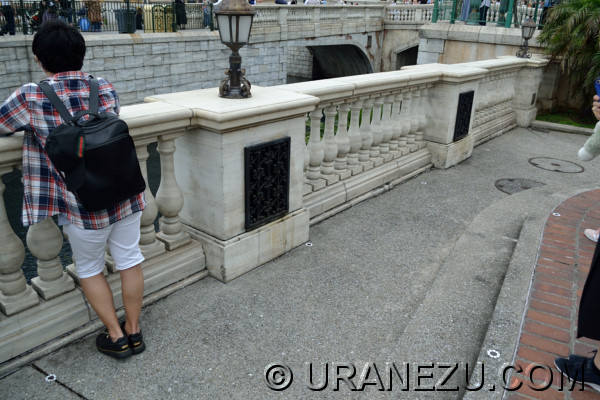 The benches were thin out. But I bet you can find to easily.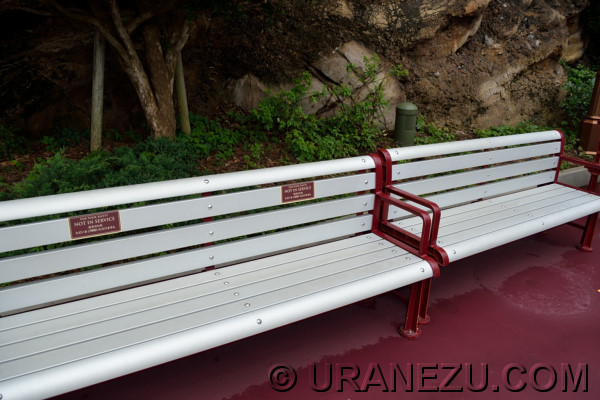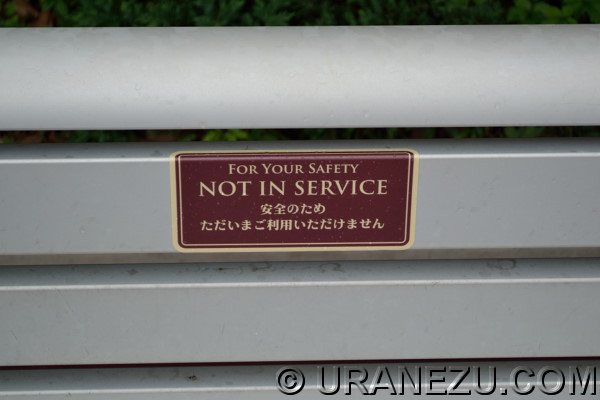 The custodial cast wiped out the benches frequently.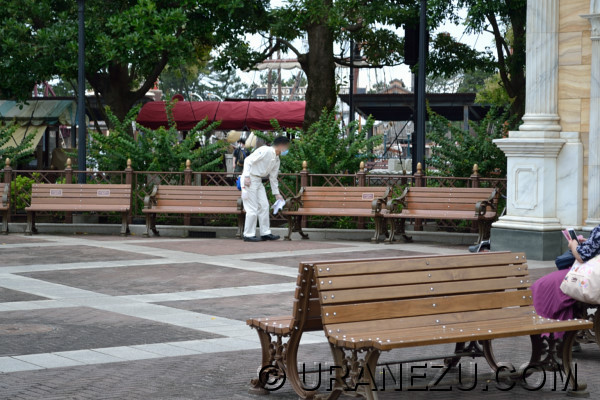 I was very impressed that all the cast members to keep the park clean and safe.

Another impressive thing was the trash can.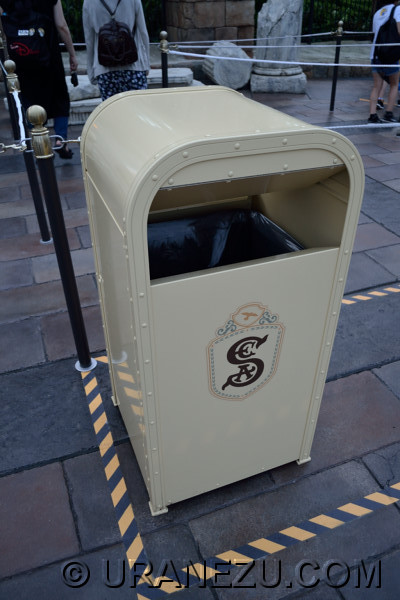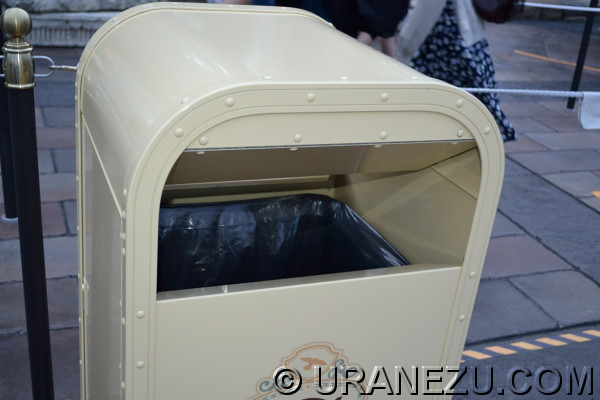 All cans set the flap open! So I could use it without any touch. It's really nice and efficient.
The new announcement in the park.
It's a tough situation, but hang in there, together!
If you have any questions, opinions and requests,
please contact us.
May 30 2020 After Report of Duffy & Friends' Heartwarming Days.
Hello, everyone. I do hope you are O.K. It's been a long time that I didn't post any article. Thank you for waiting, today I'd like to share another after report at TDS.
TDR still closed due to COVID-19 matter, and official said that "the decision on the reopening date will be made and announced once the requests from Government and local municipalities have been lifted."
The park closure was started from 29 February, So end date of "Duffy & Friends' Heartwarming Days" the special decoration was moved up from the original 19 March.

It's lucky that I could catch a new special car which was debut with the event.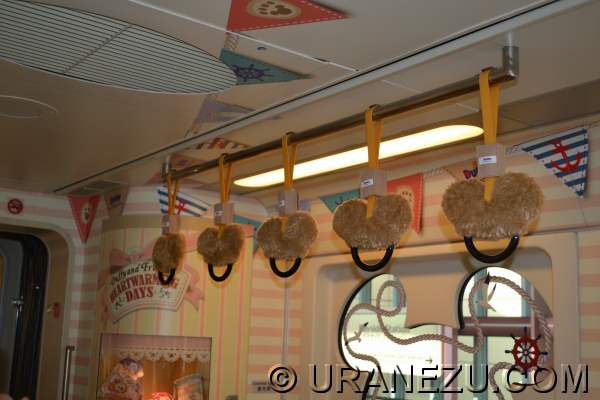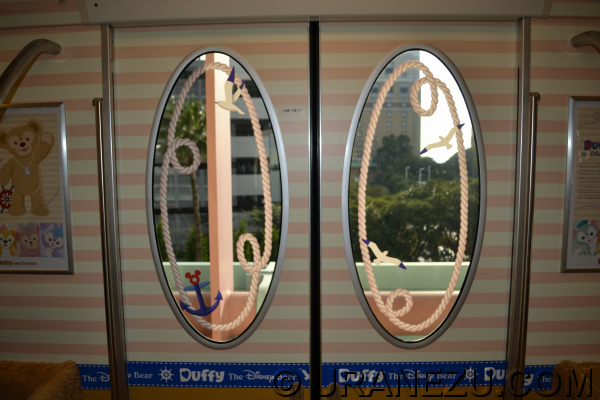 This is the normal fluffy, the Duffy couch.

Change color to pink with a bow, next car is ShellieMay.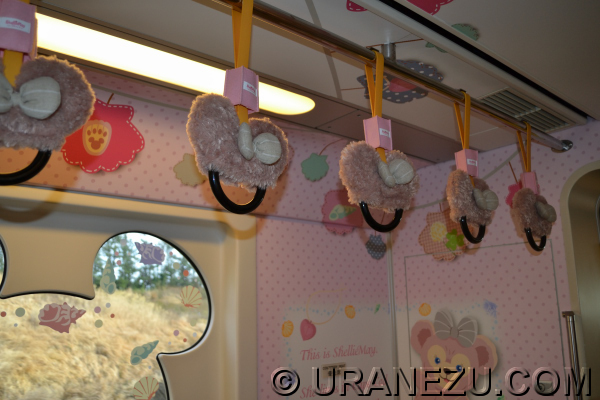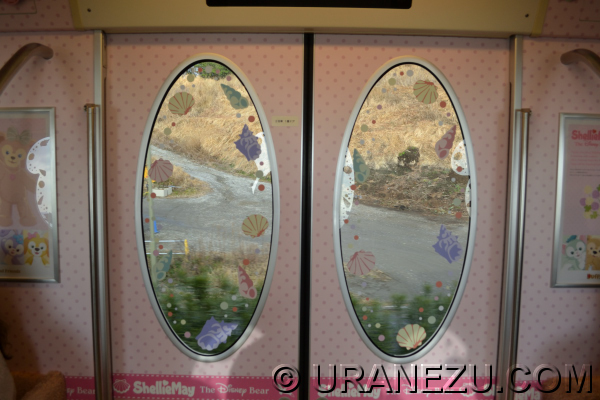 Mold blue fur with art talent, that's Gelatoni's car.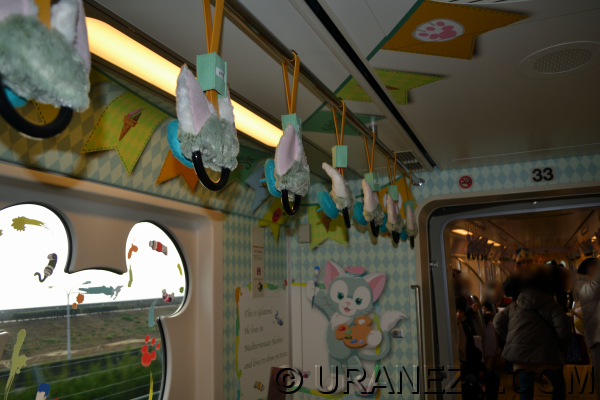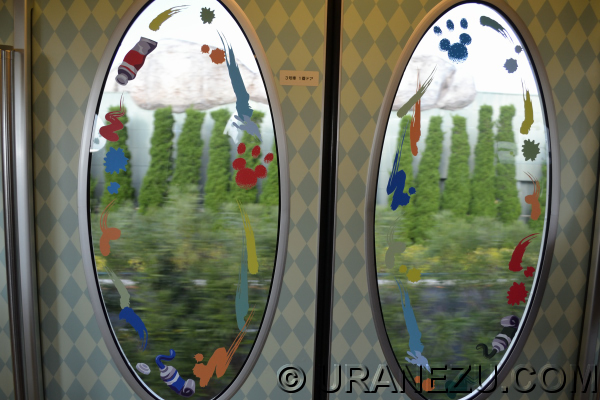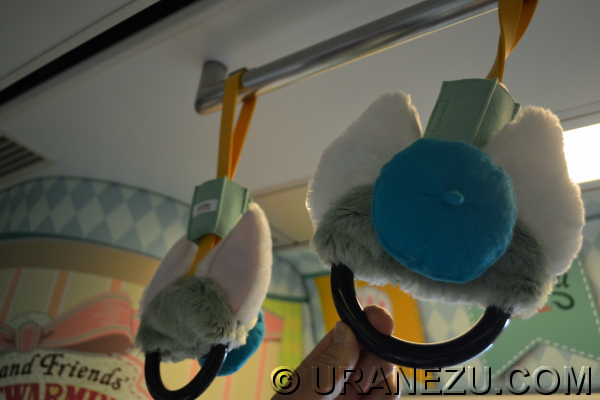 We can see his characteristic beret hat on the behind.

Twinkle purple color with long ears, it's couch of StellaLou.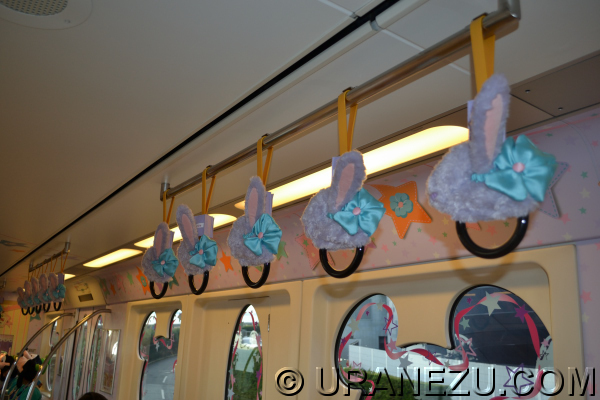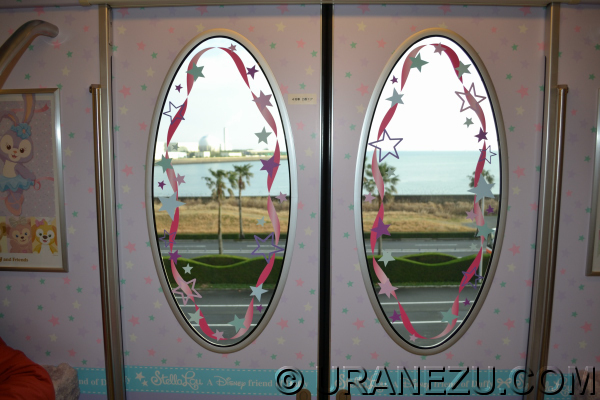 And here is the new comer, CookieAnn's car.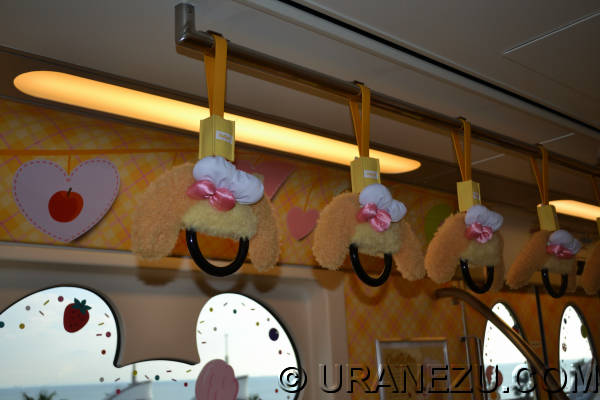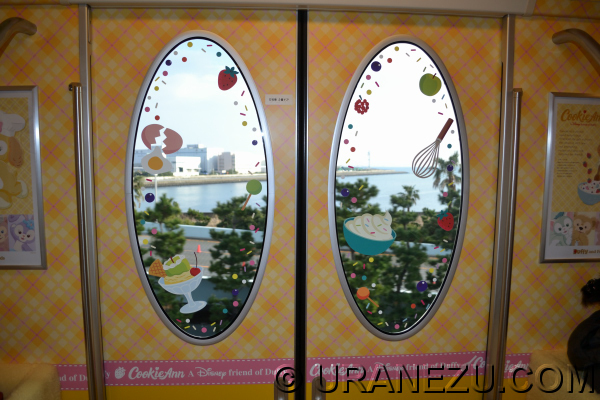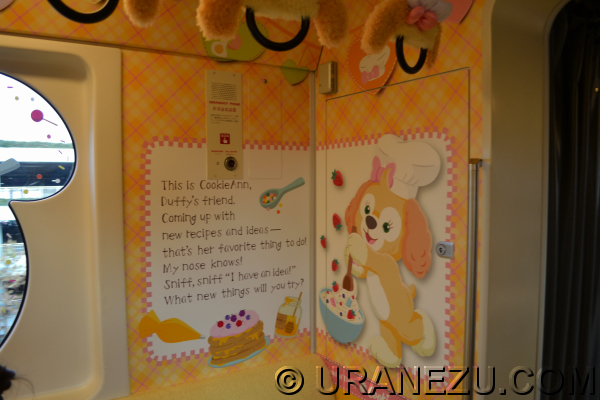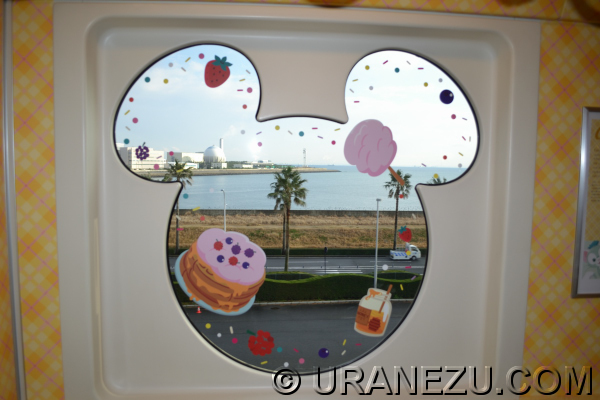 Each couch has special fur covered seats.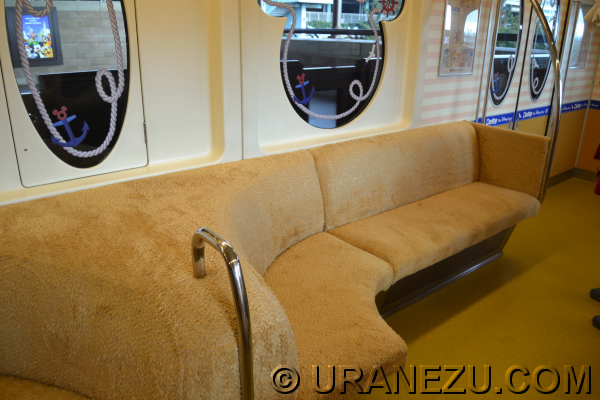 This "Duffy & Friends' Liner" will be operated to 31 October 2020.

There were so many photo opportunity in TDS, especially Cape Cod area.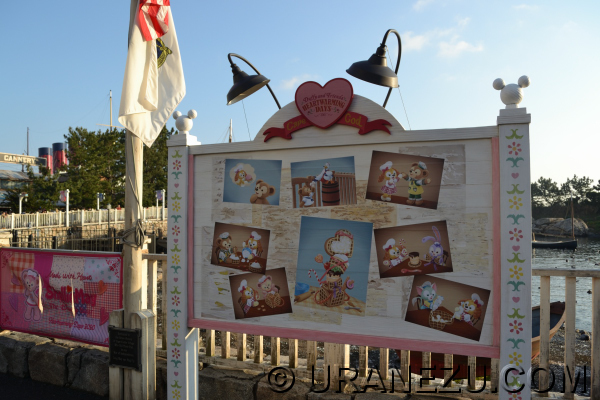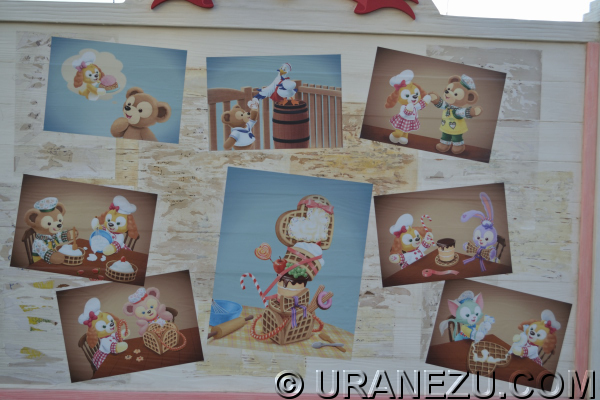 I think Duffy fun understood a whole story from the above bulletin board.

The below work place is Duffy's.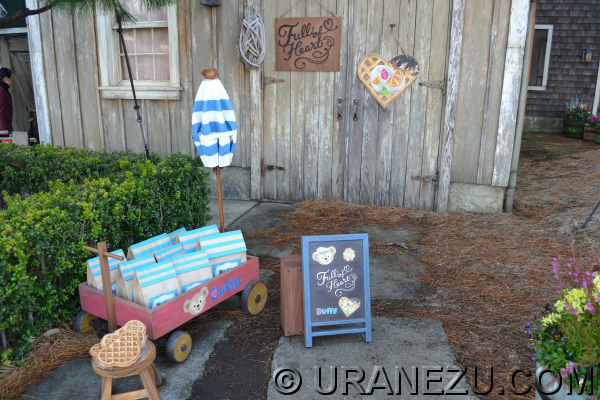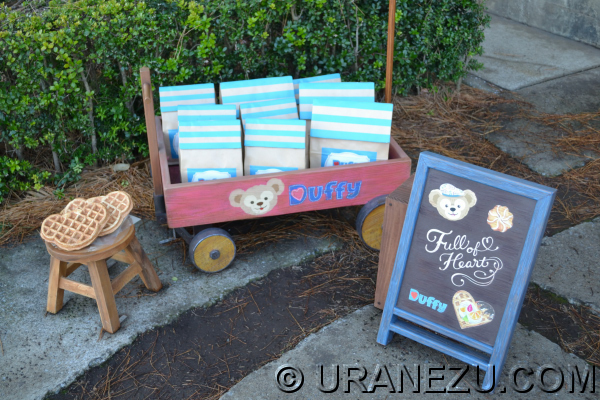 It's little bit surprised that he put a waffles on a stool with a piece of so thin wrapper.

This is from Gelatoni.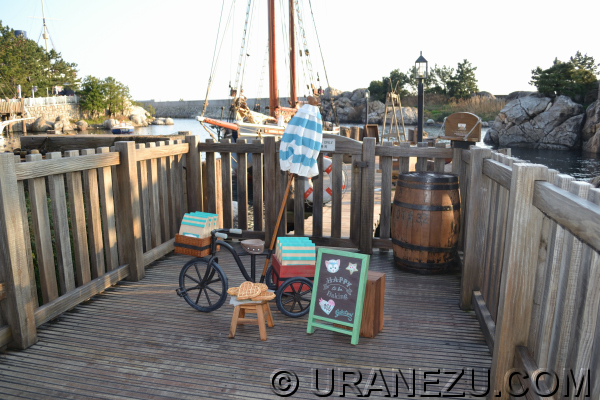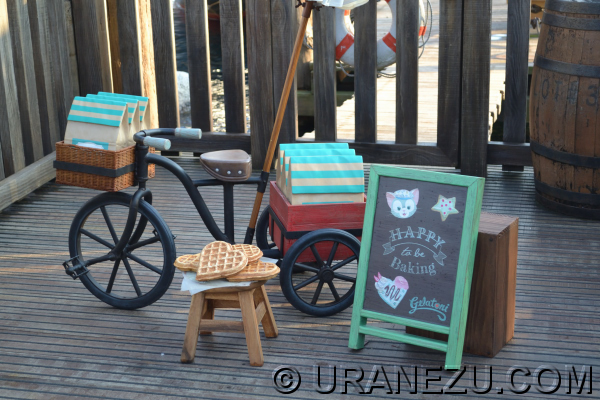 He uses two papers. That's better.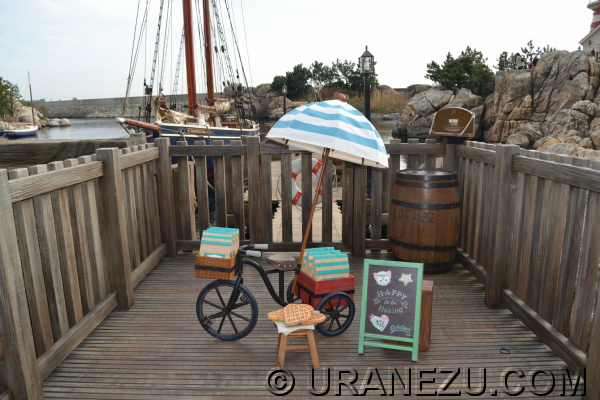 The parasol was closed depends on the weather.

The left place was for ShellieMay, and the right one for StellaLou.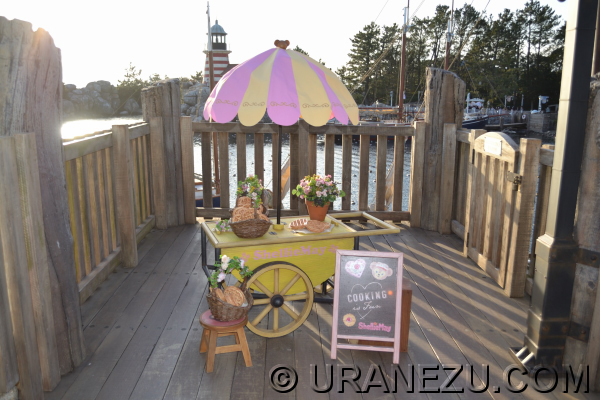 Not only the outside, you could find more special decorations inside Cape Cod Cook-off Restaurant. Let's check a place with some people with camera.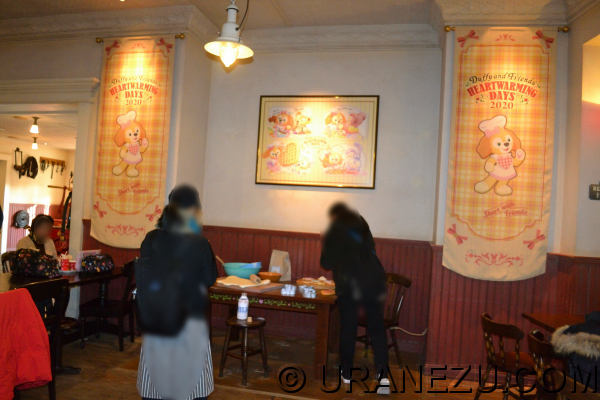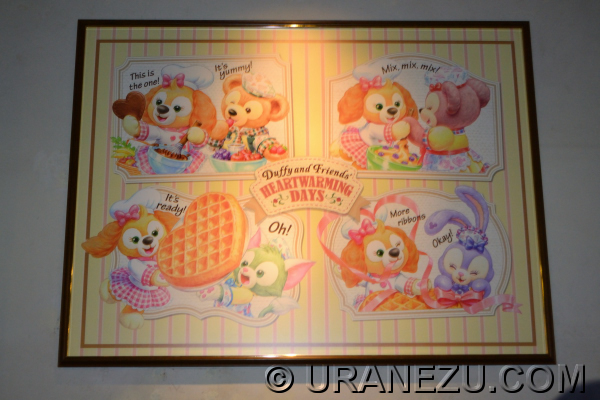 I see, many waffles at the outside came from this making place.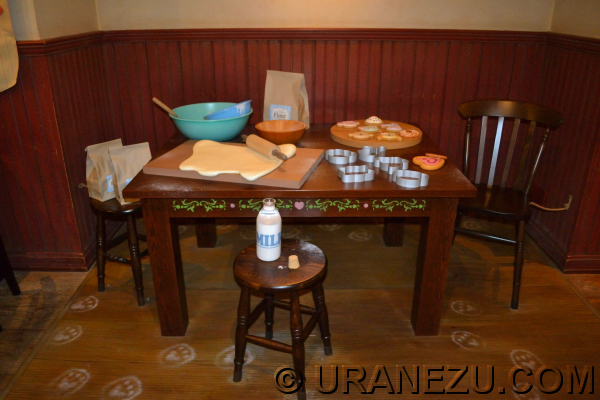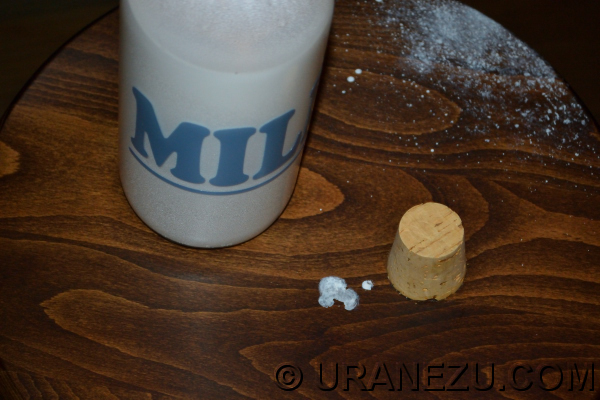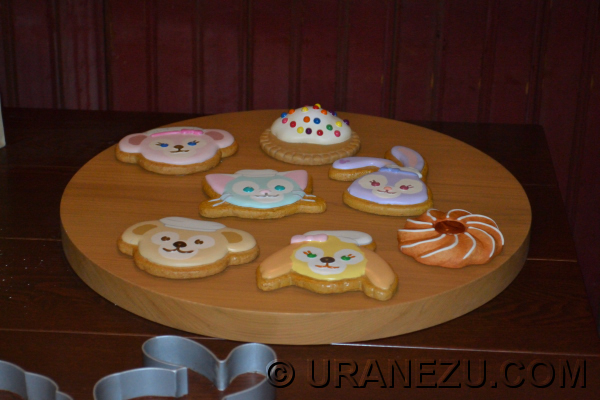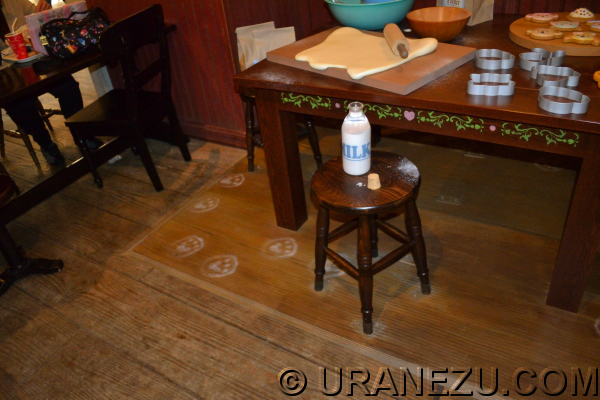 It's cute that their footprints with the flour.

A paint at the moment could see at Palazzo Canals area in Mediterranean Harbor.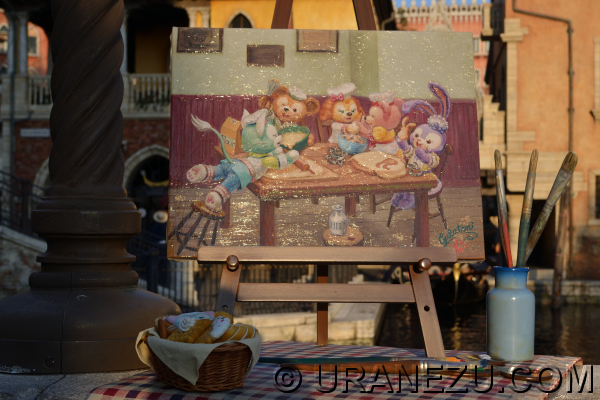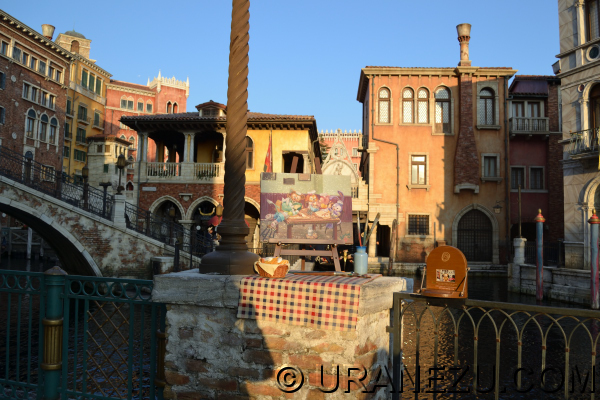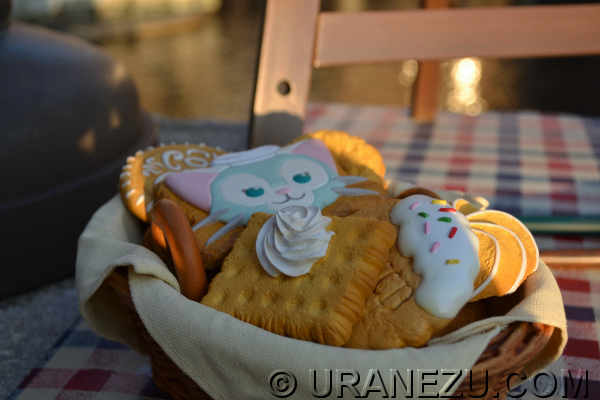 So where's a new comer, CookieAnn's photo opportunity?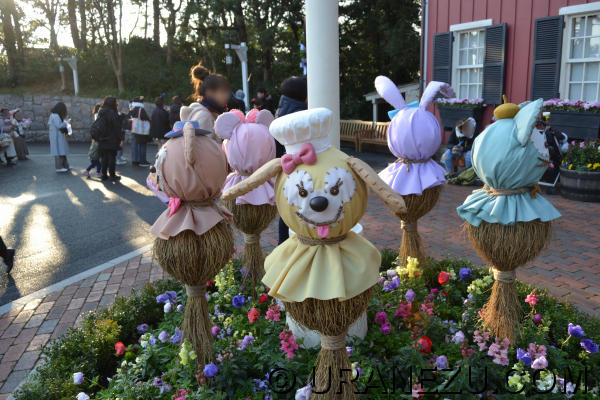 In Cape Cod, I could found only her new scarecrow.

The place was in front of "McDuck's Department Store" the Duffy-merchandise-deal-in-shop in American Waterfront.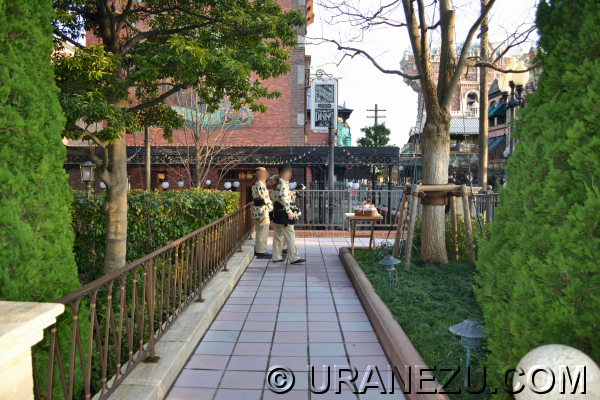 There was no guest around the photo spot, but the casts were always chilly when I went to take a photo without any fluffy friends.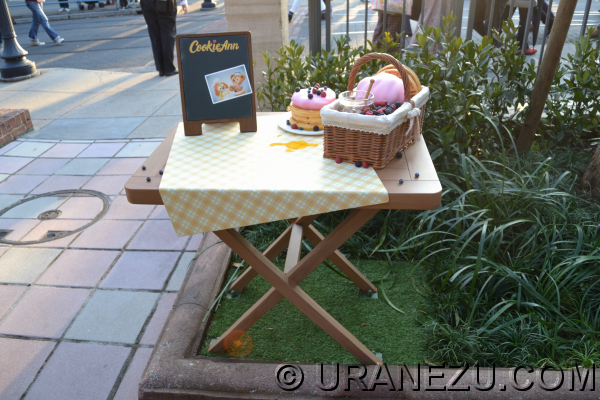 Maybe, I should bought one and lean her or him on the blackboard when I took the photo.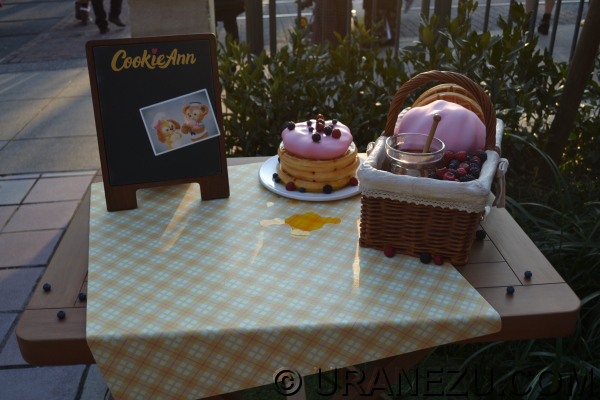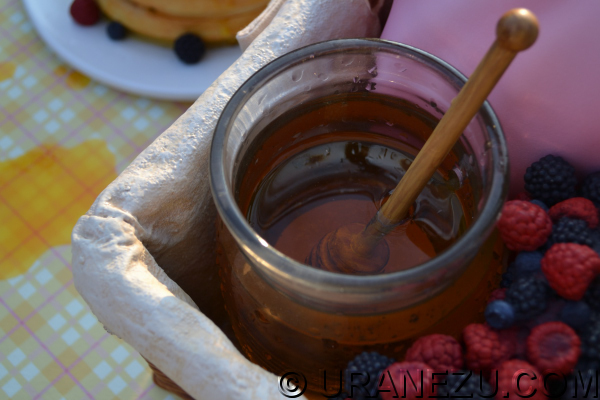 The honey was spilled and some blue berries on the table.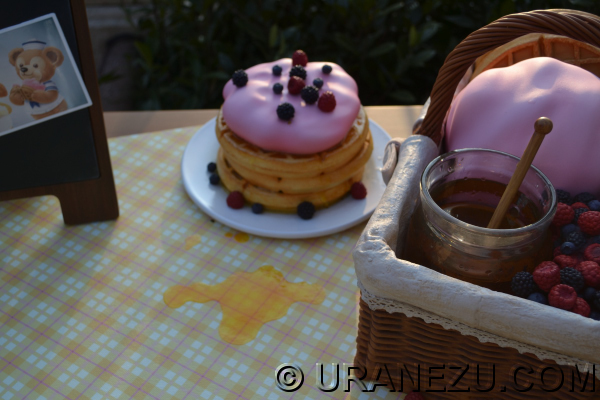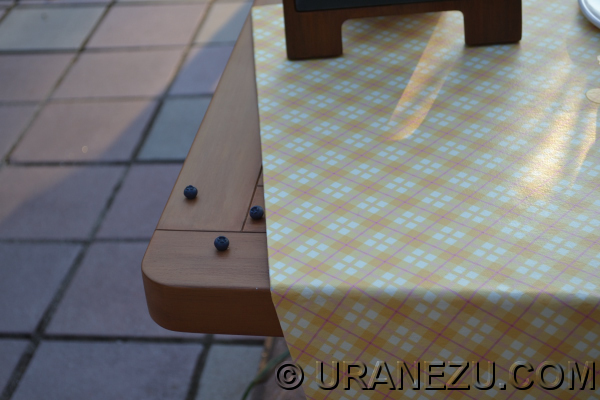 It's a rush job, CookieAnn!

Anyway, I'm also glad that they made a great waffle tower.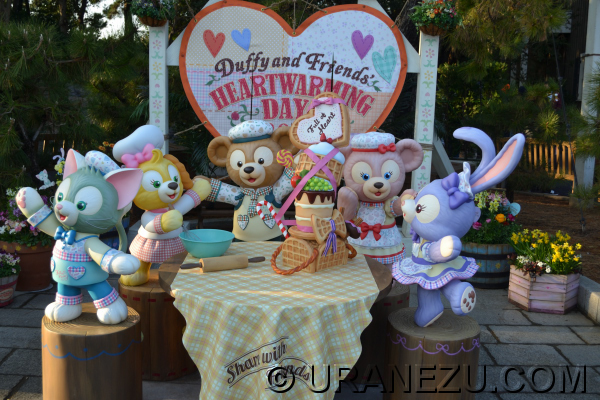 If you have any questions, opinions and requests,
please contact us.
Apr. 11 2020 After Report of Pixar Playtime.
Thanks coming back! Today I'd like to give you an after report of "Pixar Playtime" the special winter-to-early spring-event at TDS.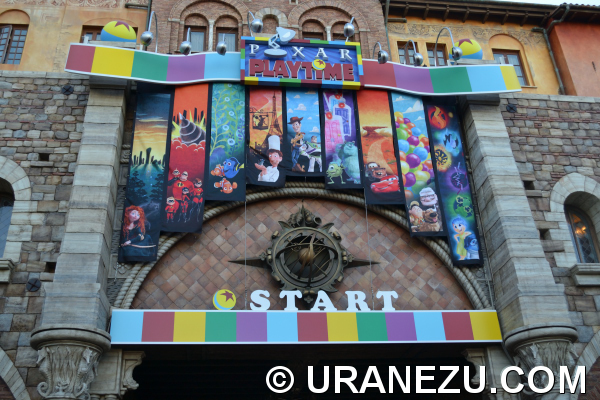 This event was third years since in 2018. In this year, it scheduled originally to 19. MAR. from 10. JAN. 2020. As you know the event was cut short due to the COVID-19 virus matter.

The star-stabbed banners were welcome you in front of Mediterranean Harbor.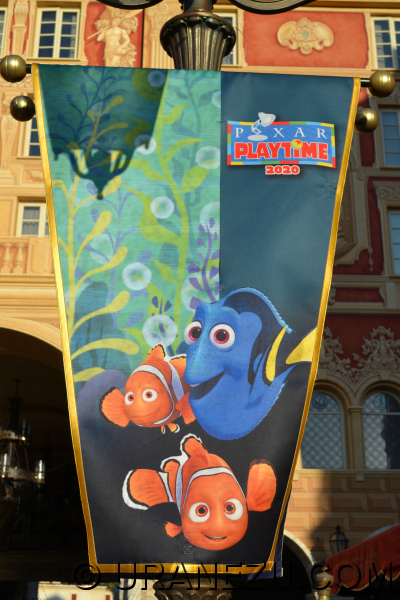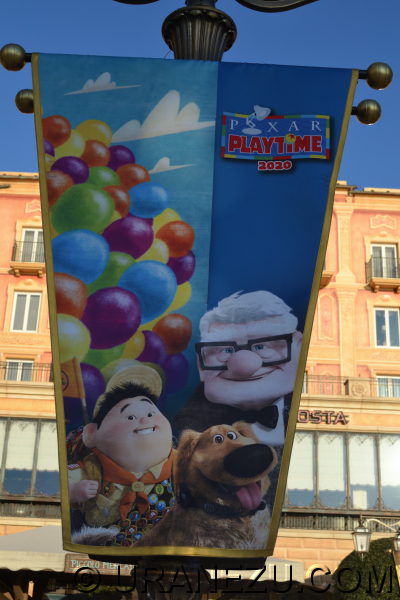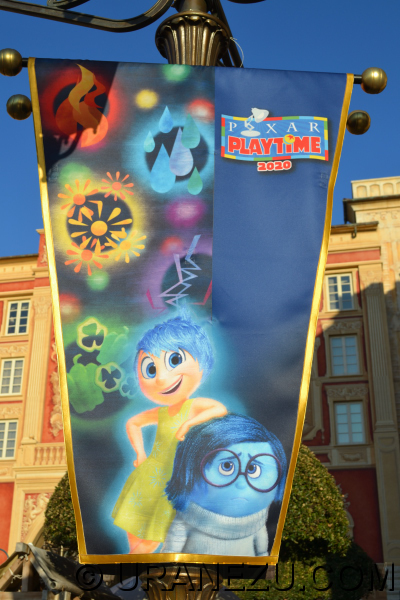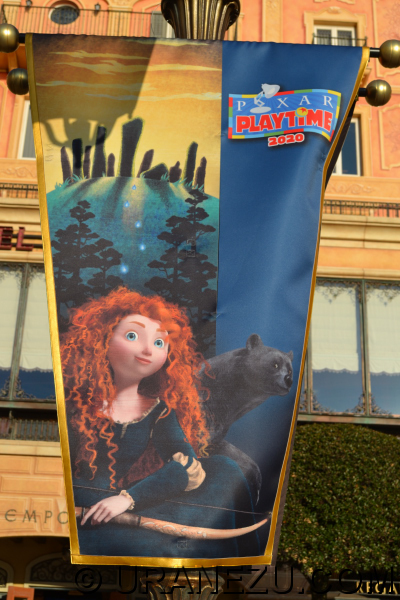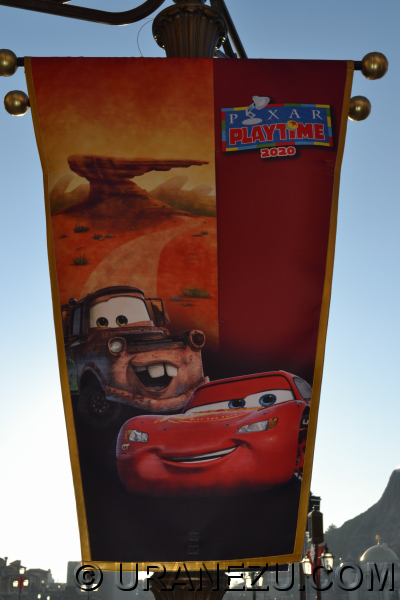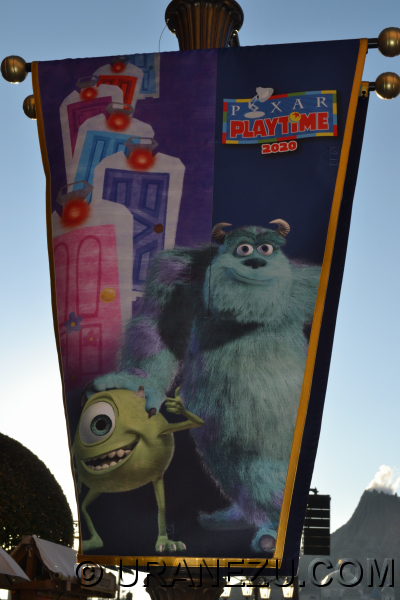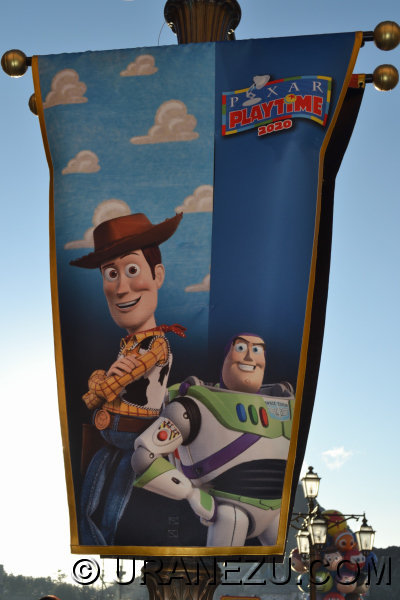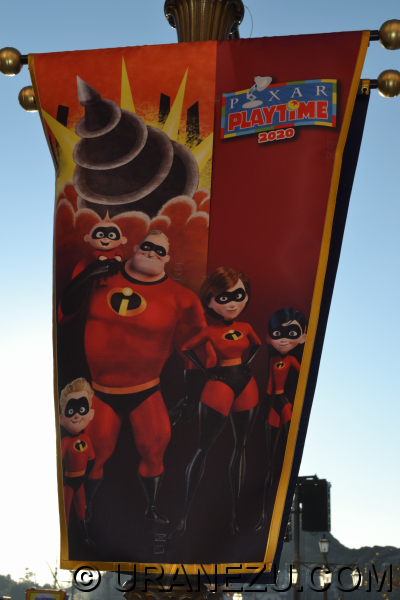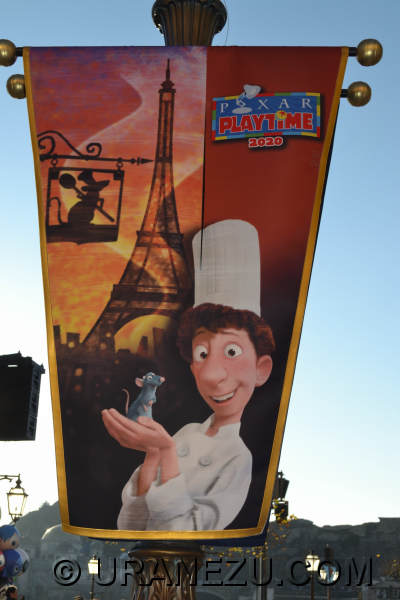 This is my favorite!

The design was changed year by year. Which years do you like it?
I really love geeky original 2018 version banners!!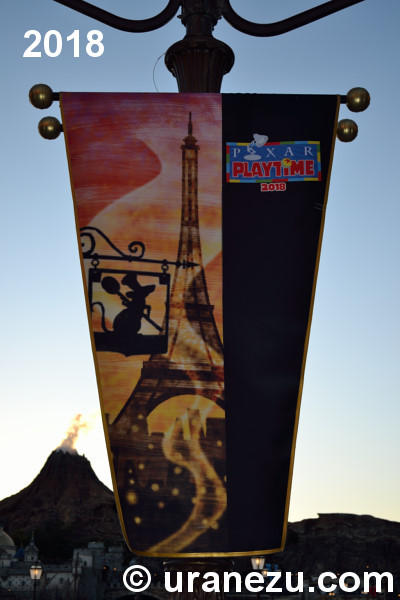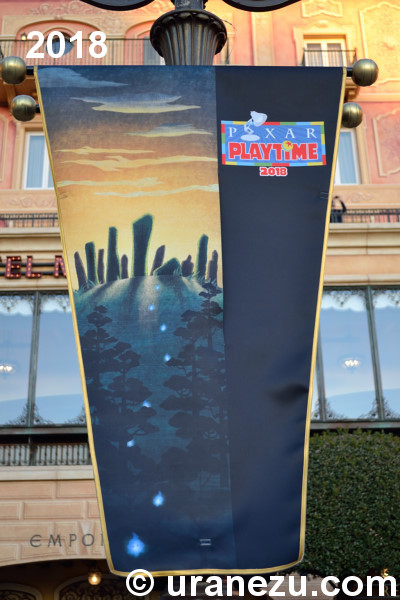 See? The original 2018 banners are more sophisticated than this year's.
During this event, TDS Park itself was changed as a life-size game board.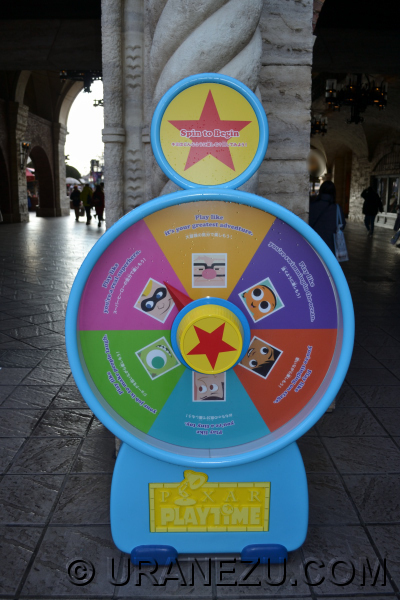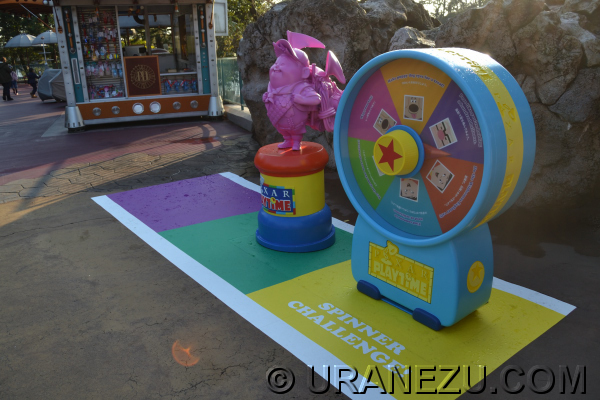 Let's spin the roulette, and moving on!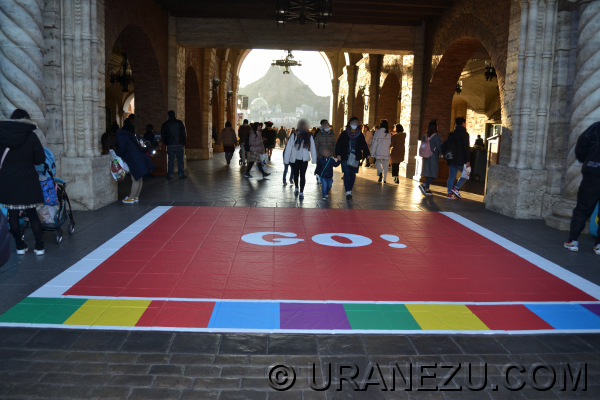 So we could see many game squares.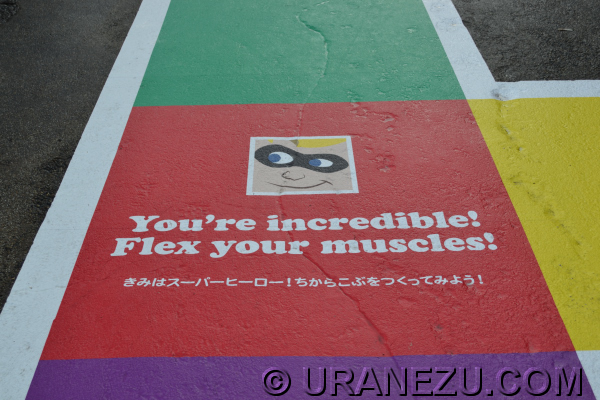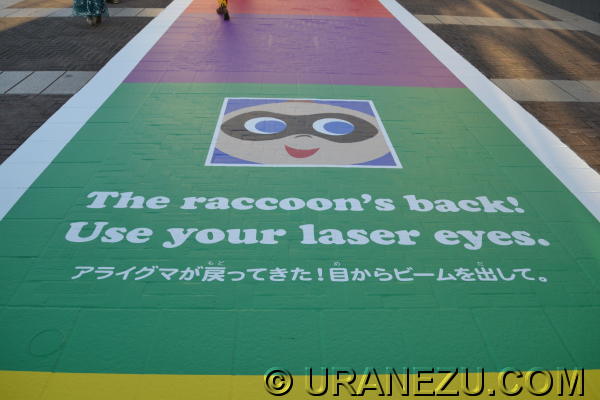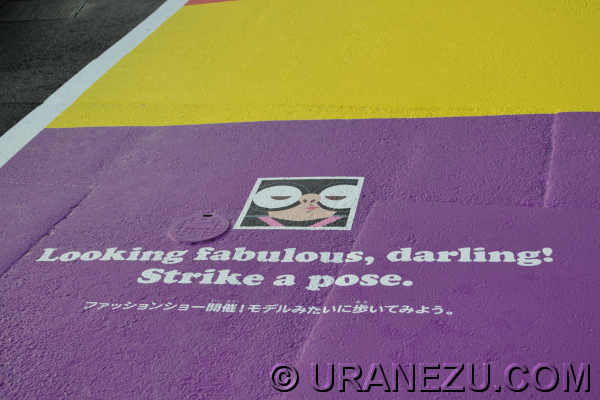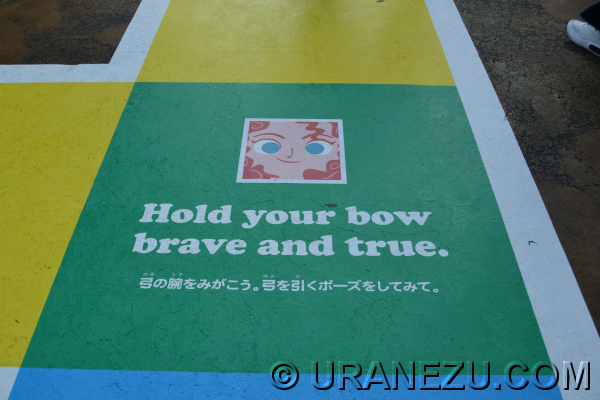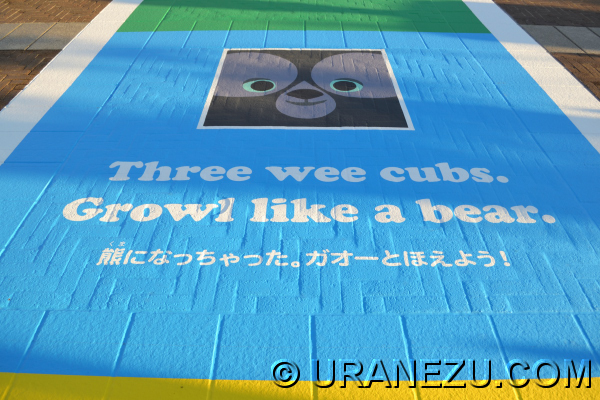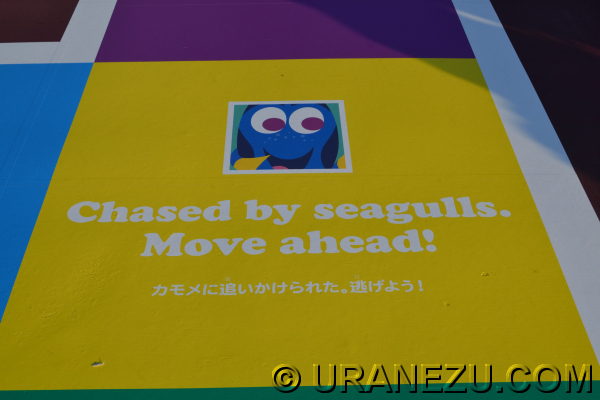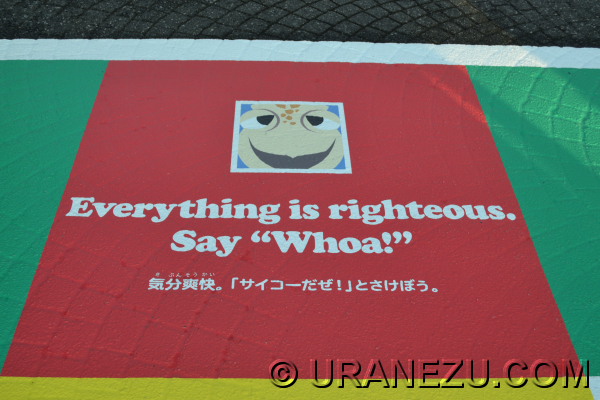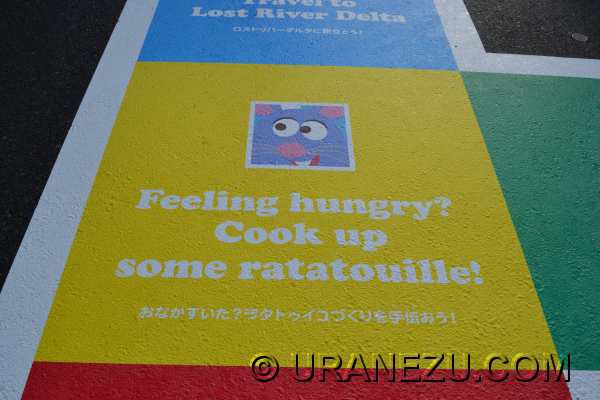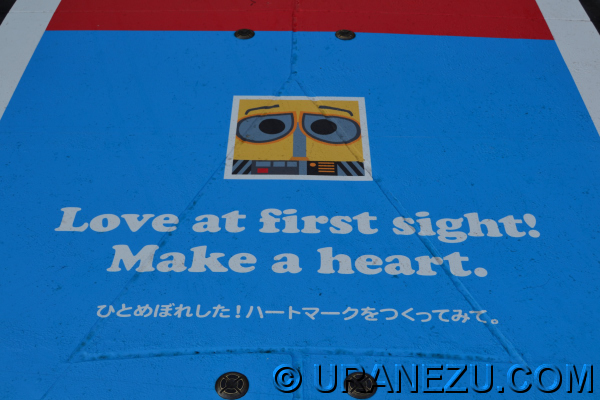 There was only each one square from "Ratatouille" and "WALL ⋅E". Sad …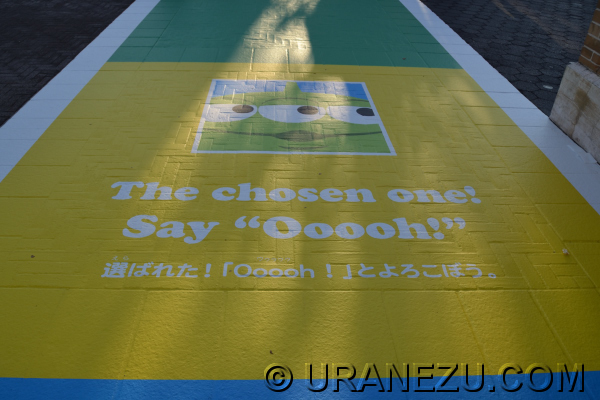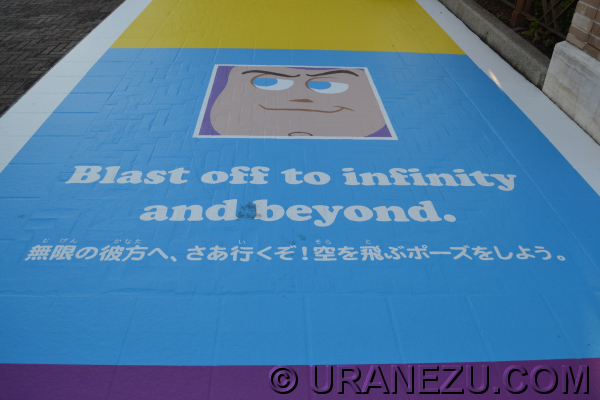 These fun to see panels at Waterfront Park in American Waterfront.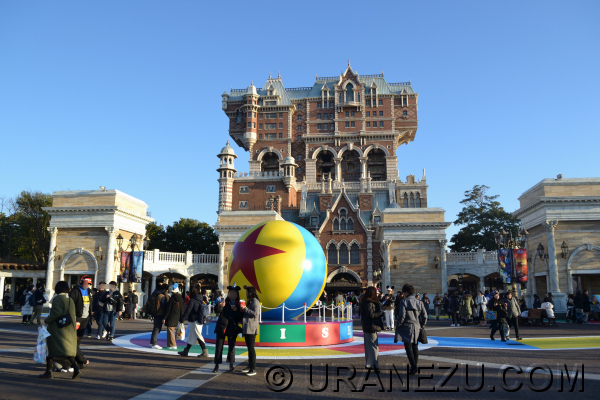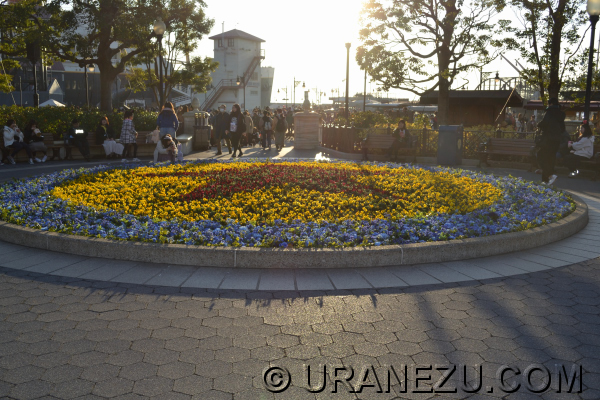 There were lots of lovely icons.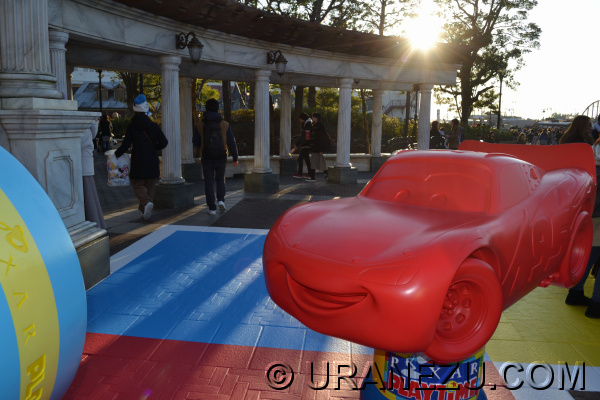 But the "Pit Stop" the Cars game has gone in this year. It looked really a no-durability game, so I didn't surprised about that.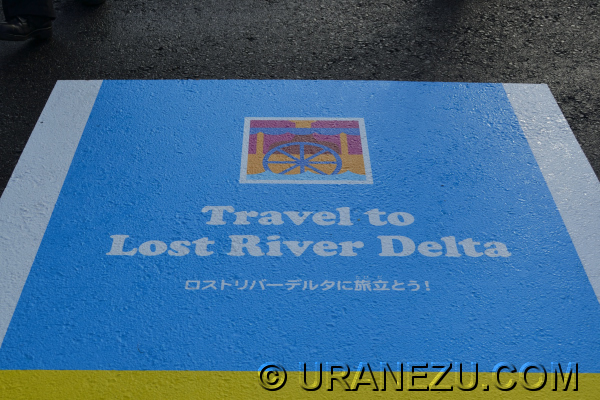 And some squares guided you a new adventure.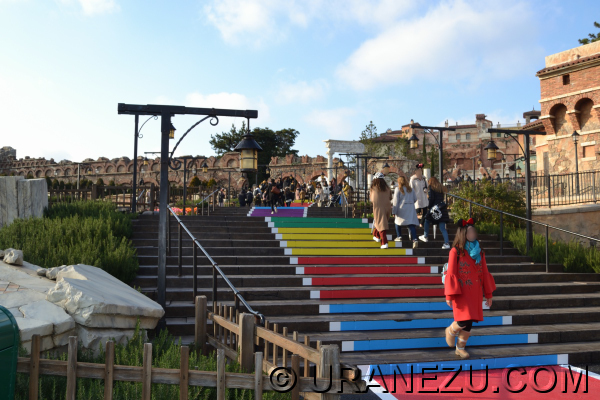 Not only on the ground, but also on the wall.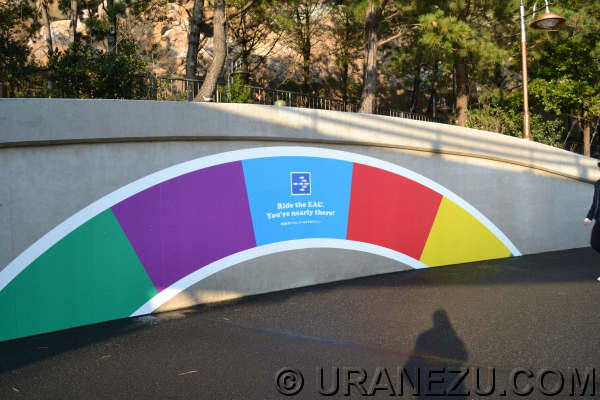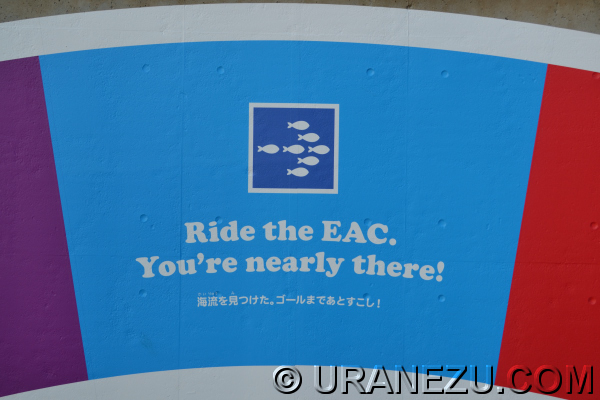 You could find another character game squares.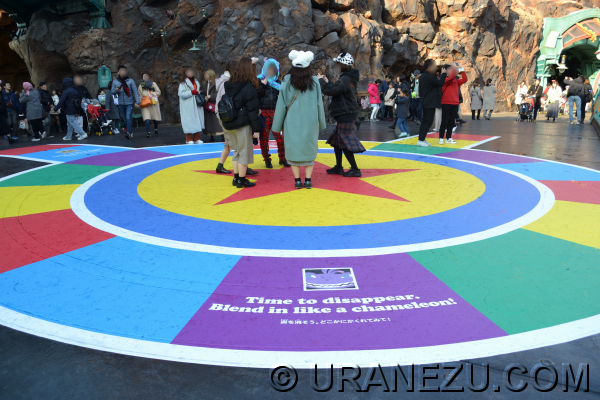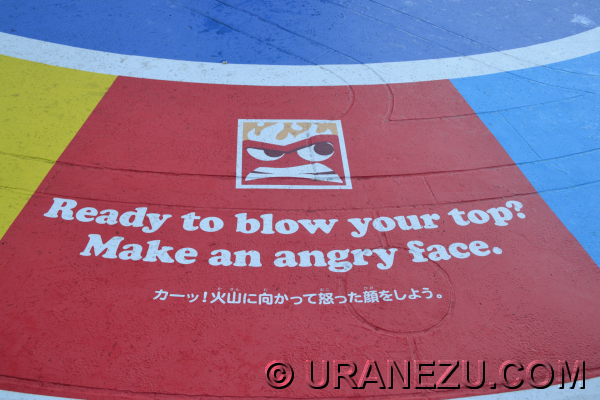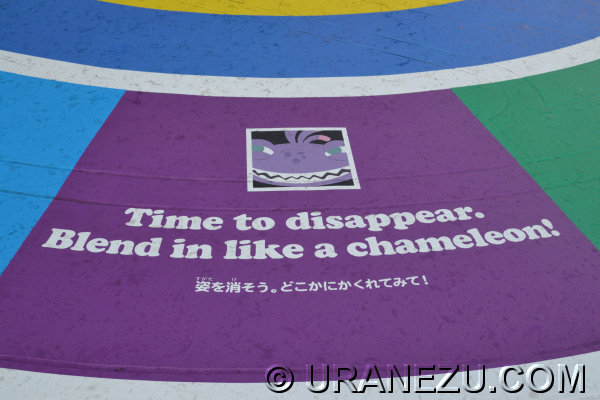 Here were other characters from "Inside Out" and "Monsters, Inc."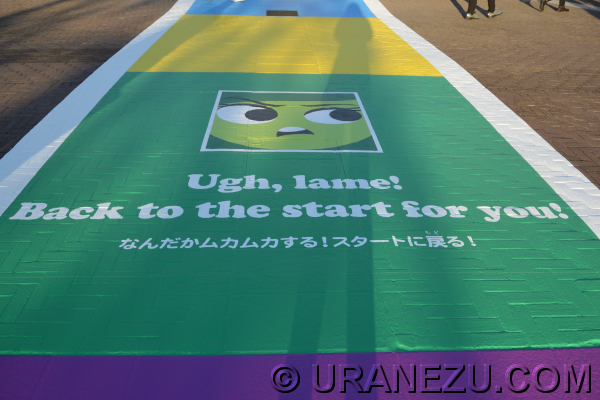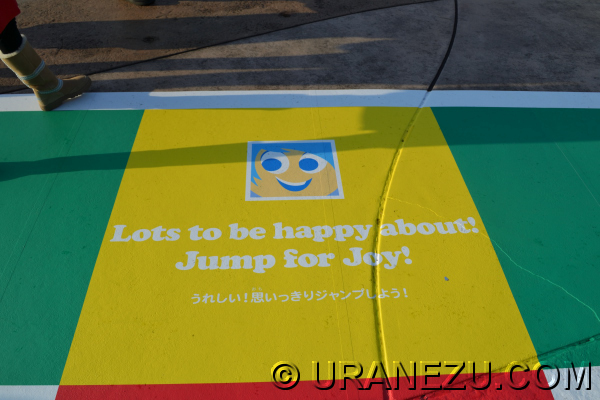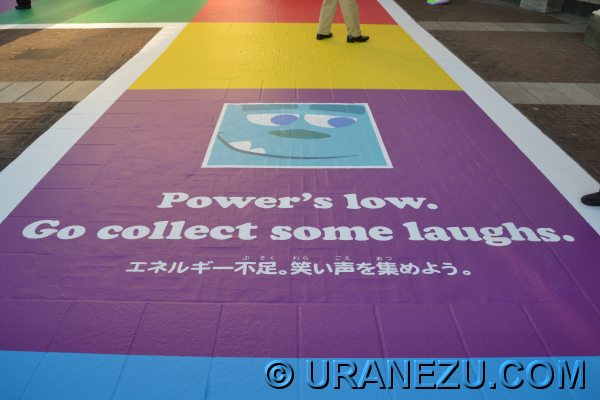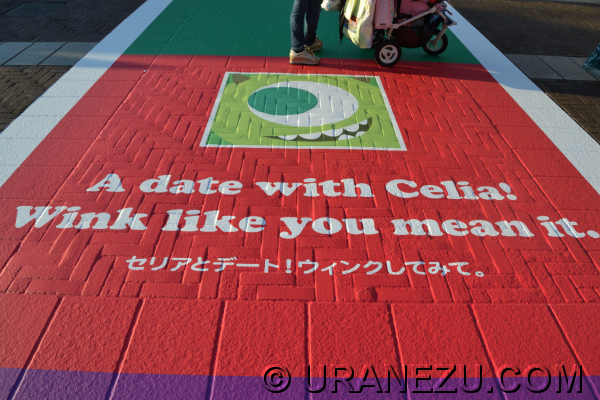 Did you try the below?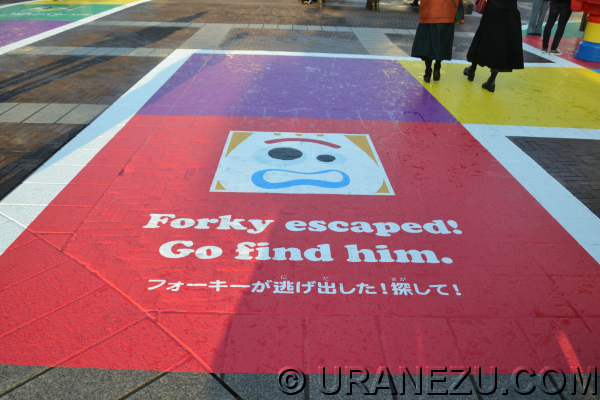 It's very hard to find him, but I could discover him coincidentally on the way to see "Pixar Pals Steamer" the boat greeting.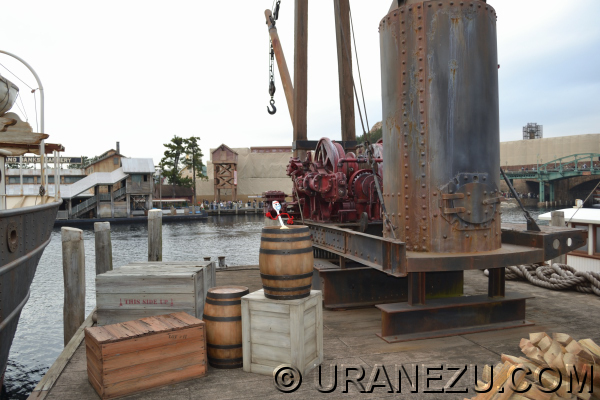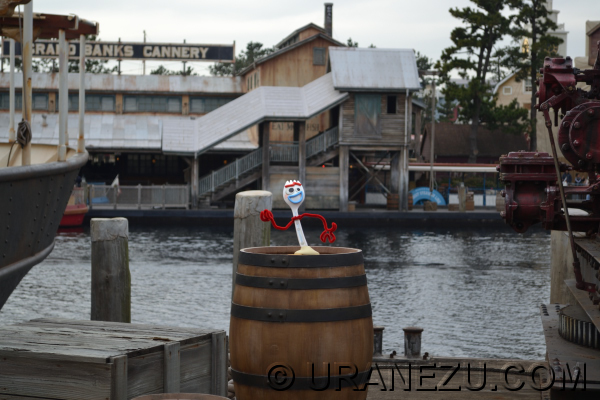 Let's check it another mission.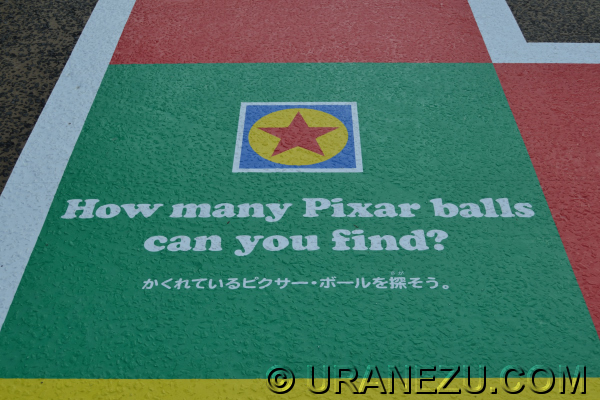 Some of them were easy to find and could see clearly while walking in the park.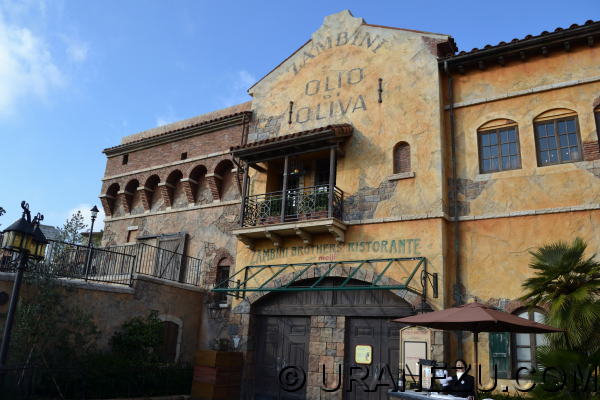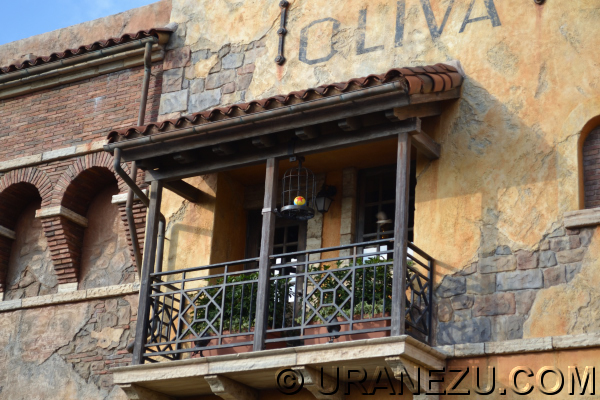 The above was at "Zambini Brothers Restraint".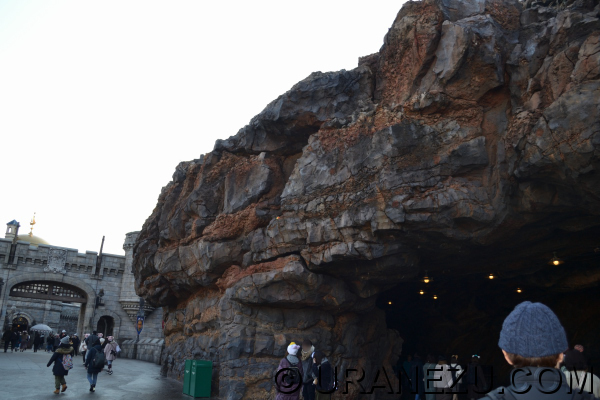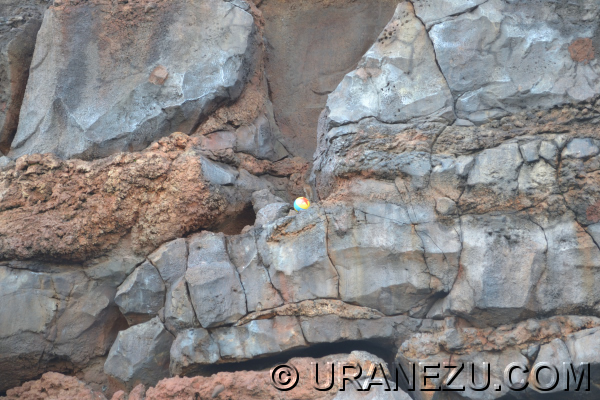 This one was upper of a cave tunnel to Mysterious Island from Mediterranean Harbor.

We could find another ball on another rock.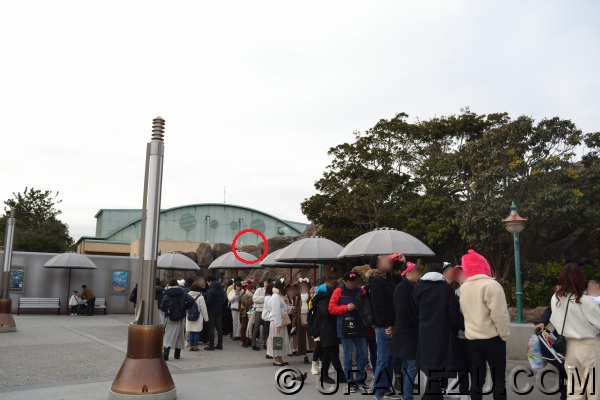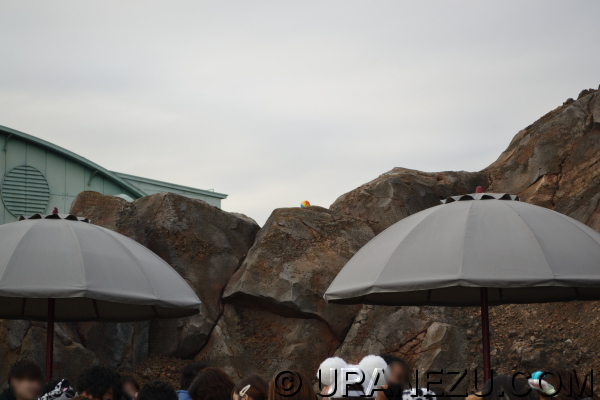 The above was located near "Breezeway Bites" the snack wagon in Port Discovery.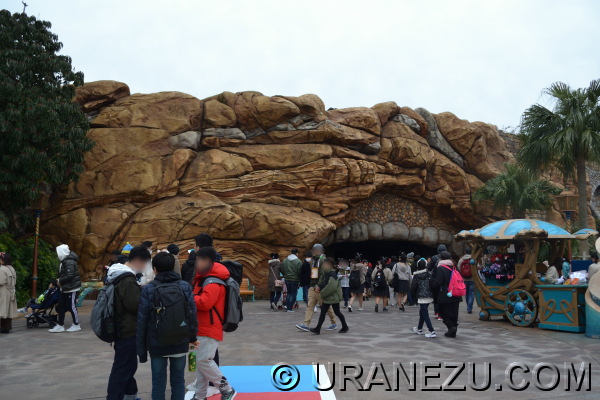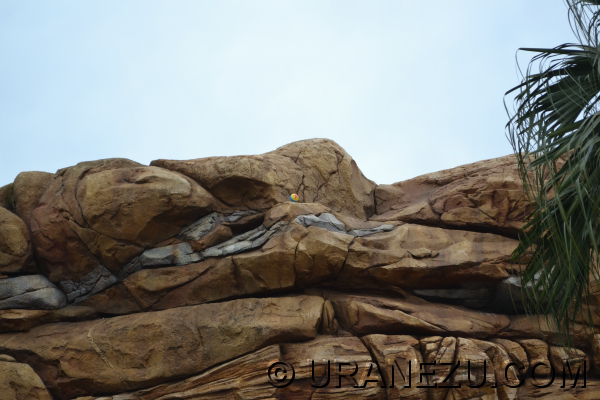 This one was on a tunnel to Mysterious Island from Mermaid Lagoon.
Or sometimes need to see around from another angle.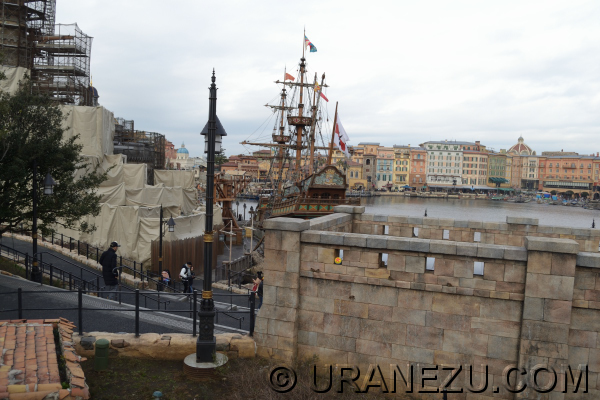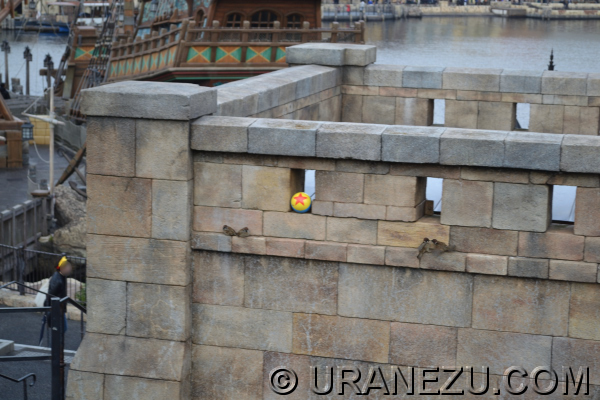 The above was on stone walls at Fortress Explorations area.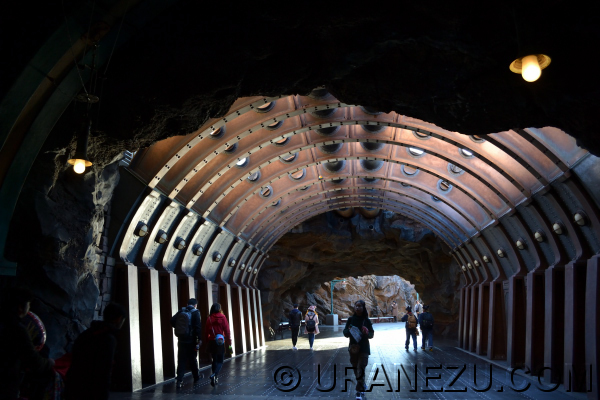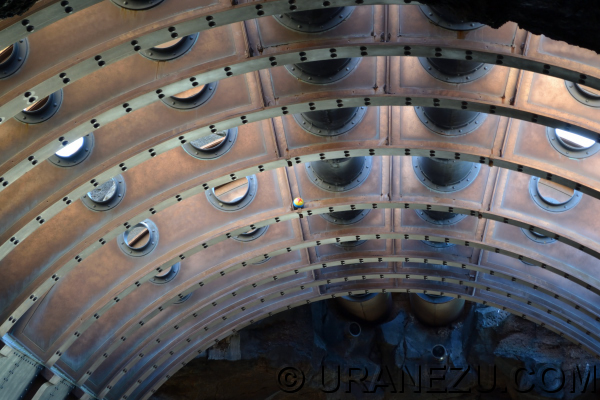 This characteristic iron tunnel was located in Mysterious Island. This ball could not see when you came from Port Discovery.

Some of them on the waterside.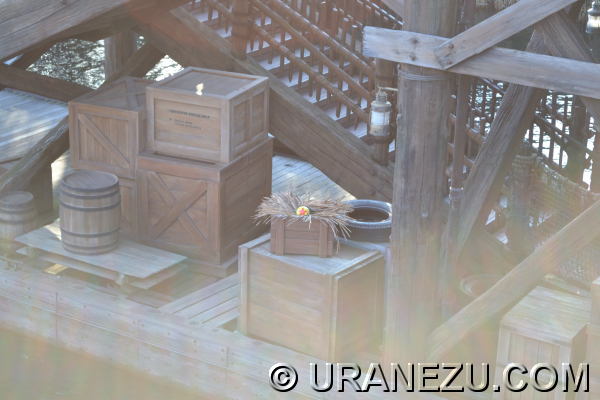 The above picture was located near a boarding zone of "Transit Steamer Line" in Lost River Delta.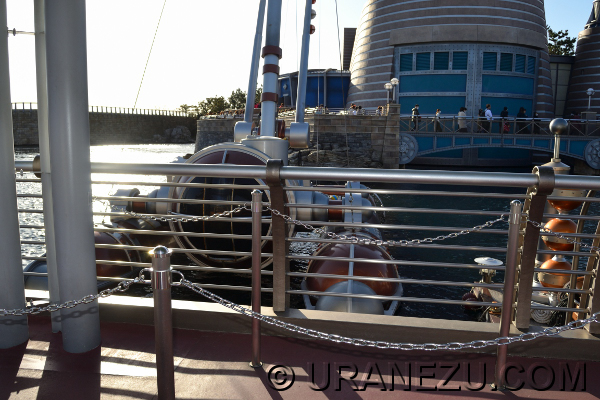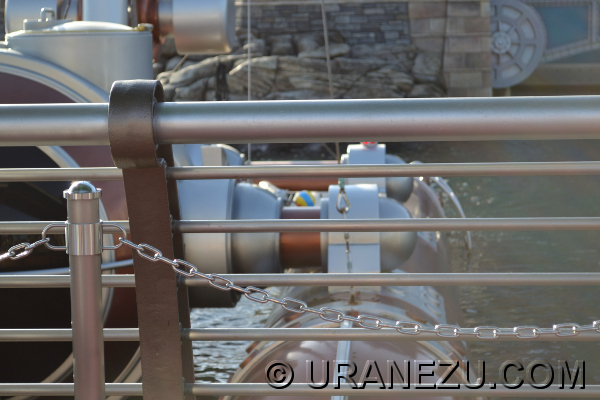 This was at the outside of "Nemo & Friends Sea Rider".

You needed good eyesight to find the left of them.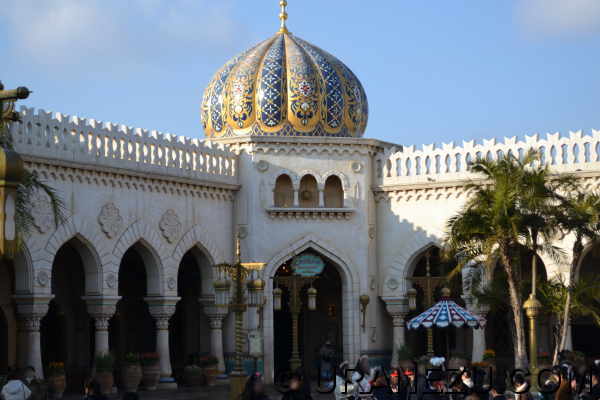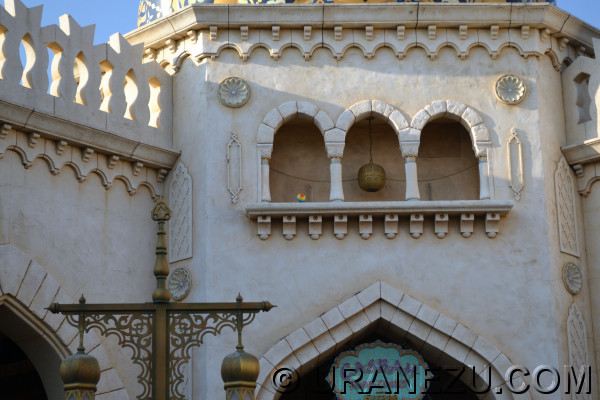 This ball was on the upper side of "Casbah Food Court" entrance.

Can you see the last one?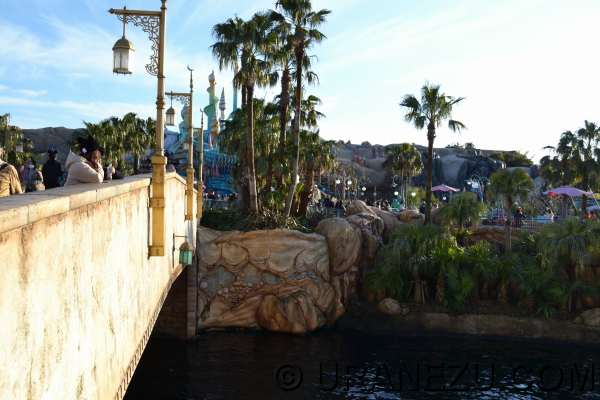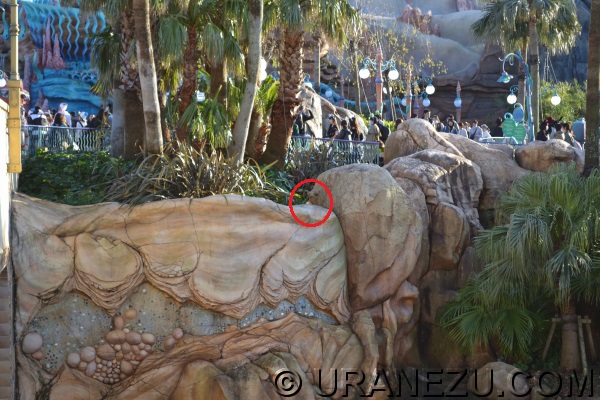 This was located at the edge of Mermaid Lagoon. I thought it could not find with fence and tall grasses from the Mermaid Lagoon. And I barely could see on the other side of the Arabian Coast.

That's it of all my records!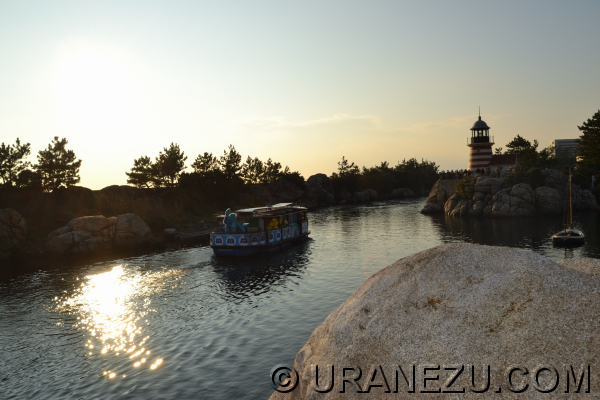 I hope to see you again soon!
If you have any questions, opinions and requests,
please contact us.
Mar. 28 2020 After Report of "Very Very Minnie!" the winter-spring event.
As you know, TDR was temporarily closed from 29 February till now. Therefore "Very Very Minnie!" the special event for winter to early spring in TDL was cut short. Today I post my record of this event.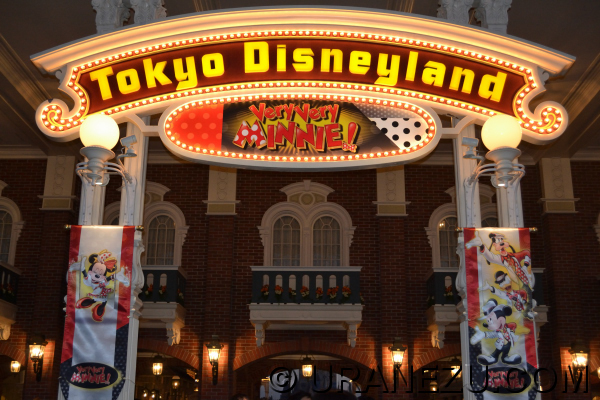 "Very Very Minnie!" was scheduled originally to 19. March, I think this event was inspired by "Mickey Mania" in 1995 and "Donald's Wacky Kingdom" in 1999. Both good old events were so amazing which still evoked "stick-to-one-character-event" like in this time "Very Very Minnie".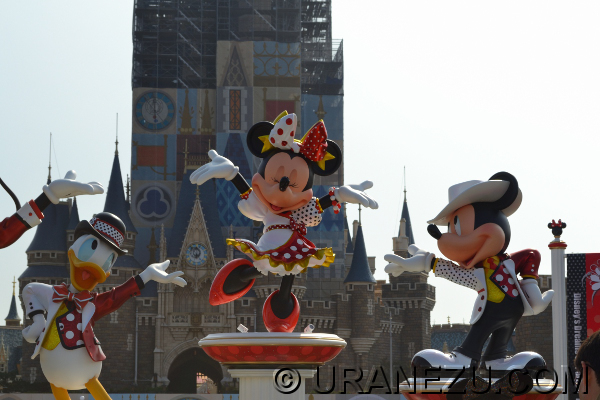 However, honestly speaking my opinion, overall of the event was a kind of shabby than my expectation who had experienced two original for-one-character-devotion-events.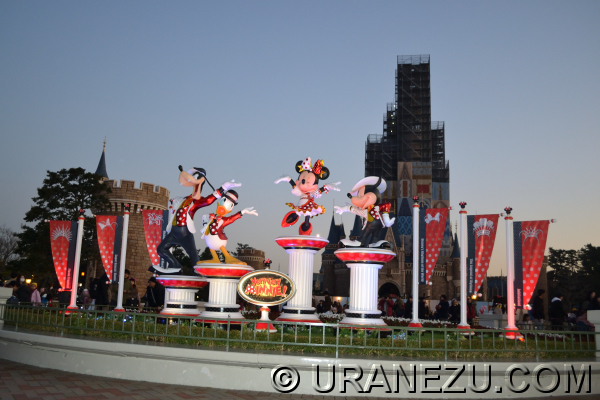 The above was the main photo opportunity. It's a very cute design but a little bit lonely.
There were banners that illustrated Minnie in the past event costume.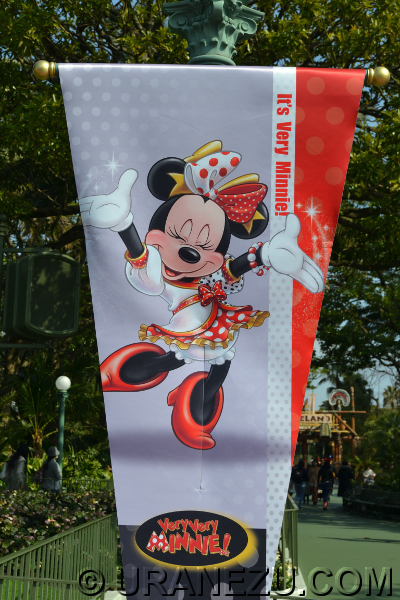 This is the new costume for the event.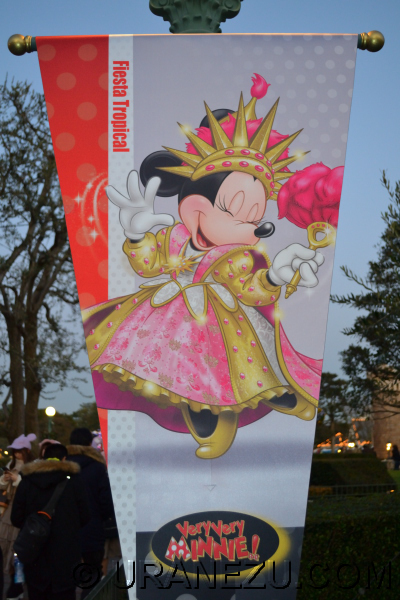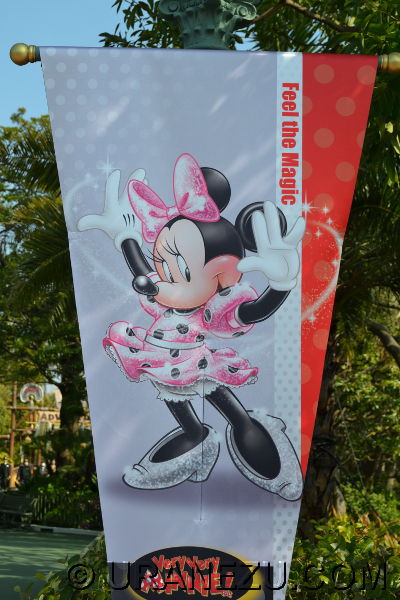 The left from the finale dress of "Fiesta Tropical" the Adventureland stage show in 1996-2000. (This is one of my favorite stage show in TDR. Mickey is not Kawaii, he was so cool and Minnie is so charming.) The light from "Feel the Magic" at the Showbase in 1995-2000. (This was also wonderful show and costumes were so graceful with all of them were silverish.)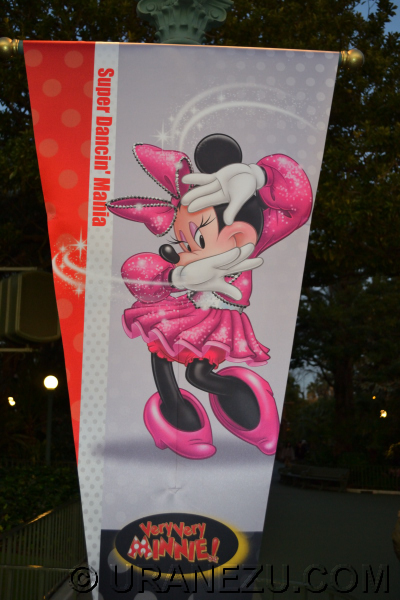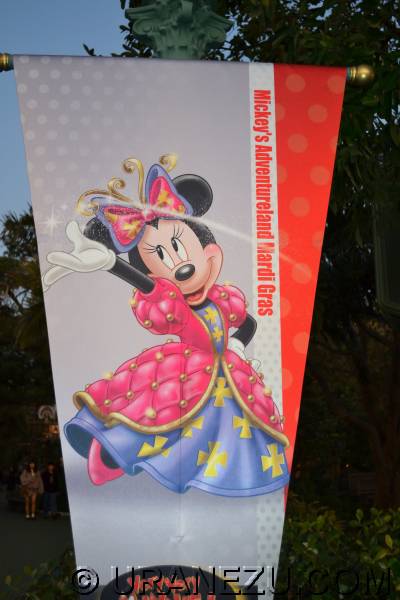 The left is one costume from tons of lavish costumes of "Club Disney" the legendary event in 2000. The right was "Mickey's Adventureland Mardi Gras" in 2001-2004.

We could also see her some past costumes at the store decoration window in World Bazaar.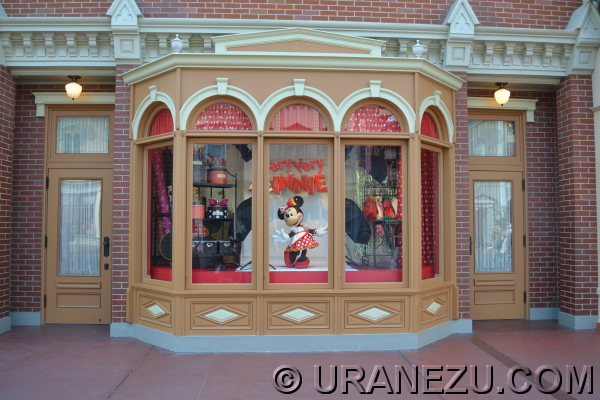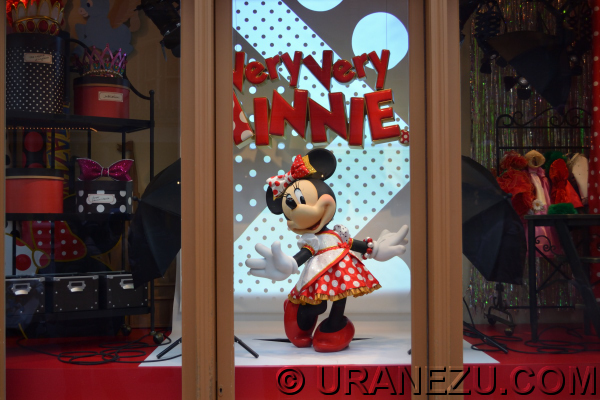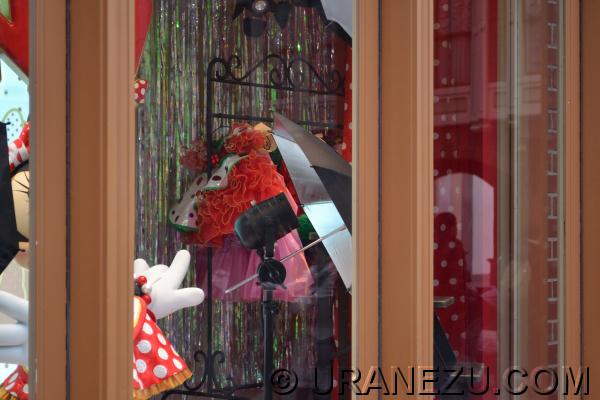 There were past headdresses in her left, and the other side was past costumes on a rack.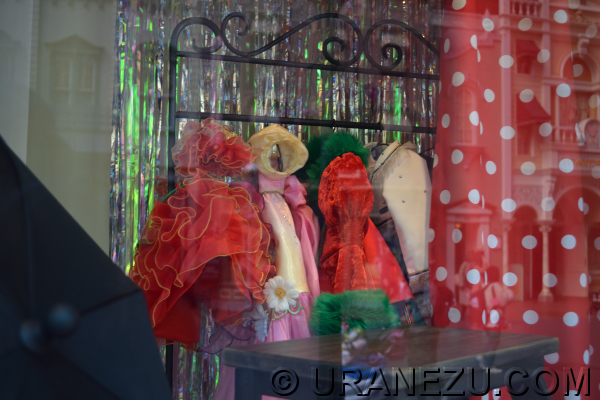 One and the biggest reason that I said "shabby" is the entertainment was small-scale. Especially, "Very Minnie Remix" the mini-parade used only one float, therefore a guest who waited on the parade route many hours before only could enjoy. Unfortunately, I couldn't take a picture of the dancers whose costumes were very lovely though.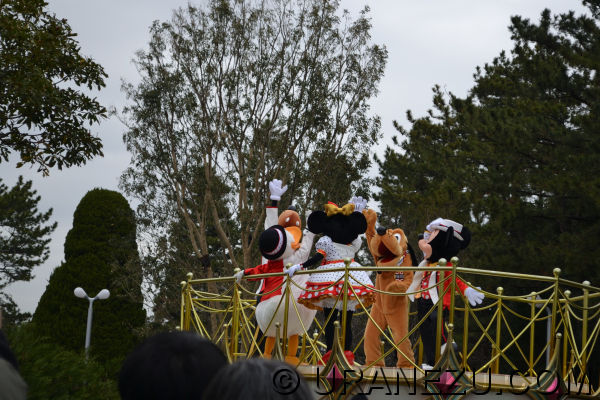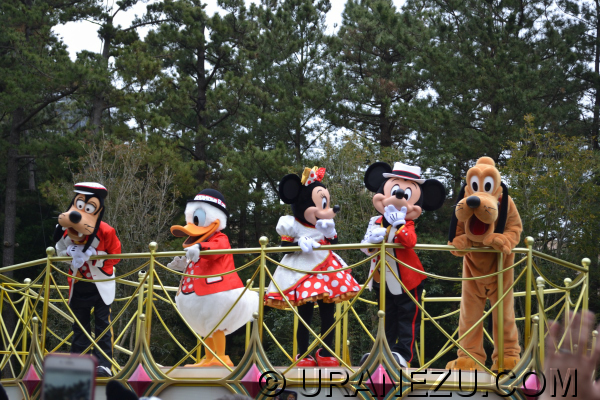 And the other one was "It's Very Minnie!" the the stage show at Showbase.
This retrospective show was very popular and supported enthusiastically by each past show or parade fans.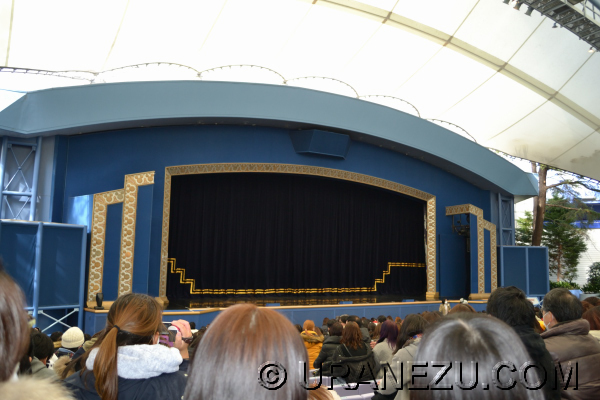 So it's very difficult to win a lottery to get the show seat. Luckily I got one time.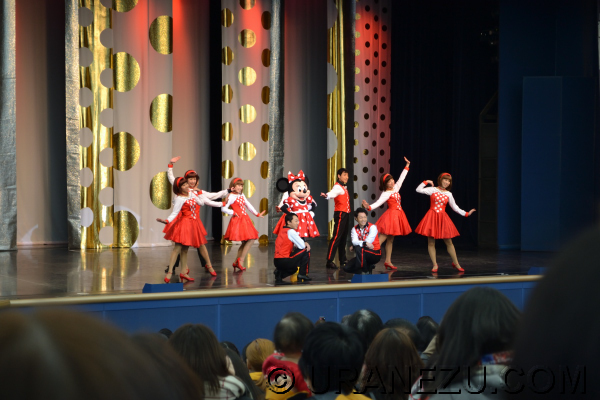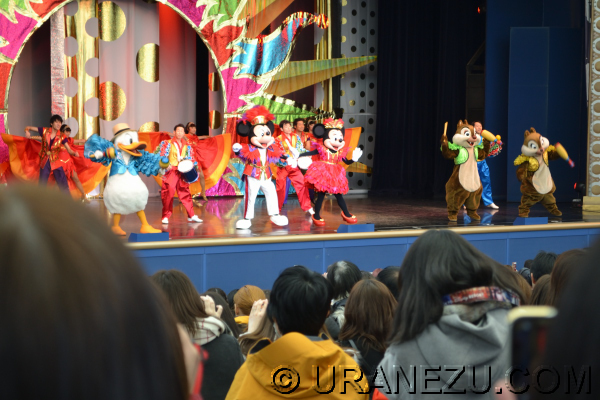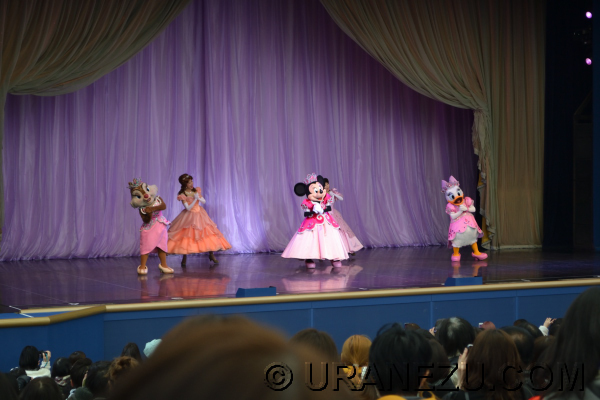 "Minnie Oh Minnie" the Theater Orleans Stage show. "Princess Days" in 2007.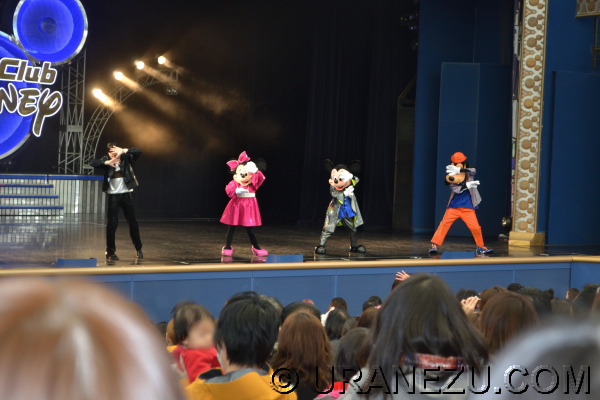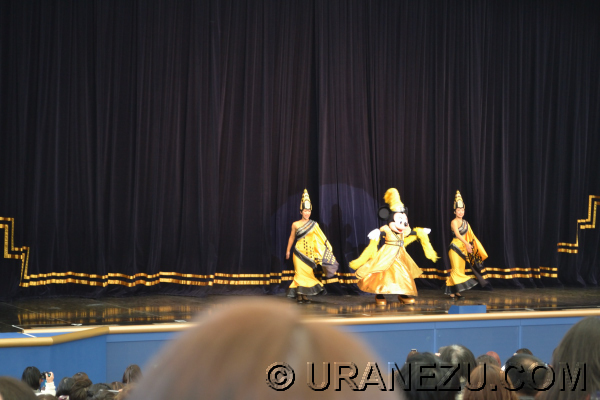 "Club Disney" the never coming back, impossible to perform completely again stage show in 2000. I really disappointed that choreography was a little bit different on that scene. And the right picture from "Mickey's Dream Company" the TDS special event stage show in 2009.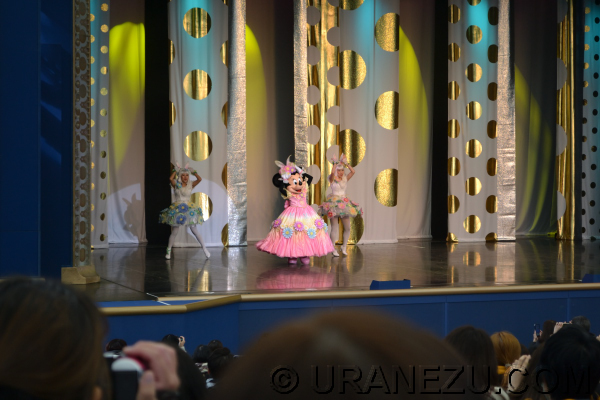 TDL Easter in 2014 and TDS Bonfire Dance in 2010.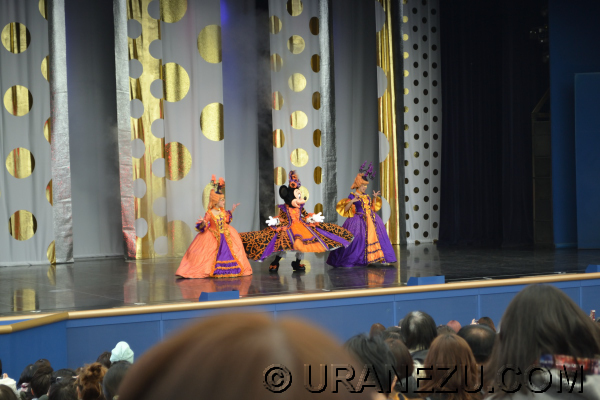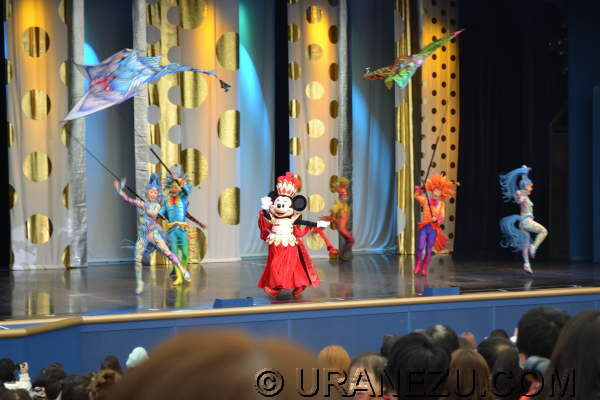 TDS Mysterious Masquerade in 2010 and TDS Legend of Mythica in 2014.
Then the finale.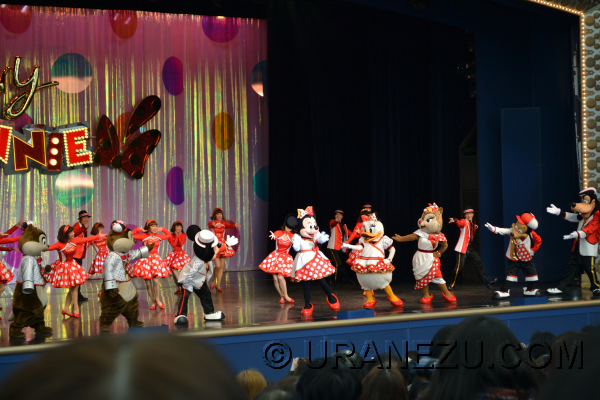 Honestly speaking, I could see the all past costumes were a little bit worn and dingy. And you can see how to stage scenery was dull. I don't think that this stage show qualified for the main entertainment of the special event. I really worry about budget cuts of entertainment.

Here are the TDR official movie of "It's Very Minnie!".
Anyway many guests are longing to come back to this "Very Very Minnie" the special event next year.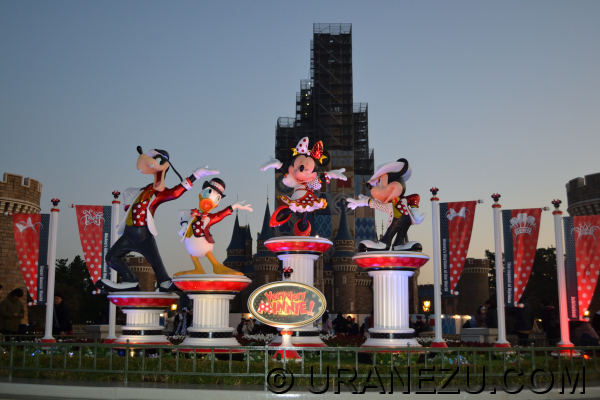 Hope to see you again!!
If you have any questions, opinions and requests,
please contact us.
Mar. 11 2020 An extension of temporary closure.
OLC has announced that an extension of temporary TDR closure.
For details please visit the official website.
https://www.tokyodisneyresort.jp/en/topics/20200228_important.html
Initially, they scheduled that "Very Very Minnie!" at TDL and "Pixar Playtime" at TDS would be to 19 March, but the final is during the parks closing. So, unfortunately, both events came to an end earlier than the original date.

It's little bit sad, but it should surprise no one that the decision.
Anyway, please be stay calm, keep a healthy daily life especially take a balanced diet and good sleep.
Most the important thing under the situation is, strengthening your immune system with a peaceful mind… YES, to ready for (longing) reopening TDR!
Extra:
Do you know Sanrio Puroland the indoor theme facility with tons of Sanrio characters? They also closed temporarily, but, that's why they officially share a special recording "Miracle Gift Parade". It's a nice opportunity to see the other entertainment!
https://en.puroland.jp/
If you have any questions, opinions and requests,
please contact us.
Mar. 06 2020 A Rare Scene at TDR.
As a precautionary measure for Novel Corona Virus (COVID-19), TDR is temporarily closing from February 29 to March 15.
TDR has now under an unprecedented situation. This long closure has occurred since 2011 the Tohoku earthquake and tsunami.

So, today I would like to share my record of a rare scene at TDR.



An Evacuation at Aquatopia.
I didn't know the reason why, but the serious system failure occurred in June 2018, so cast members decided to evacuate.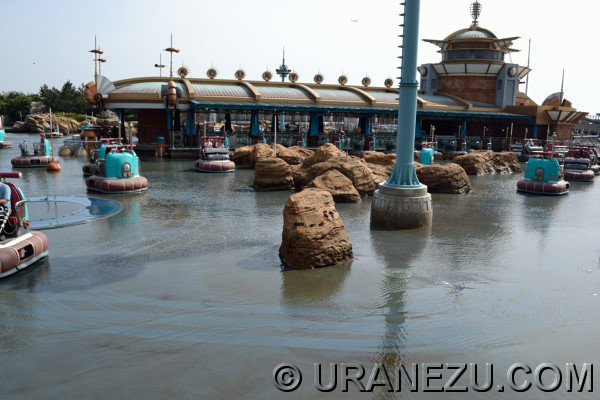 Looks at a glance, the scene was as usual, but all casts gathered at control center.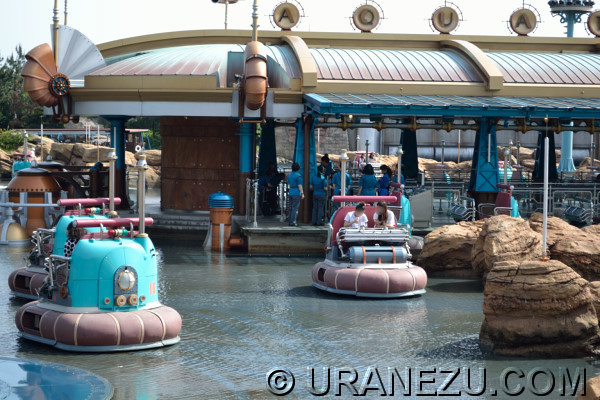 Then, they were ready to go!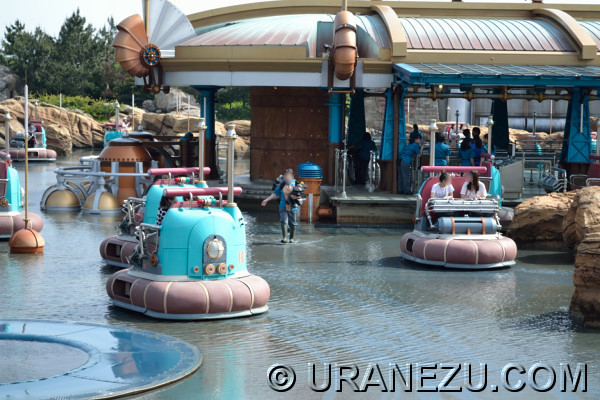 With rain boots!!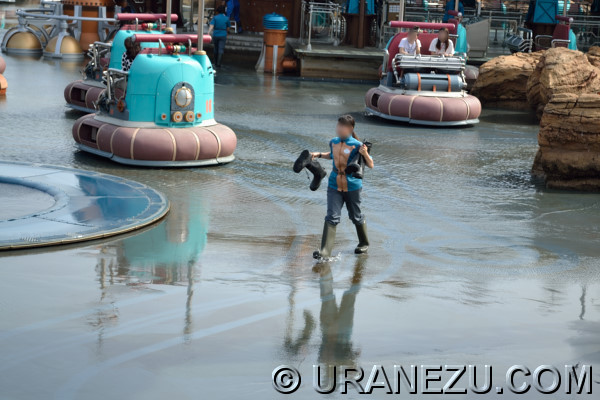 Firstly, they explained what they would do.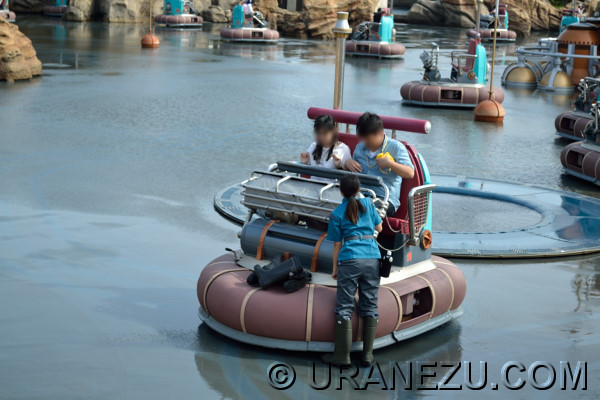 Then released their safety bar by manual.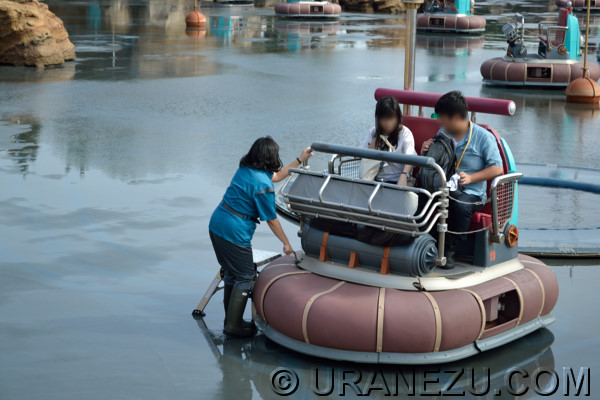 They used the steps steadily which another cast brought to them.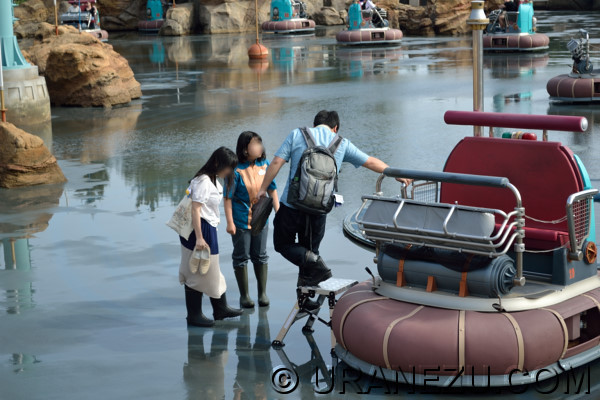 Another guests also got out of the vehicle.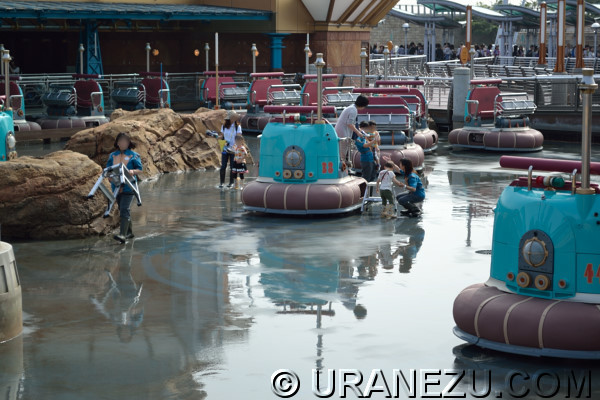 The guests were led to the loading area safely by the casts.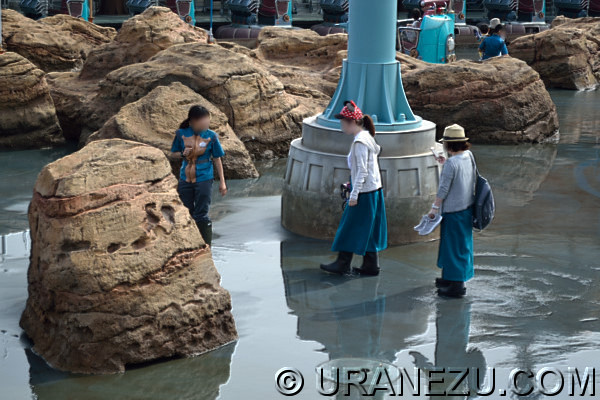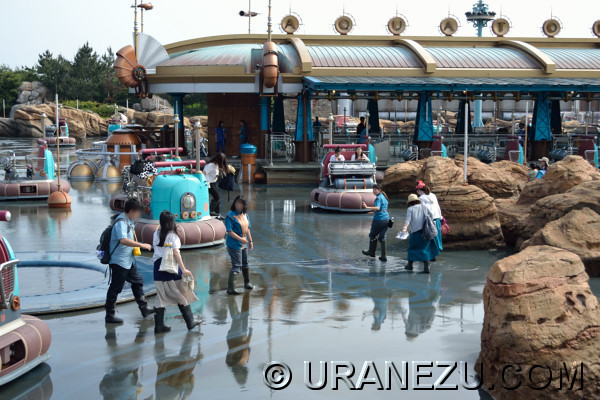 I could see really everything about the attraction at the open place.
I never expected that they prepared tons of rain boots!
A Closure of American Waterfront Bridge
One day in June 2017, the cast members blocked a bridge for guest's safety due to very high wind.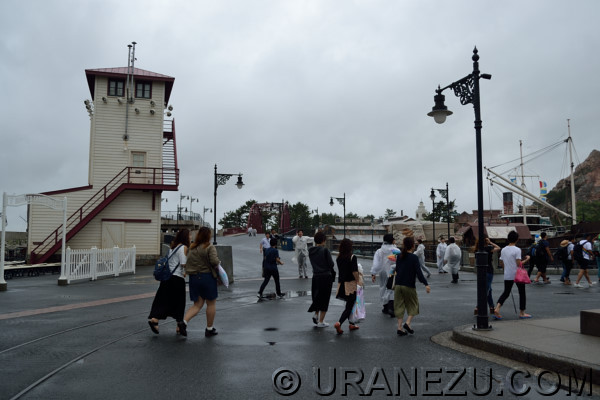 The bridge from New York area to Cape Cod.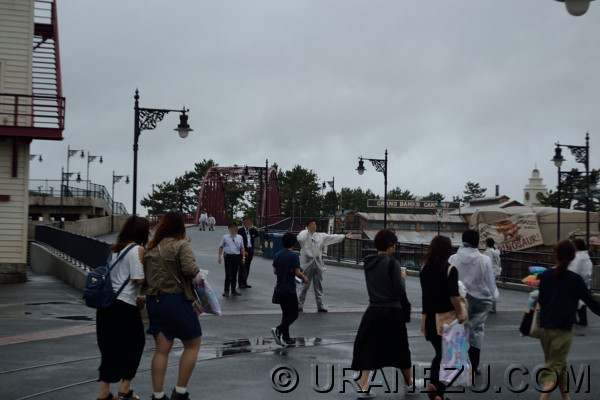 And it is built along with a real sea, so these are always windy than another area in the park.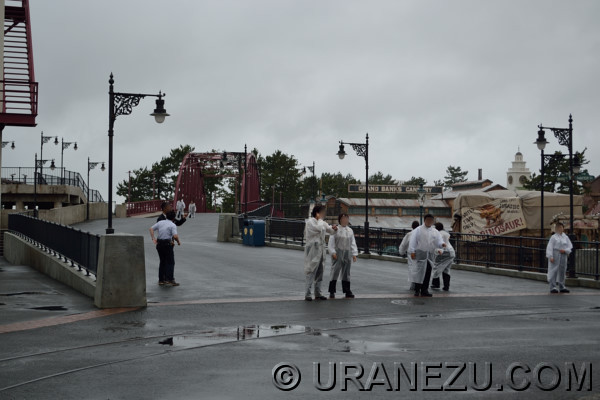 You can see how the wind is strong from the almost horizontal bamboo tree.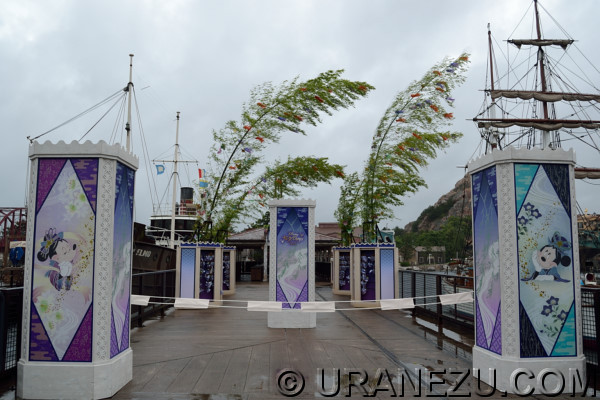 I know the typhoon in September 2019 had very strong wind, but the park was closed during the worst time. So I think it's quite rare this bridge blockade in regular operation time.
A Rescue for Stuffed Toy Duffy.
A someday in June 2017, I found the staffed toy Duffy on the river when I walked around TDS as always.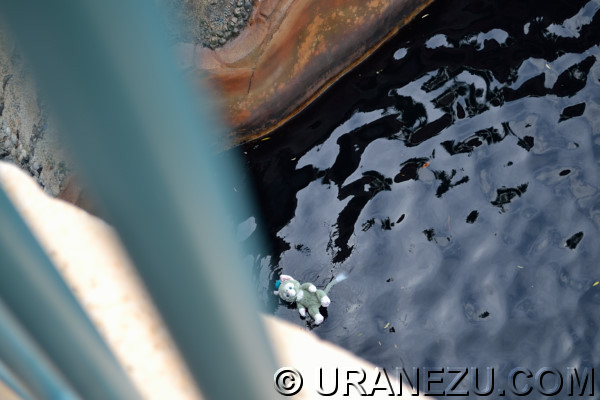 One cast member tried to catch it from the river side.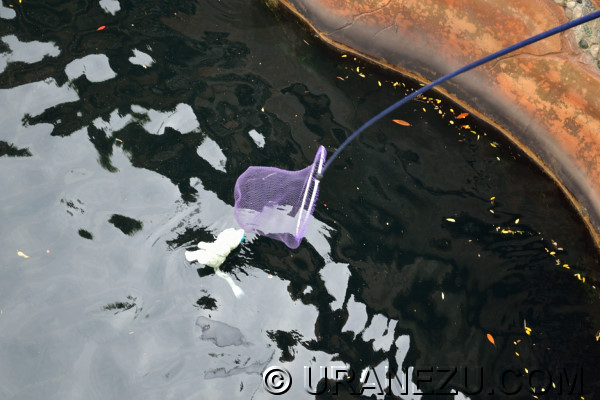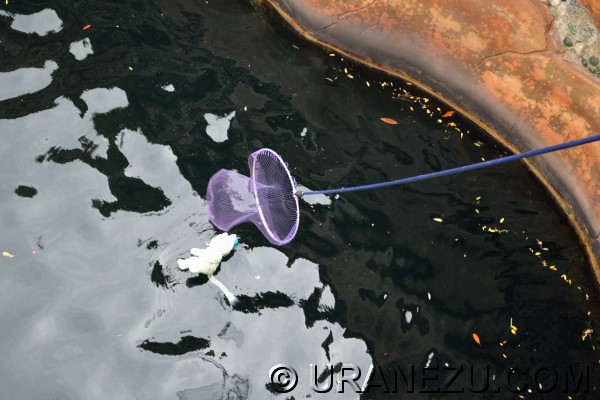 But it looks very different to save Geletoni with a very long handle which so flexible. So they gave it up from there.

Then after that, the same catch net protrude from the above something (where is that? It's not a bridge, but I seemed there was something space for the cast.).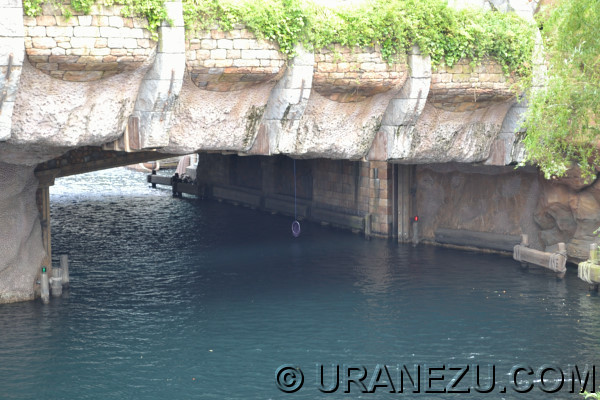 Of course this strategy couldn't work.

So the final mission started.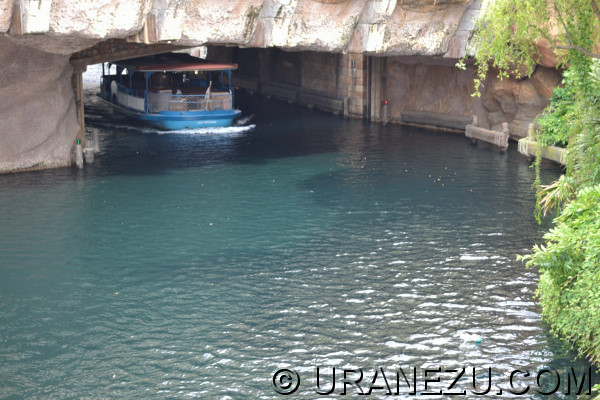 Transit Steamer Line came to rescue the Gelatoni.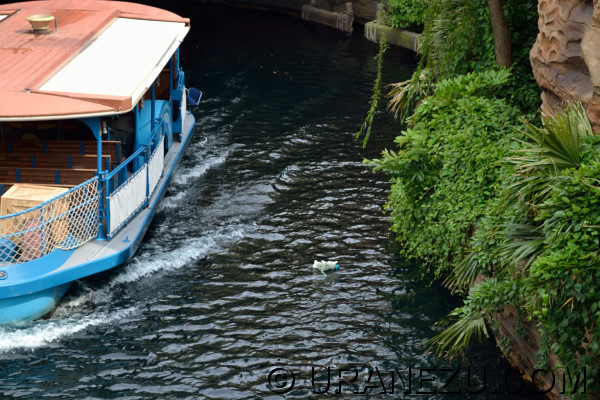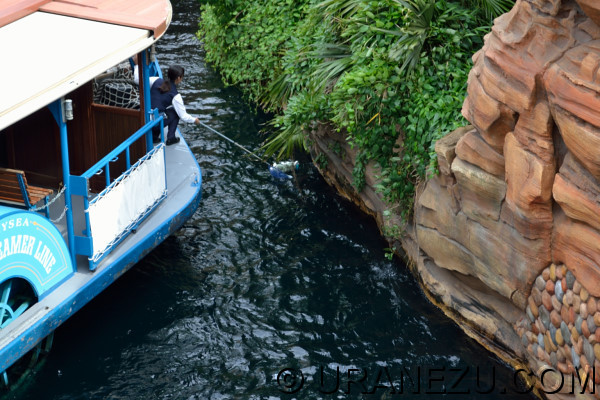 This ship does not use any rail, it's really actual ship. Great steering, Captain!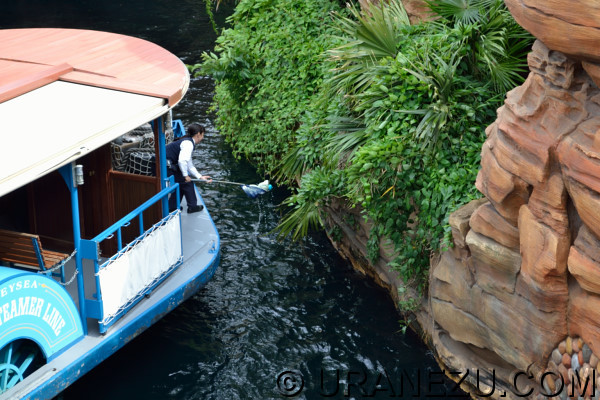 Yeah! Mission complete!
Anyway, please be stay calm, keep a healthy daily life especially take a balanced diet and good sleep.
Most the important thing under the situation is, strengthening your immune system with a peaceful mind…YES, to ready for reopening TDR!
If you have any questions, opinions and requests,
please contact us.
Feb. 28 2020 Temporary Closure of TDR.
On 28 February, finally, OLC has decided that TDL and TDS will be closed temporarily from 29 February to 15 March.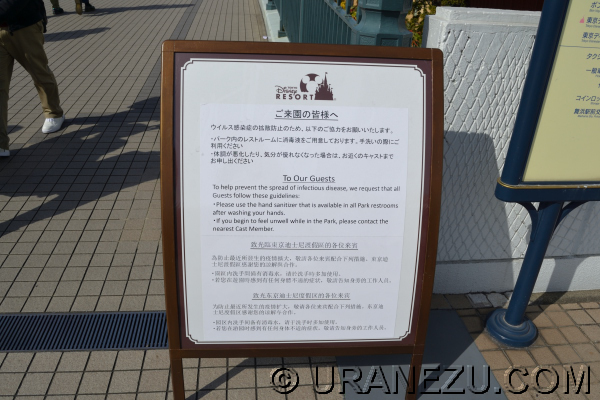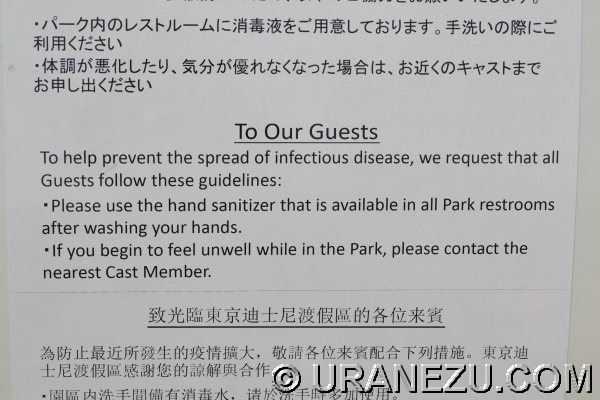 The new notice signs on a bridge from Maihama Station to Bon Voyage.

They officially announced as below;
"As a precautionary measure in line with prevention efforts taking place across Japan and in response to the recommendations of appropriate authorities, we are temporarily closing Tokyo Disneyland and Tokyo DisneySea out of consideration for the health and safety of our guests and cast members from February 29 to March 15. We remain in close contact with related government agencies about the situation.
The Parks are currently scheduled to reopen on March 16, but further information will be announced at a later date."

Here is my free translation of Japanese notice on the official TDR website;
In response to The Novel Coronavirus Response Headquarters, we announced the temporarily closing of TDL and TDS from 29 February to 15 March.

The announcement of The Novel Coronavirus Response Headquarters is below:
"Given that the next one-to-two weeks will be of critical importance for preventing further outbreaks, and in view of the risk of large-scale infections associated with national-level major events such as sports and culture events that draw large number of people, we have decided to request organizers to take such responses as cancellation, postponement or downsizing."



TDL & TDS: Will be closed
Disney Hotels: There will be a partial change in operation.
Disney Resort Line: To operate regularly.
Please allow enough time to travel and avoid times of congestion as much as possible.
IKSPIARI: Will be closed
Maihama Amphitheater: Please check with the organizer whether the show will be put on.
For further information. Please check the official website.
They announced on 28 Feb, 11:30 am, but there was only Japanese notice at the time.
They upload the English announcement around 17pm.
I know now there are so many good translater on the internet (more than me), so you can understand roughly what they said from the Japanese notice, but thinking about these world situation, I think this is not good measures to release only in Japanese.
I hope my English will help you to understand TDR current situation.
The winter to spring event will end 19 March, so after this closure the both parks will be packed with many guests who would like to see the last minutes of "Very Very Minnie!" the TDL special event or "Pixar Playtime" in TDS, and any teenager who can enter with "Campus Day Passport" the seasonal discount tickets for all students who have their valid student ID.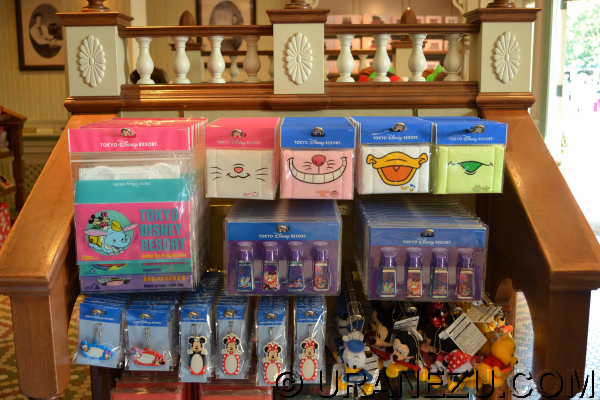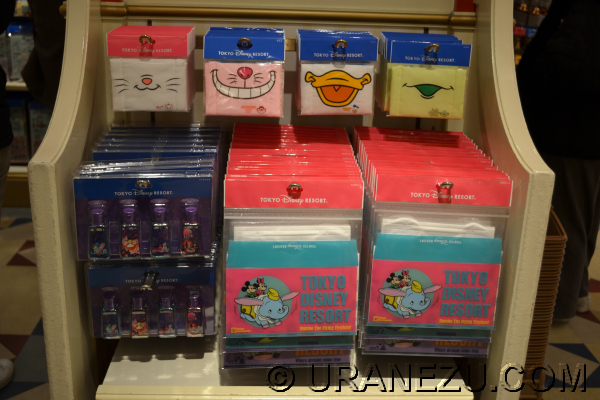 Anyway, we have to keep a close eye on what's going on in TDR
If you have any questions, opinions and requests,
please contact us.
Feb. 23 2020 Progress of (literally) NEW Fantasyland.
Time flies!! There is only about one and a half months to open the New Fantasyland and more!
So today I post the construction site photos of there, then you can see the progress with expectations!

We said the new expansion as "New Fantasyland", they are literally "NEW" which quite different from New Fantasyland in WDW.
No, "Seven Dwarfs Mine Train", "Enchanted Tales with Bell".
TDL said it's as "Welcome to New Dream", which Beauty and the Beast themed area new to Fantasyland.
New Fantasyland also has no "Be Our Guests Restaurant" which make us WDW is still dream place.

So what TDL will have?
Let's review the expansion with construction photos!

New "Beauty and the Beast" themed area has built on ruins of the "Grand Circuit Raceway" in Tomorrowland.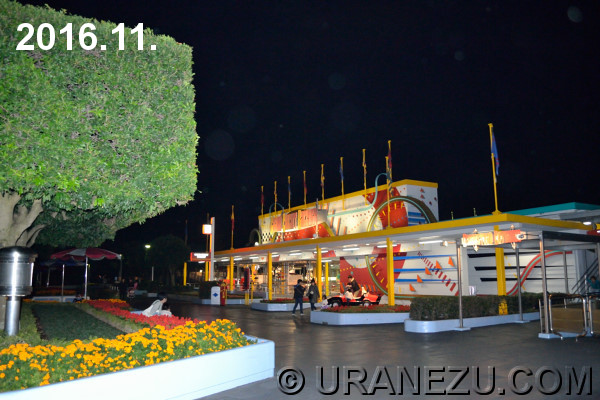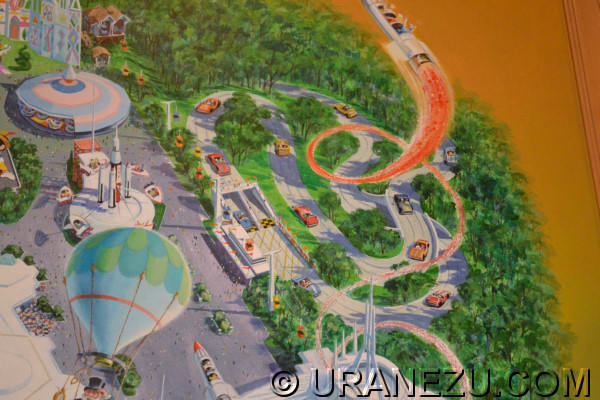 I miss this gorgeous attraction which used really vast land.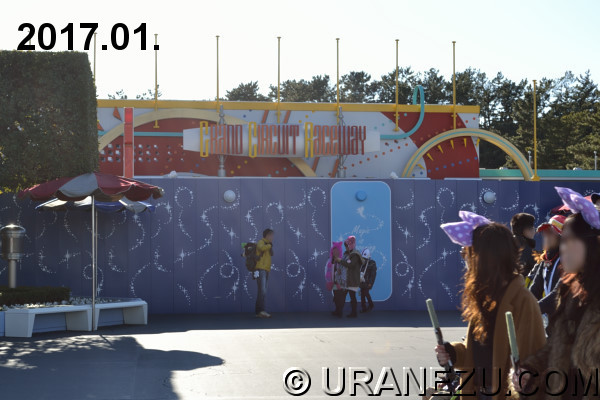 After the attraction closing, the very first construction wall for the "New Fantasyland" appeared.
The wall stretched all over the ruins.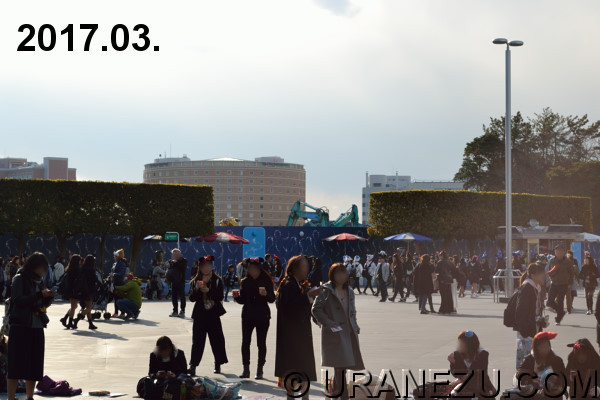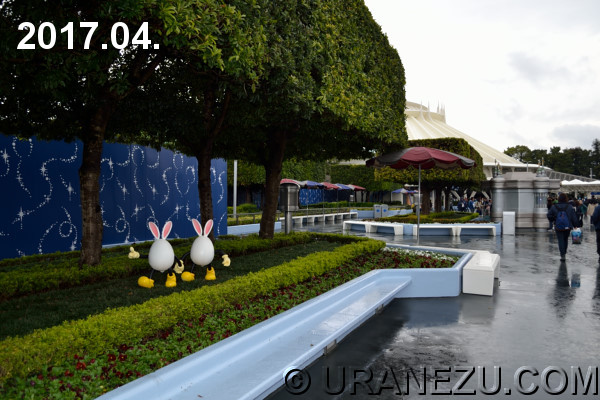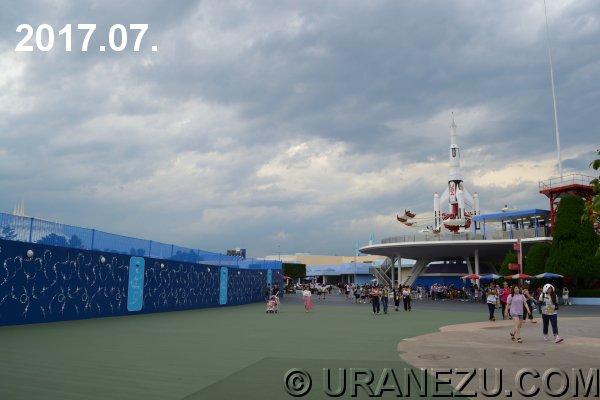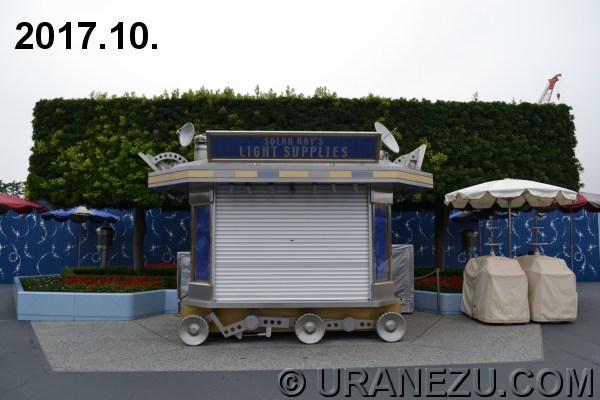 The alongside wagon "Solar Ray's Light Supplies" was closed.

This was very quiet and beautiful one.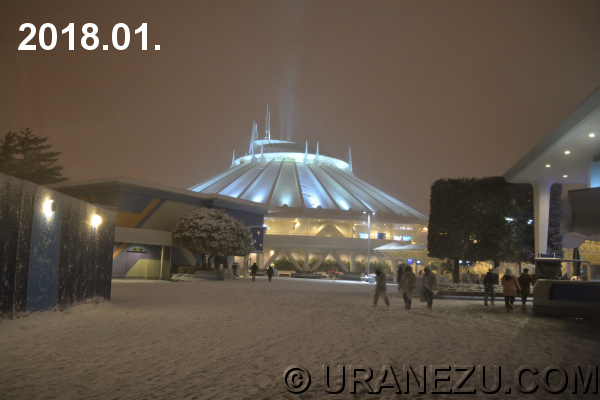 Really white Tomorrowland with the construction wall.

The wall of the ex-raceway spread out the road to Fantasyland from Tomorrowland.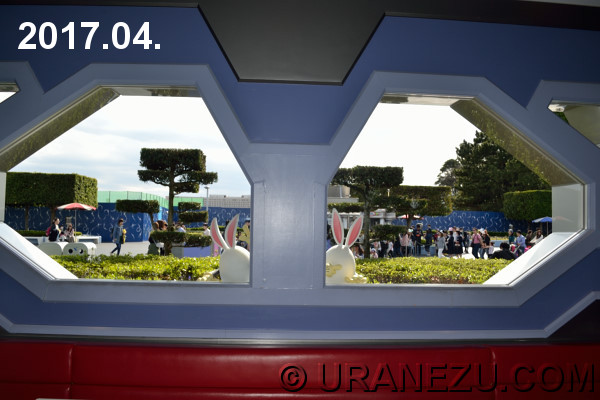 Can you see the fence through the window?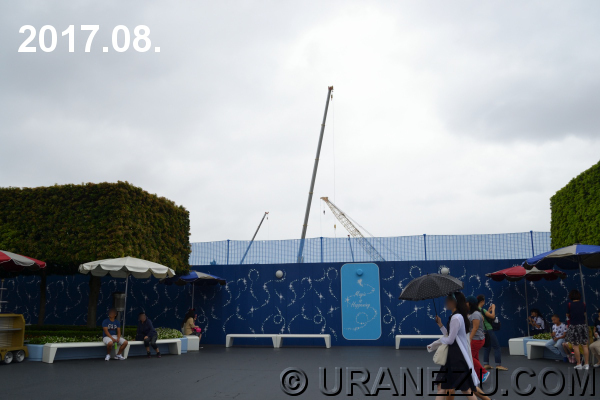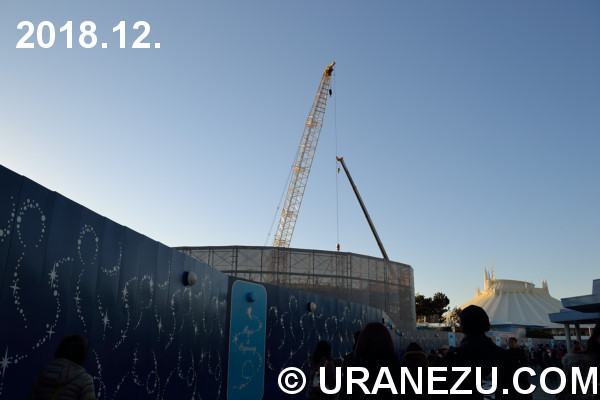 Sometimes the wall was changed as TDL 35th anniversary design or sneak peek-like doors.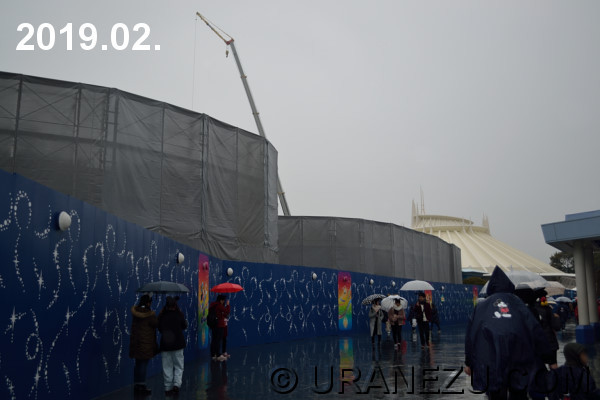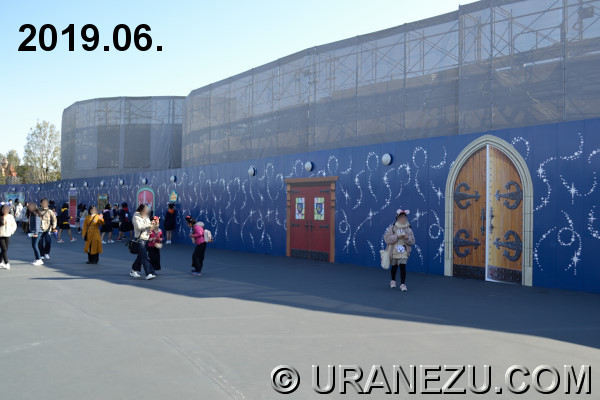 Beauty and the Beast themed area map on the wall.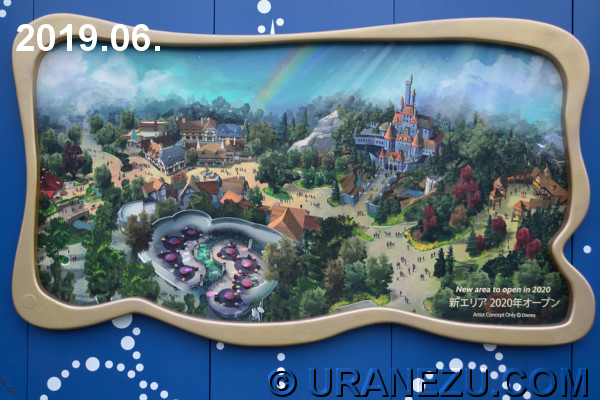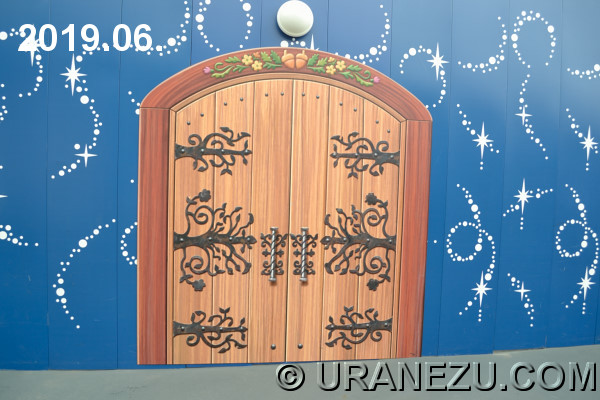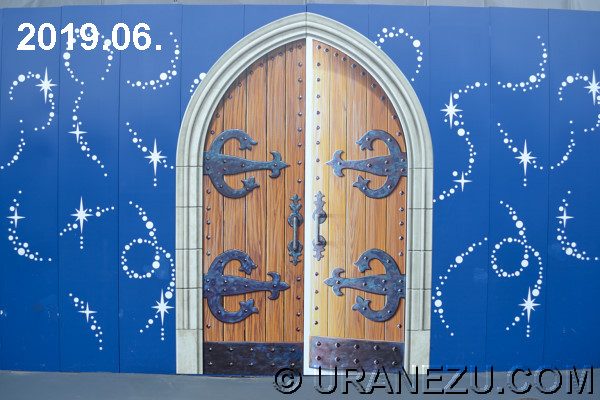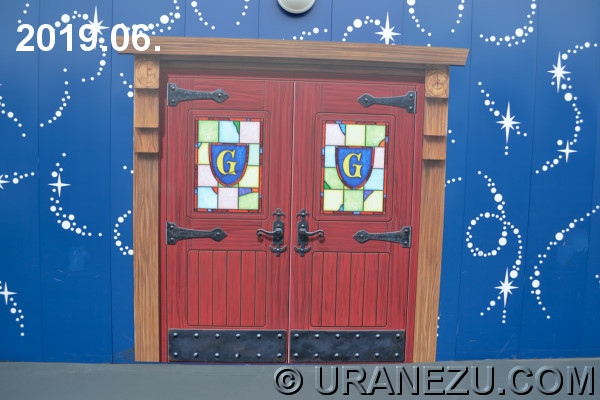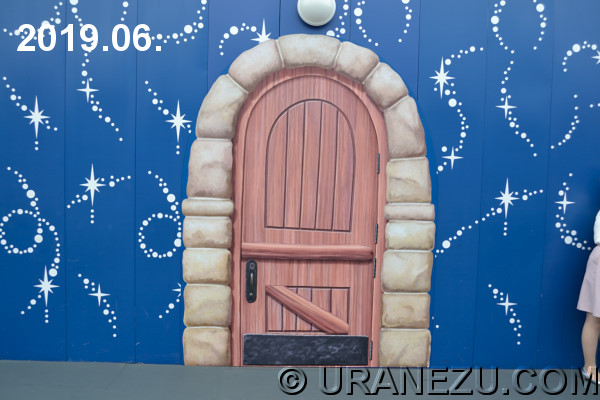 New to Fantasyland

Attraction
Enchanted Tale of Beauty and the Beast (dark ride)
Fantasyland Forest Theatre (live show stage)
→Please be careful to the spell, it's not "theater", this is BB's area, so "theatre", Monsieur!
→They will perform "Mickey's Magical Music World" the completely new show.
Restaurant
La Taverne de Gaston (counter-service restaurant)
Le Fou's (Churros counter)
Le Petit Popper (Popcorn wagon)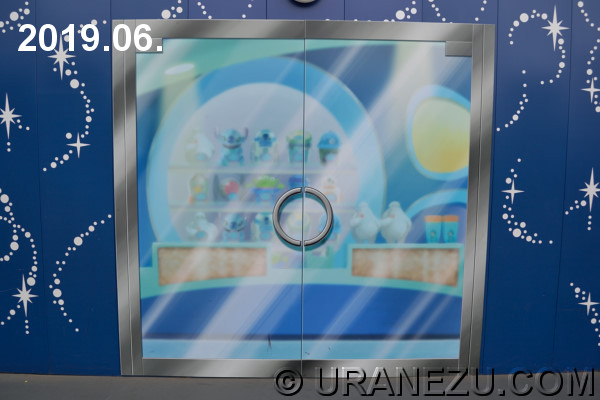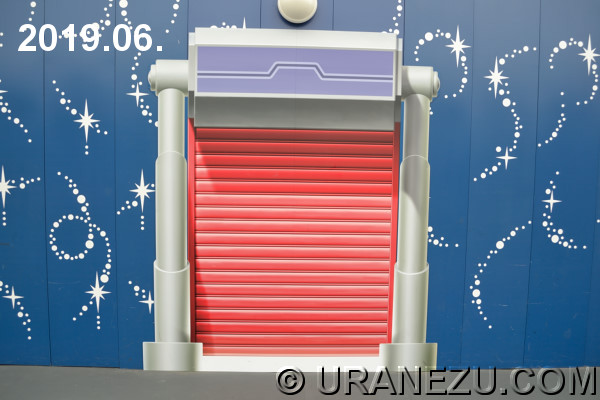 At the same time, the bellows are also coming.
New to Tomorrowland
Attraction
The Happy Ride with Baymax (Rotating ride, like teacup.)
Restaurant
The Big Pop (Popcorn counter)
Shop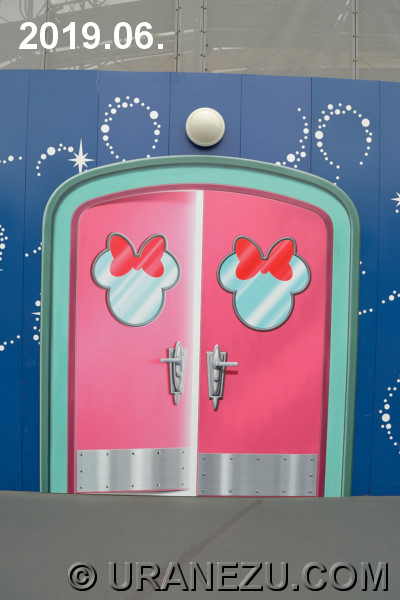 New to Toontown
Attraction
Minnie's Style Studio (greeting facility)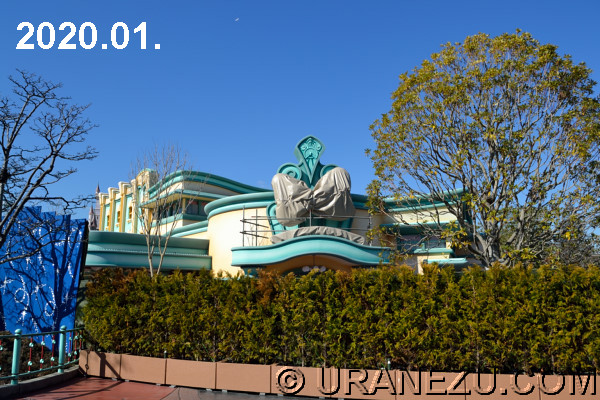 It's really under construction.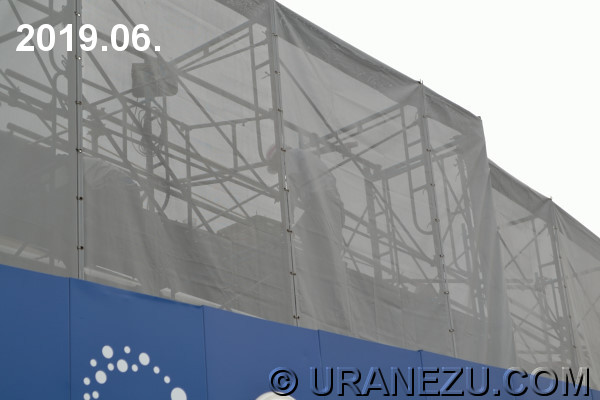 The wall swallowed also the gate of ToonTown.
That was the last time to go through under the gate.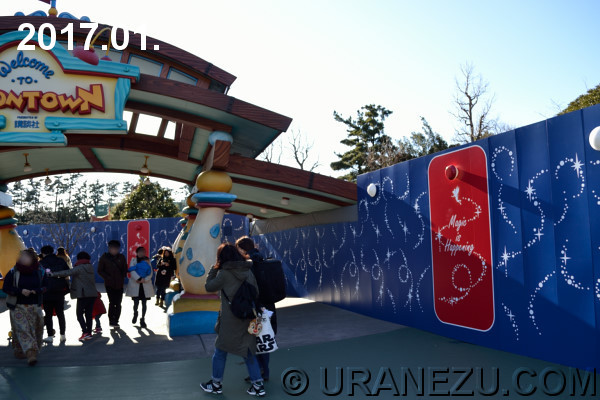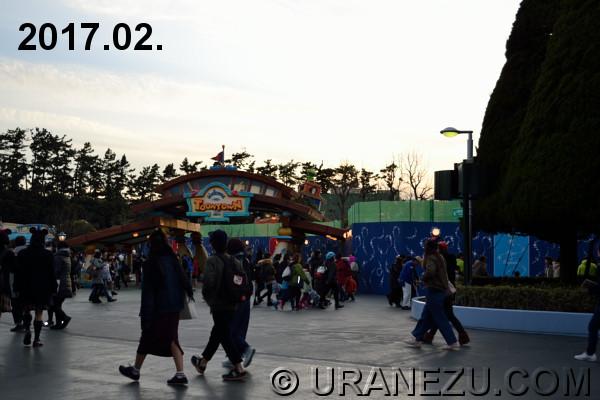 After that, the entrance was closed to demolish.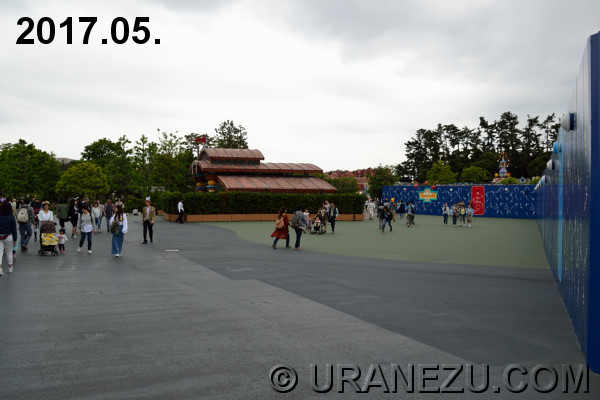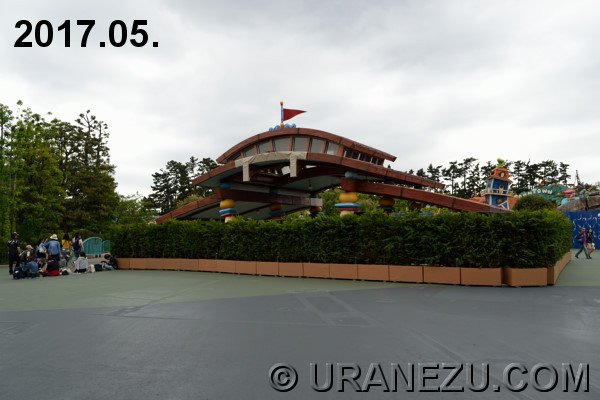 Finally there were no gate at all.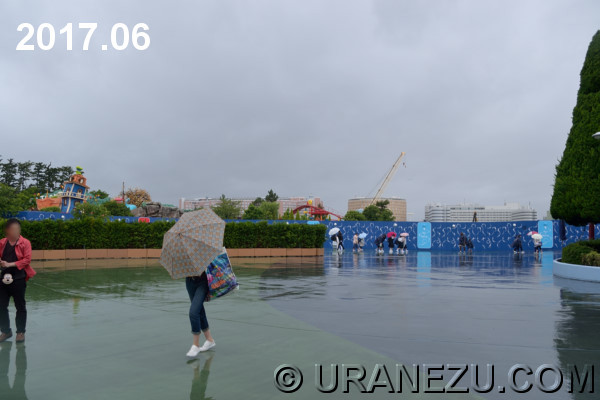 It's beautiful, but sad without the gate.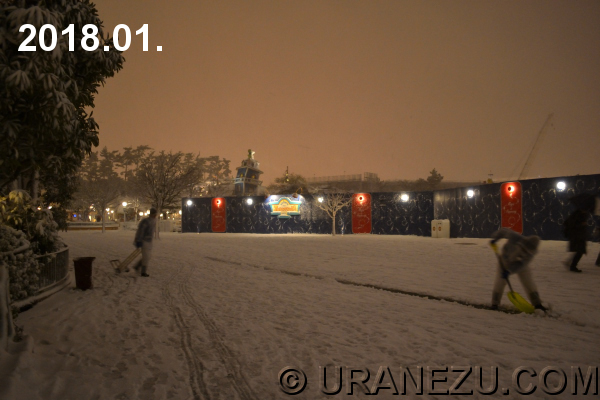 Speaking of loss and sadness, we lost "Star Jet" in Tomorrowland another great landmark.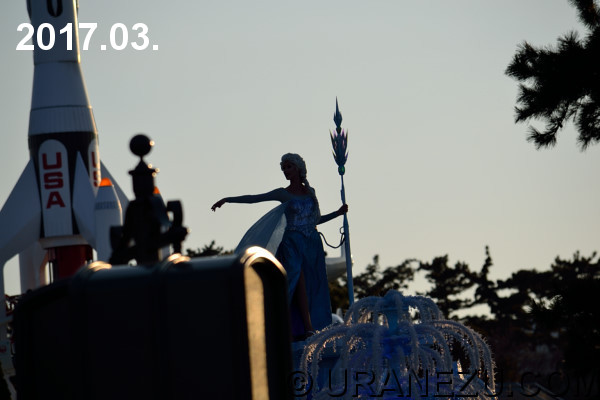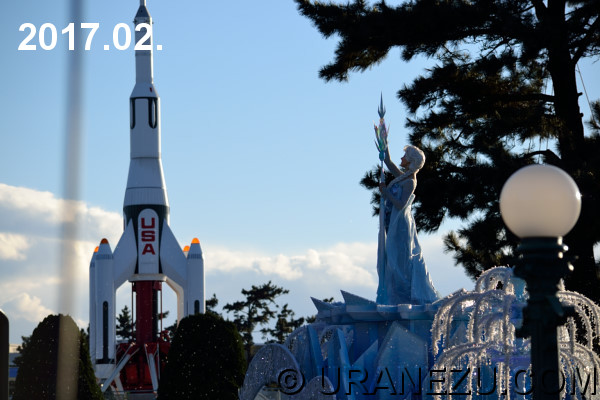 I really loved to take a photo of Elsa with Star Jet.
Many guests tried to have a last good shot of the attraction.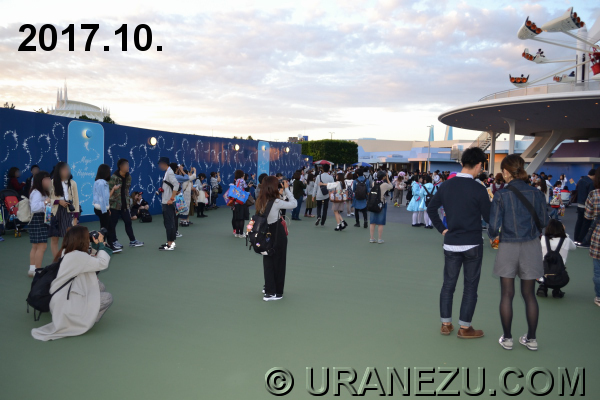 We could not reach the attraction after the closing. First surrounded with greens, and then the wall came.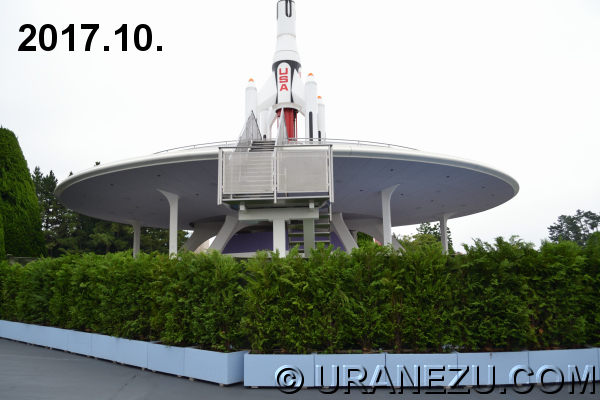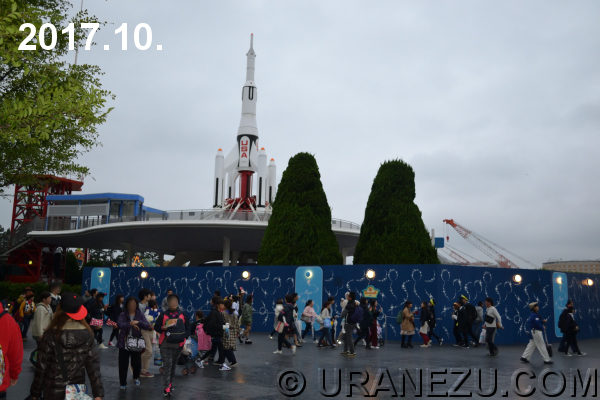 The below was the view in front of Space Mountain to Fantasyland.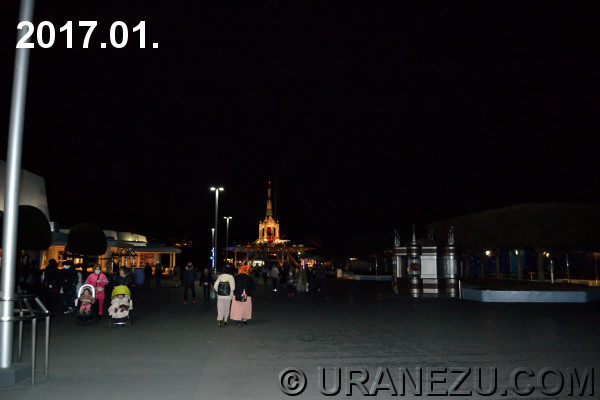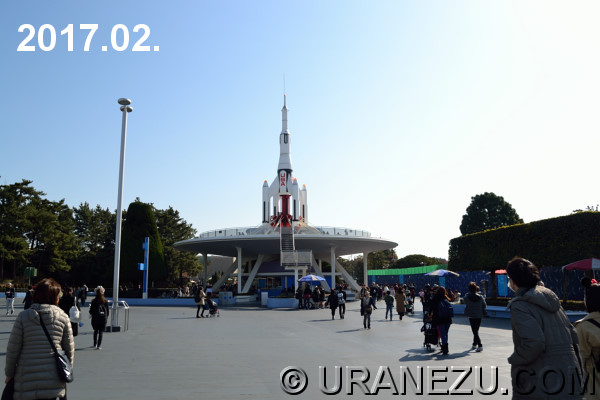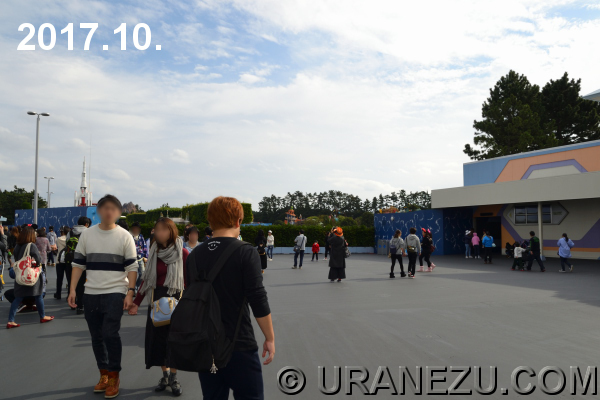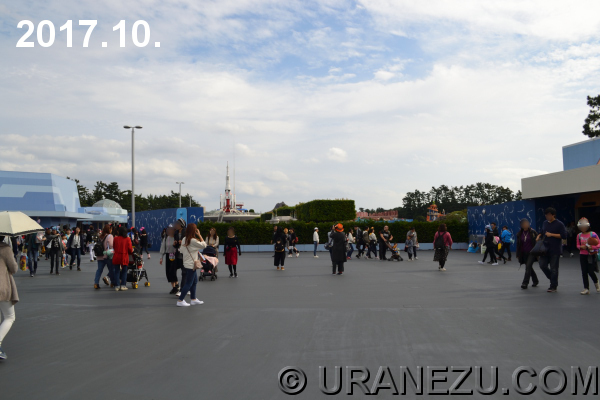 The wall became bigger and bigger and the passage became narrower.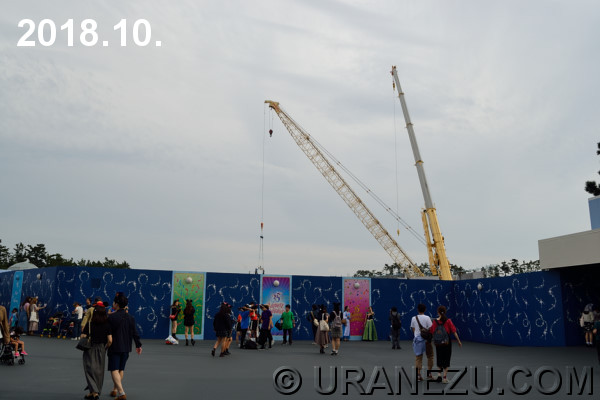 Finally, the new street from Tomorrowland to New Fantasyland has opened.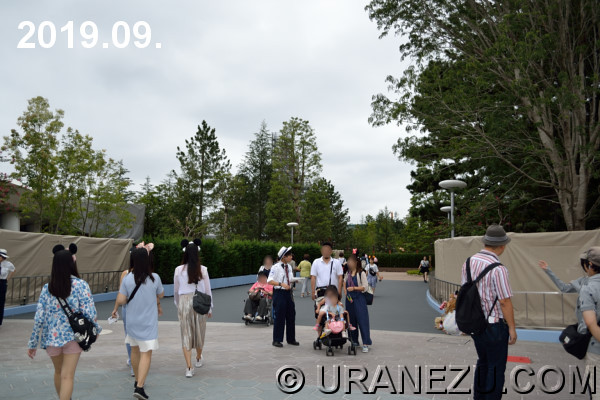 Still ex main road to Fantasyland was blocked by the wall, but there is an exterior of "The Happy Ride with Baymax"!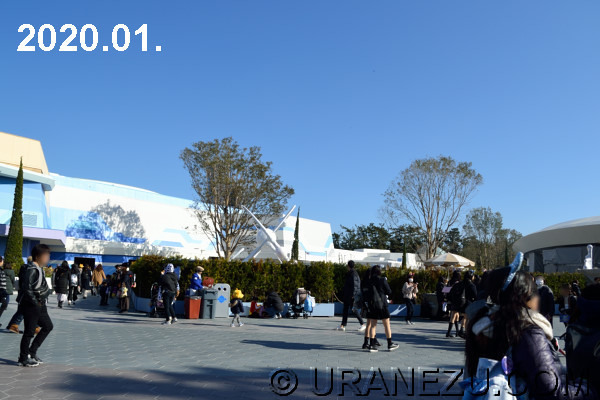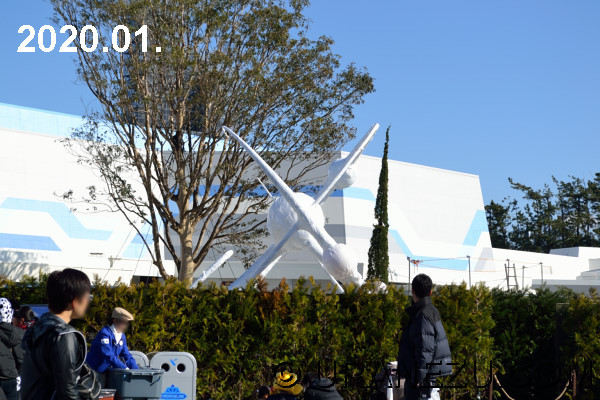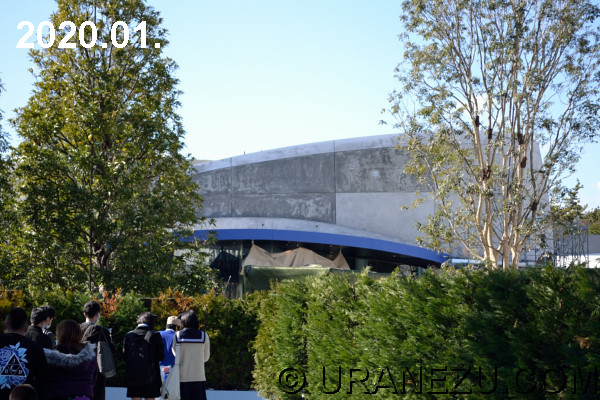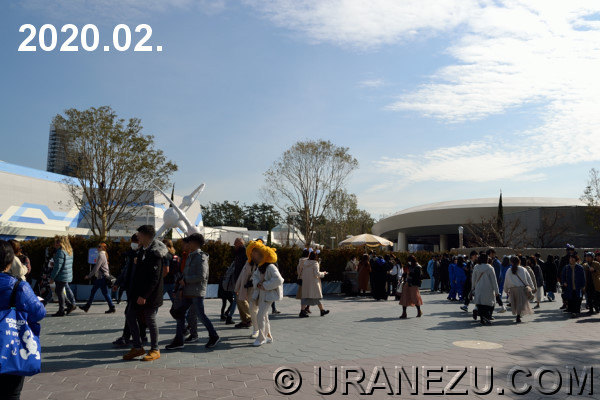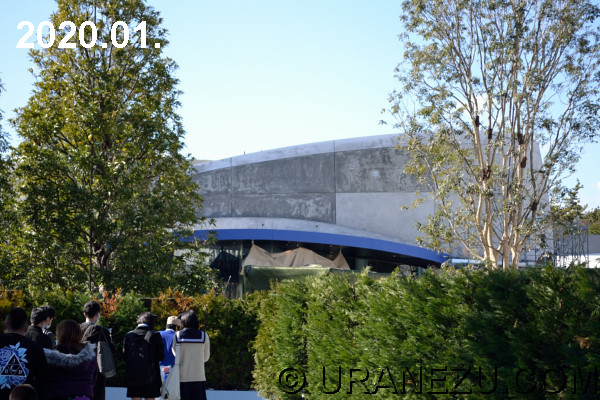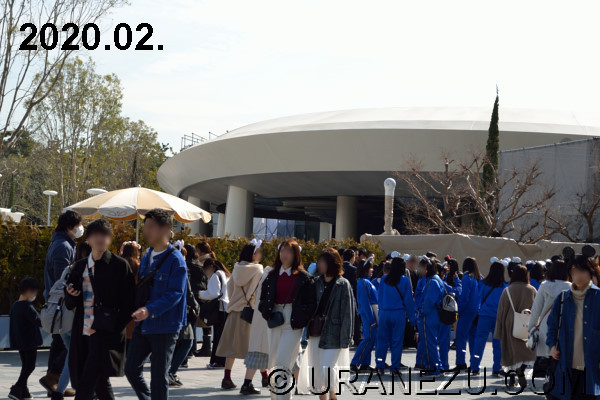 So let's look see the end of the new street.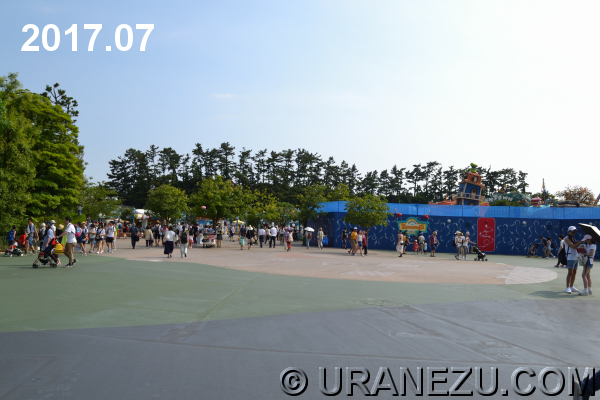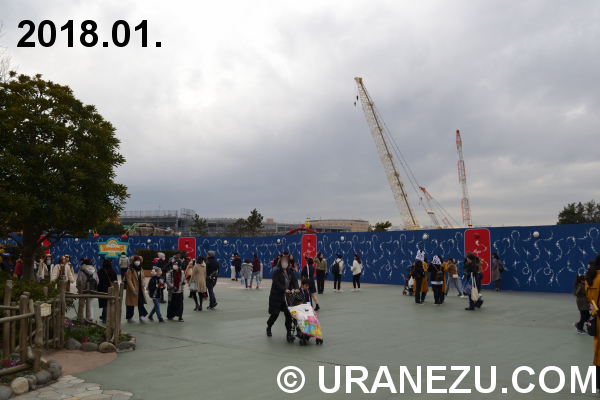 The crane was stretched.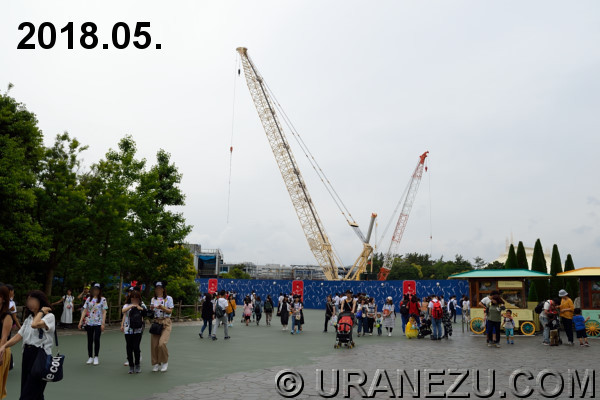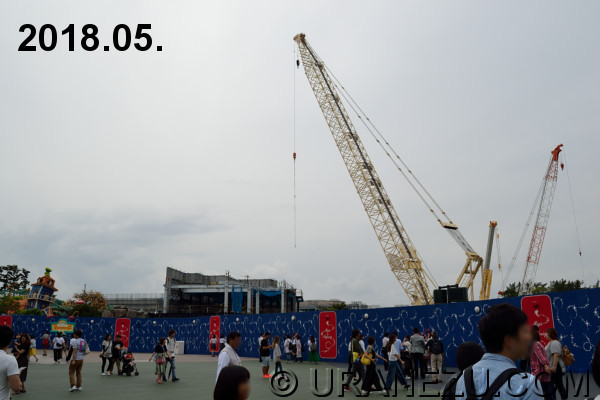 The something was build and covered.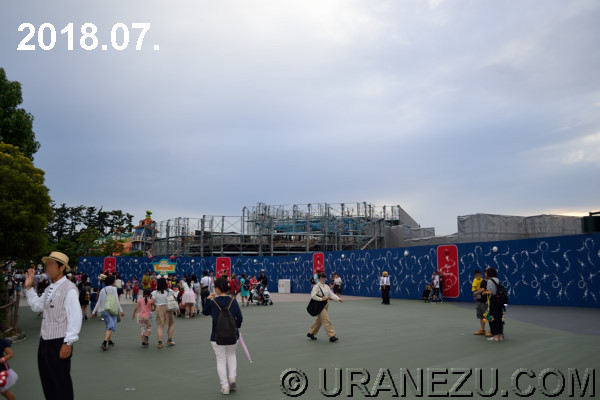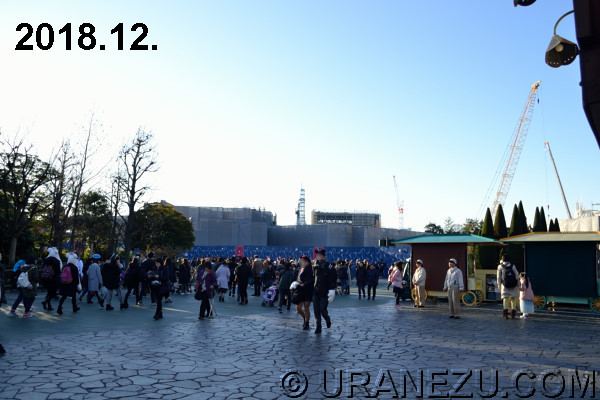 And uncovered.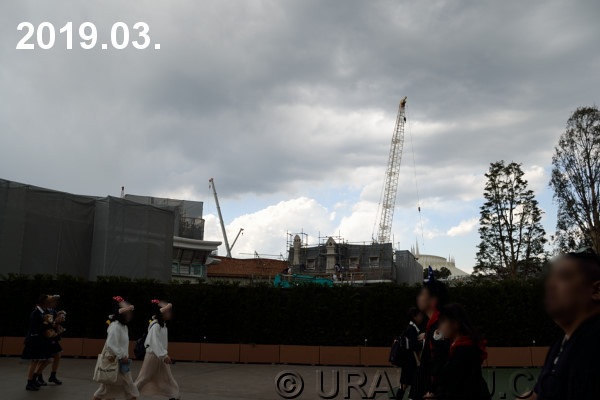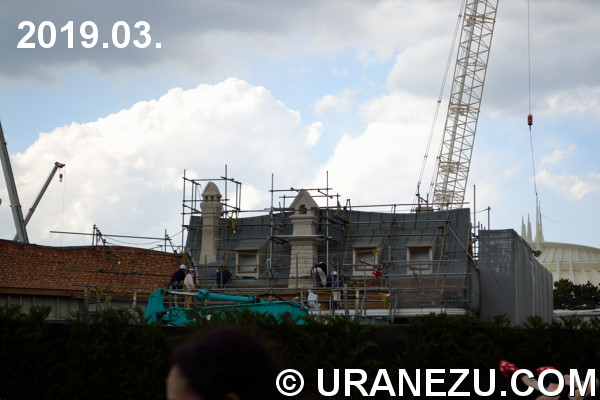 Then the new pass was appeared.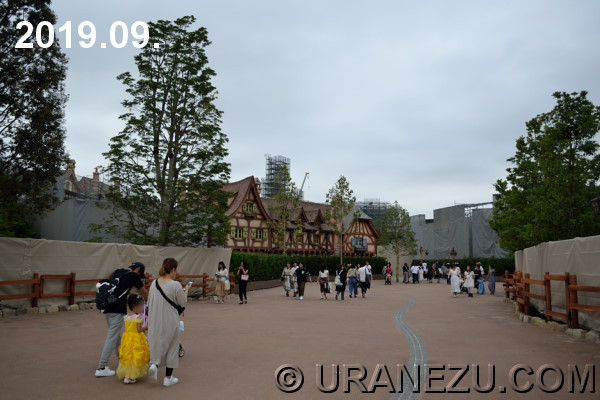 Let's go step into the new world.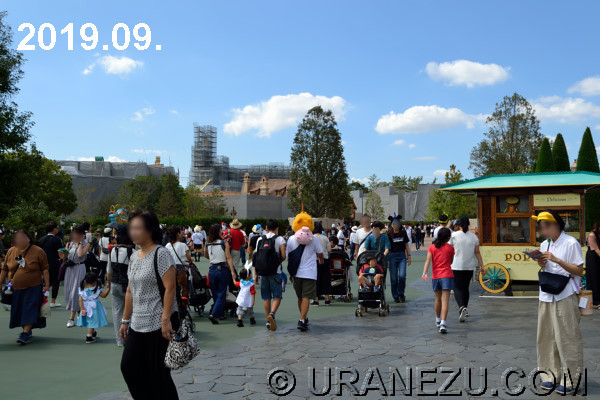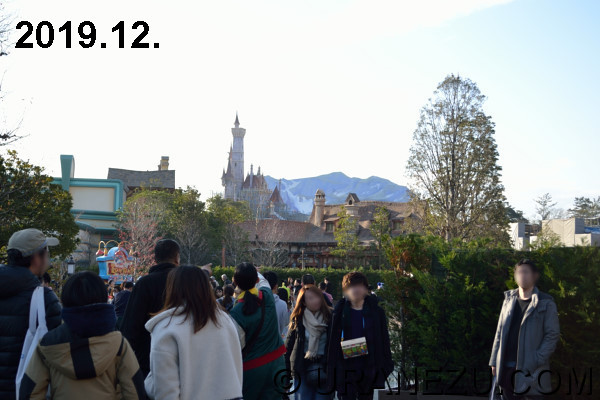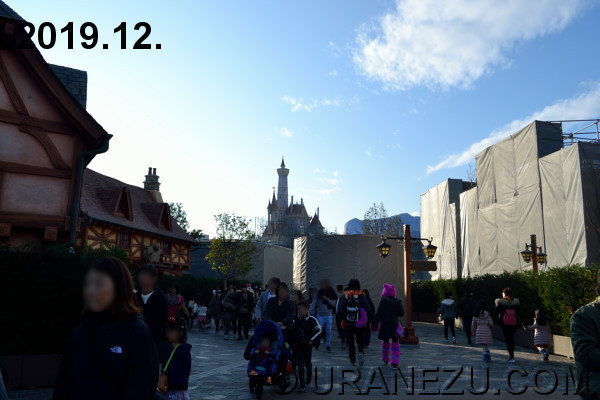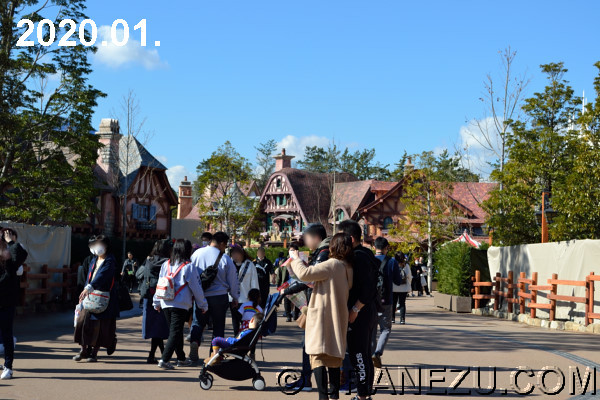 The new area also includes shops and restaurants.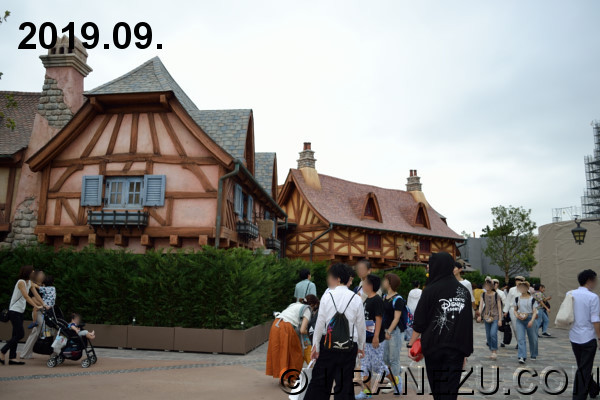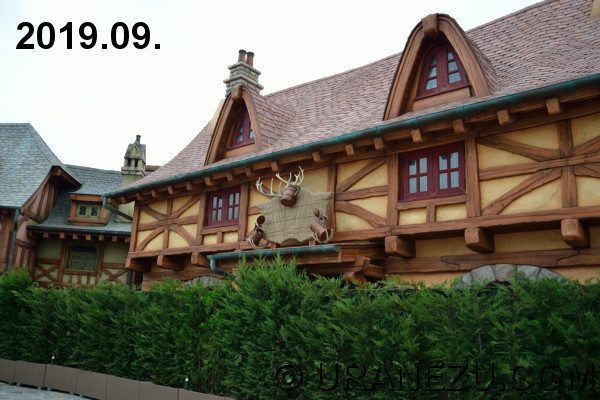 The branches one is "Le Fou's" the Churro counter. And horned entrance is "La Taverne de Gaston". They are adjacent and passable eateries.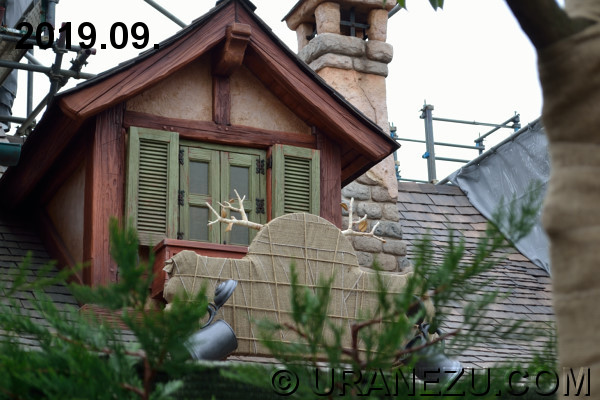 The moss the aging is ready.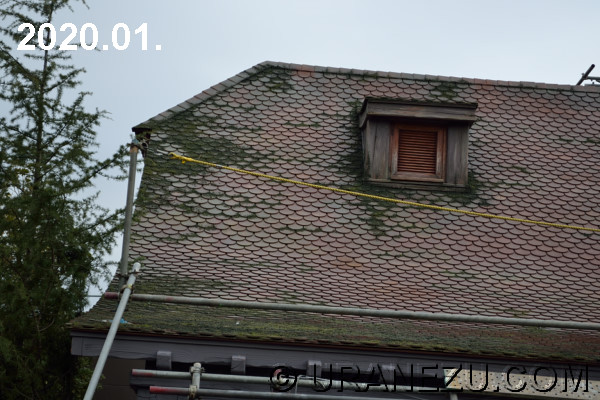 Shop
Village Shoppers (consists of "La Belle Librairie", "Little Town Traders" and "Bonjour Gifts".)
→It's an individual exterior, but passable inside shop, like World Bazaar, or Main Street, U.S.A.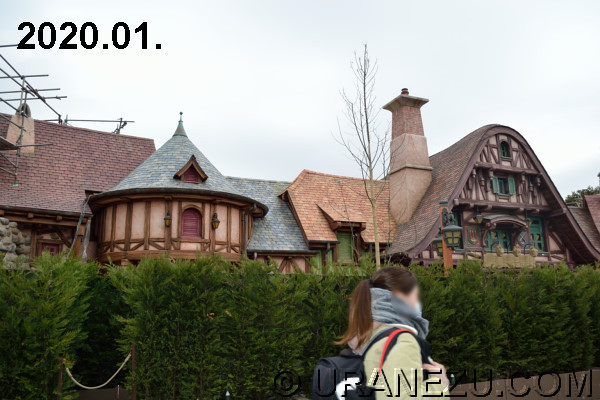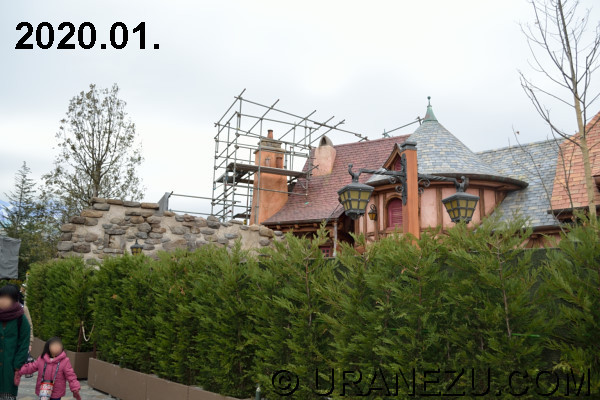 The flower has set on each windows.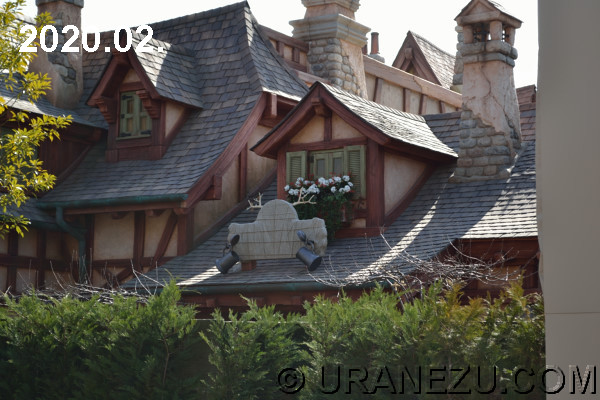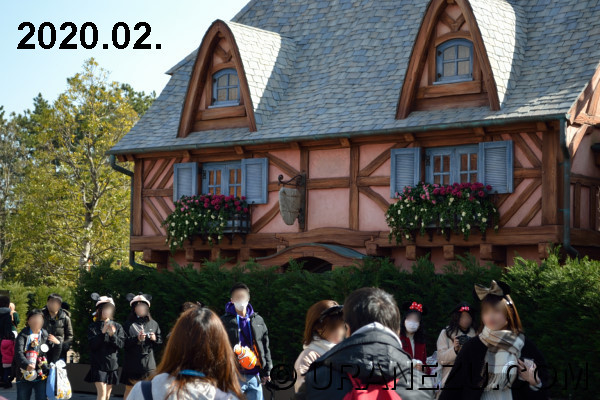 Yes, I know you'd like to know the Beast's Castle more than anything.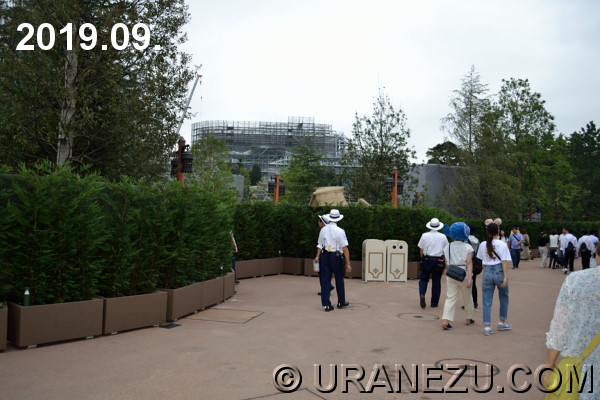 Can you see the something covered? I think that is enchanted carriage, I think, I hope!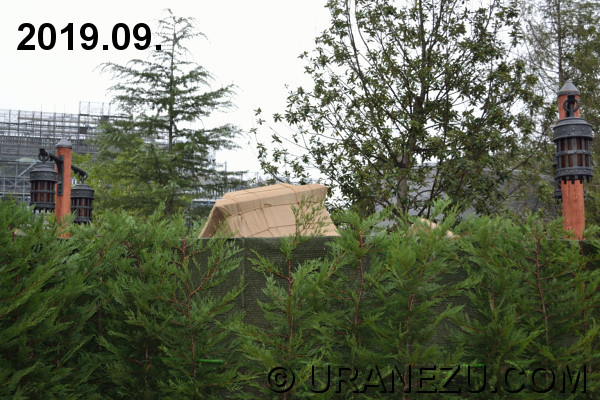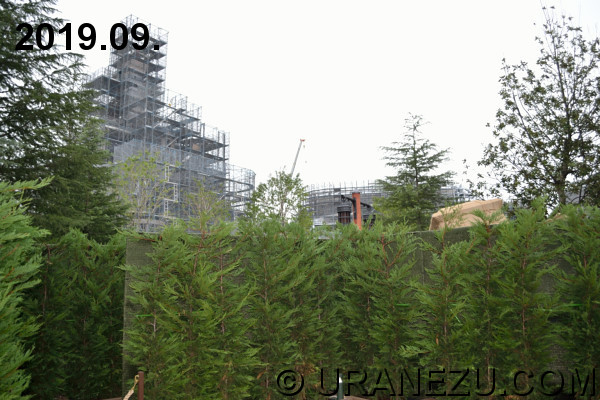 Here are the castle.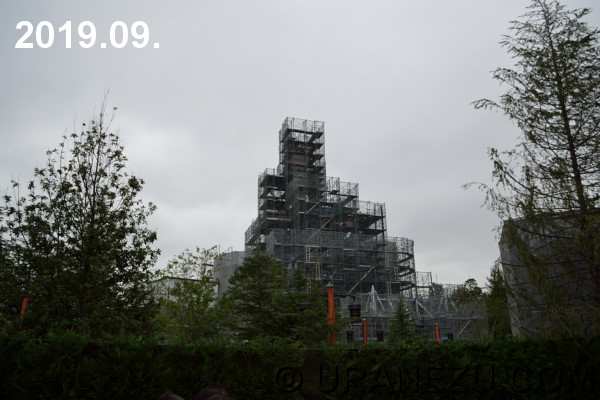 Another magical carriage which send Maurice back to the village.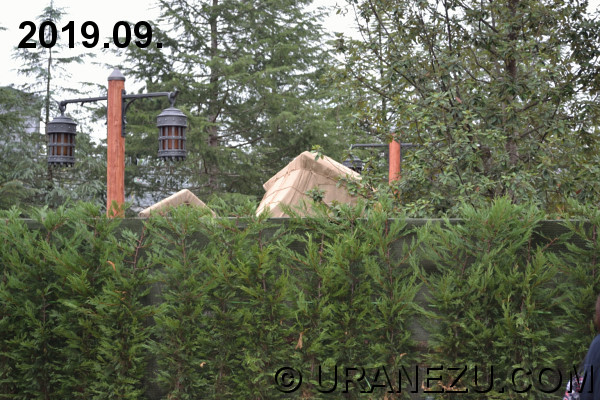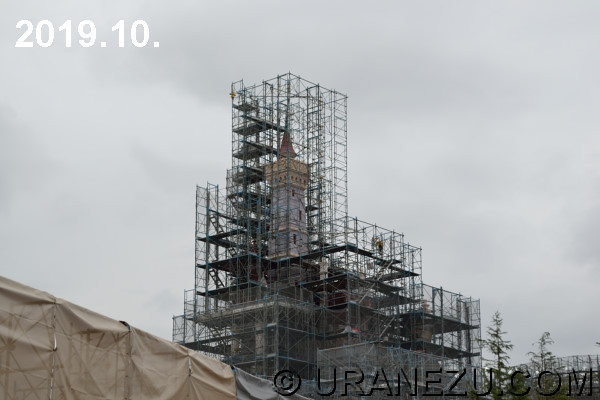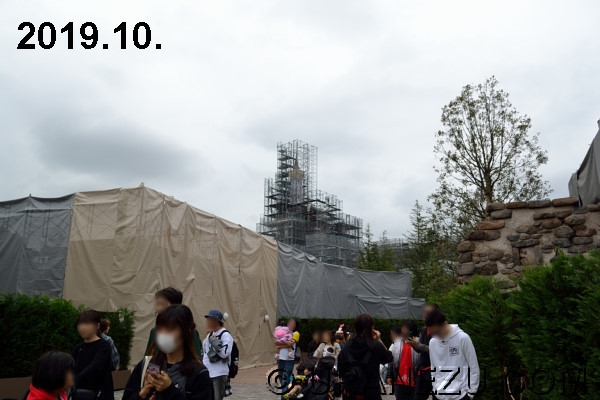 The far from the castle (actually next to), there are some building and mountain have appeared.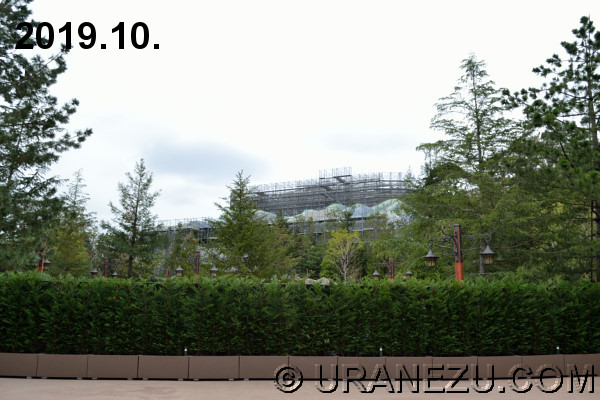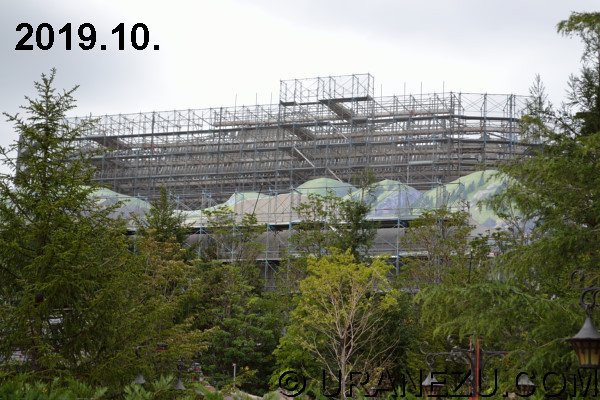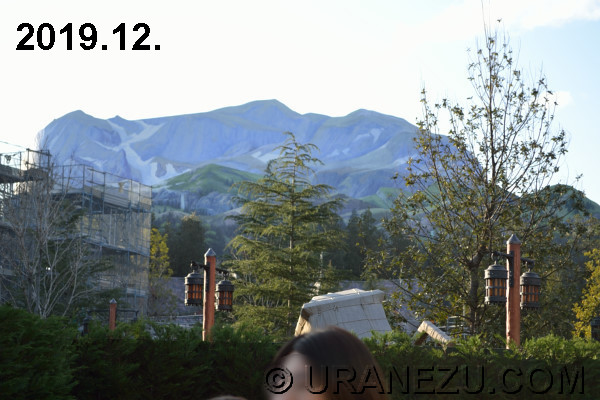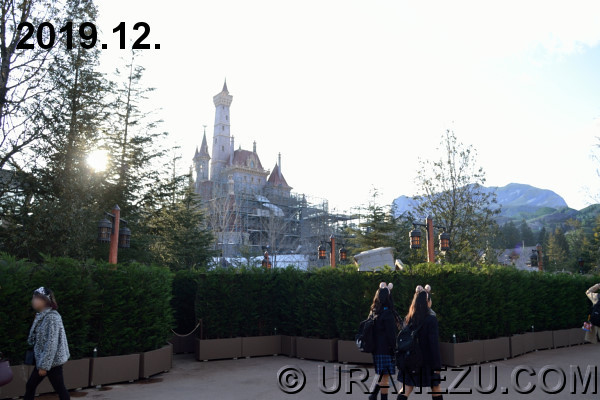 Still there!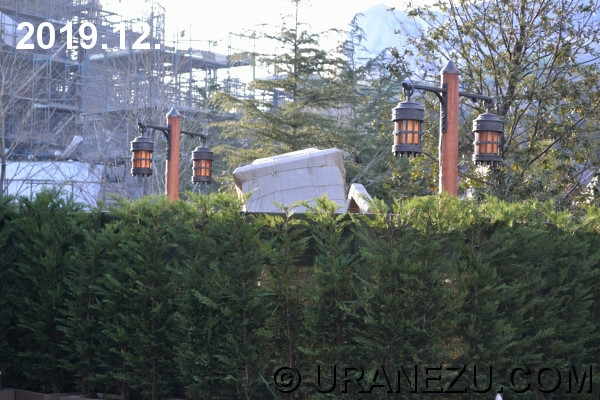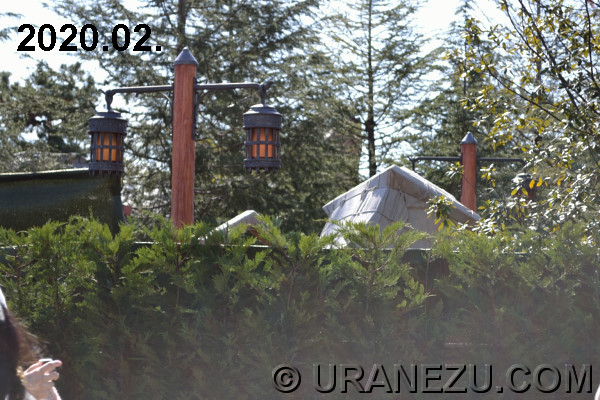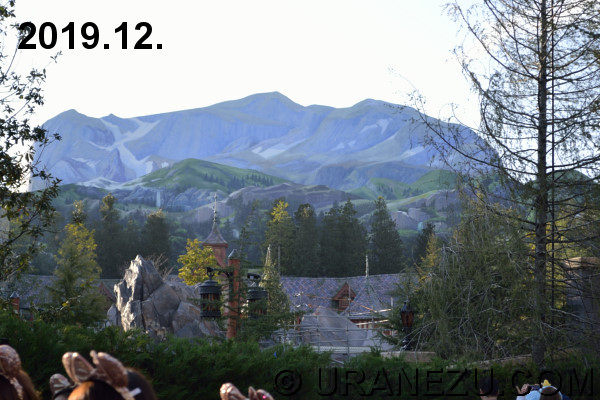 The scenery panel looked odd without around exteriors and vegetation in the early days, but now it became blended into the sky in Japan!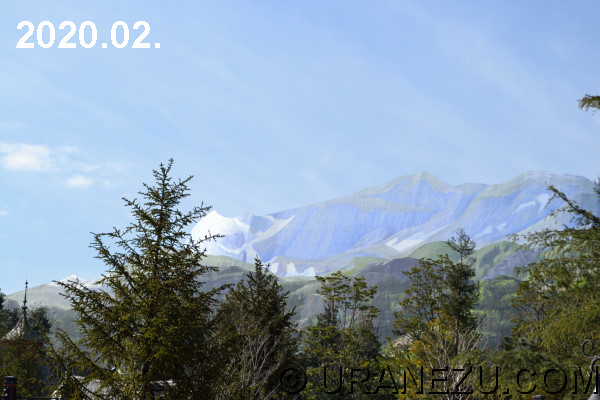 Now, we can see many casts who has WDI helmet.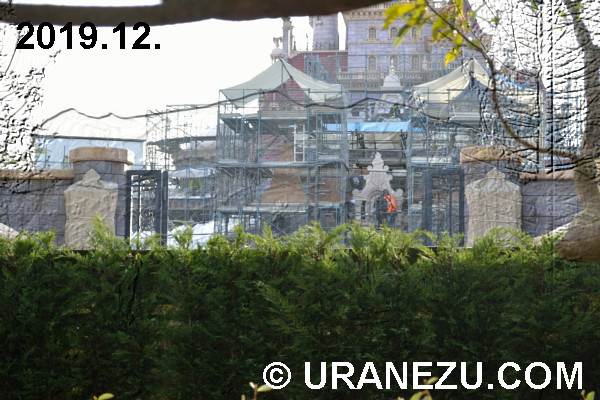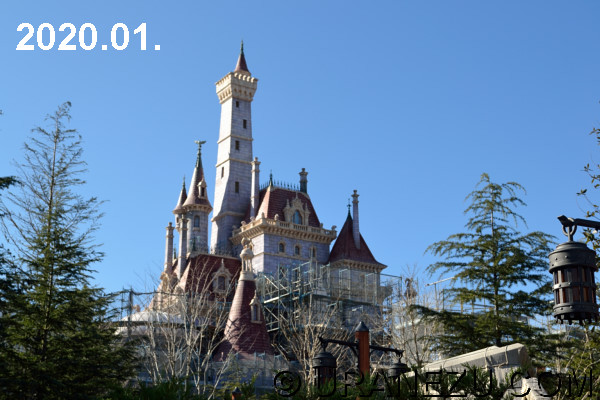 The scaffolding is reducing day by day.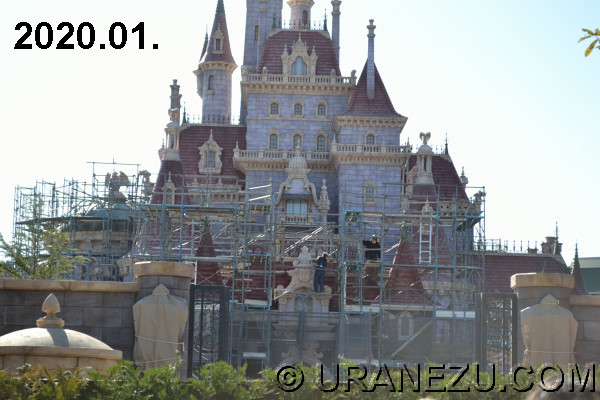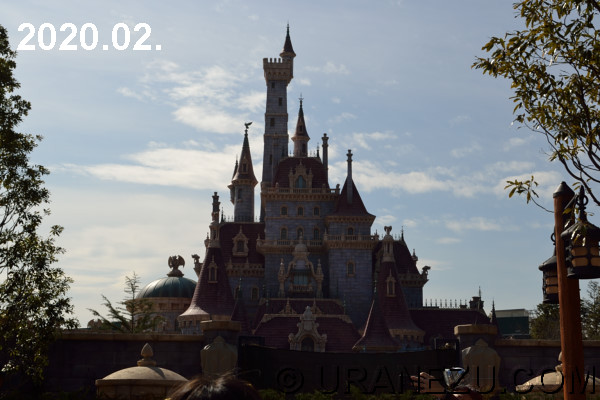 Do you want to see the turret from other angle?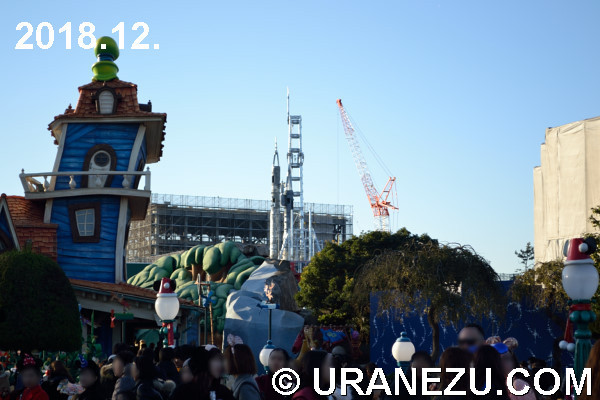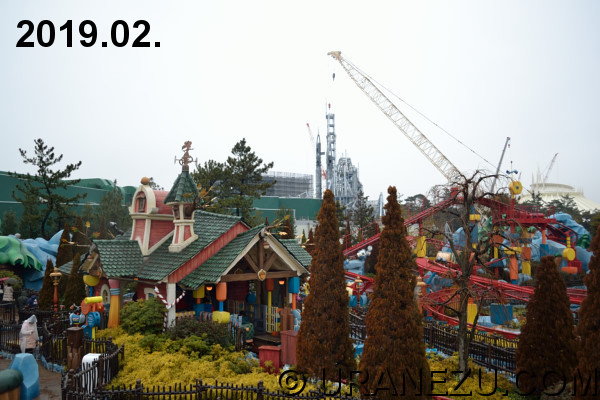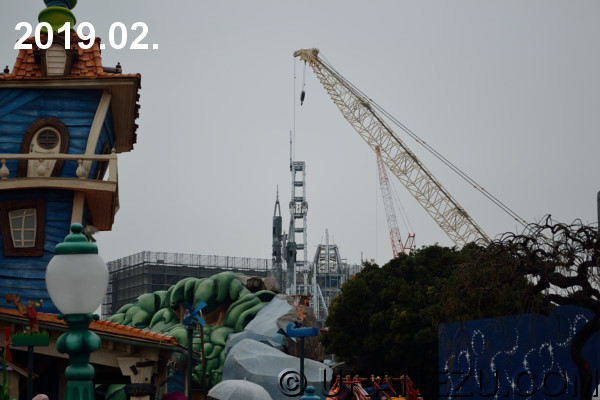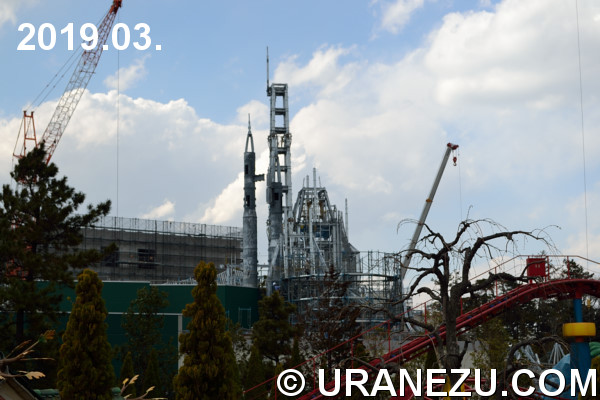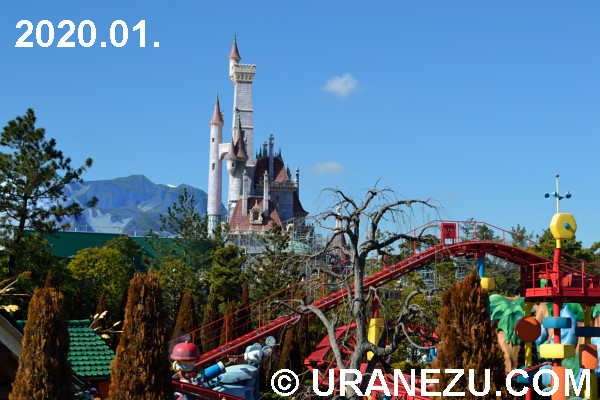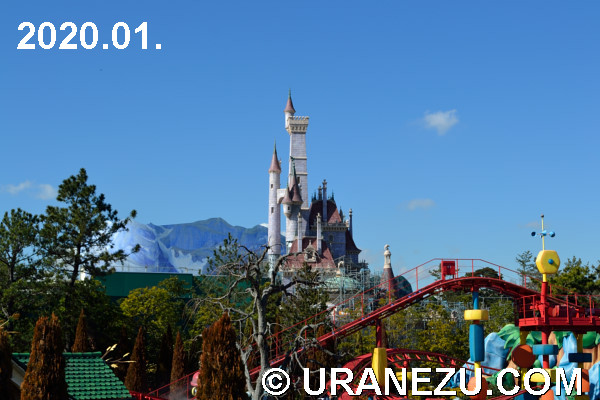 How about a backstage view from TDR monorail?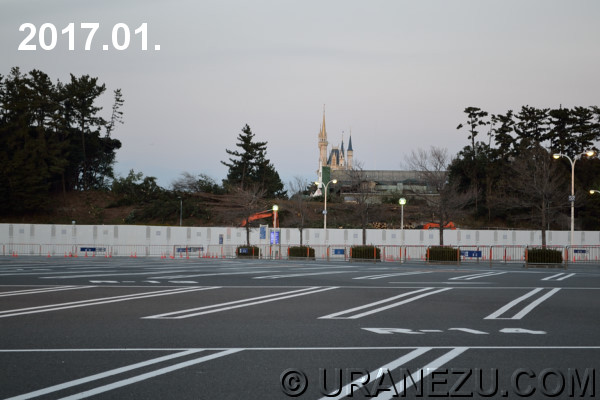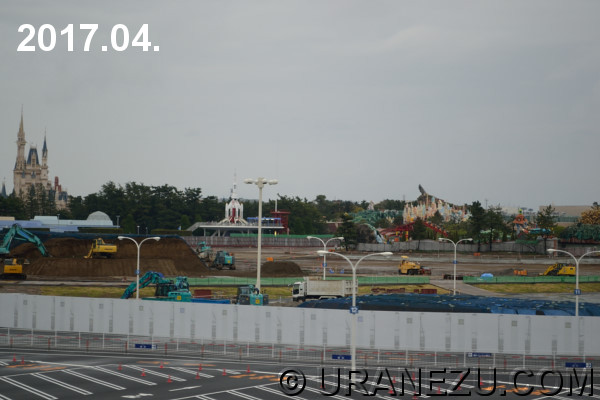 You can see how "Grand Circuit Raceway" was so big.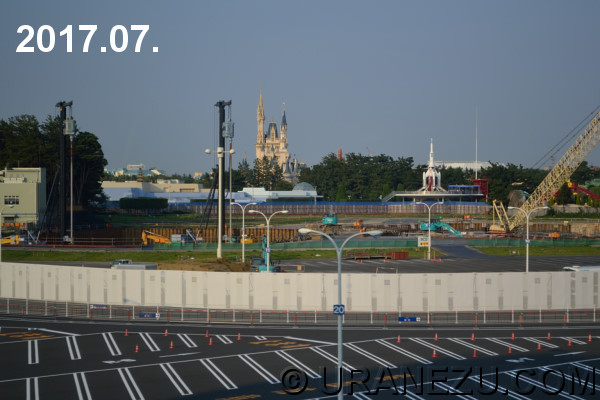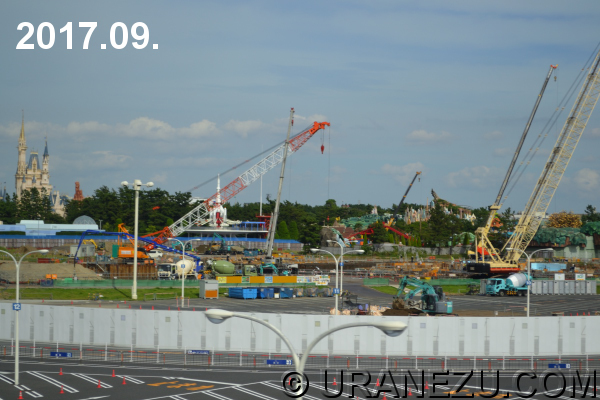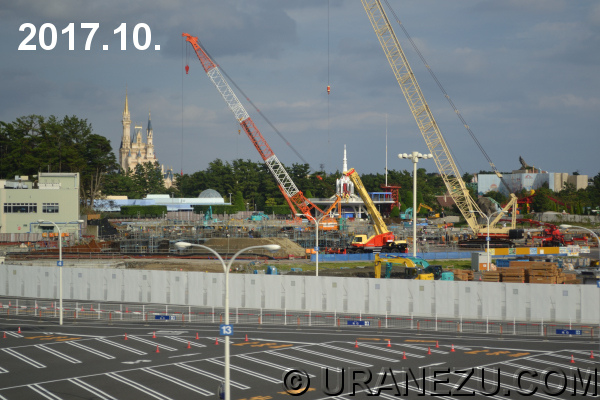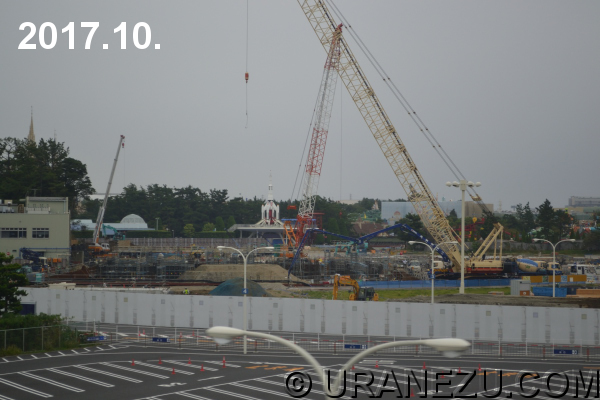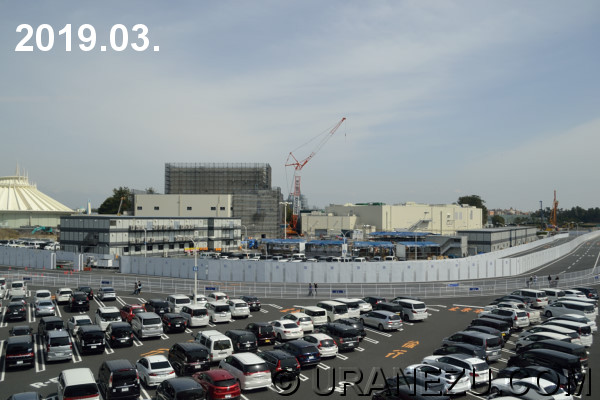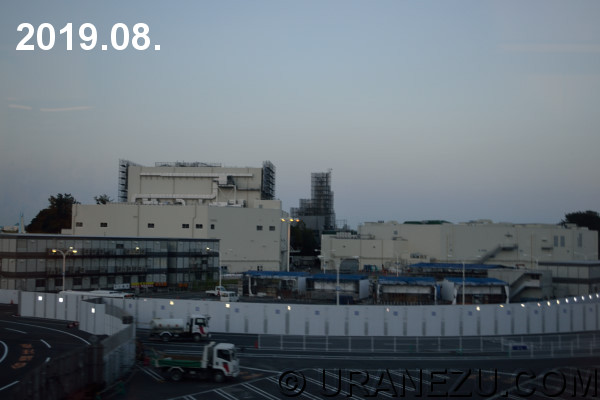 The mountain backdrop and the turret has come.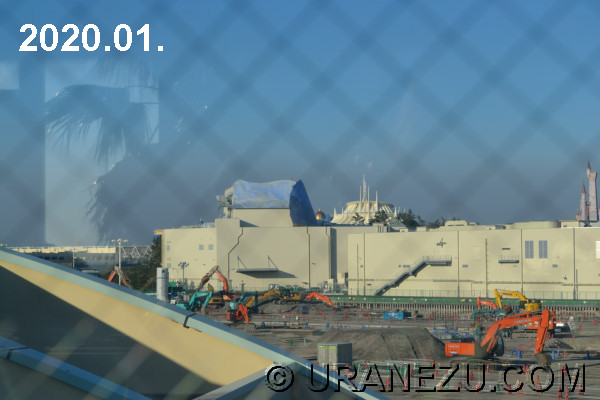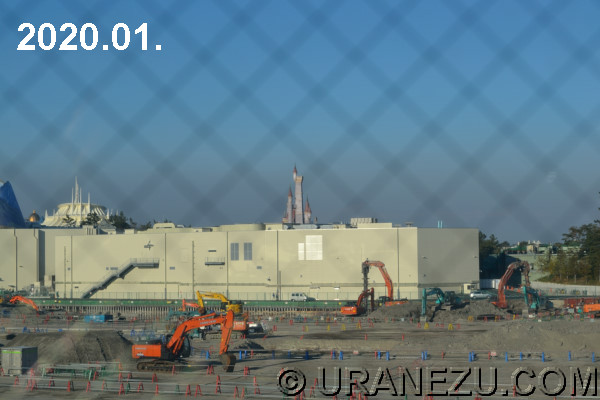 It's really almost there!
If you have any questions, opinions and requests,
please contact us.
Feb. 11 2020 Think about TDR Annual Passport.
Before the opening New Fantasyland in TDL, OLC has announced that all ticket prices will increase on April 1st, 2020. One day passport will be up to ¥8,200JPY from ¥7,500JPY. Of course annual passport will also raise the price.

So today I will explain how TDL Annual passport has completely no perks compare with the other's one all over the world.

*1 Standard theme park parking.
*2 MaxPass combines FASTPASS from your phone with unlimited Disney PhotoPass downloads.
*3 Standard theme park parking.
*4 Privileged car park for faster access to the parks.
*5 Preferred viewing area to enjoy Illuminations, Disney Stars on Parade and some seasonal outdoor shows on the Production Courtyard stage. Limited number of places per location and a reservation must be made up to 15 days and no less than 24 hours before the day of visit. Reservation possible only via the dedicated online platform.
*6 In table service restaurants only, the Annual Pass Holder is offered one specific non-alcoholic cocktail per meal (except at the Lucky Nuggets Saloon, the Cafe des Cascadeurs and at the restaurants of Disney Village).
*7 Cars that enter the parking lot between 08:00 AM and 11:30 AM: RMB ¥100 per day,11:30 AM and 6:00 PM: RMB ¥50 per day, after 6:00 PM: RMB ¥10 per day (re-entry on the same day requires separate payment)
*8 Buy two get one free buffet dinner at Shanghai Disney Resort's Lumiere's Kitchen.
*9 You can get one additional FASTPASS at FASTPASS attractions listed on the Park guidemap. Subject to availability and Benefit Limits.
*10 Online Seat Reservation for "Mickey and the Wondrous Book" may reserve seats for the Member and up to 3 Guests per show (subject to availability and Benefit Limits). Members are required to make reservation from 2 days until 1 hour before show starts at Member Site. Within the same visit day and before the reserved show starts, Member can only reserve one show.
*11 The price was increased on 11 February 2020 which was this topic uploaded day.
1. PRICE
Seeing the price itself, TDL is 3rd expensive ticket. But WDW is for 4 parks, so I'd like to compare just between DL and TDL. For me the TDL visitor living in Japan, DL is very very attractive parks. DL has many original things, like Fantasmic!, Cars Land, and of course, it's the original park. And Galaxy's Edge adds value. Yes, I know TDS the unique park is highly advantaged. Therefore the price might be so-so reasonable. Anyway, 901USD is quite a big expense!

2. BLOCKOUT DATES
This is one of the intolerable things of TDR's annual passport. This Park ticket cannot be used on TDR Annual Passport Blockout dates. OLC has set 35 days from 2019 December to 2021 May.
https://www.tokyodisneyresort.jp/en/ticket_info/annualpass.html

So many TDR annual pass holders moan about cannot able to spend their birthday in TDL or TDS.

More surprisingly (and indignantly), the one more rules here.
"When Park admission is being restricted, this Park ticket cannot be used."
That's why every annual pass holder also waits before the gate opening. Sometimes the midnight or very early morning waiting for guests make a mess.
3-4. DISCOUNTS
TDR Annual pass has not any discounts. I feel really empty when I wrote down this truth. This Poor Unfortunate Soooooool!!!!
5. PARKING
In the center of Tokyo life is not motorized society, but TDR is actually Chiba-prefecture, not Tokyo. Some pass holders may come to the park by car. One day passport is 8,200JPY, so if you'd like to get the money's worth, you have to go 2 parks in 6 times at least as the annual pass holder. Then you'll pay 137USD (1,5000JPY) for the 6 times visits by car. (You may use Guest Parking at both TDL and TDS on the same day after paying the parking fee at the first parking area and presenting the same parking pass at the other parking area.) What I'm trying to say is this, "Many drops make a shower."
6. Photopass
There is no Photopass service in TDR. "Disney Photo" of TDR is similar but actually different photo system. And of course it's excluded in TDR annual passport.

Photokey Card (I can't find English page of this service, it maybe only for Japanese…Oh no…)
https://www.tdronlinephoto.jp/goods/howto_photokey.aspx

Digital Photo Express
https://www.tokyodisneyresort.jp/en/tdl/guide/photo.html
7-8. Another
There is nothing much to say TDR annual passport anymore.
Look at the DLP! It's so amazing extras. And I really love the name "INFINITY"!!!

Now you've known that there are no perks TDR Annual passport. In that sense, it's a really rare one.
So what do you think that TDL annual passport without any perks?

Miss the photos? So I'd like to share my past annual passports with you!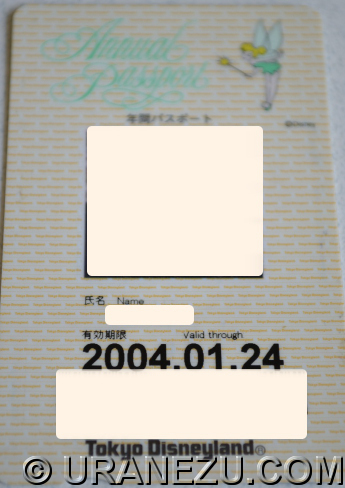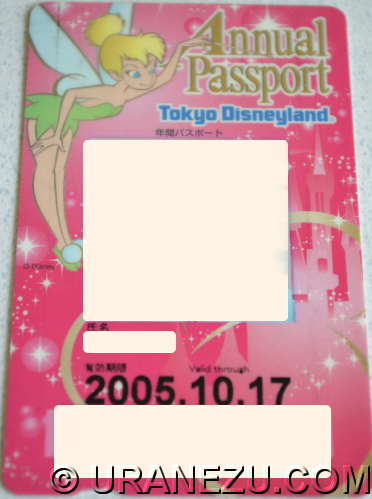 These two were 2003 and 2004 TDL annual passports. I think the price was ¥40,000JPY.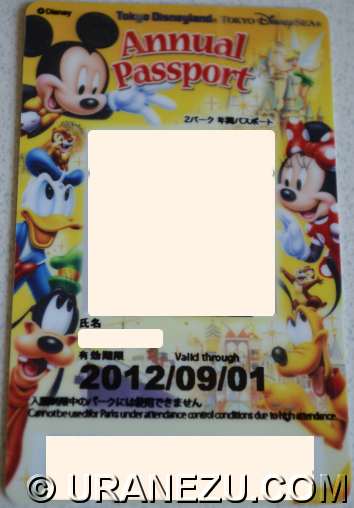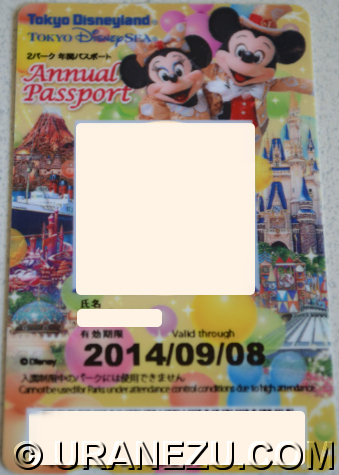 2011 and 2013 two parks annual passports. The Price was ¥80,000JPY.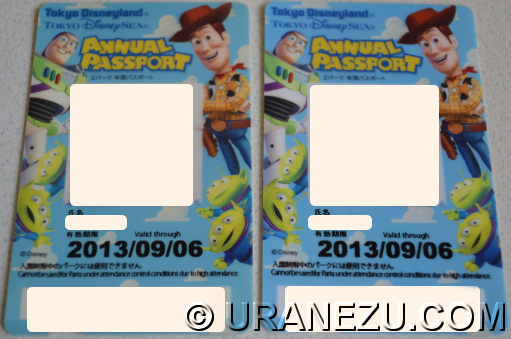 2012 two parks annual pass.
One day I left it at home, so I made a renew pass for ¥2,000JPY. That's why I have two same card, but the passport number was changed, so only could use the new one.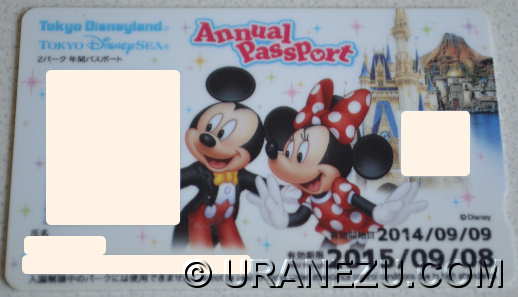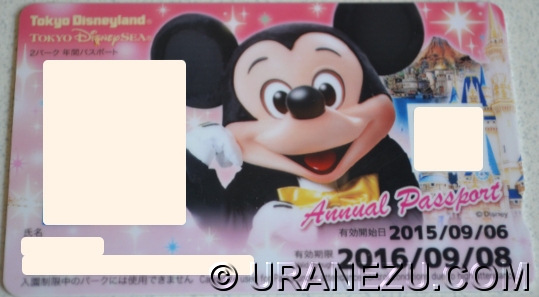 2014 and 2015 two parks annual passes. 2014 price was ¥82,000JPY. 2015 price was ¥86,000JPY.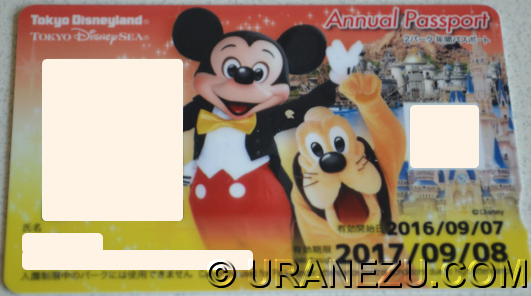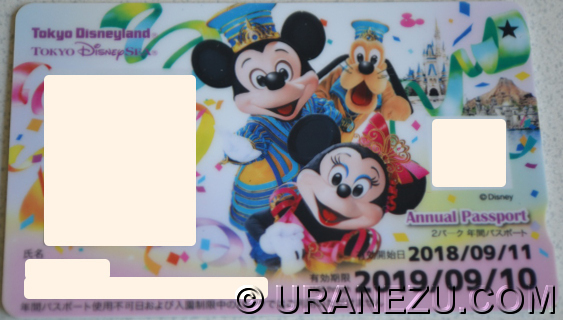 2016 and 2017 two parks annual passports. The price was ¥93,000JPY.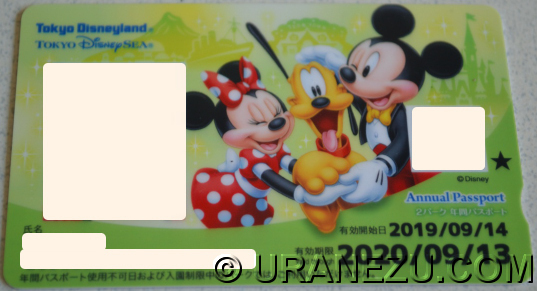 Next I have to pay ¥99,000JPY to renew!
If you have any questions, opinions and requests,
please contact us.
Jan. 31 2020 Face masks at TDR.
As a precautionary measure against Novel Coronavirus, SHDL (from JAN. 25.) and HKDL (from JAN. 26.) are temporarily closing.
However TDR still open, it's different from the others in Asia.

You can find a TDR's official announcement about the current situation.
There are caution signs in TDR.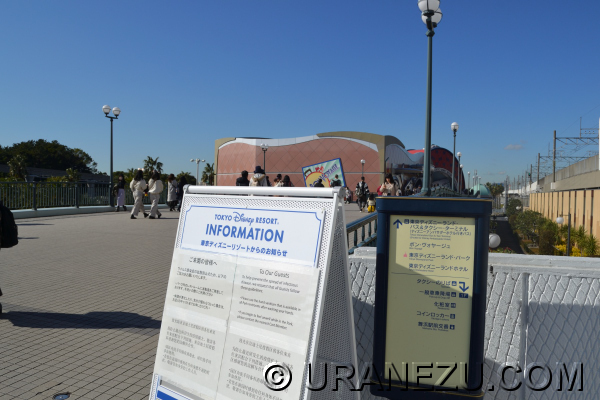 You can find the first signage on a bridge from Maihama station to Bon Voyage the shopping facility.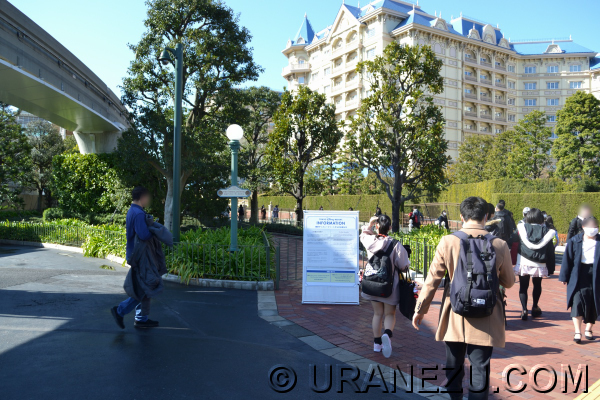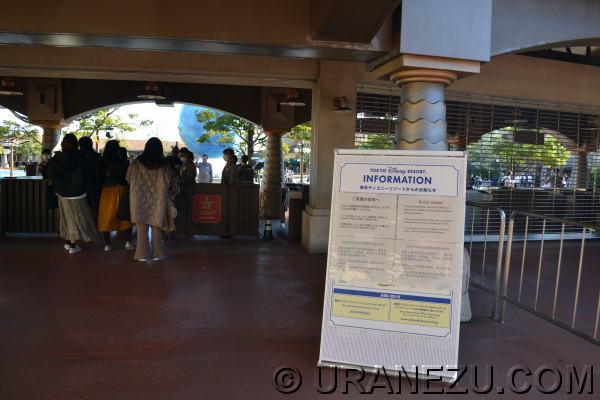 The same notify board on near TDL entrance and before the TDS gate.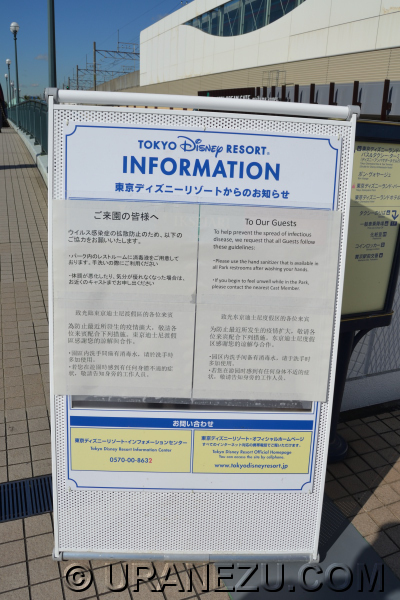 There are Japanese, English, Cantonese, and Mandarin Chinese.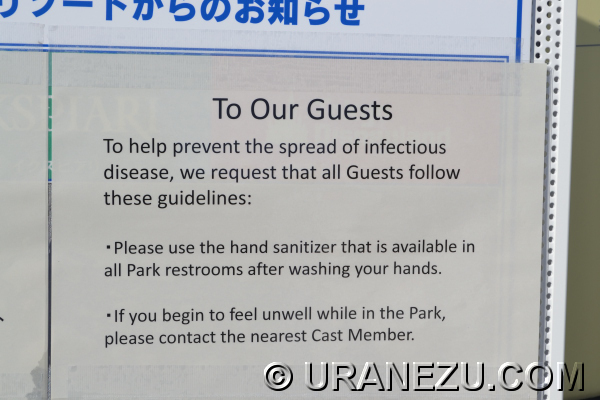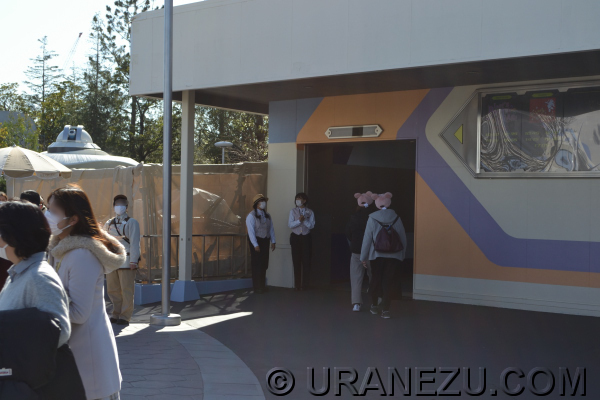 All cast members allowed (I think) to wear a face mask, only one-third of casts used it as far as I saw.

Of course dancers and face characters in show or parade are not wearing the face masks, but I think a surprise greeting with the face character (there was a non-announcement meet & greet with princes & princess, Evil Queen, etc. in some areas randomly.) is canceled for the time being, except Ariel's Grotto the greeting facility. As of today, 31 JAN, Ariel's Grotto is permanently closed. (Officially said that the Grotto will be closed 31 March, but they moved up the schedule due to Novel Coronavirus. Actually, they informed that the Grotto closes as "facility maintenance" in Japanese.)
It's really sad that cannot listen her lovely soliloquy speaking. (We of course include me cannot speak English well, so usually Ariel talked monology.)

So say goodbye Ariel, and let's go shopping.
You can find cute face masks in the park.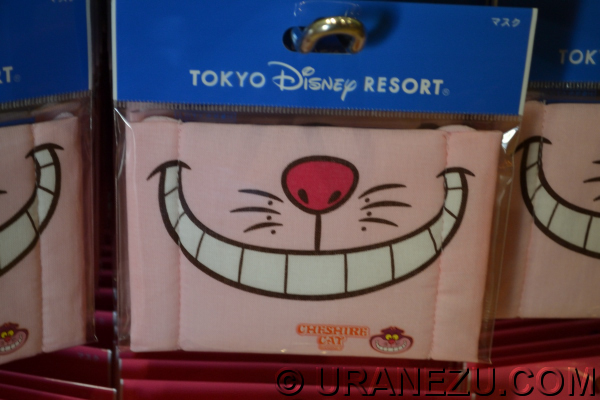 These are made of gauze fabric, so it's washable and reusable.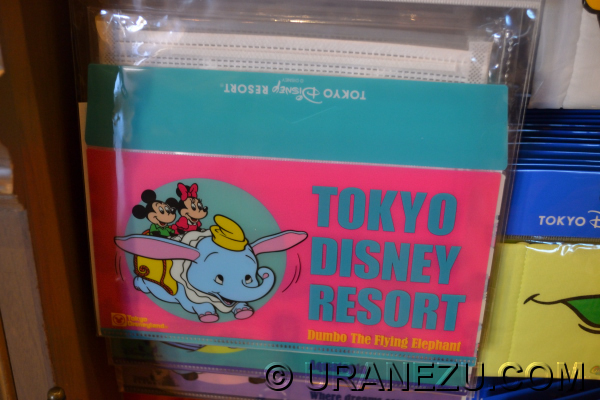 The upper one is paper one-way masks with the case for carrying or during a meal.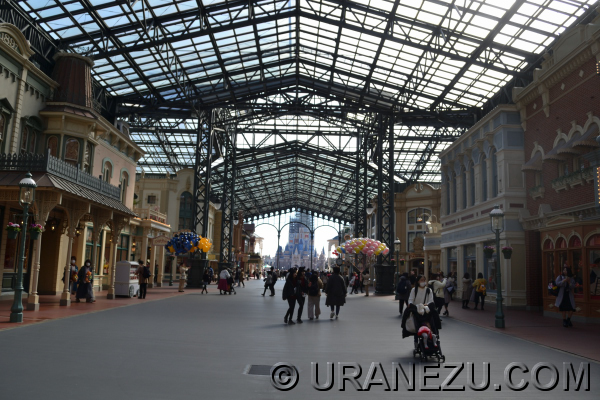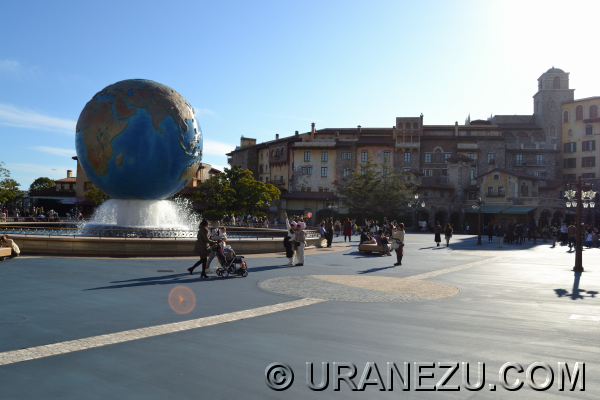 Anyway, we have to keep a close eye on what's going on in TDR.
If you have any questions, opinions and requests,
please contact us.
Jan. 25 2020 January TDR Operation Hour.
The season of (a very minor) low attendance has started.
Look at the operation hours on weekdays! It's really short, isn't it?
Just so you know the price is the same.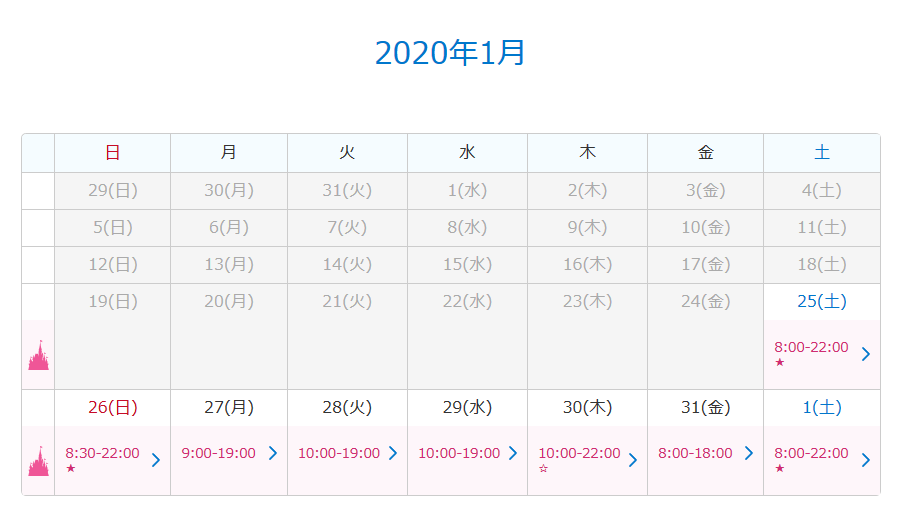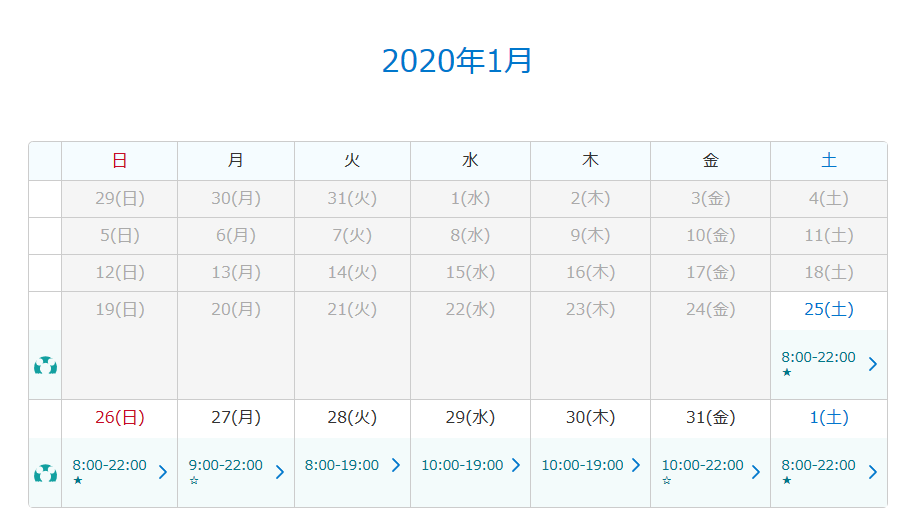 TDL
18p.m. close date: 1/17(Fri.), 1/31(Fri.)
19p.m. close date: 1/14(Tue.)-16(Wed.), 1/20(Mon.)-23(Thu.), 1/27(Mon.)-29(Wed.)

TDS
18:30p.m. close date: 1/24(Fri.)
19p.m. close date: 1/15(Wed.)-16(Wed.), 1/21(Tue.)-23(Thu.), 1/28(Tue.)-29(Wed.)

January is the coldest season in Japan and the park surrounded by the sea, so the apparent temperature with the high sea wind is colder than you expect. (But snow is very rare.)
And this period is also exam season. So TDL and TDS from January to February had very low attendance. So OLC made some efforts and brought some wonderful attractive events for the off-peak.
But this is about some decades ago. (I mention both low guests and attractive events.)

Anyway, now we can't find any low attendance season anymore. But the short park hours still remain.

Usually, some nights after the closing will use for a sponsor's limited party.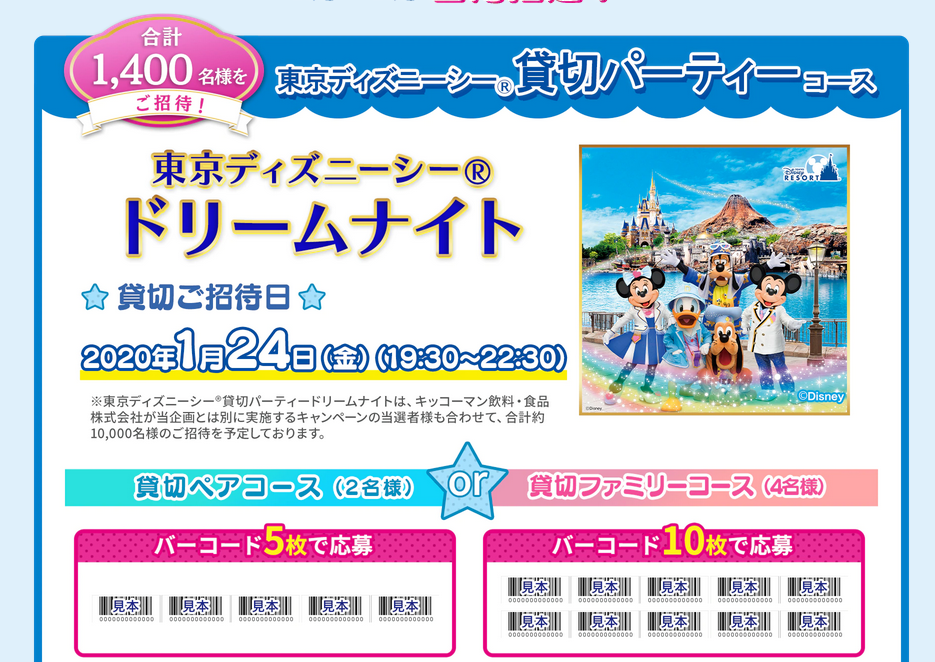 A lucky people who won a buy-eat-apply-lottery by Del Monte (related Kikkoman, "Polynesian Terrace Restaurant" and "Restaurant Sakura".), Kirin ("Pirates of the Caribbean" and "S.S. Columbia Dining Room".), and etc can enter this.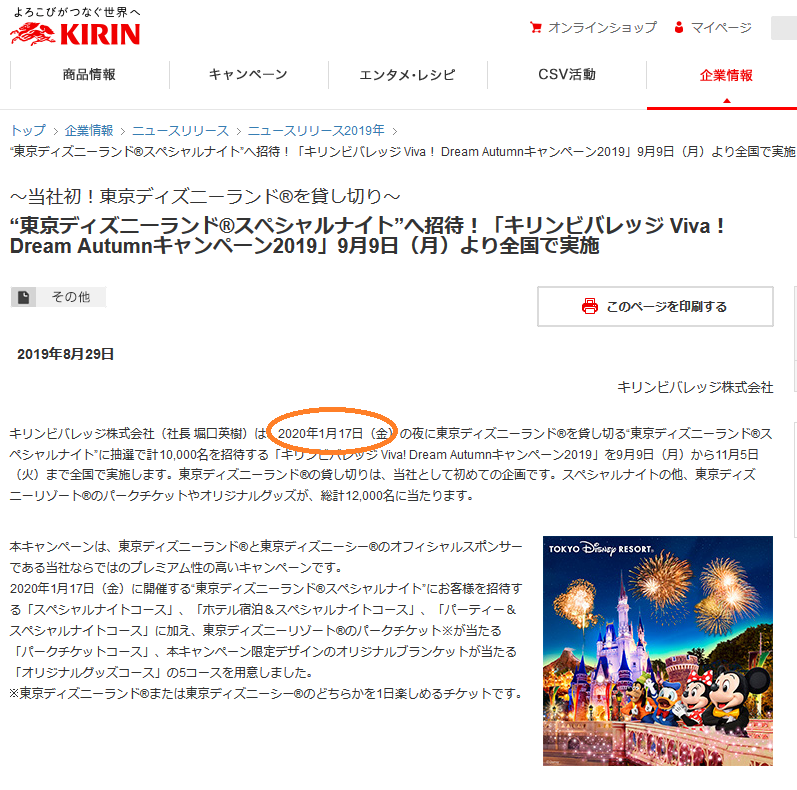 It's quite hard to get collect the point to apply, if you got all things to apply the lottery, the chances of winning is very very low.
Because we like TDR, and we love free.
For Example: You needed to apply Delmonte's Party for 1,400 guests (Other winners invited, total 10,000 guests at this party.) at TDS was…
For 2 person entry: 5 bottles Tomato Juice (900ml) or Vegetable Juice (900ml).
For 4 person entry: 10 bottles Tomato Juice (900ml) or Vegetable Juice (900ml).
Not all of us, Japanese drink the Juice very much.

Anyway entering to this special operation park is very tough.
There is a long way to go before the applying.
Have you ever won this special party?

For very lucky winners…
Have Fun and please bring me your luck for my next challenge as the souvenir!
If you have any questions, opinions and requests,
please contact us.
Jan. 05 2020 A New Year at TDR.
Christmas is over and a new year begins!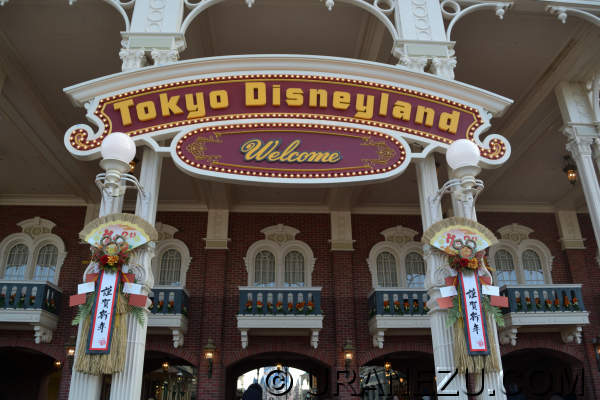 It's time of the year to make New Year's resolutions! Our resolution is to spend more time on uranezu.com for you. Please continue to believe in me.
So, let's start special New Year's decoration in TDL.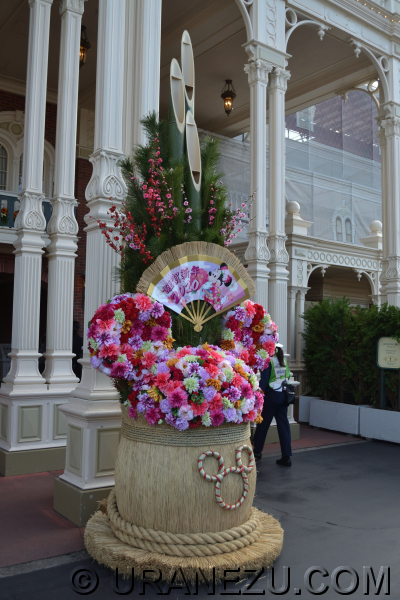 We can find "Kadomatsu" the traditional bamboo and pine decoration at the entrance until 6th January.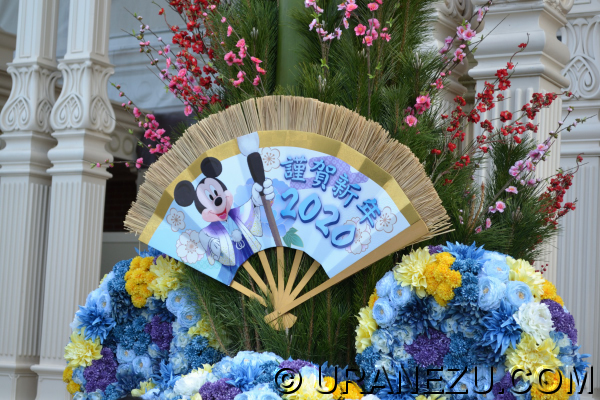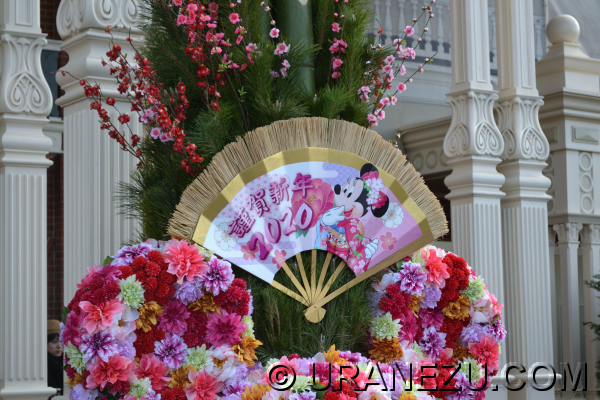 We decorated it as a pair, so you can enjoy Mickey at a left side, and other side is Minnie.
There are different design Kadomatu in TDS.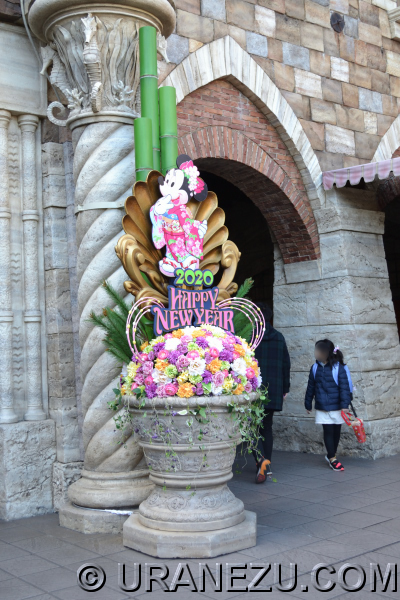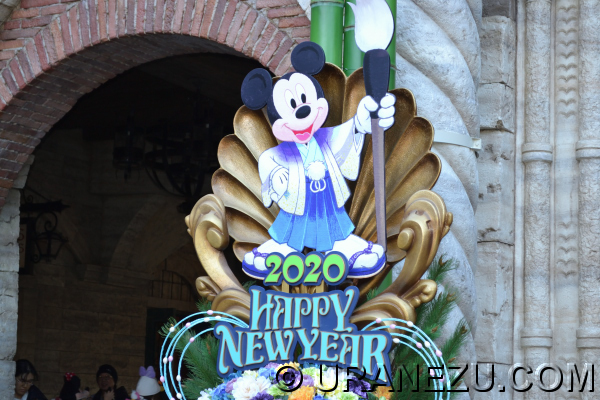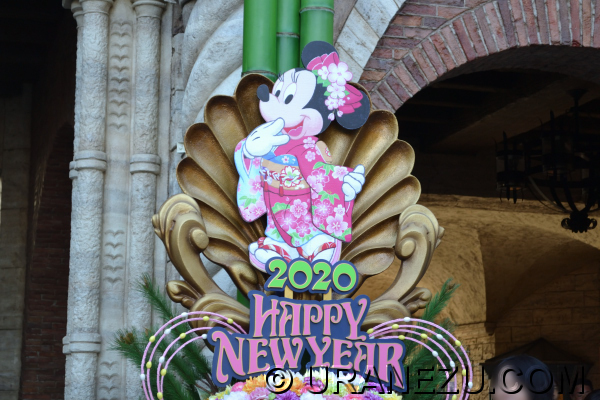 These spots are very popular photo opportunities during the New Year.

The oriental zodiac in this year 2020 is "mouse".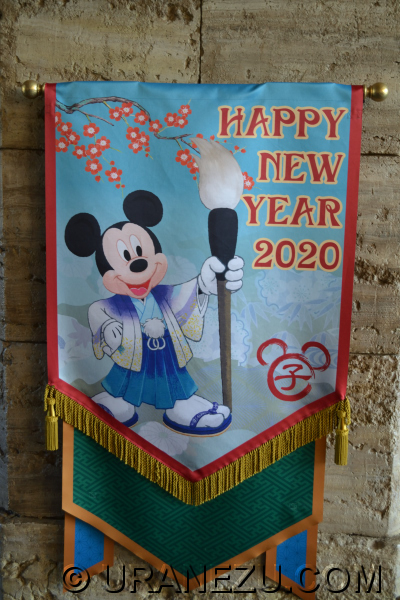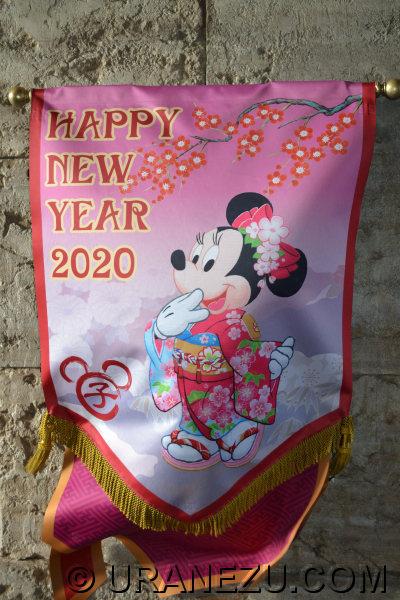 It's really happy to see that Disney pals in Kimono or Japanese traditional attire.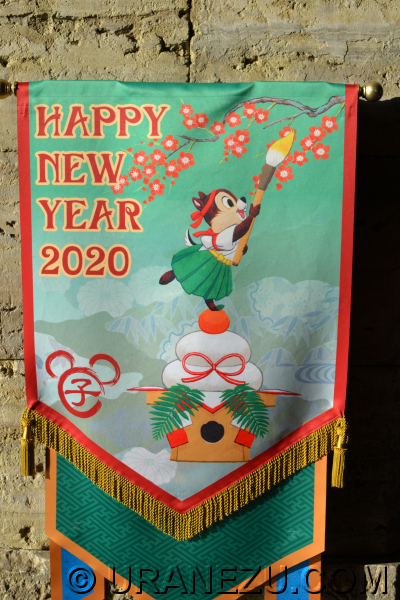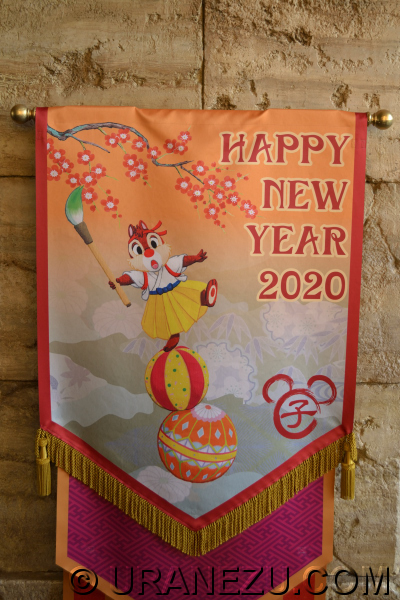 The main feature of this short period is "New Year's Greeting".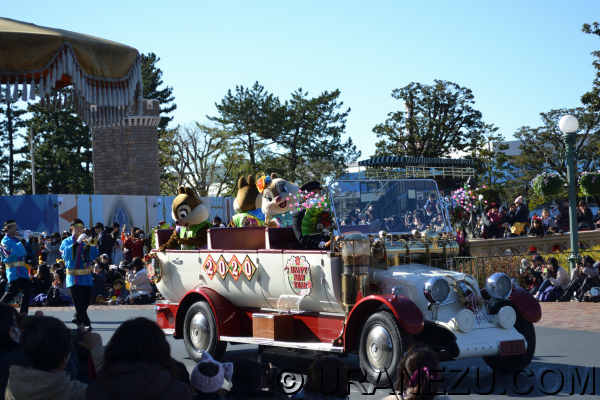 This mini greeting in TDL was started Chip and Dale with Clarice in the special costume.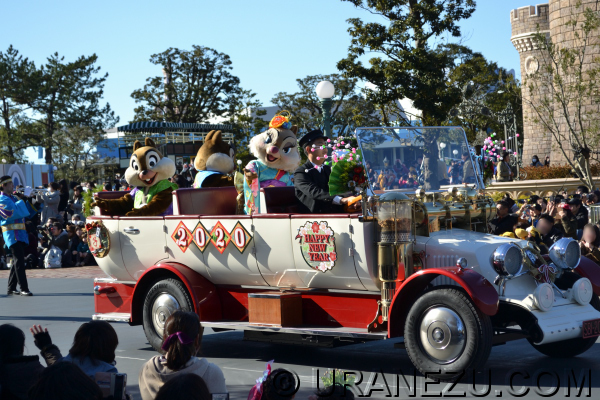 It's happy to start the New Year with Mickey and Minnie and Pluto!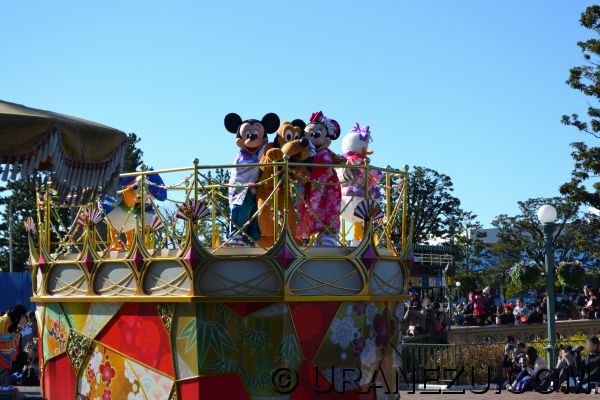 We really love to see Disney pals in the Japanese dresses.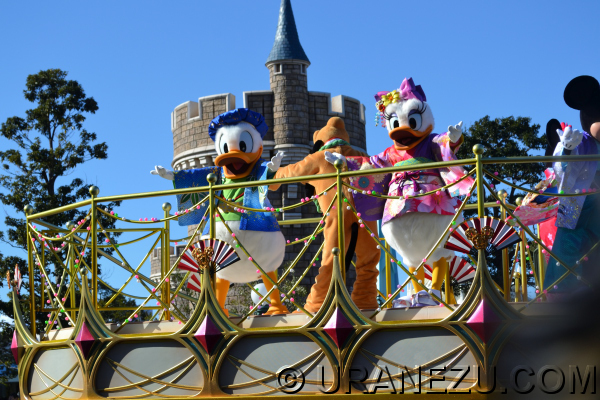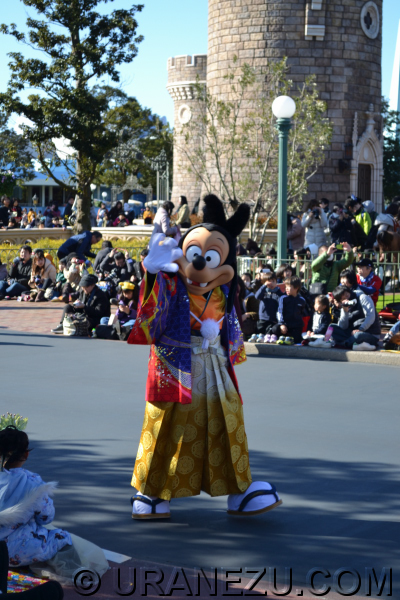 It's cool indeed, Max!
TDS' greeting uses barge. So every guests waited around the Mediterranean Harbor to see them.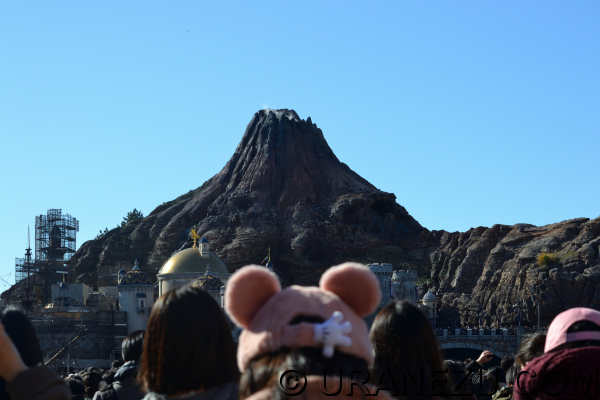 Here they come!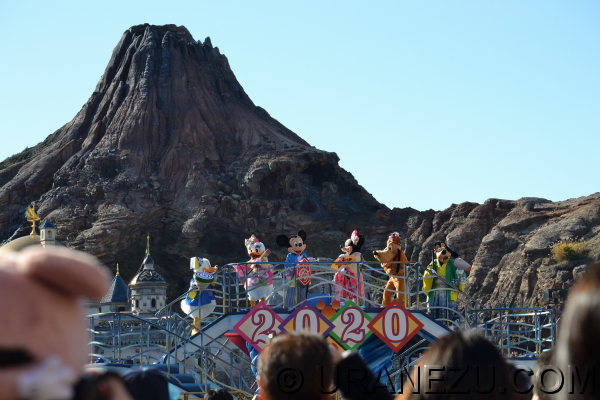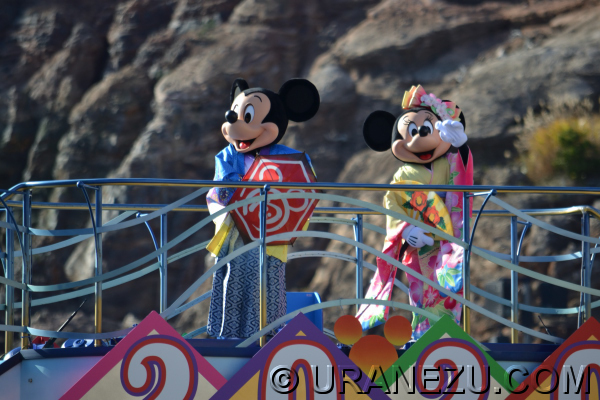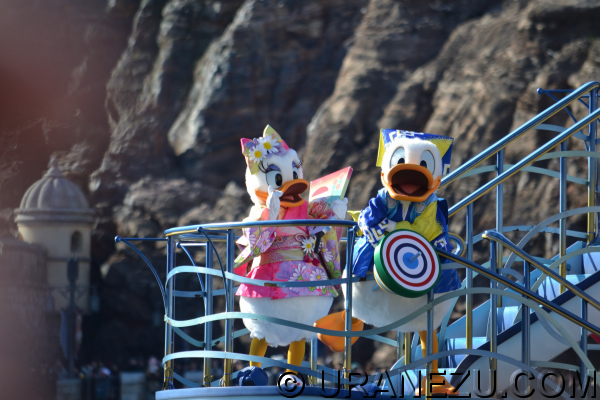 Looks similar, but the design of them is different from TDL's.

Mickey wanted New Year's kiss by Minnie.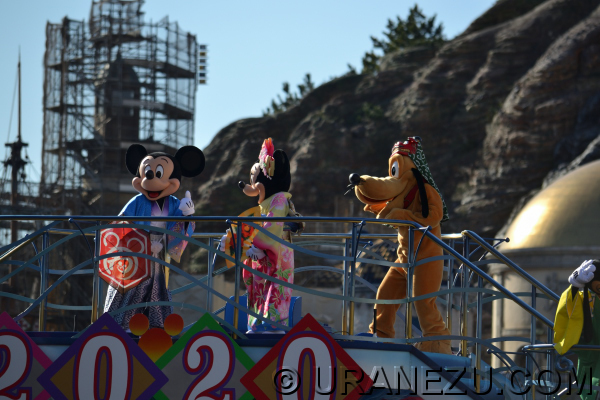 She pretend to give him a kiss on the cheek behind her fan.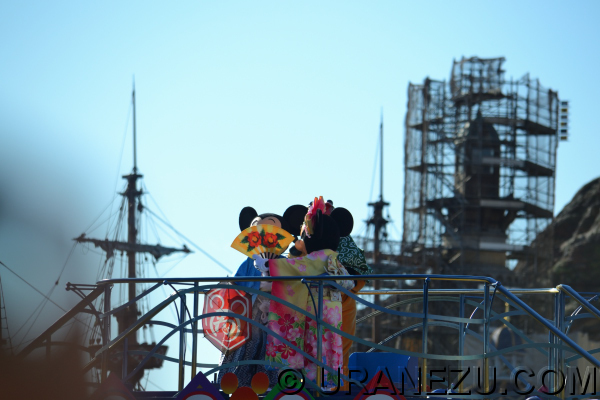 But⋅⋅⋅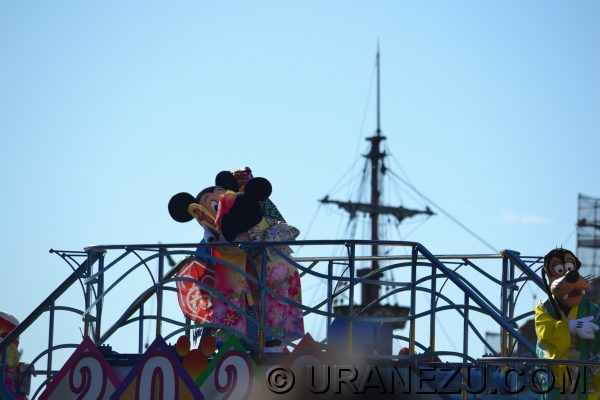 She changed her mind, and gave him a passionate one!

This special greetings from 1st Jan to 6th Jan.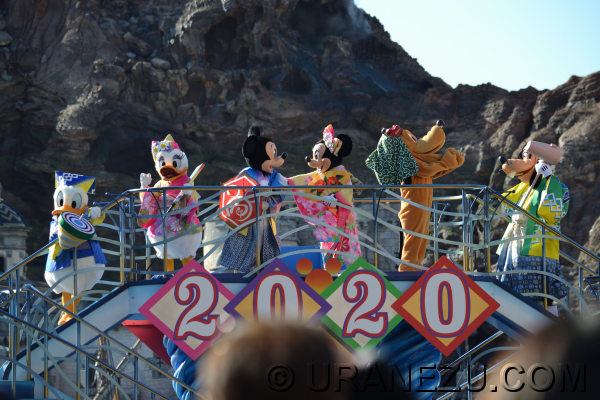 Happy 2020!
I wish you a beautiful, magical new year!
If you have any questions, opinions and requests,
please contact us.
Oct. 12 2019 TDR Park Operations on October 12 and 13, 2019.
Please stay safe, check warning the below.
TDR Park Operations on October 12 and 13, 2019
JNTO (Japan National Tourism Organization)
If you have any questions, opinions and requests,
please contact us.
Sep. 05 2019 Disney's Halloween 2019.
The Halloween season allows me to tell you a little bit spooky story about TDR.
As you know TDR was constructed on a reclaimed land, a vast sea of Chiba prefecture was buried.
Japanese thinks all things have a spirit, so some people have fear about the wrath of the deities.
With or without their will, mostly the first day of the special event is raining.

In this 2019 Halloween, the first day was so bad than ever.
Typhoon was hit Chiba (Tokyo Disney Resort is not located in Tokyo, actually Chiba prefecture.).

So intensive wind slammed some trees in TDL park, and it also made TDS delayed the opening hour.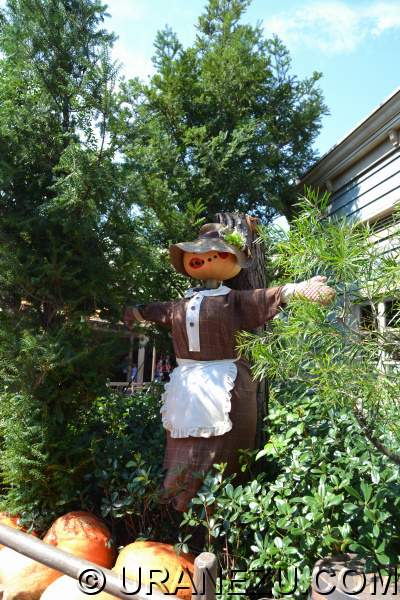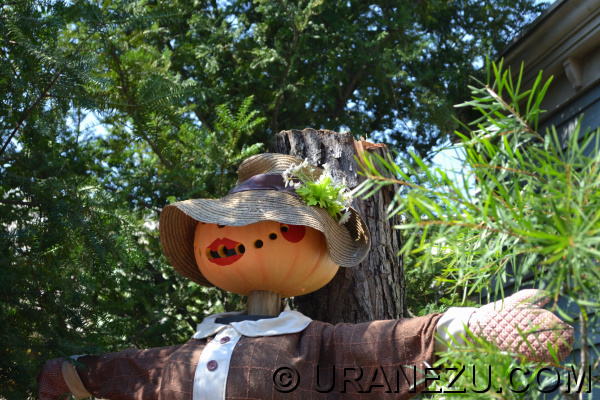 The broken tree was cut in Westernland.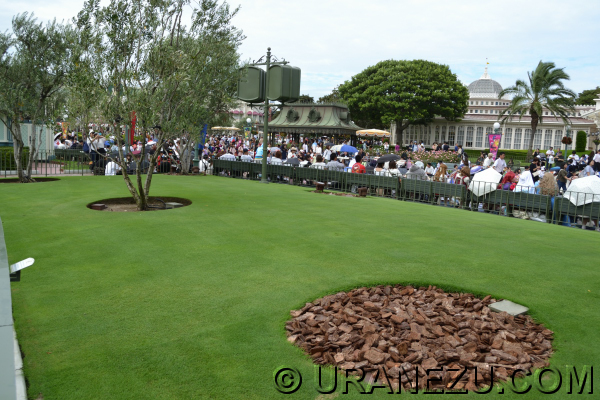 And you can find the circle only with a wooden tips, yes this spot had also a tree, but it got damaged so badly by the strong typhoon, and it was removed.

Do you think their curse?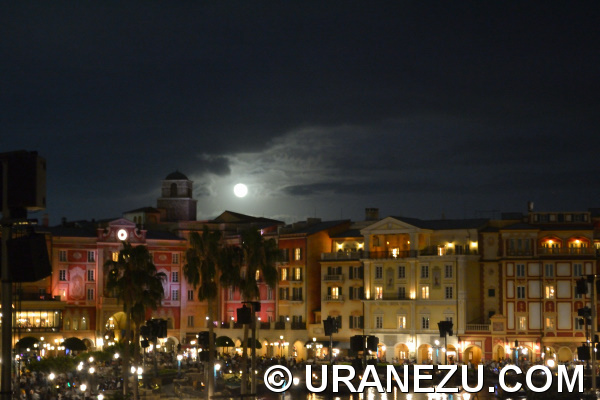 Anyway, the guest to 2019 Halloween is very slow. I am the one of them, sorry for waiting!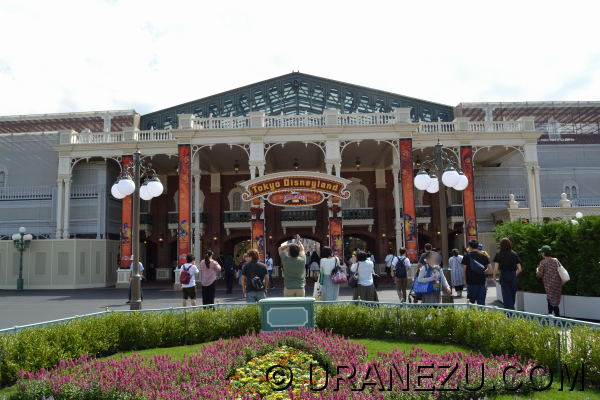 The main photo location with a battered castle set in the hub.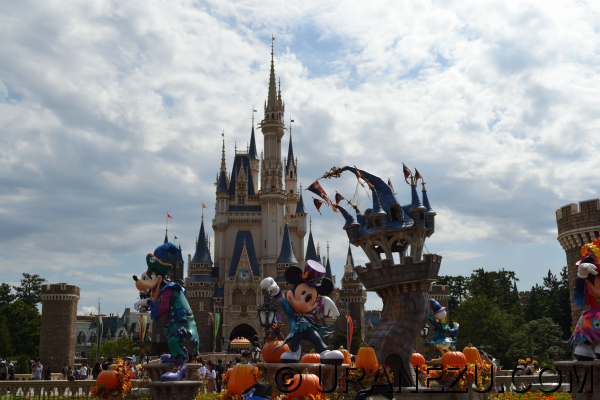 The figurine of Mickey has always long queue line with a camera cast, so please enjoy others except Mickey.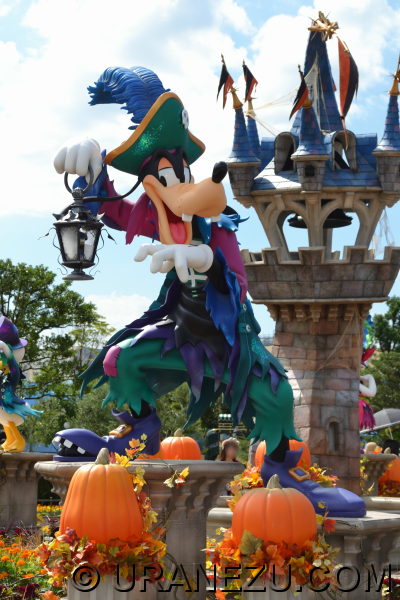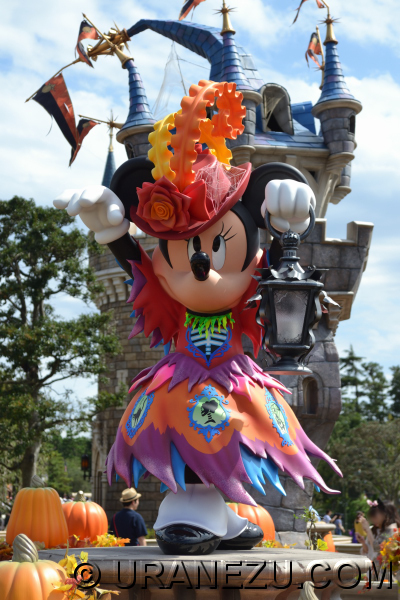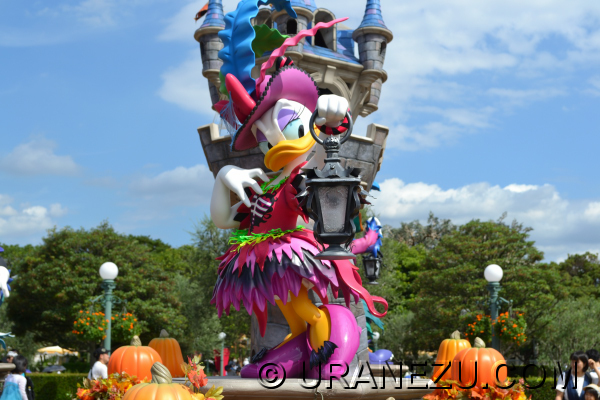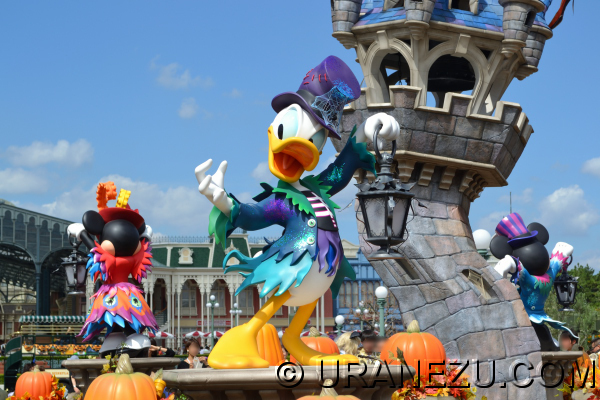 I don't think that it's perfect match their colorful stage costume with a lantern props.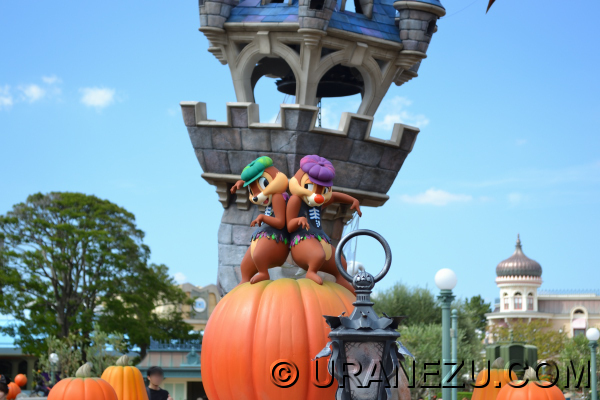 Chip and Dale gave up holding the lantern.
This year's TDS Halloween gave a new theme.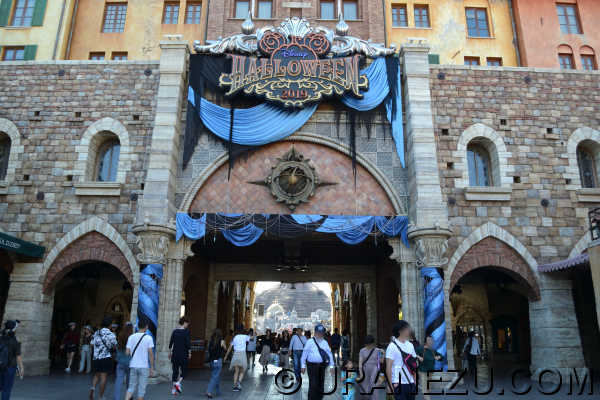 It named "Festival of Mystique".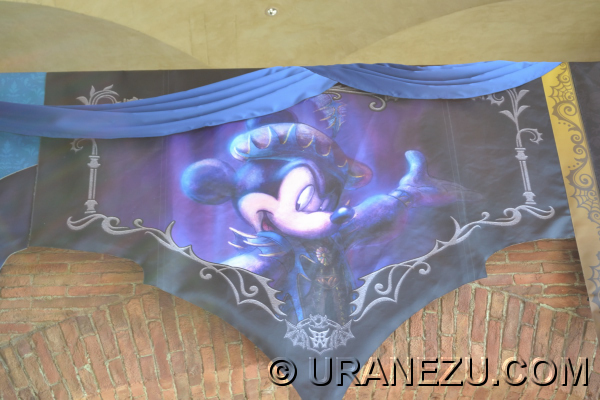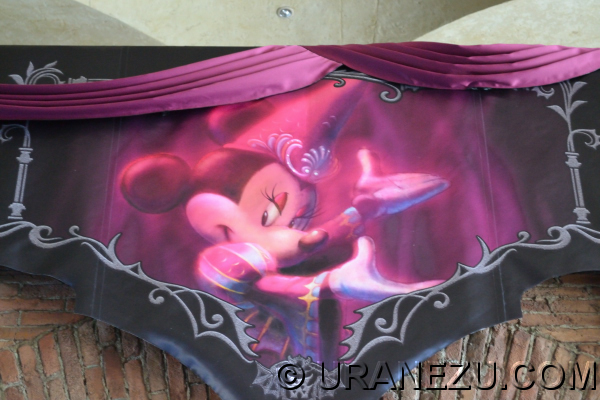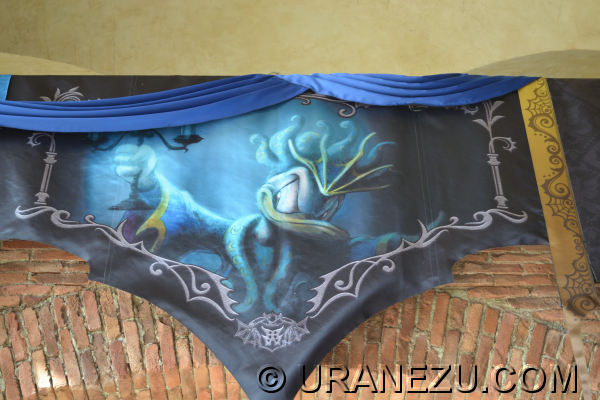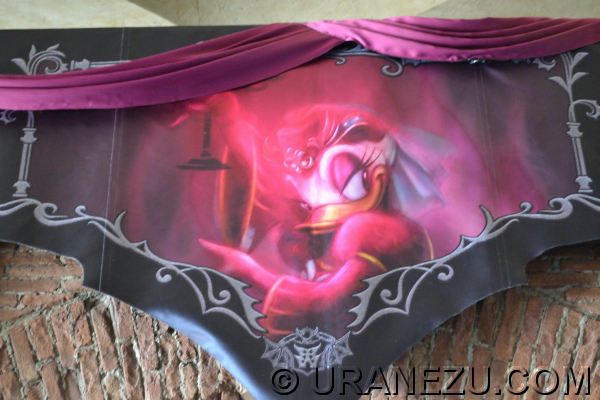 The ambiance of the design is nice.

If you were lucky (won a lottery for the show), you will see Disney pals with these above costumes close.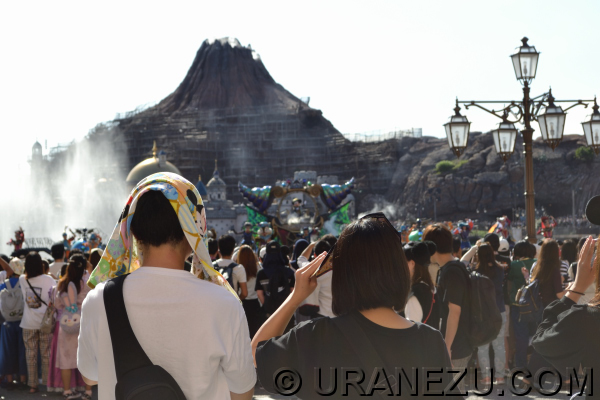 TDS also has a special photo opportunity at Waterfront Park in American Waterfront.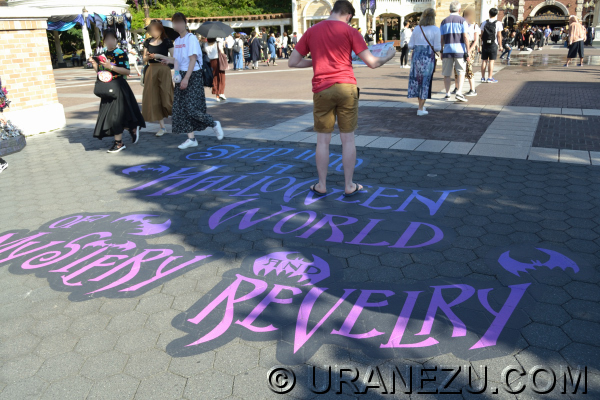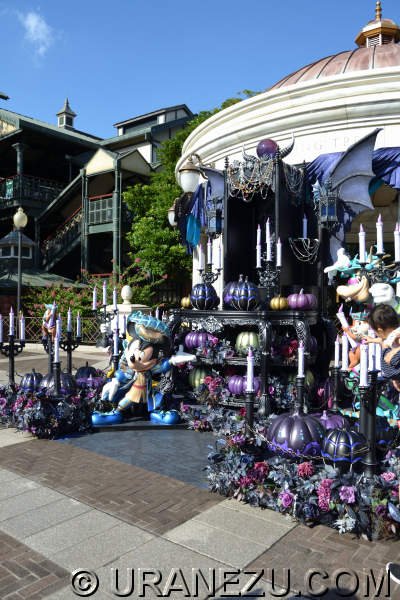 Mickey and the boys are set in the main photo location, so it's quite a time to take a photo with them.

But the girls are located in the entrance. So don't miss them, they are so cute.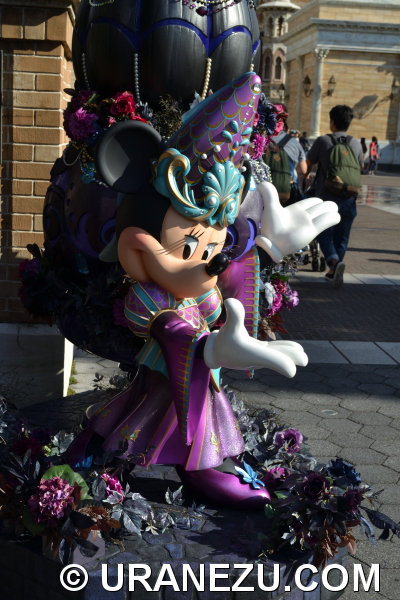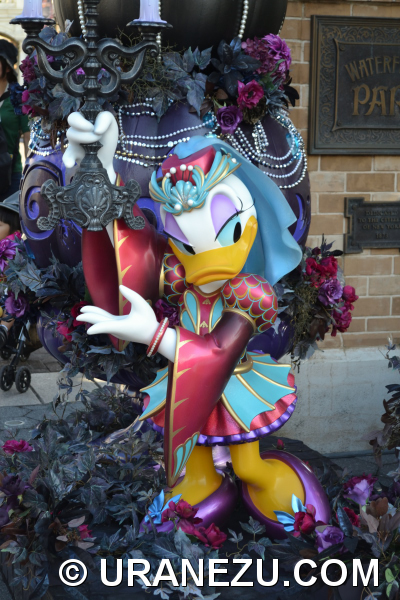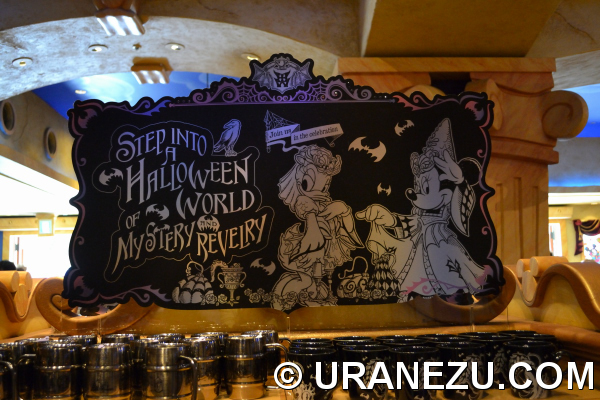 Yes, they are waiting you to "Step Into Halloween World"!
If you have any questions, opinions and requests,
please contact us.
Aug. 04 2019 About Scattered Toys in TDR.
Sorry for waiting! It was time to Tour de France, so I've been a bit negligent on my website.

I think you've already knew about TDS Soarin' and new shows. I will report them in near future.


So today I'd like to tell you about limited time Toy Story's decoration and some merchandises.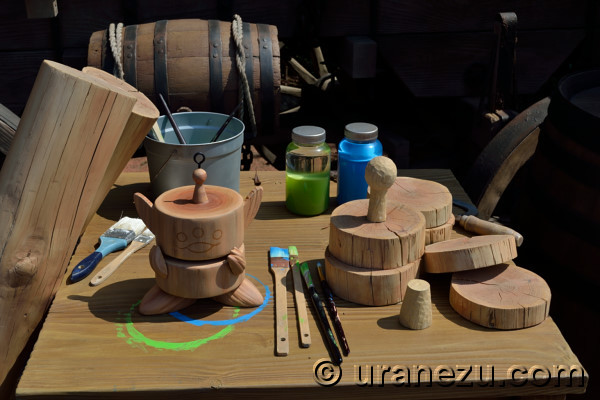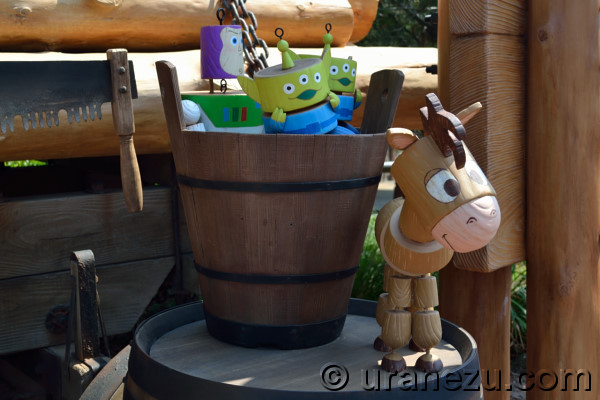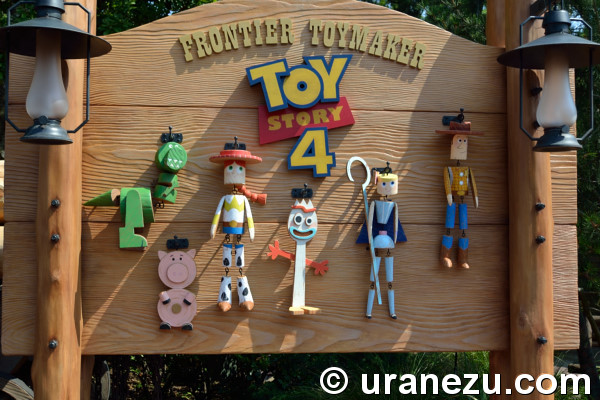 There is a limited Toy maker display in front of a hauling dray of woods in Westernland.

For celebrating Toy Story 4, we can enjoy seeking Forky the new character of Toy Story 4, until September 1st in TDL. The Forky is hiding 8 places in the park, so please pick up the special map, then follow some clues will help you for the searching.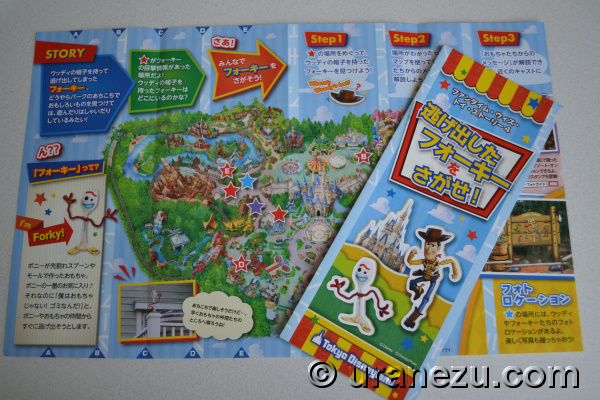 You can get the map as bellows:
Main Street House
Refreshment Corner in World Bazaar
Planet M in Tomorrowland
Trading Post in Westernland
Food Booth in Hub
The first Forky is in Adventureland.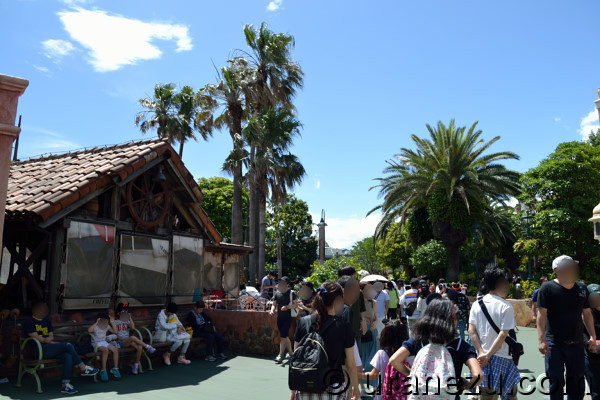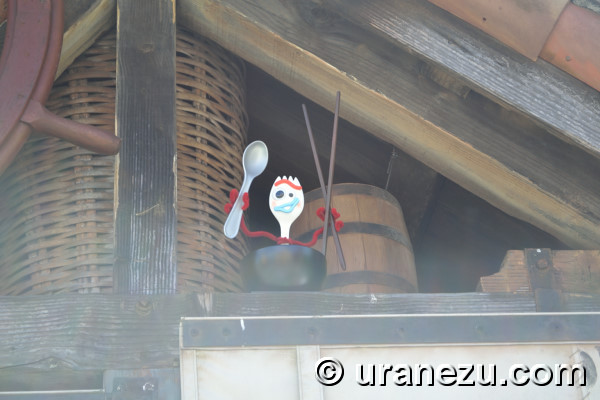 No one noticed it except people have the map. This is the dining area of "Boiler Room Bites", that's why he brings his dream utensils.


Fantasyland Forky is quite tough to find.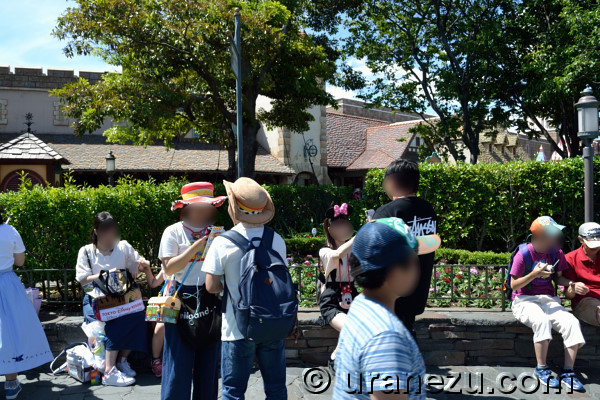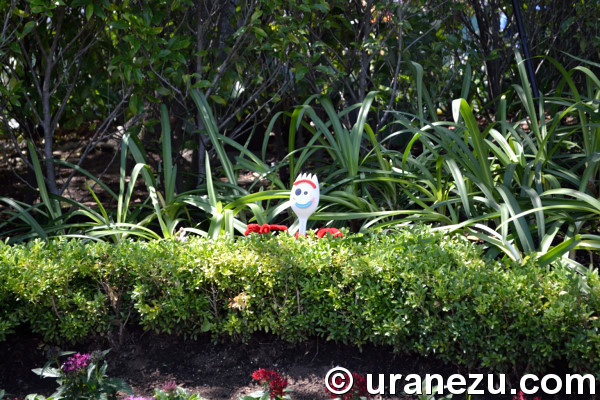 The above area is always many busy with guests


Here are the Forky from Tomorrowland and Toontown.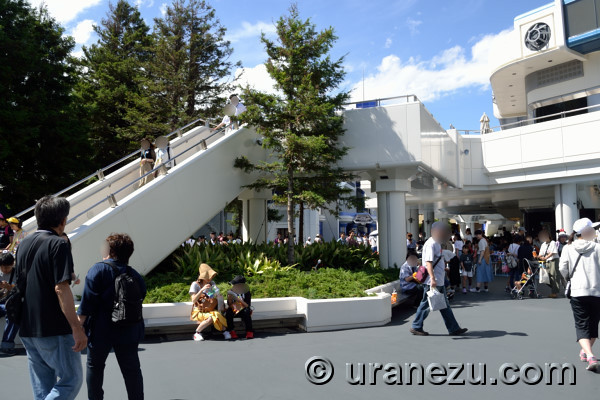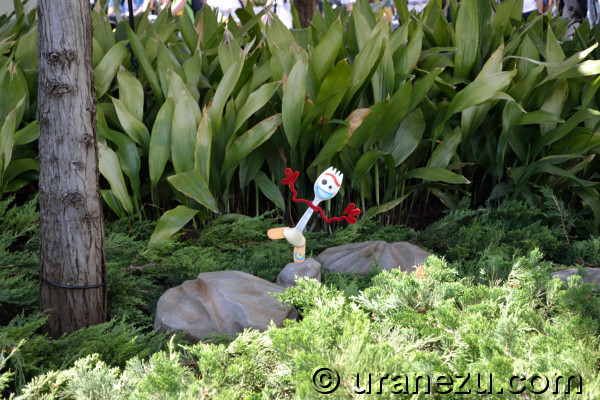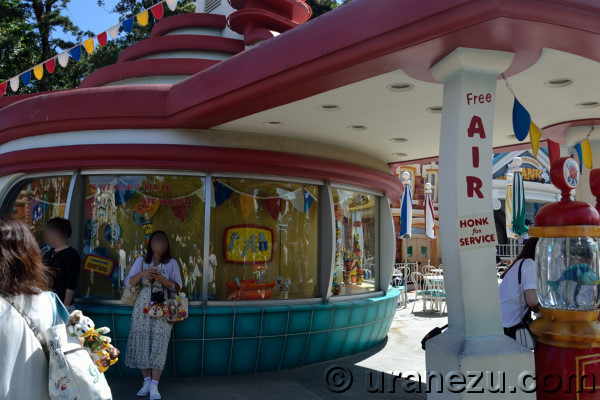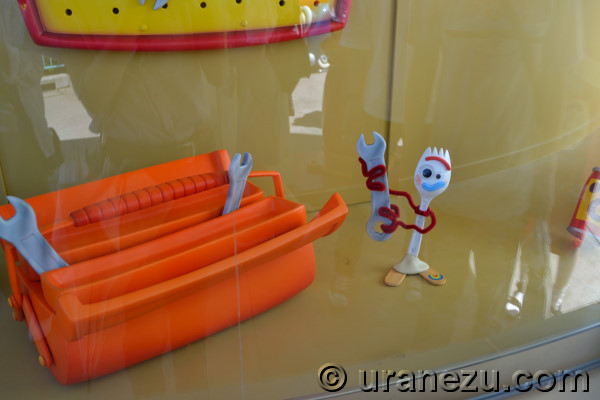 Don't forget to look forward not only ground level, but also upward.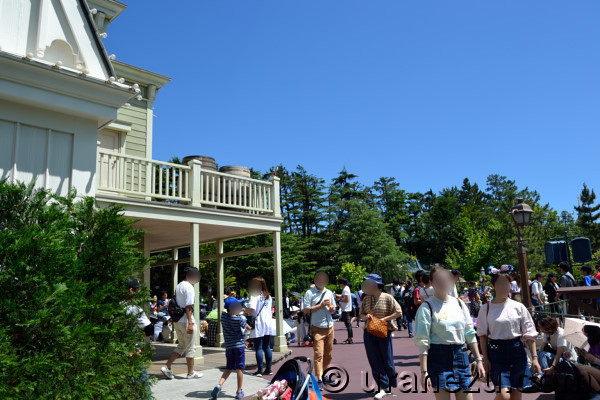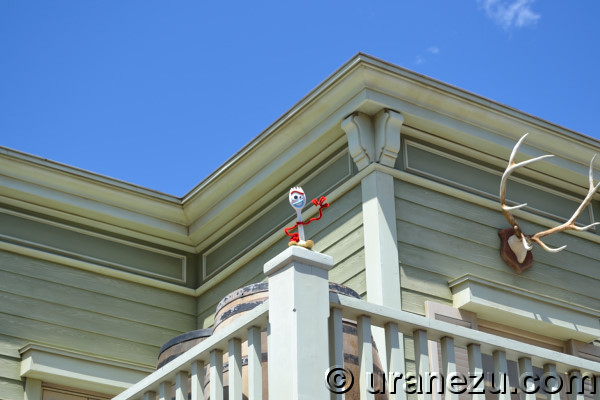 The below is my favorite Forky.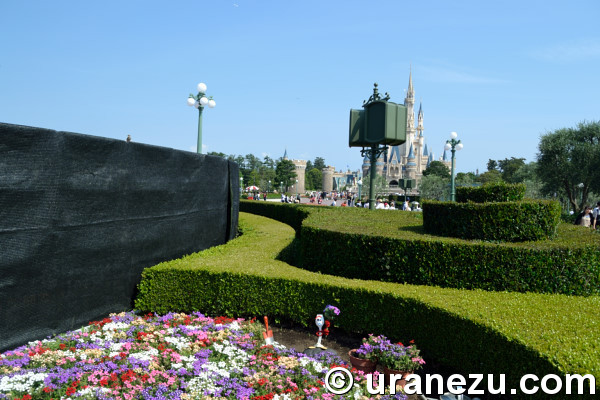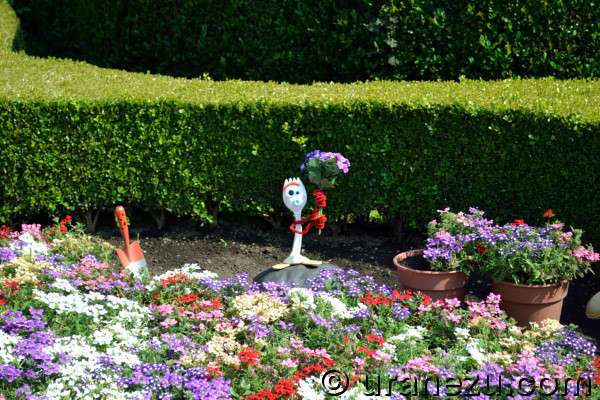 It's really cute.

It is very fun only to find the Forky itself, but if you try your Japanese skill, you are able to challenge extra mission.

The mission is following three.

Mission 1: Find the Forky who has Woody's cowboy hat.
Mission 2: Find a word from the Mission 1.
Mission 3: Find a phrase on the map from the clue of Mission 2.

Look carefully, Forky has two kinds of hat in each place.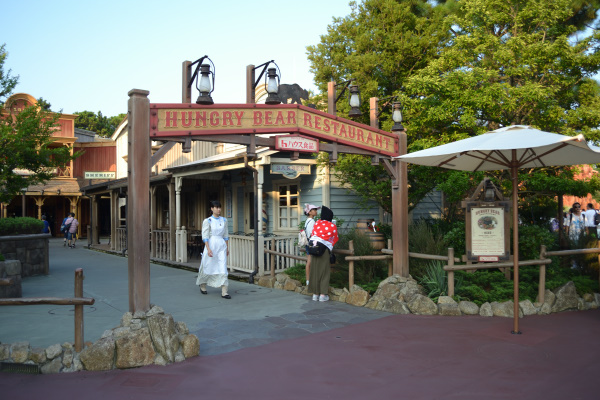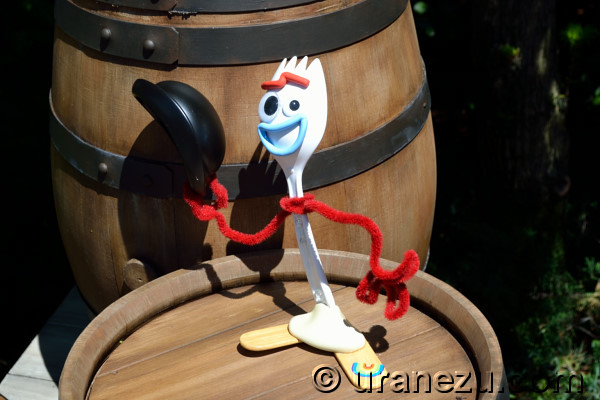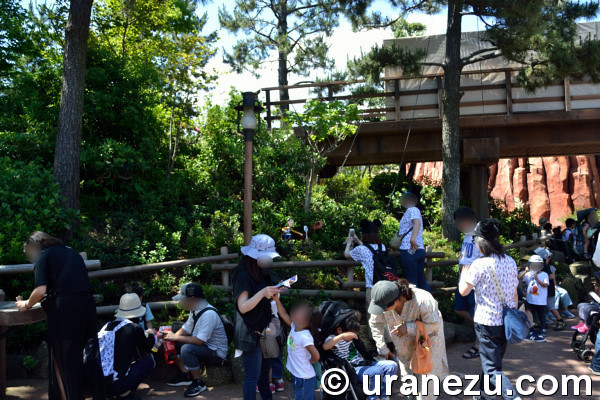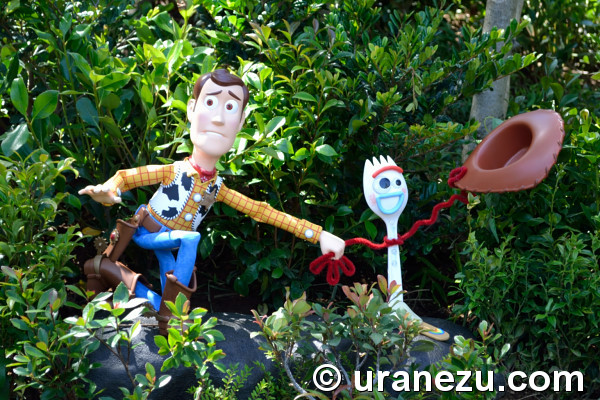 You can find a phrase on the map, but this last part is a quite big challenge, so please ask a cast member for help, I bet they will give a hint for you.

One custodial was so awful and this cast didn't give us a reward sticker. The map says we can get it from all the cast members in TDL, so that chilling service made us so shocked.

But I believe there are good casts in TDL, so you will definitely get a special sticker as the Forky searching reward.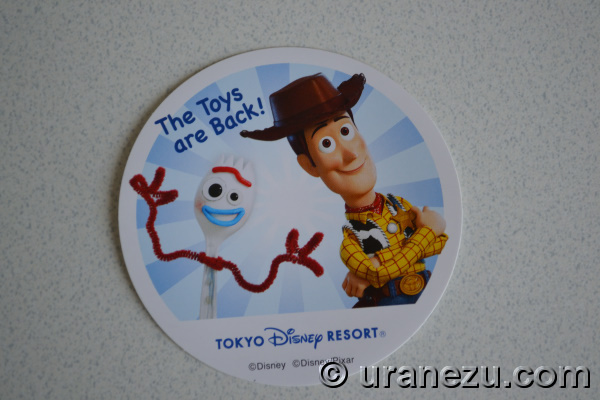 Good Luck!!
Mini Snack Case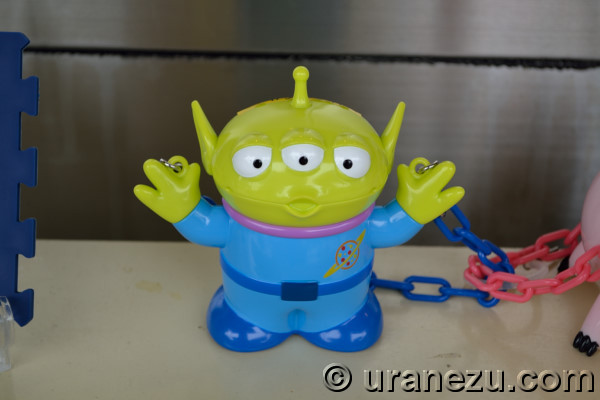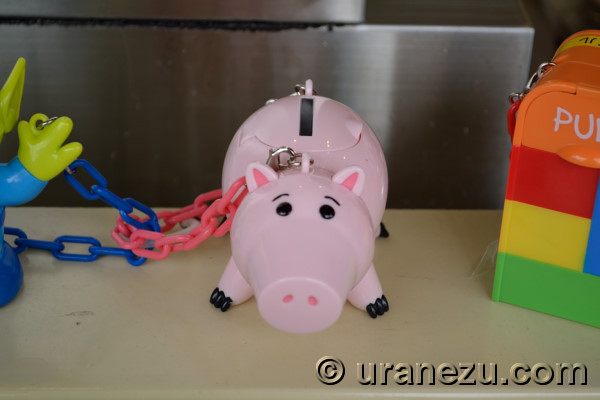 In these few years, they launched a special mini case for a snack in each event. I recommend the trash can shaped case.
This design is very familiar for WDW or DL person which have Toy Story area, but there is no same trash can in TDR. So, I don't think this design is not big appeal for Japanese.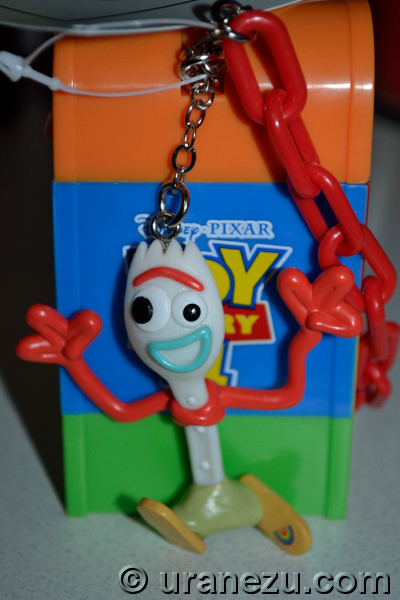 This trash can come with Forky. The case with jellybeans for 850JPY.
Coaster
During this summer season, they sell three different designs rubber coasters in each park. You can get it for 500JPY additional fee for one beverage.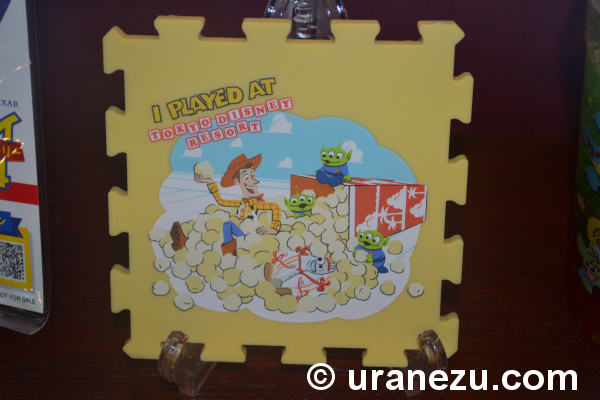 It's not very reasonable to get all six coasters, but too cute to resist.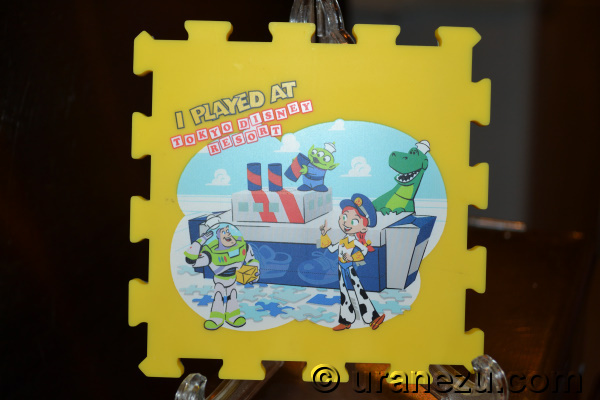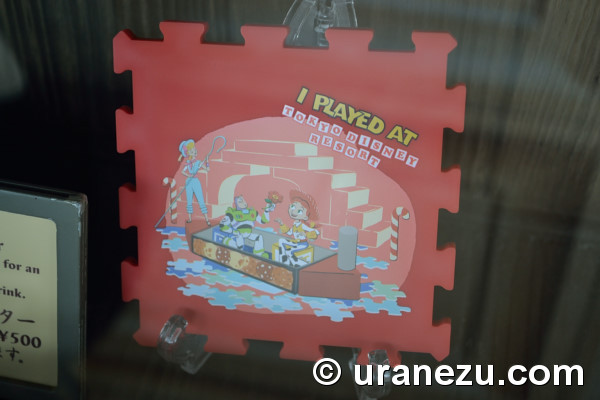 I know S.S. Columbia the symbol of American Waterfront area and Gondola is very distinctive and representative things of TDS, but I got this Haunted Mansion and Pirates of Caribbean's.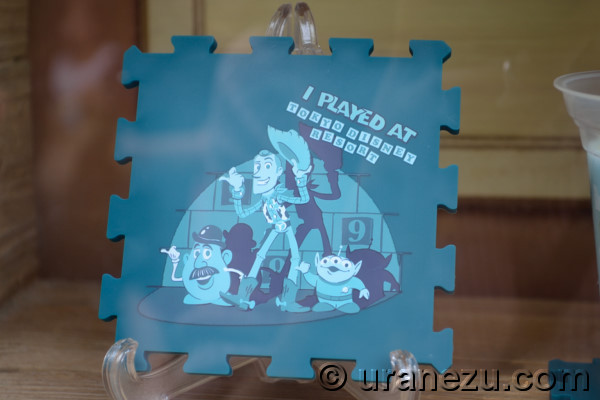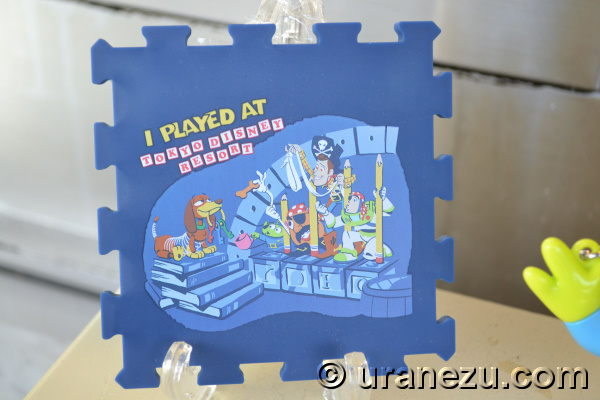 Yes, the classic attraction is more attractive than anything!
Popcorn Bucket
I can't say easily "How about grab some popcorn?" in TDR, because the price is about 2400JPY. But I'll show you relatively new popcorn bucket.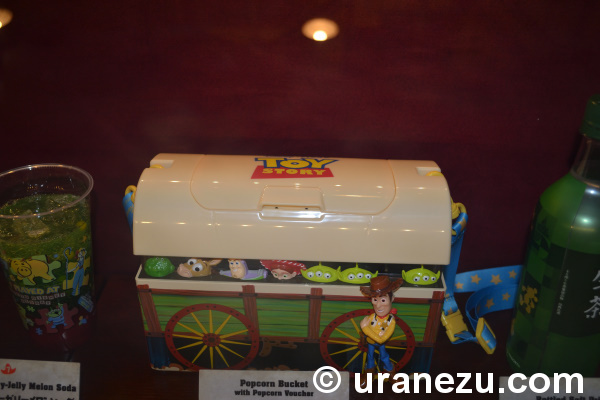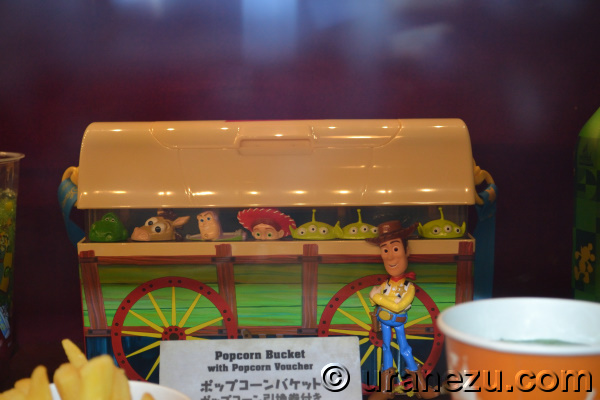 Andy's toy box shape is really nice which has launched in last winter, but it's still popular bucket.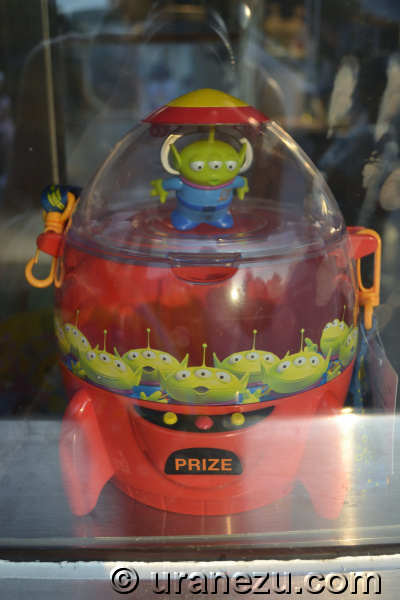 And the Claw bending machine shape is really new bucket.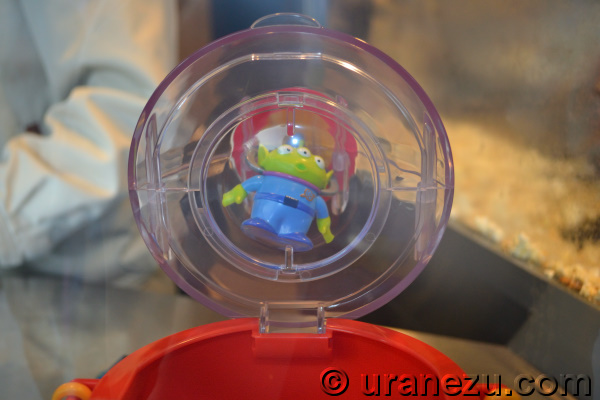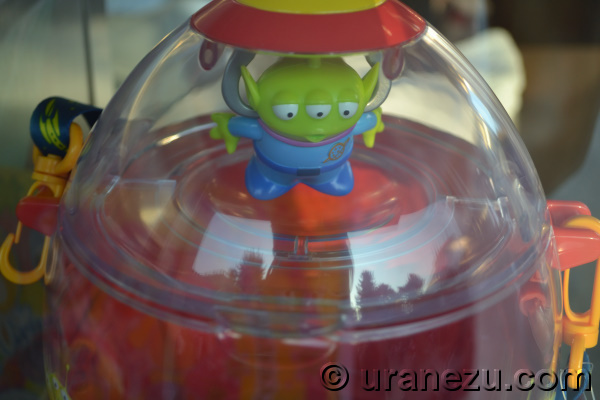 We've already saw similar themed light-up shipper bottle in US, but this Japan alien has own room (it means the alien divided the transparent wall in the rid from the popcorn container), so never touches your food!


Come and spend a fun time at TDR with a wonderful memory until Toy Story 3!
If you have any questions, opinions and requests,
please contact us.