Park Now >
---


May. 20 2018 It's A Refurbished After All.


May. 04 2018 About TDS Easter (still going on now).


Apr. 21 2018 About TDL 35th Anniversary.


Apr. 11 2018 While ISW Is Sleeping.


Mar. 18 2018 Last Minute, and Supplemental of Pixar Playtime.


Mar. 03 2018 Searching For A Golden Rain.


Feb. 24 2018 Duffy's Heart Warming Days 2018.


Feb. 17 2018 Frozen Fantasy 2018


Jan. 27 2018 The Cold Never Bothered Me Anyway (caused by adrenaline)! Part.2


Jan. 25 2018 The Cold Never Bothered Me Anyway (caused by adrenaline)!


Jan. 21 2018 Come On Now TDS!


Jan. 15 2018 about A Happy New Year from TDR.


Nov. 18 2017 about TDR Christmas 2017.
May. 20 2018 It's A Refurbished After All.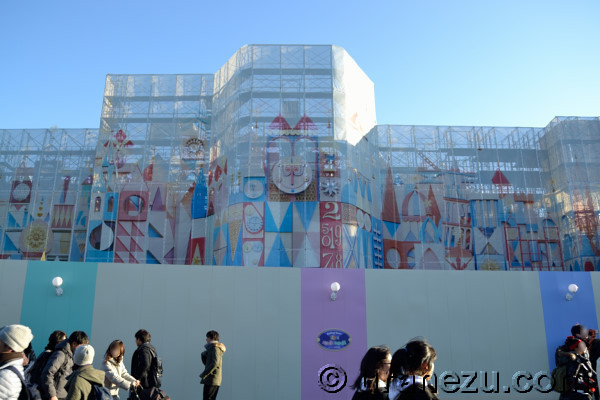 It's A Small World has re-opened after long refurbishment since May 1st 2017.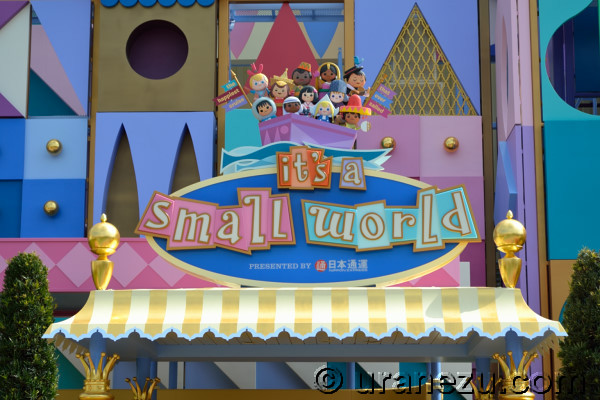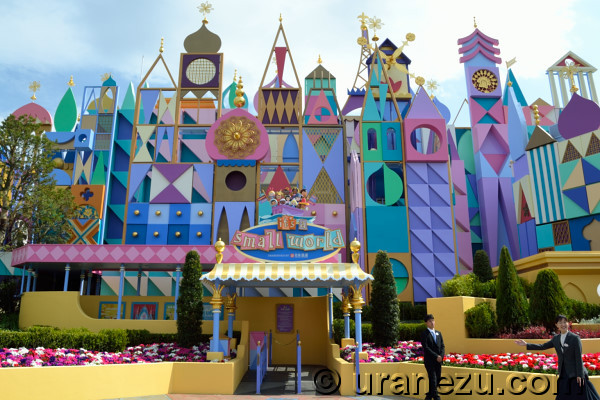 There were no preview or sneak peak for a guest, only could enter a reportorial group for advertisement.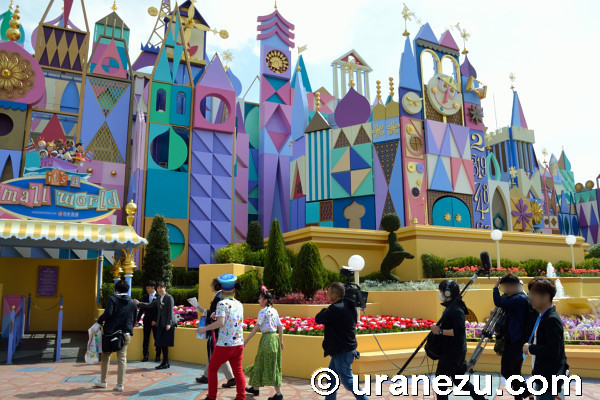 On 15 April, the attraction relaunched for the guest officially. People were waiting for this day, so they prepared a Fastpass.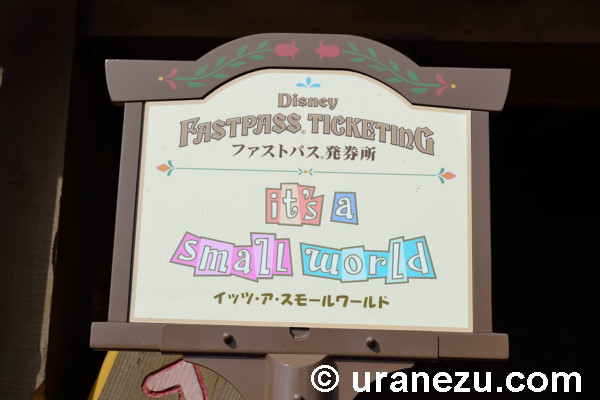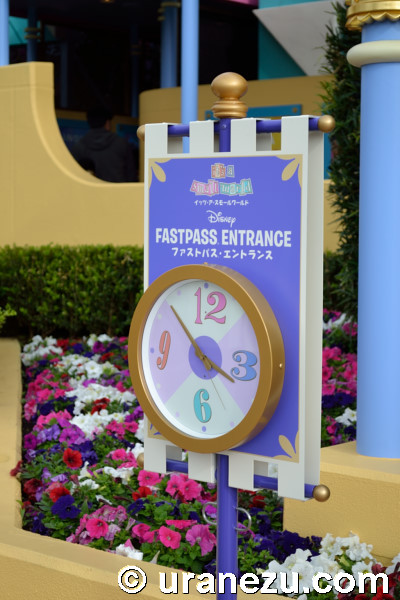 I think it's very rare that the Fastpass for It's A Small World.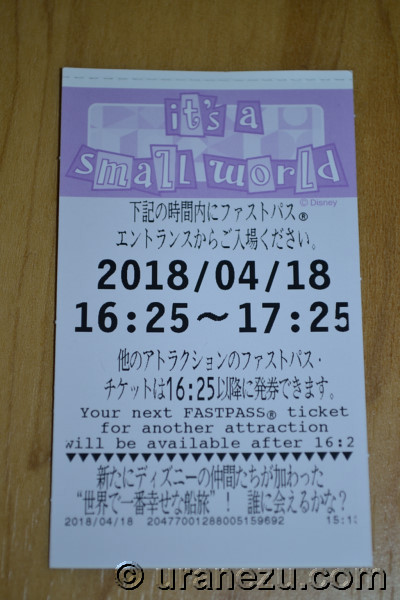 Not only Disney character additional, but also the inside adorn was changed from the original.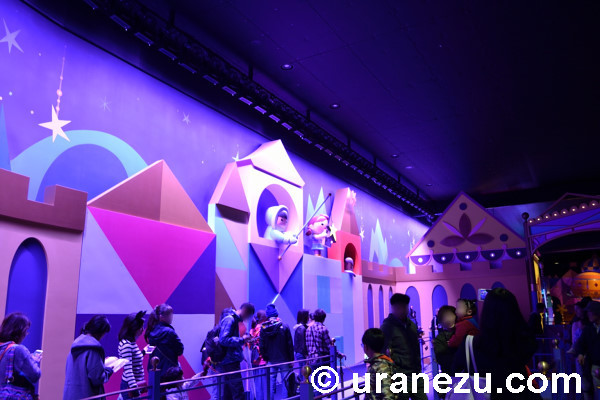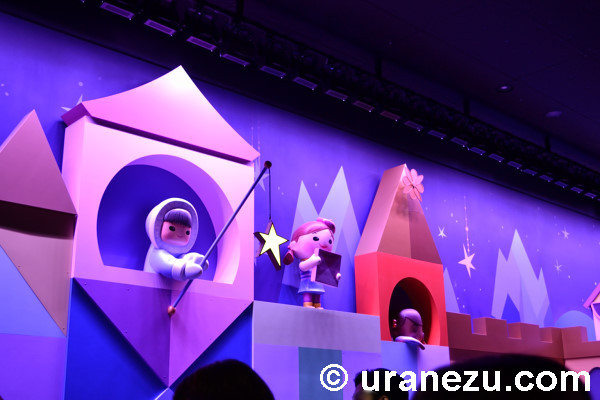 A pink purple light with dangling star ceiling light made the queue line become little bit darker than before.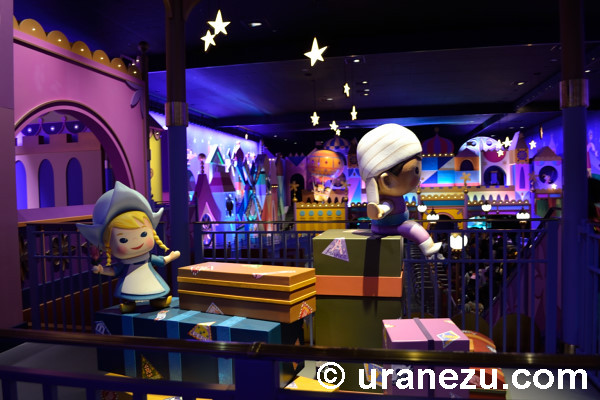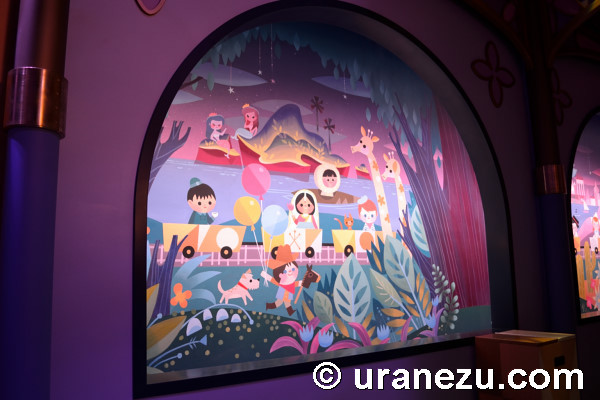 The decoration and wall paint seemed more direct and straightforward as a child friendly than the original design.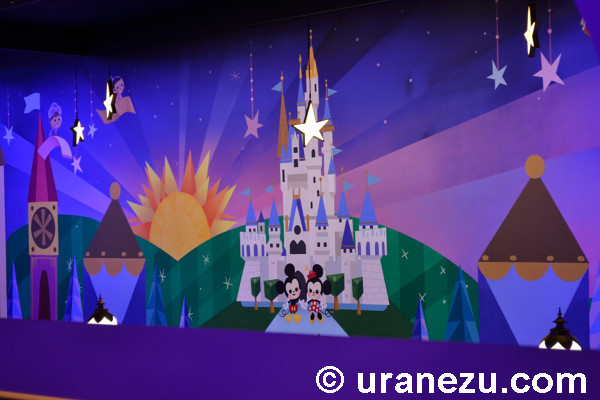 Do you feel need of Mickey and Minnie in It's A Small World?

Almost there!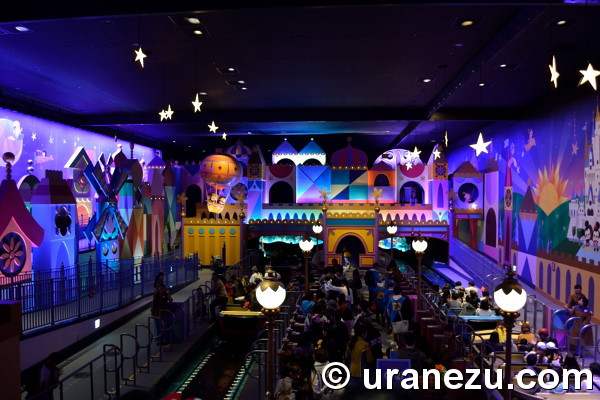 Let's sail away!
How was the new It's A Small World?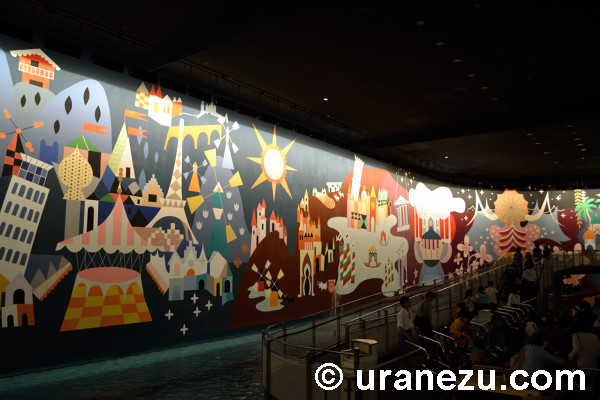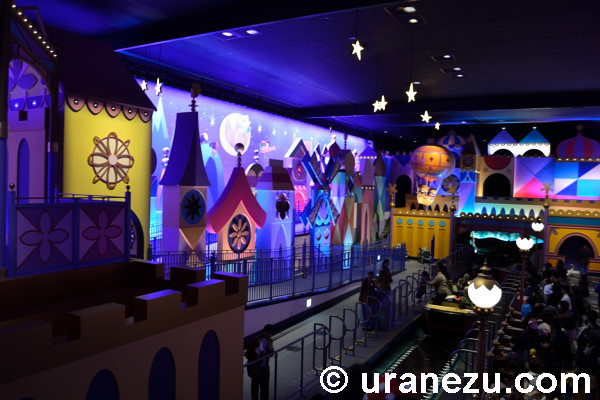 The left picture is the original, the right is after refurbishment.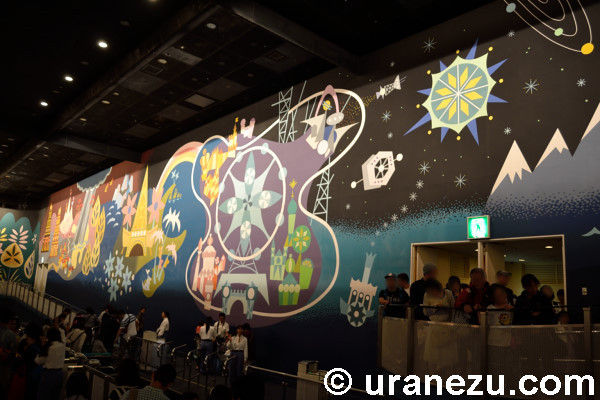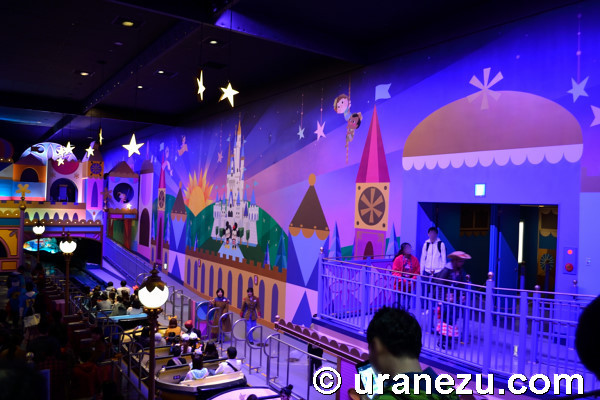 I really love these amazing mural. They stimulated my imagination!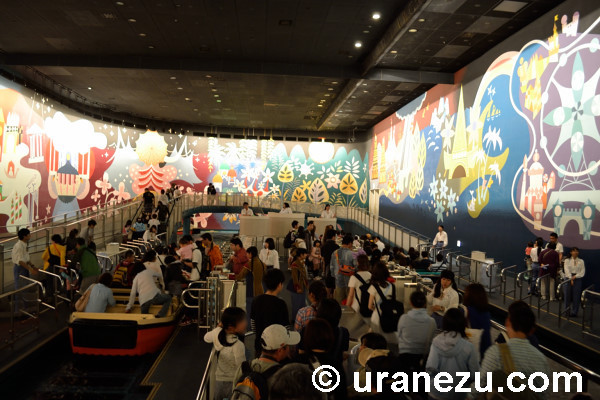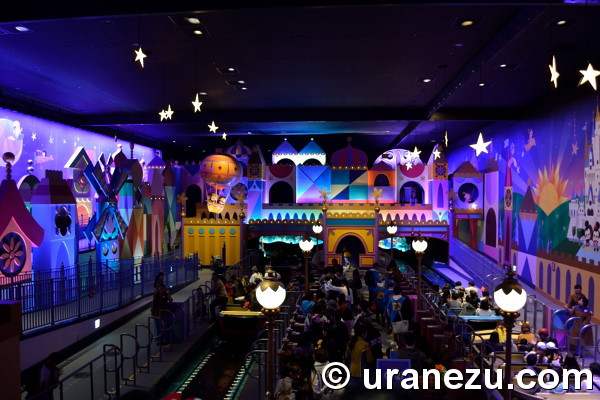 I never remember the original creativeness and beautiful design.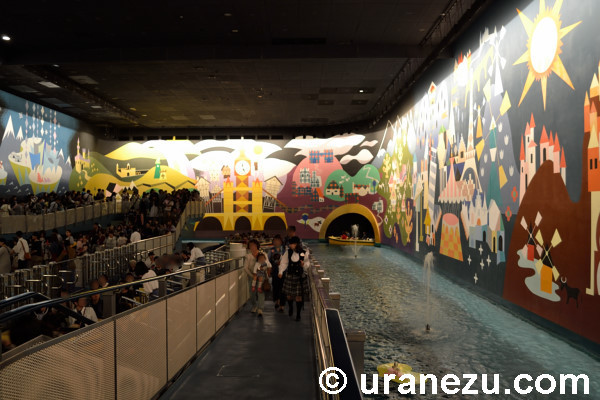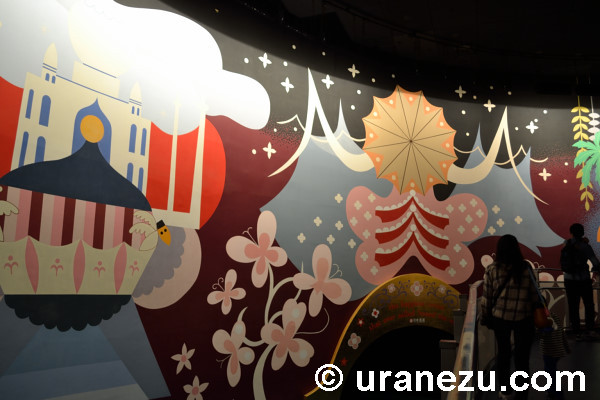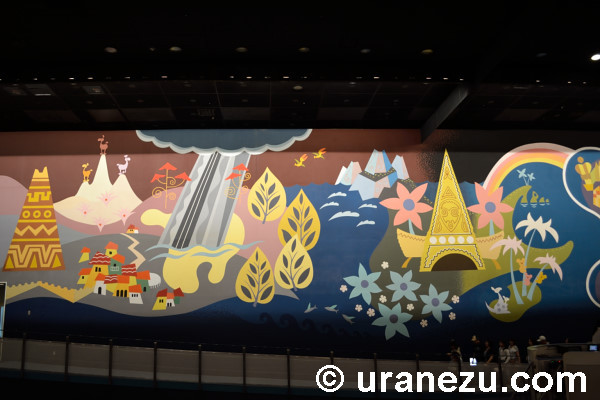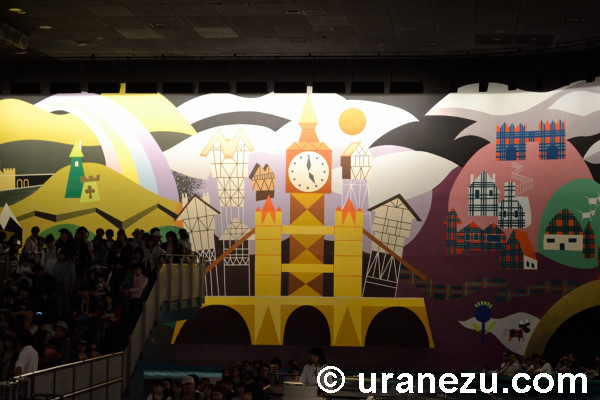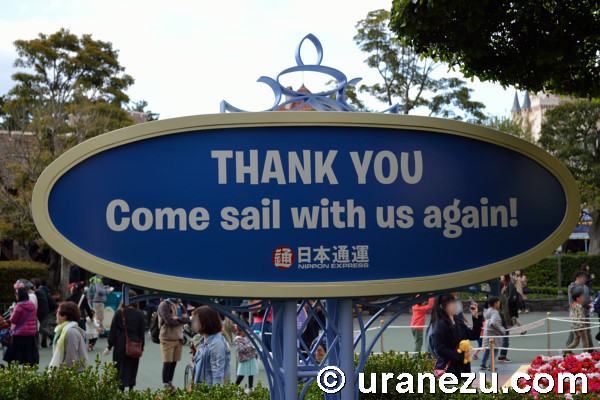 If you have any questions, opinions and requests,
please contact us.
May. 04 2018 About TDS Easter (still going on now).
It's Easter! No joking!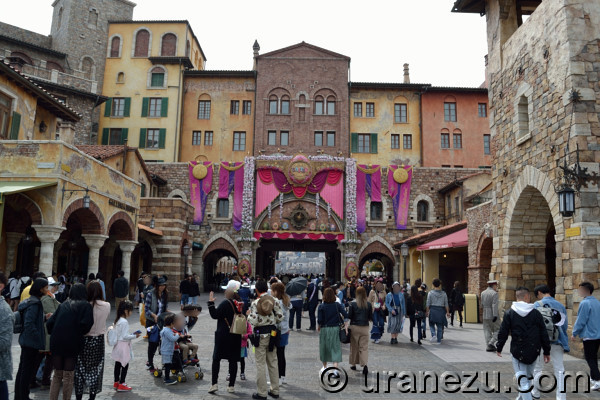 TDS has taken place "Disney's Easter" the special event. It's going to last until 6. June.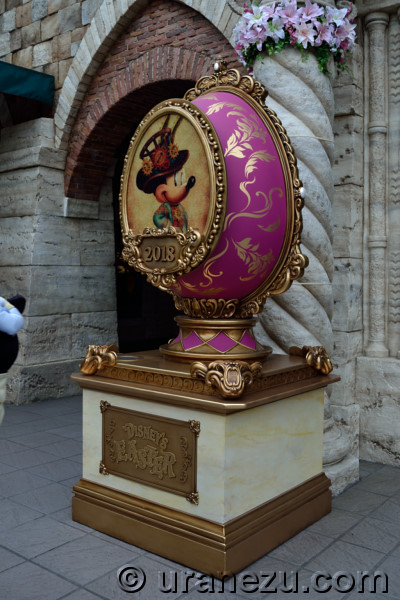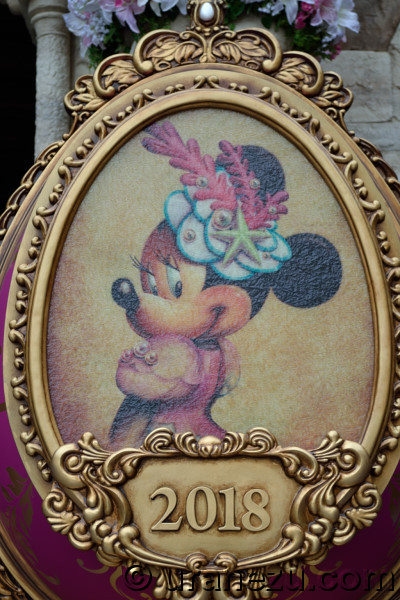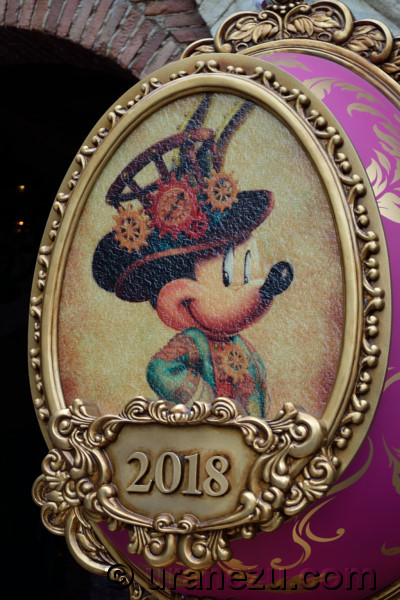 Minnie's bonnet is Mermaid Lagoon themed and Mickey's theme is Mysterious Island, both of their style are related "Fashionable Easter" the special show.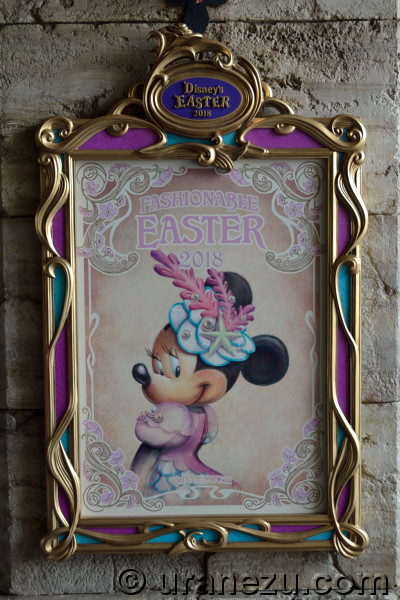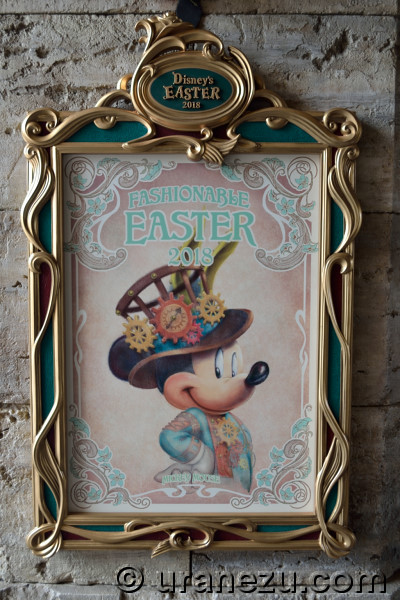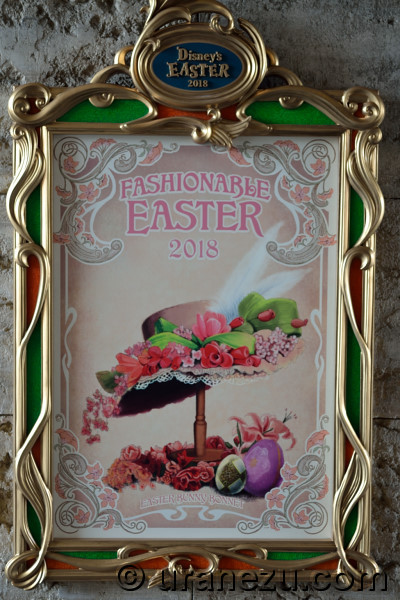 The decoration poster on a columns the park looks really traditional Easter, but the park theme is very different and weird actually.

So let's check a main photo location which shows the theme of TDS Easter.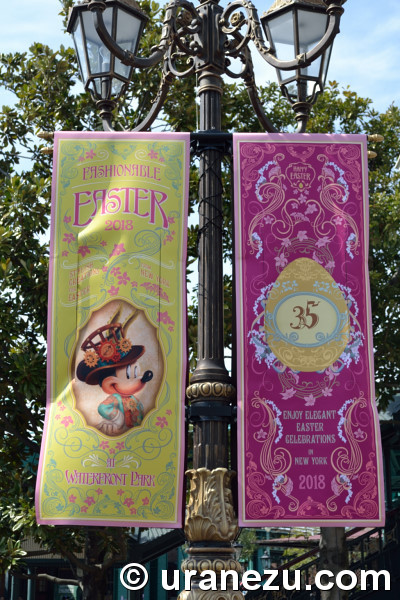 The photo location has set in Waterfront Park.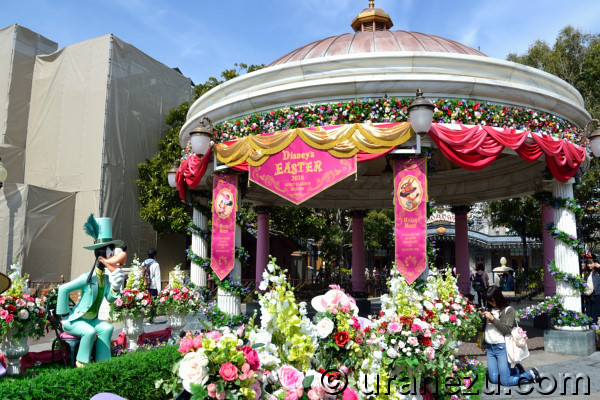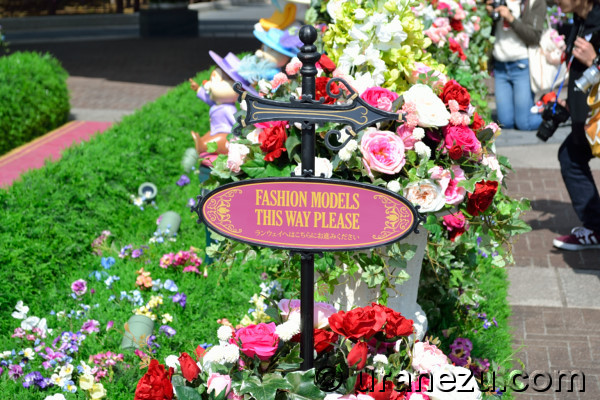 Fashion Models…(I think always TDR tends to trend in the opposite direction as world in general. Many race stop to use a grid girl in car race, or podium girl in every famous road race, like Tour de France. I love grid girl and podium girl in my personal thought, but this TDR views brings discomfort slightly. )
You can stand a middle of runway with many audience include Disney friends.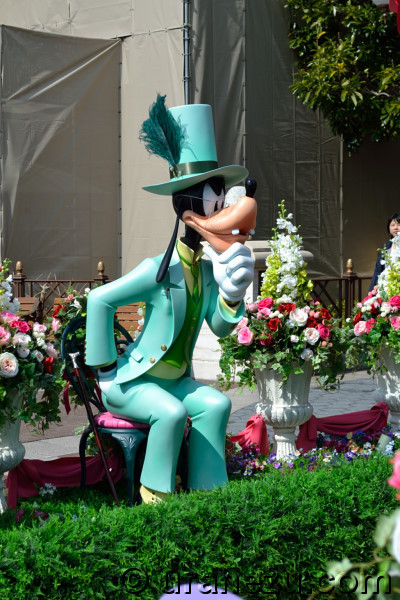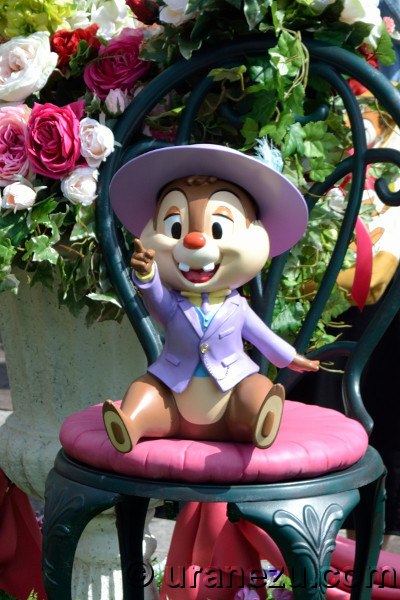 Some guy is thinking judge seriously, other guy looks so fun to see a model.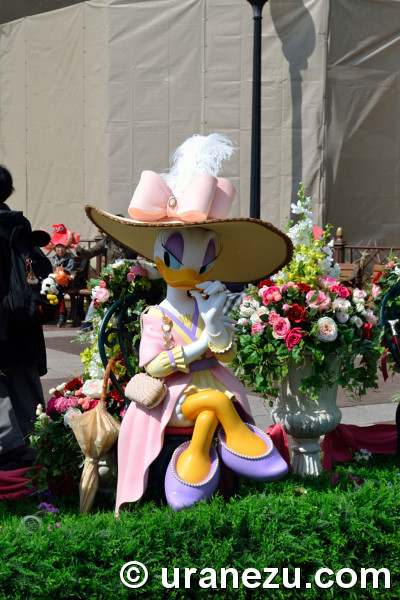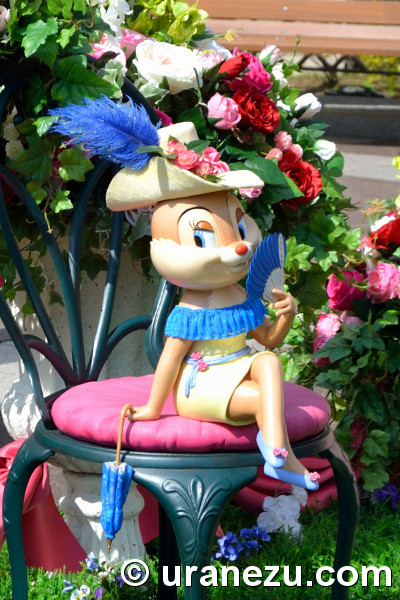 The ladies' expression are "So so" or "A-OK". Always female's critic scared me!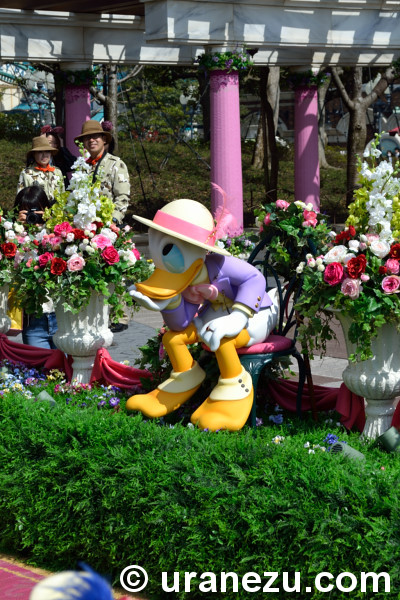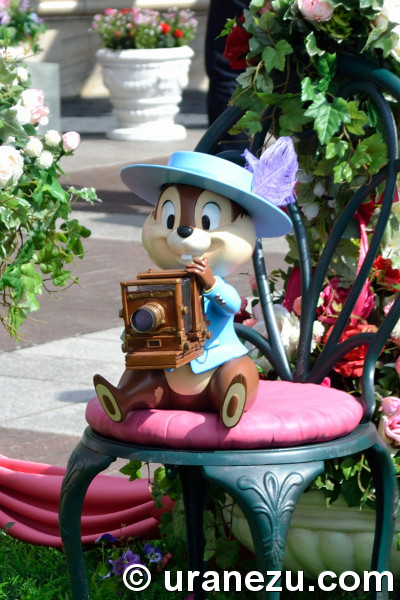 Donald, are you boring about this? Or bite back laughter?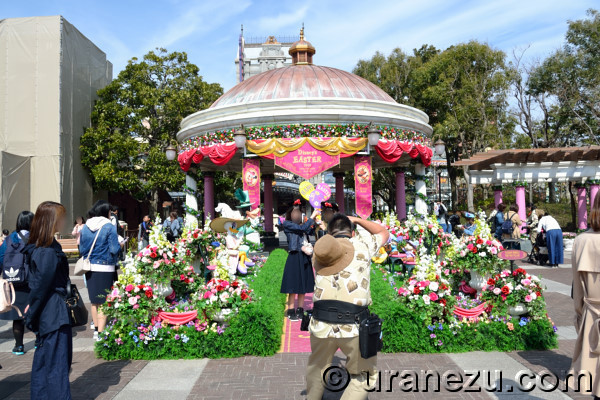 Anyway, don't think it seriously, just enjoy like innocent girl!

So let's doing something really Easter!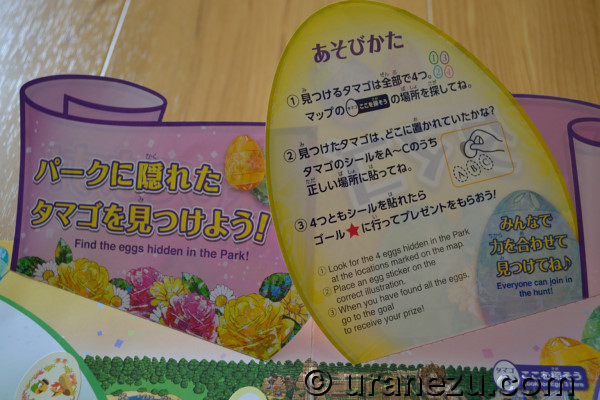 Find four hidden eggs, and get a special bonnet hair accessory as a reward.
There are also some hidden eggs in the parks, above the four eggs.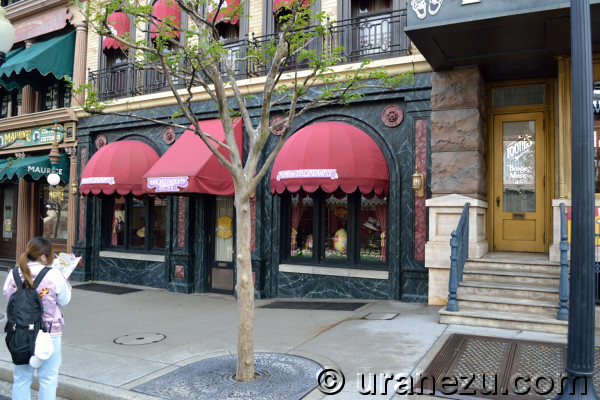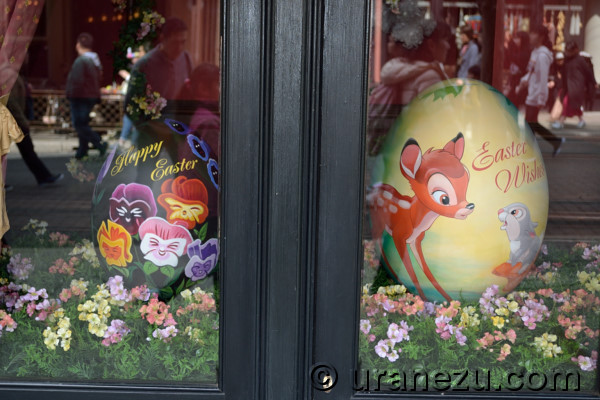 This is the non-reward hidden eggs. The each eggs are very lovely, but there is one disappointing thing. Why they put together in one window? I'd like to know for all Disney beginners the Pansies from Alice In Wonderland, and Bambi and Thumper from Banbi, they're totally different film.

This is the first hidden egg of the paid game.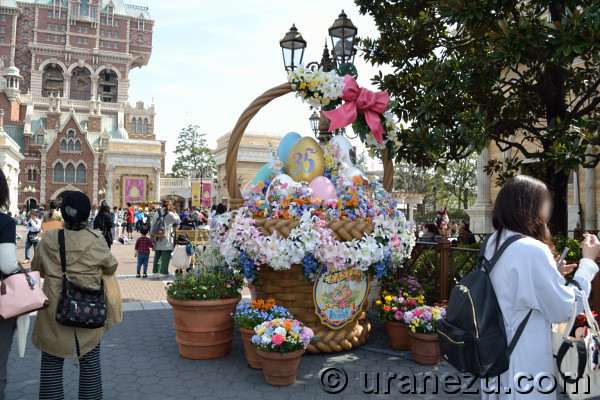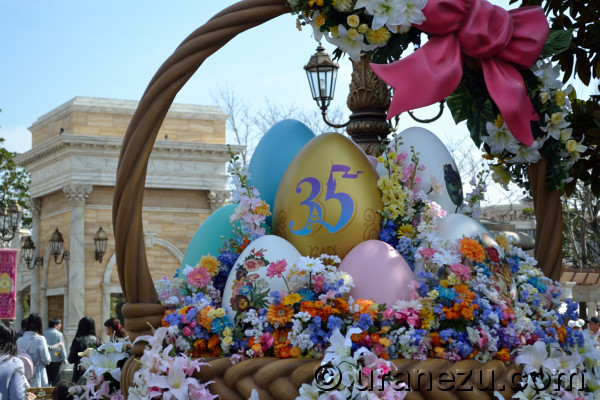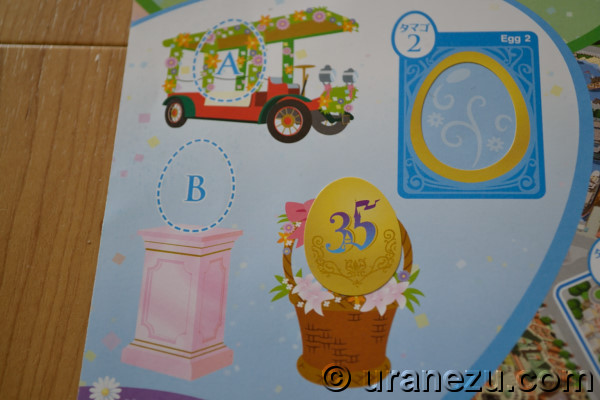 So put on a sticker on the right place.

Mysterious Island has amazing three Easter eggs.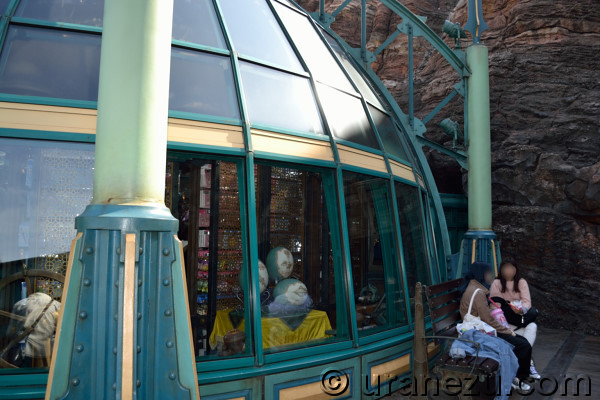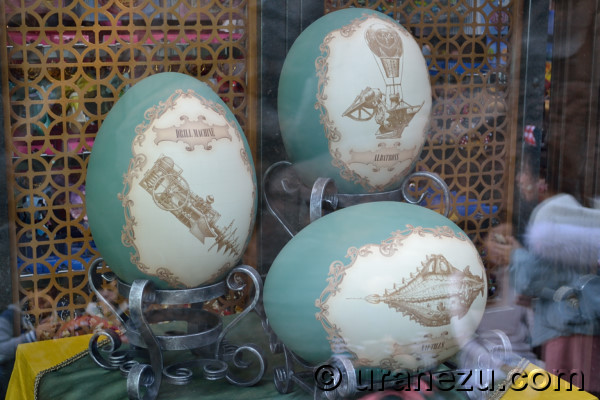 These captain Nemo's sketch eggs are located at a window of "Nautilus Gift" the souvenir store.

Second reward egg with colorful Jose Carioca & Panchito Pistoles are located perfect location, in Lost River Delta.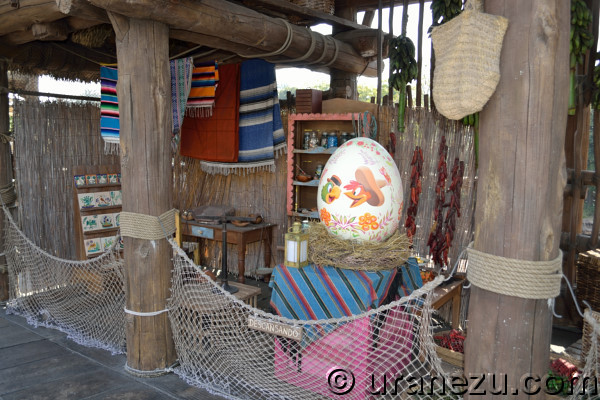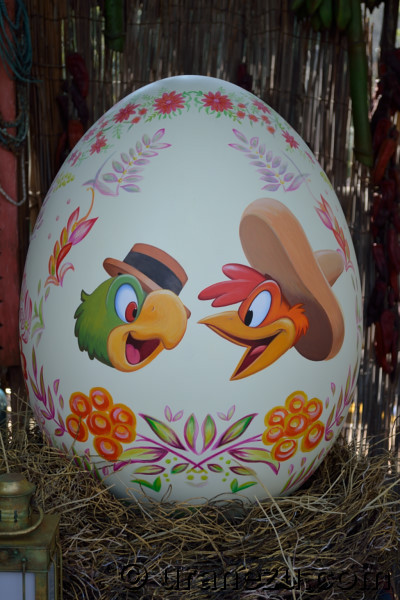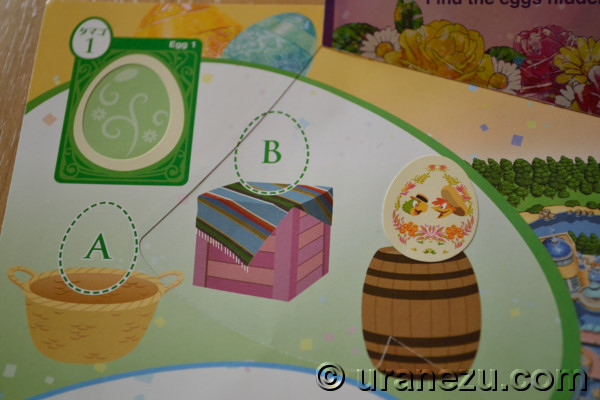 Yes, they never missed Nemo themed egg in front of Searider the attraction.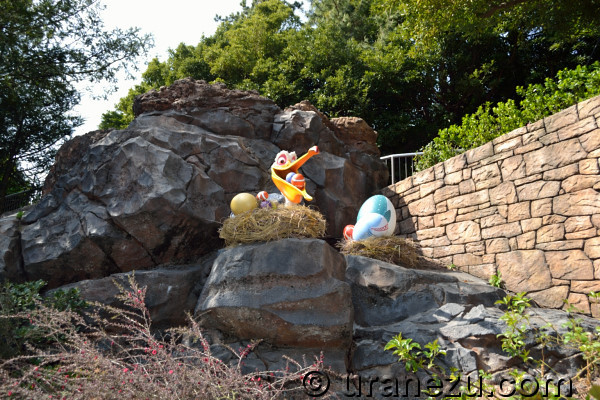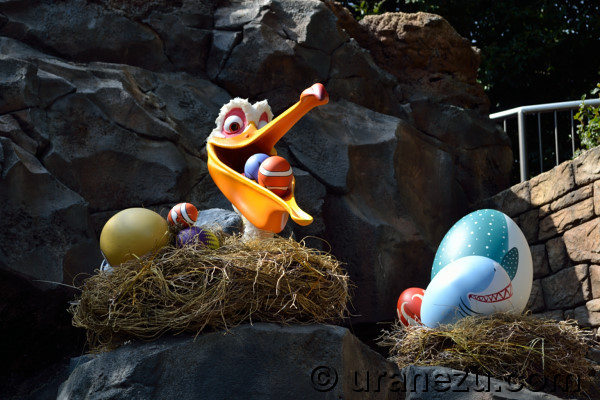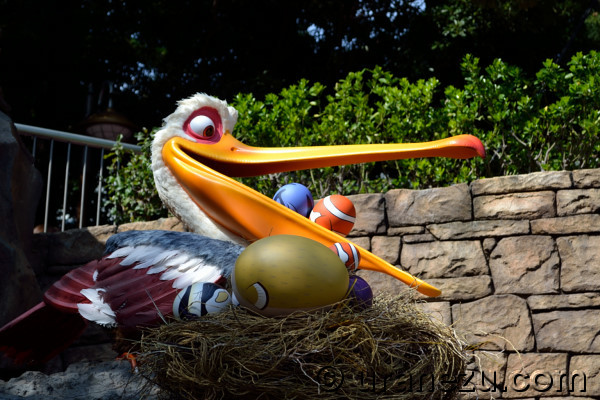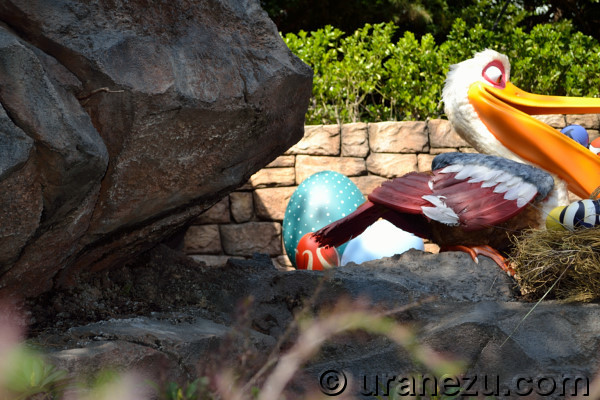 Nigel hold Marlin & Dory eggs, which is so hilarious. And you can see Hunt the octopus in a nest behind him.

If you'll look for Mermaid Lagoon the another sea, you can able to find reward egg.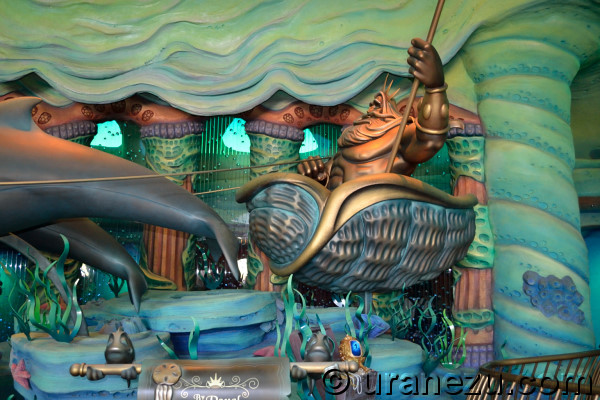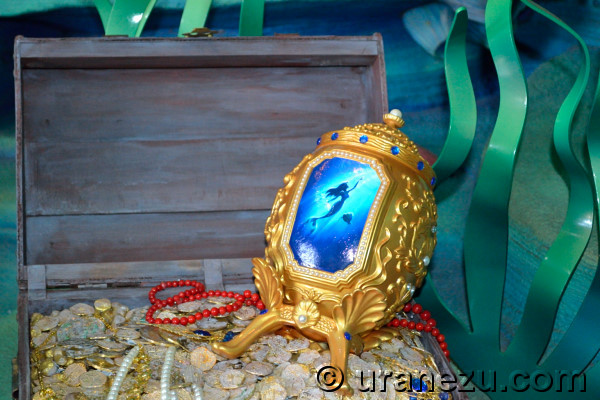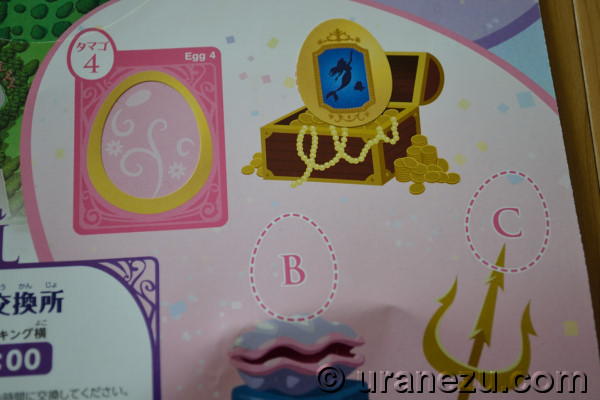 This egg is really easy to find, because one of the main street of Lost River Delta.

A good ambiance pass near Mickey and Friends Greeting trail the meet & greet facility.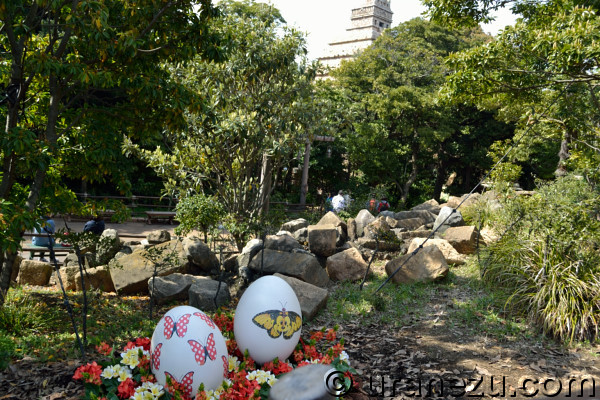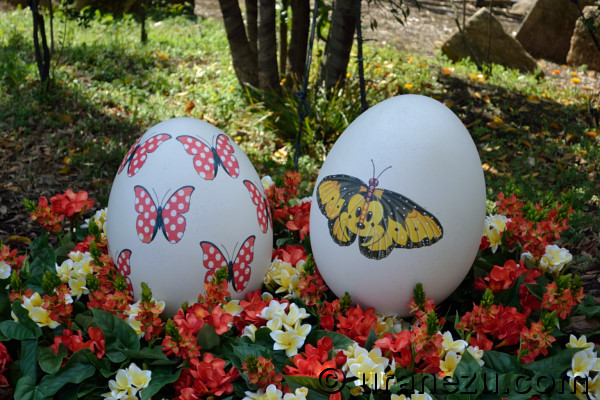 But watch out, there is an outside smoking area near these eggs.

Now we can see "Coco" (In Japanese title is "Remember Me". That's really spoiler name! ) decoration inside and outside of "Miguel's El Drado Cantina".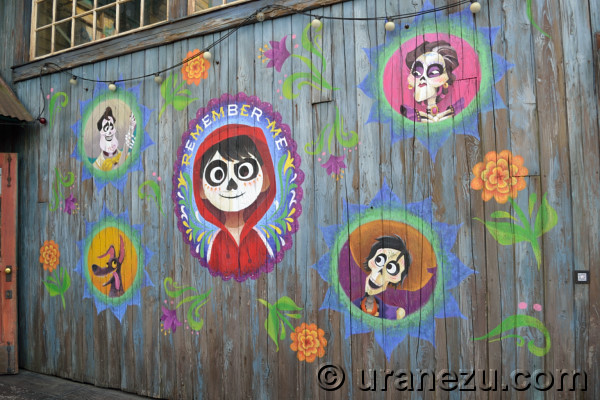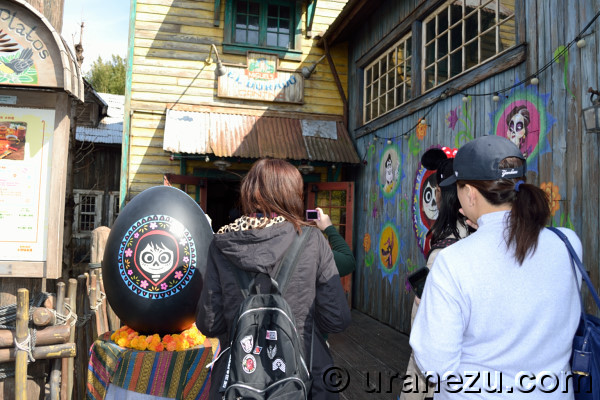 Many of guest only take a quick glance and photo in front of the restaurant.
But…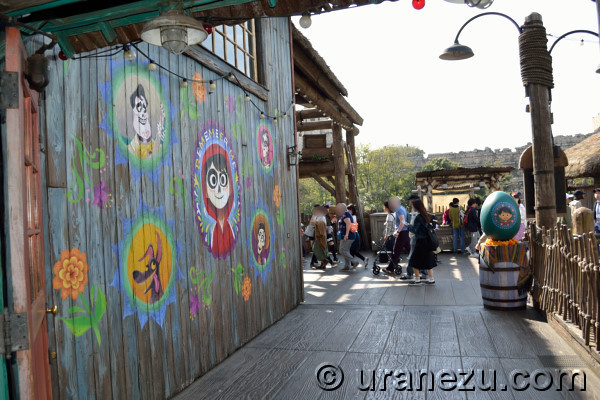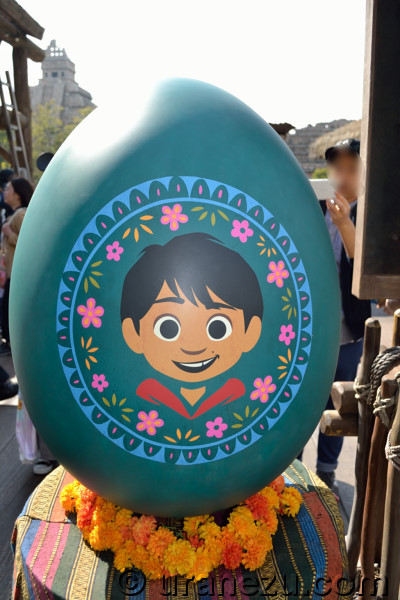 If you'll dine at there, you can find real Miguel.

The last reward egg is in Arabian Coast.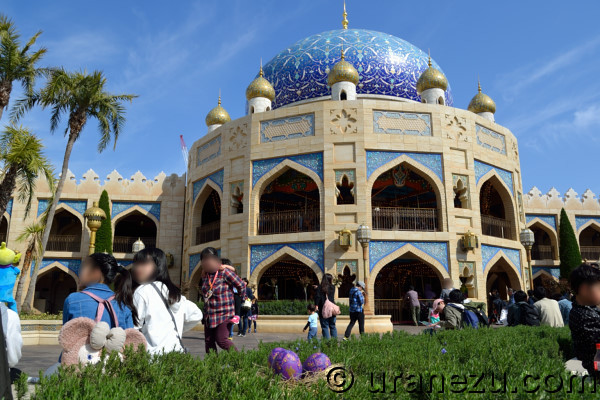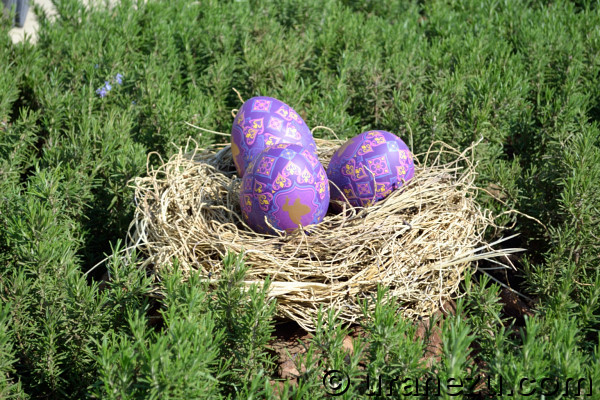 More vegetation is growing, more difficult to see and find the eggs.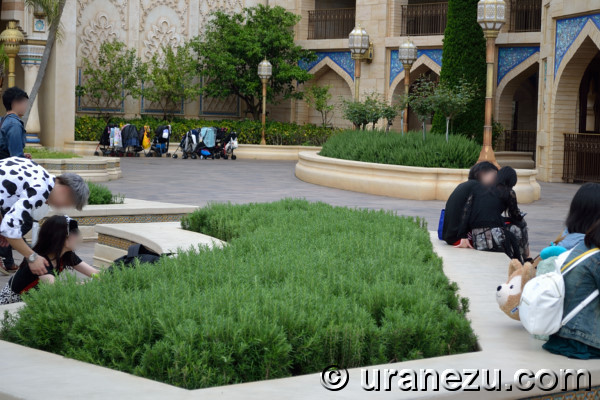 That's really hiding naturally. I love it.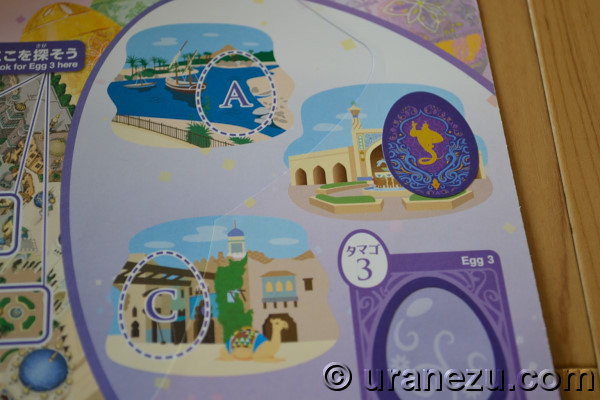 The gold top hat with bunny's ear hair accessory is given out, after the egg hunting.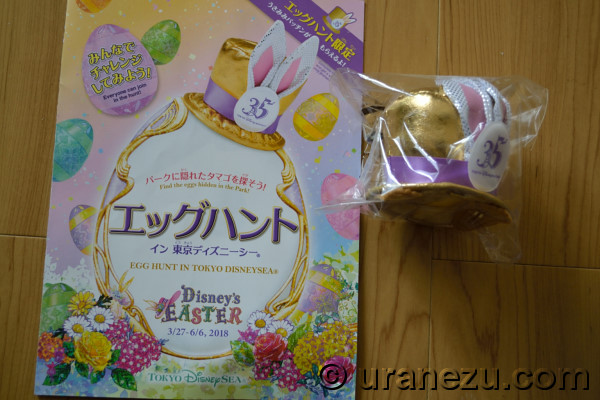 This paid Easter egg hunting map is sold at man shop including some wagons. The price is 900JPY.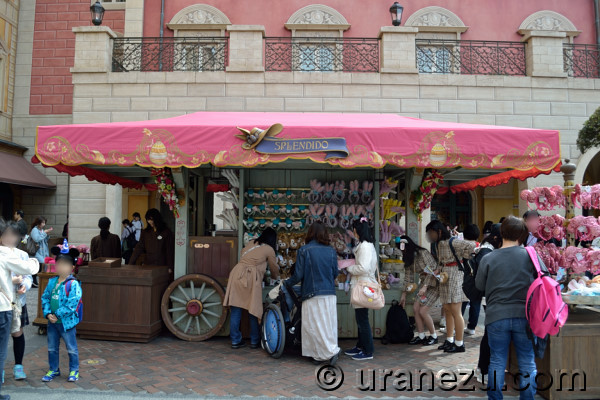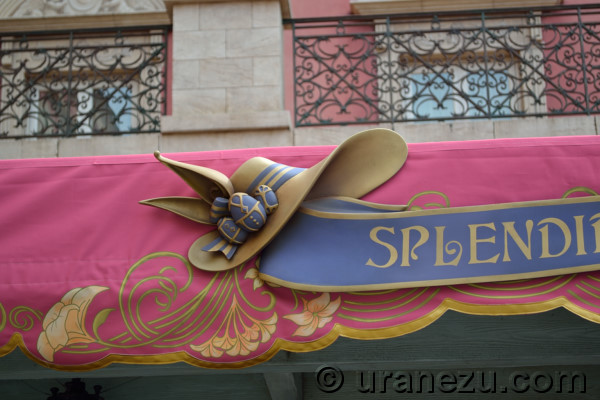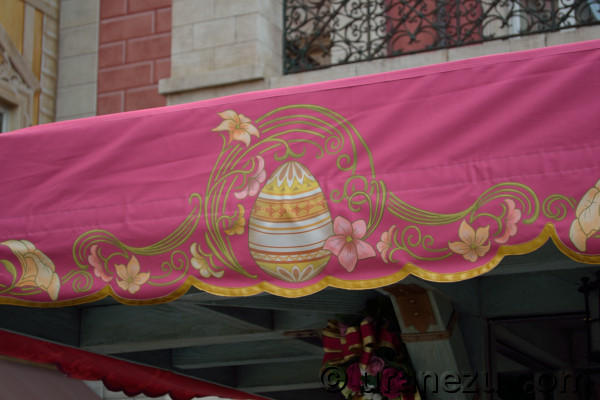 Three merchandise wagon in Mediterranean Harbor dressed up for Easter. They changed their drape which is so very nice .
TDL is not 35th anniversary, and real Easter was end quite some time ago, but TDS is still lovely.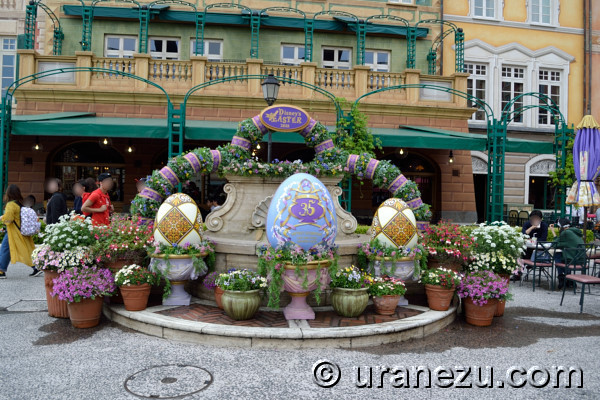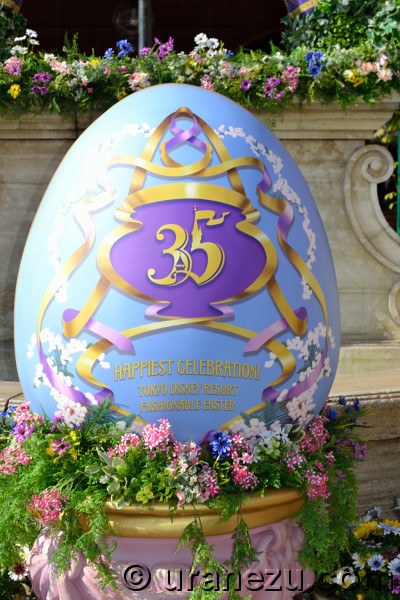 So come and see!
If you have any questions, opinions and requests,
please contact us.
Apr. 22 2018 About TDL 35th Anniversary.
Happy Birthday TDL!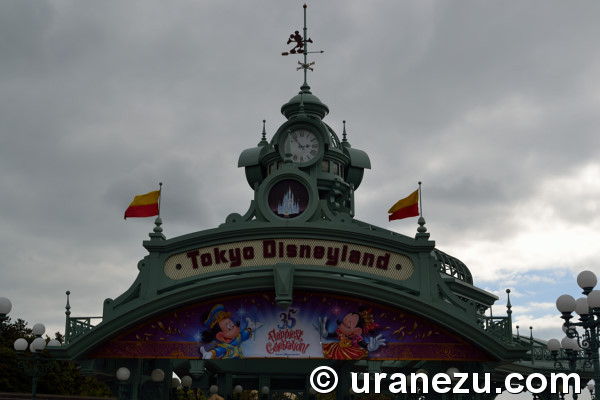 The first Disney park outside America marked 35th anniversary on 15 April.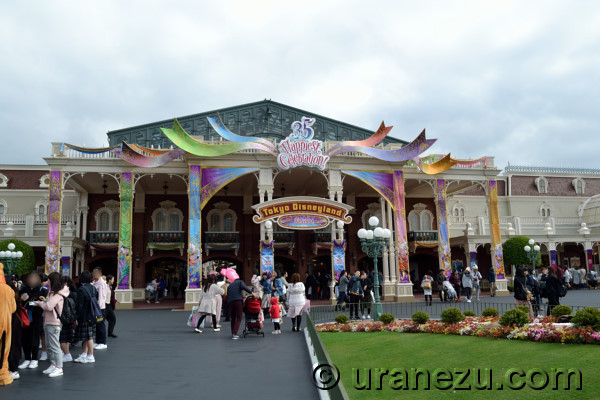 It's not big quarter anniversary, but TDL has celebrated extravagantly for this year of 35.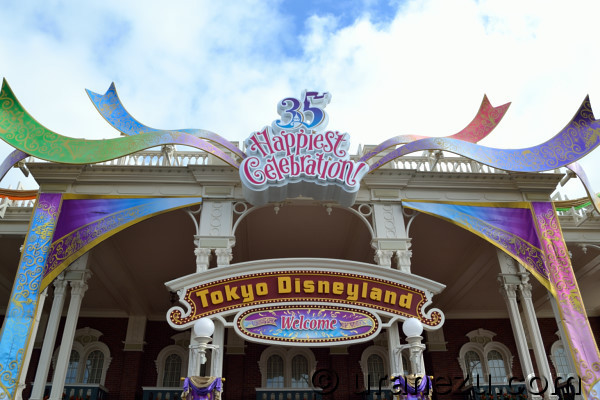 After going through the under the above big bow, a big monument is set in center of World Bazaar.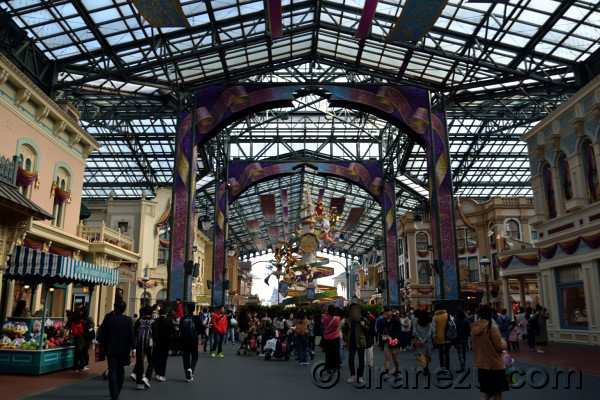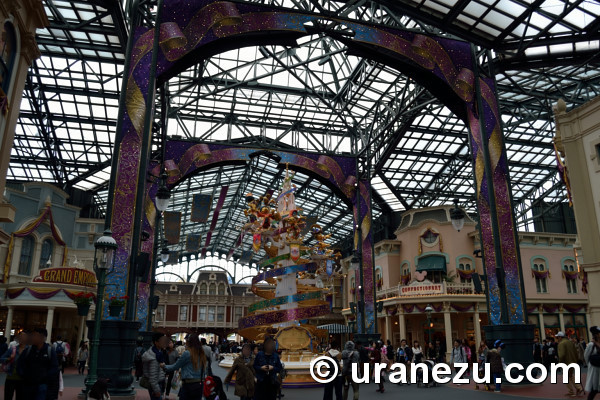 It's called "Celebration Tower" which consisted all milestones of TDL.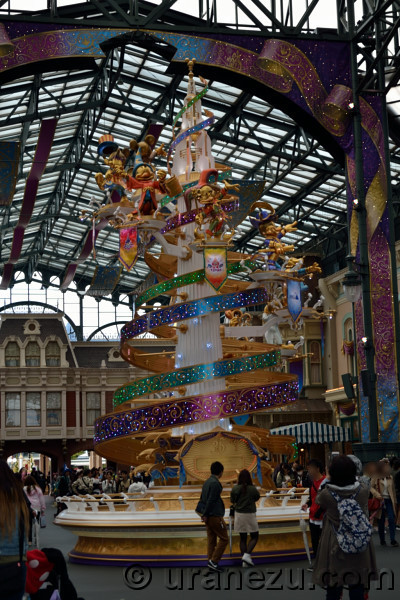 The front is Mickey with 35th anniversary costume.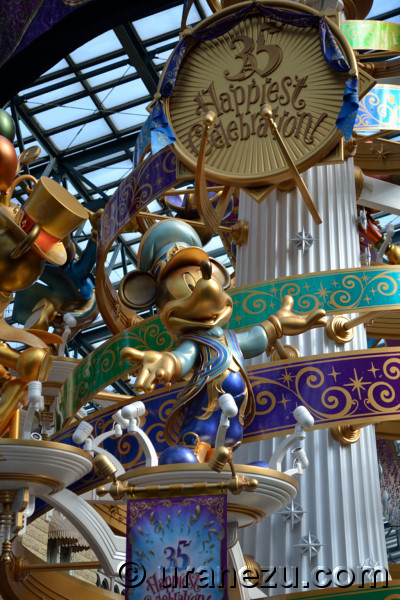 Balloon Mickey from TDL 30th Mickey and Mickey with key from TDL 25th Anniversary.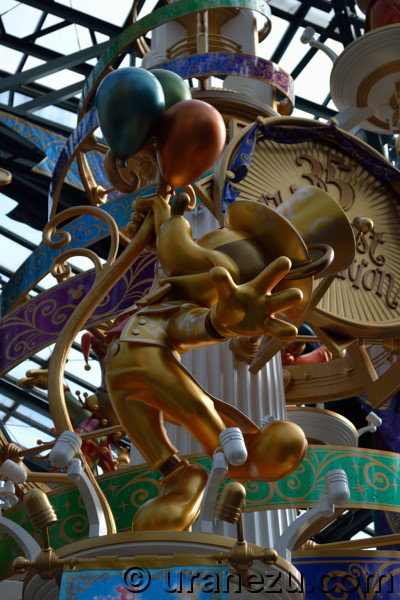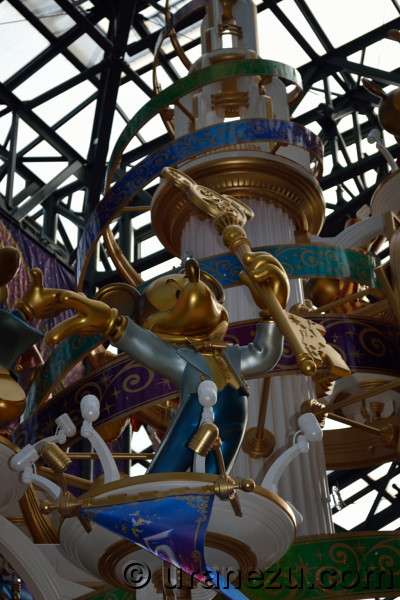 A blue tailcoat Mickey from TDL 20th Anniversary, and binocle & captain hat is opening costume of TDS.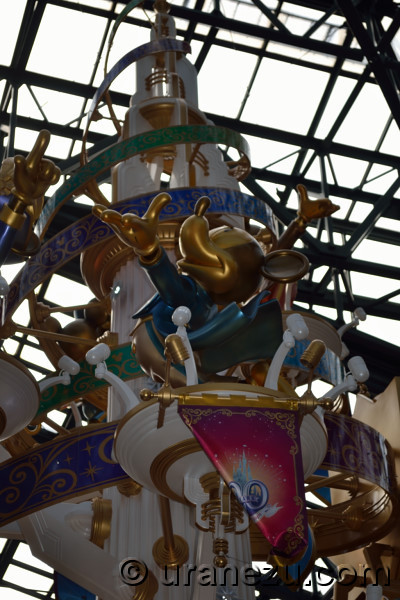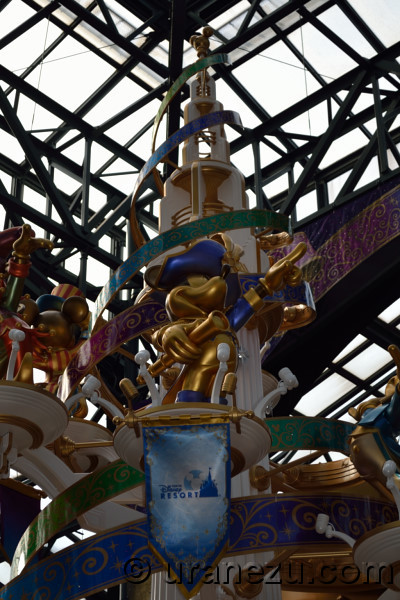 Jester Mickey is from TDL 15th which is best anniversary, and Amazing castle stage, "It's Magical!" costume from TDL 10th Anniversary Mickey.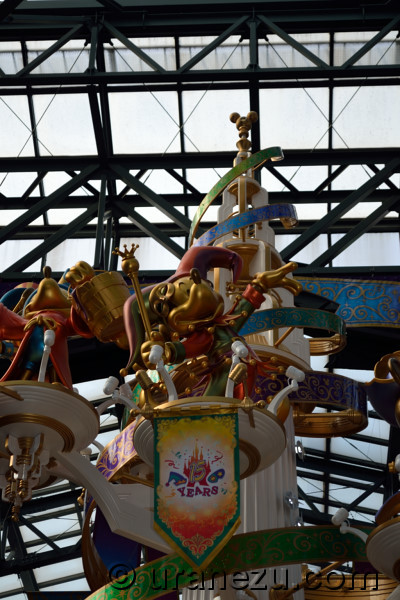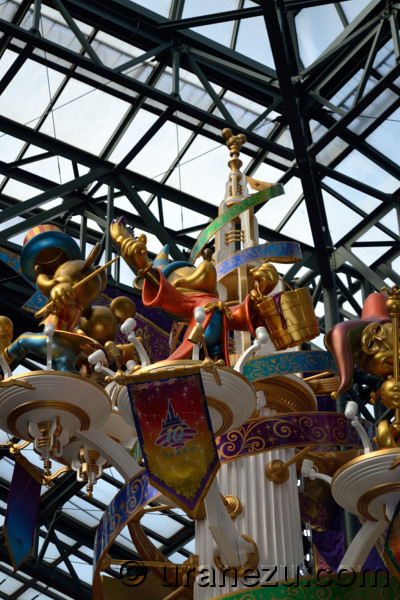 A star-spangled coat Mickey is from TDL 5th anniversary, and the top is most familiar costume Mickey.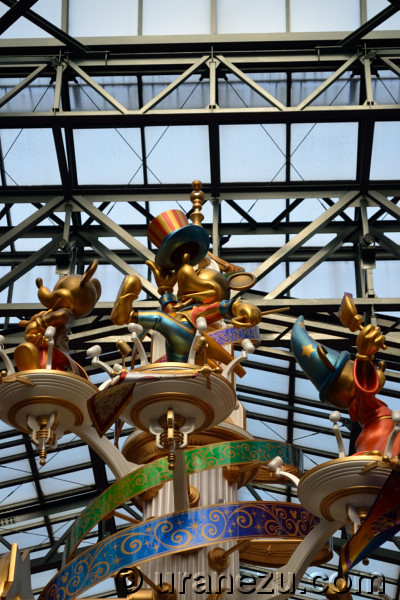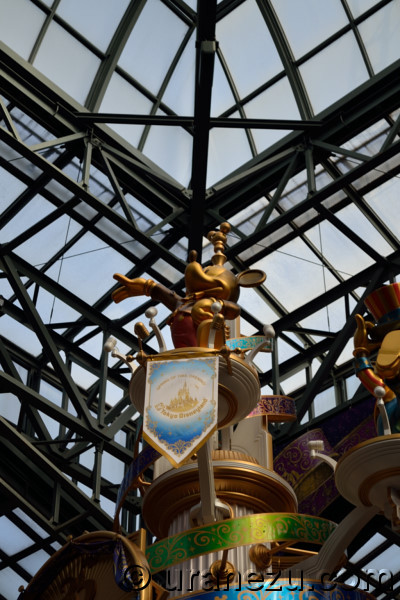 If you're lucky, you can see special moment with a confetti around this Celebration Tower.
If you are not, only can see the confetti on a roof.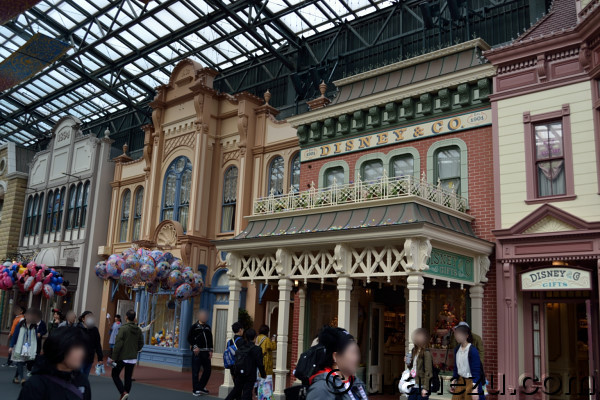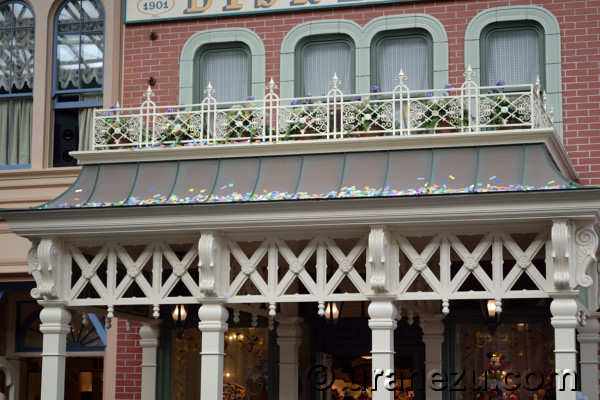 There are lots of news I have to share with you.

It's A Small World has renewal opened!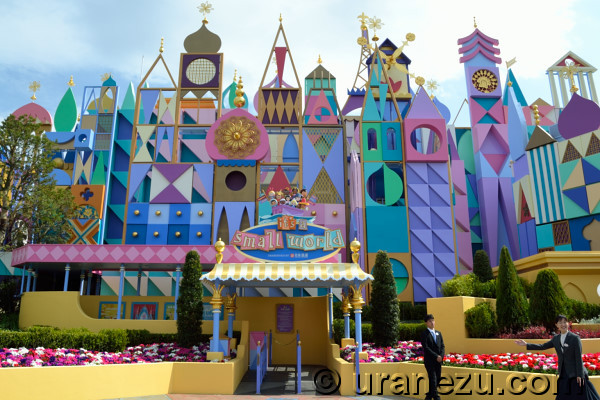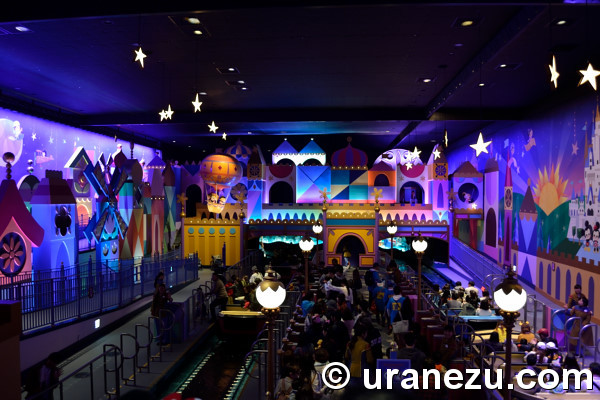 A chocolate crunch the TDL popular souvenir store has opened in World Bazaar.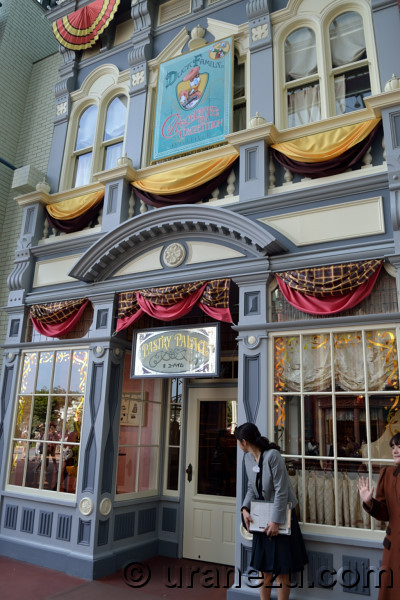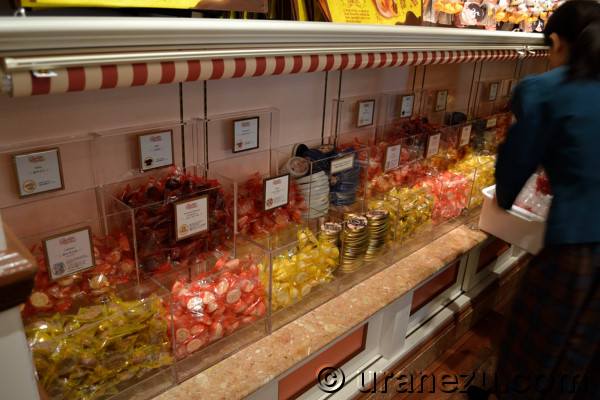 A brand new daytime parade which named "Dreaming UP!" has begun.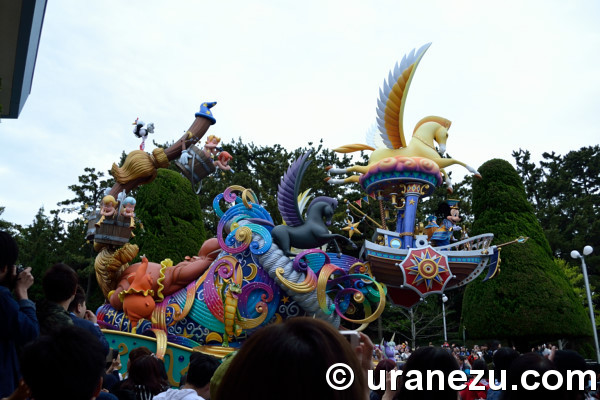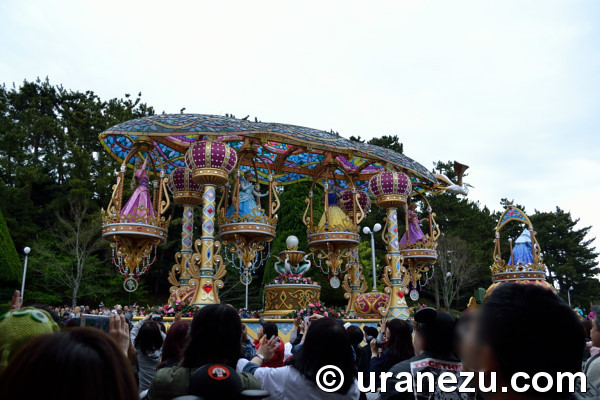 So I'll report all of them soon!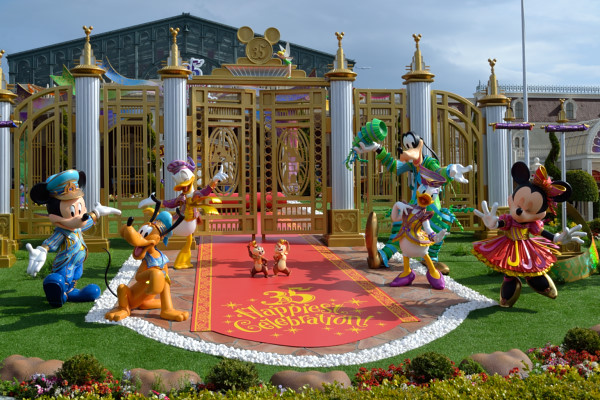 Please come join a party of TDL 35th anniversary!
If you have any questions, opinions and requests,
please contact us.
Apr. 11 2018 While ISW Is Sleeping.
Now "It's A Small World" temporarily closed for new enhancement with Disney friends.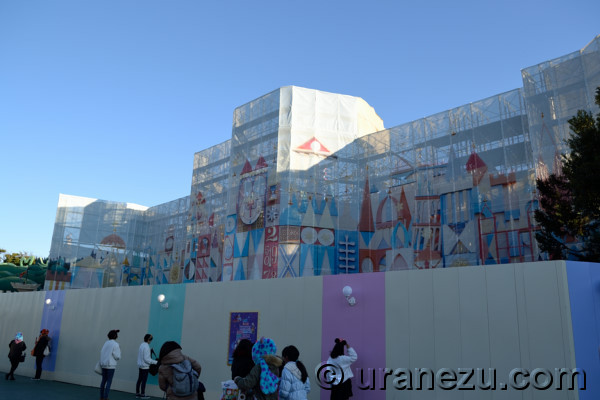 I am not intend to debate over the pros and cons of this coming additional Disney character dolls into the original attraction.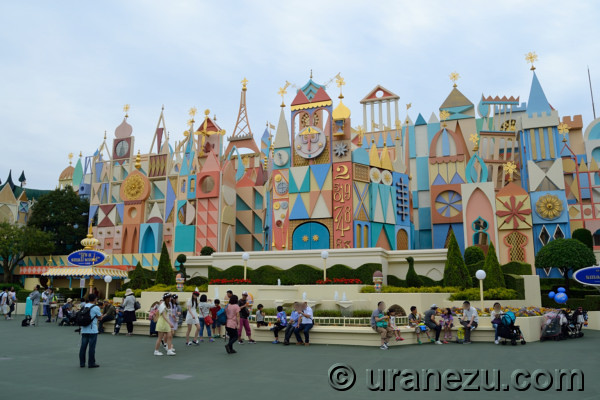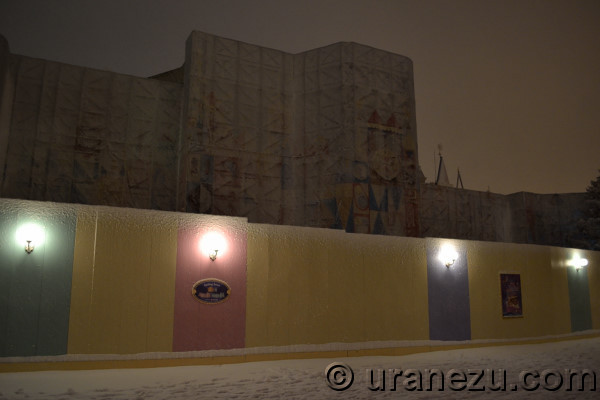 ISW was waiting for reopening though a snow night.
While ISW is sleeping, I'd like you to cruise with me into my old memory about ISW.
Let's sail away!

Around 1998, there was no "Pooh's Hunny Hunt" the amazing track-less dark ride in next to ISW, even no marvelous TDS park, but there was a magic to everyone.

When I was a cast member at that time, I read an event announcement on backstage bulletin board.
I remembered that the event was named "Crazy Voyage".
Sounds exciting? I was so!

Not only the name itself was wonderful. But also the event itself was so great. The "Crazy Voyage" was the charity event by Make A Wish foundation with Disney's VolunteEars. The participant cast member and their family inspired the event with 100 TIMES voyage at ISW.

Even we've gathered in early morning before the TDL park opening, but we couldn't reach the 100 times so far.
My memory said that we could sail only less than 40.
Then we also enjoyed box lunch at "Small World Restaurant" the *extinct* lovely restaurant after the hilarious cruise.

And we got lovable T-shirt!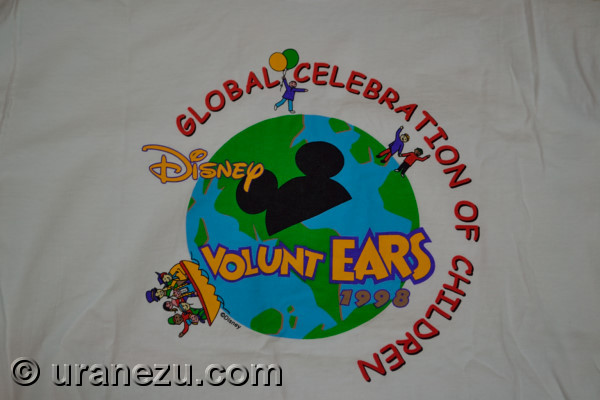 I think it's really rare to keep it mint condition now in Japan!

It was a really good memory not only to me, but also my family. And this event was my first experience of Make A Wish foundation in Japan.

Now I'm not a cast member of TDR, but I hope that they still have some events for the foundation.
Because it's a wonderful opportunity for TDR cast member to know Make A Wish foundation itself and their activities.

This attraction always recall the wonderful event to me.
I'm looking forward this coming renewal ISW.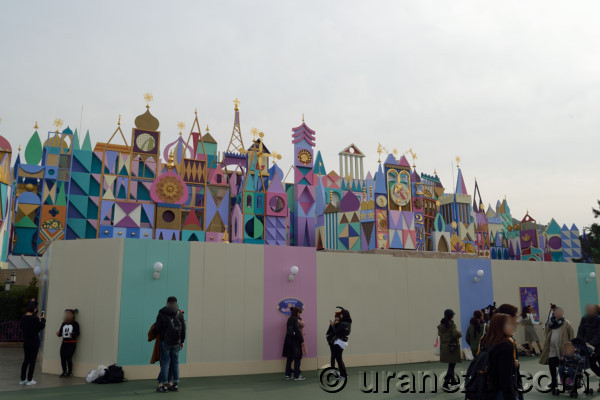 What is your memory of ISW?
If you have any questions, opinions and requests,
please contact us.
Mar. 18 2018 Last Minute, and Supplemental of Pixar Playtime.
It's nearly time to say goodbye for Pixar Playtime at TDS.
So today I'd like to share with some lovely pictures from the event.

There is a big game board spread on the ground at Waterfront Park which is located near Tower of Terror.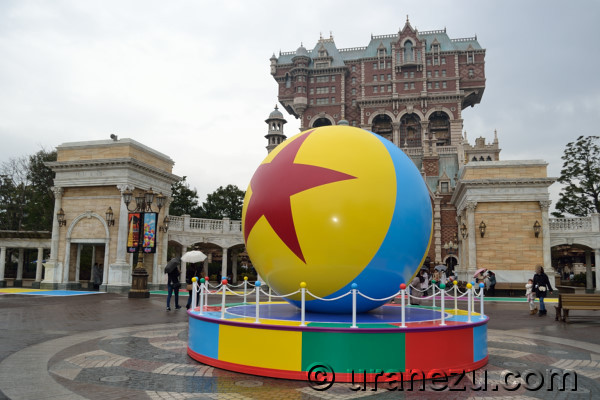 Some panel has illustrated with a best note.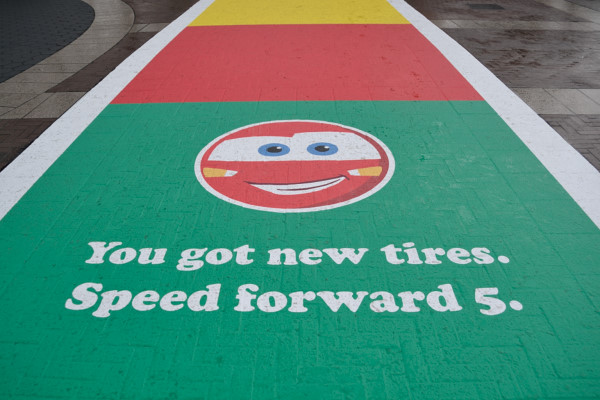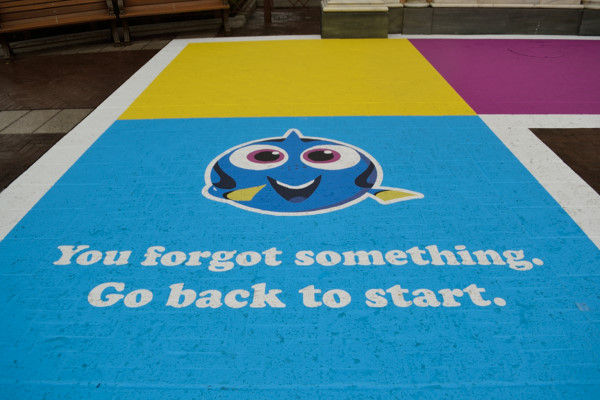 The Dory's panel is quite severe for a game player.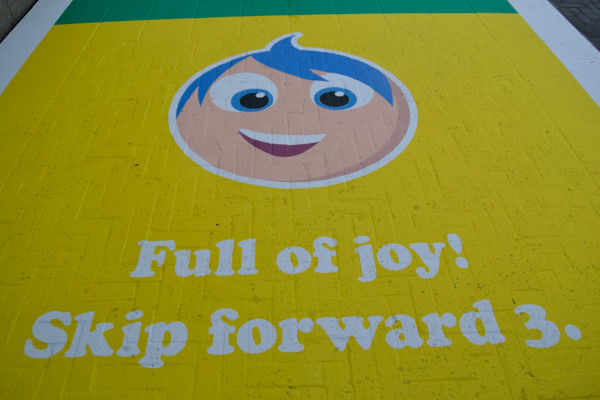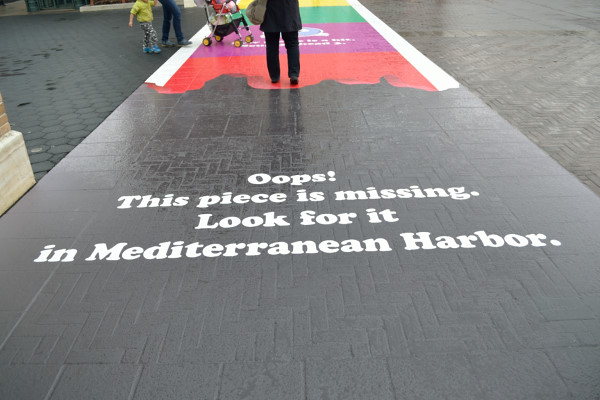 If you can go to Mediterranean Harbor, you will able to see Remy's missing piece and nice game.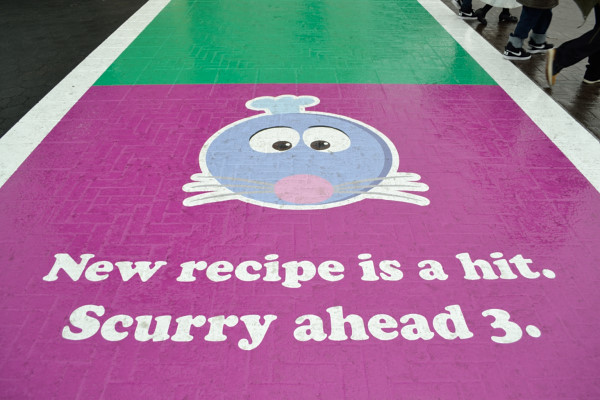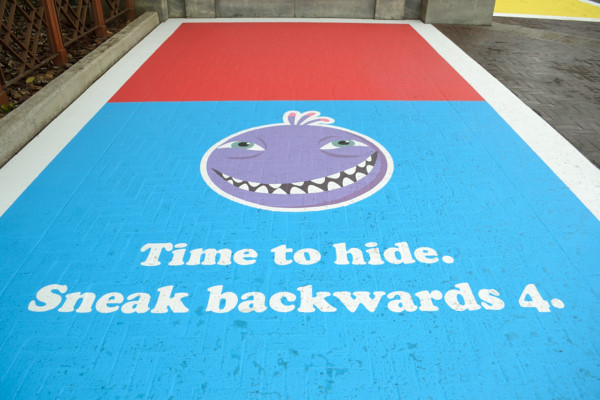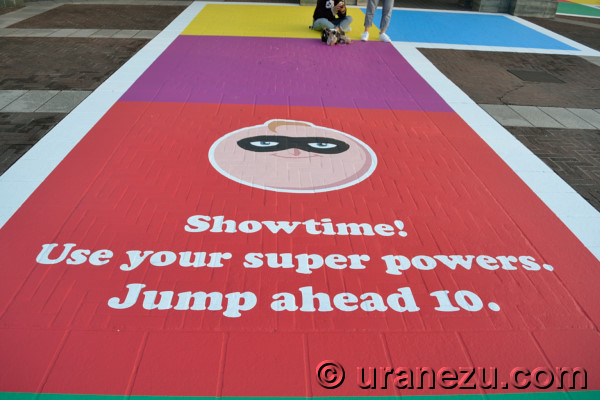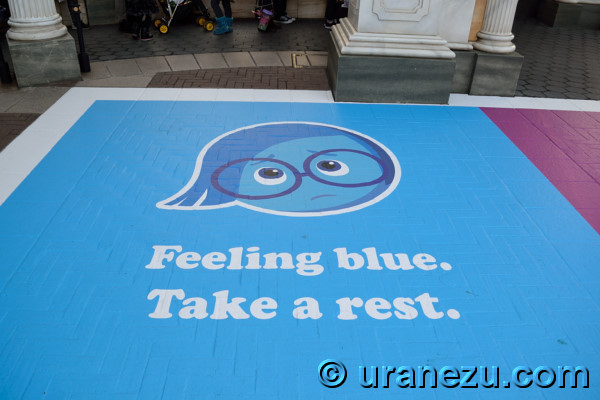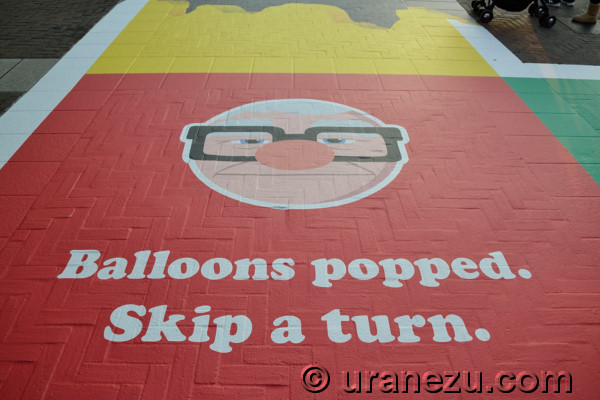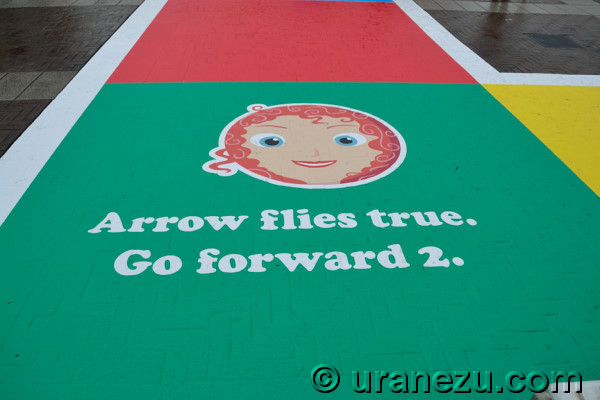 Here comes Lightning! It's time to "Victory Lap" the special greeting time.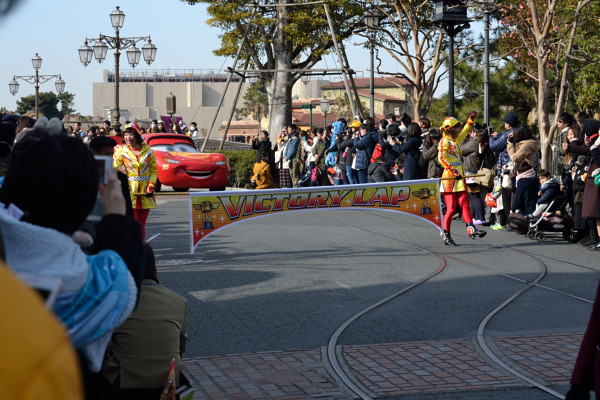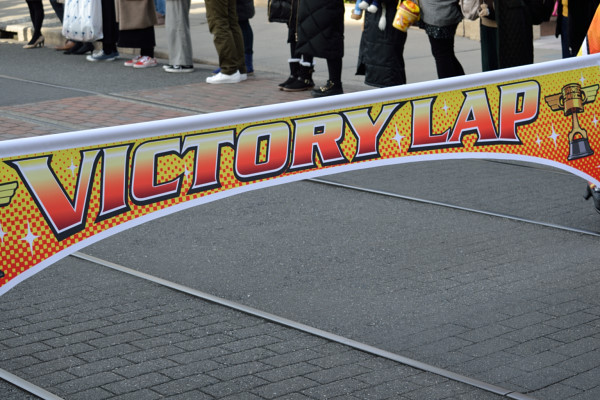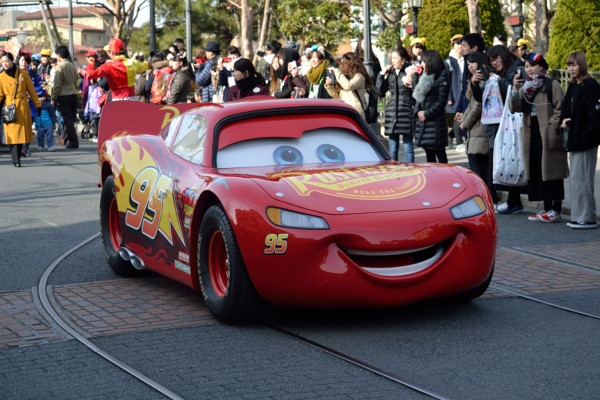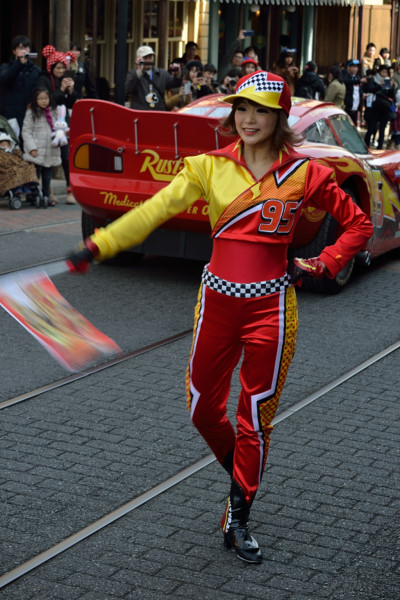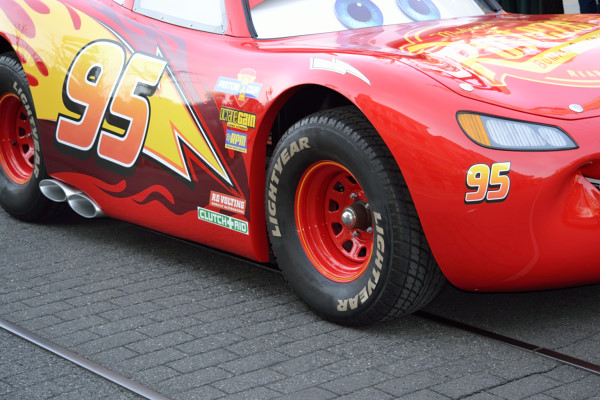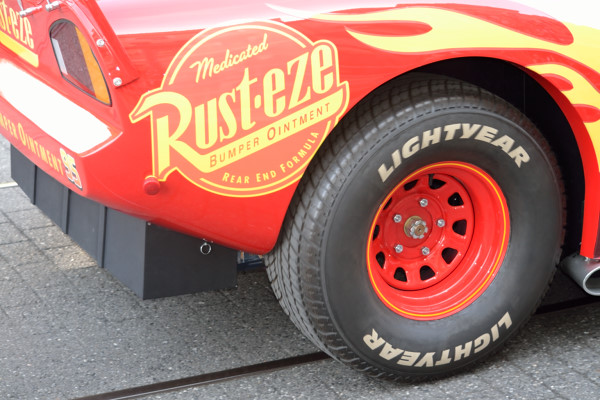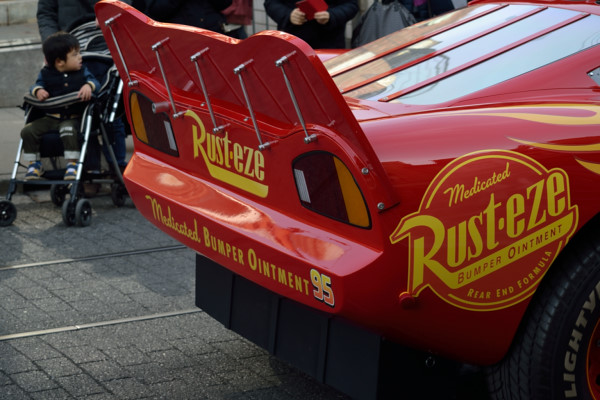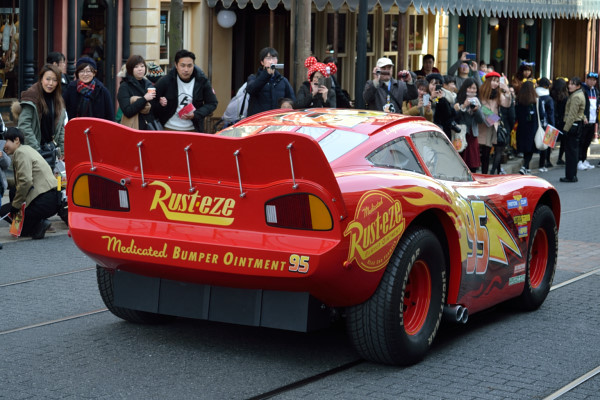 It's very crowded show, "Pixar Playtime Pals" comes many characters.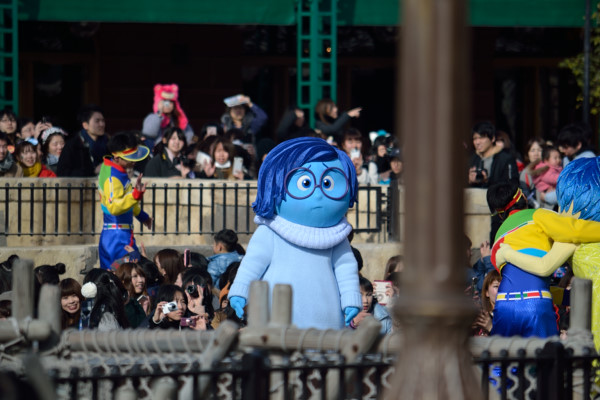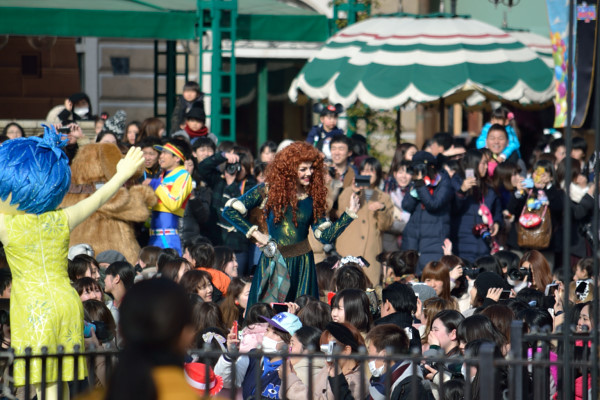 Little bit chaotic with many character mingled, but really nice festive atmosphere that's I like it.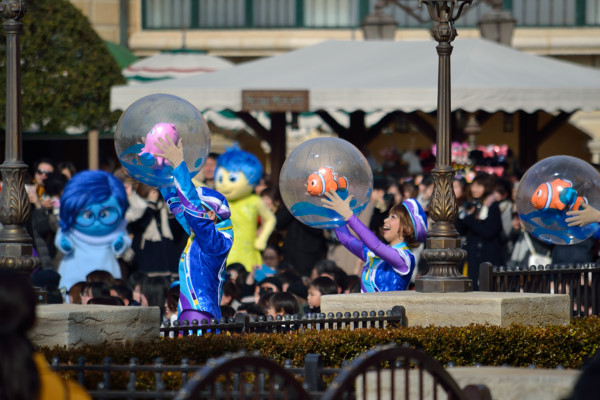 This is most favorable appearance. The friend comes to the ground from the sea wrapped in a bubble! That's really cute and nice idea.
It's really fun to see many characters at many places.
View from Lost River Delta.
View from American Waterfront bridge.
If you have any questions, opinions and requests,
please contact us.
Mar. 03 2018 Searching For A Golden Rain.
Did you see a golden rain for Yuzuru Hanyu a gold medalist of Men's singles' Figure skating?
Before reading this topic, please search a video on internet with "Yuzuru, Pooh" as the search key word.
Then you can see what the golden rain is, and how the Pooh's rain was intense.
So, what is a linkage between Pooh and Yuzuru Hanyu?
It started from a Pooh's tissue holder which he brought at rink side.
The cute sight which he used a tissue from the Pooh's tissue cover was broadcasted.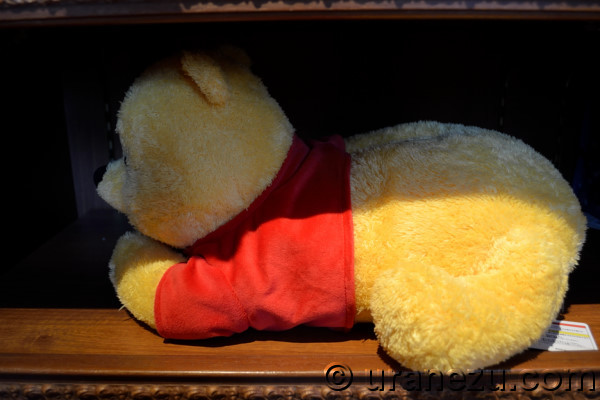 This is the tissue case, we can pull out it from Pooh's back.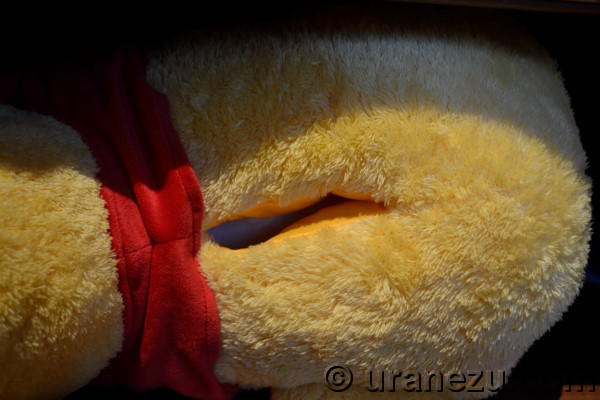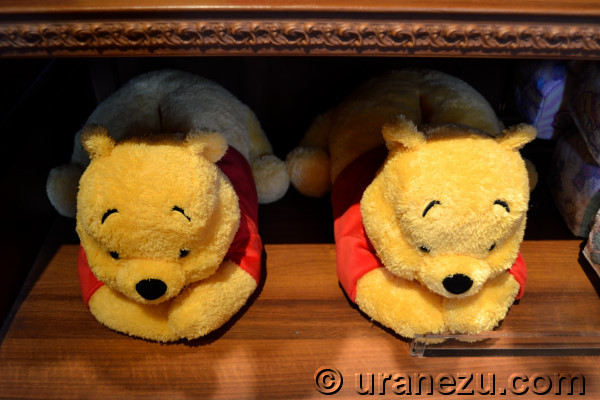 Also camera crew sometimes shot that as if this stuffed Pooh watched over his skating.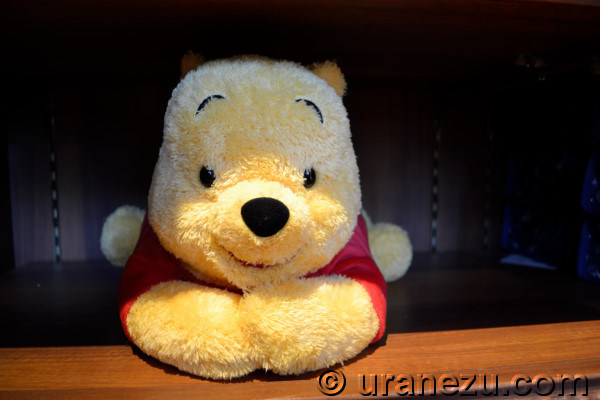 After that he became familiar as an ice prince who likes Pooh with audience and TV viewers.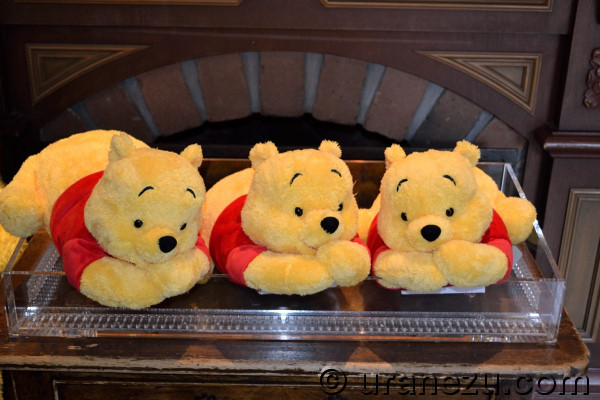 He got more skillful and beautiful skating, and he got more Pooh.
So, today I'd like to introduce some interesting or unique Pooh's merchandise in TDL.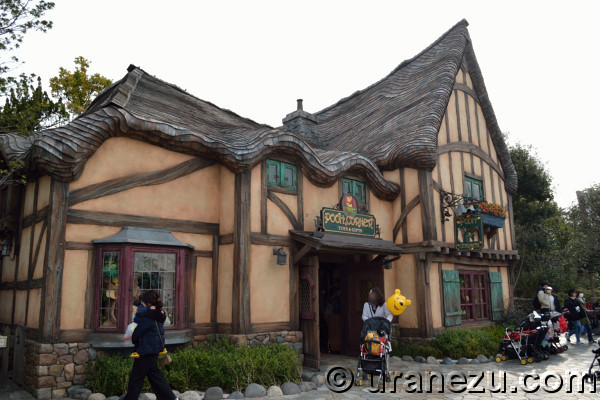 So let's go to "Pooh Corner" the adjacent merchandise store of "Pooh's Hunny Hunt" the amazing attraction.
For Kitchen
Why don't you start cooking a Japanese-style meal with Pooh?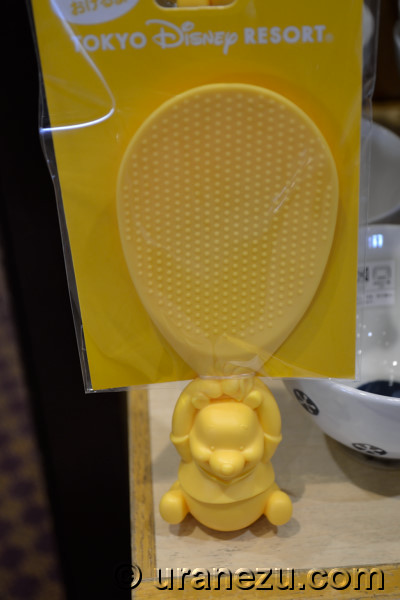 The handle is Pooh itself is nice, and the paddle resemble a balloon. This rice scoop is very nice design.
For Bath
If you'll use the below bath bowl, you're bath time will be more fun.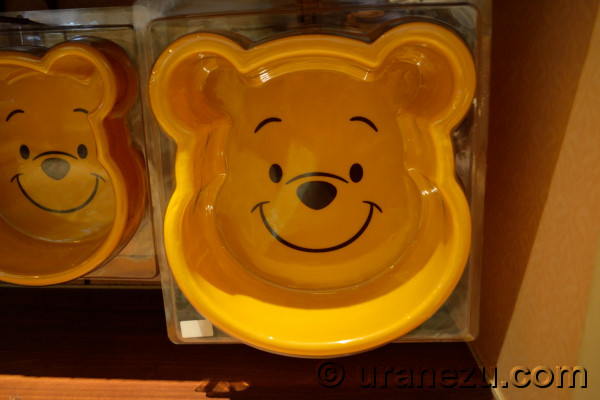 The bowl size is hard to convey with a picture, but it's very big! Pooh's face about 30cm.
Fun headband
I do recommend it for a first visitor or guide bookworm. If you put it on, your family or mate never claim as "which way we have to go?" when you search the direction from the park map desperately.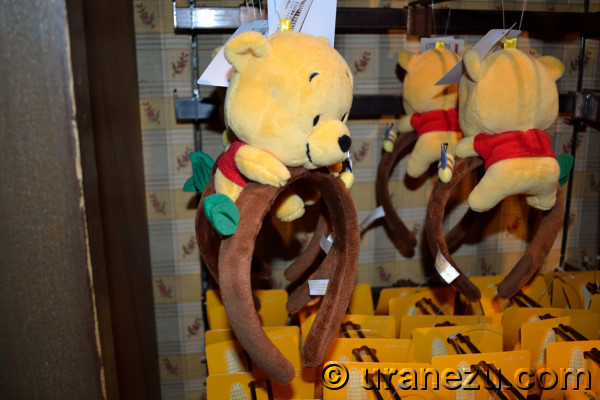 Because if you'll look the map or show schedule, Pooh will also try to read the content over your head. The sight is super cute.
Mask
You can see many people who are wearing a mask in Japan. They usually wear the mask to prevent or not to spread cold, and to guard against hay fever.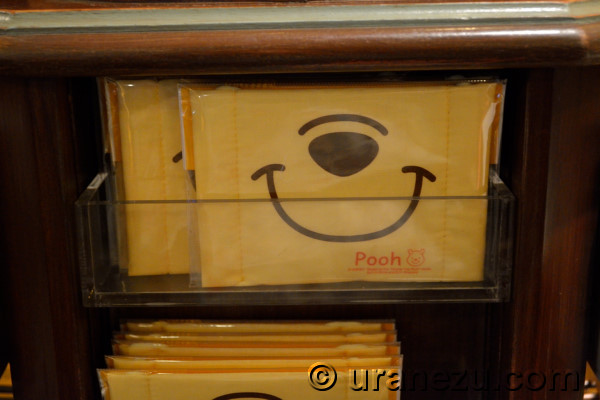 In TDR, you can find mask which designed various characters' mouth. It's really souvenir from Japan.
Cookies
I think this is nice souvenir cookies from TDL.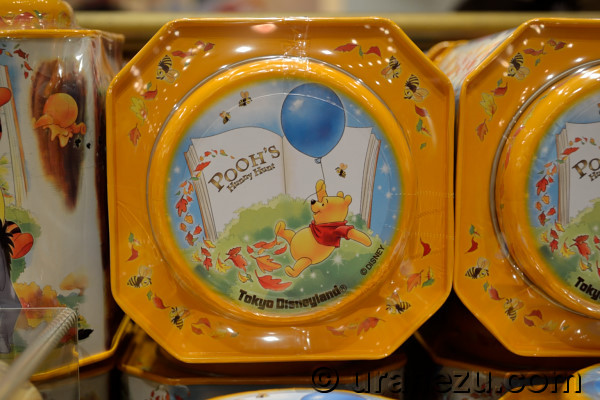 Why I recommend?
1. It related to attraction. There are very few attraction merchandise in TDR. This tin can has the attraction name on it.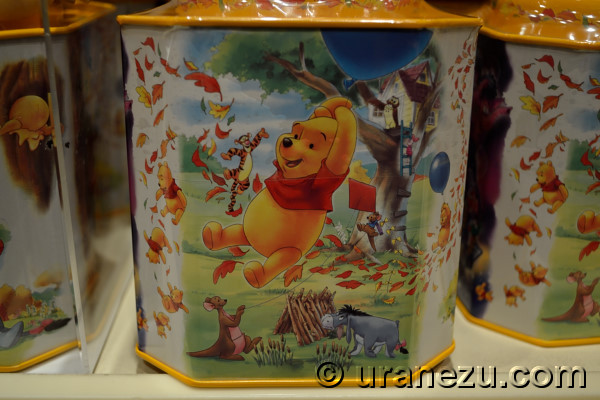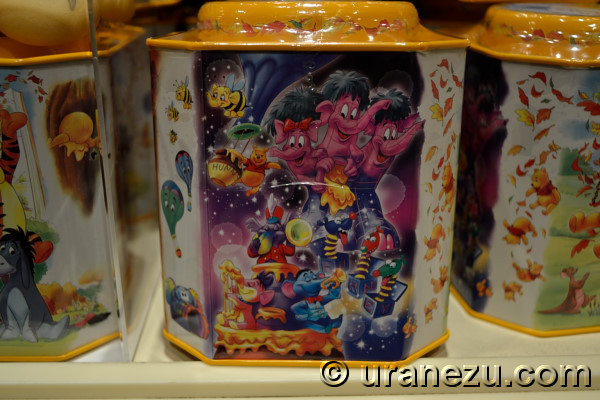 2. Pooh's Hunny Hunt is only TDL. You will feel the originality of Japan.
Each side has impressive scenes from the attraction which is very beautiful.
This tin can cookies are my strong recommend item for your souvenir!
Why am I love it?
1. It's a collaboration design of Pooh's Hunny Hunt and many area from TDL!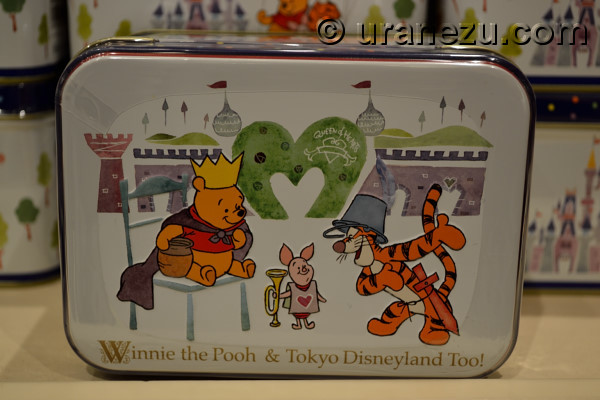 Don't you think really rare that Pooh and his friends enjoyed Queen of Heart's Banquet Hall the another Disney themed restaurant in Fantasyland? Of course this Alice-theme eatery is only TDL. I think you will feel the originality of Japan.

2. TDL official sponsor made cookies!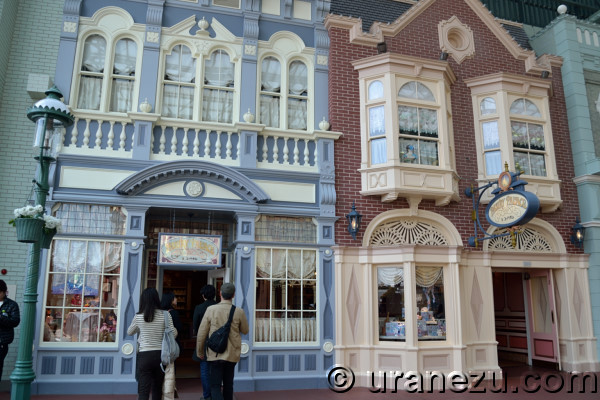 There are quite a few TDR food products for souvenir which made by TDR official sponsor.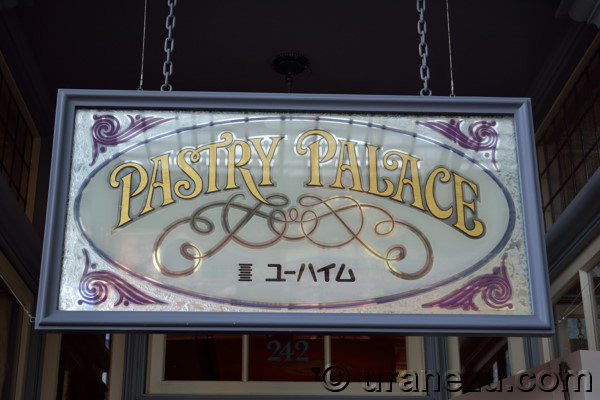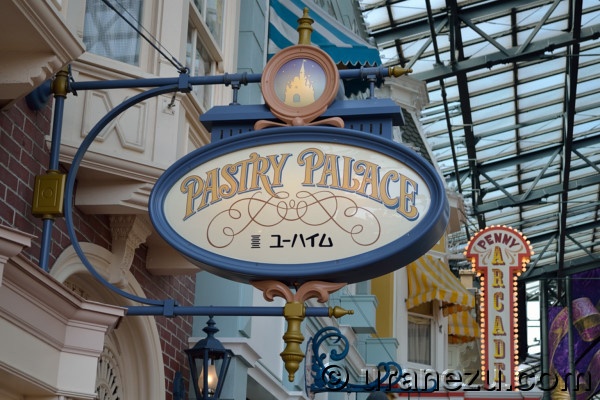 "Juchheim" supported "Pastry Palace" the confectionary shop.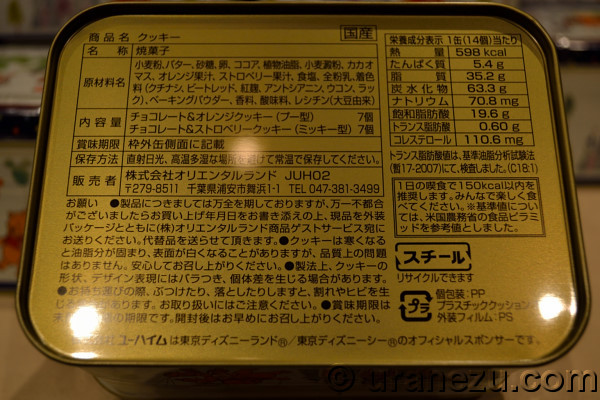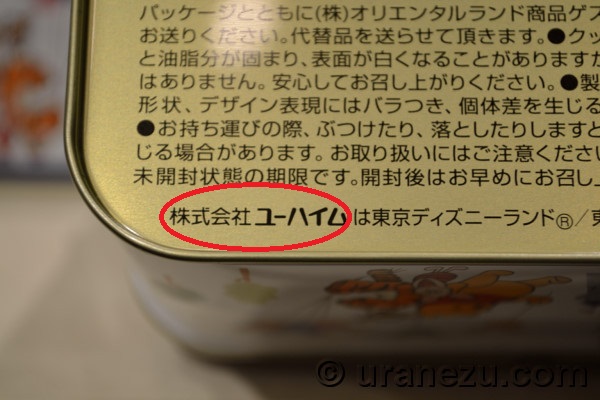 There is "Juchheim the TDR official sponsor made" notice on the bottom of the box.
It's very tasty and superior quality.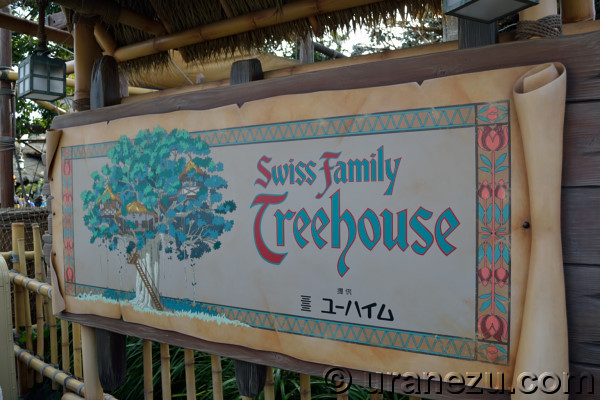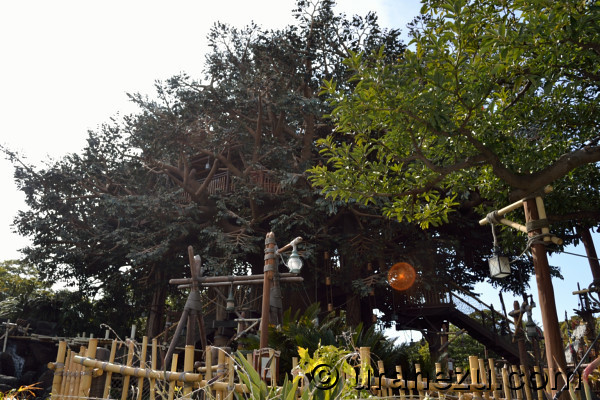 They are also sponsored "Swiss Family Treehouse" the walk through attraction.

3. And, weather good or bad, "Winnie the Pooh, Disneyland too!" rhyme is also worth noting!
It's worth to buy as a souvenir of TDL!
More and more Pooh's merchandise waiting for you at TDL or TDS!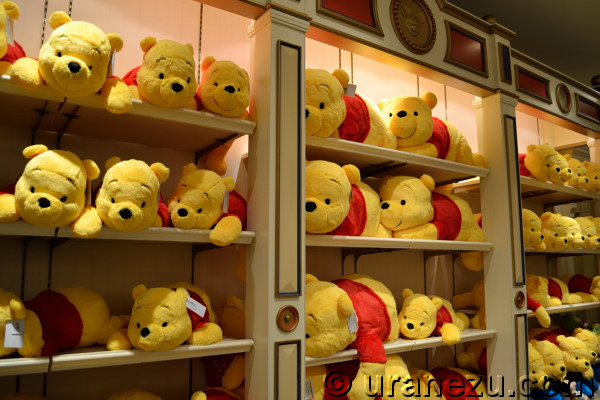 But please don't throw away any hard material or fragile thing into the rink.
And don't forget to wrap your present with a transparent plastic sheet, or something like that to prevent your present won't mess the ice rink.
Please check details and follow a rule of each ice skate competition.
If you have any questions, opinions and requests,
please contact us.
Feb. 24 2018 Duffy's Heart Warming Days 2018.
Duffy Heart Warming Days

It all started with a Disney Bear, Duffy. He's debut in TDS was in 2004.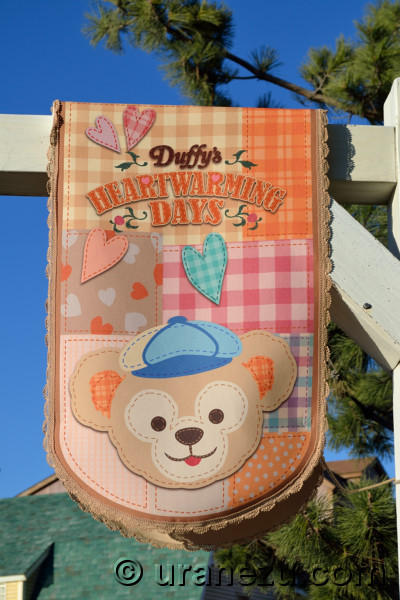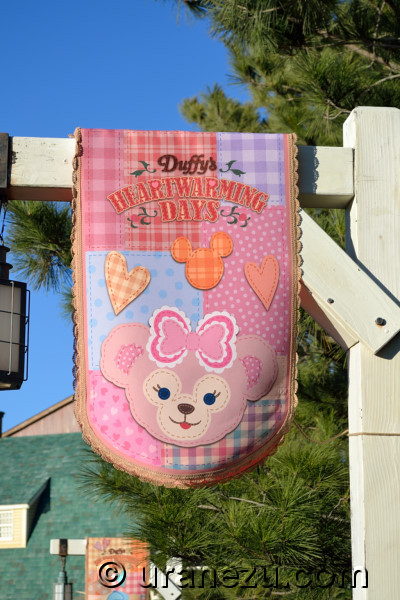 After 14 years, Duffy got three pals, ShellieMay the girl friend bear, Gelatoni the artist gato, and Stellalou the dreaming rabbit.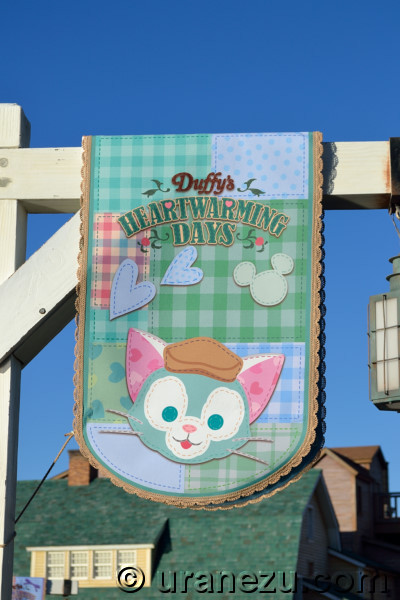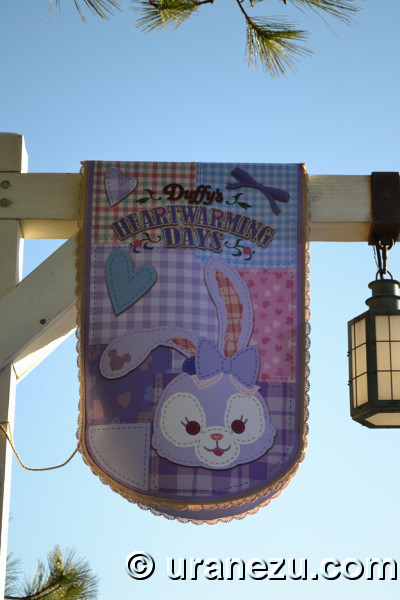 Time flies! Now TDS has the four fluffy friends.
In this season of 2018, these pals welcome you to TDS as "Duffy's Heart Warming Days".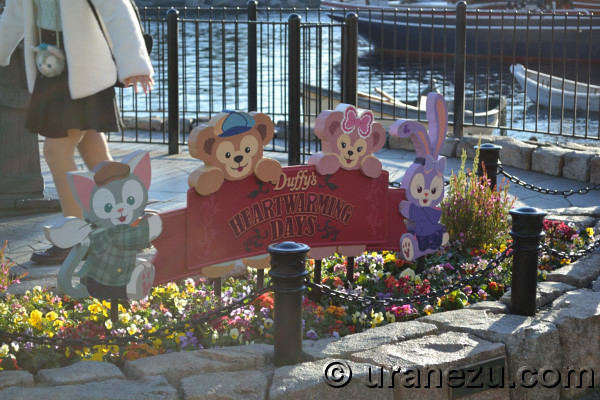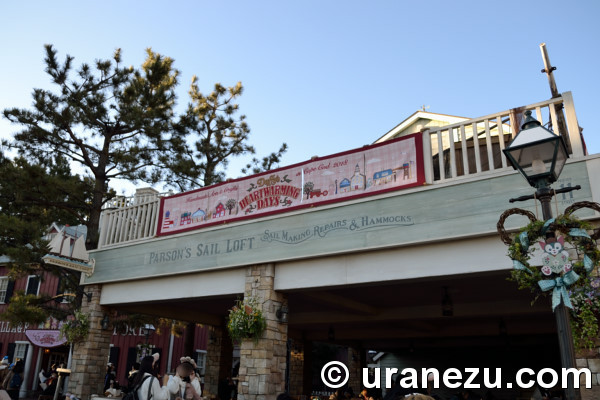 See? There are so many "Duffy's Heart Warming Days 2018" titles. There is nothing special, no special show or greeting, except the special merchandises, snacks, and decoration.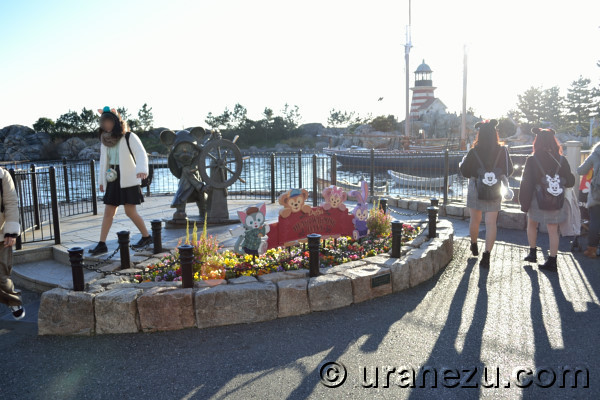 But this is annual event, so let's check it out.
Their merchandises sold more, the area of this event more spread out in TDS.
In fact, until the last year, the area of Duffy and their friends overwhelmed all over the American Waterfront.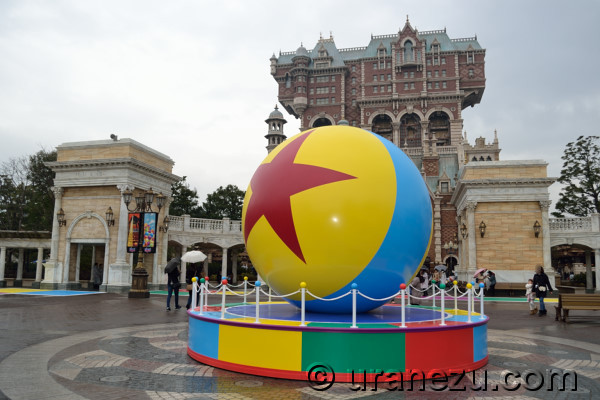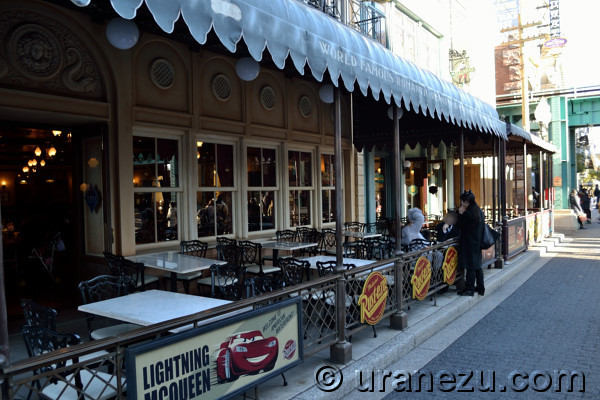 However, now TDS has took place "Pixar Playtime" the special event, so we can see the special adorning only within Cape Cod area the part of American Waterfront.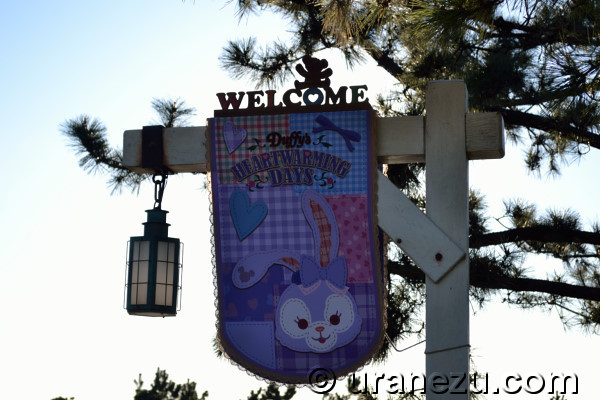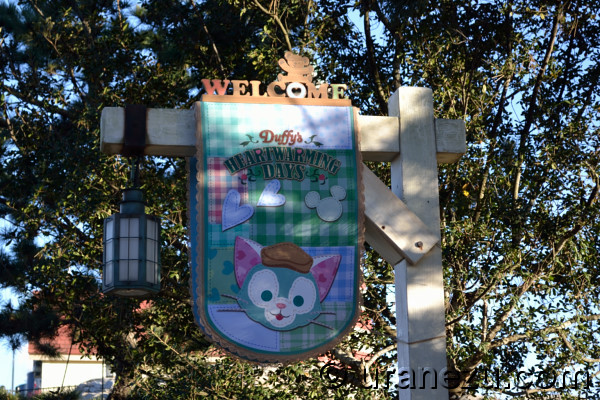 There are only two banners with Welcome decoration in Cape Code, so don't miss the two! If you come from New York area to Cape Cod, you can see Stella Lou banner with wooden sign. Otherwise, you'll visit from Port Discovery, and then Gelatoni will welcome you.
"Aunt Peg's Village Store" also has a fully Duffy decoration.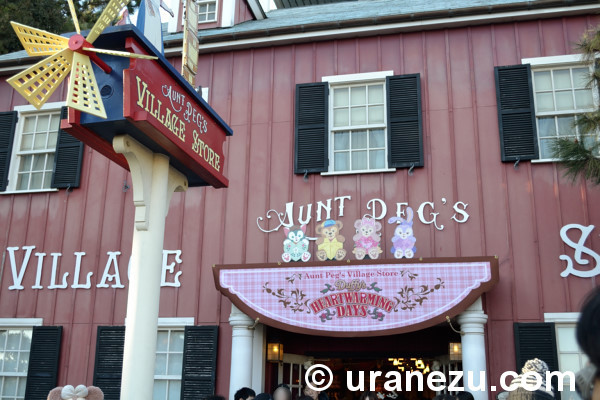 What do you think, cute, or scary? Four special bird scarers are waiting for you in front of the shop.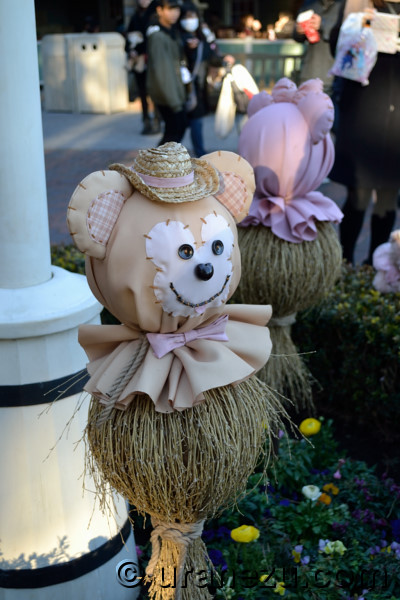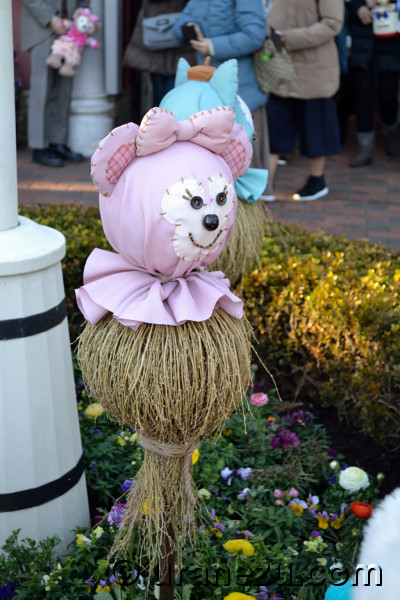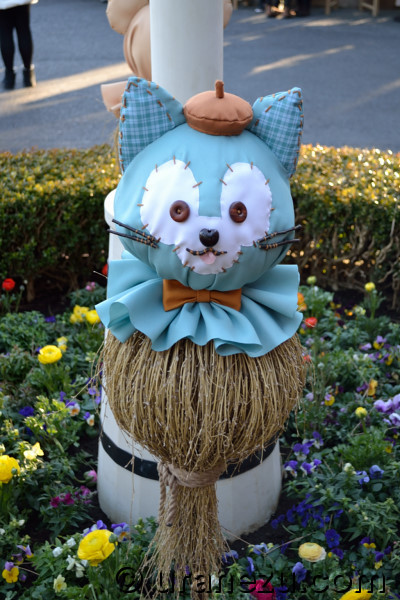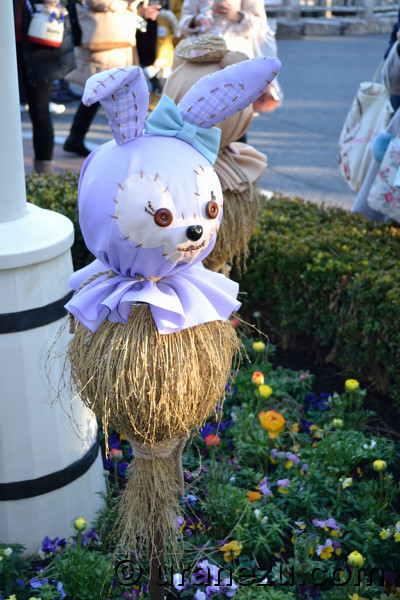 If I were a crow, I might fly away immediately from this patch.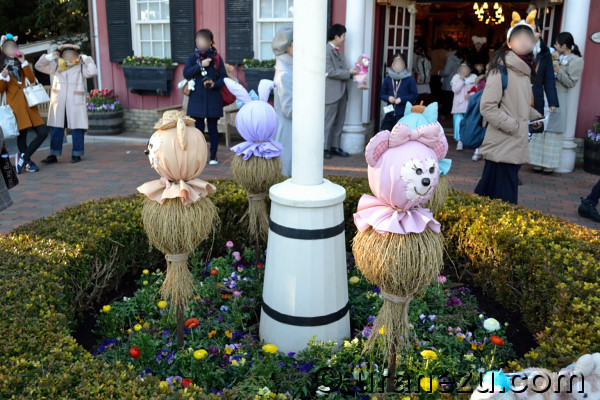 The below garland is also special for Duffy's Heart Warming Days 2018.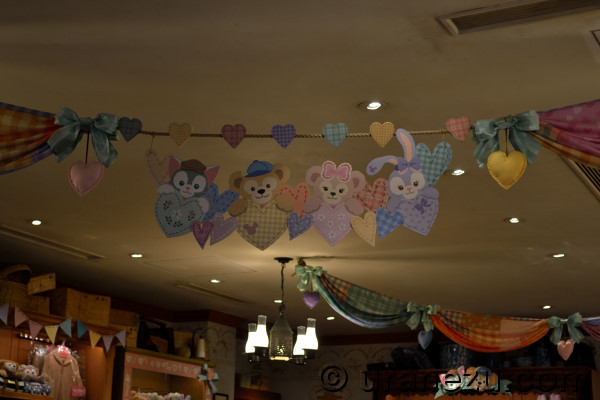 This lovely ceiling decoration is located inside the shop.

You will find more special adornments next to the Aunt Peg's Village Store.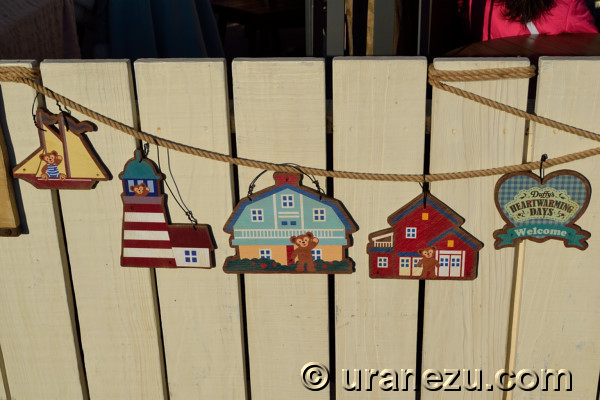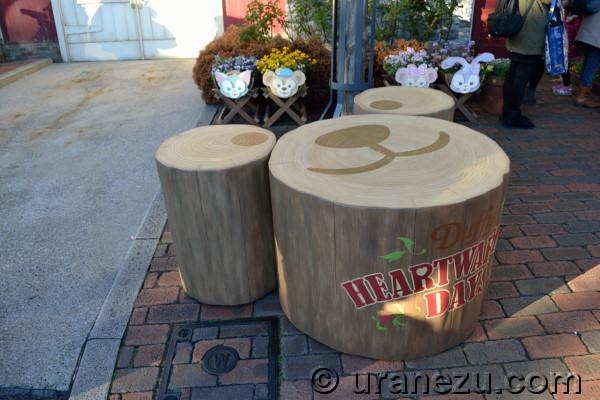 This is Cape Cod, sometimes this port has harsh wind.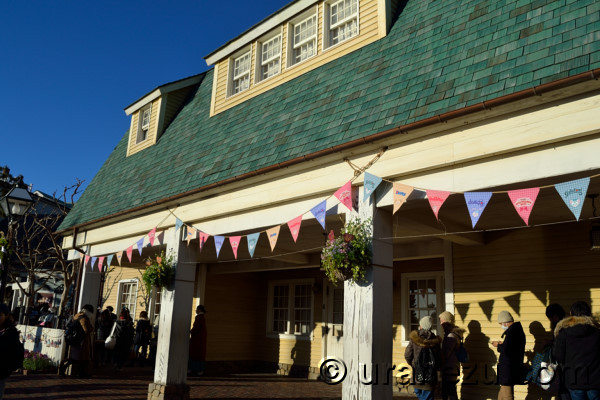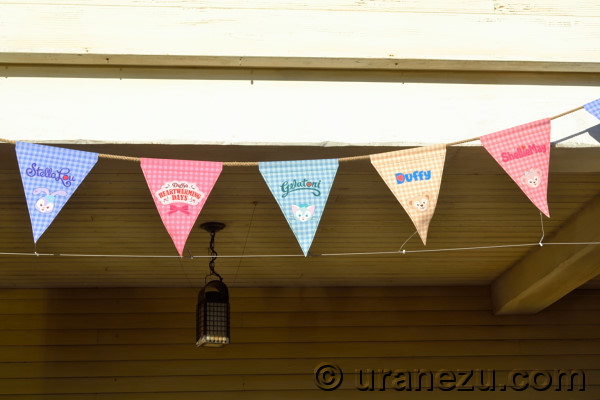 So the each flags of the garland are binding.

Look closer at these below wreathes. Every character has different hearts. But why?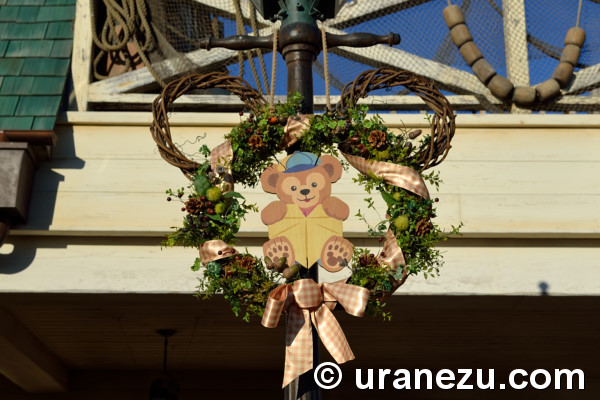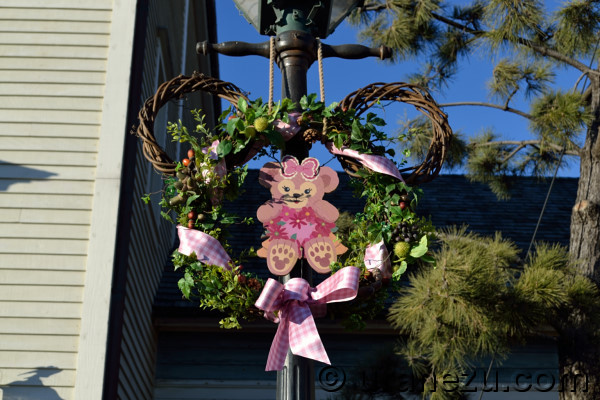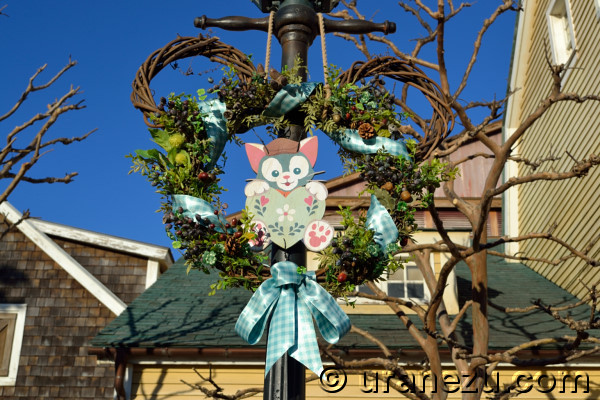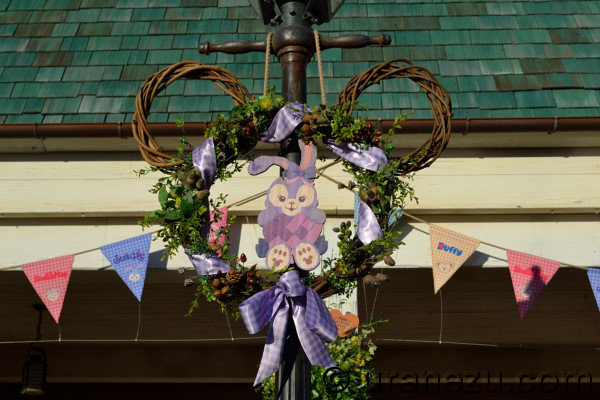 Let's find the answer, and what they have actually.

If you strolled around in Cape Cod, you'll able to see some stories of Duffy and his friends. And this is the answer why they have different heart.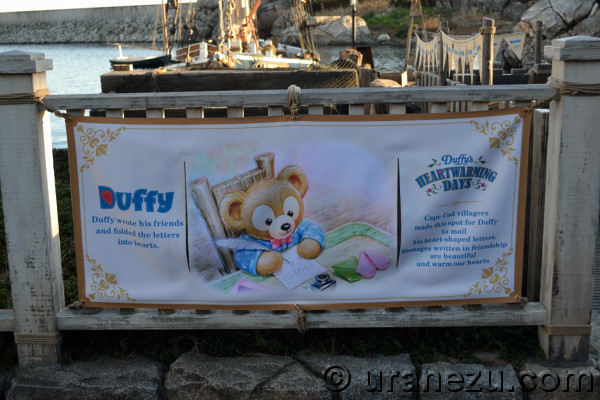 Duffy's banner said that "Duffy wrote his friends and folded the letters into hearts." And also "Cape Cod villagers made this spot for Duffy to mail his heart-shaped letters. Messages written in friendship are beautiful and warm our hearts."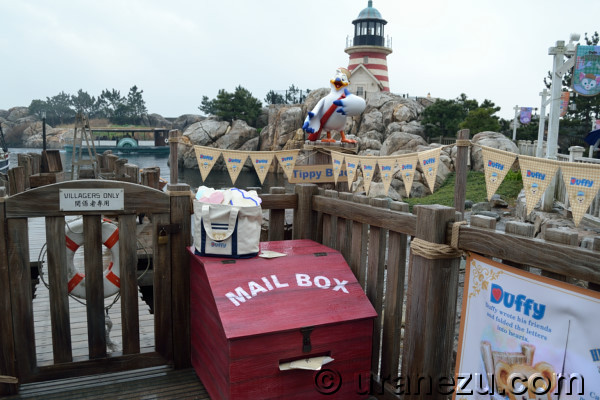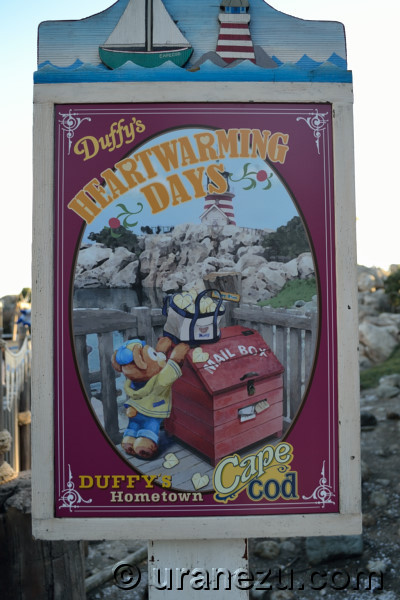 This is the place for Duffy's heart-shapded letters.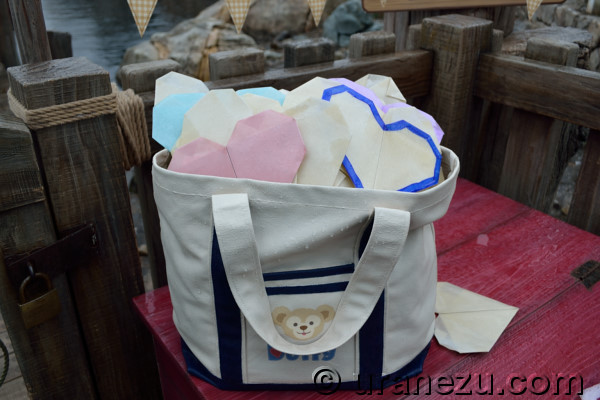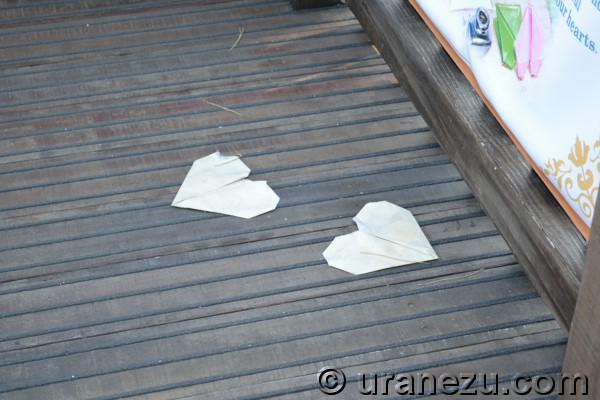 The lots of heart letters all over the mail box corner.

Near railroad truck, there is a place for ShellieMay.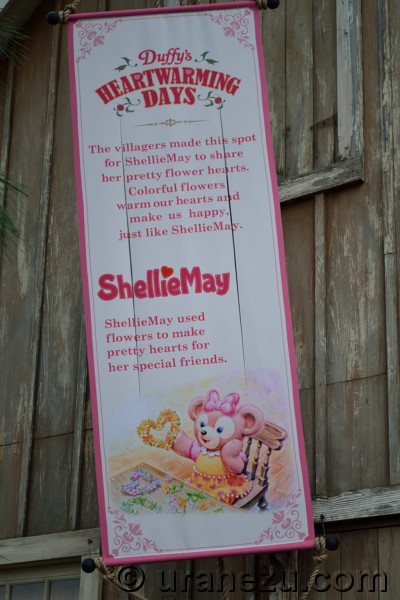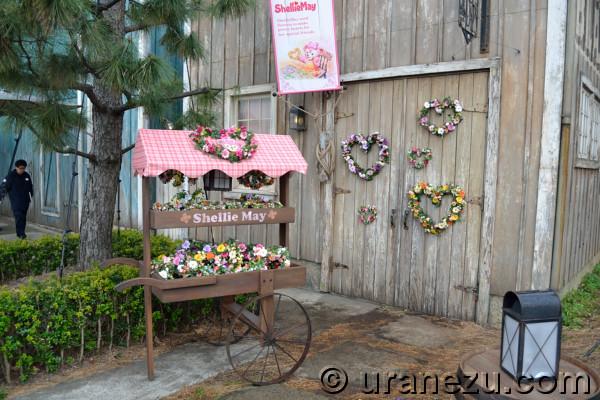 The banner says, "ShellieMay used flowers to make pretty hearts for her special friends.", and "The villagers made this spot for ShellieMay to share her pretty flower hearts. Colorful flowers warm our hearts and happy, just like ShellieMay."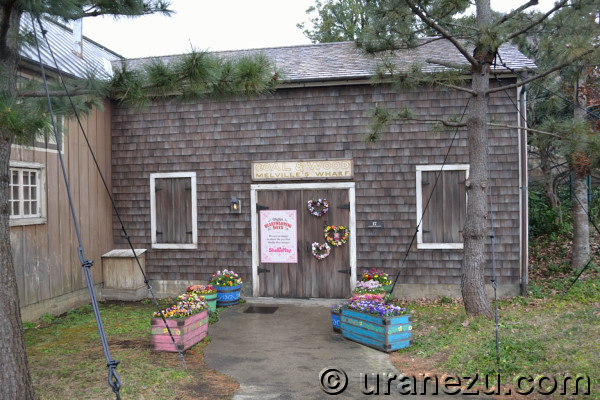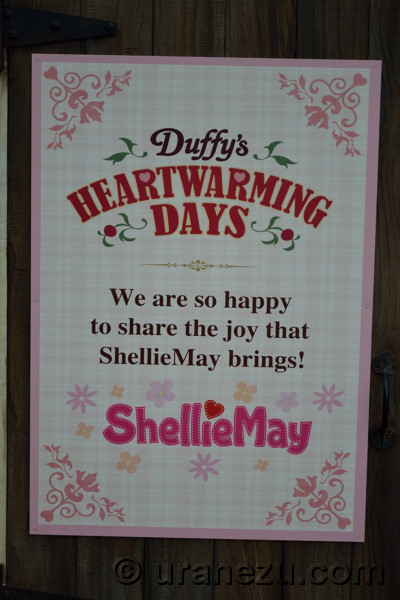 She hold really good hand!

Here are Geletoni's place which is located near ShellieMay's.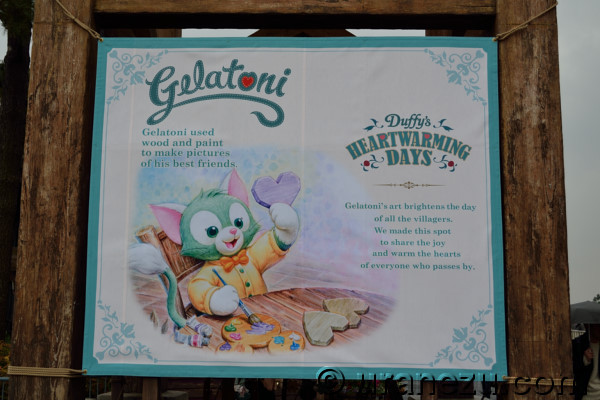 "Gelatoni used wood and paint to make pictures of his best friends.", and then "Celatoni's art brightens the day of all the villagers. We made this spot to share the joy and warm the hearts of everyone who passes by."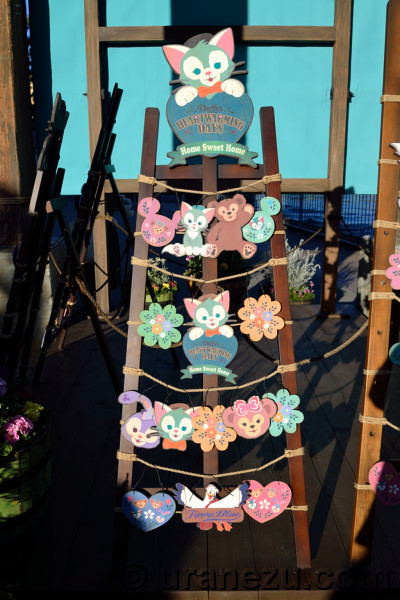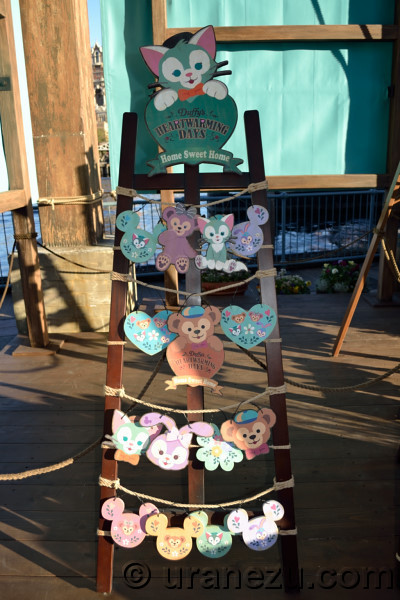 The left tower is for Duffy, and the right one is for ShellieMay.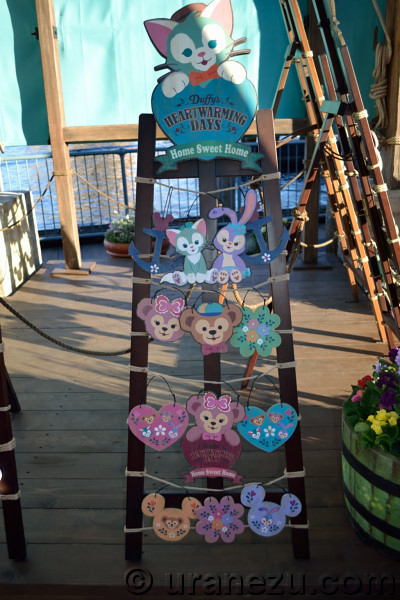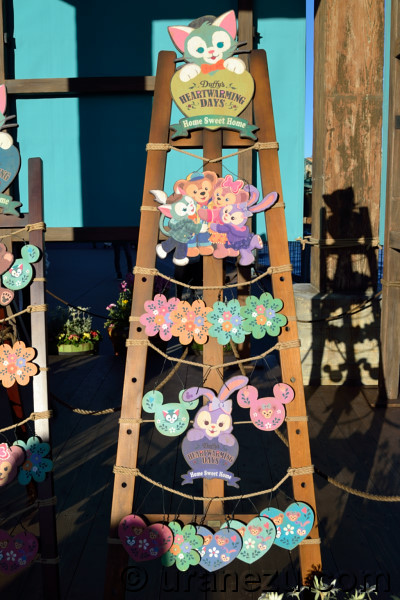 The left for Stella Lou, and the left for all of his lovable friends.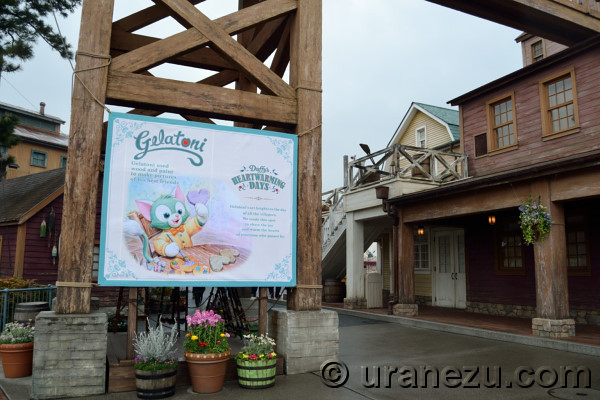 These wooden arts are displayed behind the Gelatoni's banner.

Stella Lou's place is in fishery harbor.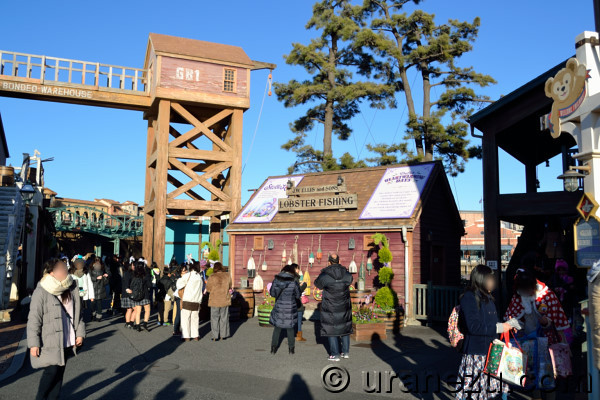 The banner on the roof says, "StellaLou used her favorite ribbons to weave hearts for her dear friends.", and "The fisher folk in Cape Cod made this spot just for StellaLou to show the ribbon hearts she made. It warms our hearts to see and charming signs of friendship."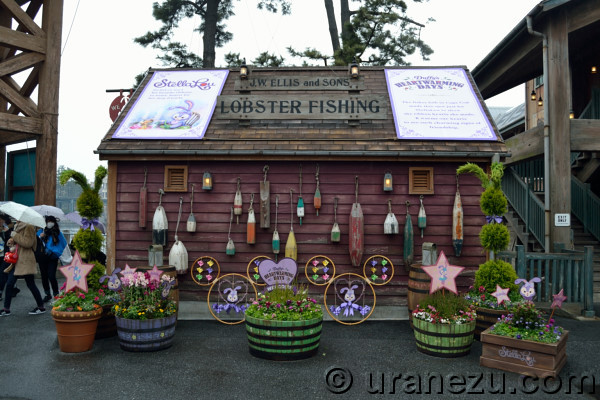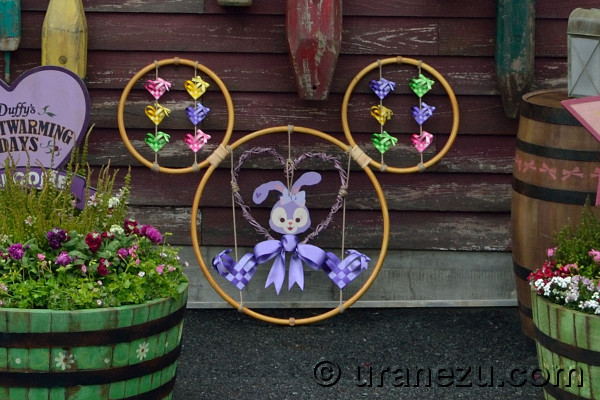 There are many ribbon hearts and bunny shaped topiaries.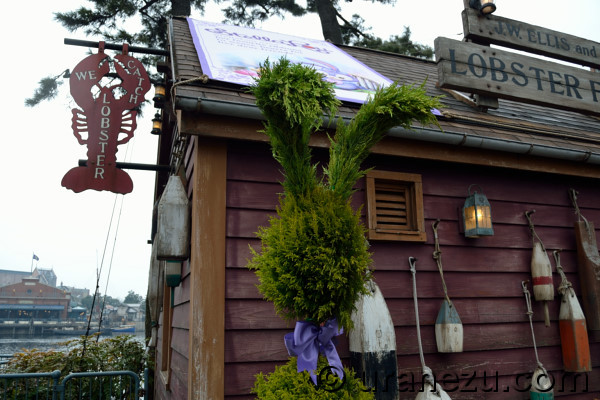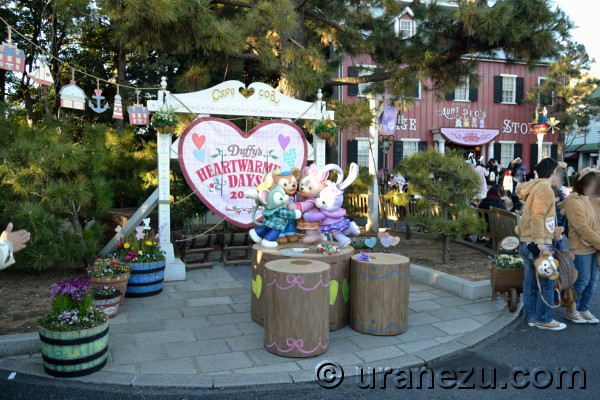 Then you'll find four hearts of them with lots of love at main photo location!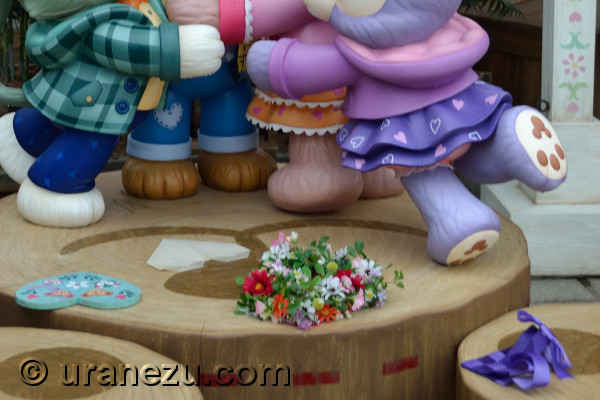 Wooden heart with painting from Gelatoni, heart shaped letter from Duffy, Heart flower wreath from ShellieMay, and Ribbon heart from StellaLou.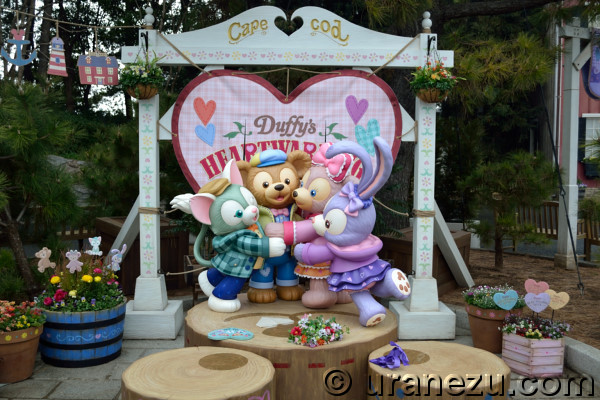 In 2018, not only the cuteness, but also the stories of fluffys and Cape Code area has set orderly, which is better than previous years.
If you have any questions, opinions and requests,
please contact us.
Feb. 17 2018 Frozen Fantasy 2018
TDL has now celebrated for Royal sisters visiting.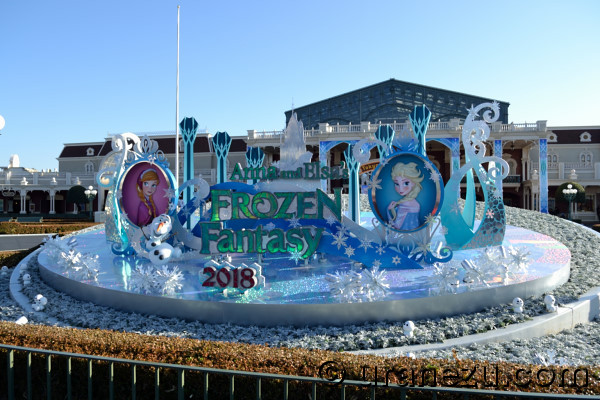 Anna and Elsa's Frozen Fantasy the special winter event will continued to 18 March.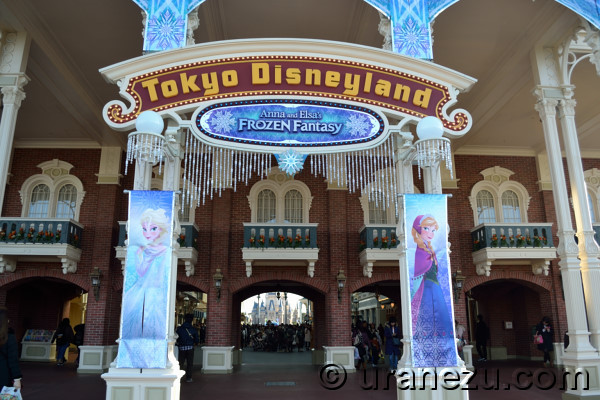 Three big show windows at Emporium the merchandise store always fascinated guests.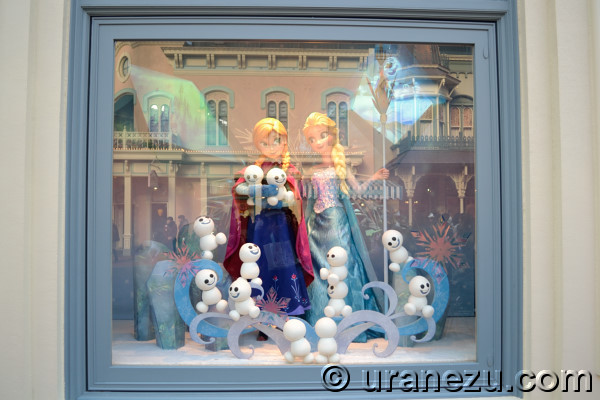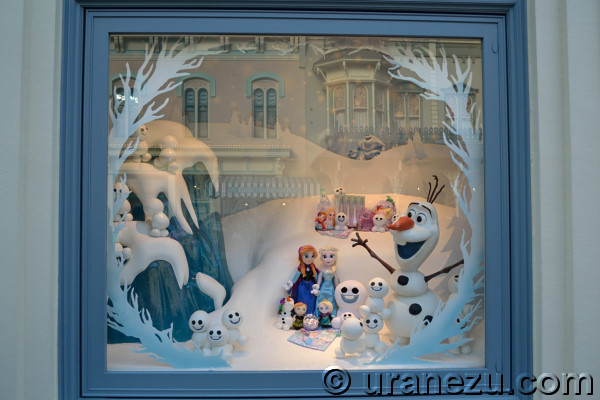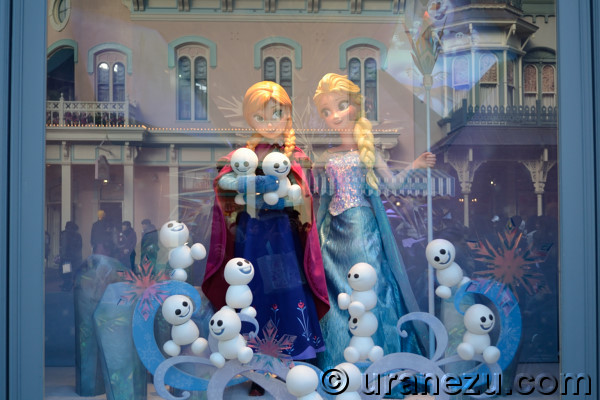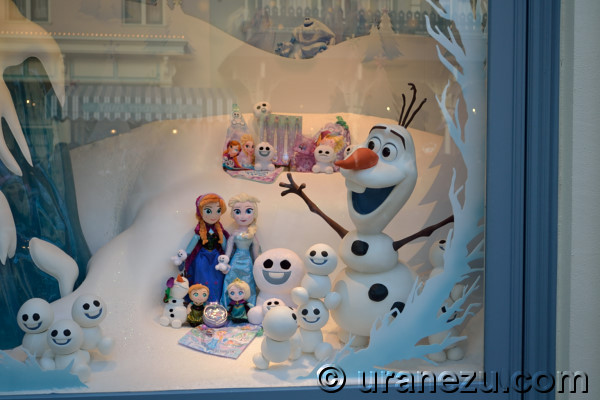 So many snowgies are walking toward to us from Sven on a distance snow hill.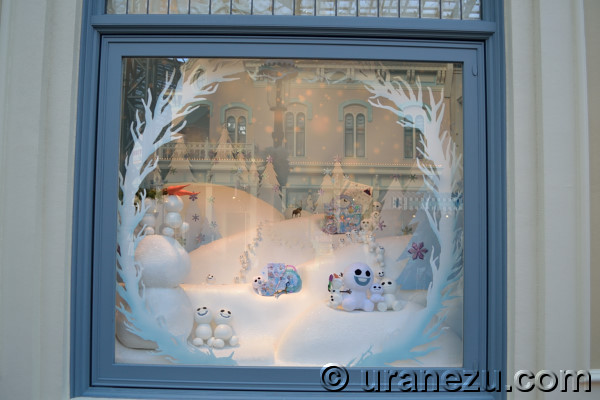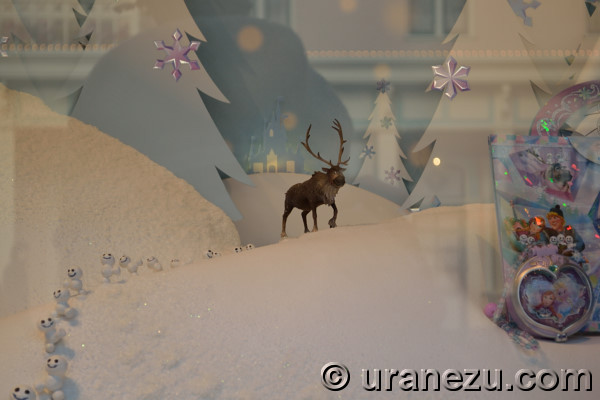 The end of the array, two snowgies hold a carrot with smile, so I think they are waiting for Sven.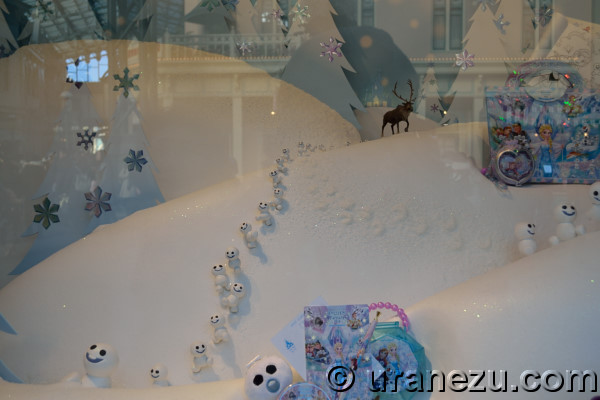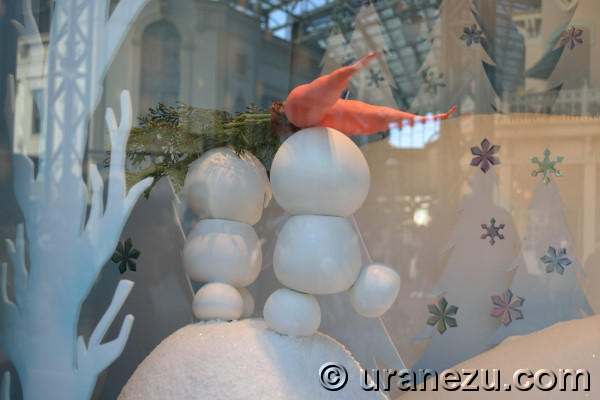 Come on Sven! Your favorite carrot is waiting!
Snowgies the puffery character in TDL became various merchandise.
They also pressed and coated to a spoon.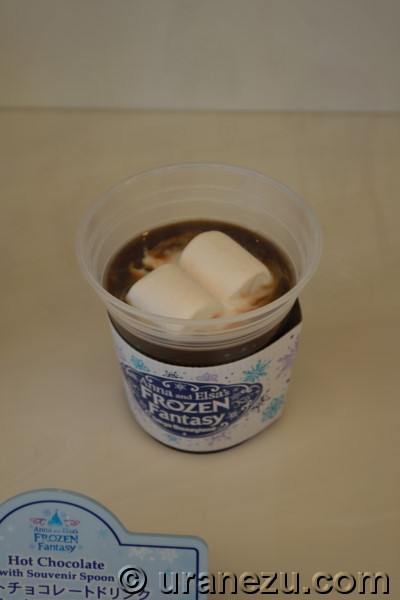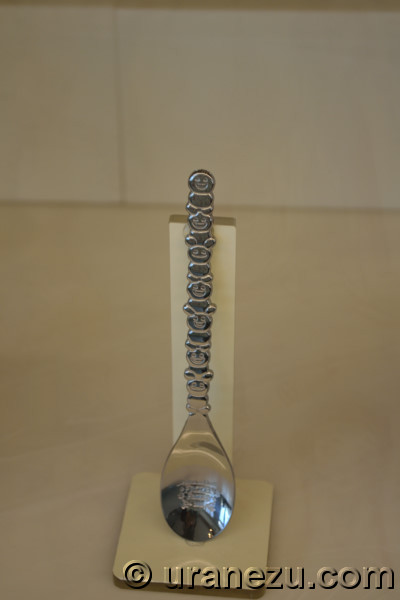 The special drink hot chocolate with souvenir spoon for 750JPY.
During this season, we can enjoy mischievous snowgies adventure all over TDL park.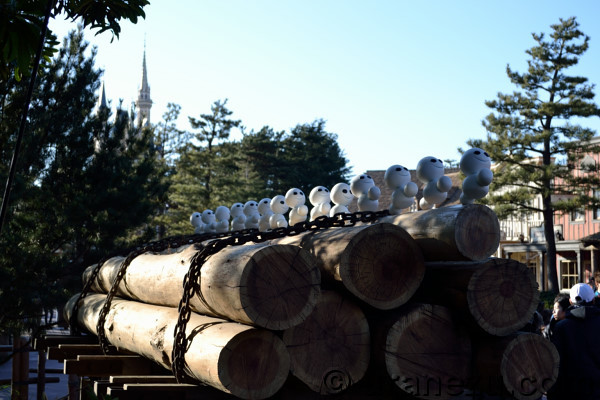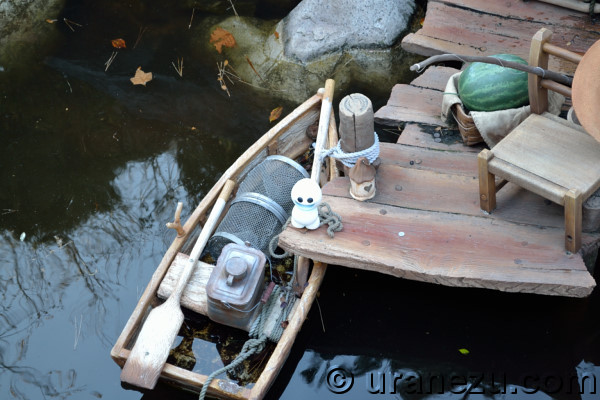 Most of snowgies are chilled out in same spot in the last year's event.
Here are new play area of them.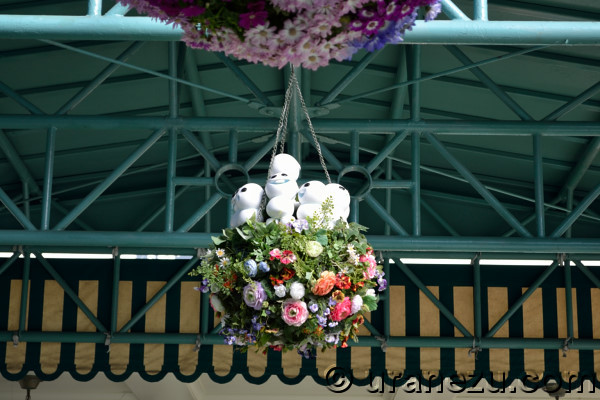 This hanging flower basket with snowgies is located near "Pirates of the Caribbean", which is new dwell of them in 2018.

This is the only snack shack that so many snowgies gathered.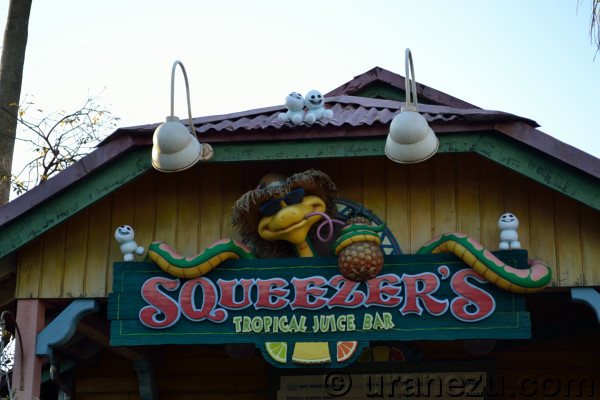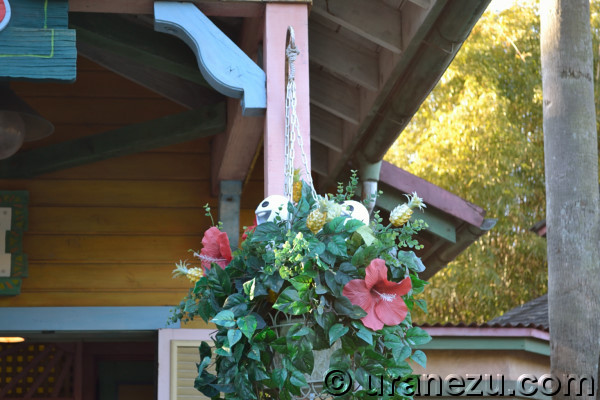 Why? Because this "Squezer's Juice Bar" has a special Frozen Menu.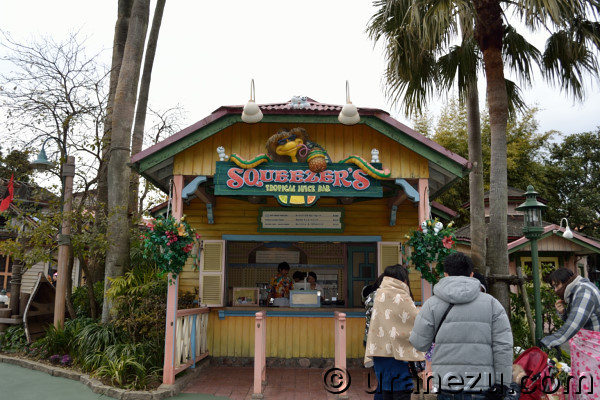 The special drink Hot Fruit Mix Ade with souvenir spoon for 800JPY.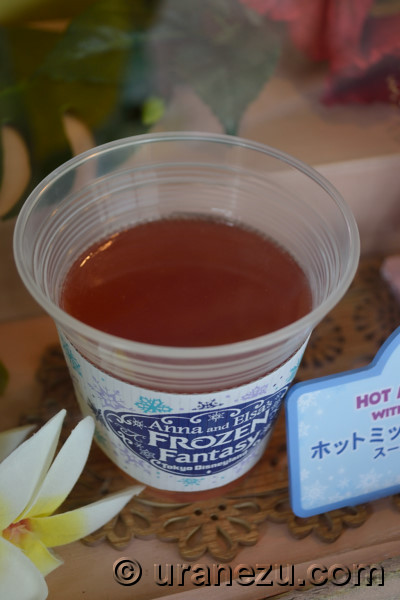 "Hungry Bear Restaurant" has only one snowgie.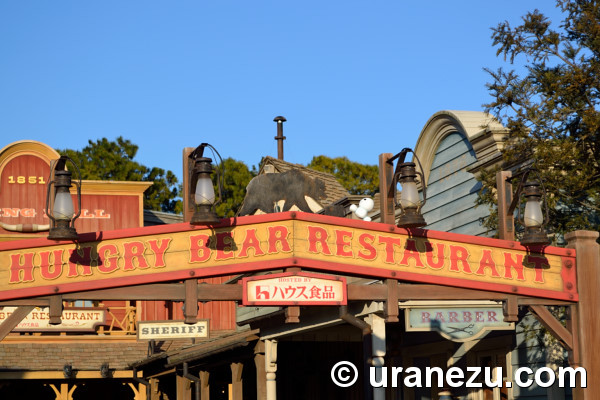 But I think there is no advantage effects of a number of the snowgies.

The below snowgies rush to the wagon.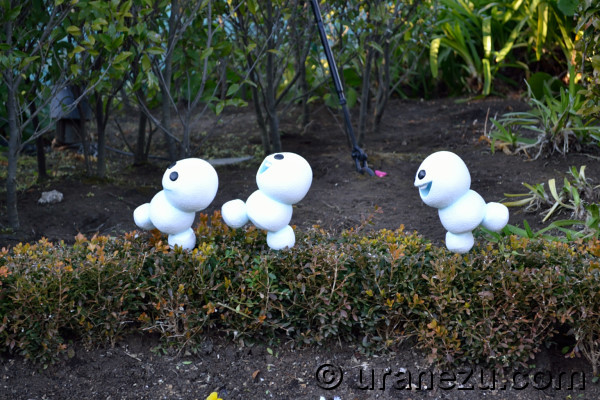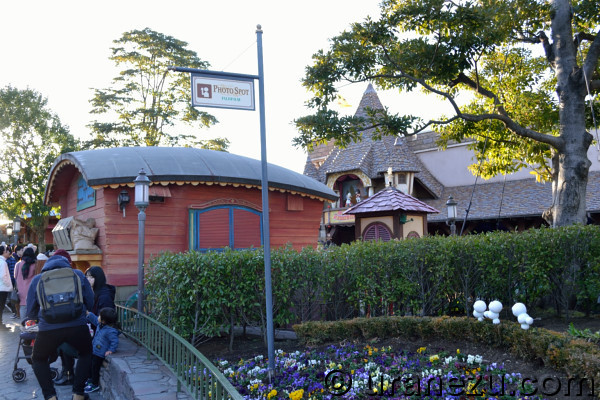 The wagon is called "Village Pastry", where we can get Tipo Torta the cream stuffed rolled pie!

Only geek guest like me noticed and searched them. I want many guests to know scavenger hunt fun like this in the park, not only rush to a Fastpass.
There are two new Frozen themed photo locations have set for many SNS lovers.
One is mini icy palace in front of "Partners" the statue.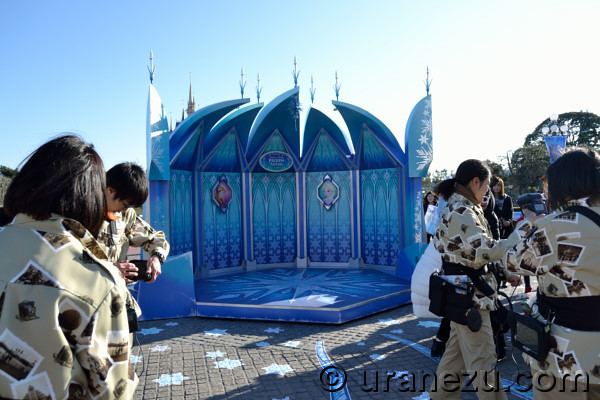 Honestly speaking, this small icy dome has bad sense in design. There are no transparent or clear material which looks like made from a card board, zero feeling of ice and snow.
In this year, there are no ice chandelier on ceiling of World Bazaar, but still some icy and frosty things are adorned at there.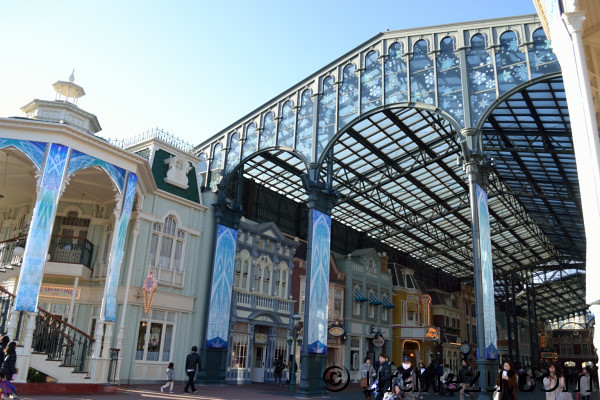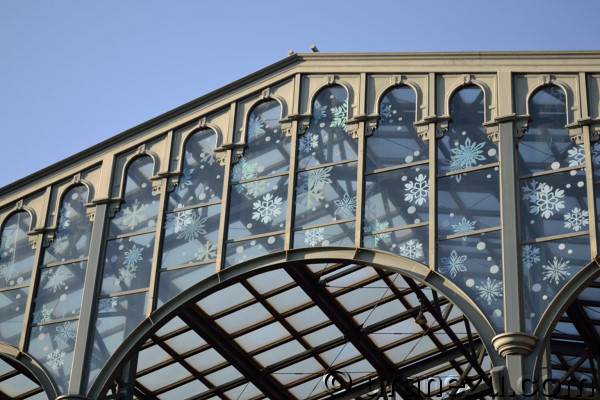 Another photo opportunity is located in Fantasyland next to "Kingdom Treasures" the merchandise store.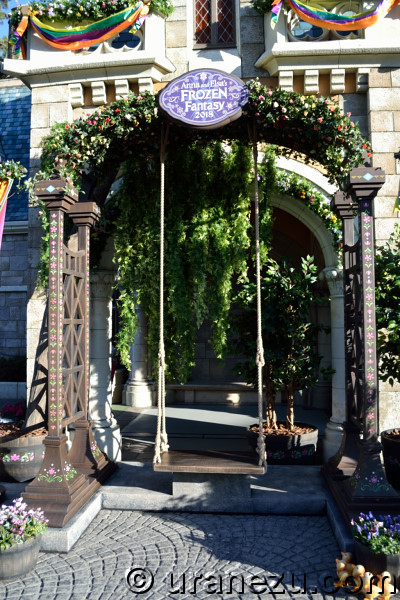 If you want to be feel like Anna, why don't you try a swing?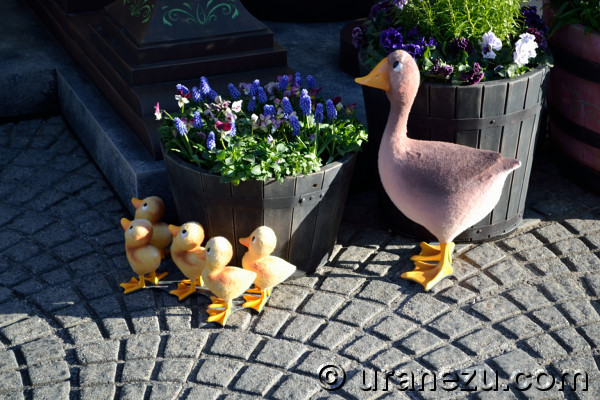 Lovely duck family will enhance your Anna's feeling.
There is another new photo opportunity during the event in Adventureland.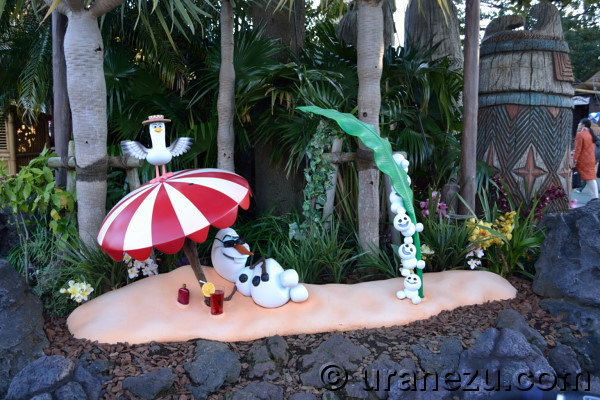 The very first scene of "In Summer" the his big number.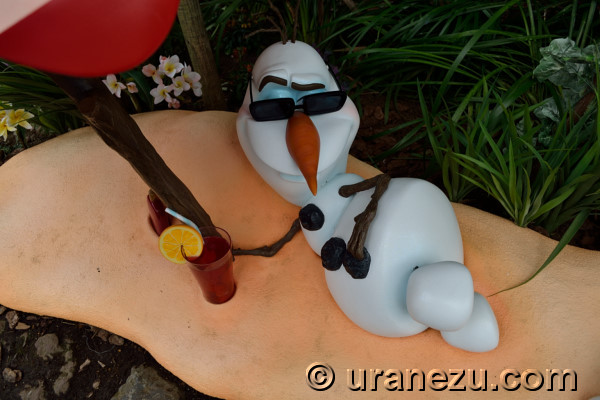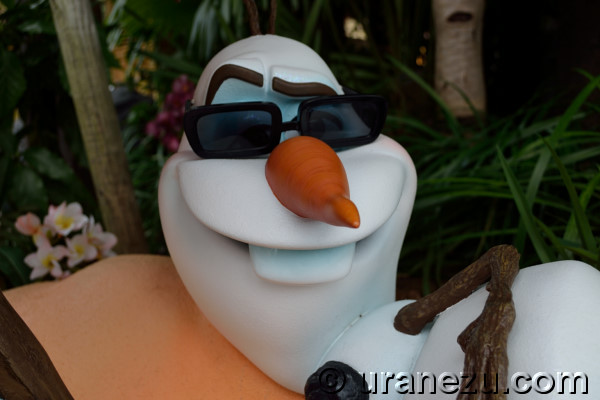 Yes, a cute and cool expression of him is one of worth noting points.
But this is the worthy of attention.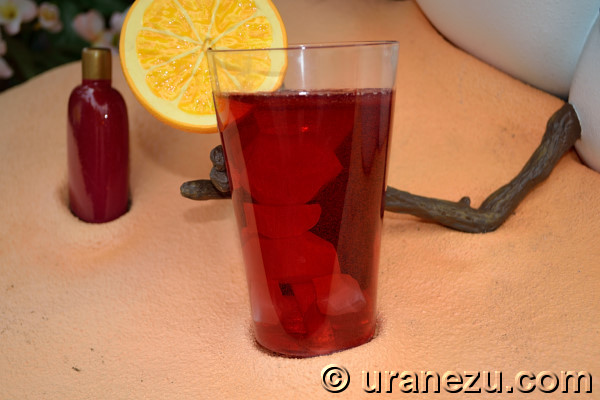 Ices are formed a human in the tropical punch which is exactly same as the song.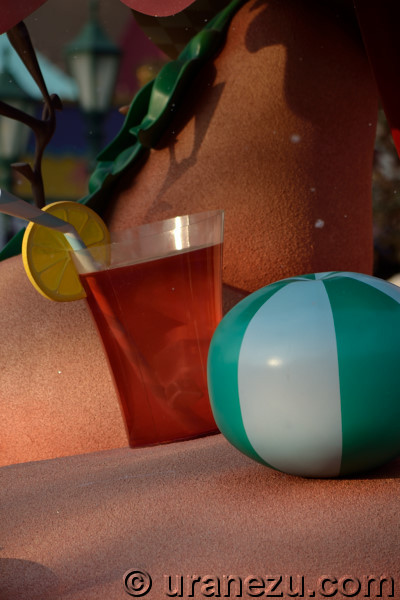 There is another soda cup in Frozen Fantasy Parade, but I couldn't figure out whether the human-shape ice or not.
It's time to special day parade!
I really loves Frozen Fantasy parade dancers' costumes.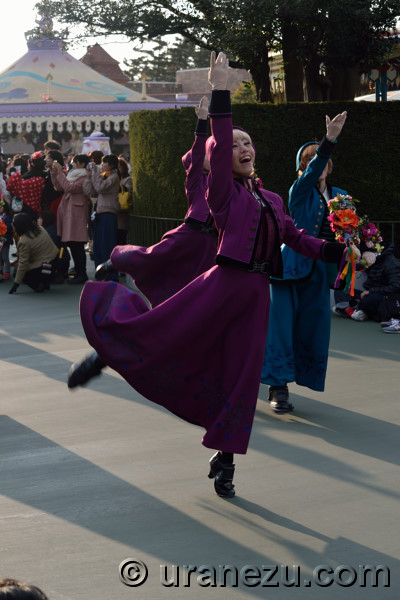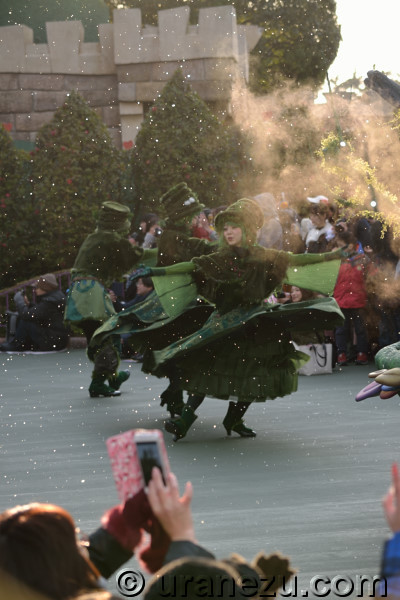 A flower bouquet town girl from the opening float, and a moss girl from Trolls' float.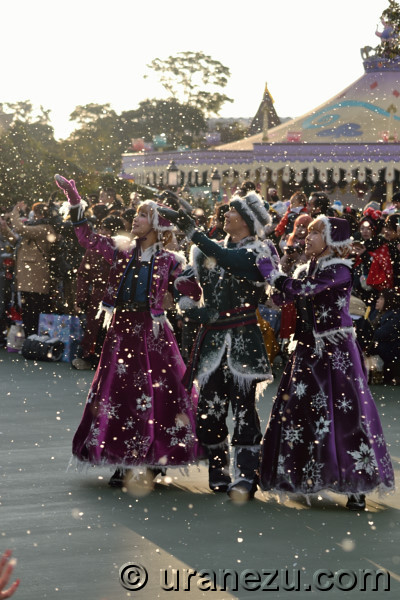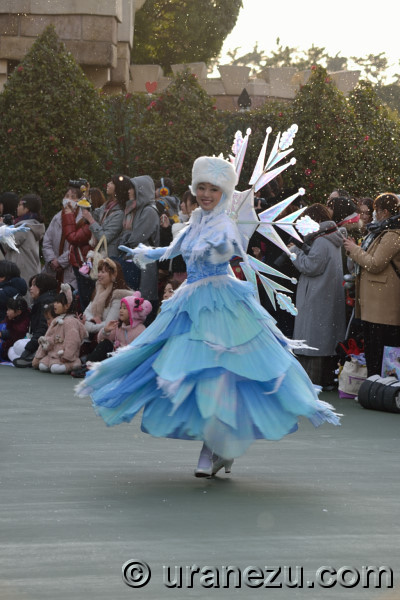 A shivering dancers from Anna & Kristof's float, and a snowflake lady from Elsa's float.
We welcomed Queen Elsa from Arendelle.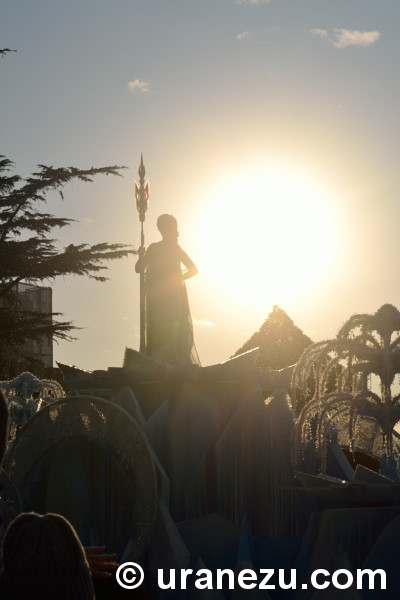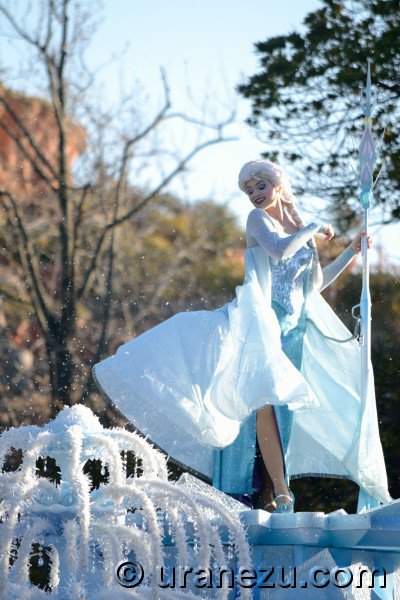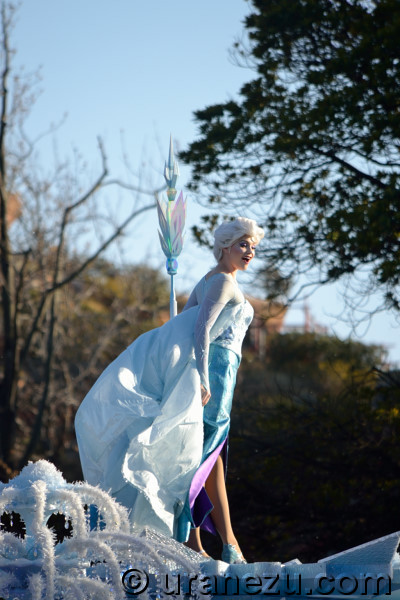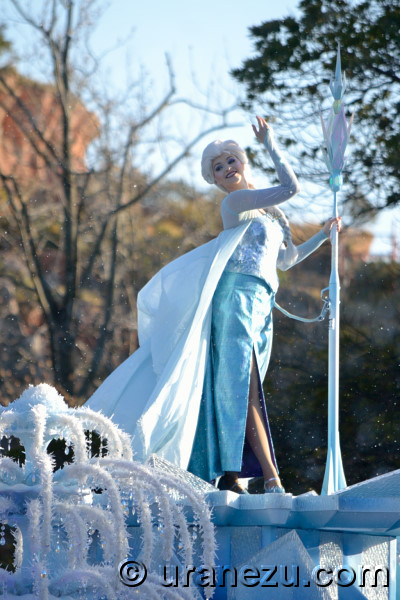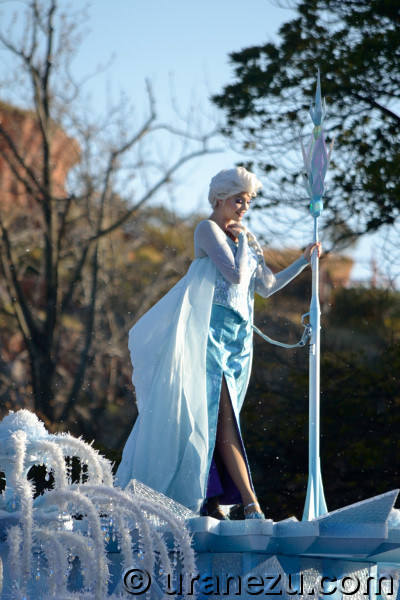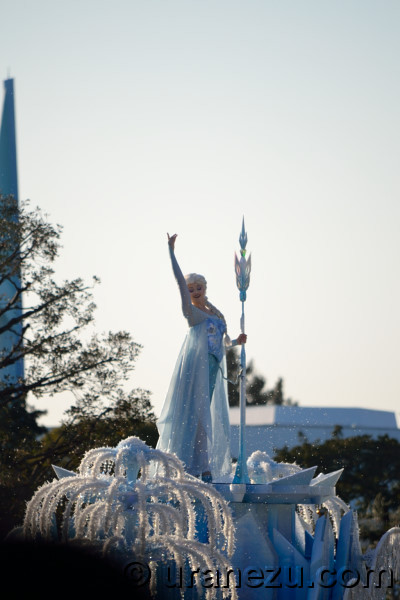 We will able to see powerful queen in TDL until March 19!
Don't miss this opportunity!
If you have any questions, opinions and requests,
please contact us.
Jan. 27 2018 The Cold Never Bothered Me Anyway (caused by adrenaline)! Part.2
Welcome back!
Normal mind guests were out, crazy me was in. Let's go to TDL!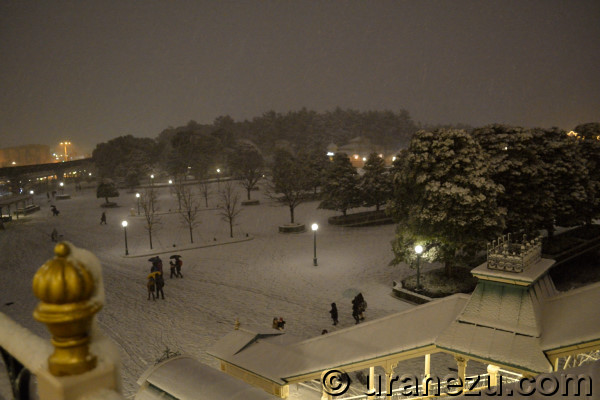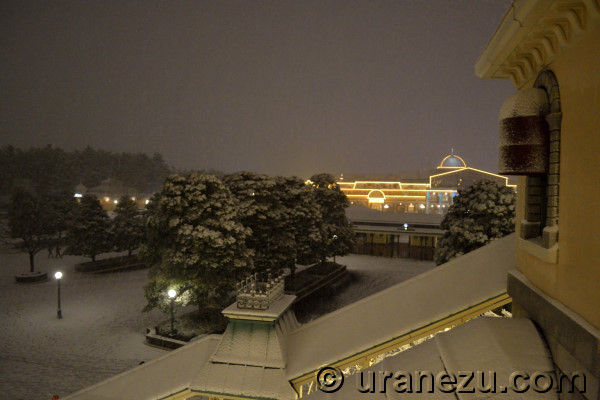 This is the view from Disneyland Station of the monorail.

In this day, TDL was closed at 10 pm.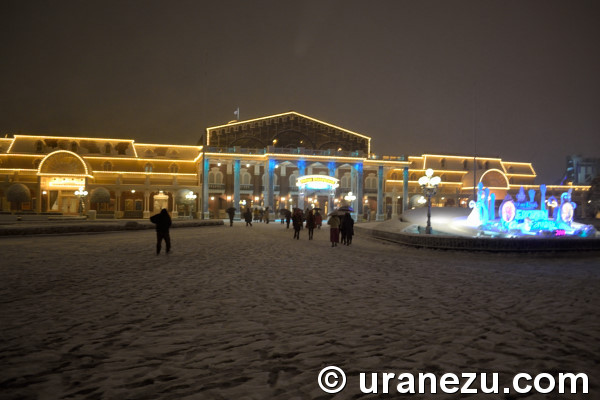 I couldn't stop exciting from the entrance sight with snow and few guests!
But TDL was TDL. Guests didn't go back home as same as me.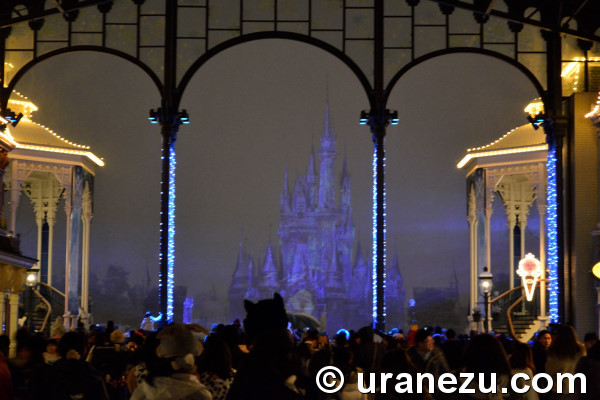 Most of people watched projection mapping show from World Bazaar.
The show was very blur due to the snow wind, so I went out to Adventureland.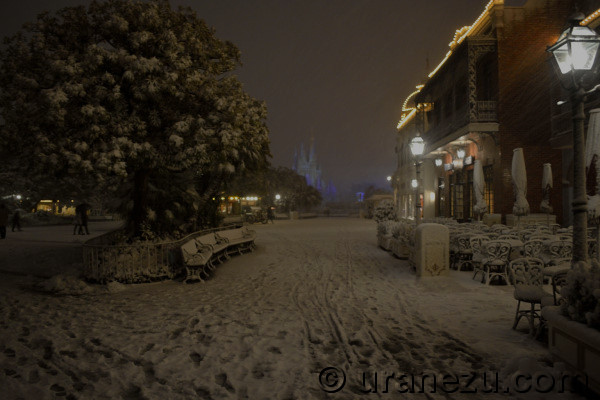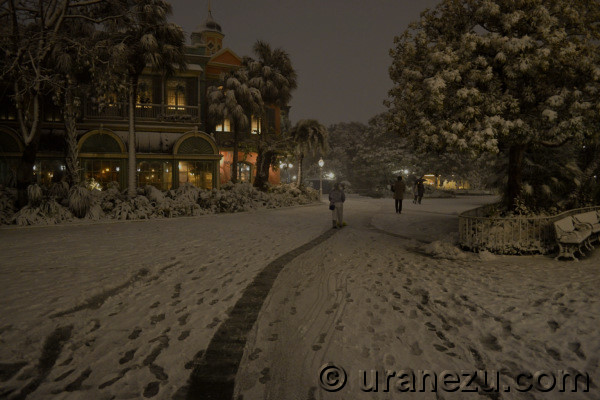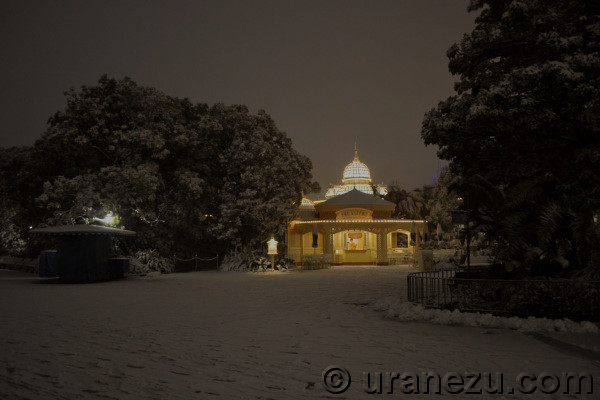 The above picture was around 8 pm, but there were only few guests and some snow shoveling casts.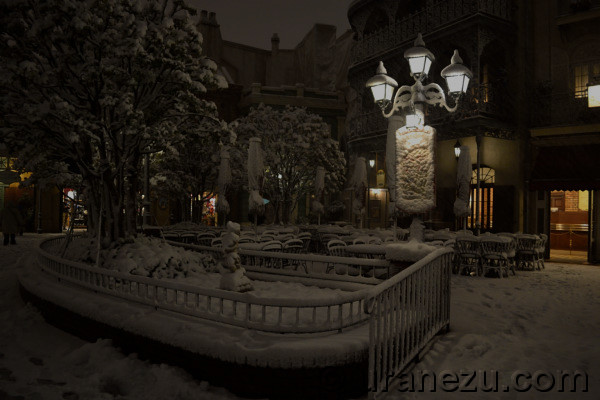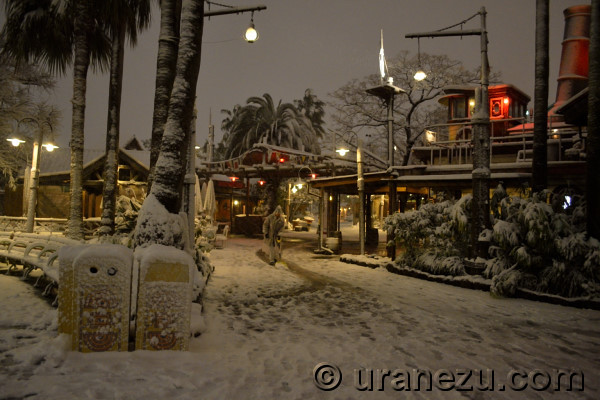 The left picture is "Cafe Orleans" the crape eatery, the right one is "Boiler Room Barbeque" the snack shack.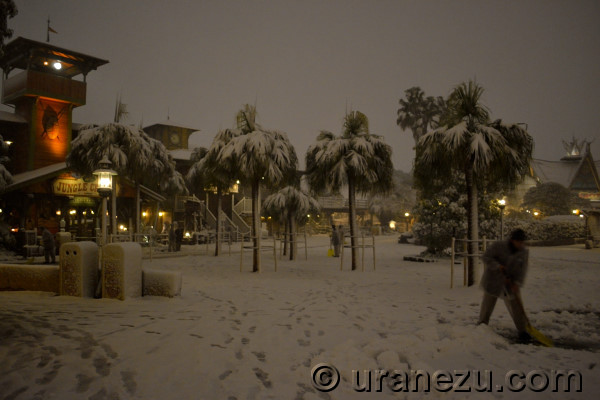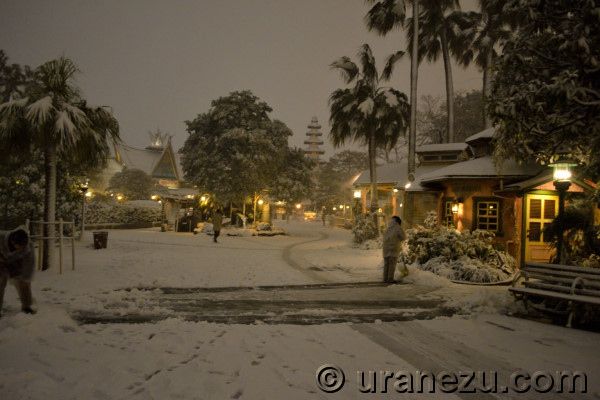 The main area of Adventureland. Every outside attraction was closed, and many cast members shoveled the snow out of the road.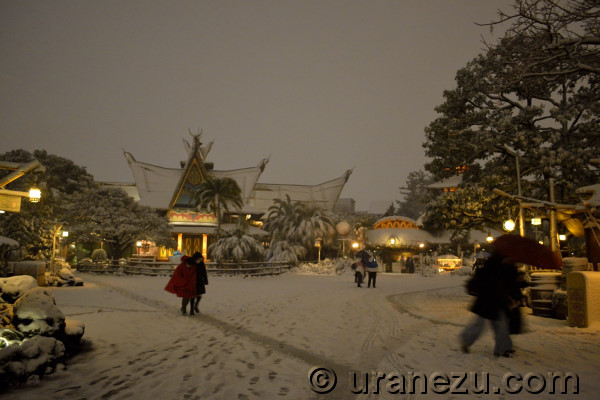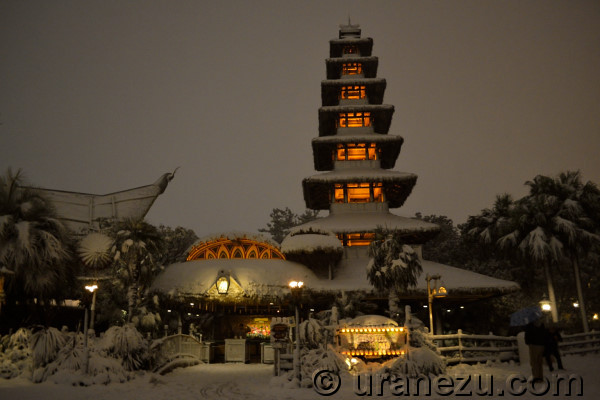 Can you feel how the park was quiet?
It's quite unusual, but very matches the snow in Westernland.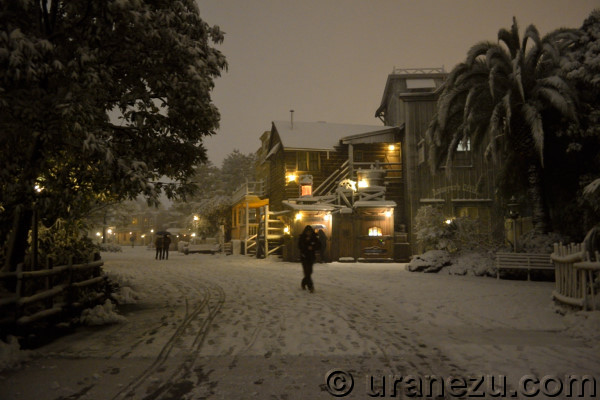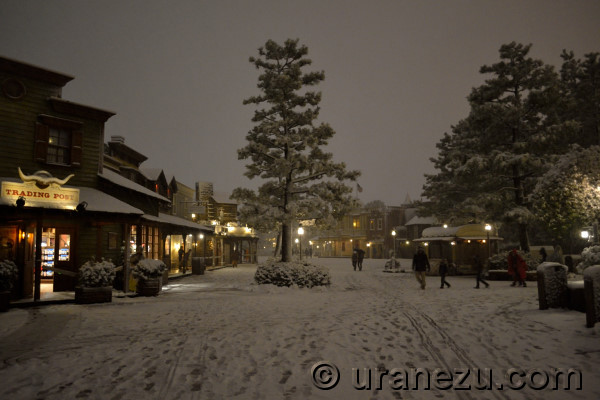 The below pictures show how snow is intensive when I used a flash.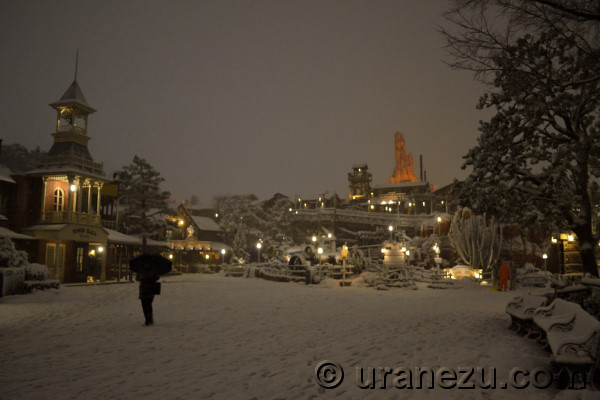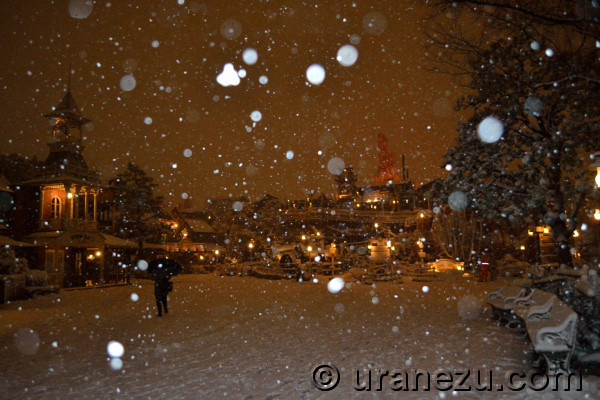 The snow covered Big Thunder Mountain.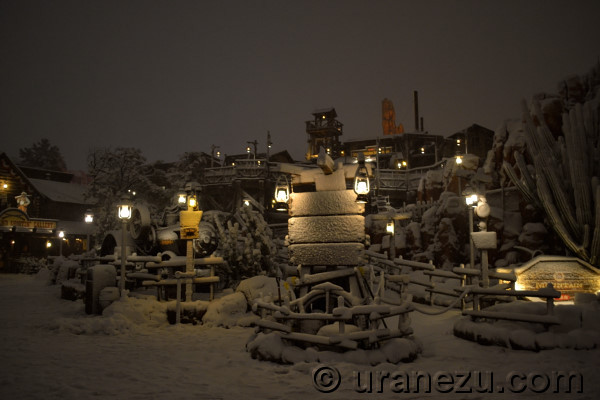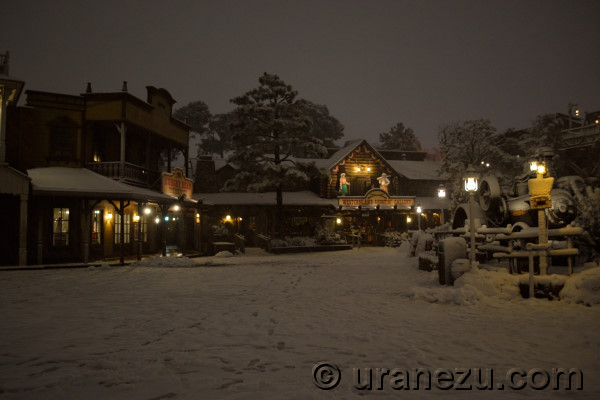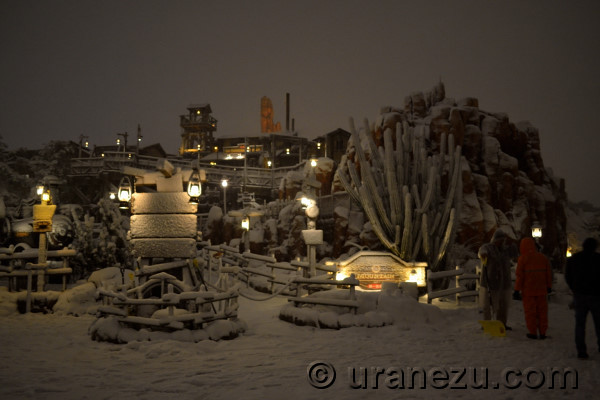 The orange man (I think he's permanent cast) scolded two cast members. I don't know why, but I know it's not good show at all on the stage.
Here is a new area in Westernland. It's Camp Woodchuck..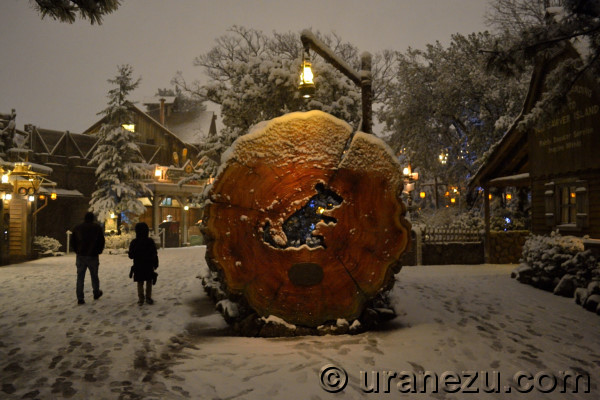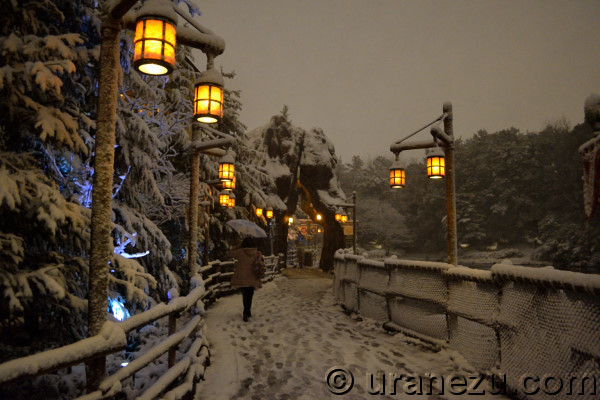 We could enjoy snowed Tom Sawyer's Island across the river, and above the bird in the snow.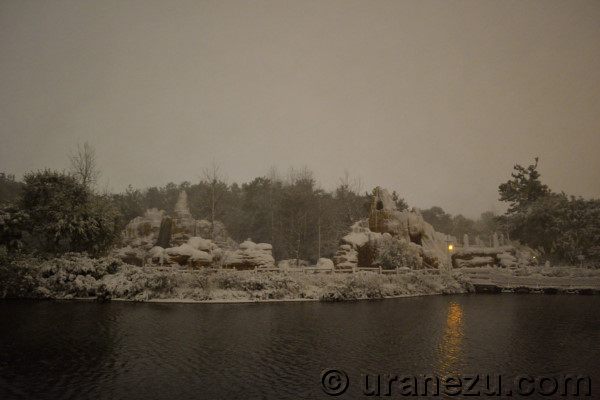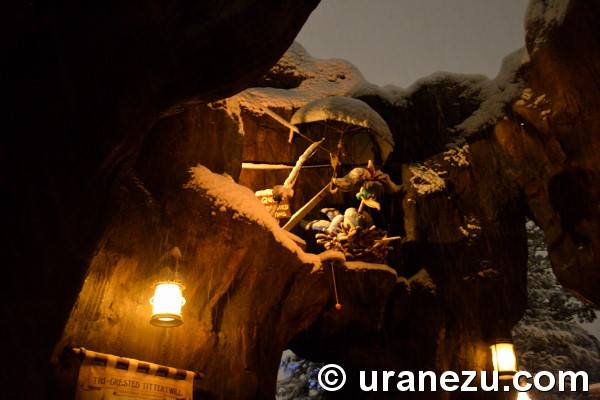 It's the first time to see this scout girl costume Daisy.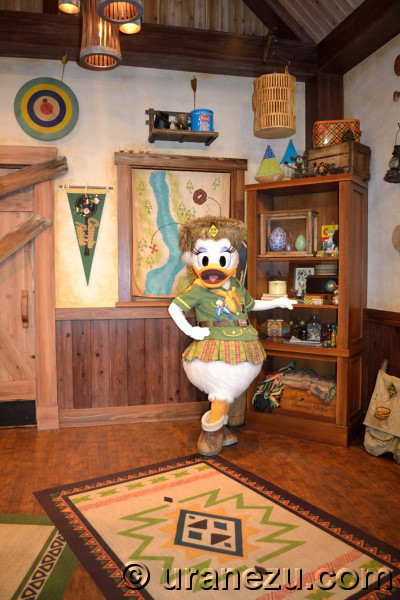 She welcomed at her lodge in this snowy night.
I know it's not good for a tree of this heavy snow, but I couldn't help to take a picture. It's beautiful.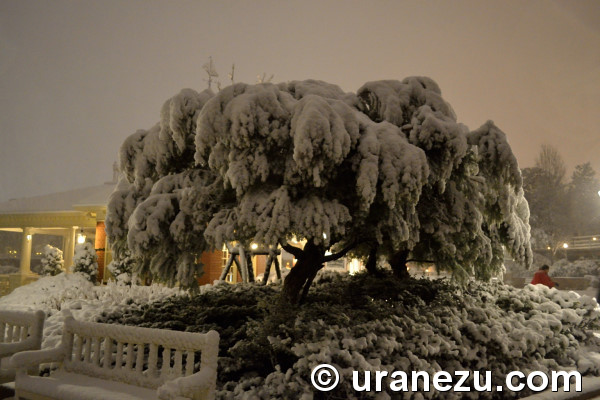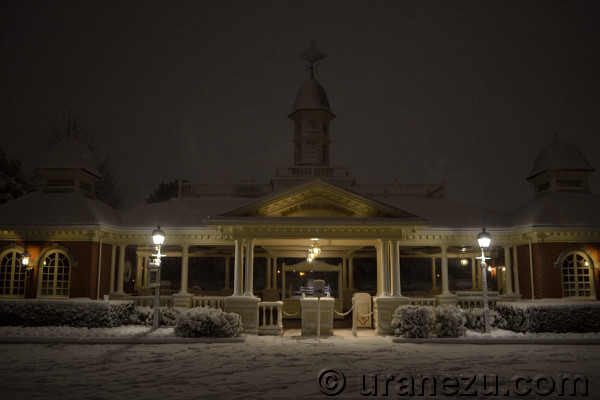 These twos from "Mark Twain River Boat".
Due to the heavy snow, it only opened an area of Splash Mountain's entrance.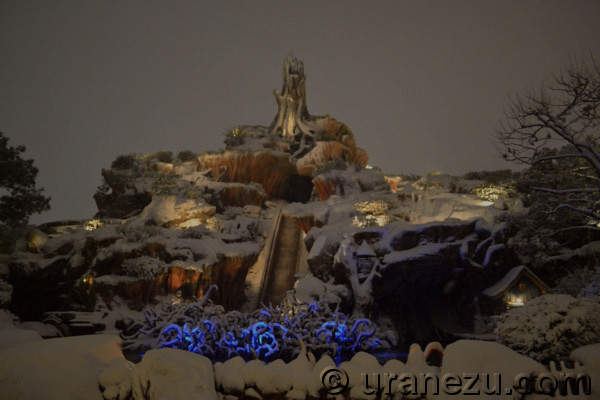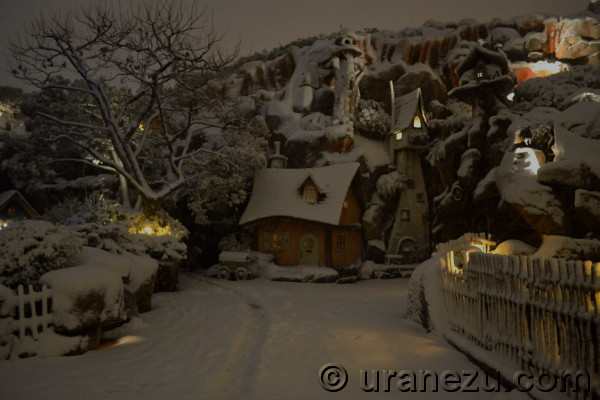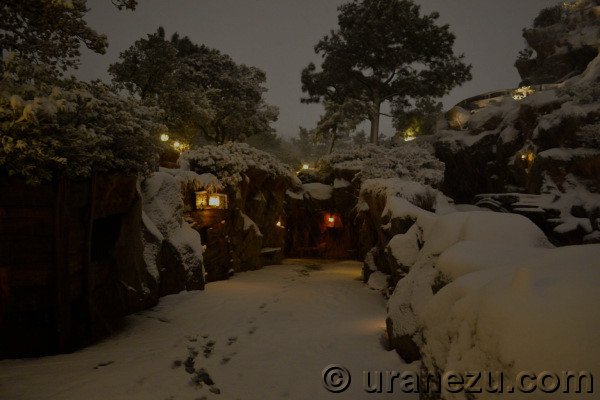 Can you believe it? It's busiest area of Fantasyland!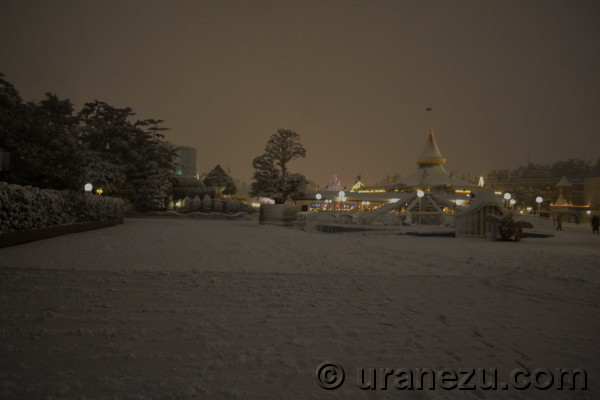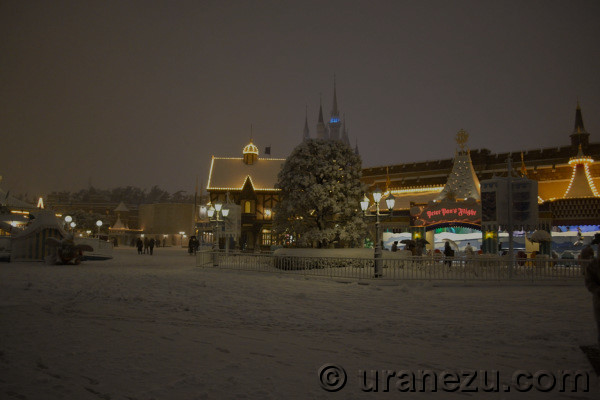 It's around 8:30p.m. which was 1 and a half hours before the park close.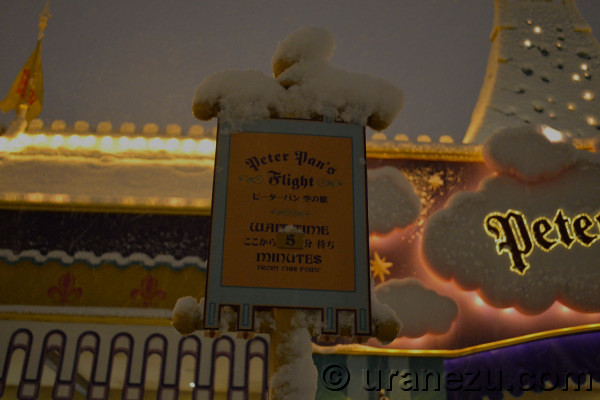 This was the big proof that there were so little guests. Peter Pan's Flight is only 5 minutes to ride! This was the wonderful thought, yes I could fly!
A popular photo location of Frozen Fantasy the special winter event was ZERO waiting time, only this day!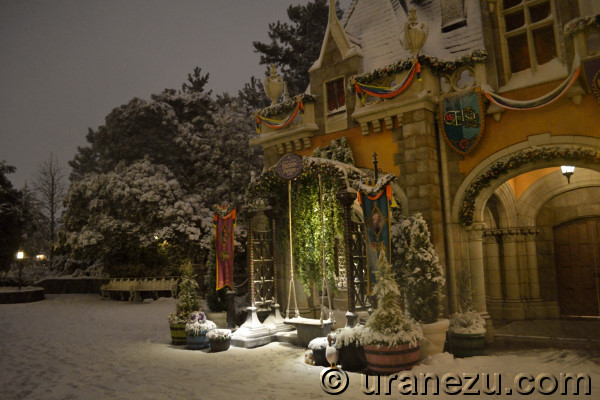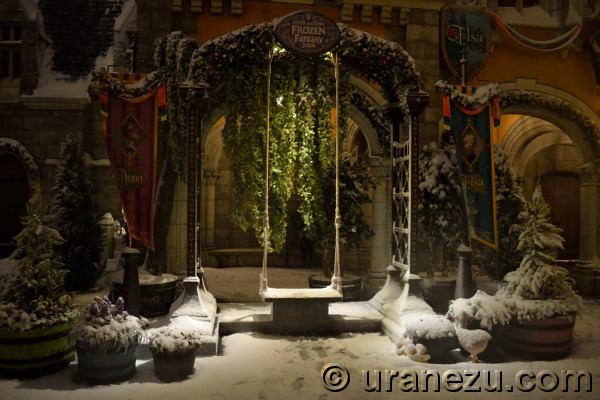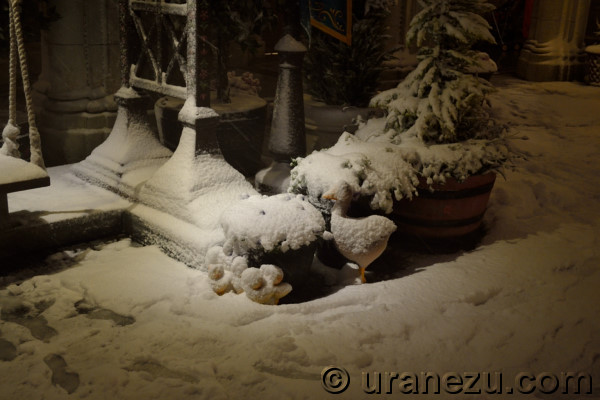 Duckies…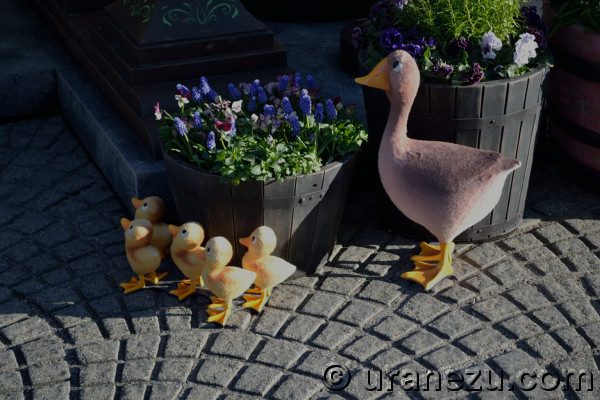 In ordinary day of them.
Even my least favorite photo location was also lovely with snow power.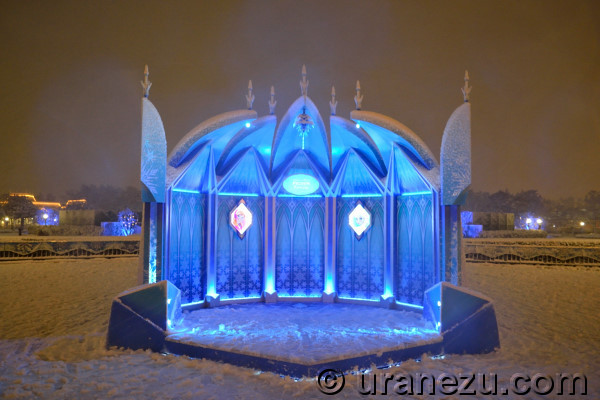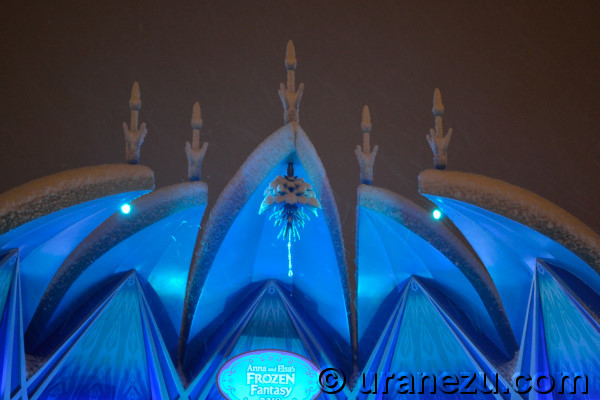 Honestly speaking, this small icy dome has bad sense in design. There are no transparent or clear material which looks like made from a card board, zero feeling of ice and snow under the sunlight.
Speaking of the special event, let's check also limited-time snowgies.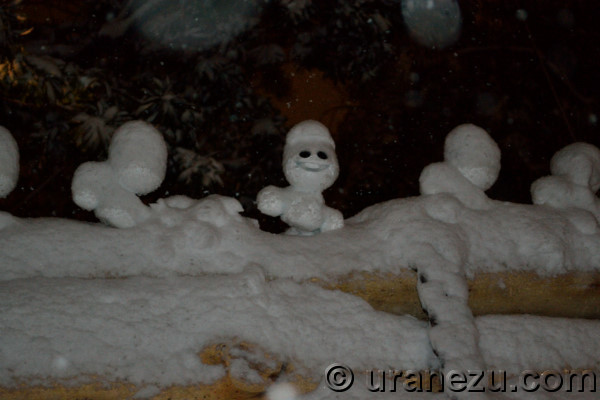 Snow covered.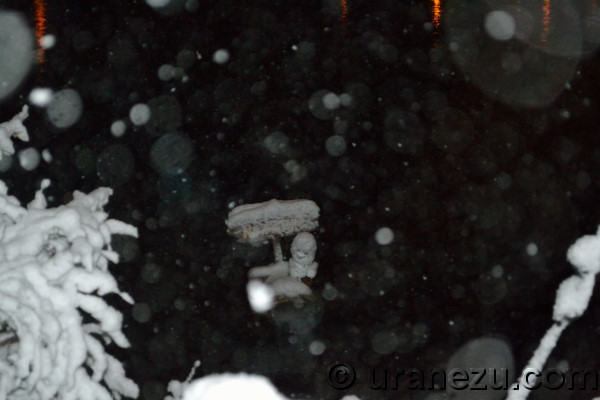 More Snow covered.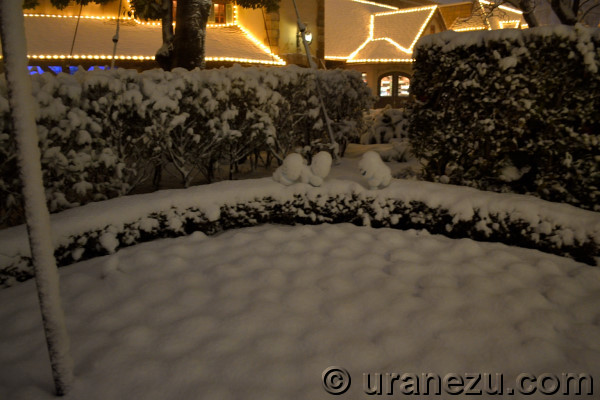 If you know the place of them, you couldn't notice them in this heavy snow.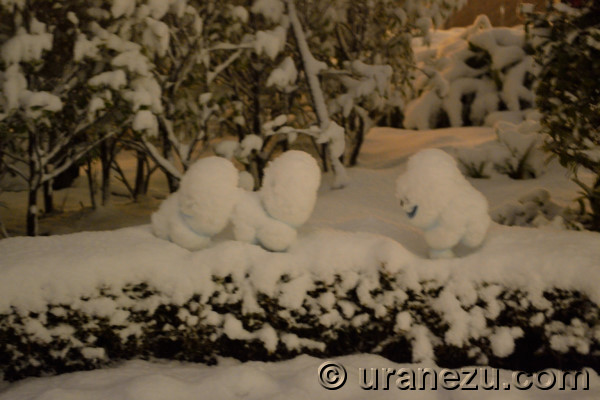 Under the sun of them.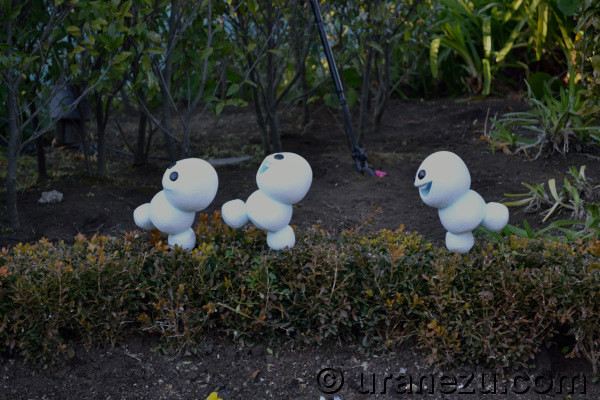 This is a new additional decoration of 2017 Frozen Fantasy.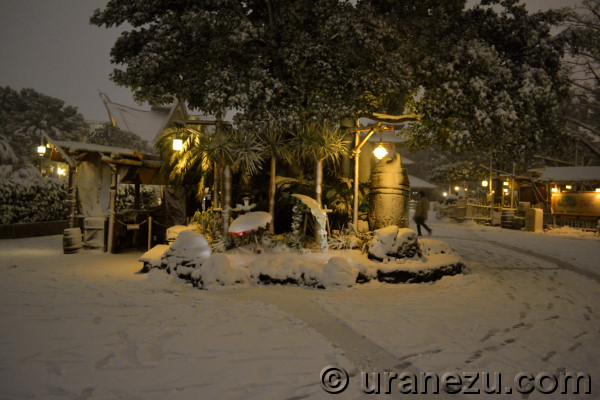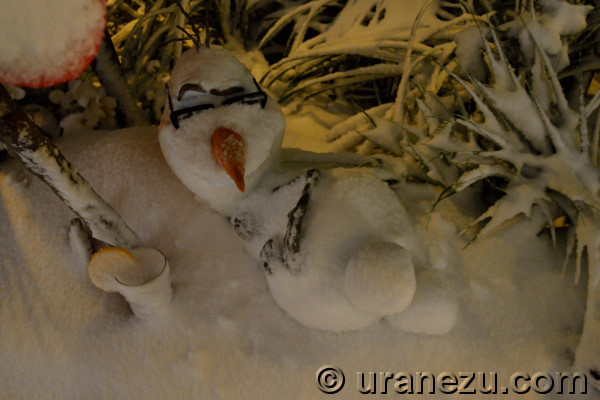 But they hardly saw their figures.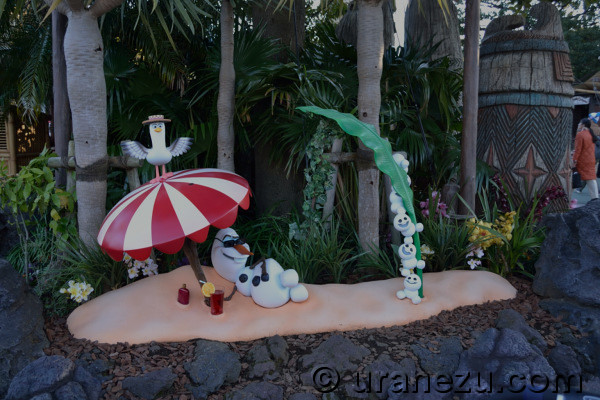 The above is Olaf's dream, "In Summer".
The very elaborated restaurant with no queue lines at all, and looks so warm. It's so attractive than ever! But I didn't have a time to bivouac at here.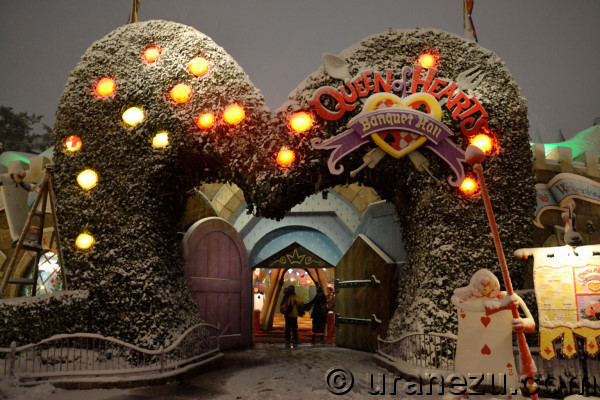 Let's keep moving folks!
Be careful cards!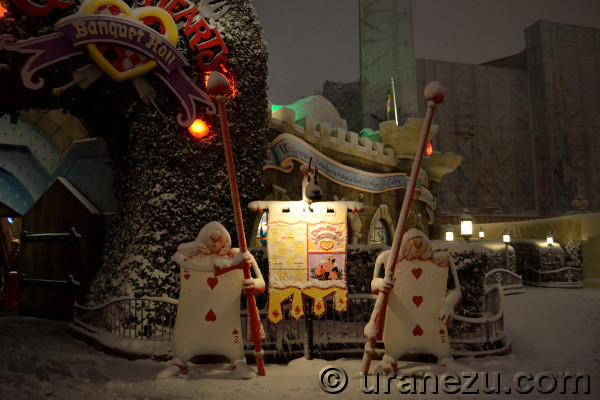 It's really amazing sight which was wiped off whole contents of picture book by snow.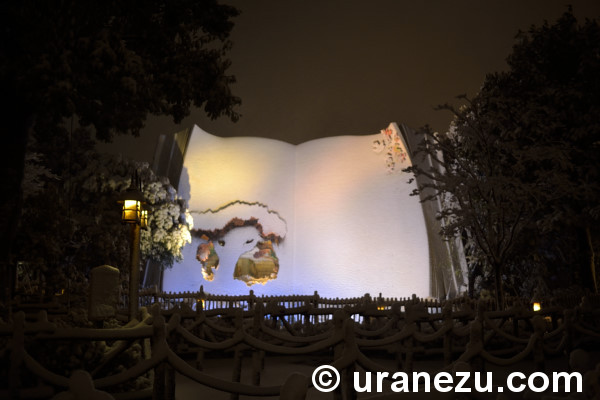 I really love snow' mischievous.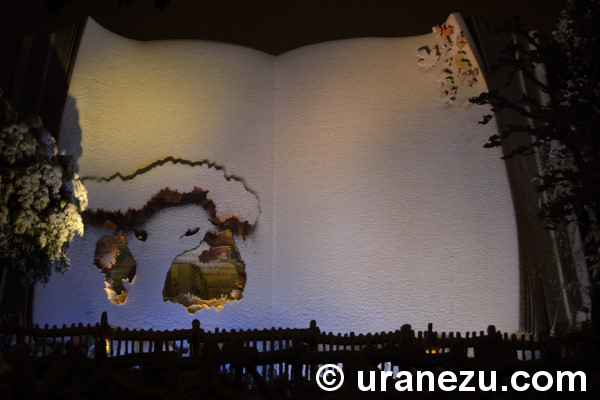 The cast member at this Pooh's Hunny Hunt made Bee mark on the snow.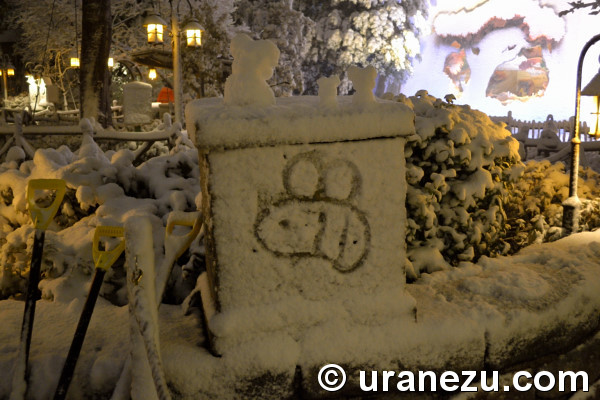 Every cast showed their skill of snow art or snowman.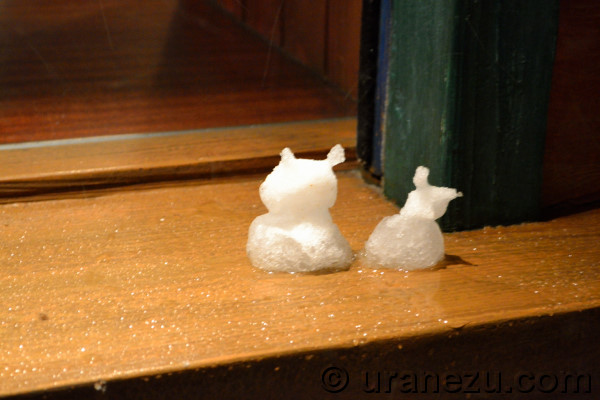 Little bit melted away, but still you can see they are Pooh and Piglet from "Village Pastry" the Tipo Torta wagon.

And this one was also melting, but this is Pinocchio attraction.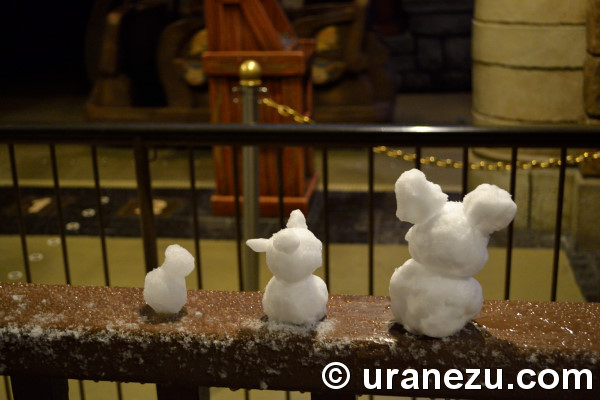 That's why nose has!

High speed, Turbulent, and Heart!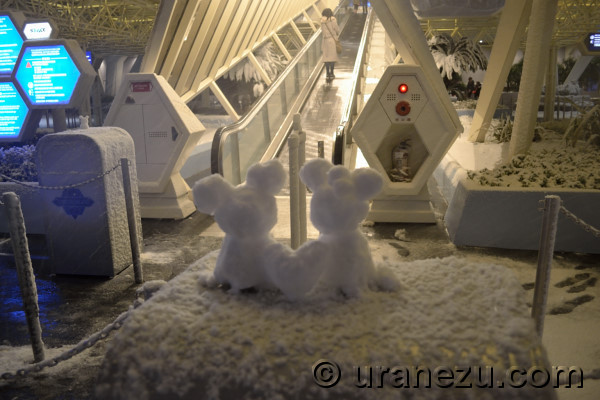 Yes, lovey-dovey snowmen from Space Mountain. (This snowman with heart uploaded TDR official blog, so it might be made for the photography.)
The full of gag town was also overwhelmed by the snow.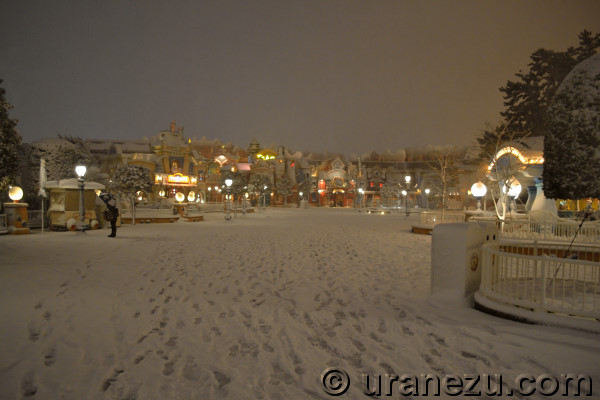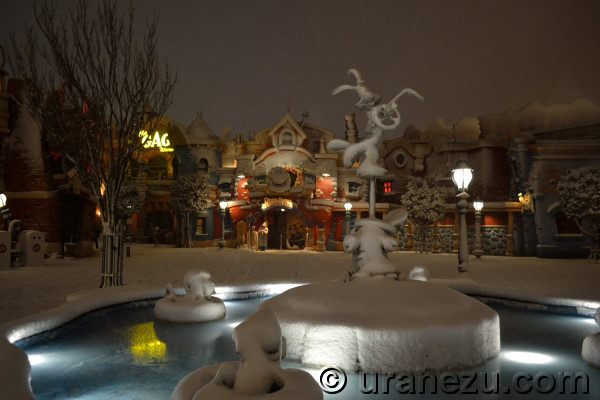 I've never seen such so quiet and piece in Toontown.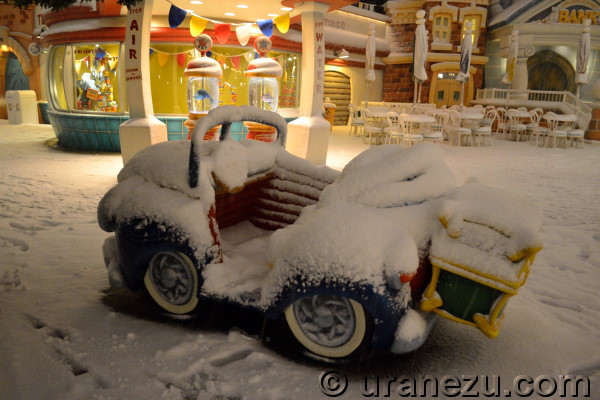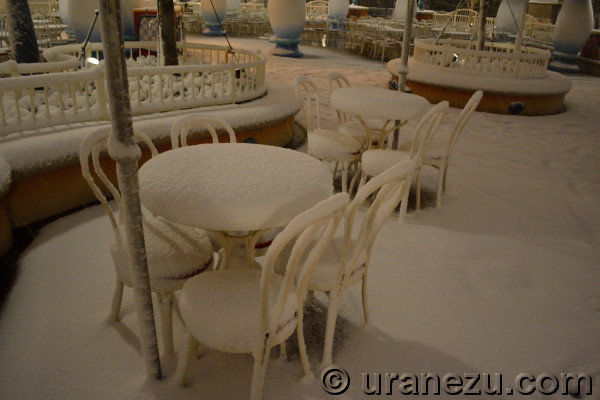 Table and chairs loaded with snow. It made me laugh how the snow heavily.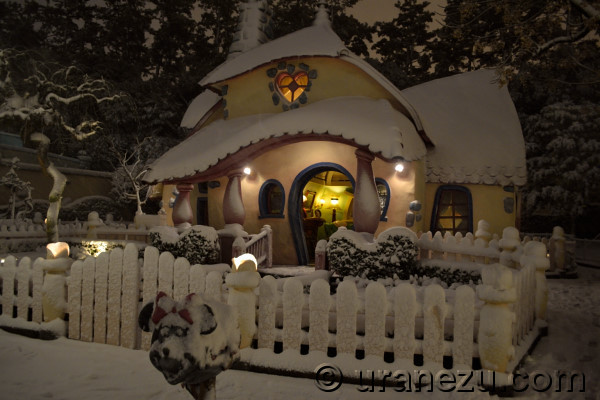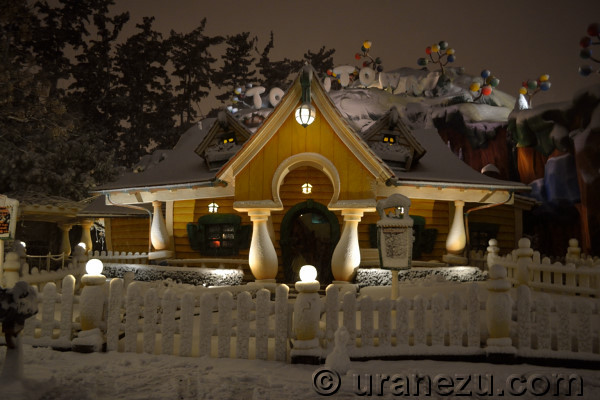 It's so beautiful harmony with vivid town color and white snow.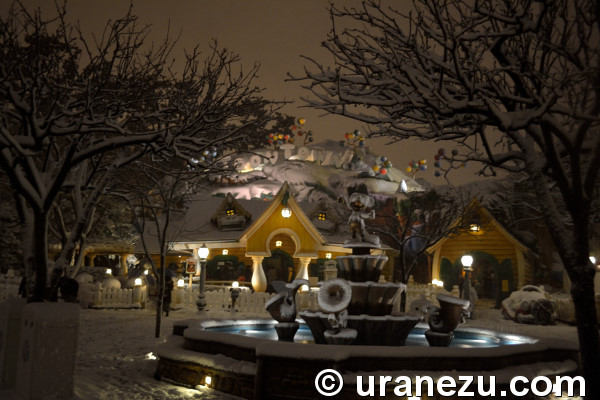 I know your perfect color is WHITE, Tomorrowland!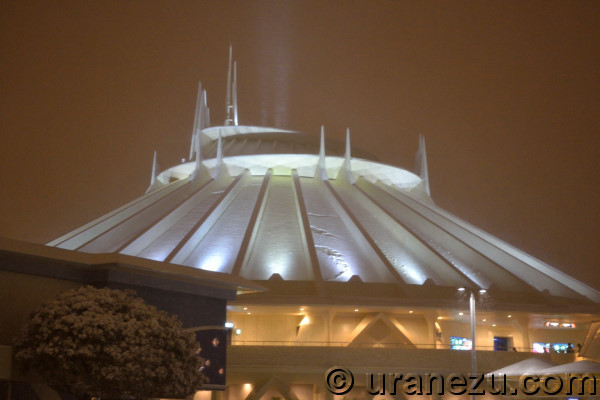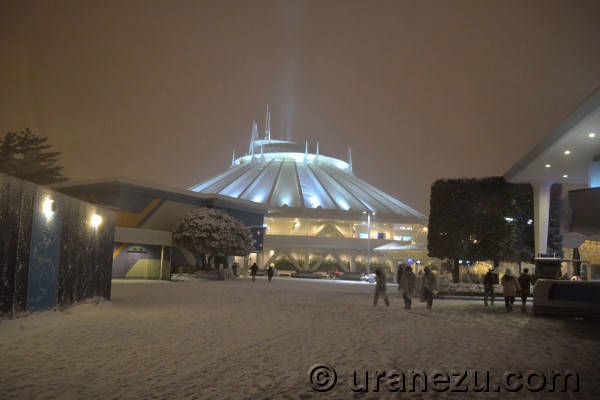 Not only me but also you, we realized how TDL park has vast ground.
Do you wanna build a snowman?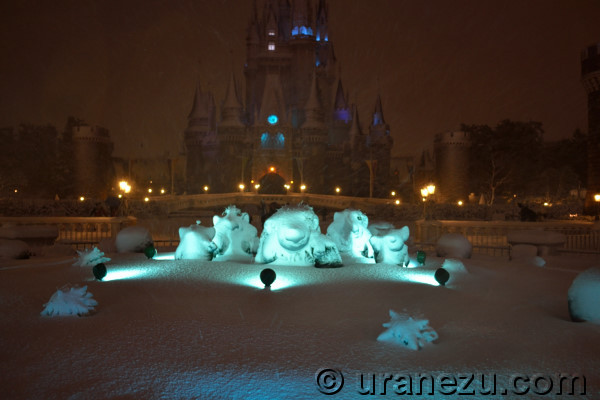 Already almost done a snowman… The trolls was buried beneath a covering a snow.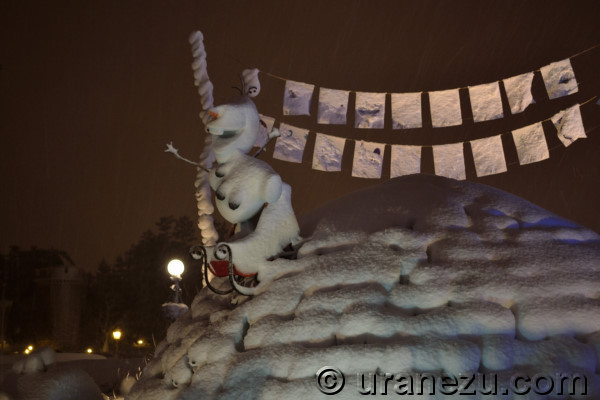 This is really Olaf from Frozen.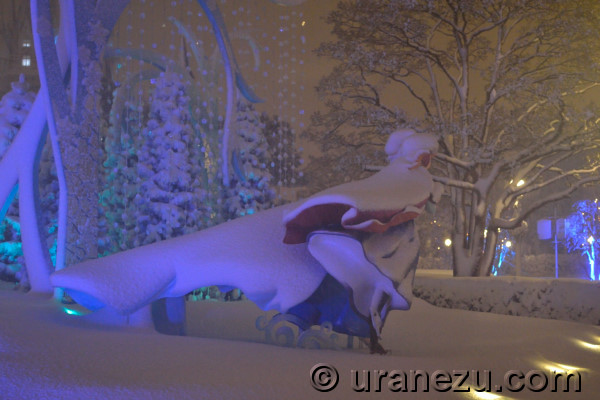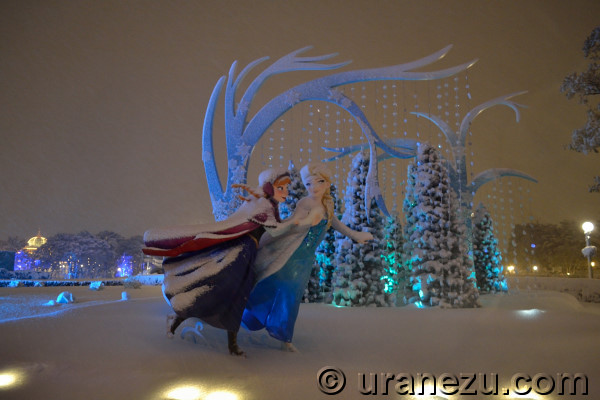 The royal sisters also really Frozen.
You can guess who he is!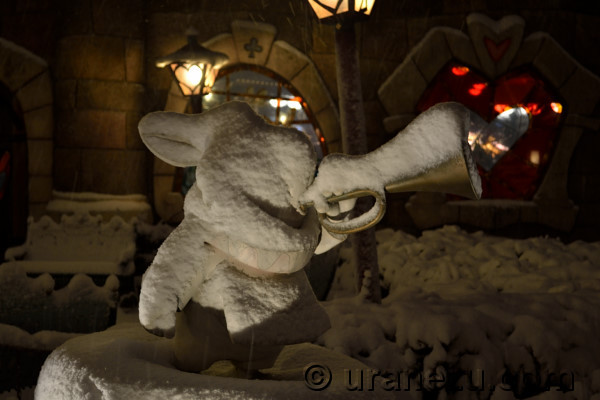 It's not White Rabbit snowman, it's snow crusted White Rabbit.
A topiary of the beautifulness was not fade in this heavy snow.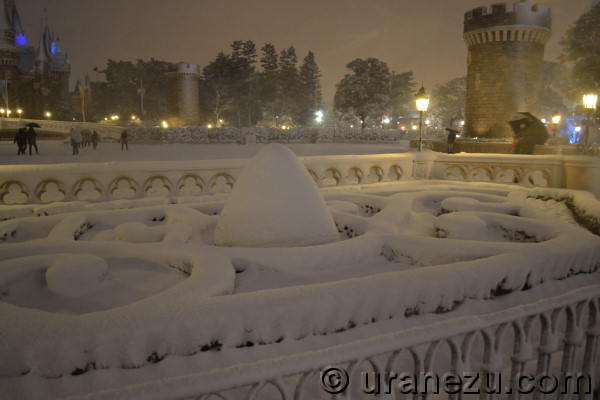 Yes, these beautiful vegetation is located in front of the Cinderella Castle. So let's check it from the hub.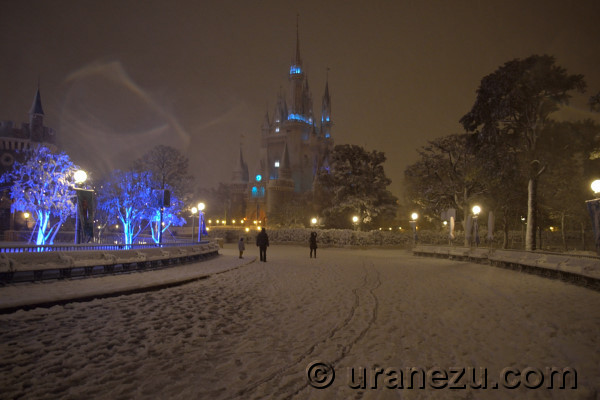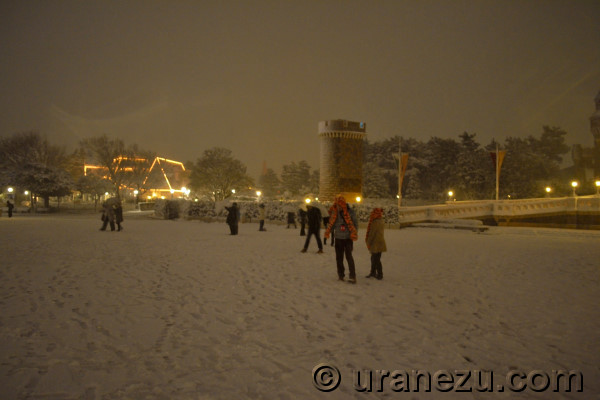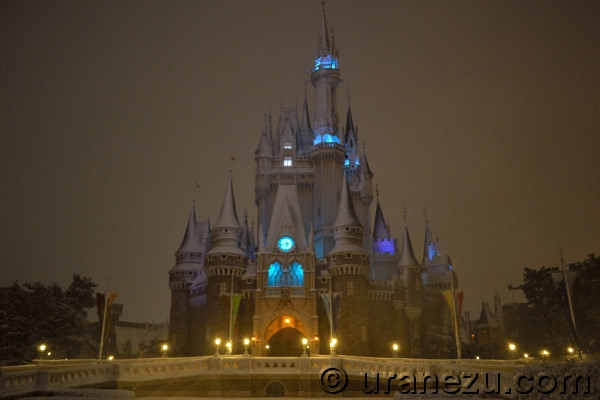 When I used a flash, there were so snow was falling.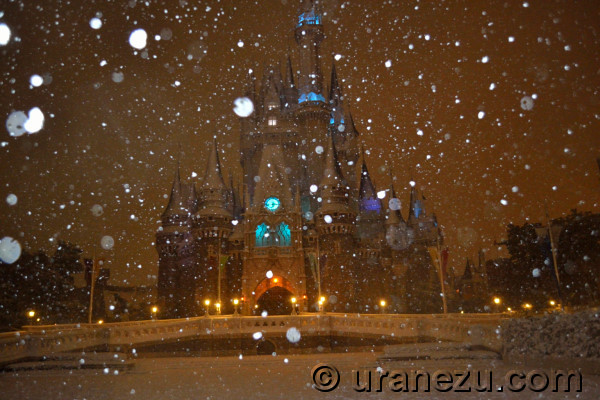 The backside of the castle was also very romantic.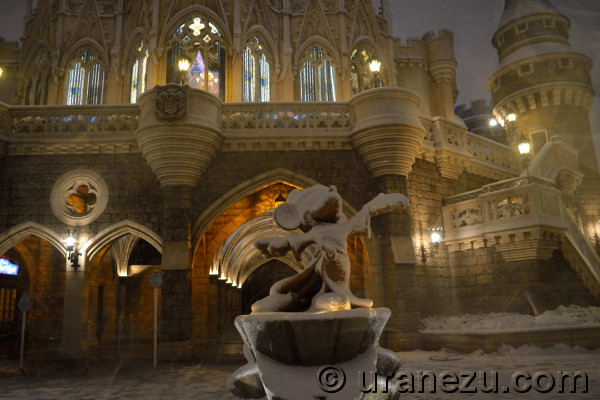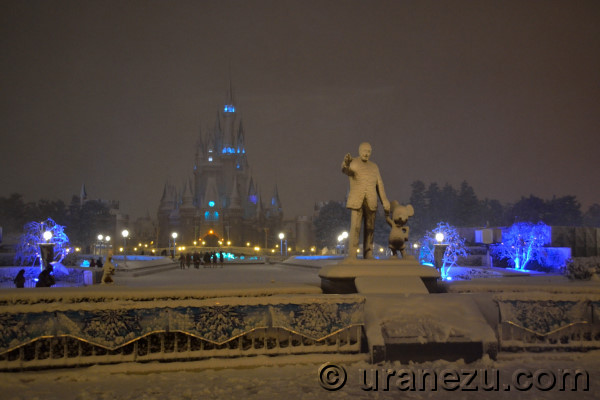 It was so fantastic night. I went out after work, but the snowy parks took my exhaustion away!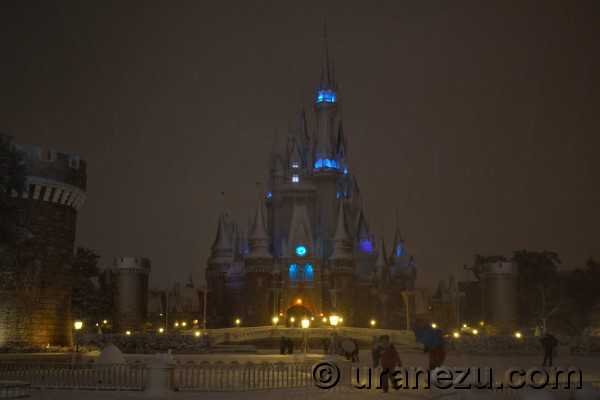 I hope you'll feel like you are in the snow crusted TDL and TDS, and also hope you enjoy it!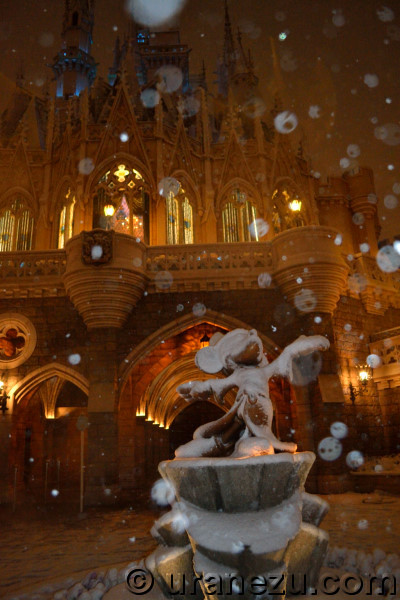 If you have any questions, opinions and requests,
please contact us.
Jan. 25 2018 The Cold Never Bothered Me Anyway (caused by adrenaline)!
Did you remember I've uploaded a topic of park with snow on this corner?
It's in 2014.
Then four years later, finally it happened again!
TDL and TDS had big snow last Monday!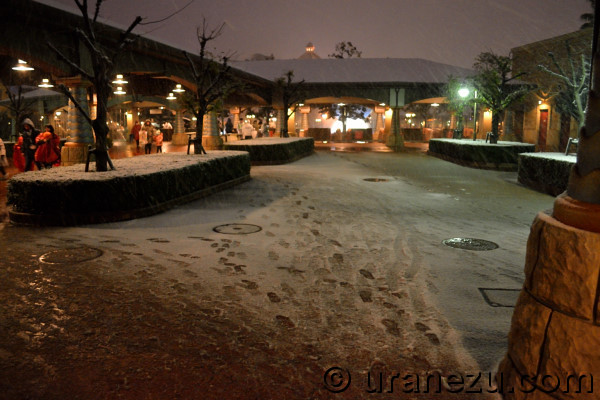 Yes, it's wonderful time to stroll around the snow blowing park.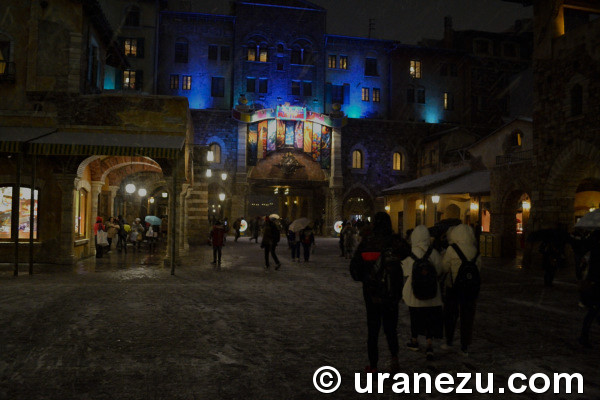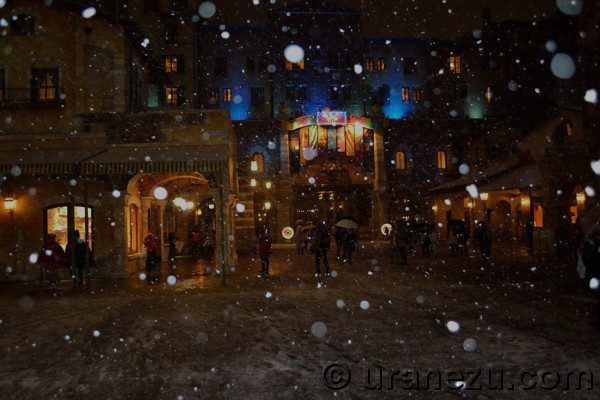 The left picture was taken without flash, and the right one was with flash. So you can see how snowing.
Fortunately for operation, unfortunately for me, TDS park closed was 7 p.m. on this day.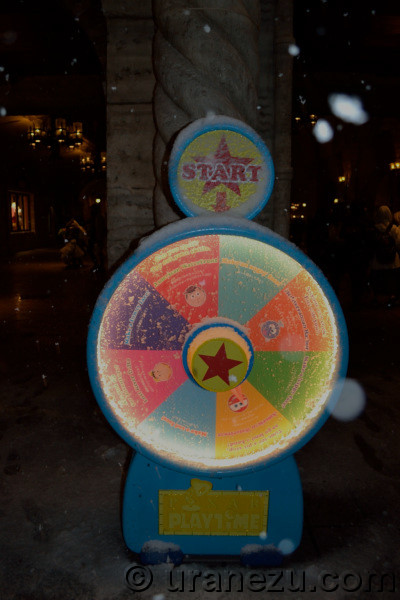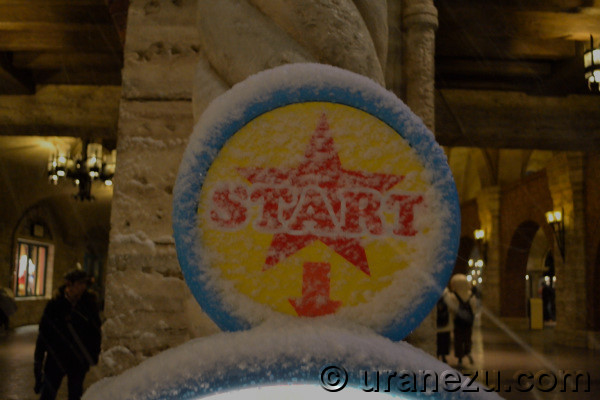 Your destination wheel was slightly snow covered.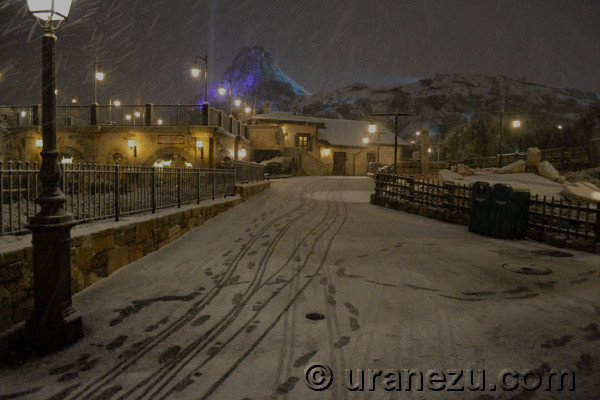 Always Mediterranean Harbor gave a great photo opportunity, especially with snow was terrific.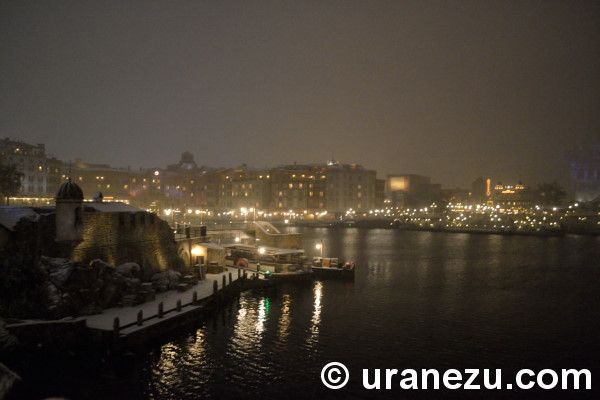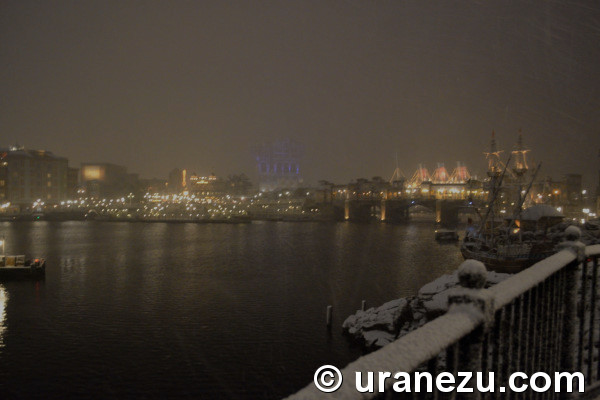 A lovely scenic with distant warm city lights, it's like a beautiful holiday card.
Everything showed another atmosphere in this snow park.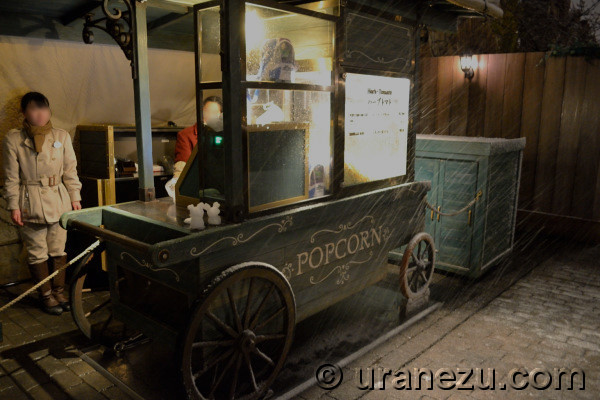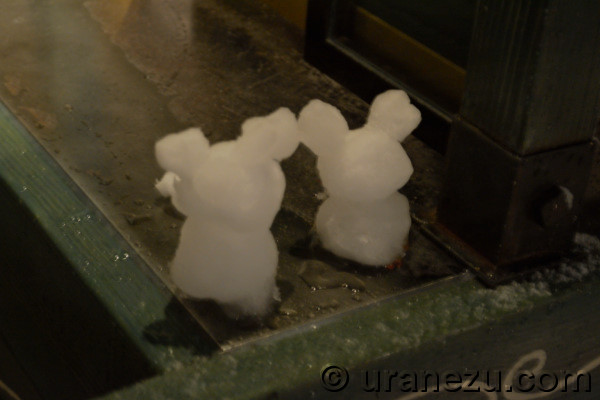 Popcorn Wagon welcomed cute cast members and snowman.
See? It's very fun to walk in the snow park. But there is only one concern thing.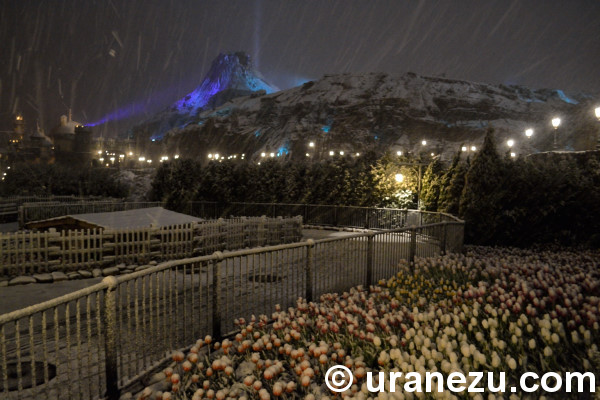 Many tulips were newly planted in these flowerbeds.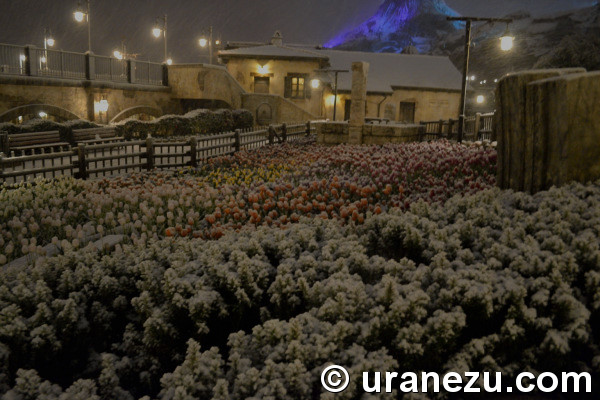 Mysterious Island have good chemistry with snow.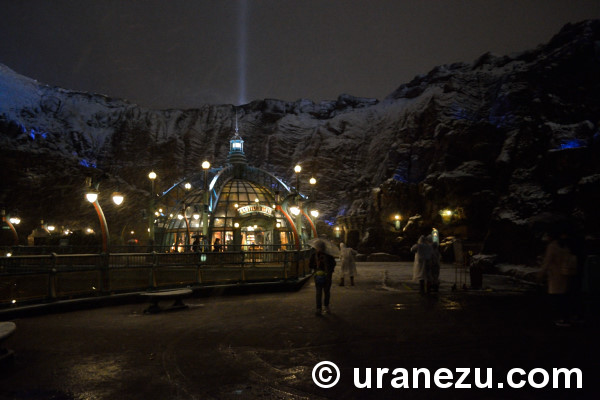 The pic from "Nautilus Gifts" the merchandise shop in Mysterious Island.
How about Above the sea area with snow?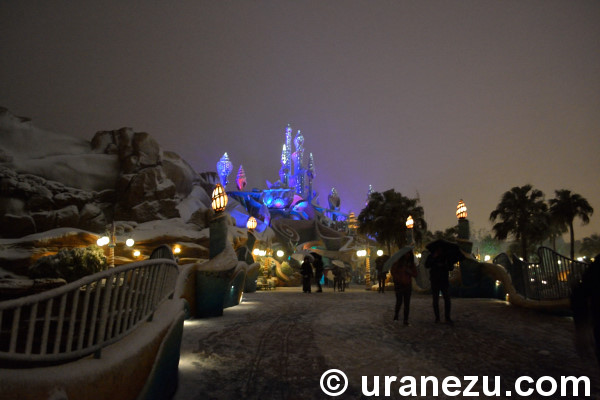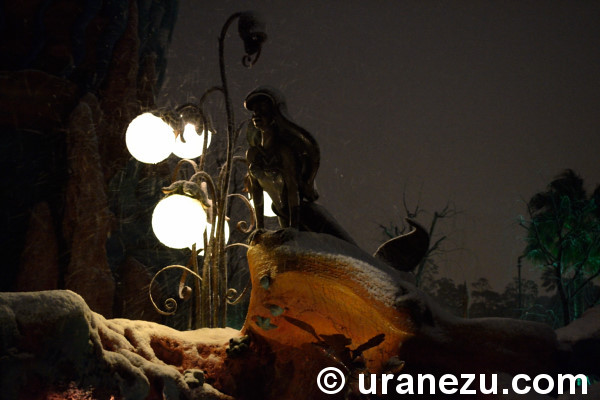 Ariel knew not only the fire, but also snow! I hope she likes it.
Here are Arabian Coast with snow.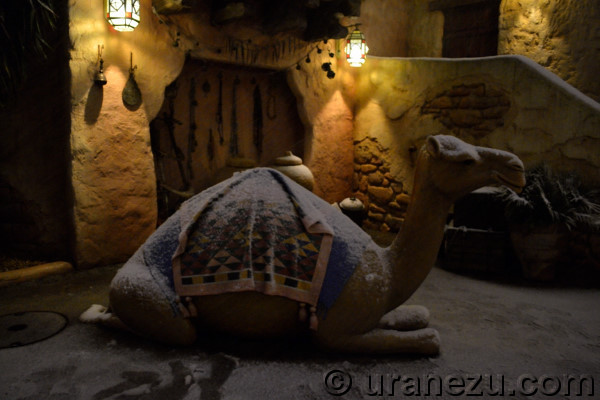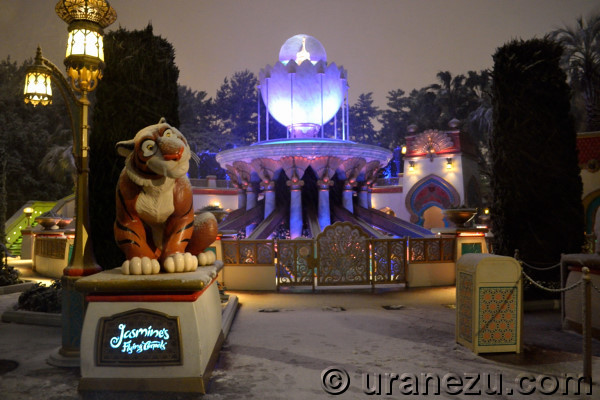 They are always so loyal in anytime. The camel is waiting for merchant, and Rajah is guarding princes' flying carpets.
And more from Arabian Coast.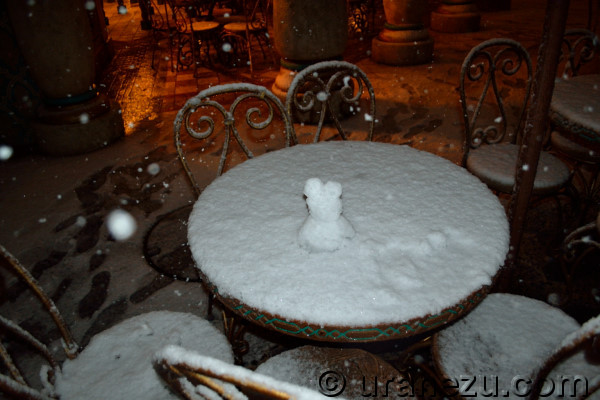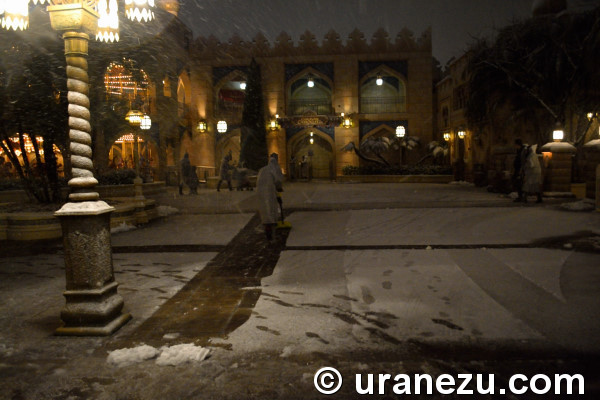 I really love the cast's neat snowplowing in the right picture.
So let's go out Lost River Delta.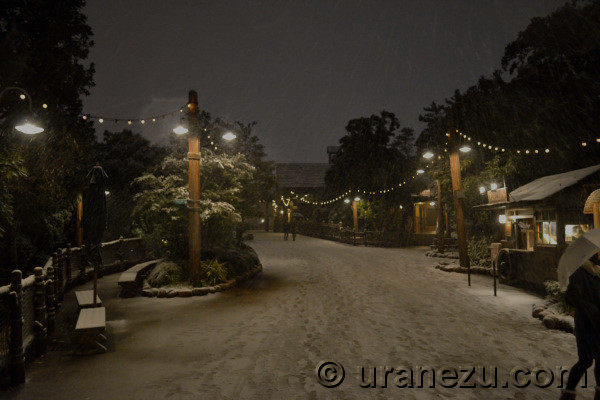 It's so lovely sight.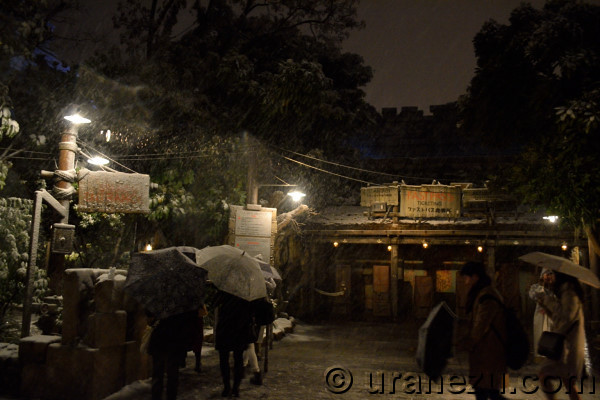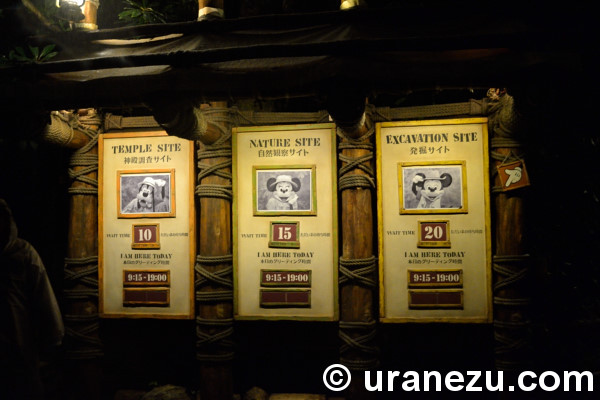 Mickey and pals more popular than Dr. Jones in TDS. (Indy's stand-by was only 5 mins, and the character facility is more than 10 mins.)
The next stop is Port Discovery.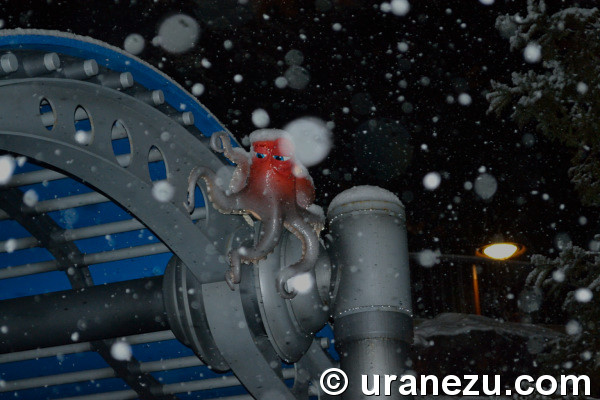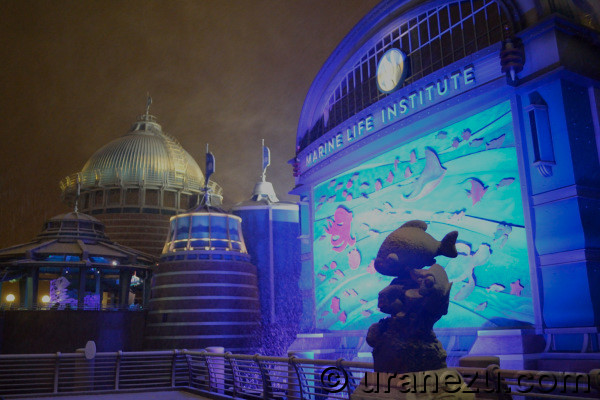 Hank with snow, but he was OK, I think.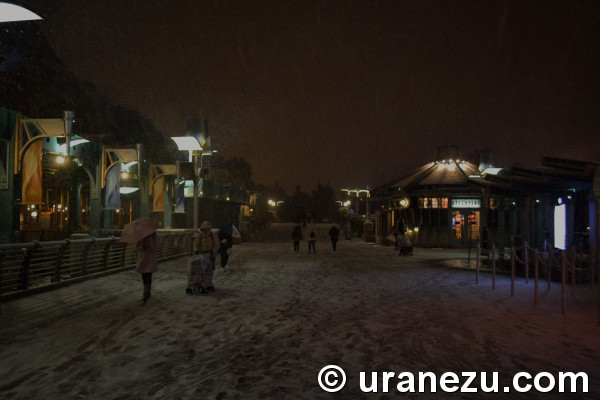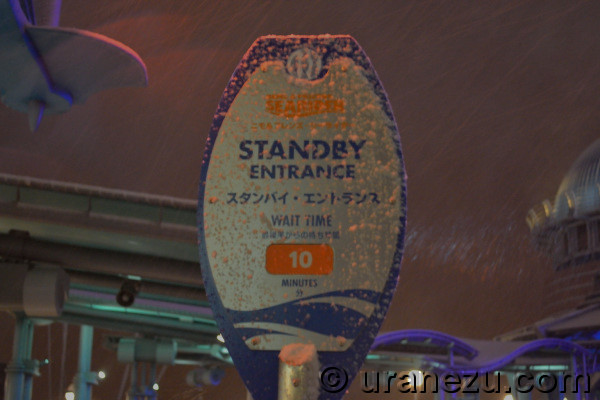 This is a very busy area in front of Nemo & Friends Searider the newest attraction. But I could see only few guests. Of course the stand-by time of the attraction is only 10 minutes!
The below picture is "Aquatopia" the truck-less water vehicle attraction.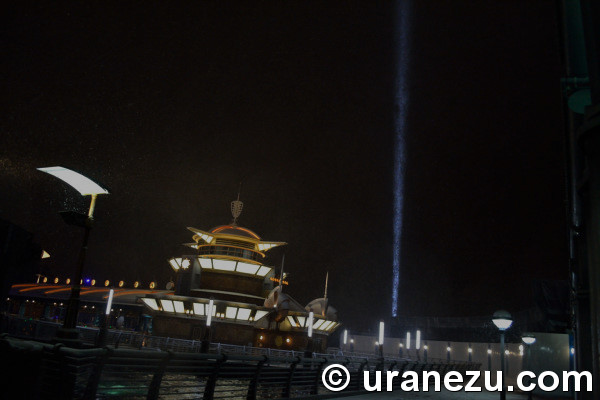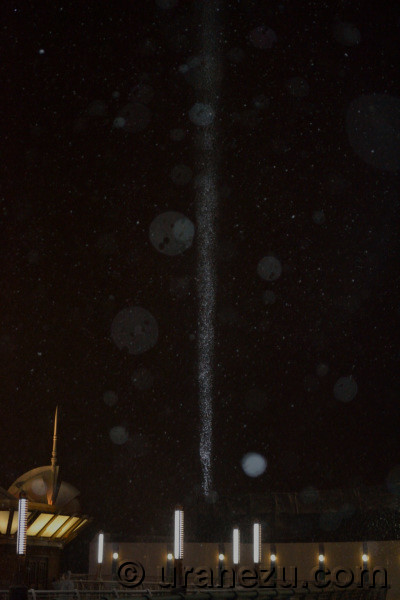 The light column was so beautiful in the wind and snow.
It's sooo cold, but it's worth to visit the park.
And here comes to Cape Cod.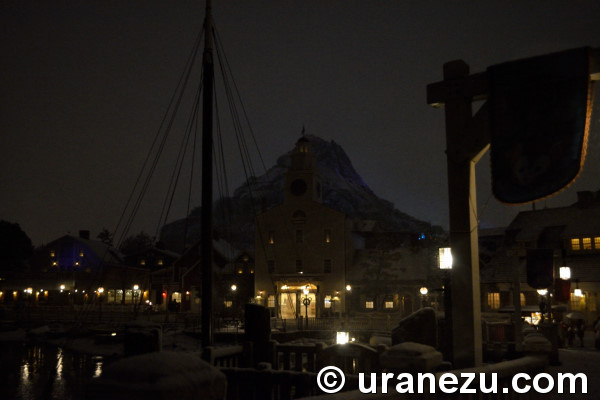 Mickey, Duffy and friends were OK, I also think.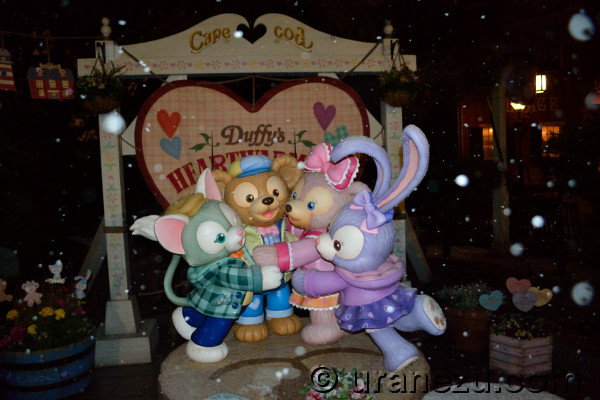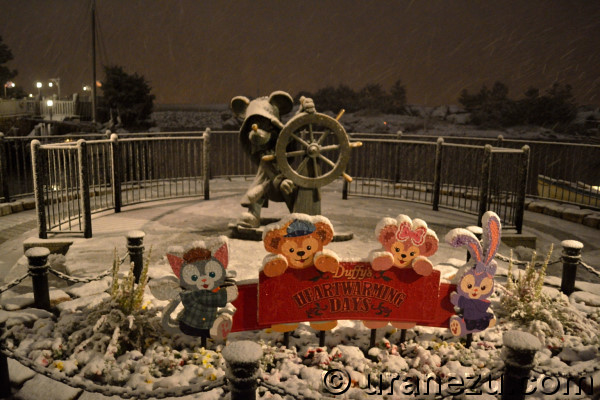 But, I think he was not…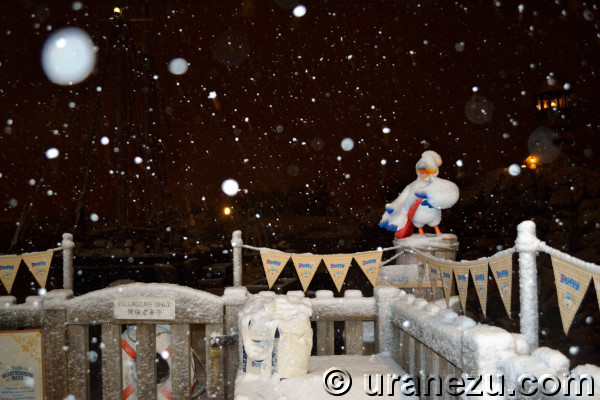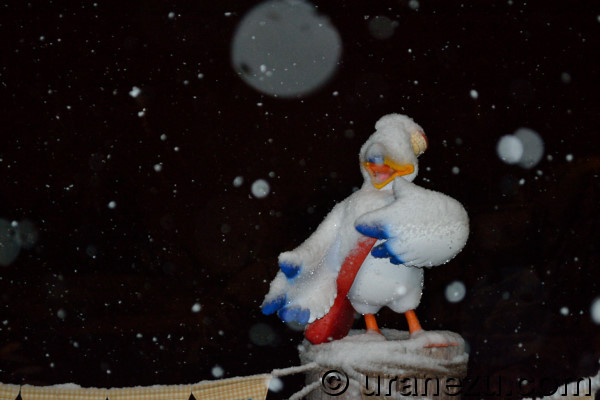 Hold on the postal seagull.
Every time this bridge between New York side and Cape Code in American Waterfront give a great view, but in this day is special than ever.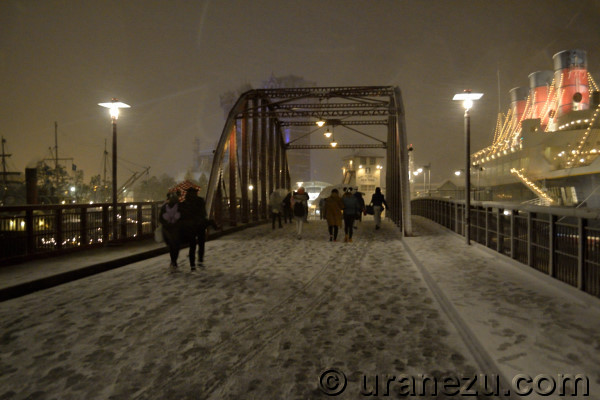 It's so amazing sight.
Sorry it's too cold to blur.
The below area is always hustle and bustle, but it's very quiet in this snow day.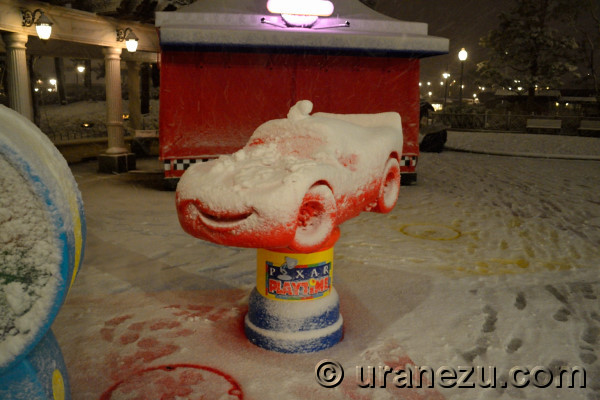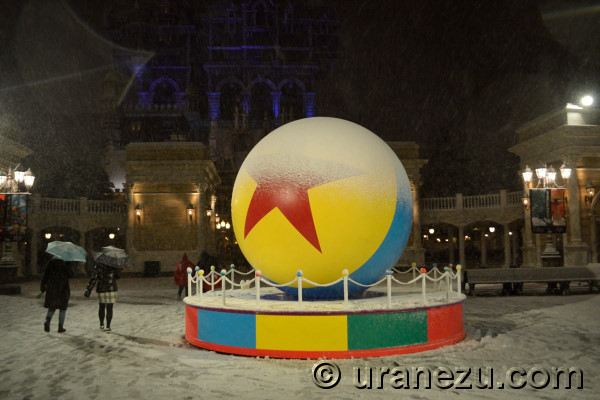 That's all from snow TDS!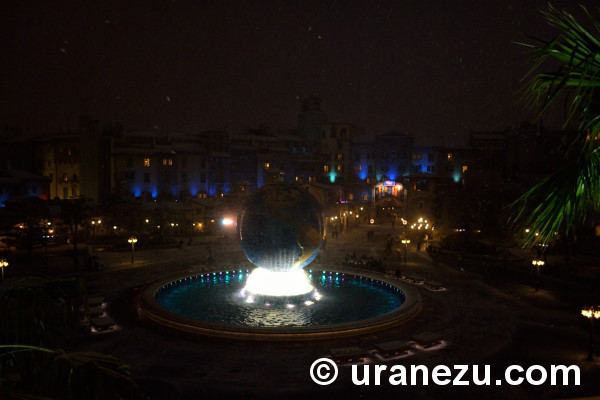 I hope you enjoy it!!
Don't worry, I'm not finish!
I will post TDL with snow on this weekend!
You can go ahead. I'll catch up to you!
See you TDL!
If you have any questions, opinions and requests,
please contact us.
Jan. 21 2018 Come On Now TDS!
You might think I always say something unfavorably about the park recently.
But, I give praise where it is due!
Today, I'll quick report of "Pixar Playtime" the special winter event at TDS.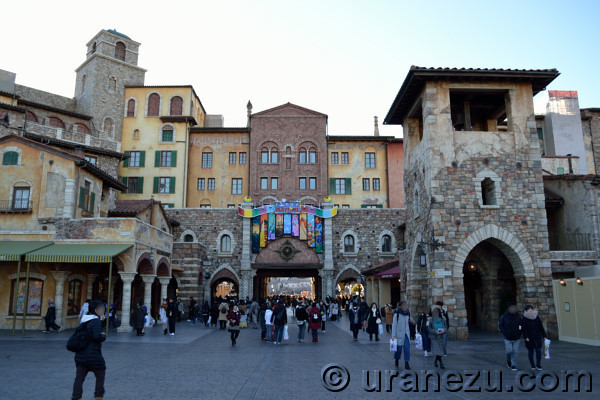 First of all, this completely new to TDS event is worth to visit!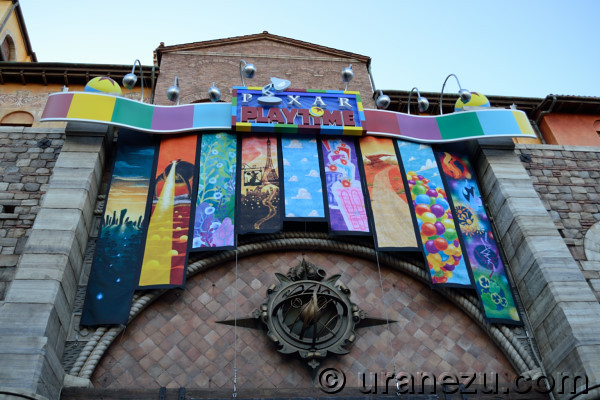 The theme is very easy, it's combined game (mainly board game) and Pixar's films.
So, the park itself has changed to vast board of game, and you become the piece.

We can enjoy many familiar items from simple board game.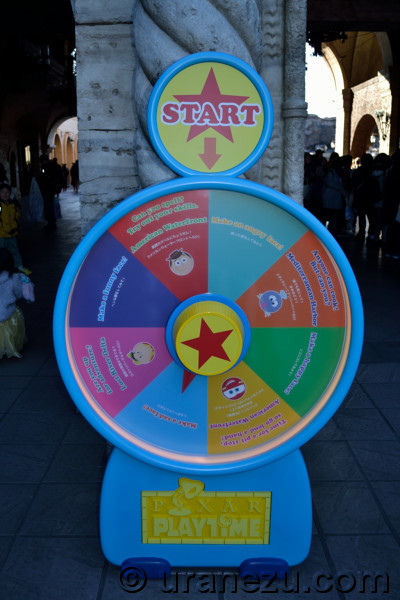 So let's spin a roulette wheel at the entrance of all area, and go to the place where the pointer showed.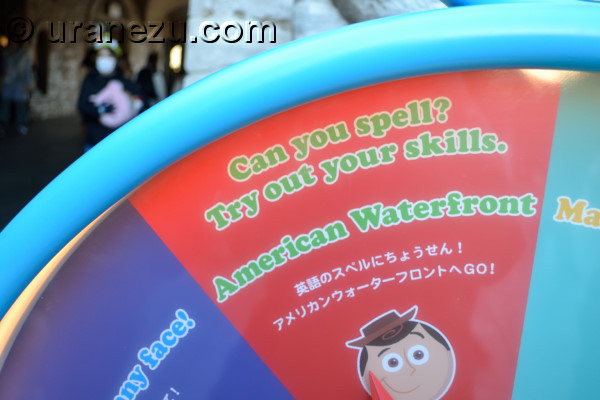 It's very beautiful wheel, there are pretty embossed Luxo and logo on it.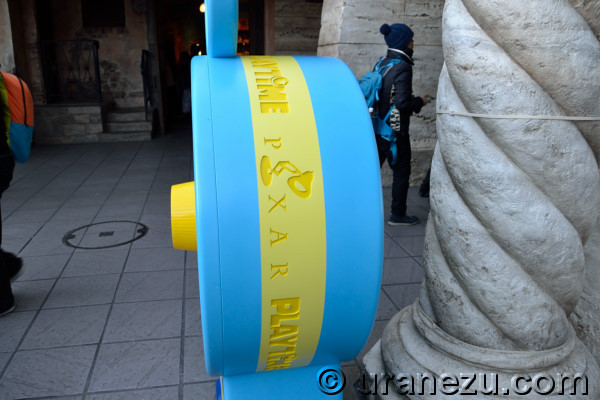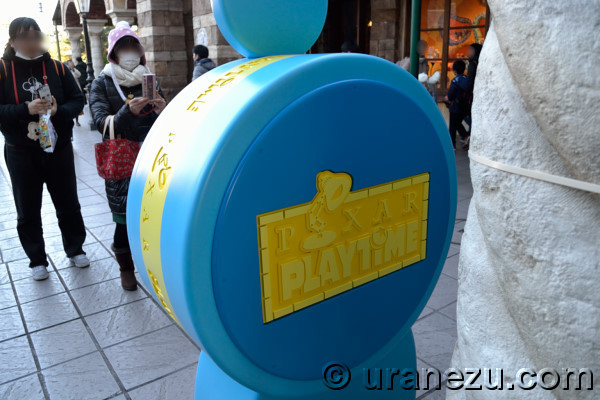 Before move you forward, please remember the below!

During in this event, you can enjoy collecting four stickers in TDS park.
Let's give a password to a cast member and collect a special sticker.
How it works:
The park is divided four areas, and each area has key character.
Lightning Macqueen from Cars is American Waterfont includes Cape Cod area, Crush from Fiding Nemo is Port Discovery & Mysterious Island, Russel from Up is Lost River Delta, and Remy from Ratatouille is Mediterranean Harbor.

As you can see these characters, you can guess each password who is Disney geek, but be careful, this is in Japan.
Some password is a little bit different from the original which you know.

Password of Lightning Macqueen is "Ka-Chow!", Crush is "Sai Kou Dazeeh!" which is familiar line (kind of "totally rock!" in your country version.) in Turtle Talk attraction, Russel is "Caw-Caw Gaooh!" which changed little bit to Japanese onomatopoeia, and Remy is "Bonappetit!".

If you say the right password at the right area, then the cast member will give you a sticker.
Most of custodial cast members have the sticker, so most easy way to get it is find and give the right password to the custodial casts in the area.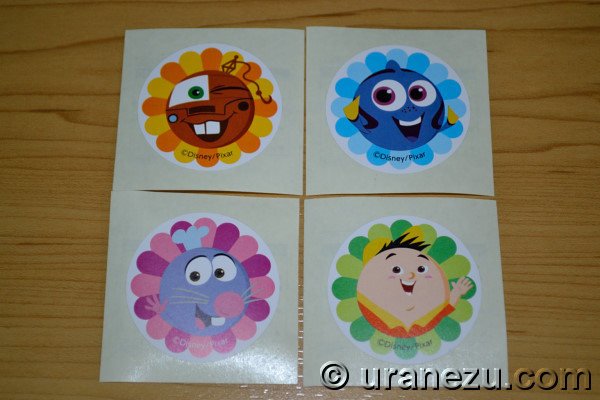 So let's proceed to American Waterfront.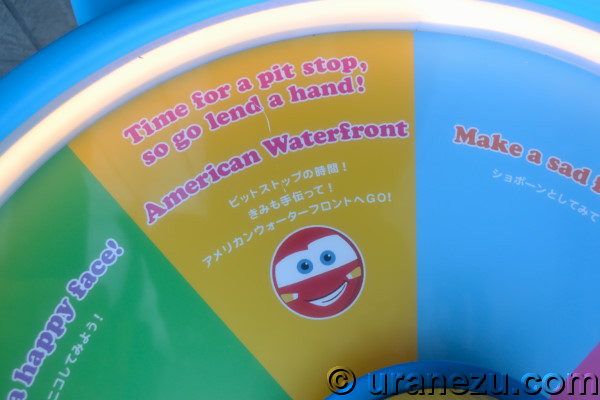 If you stepped into Waterfront Park, you can able to feel the living game pieces.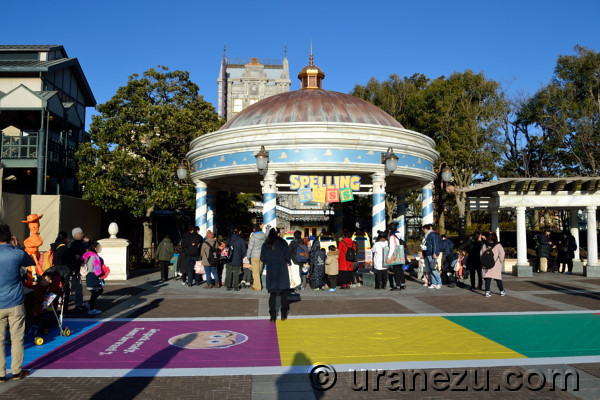 There are big size board squares around huge Pixar Ball.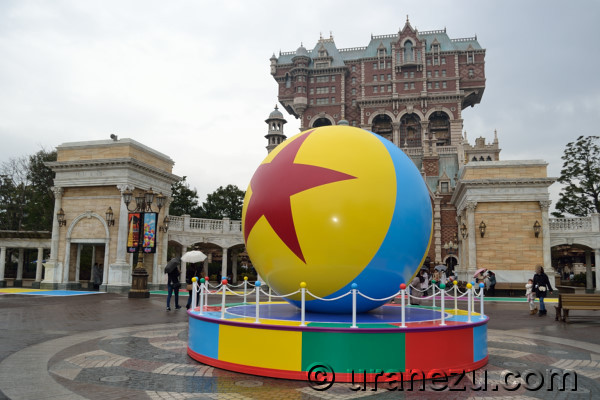 In this area, we can find two fun game stands.
The prize is your priceless memory, so we can play it free.

The first game is "Spelling Toss".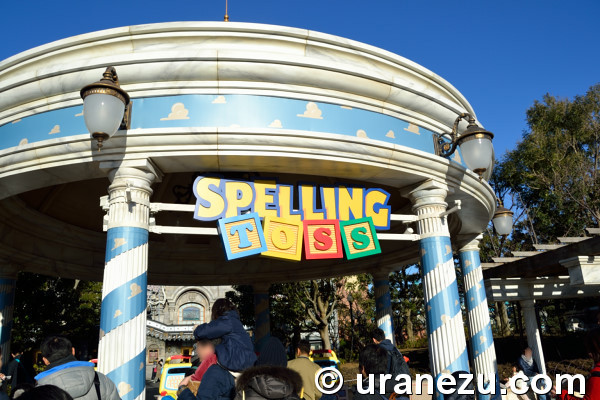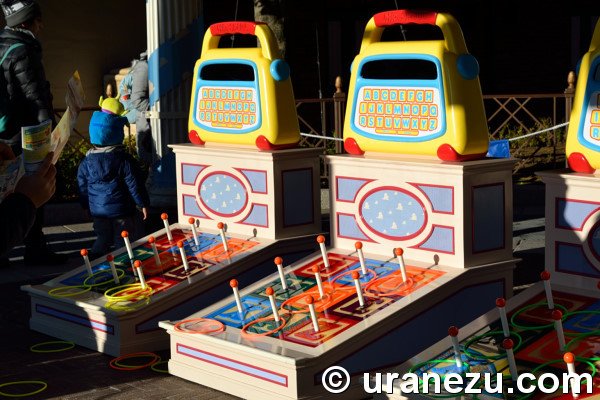 These Mr. Spell give you a mission spell, so you'll throw to the each alphabet character.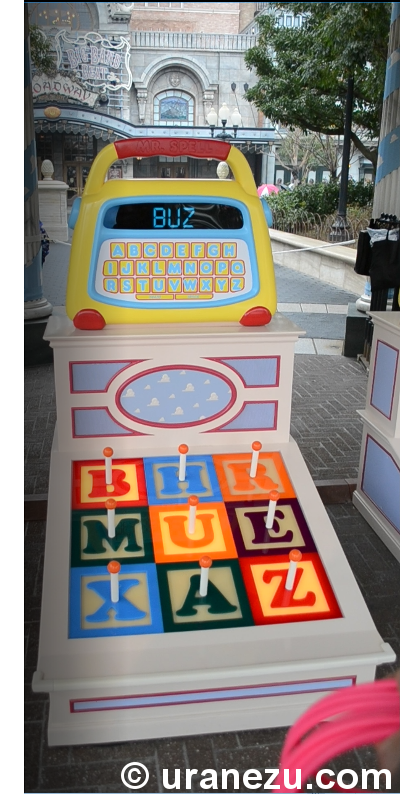 Another game from Waterfront Park is "Pit Stop" game.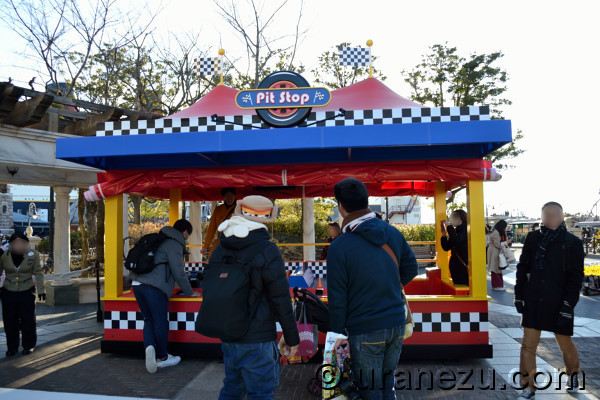 This game is also so elaborated and fun. You manipulate Guido, or other pit crews with a vertical moving tire and parallel tire.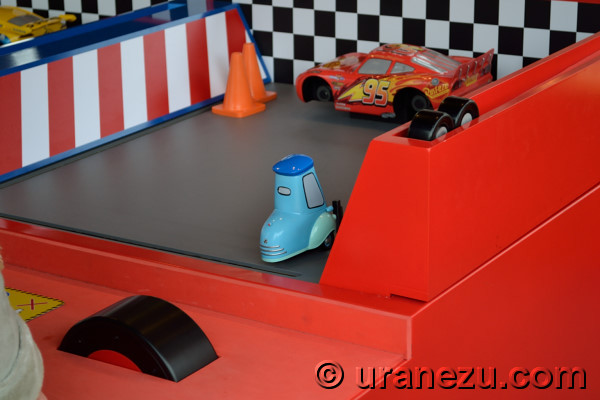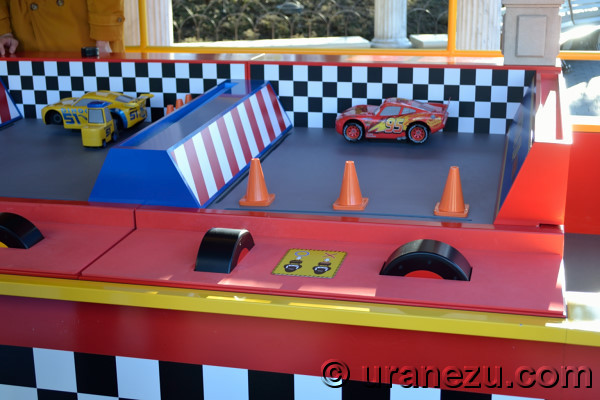 And change your team star's tires. If you became Guido, then you'll change Lightning MacQueen's tires, or you maybe became Jackson Storm's pit crew, and a team mate of Cruz Ramirez.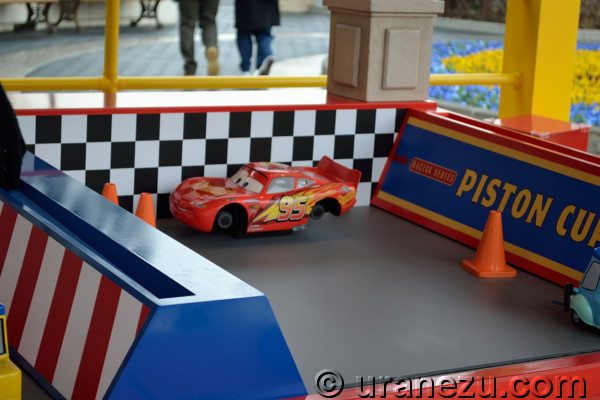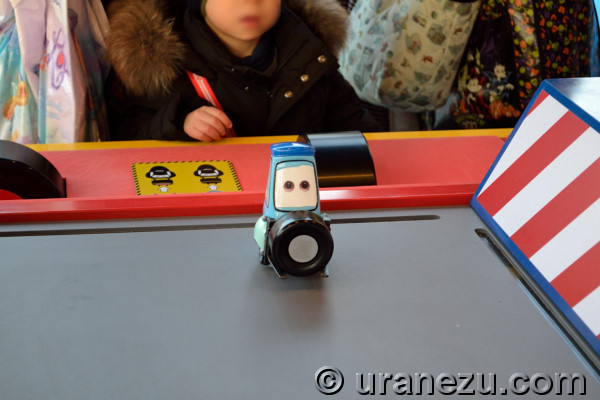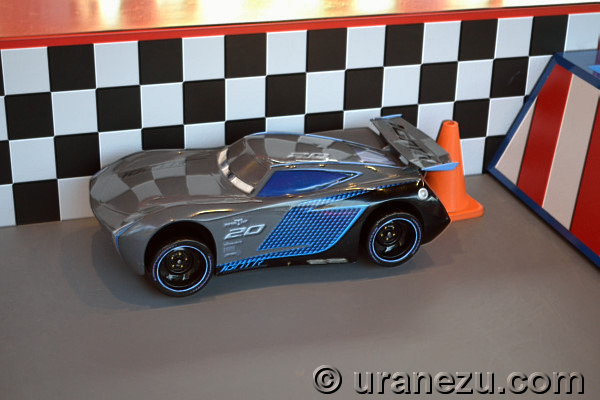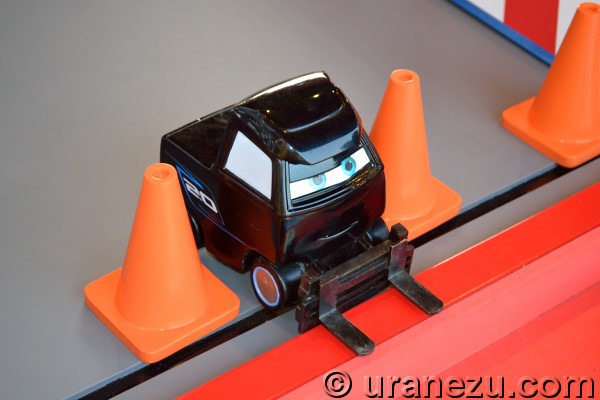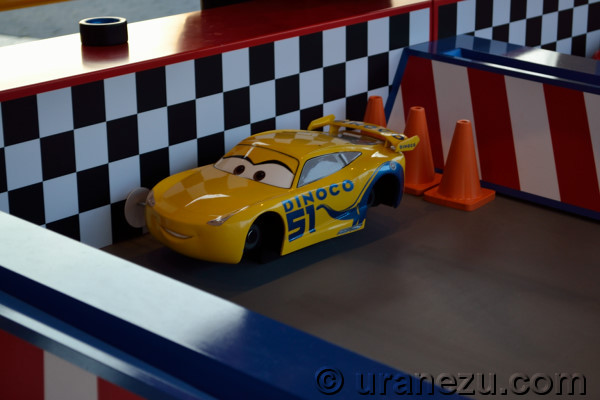 It's so enjoyable and very faithful game to the original.
In front of the game, the panel on the ground is very neat.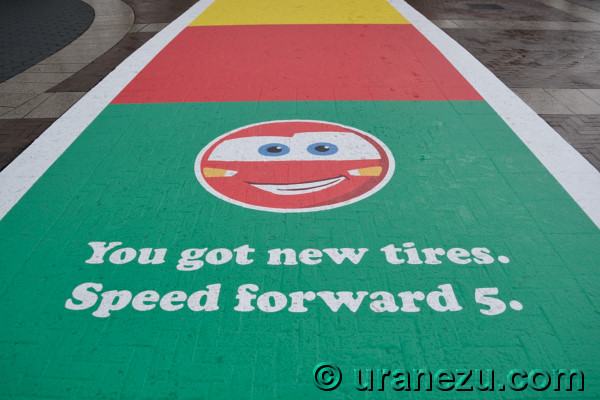 If you enjoyed the park, then spin the wheel again!
Which wheel do you want to spin?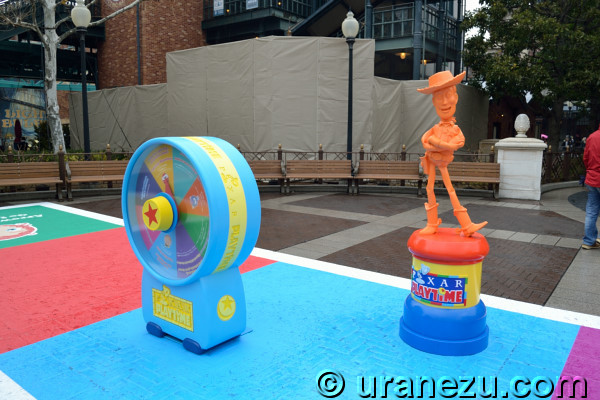 The wheel with Woody game piece.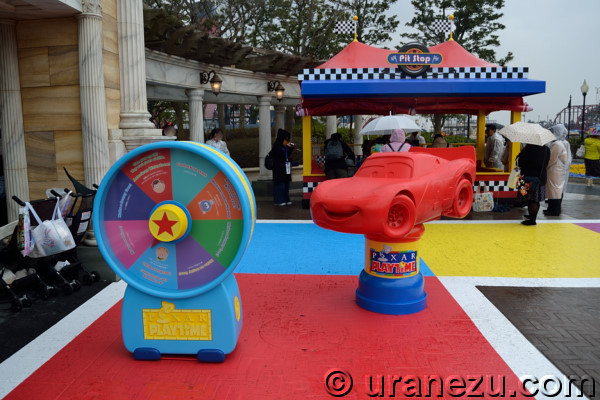 Another wheel with Lightning game piece.

Also New York Deli's decoration is really cool.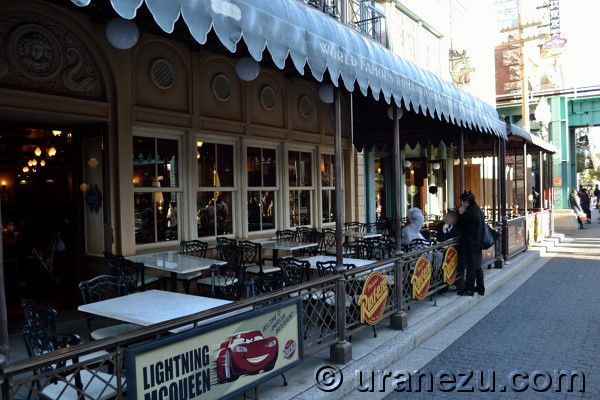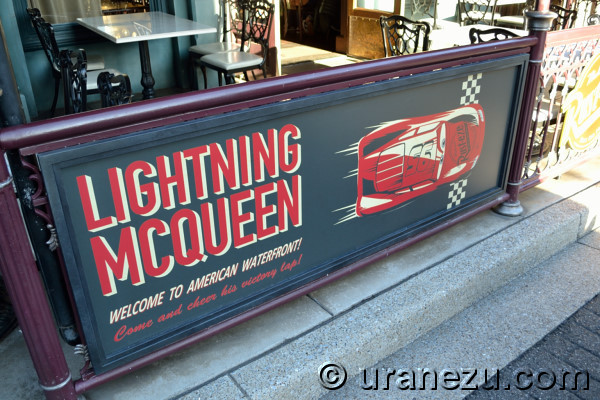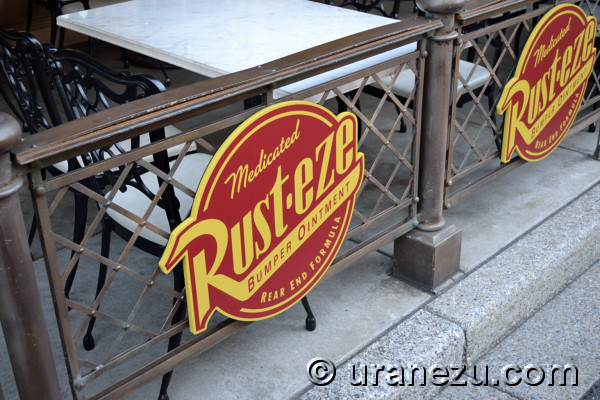 It's best place to fuel you!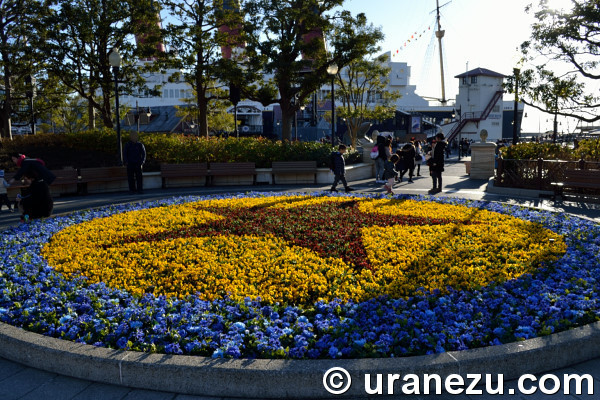 Before left from Waterfront Park, you can't miss the wonderful flowerbed!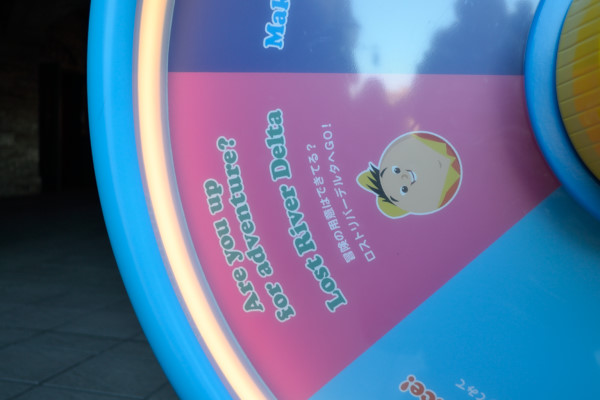 You can try your reflexes at Up-themed game point in Lost River Delta.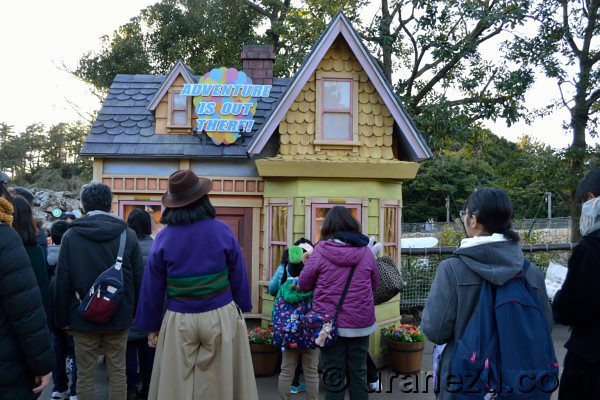 "Adventure Is Out There" game is once you push a button, a ball comes down from the sky, so you spin a wheel and tilt clouds.
Then you can guide and welcome the ball to a goal.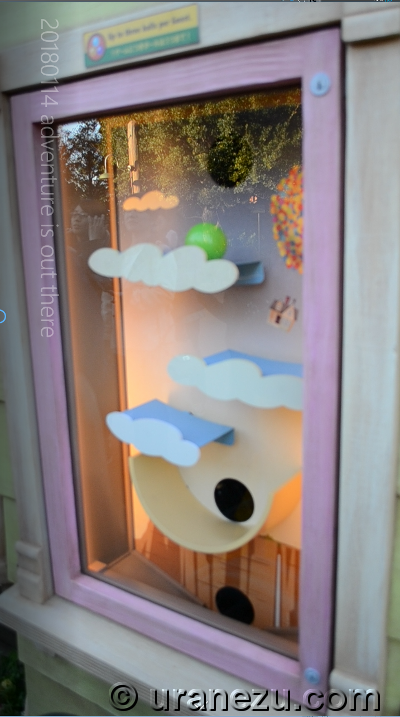 It's difficult, but worth to try!
Of course, this area has Russel game piece!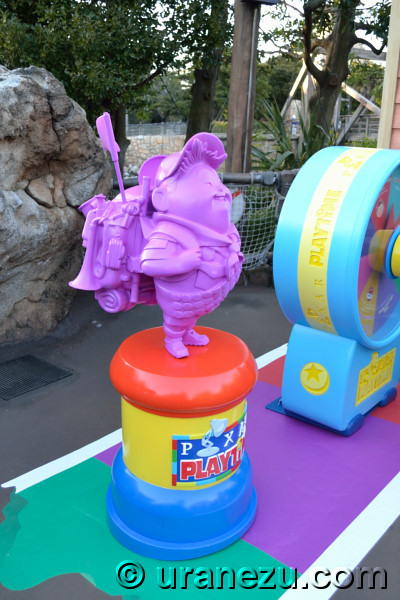 So don't forget to say the right password, "Caw-Caw Gaooh!" at the cast member!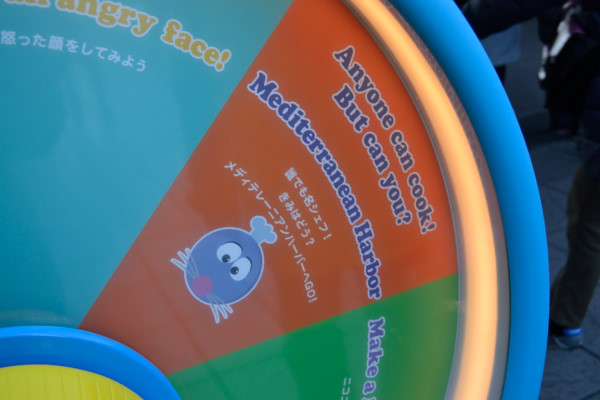 The last area has character of my favorite film "Ratatouille".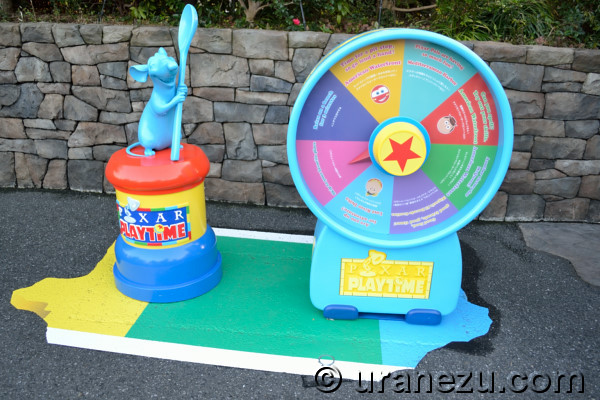 Anyone can cook! So let's show your culinary passion at the game pot!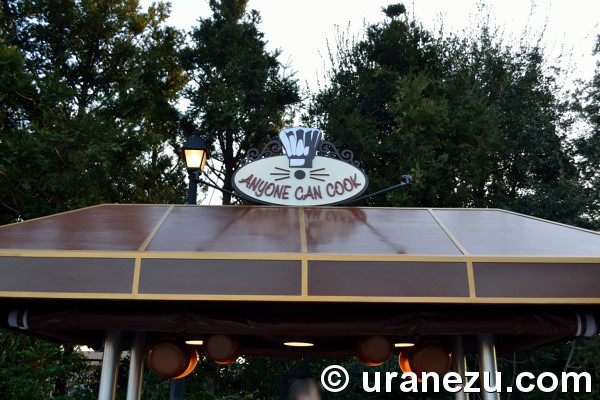 There is a huge boiling soup pot and ingredients on the bowl.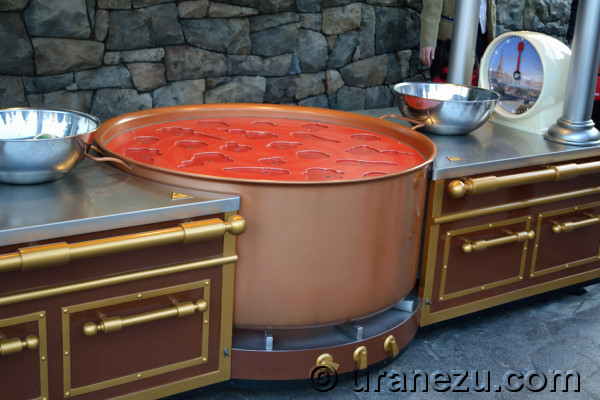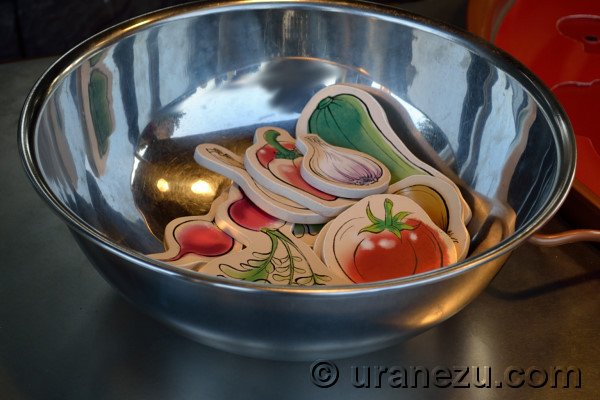 Before the times up, you have to add the vegetables in the soup.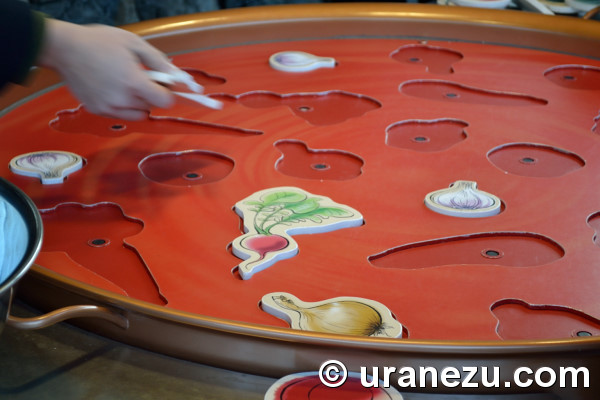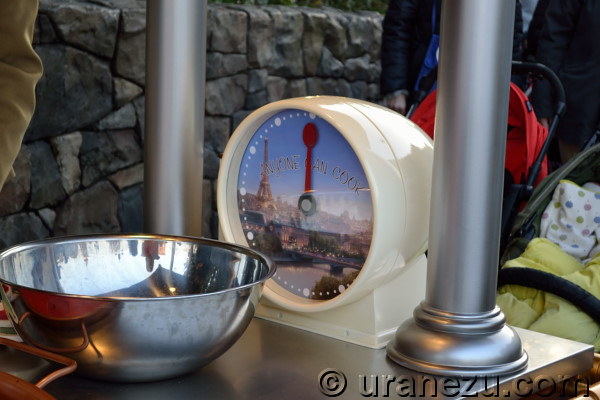 It's really elaborated design, which I love a wavy lights of flame.
Not only these mini game spots, 1 special show, 1 special atmosphere show, and 2 special greetings has taken place during this event.
The main show is named "Pixar Playtime Pals".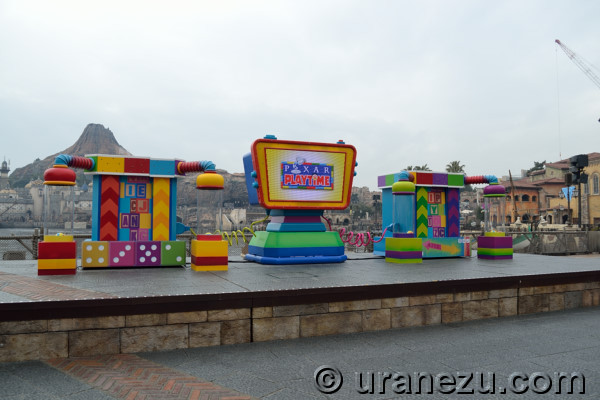 It's soooo popular.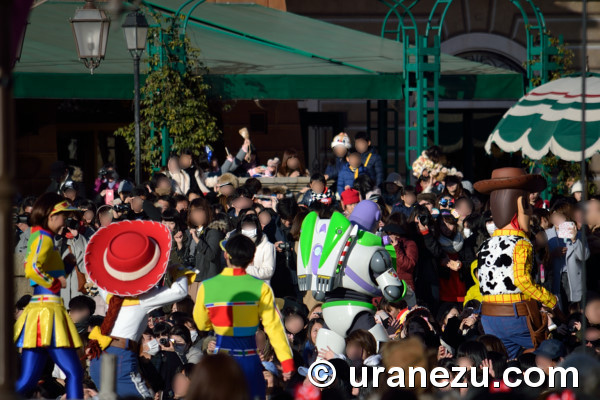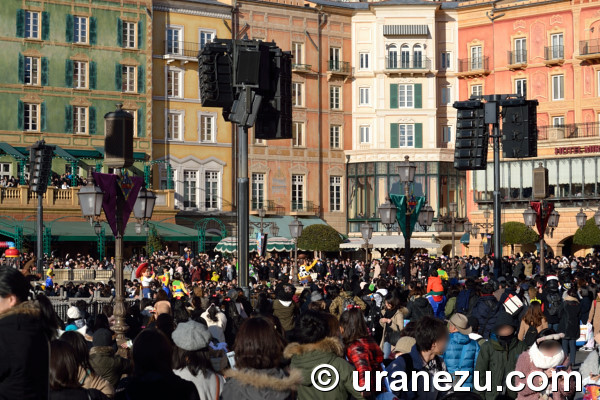 So, I couldn't know what Pixar friends come to. But sounds nice and also join another character from not only "Toy Story".
And it's small size show than the above, called "Chef Remy & You".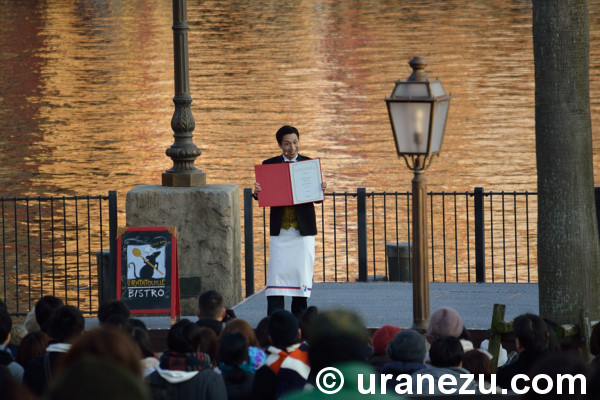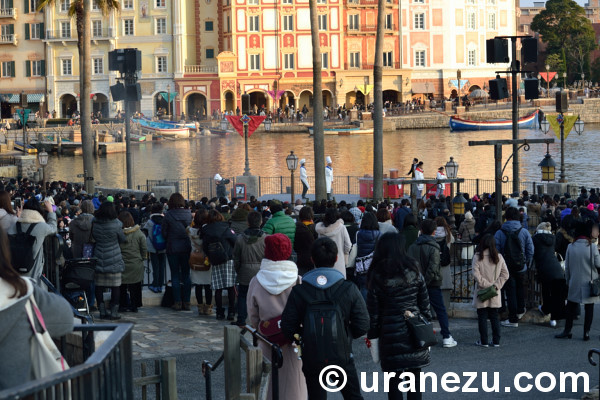 Yeah, so crowded, and difficult to see!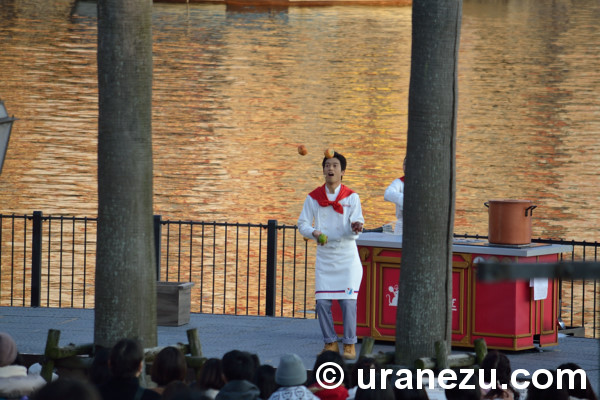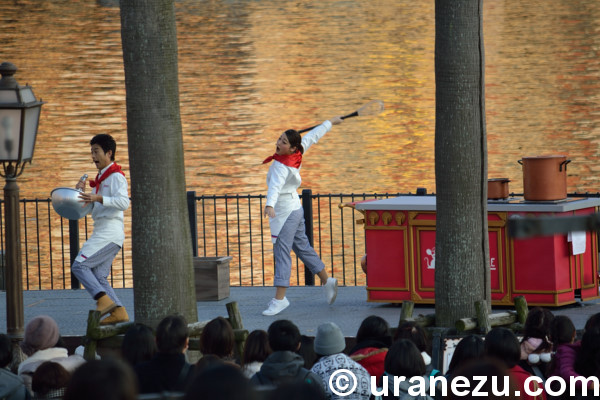 Two kitchen assistants shows juggling-style cooking. Sometimes objects juggled with vegetables, other is baton twirling with a long egg whisk.
The chef Remy is watching over their shaky kitchen.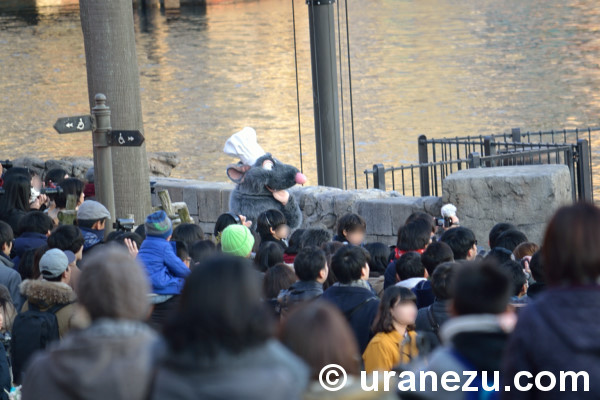 Before the fiasco, the chef is coming!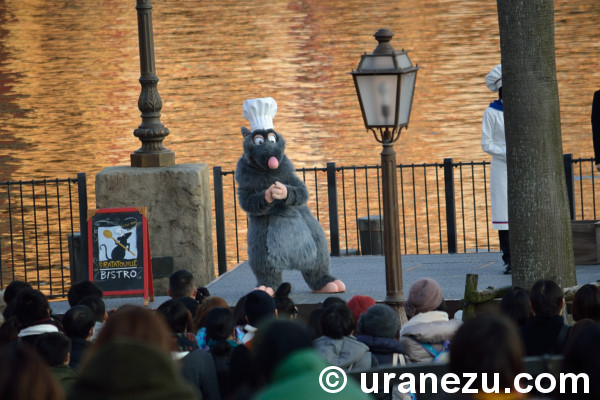 The climax of the show is Remy's kneading bread dough.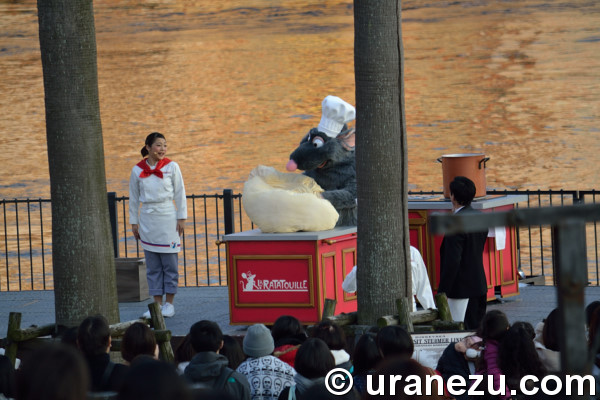 It's soooo cute. The show keep going some hand jive expressed a seasoning or ponding meat, something like that.
One of the special greeting is Lightning McQueen's debut meet & greet at TDS is named "Lightning McQueen Victory Lap".
Of course too many guests, so I couldn't take any photo, even couldn't see the show.
Don't worry there is one easy to see greeting which named "Pixar Pals Steamers".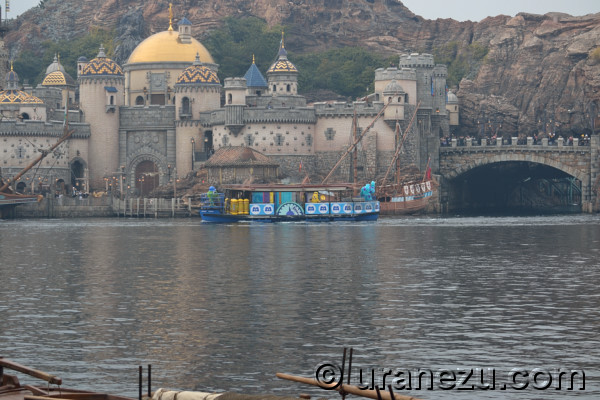 The characters from "Monsters. Inc" and "Toy Story" come to greet on two steam ships.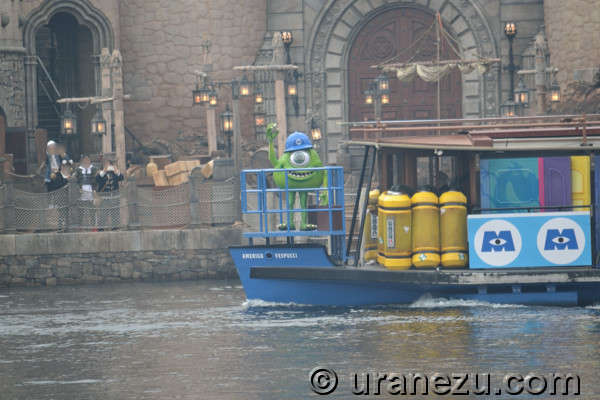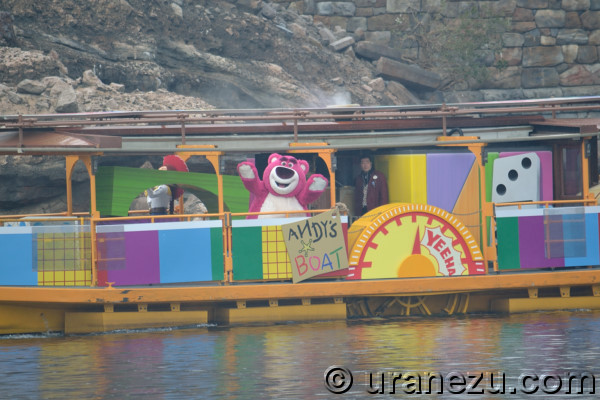 These ships go through TDS ship channel, so we can see anywhere near the waterside.
The banner is very elegant and little bit nerd appeal design.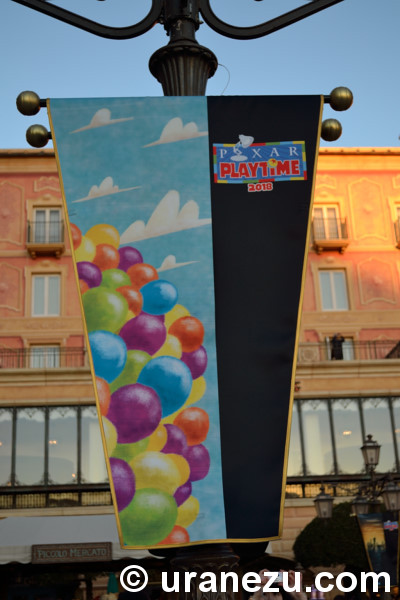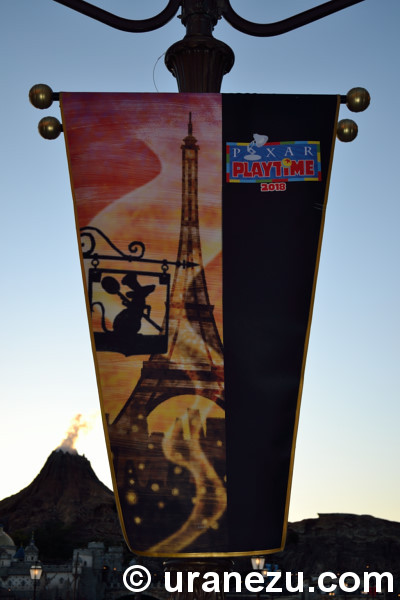 Up and Ratatouille. Oh, I love "La Ratatouille" fascia with the Eiffel Tower.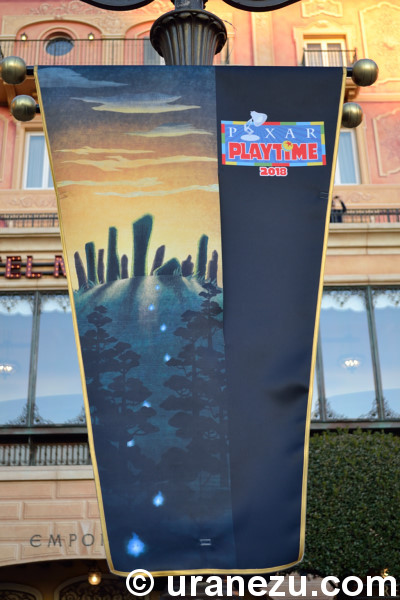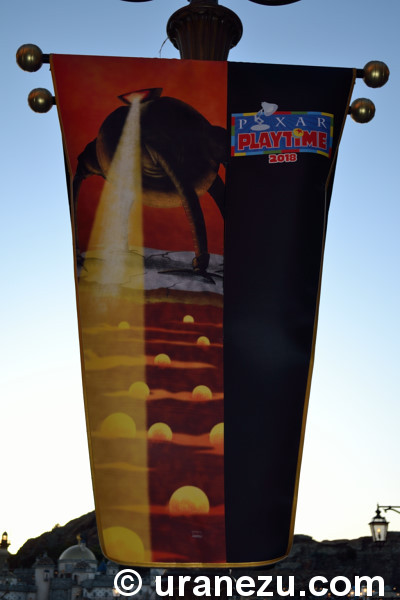 Brave and The Incredible. I hope this mysterious Will O' the Wisps trigger many guest to see the Brave.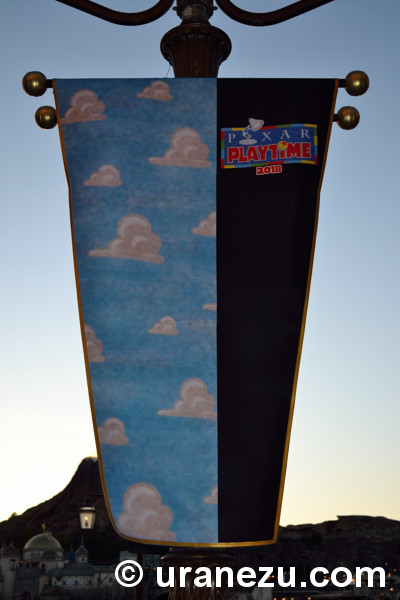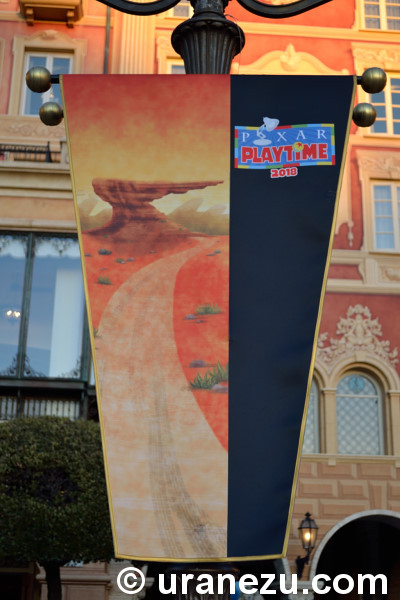 It's really famous two.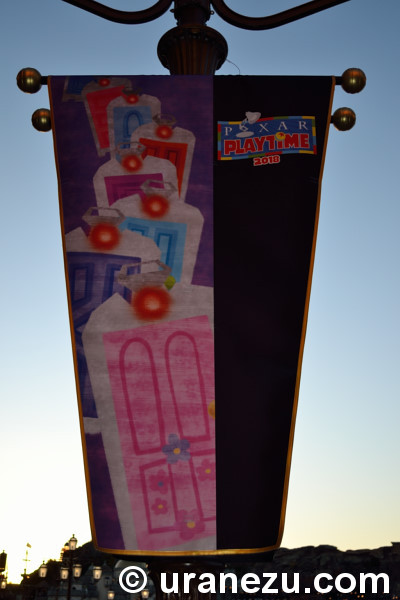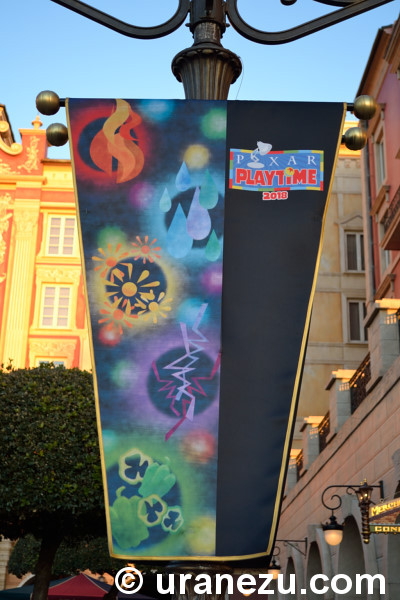 The right banner is little bit tricky. I think that you may guess the right one is Ratatoille's art, because of bell pepper. But in Japan, the scene of disgust in Insideout the movie is changed from a broccoli to a green bell pepper.

How is that? I think you'll like this winter special event, "Pixar Playtime" at TDS.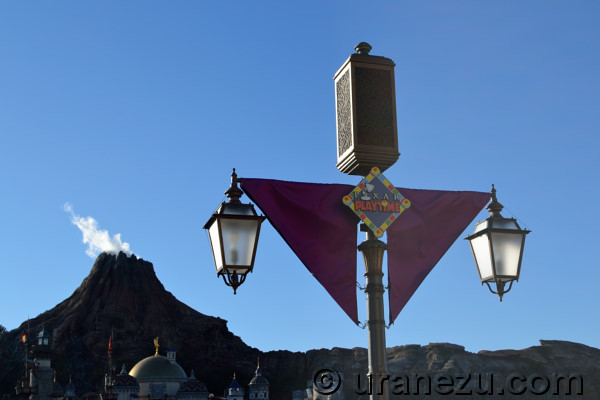 Yes, it's your turn!
Here is a quick note.
"Ka-Chow!" in American Waterfront.
"Sai Kou Dazeeh!" in Port Discovery and Mysterious Island.
"Caw-Caw Gaooh!" in Lost River Delta.
"Bonappetit!" in Mediterranean Harbor.
Event Information;
"Pixar Playtime" at Tokyo Disneysea.
19 March from 11 January.
If you have any questions, opinions and requests,
please contact us.
Jan. 15 2018 about A Happy New Year from TDR.
A Happy New Year, readers!
I'm so glad you to visit my site again and read this post.
I'll try to share many interesting TDR information from my point of view with you!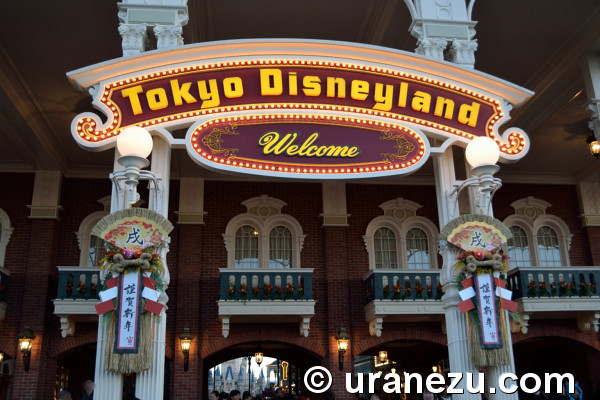 TDL and TDS the both parks took place only 5days special New Year event, 5th to 1st January
There were Japanese traditional decorations, special merchandise, and some special food.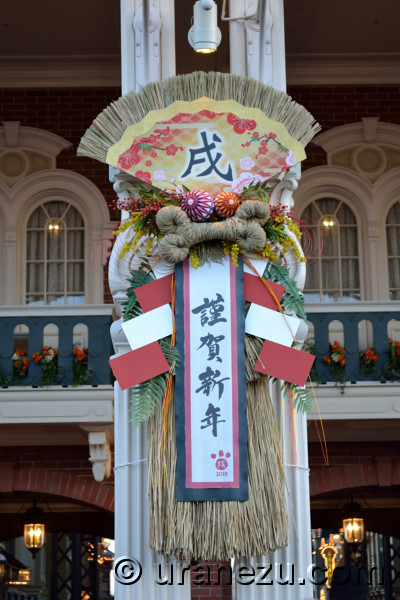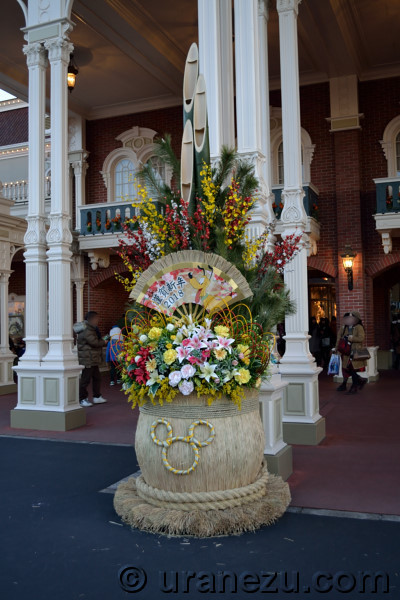 The above New Year decorations were located in TDL.
In this year 2018's zodiac is "dog", so it's year of Pluto!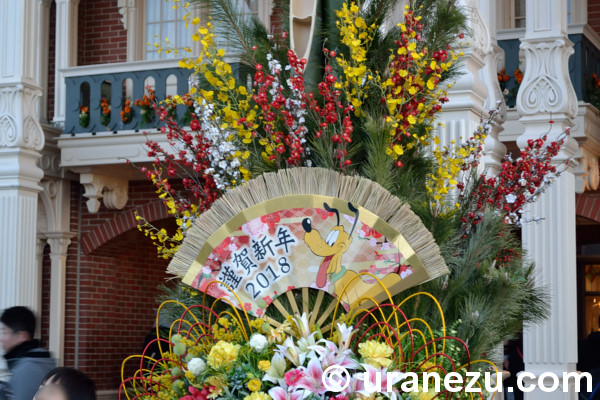 TDS also has a special banner of New Year.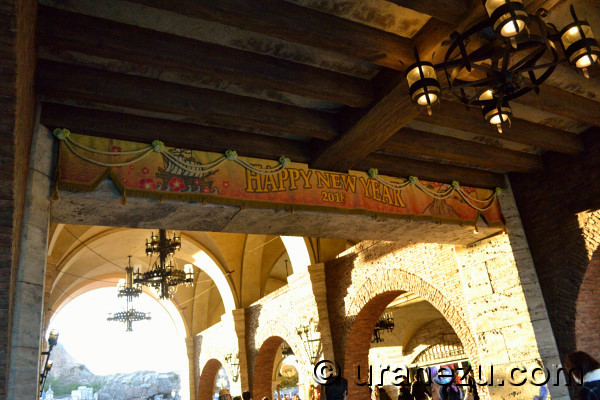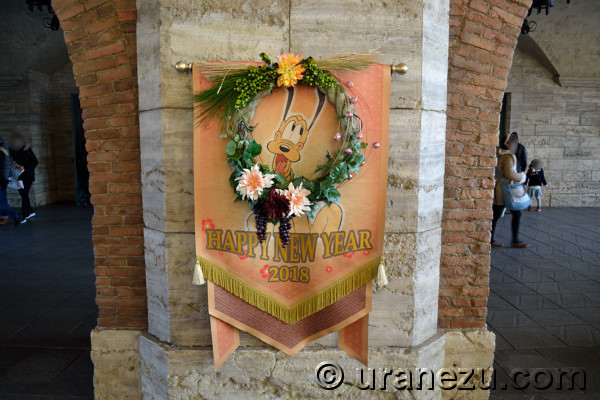 And also there are some Pluto and fifi.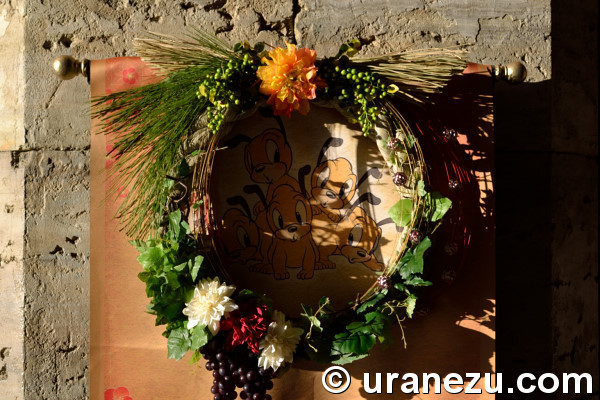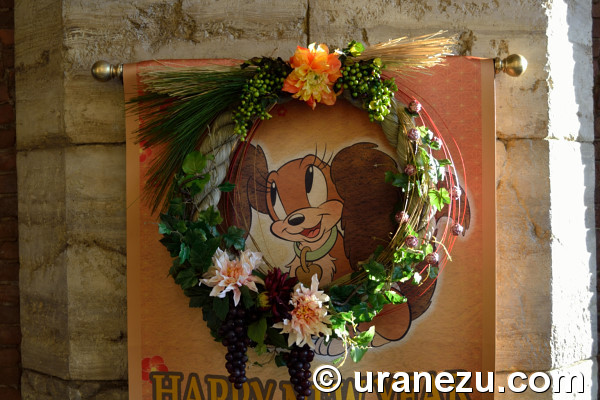 This very short term event become popular year after year.
Too many guests, so I couldn't take a photo of Kimono Disney friends.
Therefore please enjoy a front cover of TODAY the park information brochure.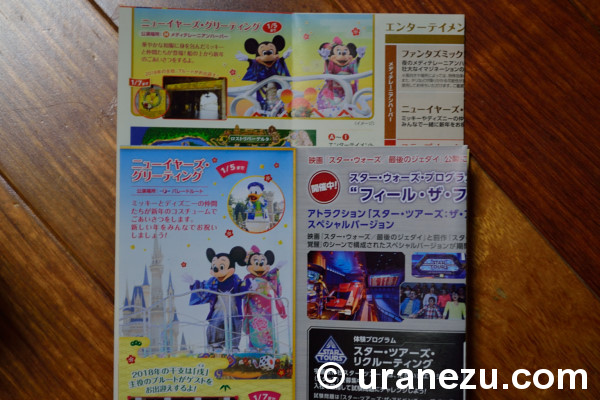 It's very special opportunity to see their Kimono attire. We can only meet this Japanese traditional costume Mickey and Minnie to 5th January from 1st January.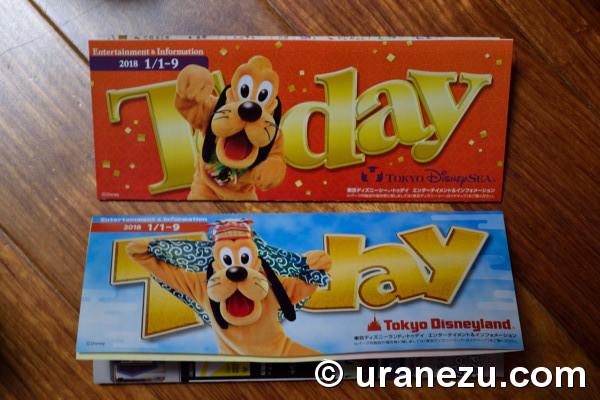 If you come to the park during time of the year, I recommend you to try a special dessert without hesitate. The below 2018 was Sweetened Milk Mousse & Strawberry Jellied Dessert. (for 750JPY.)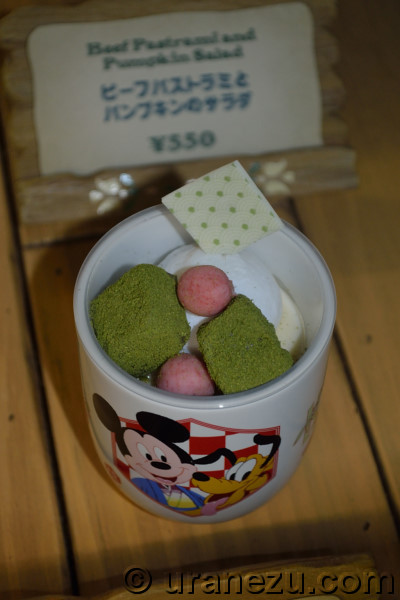 The souvenir cup was sold only about 10 days!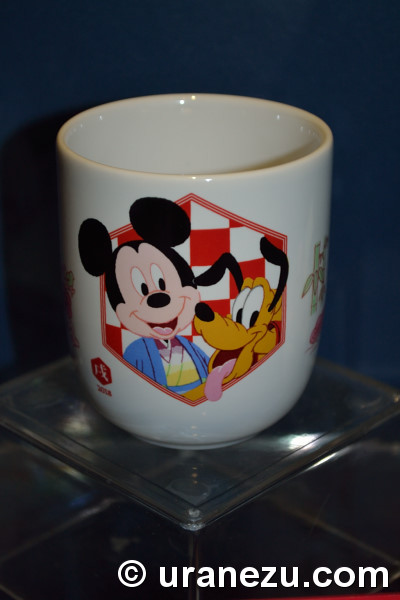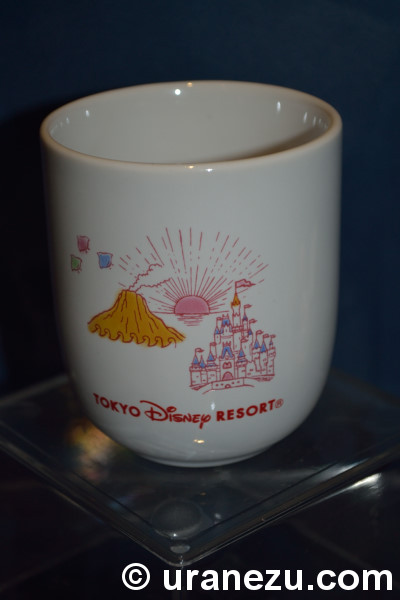 The first sunrise of the New Year is very lucky and happy design which perfect suit for the New Year dessert cup.
It may be bring welfare to you. So let's try to get one next year!
My expectation or highlights of 2018 are;

Spring

The closing of "Happiness Is Here" the five years long-run day parade, and new day parade "Dreaming Up!" debut.
Renewal opening of "It's A Small World".
Fall
2018 Halloween costuming date and new coming lifting-of-the-ban-character to dress up.
What's your focal point of 2018 TDR?
I hope you will have a great year!
If you have any questions, opinions and requests,
please contact us.
Nov. 18 2017. about TDR Christmas 2017.
I can't and I don't want to believe the Christmas has come to TDL already. I'm still working on TDR Halloween!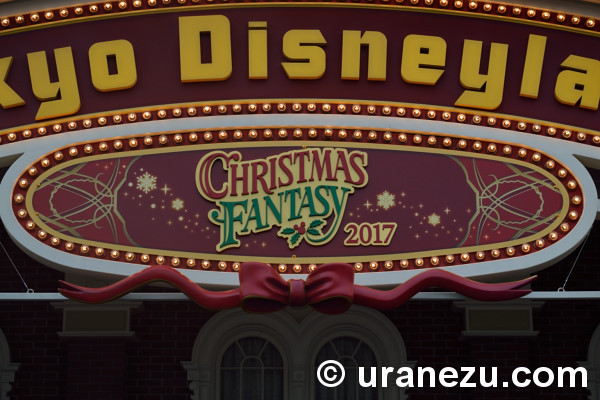 In this year's TDL Christmas theme is "storybooks filled with the Disney Friends" same as the last year.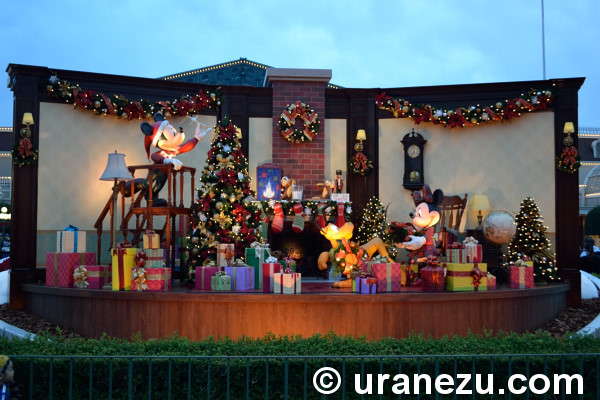 It looks like a very young couple house. I think the wall is too empty. I'd like to adorn the walls with some family pictures or paintings.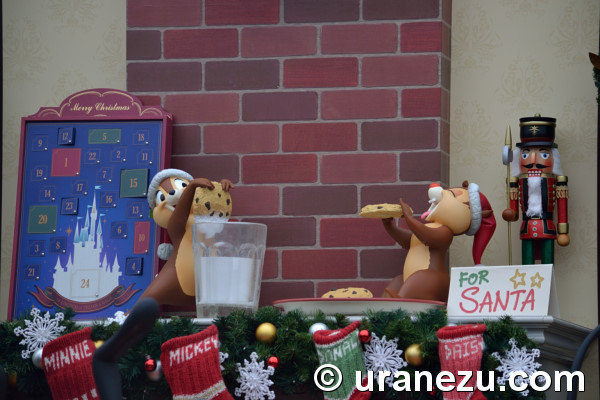 A cookie for Chip, and another one for Dale, so only one cookie serve for Santa Claus. I hope Father Christmas on a diet. I don't think the milk in the glass made very well.
This advent calendar looks can be open.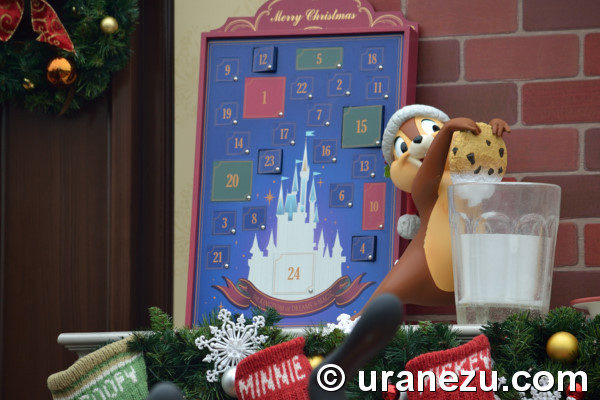 I will report it you in December!
Let's check a photo decoration on the hub.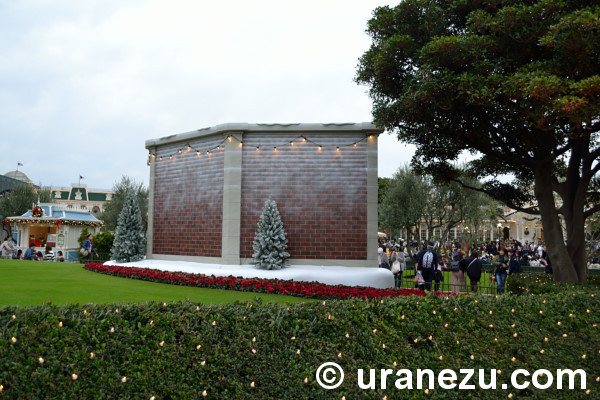 If you can see snow covered wall, you are almost there.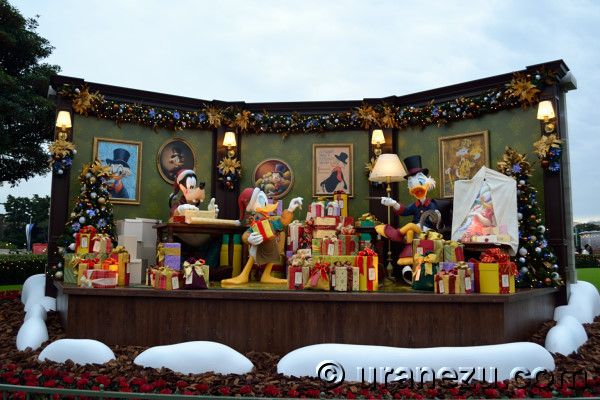 Yes, this is the inside of richest house.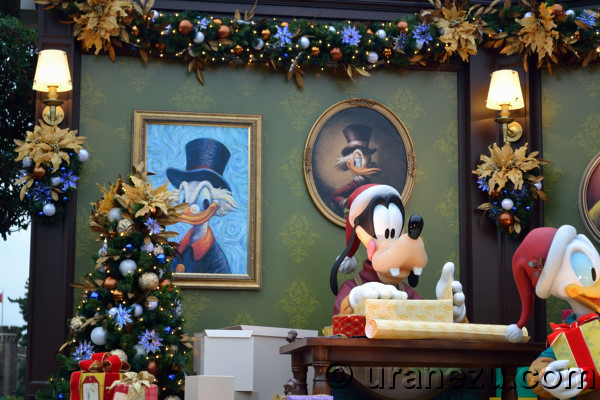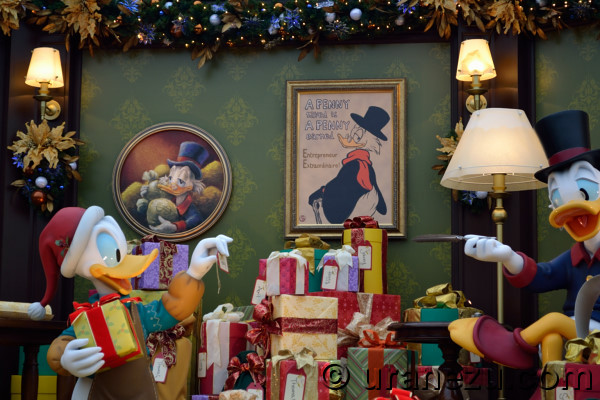 I think, Gogh, Rembrandt, who's this?, Lautrec, and Klimt. And the new collection is Renoir?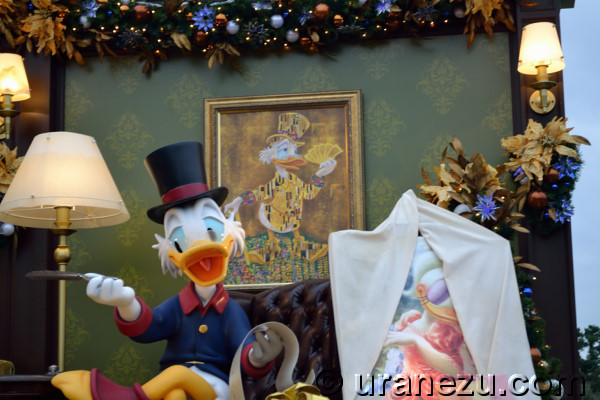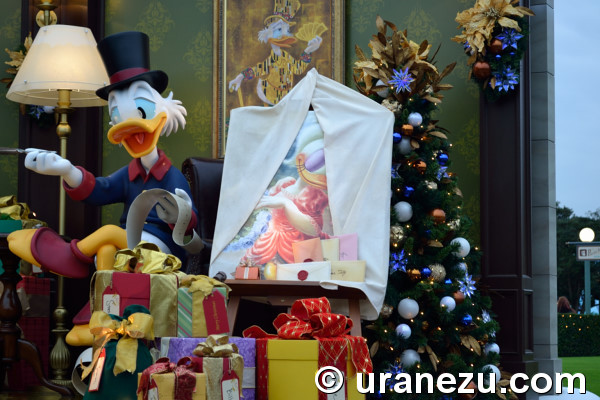 Another side of the hub is also lovely.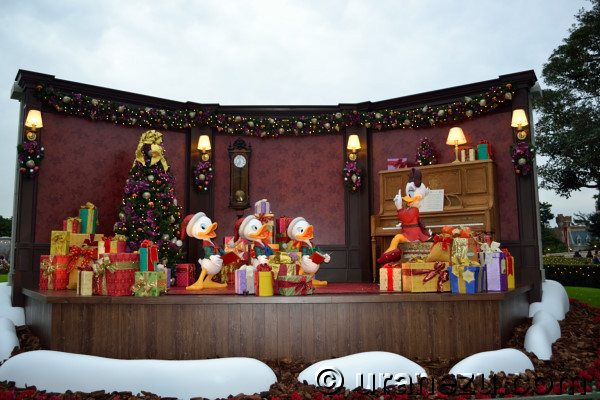 It's a practice time for caroling.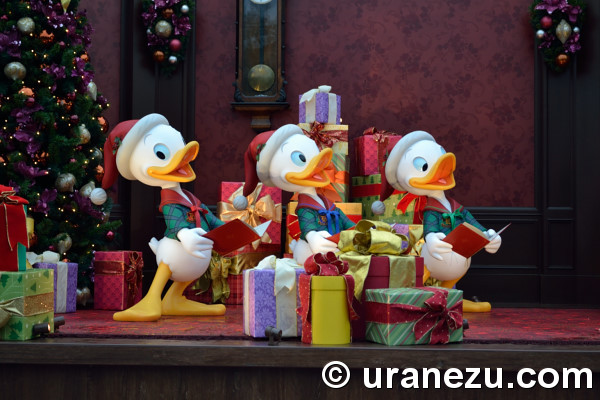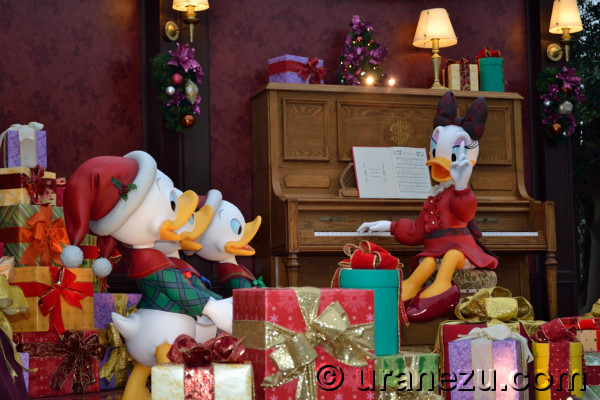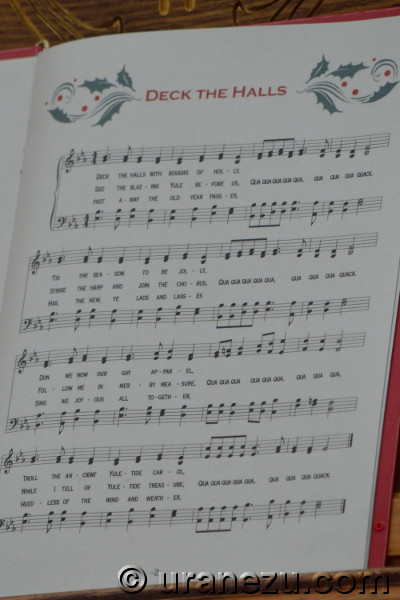 Oh, my! This is not the song which I know! I also need to practice this song right now.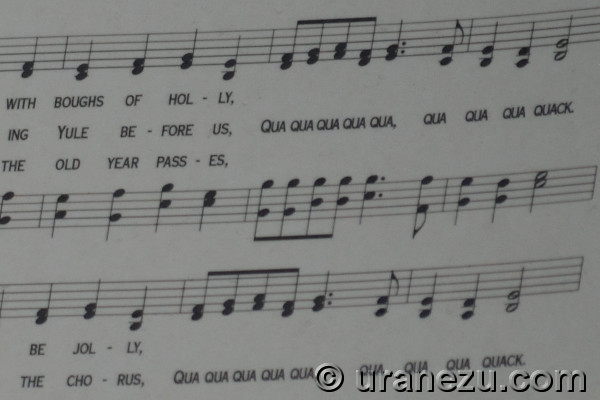 Above all three photo locations are very pretty, but where is the theme of "storybooks filled with the Disney Friends" in this year's TDL? (Oh, it's Christmas time, so forget about it!)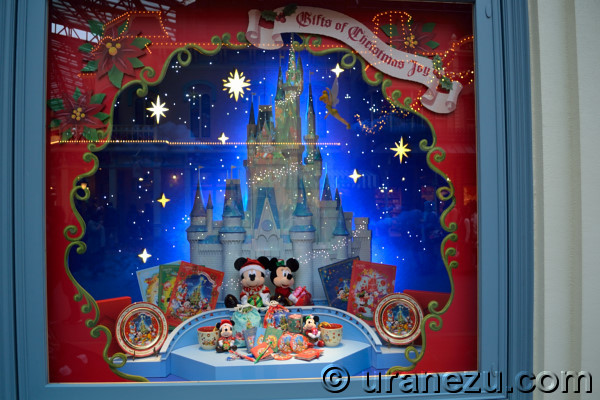 A decoration of three windows at Grand Emporium the biggest merchandise ship in TDL is a seasonal tradition.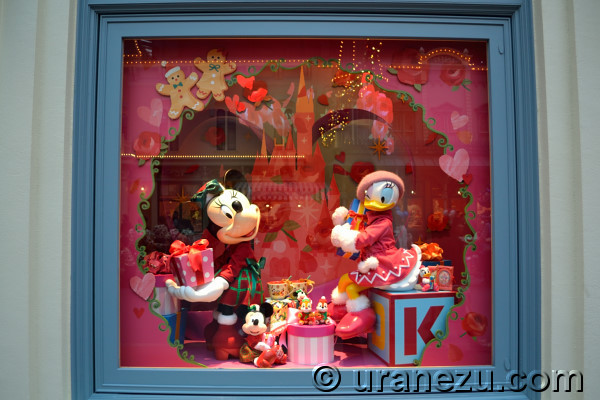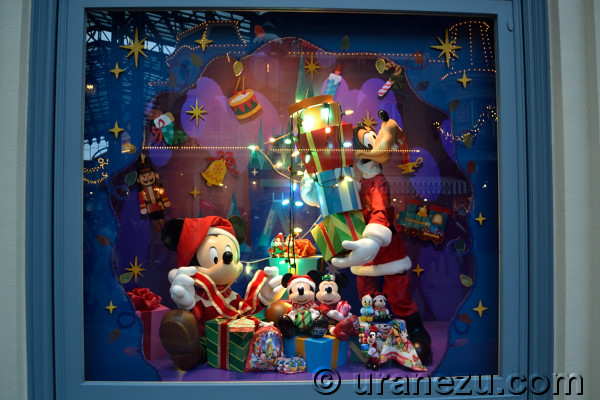 The attractive girls get many present, the boys need to preparing for her.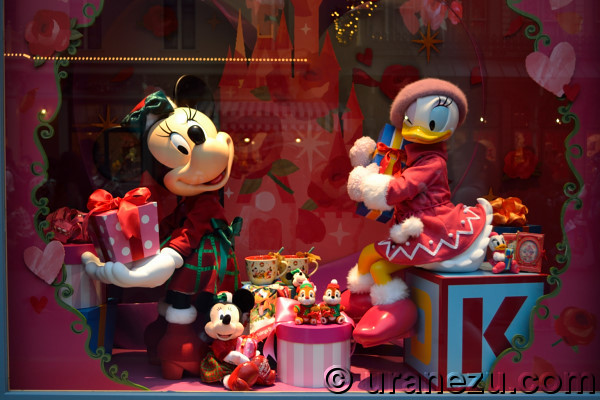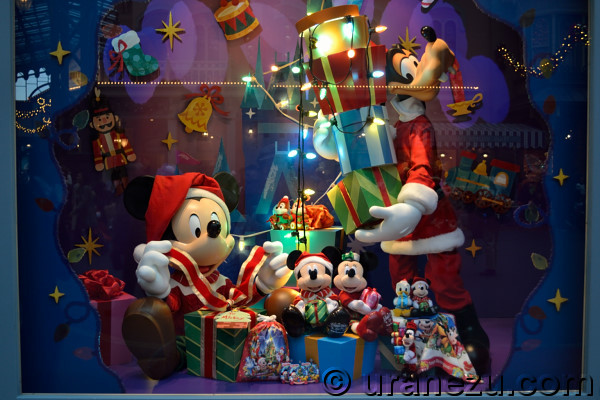 Anyway, it's a cute decoration, and these windows are merchandise shop, so no problem.
So many people came to see "Disney Christmas Stories" the special holiday parade.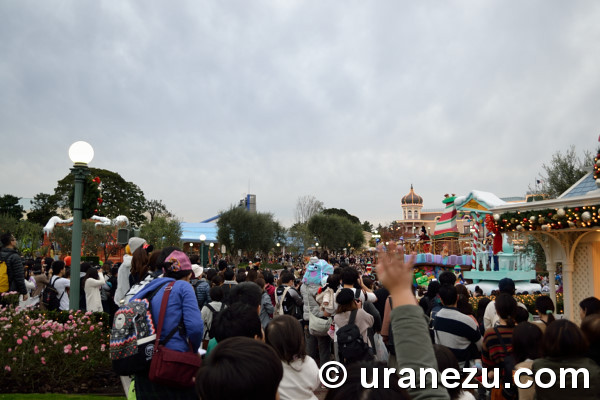 I gave up the photography of the parade, so I'm share with the many guests hold very expensive camera.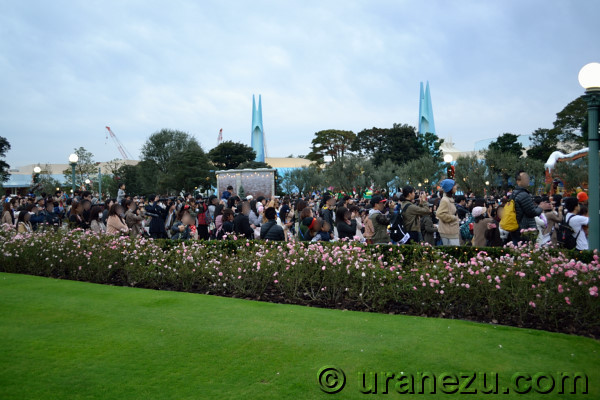 This is a great time to take a good picture while the parade.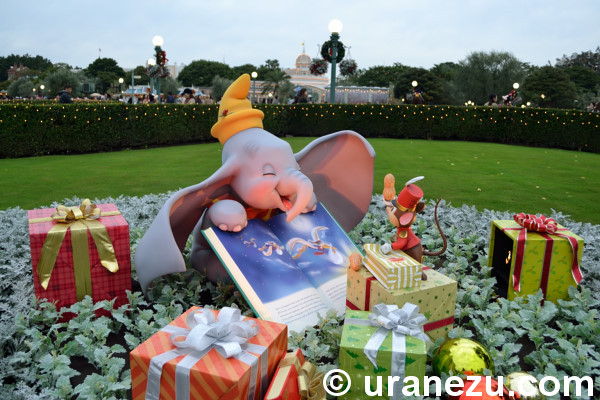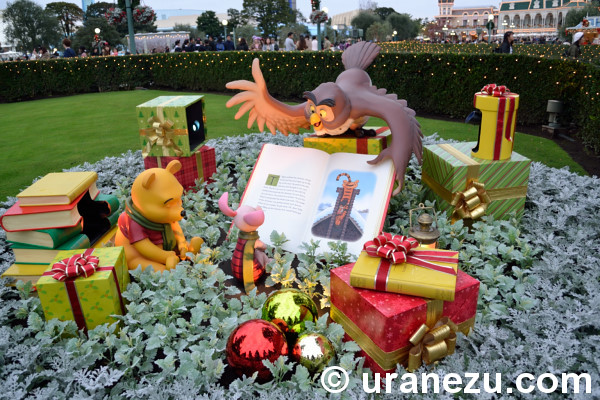 These two sub photo decoration are same as the last year. But's there are something new.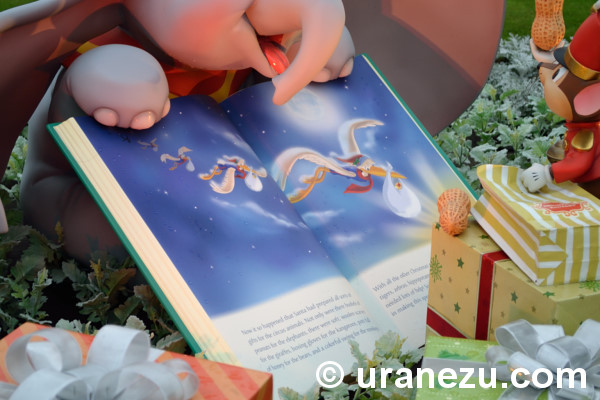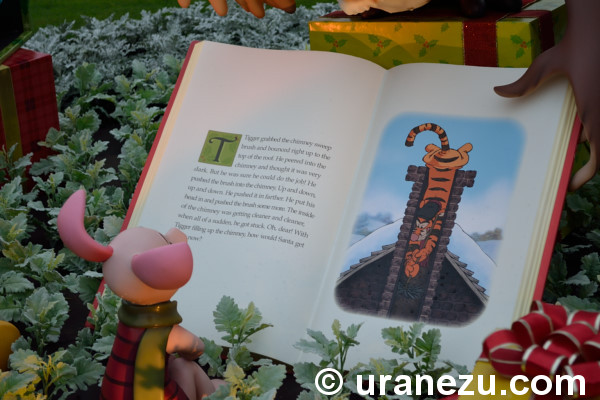 The above pictures are this year, the below photos are the last year.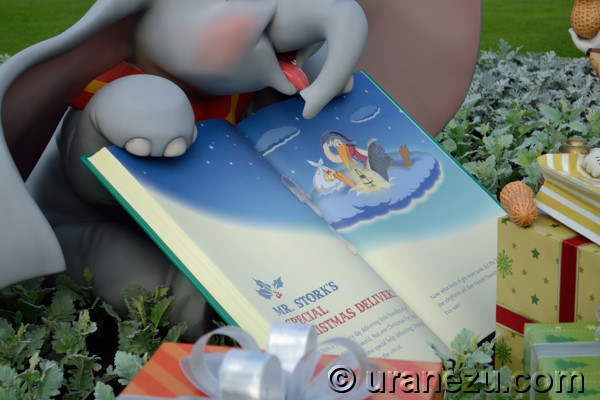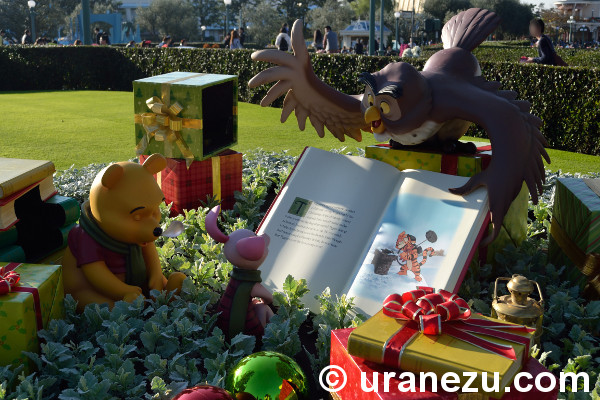 A page of these books were flipped, the story is proceeding!
Not only the park, a handrail in Disney Resort Line the monorail is also dressed as holiday attire.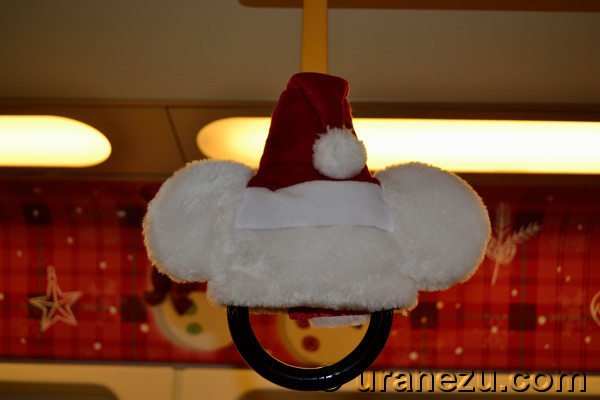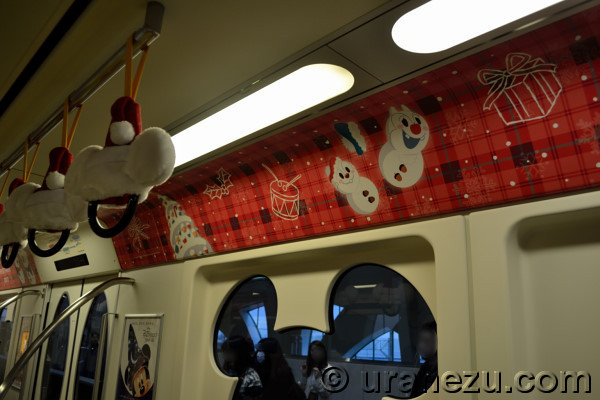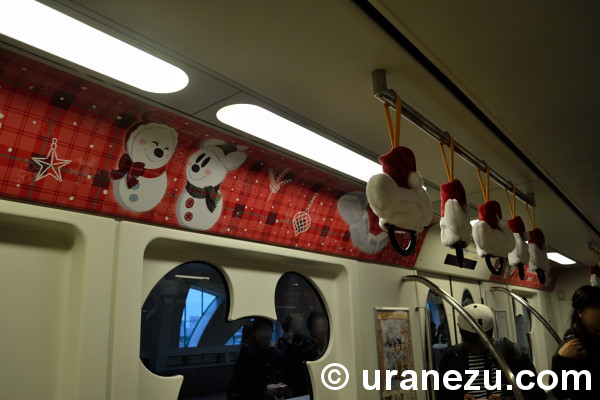 Each station has a nice holiday decoration and tree.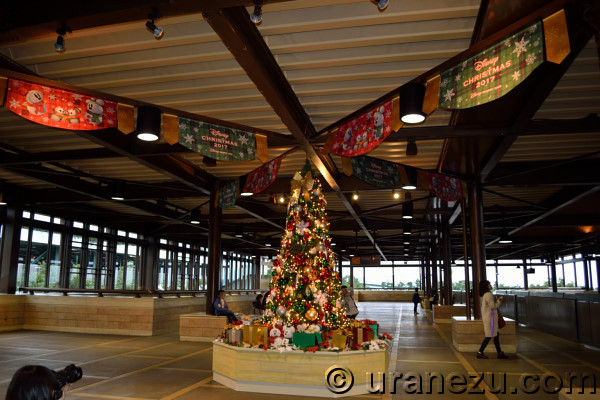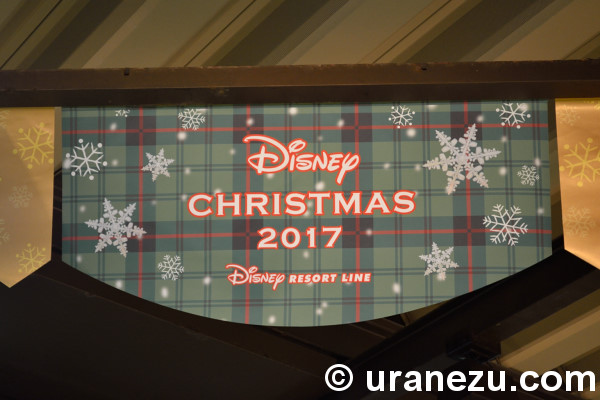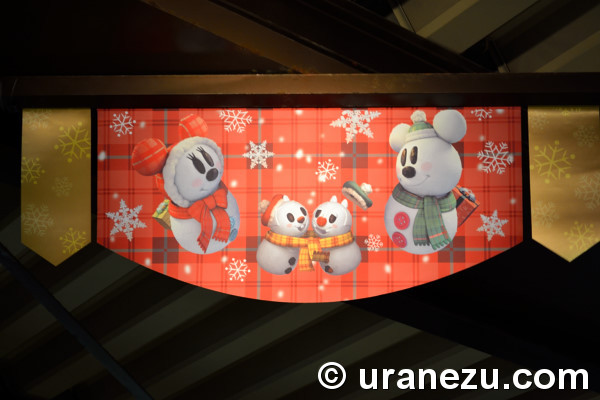 The above is from TDS station.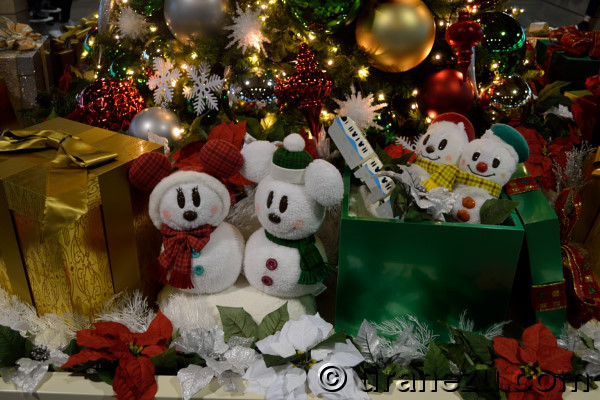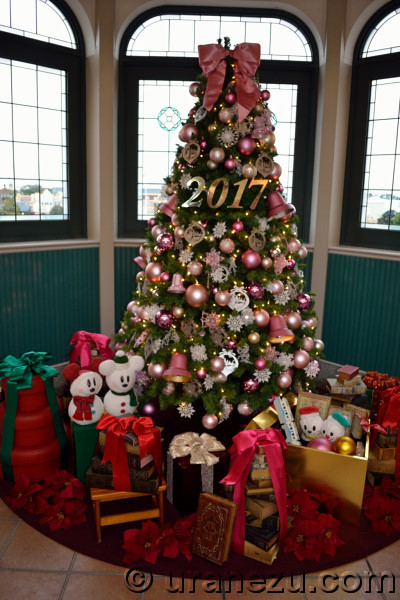 The tree is from TDL station.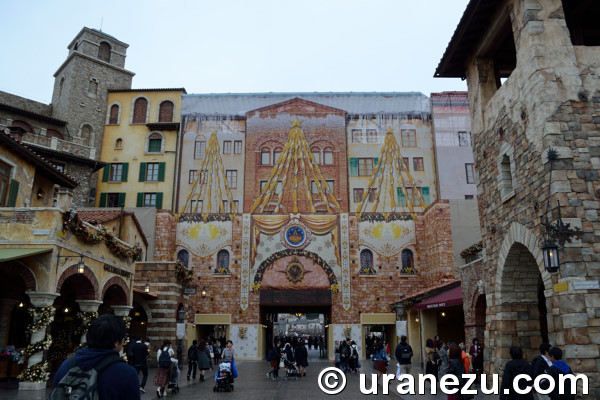 Yes, Christmas also has started at TDS. I was little bit surprised that a below sight.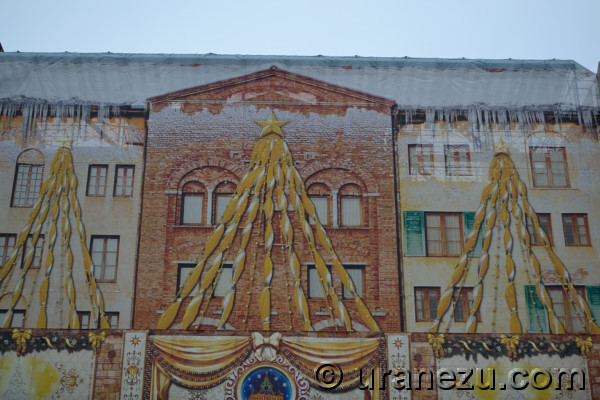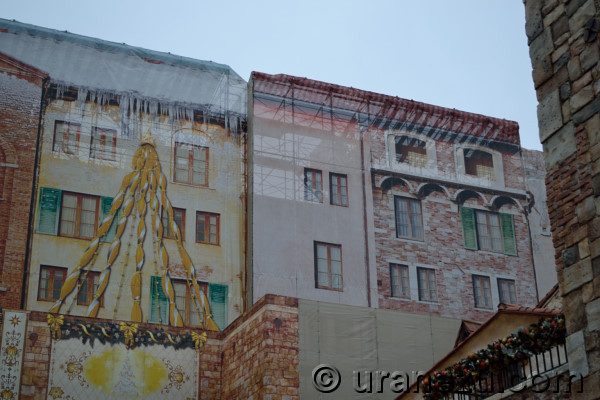 Did you notice?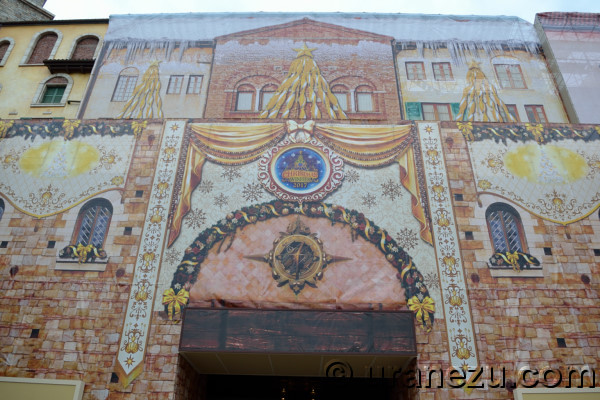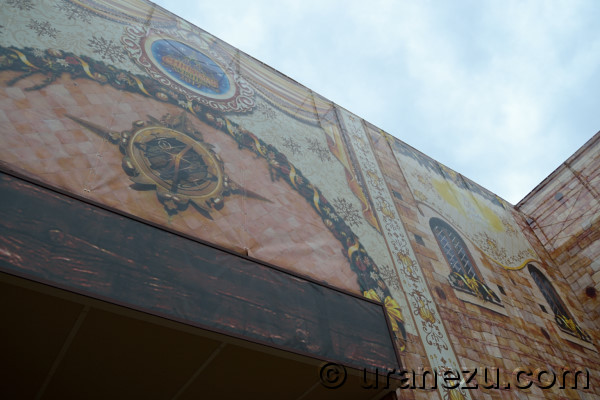 It's all covered the main surface of building.
I know very well the priority is the refurbishment for safety (or keeping beauty). But I hope some three-dimension decoration.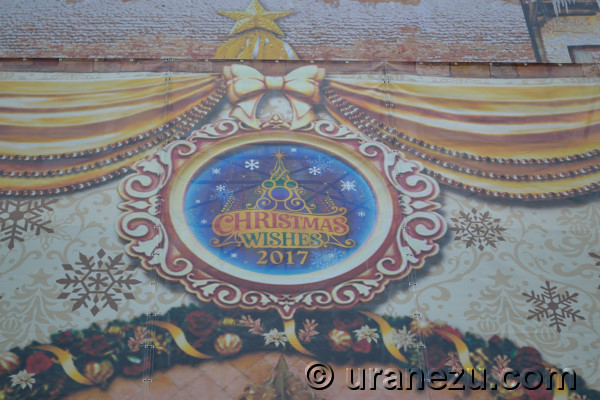 This is the physical-projection mapping! yeaaaah!
There are no small trees in front of the columns. It's little bit sad.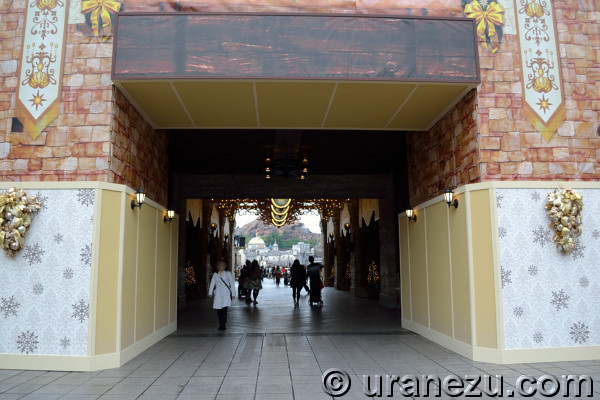 But don't be so disappointed, there are beautiful lighting garland and banners are hanged on the ceiling.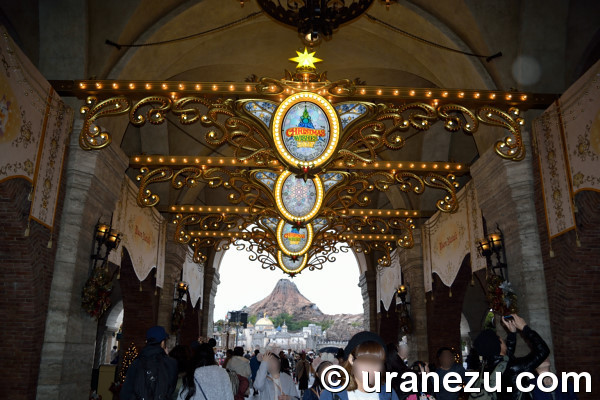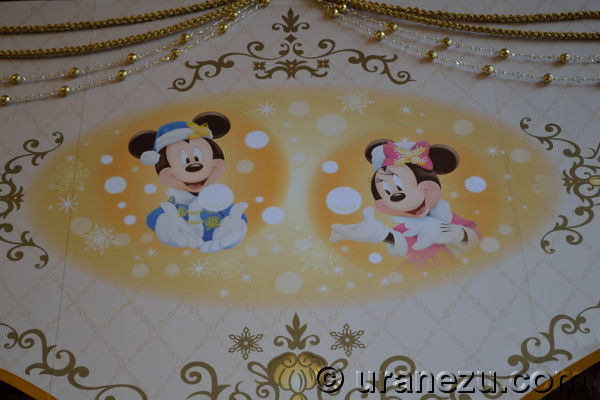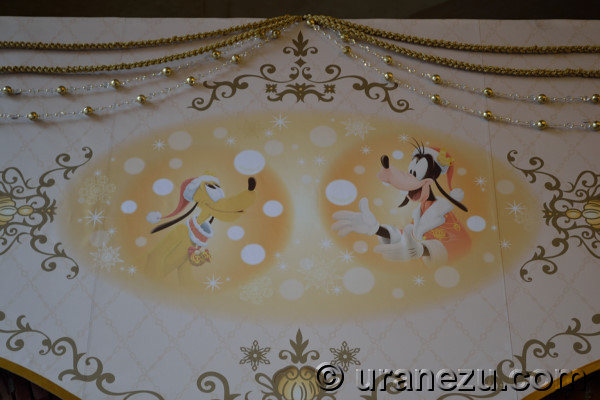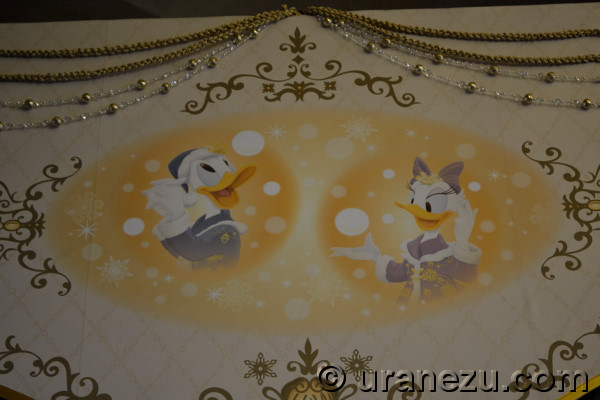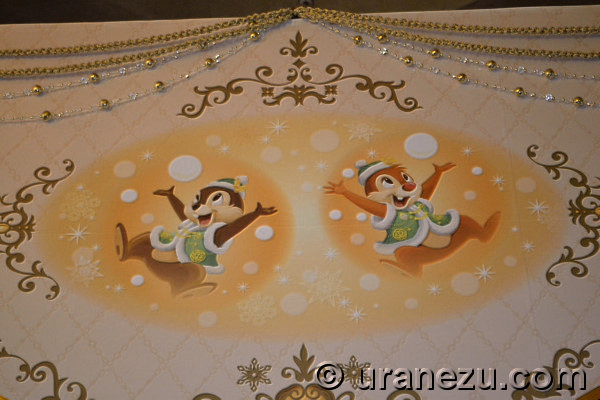 Let's look around some ports.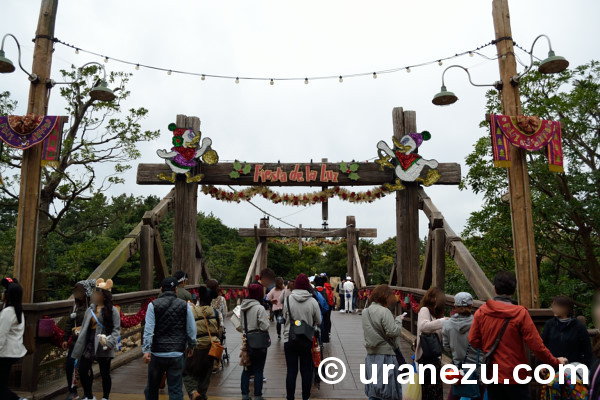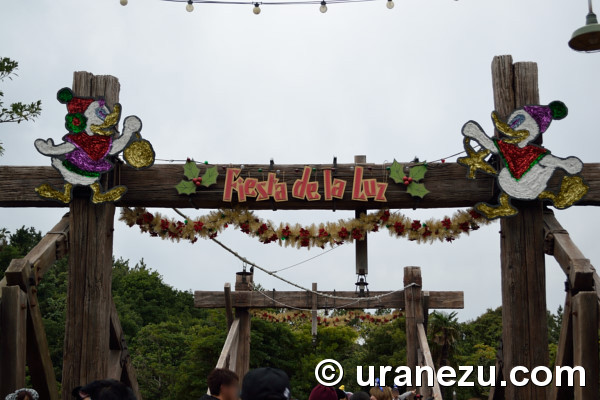 This is a bridge of Lost River Delta.
The cute ceiling is from "Aunt Peg's Village Store" in Cape Cod.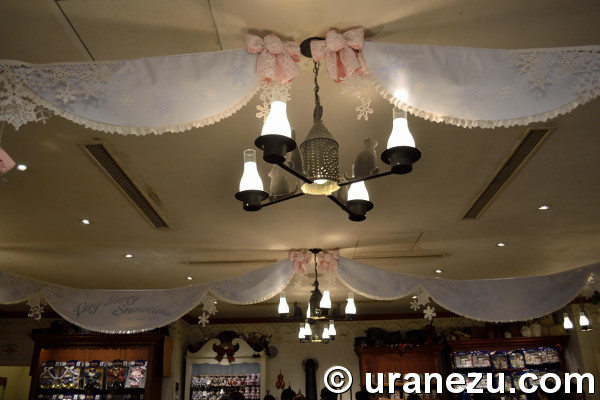 The store is filled with Duffy and his friends' merchandises.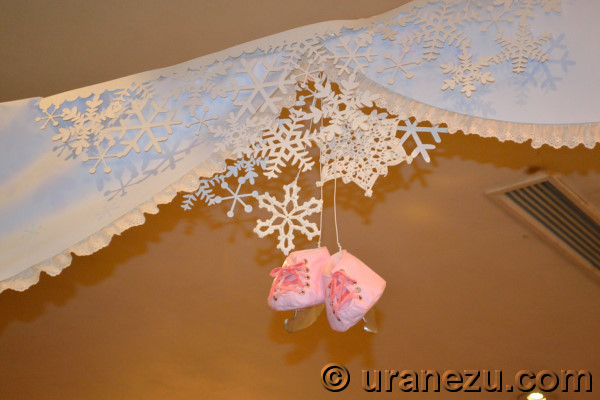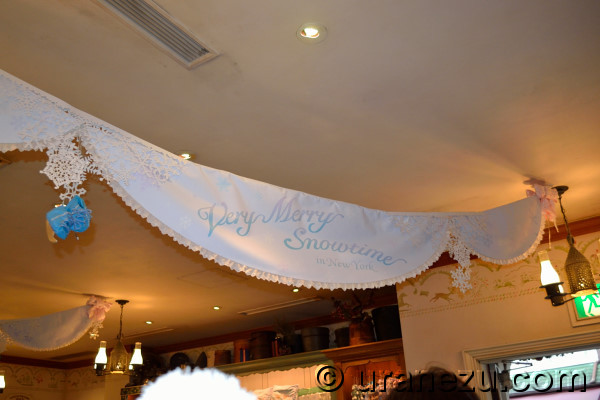 A Special holiday banner is also very cute for most buyers' favorable taste.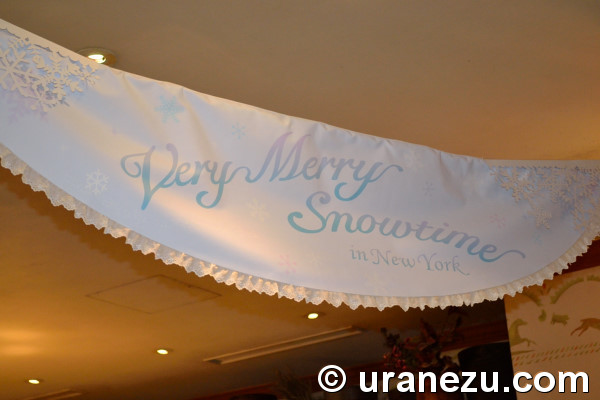 I think this place is in Cape Cod.
There is a sweeeet holiday tree outside of the store.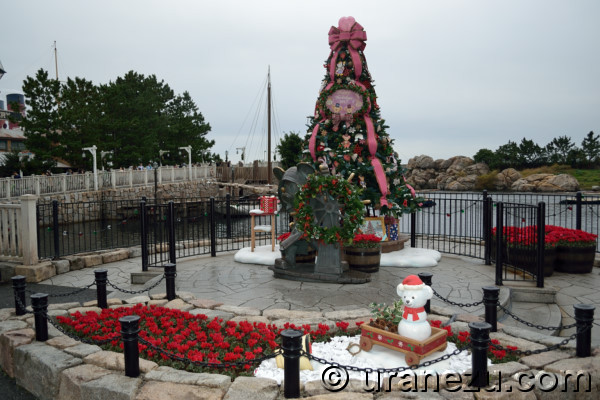 In this year's holiday theme of Duffy is "Nut Cracker".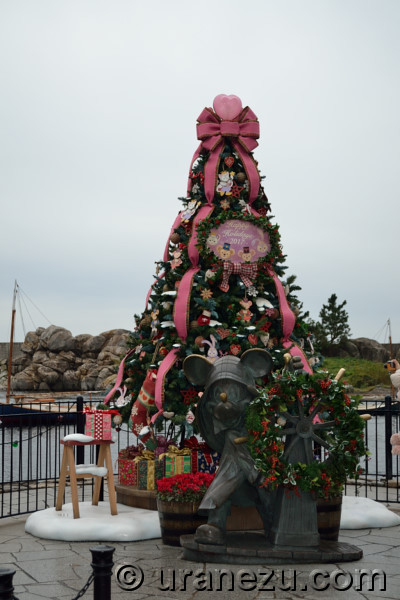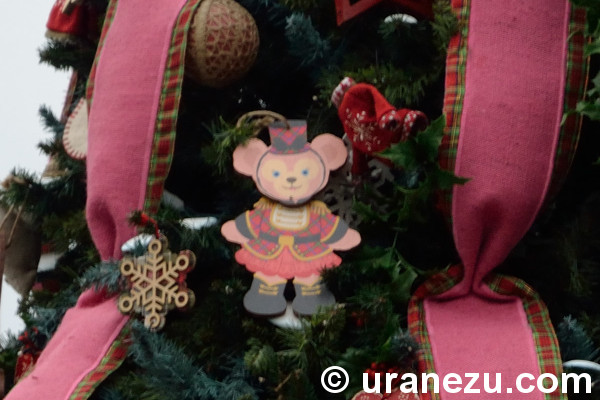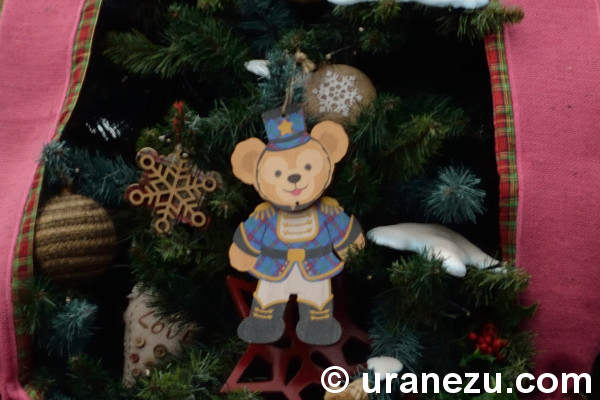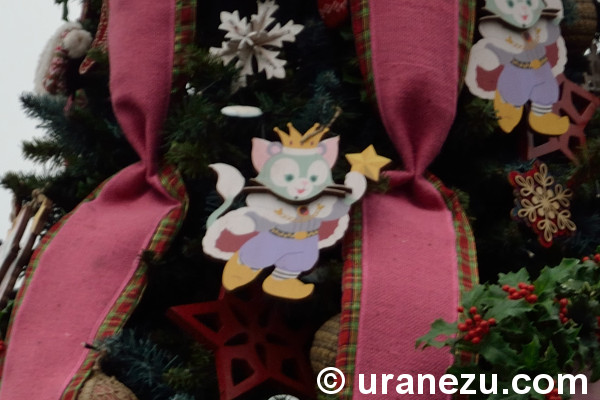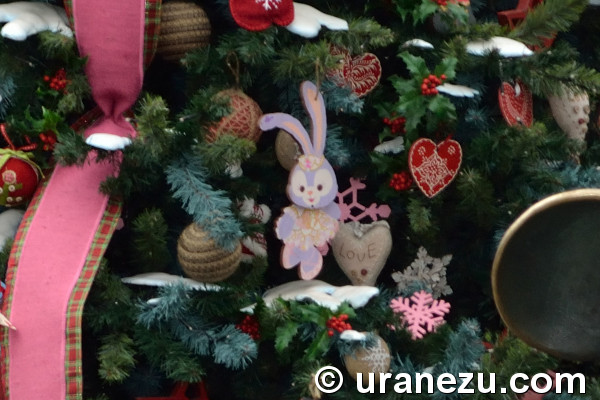 Hmm, It's very interesting casting. Sherrie May is Nutcracker, Duffy is too, or just soldier. Gelatoni is Mouse King, and Stella Rou is Sugar Plum Fairy.
This is a hustle bustle area, a place has a big Christmas tree.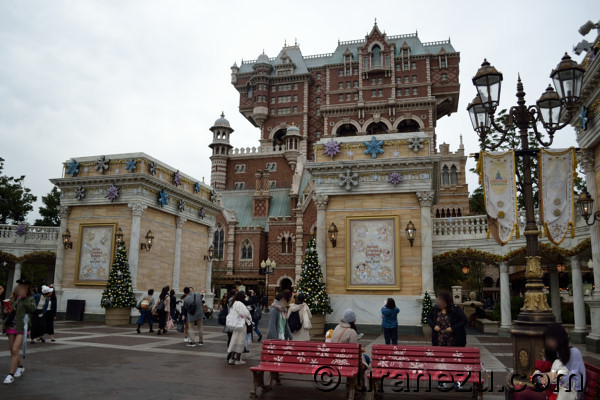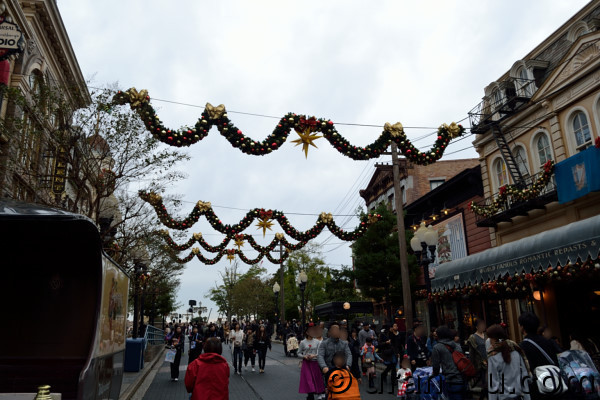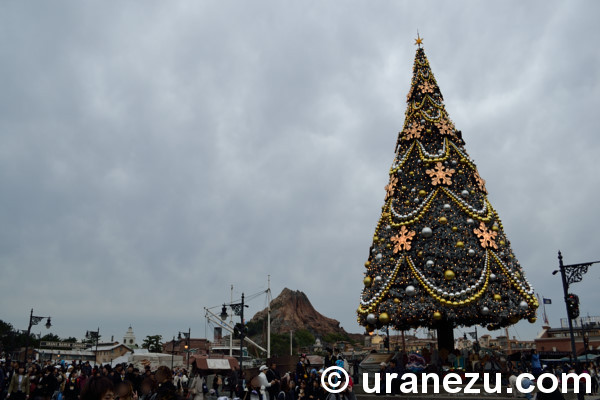 The Christmas is coming!
If you have any questions, opinions and requests,
please contact us.