Park Now >
---


Jun. 22 2019 About Disney's Tanabata Days.


May 26 2019 About Saving Mode at TDL.


Apr. 30 2019 About Land of Eggs.


Apr. 13 2019 About Sea of Chicks.


Mar. 24 2019 about 35th Anniversary Castle and the next.


Mar. 16 2019 About Happiest Mickey Spot.


Feb. 20 2019 Pixar Playtime 2019.


Feb. 03 2019 TDL 35th Anniversary at TDS.


Jan. 26 2019 About Duffy's Heartwarming Days 2019.


Jan. 11 2019 About A New Year at TDR.


Dec. 22 2018 About TDS Christmas 2018.


Dec. 16 2018 About TDL Christmas 2018.


Oct. 06. 2018. About 2018 TDR Halloween.
Jun. 22 2019 About Disney's Tanabata Days.
It's time to annual pre-summer event at TDR.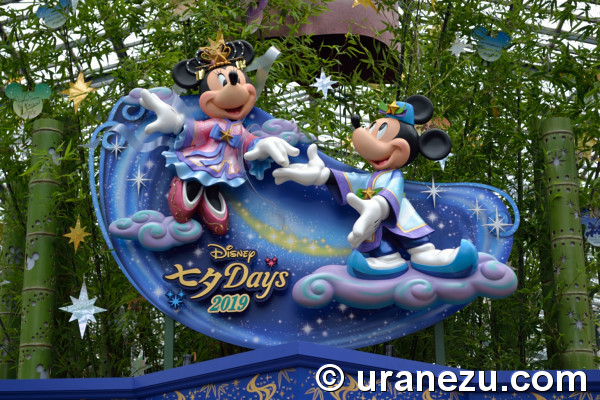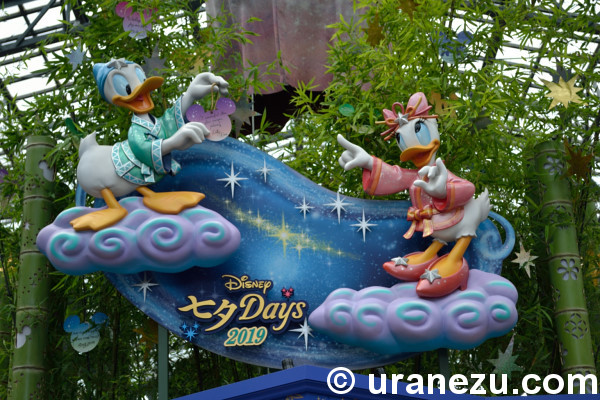 TDL and TDS have started "Tanabata Days" which celebrate a rendezvous at Milky Way once in a year of Hikoboshi the prince and Orihime princes.
Exotic costume (it's not actually Kimono, because this legend origin from China.), dating at Milky Way, and bamboo decoration, we Japanese loves this romantic event in many aspects.

Therefore the event is taking place for a month, the actual day is 7th July, though.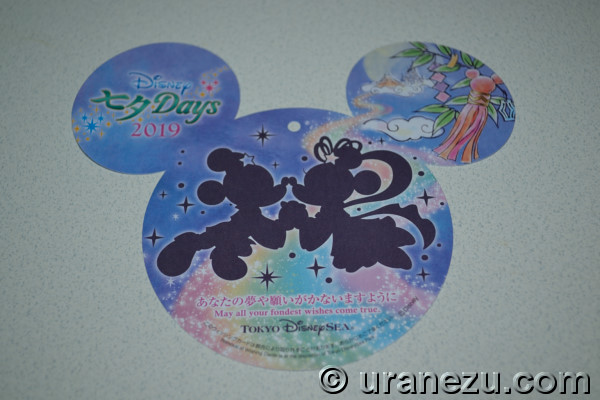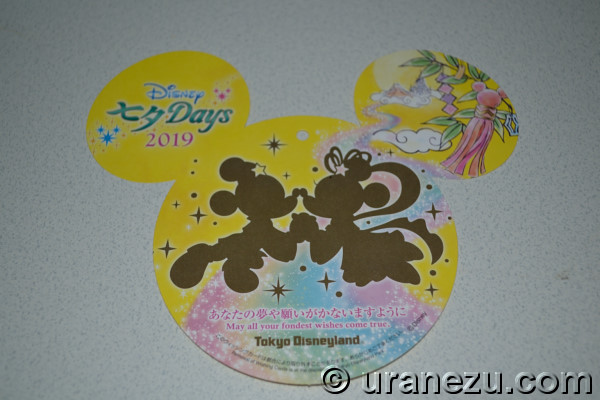 During this event, you can get a special Disney wishing cards. The blue cards at TDL, the yellow one at TDS.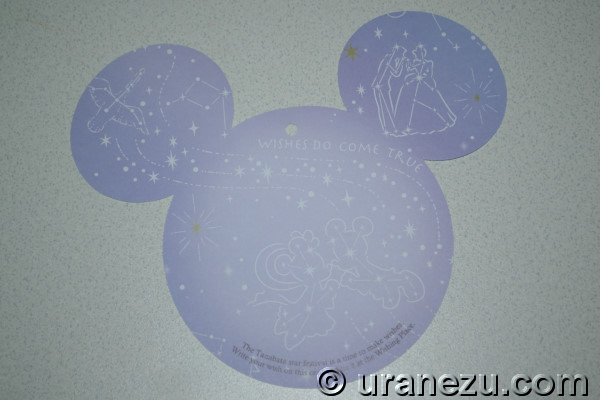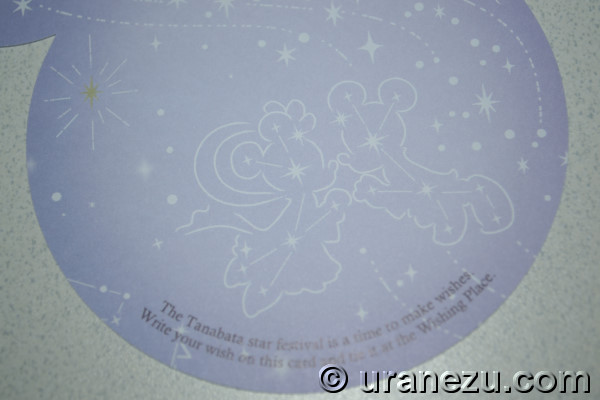 You can write your wish down on the back. The design is really beautiful with Disney stars.
So let's write your wish on the card, and hang the bamboo tree.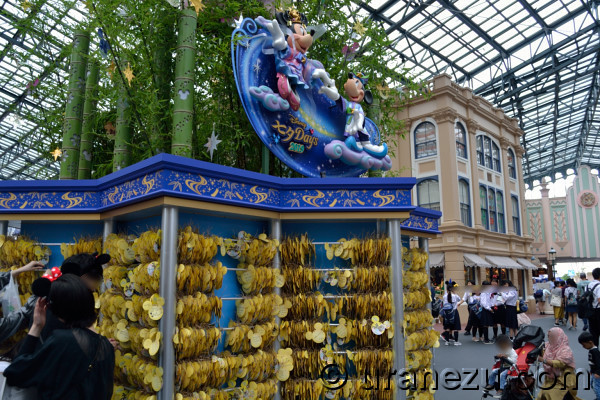 There are so many wishes!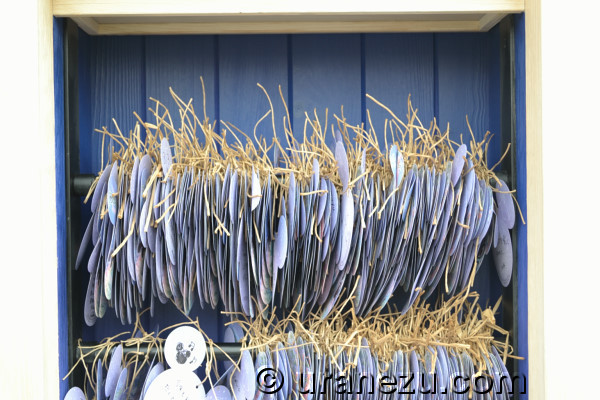 If you are loved by wind, you will lucky to see Disney Pal's wishes through the branches and leaves.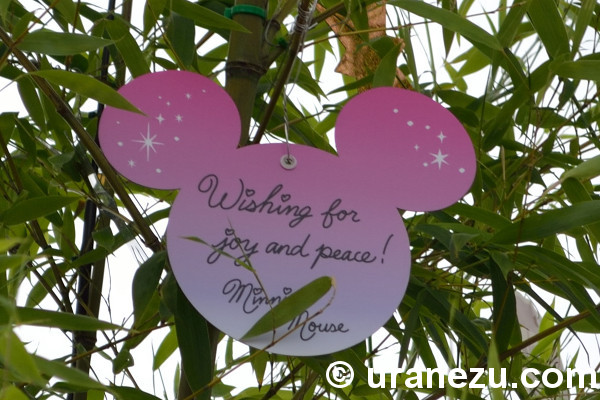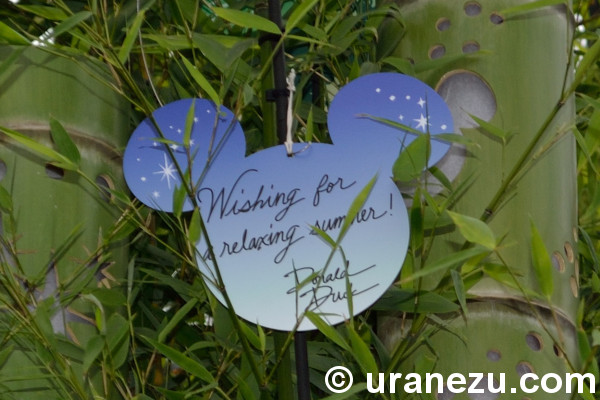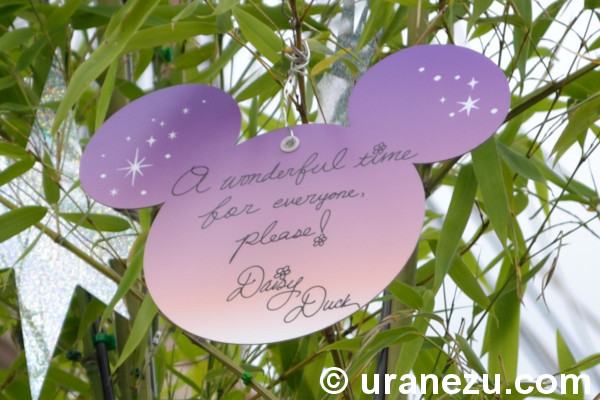 It's not like him to wish a "Relaxing Summer"!! But he is busy because "Donald's Hot Jungle Summer" the night-time Castle Stage show is drawing on. So, it is no wonder.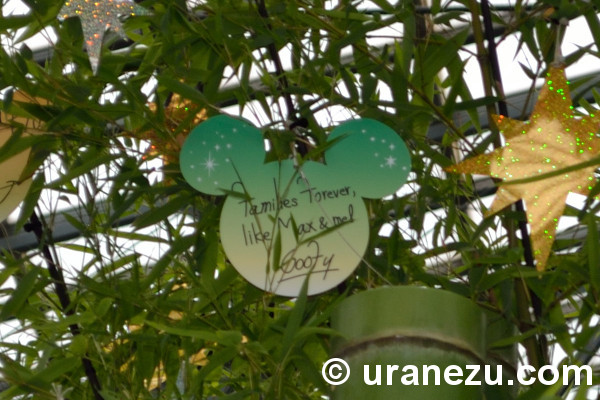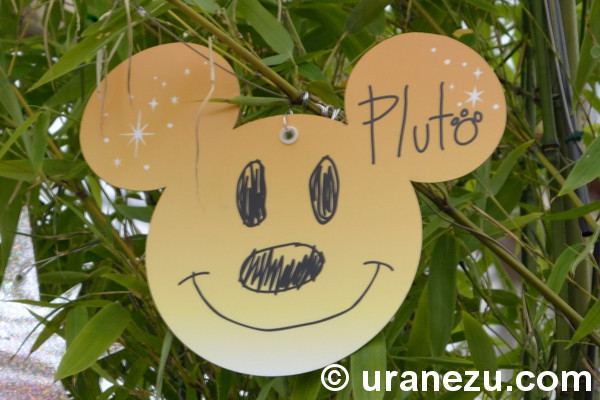 Pluto's artistic gift surprised me always.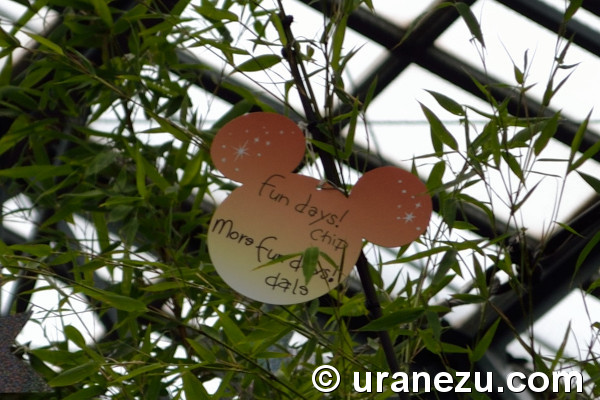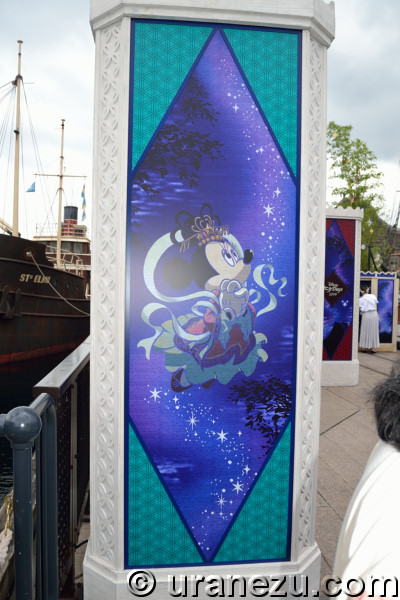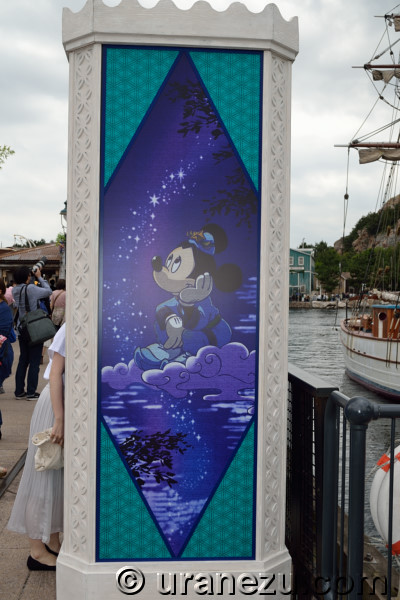 You can also enjoy this Disney's Tanabta Day's in TDS.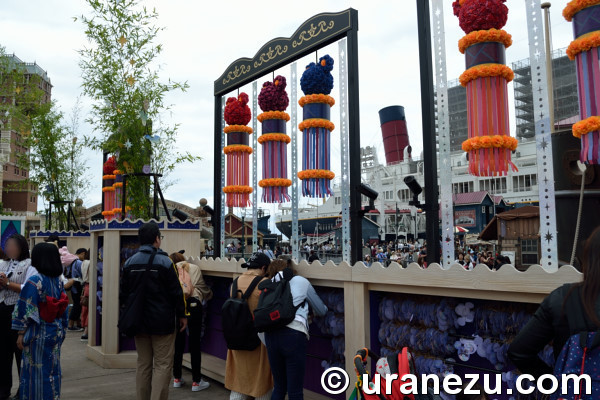 A Wishing Place is located in American Waterfront, the area is nearer the (real) sea than TDL, so you'll enjoy bamboo rustling by sea breeze. (The Tanabata nursery song starts "Bamboo leaves are rustling and rustling".)
There are so many special Japanese style banners.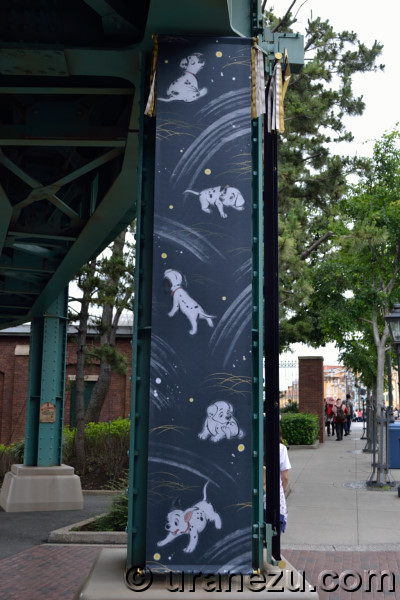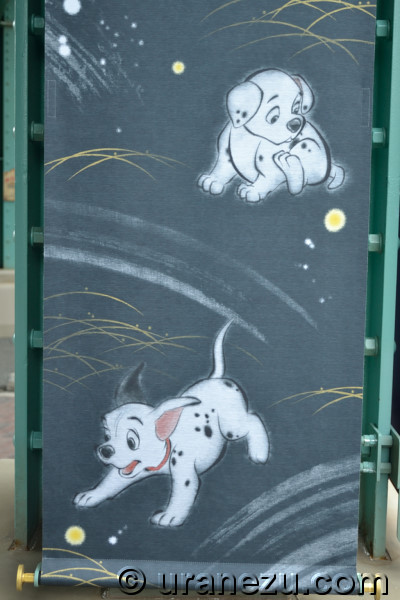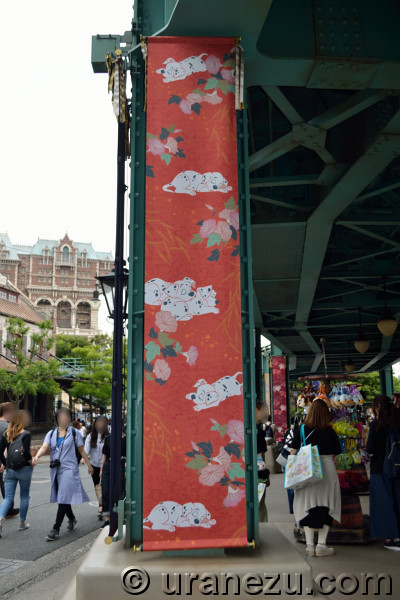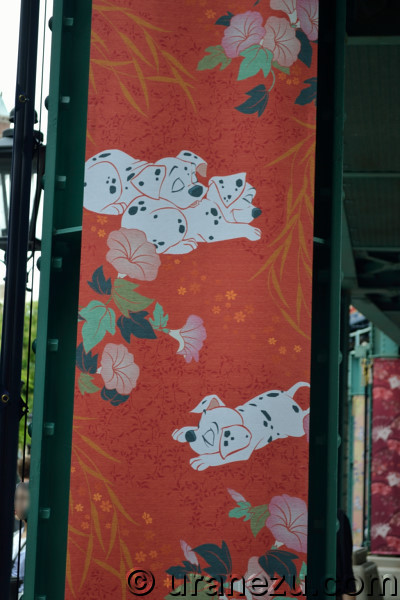 101 Dalmatians' are new pattern in this year.

The main banner of TDS are very beautiful.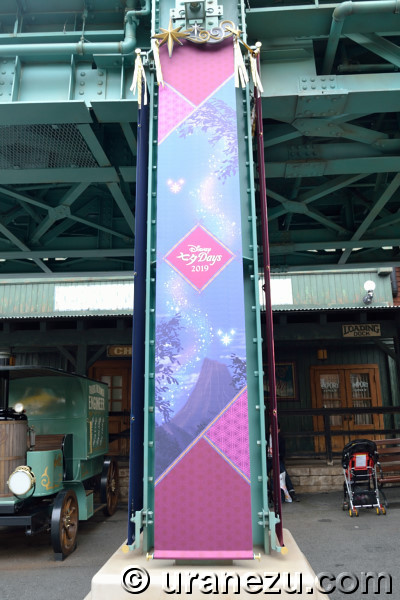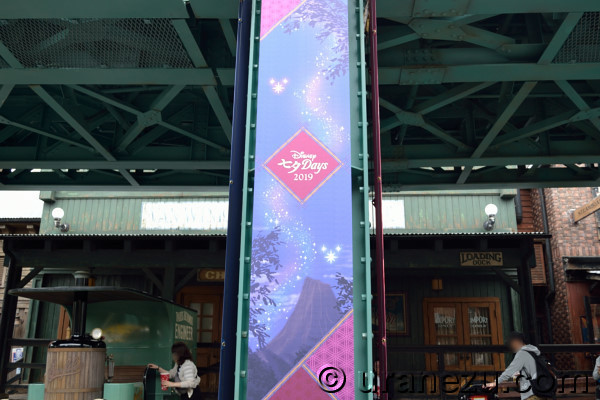 As you see, the pink star is Orihime, and blue one is Hikoboshi.
If you can visit the Milky Way-side, you might see the bellows.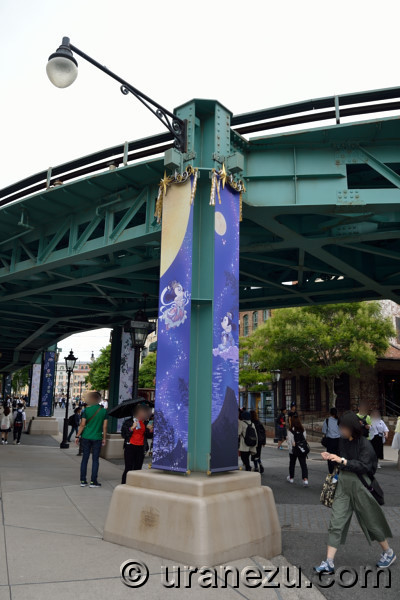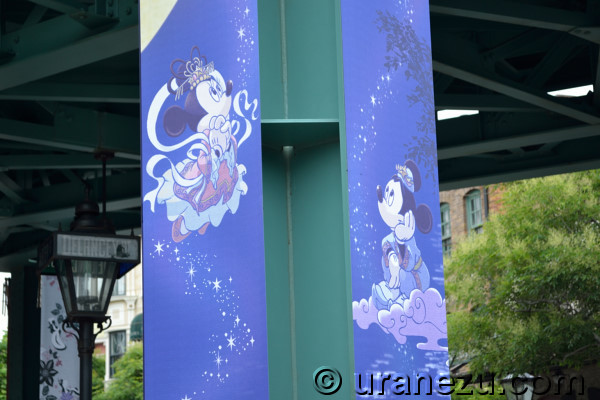 A sight of swaying bamboo in the early summer breeze under a starry night is very romantic.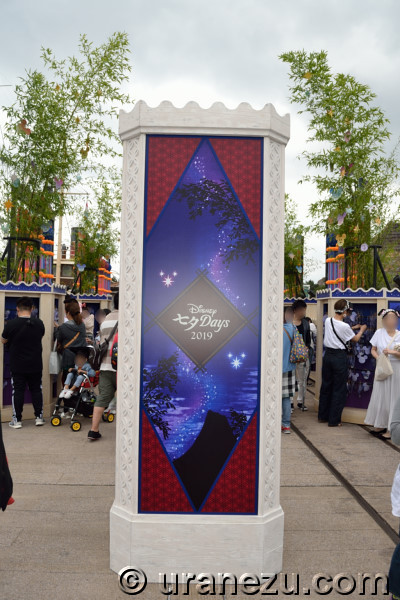 I hope your wish will come true.
If you have any questions, opinions and requests,
please contact us.
May 26 2019 About Saving Mode at TDL.
As you know, TDL and TDS are in a middle of Easter event. But I think you don't know what's going on actually at the parks after TDL 35th anniversary the big party.

They over promoted TDL 35th anniversary in everywhere (even inside TDS), in every way to 2019 March. You can easily imagine how the parks packed with the whipped guests through the anniversary year.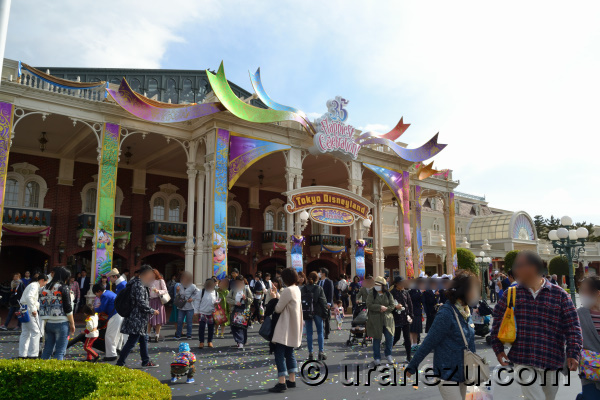 Now the parks back to normal (to me, every time is special whether they set an anniversary year or not.).

Therefore the attendance clearly decrease than the last years without these big advertisement.
Roughly speaking, now TDR seems that they operate the park as a saving mode.

Why am I use "Saving mode" ? You'll see it after my today's topic.
One reason is no more paid Easter egg hunt in this 2019 year. TDL took place various fee-based Easter egg hunt in the parks in every year though.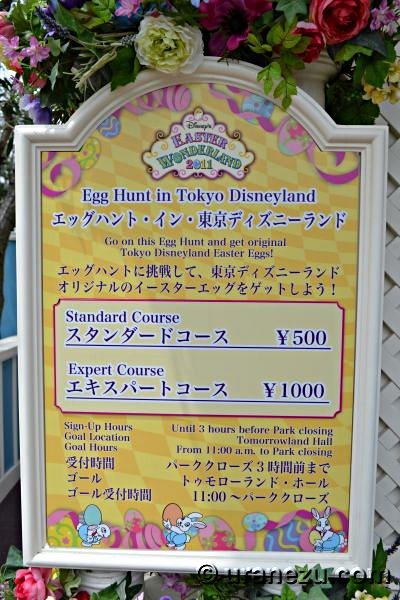 Therefore there are no new character eggs in TDL, or they don't need worry about left over of a prize as the game reward and not need an extra cast member for checking the Egg Hunt game at goal, which make cost savings.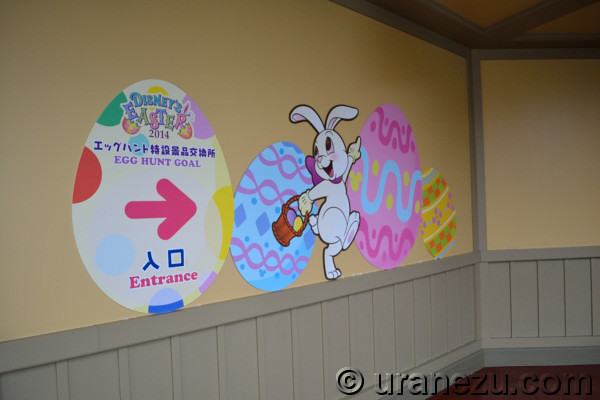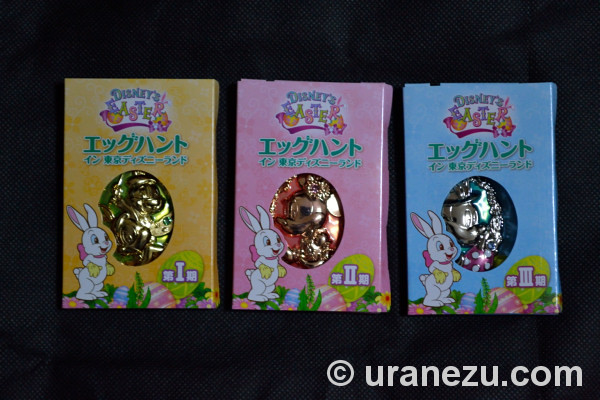 This is the one reason that I guess TDL operation is under the saving mode.
And here are another reason. It's about new plastic shopping bags at TDR shops.
They stopped making a various plastic bags any more.
As you know, TDR changed the design in every annual event or attraction grand opening.

In the last year 2018, they gave about four designs as below. The front side was same TDL 35th Anniversary, but the back was changed in every special event.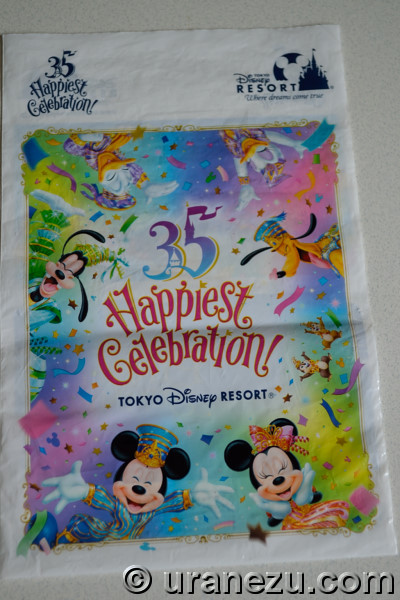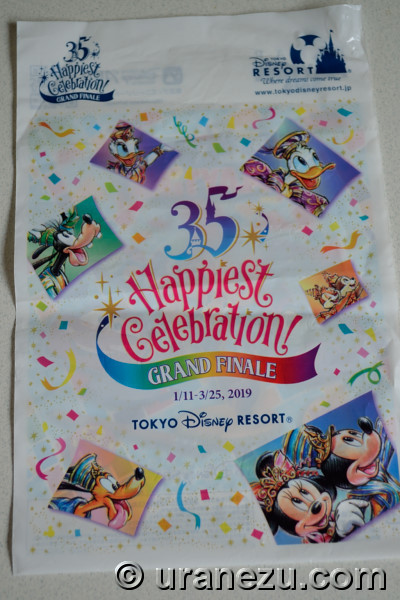 The left was used from the anniversary started to Christmas. The right was used for the time of the anniversary Grand Finale in January to March.

These designs were the back side of the plastic bag.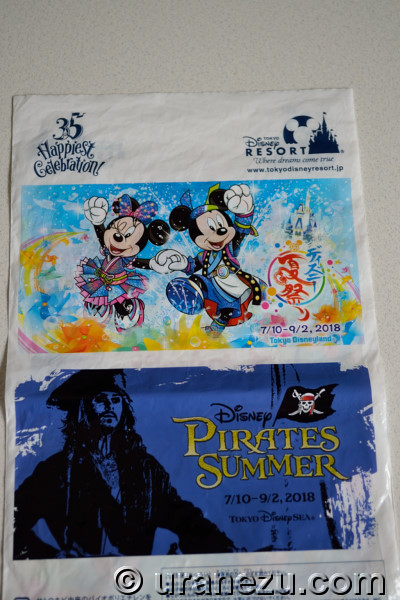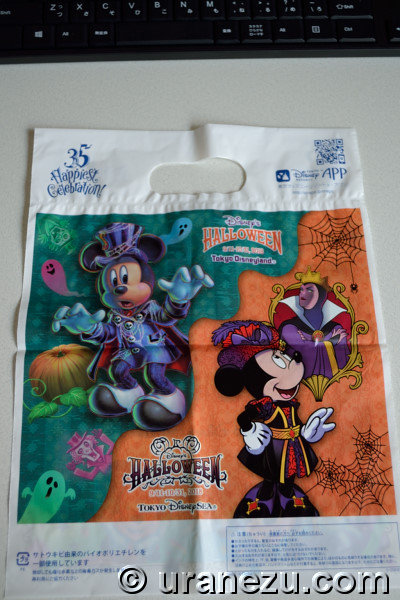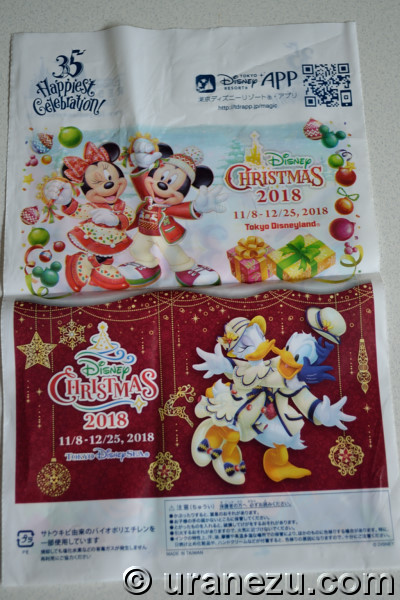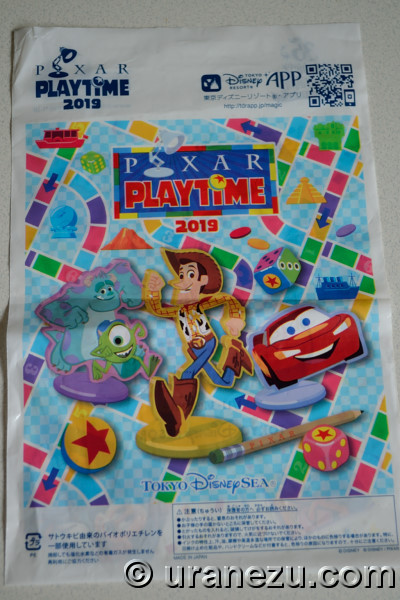 This time is a nice opportunity to show some TDR plastic bags.
So let's look back.

How about 10 years ago holiday season?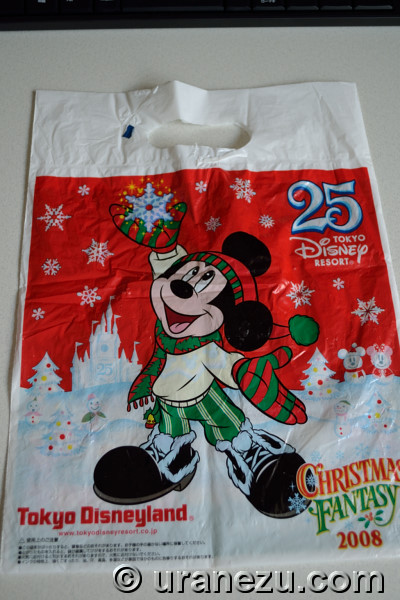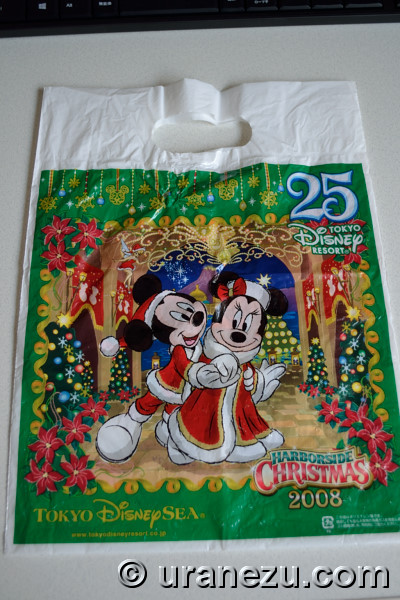 The one side is Mickey from TDL Christmas, and the other one is lovely couple in Yule night TDS. That's very nice design.

And here are 2012 spring season's bags.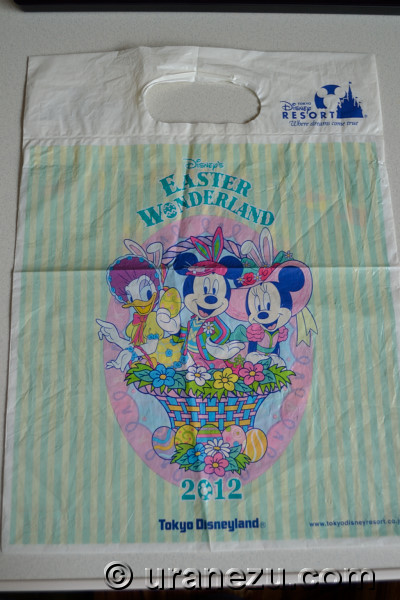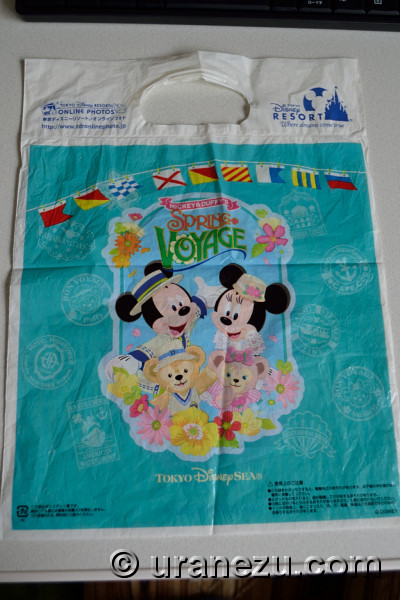 TDL looks authentic Easter design, and TDS celebrated spring with sea themed. They were also cute.

How about the debut year?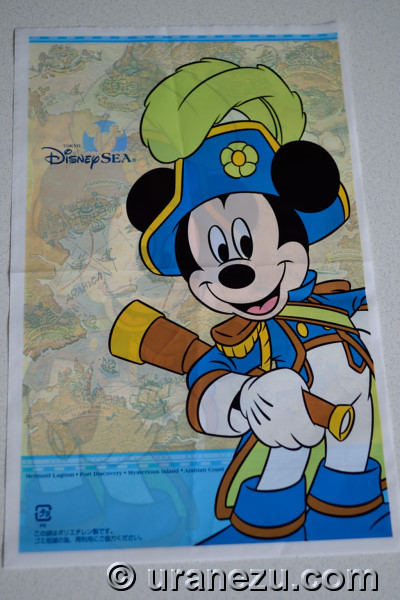 This shopping bag was used 2001 in the TDS opening year.

The below was in 2017 which used only for Duffy and friend's merchandises.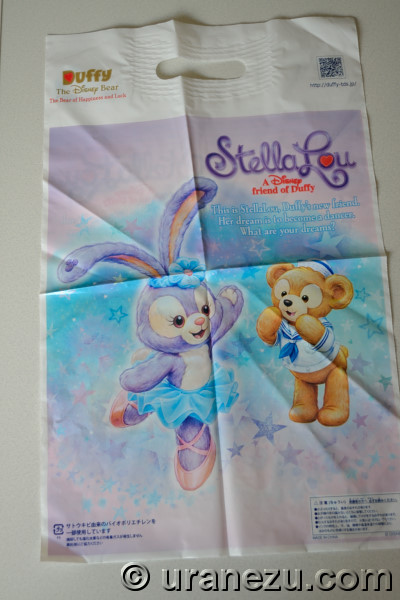 The below in 2005 Christmas was one of my favorite.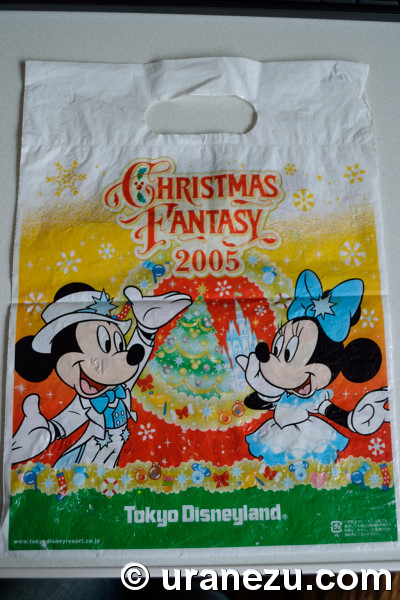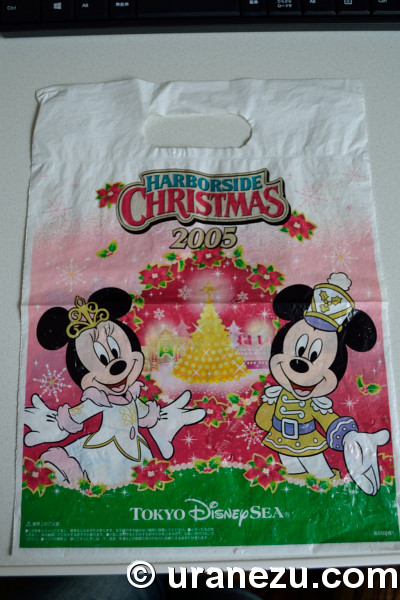 Very simple and neat Mickey face and symmetric design were really recognizable that the two parks took place different Christmas event. That was really attractive.

This is an extra.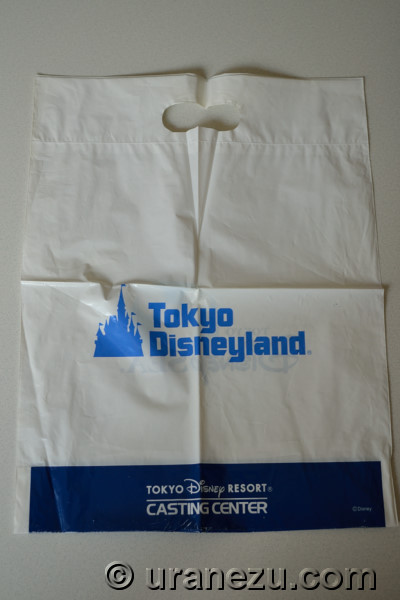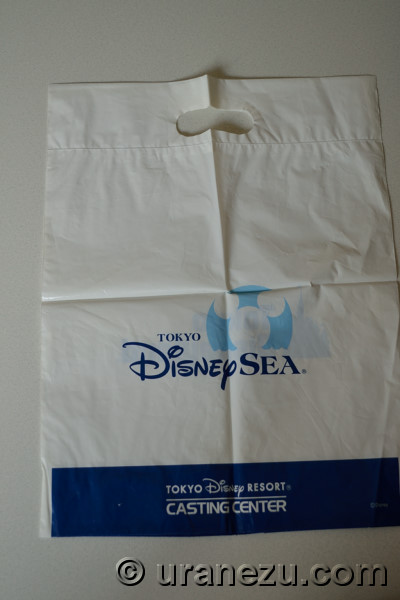 I remembered that this plastic bag gave at open call for TDR part time job.
It's a quiz time!
Can you guess which bag is oldest?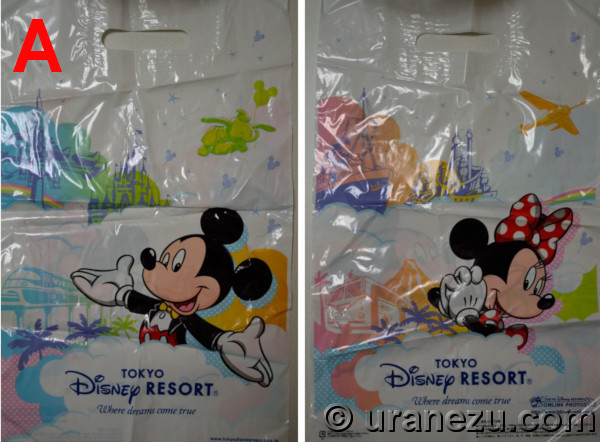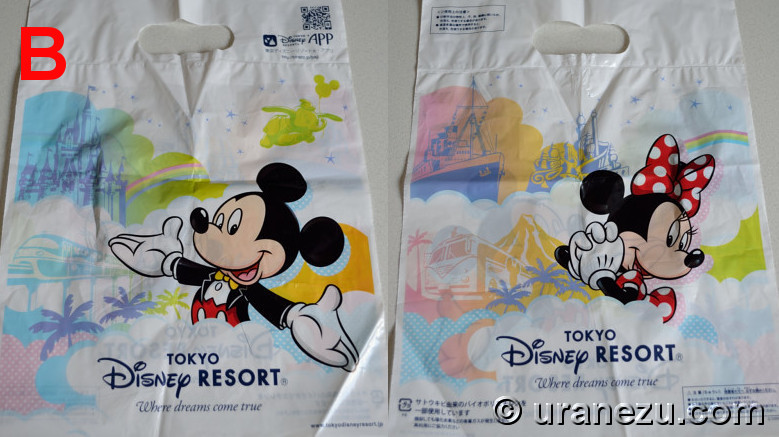 The answer is A.
The both design are really similar at the first glance, but A have a historical treasures on it. Can you see them?
Yes, there are two extinct attractions! Star Jet at Tomorrowland on Mickey-side and Storm Rider at Port Discovery on Minnie-side.
I still shocked that they removed these landmarks away from the park.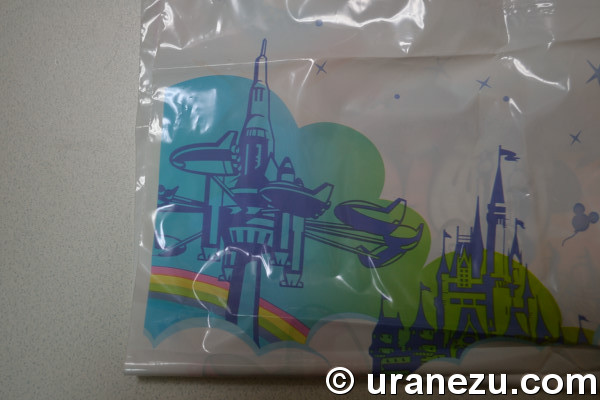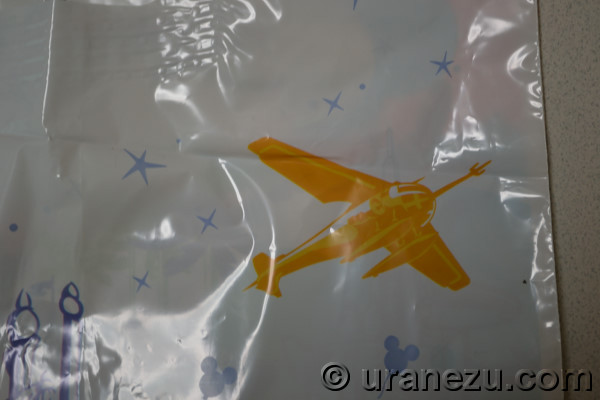 However, the design will not change anymore, and keep use the same design through the year.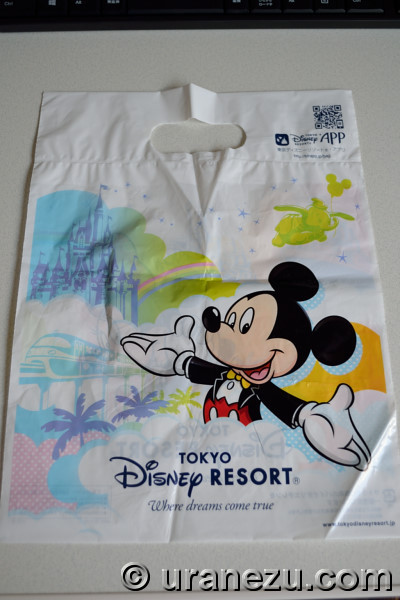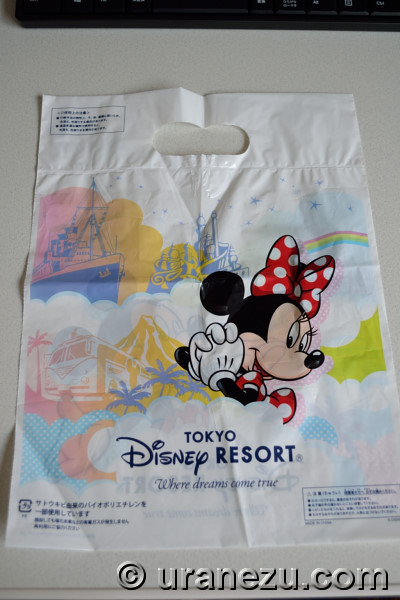 The above nothing special design keep using all the time in the both parks.

There was 5 sizes, but they can provide only 3 sizes now.

XS: about 15cm X 23cm ←No more.
S: about 23cm X 31cm with a handle ←No more.
M: about 29cm X 46cm with a handle hole.
L: about 39cm X 46cm with a handle hole and bottom gusset.
XL: about 53 X 56 with a handle hole and bottom gusset.

This sad changing started from 26 March 2019.
These two reasons lead me "saving mode park operation" conclusion.

Anyway, there are lots of "get back the guests after the big advertisement year" strategies in TDL and TDS. It include night time castle stage show in TDL or opening of Soarin' in TDS.
Now the stage in front of the castle is under constructing.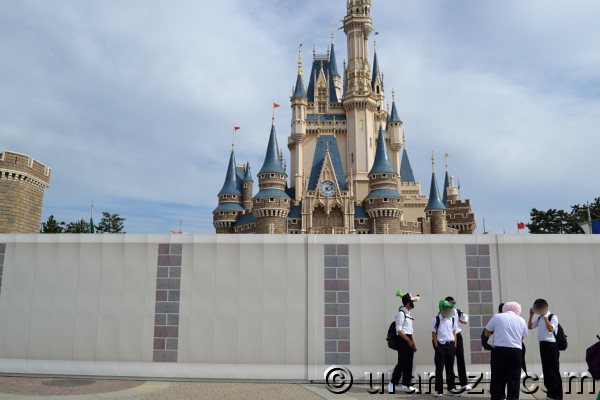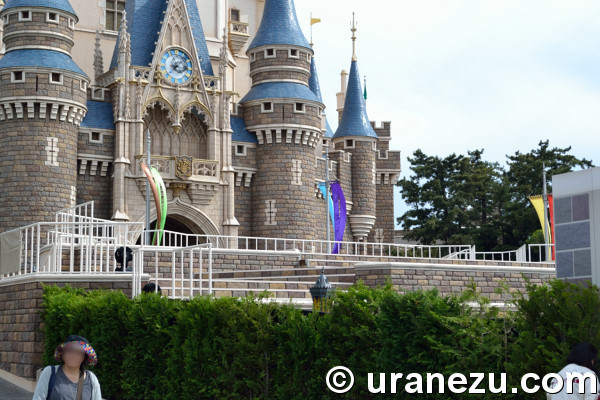 And Soarin' in TDS looks almost ready!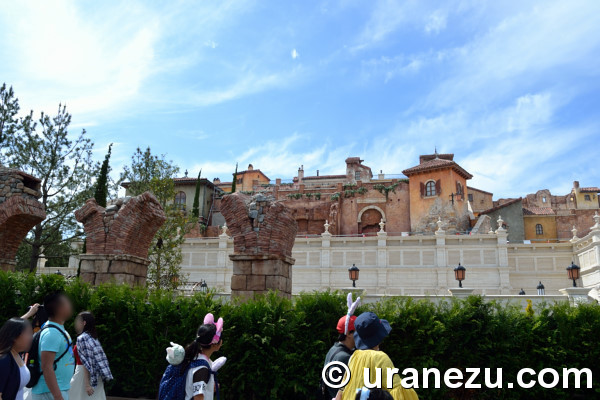 Therefore we should watch its moves.
If you have any questions, opinions and requests,
please contact us.
Apr. 30 2019 About Land of Eggs.
Sorry for waiting!
But don't worry, TDR still take place Easter event until June 2. So, today's post is "Disney's Easter" at TDL.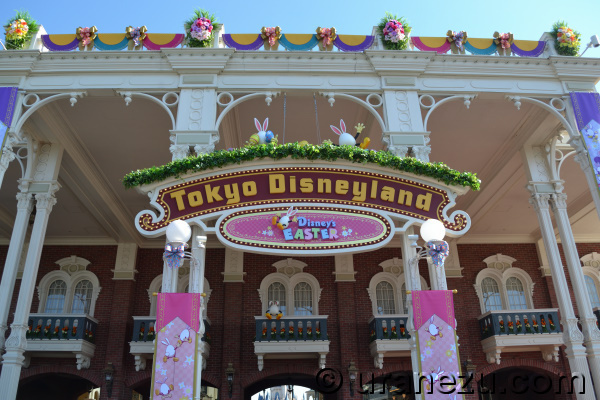 In this year's Easter, they created a new character for TDS.

TDS has "Usapiyo" the new character for the event, but TDL nothing has changed.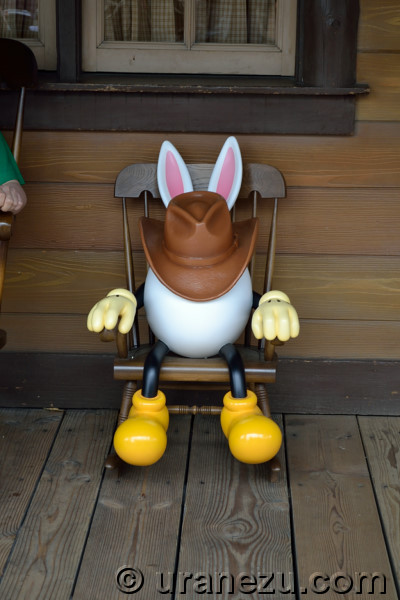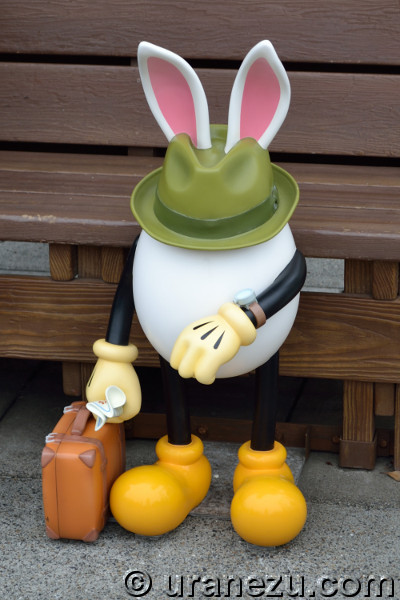 It's just "Usatama" the combined character with bunny (USAgi) and egg (TAMAgo).
The main photo locations at the hub have a lot of Usatamas.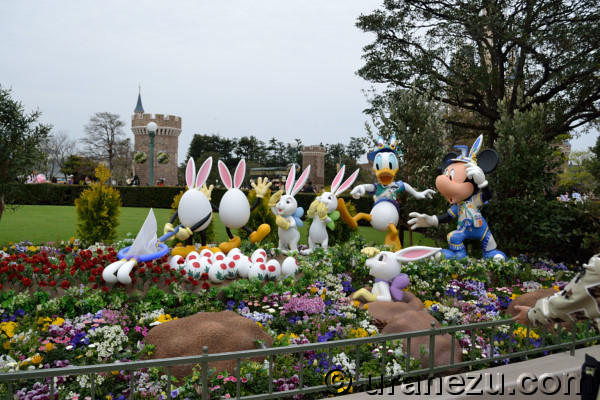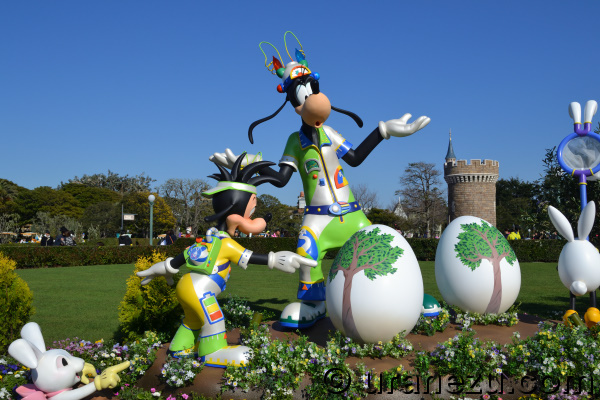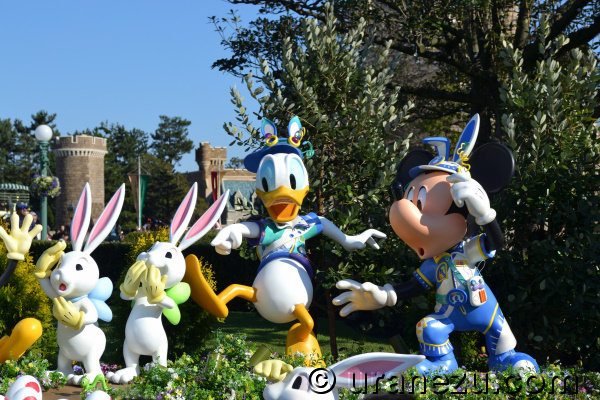 It's difficult to understand a situation of boy's photo decoration.

The girl's side is clearer to see.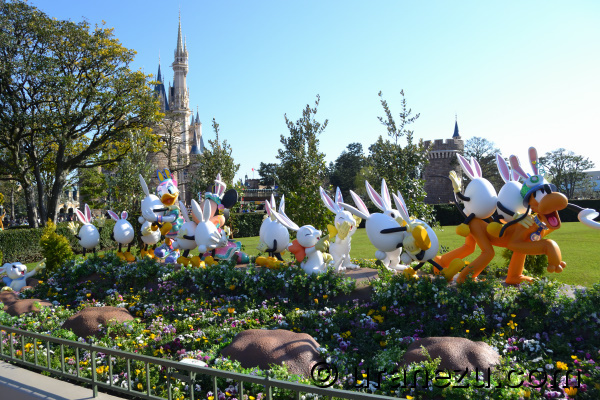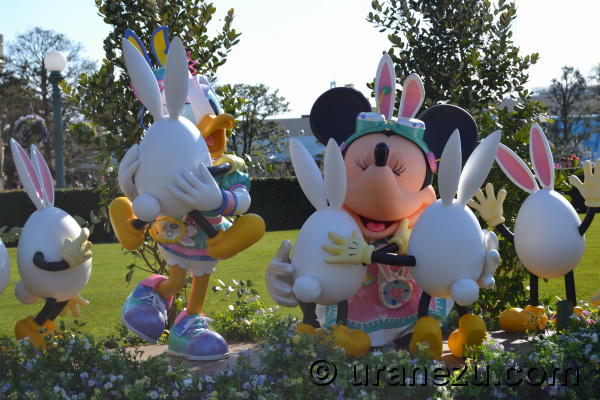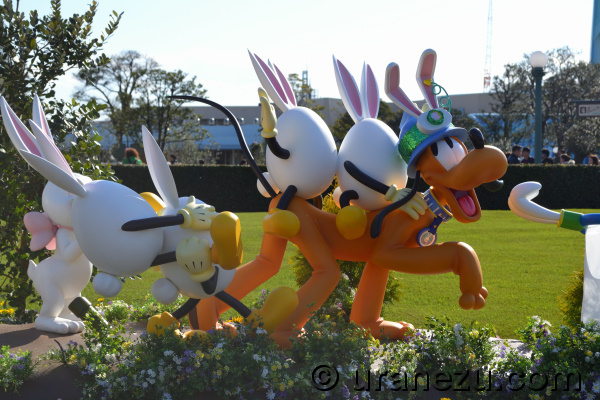 Do you see Buzz and Zurg eggs?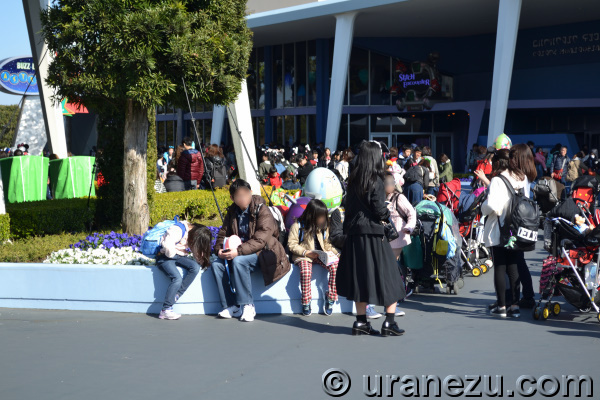 I don't think it's a perfect location for these lovely Easter eggs.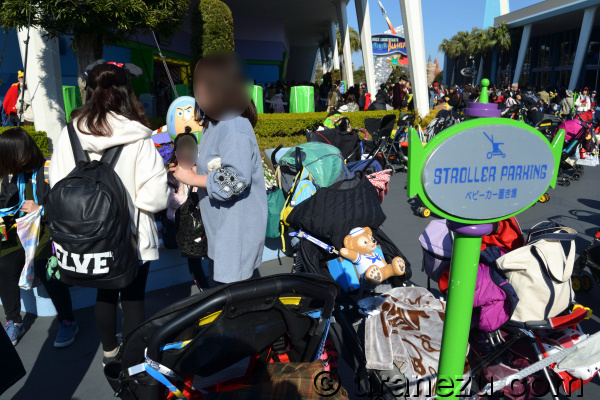 Unfortunately, most waist-high flowerbed used as a bench in high attendance TDL. And the flower bed is located inside a stroller parking of attraction. Therefore it's tough to take a picture of this wonderful eggs.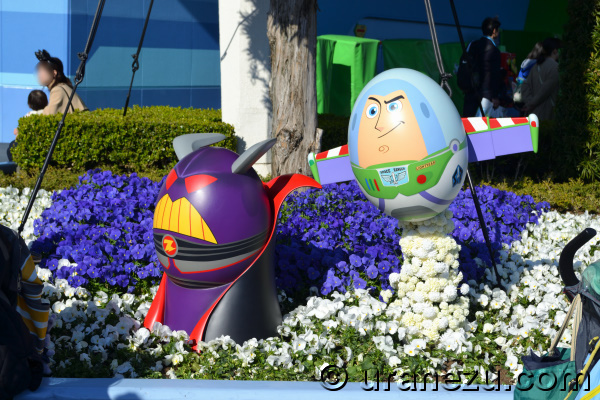 I hope they will find more nice place in next Easter.
Yes, as you know a new face Mickey and Minnie has debut from this year's Easter.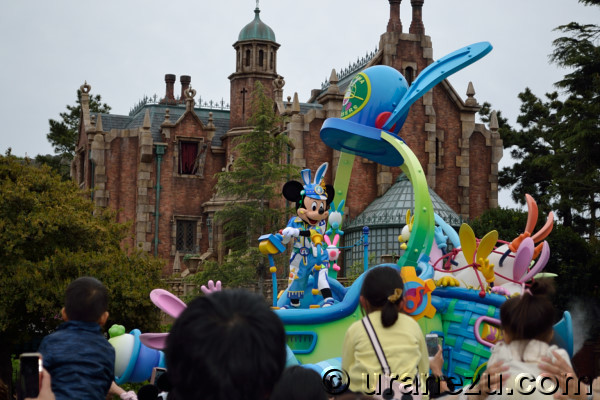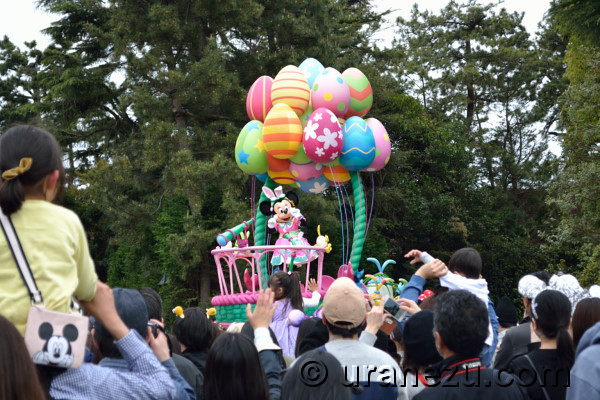 The parade is same as the last year's, but with the new heads, so still "Usatama on the Run" the special Easter parade get a lot of interest.
I'll show you more hiding(?) Usatamas in TDL.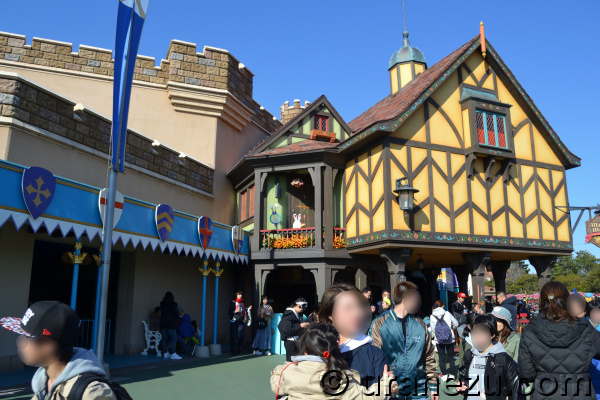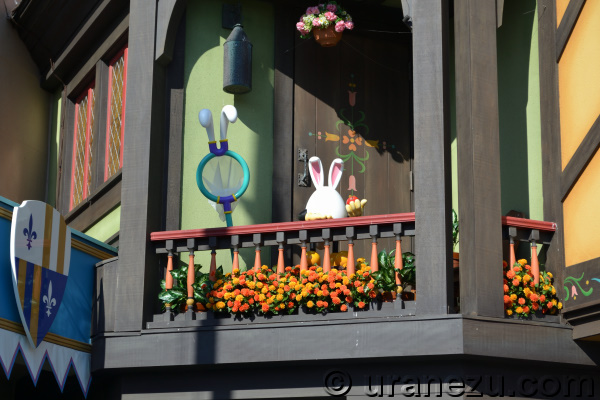 Holding an apple usatama is located from next to "Snow White's Adventures" the classic dark ride.
A usatama in a dense plantation in Critter Country.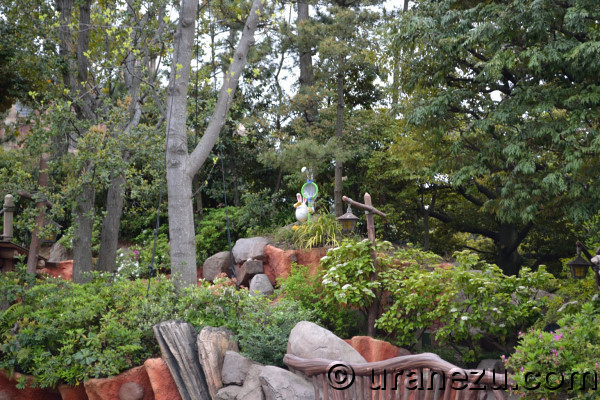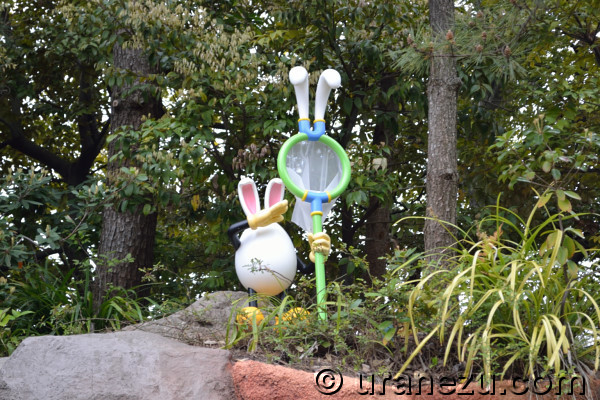 One usatama is peeking some guests in "Plazma Ray's Diner".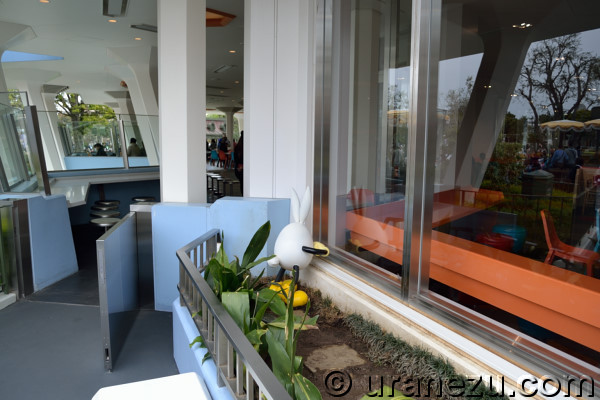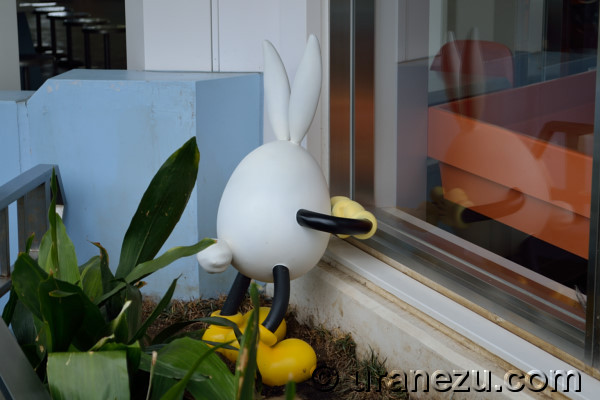 The below is my favorite at the entrance of "Queen Heart's Banquet Hall" the restaurant.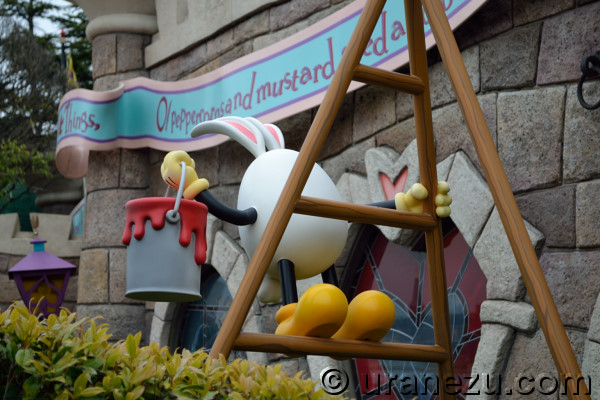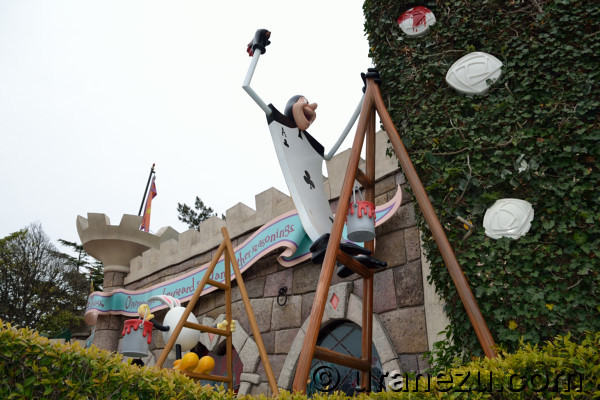 There are more Usatamas in the park, so come and find them all!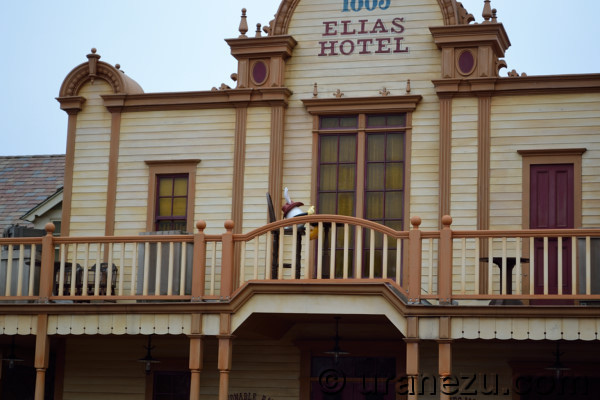 If you have any questions, opinions and requests,
please contact us.
Apr. 13 2019 About Sea of Chicks.
It's time to welcome a new spring.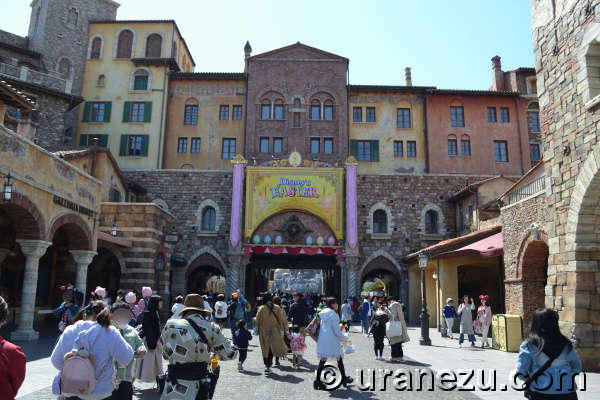 TDR has started an annual Easter event, "Disney's Easter" from April 4 to June 2.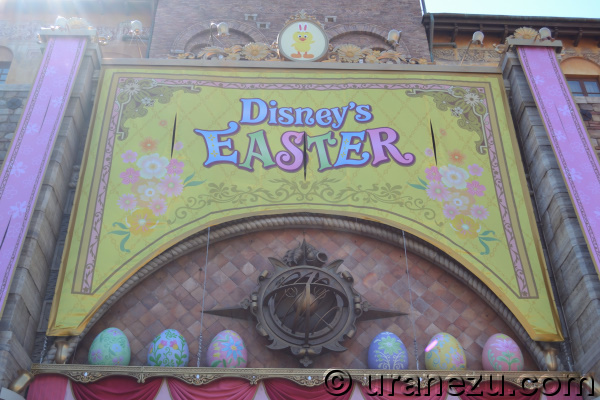 In this year's Easter, they created a new character for TDS.
They also prepared a birth story of the newbie.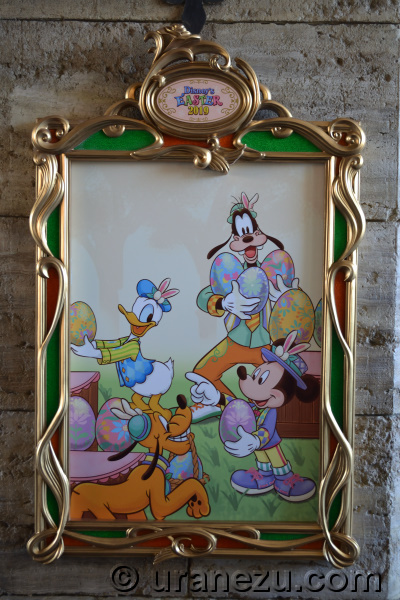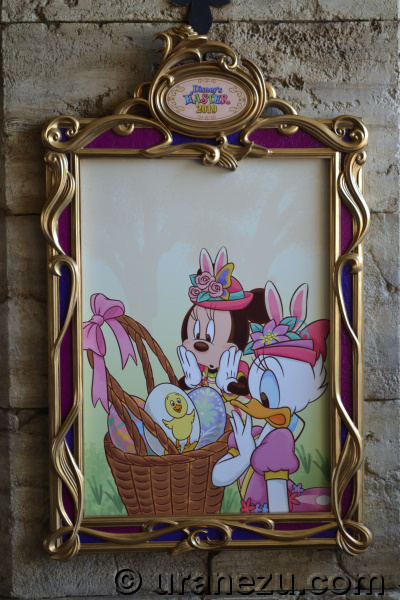 Mickey and pals decorated eggs. Minnie and Daisy found a something special egg with chick painting.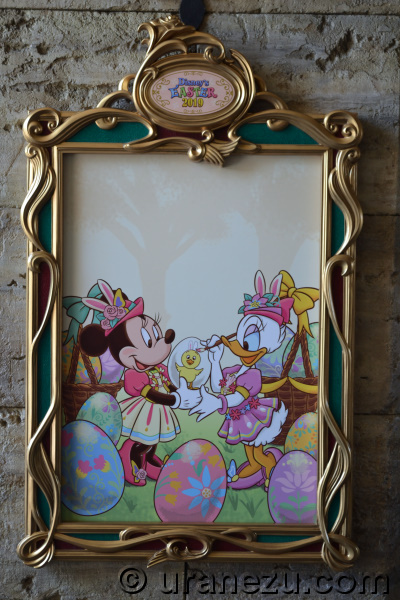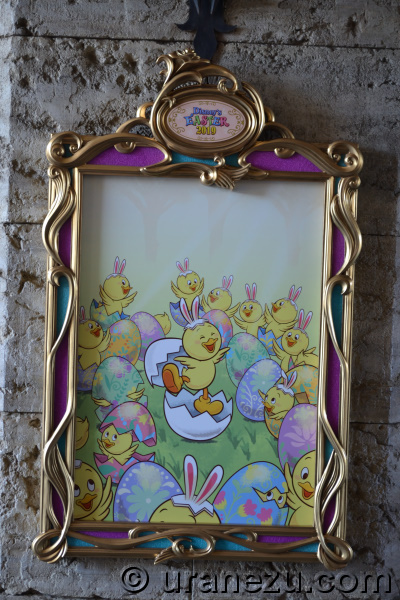 They added a rabbit's ears on the chick's head. Then "Usapiyo" the new character was hatched from the egg.
Usapiyo is a coined word which came from "Usagi" (rabbit) and "Piyo piyo" (cry of chick).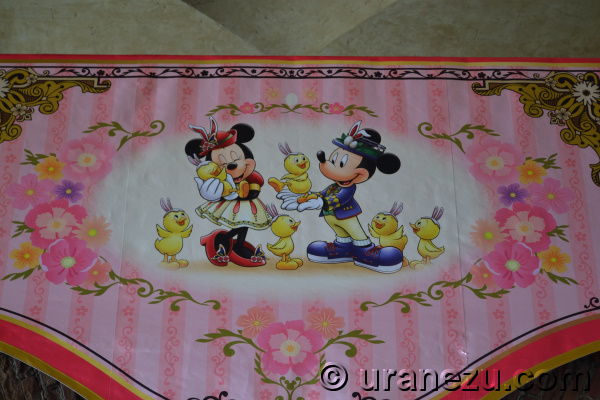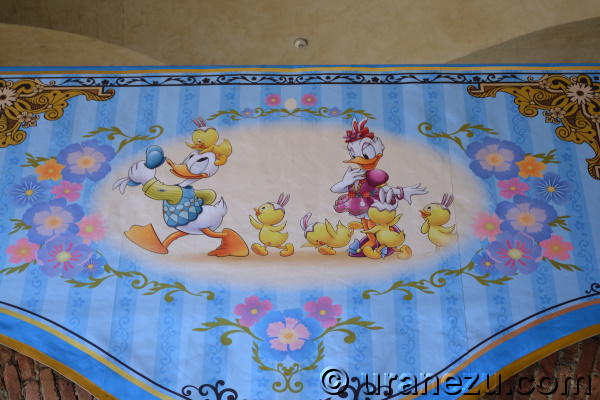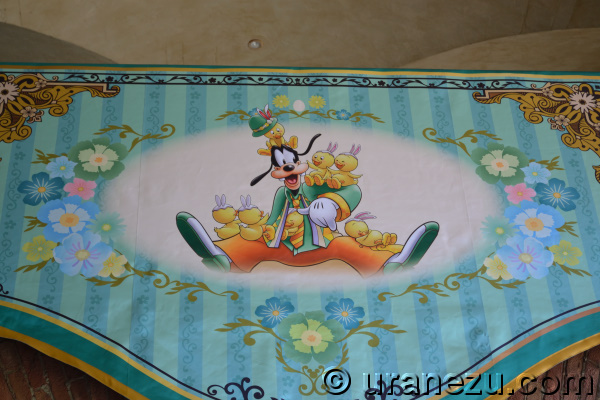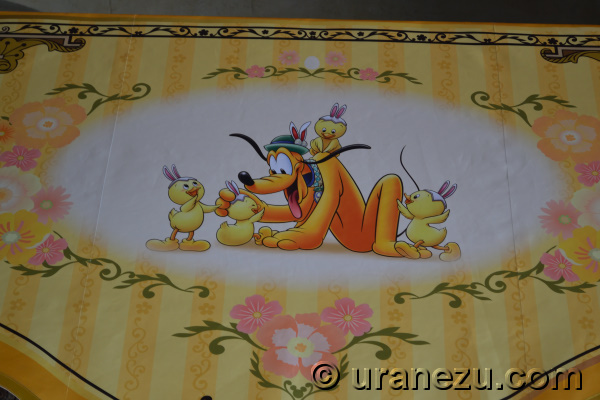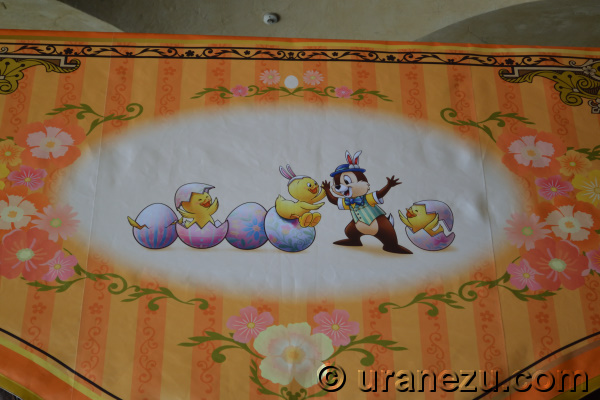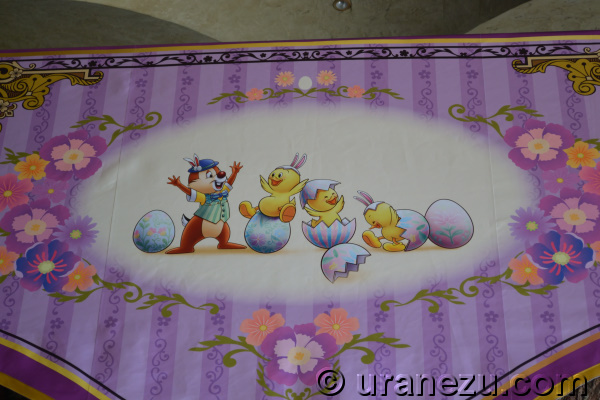 There are many Usapiyp banners on a passageway to Mediterranean Harbor.
When you stepped into Porto Paradiso the main area of the harbor, you can realized how TDS promoted the Usapiyo so hard in TDS Easter.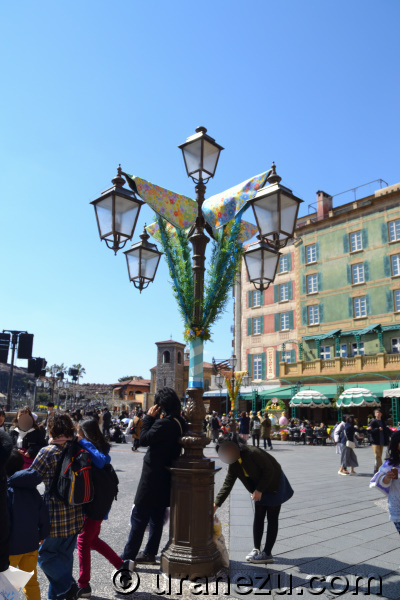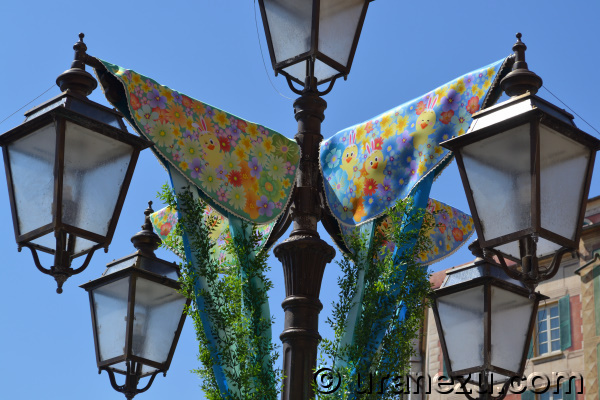 Every lamppost is decorated with an artificial ivy and Usapiyo banner.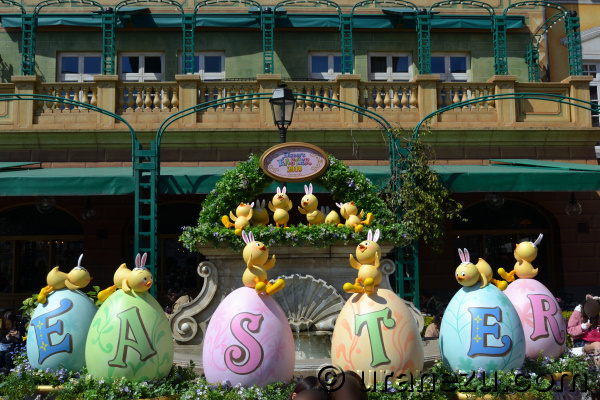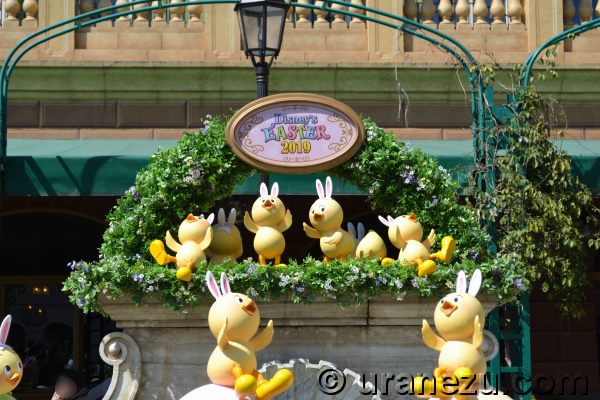 You can see not only on the picture, but also a figures of Usapiyo in this area.
There are more and more Usapiyos in Waterfront Park.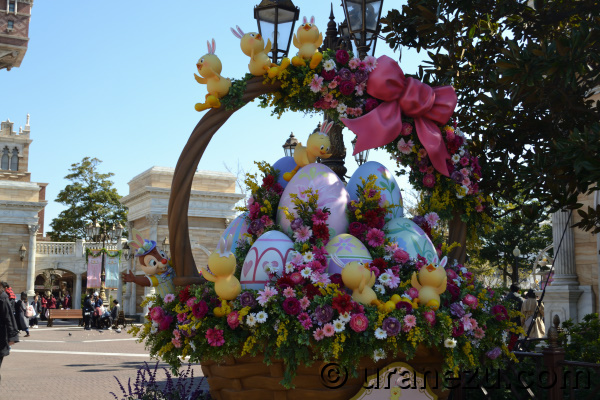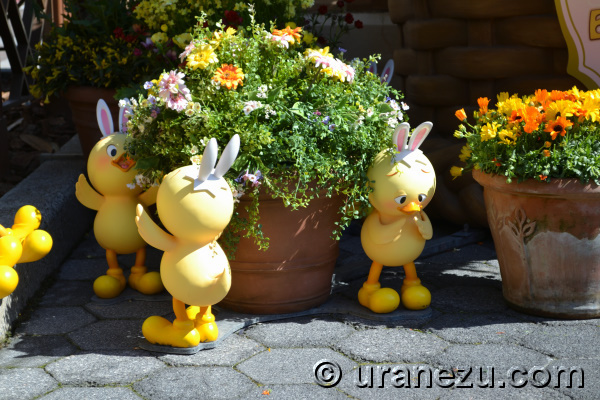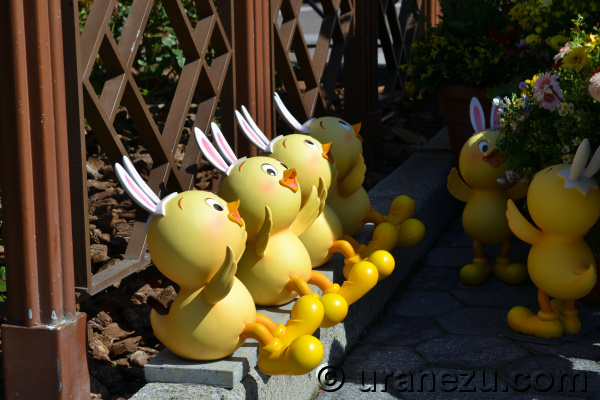 I admit a site is adorable which so many Usapiyos are enjoying their Disney's Easter on their way. Especially shy Usapiyo is very cute.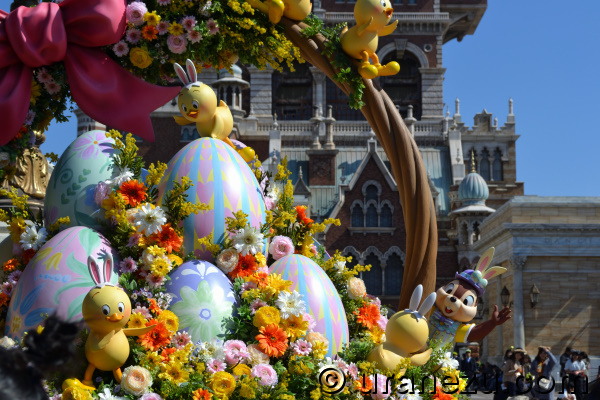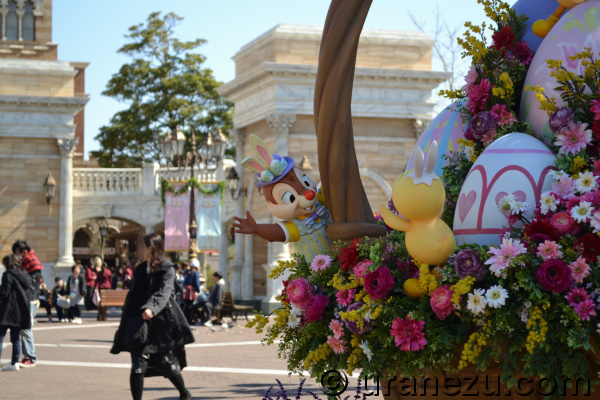 Please don't forget Chip & Dale.
Of course, a main photo location in the park also featured Usapiyo!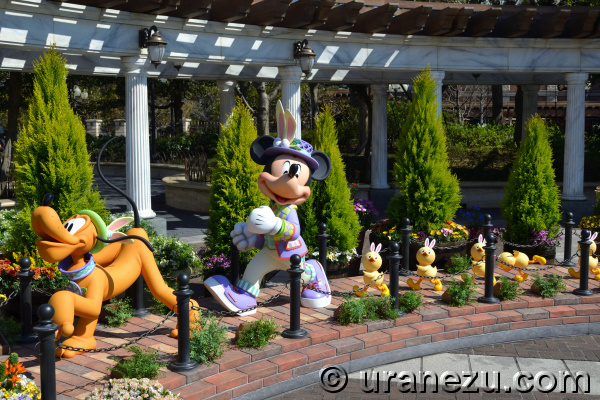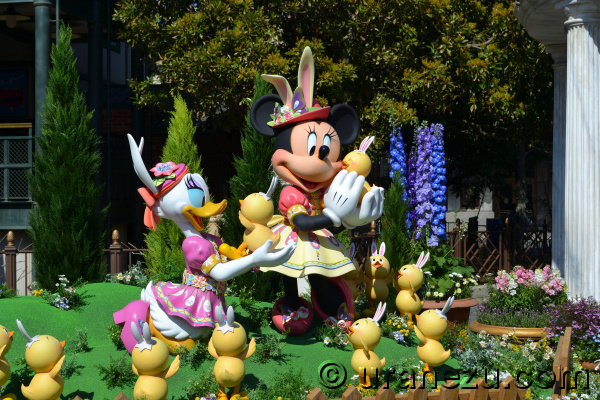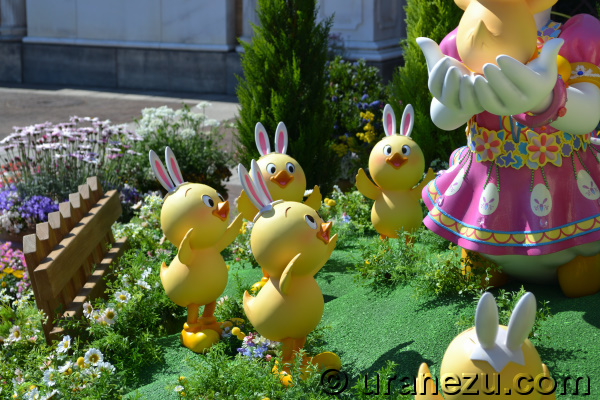 During this TDS Easter event, the Waterfront Park is decorated as Usapiyo Easter Park.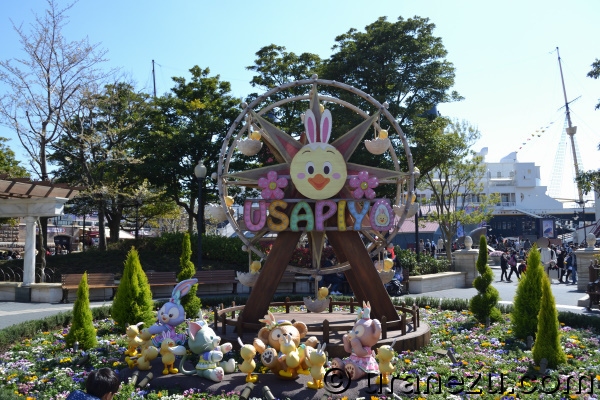 There are ride-type photo locations.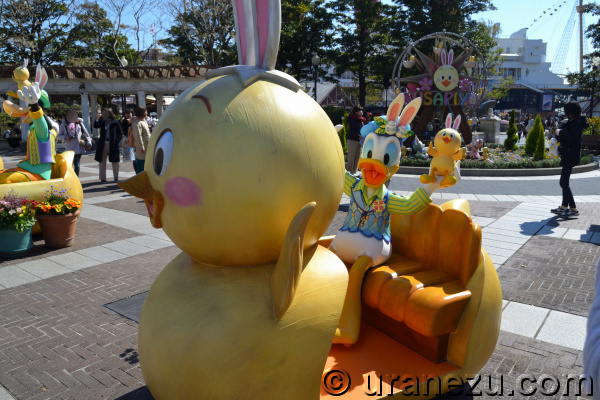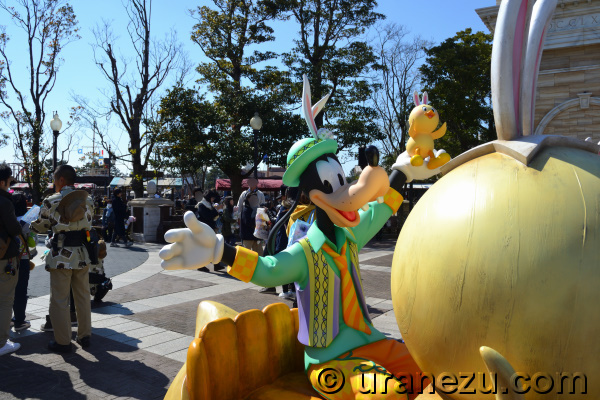 Everybody can enjoy a picture with this ride.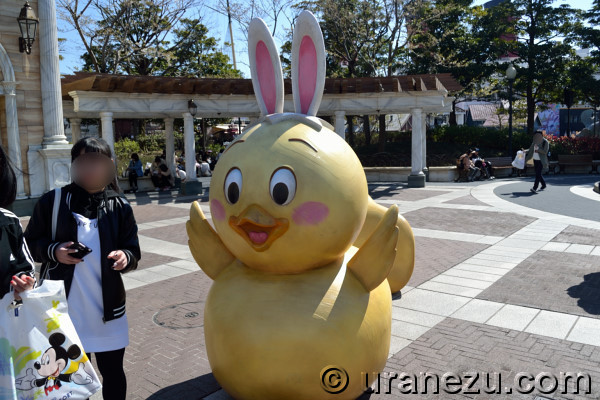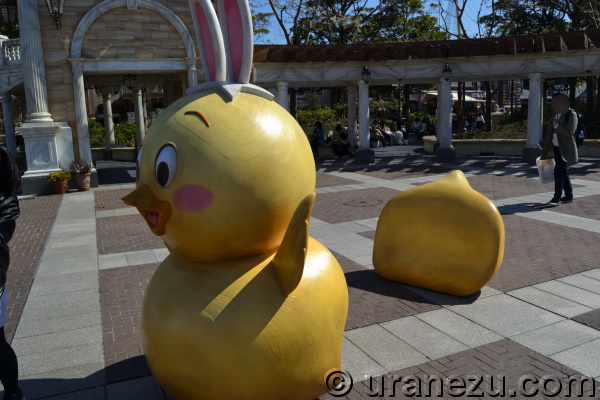 Duffy and friends came out from Cape Cod, and play with Usapiyos.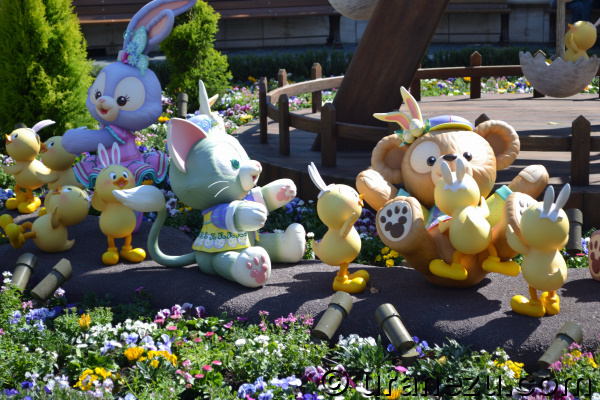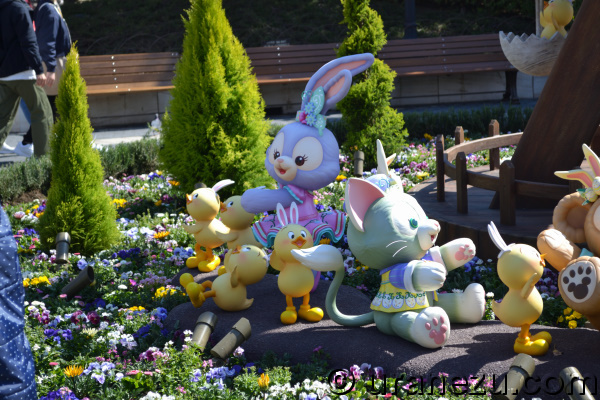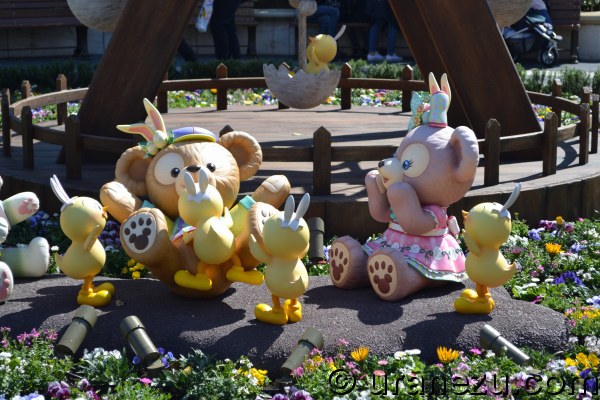 The size of Usapiyo in a real life is bigger than our thought.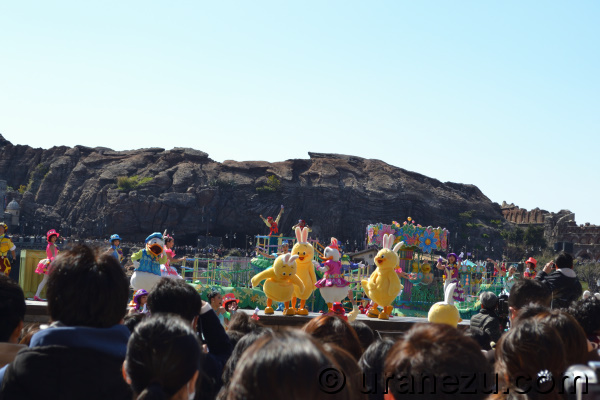 I'll try to report the new special Easter show, "Tip-Top Easter", if I win the show lottery.
If you have any questions, opinions and requests,
please contact us.
Mar. 24 2019 about 35th Anniversary Castle and the next.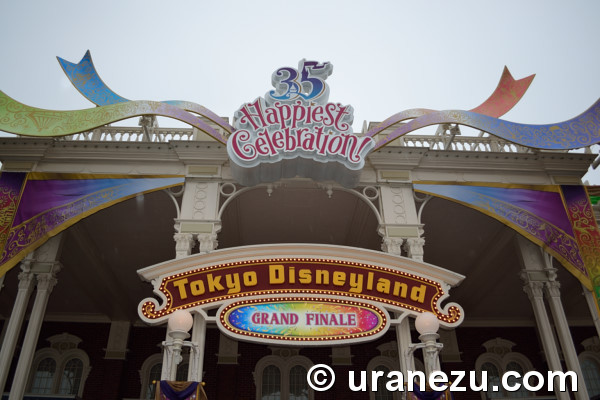 The TDL 35th Anniversary year is coming to an end. When it comes to "Anniversary" in the park, we always longing for a decoration on the castle.
It's like this below picture.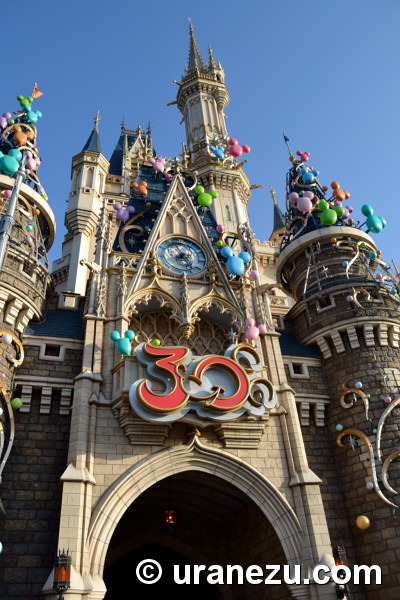 As you can see the Cinderella castle was adorned by many colorful balloons in TDL 30th anniversary.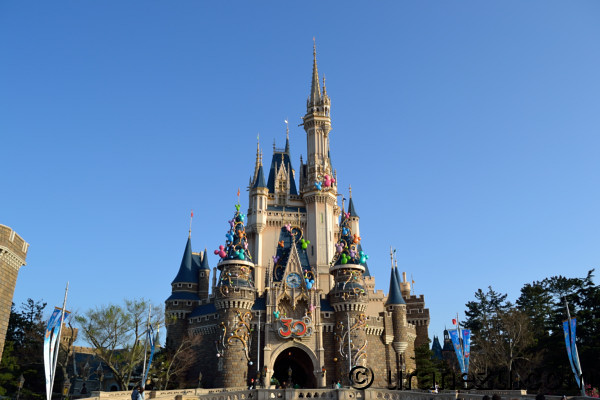 Now this 35th anniversary is streamers on the castle.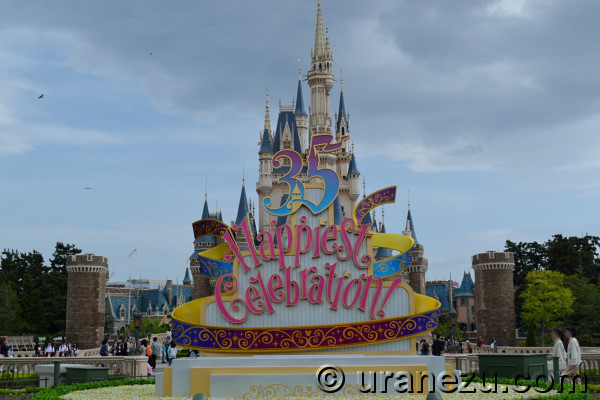 Uh…is that really ornament on the castle?
Haha, NO!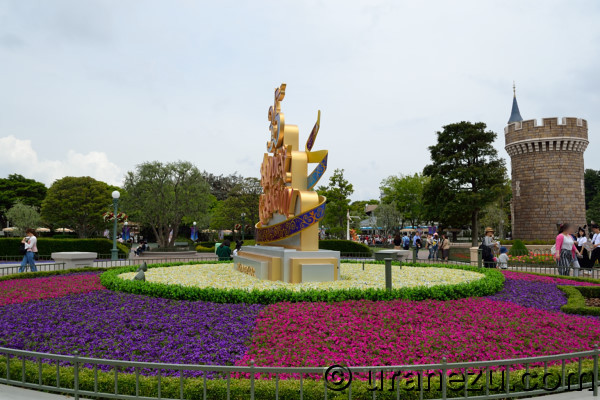 It's just a board in center of the hub.
They could not put anything on the castle because of projection mapping.
Everything for projection mapping show, especially "Celebrate! Tokyo Disneyland" which started 10. July 2018.
Therefore this trompe l'oeil board folded automatically near the show time!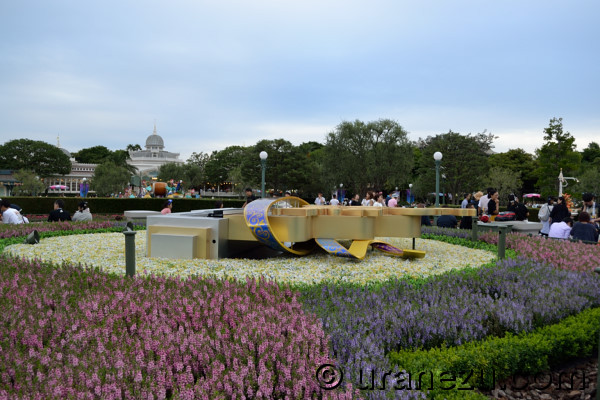 See? You can see a naked castle.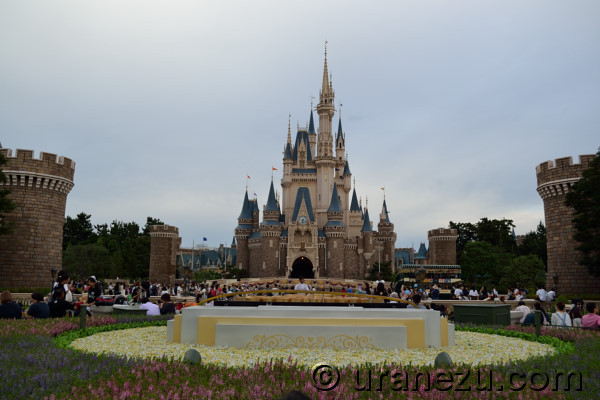 Honestly speaking, from one of the above reason, the projection mapping is not my thing. I miss the actual gorgeous decoration of the castle. And I'm longing for the actual castle stage show with human touch.

But listen folks! Finally, we will see stage show again in 2019 summer!!
Link: http://www.olc.co.jp/en/news/news_tdr/20180927_01e/main/0/link/20190320_01_1e.pdf
"Donald's Hot Jungle Summer" will come back as the newest castle stage show in the nighttime.
The show will be use tons of water spray and fire which will be so exciting. I think it's like a below picture.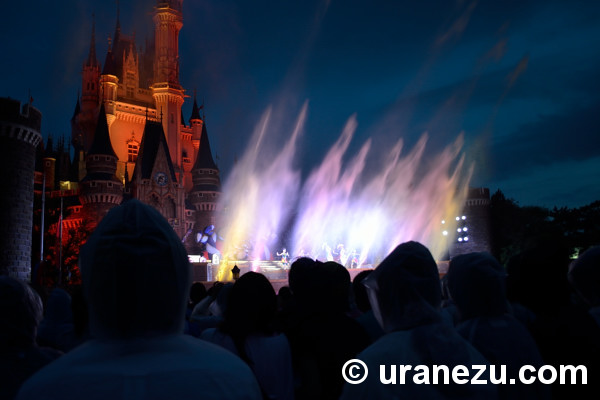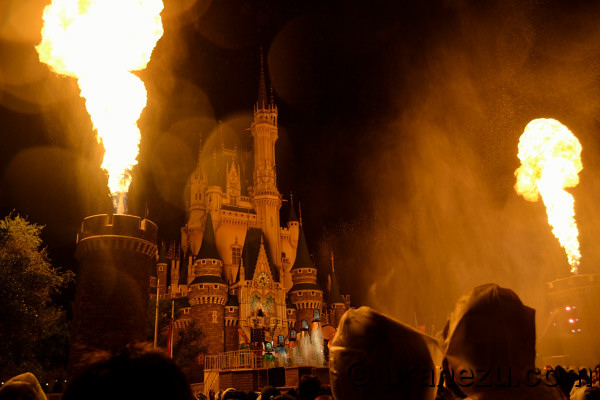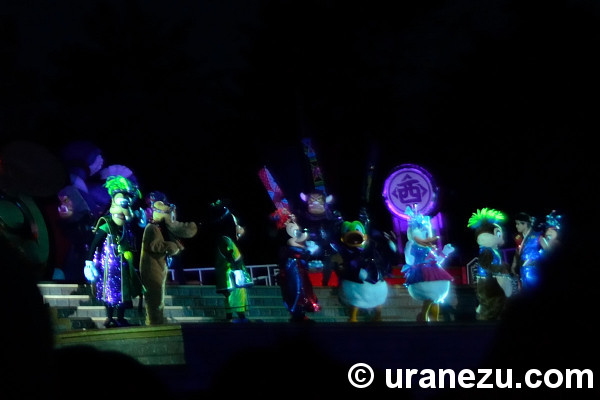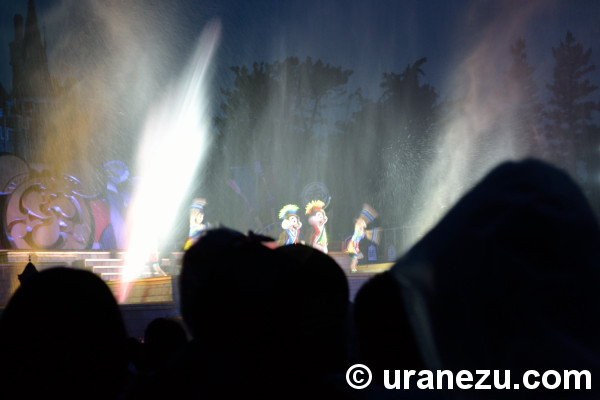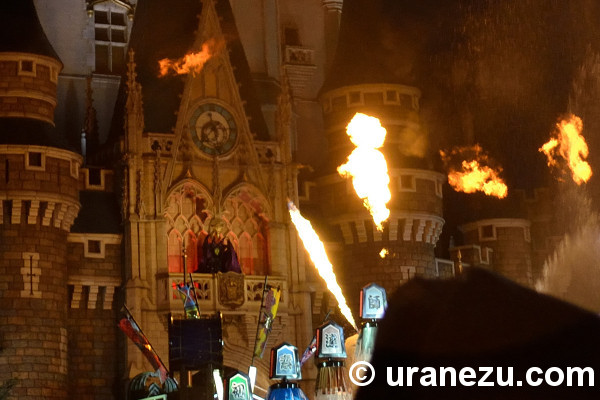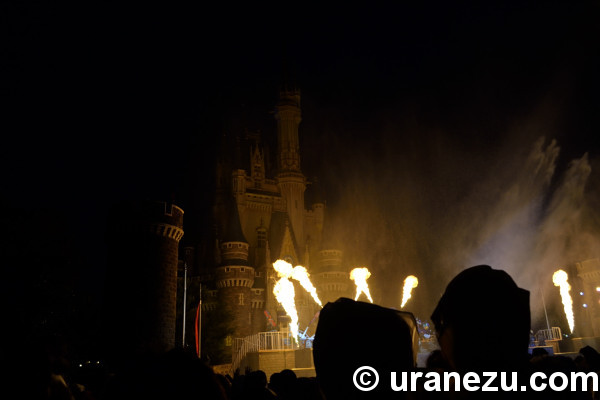 These picture from "Soryo Kobu the Final" in 2012. So definitely the stage in 2019 will be more dramatic.
The costume of the concept design reminds me "Blazing Rhythms" in 2003-2005.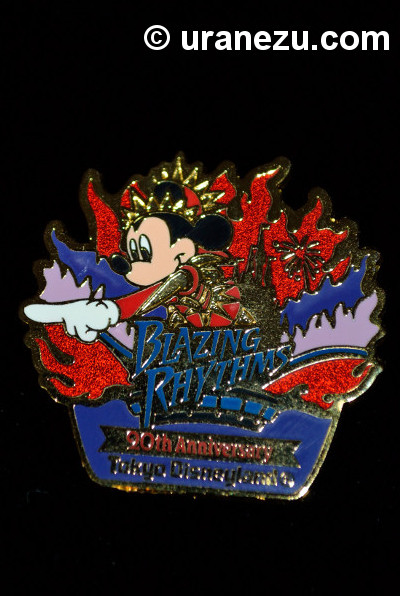 The above is the pin of Blazing Rhythms 2003. This show was one of the legendry nighttime castle show in TDL has still many fans which used so many special effects fires. So it's going to be awesome!
If you have any questions, opinions and requests,
please contact us.
Mar. 16 2019 About Happiest Mickey Spot.
There is one of a special feature in TDL 35th anniversary year. TDR officially called its "Happiest Mickey Spot" tumidity, but what is it exactly?
It's a limited-time only decorations which are various Mickey statues with every theme-land or theme-port aspects.
The total is 35 pieces which in response to TDL's anniversary year. So I'll introduce the all of them that scattered around TDL and TDS.

There is a booster which arouse your curiosity of these statues.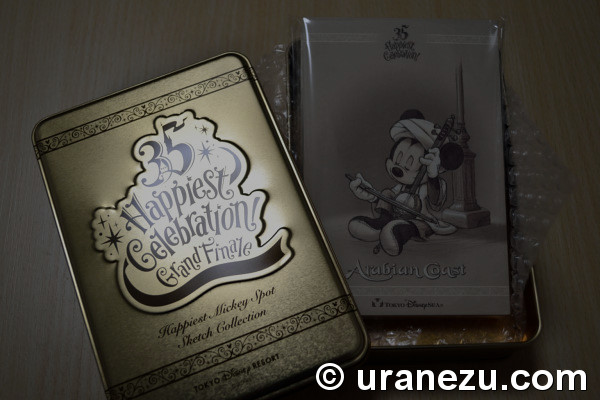 This is a post cards set. There is a concept sketch of the each statue printed on the all 35 pieces. Each of the card has the Mickey from the back, that's so nice.
There are two units in a hub in front of the castle.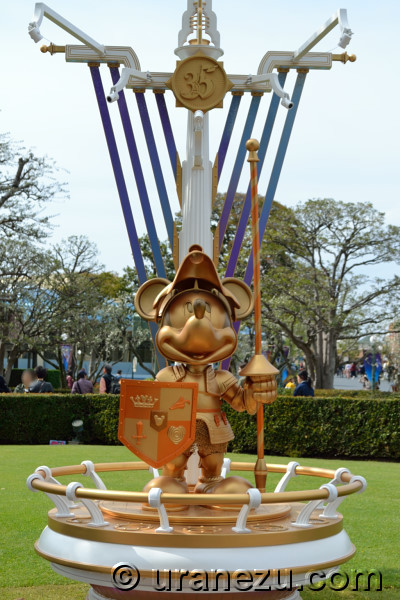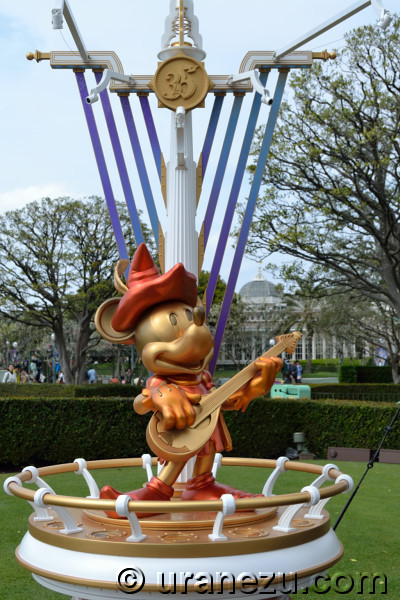 Lancer Mickey and Minstrel Mickey which are perfect statue in front of the Cinderella Castle.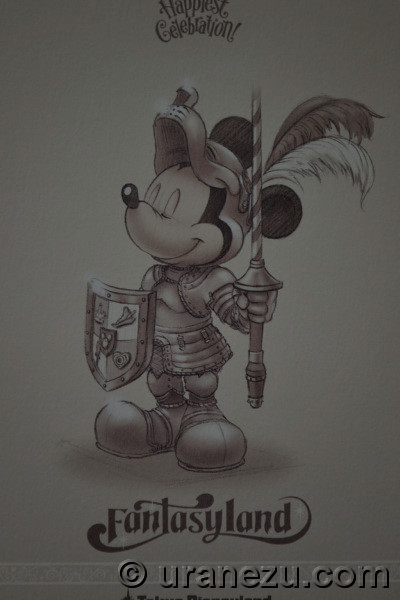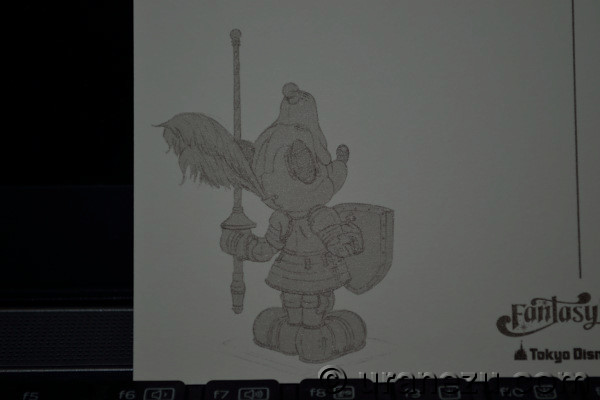 You can find three units in Westernland.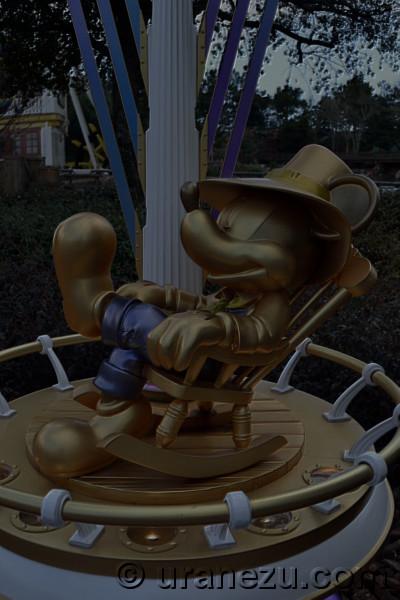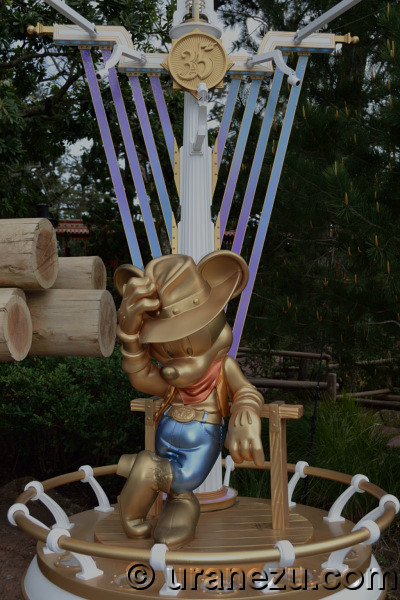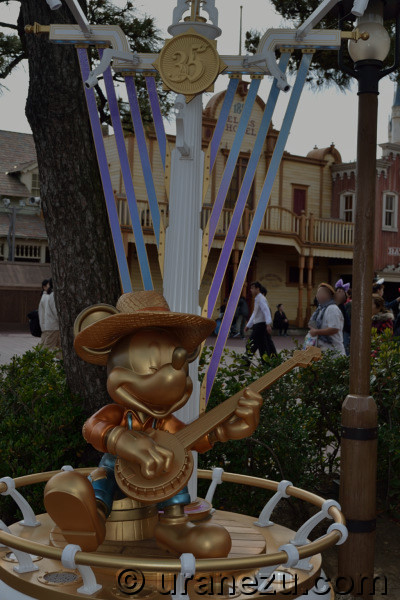 Relaxing Mickey in a rocking chair in front of Mark Twain Riverboat, Cowboy Mickey near Big Thunder Mountain, and Banjo playing Mickey is located in before Country Bear Theater.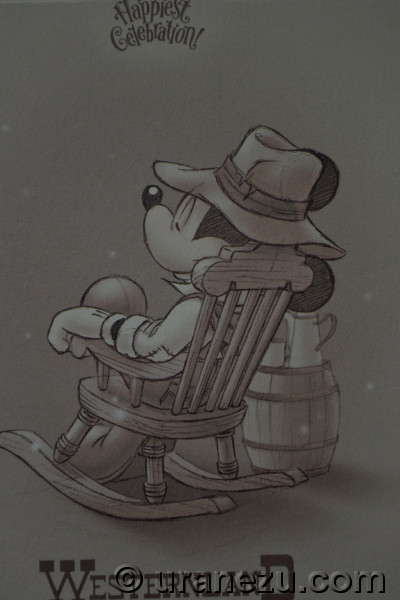 The original sketch is more romantic, with surrounded by fireflies.
I love this Mickey in Westernland.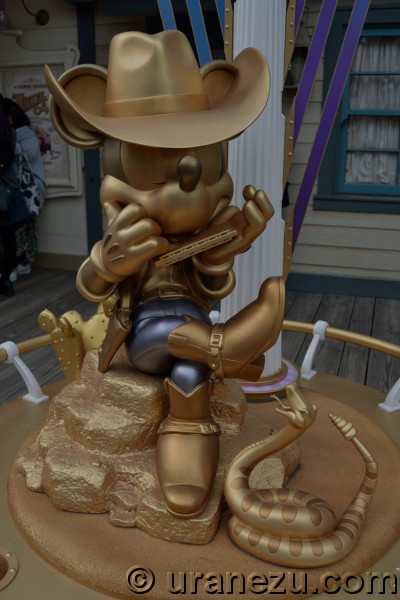 Mickey's tender harmonica melody make a rattlesnake fascinated. A yellow gold cactuses enhanced the earth pillar scenic.
Only one, but cute statue in Critter Country area.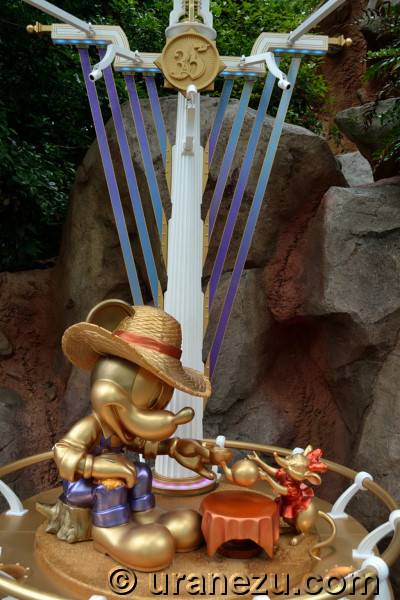 How peaceful tea for two time!
Here comes Fantasyland. This area has two statues.
Both of them are really cute, I'd like to see you the below first.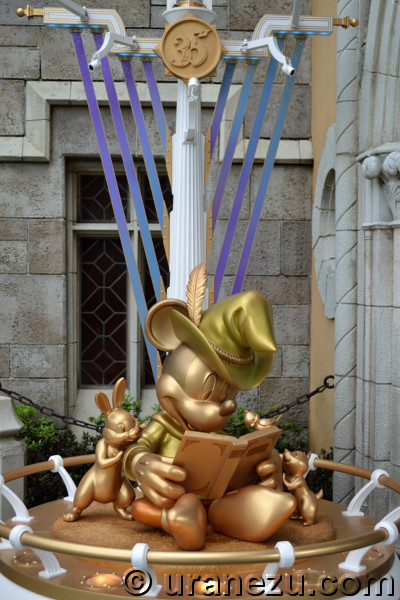 This adorable Mickey and friends statue is located next to Kingdom Treasure the merchandise shop.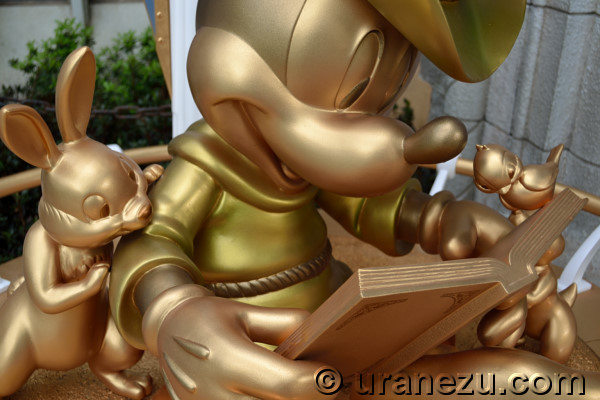 What kind of book are you reading so enthusiastically?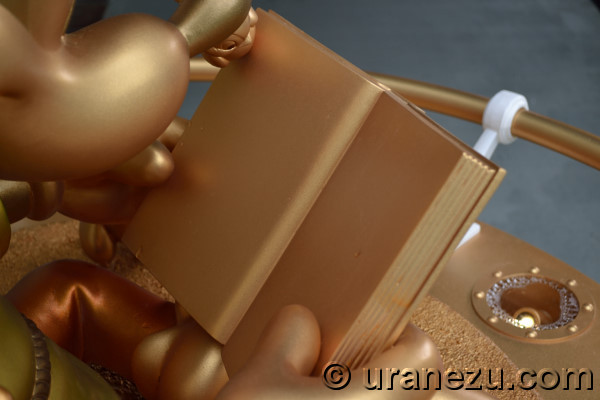 It's a blank! If there is something inside the book, I'd have pick this statue up for my favorite five. It's so close.
There are three statues in Toontown.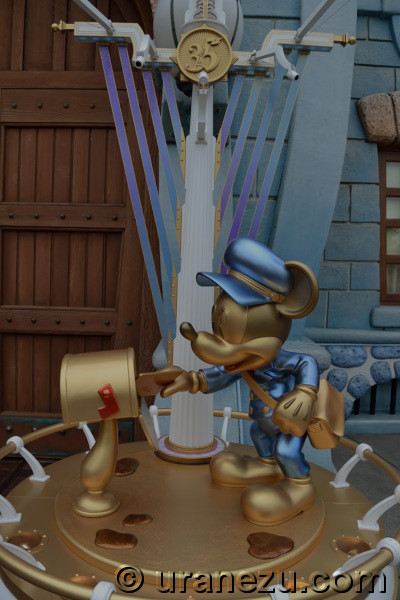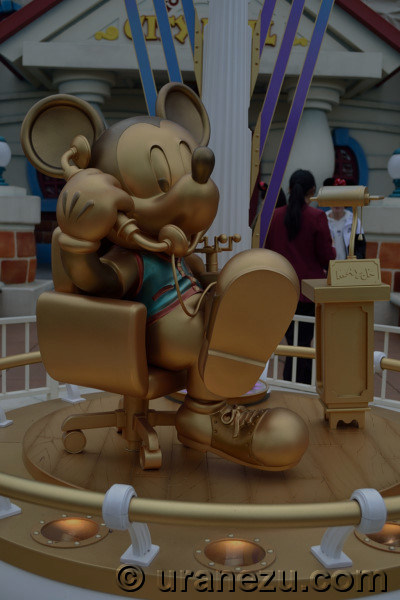 It's really interesting that Mickey is busy with work in this most joke-full area.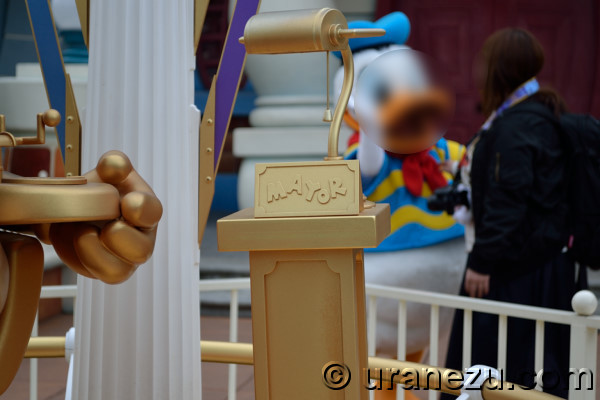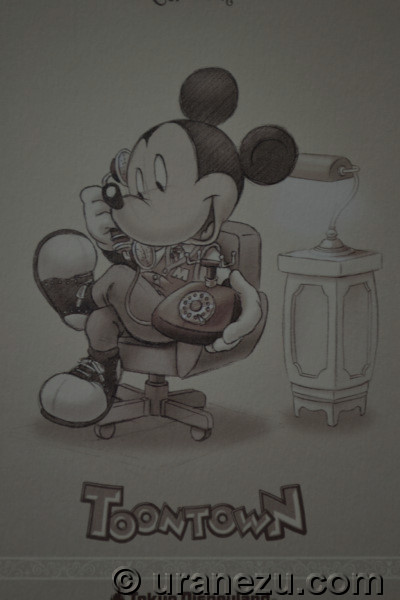 He is promote from the original sketch.
Another four statues in Tomorrowland. Each of three are really nice. I'd like you to see these two first.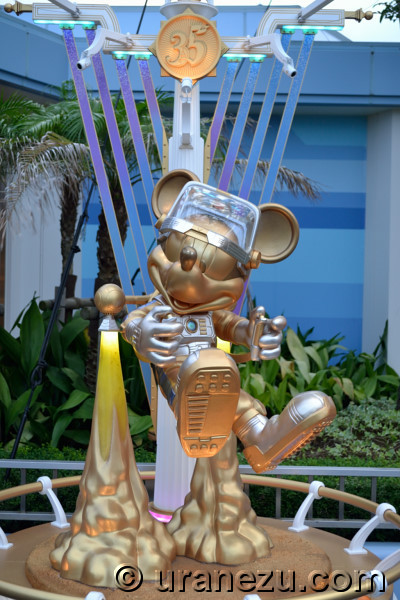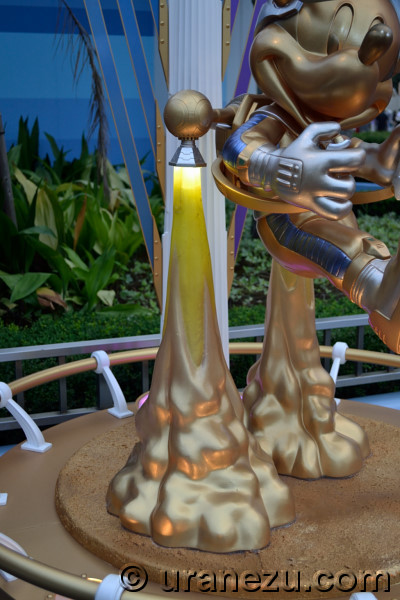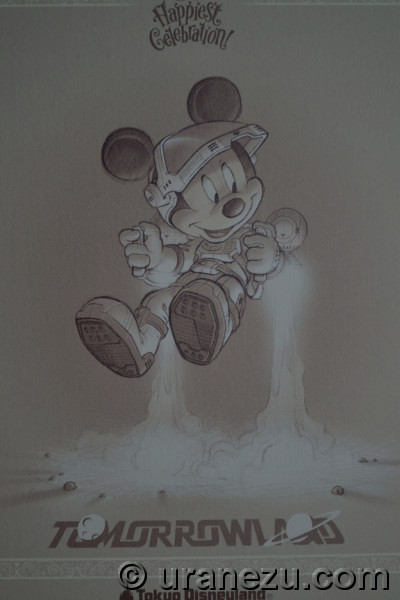 Jetpack Mickey is really cool! And I really love this the jet of gas to generate thrust. This flying Mickey is located near Plazma Ray's Dinner's entrance.
You can find a shutter bag Mickey in front of Star Tours.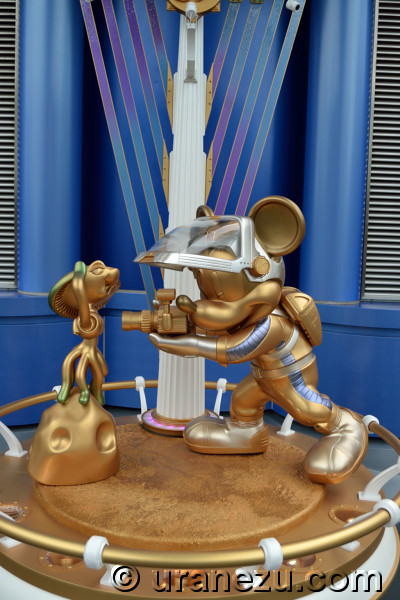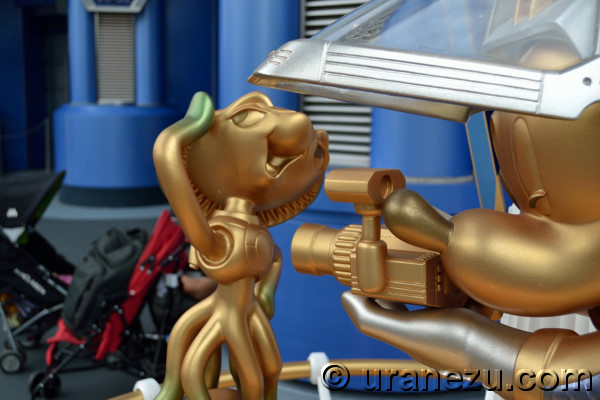 It's really hilarious that tooooo close to take a photo.
More interesting thing is this statue's concept art is more enthusiastic.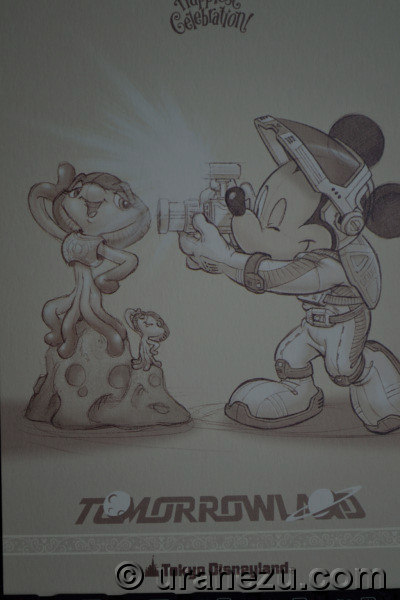 The original sketch Mickey use a flash! Is it OK in the Galactic regulations?
Another Mickey in Tomorrowland.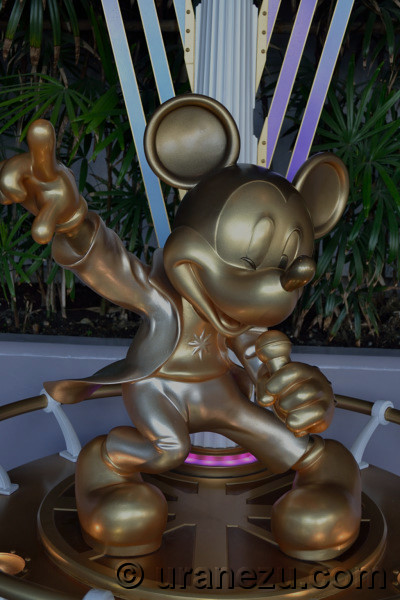 As you know World Bazaar is very packed, so there is one statue in there.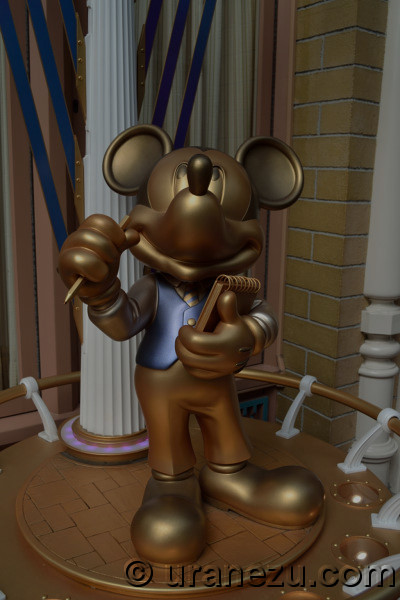 Thinking of new menu or Keeping accounts? Yes, this statue is in next to Eastside Restaurant.
If you are great treasure hunter, you will be able to find him. Yes Pirates Mickey's hideout is a quiet corner of Adventureland.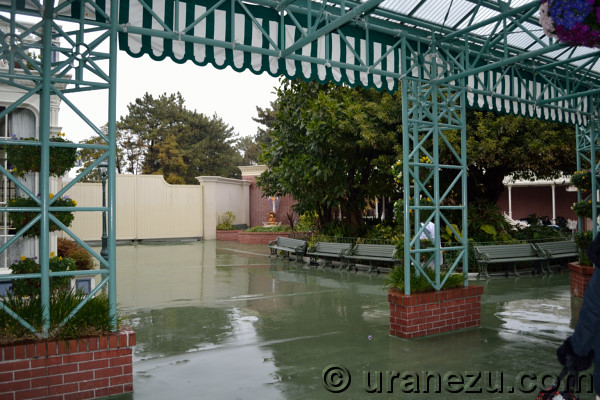 Cool and gorgeous.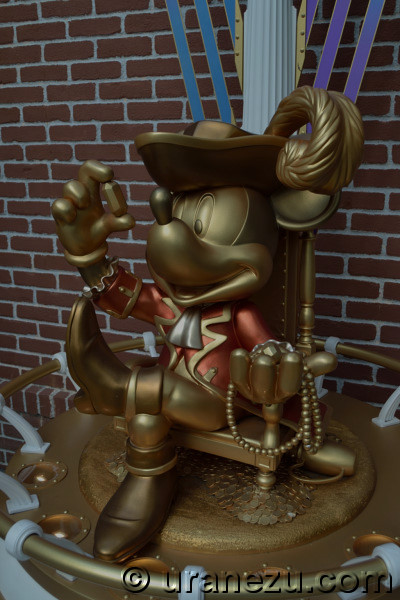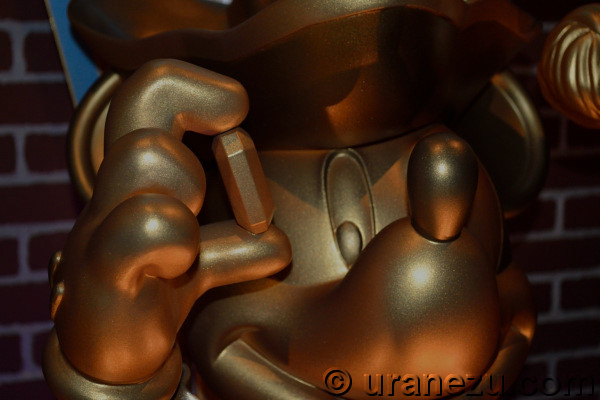 Here are the others.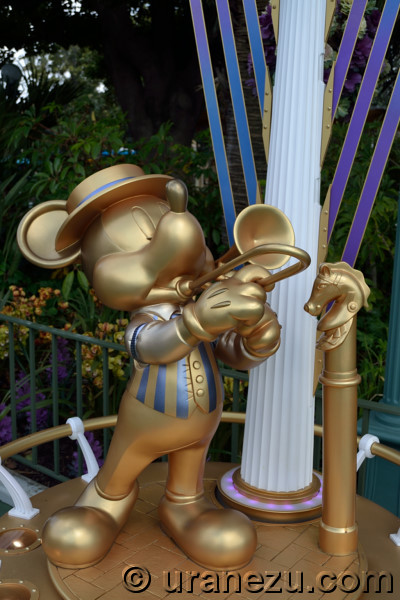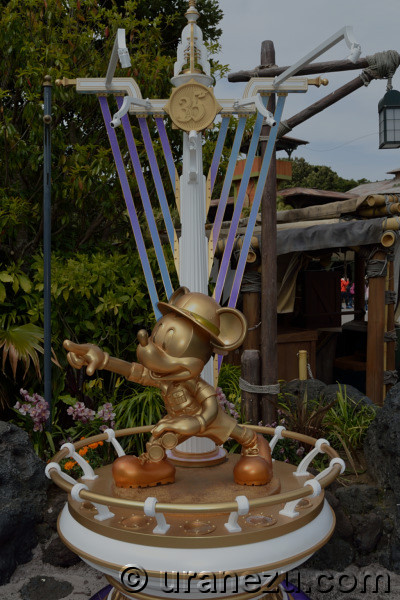 As I posted it before, TDS also has them which feel a little bit strange to me, so let's check out.
Mediterranean Harbor has one Mickey Statue.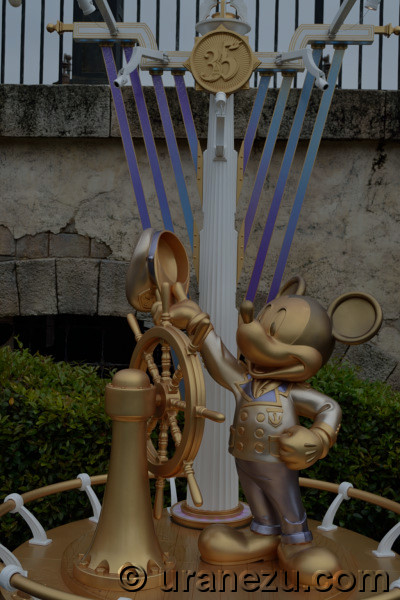 This captain Mickey is located near entrance of "TDS Transit Steamer Line". It's very simple theme and location.
There are three statues in American Waterfront.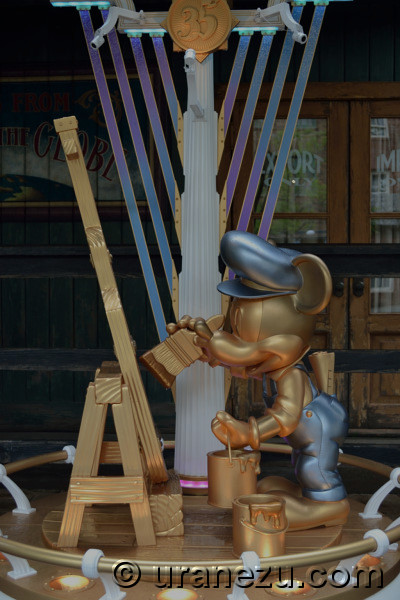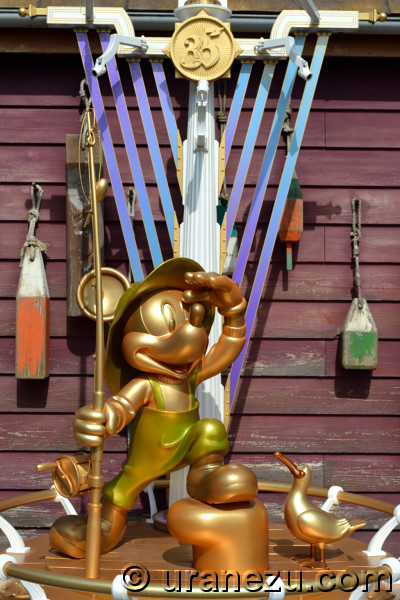 Painter Mickey is in front of "Steamboat Mickey's" the merchandise store. Fisherman Mickey is next to an exit of "TDS Transit Steamer Line" in Cape Cod.
The below Boater Mickey is in Waterfront Park.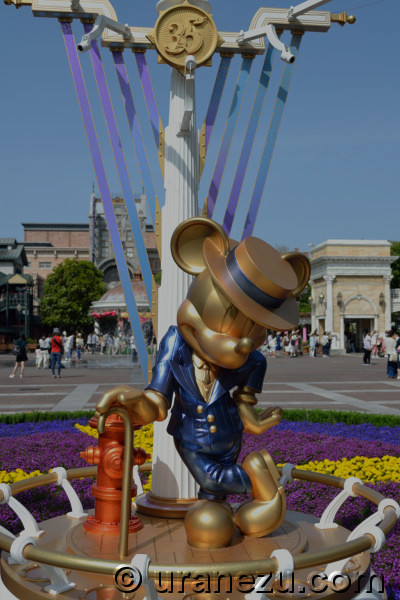 If this Dandy statue is in a different location, we could see a Pixar Ball flowerbed in this year too.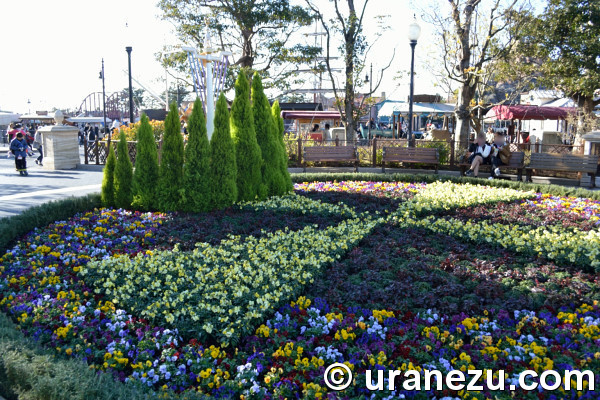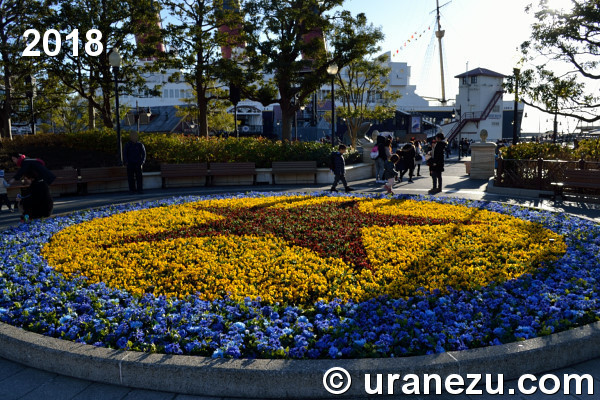 You can find three golden Mickeys in Lost River Delta.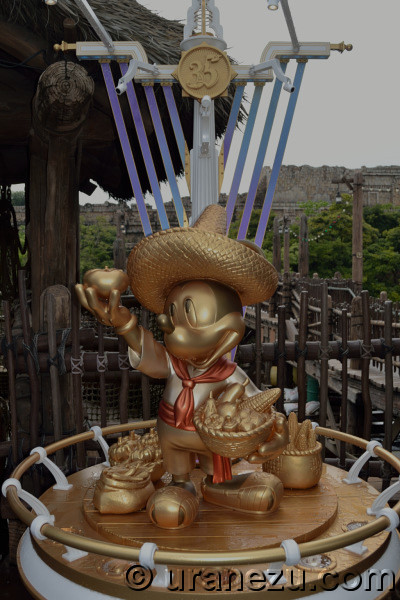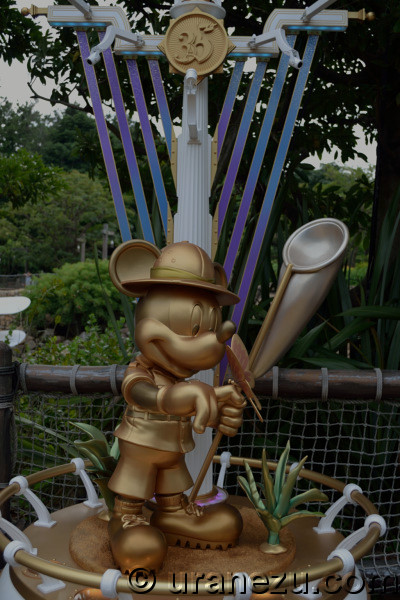 The Thanks to the South America vegetables Mickey is located in front of "Miguel's Eldorado Cantina" the restaurant. Mickey with Butterfly is riverside path.
Archeologist Mickey is located near an entrance of "Mickey & Friends' Greeting Trails" the meet & greet facility.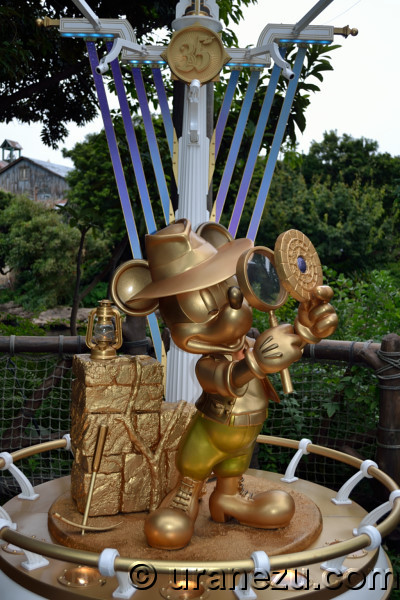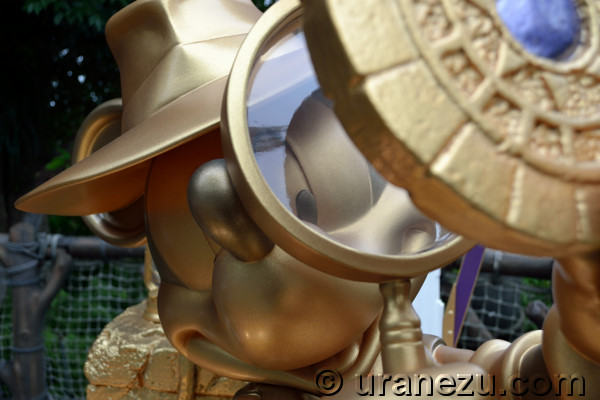 I really miss the spider webs in the original design!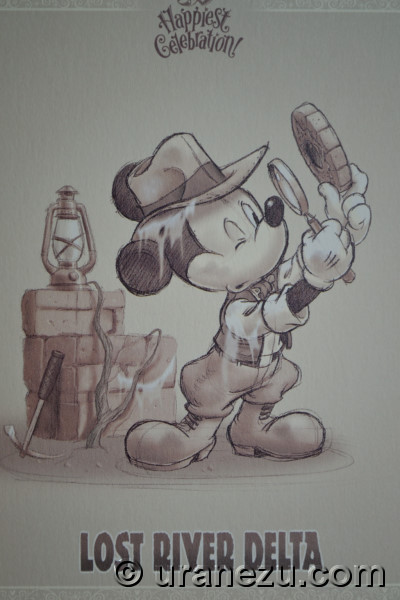 There are 2 statues in Mermaid Lagoon.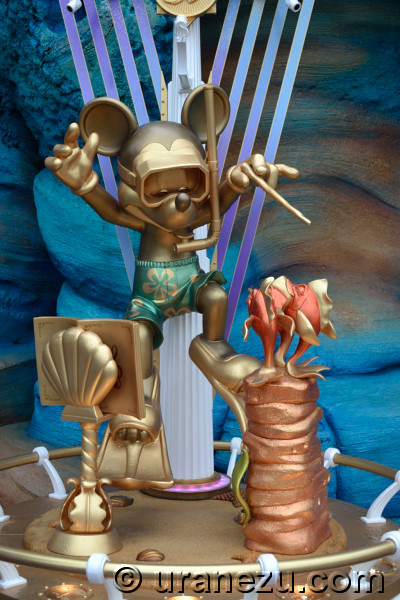 I love sea maestro Mickey. It really looks like he's in a middle in the sea water.
Arabian Coast has two statues.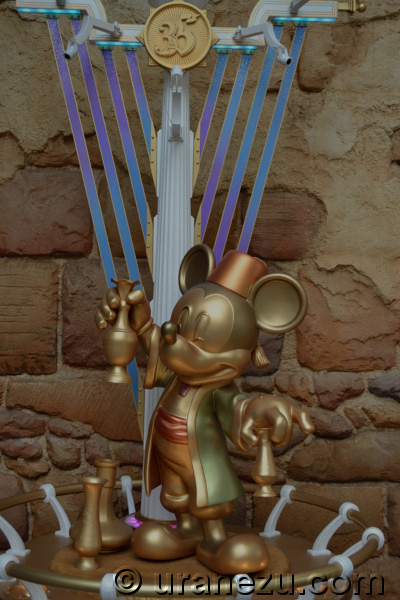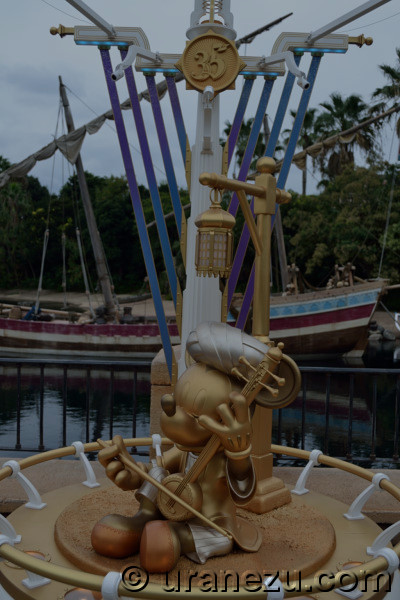 Merchants Mickey is in located near Abu's Bazaar the game wagon. Playing the Kamanche Mickey is in front of "Jasmine's Flying Magic Carpets".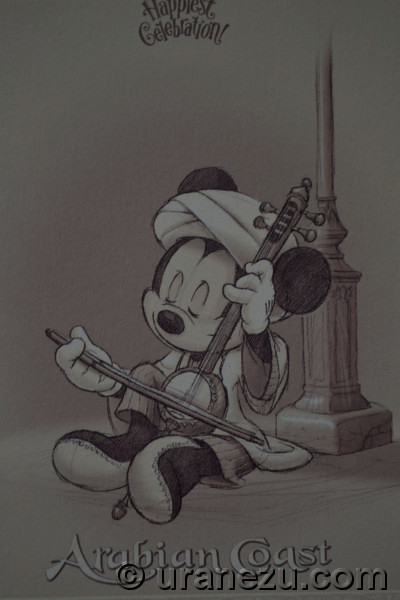 Every location of the Mickey in this port is beautiful. My favorite statue with amazing location is the below.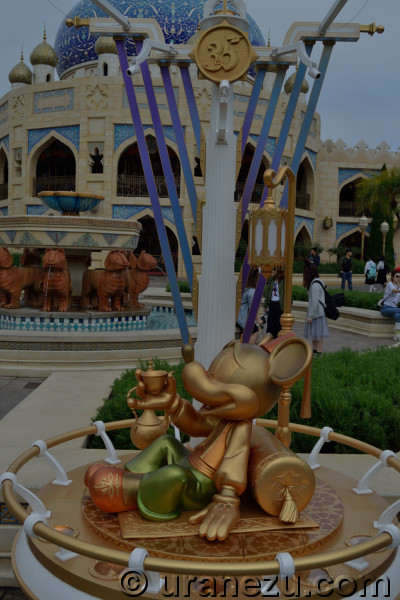 Relaxing with Tea Mickey is located in a center of Arabian Coast. We can understand how he spend a perfect tea time from his eyes closed expression.
There are three units in Mysterious Island.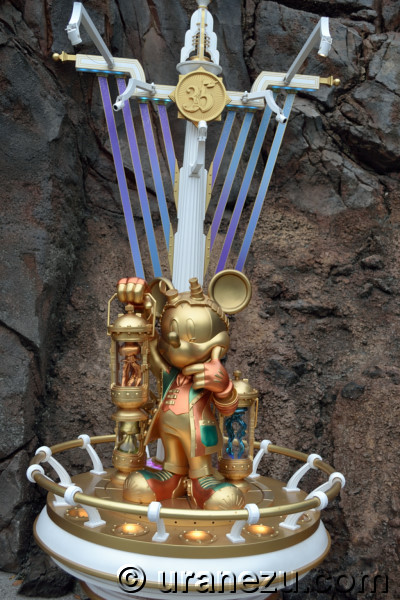 This port is really fill with lots of mystery. Both of them are very fantastic.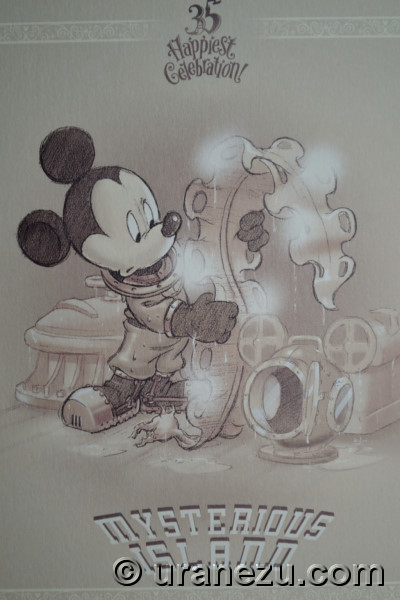 As you can see the above post card, the seaweed is glowing!
So this is my favorite 5 Mickey statues!
Trophy Space Mickey at Tomorrowland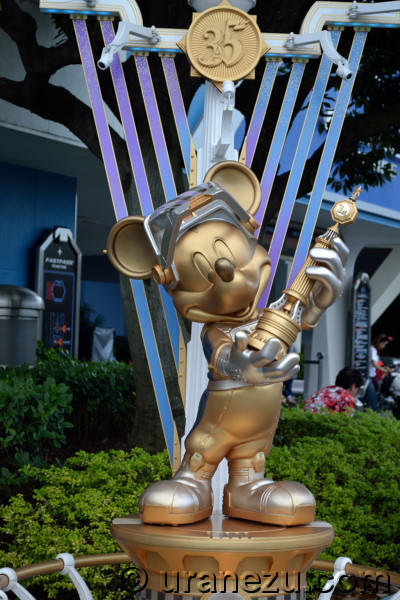 This space suit Mickey is really cool, especially with a helmet. The pose is also terrific.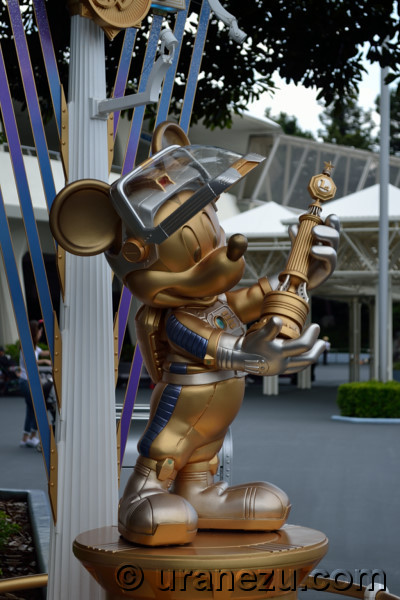 The modeling is amazing and the trophy which he holds stimulate our imagination.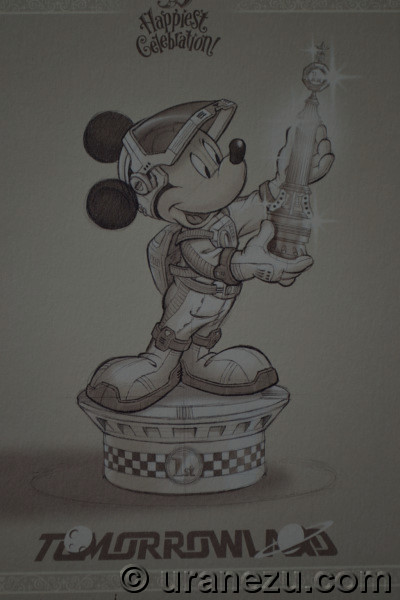 King Mickey and a Dragon at Fantasyland.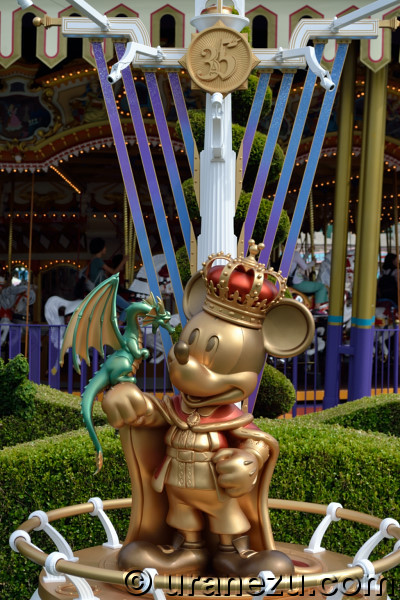 I have a thing for Mickey in a medieval attire. (Do you think so?)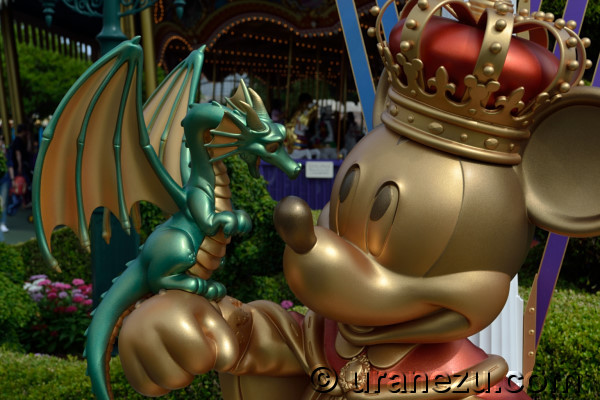 And it's our dream that have a mythical friend or right-hand. These statue tells never ending their adventures.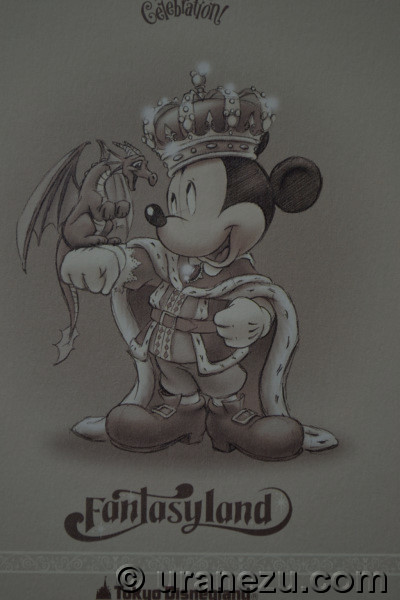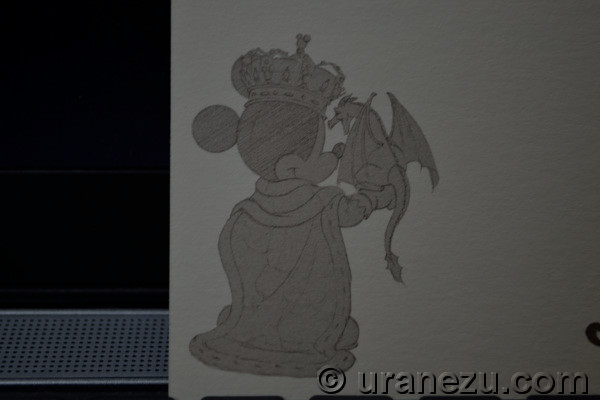 Mickey with a Time-table at Toontown.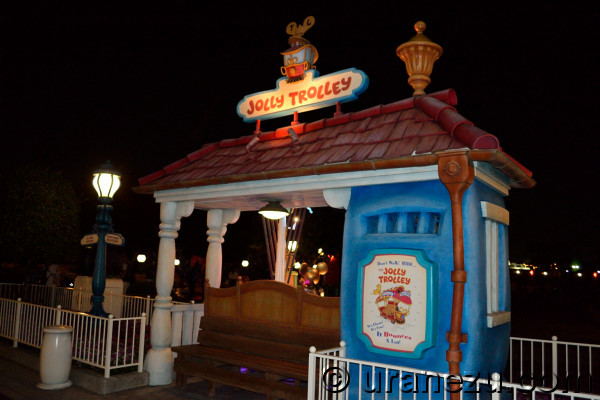 It's located at a backside of discontinued Jolly Trolley stop.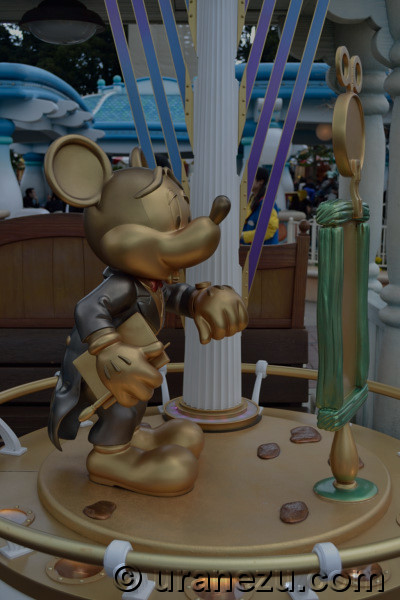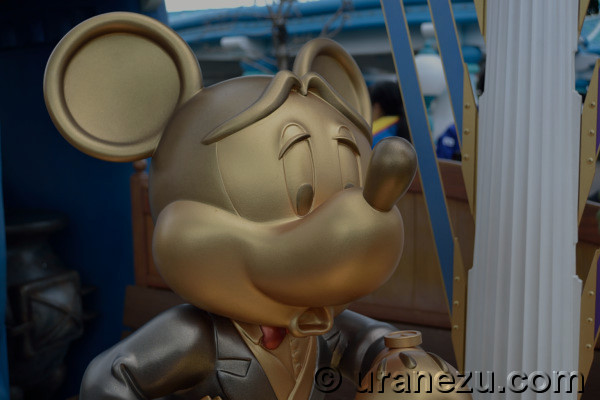 Look at his face! Mickey, the Jolly Trolley are closed on 2009!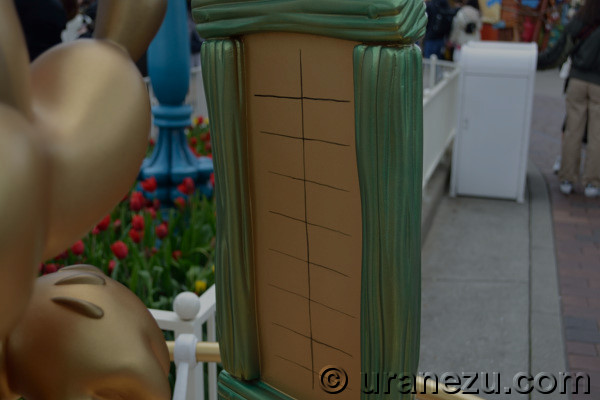 That's why the time table is a blank!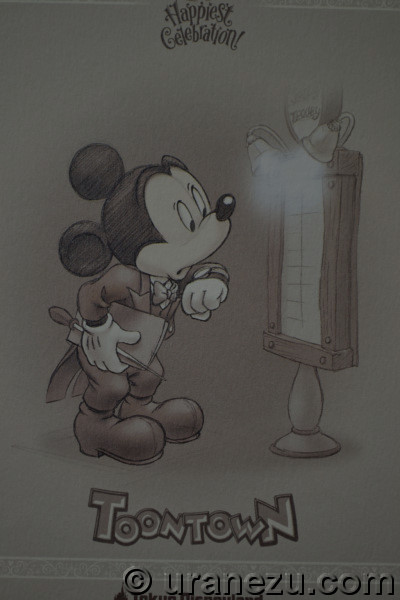 Treasure Friendship at Mermaid Lagoon.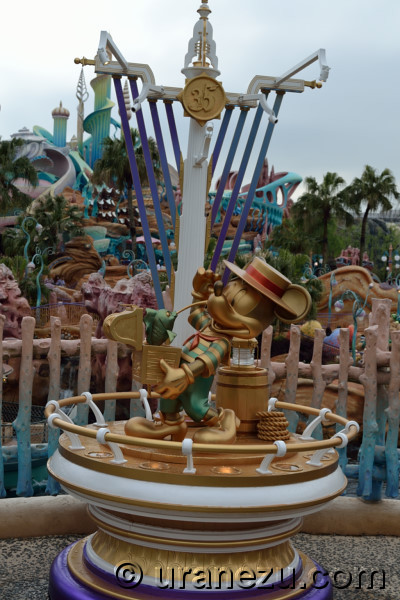 I can see how Mickey is sweet with an innocent fish.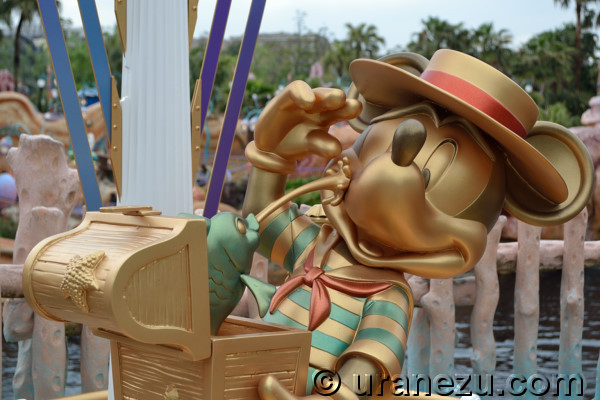 Their encounter express a genuine love for everything of a sea.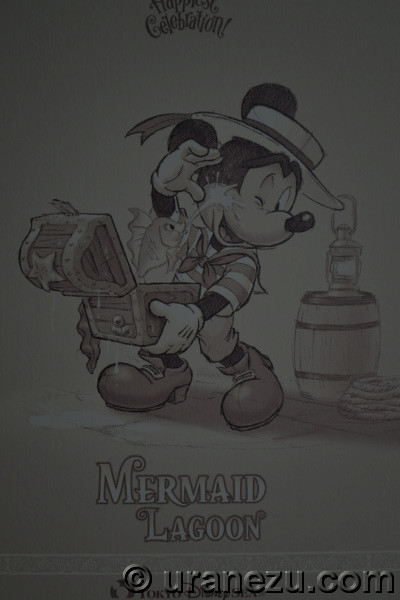 Seabed Exploration Mickey at Mysterious Island.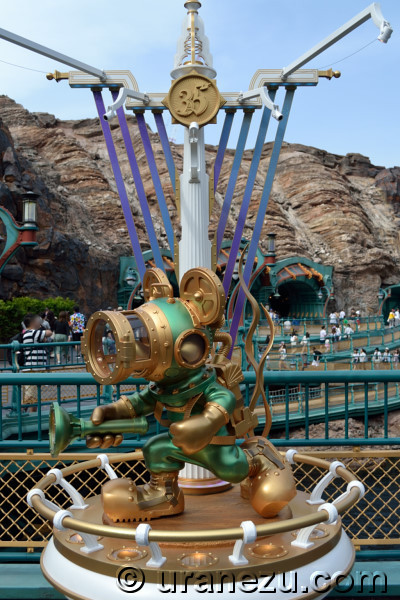 This design is amazing embodiment not only for Mysterious Island, but also the Tokyo DisneySea park itself as "Where Adventure and Imagination Set Sail.".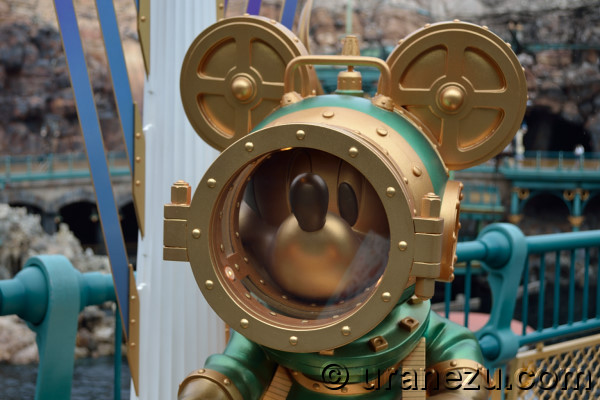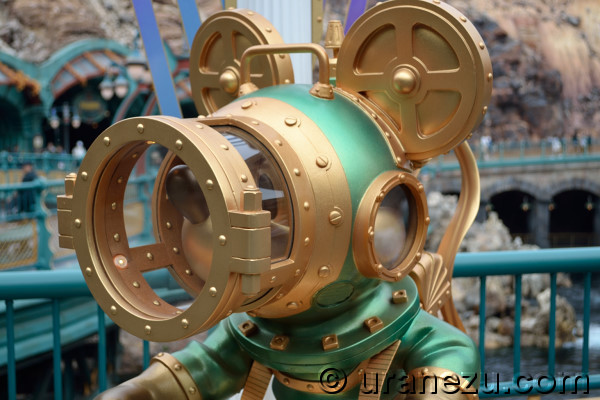 He's so cute with the mask.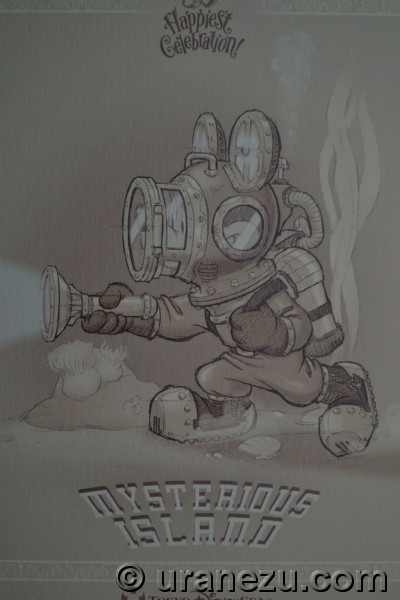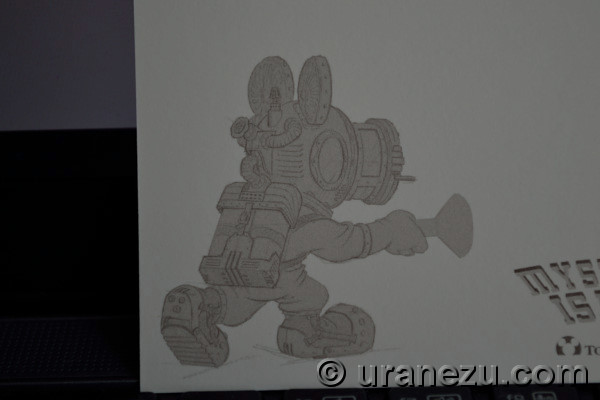 That' all! Which Mickey is your favorite?
The display of these golden statues end to 25 March, so let's check it them in a hurry.
If you have any questions, opinions and requests,
please contact us.
Feb. 20 2019 Pixar Playtime 2019.
January to March is the least peak season to TDR. They always try to keep a high attendance in a cold and windy coastal TDR parks during this winter season.
So they launched various special event which some events were very inspiring like "Snow White's Spring Romance" in 1997 and "Mickey & Minnie's Dance Fever" in 1998, or others made a huge success, like "Club Disney Super Dancin' Mania 1st Stage" the legendary incredible stage show in 2000 or "Cinderellabration" in 2003 which was transported and performed at WDW.(but WDW Cinderellabration was totally different from the original version of TDL.)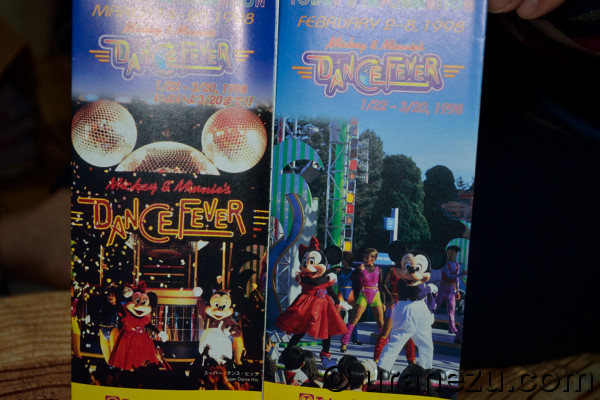 The above is "Mickey & Minnie's Dance Fever" in 1998.
And these two below are "Club Disney Super Dancin' Mania" in 2000.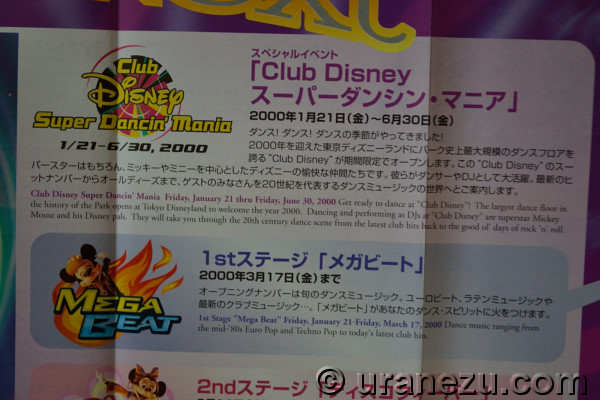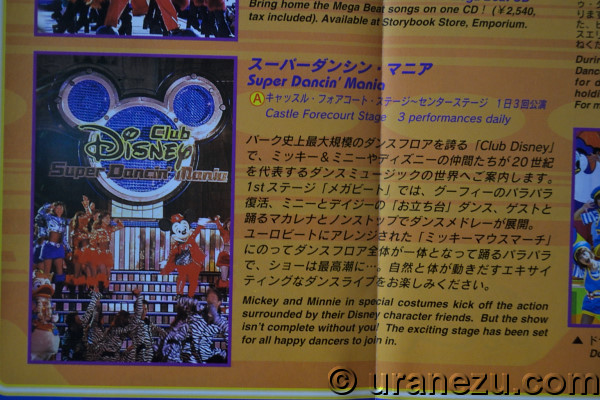 Honestly speaking, I didn't feel any charm of the special event in this decade.
But, last year 2018, there was a silver lining at TDS.
That is "Pixar Playtime". And this special event has come back to TDS, and now you can dive into this special event with many Pixar characters.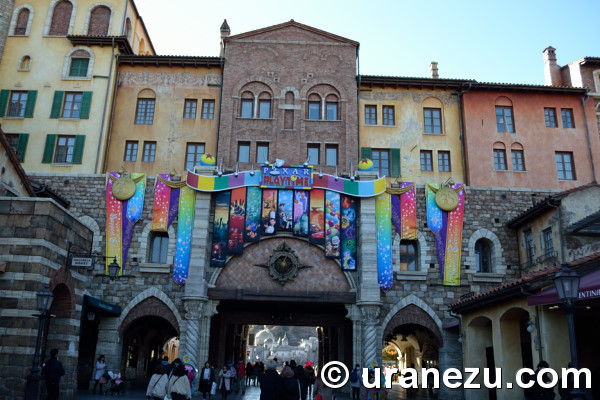 The park itself has changed to a park wide game board.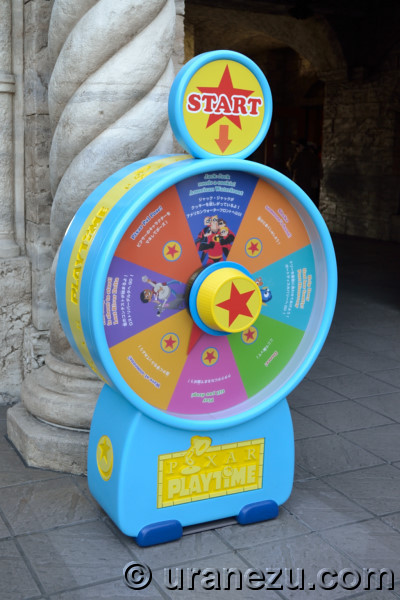 So you can start with this roulette.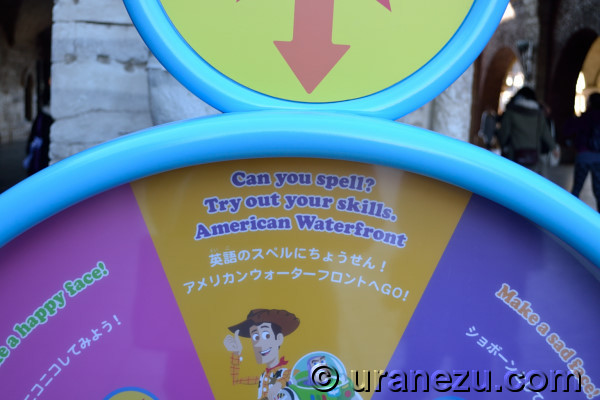 Each square of the game is so interesting.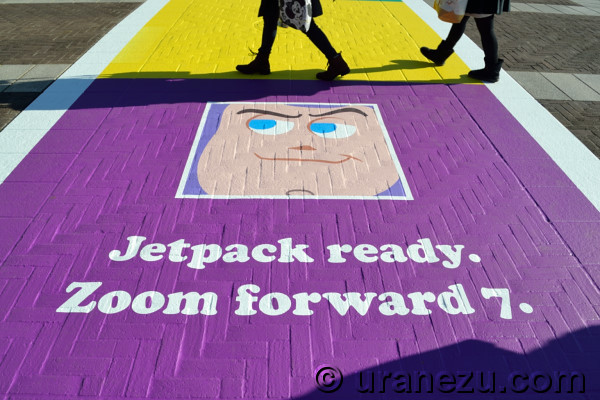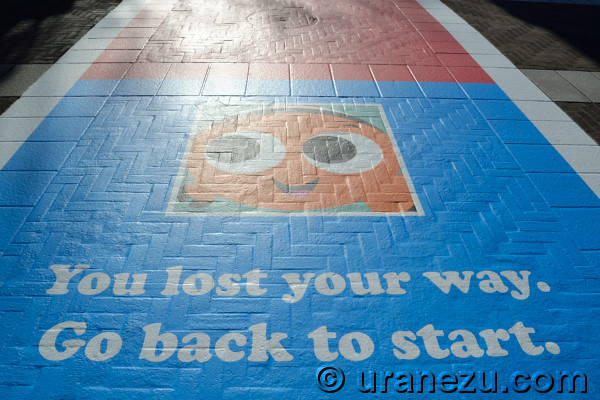 I think these are new design square in 2019.

And some lines are changed as the latest movie.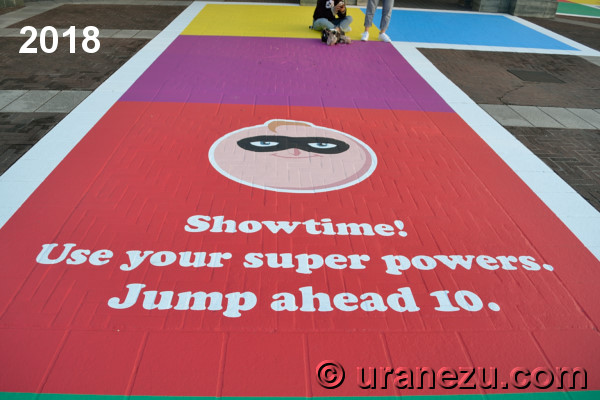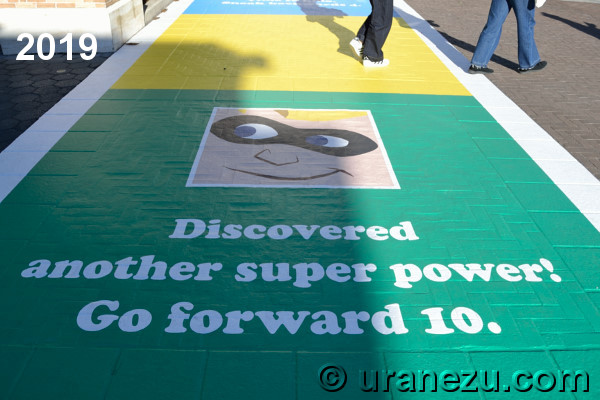 There are Teleport Points.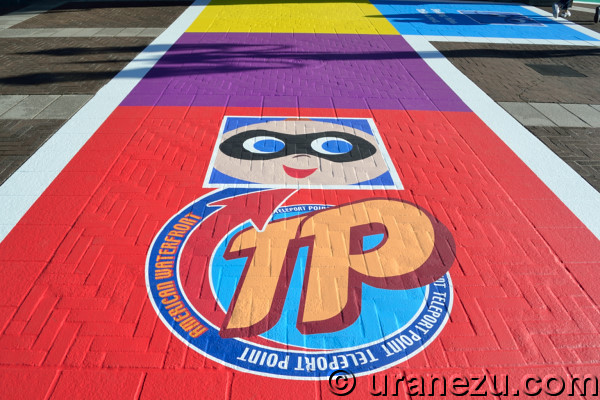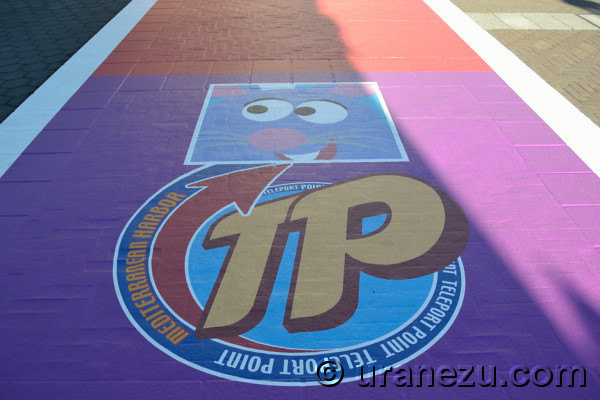 There are so many extra decorations, mostly mini game wagons according to Pixar's film.
Each of them are very cute, and so well-themed.
The game corners are mostly the same as 2018 the last year's, so please check 2018.
Basically, all games for kids, but we can enjoy not only to see, but also try it by oneself.
Every game site has a character game piece and roulette which tell your next point.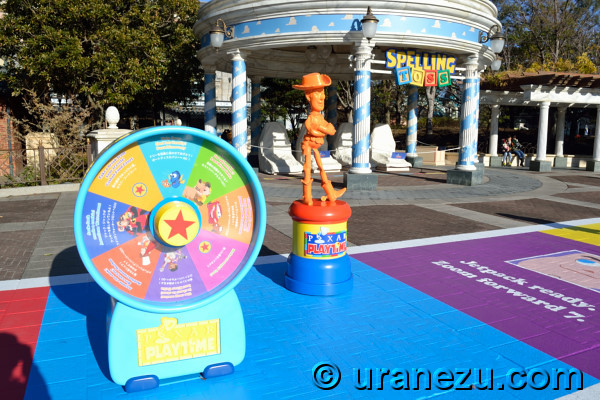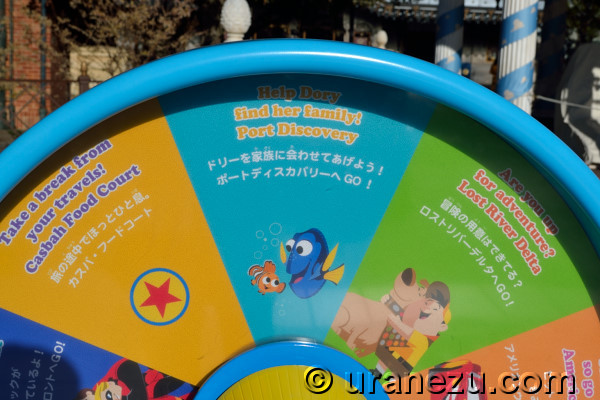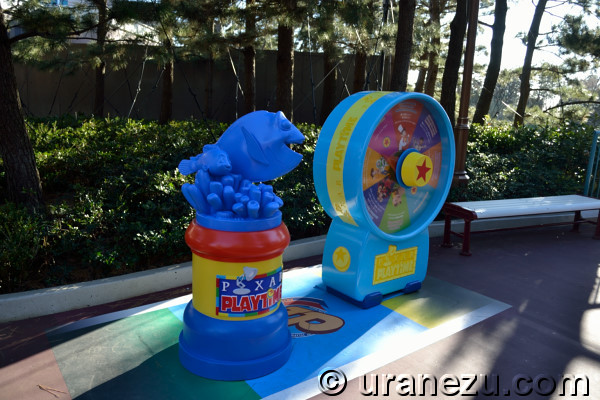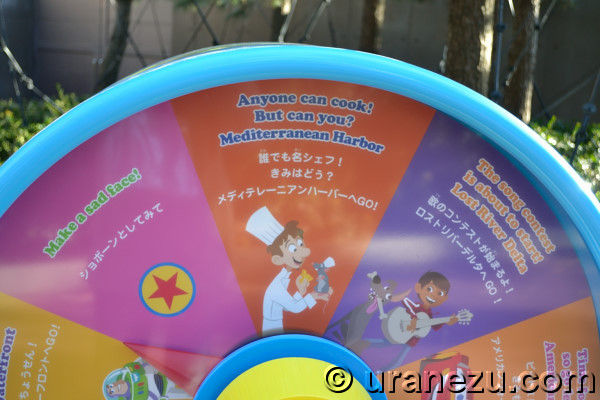 These sea folks are newcomer in 2019.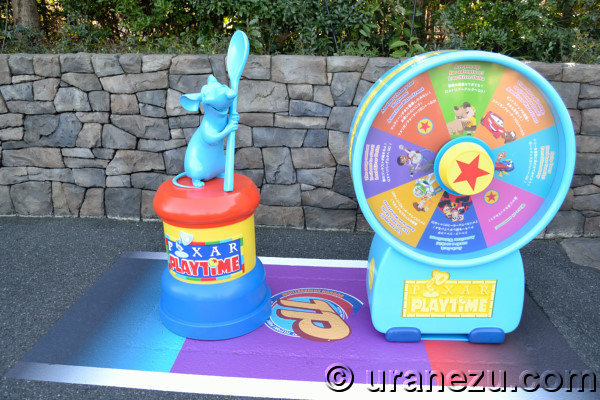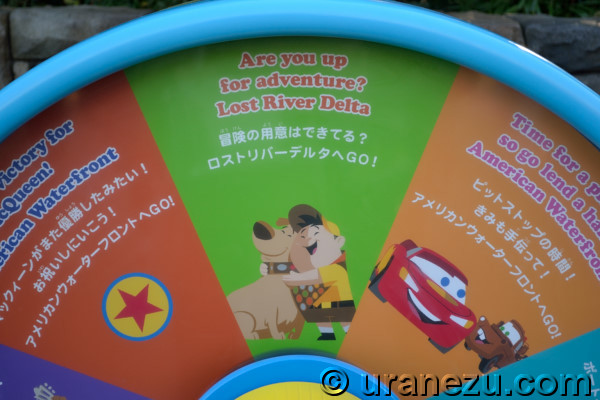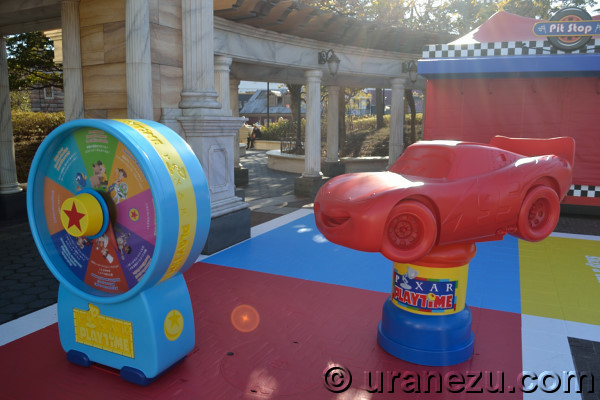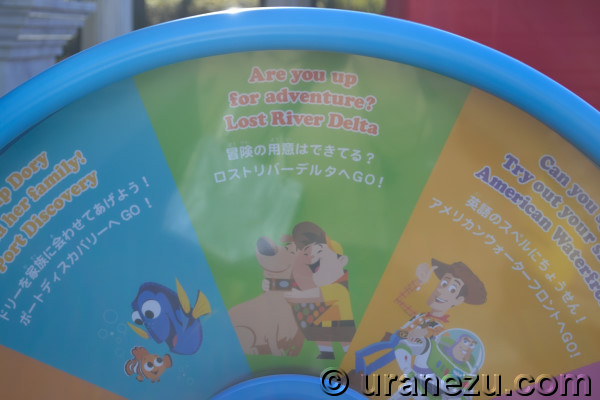 The Edna's point is new, and there are cute and great photo opportunity.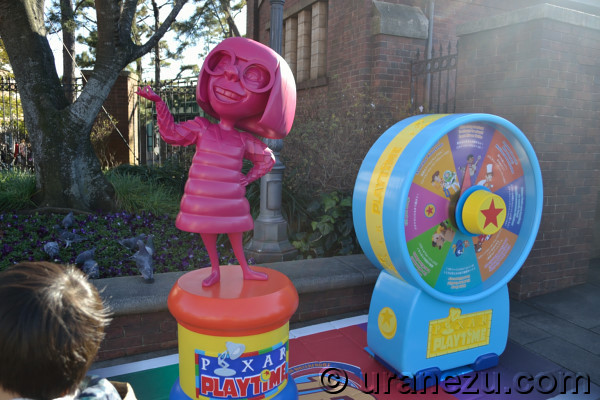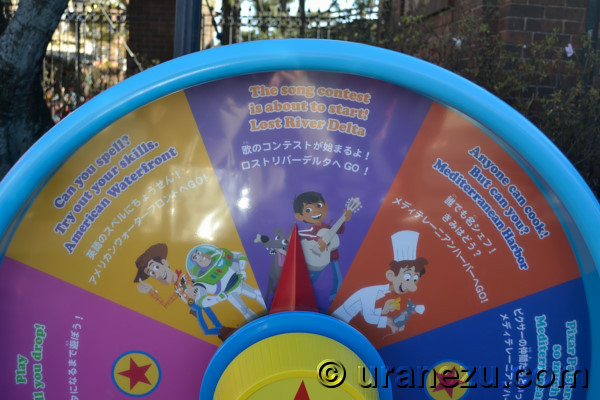 Yes, Aunt Edna's lovable friend, Jack Jack.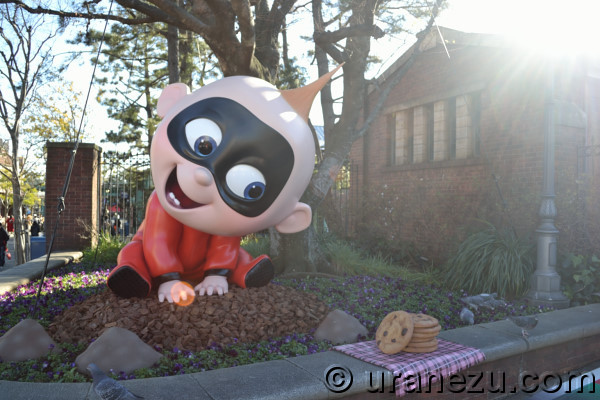 If you look at the people behind him, you can see how the baby big is.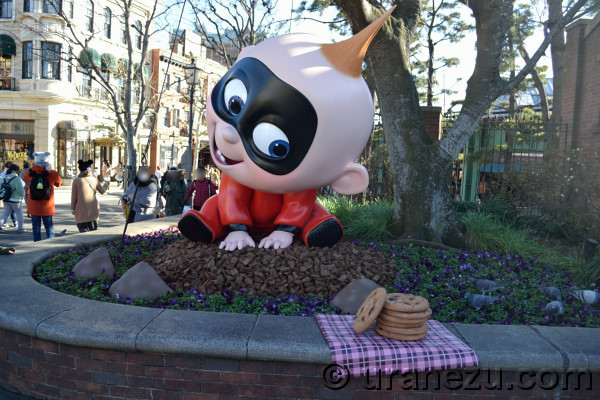 And another new photo location is in Lost River Delta.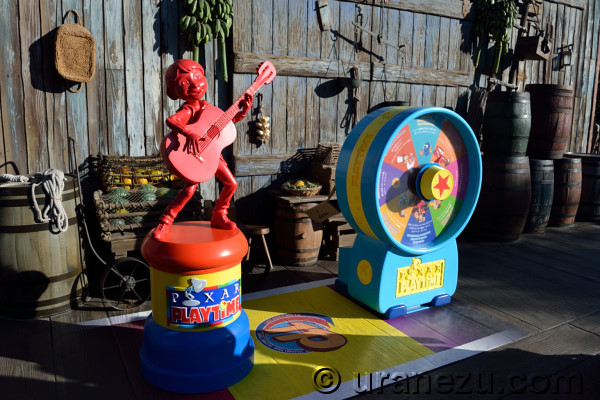 The theme itself is very nice.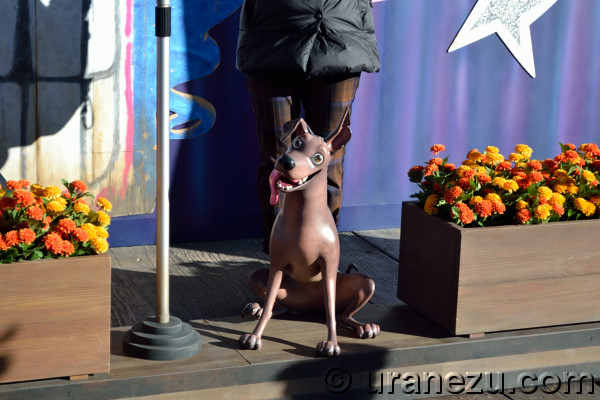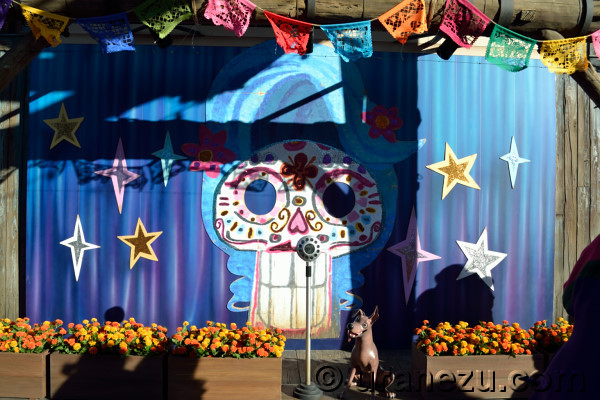 You can be a contestant with a dante on a stage.
But look at the below picture, this photo opportunity disregarded a site flow.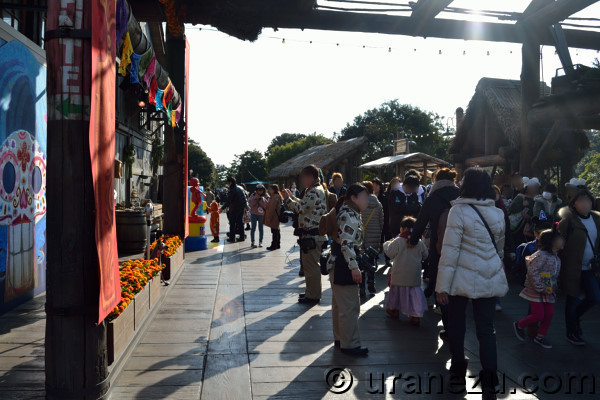 This is one of a passage way to Port Discovery from Mermaid Lagoon.

So a cameraman who stand to take the photo block the come and go people. And more badly, there are queue lines of it on the other side of the street. This street is very mess in this season with this new additional.
There are two special shows, which named "Pixar's Playtime" the main show and "Chef Remy & You" the sub show and two special greetings, "Pixar Pals Steamers" the water greeting and "Lightning McQueen Victory Lap" the ground greeting.

Here is excerpt from the shows and greetings.
"Chef Remy & You"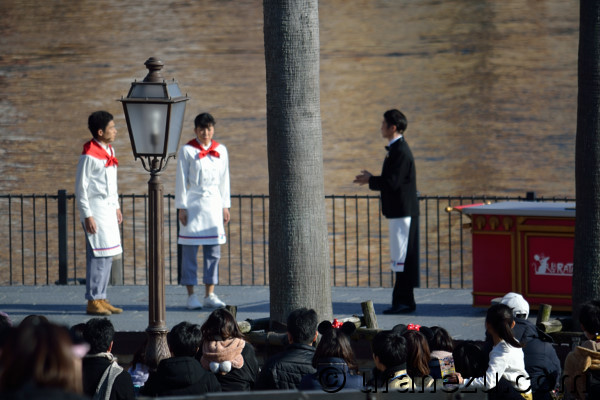 Two kitchen assistants shows their skill without Chef.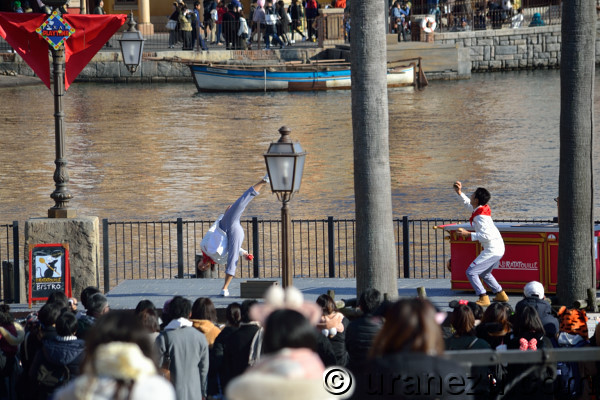 But they looks good at juggling than cooking.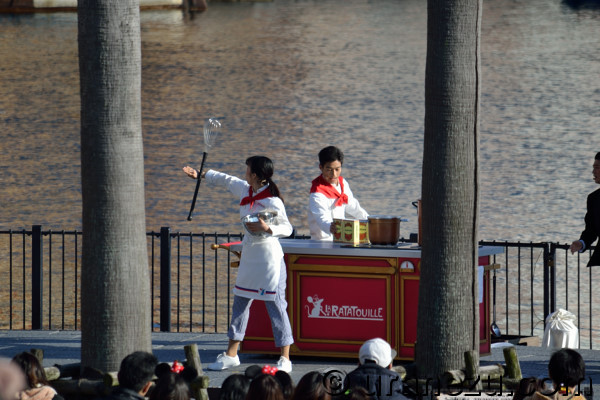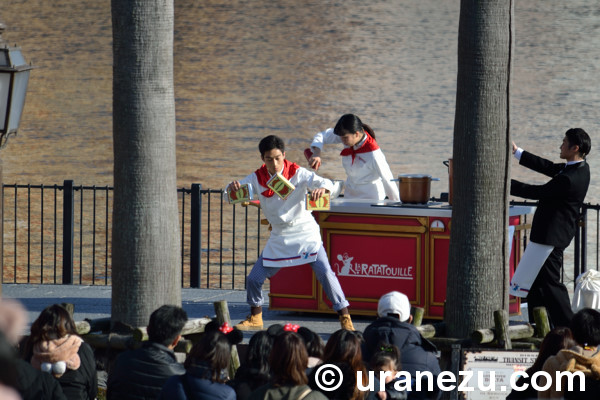 Sometimes objects juggled with vegetables, other is baton twirling with a long egg whisk.

Here comes the Chef Remy and put out the fire.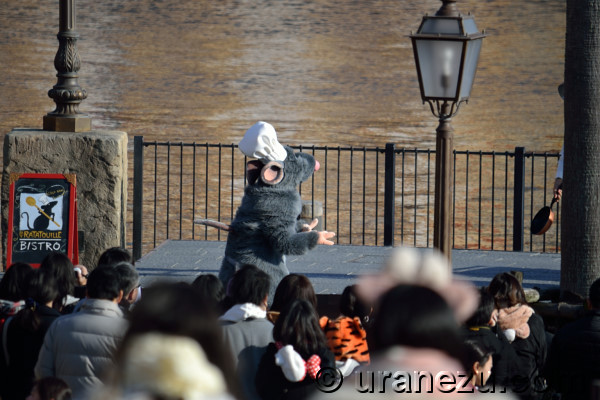 I really love a scene which he is kneading a bread dough.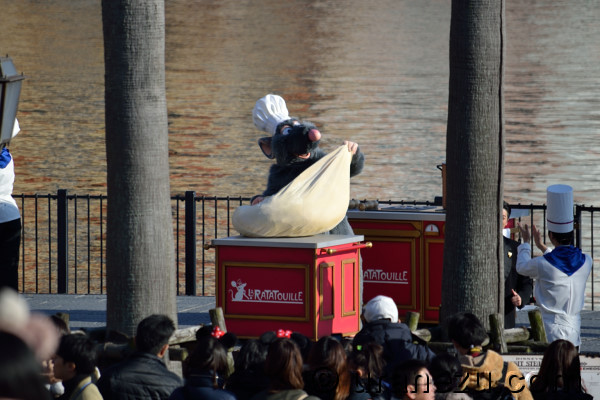 Finally, Chef Remy cooked beautiful course.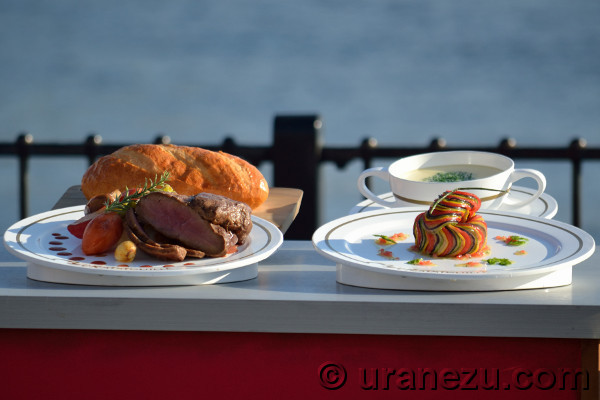 "Pixar Pals Steamers"
It's unstated schedule water greeting. So it's lucky to see these two ships.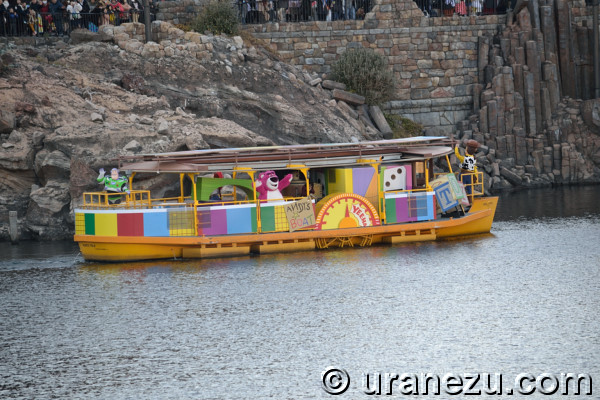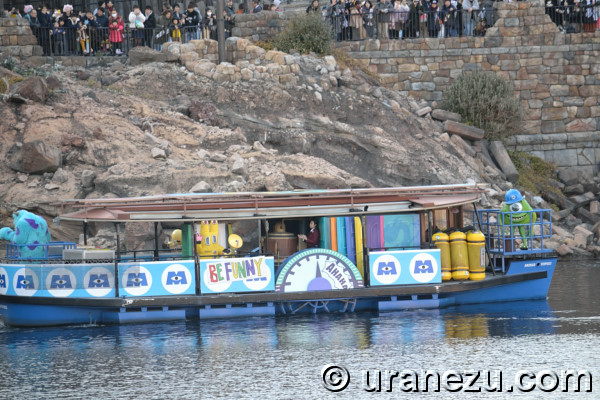 I didn't notice that Woody was steering.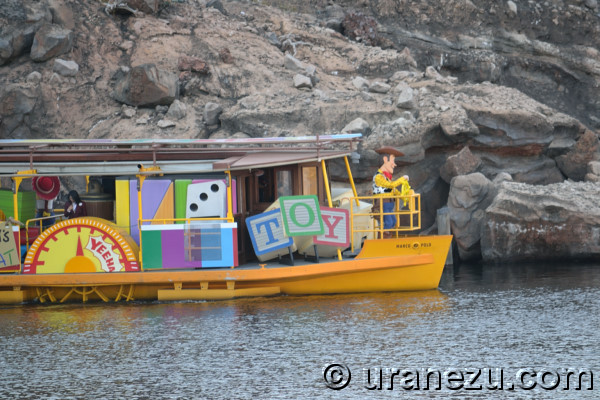 A water channel run though TDS park, so you can enjoy to see it from anywhere near the river.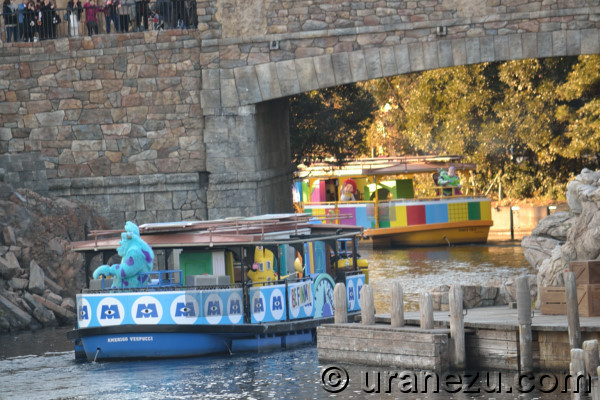 "Lightning McQueen Victory Lap"
Another meet and greet on the ground is very difficult to see.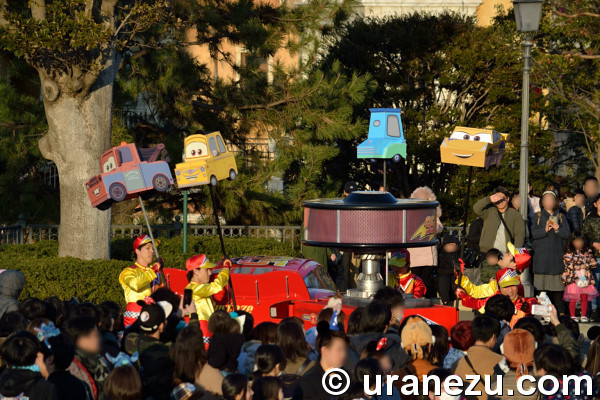 The pit crews came with pal stick.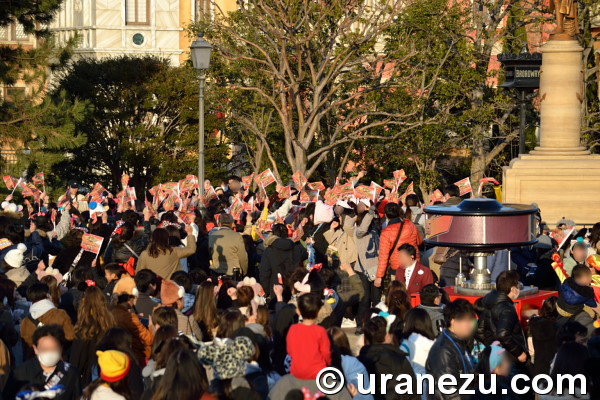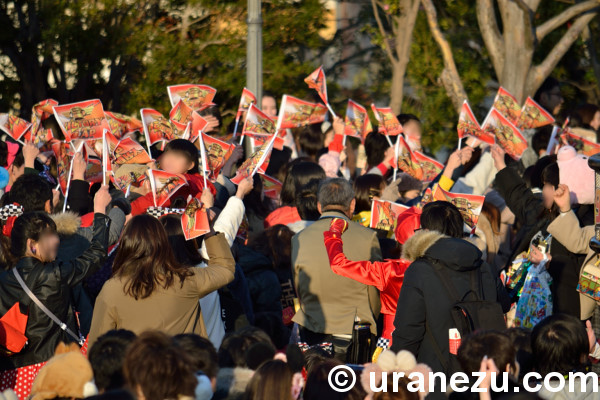 And I don't know what's going on, but maybe the crew taught mini dance, then they dance and welcomed the winner Lightning McQueen with the guests. (the flags is NOT giveaway. They collect it after the greeting.)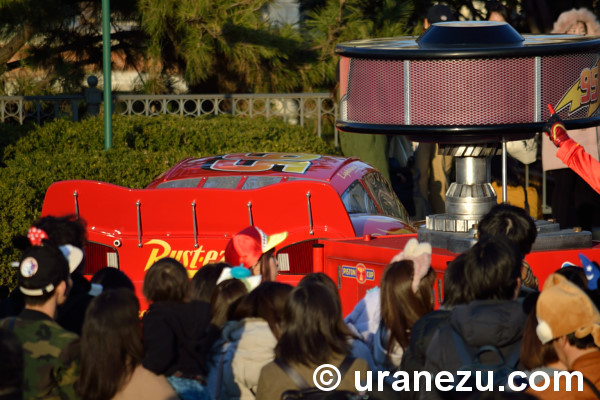 You can see the winner's tail.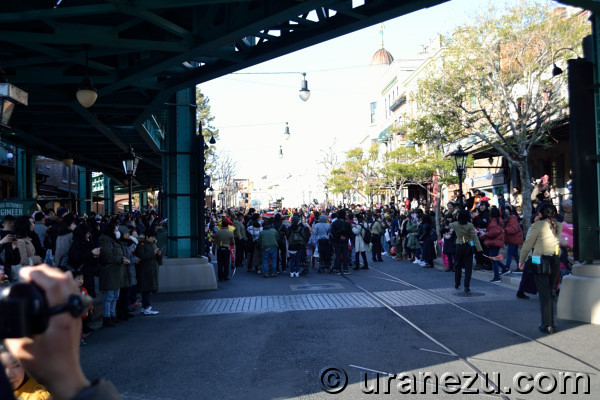 It's so popular.
"Pixar's Playtime"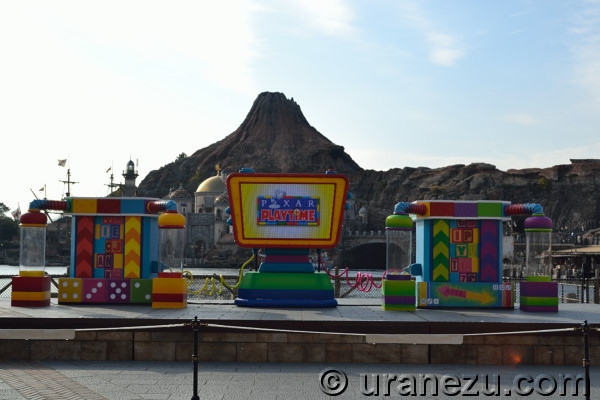 The main viewing area is allotted by a lottery. So I couldn't see it…
You can feel every segment is too childish, but remember the event is "Pixar's Playtime", and all of the toys want to play with you, even you've already grown up!
So don't be shy, let's play and dance!
Only two things which I disappear is this year's event.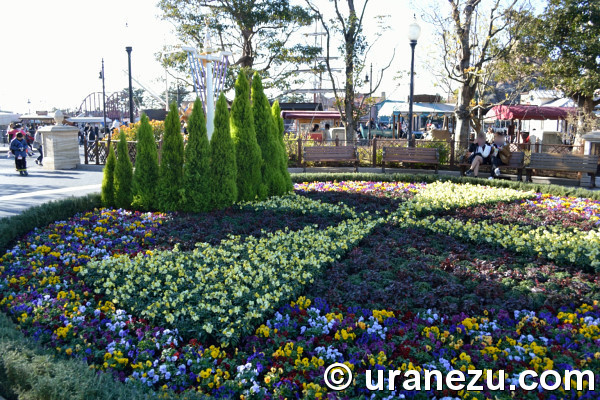 One is a flowerbed.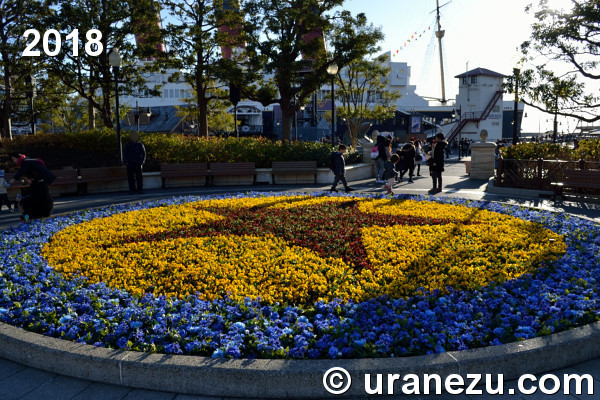 In last year 2018, there was a magnificent Pixar ball flowers in Waterfront Park.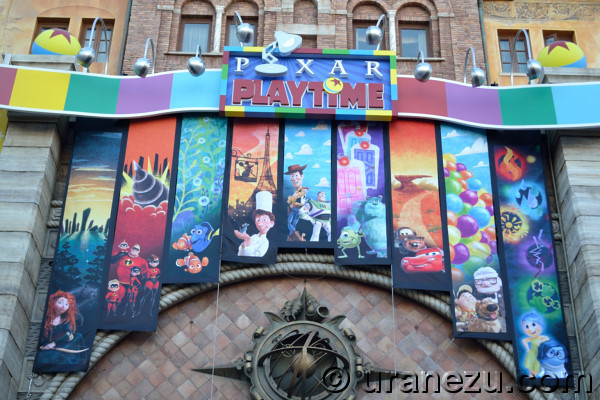 Another one is a banner design in 2019.
See? No need any over explanations! The last year's original design was so stylish, and if you don't understand what the banner came from, the guessing was also fun.
Also I love the last year's picture.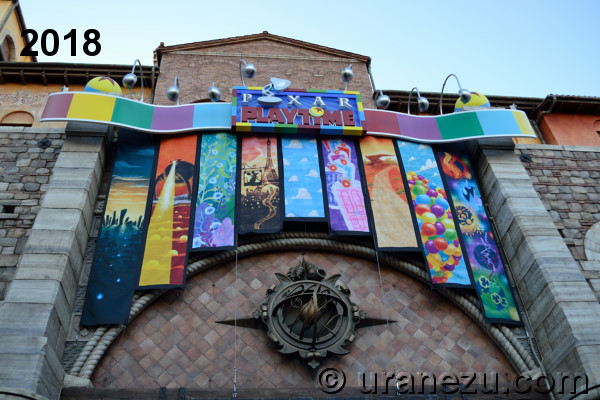 Don't forget your mission!
You can get a special sticker, if you success four missions.

Howdy (Say "Howdy" to a cast member in American Waterfront.)
High Five (Give a high five to a cast member in Port Discovery.)
Air Guitar (Show your performance which pretend to play a guitar to a cast member in Lost River Delta, or Arabian Coast.)
Hero Pose (Strike a cool pose as a hero to a cast member in Mediterranean Harbor, or Mediterranean Harbor.)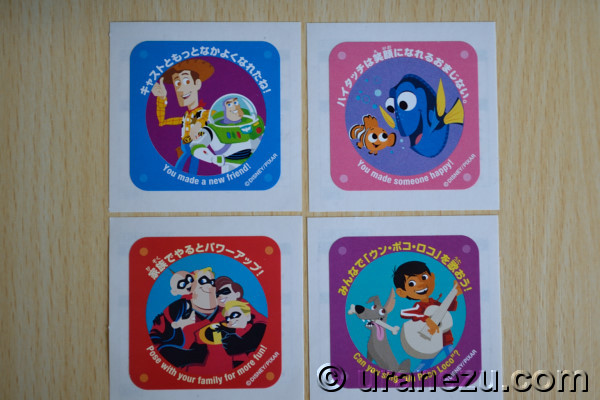 Anyway the Toys are waiting for you!
If you have any questions, opinions and requests,
please contact us.
Feb. 03 2019 TDL 35th Anniversary at TDS.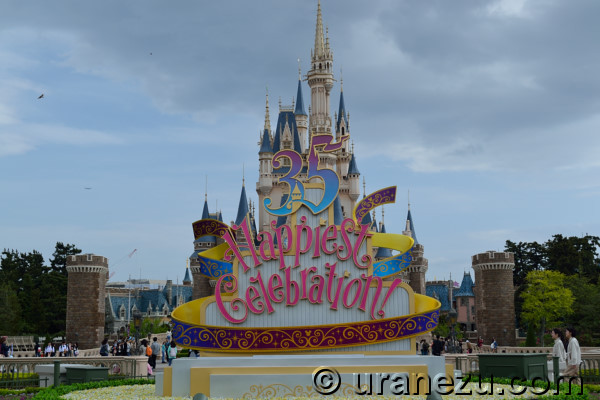 We can see so many advertisements of TDR everywhere in Japan, and you are TDR expert in abroad who keep your eyes open for TDR information.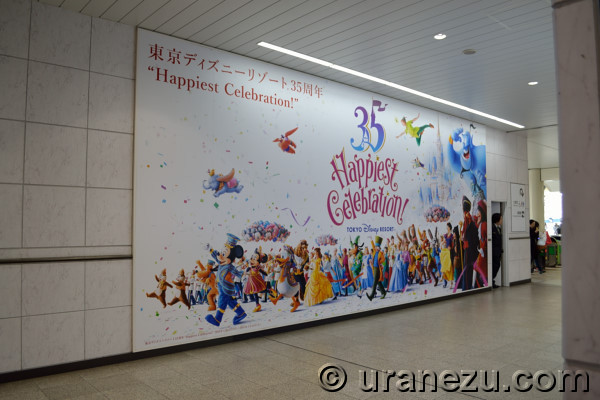 So we know that now TDL celebrates 35th anniversary. It's started from 15 April the actual TDL opening day, and this special celebration will take place to 25 March.
I think many foreigner can't understand why TDL or OLC has launched this huge celebration though a whole year for a just 35th. I don't suppose most Japanese have a thought that each quarter is a milestone. Otherwise we tend to feel a number of "5" is special.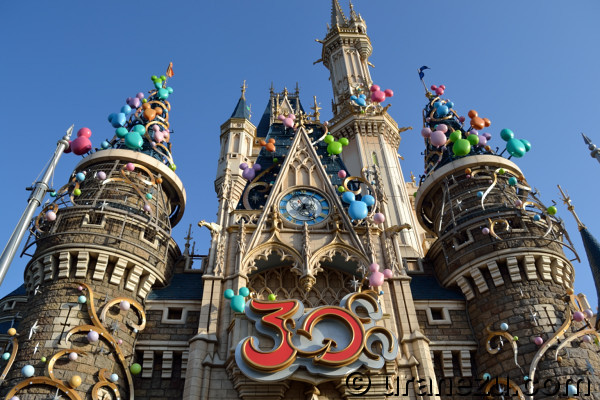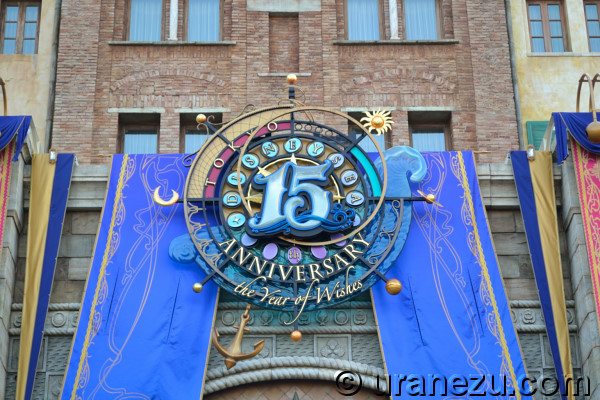 That's why OLC stir our habit, and TDL 35th anniversary is big success.
Funnier thing, you can find this celebration of TDL 35th anniversary in TDS.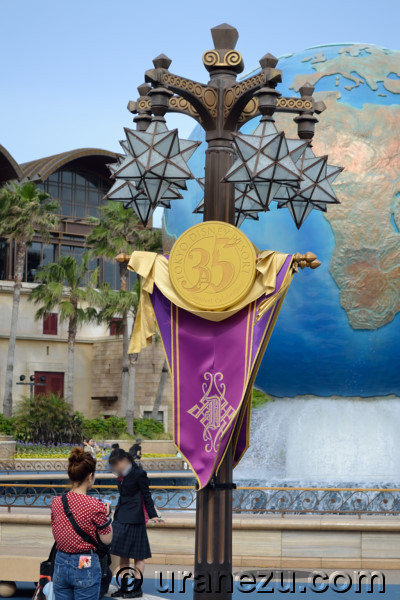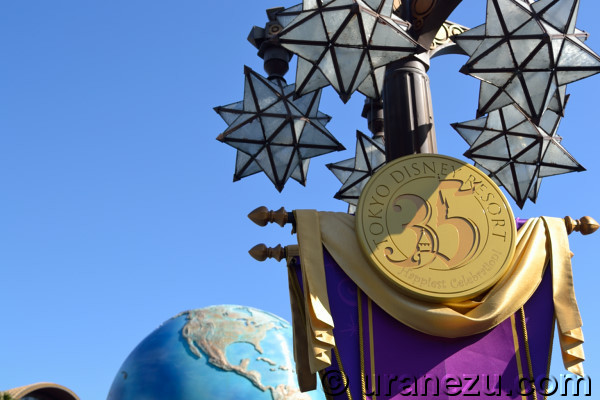 You can see 35th anniversary banner at TDS entrance.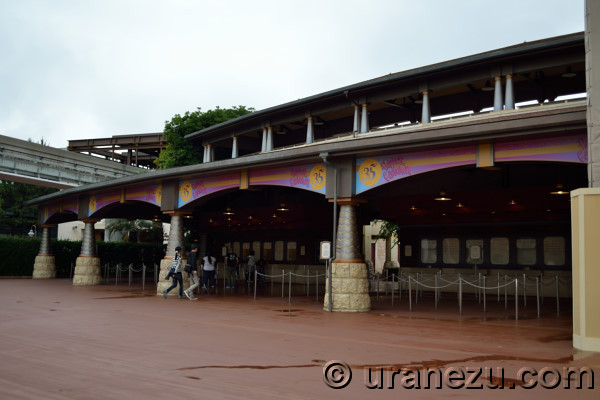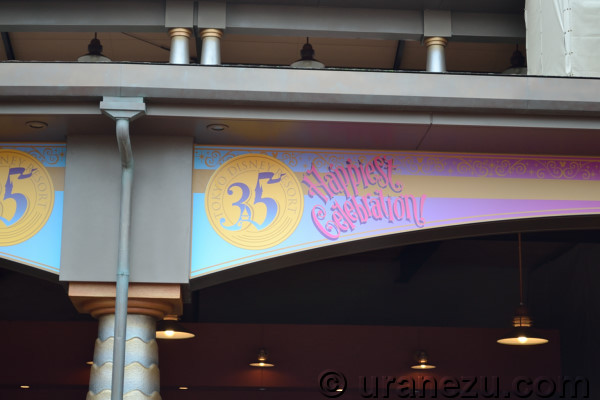 Even spring to Fall…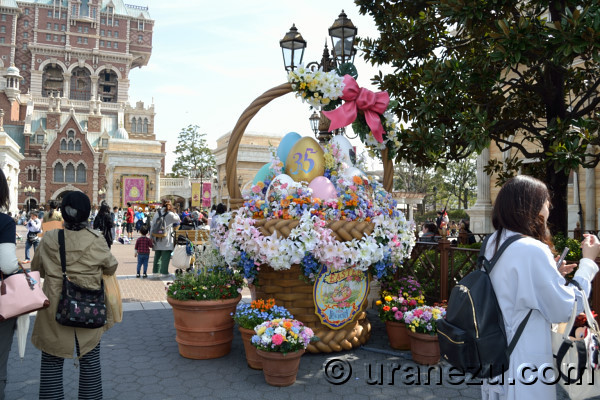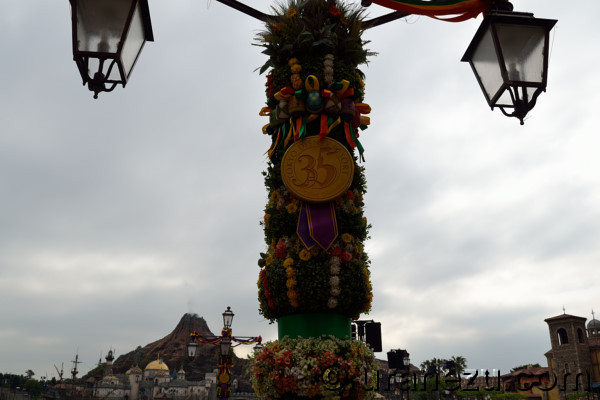 Many TDR 35th logo in every event in TDS.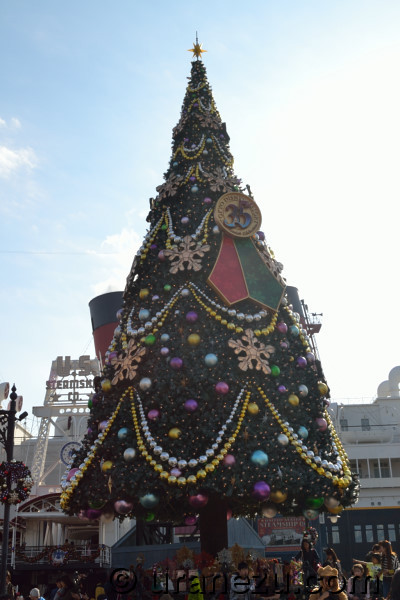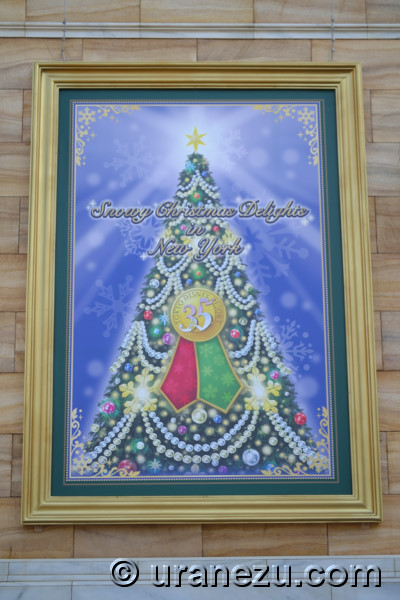 As you know, TDR stands for Tokyo Disney Resort which consist of TDL, TDS the two Tokyo parks, Ikspiari the shopping mall, and the surrounding area which include official hotels and the monorail.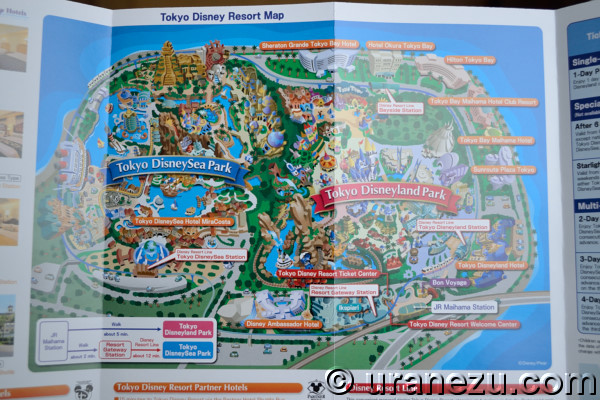 35th is a number since TDL has opened, it's not for TDR.
So let's check the actual anniversary of each facility.
Facility Name
Opening Date
Anniversary
TDL
1983 Apr. 15
35th
Sunroute Plaza Tokyo
(the very first official Hotel)
1986 Jul. 20
32th
IKSPIARI
2000 Jul. 07
18th
Disney Ambassador Hotel
2000 Jul. 07
18th
Von Voyage
2001 Mar. 01
17th
Monorail
2001 Jul. 27
17th
TDS
2001 Sep. 04
17th
Tokyo DisneySea Hotel MiraCosta
2001 Sep. 04
17th
Tokyo Disneyland Hotel
2008 Jul. 08
10th
Tokyo Bay Maihama Hotel
(The latest official hotel)
2010 Mar.16
8th
After seeing the above truth, how do you feel "TDR 35th anniversary" banner everywhere in TDS?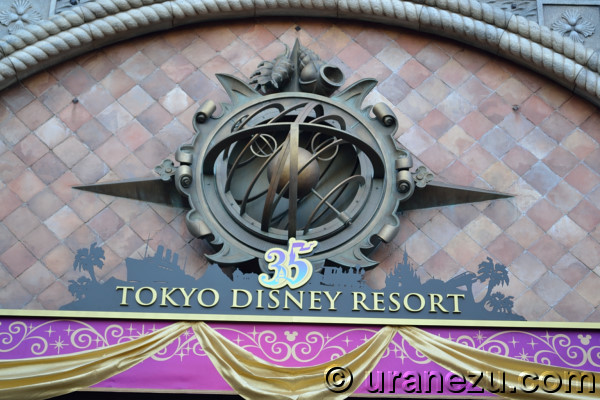 Actually, TDS is now 17 years old!
Why does OLC enjoy the fresh age, or celebrate young era?

I understand that visiting TDL in a big anniversary year looks very attractive and great opportunity to go.
So TDS the struggling park want to get a benefits from TDL 35th Anniversary.

But, TDS, you have to think first and foremost, why you are in difficult time now!
Everything makes TDS blur, which includes the bad and harsh decision to Stormrider the original deep-themeport-rooted attraction, no effective operation for many greedy reseller the root of all evil in the park, and a breaking of TDS individual atmosphere and the original concept.

I hope they will not take easy and almost cheating draw anymore.
If you have any questions, opinions and requests,
please contact us.
Jan. 26 2019 About Duffy's Heartwarming Days 2019.
In Japan, many abroad culture come and evolved in unique (sometimes, weird) ways.
Japanese St. Valentine's Day is also isolated development culture from the origin in your country.
It's famous day for a girl tell a boy with a chocolate. (Not boy to girl.)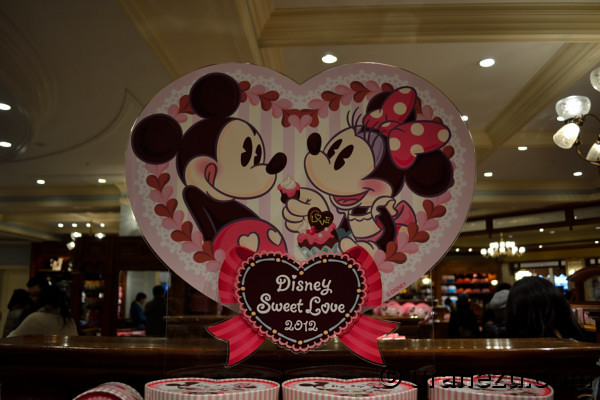 So, I think many Japanese didn't get "Flowers, CHOCOLATES, promises you don't intend to keep." the Cogsworth's advice to the Beast around released year 1991. Because present a chocolate was common for people of that time.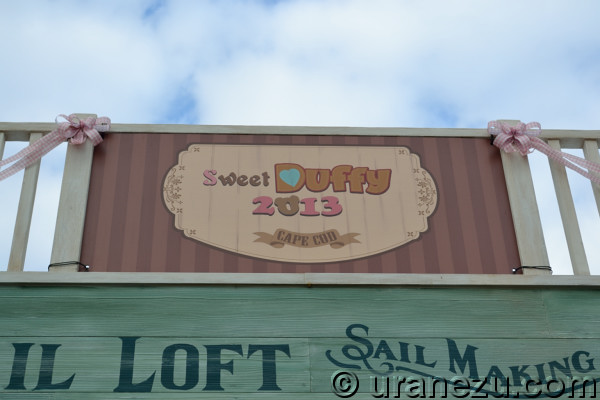 That's why "Sweet Duffy" started in this season and used many chocolates or sweets as a decoration.
In recent years this funny culture has changed the target to between friends (it called Tomo-Choco. Tomo means friend.) from girl to boy or woman to man.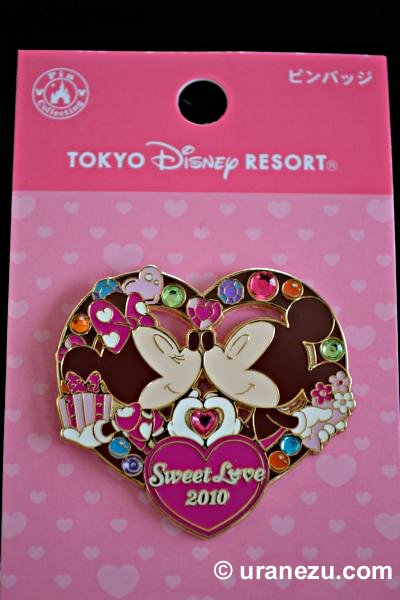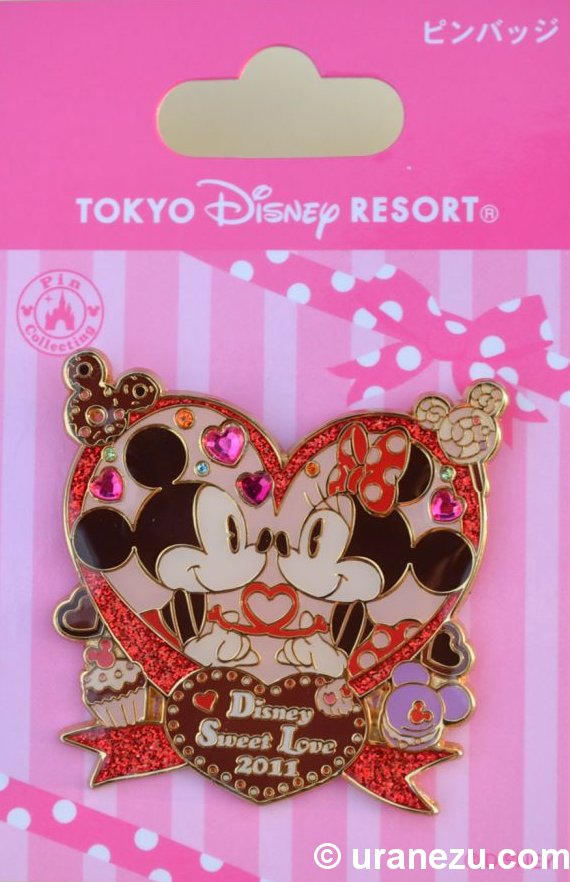 And "Sweet Duffy" has also convert for more a friend than a lover as nowadays trend of Japanese Valentine's Day.
The event name changed to "Duffy's Heart Warming Days".
This event has not a big difference from "Sweet Duffy" as used to do.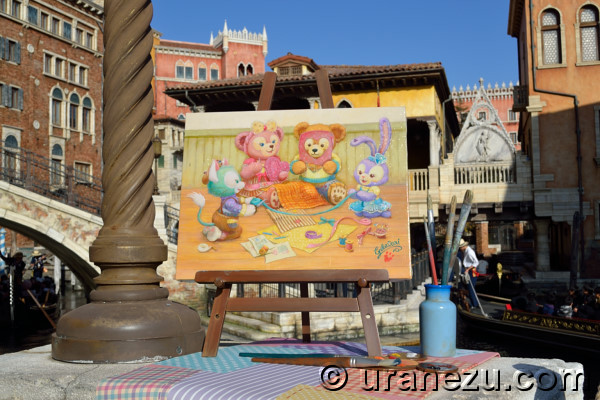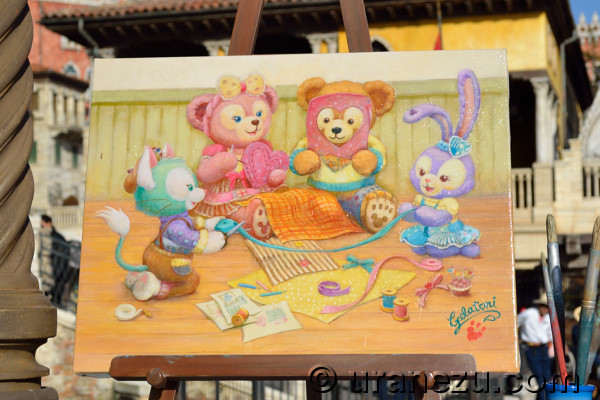 There is no special show, no special barge greeting, just enjoy the special merchandises shopping surrounding the limited-time-only decorations, and meet and greet with special costume Duffy and ShellieMay at Cape Cod area.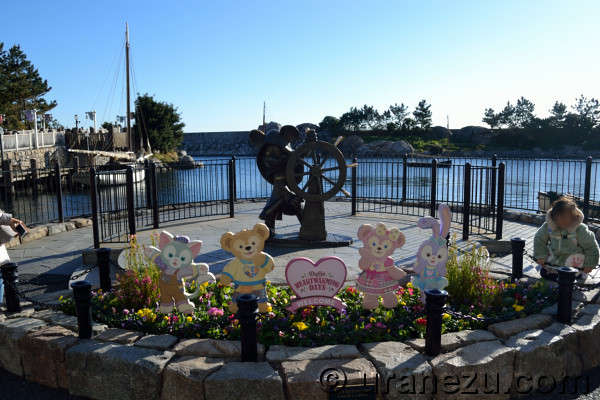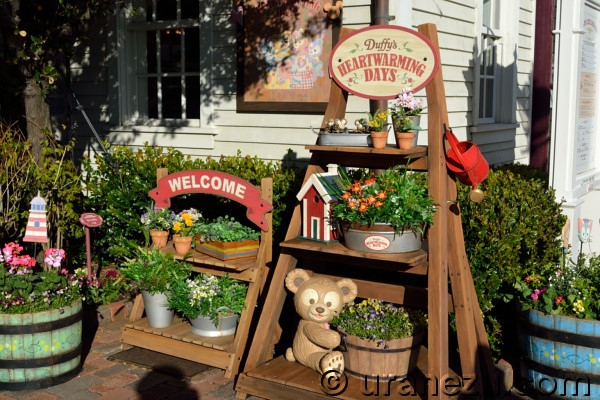 Let's visit a festive mood Cape Cod.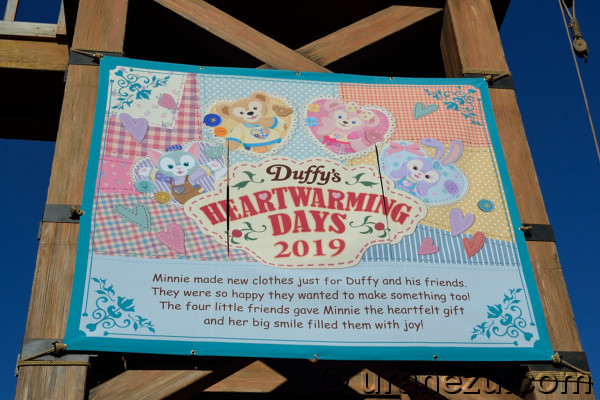 You can find this year's story on a banner.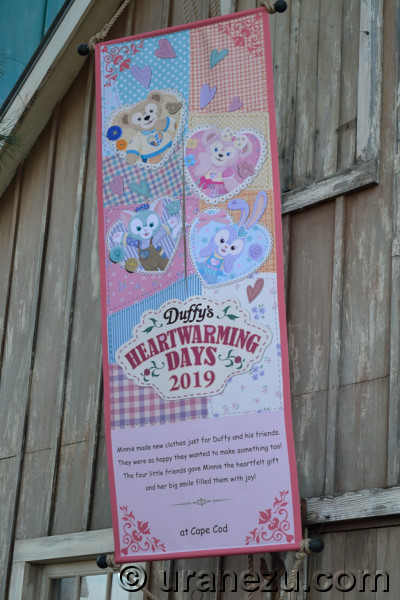 Then you'll find some working place of it.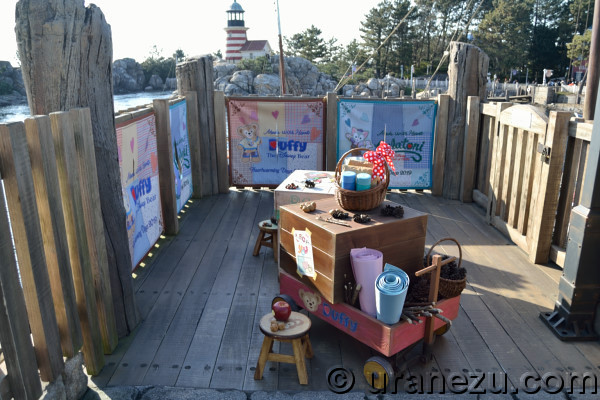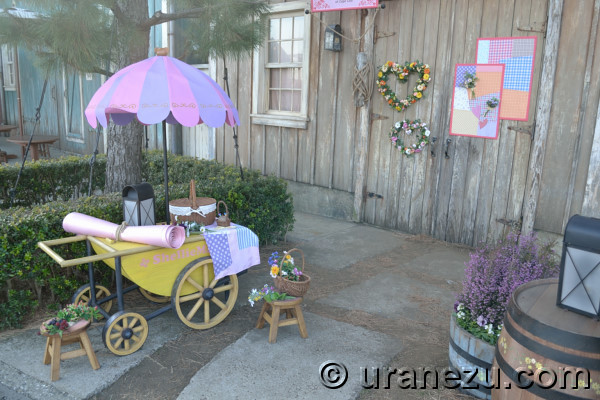 Yes, it's a small village, so everybody knows what they're doing.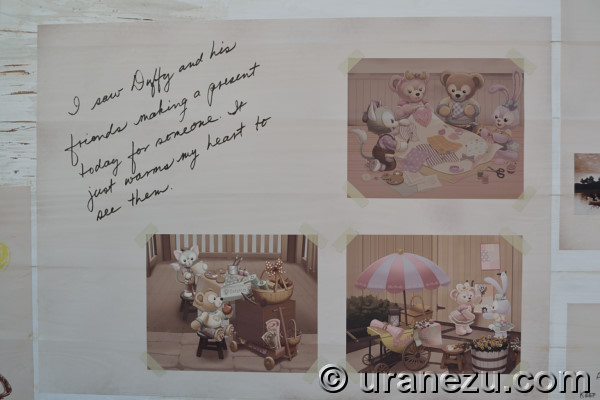 A little bit mean less feeling bulletin board set during this season.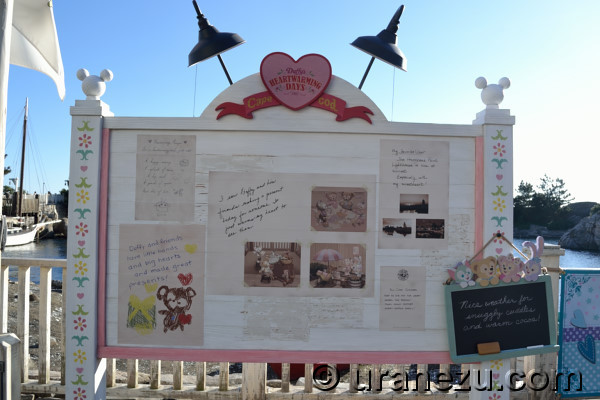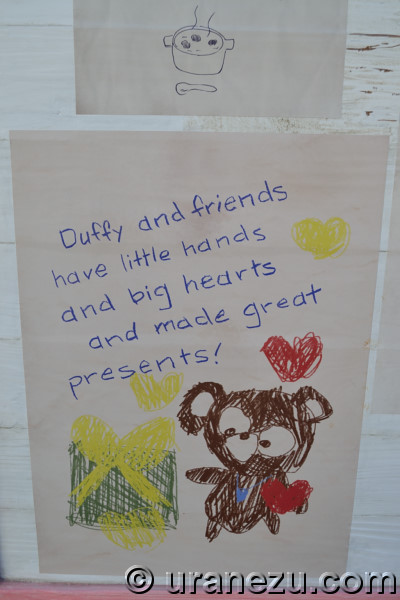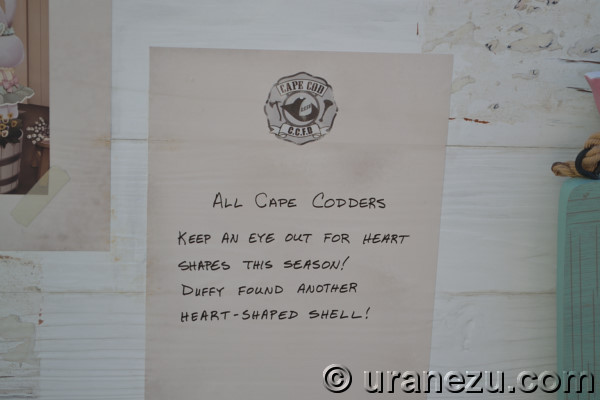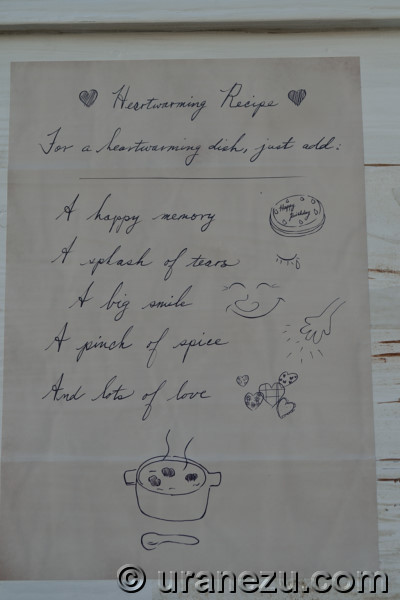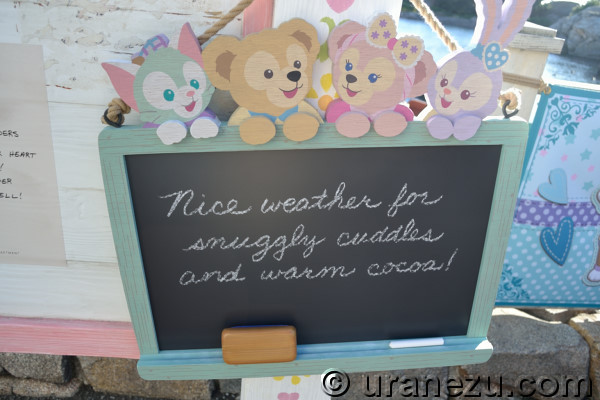 Who are you!?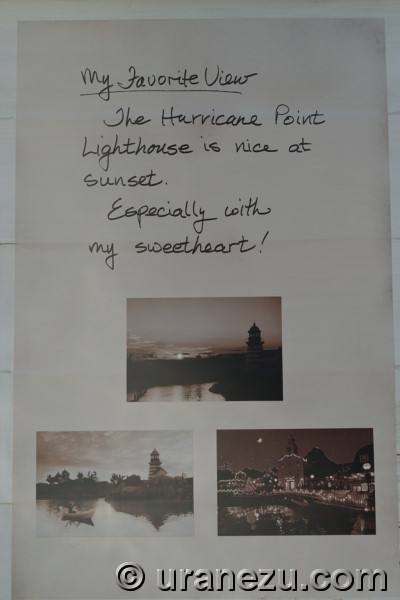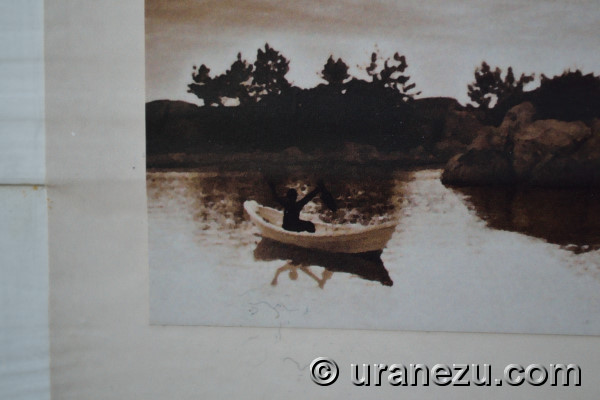 It's like a character from "Banshee's Last Cry" the old video game.
This is the boys' working place.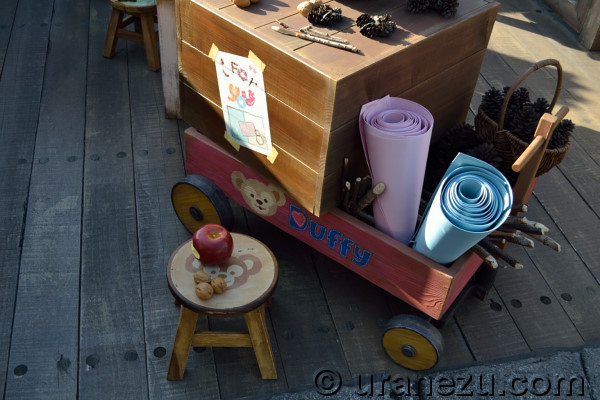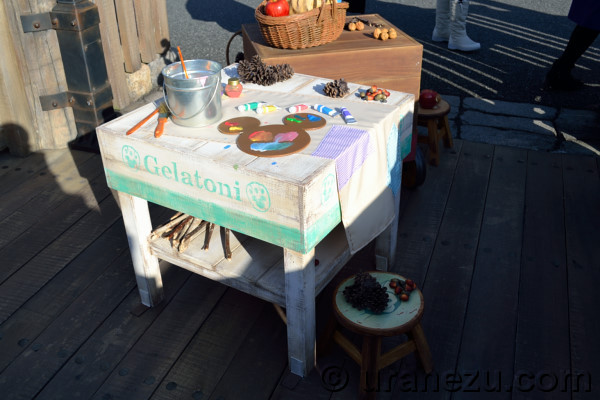 The left is Duffy's stool. And right is Gelatoni's.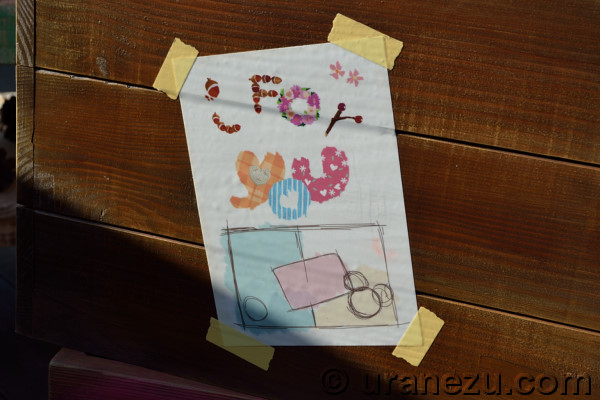 There is a final design in front of Duffy's chair.
The left picture was took on the first week of the event started, and the right was after about two weeks.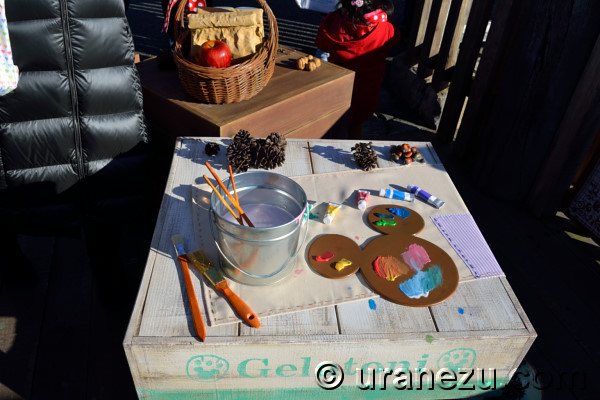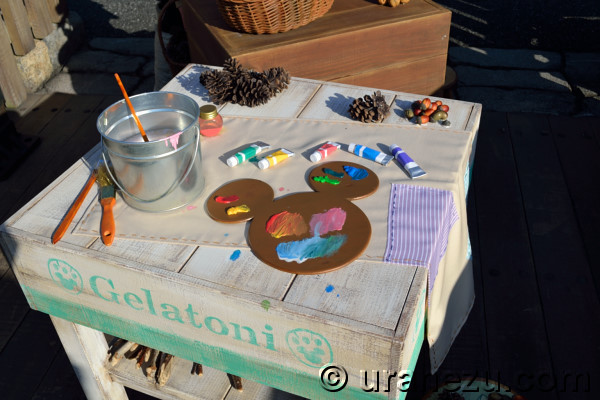 The two paint brushes was gone.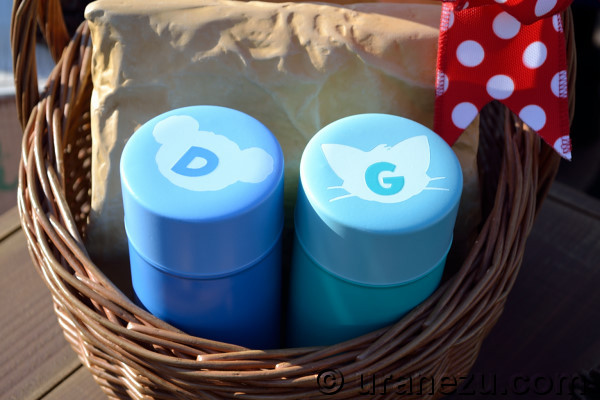 "D" & "G", hmm, these thermos for Duffy and Gelatoni. And I assuming from the ribbon on the basket, it brought by Minnie.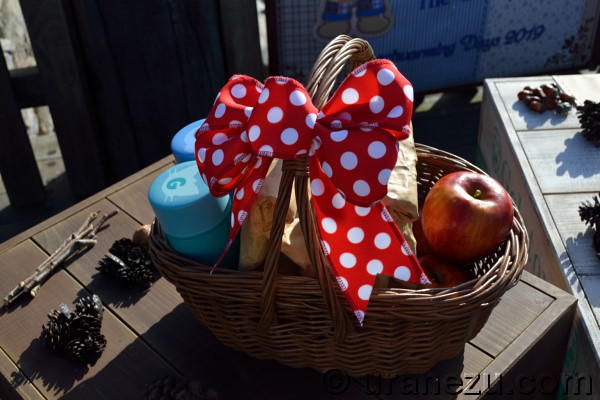 It's very nice the little present for the boys from Minnie.
This is the girl's working place.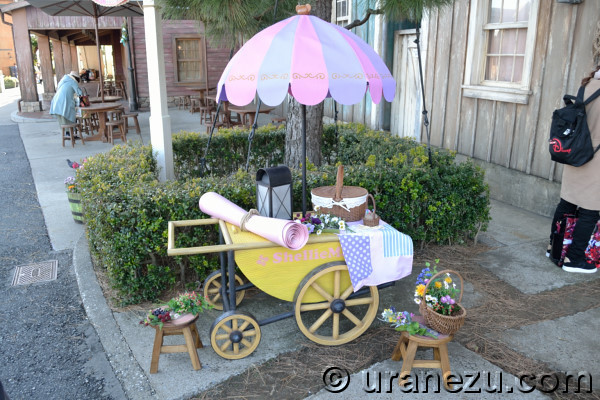 The left is for ShellieMay, and the other side is for StellaLou.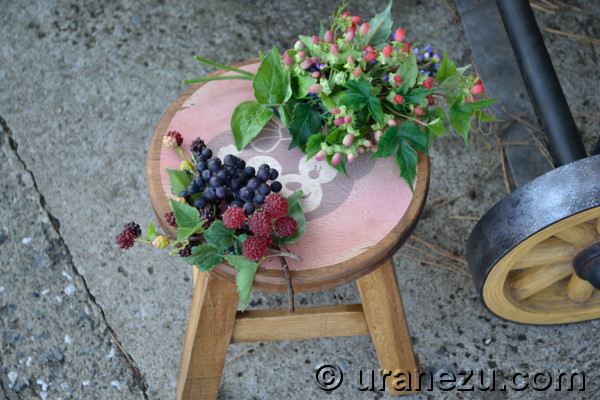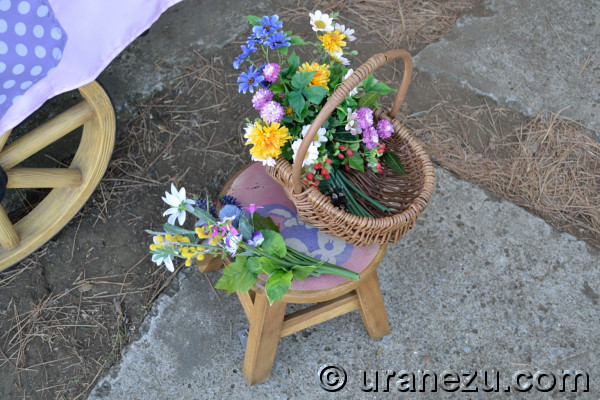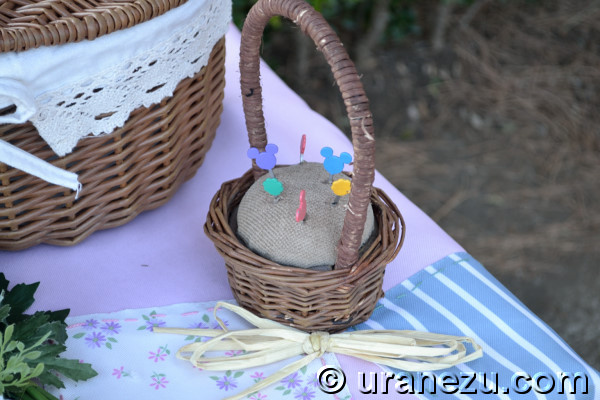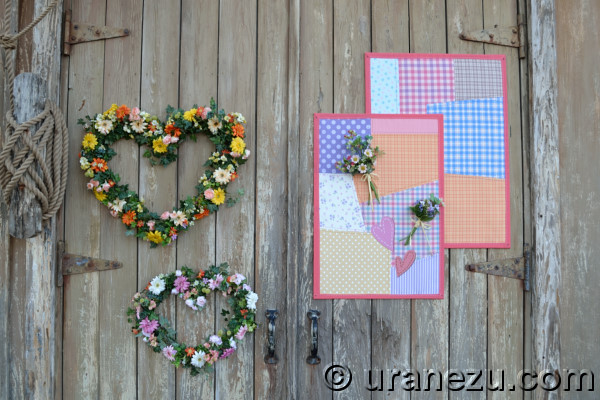 But there is no little gift for ShellieMay and StellaLou!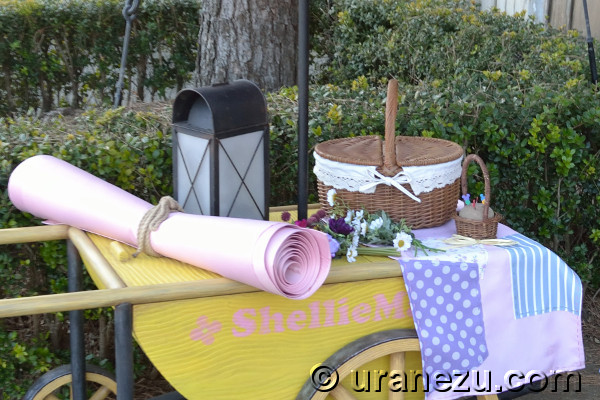 Hmm…Girl's world is so difficult and complicated…
Anyway, they accomplished fantastic job.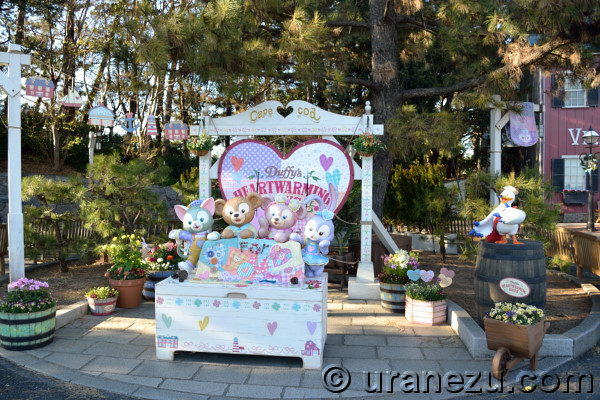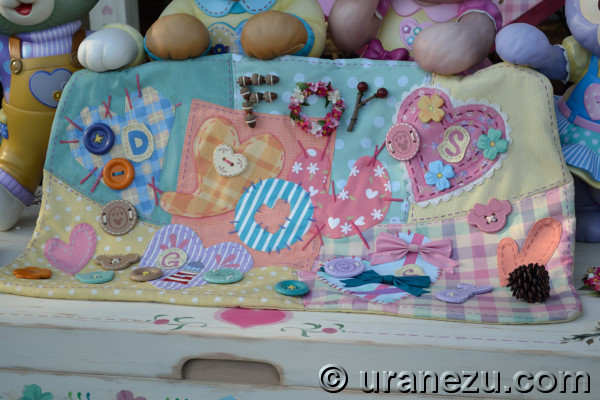 It's excellent work!
Need some chocolates?
You will be able to get a various chocolate for a special occasion in this season!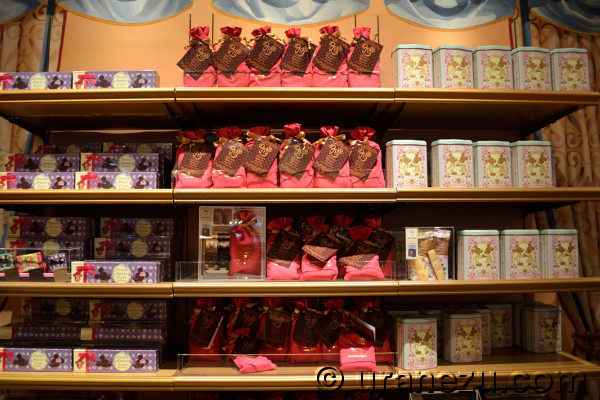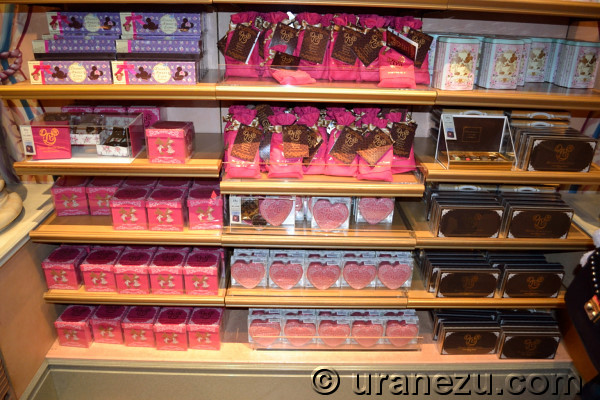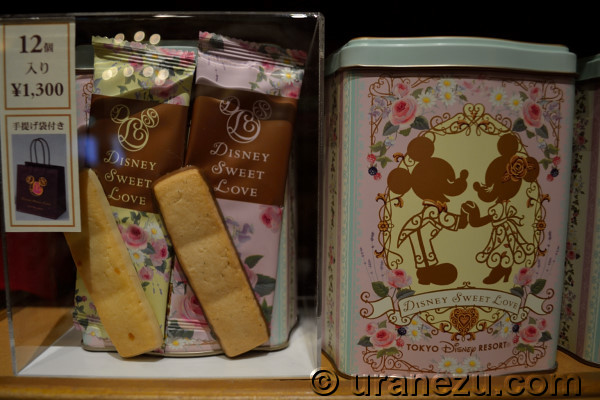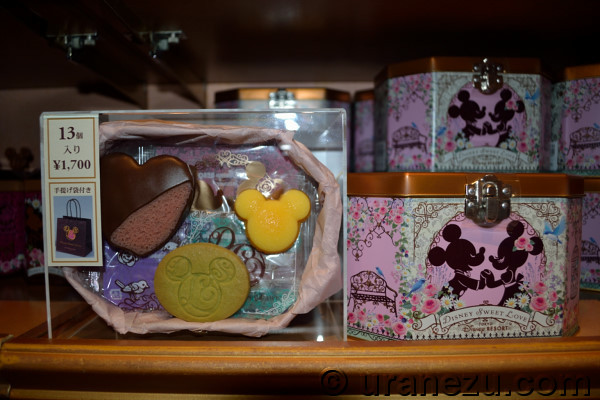 It's good time to prepare for Valentine's Day!
If you have any questions, opinions and requests,
please contact us.
Jan. 11 2019 About A New Year at TDR.
TDR New Year
I wish you a Happy New Year. Let's have fun this year, too!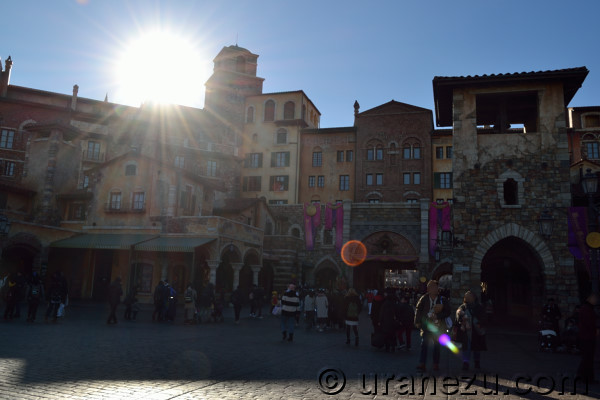 So I'd like to start a park with new year's decoration.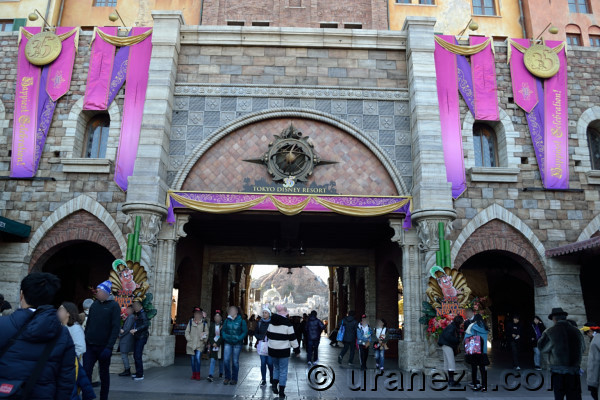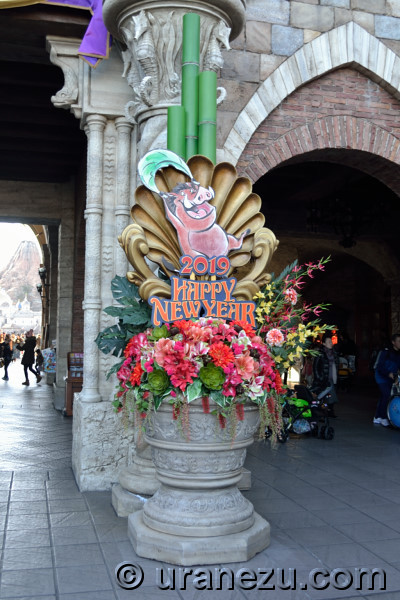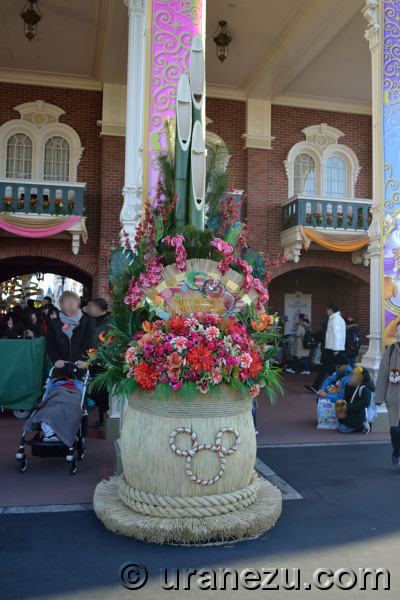 There were a Kadomatsu the Japanese traditional gate decorations in each park. The left is TDS, the right is TDL.

All things about New Year in Japan is little bit different from a lunar new year which you've heard about it.
Nowadays Japanese New Year based on Gregorian calendar, so TDR took place new year decoration to 6 JAN from 1st JAN.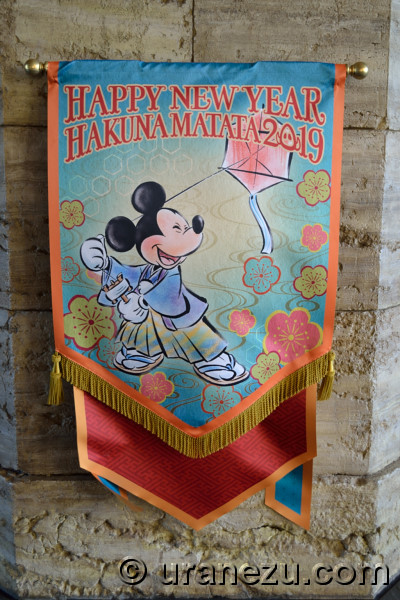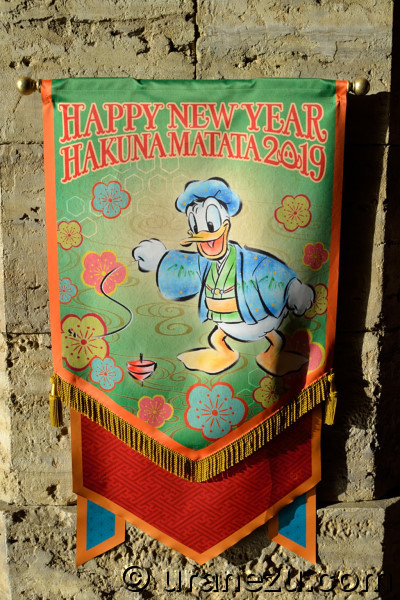 Every year has a symbol of animal which known as Chinese zodiac.
In this year is Boar (Etymology is a pig, but actually uses a boar for the zodiac in Japan.)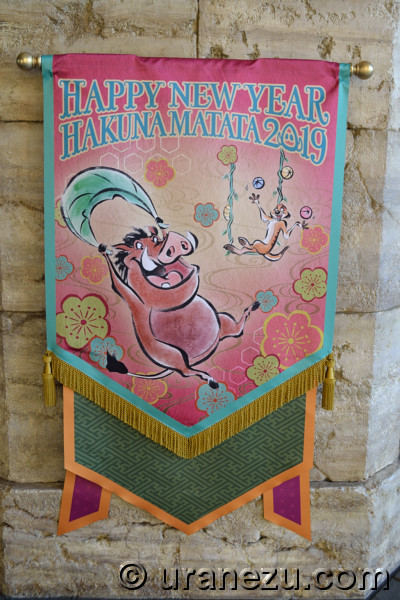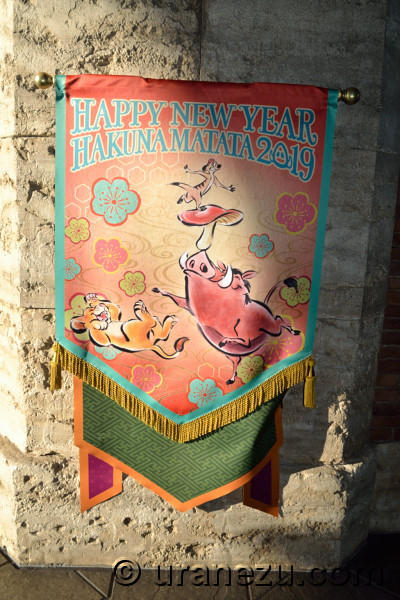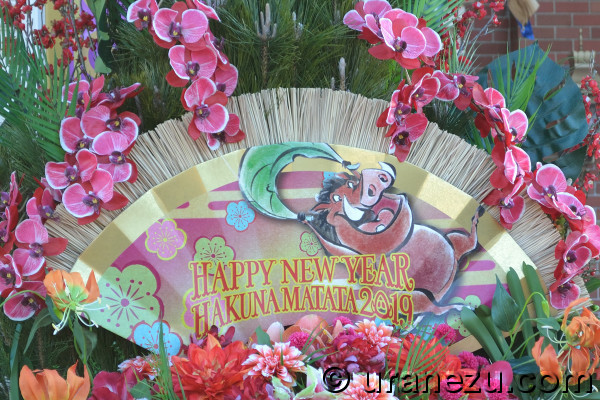 We can see Disney friends in Kimono at "New Year's Greeting" during this only 6 days.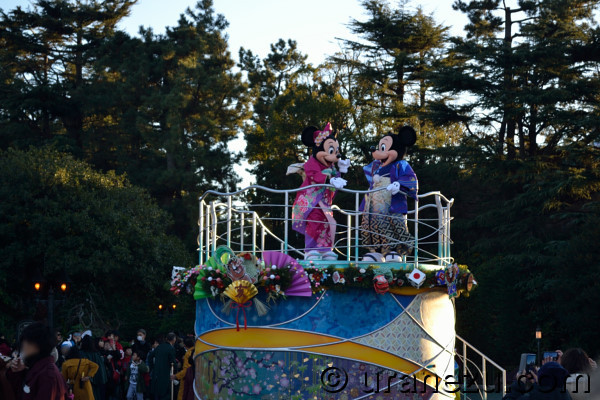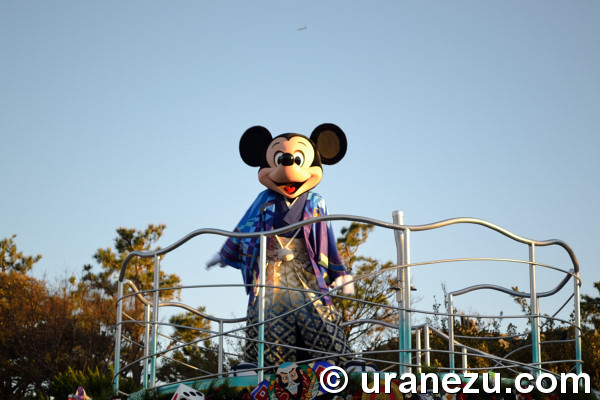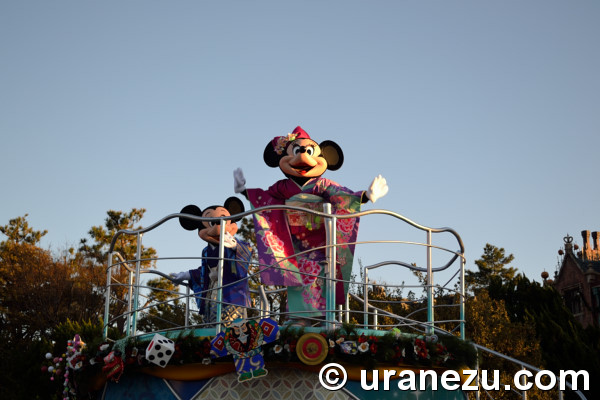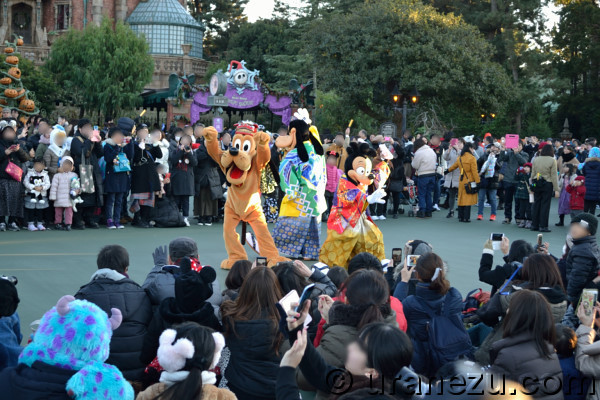 They sold a cute spinning top as a capsule toy in this New Year's week. I couldn't get Pumbaa the star of this year, but I love this two pieces in one. So good start to this year.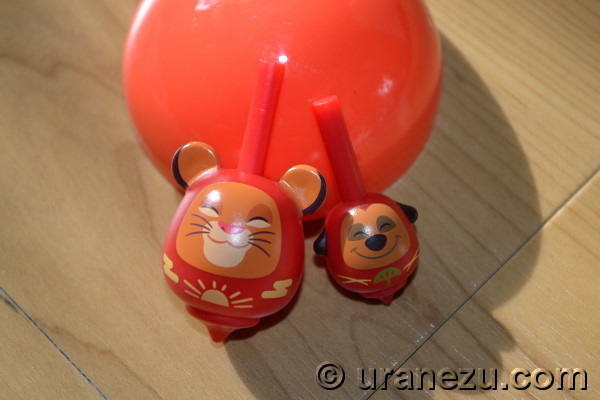 I hope the New Year finds you in good health and excellent spirit!
If you have any questions, opinions and requests,
please contact us.
Dec. 22 2018 About TDS Christmas 2018.
TDS Christmas 2018

It's last minute to pretend or change as a good boy or good girl for Santa.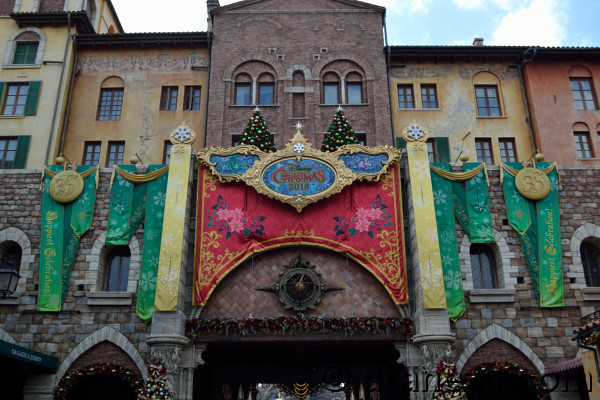 So before the actual day, let's enjoy TDS park with full of holiday decorations.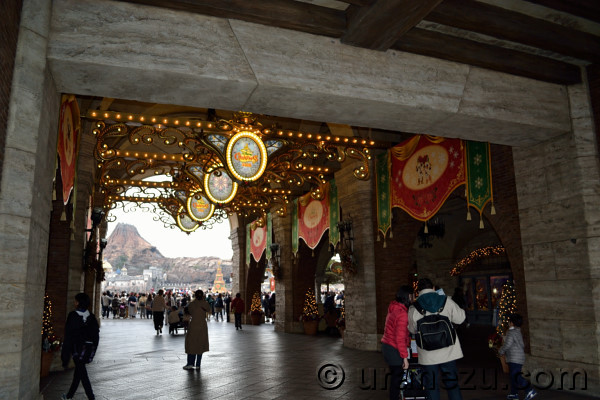 You can find a poster of Disney Friends in Waterfront park.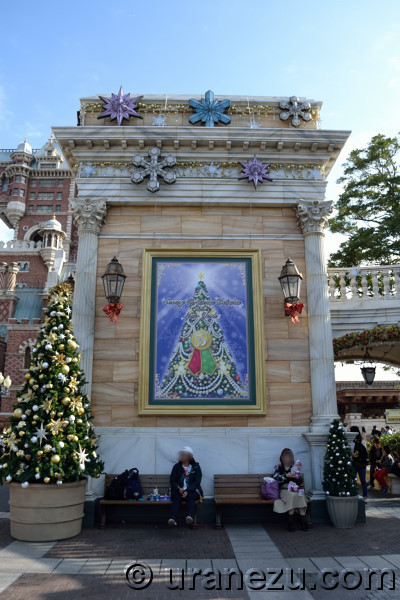 These white costumes are brand new for "It's Christmas Time!" the special holiday show in TDS.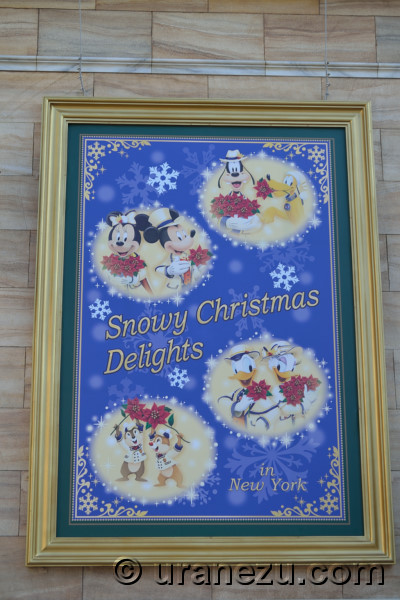 To my great joy, "It's Christmas Time!" is wonderful show which reminds me that a live entertainment, especially stage show is really a power.

Men & female singers, many dancers, and simple and clean story without tons of a tear-jerker character lines like recent TDR shows.

Their singer's voice echo around Mediterranean Harbor.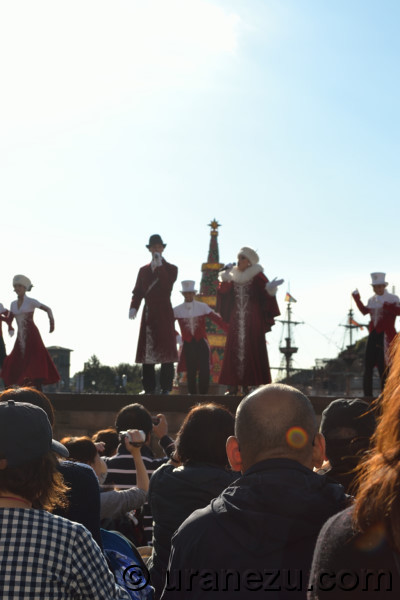 The show starts with their "We Wish You the Merriest!" with "It's Christmas Time!" banner on the sky which was pulled by a jet ski.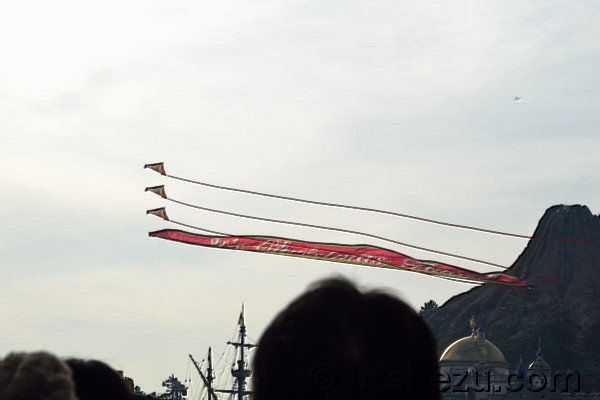 Goofy and Max came to play to mist of snow stage.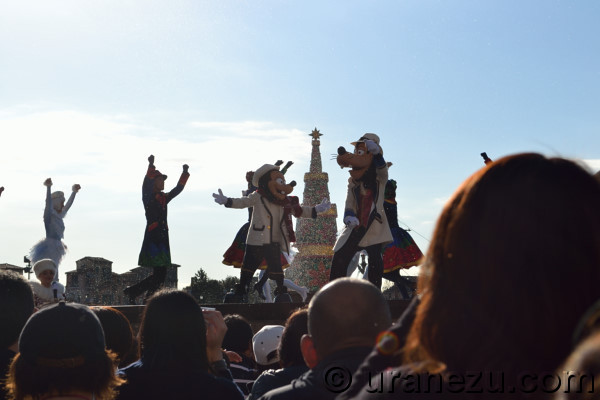 "Santa Baby" by Clarice and pink chorus girls.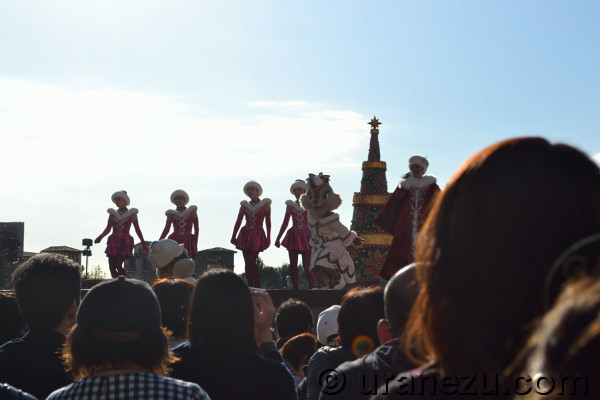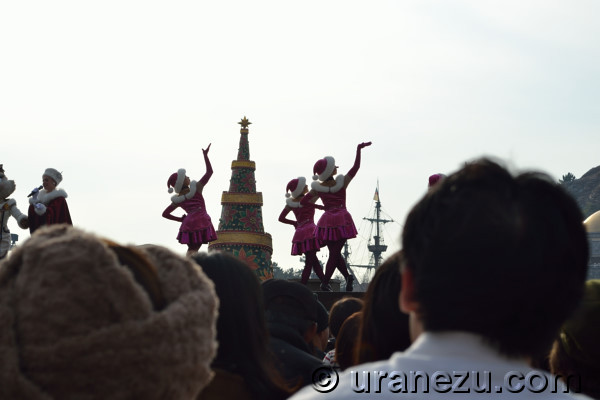 Pluto & reindeers, and…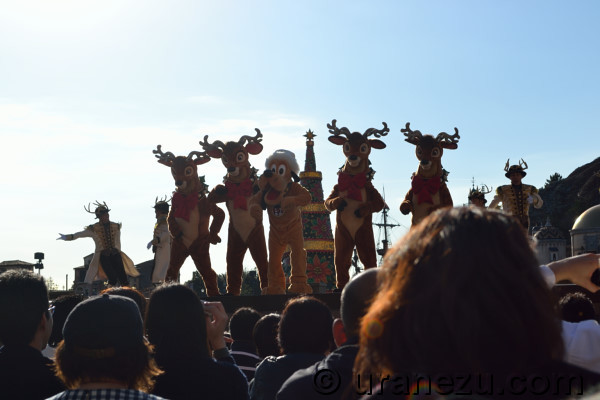 And reindeer dancers! They show cheerful and fun tap dance.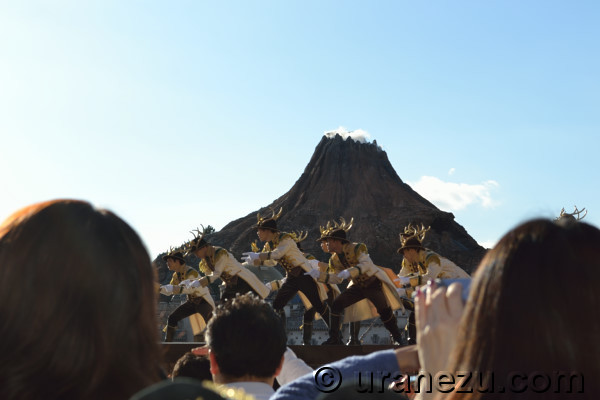 Donald and Daisy came to the main stage with many holly dancers. Their dance with hand bells and precision dance attract guests.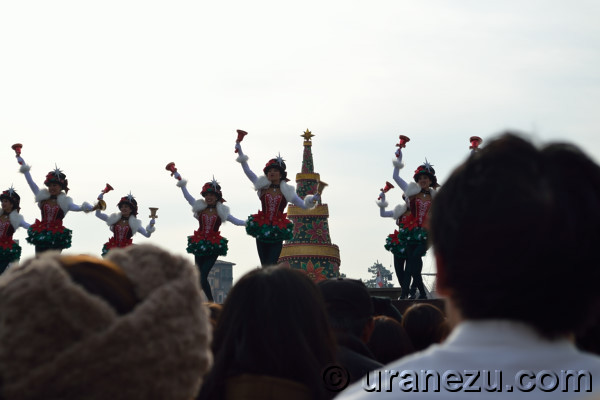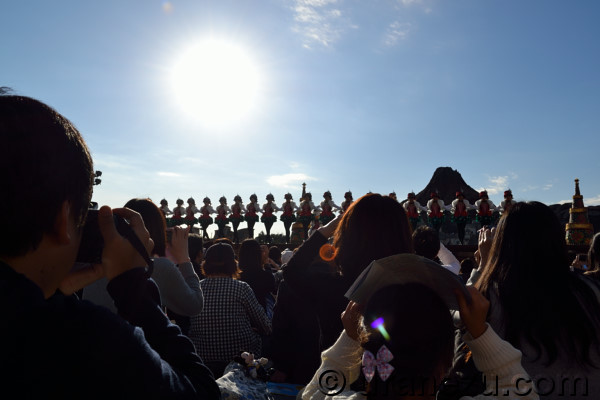 It's so fun, but Pluto notice that there is no dearest master.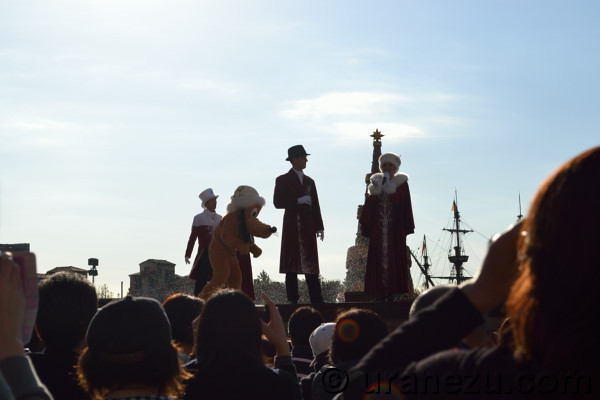 Mickey bring back to Pluto with a present.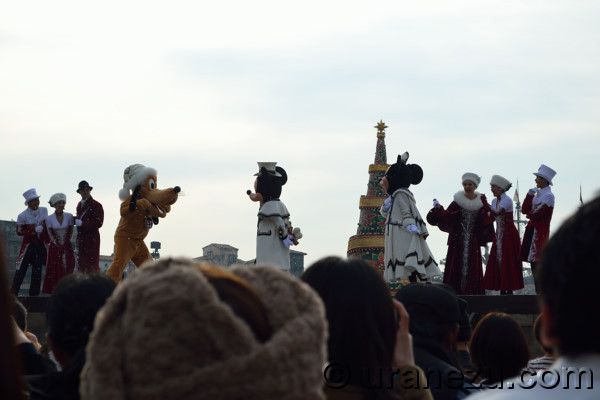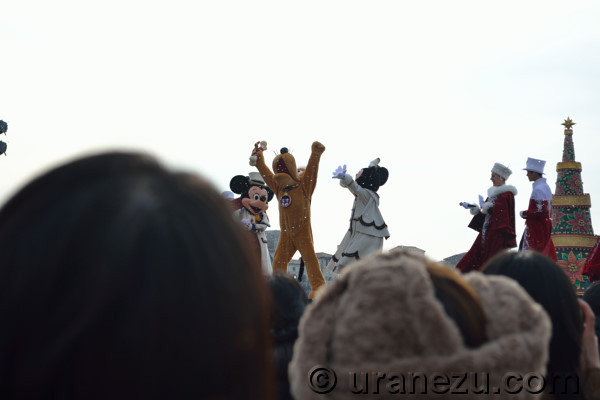 They stick together again!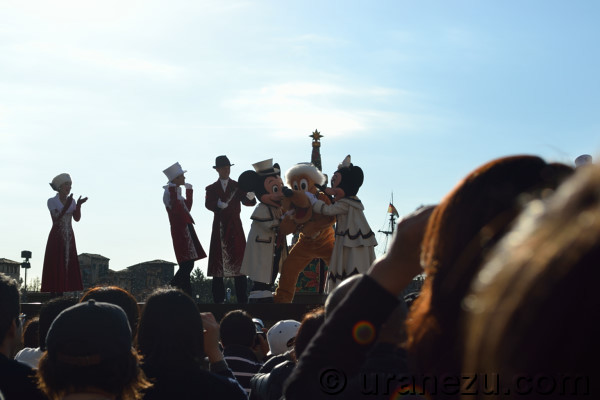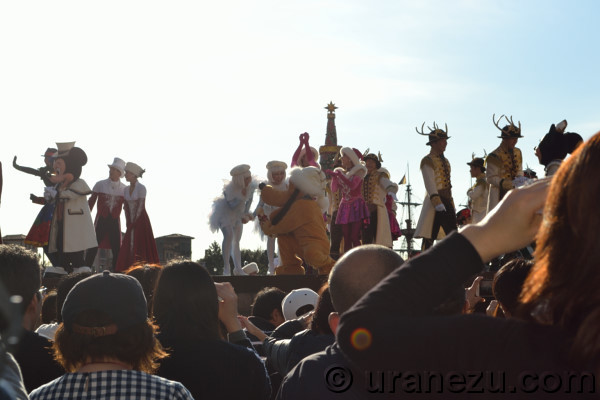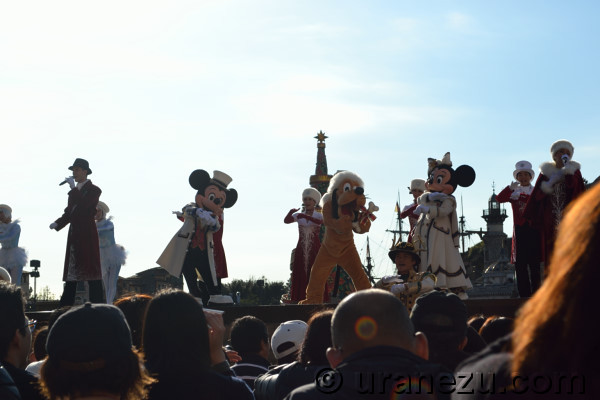 They sing "Welcome To Christmas" the amazing number which originated used for "Candle Night Reflection" the special harbor show in 2003 aloud with sign language which is wonderful and touchy.

The finale song back to "We Wish You the Merriest!" the opening number that is so authentic revue. And it's still new and brilliant.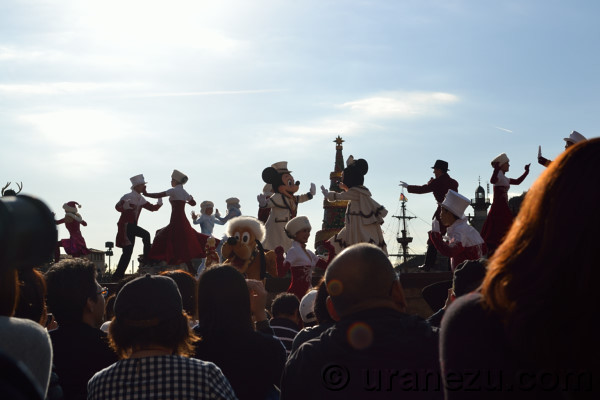 Santa Claus with full of fluffy friends sail to the very end of the show.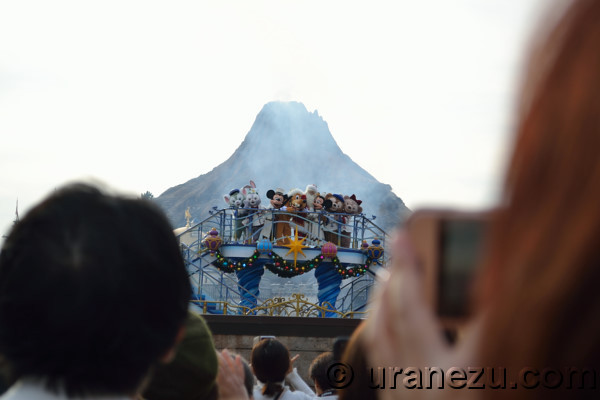 Live songs with dancers, just simple but it gave us a powerful and direct sensation. I recognized that we don't need any meaningless and too-much explanation-like lines.
I hope they keep running the stage show like this in every event.


Let's strolling around the park and chill out from the show excitement.
On my way to other port from Mediterranean Harbor,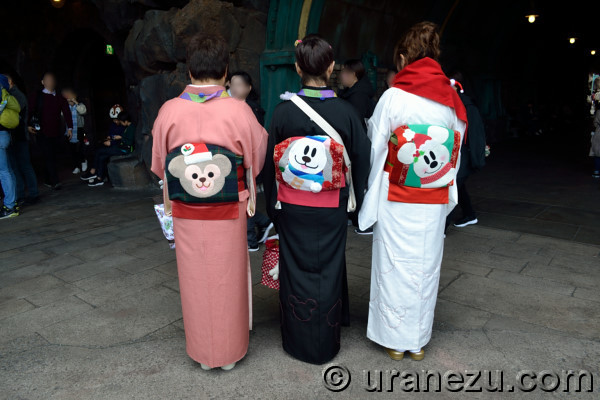 I could lucky to see these fantastic ladies who dressed handmaid TDR holiday Kimono.

Here comes Lost River Delta.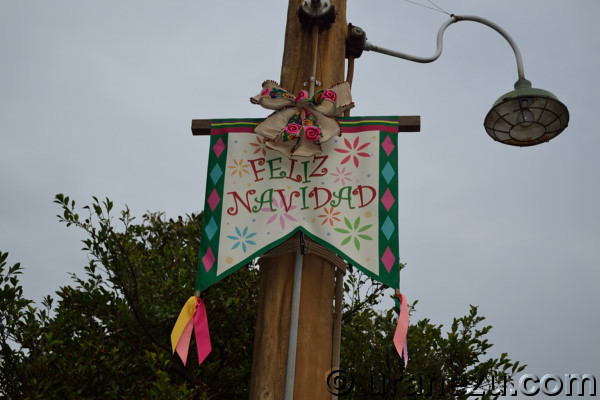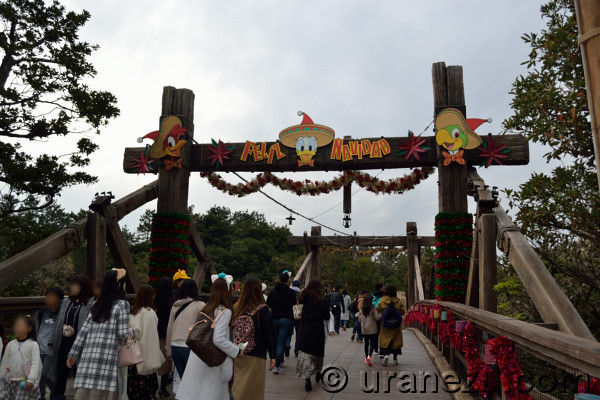 To get back a number of guests from TDL, the adventurous and mysterious atmosphere area turned into a just cheerful mood with characters.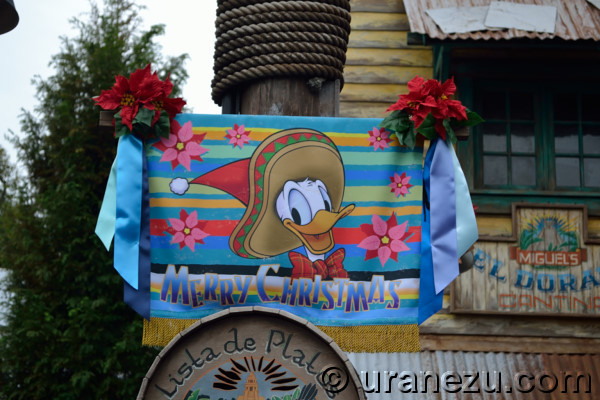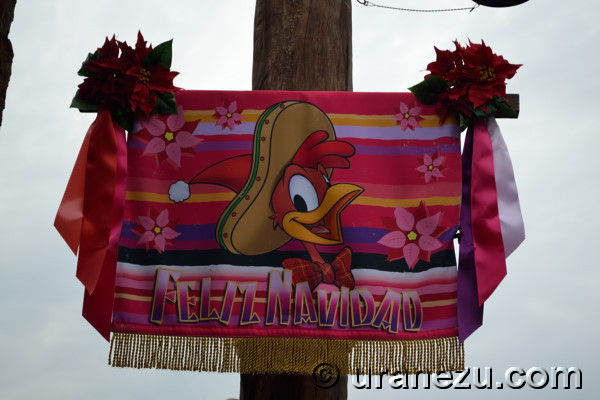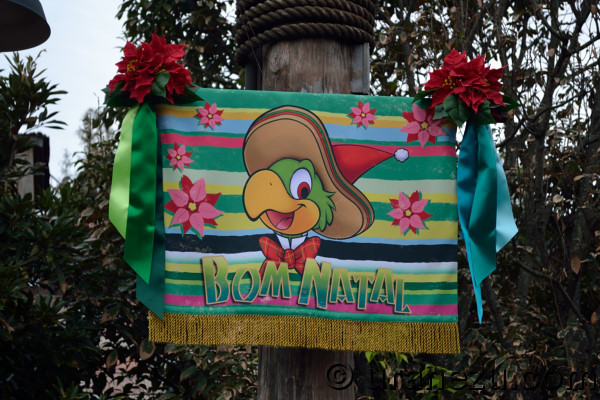 Especially, around Miguel's El Dorado Cantina the counter-service restaurant is adorned colorfully.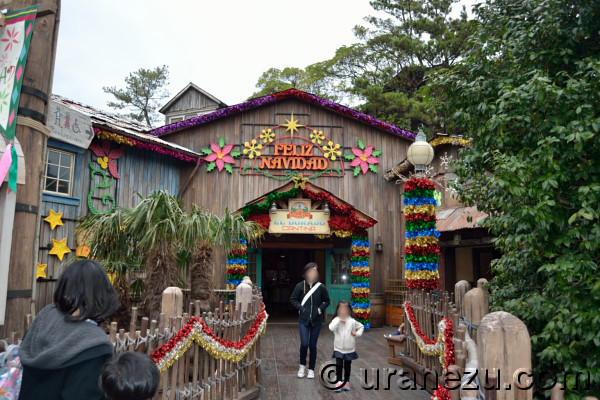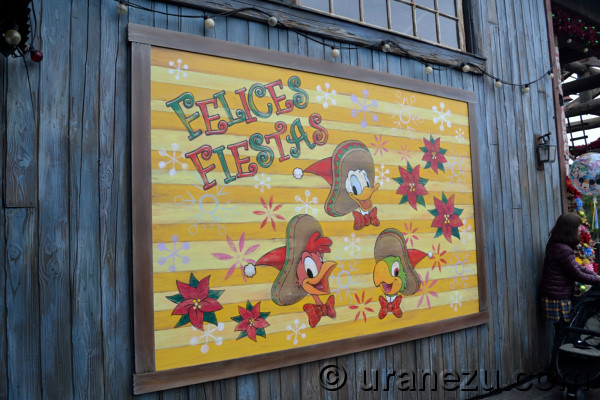 I like more Yucatan Base Camp Grill the restaurant holiday adornment.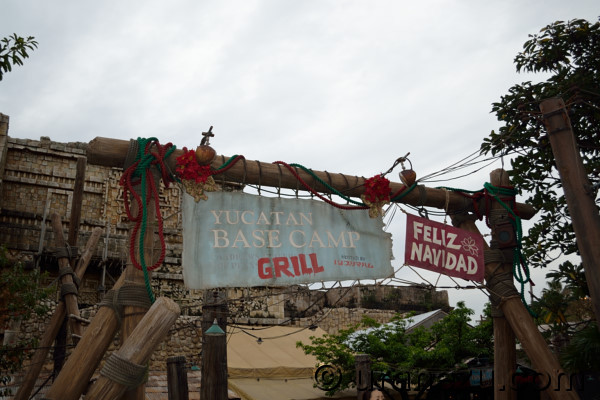 It's just red and green rope, but it gives the holiday atmosphere very much and really blended in the area theme.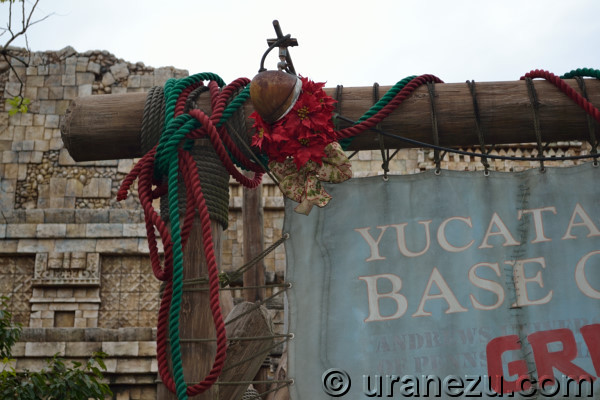 And they set more characteristic holiday decorations in all of Lost River Delta.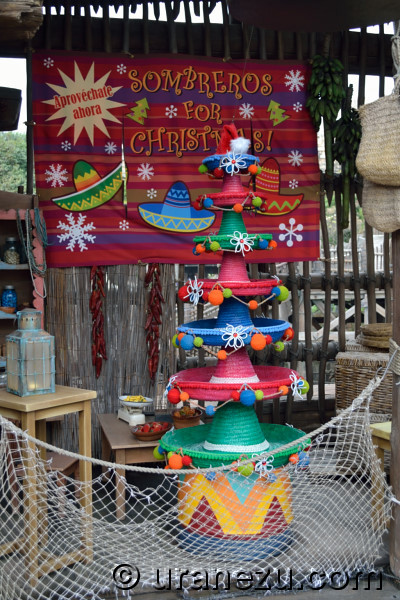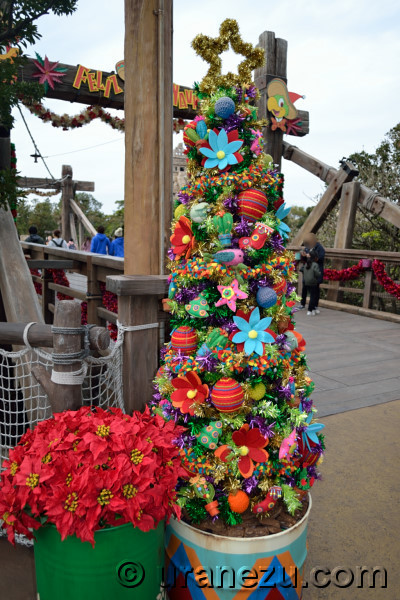 I like this felt material cactus ornament.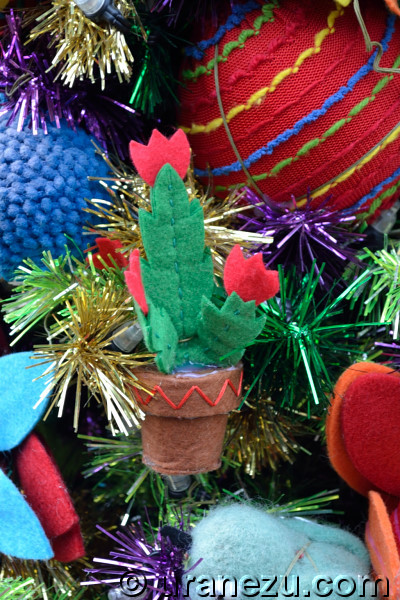 If you can find a queue lines near Hunger Stage, that is a new and special holiday photo location.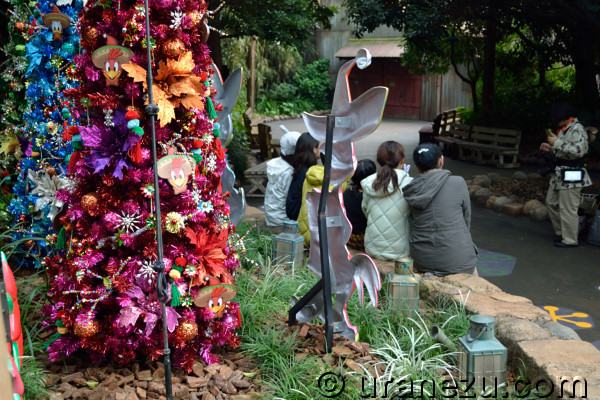 There is always lots of guest to take a photo at this spot.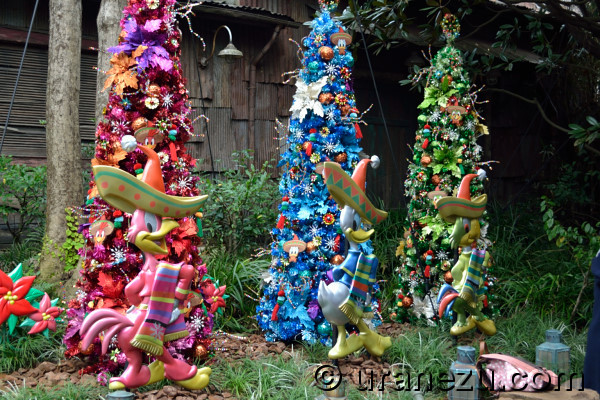 I don't think this is a smart way to queue up for taking a picture at here with waste your precious time.

So I'd like to share a tip for this!
There is a same panel without a queue line at another place in TDS.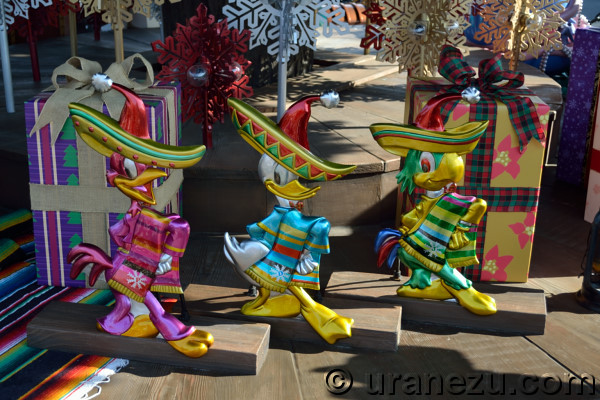 Little bit small, but the cuteness is never change!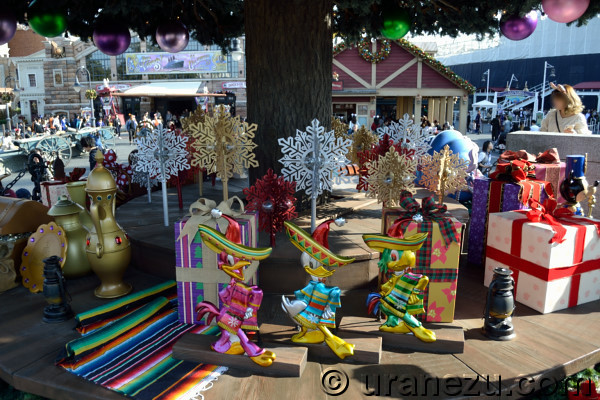 This is an underneath the Christmas tree in front of S.S. Columbia.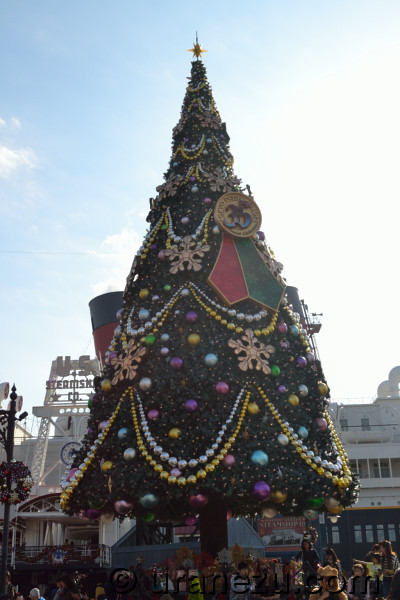 Speaking of the underneath, there are many stuffs from several ports.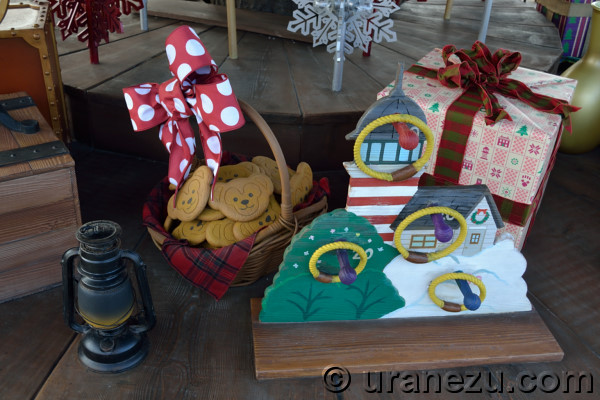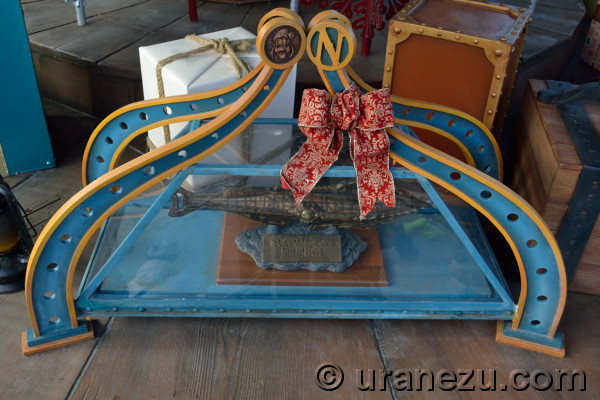 As you can see, the left picture is Cape Cod theme, and Nautilus is stand for Mysterious Island.

But this port is something missing…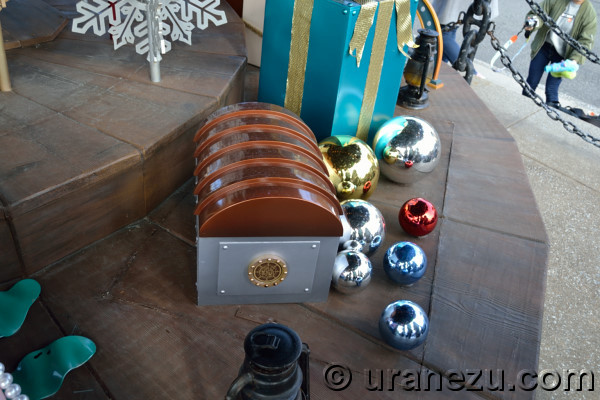 Nooooo! Please don't remind me in this way. It's very sad.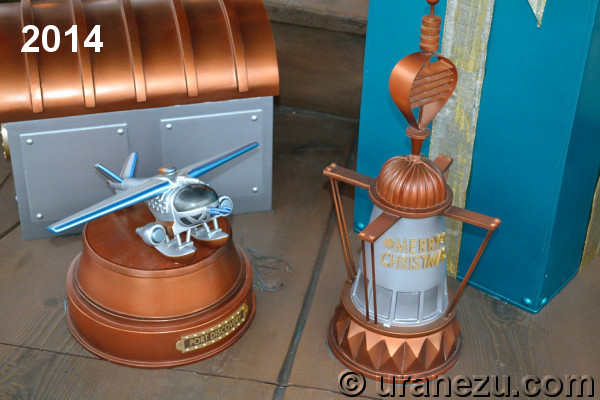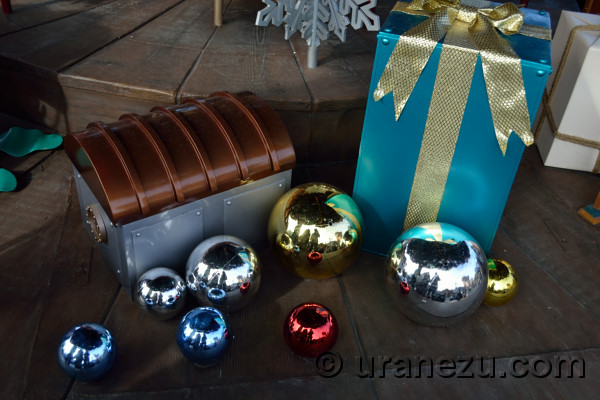 Why they did not put on Searider instead?

That's it!
Your favorite Christmas dessert or hot drink are waiting.
Christmas pudding, panettone, glogg, eggnog…etc.

But eating a piece of short cake the Japanese traditional Christmas cake after strolling in the holiday festive TDS is supreme, so let's come and visit TDS in this wonderful season. (And try Japanese Short Cake!)

I wish you a very merry holiday!
If you have any questions, opinions and requests,
please contact us.
Dec. 16 2018 About TDL Christmas 2018.
TDL Christmas 2018

Are you ready for Christmas?
TDL has already started the seasonal event from 8th November.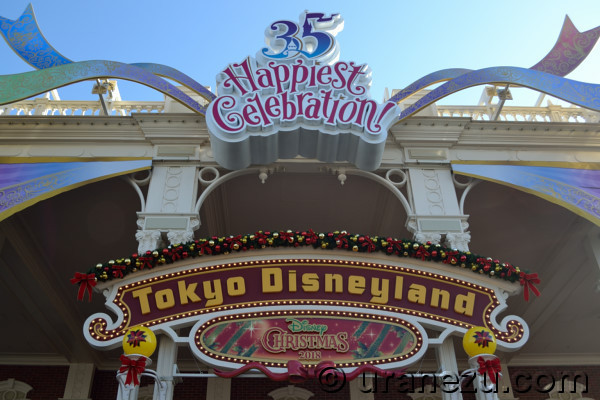 In this TDL 35th anniversary, there is no familiar huge Christmas tree in World Bazaar.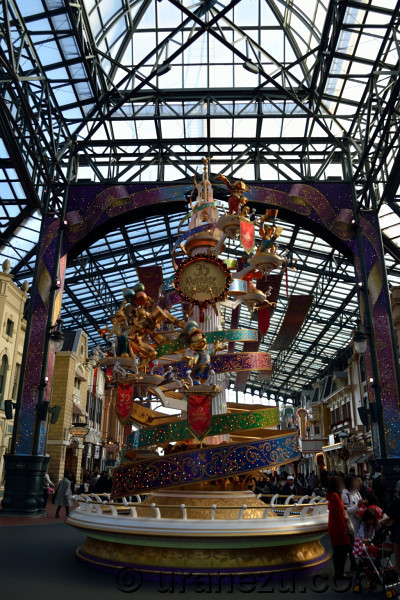 Because of this "Celebration Tower" the special monument was decorated through this anniversary year.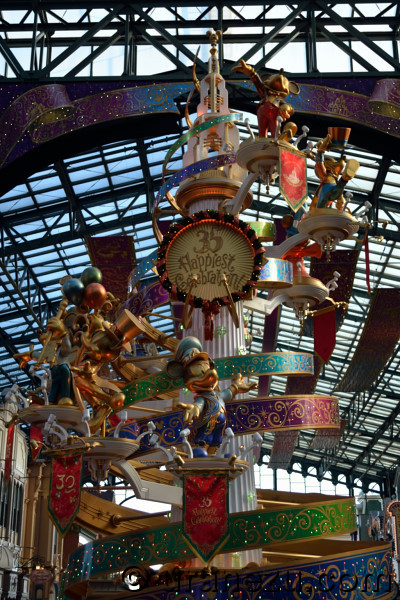 But don't worry, we can see a holiday color ribbons in some parts.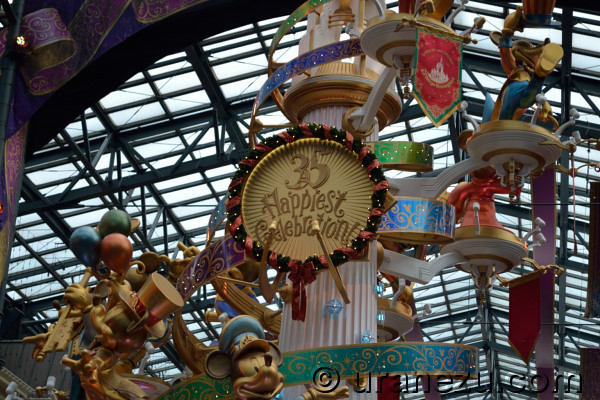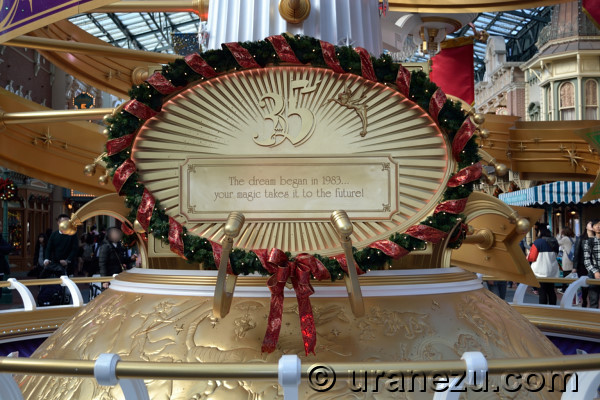 It gives little bit of a Noel atmosphere.
Don't be sad, still you can see a yule tree of TDL.
But where?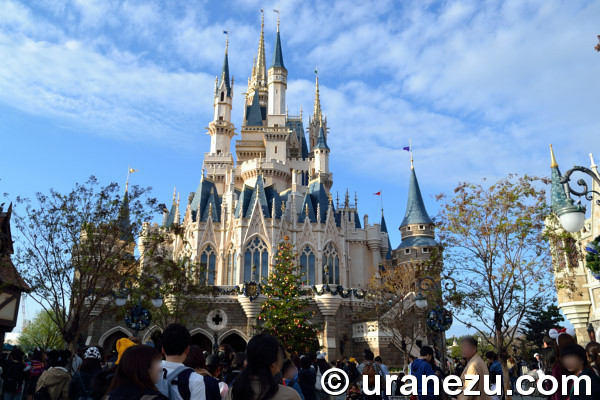 In this year 2018, the TDL Christmas tree is located in a back of Cinderella Castle.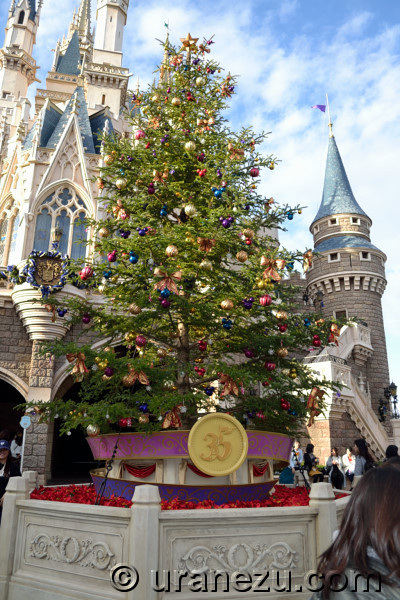 I think you feel that the tree is small than your expectation.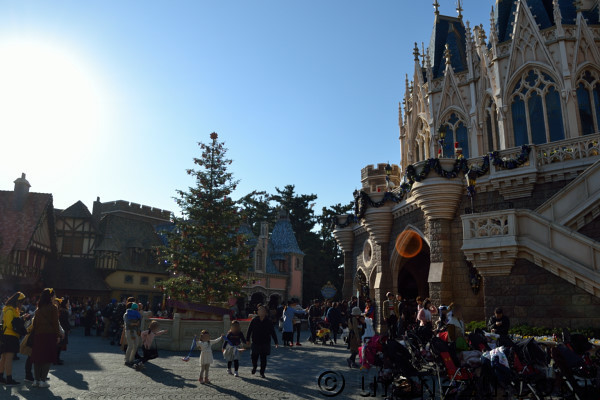 This is a real tree. So Mickey statue keep covering since early September which Halloween started.
Let's check another holiday decoration in TDL.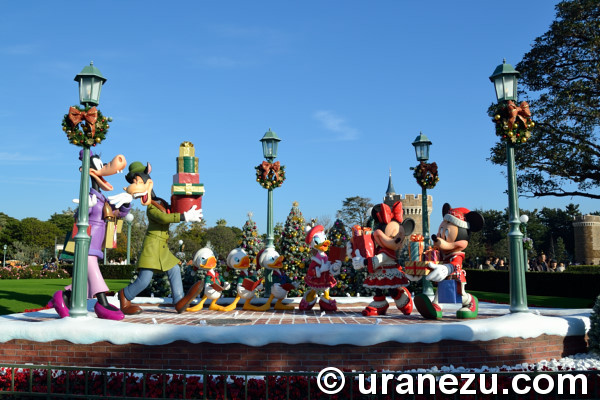 This year's main photo location looks theme of a holiday town.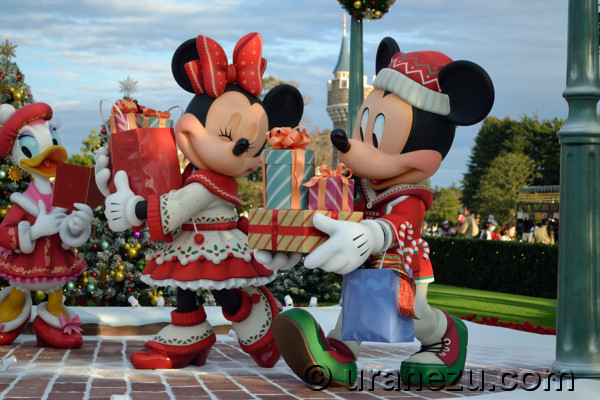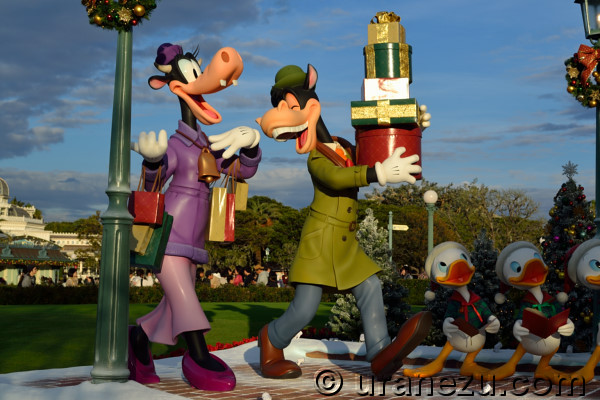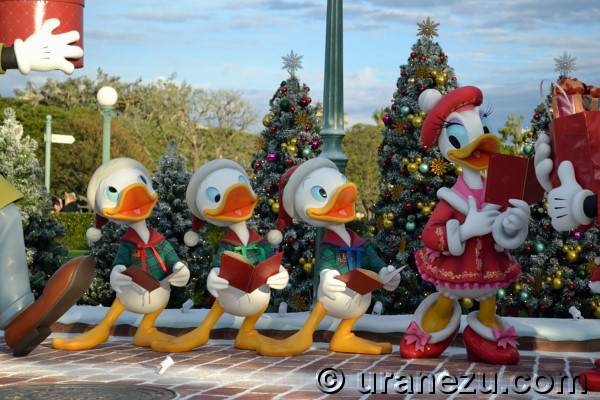 Another photo location is a Jolly Holly street.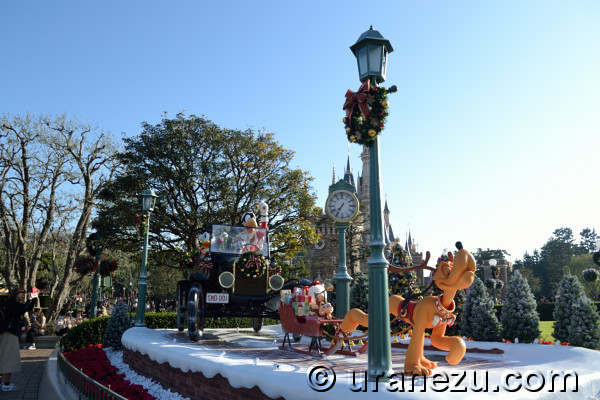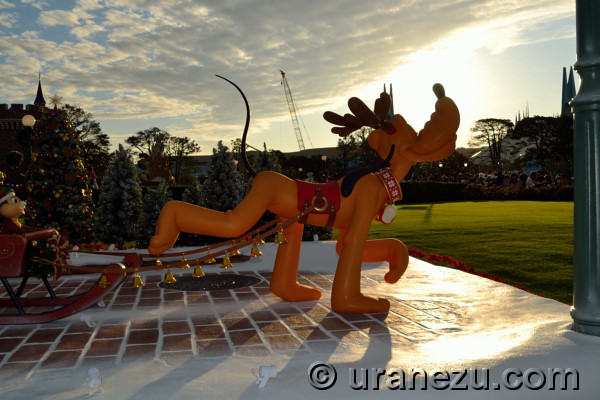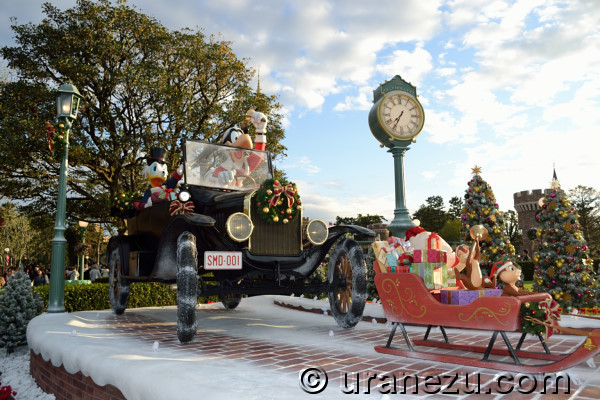 Anyone who have deep Disney knowledge?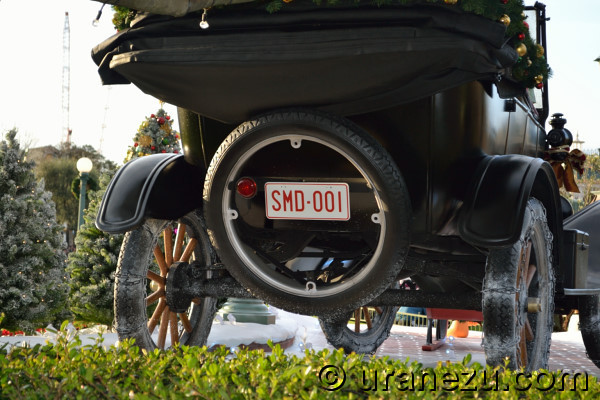 We can see the number plate's meaning.

But why the clock strikes 7:35?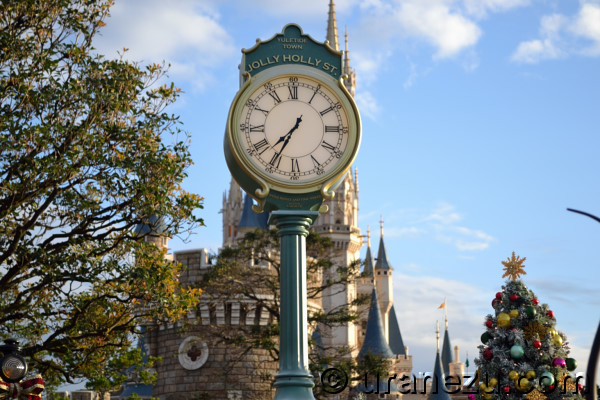 I wanted to know the reason of 7:35.
You can also enjoy two nice photo opportunities in other side of the hub.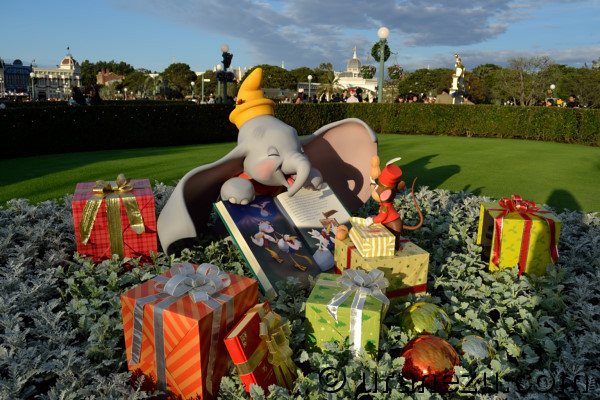 These two storytelling sights are same and familiar in this couple of years.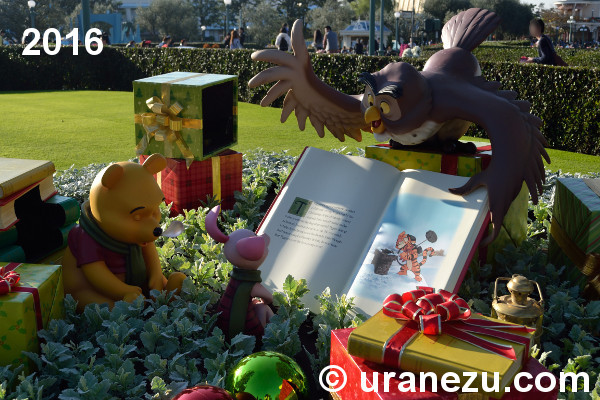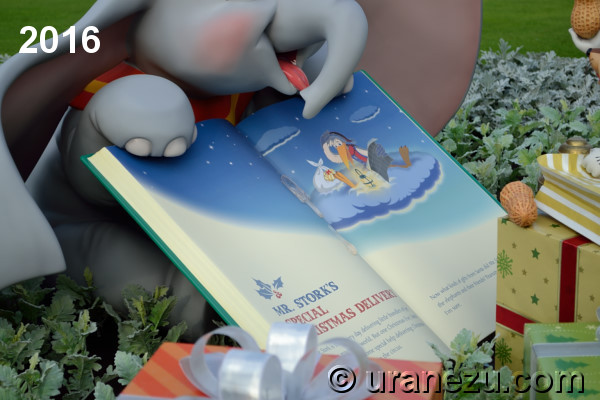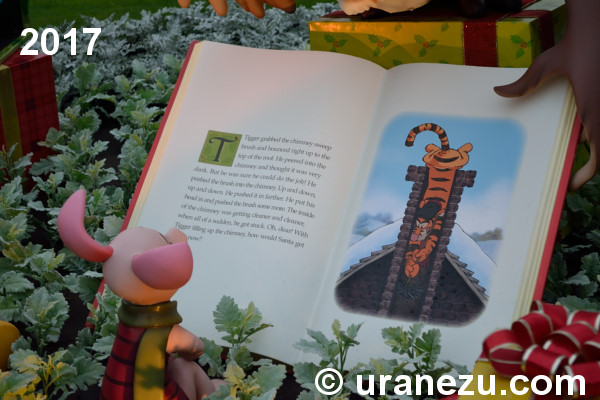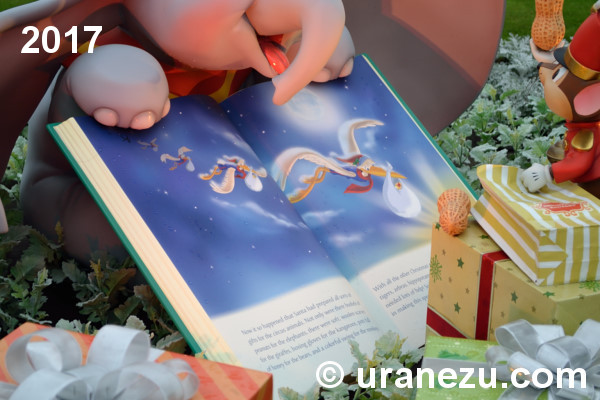 But look at these, the page is still keep going. I really enjoy the story with Piglet (not Pooh, he is always sleeping) and Dumbo in every year.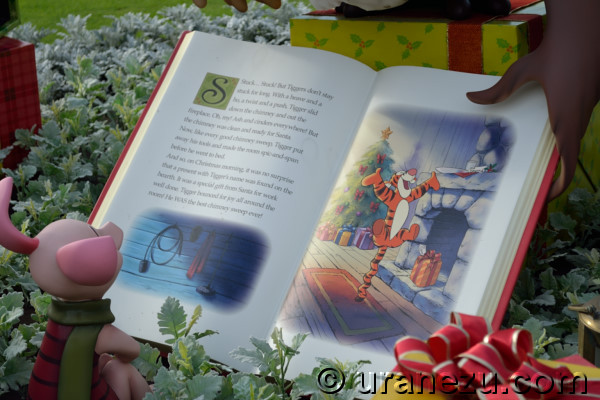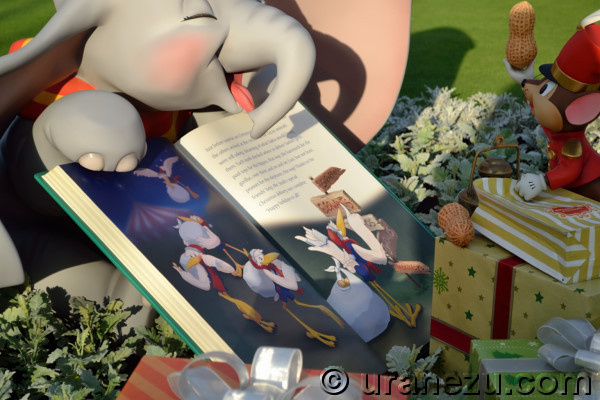 In this holiday season, they launched many "SnoSnow" the pushy merchandises which along with a story.
A window of "Disney & Co." the souvenir store has SnoSnow adornment.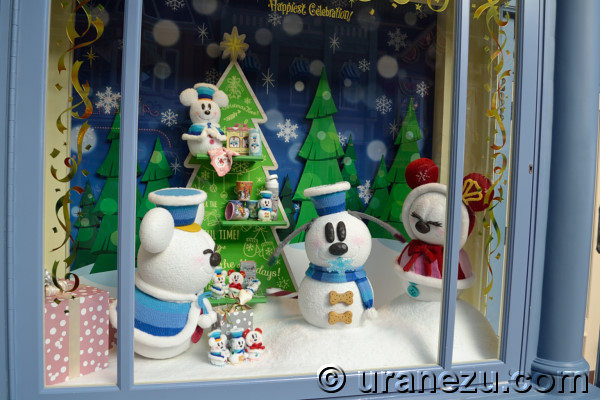 In this year, Snow Pluto debut.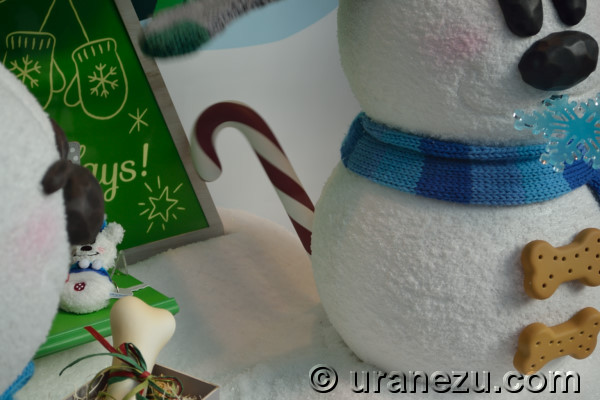 SnoSnow is not my thing, but yes I admit that his candy cane tail is so cute.
Too fast, so the candy cane tail hypnotizes me.
If you have any questions, opinions and requests,
please contact us.
Oct. 06. 2018. About 2018 TDR Halloween.
Time flies so fast!
This year's summer in Japan was too tense to visit TDR often, so I feel this Halloween came faster than ever.
Let's see, Do TDL 35th anniversary and Halloween have affinity or not.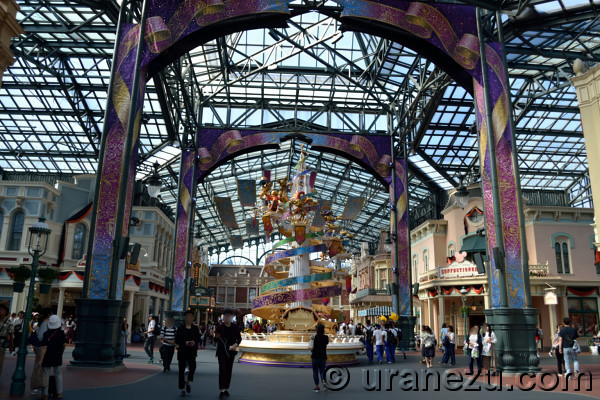 A center of World Bazaar has always seasonal decoration, but during this 35th Anniversary, there is no Halloween adornment. Because of "Celebration Tower" the special huge monument.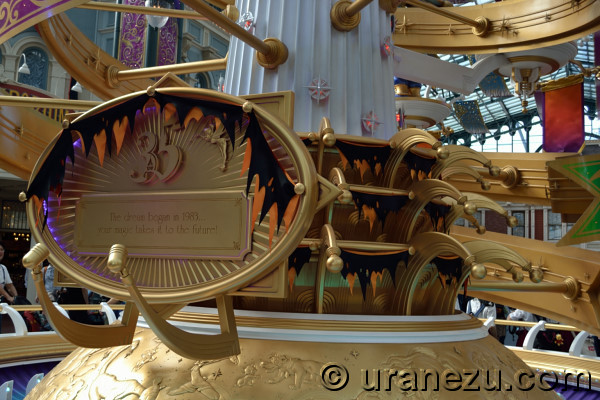 We can only find tattered Halloween color banners are on it.
But don't be disappointed Halloween lovers, some windows of shops have wonderful display.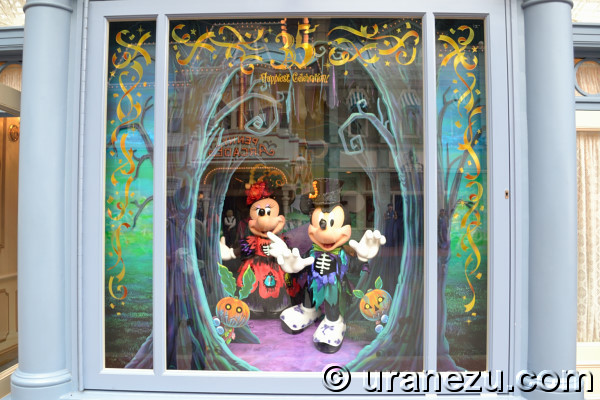 Look at their new Halloween dresses! It's so nice. In this year, TDL Halloween titled "ghost version of Tokyo Disneyland". Especially, the main feature is "quick change" at "Spooky Boo!" the special parade.
That's why a special pin of this season is lenticular.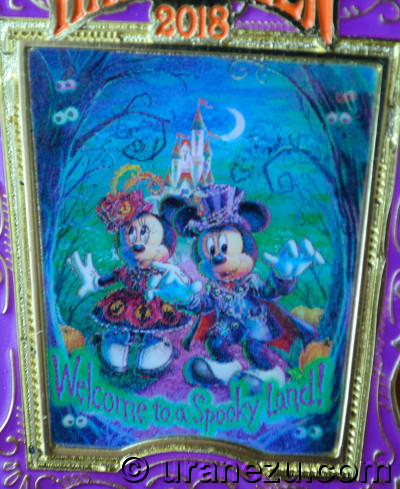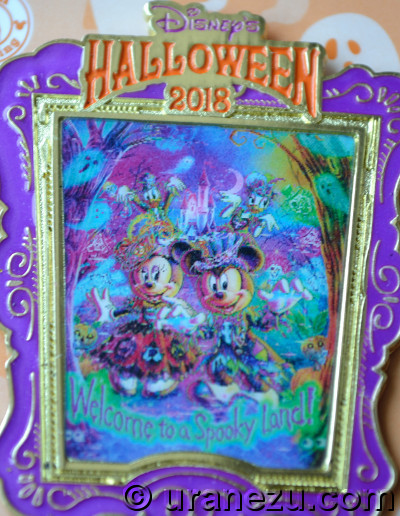 We can cee transformed costume at the show window in World Bazaar.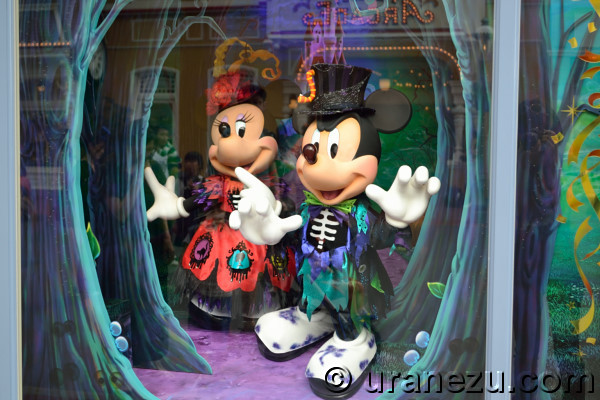 And don't miss another window of "Disney & Co." the merchandise shop.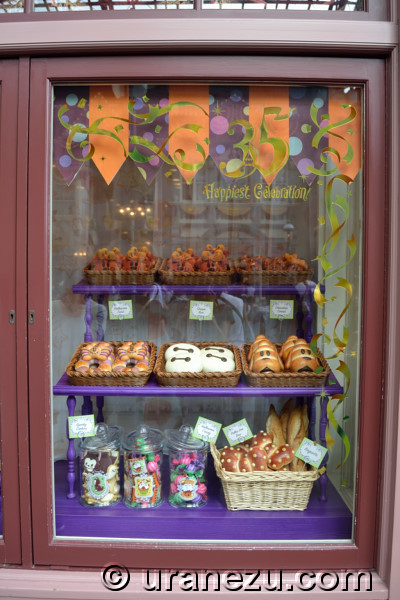 What are you feel if you get a bread as a treat instead of candies or snacks in Trick-or-Treating?
But if we get such a lovely bread as below, we'll be exciting definitely.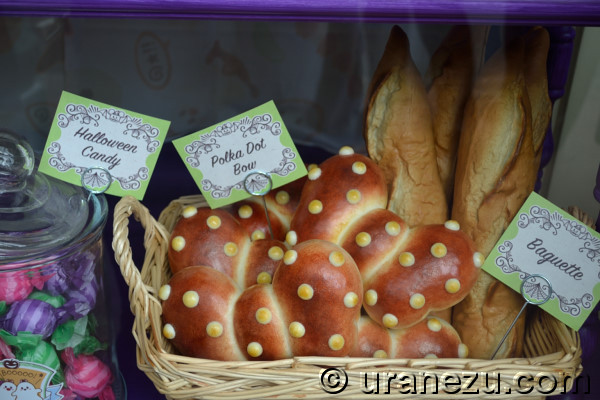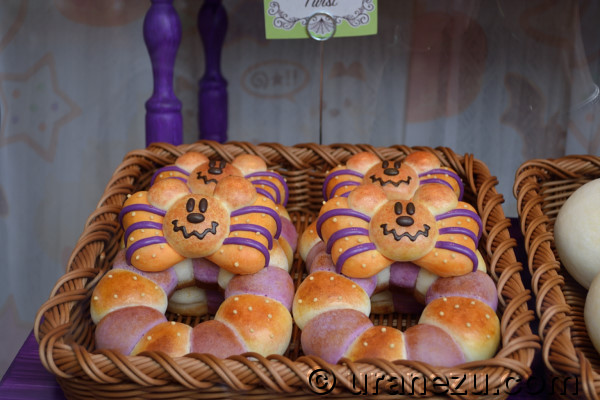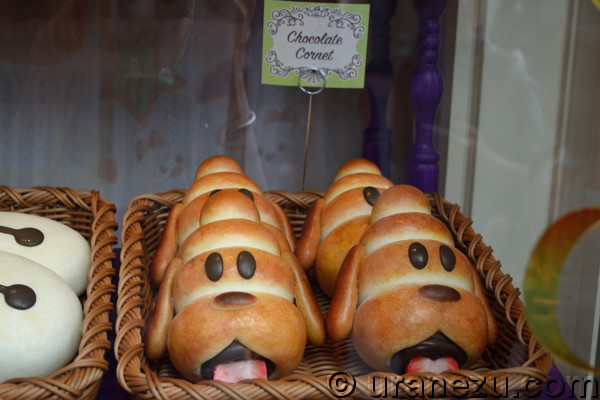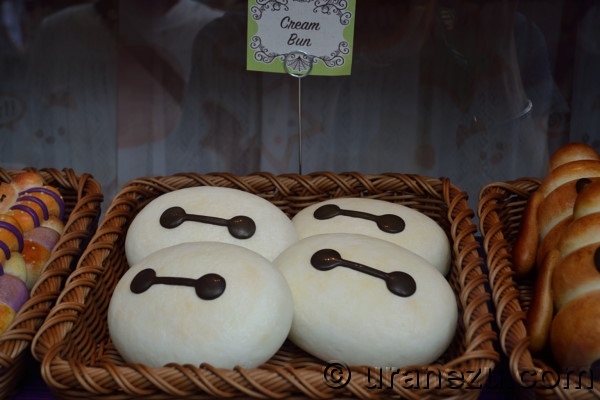 Yeah I know you'd like to get these cute breads. But we can only buy Bread-like-Mickey coin case and Bread-looking-Mickey palm-sized key chain..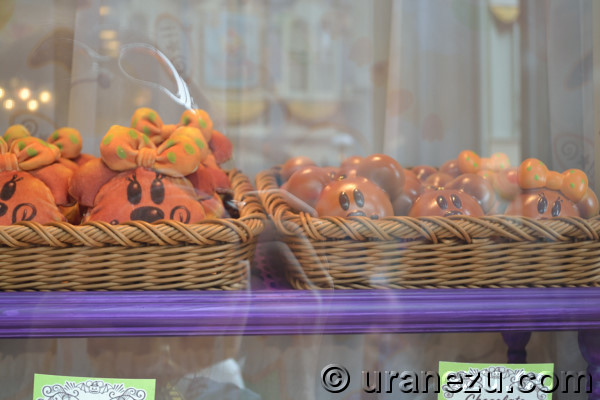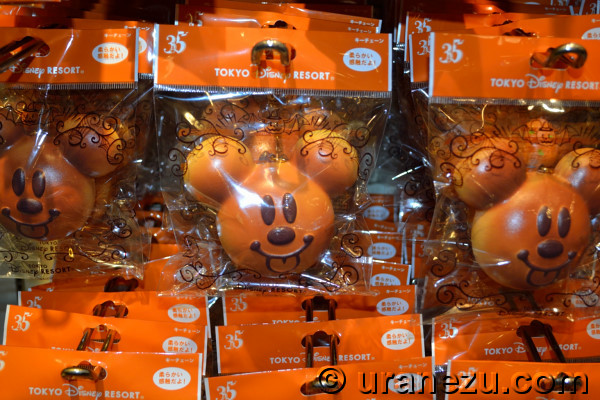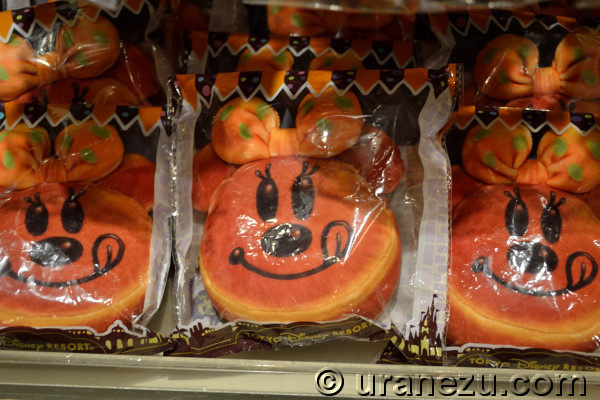 The funny thing is the decorator of OLC changed the row of this bread shelf recently.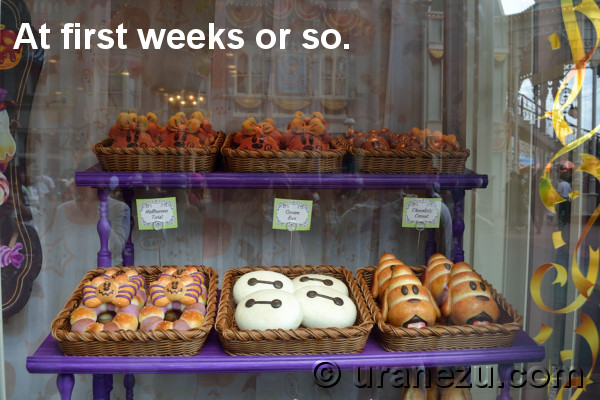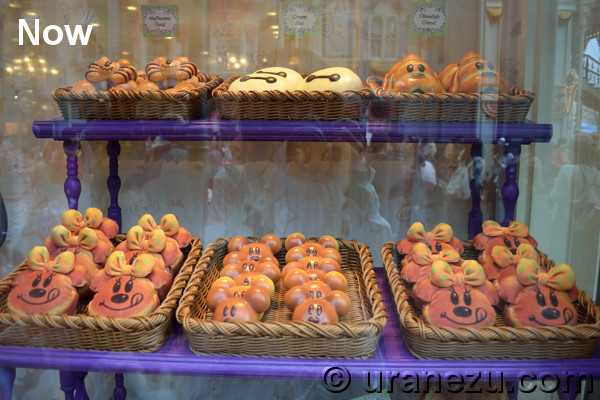 I think they'd like to highlight the merchandises than nice decoration.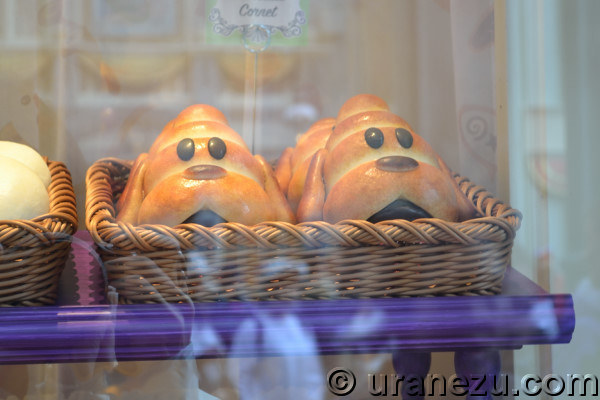 Therefore, it became difficult to see the most lovely Pluto bread with strawberry tongue.
Speaking of merchandise,
I'm not TDR capsule toy person. But this time of it is quite nice, so I'd like to share with the latest one.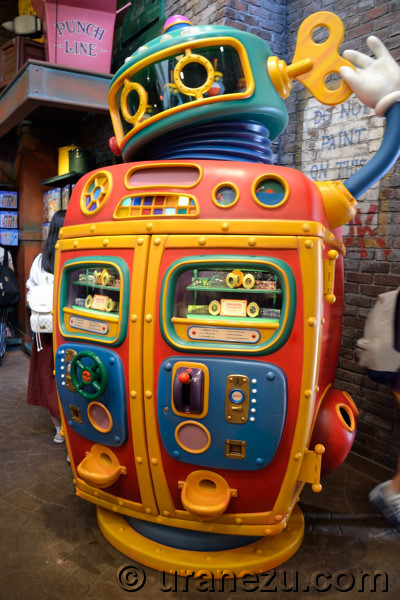 We can get a small seasonal event themed toy in a plastic ball for about 500JPY.(the price will be changed depend on the cost of the toy and their greediness.)
2018 Disney's Halloween capsule toy is,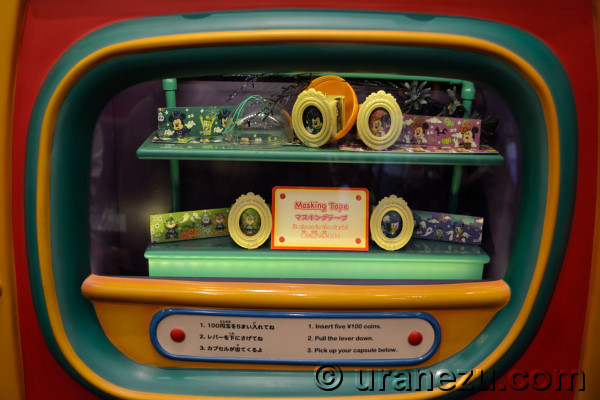 It's just Disney friends' masking tape.
But my favorite and notable point is the tape cutter, not the masking tape itself.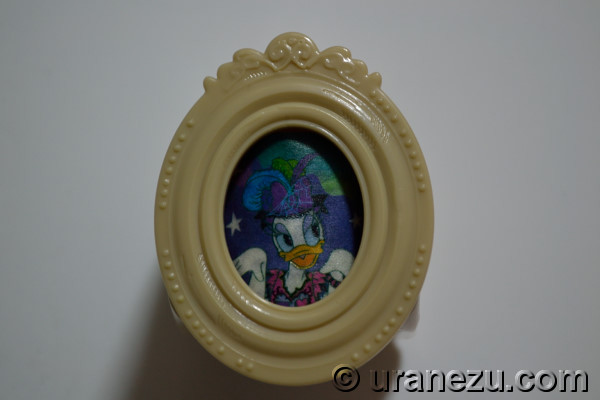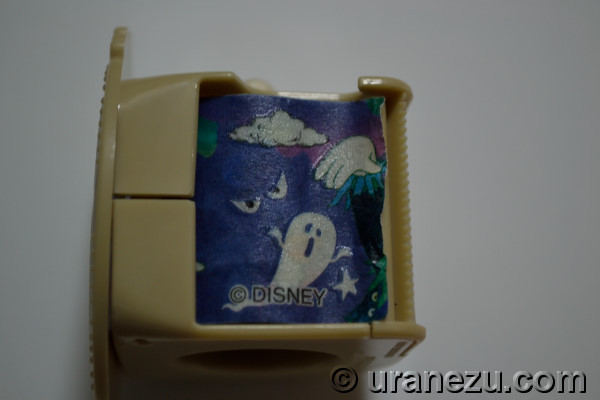 The tape cutter is shaped a frame. So you can decorate this masking tape as a paint. I like this nice design. And tape is glow-in-the-dark!
The capsule toy machine is located "Gag Factory" in TDL Toontown.
At "Kiss de Girl Fashions" in TDS Mermaid Lagoon also has the capsule vender.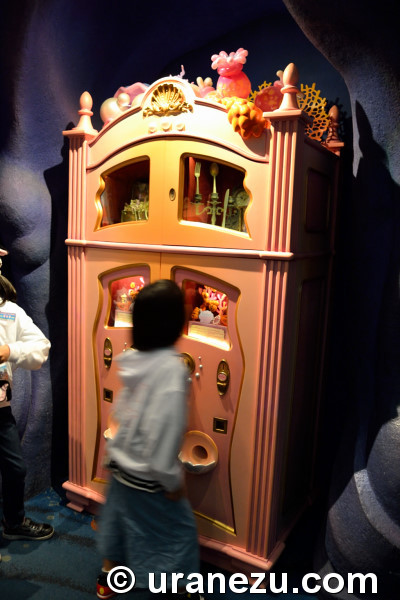 Very surprisingly to me, TDS's toy is "The bread key-chain" which I introduced as above!
Why do they sell them in TDS not TDL!?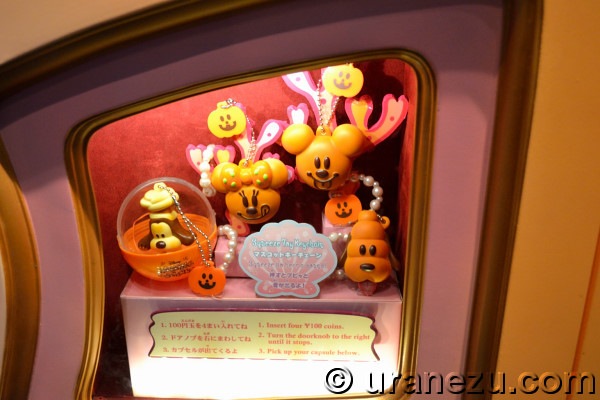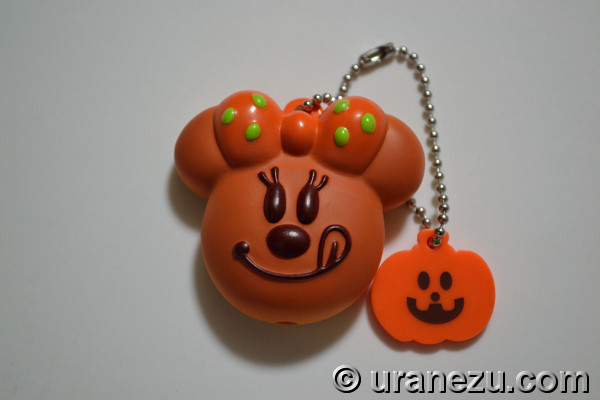 Anyway, this masking tape with frame-shaped cutter and bread key-chain can get only this year's Halloween.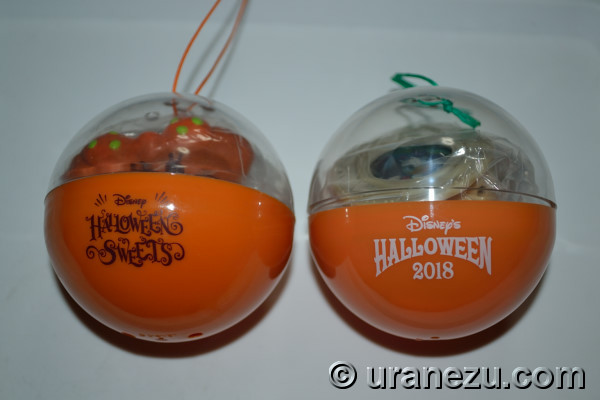 So let's get back to the park decorations.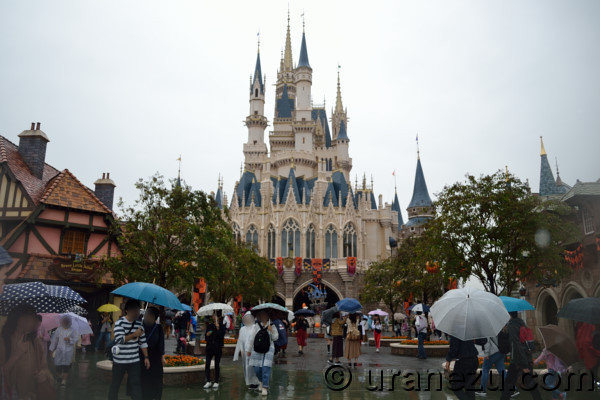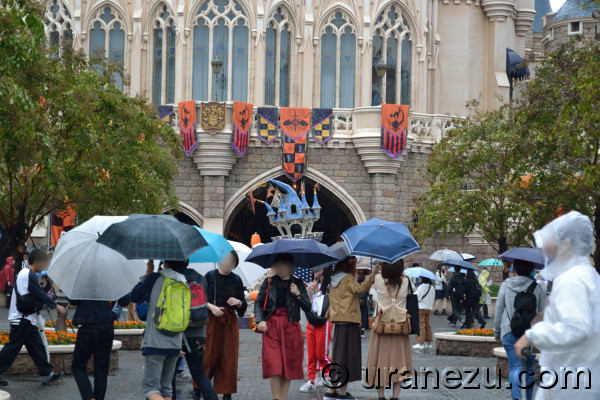 A back side of the Cinderella Castle, there is a Kingdom Hearts evoke-able special photo location.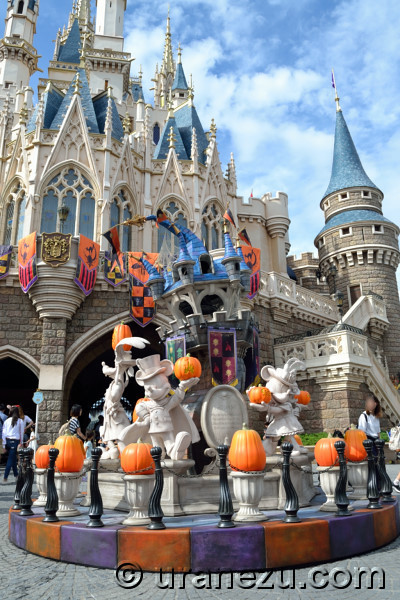 Did you find this twitched castle covered a sorcerer Mickey statue? Oh, Mickey, please stay the inside until Halloween's end!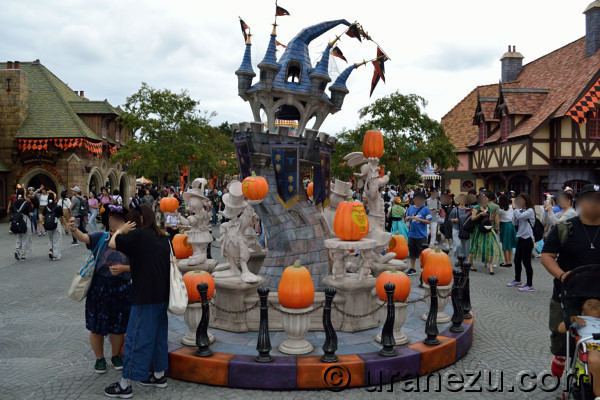 And we can see ghosts' hustle bustle Halloween around the hub.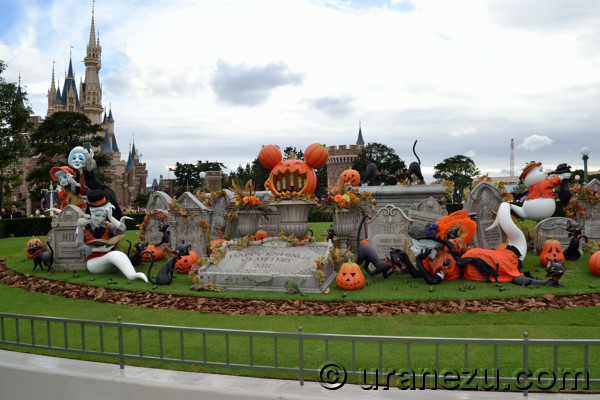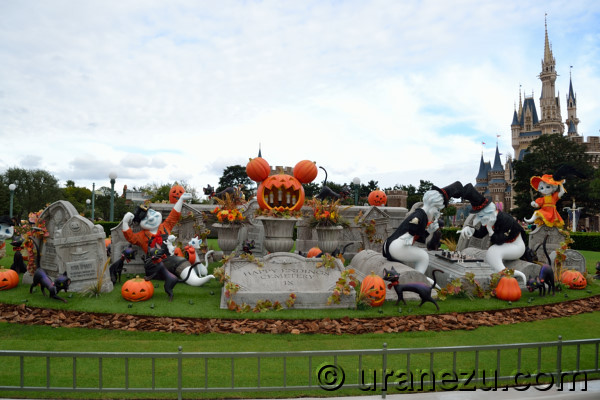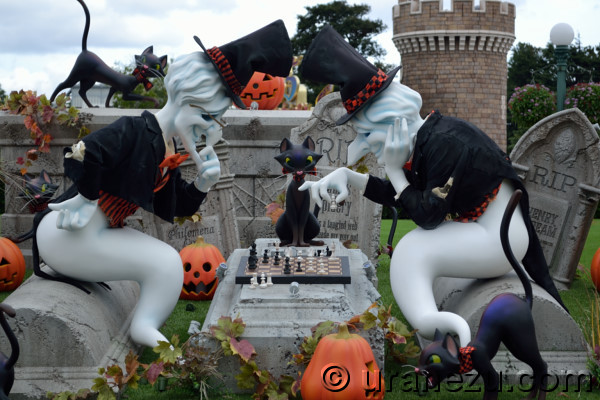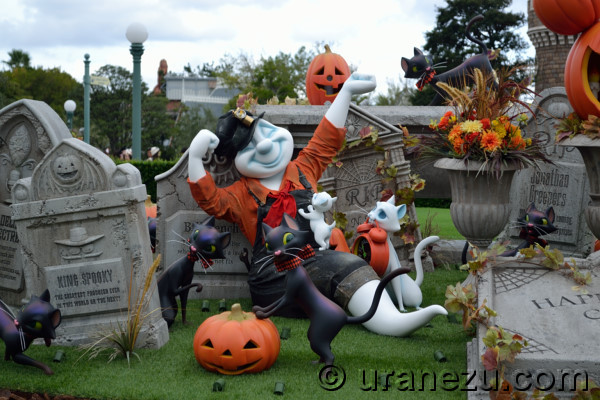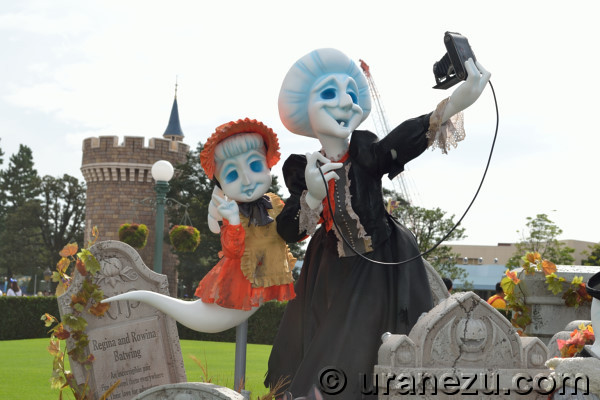 I'm little bit shocked that a selfie is also popular among the other side.
Let's move to TDS Halloween!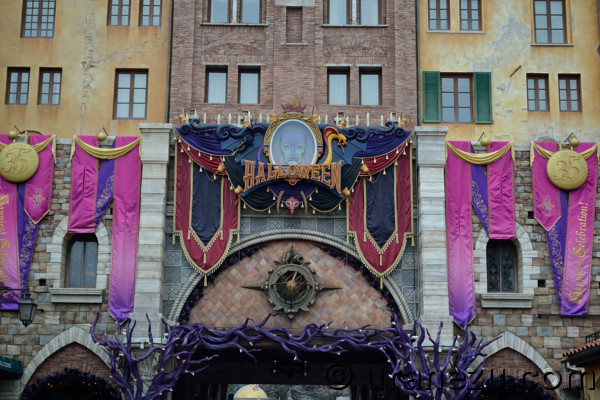 Basically, Halloween decoration in TDS is nothing changed from the last year's park adornment.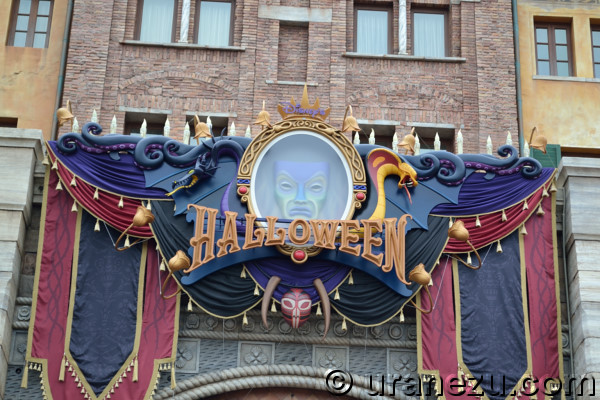 Except one big thing.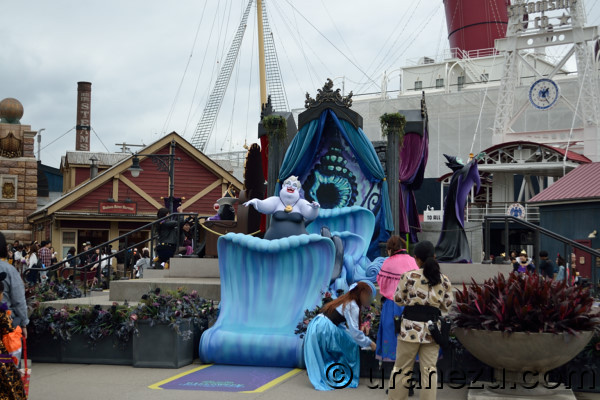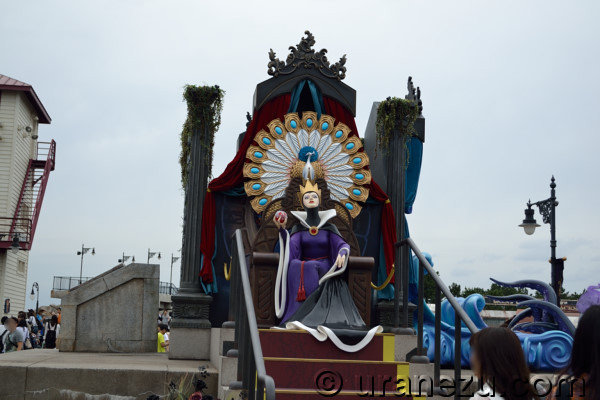 Step-into-the-story photo opportunity has launched in 2018 TDS Halloween!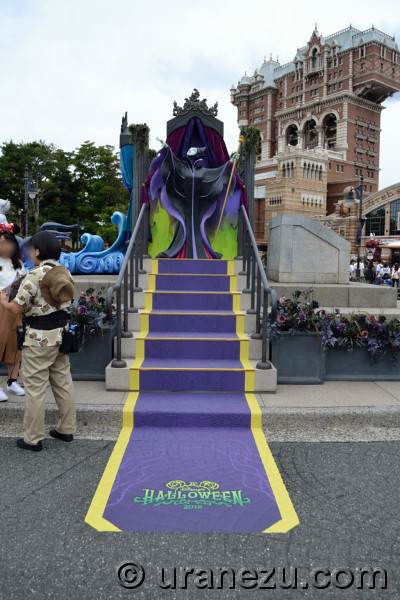 There are three wonderful photo locations in American Waterfront.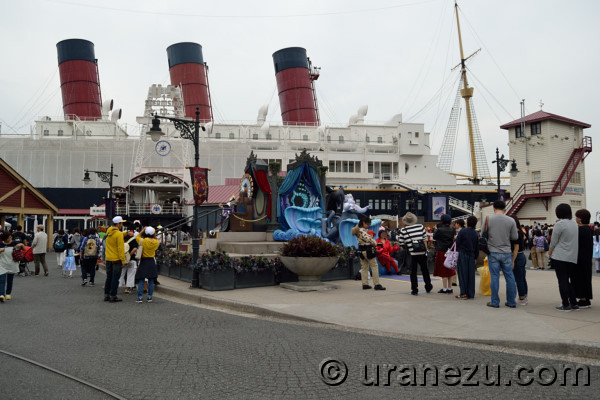 TDS Halloween theme is always "Villains" in couple of years, so these beautiful spots fit so nice and perfect.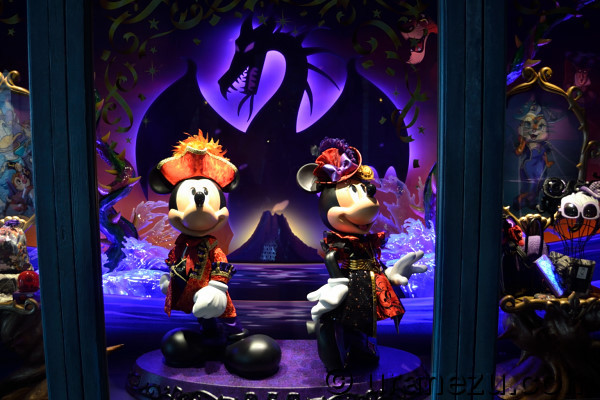 Unfortunately, for now, there are fewer full-costumed people than the last year's Halloween.
So I hope these nice photo opportunities will lure them into the park.
If you have any questions, opinions and requests,
please contact us.