Amazing Halloween Costume
> 2013 Part 01
---
---
Please do not use uranezu pictures on other websites without permission.
Please do not use uranezu.com cosplay pictures on other websites. All of the cosplayers of this site gave me a permission to use only on my website "uranezu.com". Thank you for your understanding.
If you find any copies of the uranezu cosplay pictures in any other places being used on a web site, printed or sold without my permission, please inform me as soon as possible, for there is a possibility of an infringement of copyright. It is also helpful if the URL(if there is one) or the place they are being printed or sold is indicated, so that it is possible to warn or to take legal actions against the person involved.
For many cosplayers gave their pictures to uranezu.com., please understanding and support this.
2013 Amazing Halloween Costume Part 1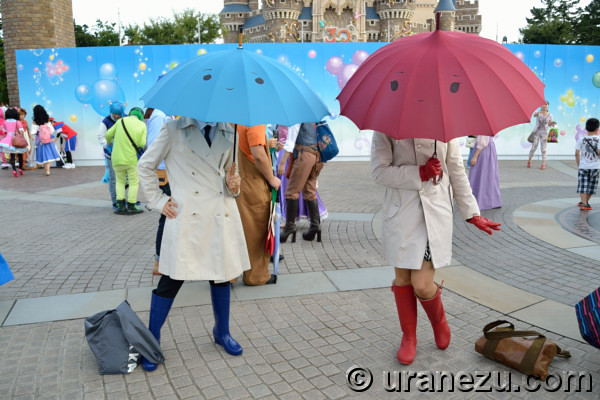 The latest, the prettiest!
An opener of 2013 TDL Halloween are this lovely umbrella girls. I always surprised that a guest's imagination. They expressed the short film world perfectly and beautifully.
"Mr. Blue & Femme fatale" from "The Blue Umbrella".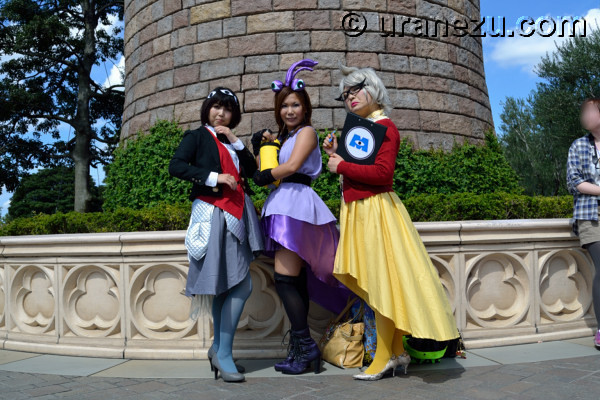 Senior Officials!
This company employees are very attractive and gorgeous. Their color, texture and accessory, each details are well-designed. I was impressed Randall lady's scream-tank-shaped pouch too.
"Henry J. Waternoose III, Randall Boggs, and Roz" from "Monsters, Inc."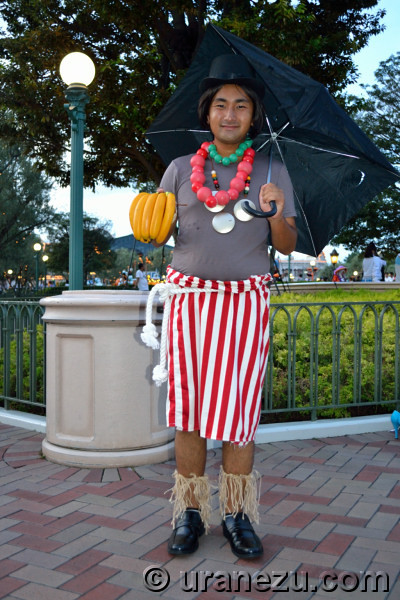 The Times have Changed!
I am big fan of him. He always nice choice for the Halloween. There are many Disney prince and princess, Disney pals, and many character from Disney animation, but there's only one Sam in TDL. I like his elaborated broken black umbrella. In TDL, Sam's belongings were changed a bunch of bananas from shrunken heads. (Did you know Trader Sam is same as "Lampwick" in 2010?)
"Trader Sam" from "Jungle Cruise" the attraction.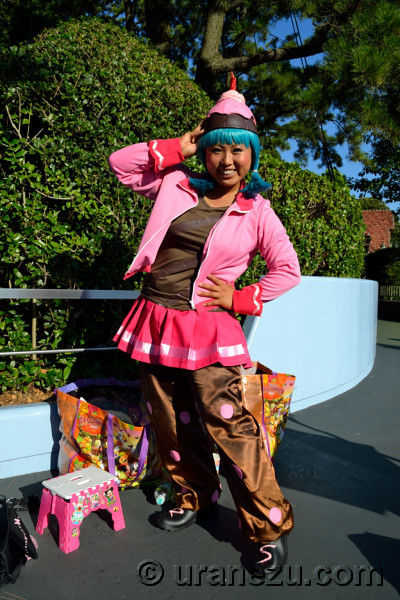 Light TDL Up!
She is one of the merriest Candlehead in TDL Halloween. Look at her mouth-watering headwear! And her shoes with piping decoration are exactly the same as the movie.
"Candlehead" from "Wreck-It Ralph".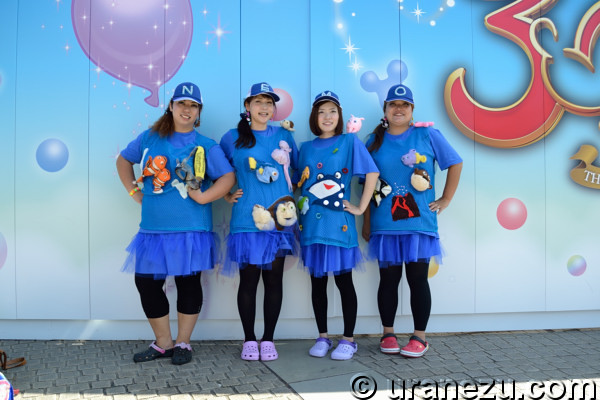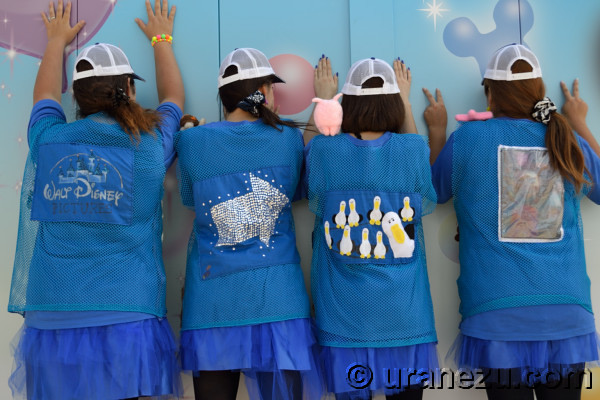 Story Tellers!
I like their lovely teamwork costumes. They wore a decorated blue mesh vest on a blue T-shirt and a blue tulle netting skirt. It gave me a cozy summer seashore ambience. This cute girls really enjoyed TDL Halloween which made me happy too. And look at their backs, it's nice!
Surprisingly, their back is more elaborated.
"Finding Nemo"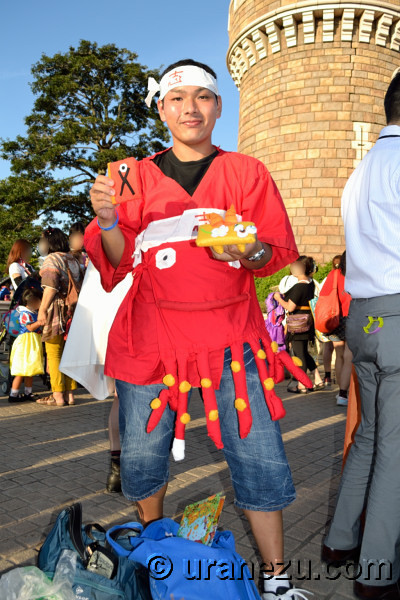 Celebrity Chef!
I was impressed his costume which adorned the T-shirts. It was brilliant idea! He hold a little bit creepy sushi exactly like movie, and it arranged in the form of Micky-shape! It's nice. Hary is more popular in Japan because we can meet him at "Monsters, Inc. Ride and Go Seek!" the attraction. (Did you know Harry is same as "Wheezy" in 2012?)
"Harry the Sushi Chef at Harryhausen's" from "Monsters, Inc.".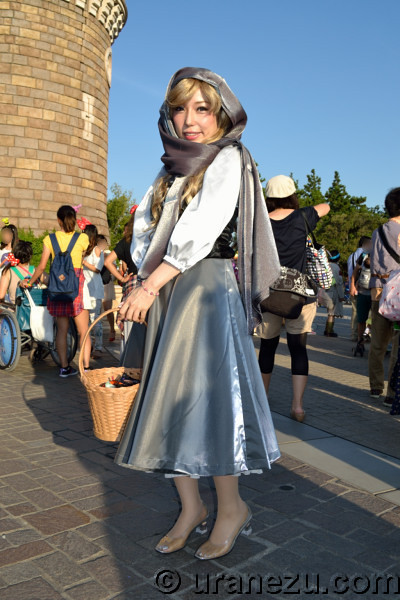 Incognito Visiting!
She was very attractive especially in rosy glow before sunset. Her dress made of a smooth and glossy clothing fabric, so she was shining literally. And I like her barefoot-look shoes. I was impressed her passion of the quality.
"Briar Rose" from "Sleeping Beauty".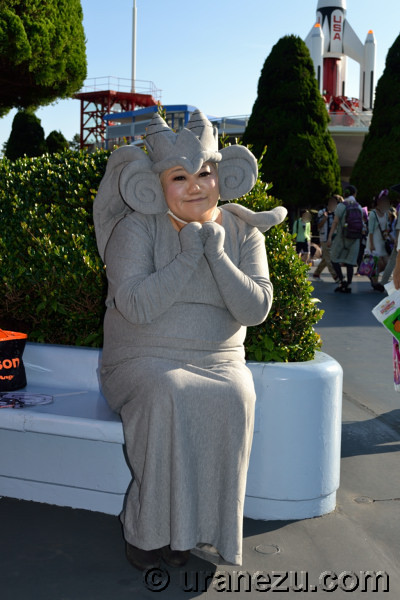 Oh la la!
I surprised what a elaborated costume was. The head wear, wings, and color, everything was exactly same as Lavrne in the movie. And she had absolutely essential for the Halloween disguise, it's a big smile. She's so charming!
"Lavrne" from "The Hunchback of Notre Dame".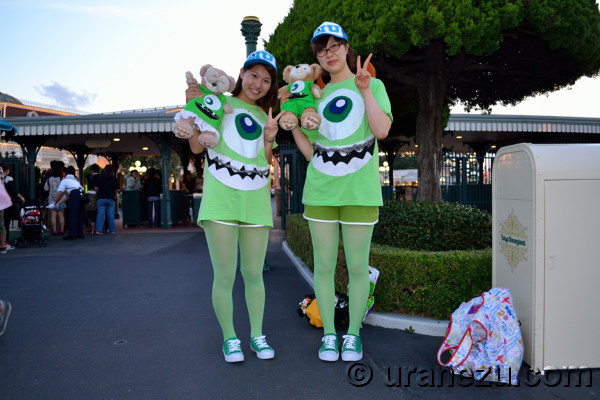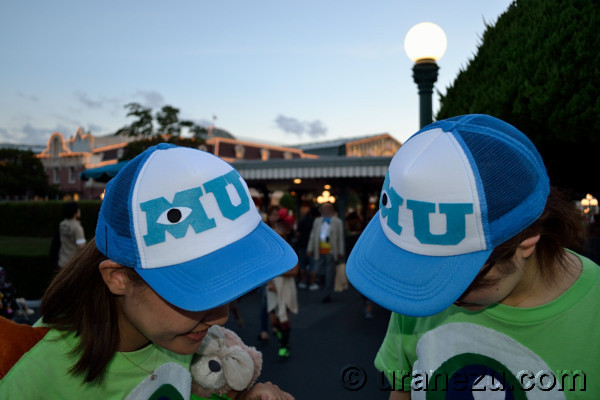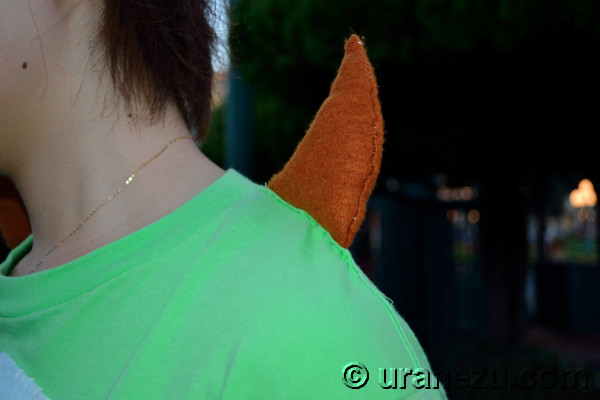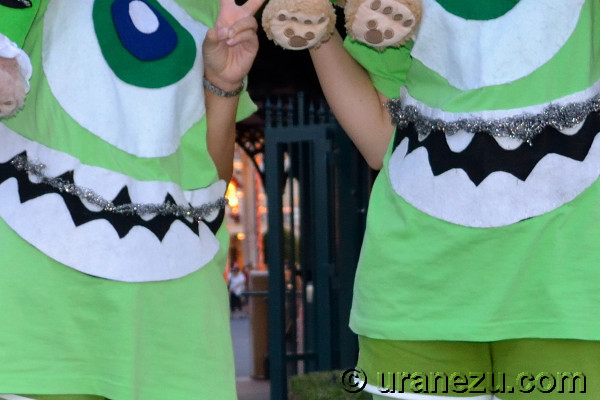 Braces are Charming Feature!
Luckily, I encountered pretty young Mikes at TDL entrance. The horned T-shirt, university cap, and Duffy's dress, every items they wear are of course handmade. It's wonderful! I like the best about their costume is the "braces". It was metal wire sponge! Their mother helped to uncoil it for these amazing braces. I love this family-made Mikes!
"Young Michael Wazowski" from "Monsters, Inc.".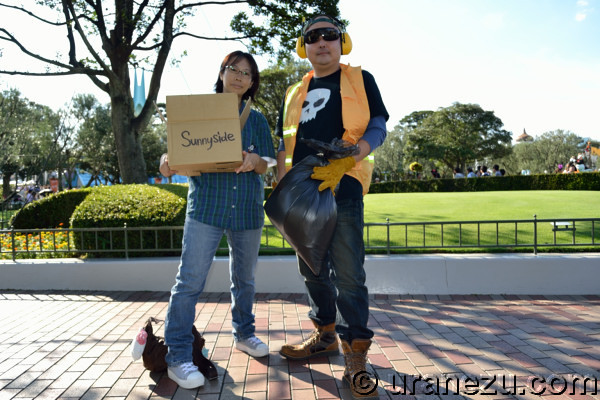 Their Story!
I always loves minor character in a movie. It was wonderful time to meet that teenagers. Their props told a lot about a story and scene from the film. Surprisingly, Sid hide a Mickey on his back! I like his sense of fun! (Did you know Andy & Sid are same as Nightmare unit in 2011?)
"Grown Andy & Grown Sid" from "Toy Story 3".