Amazing Halloween Costume
> 2015 Part 01
---
---
Please do not use uranezu pictures on other websites without permission.
Please do not use uranezu.com cosplay pictures on other websites. All of the cosplayers of this site gave me a permission to use only on my website "uranezu.com". Thank you for your understanding.
If you find any copies of the uranezu cosplay pictures in any other places being used on a web site, printed or sold without my permission, please inform me as soon as possible, for there is a possibility of an infringement of copyright. It is also helpful if the URL(if there is one) or the place they are being printed or sold is indicated, so that it is possible to warn or to take legal actions against the person involved.
For many cosplayers gave their pictures to uranezu.com., please understanding and support this.
Amazing Halloween Costume 2015 Part 1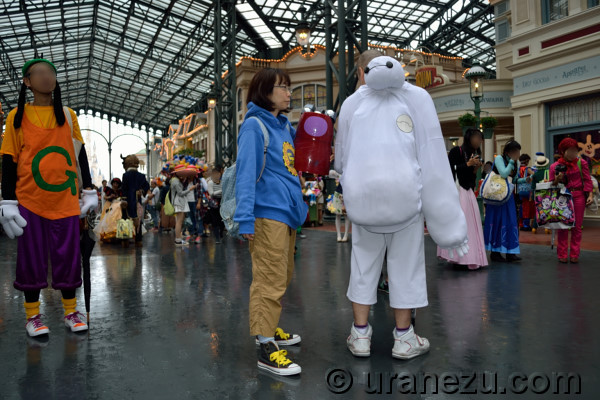 Balalala again!
The first TDL Halloween character is, YES this Hiro & Baymax. I saw many Baymax in this season, but this great idea of Baymax is one and only which uses his backside of white hoodie.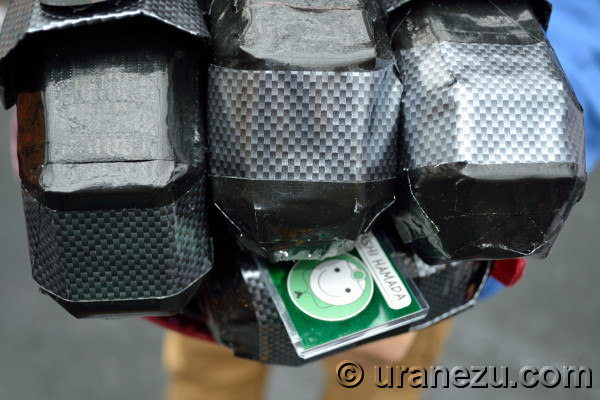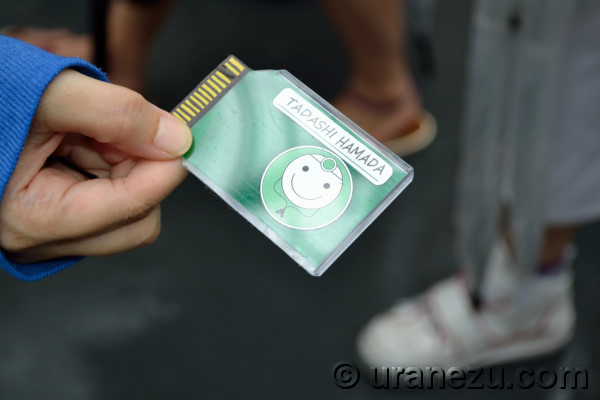 Look at their amazing props! Hiro hold not just Baymax's left arm, the left arm with Tadashi's memory!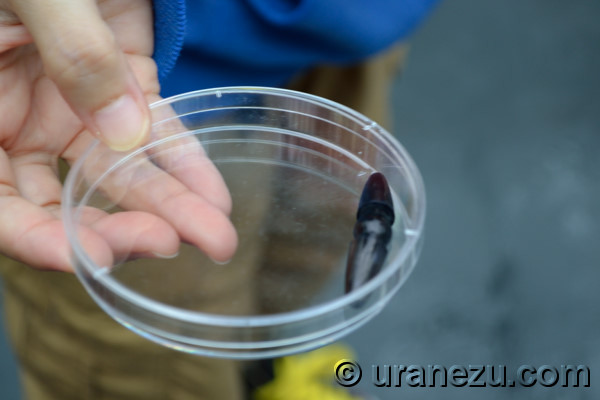 Hiro also had a microbot in the petri dish! I really admired that this petri dish is made of plastic. They always follow the safety rule in every time. That's a hero. (Did you know they are same as unit of "Lilo & Stitch" in 2014?)
"Hiro & Baymax" from "Big Hero 6".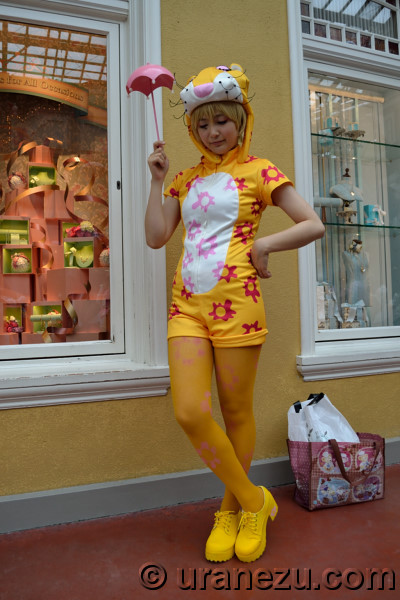 There is just one flower leopard and one pink umbrella!
She looks so cool, so I thought she dressed up a character from upcoming Disney movie, "Zootpia". But soon I realized she came from a classic attraction. Did you know? Her eye closed expression is just perfect same as the attraction. So cute and wonderful!
"Leopard from" from "It's A Small World".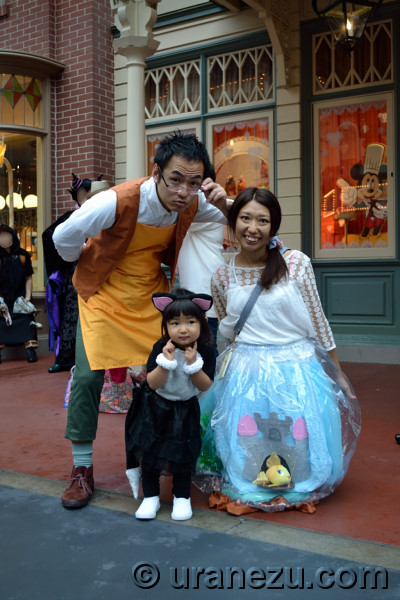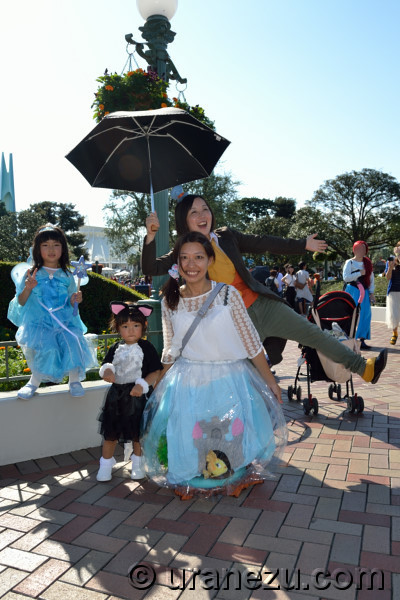 Great Supporting Characters!
There is no title role character, but we can see quickly the movie from their wonderful costumes. I love that they picked the right character. It's so heart-warming family in beautiful work dresses.
(Did you know they are same as unit of "Marry Poppins" in 2014?)
"Geppetto, Figaro, Cleo, and Jiminy Cricket" from "Pinocchio"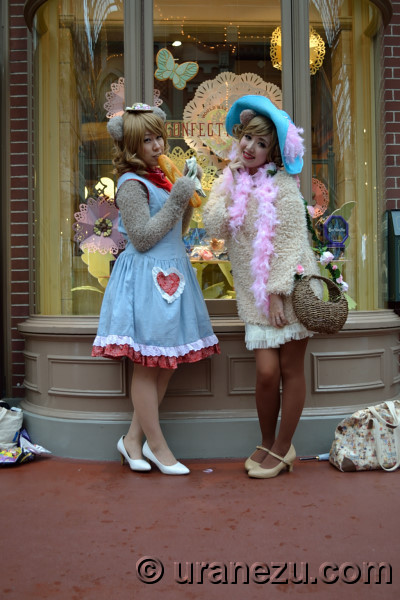 Rainy Day Fun!
It's a great moment to see two pretty lady bears. Trixie is wearing a beautiful dungaree dress from "Vacation Jamboree AKA Vacation Hoedown". She also have a sandwich and napkin the perfect props are wonderful. Teddi Barra express her swing as the basket bag with a climbing rose. I like her wonderful idea.
"Trixie and Teddi Barra" from "Country Bear Theater".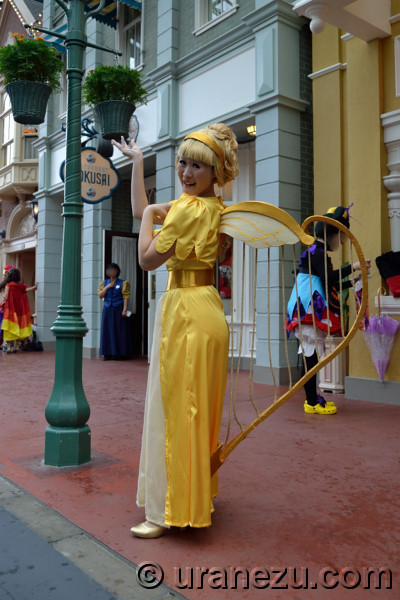 In My Favorite TDL Halloween!
I was impressed her passion of the character, she cared about her standing position. So her beautiful golden dress with the elegant harp takes us to the story. It's really nice to meet this pretty harp at TDL Halloween.
"Golden Harp" from "Mickey and the Beanstalk".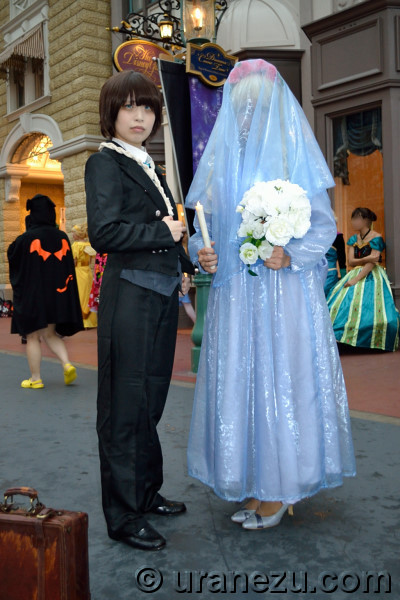 Haunted World Bazaar!
I luckily to see this enigmatic beautiful two ghosts in the very first day of TDL Halloween. Their dresses are so well made and shimmering in the dimly-lit under a glass roof. They led to a mood of so Haunted Mansion.
"Ghost Host & Bride" from "Haunted Mansion".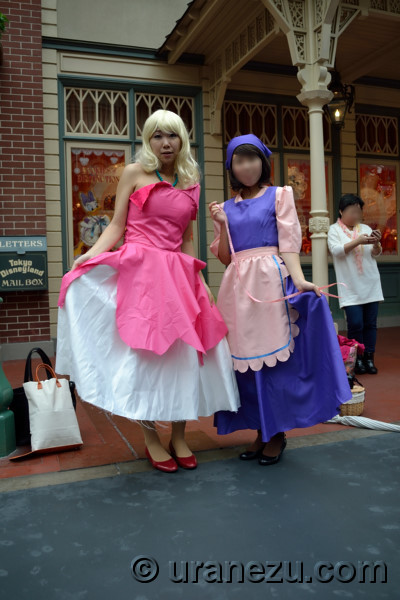 It's so interesting character choice. Perla who is dress designer and midinette stood next to an after-disaster Cinderella. I like their great-story-telling costumes.
"Cinderella and Perla" from "Cinderella".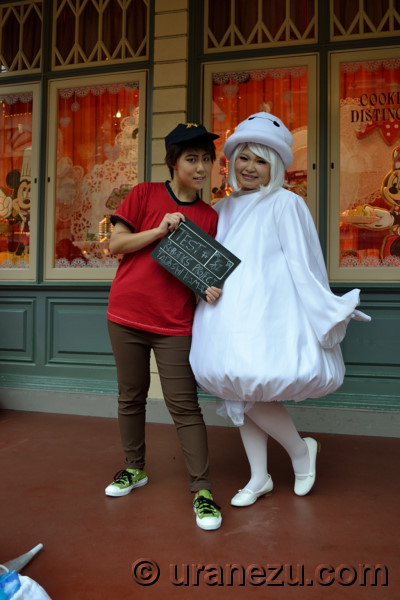 They really work!
I almost fall in love at first sight this Tadashi and Baymax. Tadashi has perfect balance of cool and warm. (And his prop also perfect.) And I really like this sophisticated Baymax dress. They are so nice.
"Tadashi and Baymax" from "Big Hero 6".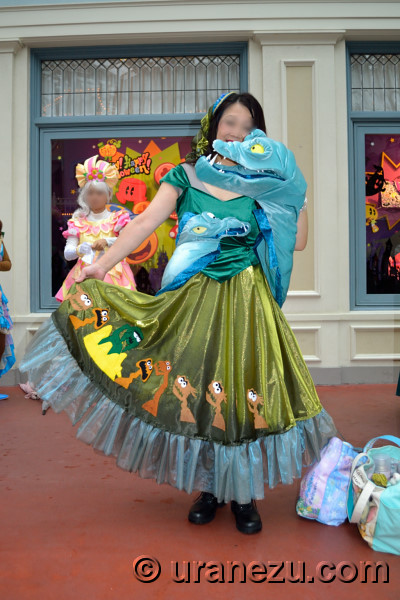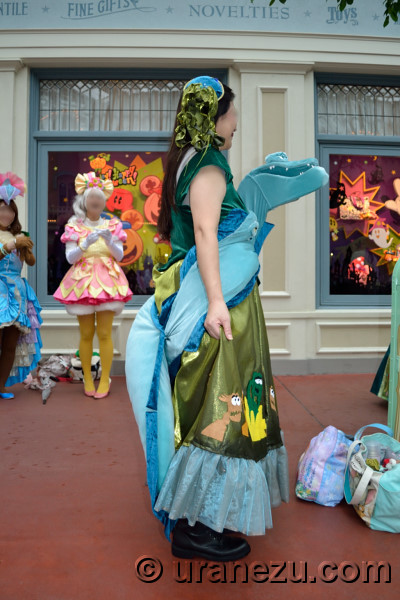 Ultimate Design!
Every color of costume is so beautiful, it's so tremendous dress. I'm admire her dress design which is two moray eels coil around. One of my favorite point of her dress is her seaweed head dress. It's so elegant.
"Flotsam, Jetsam, and polyps" from "The Little Mermaid".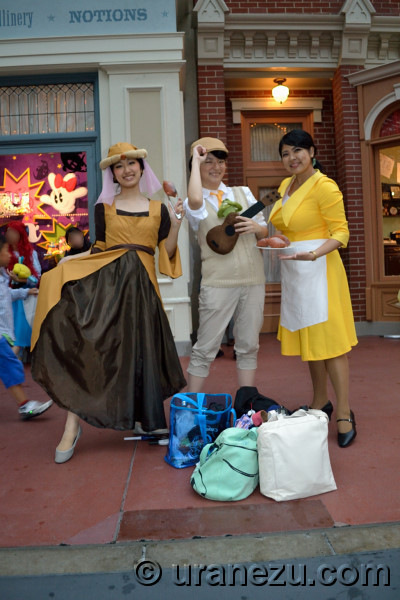 Beignet, prince beignet!
Two pretty Tiana and one Naveen is quite outstanding at the first day of TDL Halloween. One Tiana's outfit from the masquerade ball, and another Tiana is well-known waitress dress from Duke's cafe. They hold a mouthwatering Beignets as a great props. They are so lovely. (Did you know they are same as "Nakoma & Pocahontas" in 2014?)
"Tiana, Naveen, and Tiana" from "The Princess and the Frog".