Amazing Halloween Costume
> 2014 Part 05
---
---
Please do not use uranezu pictures on other websites without permission.
Please do not use uranezu.com cosplay pictures on other websites. All of the cosplayers of this site gave me a permission to use only on my website "uranezu.com". Thank you for your understanding.
If you find any copies of the uranezu cosplay pictures in any other places being used on a web site, printed or sold without my permission, please inform me as soon as possible, for there is a possibility of an infringement of copyright. It is also helpful if the URL(if there is one) or the place they are being printed or sold is indicated, so that it is possible to warn or to take legal actions against the person involved.
For many cosplayers gave their pictures to uranezu.com., please understanding and support this.
Amazing Halloween Costume 2014 Part 5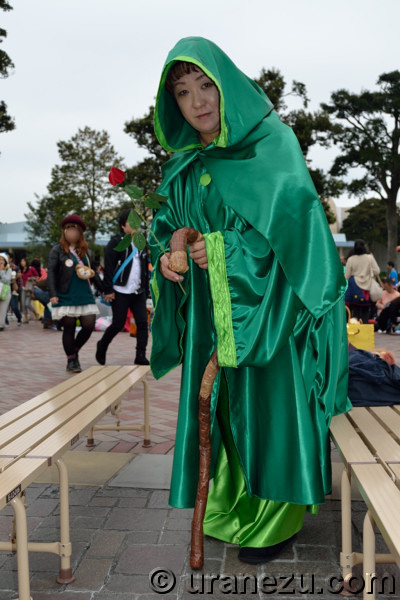 A Single Rose in return for Halloween!
It's so amazing she made her costume completely to detail of the sleeve edge's pattern same as the one from the movie which is so brief a while.
"The Enchantress" from "Beauty and the Beast".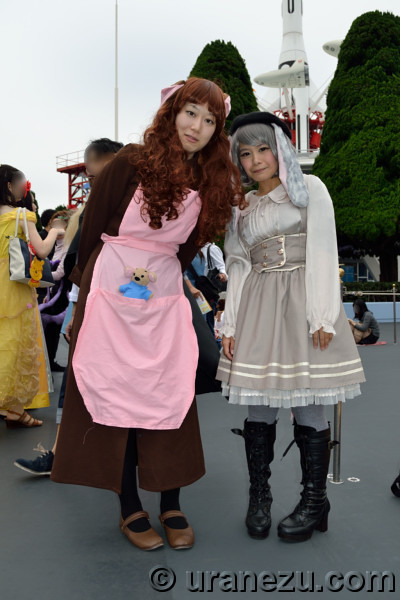 Trick or Treat from the Hundred Acre Wood!
I luckily found a ladylike Kanga and cute Eeyore in TDL. I like their raffine color dresses. They expressed their character very stylish.
"Kanga with Roo, Eeyore" from "Winnie-the-Pooh"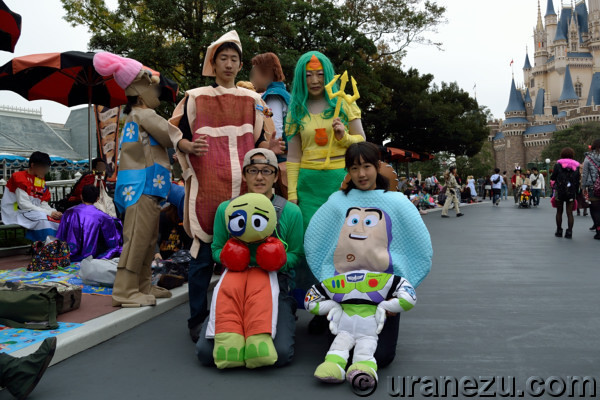 Fast food-toy support group at TDL!
I couldn't believe when I saw Queen Neptuna and Mini Buzz in front of the Cinderella Castle. Of course I asked them a photo, then they guided me a place where more two fun meal toys waited. It was wonderful moment for me. I really appreciate they choose these great characters. Well done!!
"T-Bone, Queen Neptuna, Roxy Boxy, Fun Meal Buzz" from "Small Fry"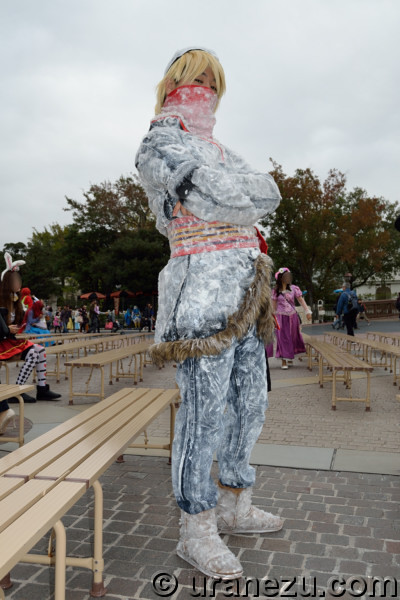 Halloween Treats, Behind You!
I surprised that he looked like he escaped from really blizzard. I like his amazing magic snow of his wonderful costume.
"Kristoff" from "Frozen".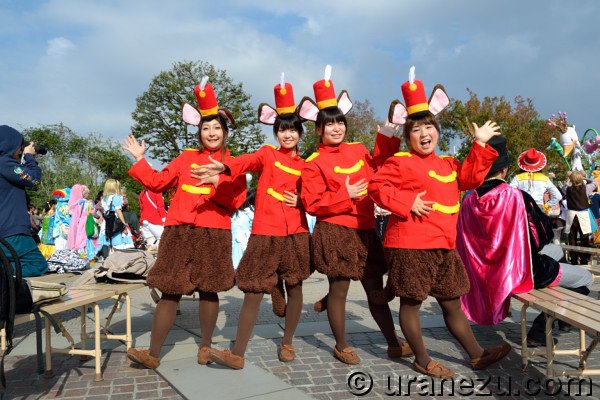 Got the Halloween magic feather !
The fluffy with vivid red jacket group enjoyed TDL Halloween in full feather. I like their great costume and cap with pretty ears, but especially I love their spirits. These cute Timothies went to carry TDL Halloween up.
"Timothy Mouse" from "Dumbo"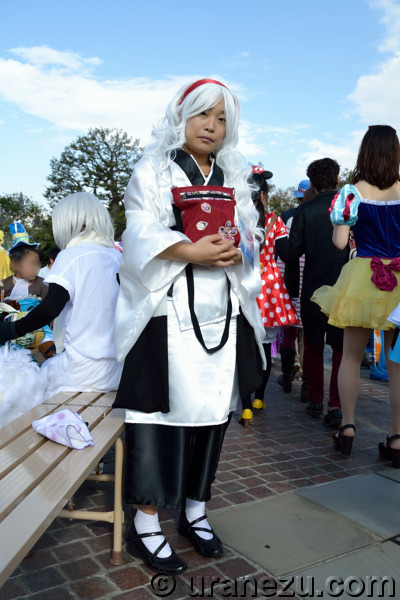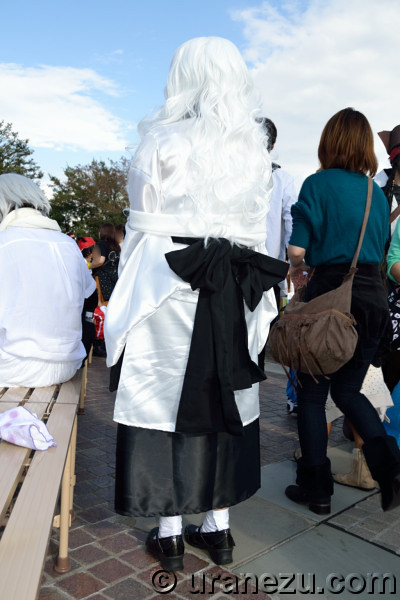 We Meet The Halloween World with Love!
We can meet any Disney character in TDL Halloween, but I never thought I could meet a character from "Meet The World" the terminated attraction. Because 1. It closed in 2002, 2. The original main character is Red-crowned crane. 3. Too maniac. But she broke down them utterly. She expressed the bird as a two tone kimono with a red hair ribbon. It was so great. (Did you know they are same as "Little Leota" in 2011?)
"Red-crowned crane the time travel guide" from "Meet The World" the attraction.
There are many chance to meet a fantastic Disney characters during TDL Halloween. This cool lady gave me to a great opportunity to see a deep world of Disney animation. The beautiful flying donkey doll was made by herself. I 'm very impressed her skillfulness.
"Gauchito with Burrito" from "The Flying Gauchito".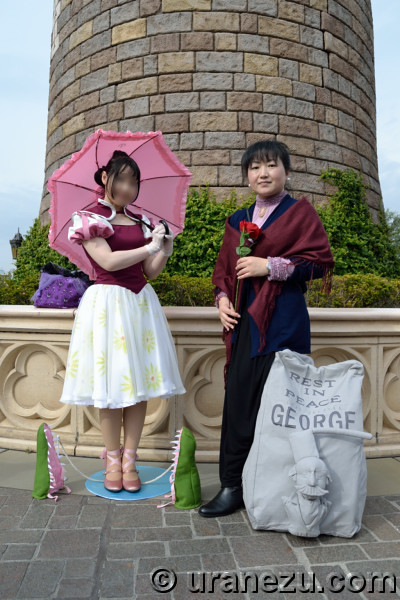 I never thought I could watch a famous scene of the stretch room in front of the Cinderella Castle. I really surprised their perfection. Look at their pond, rope and alligator. They are so well made, and pocketable! And amazing grave stone! It's so elaborated and it's backpack! They are pretty and clever Haunted ladies.
"Constance Hatchaway, The Pretty Young Lady" from "Haunted Mansion".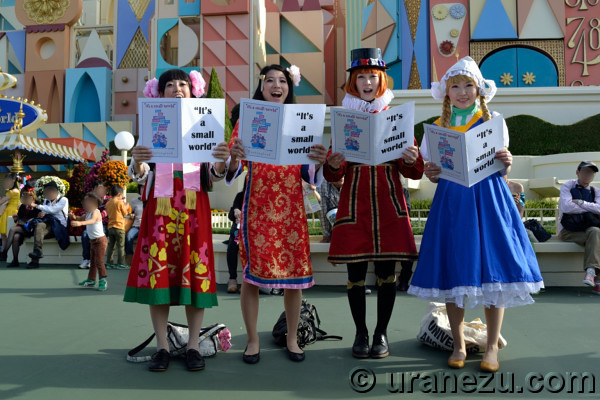 It's A Halloween Halloween World!
They are so pretty in a fabulous dress with a cute big smile. I think you just can't stop sing the song with these happy girls from around the world. They realized us how TDL Halloween is so great.
"Girl from Mexico, Chinese, England, Holland" from "It's A Small World".