Amazing Halloween Costume
> 2015 Part 07
---
---
Please do not use uranezu pictures on other websites without permission.
Please do not use uranezu.com cosplay pictures on other websites. All of the cosplayers of this site gave me a permission to use only on my website "uranezu.com". Thank you for your understanding.
If you find any copies of the uranezu cosplay pictures in any other places being used on a web site, printed or sold without my permission, please inform me as soon as possible, for there is a possibility of an infringement of copyright. It is also helpful if the URL(if there is one) or the place they are being printed or sold is indicated, so that it is possible to warn or to take legal actions against the person involved.
For many cosplayers gave their pictures to uranezu.com., please understanding and support this.
Part 7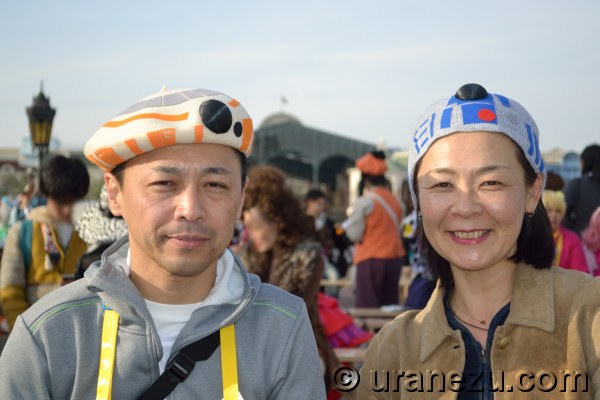 I Had A Great Feeling About This!
IS THAT SOOOO WONDERFUL? I really fall in love with their beautiful sense. They didn't wear full accessorized costume, but they are really captured their characters and so stylish! He told me that these amazing droids were made by her pretty wife. It's envy you!
"BB8 & R2D2" from "Star Wars".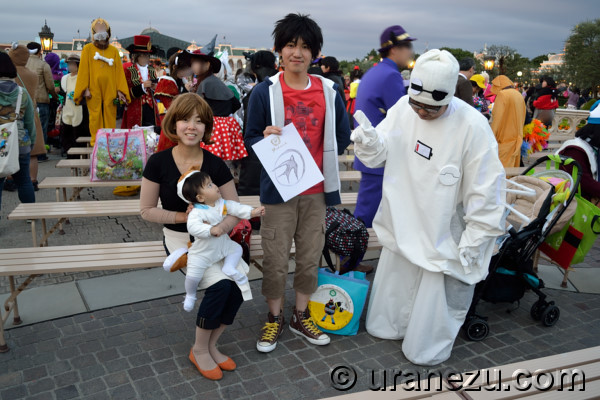 I'm Dying on Top of The World!
His most proudly point is, he's the only one deflated Baymax in TDL Halloween this year. He's right. It's really effective and great idea in many Big Hero 6 group.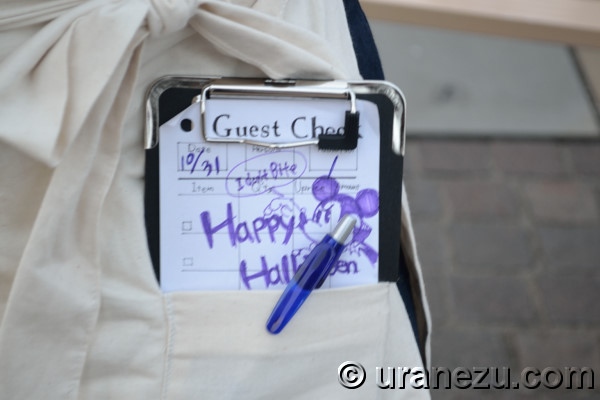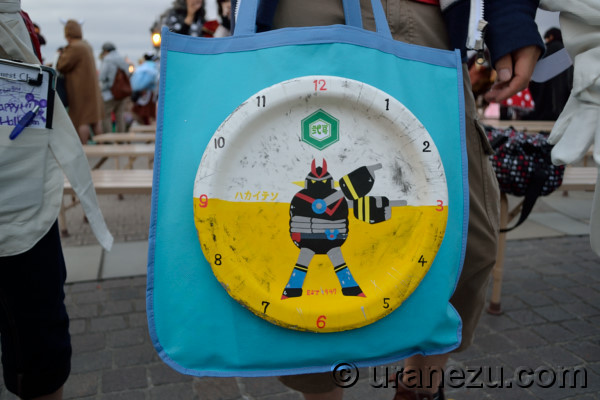 An order pad of Cass has something wonderful! It's Dracula Mickey! And always his bag brought us a fun. Do you tell where can it find, and what is it? Yes, it's wall clock from Hiro's room. So great details. Why can they make so good?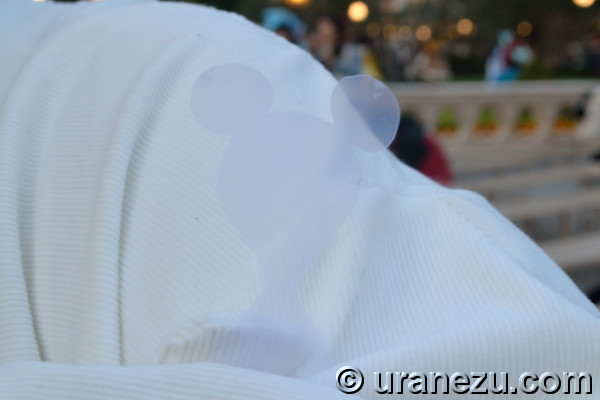 One side of the cellophane tape of Baymax is shaped like Mickey!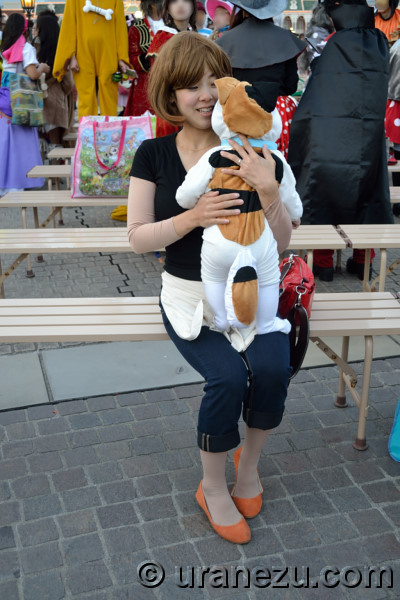 If they'd have done Big Hero 6 unit in last year's Halloween, they'd have prepared Soft Toy as Mochi, but in this year, Mochi is new member of this group! She's born as a princess to a family of Amazing Halloween!
(You have to see the group when the member was three.)
"Cass, Mochi, and Baymax" from "Big Hero 6".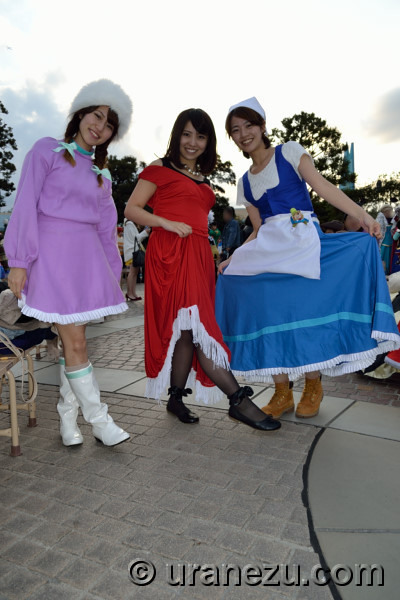 There Are No Strings On Them!
Their costumes are lovely, their smiles are more lovely! Three characters with a beautiful dresses from same movie, cheerful atmosphere, I really love their straightforward style. It's just Happy Halloween.
"Russian, French and Dutch Puppet" from "Pinocchio"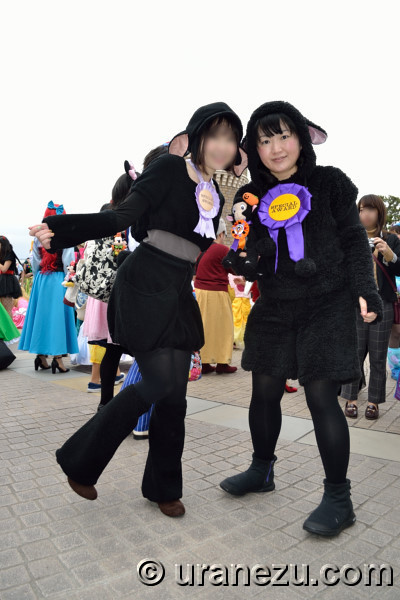 First Prize for Two!
The two cute sheep debut at TDL Halloween since Danny appeared to the park in April. It's very nice to see a different design with different textile of one character. Both of costumes are so lovely.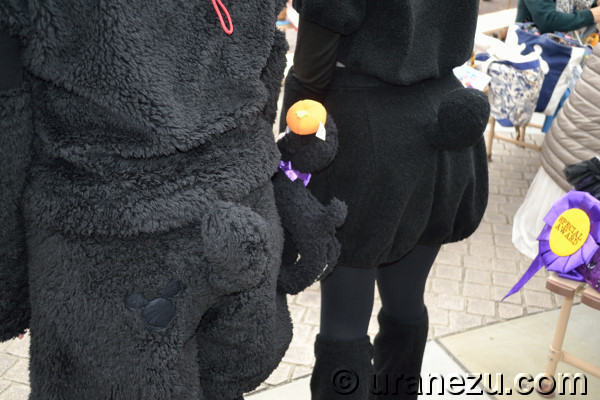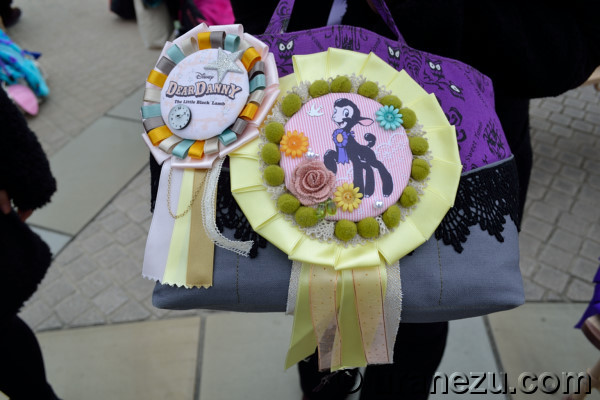 Of course, their tail have their distinctive charms. And the beautiful big rosettes are also handmade!
(Did you know they are same as Haunted Mansion unit in 2014?)
"Danny" from "So Dear to My Heart".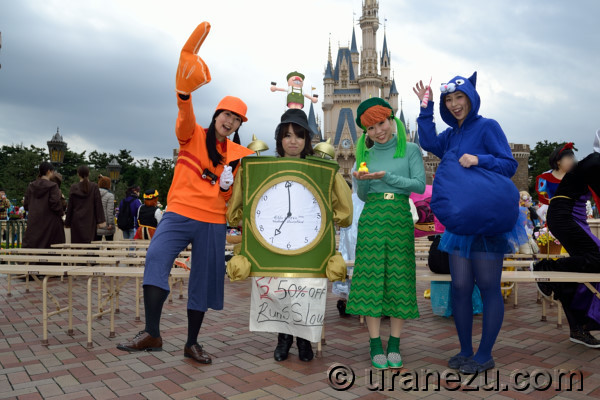 A Best-Of Selection!
It's so precious and gorgeous meeting of main character from Short Films Collection. A big hand foam, a flag and brown shoes are knacky for Goofy of the film, great idea-filled table clock costume, stylish and well-featured dress of Nessie, and cute posing with a beautiful blue huge tail(Do you see a shrimp cocktail?), these lovely girls played so charmingly each lead character.
"Goofy from How to Hook Up Your Home Theater", "The Green Table Clock from Tick Tock Tale", "Nessie from The Ballad of Nessie", and "Title role from Lorenzo".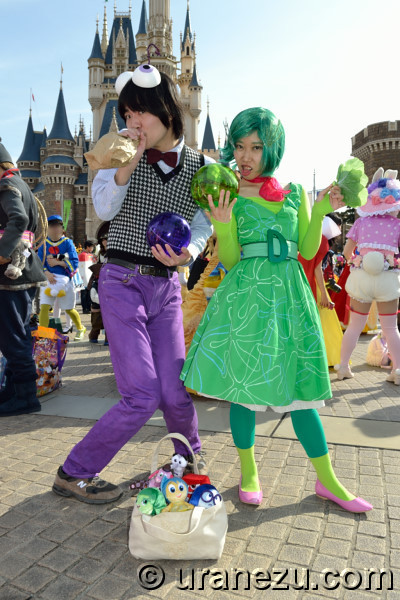 Ahhhhh & Ugh…!
I think you need no explanation. So pretty costume, great props, and their perfect expressions! The most happy things is she prepare broccoli as a props for Disgust. In Japanese dubbed version, it's changed to bell pepper! I love her original!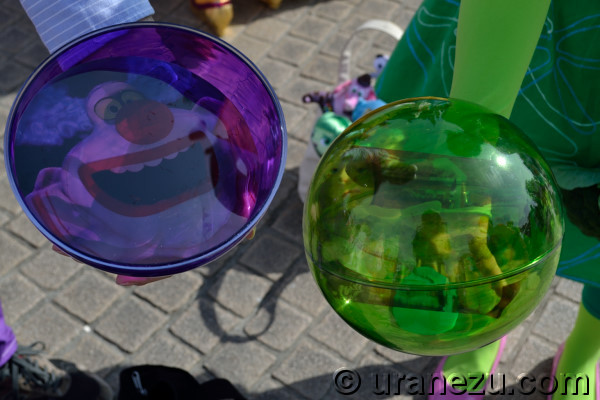 Do you see their memories? It's quite unbelievable to make the ball so perfect.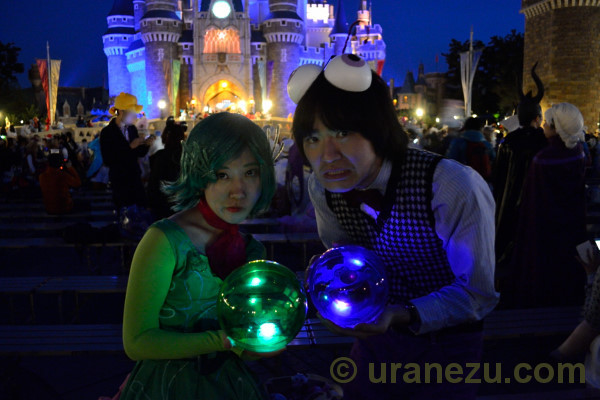 And the ball is glowing beautifully in the night. What a wonderful props they have!
(Did you know they are same as Bill & Alice 2015?)
"Fear & Disgust" from "Inside Out".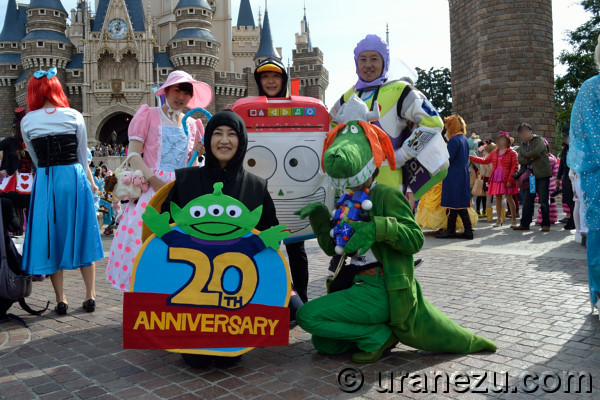 Toy Story Celebration!
I'm really happy to see again a group filled with love for Toy Story. There is one and only group has 20th anniversary logo lady. And it's so amazing costume of partysaurus Rex!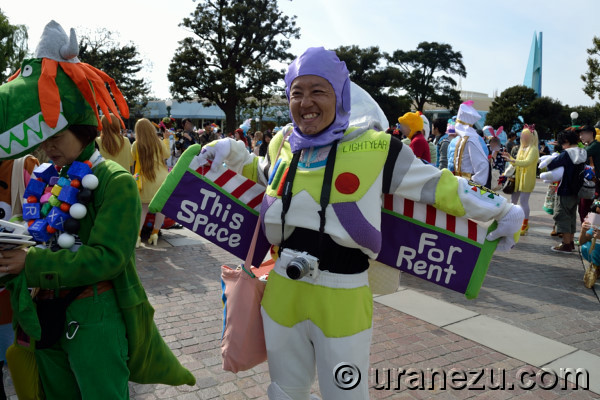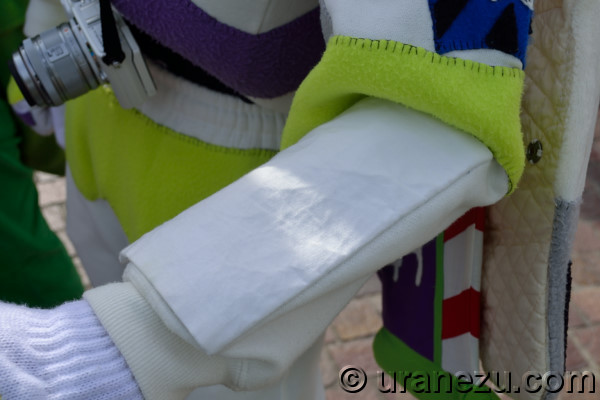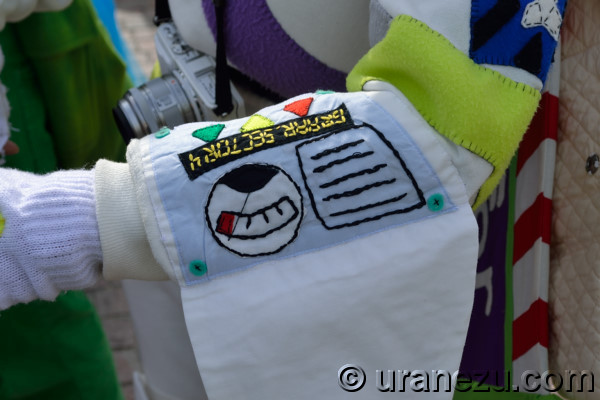 Look at the father Buzz's fantastic details! It's not communicator sticker, it's so fantastic artwork! I really love the great result of his devotion.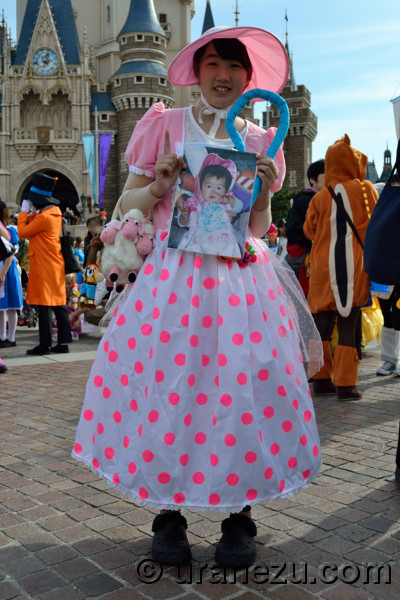 She's regular attender of TDL Halloween since she was a baby. She grow into a lady Bo from an adorable Bo.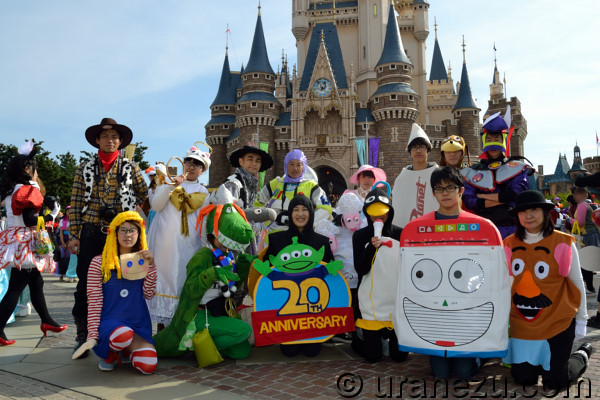 Look at that the star-studded picture. It's the embodiment of the love for Toy Story. It's wonderful honor to take this photo and share with you as a last picture of 2015 TDL Halloween.
(Did you know they are same as small fry 2014?)
(Leftmost of the Front row) "Janie, partysaurus Rex, 20th anniversary logo, Wheezy, Mr. Mike, and Mr. Potato Head", (Leftmost of the back row) "Woody, Angel Kitty the terrifying Kittysaurus, black-and-white Woody, Buzz Lightyear, Bo Peep, A landmark of Pizza Planet, Slinky Dog, and Emperor Zurg" from "Toy Story series".
( Did you know he is same as Buzz 2013?)
That's all from TDL Halloween 2015.
Thank you very much for all!!
But...

TDS Halloween is coming soon!