Amazing Halloween Costume
> 2016 Part 03
---
Amazing Halloween Costume 2016 at TDS

Part 1 Part 2
---
Please do not use uranezu pictures on other websites without permission.
Please do not use uranezu.com cosplay pictures on other websites.
All of the cosplayers of this site gave me a permission to use only on my website "uranezu.com". Thank you for your understanding.
If you find any copies of the uranezu cosplay pictures in any other places being used on a web site, printed or sold without my permission, please inform me as soon as possible, for there is a possibility of an infringement of copyright. It is also helpful if the URL (if there is one) or the place they are being printed or sold is indicated, so that it is possible to warn or to take legal actions against the person involved.
For many cosplayers gave their pictures to uranezu.com., please understanding and support this.
Amazing Halloween Costume 2016 Part 3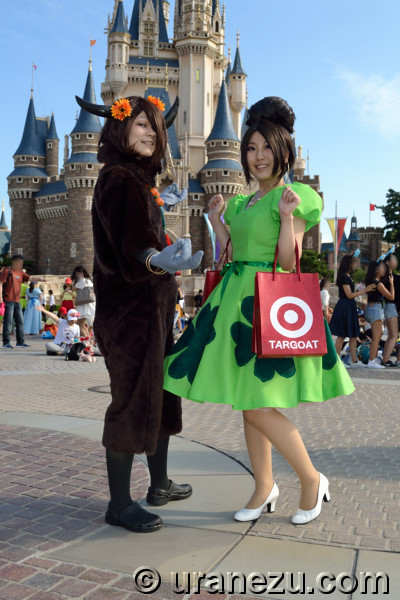 Till I reach the End at TDL Halloween!
I really love this cute Zootopia duo. It's so wonderful Fru Fru's lovely green Sunday's best with beautiful bun, and stylish Yax's gorgeous fur costume with pretty horns. They struck really fashionable pose.
"Yax and Fru Fru" from "Zootopia".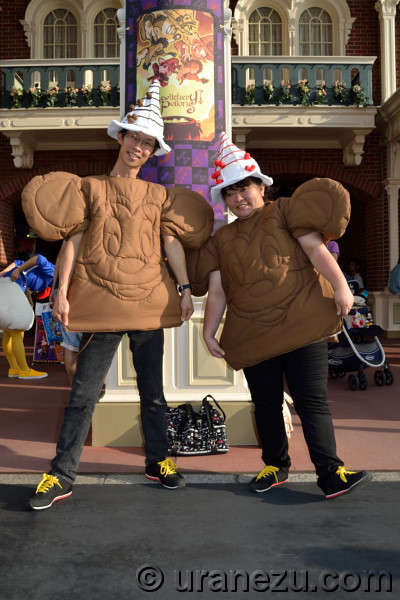 Total is 860JPY (at the moment)!
What a perfectly cooked waffles! Fluffy textile with big stitch is really delicious looking. Only these waffles made us smile which cannot eat.
"Chocolate Whip Mickey Waffle & Strawberry Whip Mickey Waffel" from "Great American Waffle Co.".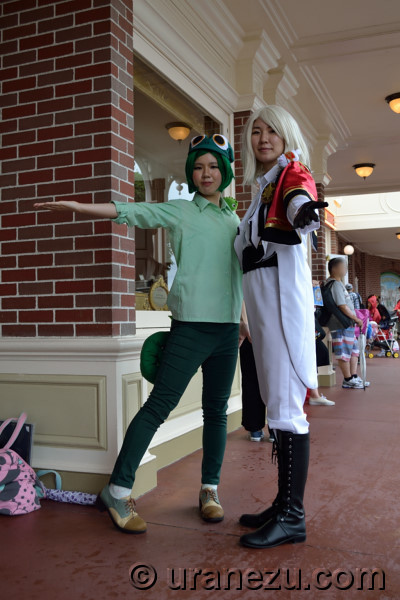 Cute Green & Cool White!
I love these pretty girls' style that they captured their characters. Each costume made based on well-thought idea of the characters. The cute and casual wear is perfect match for Pascal, smart and stylish dress is really express Maximus.
"Pascal and Maximus" from "Tangled".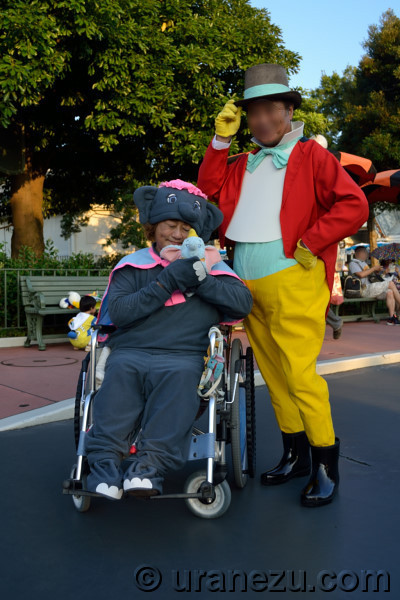 Casey Junior brings them to TDL Halloween!
I really love a gentle ambient of this marriage couple. It's heart warm sight that these two characters unite in peace who are far from friendly in the original film. I think you can feel how they enjoy Halloween dressing-up. Not only enjoying themselves, but also they gave a fun to us, that's TDL Halloween. (Did you know they are same as Trixie & Henry 2011?)
"Mrs. Jumbo and Ringmaster" from "Dumbo".



A boss of TDL Halloween!
Thinking about a just black suit as a Halloween costume is seemingly dull and unfancy. But their fearless attempt got tremendous success and fame as truly Halloween royal family by me. Look at the fabulous contrast between beautiful white of the bear cap and night black of the suit. They're really COOL! Especially, Mr. Big is really same small size are so so nice.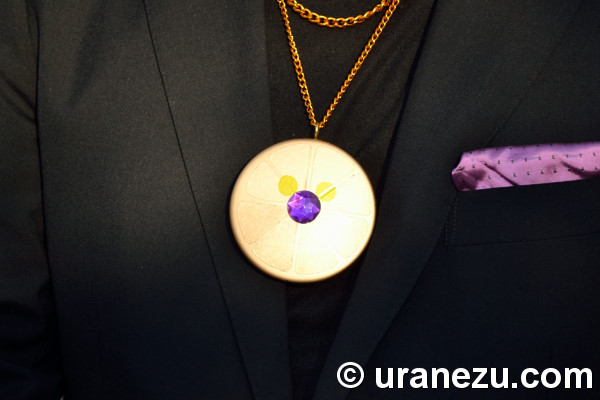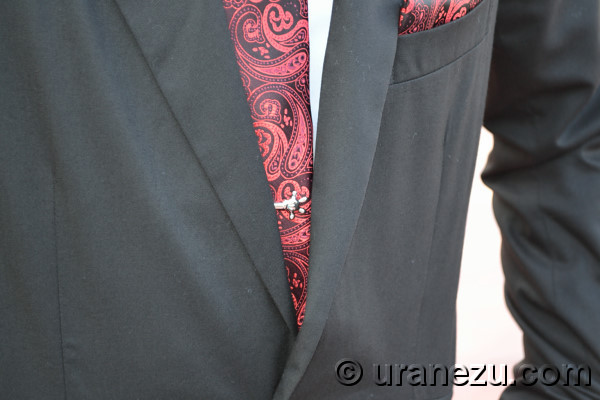 They keep secrets in their costumes. (Did you know they are same as Peter Pan unit 2017?)
"Mr. Big and Tundratown mafia member including Koslov" from "Zootpia".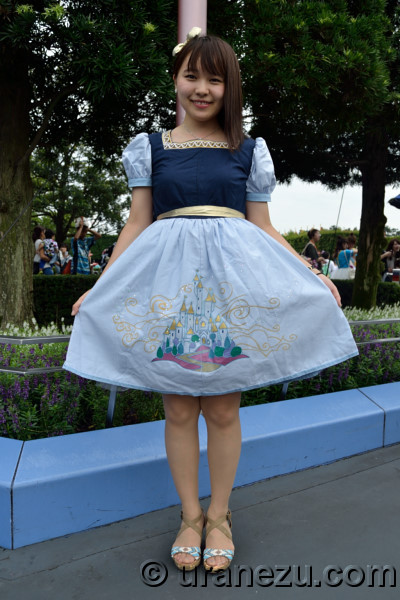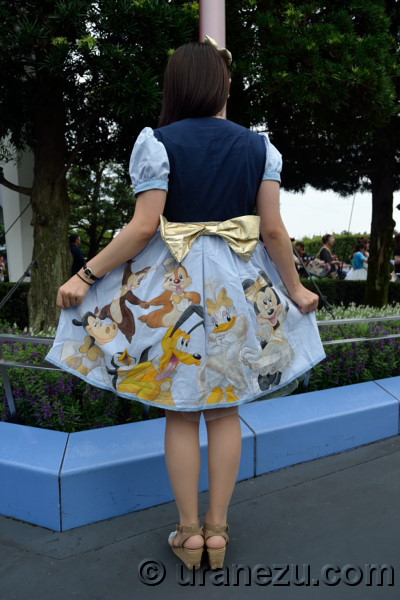 Applause!
I really attracted by her beautiful Show Base curtain one-piece. Many characteristic parts of the curtain are absorbed to her dress sophisticatedly. Surprisingly, the wonderfulness of her costume is not only the front.
"Mickey Mouse Our Shining Star the number from One Man's Dream II - The Magic Lives On -" at "Show Base".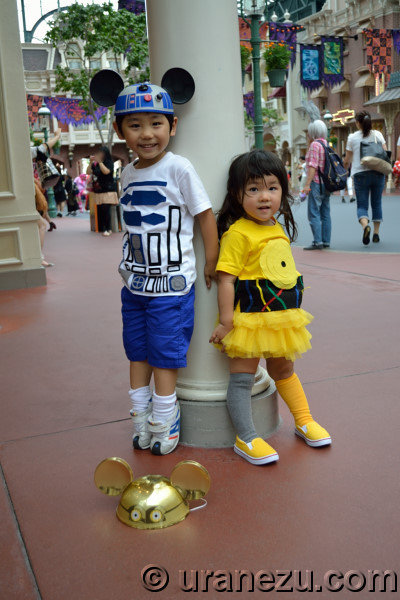 A New Hope at TDL Halloween!
Not only super super adorable, but also they captured their characters very well. It's wonderful idea that wearing a different color socks. Also love the slits and panels on his white t-shirt which is faithfully. It's easy but it gave a great effect. Lovely and wonderful!
"R2-D2 and C-3PO" from "Star Wars".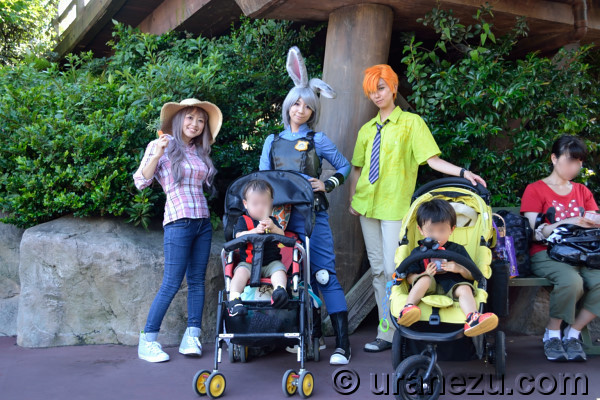 Try Every Scene!
Look at this super cute & cool mothers & kids! A lovely Judy from each different scene, cool Nick, and adorable real young Finnick. What a wonderful team work.
"Bunnyburrow Judy, On Duty Judy, Nick and Finnick(s)" from "Zootopia".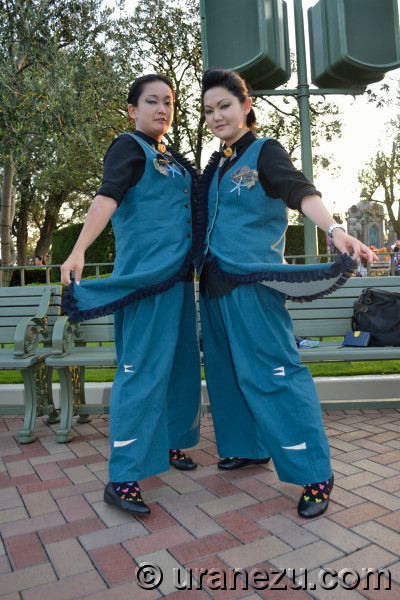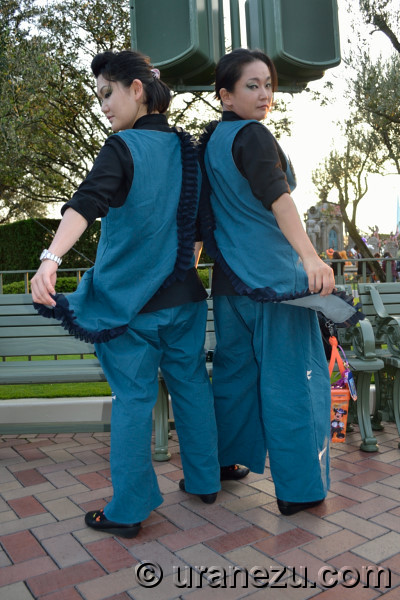 In Chic, Indeed!
I'm big fan of a dress maker of this under the sea dweller. I saw many people made Flotsam & Jetsam as a dress or one-piece, but the two stylish girls' are cool pantsuit. The darkish color and smart silhouette are perfect for an enchanted under the sea Halloween party.
"Flotsam & Jetsam" from "The Little Mermaid".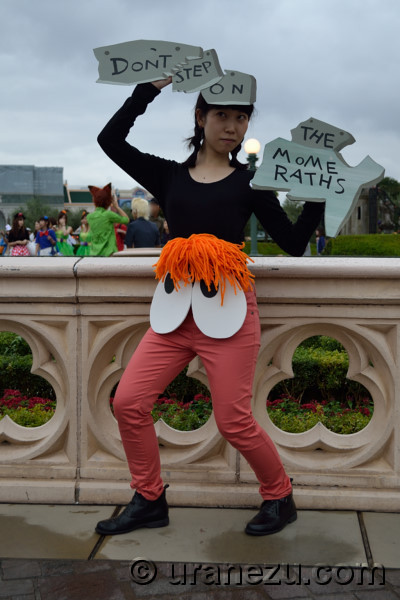 Route Marker of TDL Halloween!
Every time I saw her, I always surprised and admired her deeply character knowledge. Most impressed point is, her creativity of embodiment to costume from 2D character. Her loveliness made by well-thought-out idea. It's really wonderful.
(Did you know she is same as "Solid Ice Anna unit" in 2016?)
"Mome Rath" from "Alice In Wonderland".