Amazing Halloween Costume
> 2015 Part 06
---
---
Please do not use uranezu pictures on other websites without permission.
Please do not use uranezu.com cosplay pictures on other websites. All of the cosplayers of this site gave me a permission to use only on my website "uranezu.com". Thank you for your understanding.
If you find any copies of the uranezu cosplay pictures in any other places being used on a web site, printed or sold without my permission, please inform me as soon as possible, for there is a possibility of an infringement of copyright. It is also helpful if the URL(if there is one) or the place they are being printed or sold is indicated, so that it is possible to warn or to take legal actions against the person involved.
For many cosplayers gave their pictures to uranezu.com., please understanding and support this.
Amazing Halloween Costume 2015 Part 6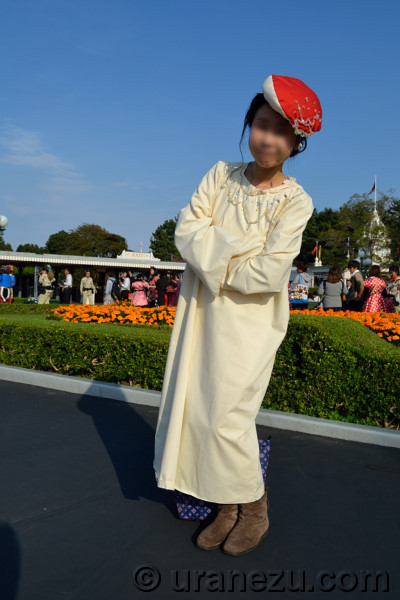 A Signature Piece for Christmas, No, TDL Halloween!
I always looking forward to see Fantasia character in TDL Halloween. My happy moment came in this year's Halloween because of this pretty mushroom encounter. The beautiful red color pileus is decorated dangling crystals and beads. It expressed a dew perfectly and poetically. And the around of her neck is also bejeweled. Her taste of creativity is great balance of character and dress.
"Dancing Mushroom" from "Fantasia: Nutcracker Suite".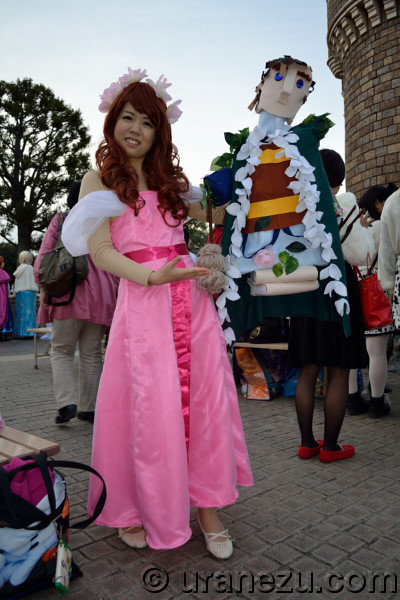 My Prince at TDL Halloween!
The great creator and designer's last costume in this Halloween is a dreaming princess. She's really charming with her beautiful pink dress and a blossom crown. But she never forget to add her taste to her Halloween costume. It's her prince.
(Did you know Giselle is same as "A table clock"?)
"Giselle" from "Enchanted".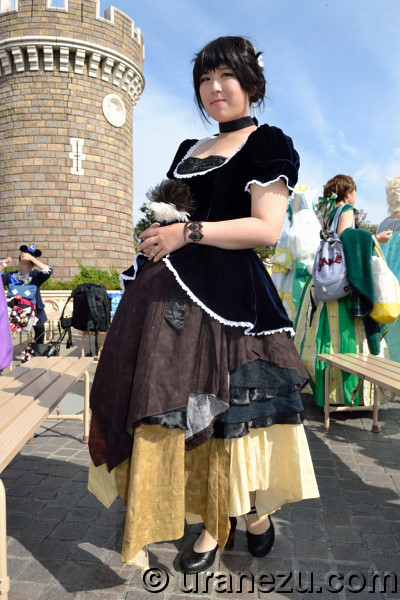 I saw many Babette in TDL Halloween!
I love her elegant colored layered skirt. This pretty girl dressed as after enchantment Babette, but her costume has great feature of a feather duster. I really love it.
(I already took a picture BB unit which included her in 2012.)
"Fifi (AKA Babette)" from "Beauty and the Beast"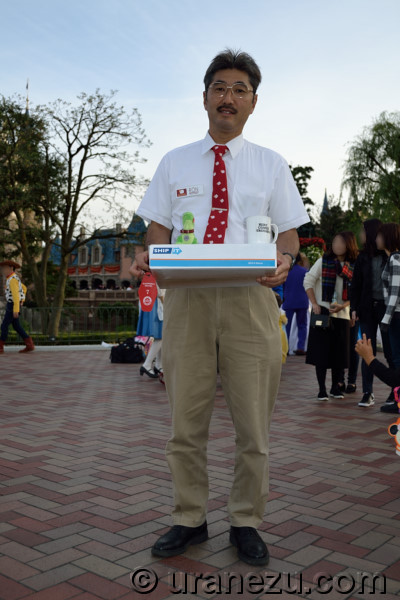 (Can't) Sleep Well (because of excitement)!
I didn't know who he is at first sight, but I did know he became a really minor character with great passion. So I asked his character, that gave me a huge joy and fun.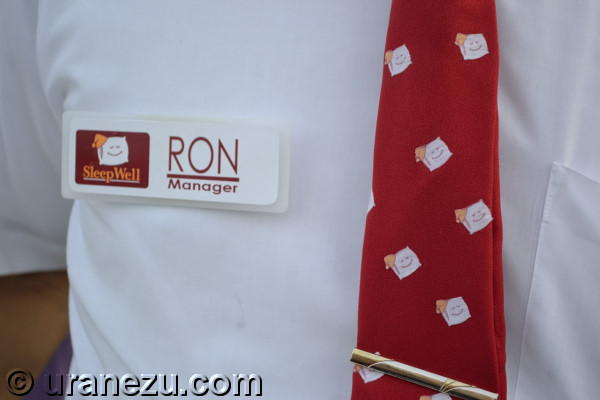 He's a manager of Sleep Well motel! Can you believe it? The name tag and sleeping pillow tie were made by himself!
So, look back at the first picture, another group Woody is walking behind him incidentally, it's like an escaping scene from him. It's funny.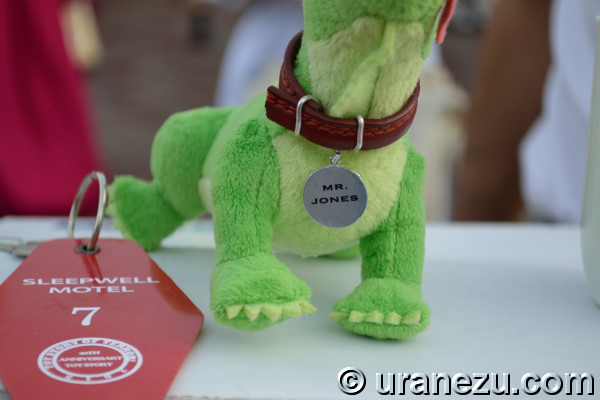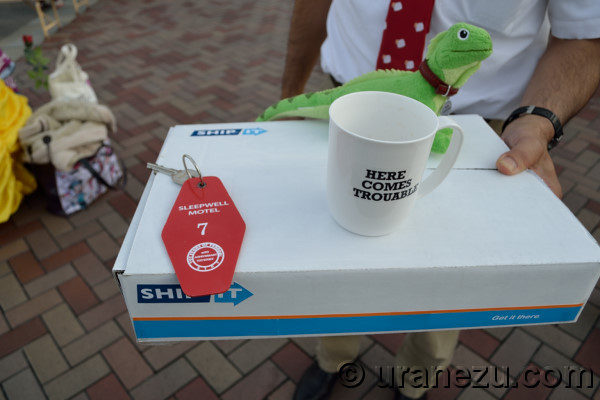 Not only the parcel box design, but also the thickness is perfect! And the key room is exactly for Anderson family. He also made his meaningful mag cup! We really can feel his love for Toy Story from his character he chose, amazing props.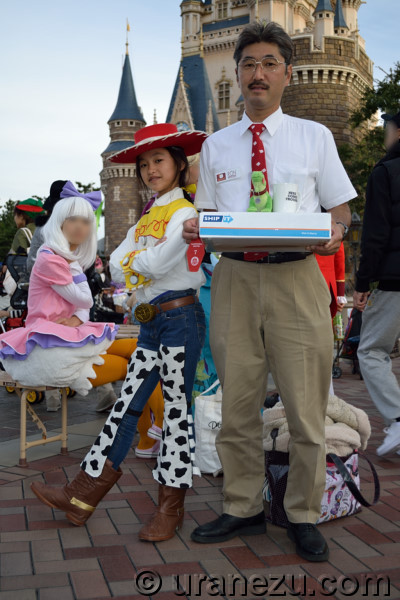 The cute daughter Jessie support father Ron is also heartwarming episode.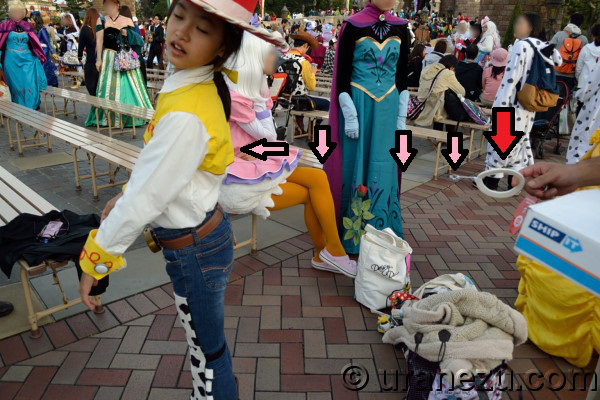 I'm sorry my photo is not good, but Jessie has an automatic take-up pull-string! It's really wonderful trick.
"Ron the manager of Sleep Well motel and Jessie" from "Toy Story of Terror!".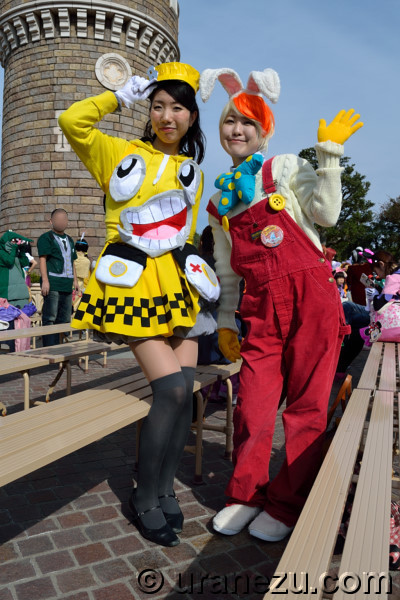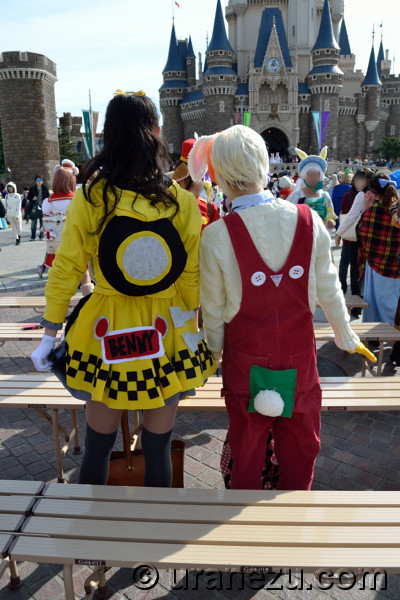 We'll Drive!
I've seen many Rogers in TDL Halloween who with Jessica, gang weasels, or Eddie Valiant, so I'm happy to meet Roger and Benny the new his allies. Vivid yellow pretty Benny and cute white-based Roger are really eye-catching.
"Benny the Cab and Roger Rabbit" from "Who Framed Roger Rabbit".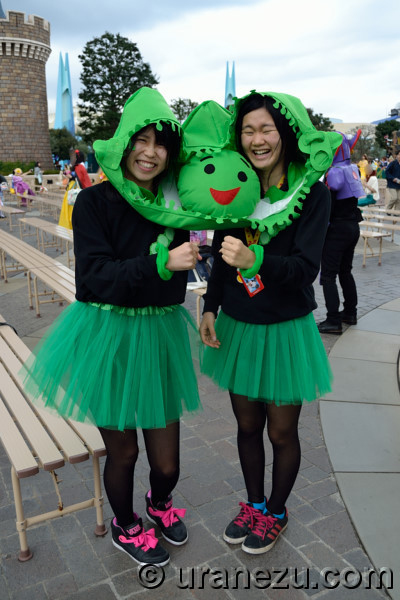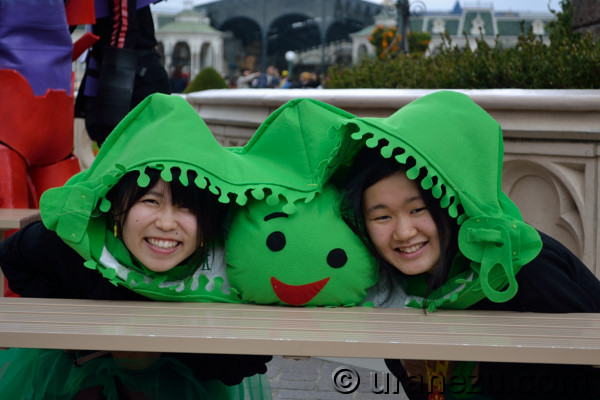 Told You (They are so Kawaii)!
So cute in a standing position, and so lovely in a closeup. The lively two look great on a vibrant green costume. They prepared simple items but they're very effective. I love their youthful idea and energy. Especially, I love the big zipper line and the pull.
"Peas-in-a-Pod" from "Toy Story 3"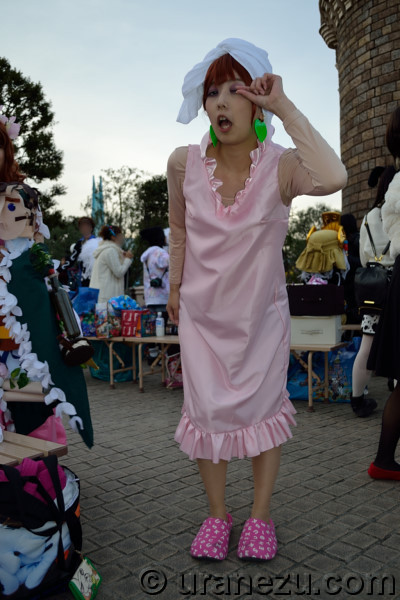 Do you know what would make Auntie Medusa very happy? (Yes, TDL Halloween!)
I introduced various Disney character in pajama in TDL Halloween, but she showed me she had more stock. I was impressed her idea and knowledge. I really love her pretty expression and posing. I bet you can see a dresser in front of her which is exactly same as the film.
(Did you know this Madame Medusa is same as "Riley" ?)
"Madame Medusa" from "The Rescuers".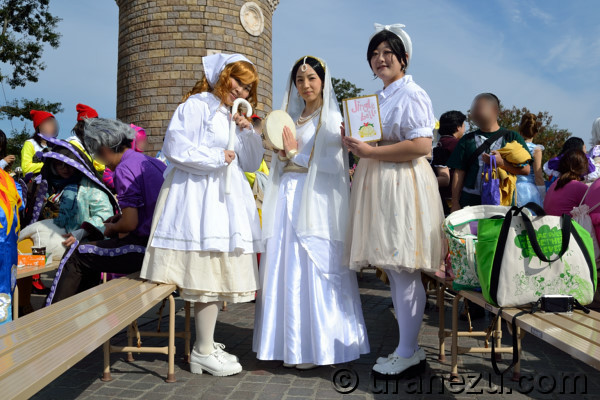 It's TDL Halloween After All!
The cute three girls from very last white room at It's A Small World. The pretty white national dresses were glowing under the sun. In the very busy park, the sight was very peaceful and beautiful. The special decoration called "Very Merry Holiday" never happen again in TDL, but we can remind from their cheerful smiles.
"The Children from Holland, India, and Republique de Cote dlvoire" from "It's a Small World Very Merry Holidays".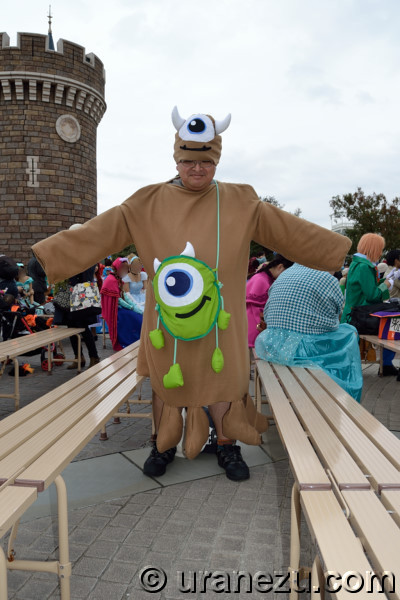 I'm big fan of him because his costume and character always told me his warm personality. It's really interesting idea which is opposite size characters and also it's very fun to see his costume.
(Did you know Little Mikey is same as "Baymax" ?)
"Little Mikey with Mike Wazowski" from "Monsters, Inc.".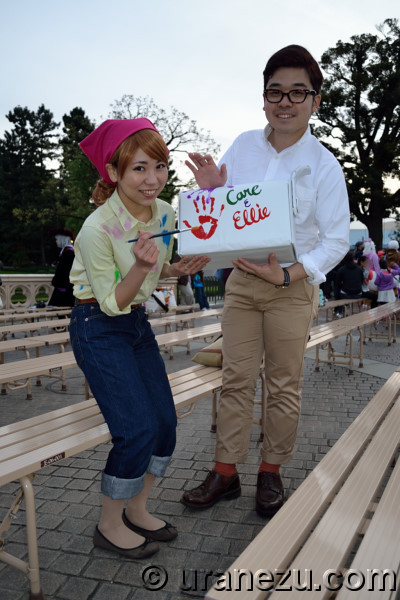 Look at this merrily young couple! Their happiness atmosphere with touching scene is something moving. The pretty costumes, a symbol of their hope and love the mail box prop, and their bright expressions, every aspects of them are really beautiful.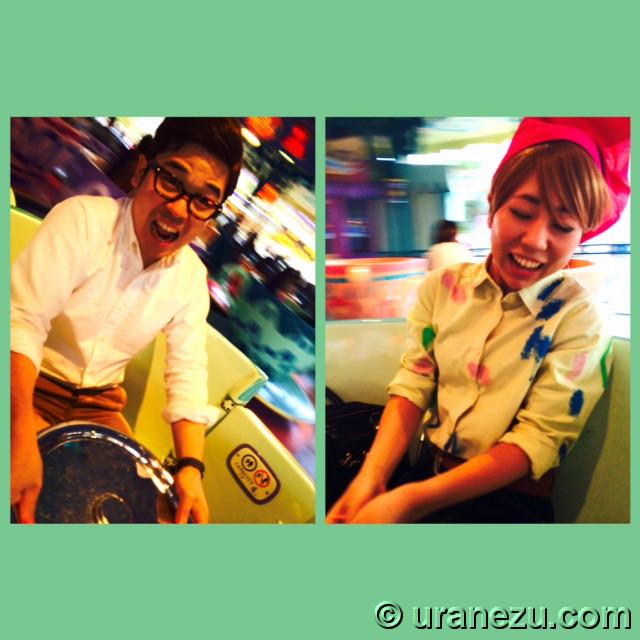 They gave me a dreamy picture for my site. They're enjoying "Alice's Tea Party" at Fantasyland. It's really happy moment for them, for me, and for you!
(Did you know Ellie is same as "Young Tiana" ?)
"Ellie & Carl Fredricksen family" from "Up".