Amazing Halloween Costume
> 2015 Part 04
---
---
Please do not use uranezu pictures on other websites without permission.
Please do not use uranezu.com cosplay pictures on other websites. All of the cosplayers of this site gave me a permission to use only on my website "uranezu.com". Thank you for your understanding.
If you find any copies of the uranezu cosplay pictures in any other places being used on a web site, printed or sold without my permission, please inform me as soon as possible, for there is a possibility of an infringement of copyright. It is also helpful if the URL(if there is one) or the place they are being printed or sold is indicated, so that it is possible to warn or to take legal actions against the person involved.
For many cosplayers gave their pictures to uranezu.com., please understanding and support this.
Amazing Halloween Costume 2015 Part 4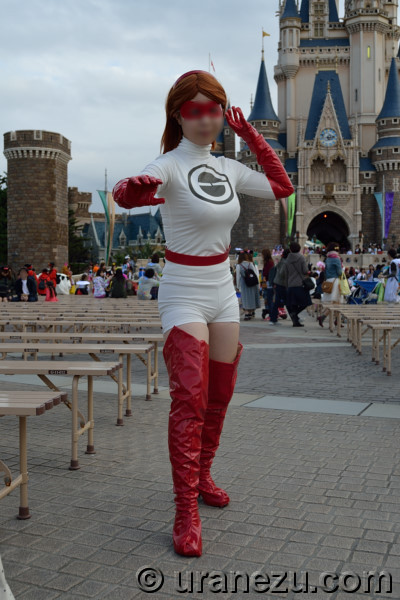 I'm at The Top of TDL Halloween!
In this year, I saw so many Incredibles in TDL Halloween. So she's very fresh to me and she's stand out from a red and black group. She's enjoying play the super heroine, and the fun-filled atmosphere transmitted to us. She's very attractive with cool hero suit.
"Elastigirl" from "The Incredibles".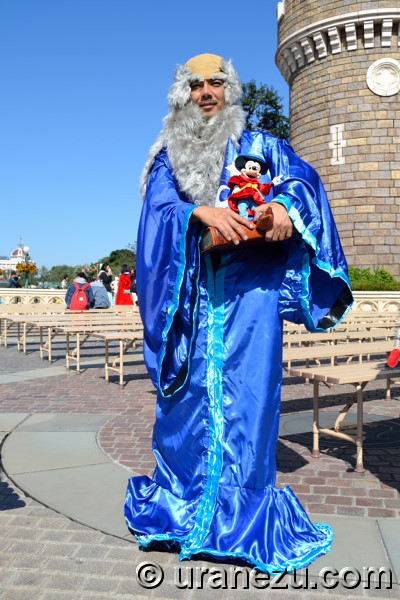 The Apprentice's Famous Sorcerer!
He played dignified powerful sorcerer perfectly. We can see he's going to take a nap from he took off a magical hat. His attire take us to the story. It's really well thought out costume.
"Yen Sid" from "Fantasia, The Sorcerer's Apprentice".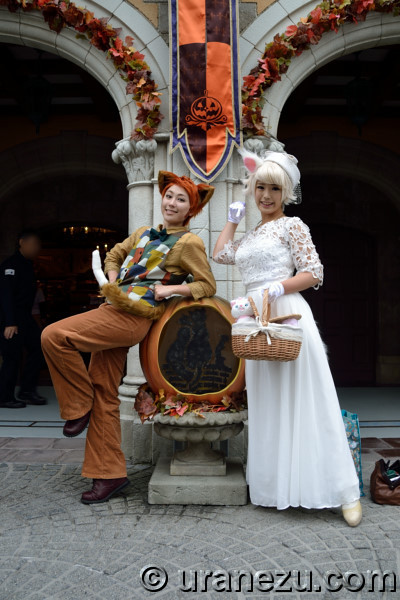 Everybody Wants to Be a Cat (like you two)!
Japanese pop culture proudly presents this two kakkoi(cool) and Kawai(cute) feline couple. Oh I definitely fall in love with them. The posing and each characteristic and sophisticated costume, and even the location(ex. shop name is "Aristocats"), everything is perfect!
"O'malley and Duchess" from "The Aristocats".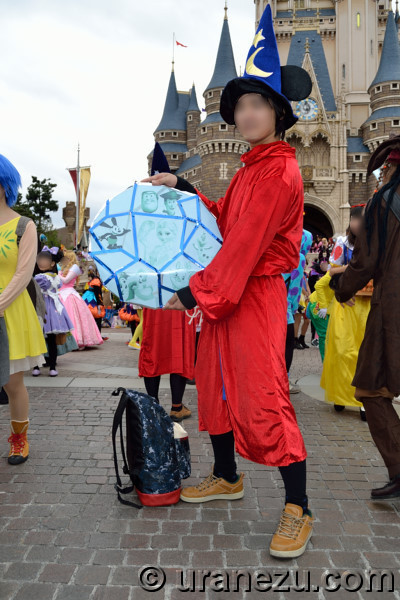 Congratulation for DL 60th Anniversary!
There are many sorcerer Mickey in TDL Halloween, but he's special. You can see the reason and why he made the diamond which he hold below the link. I love his spirit of challenge and arranging. I'd like to give him an applause.
D23 Expo Japan 2015 Coming to Tokyo Disney Resort This November
"Sorcerer Mickey ˜D23 Expo in Japan version˜" from "Fantasia, The Sorcerer's Apprentice".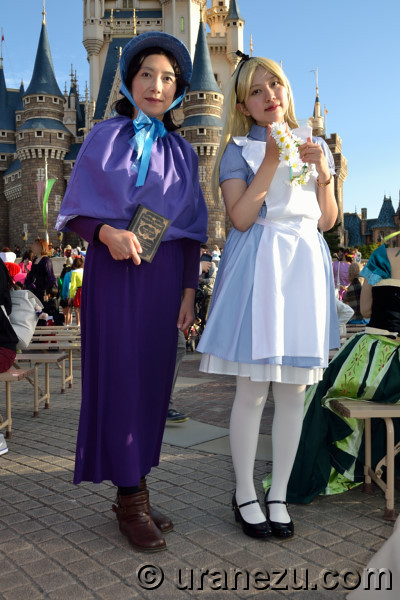 In the golden Afternoon at TDL Halloween!
I saw many units which consist of Alice and the wonderland character. So I was really exciting to meet Alice with actual world character. The two pretty girls capture the feature of their character. The sister is grace with the beautiful proper dress, and holding a daisy garland Alice is cute dreamy girl.
"Older Sister and Alice" from "Alice in Wonderland".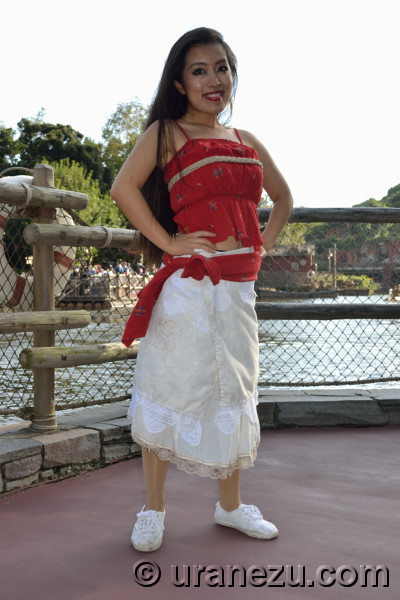 Aloha from TDL Halloween!
Yes, a hidden princess is finally unveil at TDL Halloween. It's my first to see a princess Moana, so I'm really lucky to able to share with you. I'd like to praise her who started from so very few character cut. She's cute and cheerful, I think the Moana in movie will be a same as her.
"Moana Waialiki" from "Moana".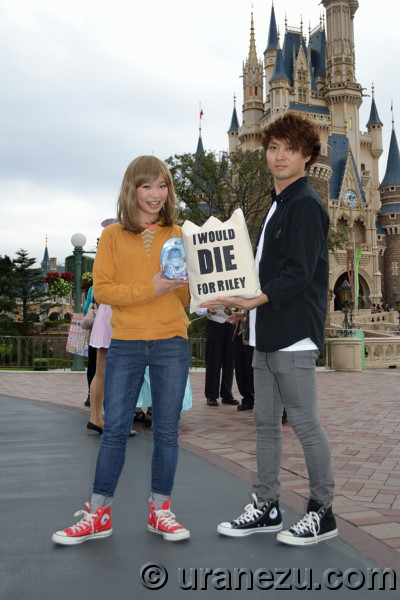 We live in Japan!
This two young couple played happily the popular heroine and her boyfriend in her mind. They're so cute and very natural in the crowd. I couldn't help to ask a picture for my website. Her lovely smile tell you a cheerful Halloween atmosphere at TDL.
"Riley and Her Imaginary Boyfriend" from "Inside Out".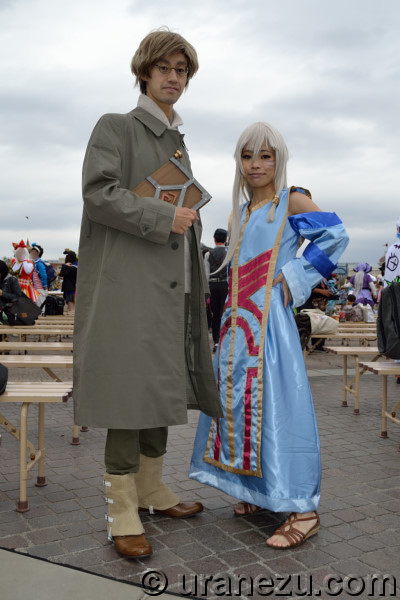 Where the Halloween dream takes you!
They look like a real characters came out from the film. Their costumes are so beautiful, the props are perfect and of course they're cool and cute, I was surprised their high precision Halloween disguising.
"Milo and Kida" from "Atlantis: The Lost Empire".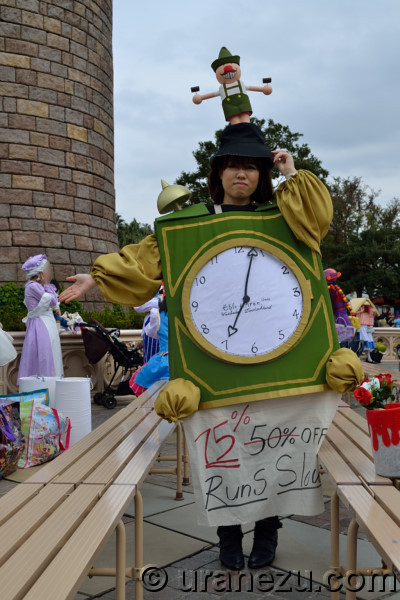 Not Just Repair, but Create!
It was unforeseen pleasure for me to met the green clock at TDL Halloween! I can't believe her high-quality costume. I always admiration for her great ability to make a Halloween dress and a power of idea. My favorite parts of her dress is the sale memo. She colored the lines of notepad! (Did you know she is same as "Anna" in 2014?)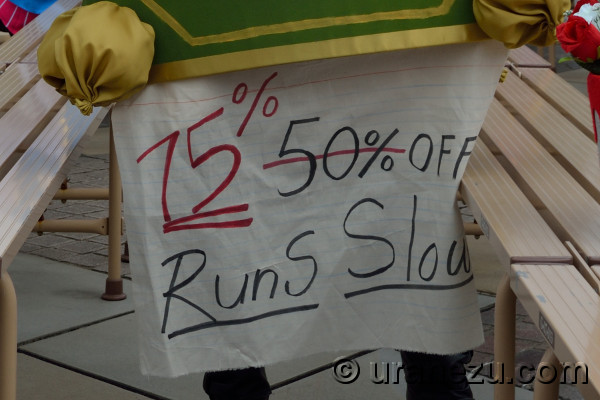 "A dumping price table clock" from "Tick Tock Tale".