Amazing Halloween Costume
> 2014 Part 01
---
---
Please do not use uranezu pictures on other websites without permission.
Please do not use uranezu.com cosplay pictures on other websites. All of the cosplayers of this site gave me a permission to use only on my website "uranezu.com". Thank you for your understanding.
If you find any copies of the uranezu cosplay pictures in any other places being used on a web site, printed or sold without my permission, please inform me as soon as possible, for there is a possibility of an infringement of copyright. It is also helpful if the URL(if there is one) or the place they are being printed or sold is indicated, so that it is possible to warn or to take legal actions against the person involved.
For many cosplayers gave their pictures to uranezu.com., please understanding and support this.
Amazing Halloween Costume 2014 Part 1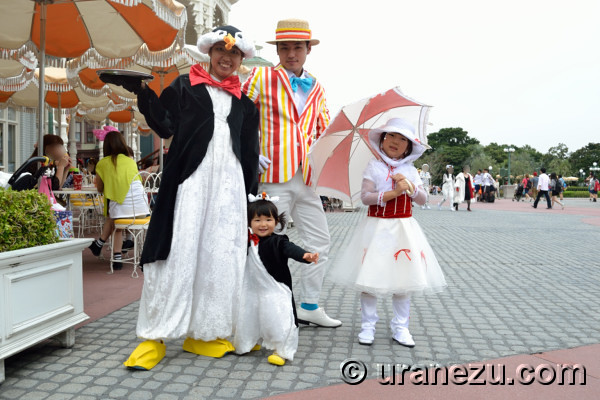 Jolly Halloween!
An opener of 2014 TDL Halloween is one of my favorite lovely family which dressed up as one scene from Mary Poppins. They are so perfect attire at Jolly Halloween Holiday. I like their beautiful dresses, effective props, especially their happy faces.
(Did you know they are same as unit of "Wreck-It Ralph" in 2013?)
"Penguin Waitress, Bert, Mary Poppins" from "Mary Poppins".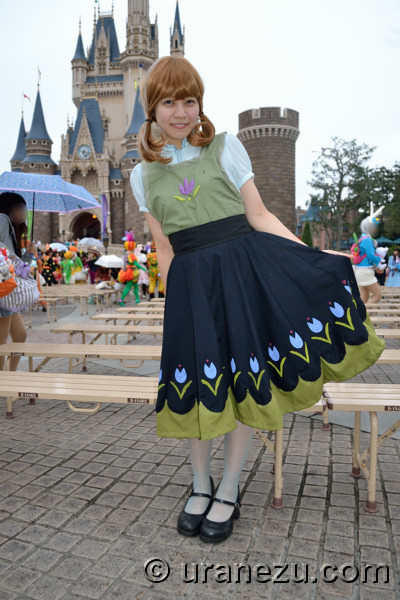 Come on lets go and play at TDL Halloween!
I know you don't expect me to introduce an usual Ana & Elsa. Yes, there were many many Ana & Elsa. It is wonderful uranezu moment to meet this pretty Ana! She played a childhood Ana. It's interesting choice . The lovely costume was really suited her. "Childhood Ana" from "Frozen"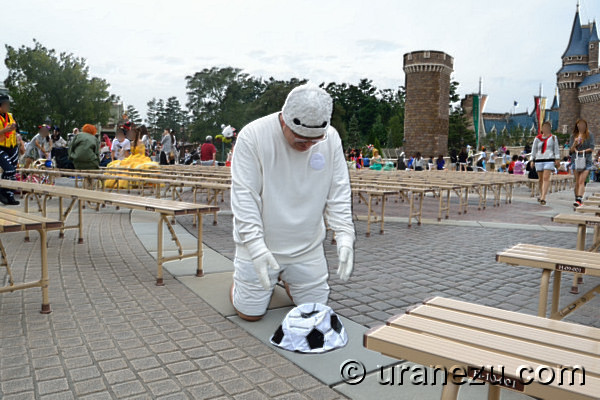 3D teaser released!
In this year 2014, he selected a character from most high expectation movie. His cap, BAYMAX's face fabric is soft and smooth, it's not like robot material, but I think it expresses the heart of BAYMAX. I always feel his love for Disney character from his nice costume.
(Did you know BAYMAX is same as "C? Crab" in 2012?)
"BAYMAX" from "Big Hero 6".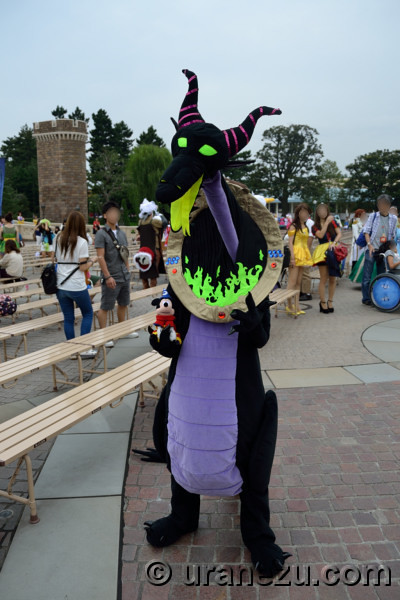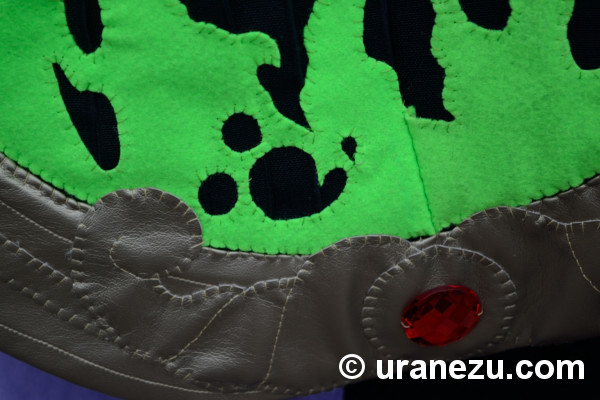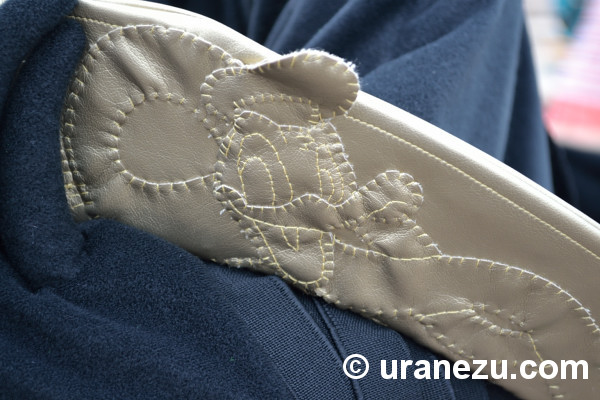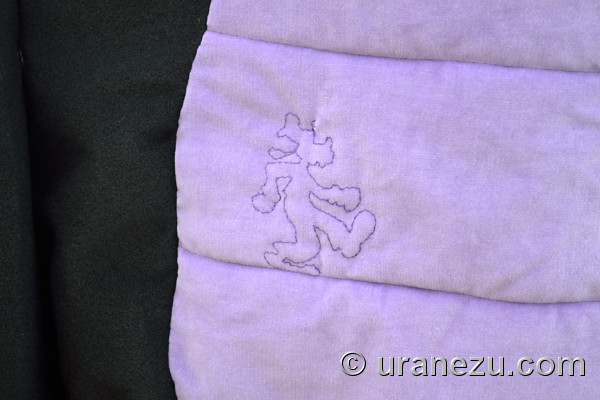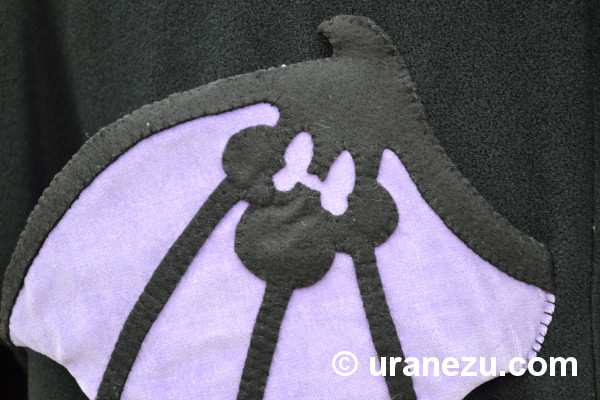 Climax!
I always respect and fan of her costume style. Every elaborate needlework caught my eyes. And seeking for Hidden Big 5 on her costume was so fun!
There was cute joke tag which use Fanta the beverage and Fantasmic in Japanese in her back.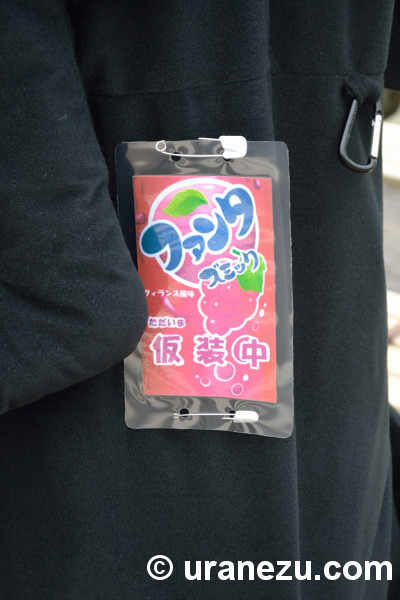 (Did you know Maleficent the Dragon is same as "Goofy" in 2013?)
"Maleficent the Dragon" from "Fantasumic! at TDS".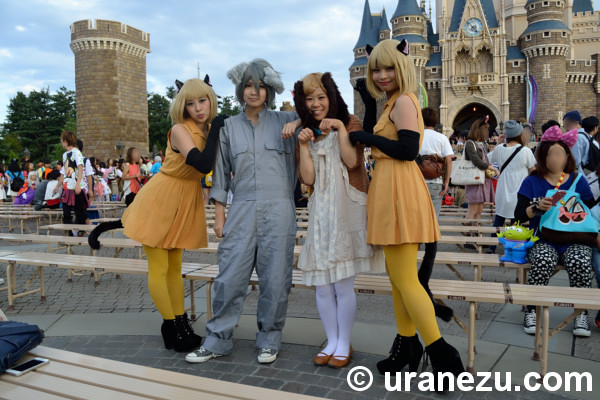 Happy Gathering!
I am very impressive their well-thought out costumes. The gray coverall really fit for the image of Tramp the stray dog, and Lady's beautiful lacy dress express her wealthy living and her sleeveless dress very fashionable and good for twin cats.
"Si, Lady, Tramp, Am" from "Lady and the Tramp"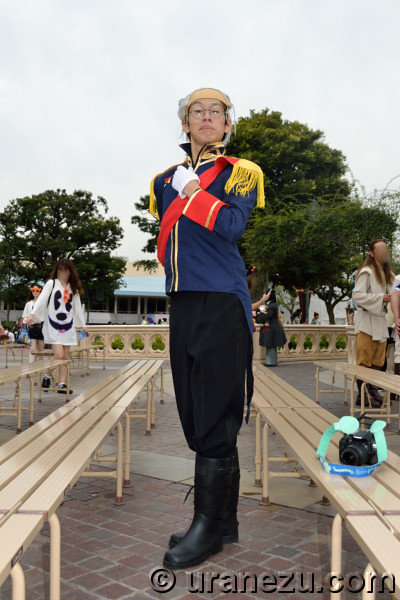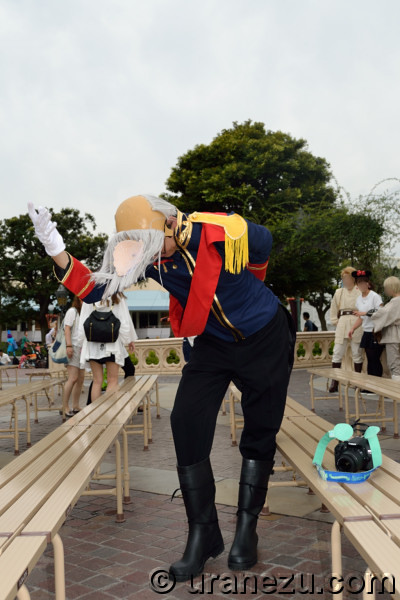 Asking for a dance in the style of Weaseltown!
He was stand out from many Frozen characters. He was not a cool prince, not an adorable snowman, however I think he is the best performer. I was surprised not only his costumes with wondrous wig, he also mastered the way Duke's agile peacock dance!
"The Duke of Weselton" from "Frozen".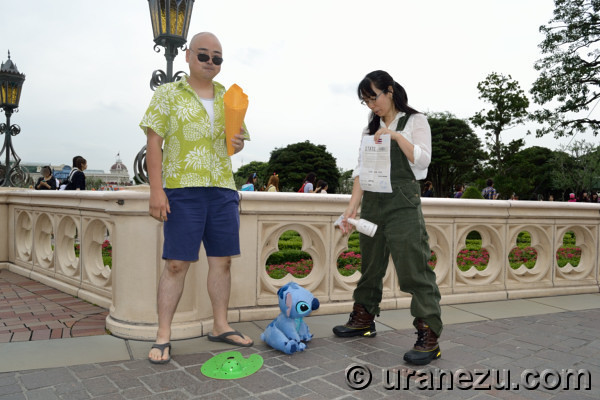 Two Impressive Openers!
I'm looking forward to meet them in every Halloween. Because their characters always far beyond my expectation. Their sophisticated selection of Halloween characters were so wonderful. They also known as Hidden Mickey master in the park, so their props' hidden was so elaborated.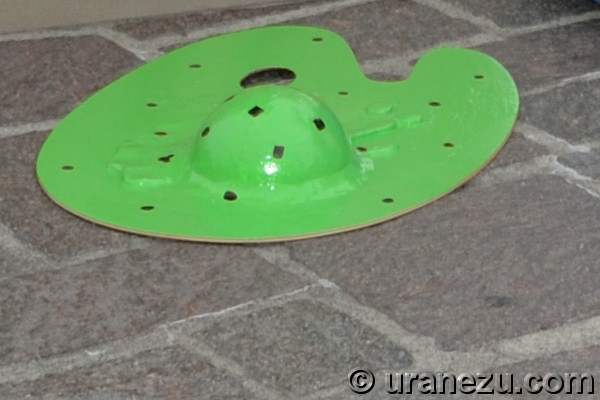 (Did you know they are same as "Grown Andy & Grown Sid" in 2013?)
"Ice-Cream-Man & Rescue Lady" from "Lilo & Stitch ".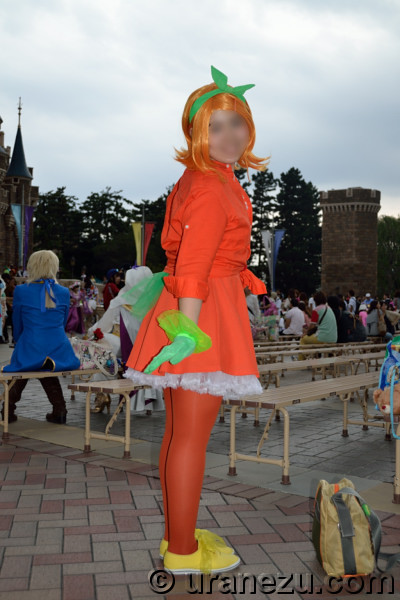 Fly Away from Sunshine Tree Terrace!
It was the first time to meet dressed as this shiny orange bird. Her vivid color dress with fresh green accessories captured the feature of Orange Bird. She's so charming!
"Orange Bird" from "Florida Citrus Commission".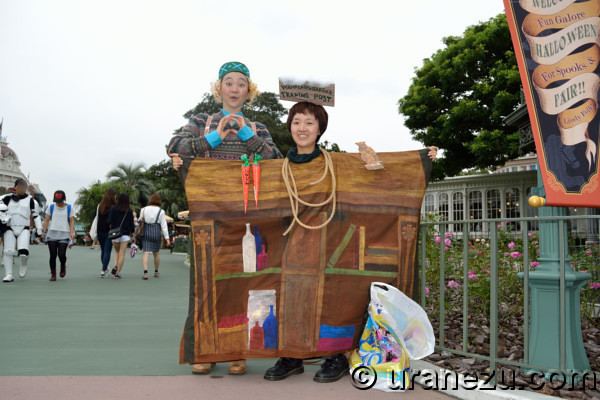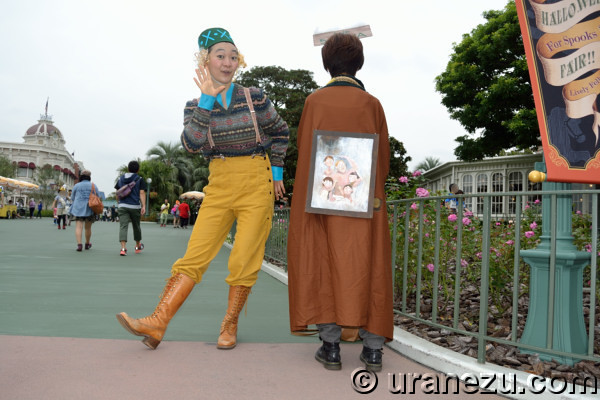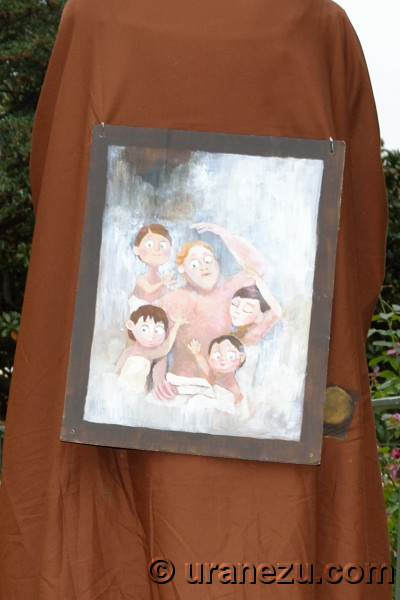 Hoo Hoo!
I arrived at cheerful and peaceful trading store and sauna in TDL. They were very cute and nice. It was so unique to disguise them as a shopkeeper and his shelf in the store. I admire their spirit.
(Did you know they are same as "Umbrellas" in 2013?)
"Oaken with Wandering Oaken's Trading Post and Sauna's desk" from "Frozen".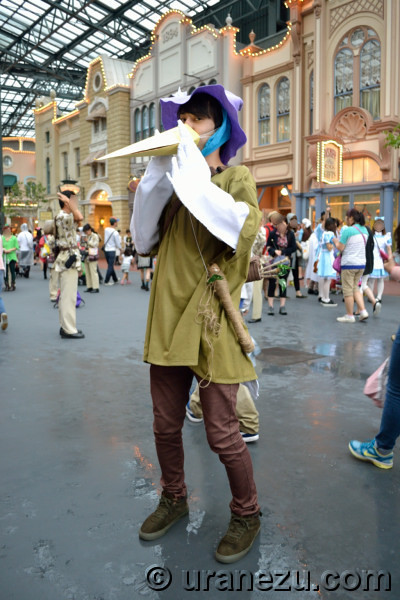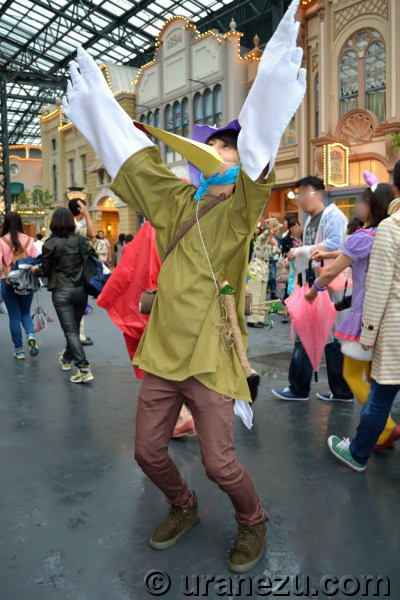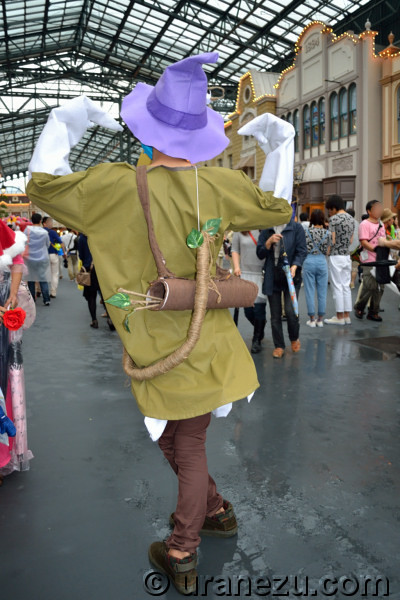 Show Your Skills!
I always surprised how minor character I could encountered at TDL Halloween. I saw many Robin Hood characters in every year, but it's first time to meet this version. I like his sense of fun! You can feel how he loves this character from his amazing costume and props.
"Anonymous Bird (AKA. Robin Hood)" from "Robin Hood".