Amazing Halloween Costume
> 2011 Part 01
---
It's the most wonderful time of the year has come.
Christmas?
NO!
New Year?
NO!
Summer Holiday?
NO!

URANEZU.COM thinks...it is the Halloween!
At TDL, the guest can enjoy dressing up for Halloween during the allotted time period by TDL.
The main rule of TDL Halloween in this year 2010 is,
"Can be disguised as ONLY the Character in Disney Animations & Disney Attractions."
The basic is not change in 2010, however, in this year 2011 rule is more strict and complicated.

2011 Disney Halloween Rules
In this duration lots of guests come and enjoy the Halloween disguise who have prepared the costume for this moment over couple of months, some people over a year.
Here are the selection pics which masterpiece.
So, please enjoy with greater respect and feel their passion!

They are really awesome!
---
Please do not use uranezu pictures on other websites without permission.
Please do not use uranezu.com cosplay pictures on other websites. All of the cosplayers of this site gave me a permission to use only on my website "uranezu.com". Thank you for your understanding.
If you find any copies of the uranezu cosplay pictures in any other places being used on a web site, printed or sold without my permission, please inform me as soon as possible, for there is a possibility of an infringement of copyright. It is also helpful if the URL(if there is one) or the place they are being printed or sold is indicated, so that it is possible to warn or to take legal actions against the person involved.
For many cosplayers gave their pictures to uranezu.com., please understanding and support this.
Part 1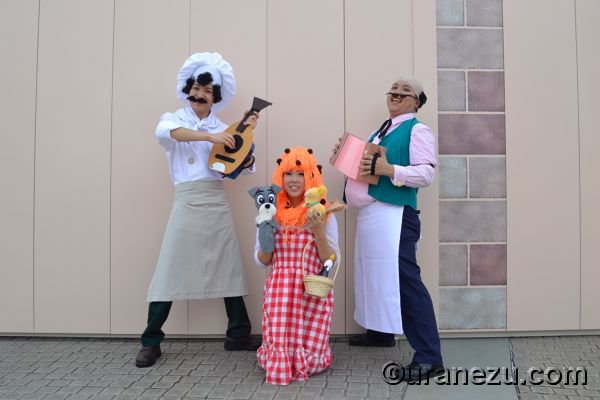 Under the sun, but this is the Bella Notte!
It's a harmony with realistic representation and imagination. The every detail is awesome that touched my heart. The Spaghetti girl with tablecloth apron dress is amazing. I was so impressed their passion for Disney Animation and excited about the idea, therefore I completely forgot to asked her to hold the upside-down Lady correctly. I am very sorry all. (Did you know this party is same as "Walrus" & "Carpenter", "101 Dalmatians unit", and "Peter Pan unit" in 2010 ?)
"Joe" & "Tony" with "Romantic Spaghetti" from "Lady and the Tramp".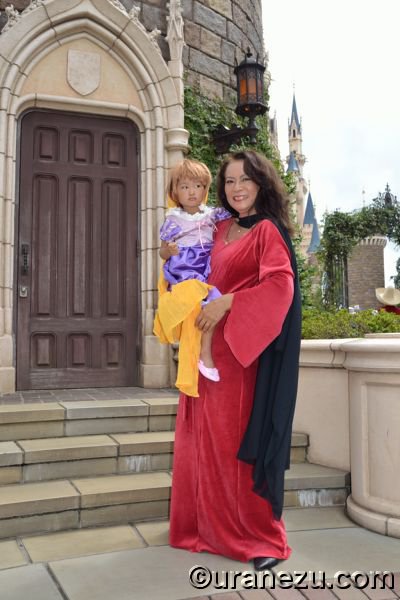 A brief escape!
Here are the character from the "Tangled". Cute Rapunzel and Gothel with a very attractive smile are nice duo.
"Rapunzel & Moter Gothel" from "Tangled".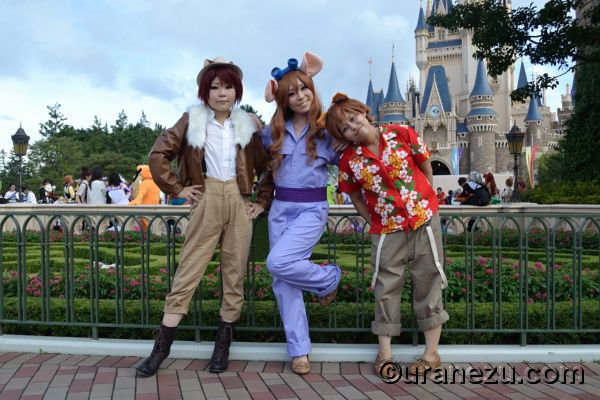 Rescuers in TDL!
The Fabrics and the color for their costume and style are very well-balanced. They look like something out of an animation.
"Chip & Dale & Gadget" from "Chip 'n Dale Rescue Rangers".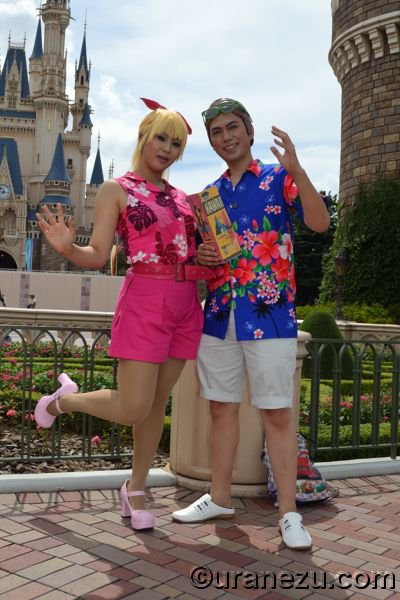 Stop over at Tokyo way back from Hawaii!
I was amazed at how they had an unshakable belief. Last year's Halloween, they dressed up as a Toy Story 3 version Barbie & Ken. And in this year, they changed their costume for "Toy Story: Hawaiian Vacation" the short film.
(Did you know this party is same the Mattel couple in 2010 ?)
"Barbie & Ken" from the "Toy Story: Hawaiian Vacation".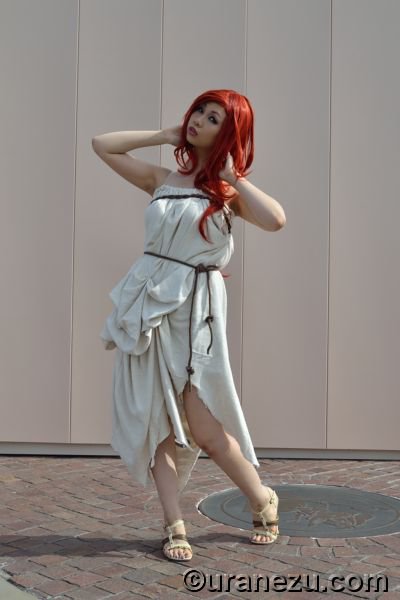 At the TDL shore!
There are many guests dressed as a mermaid Ariel, a various dresses Ariel in this season, however she re-enacted the sea shore scene just after the transformation is rare.
"Ariel" from "The Little Mermaid".
Petit stepsisters!
Their mother told me that she made their dresses only 3 days before this day! Oh, what a surprise!
"Drizella & Anastasia" from "Cinderella".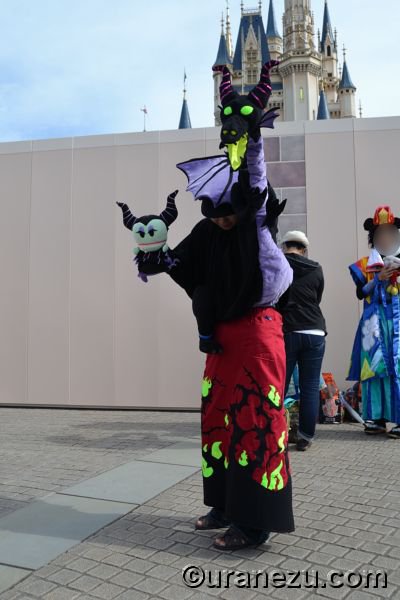 Find them before be burned!
She created the an Enormous and graceful dragon. Remarkably, not only the dramatic dragon form, but also the forest of thorns and flames on her skirt. The fab 5 is hidden within the skirt. Bravo!
"Maleficent's dragon form" from "Sleeping Beauty".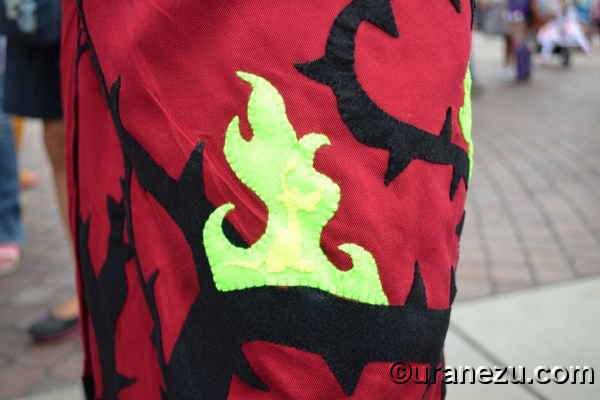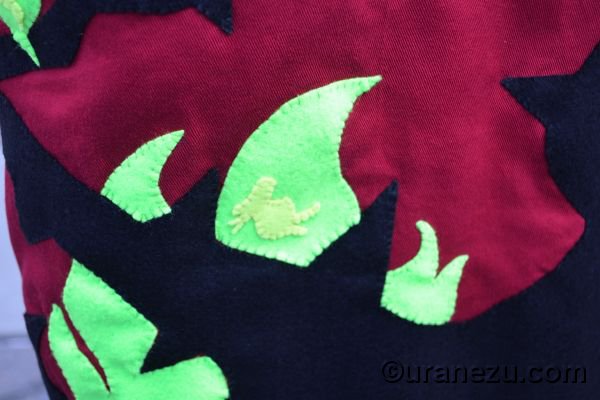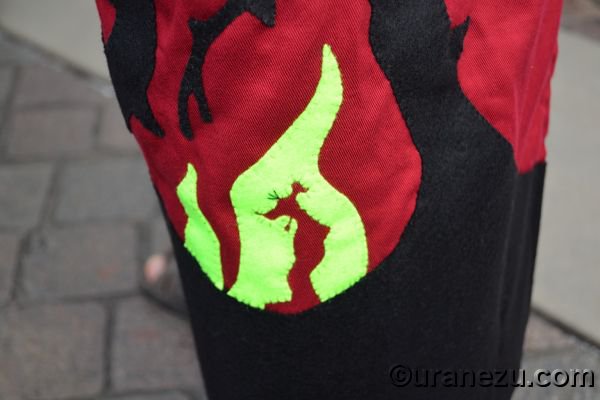 At last, you can find the Mickey!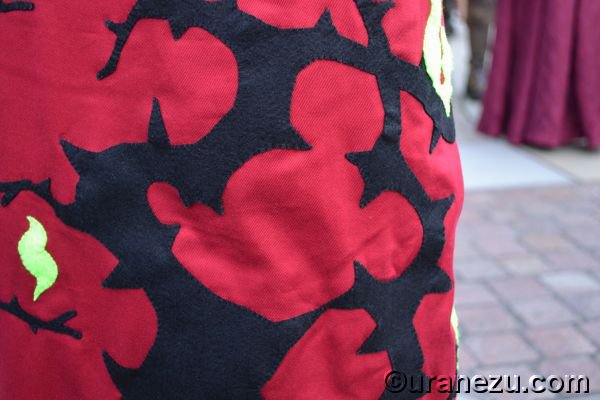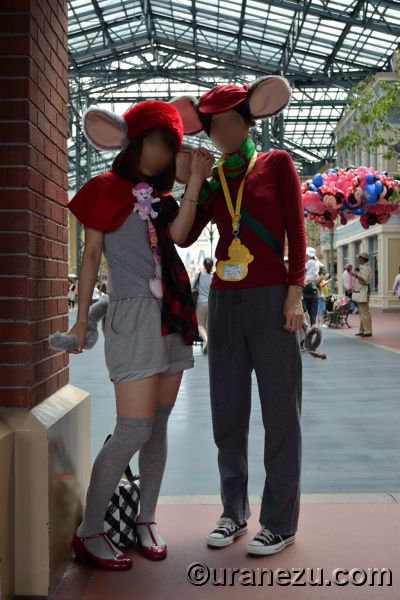 (cover their faces by their own request)
Photographer is waiting for you!
They dressed as Bianca & Bernard in the holiday version is rare and cute.
"Bianca & Bernard" from "Rescuers".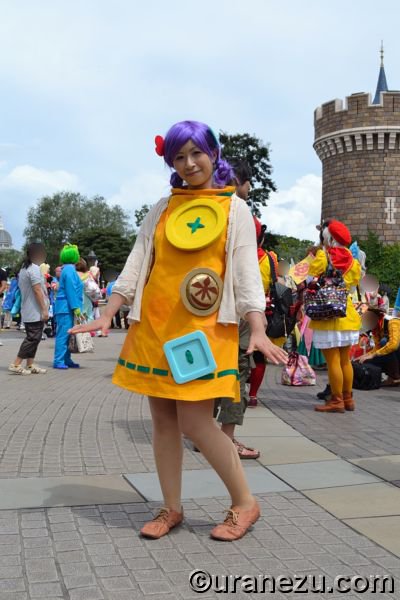 Come from Bonnie's room!
Here is a cute character from the latest Toy Story film. The skillful buttons on her dress are perfect for a picture.
"Dolly" from "Toy Story 3".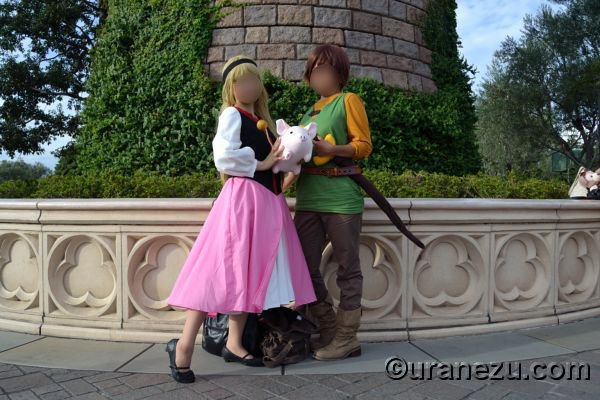 (cover their faces by their own request)
A scene from fantasy!
Here are the Disney classic animation character. You can really feel their passion from the elaborate costumes for the animation film.
"Eilonwy & Taran with Hen Wen the oracular pig" from "The Black Cauldron".