Amazing Halloween Costume
> 2013 Part 02
---
---
Please do not use uranezu pictures on other websites without permission.
Please do not use uranezu.com cosplay pictures on other websites. All of the cosplayers of this site gave me a permission to use only on my website "uranezu.com". Thank you for your understanding.
If you find any copies of the uranezu cosplay pictures in any other places being used on a web site, printed or sold without my permission, please inform me as soon as possible, for there is a possibility of an infringement of copyright. It is also helpful if the URL(if there is one) or the place they are being printed or sold is indicated, so that it is possible to warn or to take legal actions against the person involved.
For many cosplayers gave their pictures to uranezu.com., please understanding and support this.
2013 Amazing Halloween Costume Part 2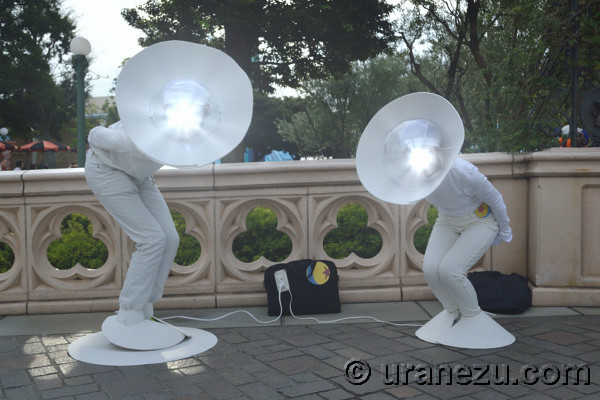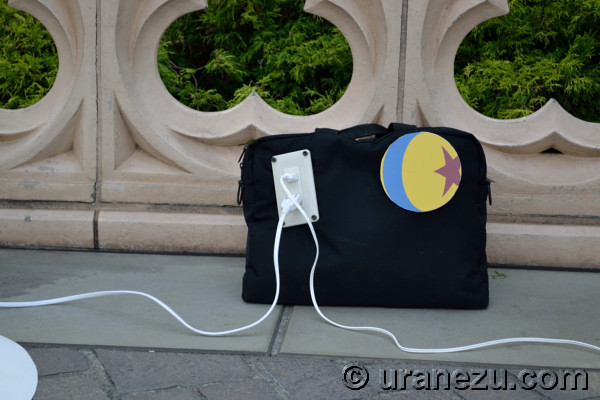 It All Started with two Lamps!
I was really exciting when I met two adorable celebrity lamps. And they plugged into an outlet. It's perfect! It's really cool and impactful costumes. I put a supernova filter on the picture by their request which they'd like to hide their faces. But Luxo Jr. had a mini light system, so she actually was shone.
"Luxo Sr. & Luxo Jr." from "Luxo Jr.".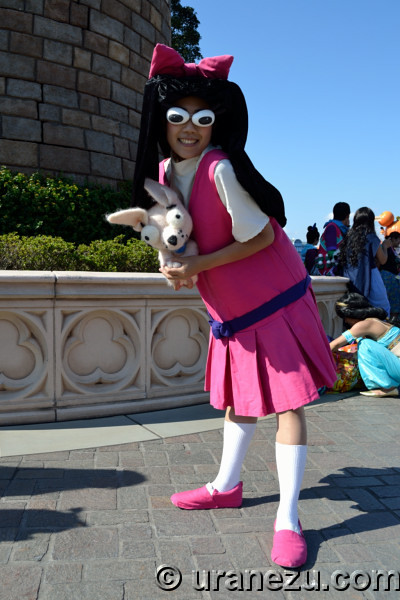 Whatcha doin'?
She was just a Isabella who come out from the world of Phineas and Ferb. I was very impressed that she expressed Isabella's characteristic hair with a velour. And I love her big eye glasses. It's wonderful idea!
(Did you know Isabella is one of the "Muses" in 2012?)
"Isabella Garcia-Shapiro" from "Phineas and Ferb".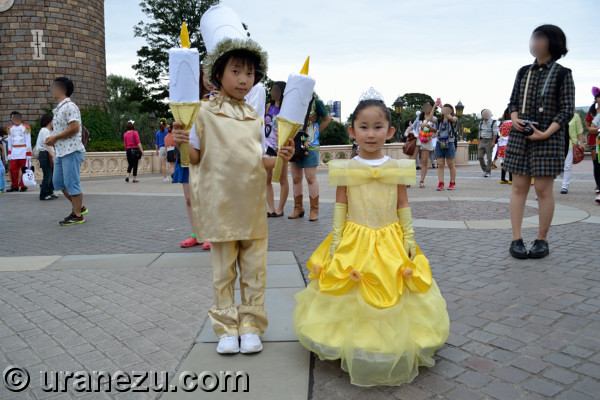 Mama proudly presents!
What a pretty little Lumiere and cute little Belle! You can see how children and their mother enjoyed TDL Halloween from their beautiful smile and neat costumes and props. I wish I had their mother's great skill of craft and sewing. Good Job mother!
"Lumiere & Belle" from "Beauty and the Beast".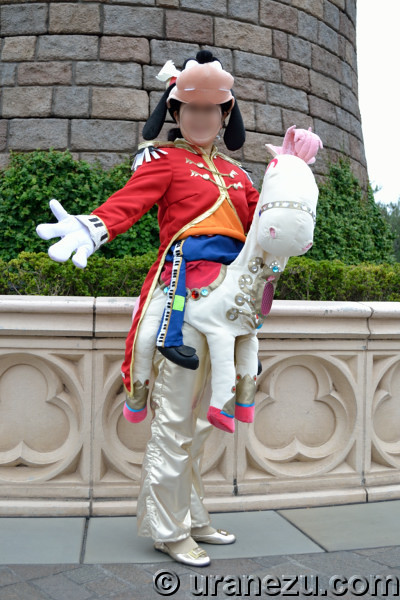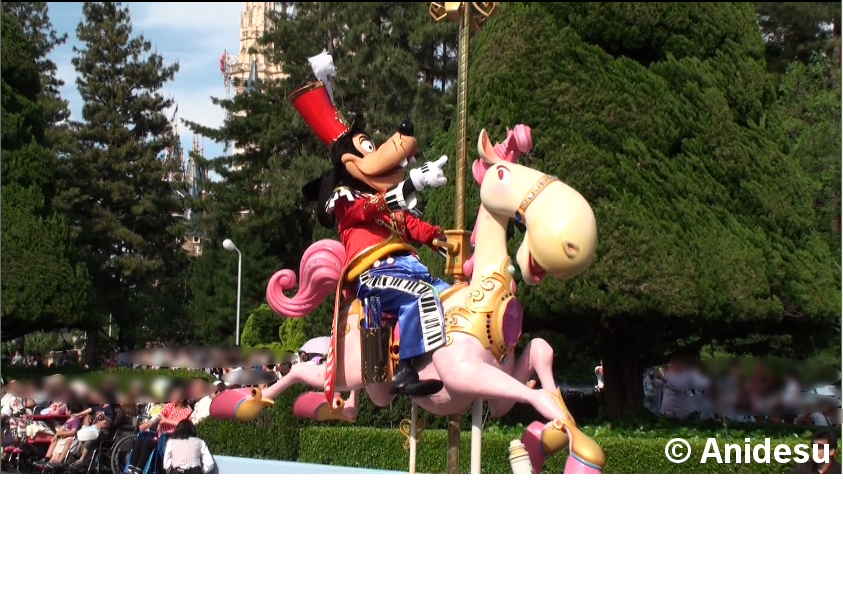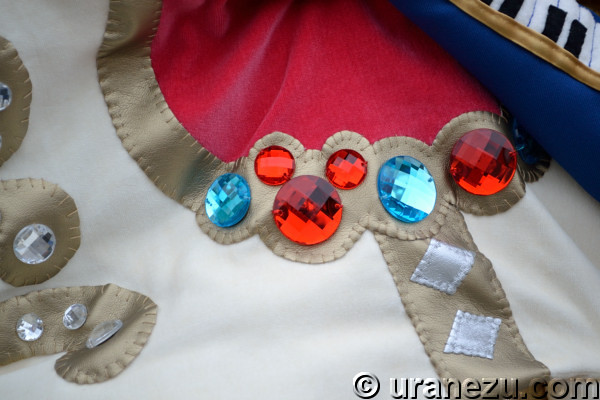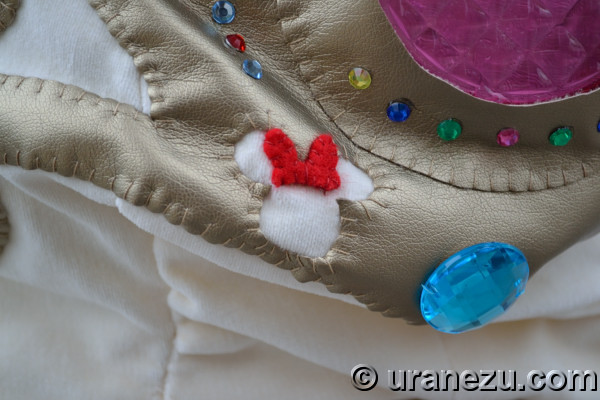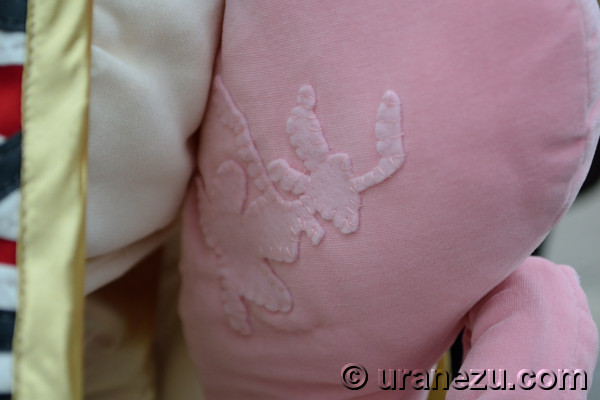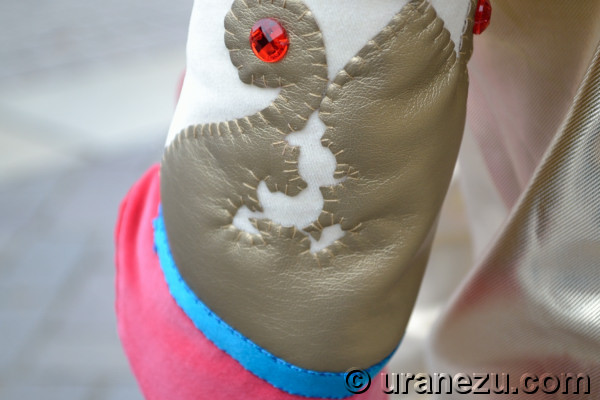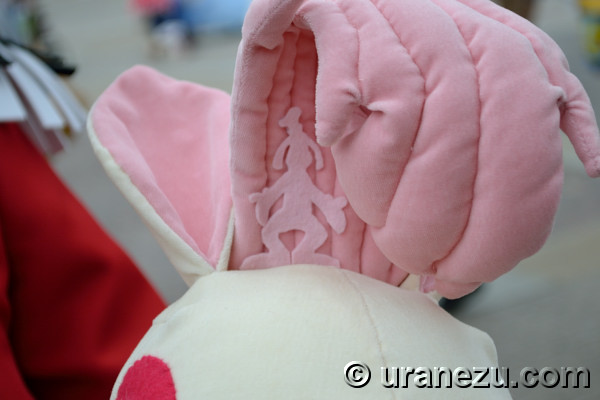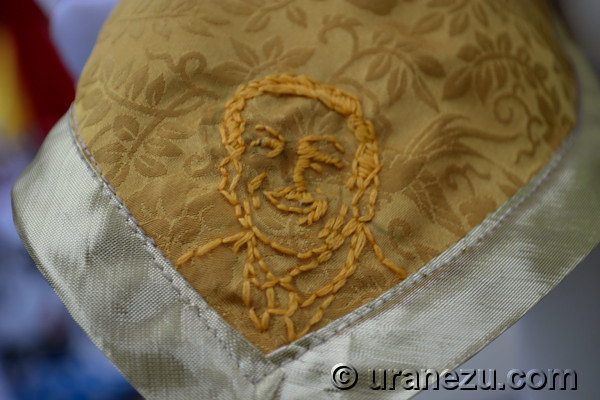 Happiness is JUST Here!
Her amazing costume contains full of happiness. There are hidden Disney friends and surprisingly hidden Mr. Walt! It's so wonderful. The Mickey hid in the saddle, Minnie hid in front of the horse, Pluto hid in the tail, Donald hid in the paw, Goofy hid in the mane, and Walt Disney hid in the coat lining. Great! Just Great!
(Did you know Goofy is same as "Dragon" in 2010?)
"Goofy" from "Happiness is Here" the 30th anniversary daytime parade.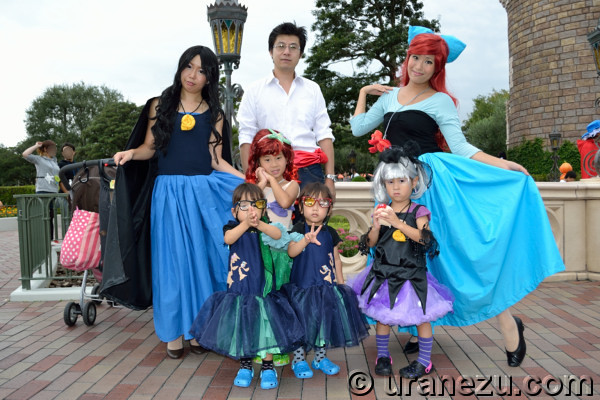 Part of Halloween World!
I like their elegant costume design, especially the little's dresses are so elaborated. I like the one-side-colored glasses of Flotsam & Jetsam girls. This family are so pretty and cute.
"Vanessa, Eric, Human Ariel, Mermaid Ariel, Flotsam & Jetsam, and Ursula" from "Little Mermaid".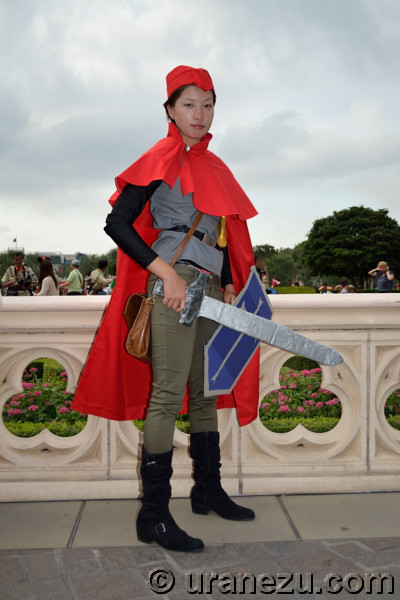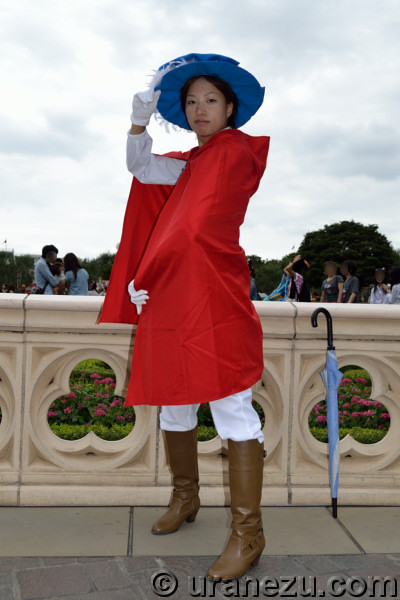 Charmings!
As far as I could see, she's the only Phillip who prepared a shield for a props. I understand and I love this her obsessiveness with details. She enjoyed Halloween as Snow White's prince on a different day. She looks great in two prince's costumes.
"Prince Phillip" from "Sleeping Beauty", "The Prince" from "Snow White and the Seven Dwarfs".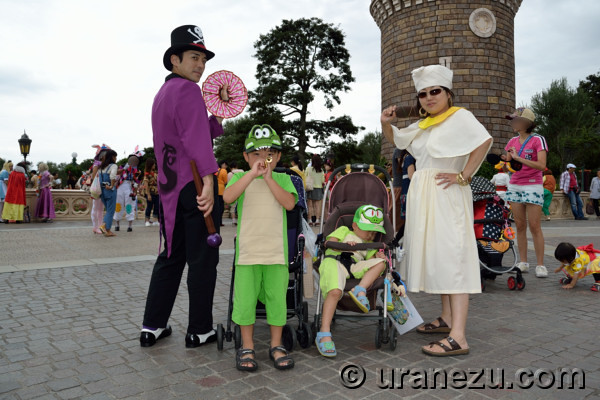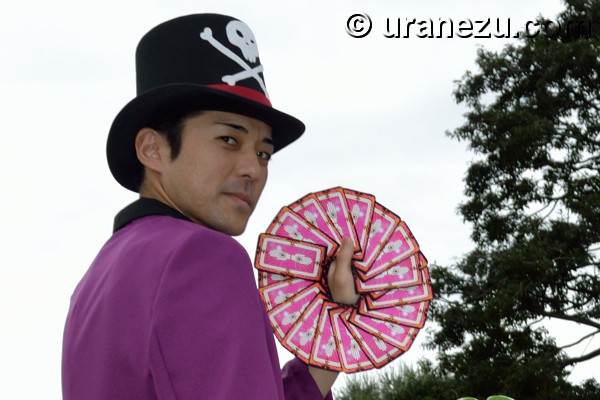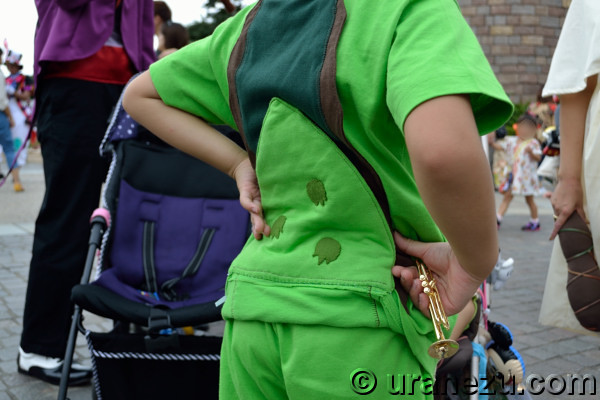 Down In TDL Halloween!
This strikingly attractive family was so amazing. Facilier's cane & cards, Louis' small trumpet, Mama Odie's stick, the props are perfect, and the costumes are indeed superb. Especially pricker on Louis's tail are brilliant. Can you see the shadow demons on his jacket? It's so cool and amazing family.
"Doctor Facilier, Louis, Mama Odie, and Juju" from "The Princess and the Frog".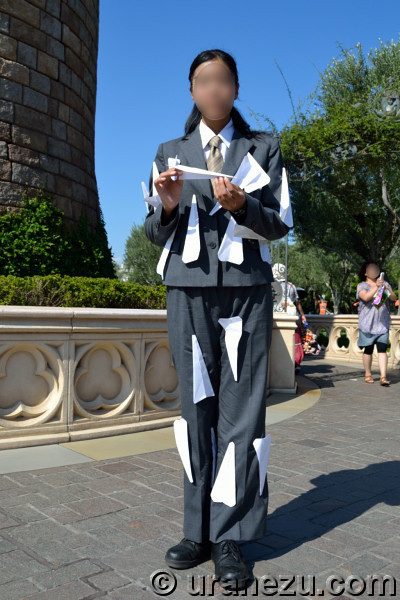 Go to the Platform via TDL!
It's happy moment for me to see a new character. The pretty young lady was dressed up in the stylish suit with many paper airplanes. It's simple but elegant. I could see 1940s NYC through her perfect costume.
"George" from "Paperman".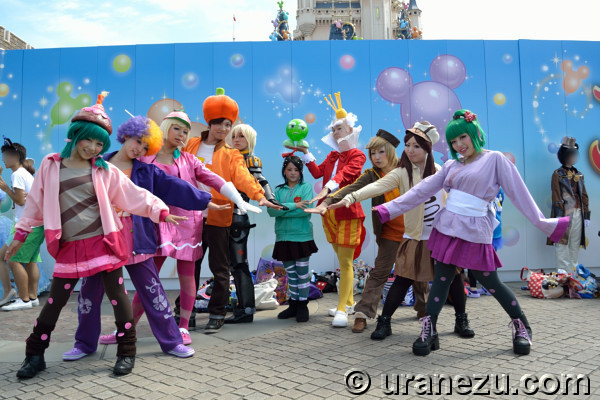 Have some Candies!
Here are outstanding big party from "Wreck-It Ralph". First, they are very cute and cool, second their costumes, head wears, and props are beautiful and detailed. It was really overwhelming.
"Candlehead, Snowanna Rainbeau, Taffyta Muttonfudge, Gloyd Orangeboar, Sergeant Tamora Jean Calhoun, Valellope von Schweetz, King Candy, Rancis Fluggerbutter, Crumbelina DiCaramello, Minty Sakura" from "Wreck-It Ralph".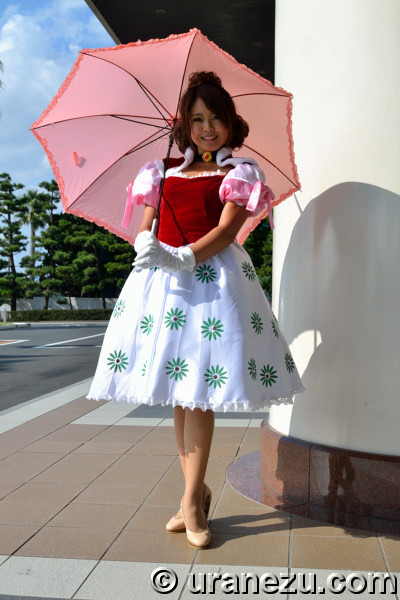 Day Off!
It's like the lady who come out from a frame at the Regular Haunted Mansion. I was very lucky to see her who dressed beautifully as a character of Haunted Mansion which is one of my favorite attraction. She is so elegant with a shining smile.
"A pretty young lady at the Stretching Room" from "Haunted Mansion" the attraction.