Amazing Halloween Costume
> 2015 Part 05
---
---
Please do not use uranezu pictures on other websites without permission.
Please do not use uranezu.com cosplay pictures on other websites. All of the cosplayers of this site gave me a permission to use only on my website "uranezu.com". Thank you for your understanding.
If you find any copies of the uranezu cosplay pictures in any other places being used on a web site, printed or sold without my permission, please inform me as soon as possible, for there is a possibility of an infringement of copyright. It is also helpful if the URL(if there is one) or the place they are being printed or sold is indicated, so that it is possible to warn or to take legal actions against the person involved.
For many cosplayers gave their pictures to uranezu.com., please understanding and support this.
Amazing Halloween Costume 2015 Part 5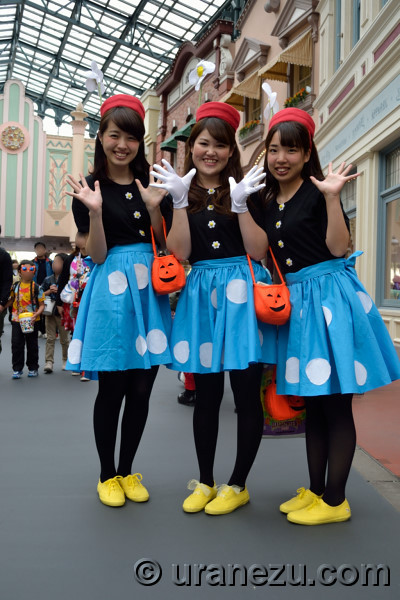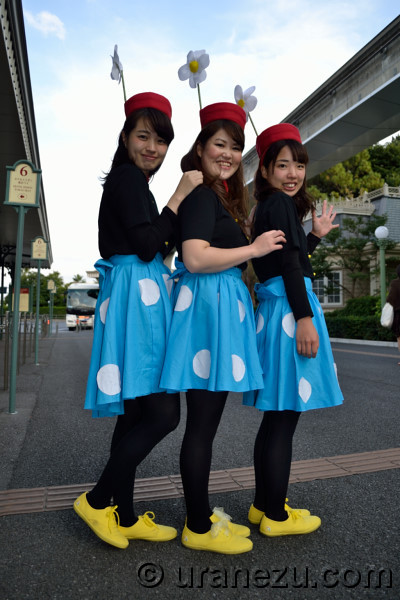 Yoo-Hoo!
A pretty black cardigan, retro sweet blue skirt, lovely toque hat with flower, and so adorable smile! They are absolutely cute Minnies. I really love their flower head dress, so I was lucky to meet again at another location where the flowers stand out in.
"Minnie Mouse" from "Get A Horse".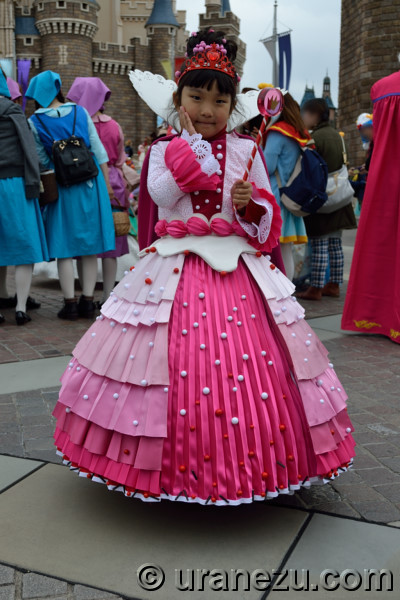 The Rightful Ruler of TDL Halloween!
I think she's the first real-size Vanellope in TDL Halloween. How cute she is with gorgeous dress! And don't miss her candy scepter, what a great and look delicious, oh I wish I could have one!
"Princess Vanellope von Schweetz" from "Wreck-It Ralph".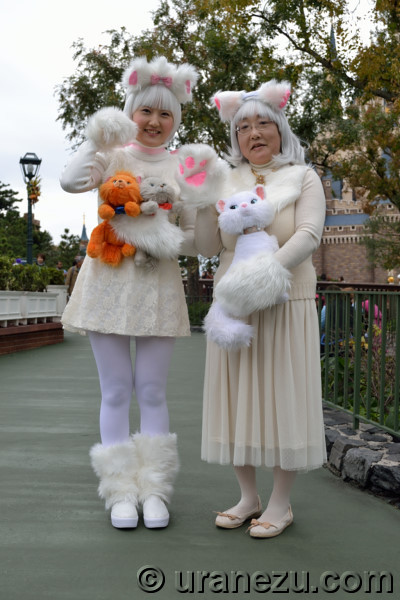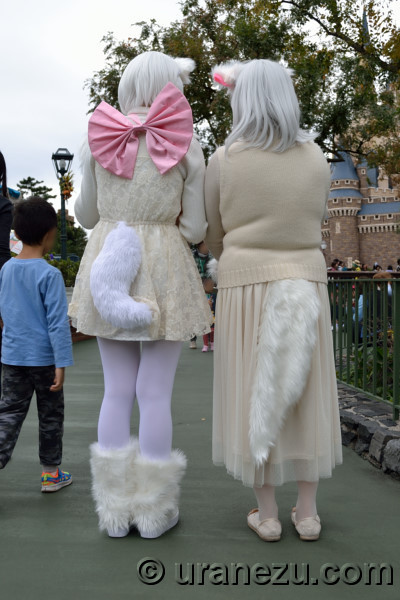 This is really ladylike!
This two lovely and sophisticated cats was played real daughter and mother. It was really nice to meet a family Halloween unit. They have so beautiful fluffy dress. Each dress has a great feature of their own characters.
"Marie and Duchess" from "The Aristocats"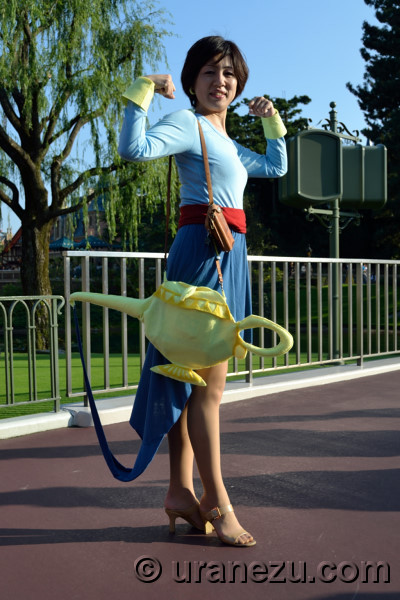 All You Gotta Do is Rub the Shoulder Lamp!
So beautiful idea for a lady Genie. This beautiful Genie take her lamp as a shoulder bag. Do you see her trace that came from the lamp? So that's why she wore a transparent sandal for a lack of visibility of her legs. She, Genie is really genius! Yes, Applause!!
"Genie" from "Aladdin".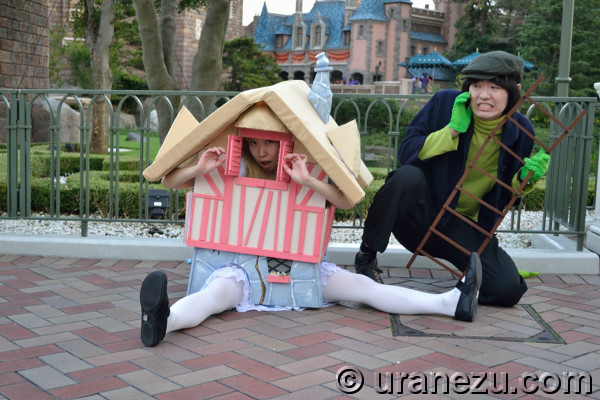 They're Passing Up a Golden Opportunity!
Who's come up with this character for Halloween? Who's think to make an exactly the scene? They could, and they did. I was really lucky and happy to meet them at TDL Halloween. And of course, share with them to you is my huge honor! They showed me the wonderland literaly.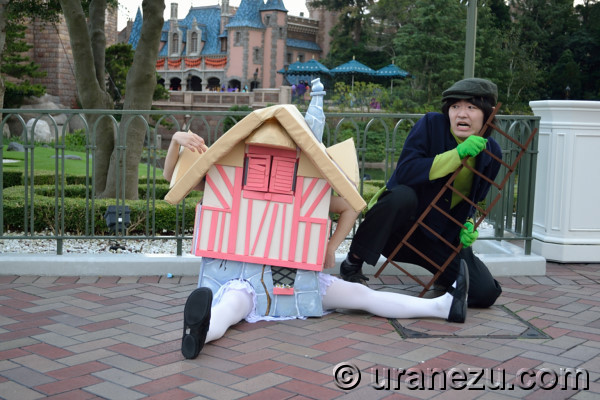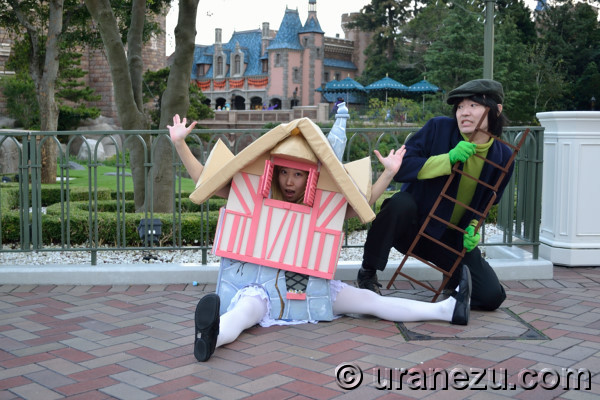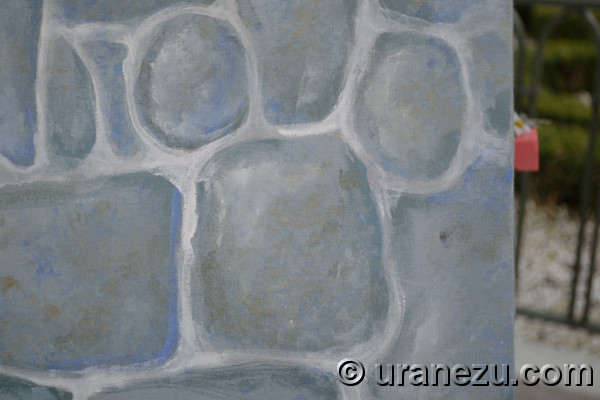 There is a Hidden Mickey in the stone base of the house exterior!
(Did you know she is same as "Rachel" in 2015?)
"Alice and Bill the Lizard" from "Alice In Wonderland"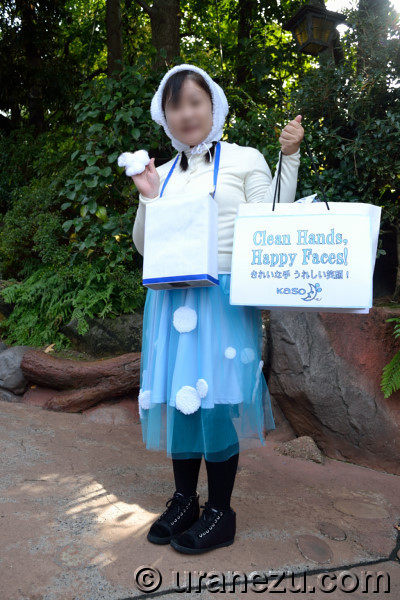 Clean Halloween Costumes, Happy Faces!
Do you know a "Forming Hand Soap" at TDL? If No, please see a fun dispenser.
See? What an amazing idea! Surprisingly, a candy capsule came out from a dispenser on her chest! And I love her neat and clean bubble dot tulle skirt.
"Minnie Mouse"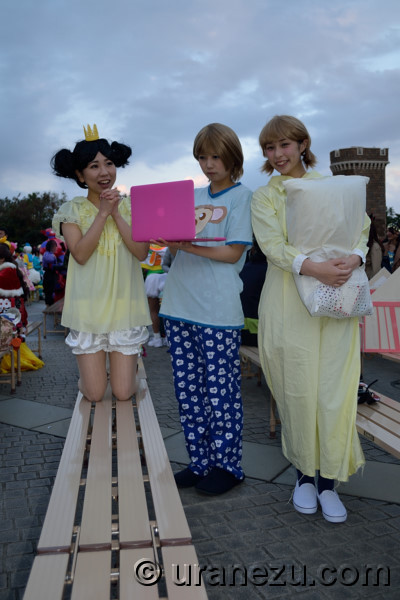 Every Girl Wish upon A Star (sometimes via internet)!
Here are girls in pajama series. It's really series, because they did Anastasia and Drizella in night dress in 2013!
What an interesting challenge they did! Please enjoy their lovely costume and expression.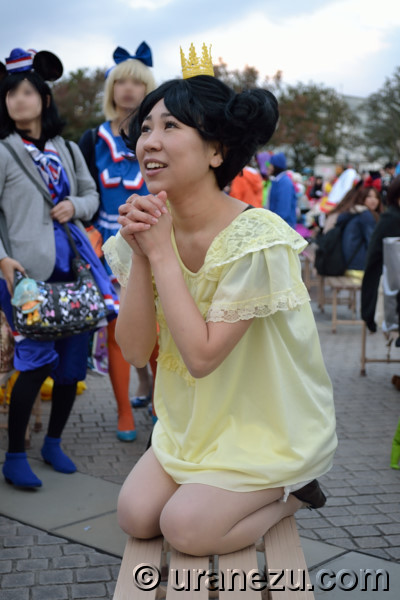 A cute little Tiana showed me so memorable opening scene. The pale yellow night shirt, two piled-up hair with little crown, and her cute expression! She is so Tiana in childhood from any angle.
"Young Tiana" from "The Princess and Frog".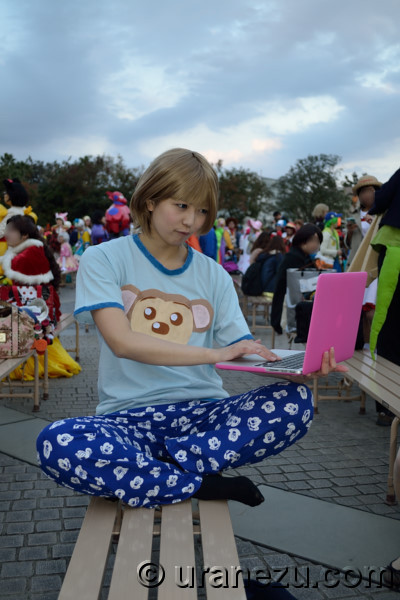 This pretty modern girl wore a pajama which completely same as a chat scene from the movie. We can imagine her various emotions are working busily in her head from her lovely face.
"Riley" from "Inside Out".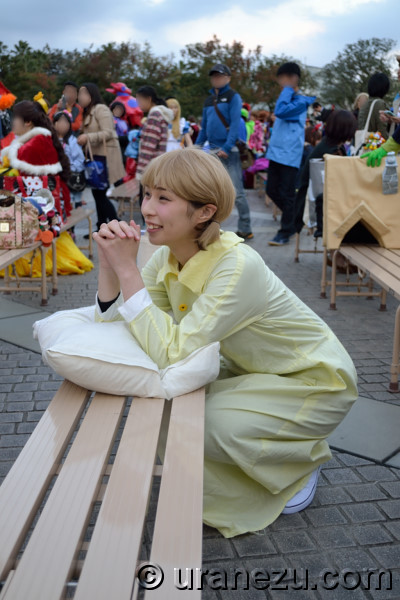 Today's last pajama girl is lovely Penny. Look at her lovable gaze! She's really expressed an aspects of Penny's shyness but gutsy. She's really look cute in neat yellow night shirt.
"Penny" from "Rescuers"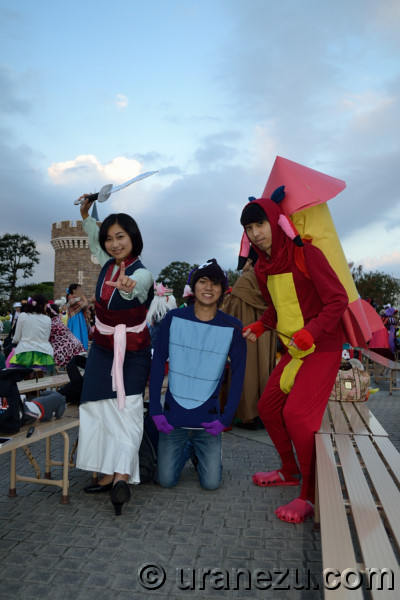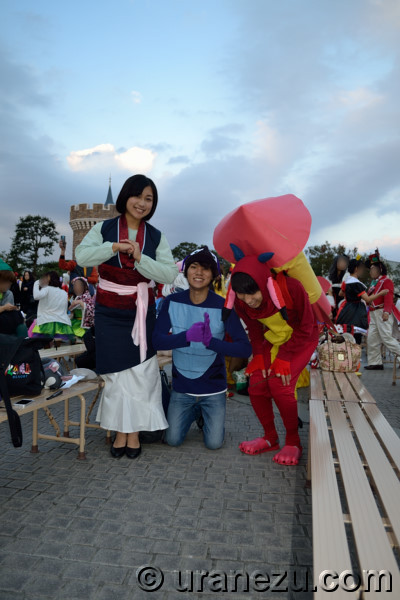 With All The Strength of TDL Halloween!
This Mulan group has really nice atmosphere. You can hear "I'll Make A Man Out Of You Reprise" from this pretty Mulan with a last battle dress, a beautiful bluish SMALL Cri-Kee, and Mushu with an amazing props. They enjoyed their Disney Halloween very much, and their cheerful ambiance transfer to us. I really love Mushu's big firecracker props with a paper. First picture, Mushu holding two sticks which is a frame of kite, then second photo, he posed as ready to launch with his back firecracker. It's really movie, awesome.
(Did you know Mushu is same as "Disguised Robin Hood" ?)
"Mulan, Cri-Kee, and Mushu" from "Mulan".