Amazing Halloween Costume
> 2010 Part 3
---
---
Please do not use uranezu pictures on other websites without permission.
Please do not use uranezu.com cosplay pictures on other websites. All of the cosplayers of this site gave me a permission to use only on my website "uranezu.com". Thank you for your understanding.
If you find any copies of the uranezu cosplay pictures in any other places being used on a web site, printed or sold without my permission, please inform me as soon as possible, for there is a possibility of an infringement of copyright. It is also helpful if the URL(if there is one) or the place they are being printed or sold is indicated, so that it is possible to warn or to take legal actions against the person involved.
For many cosplayers gave their pictures to uranezu.com., please understanding and support this.
Part 3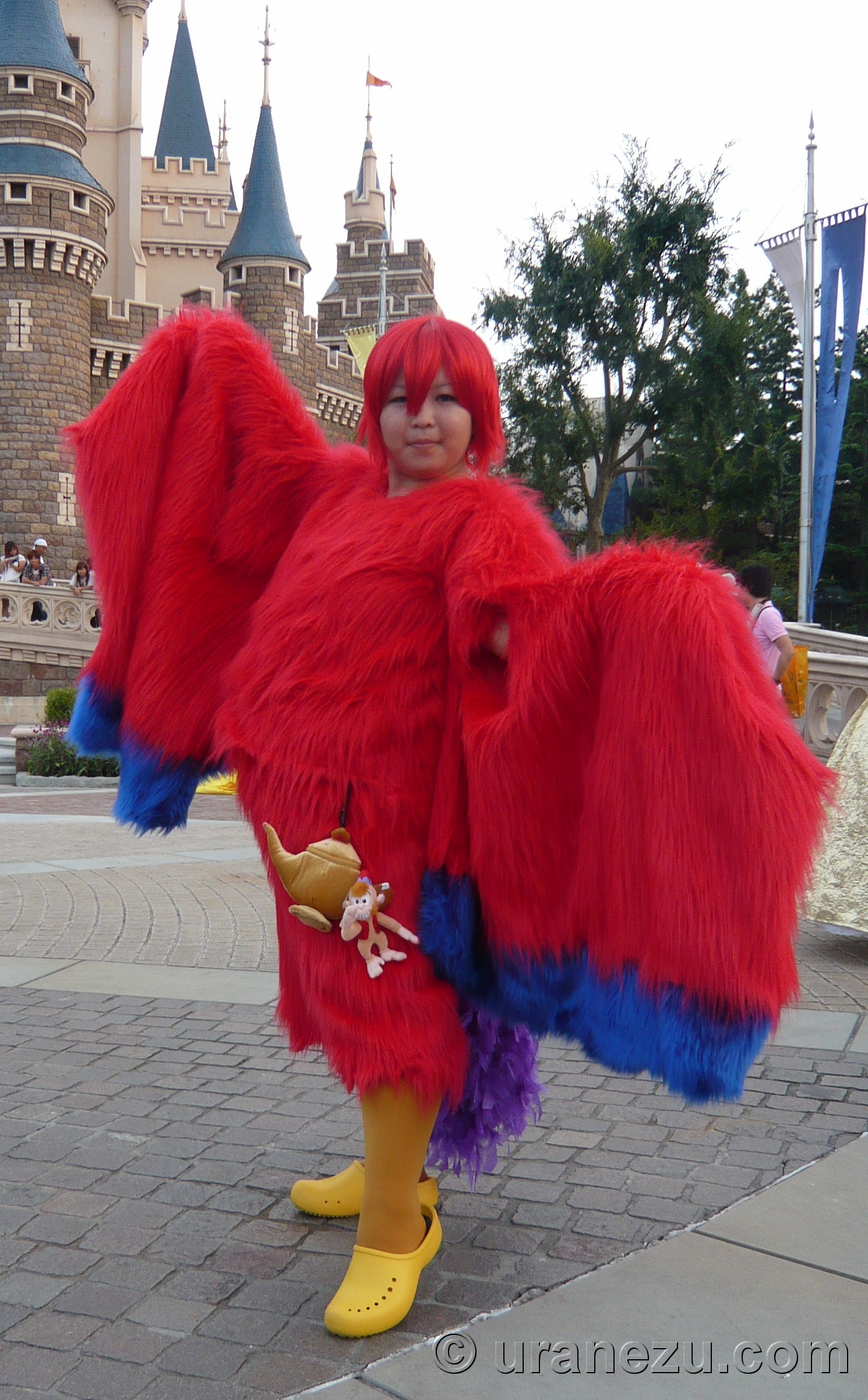 Exactly, Feather in the cap!
Look at the gorgeous plumage, and belt on the the lump & Abu are an important point.
"Iago" from "Aladdin"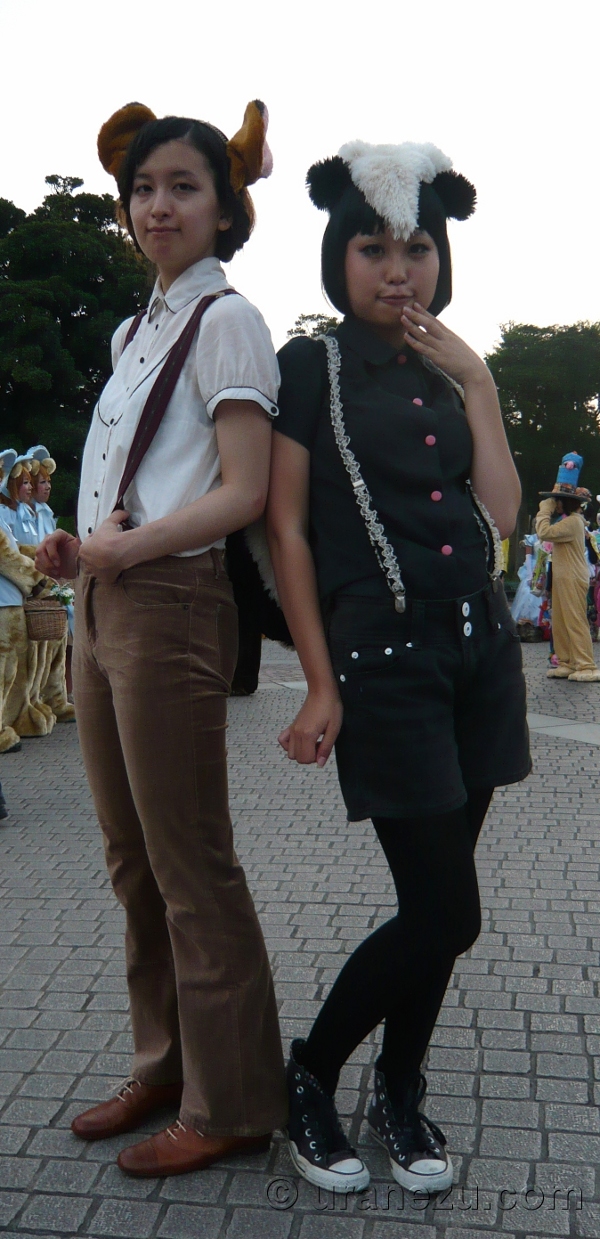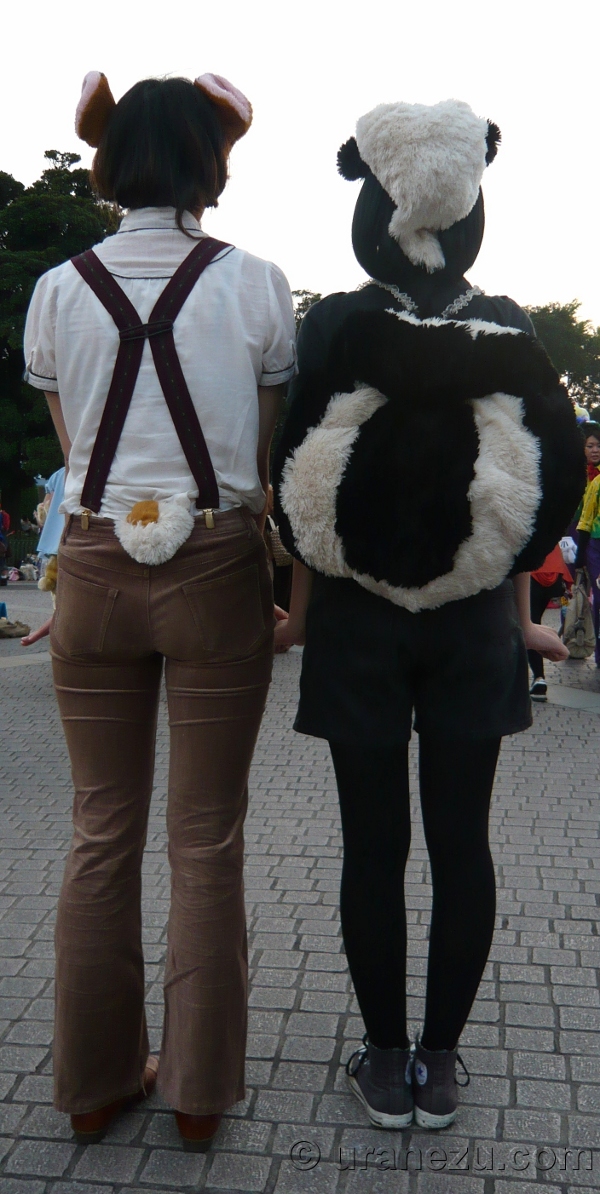 Kawaii Bambi & Flower!
I was amazed the well-balanced choice of the Bambi & Flower like clothes. The "Flower" girl put it nicely the characteristic brush of "Flower" is a rucksack! Wow!
"Bambi" & "Flower" from "Bambi"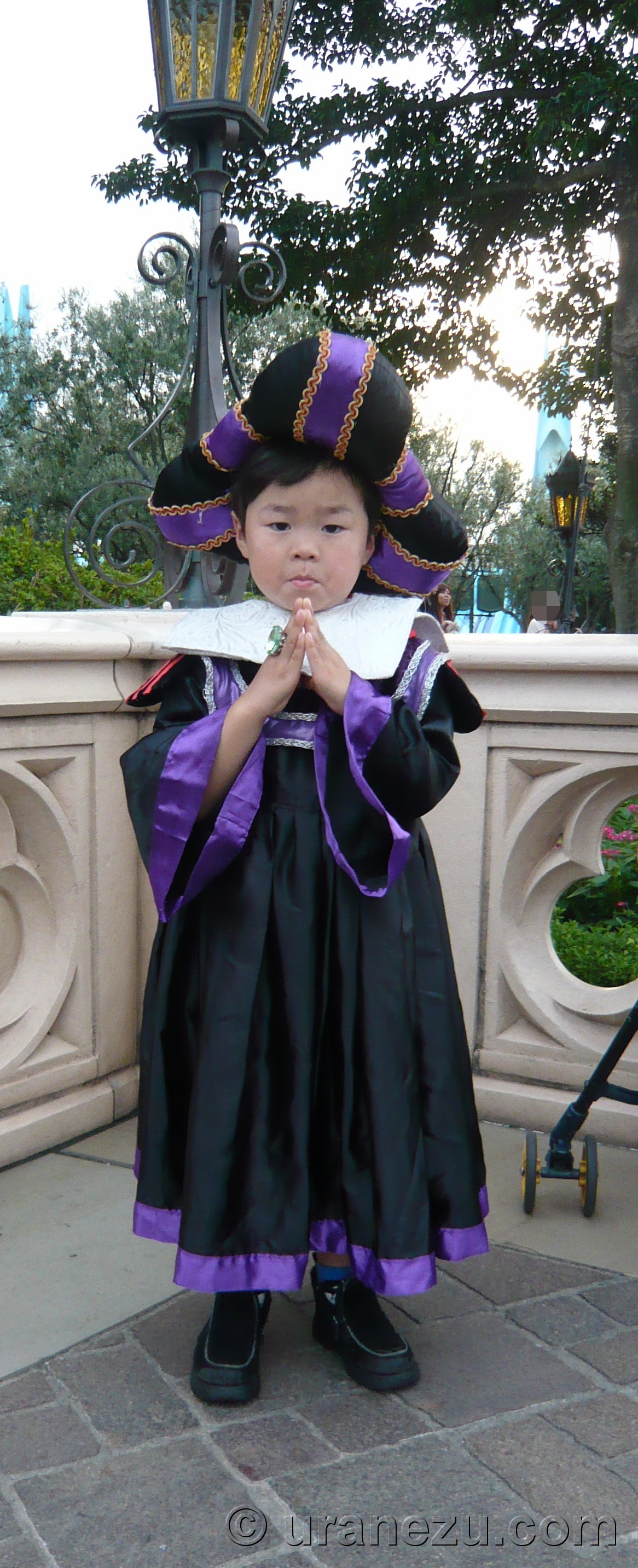 I am a small but a powerful judge!
When I asked small Frollo if I take a picture, he gave me a nice pause and the expression as Frollo. He is so adorable.
"Judge Frollo" from "The Hunchback of Notre Dame"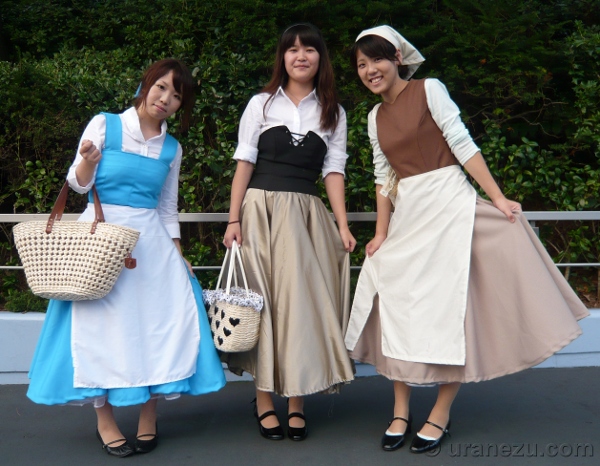 Before the dream come true!
Here comes the three ladies before they enchanted. Throughout the picture you can sense their fun to disguise.
"Bell" & "Briar Rose" & "Cinderella" from "Beauty and the Beast", "Sleeping Beauty", and "Cinderella"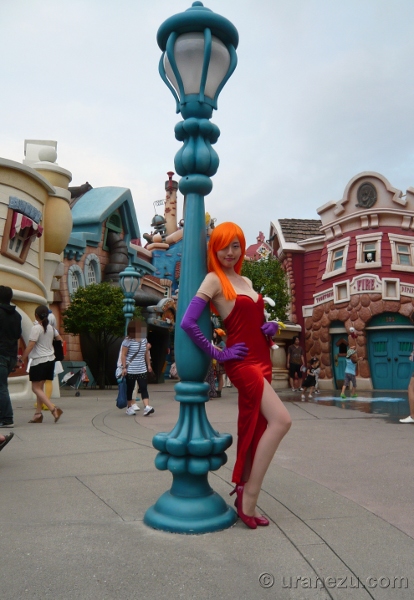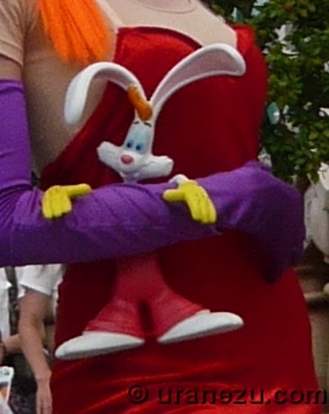 With Big kiss and Love!
Fortunately, I bumped into very attractive Jessica in Toontown. She hold little Roger Rabbit, and he looks delighted.
"Jessica Rabbit" from "Who Framed Roger Rabbit"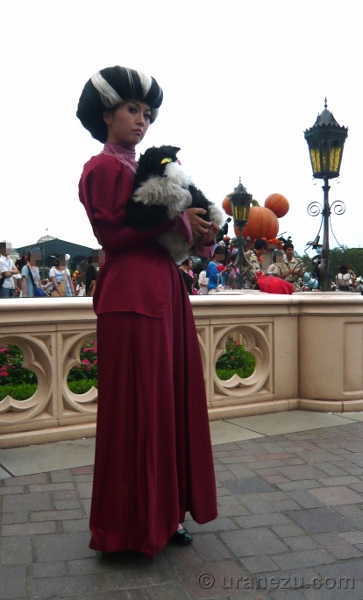 Most elegant villain!
She looked as if come out from the animation. She hold Lucifer the cat add extra atmosphere.
"Lady Tremaine" from "Cinderella"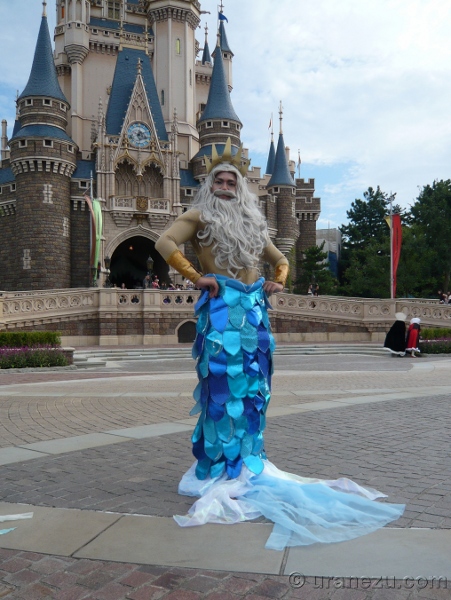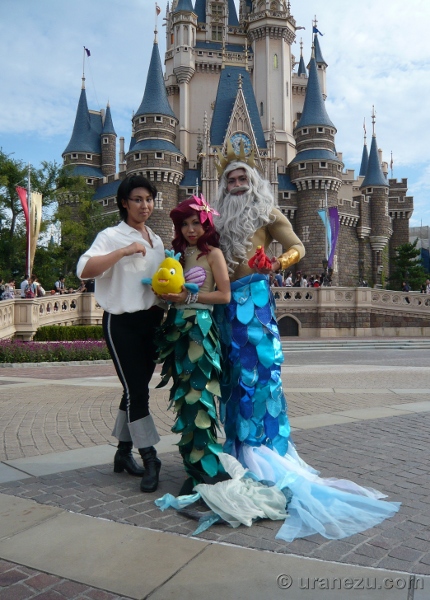 Royal family from land and sea!
In TDL, during Halloween, there are many Ariel, however hard to find his father King Triton. His mustache and fin are brilliant elaborated works. "Prince Eric" & "Ariel" & "King Triton" from "Little Mermaid"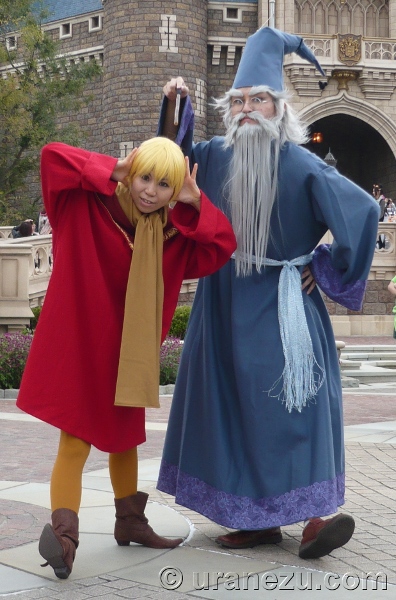 It's time to go on adventure!
There are no spot of the sward in the stone in TDL but the elfin brave one and the wise man with great beard are there.
"Wart" & "Merlin" from "The Sword in the Stone"

Comes from the different dimension!
He is the proprietor of the "Hotel Hightower" which is now called "Tower of Terror" in TDS. If you go to the attraction, you are surprised how he look-alike.
"Hallison Hightower Ⅲ" from "Tower of Terror"

Beware be donkey!
In TDL Halloween, there are many unfamiliar characters what I unexpected. Such an encountering is the most wonderful time for me. He, "Lampwick" is the one of the happiest moment maker. He is sad for unknowing his character by the attraction cast of the "Pinocchio's Daring Journey". It was pity!
"Lampwick" from "Pinocchio"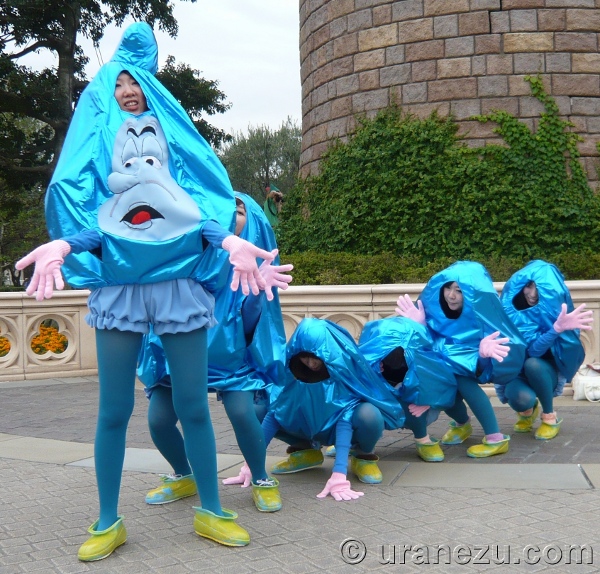 Caterpillar formation!
They shows me a nice formation for the photo shot. They prepared 3 or 4 formation, this posing is they said "formation C". It hilarious.
"Caterpillar" from "Alice in Wonderland"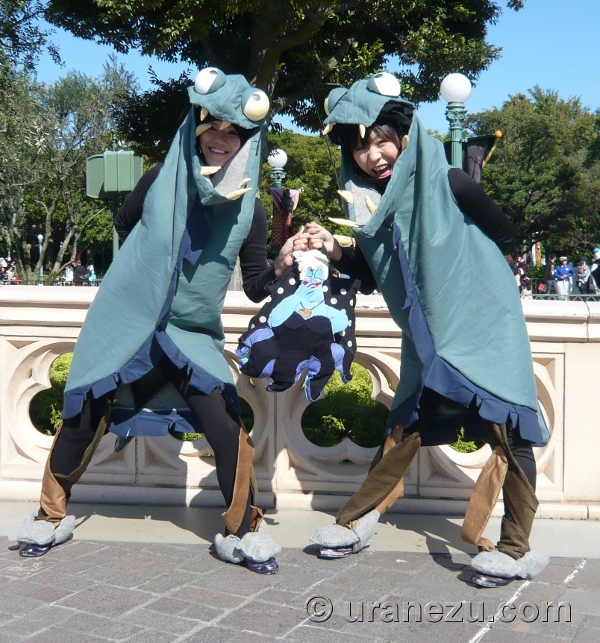 Plotting a mischief!
Lovely Flotsam & Jetsam dress, adorable handmaid Ursula bag, and Great smile. How enjoy their Halloween disguise!
"Flotsam and Jetsam" from "The Little Mermaid"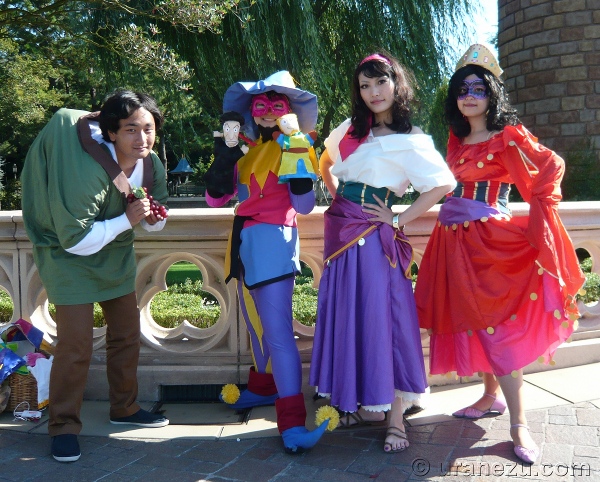 Come join us the Topsy Turvy!
The amazement to get into their character with pretty costume even more the wonderfulness of props details, especially Quasi's grape is punctiliously.
(Did you notice that the Quasi is the same man as the "Lampwick" from "Pinocchio".)
"Quasimodo", "Clopin", "Esmeralda", "Esmeralda (festival ver.)" from "The Hunchback of Notre Dame"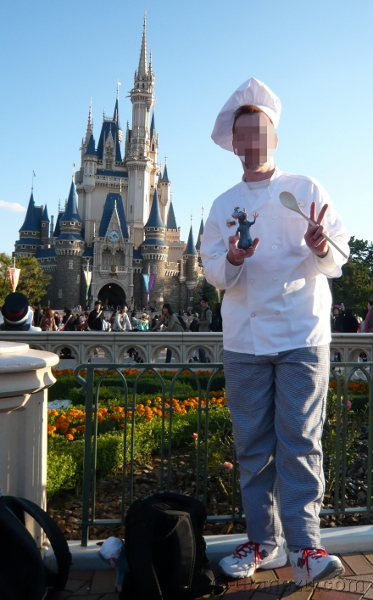 (cover his face by his own request)
The Linguini comes from LA!
He inspired the Halloween guests with their dresses all over TDL, then he scared up for the disguise. That's the spirit! Every Japanese envy his beautiful red hair same as Linguini.
"Alfredo Linguini" from "Ratatouille"