Amazing Halloween Costume
> 2013 Part 03
---
---
Please do not use uranezu pictures on other websites without permission.
Please do not use uranezu.com cosplay pictures on other websites. All of the cosplayers of this site gave me a permission to use only on my website "uranezu.com". Thank you for your understanding.
If you find any copies of the uranezu cosplay pictures in any other places being used on a web site, printed or sold without my permission, please inform me as soon as possible, for there is a possibility of an infringement of copyright. It is also helpful if the URL(if there is one) or the place they are being printed or sold is indicated, so that it is possible to warn or to take legal actions against the person involved.
For many cosplayers gave their pictures to uranezu.com., please understanding and support this.
2013 Amazing Halloween Costume Part 3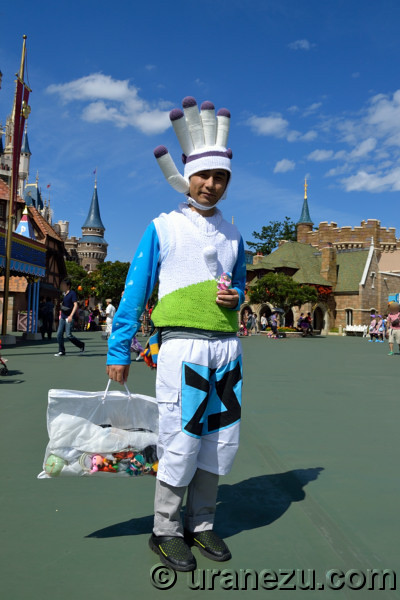 Buzz, will you gimme a hand?
I met many fascinating costumes at TDL Halloween. His costume was definitely was etched into my impact costume list. Not only the idea, but only costume are splendid. It's made of his handmade crochet. It's so beautiful, just so wonderful.
"The Left Hand of Mrs. Nesbitt (Buzz)" from "Toy Story".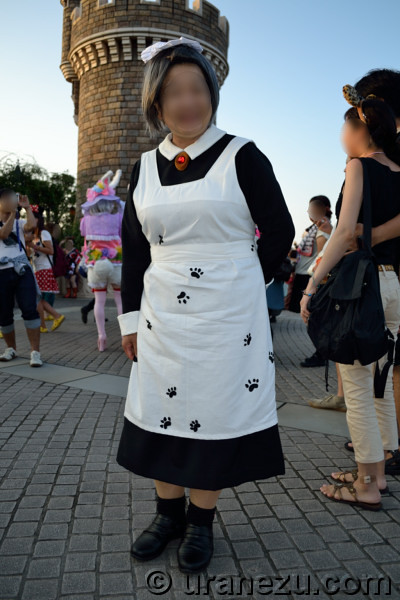 (cover her faces by her own request.)
I'll Be A Sensation!
She was completely Nanny just like come out from the animation. The perfect dress with footprint apron, neat head wear, and her friendly personality. The best Nanny ever.
"Nanny" from "One Hundred and One Dalmatians".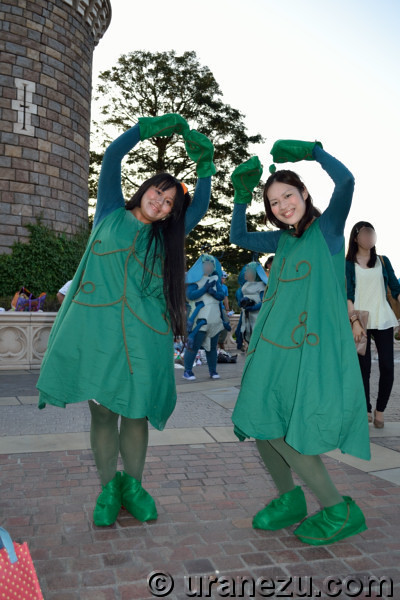 The pumpkins bounce with glee!
The lovely girls dressed as the original character from "Happy Halloween Harvest" parade. Their wonderful dress express the new character perfectly. (Do you want to know more about "Pumpkin Girsl" ?)
"Pumpkin Girls" from "Happy Halloween Harvest" the 2013 Disney's Halloween parade.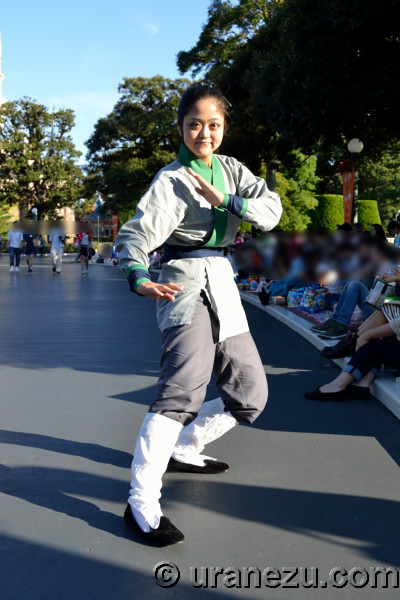 What a beautiful blossom!
I reunited with a one of a familiar member of uranezu Halloween. In this time, she dressed as pin the disguised as a man. She's cool and beauty and played fighting girl lively. I always surprised and enjoyed her wide range of Halloween character.
(Did you know Ping is same as "Bunny" in 2012?)
"Fa Ping" from "Mulan".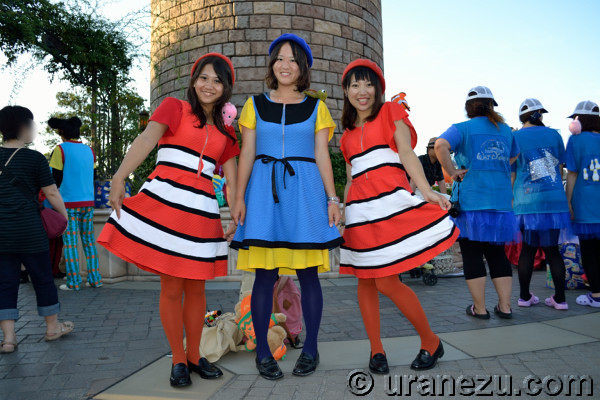 In The Big Blue TDL!
I was impressed that the colors and details of their dresses. It Nemo and Dory's costumes, as well as a fashionable dresses. You can feel how they enjoyed TDL Halloween from their so lovely smile.
"Nemo & Dory" from "Finding Nemo".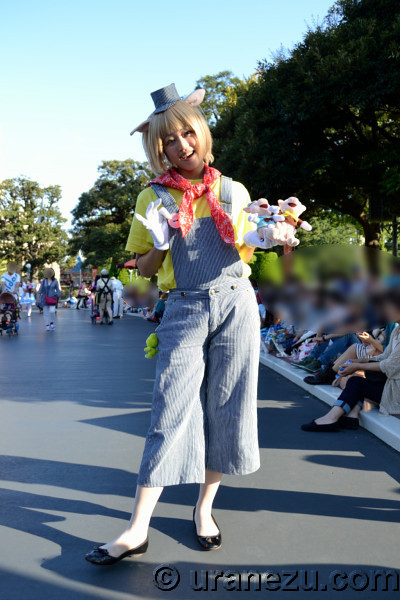 Tra-la-la-la-la!
I luckily encountered adorable clever pig. This Practical has both brains and beauty. Surprisingly, she is a Ping's little sister. They are beautiful sisters.
"Practical Pig" from "Three Little Pigs".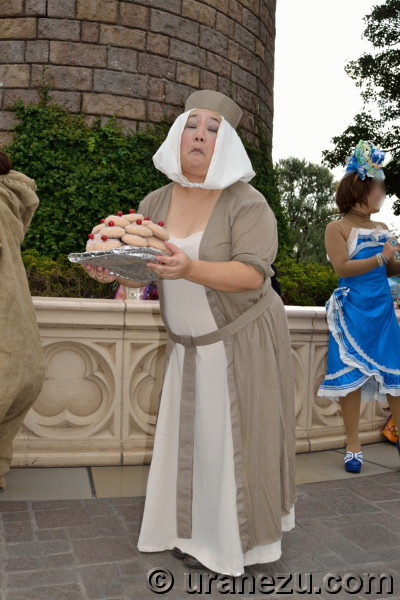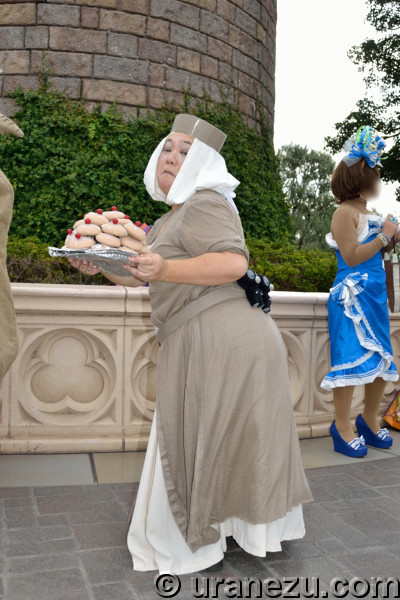 Cheerful Chase!
This charming lady was so great not only a costumes but also her reaction. She's just like a comedienne. She was so perfect. And her props was very elaborated. The pile of cakes garnished with sugar looked so delicious. Actually sugar frost was made from a craft glue. It's nice idea!
"Maudi (the castle maid)" from "Brave".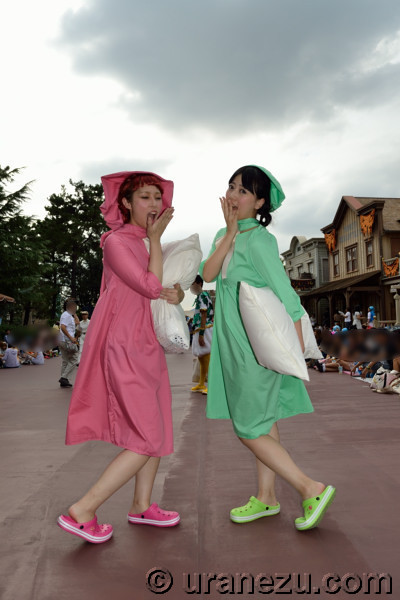 Cinderella!
I met many step-sisters at TDL Halloween, however this was the first time to me to see the sisters who just woke up. I was really impressed of their choice for Halloween. I like their pretty expressions.
"Anastasia & Drizella" from "Cinderella".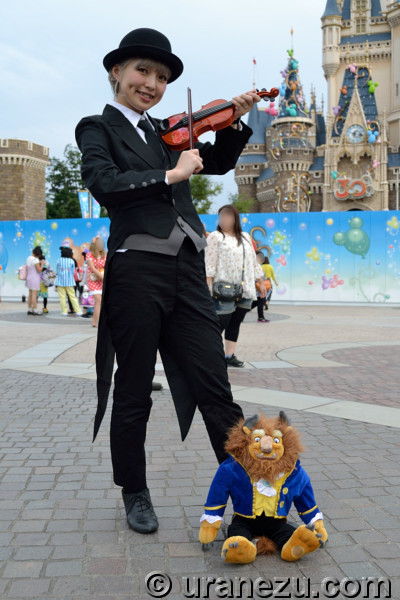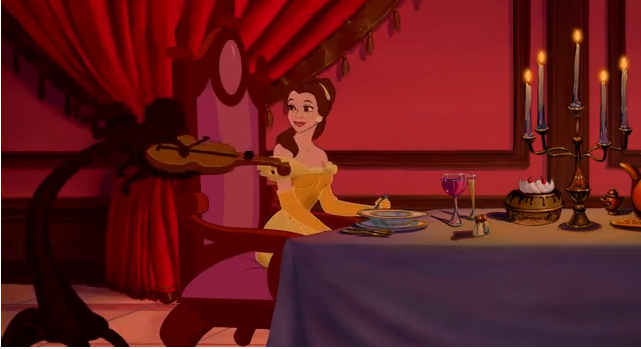 Key Mover!
It's so magical moment to recognize her character. I met many many rare character, definitely I assure that her Halloween costume was one of a treasurable unnoticed but reliable character. Her bowler hat and tight-fit tailcoat expressed the character so expertly.
"Coatrack" from "Beauty and the Beast".