Amazing Halloween Costume
> 2014 Part 02
---
---
Please do not use uranezu pictures on other websites without permission.
Please do not use uranezu.com cosplay pictures on other websites. All of the cosplayers of this site gave me a permission to use only on my website "uranezu.com". Thank you for your understanding.
If you find any copies of the uranezu cosplay pictures in any other places being used on a web site, printed or sold without my permission, please inform me as soon as possible, for there is a possibility of an infringement of copyright. It is also helpful if the URL(if there is one) or the place they are being printed or sold is indicated, so that it is possible to warn or to take legal actions against the person involved.
For many cosplayers gave their pictures to uranezu.com., please understanding and support this.
Amazing Halloween Costume 2014 Part 2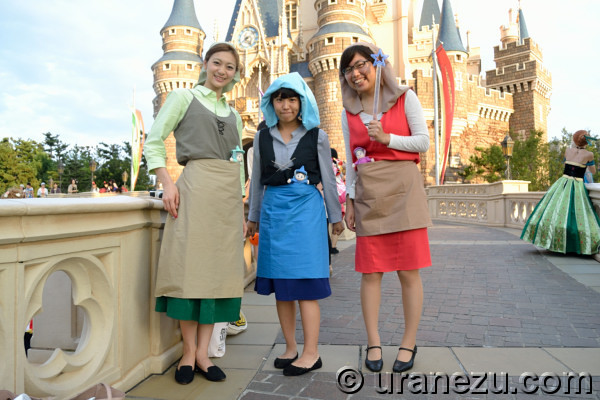 Three Dears Up To Something in Halloween!
One of my favorite and just can't stop asking a photo character is this unit. I like their beautiful colors of dresses. And look at their big smile. They recognized us how wonderful TDL Halloween with amazing costume is.
"Fauna, Merryweather, Flora," from "Sleeping Beauty".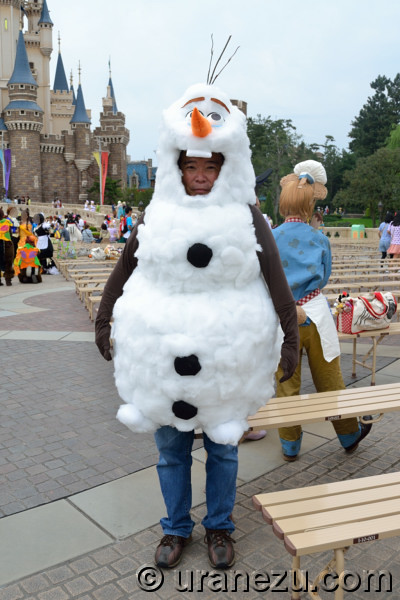 I've always loved the idea of Halloween!
His fluffy snowman costume was very stand out in a crowd. His great costume always make us fun. Do you want to stroke his white snow gently, don't you? (Did you know Olaf is same as "Luigi" in 2012?)
"Olaf" from "Frozen"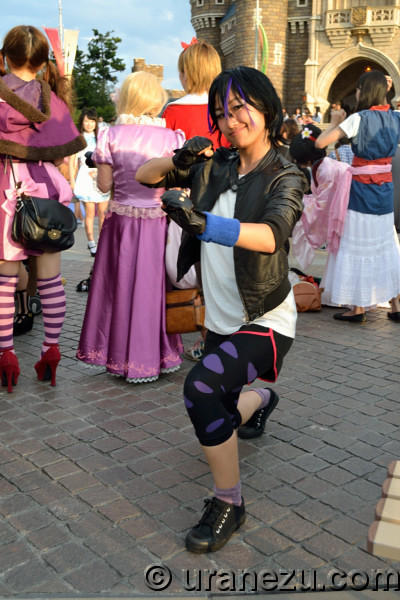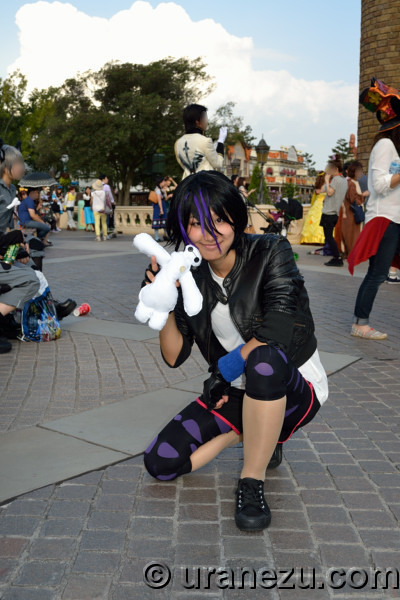 3D teaser released!
I was very surprised that she researched new character pretty meticulously. Her perfect costume and the way her move were really perfect and cute GoGo Tamago.
"Go Go Tomago" from "Big Hero 6".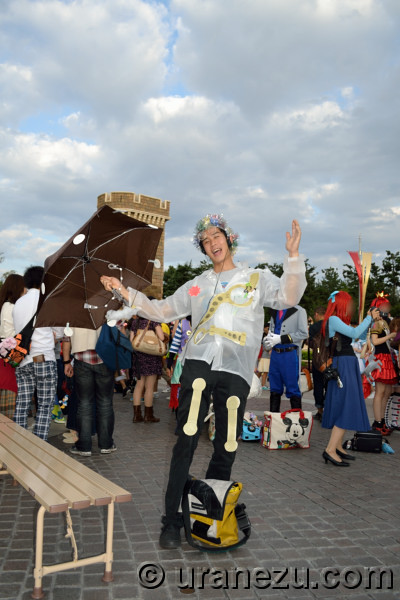 We're ready to go!
I found a his characteristic hair shone in the sun beautifully. It is about 12 years since the attraction itself closed in TDL. However I recognized how the attraction still captured many people's heart. You can feel it from his lots of love costume and his lively posing.
"Timekeeper" from "The Timekeeper"
I've been up for hours!
I think you imagined easily many guests dressed as Anna or Elsa in TDL Halloween. So I was really happy to meet this unpredictable Anna. Yes, the scene from the morning of the coronation day. Can you believe it? She's holding her dress for the coming ceremony, it's not only for her props but also her bag. She's really great. (Did you know Anna is same as "Ray" in 2013?)
"Anna" from "Frozen".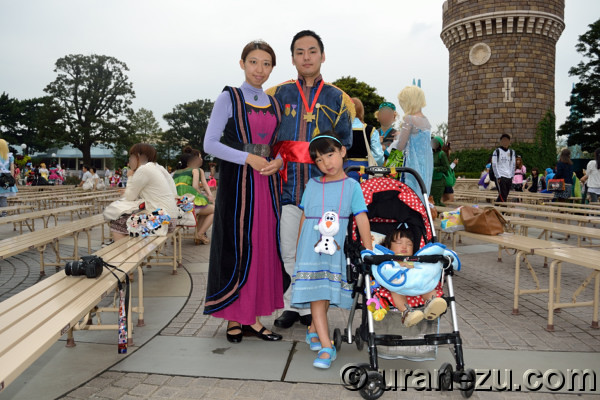 Alternative Happy Frozen!
It was so fantastic to see the Arendelle royal family at TDL. They are really sprightly family, but if they dressed up as King and Queen, they changed their attitude majestically as the characters. I was really impressive that she made various beautiful costumes perfectly. (Did you know this royal family same as "Mary Poppins unit" in 2014?)
"Queen Idun, King Agdar, Elsa and Anna" from "Frozen".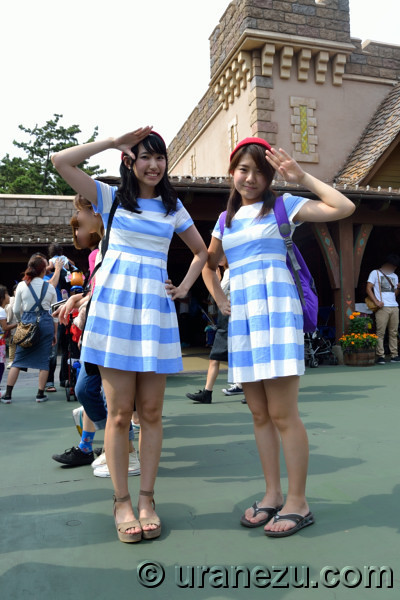 A Fashionable Pirates Life for Us!
This two pretty ladies enjoyed a fancy dressing up as Mr. Smee. They incorporate the characteristics of Mr. Smee for the short-sleeved border dress, one brown sandals, and red hat. I like their cute pose.
"Mr. Smee" from "Peter Pan".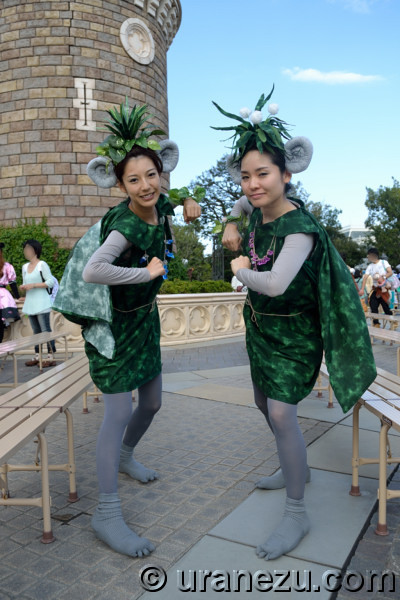 True Halloween Love!
I was very surprised to met this two cute trolls. Look at their headdress and accessory. They made them so elaborately. And look at their foot, it's really looked like troll barefoot. So wonderful. I also like their cheerful and fashionable pose.
"Cliff & Bulda" from "Frozen".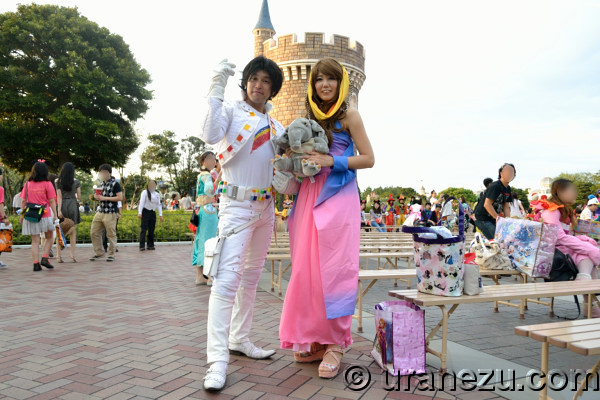 We're Sendin' Out A Major Love for EO!
A cool guy with white shiny studs jacket and a elegant lady in distinctively-colored dress were standing in a crowd. They made a lovely picture. Her dress fabric was made a dye for this costume by her friend. Wow, I really happy there are many love for Captain EO.
"Captain EO & Supreme Leader" from "Captain EO".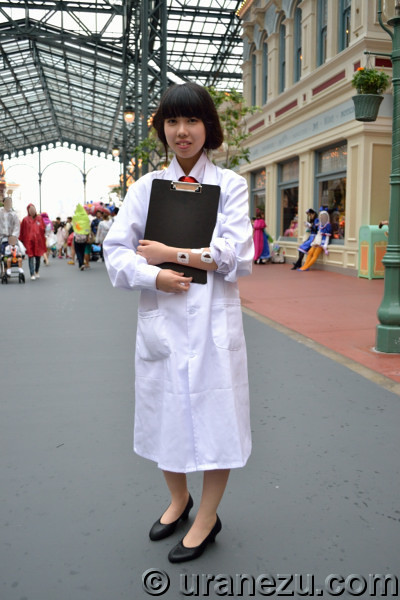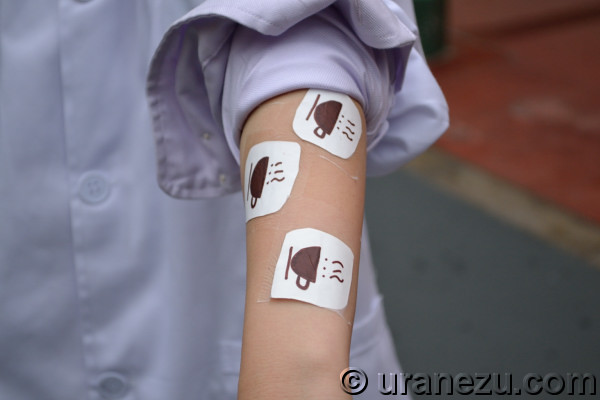 You can stay up for all Halloween days with no side effects!
This charming girl provided a motivation for me to watch "Meet the Robinsons" the movie. Now I know this character, so she was more cute and bright than actual character. Of course she had many caffeine patches. It's perfect.
"Dr. Krunklehorn" from "Meet the Robinsons".