Amazing Halloween Costume
> 2015 at TDS
---
---
Please do not use uranezu pictures on other websites without permission.
Please do not use uranezu.com cosplay pictures on other websites. All of the cosplayers of this site gave me a permission to use only on my website "uranezu.com". Thank you for your understanding.
If you find any copies of the uranezu cosplay pictures in any other places being used on a web site, printed or sold without my permission, please inform me as soon as possible, for there is a possibility of an infringement of copyright. It is also helpful if the URL(if there is one) or the place they are being printed or sold is indicated, so that it is possible to warn or to take legal actions against the person involved.
For many cosplayers gave their pictures to uranezu.com., please understanding and support this.
Halloween at Tokyo Disneysea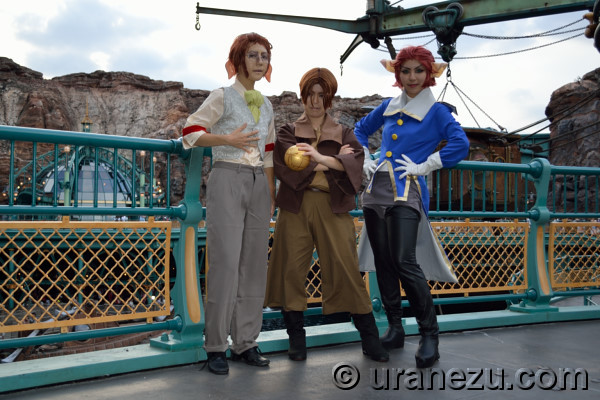 Our Halloween Spirit Is Glowing Like a Solar Fire!
I think they would desired to become the character and stroll this port which is surrounded by the great scenery with many futuristic design. This day their dreams came true, and my dreams too. It's my really exciting moment to take their picture at Mysterious Island. They are so liveliness as each character, and also they're beautiful.
"Dr. Delbert Doppler, Jim Hawkins, and Captain Amelia" from "Treasure Planet".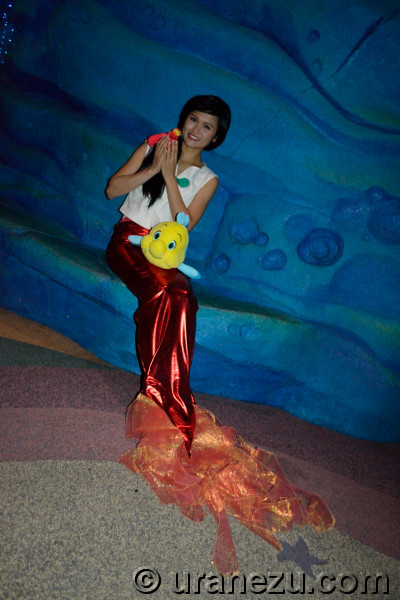 This is more than uranezu thoughts ever thought it could be!
It's great photo opportunity to met this cute daughter princess, especially the location was so nice. It's Mermaid Lagoon the perfect place for her. Look at her exactly Melody's delightful expression, it's so simmering beautifully under the sea below.
"Melody" from "The Little Mermaid II: Return to the Sea".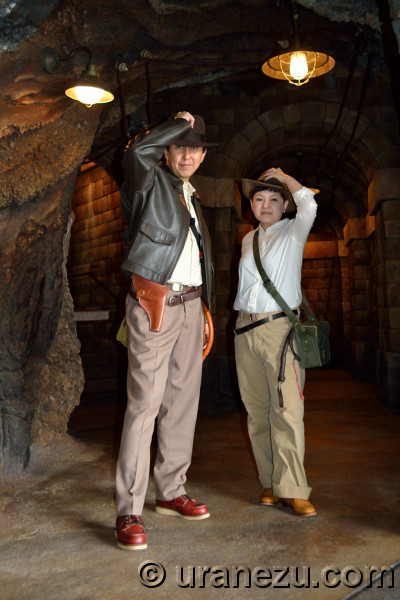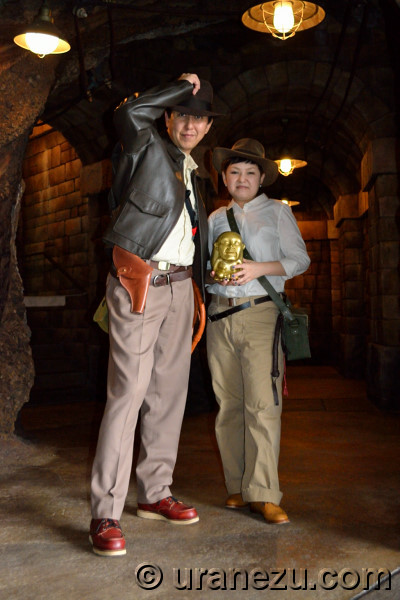 My Idol with A Golden Idol!
When I found this cool two doctors, I felt a same feeling as Indy seeing the golden idol in the abandoned temple. The stone corridor with a rough rock wall show off their wonderful figure to advantage. Let's go back and party at Lindsey's Hangar Bar!
"Dr. Henry Walton "Indiana" Jones, Jr." from "Indiana Jones and the Kingdom of the Crystal Skull".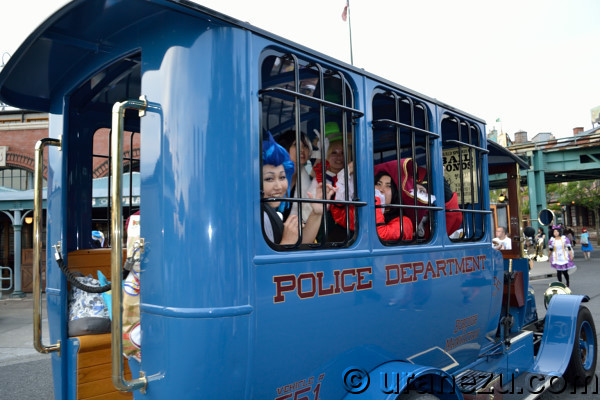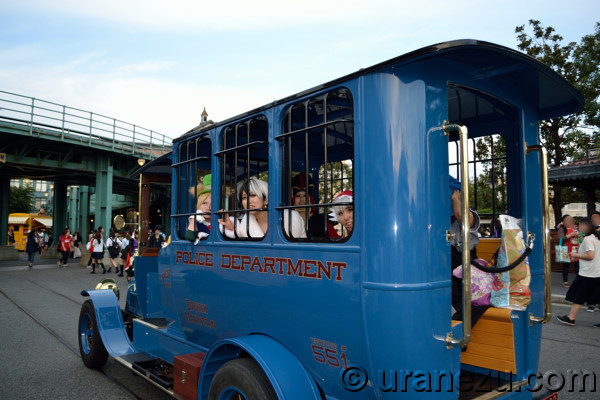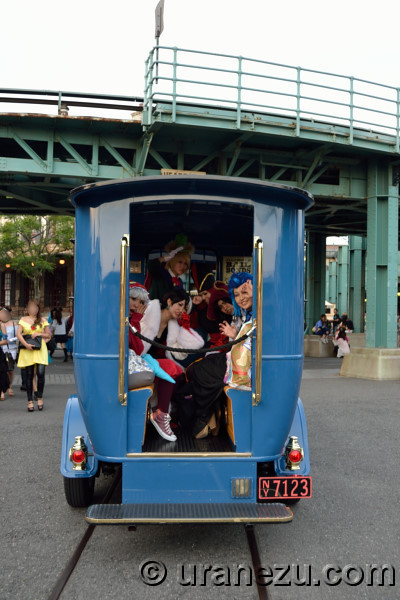 Be Prepared (for their Pound) !
I never saw a wonderful villains who have a great patient and temper. There are 3 or 4 types vehicles in TDS, and this police van is single operation in the attraction. But their efforts a huge success. Look at their big cute smiles behind the bars. They're so cheerful and lovely villains!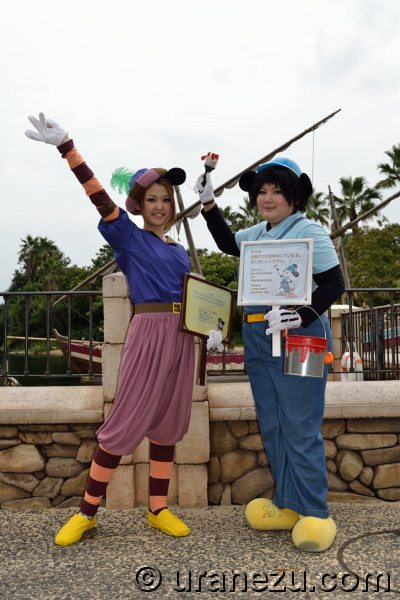 They Do Re-Magic!
What a surprised encounter again! The construction cute Mickey who I met before in TDL, she came with another construction Mickey! And this new lovely Mickey dressed as the TDS version! TDL Mickey is modern overall with paint blush which is cool, and TDS is medieval-painter like which is glace. I was really lucky to share these charming Mickeys with you!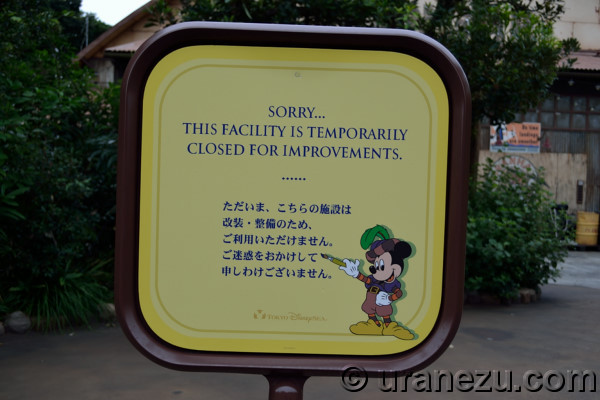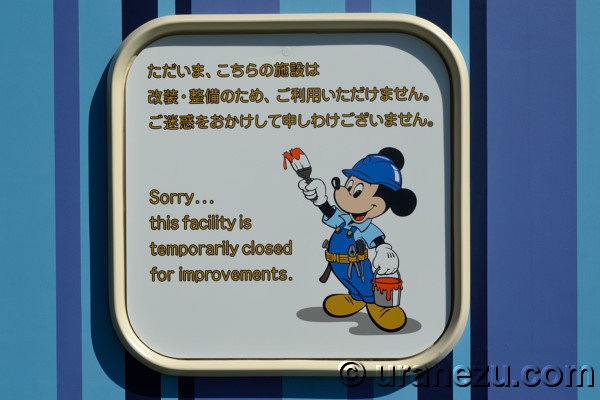 Construction Board Mickey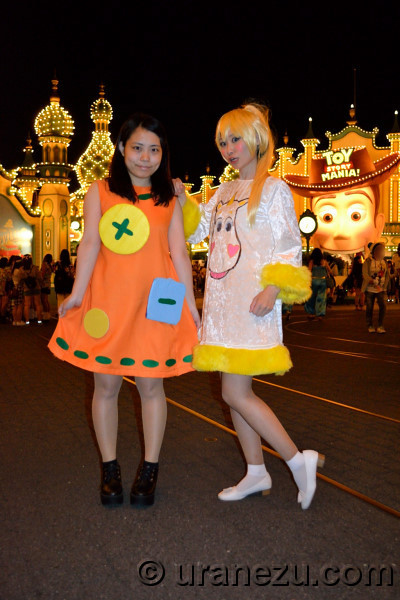 They've Got An Amazing Location!
I encountered a wonderful two at the night of TDS Halloween. I really love lovely Dolly's big green stitches of the skirt hem. And attractive Buttercup's neat dress with a vivid yellow far. What a gorgeous party night!
"Dolly and Buttercup" from "Toy Story 3".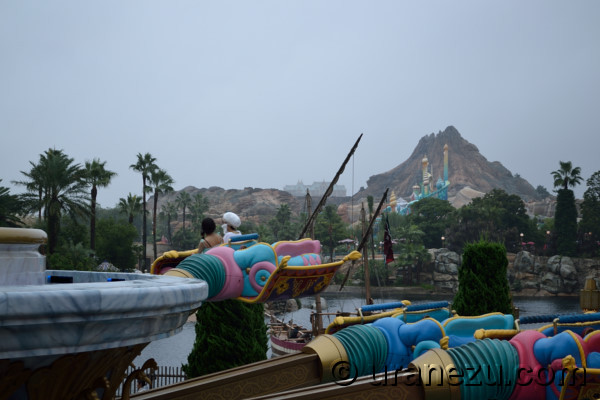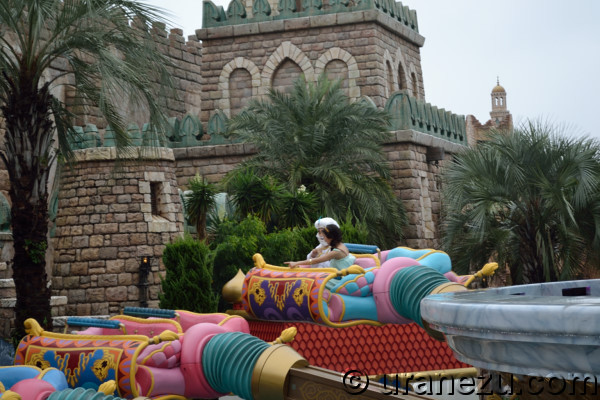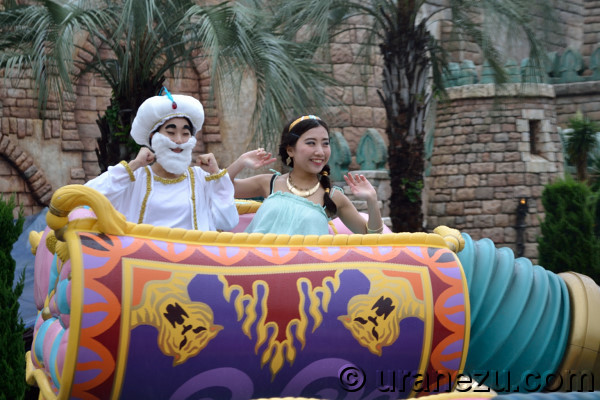 Why Certainly, Your Majesty!
I saw the sultan took a picture of his daughter princess with a magic carpet, so allow me to take their photo while they were enjoying a magic carpet ride. Despite the rain, they played their characters splendidly. I moved their love for the movie and the Halloween. I was really honor to become a personal photographer for the gorgeous royal family.
"The Sultan and Jasmine" from "Aladdin".
Before say see you in next Halloween, please give me a minute to introduce about the above TDS Halloween.
TDS never allowed a costume for adults even during Halloween event in the park. Since TDS open, which took 14 years, TDS set a very first Halloween costuming day in this year for just three days. It's only three days, but so precious and exciting three days for a Halloween lovers and me. Unfortunately, all three days had rain, but a little (actually not little) fall of rain could not vanish our flame! The park filled with a fizz atmosphere of many guests for an expectation of something special and wonderful. It's indescribable amazing experience. I'm looking forward to taste the magic again in next year. And I hope you'll feel it live at TDS.

In spite of the good ambiance with many good guests, otherwise, there were many people walking freely in the park who dressed far from Disney in this year, I saw a prisoner, Japanese elementary school uniform people with randoseru the Japanese school backpack, Wally the picture book, Hogwarts student, Minions, and so on. It's OK if OLC don't claim any guests, but once they'd forced to take off some costumes which they don't know DISNEY character's. Therefore I really would like them to deal with REAL rule-breaker.
I wish OLC will protect a wonderful Disney Halloween park which is made by the amazing Disney costume guests.

Anyway, I'm really lucky to share the great Halloween costume photo with you, so I would like to renew my appreciation for all of you. (And I think a magazine which have many Disney geek subscriber picked up uranezu-taste photo of guests for the Halloween article!)
I have countless people to thank for my site. I have made it this far because of your love for characters, your passion for Disney, yes your everything.
Thank you very much.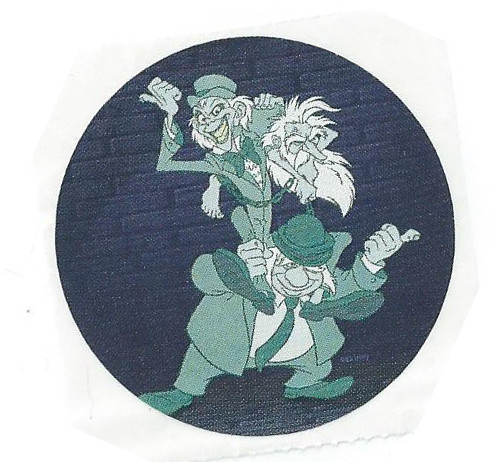 See you 2016 Disney Halloween!!