Amazing Halloween Costume
> 2013 Part 06
---
---
Please do not use uranezu pictures on other websites without permission.
Please do not use uranezu.com cosplay pictures on other websites. All of the cosplayers of this site gave me a permission to use only on my website "uranezu.com". Thank you for your understanding.
If you find any copies of the uranezu cosplay pictures in any other places being used on a web site, printed or sold without my permission, please inform me as soon as possible, for there is a possibility of an infringement of copyright. It is also helpful if the URL(if there is one) or the place they are being printed or sold is indicated, so that it is possible to warn or to take legal actions against the person involved.
For many cosplayers gave their pictures to uranezu.com., please understanding and support this.
Amazing Halloween Costume 2014 Part 6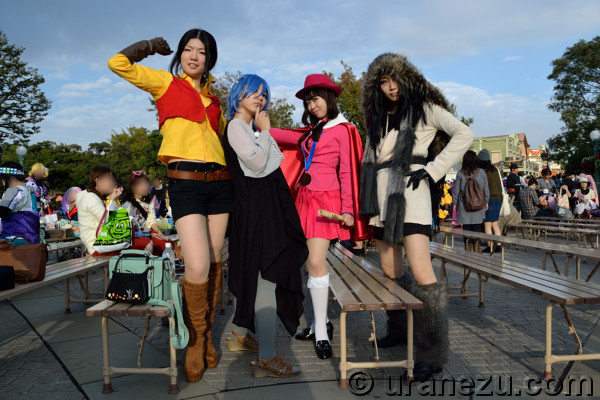 Villains Halloween Party!
Look at these cool and beauty villains girls. Their beautifully arranged costumes for ladies are so wonderful. They are so great with the fashionable pose.
Gaston, Hades, Governor John Ratcliffe, and Shan Yu from "Beauty and the Beast", "Hercules", "Pocahontas", and "Mulan".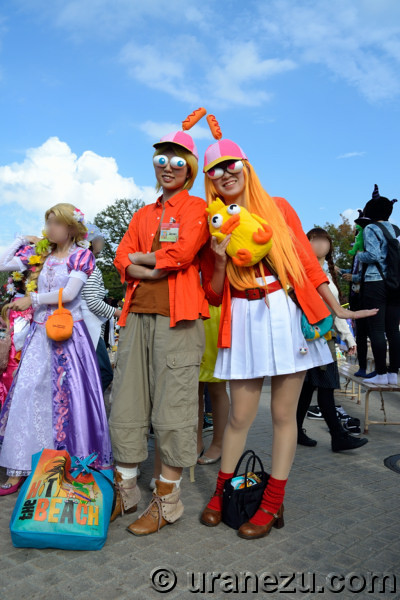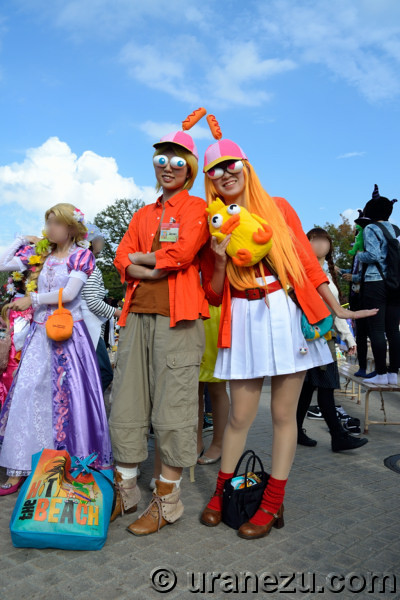 Mr. Slushy Burger temporary branch at TDL Halloween!
You can feel how much they love the characters from this cute two. Their uniform of the fast foods chain restaurant in the world of Phineas and Ferb are so fantastic.
"Jeremy Johnson & Candace Gertrude Flynn" from "Phineas and Ferb".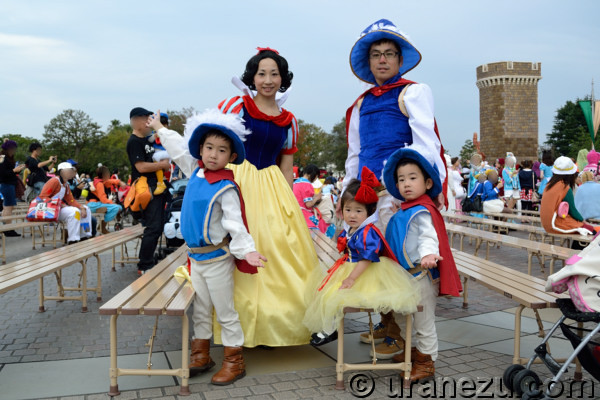 With a Smile and Halloween!
Their dress' fabric is very beautiful and it made so gorgeously. It's just perfect for the pretty princesses and charming princes. Not only a little Snow White & The Prince, the parent princess and prince are so adorable.
"Snow White & The Prince" from "Snow White and the Seven Dwarfs".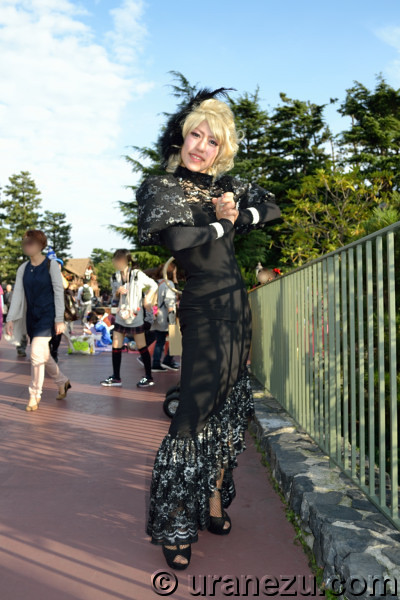 Welcome to the TDL Halloween, let the fun begin !
I'm quite surprised that there were Slue-Foot Sue in the black dress. We can still watch her in a dine with the show at Diamond Horseshoe Revue, but nowadays she wears a bright purple dress or red one in the same shape. So I was really happy to see her.
"Slue-Foot Sue" from "Diamond Horseshoe Revue".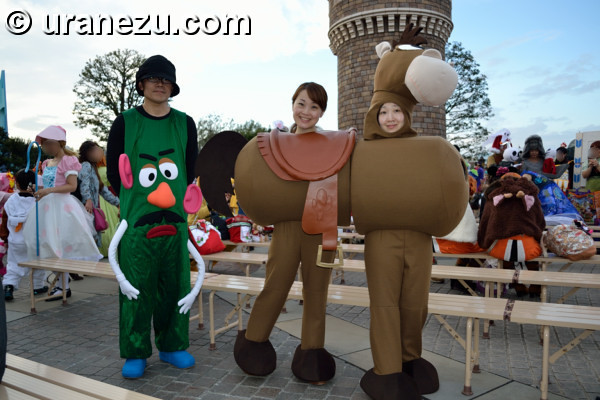 Fresh, Healthy! It's Halloween!
It's so pretty and hilarious unit. I couldn't believe the quality of their costumes. They're so great. Why did they choice this scene? It's their great love to Toy Story.(Did you know they are same as "Slinky Dog" in 2011?)
"Mr. Cucumber Head (AKA. Mr. Potato Head), Bullseye" from "Toy Story 3".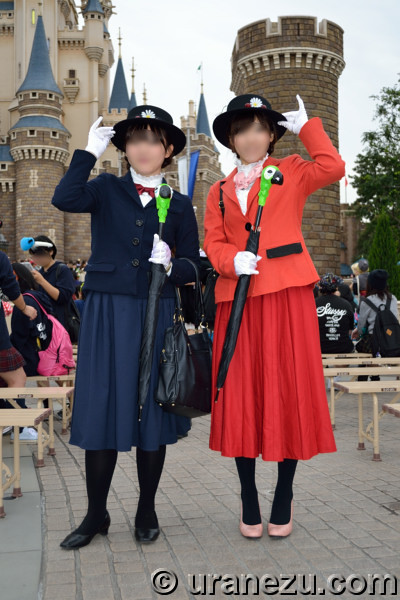 Halloween Special Performance!
Here are two cute, clean and neat Marys. They prepared their costumes with great care for from cherries and daisies on the hat to the shoes color. They are so lovely.
"Mary Poppins" from "Mary Poppins".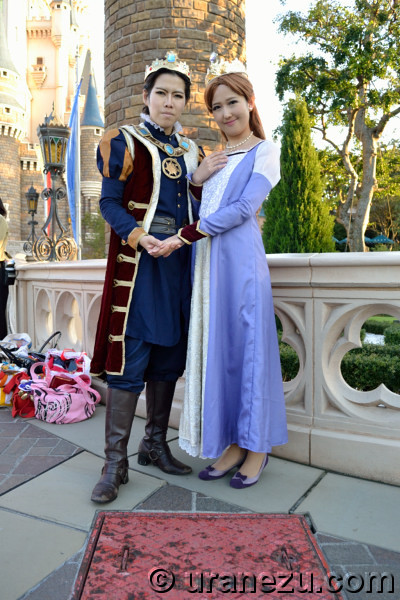 We Meet The Halloween World with Love!
The created an aura of King and Queen with gorgeous costumes. They are so elegant same as the movie characters.(Did you know they are same as "Jane & Michael" in 2013?)
"The King and Queen of Corona" from "Tangled".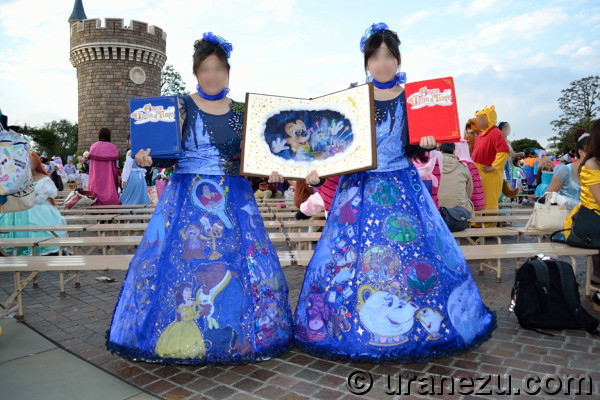 Once Upon A Time, it's up to Halloween!
I really happy to reunion these two pretty lady in every TDL Halloween. In this year 2014, they were attracted me and many guests by their marvelous dresses which theme Once Upon A Time the castle projection mapping entertainment.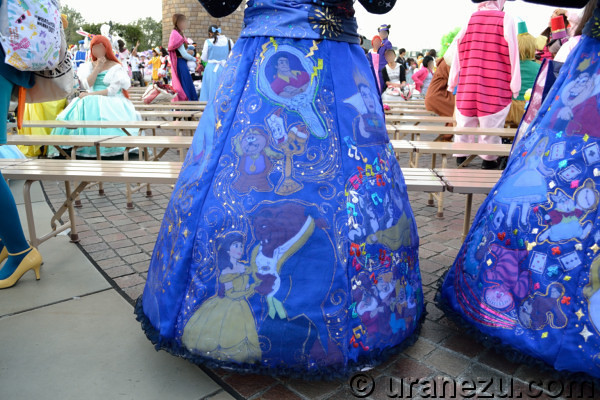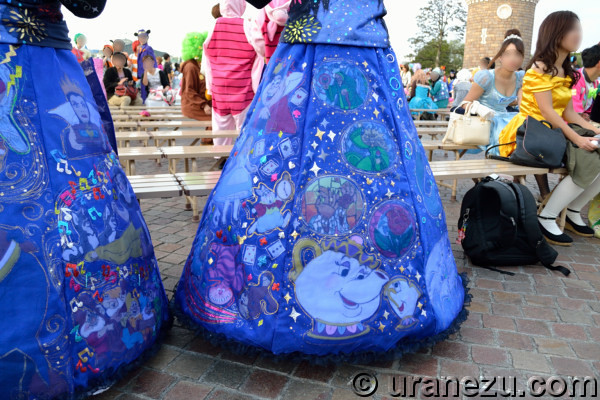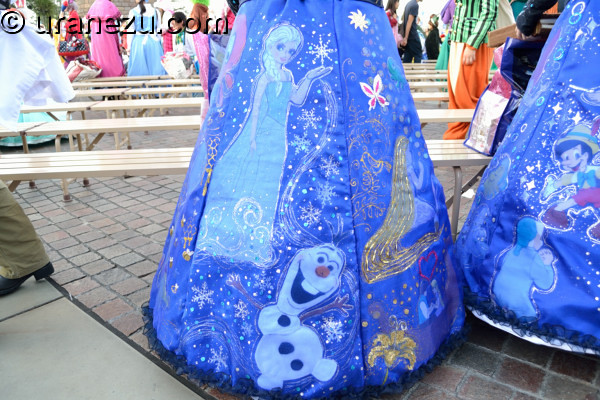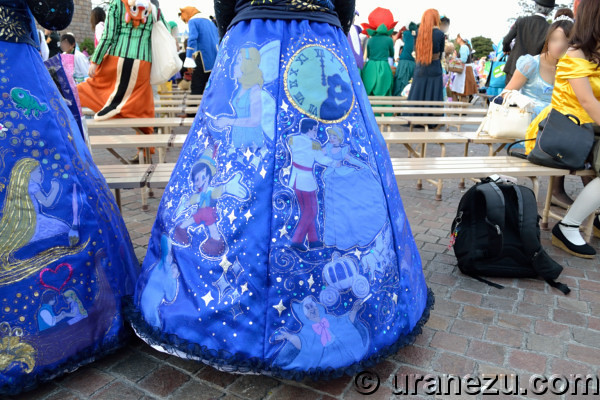 It's very beautiful blue dress with a beauty of the night expressed organdie. And there are tons of Disney characters. So amazing.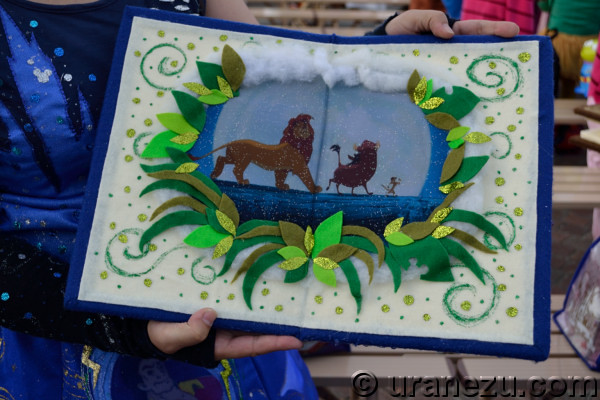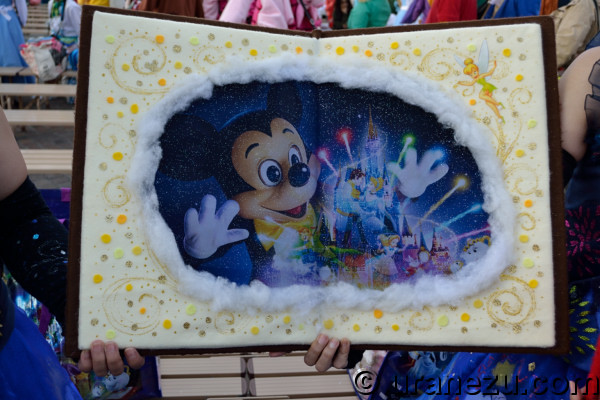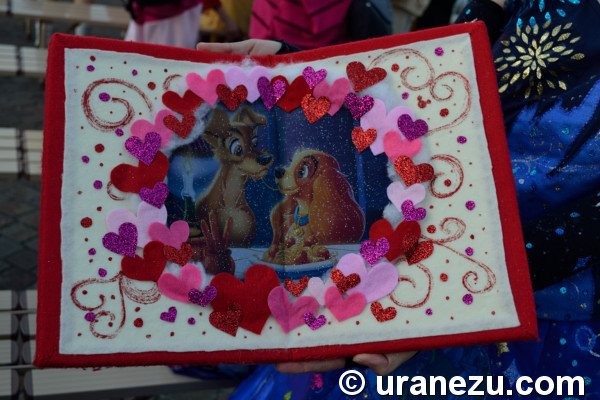 Their props are so amazing too. The books opened, there are beautiful scene from the show with beads. I was impressed their great idea.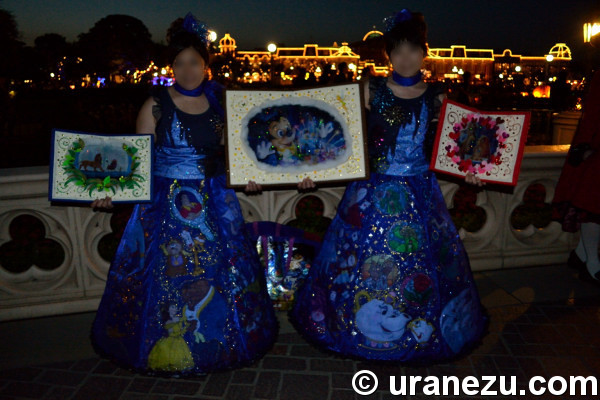 Their sequin-studded dresses are so twinkling in the dark beautifully. (Did you know they are same as "Happiness unit" in 2013?)
"Once Upon A Time".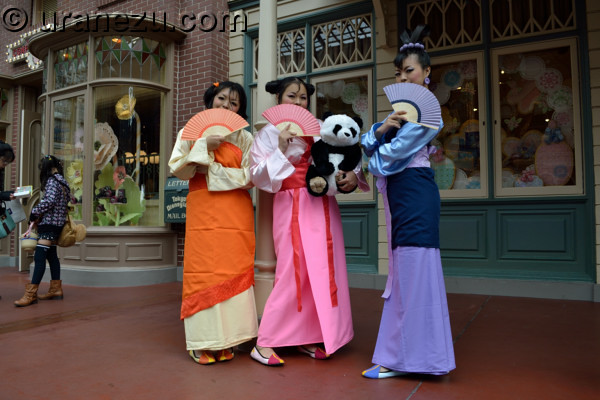 No Escorts, No Manners, No Nursemaids in Halloween!
It's my first time to see three princesses from Mulan II. I really surprised not only a beautiful dresses but also their beautiful hair style really same as the characters. They are so elegant as the princess.
"Princess Su, Princess Mei, Princess Ting-ting" from "Mulan II".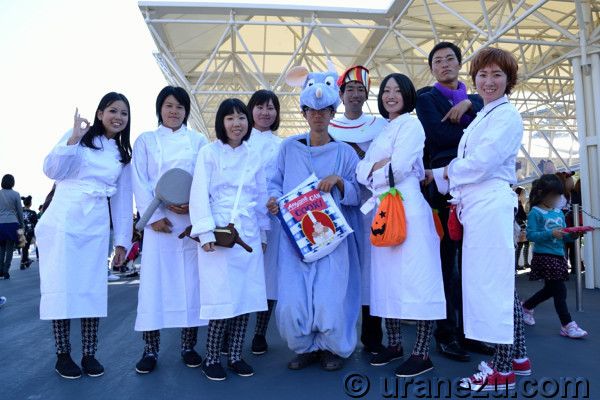 La fete est sur norre chemin!
I really truly love this unit. It filled with love for "Ratatouille". I like every characters, cheerful cute chefs with fluffy head chef, and cool Ego. Especially, my favorite is a precious dish man. He wears a Delicious-looking Ratatouille hat, and surprisingly he also wears a dish with a sauce as a collar. They really amazing!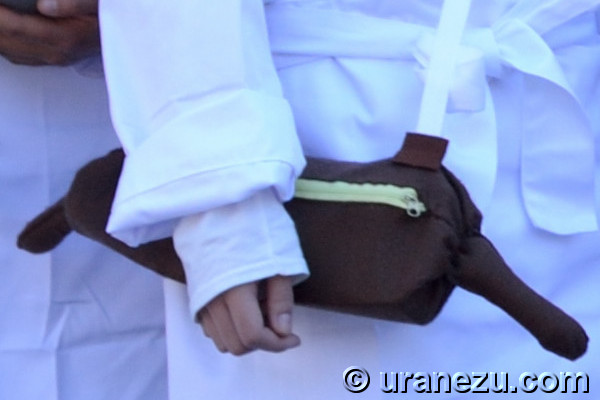 Look at it! I love her rolling pin bag. It's so wonderful. I really regretted that I didn't ask them to show every details of their props. I think they have great things.
"Chefs, Remy, a dish with simple but so amazing ratatouille, Anton Ego" from "Ratatouille".