Amazing Halloween Costume
> 2012 Part 01
---
At TDL, the guest can enjoy dressing up for Halloween during the allotted time period by TDL.
The main rule of TDL Halloween in this year 2012 is,
"Can be disguised as ONLY the Character in Disney Animations & Disney Attractions."
The basic is not change in 2010, however, in this year 2012 rule is more strict and complicated.


2012 Disney Halloween Rules
In this duration lots of guests come and enjoy the Halloween disguise who have prepared the costume for this moment over couple of months, some people over a year.
Here are the selection pics which masterpiece.

So, please enjoy with greater respect!
---
Please do not use uranezu pictures on other websites without permission.
Please do not use uranezu.com cosplay pictures on other websites. All of the cosplayers of this site gave me a permission to use only on my website "uranezu.com". Thank you for your understanding.
If you find any copies of the uranezu cosplay pictures in any other places being used on a web site, printed or sold without my permission, please inform me as soon as possible, for there is a possibility of an infringement of copyright. It is also helpful if the URL(if there is one) or the place they are being printed or sold is indicated, so that it is possible to warn or to take legal actions against the person involved.
For many cosplayers gave their pictures to uranezu.com., please understanding and support this.
Part 1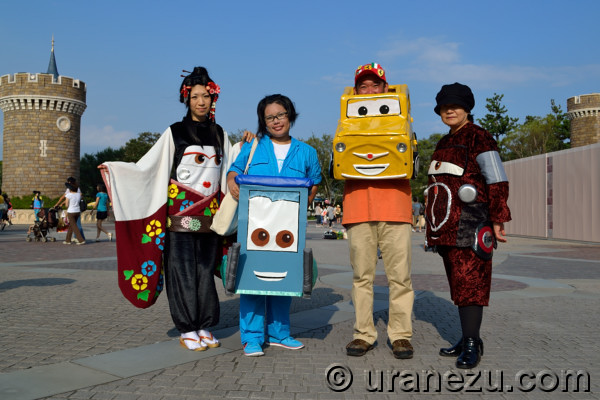 Great Mechanic with Beauty!
A Jolly party from Cars world comes to TDL. I was impressed by their texture of the costumes. They really popped out from the movie. And I love their additional parts, Okuni's Kanzashi (Japanese Hair stick), Guido's coverall, and so on. (Did you know Guido & Luigi are same as "Bo's sheep & Mr. Potato Head" in 2011?)
"Okuni, Guido, Luigi, and Uncle Toplino" from "Cars" & "Cars 2".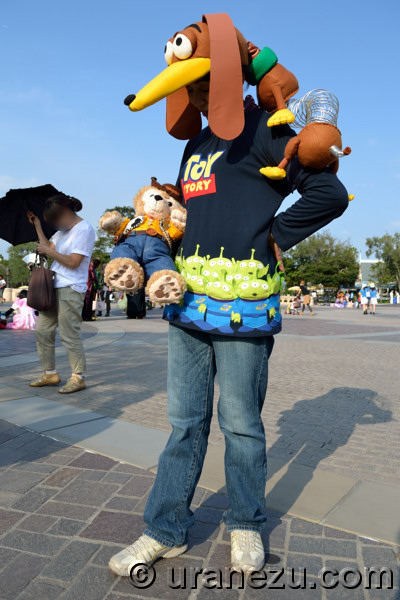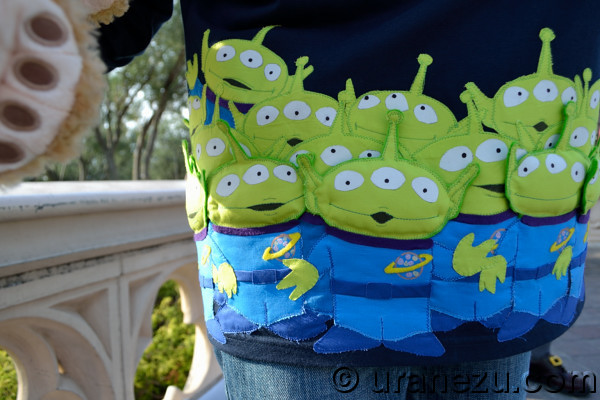 Toy Story one woman show!
Most impressiveness is her attention to every detail. The color and the character's expression, needlework, and everything is beautiful. The front row Aliens are wadded with cotton, so they are very lively. She said, "I don't know how many I made the Aliens accurately, but I think they are over twenty!". Wow, good job!
"Toy Story".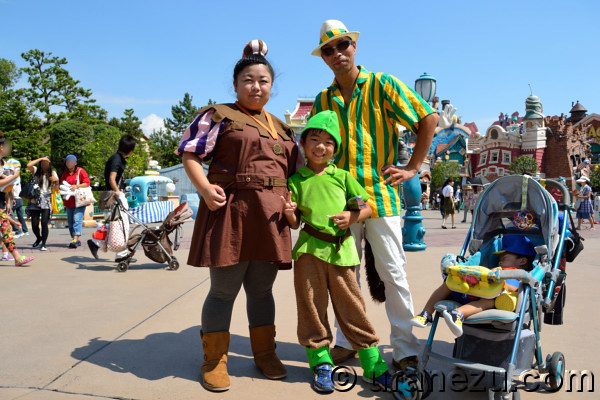 Crossover!
It's unique party. I love their own choice. They looks really cute in their character's costume. The sleeping boy in stroller is also wear a nice costume!
"Sheriff of Nottingham, Robin Hood, Big Bad Wolf, and Practical Pig" from "Robin Hood" & "Three Little Pigs".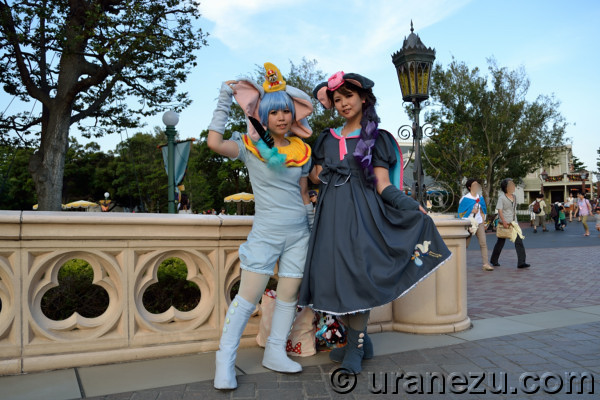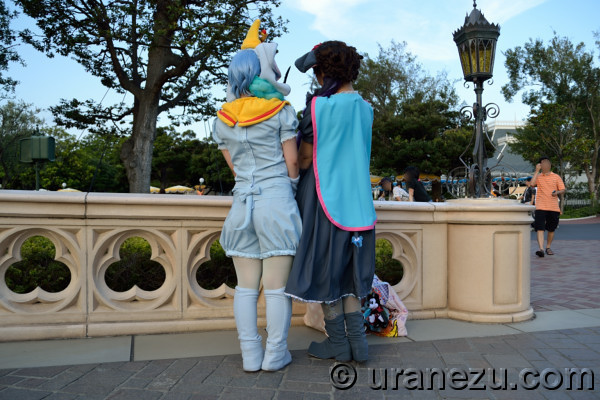 Dumbo girls!
They really know their character's color. I admired their inventiveness of the character into the dress design. It's amazing.
"Dumbo & Jumbo" from "Dumbo".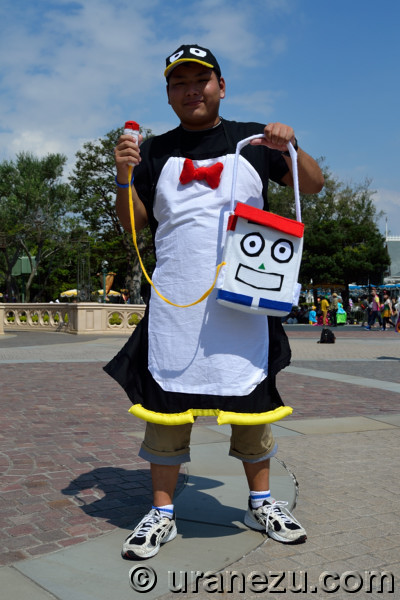 Simple is power!
He really looks Wheezy. But his costume is very simple and that's the most wonderful thing. He wear the apron on a plain black T-shirt, and add a cap with some decoration, it's Wheezy! Nice idea, extremely effective!
"Wheezy" from "Toy Story 2".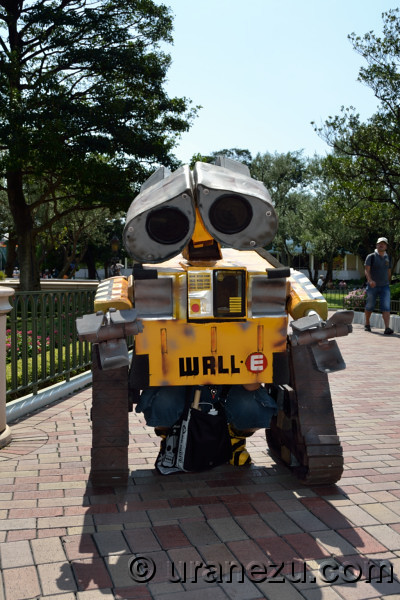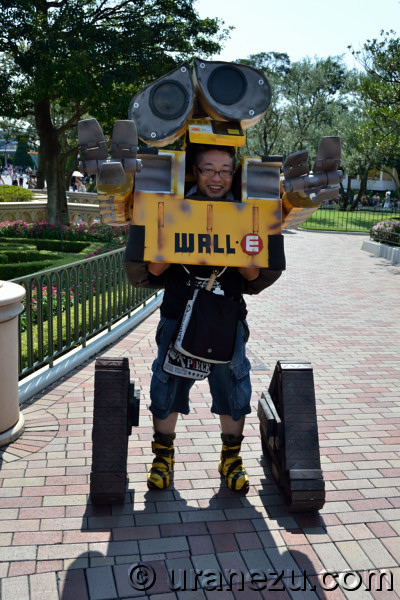 Here he comes!
WALL・E came to clean up TDL-things. I think that the most magnificent costume in this year. I didn't know where the person is, therefore I asked him to pop out. The every detail is wonderful, especially the aging is incredible.
"WALL・E" from "WALL-E".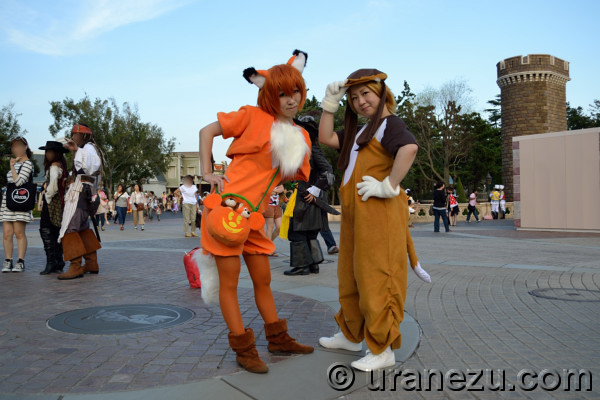 Great Friends!
Here are the wonderful character's from Disney Classics. Tod's fluffy fur and exactly Copper's long ears are very cute. I admire their selection of the short buckskin boots for Tod and the white sneakers for Copper. These are really perfect complement to their characters.
"Tod & Copper" from "The Fox and the Hound".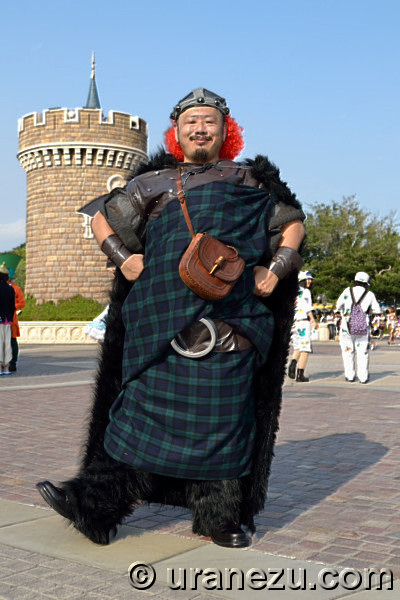 Athair!
He had a presence just the same as movie. His nice expression, beautiful costume, everything is perfect as King. (Did you know he is same as "Lots-o-Huggin Bear" in 2010?)
"King Fergus" from "Brave".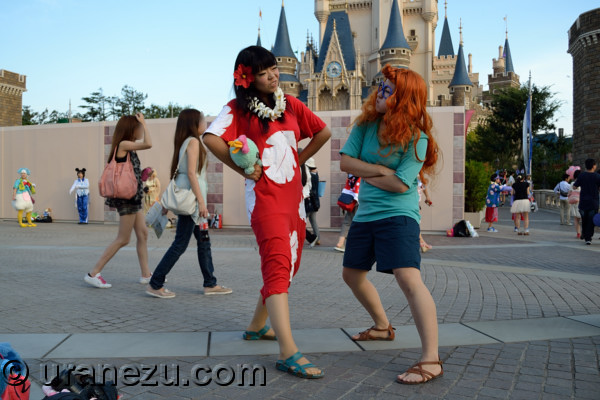 Be Good Friends!
The most famous Hawaian girl, Lilo and Mertle the leader of a hula school. They are so cute and stays in character.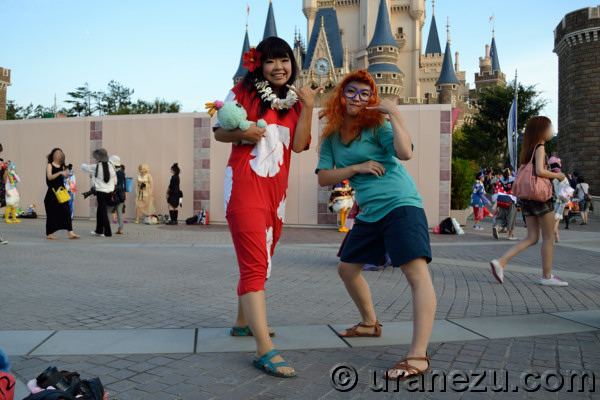 Don't worry, they are great friends!
"Lilo & Mertle" from "Lilo & Stitch".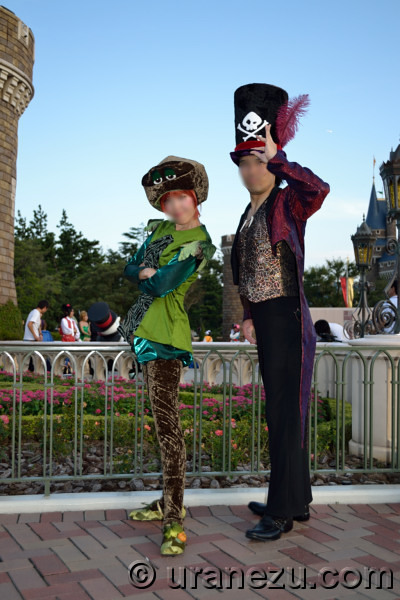 (cover their faces by their own request.)
I was surprised by their beautifulness of their costumes. The gorgeous texture, the coloring, and the artistic design are marvelous. In addition, their pose for the photo were lovely.
"Tiana frog & Doctor Facilier" from "Princess and the Frog".