Amazing Halloween Costume
> 2011 Part 03
---
---
Please do not use uranezu pictures on other websites without permission.
Please do not use uranezu.com cosplay pictures on other websites. All of the cosplayers of this site gave me a permission to use only on my website "uranezu.com". Thank you for your understanding.
If you find any copies of the uranezu cosplay pictures in any other places being used on a web site, printed or sold without my permission, please inform me as soon as possible, for there is a possibility of an infringement of copyright. It is also helpful if the URL(if there is one) or the place they are being printed or sold is indicated, so that it is possible to warn or to take legal actions against the person involved.
For many cosplayers gave their pictures to uranezu.com., please understanding and support this.
Part 3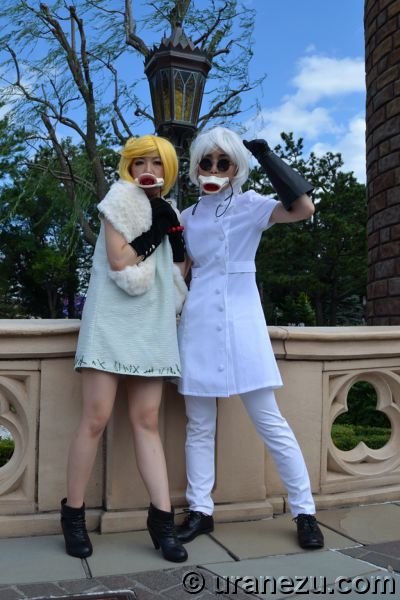 Share the Brain, share the same destiny!
They look great and create a mysterious atmosphere as completely as the original character. I love the minor characters.
"Mrs. Finklestein" & "Doctor Finklestein" from "The Nightmare Before Christmas".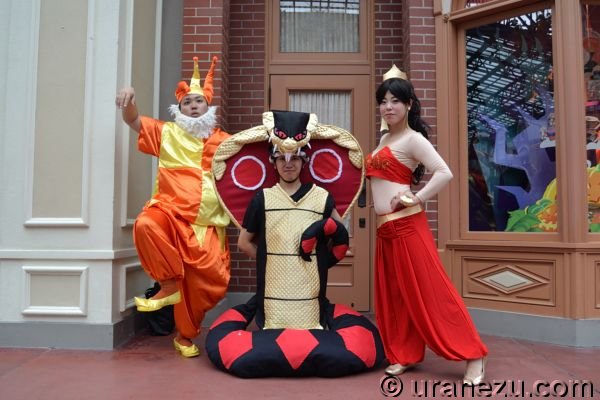 Waiting for Aladdin's arrival!
It is difficult to find the Sultan from "Aladdin" dressed as an imprisoned jester in the end of the movie that is rare. This party is really cool.
(Did you know this party is same as "Joe" & "Tony" with "Romantic Spaghetti" from "Lady and the Tramp"?)
"Sultan imprisoned ver.", "Cobra Jafar", & "Jasmine imprisoned ver." from "Aladdin".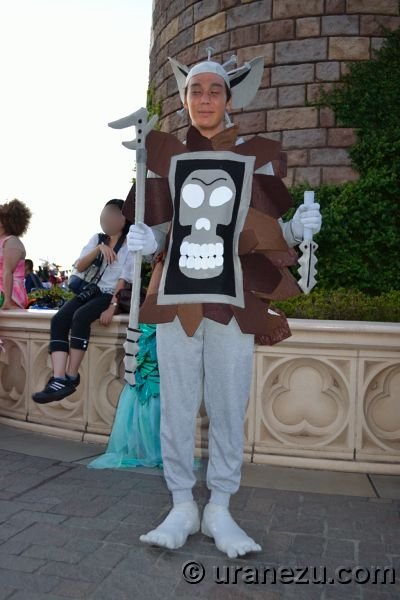 Come to TDL for a change!
A Shiriki Usundu which was brought back by Hightower Ⅲ forcibly, came to the TDL from the Tower of Terror in TDS. I love his character choice for Halloween costume and also details are nice.
"Shiriki Usundu" from "TDS Tower of Terror".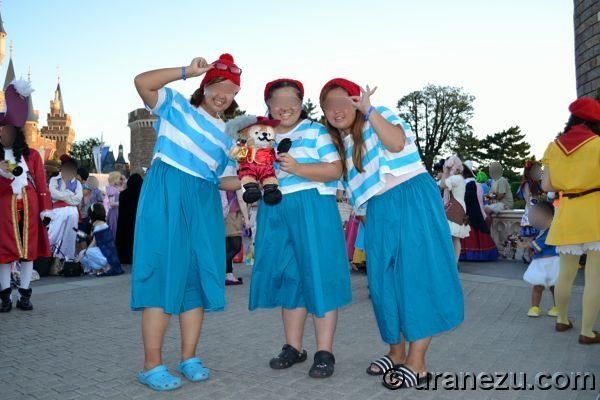 (Cover their eyes by their own request.)
At your service!
Three cute Ms. Smee serve one Duffy the Captain Hook. It's a pretty amazing party. Most of all, they enjoyed their Halloween disguise, I love that.
"Mr. Smee" from "Peter Pan".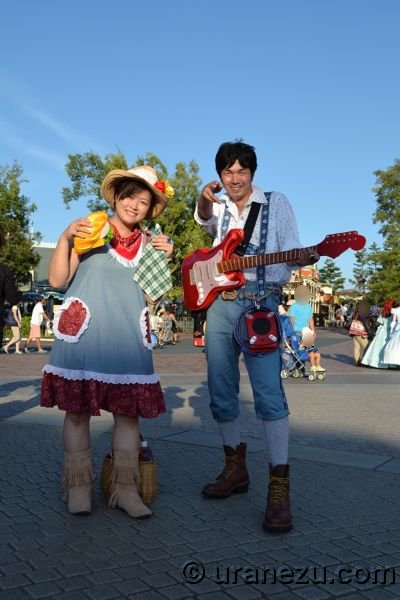 Intermission!
Here comes the Country Bear Jamboree character which popular from uranezu visitors! In this year 2011, fortunately I could met nice Jamboree couples. They really lovely. I hope you can feel their enjoyment.
"Trixie" & "Liver Lips McGrowl" from "Country Bear Theater: Vacation Hoedown".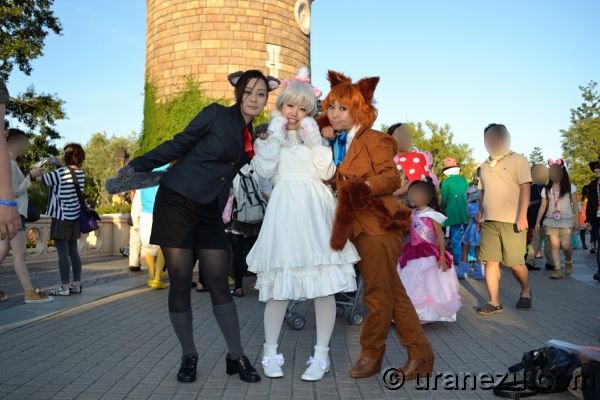 Something for Jazzy!
Lovely trio from "The Aristocats". Their costume is splendid that well captures the three cats' features.
"Berlioz", "Marie", "Toulouse" from "The Aristocats".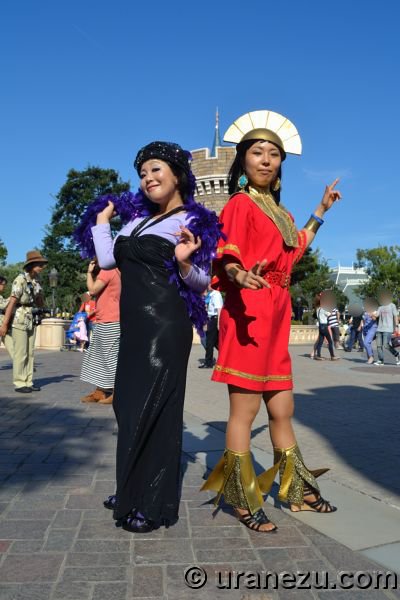 The Emperor's promotion!
The details of their costume are amazing. Their perfect disguise had inspired me to watch the "The Emperor's New Groove" since the movie released. If you like them, you should watch it!
"Yzma" & "Kuzco" from "The Emperor's New Groove".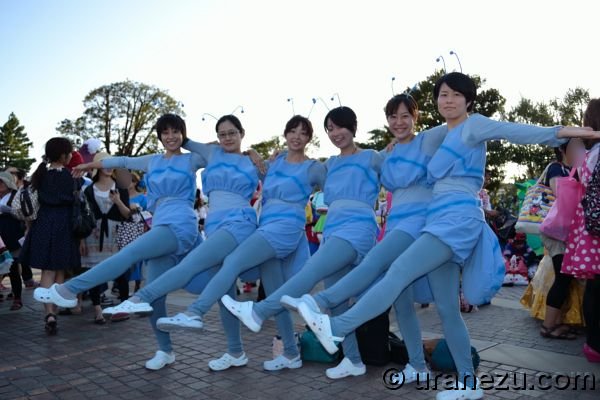 We are not far behind from the circus!
They showed me a nice precision dance as good as the show "one Man's Dream Ⅱ - The Magic Lives On -" which has an ants' precision dance from the "A Bug's Life" scene.
"Ants" from "A Bug's Life".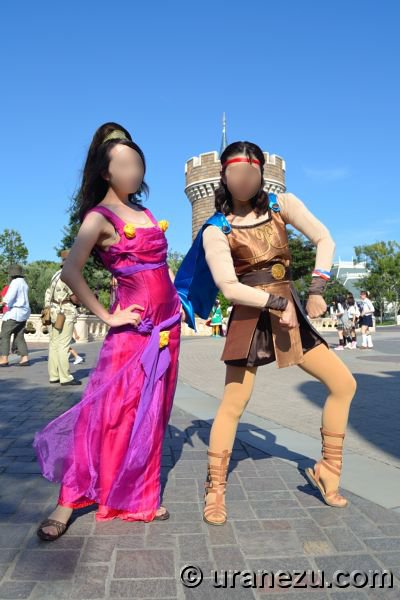 (Cover their faces by their own request.)
Mighty couple!
Their posing really cool. Unfortunately, I can't show you their faces, however they are pretty ladies.
"Megara" & "Hercules" from "Hercules".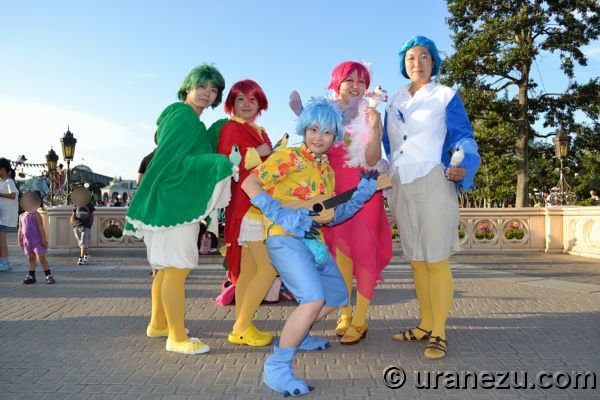 It's show time!
The singer birds and the unexpected guest, Stitch from the "Enchanted Tiki Room" in TDL. It is very happy moment for me to meet a character from the attraction. They take their modeled bird, nice!
"Waha Nui", "Hanoli", "Mahina", "Manu" and "Stitch" from "The Enchanted Tiki Room: Stitch presents Aloha e Como Mai!".