Park Now
>
Park Now Archive
> 2014 First Quarter Archive
---
Mar. 15 2014 about A Magical Moment in TDL 30th Anniversary.
Finally, it is coming to an end of TDL 30th anniversary. I posted many pictures of two parks during this big year. But I kept some special photos, so before the final day on 20 March, I would like to share with you.

In April 2013, Yamanote-Line the main line in Tokyo was wrapped in a many Disney characters. The colorful train acquainted us with TDL 30th anniversary.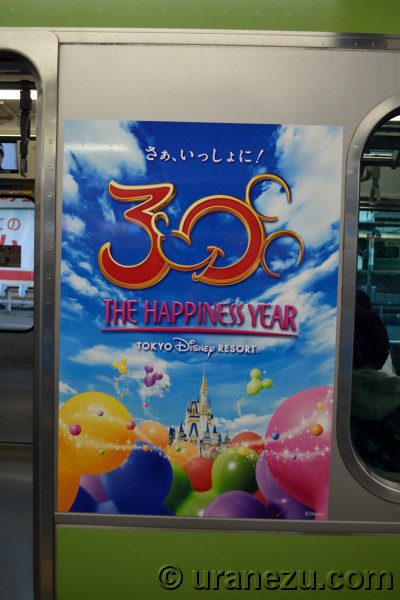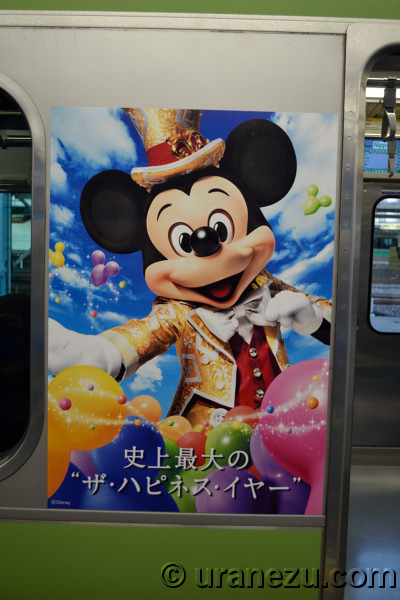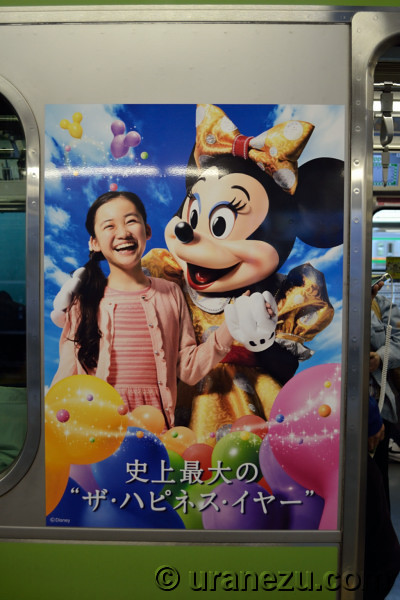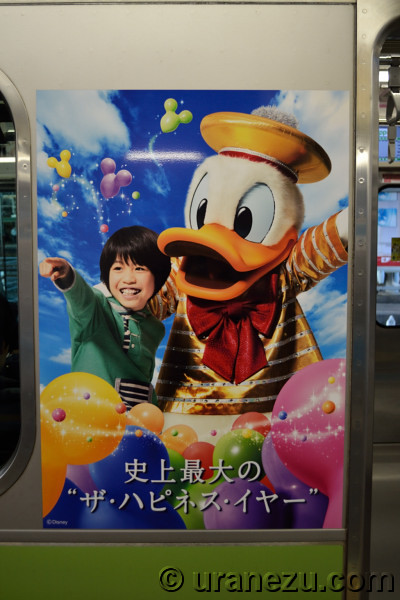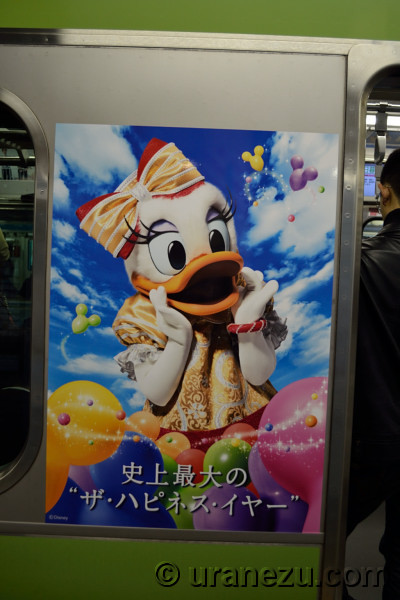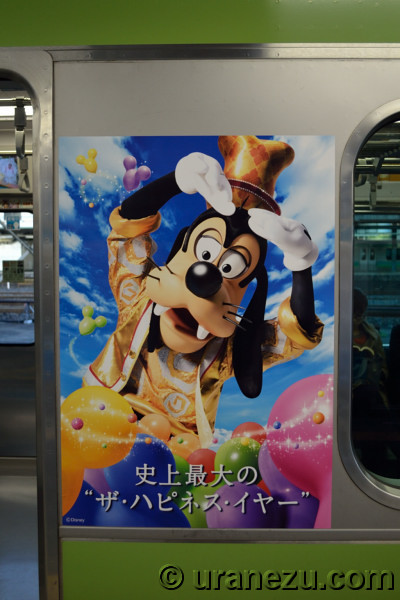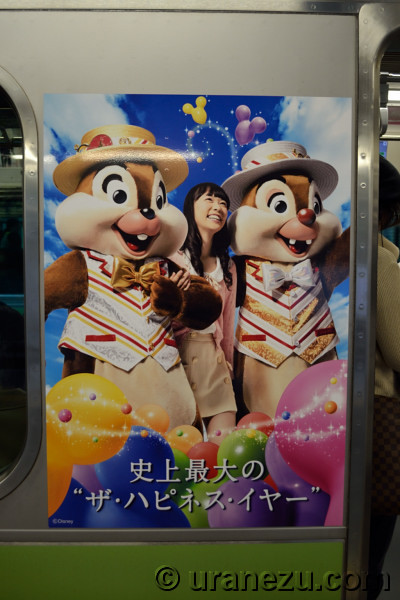 This train was just decorated train exterior. (If you like train, please check also FEB. 05 2014 about not Park Now: 30th History Train.)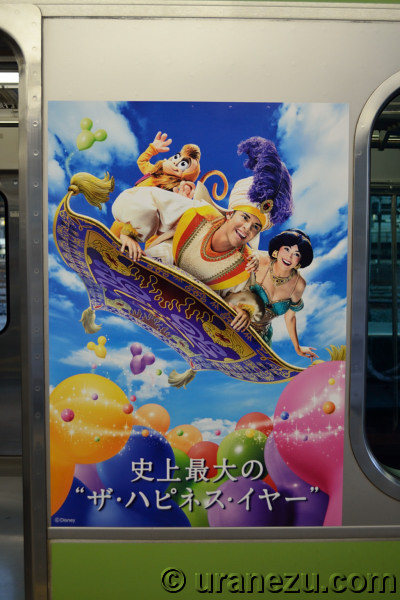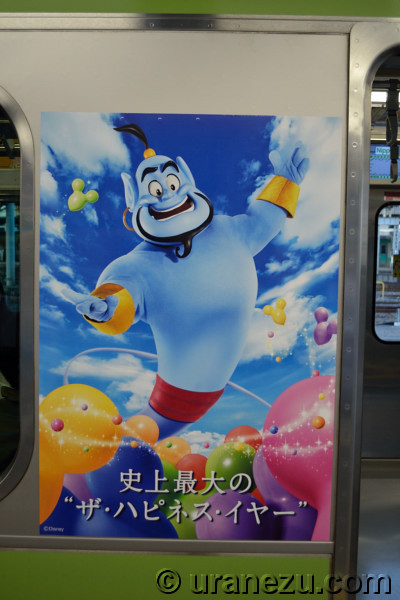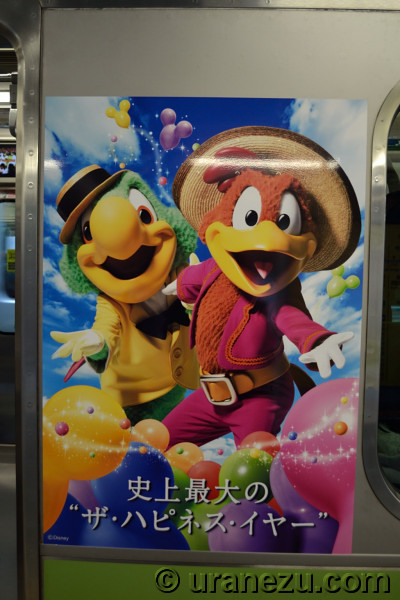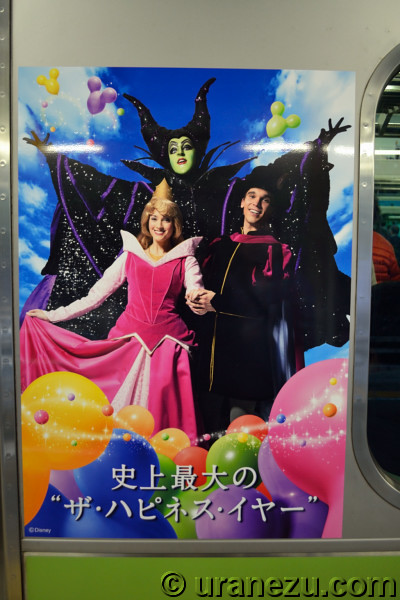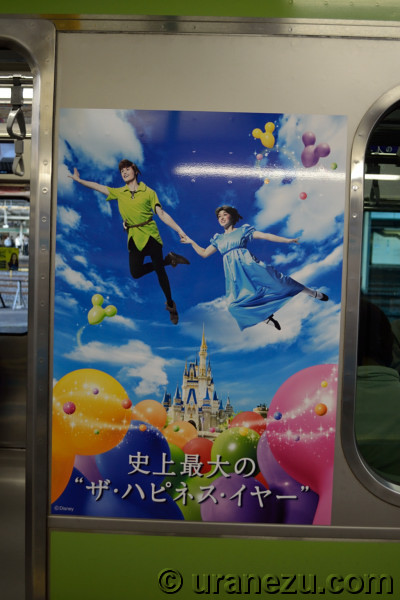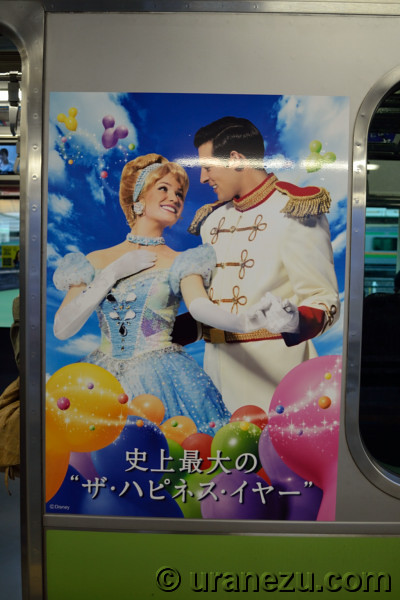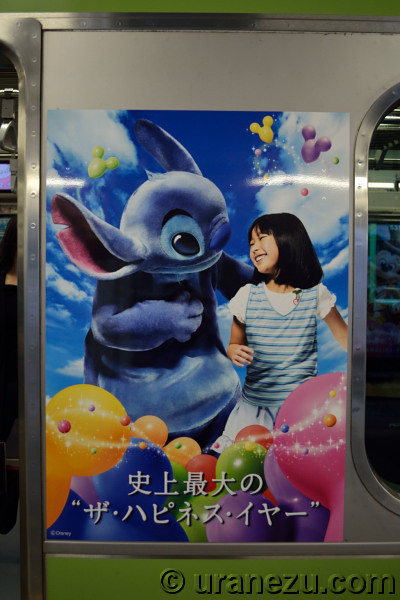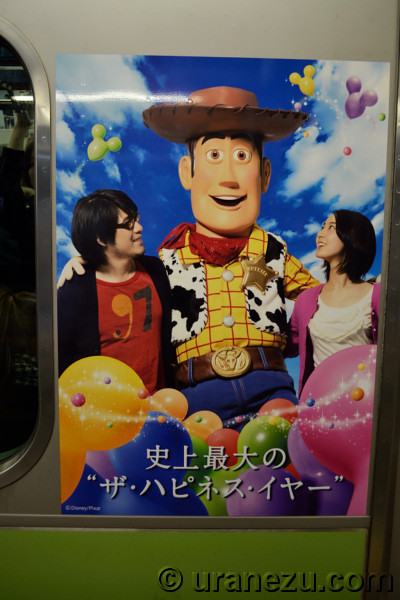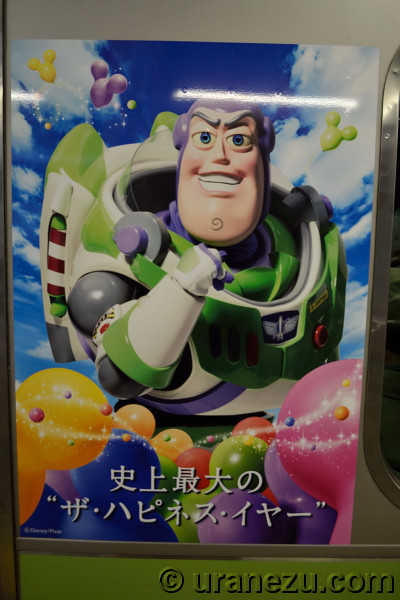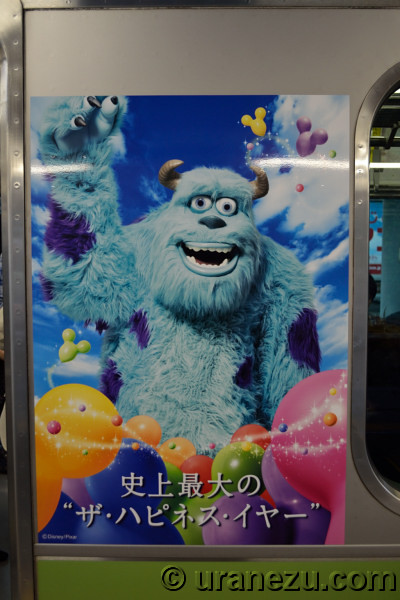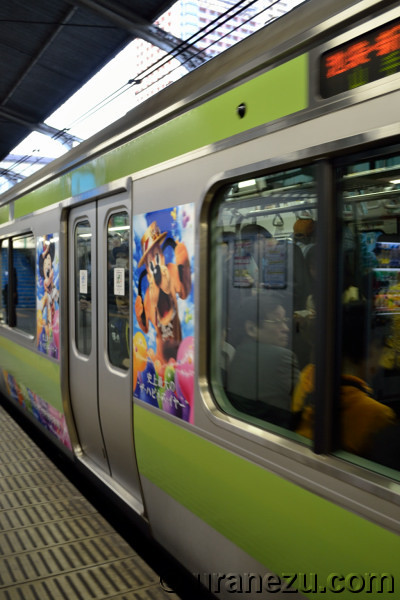 Sorry Pluto, I didn't have a time to take your photo...
TDR launched many new foods for TDL 30th anniversary. In May, I tasted one of the special snacks. It was a popcorn with a seasonings.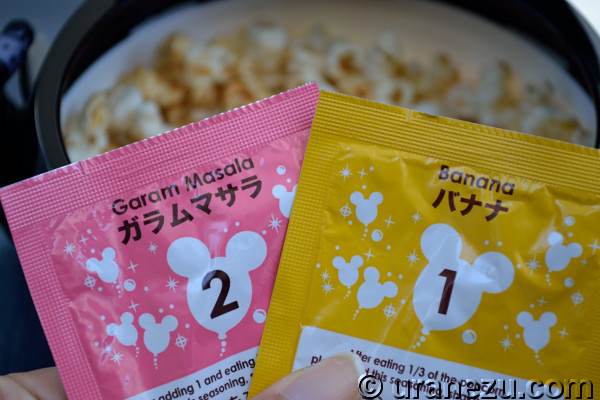 I got a two spices for 100JPY an extra with popcorn. No.1 is a sweet banana flavor, and No.2 is a little bit hot garam masala.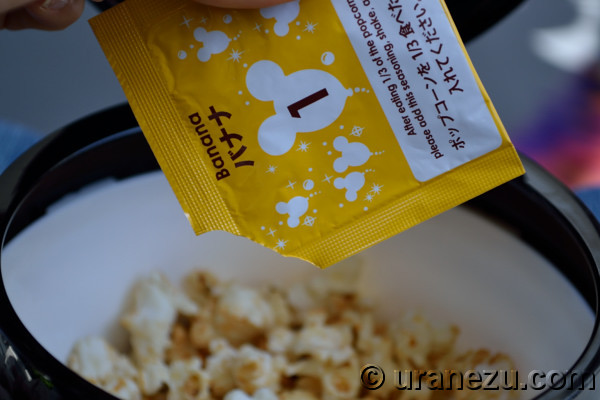 First, taste your normal popcorn flavor, (these two seasonings recommended with caramel popcorn.) then add No.1 banana powder. It went to really sweet banana. I loved it. After that, put No.2 garam masala, the taste changed exotic salty-sweet which was so nice.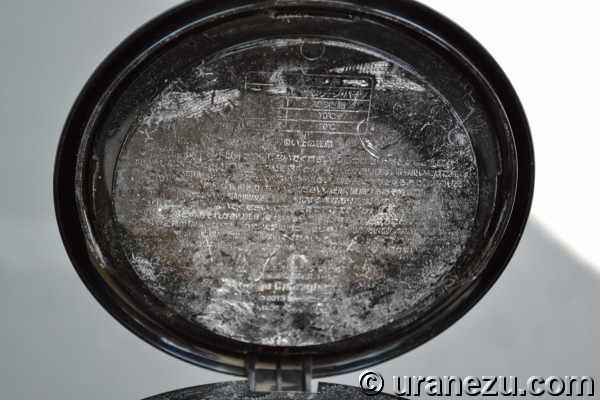 A popcorn bucket rid turned easy to read with the powder after I shook it for mixing.
I could see a beautiful rainbow when I strolled through TDS in July.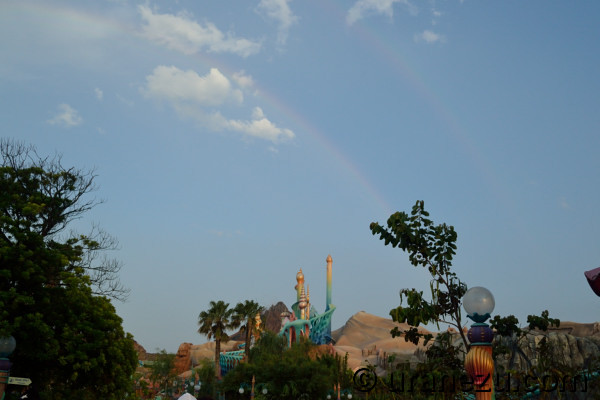 Do you see it? It was a double rainbow!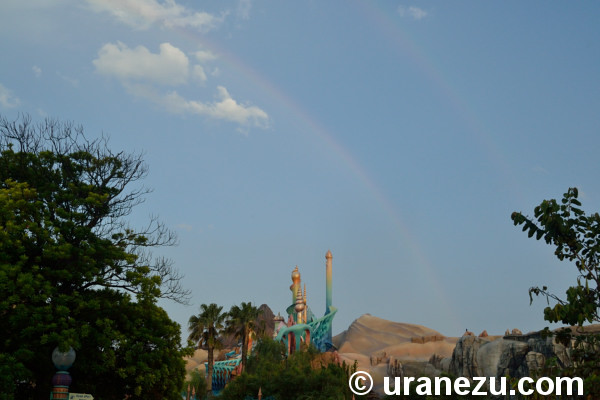 Most wonderful thing of that, the rainbow over Arabian Coast to Mermaid Lagoon.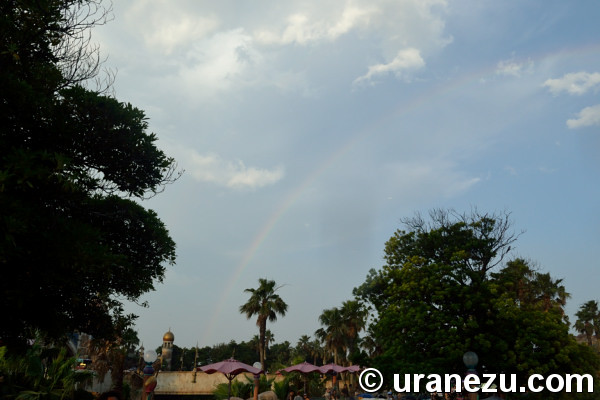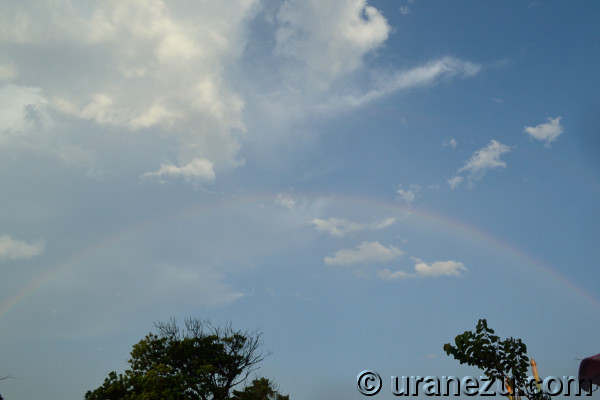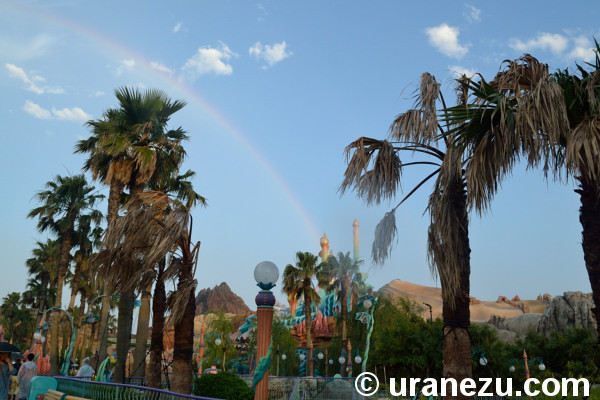 I thought of two princesses who are longing for a whole new world and a part of his world.
Disney's Halloween started in September, yes Halloween is a mysterious season.
Don't you see a familiar-looking shape in the sky?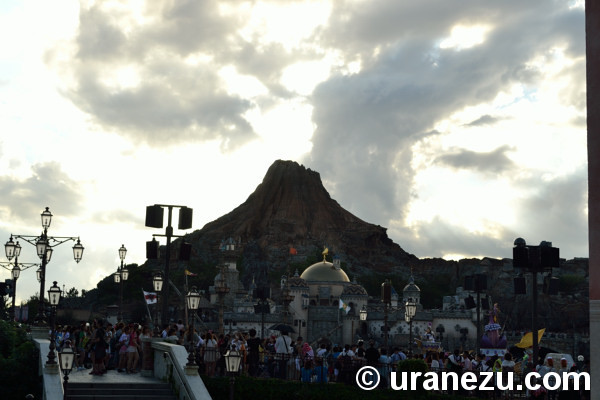 I swear I didn't doctor the photo.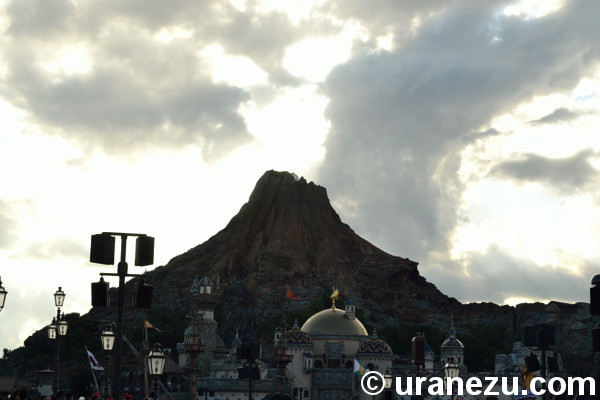 Something curious things happened, that's why I love Disney's Halloween!
I posted many pictures of heavy snow in February, but I keep a snow storm with 30th decoration Cinderella Castle.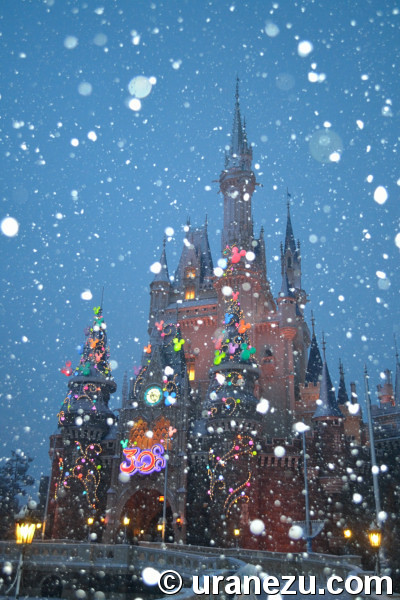 Let the storm rage on!
In feburuary, I found a little treat to me who always walk through the park.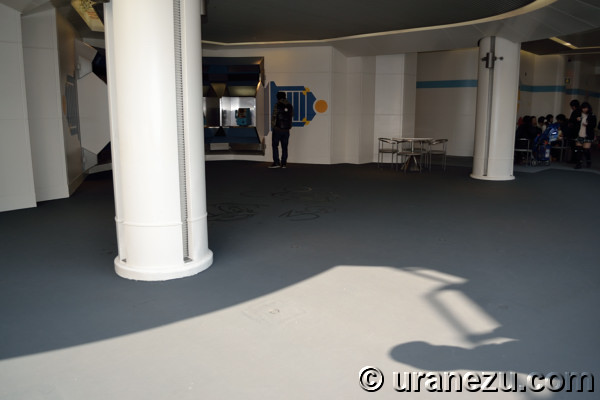 It's a custodial magic 30th version.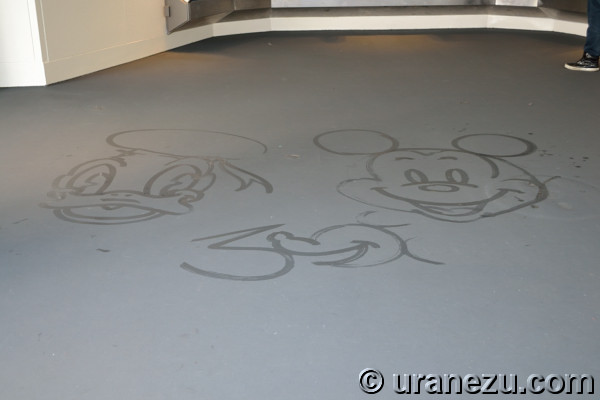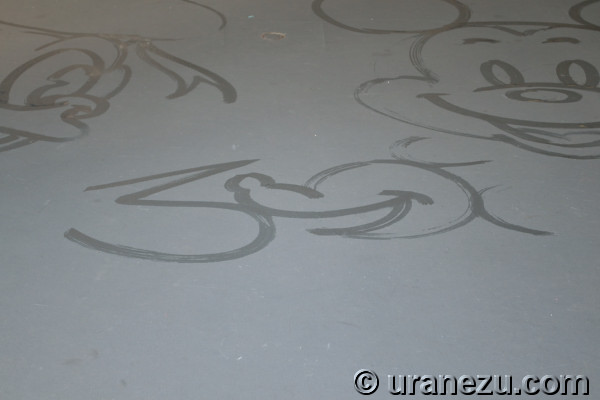 Happiness is Here and There, All Around You!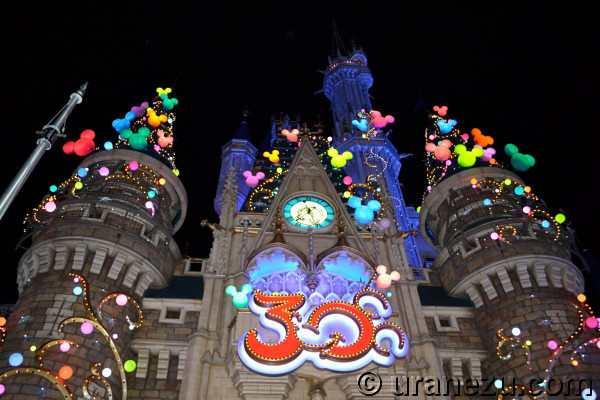 If you have any questions, opinions and requests,
please contact us.
Mar. 05 2014 about A period of Evolution
TDR enter a little bit off season. There are many refurbishments in a both parks in this season. It is a time to ready for coming 31th anniversary on April. It means, this is my thought, in this 30th anniversary the big year and wide advertising get a very huge guests, TDR will register a decline of it after the 30th anniversary. As a practical measure, TDR will place a many new things. So today, I will show you some stage of refresher. (and just refurbishment.)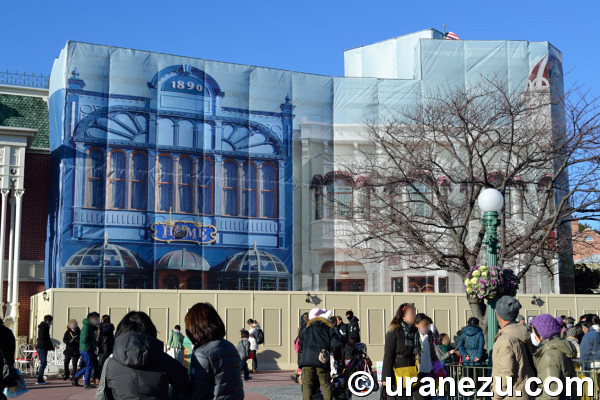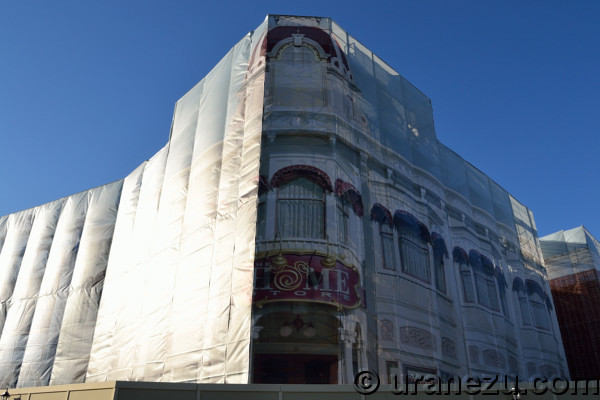 Look, at the nice camo cover at "The Home Store" the kitchen and bath items store in World Bazaar.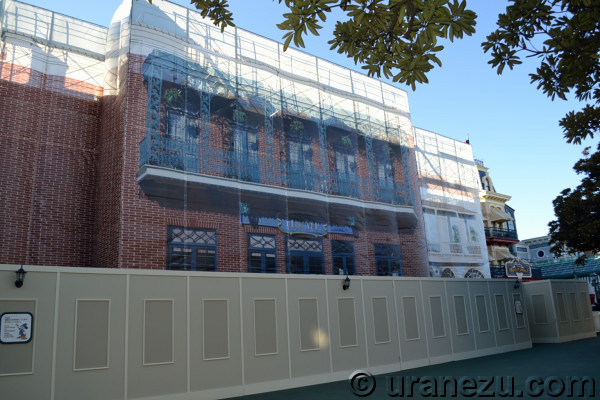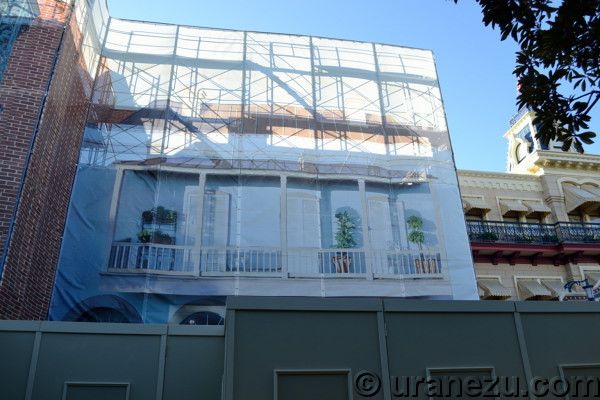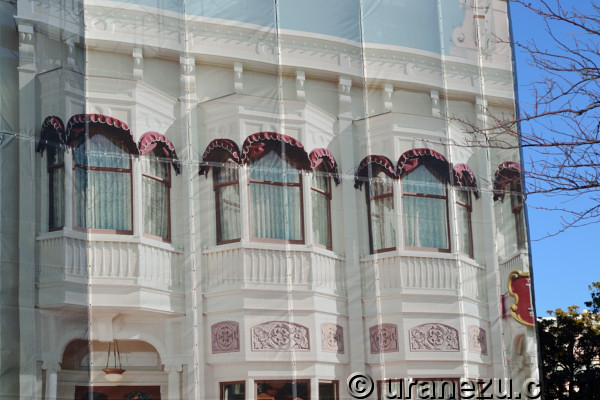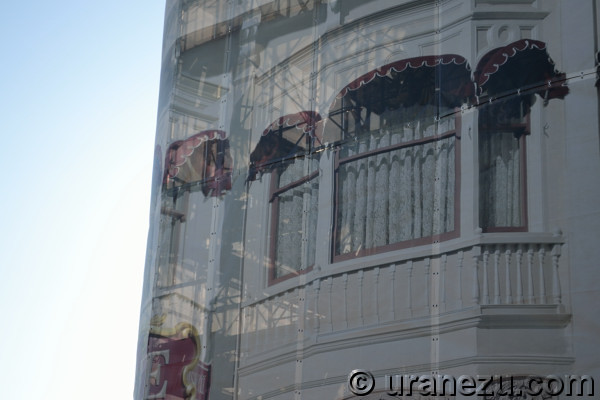 The above of the store, there are Club 33, but it closed in this period.
A passage to the store was blocked by wall color board.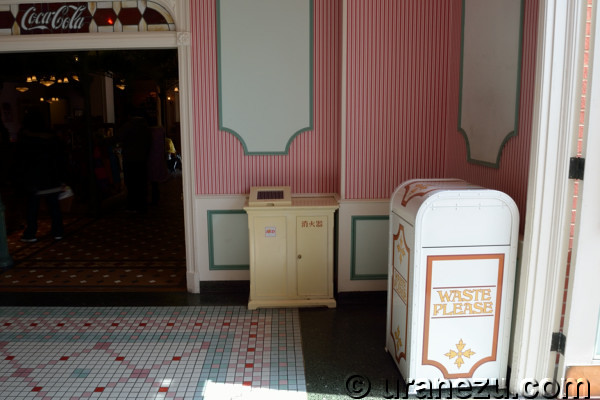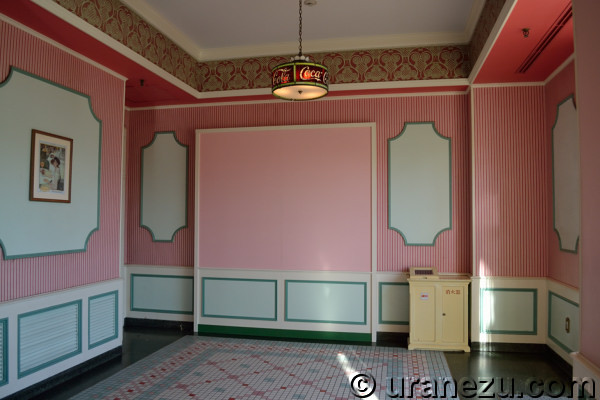 The left picture was an entrance of the shop from "Refreshment Corner" the hot dogs counter of the old days.
"The Home Store" was closed on 6th January, then it'll open as a new shop on middle of April.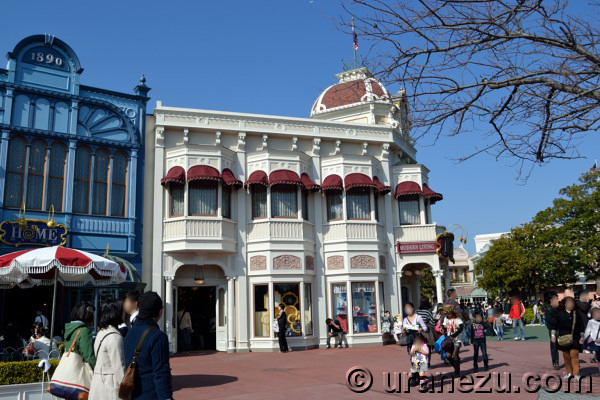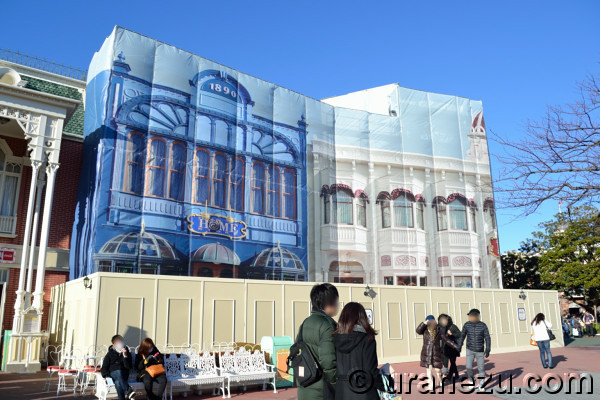 The left picture was the exterior of "The Home Store" of the old days.
When I visited TDL to take a picture with deep snow, I found a new Fastpass machine area in Westernland.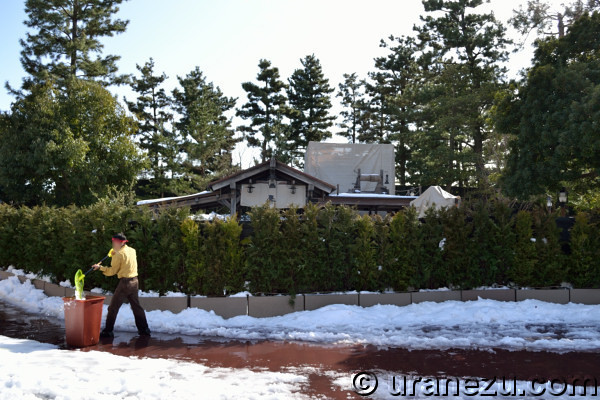 On the second snowing day, the cover was completely removed. This is a new Fastpass area of "Big Thunder Mountain".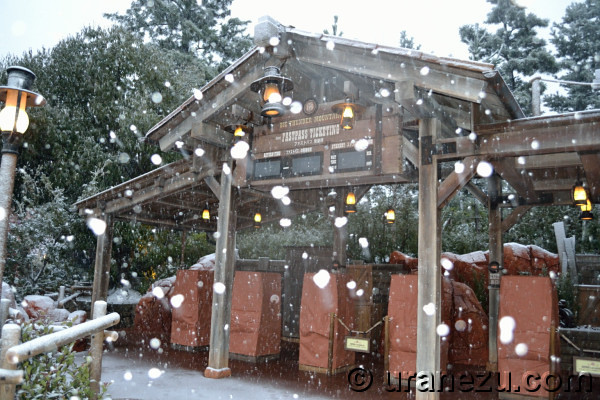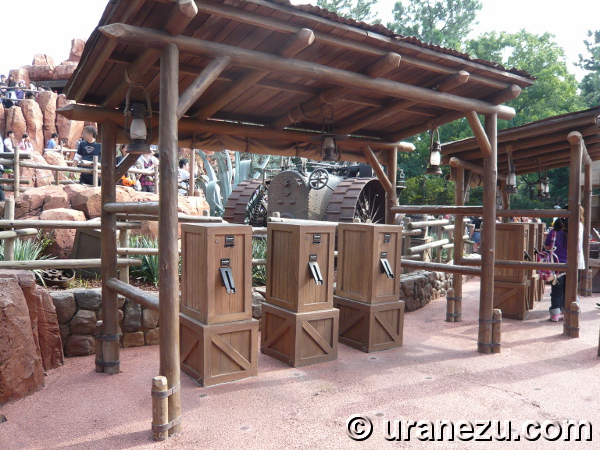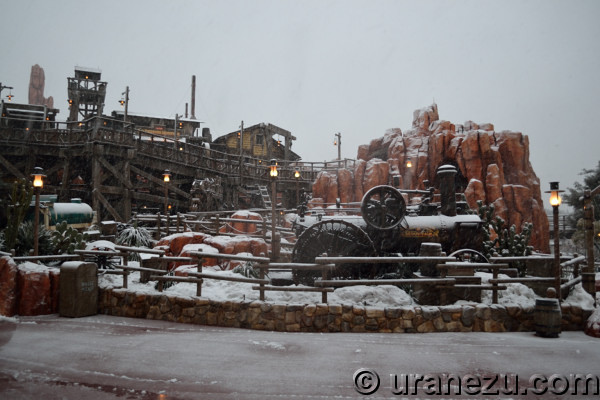 The left picture was old Fastpass machines, now the area is clear, so you'll able to take a nice picture with a lead vehicle.
Now it's from Toontown.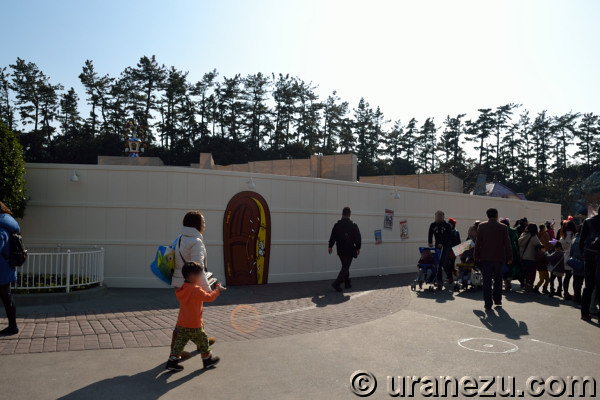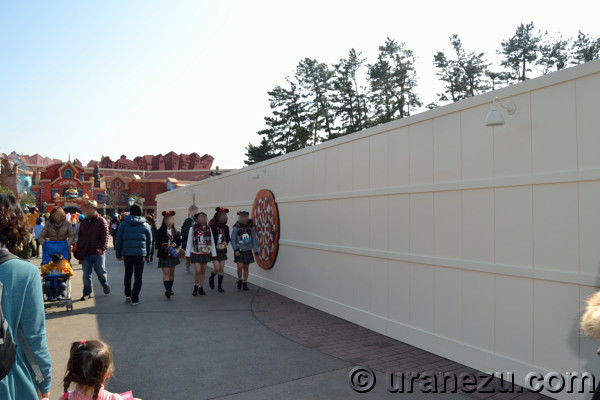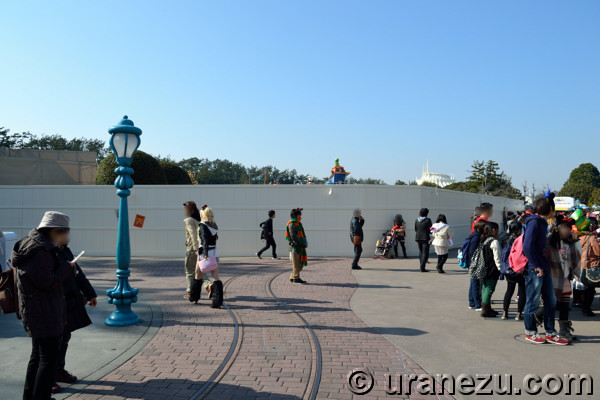 The half of Toontown covered by long long walls.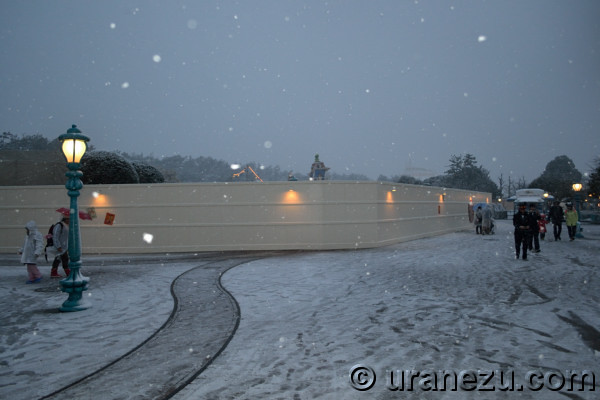 Please don't feel so sad, there are some interesting arts in the cover.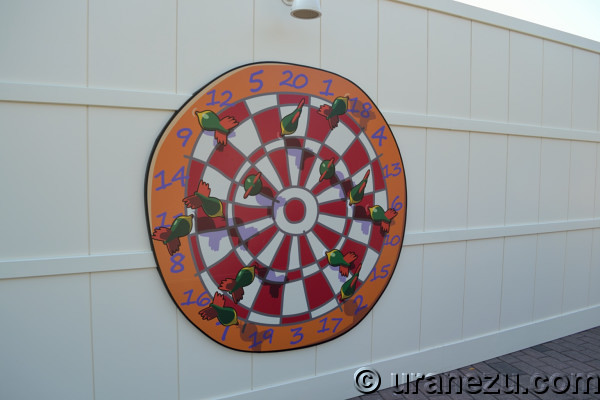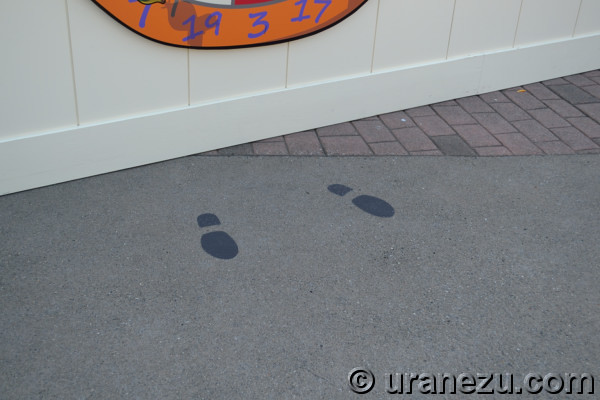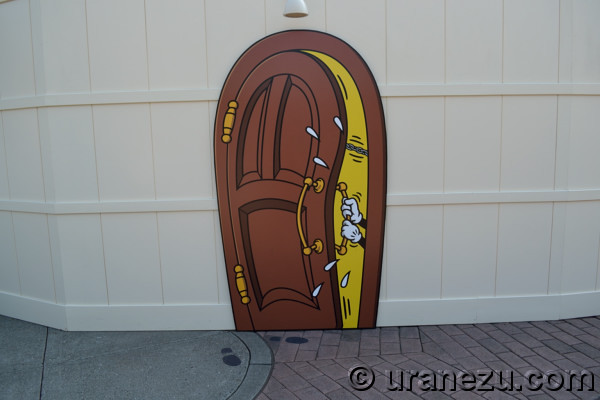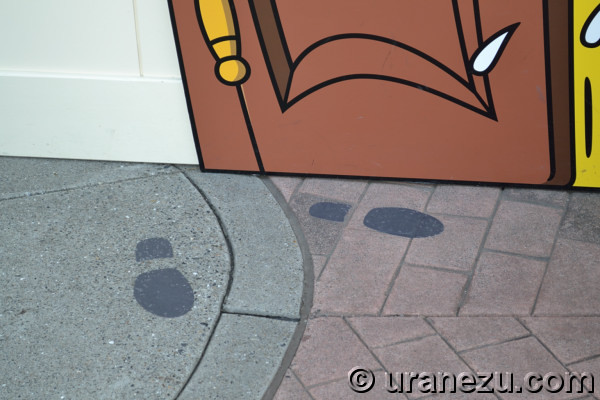 I bet that'll give you a nice photo opportunity.

It may be some preparations for Disney's Easter on April. But only know pigeons.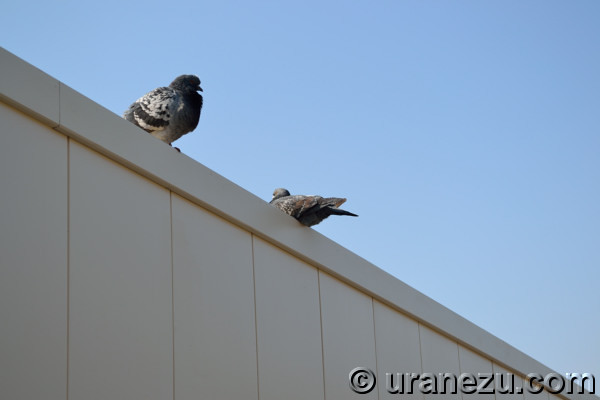 Now this exterior at Mediterranean Harbor from TDS.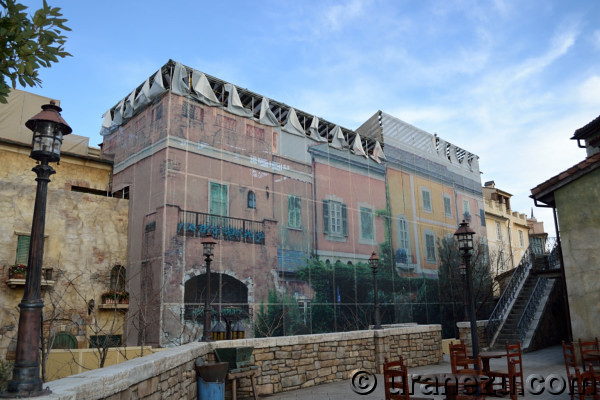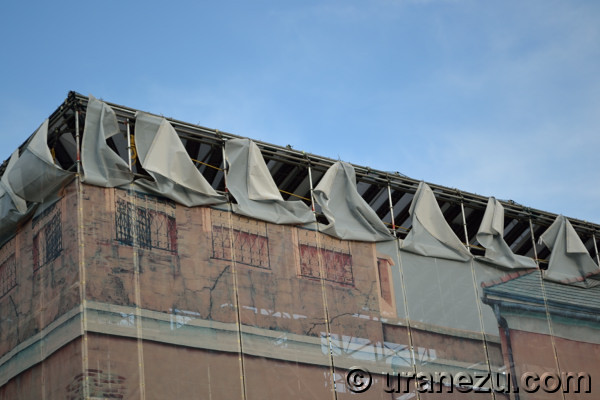 If the top camo covers were tightened, many guests include me never noticed it was a sheet. That's amazing print!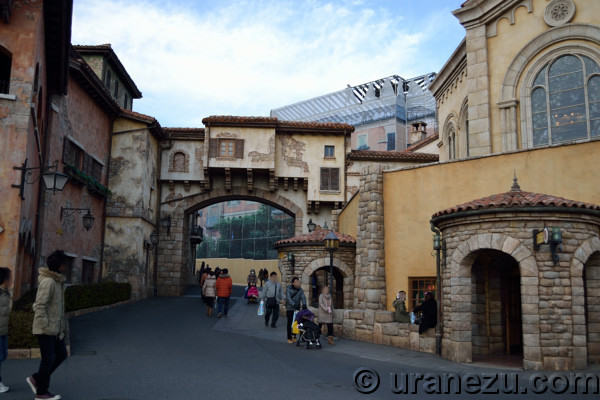 It was so nice with a real starved tree on a sheet of luxuriantly-wooded tree.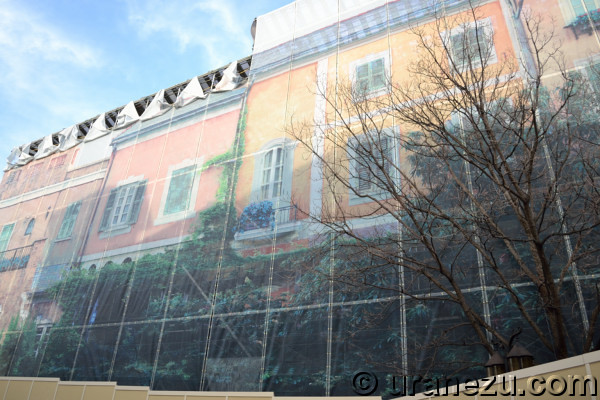 It's really interesting!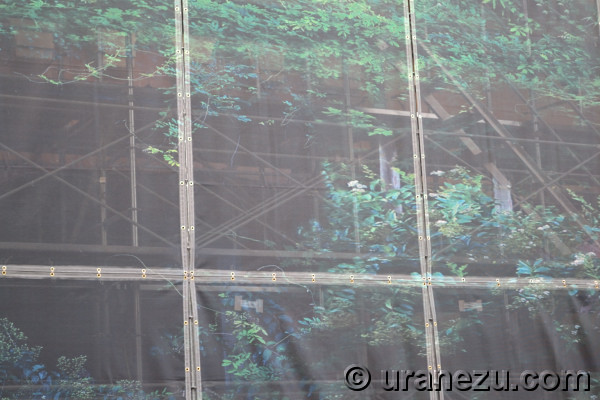 Back to TDL, next is yes from "Jungle Cruise" in Adventureland.
The vast area of the attraction entrance is blocked by guard vegetation, so I can't know what is going on inside.


But we can guess from an outshoot crane. The unusual sight gives me a coming new magic which is really exciting to me.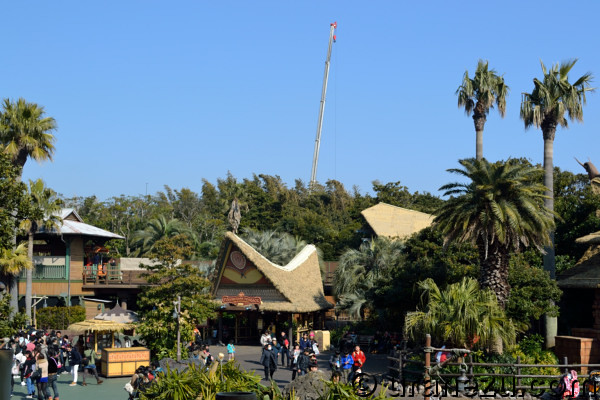 Is that a new temple?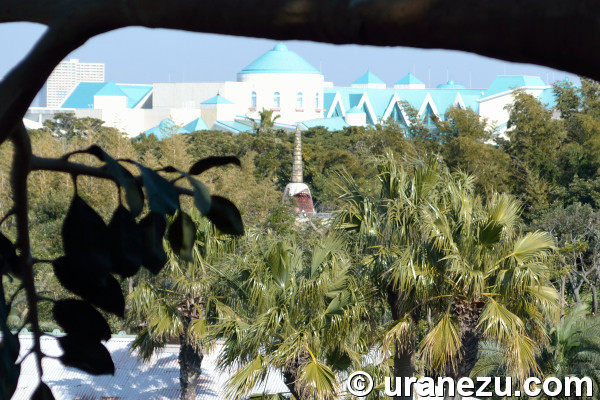 "Jungle Cruise" with new special effects will reopen on this Autumn. OLC announced that some effects will be able to enjoy at night, I think same or very similar enchantments will use a boat ride at Avatar Land, so I'm really looking forward to experience it.
The below picture from castle pond. I think they're something about for new projection mapping show. What do you think?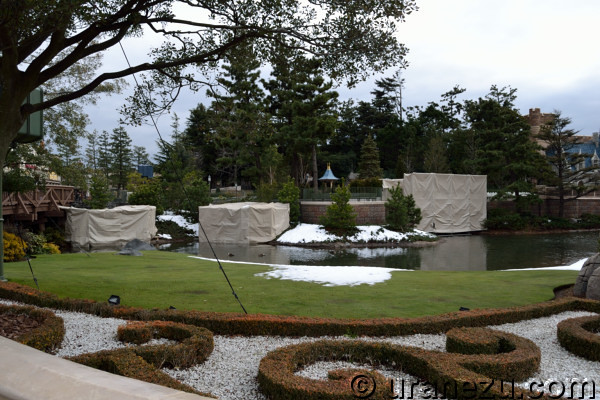 "Once Upon A Time" the new nighttime entertainment at Cinderella Castle will be open on 29 May.
It's very interesting time to stroll in the parks!
If you have any questions, opinions and requests,
please contact us.
FEB. 09 2014 about Let It Go Part 2
The snow storm on 08 February was so hard. I couldn't stop watching the end result of the park with the heavy snow. Therefore I visited TDR again the next day.
The park was so shimmering on a bright sunny day.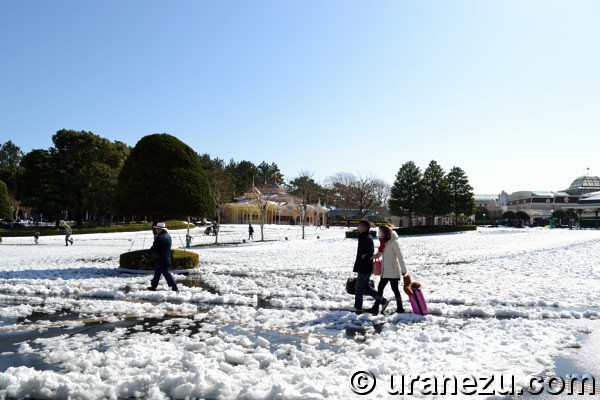 Many cast members cleared the snow off the street.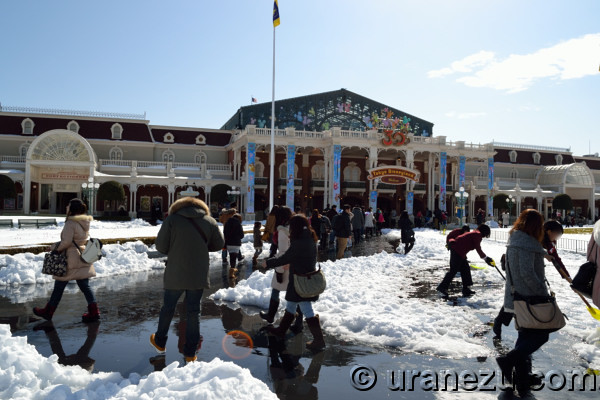 Look at the beautiful passageways! Thank you very much!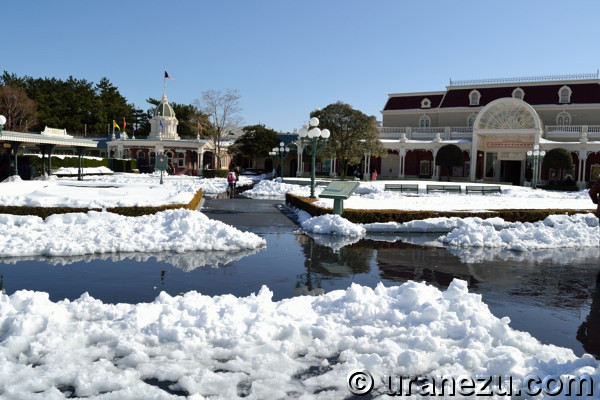 Through the Monsters, Inc. Ride & Go Seek the attraction...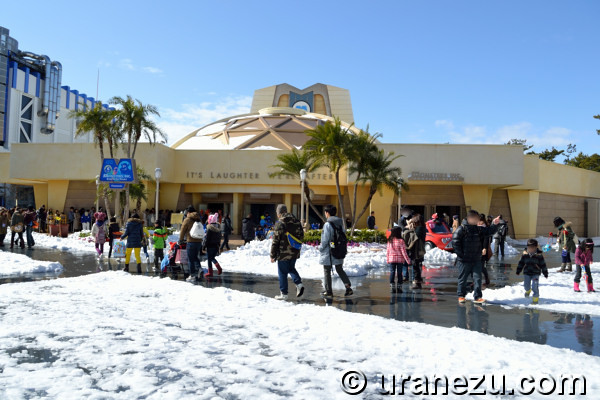 Space Mountain was lightly dusted with snow.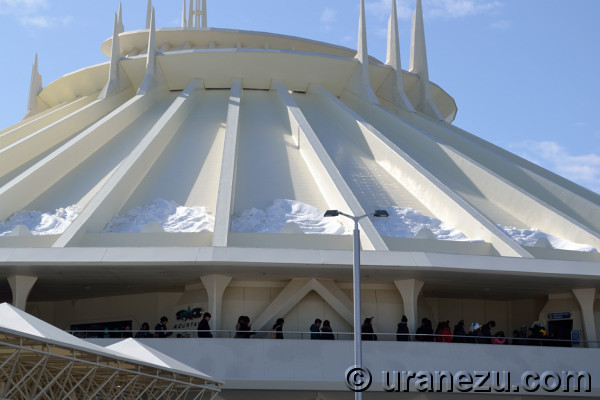 Grand Circuit Raceway was closed, but it's beautiful.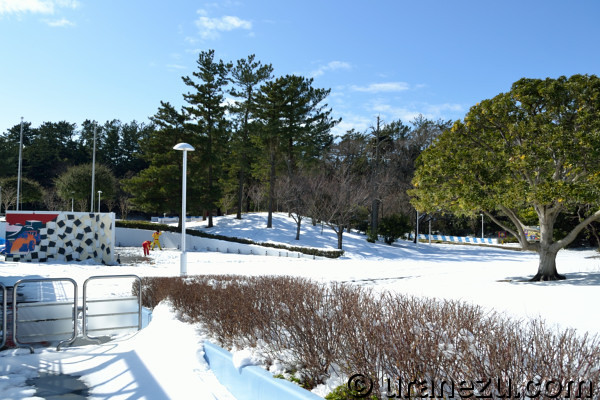 I like your snow hut.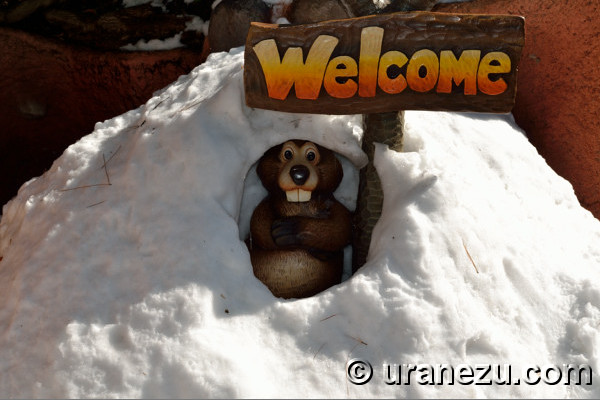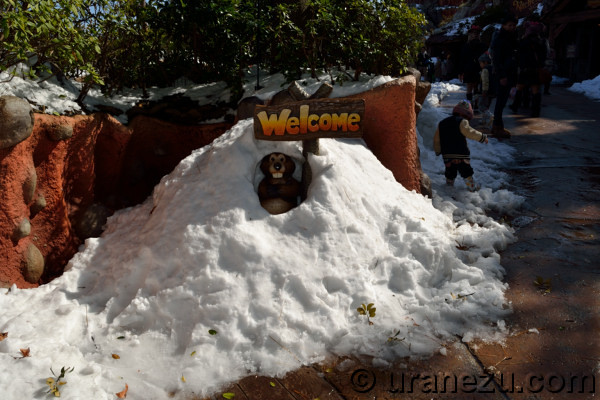 Critter Country was a nice place to find an interesting snowman.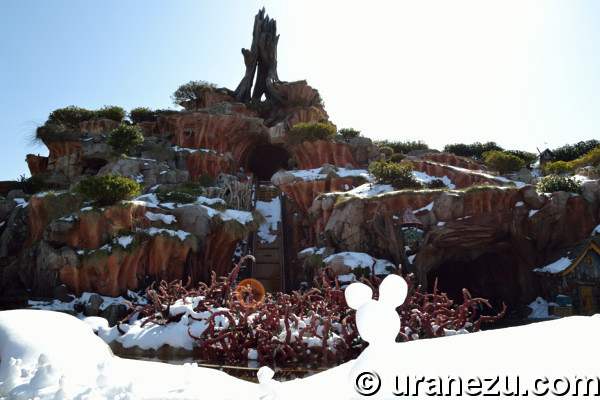 There were much elaborated Snow Mickey & Minnie.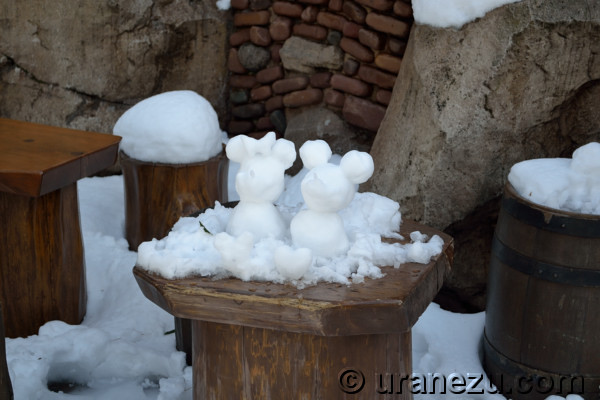 Many little snow critters on a fire extinguisher.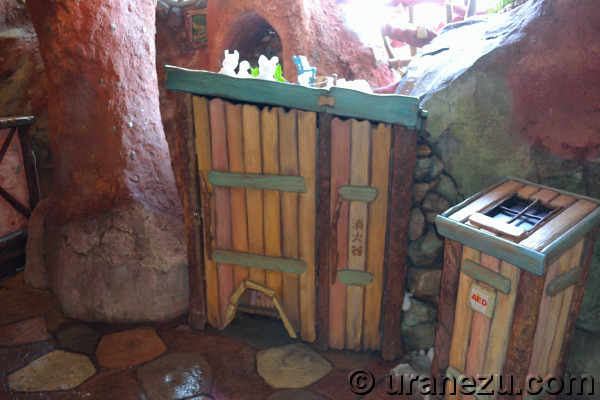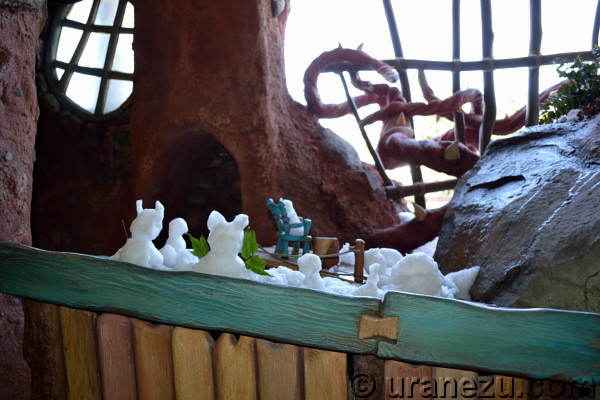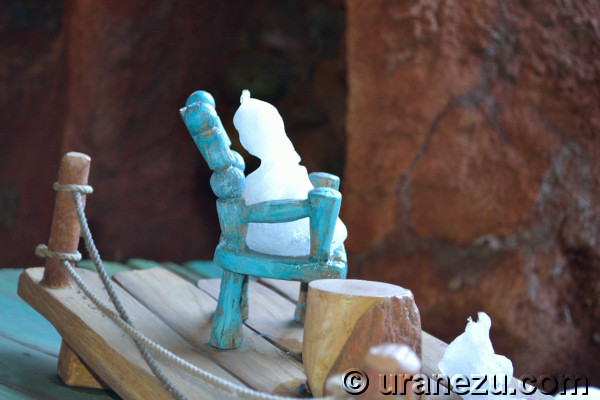 If I were an early bird, I could take a clear picture of him or her.
This is my favorite snow sculpture on the wooden bench.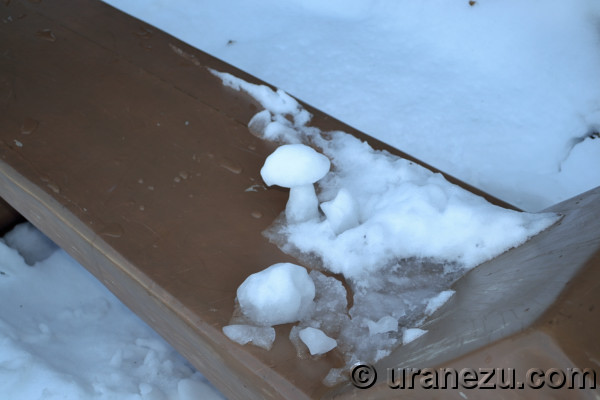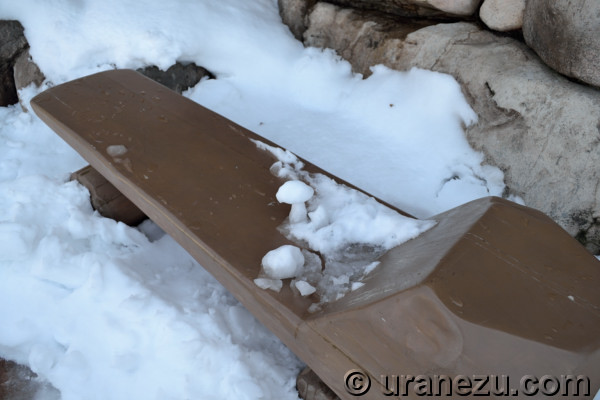 And I watched curious things in much area.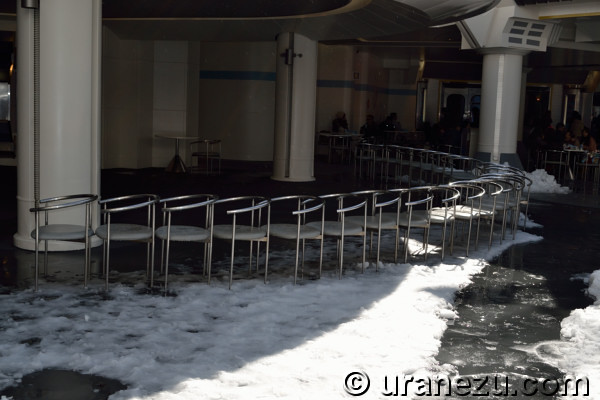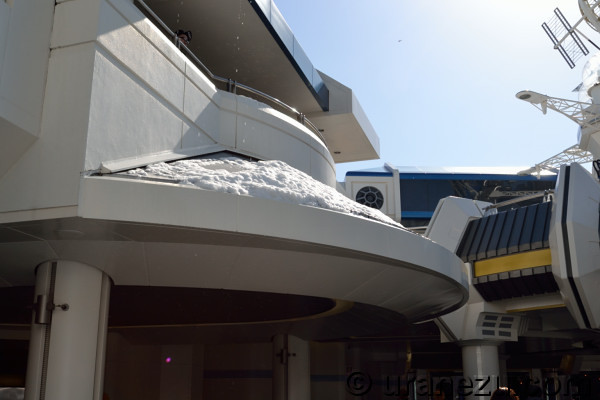 Yes, the chair for preventing of snowfall. It's nice.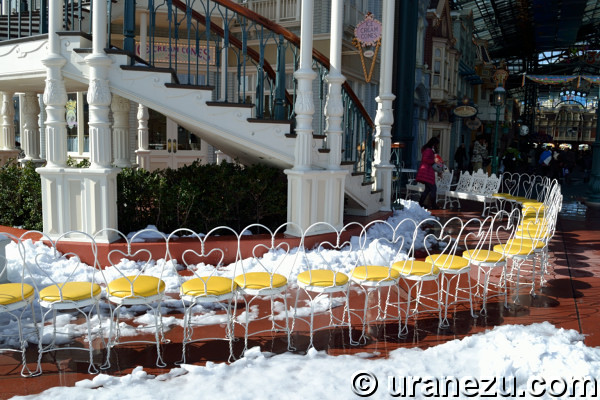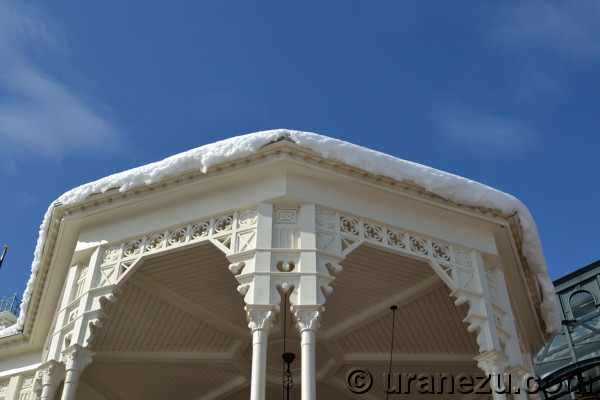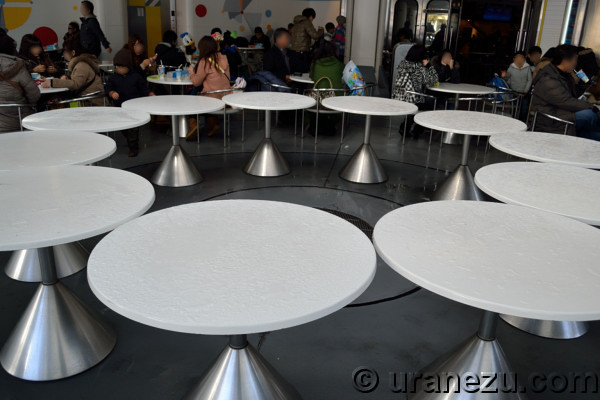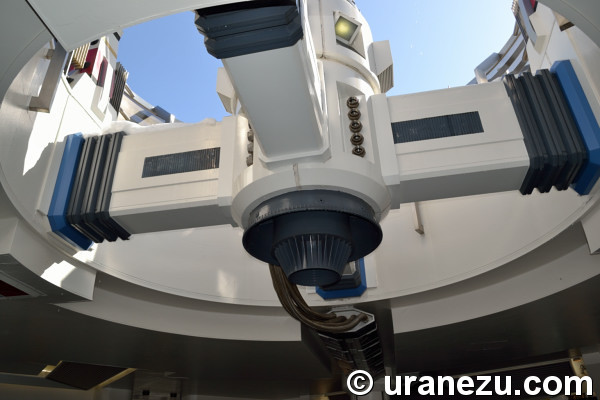 And someplace used tables.
You could see how the snow was heavy from a below photo of a parade route.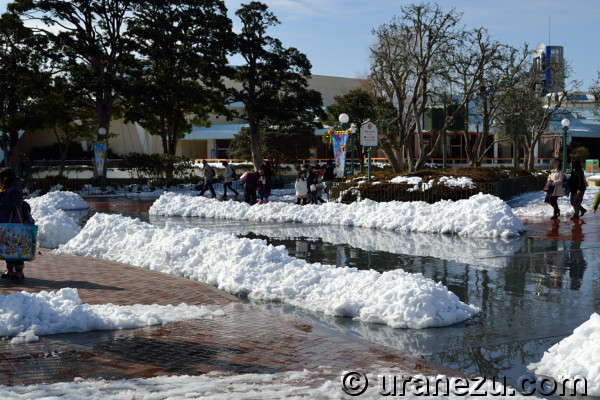 I could also enjoy the remains of snow on World Bazaar's rooftop.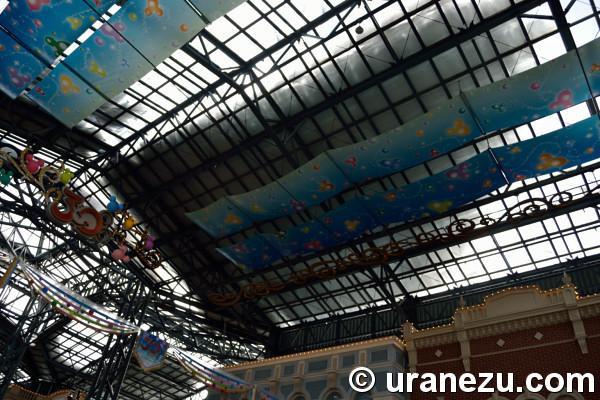 I had taken a lot of pictures of snow covered Cinderella Castle, but it was unusual sight the castle and snow.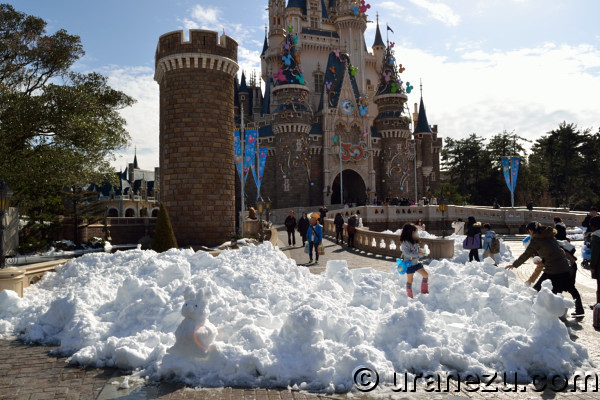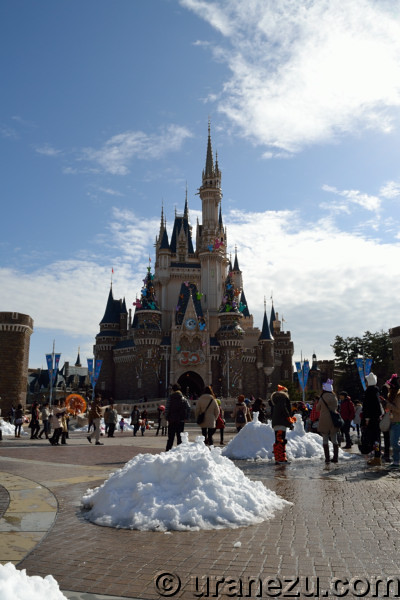 I love SNOW in TDR.
If you have any questions, opinions and requests,
please contact us.
FEB. 10 2014 about Let It Go at TDR.
A severe snow hit Tokyo on 08 February. I love TDR snow scape, so I collected scarf, gloves, ear muffs, knit hat, and snow boots, then I went to the park for stroll.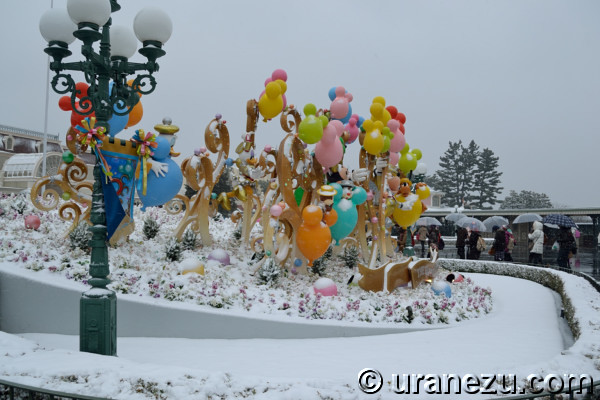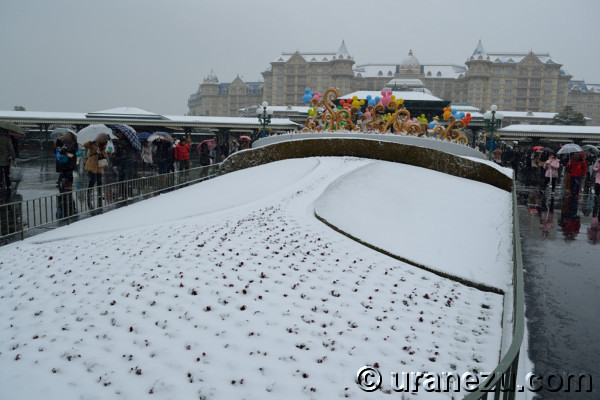 I arrived at around 10:30a.m., there were already covered snow.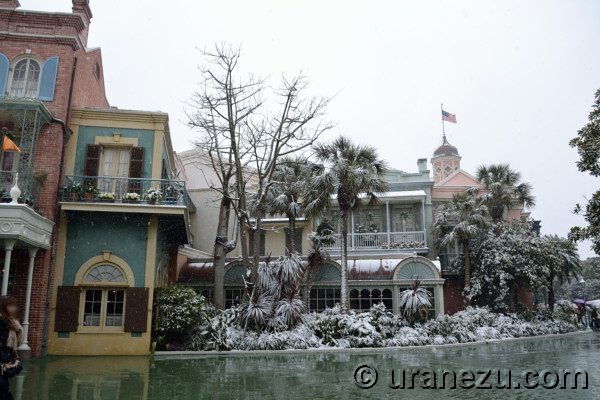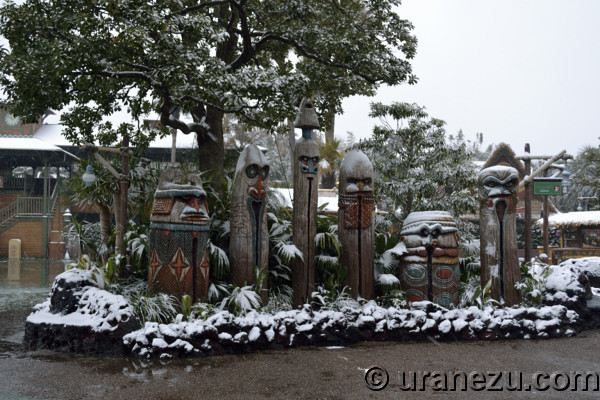 But the ground was just wet with a little fall of snow.

This level of snow was same as usually winter season. I expected it more because a weather forecast said that the snow would be severe snow for the first time in about a decade.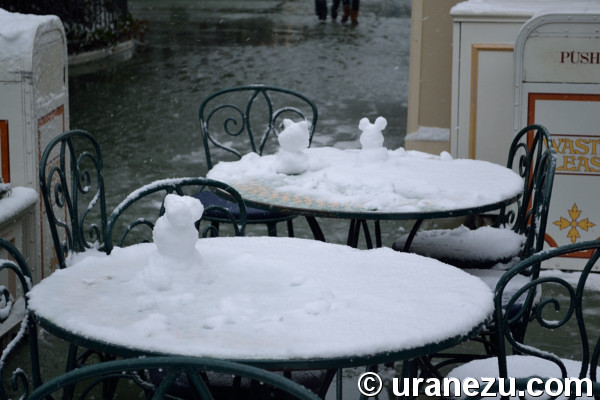 So, I left TDL for a while to have a lunch.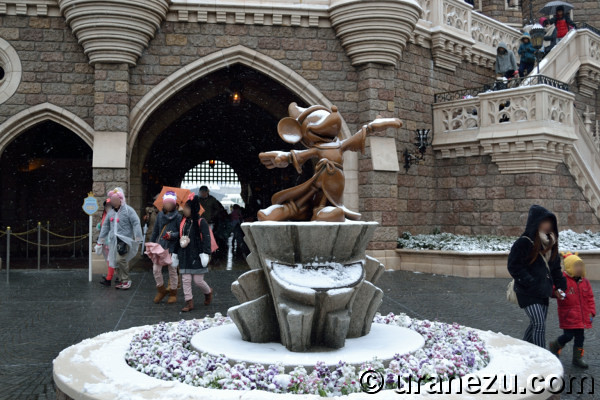 Mickey, do a magic more!
After the lunch, I went to TDS, the park changed to a beautiful sight by the snow.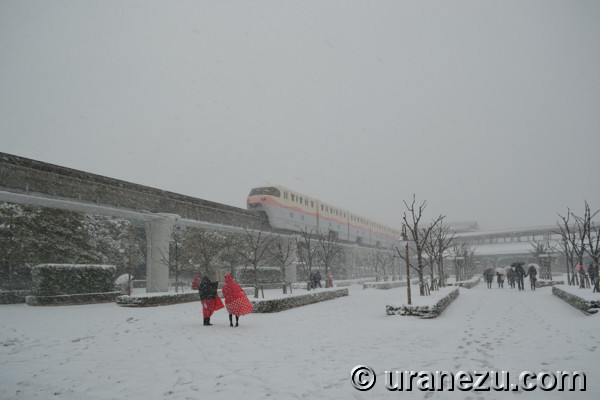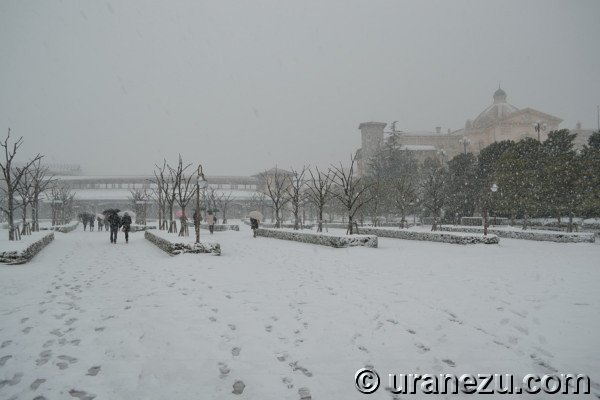 A view of to the TDS entrance from bus stops.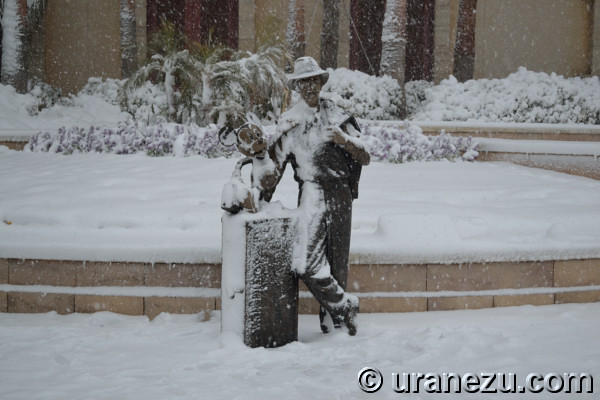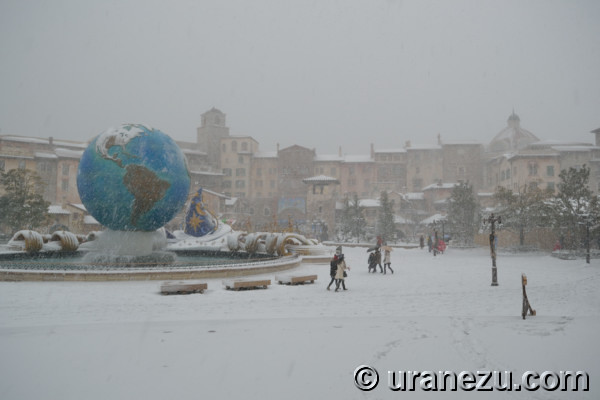 A very first visiting place, DisneySea Aquasphere the entrance area.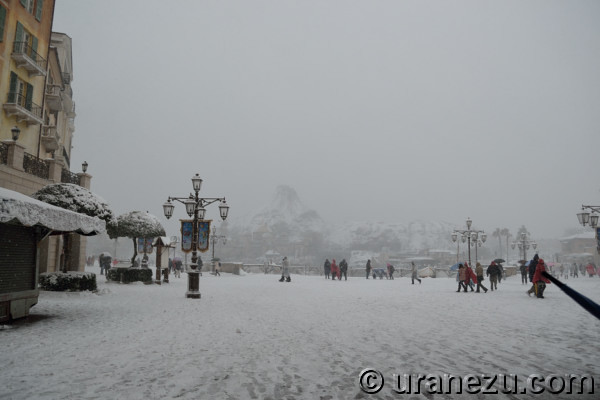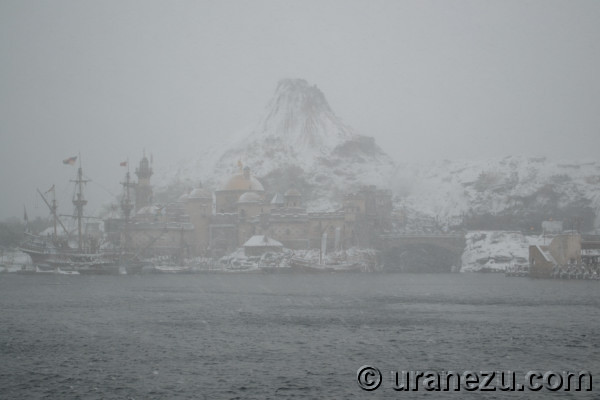 It's fantastic Mount Prometheus with snow from Mediterranean Harbor.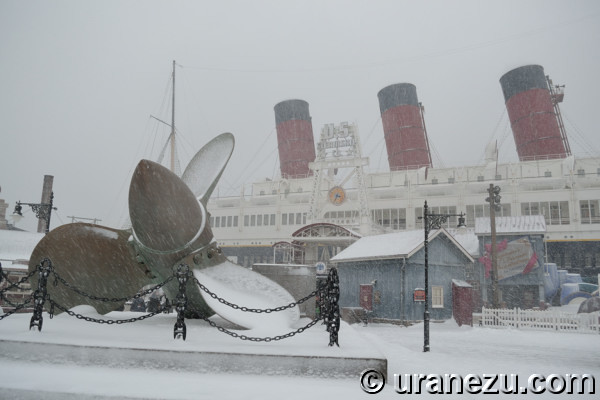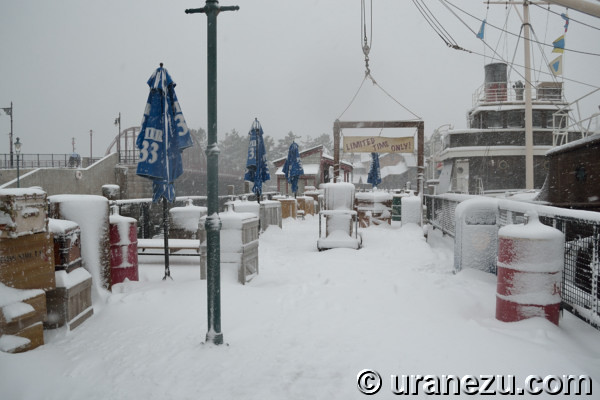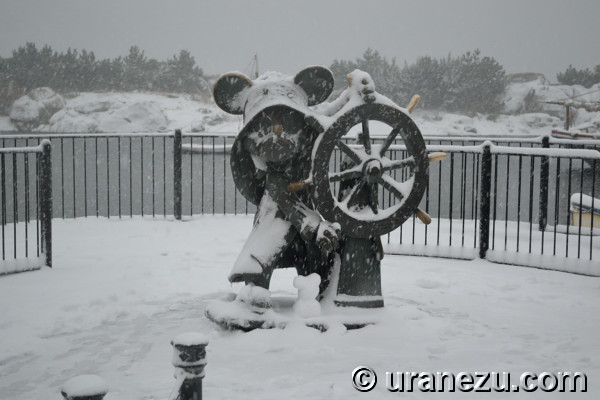 Here is some American Waterfront.
Many guests in that heavy snow at Toyville trolley Park area.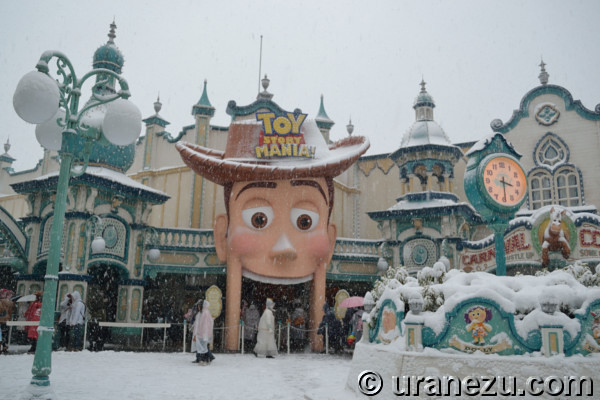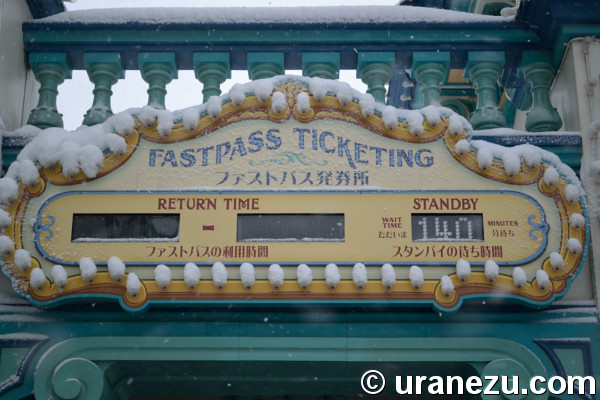 Can you believe it? It was still 140 minutes Stand-by line for Toy Story Mania!
These blew pictures from Lost River Delta.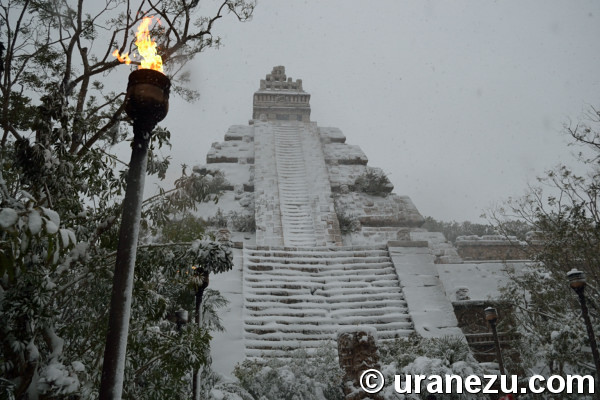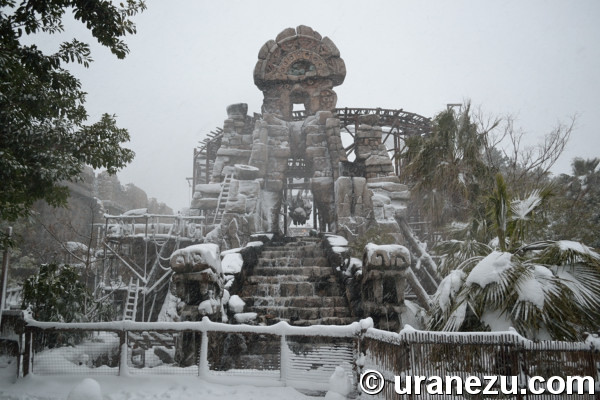 The left photo is Indiana Jones attraction exterior.
The right is Raging Spirits.
The attraction was already closed! So, please don't overwork yourself, Rajah!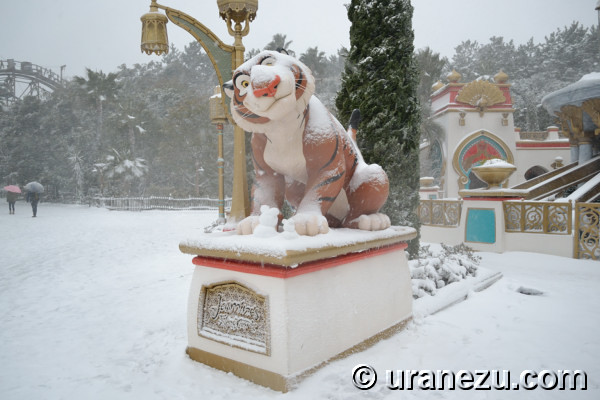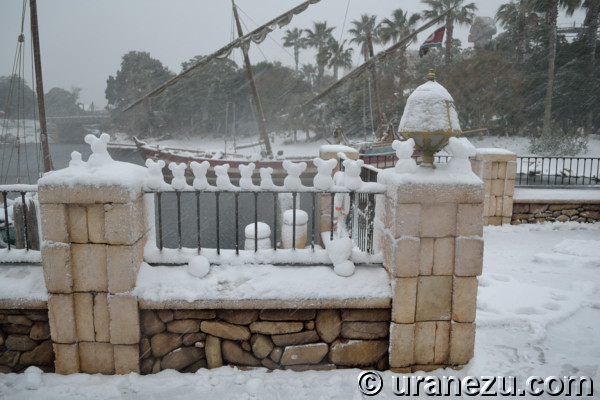 The entrance from Jasmine's Flying Carpets.
Before the dark, we have to check some points, YES it's Duffy's photo locations!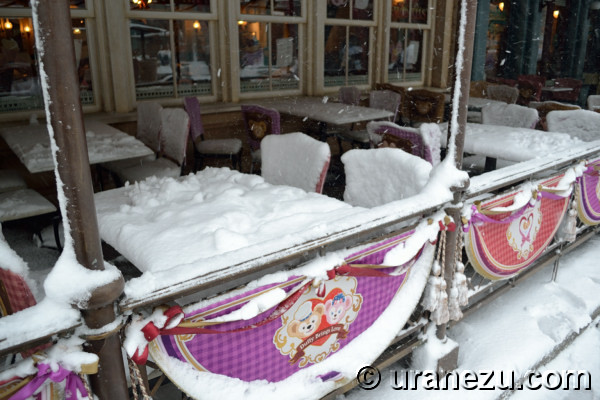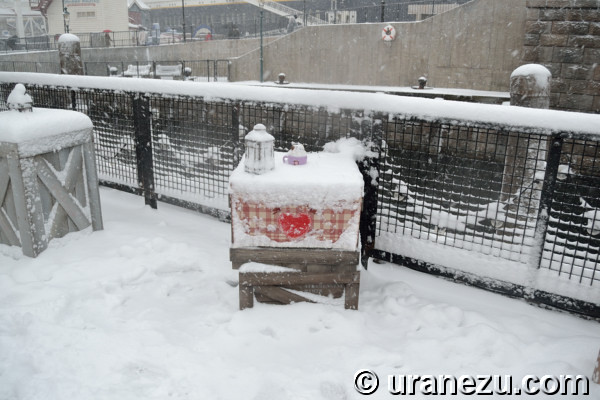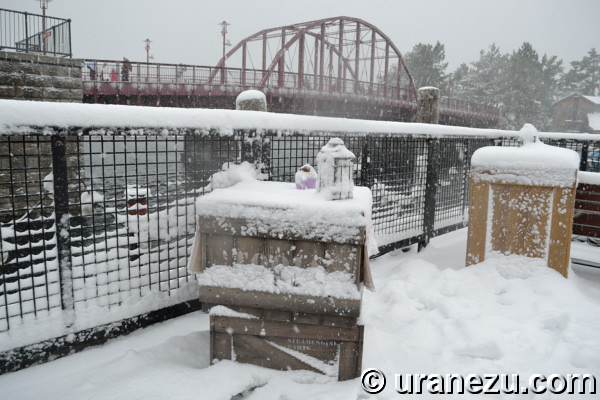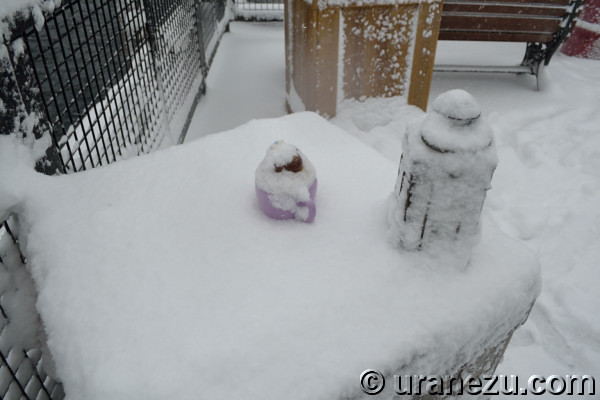 A pretty place mat on the table at outside seating area of New York Deli completely covered with heavy snow. It's difficult to find the Duffy Cup Dessert.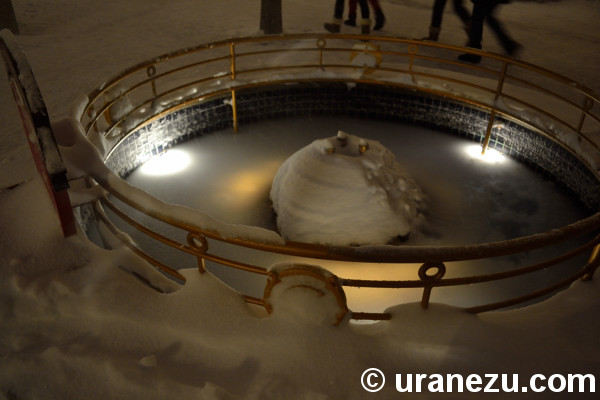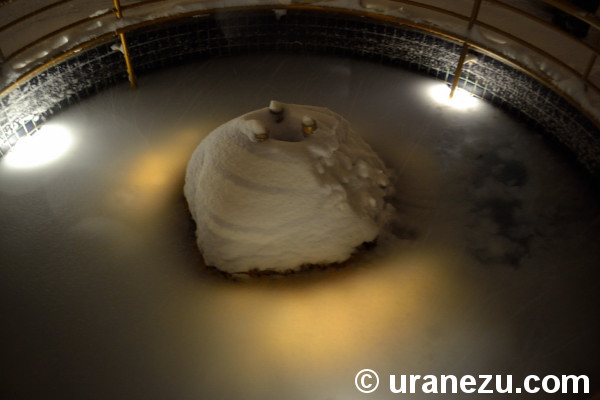 The shivering photo location turned to a really shivery-looking.
Mysterious Island area surrounded rock cave with electric cables and devices covered with the snow was really looked like the Echo Base in Hoth! However, it was torrential snow storm on the night, so I really regretted that I couldn't take a picture of Hoth-like scenery.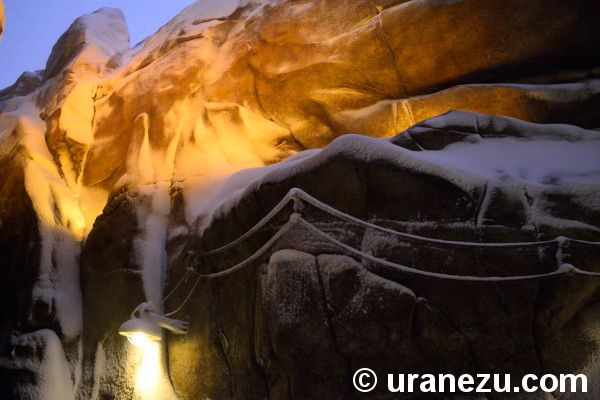 I really wanted to Tauntauns!

I love the park with SNOW.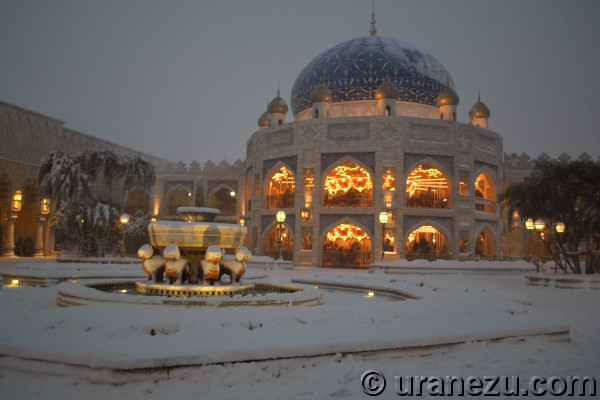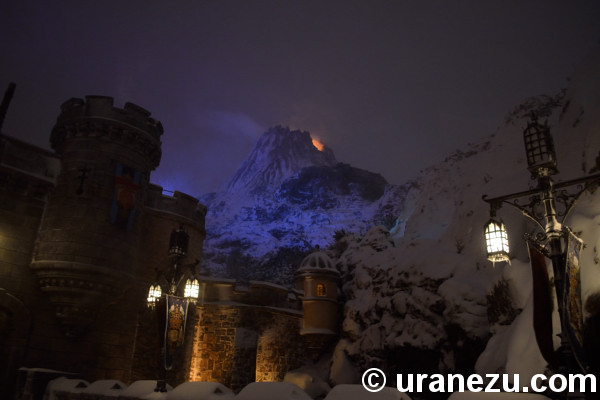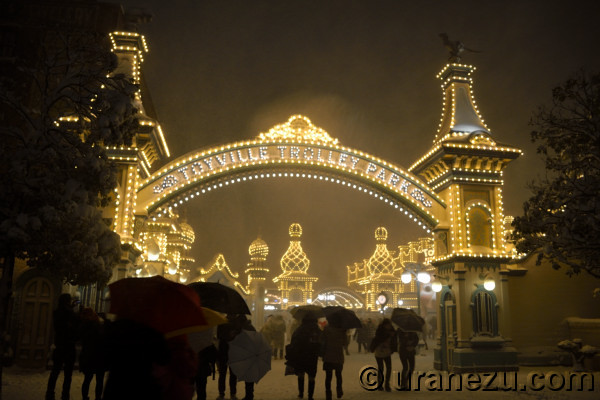 If you have any questions, opinions and requests,
please contact us.
FEB. 07 2014 about not Park Now: 30th History Train Report 2
Welcome back! I continue to share with you about "Not" park now. (Actually, "Not" Park "Not" now.) It's JR train with special TDL decoration.

There were three limited trains run from JAN. 17 to FEB. 1st for this TDL special year. The each one train run in Yamanote-Line, Kehin Tohoku-Line, and Chuo-Line (Rapid) during the period.

I searched it and got it on Yamanote-Line with greenish yellow line and Kehin Tohoku-Line with blue one , so I hope you'll enjoy it.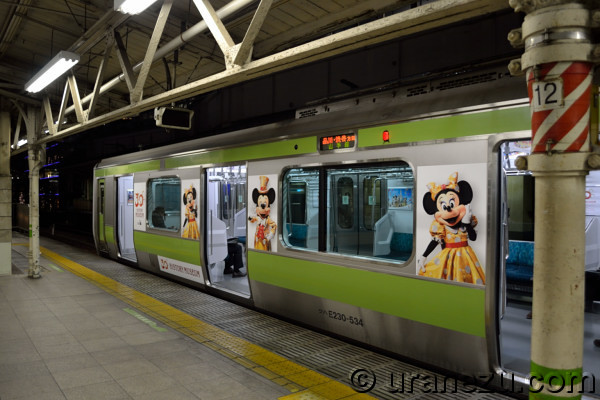 The train was named "TDR History Museum".
Today I reported 1999 to 2013.
All Donald's event in 1999. & Encore of 15th night spectacular in 2000.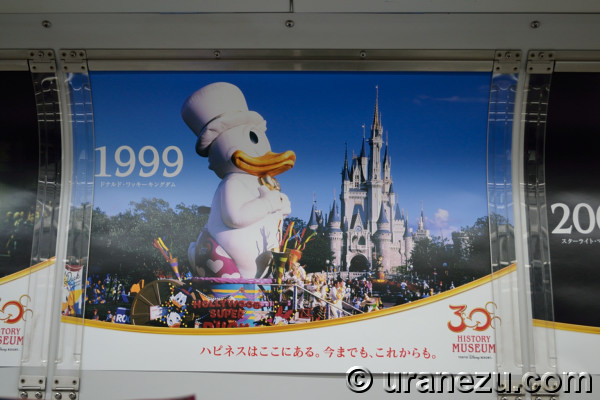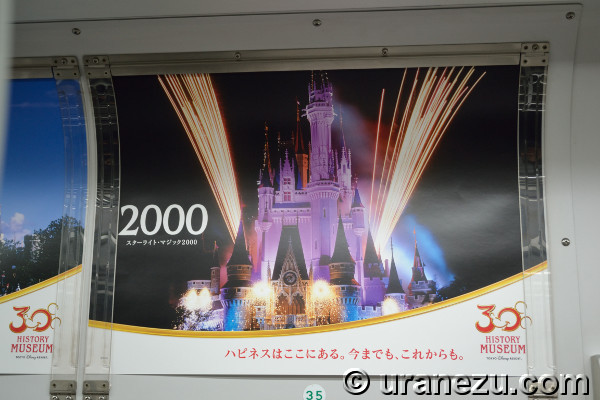 Left: 1999 was Donald's year, TDL park crammed full with Donald's merchandises, decorations, entertainments included "Donald's Super Duck Parade" on this picture. This parade had Donald's quick costume change, I really enjoyed one of his costume, sorcerer Donald. I think this parade usher in "Easter Wonderland Parade". (because there were many Micky quick dress change during the parade.)
Right: This pyrotechnic nighttime castle show was second performance in 1998 the TDL 15th anniversary. This revival version changed its name and one music as "Starlight Magic 2000" from "Starlight Magic", and to "When you Wish Upon A Star" from "Disney Carnival" the 15th main theme song. This show is not so long, simple but really touching show to me. The very end of the show, Big5 came in front of the castle with sparkling fireworks then they turn with their back to guests. Micky and friends was gathering and holding their hands or shoulder and watching the fireworks with the guests. Their silhouette with the fireworks were so emotional scene. The fire cannon and embedded flash light in the castle started to use the "Starlight Magic" the original show in 1998.
Sorry, the year of 2000 is long story. In 2000, there were legendary event and castle show took place. It was "Club Disney". It was sooooooooo great, and many people not only a guest but also cast and creative team whom watched and experienced it, are still captured by this show. The impact was too big to shake it off. I think after the "Club Disney", many entertainment at the park influenced by it, but sadly it didn't work very much. SO WHY 2000 PHOTO IS NOT "Club Disney"??? And please please come back "Club Disney"!!
Hello New Park in 2001!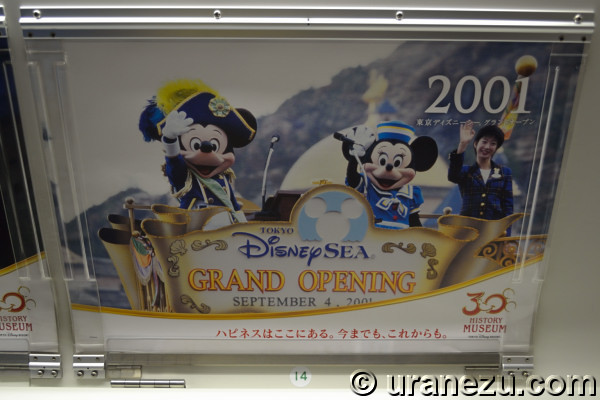 Tokyo Disney Sea the unique park grand opening was 4th September on 2001. This Mickey and Minnie costumes gives me a good old days. The ambassador was Ms. Satoko Shiyanagi.
The first noel at TDS in 2002. & TDL 20th anniversary in 2003.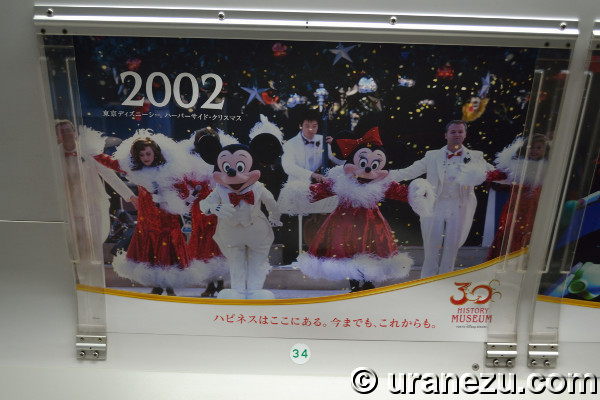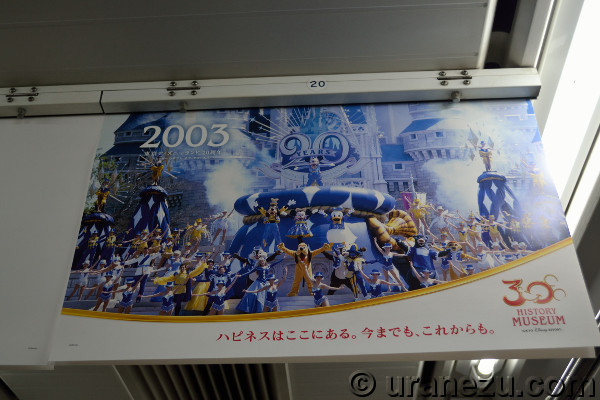 Left: "Christmas In New York" the special holiday show sponsored by McDuck Department Store. The stage was located in front of Big Christmas tree before the S.S.Colombia.
Right: "Mickey's Gift of Dreams" the 20th anniversary castle show. It was so lot of mawkish lines in the show. I felt it was too much.
Welcome Buzz by the sacrifice of good old theater-type attraction in 2004. & Surprising roller coaster in a lot of ways in 2005.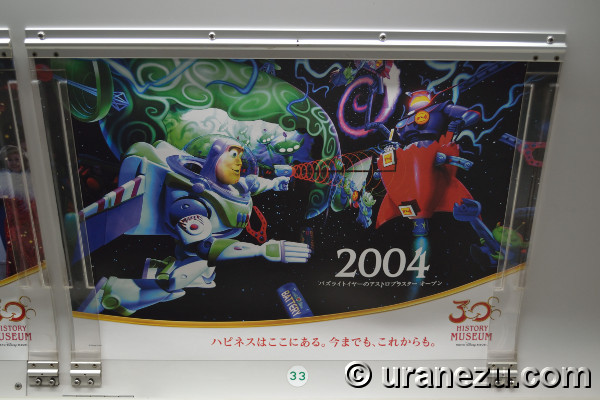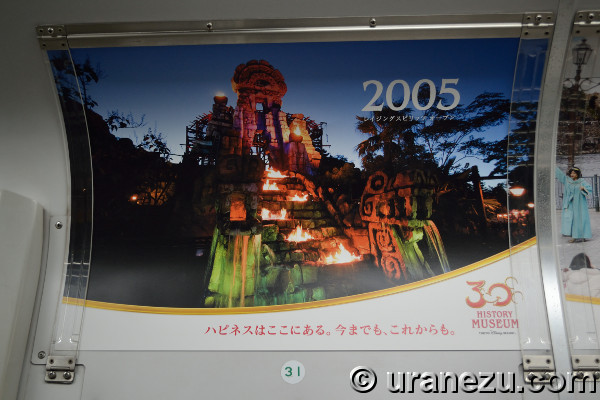 Left: My favorite attraction "Visionarium" (AKA "The TimeKeeper" in other parks.) was closed in 2002. And after two year later, 2004, a popular attraction "Buzz Lightyear's Astro Blaster" opened.
Right: "Raging Spirits" the first go into a 360-degree role coaster in TDR opened at TDS in 2005. The riding time was too short and too long queue line, but it's so nice elaborated details and theme. There are many good photo opportunities at the entrance and queue line.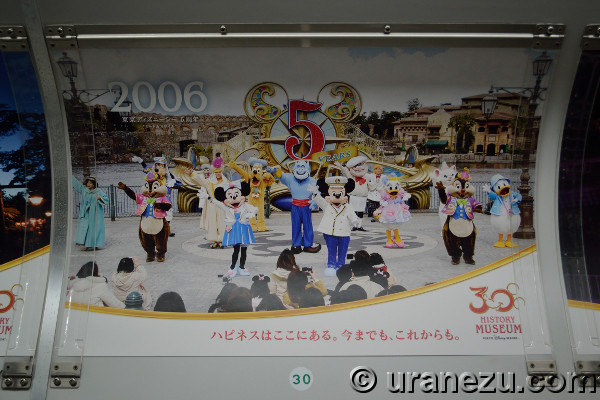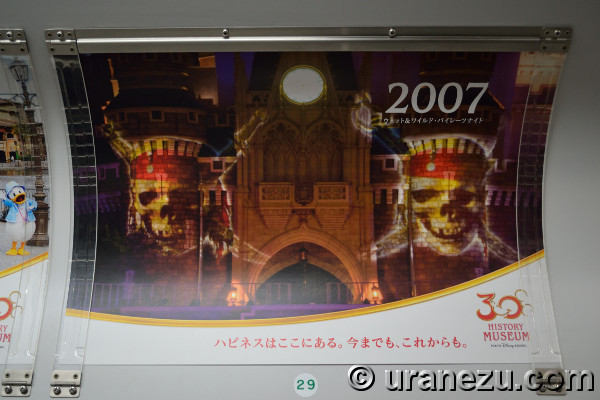 Left: TDS came to 5th anniversary in 4th September 2006. The picture was "Meet & Smile" the greeting show.
Right: In this year 2007, "Pirates of the Caribbean" was renewal opened. So, same taste "Wet & Wild Pirates Night" the nighttime water castle show with Jack Sparrow performed in that summer.
New daytime parade in 2008. & An elaborated attraction in 2009.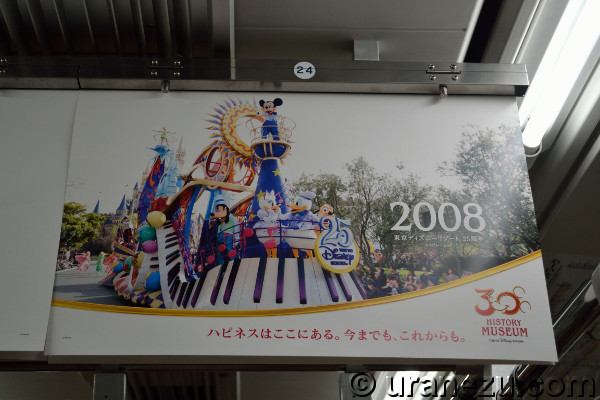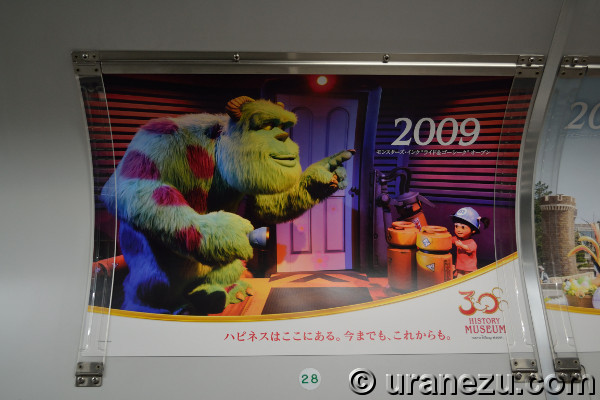 Left: TDL reached 25th anniversary in 15 April 2008. The picture was "Jubilation!" the 25th celebrated daytime parade. A back of Mickey, there were mini wheel of death (from Cirque "KA".) like architecture float which was little bit funny. I liked there were Pocahontas & Meeko in the parade.
Right: "Monsters, Inc. Ride & Go Seek!" the dark ride attraction opened in 2009. This ride always gives me a big satisfaction. It means the attraction ride time is about 4 minutes, but you'll feel more. The very first scene, if you put your flashlight to Mike, surprisingly Mike's iris will be shrinked. It's awesome!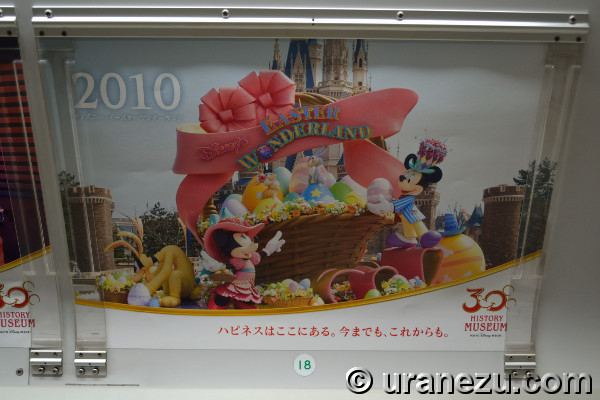 "Disney's Easter Wonderland" the special event in 2010. This special event include day time special parade of the picture and Easter Egg Hung the paid small scavenger hunt is my favorite in these 10 years.
Finally coming to TDS in 2011.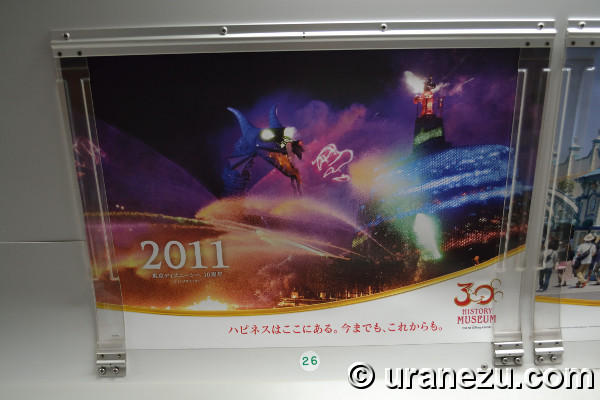 I love Disney parks in abroad, and I love "Fantasmic!" too. Many Japanese geeks include me expected "Fantasmic!" came to Japan since an announce of TDS opening. But opening nighttime harbor show was "Disney Sea Symphony", we kept back a sigh, and welcomed DSS, it was really nice when I think back. And TDS mentioned the end of it, we thought the time was coming. However, the new show was "BraviSEAmo!". And the show was kept performing which like never ending. This long-running show has been on Mediterranean Harbor for about six years. My desire for "Fantasmic!" at TDS was faded year by year. When I totally forgot about it, TDS was coming to 10th anniversary, then "Fantasmin!" at TDS announcement was launched. A conclusion of my whole story is, "I love DL and WDW Fantasmic!".
Queue Line attraction in 2012. toy story mania 2012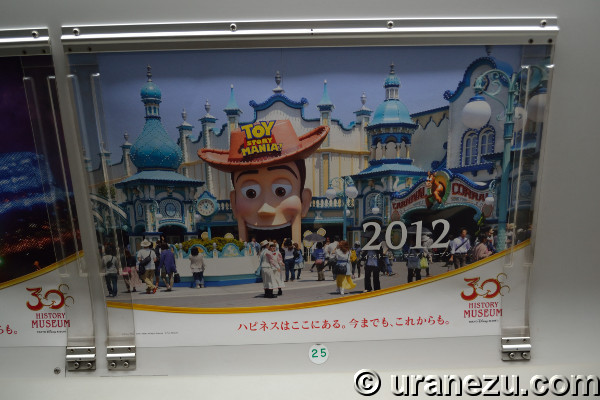 I really appreciate "Toy Story Mania!" was opened at TDS, but it always long stand-by line, and I never get even watch a Fastpass of the attraction.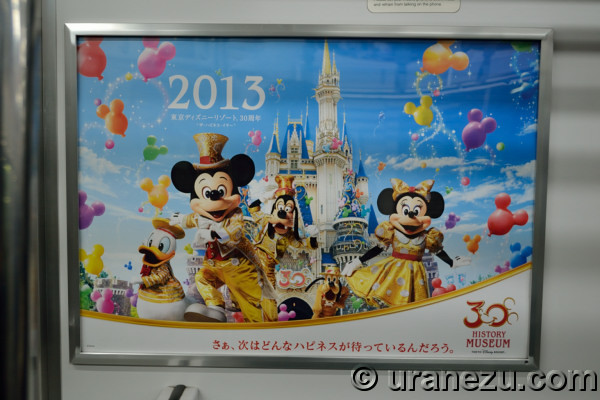 On 15 April 2013, TDL marked its 30th anniversary. I know it's corny, but I can't believe it how time flies! I always say nitpickingly and sarcastically, but it's because of my love of TDR. Thank you very much for all casts, creative teams, and people who loves TDR. I'm behind you all the way.

The history is never ending.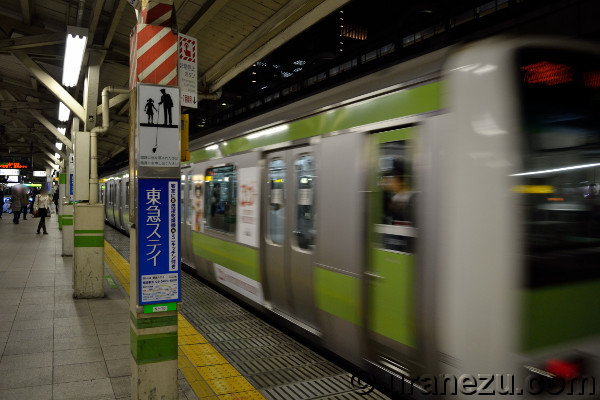 If you have any questions, opinions and requests,
please contact us.
FEB. 05 2014 about not Park Now: 30th History Train
It's time to rush for celebrating TDL 30th anniversary. Happiness is Here the 30th anniversary daytime parade was now changing for stop and show mode. And some anniversary finale design merchandises had launched at the park. But today is "Not" park now. (Actually, "Not" Park "Not" now.) It's about JR train.

There were three special decoration trains run from JAN. 17 to FEB. 1st for this TDL special year. The each one train run in Yamanote-Line, Kehin Tohoku-Line, and Chuo-Line (Rapid) during the period.

I searched it and got it on Yamanote-Line with greenish yellow line and Kehin Tohoku-Line with blue one , so I hope you'll enjoy it.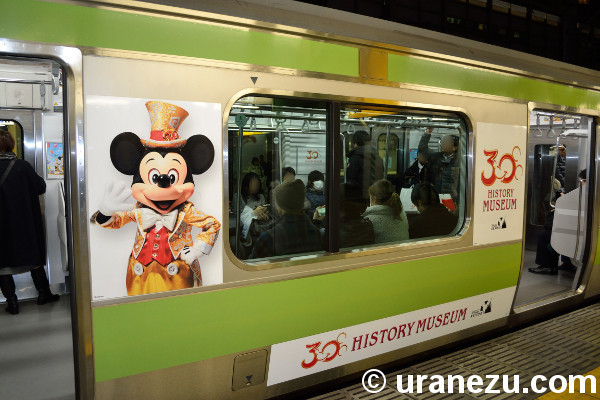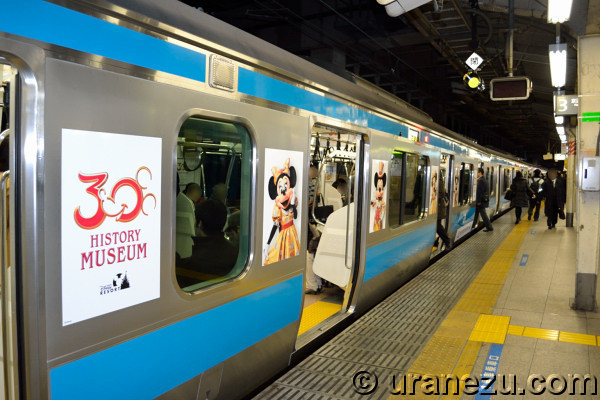 The train was named "TDR History Museum".

It's nice to see a big 30th main costume Mickey and Minnie!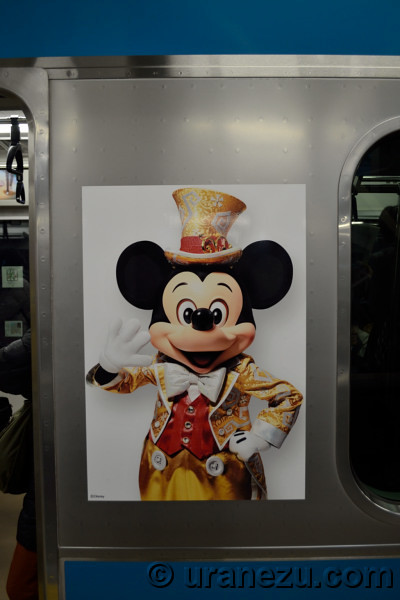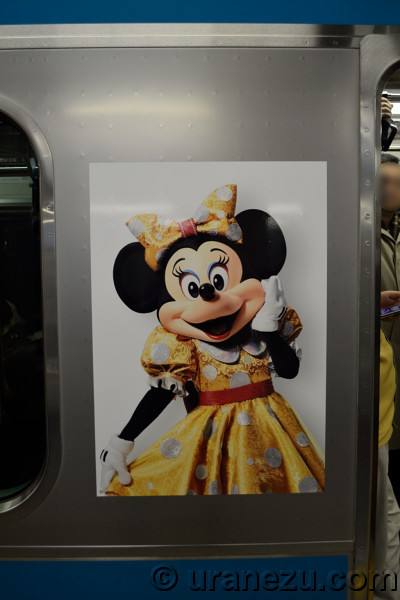 Mickey invite for us, so let's go inside, but please keep the noise level down.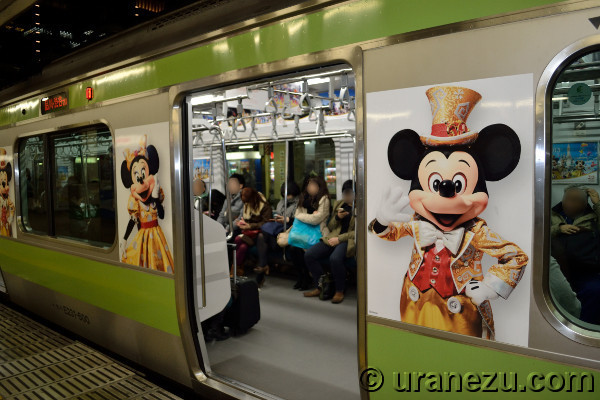 Inside the cars, there are only Disney posters.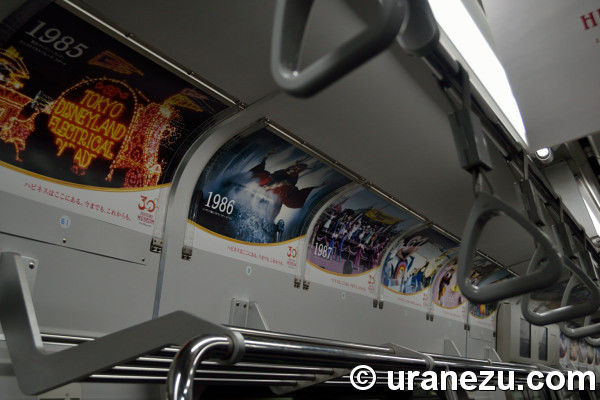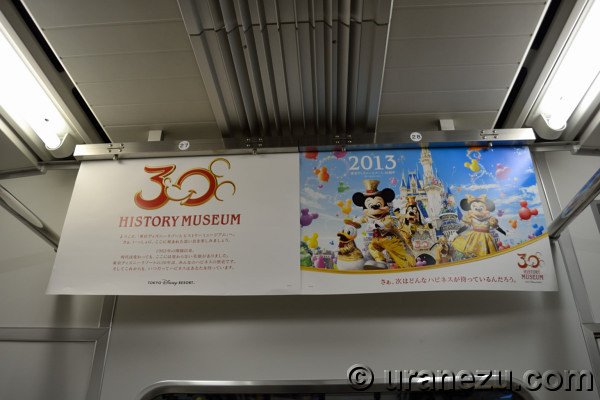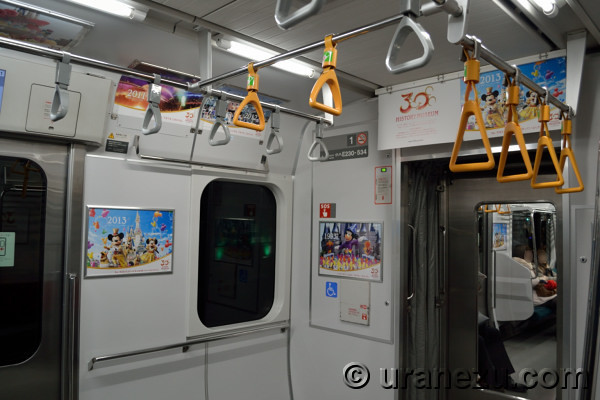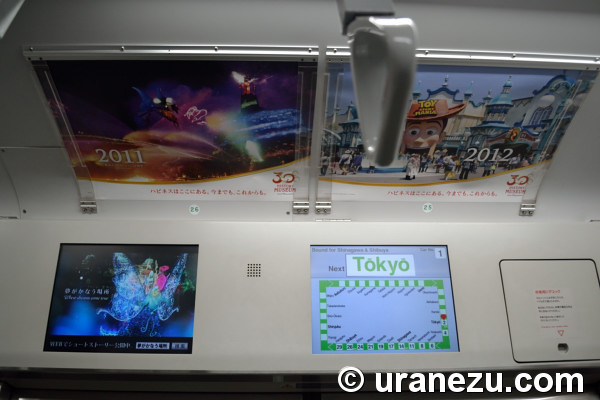 The advertising monitor in the train car only played Disney CM. (The left LCD screen of the right photo.)

It's good opportunity to watch closely the 30th anniversary logo.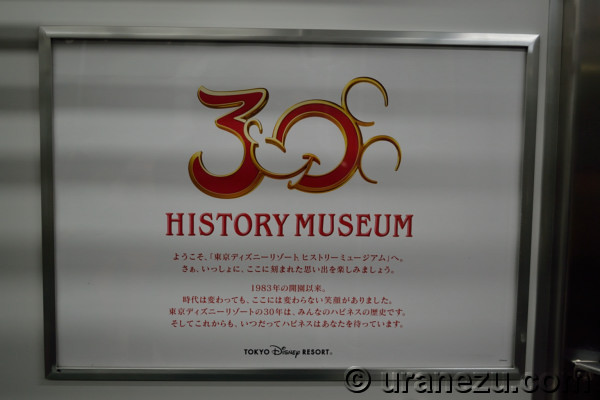 "Welcome to TDR History Museum. Let's bring back to memory. TDR history is everyone's Happy memento. Happiness is waiting for you always."
1983 the TDL Opening Year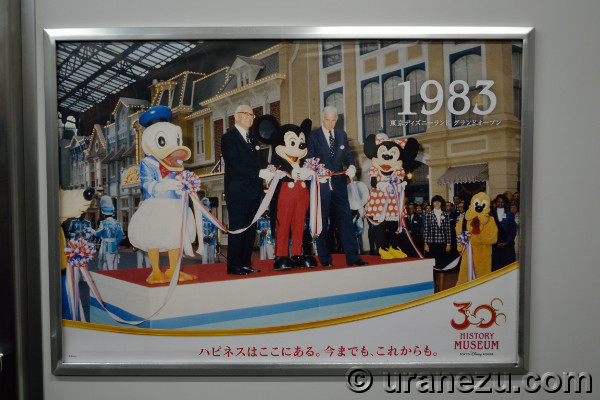 The grand opening ceremony at World Bazzar in Tokyo Disneyland with Mr. Masatomo Takahashi the second CEO of The Oriental Land Company and Mr. Card the chairman of Walt Disney Productions. And we can see the first TDL ambassador Ms.Yaeko Terasaki stand next to Pluto.
A special event on 1984 & The first nighttime parade in TDL on 1985.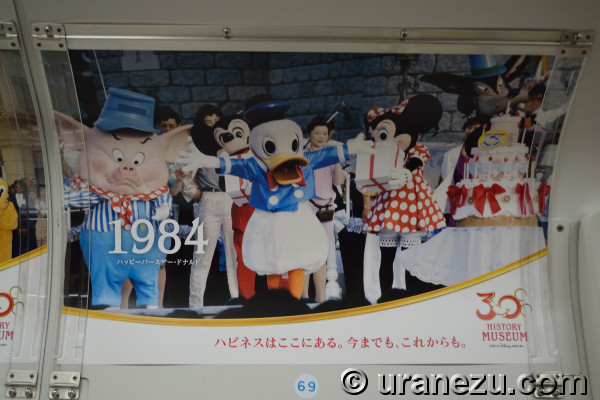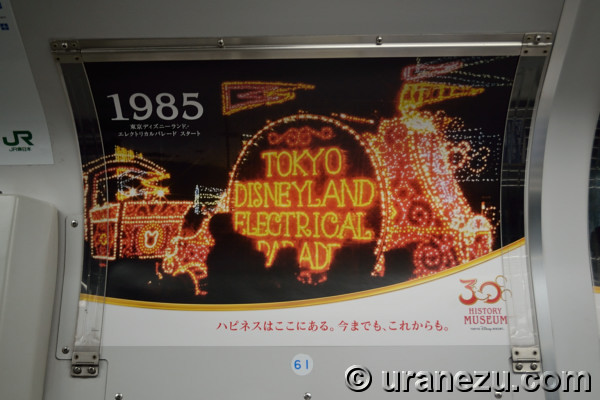 Left: TDL celebrated Donald's 50th birthday from 4th June to 10 June 1984. Say hello to Old Practical Pig!,
Right: Tokyo Disneyland Electrical Parade was started on 9 March on 1985. This parade went on 21 June 1995. It was very gentle lights than the laterst LED version.
A first additional original attraction to TDL on 1986.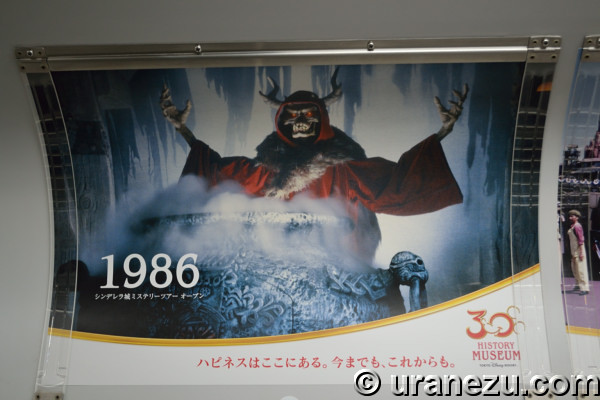 Cinderella Castle Mystery Tour was the first additional and original attraction in TDL. This walk through attraction was scary experience for me. It was always not top my list on each visit when I was child, and when I grown-up as knew that the attraction didn't hurt me, the closing was announced and had a so long queue line. Therefore I never get a medal as a Here's reward.
Big Thunder Mountain debut on 1987. & TDL 5th Anniversary on 1988.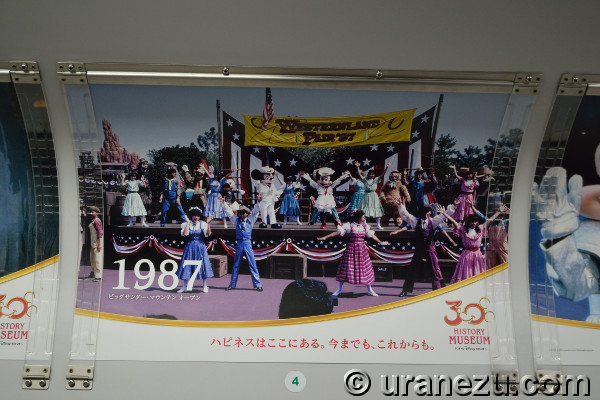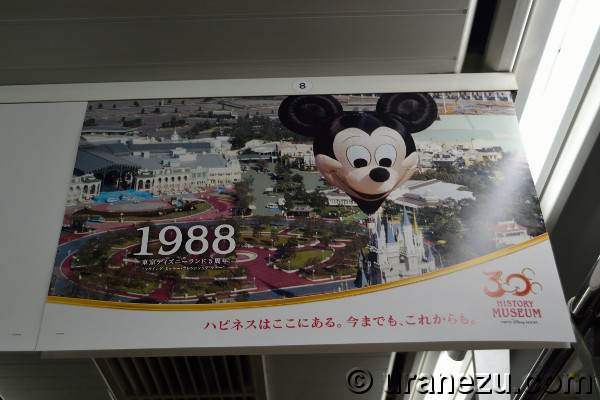 Left: I think the picture was not a grand opening ceremony of the Big Thunder Mountain. It was a special event called as Westernland Fair on 11 September to 17 September 1987. Actually grand opening of it was 4th July 1987.
Right: The Mickey air balloon flew in 16 major cities in Japan as Flying Mickey Friendship tour for the park's 5th anniversary celebration.
Thank you for coming to Japan Mr. Lucas on 1989!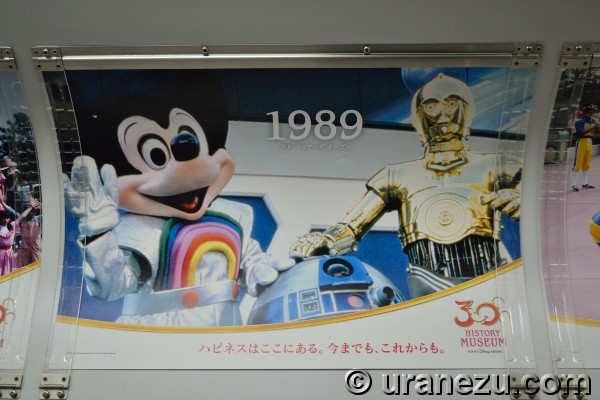 The grand opening ceremony was quite big with George Lucas on 12 July 1989. There were special event called Mickey's Space Fantasy include great castle show with R2 & 3PO!
A takeoff period of TDL entertainment 1990 & 1991.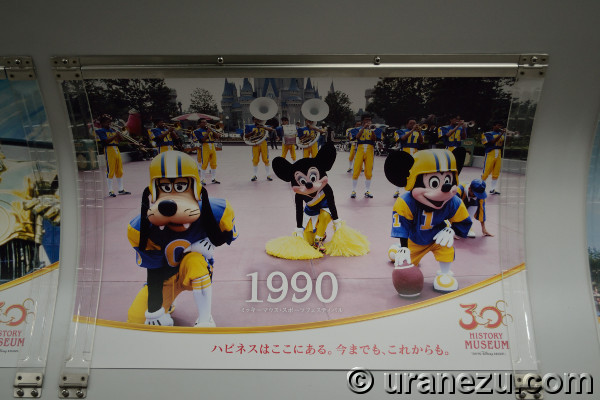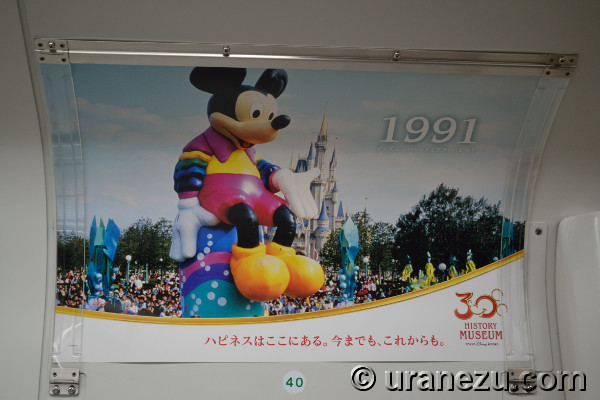 Left: Mickey Mouse Sports Festival the special event on 29 September to 18 November 1991.
Right: Mickey Mouse's Carnival the special event on 27 September to 18 November 1991. The picture was the special parade Hot! Hot! Hot!
I was attraction girl at this time, so I didn't watch these event in those era.
Why not Splash Mountain on 1992?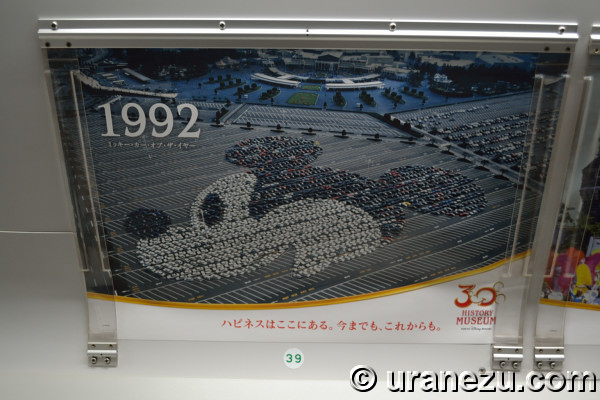 I remembered the invitation of guest's car for the above picture Mickey face. The event called Mickey Car of the Year. In same year 1992 was the grand opening year of Splash Mountain and Critter Country the amazing area. Nissan the car maker was once its sponsor, but they didn't recontract of it in 2006, I think that's why they couldn't pick a Splash Mountain's opening photos. It's only my guess, so don't take it seriously.
The great castle show on 1993.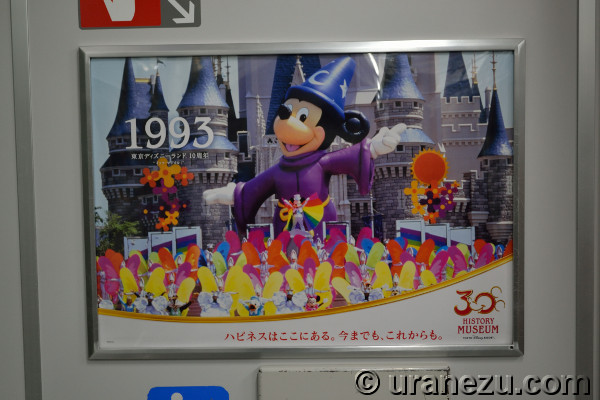 TDL 10th anniversary in 1993. The picture was my favorite castle show "It's Magical!" The main story is Maleficent took a beautiful color from Mickey's bright kingdom, so Mickey fight Maleficent Dragon for bring it back. Simple but great story, never forgotten music and lyrics, so magical costumes (when Maleficent cast a spell, all dancers' colorful dresses turn it one tone!), and special effects. (Maleficent artistic design dragon with fire roar, big Mickey balloon, lift and so on.)
The first part of the show, each character pick and introduce their favorite color, then the Pluto's scene is so interesting. I think you can find the show on Internet. So please check it.
It was really so magical.
Arrabian wind on 1994. & Nighttime enthusiastic on 1995.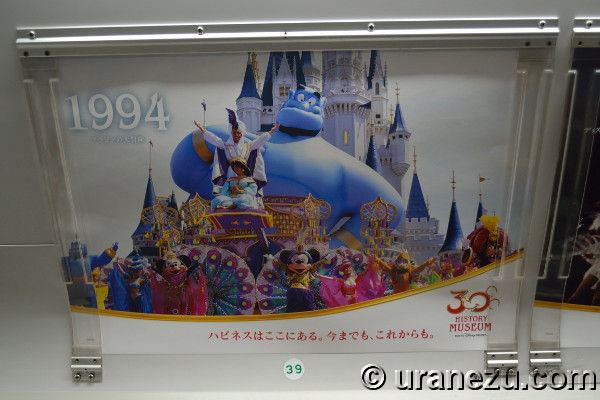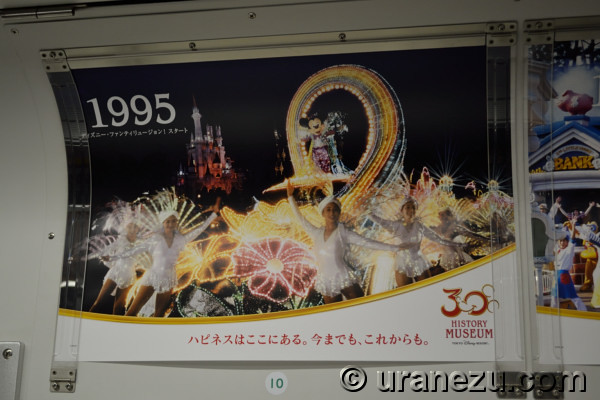 Left: Aladdin's Adventure the castle show on 29 April to 14 November 1984.
Right: My favorite Nighttime parade "Disney's Fantillusion!" started on 21 July 1995. I loved so much so I visited the park to watch it in every weeks at that time.
Opening Rush in 1996 & 1997.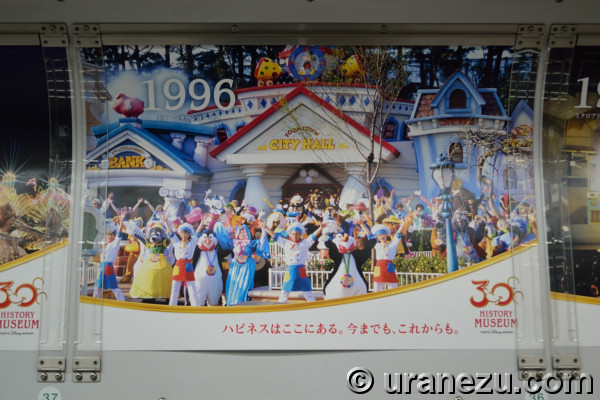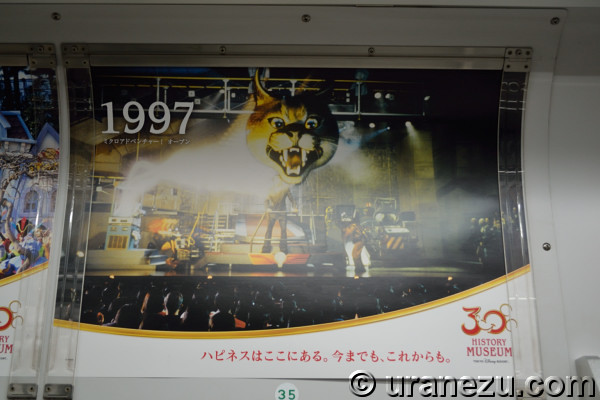 Left: On 15 April 1996, a passage to Toontown was opened at TDL. This opening led to a reduction of Grand Circuit Raceway road.
Right: Micro Adventure opened on 15 April 1997.
Milestone anniversary in 1998.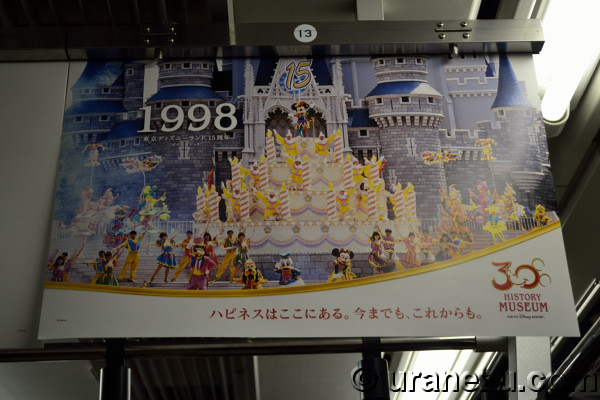 TDL celebrated 15th anniversary in 1998. There were about one year special event at the park. The picture is the so elaborated castle show, "Viva Magic!". This is the finale scene which Mickey did a Fantasmic!-like magic. Before this jester Mickey, he wore a sequined rainbow jacket with a cloak. And also this Minnie dressed in matching outfits. Their costumes were my favorite.

Here are look back of TDL 15 years.
After 15 years, report 2 is coming soon!
If you have any questions, opinions and requests,
please contact us.
JAN. 30 2014 about Sweet Duffy 2014 Report 2
The New York area filled with an urban air different from Cape Cod area. This year, 2014 Sweet Duffy the special event covered some restaurants in these area. So I'd like to share with the expansion of it.

You'll find a pretty Duffy & ShellieMay on a windows in New York area.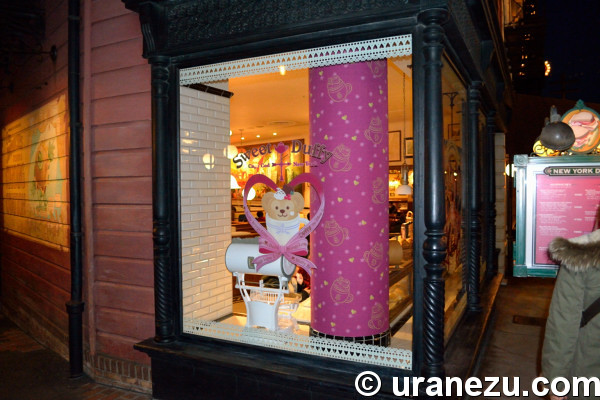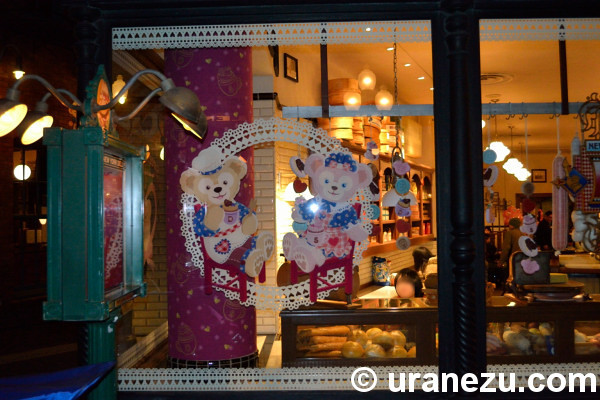 These windows from "New York Deli" the counter-service restaurant.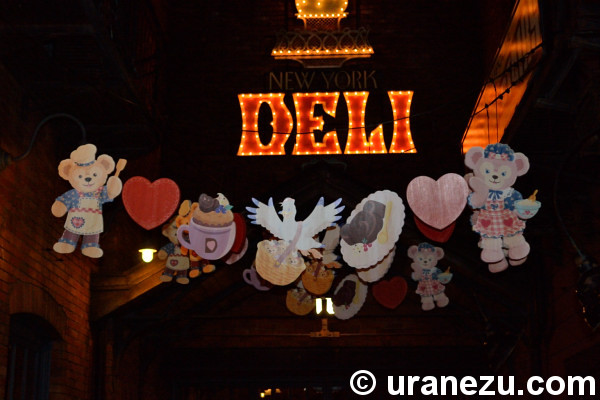 Inside the restaurant after pass through the welcome Duffy garland, there are more Duffy decorations.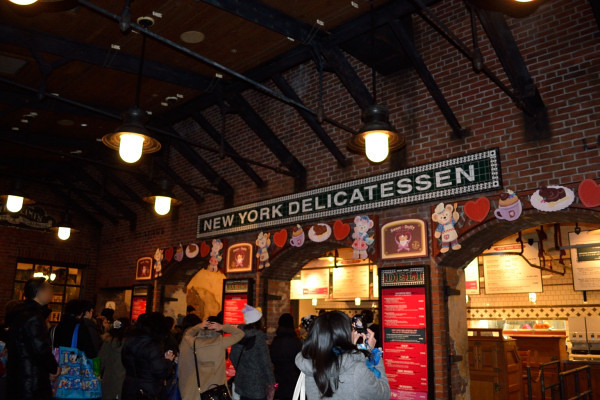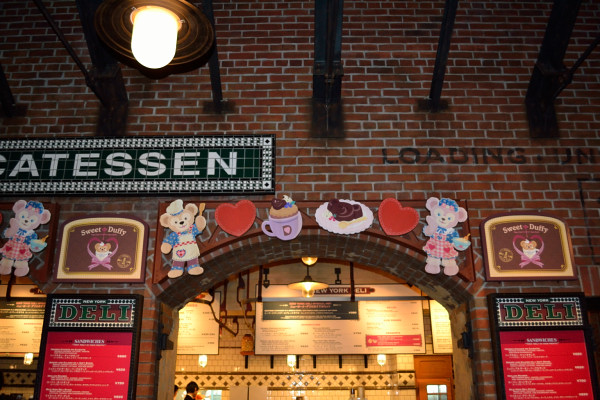 Wow, the seating area of the restaurant also is set a place mat the same way as Cape Cod Cook-Off the counter-service restaurant.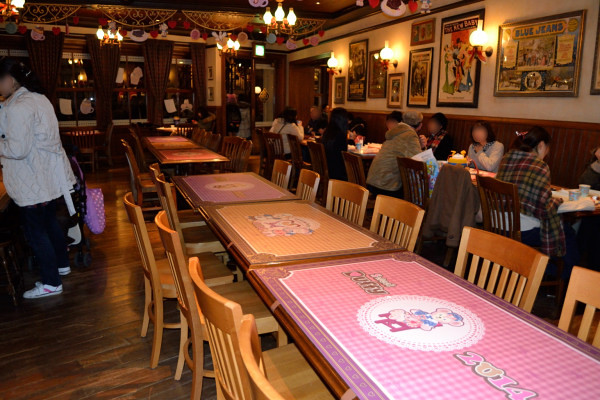 However...

There are different designs some of the tables and counter tops.
I really surprised that!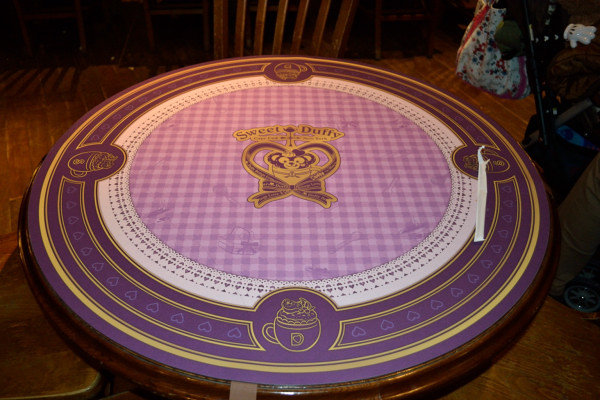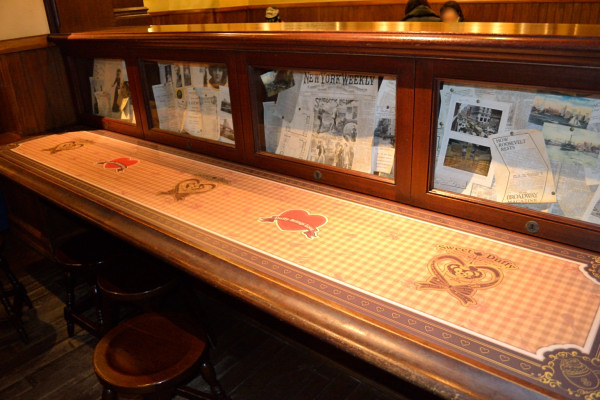 The ceiling decoration is perfect too.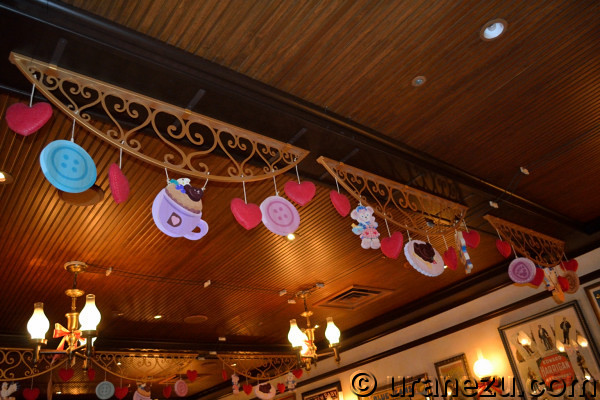 So, how about an outside dining area of this restaurant?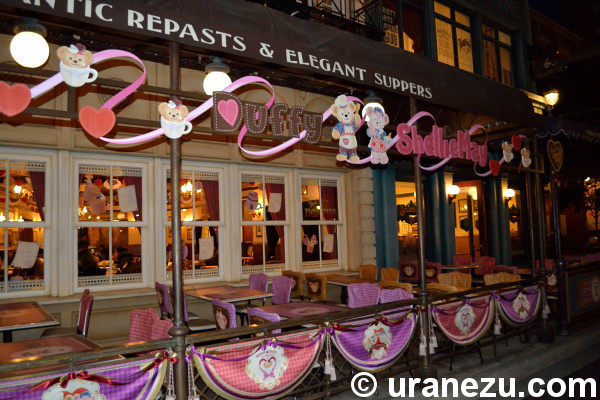 Oh my goddess! It's...It's...so LOVELY!! It's like a Duffy festival!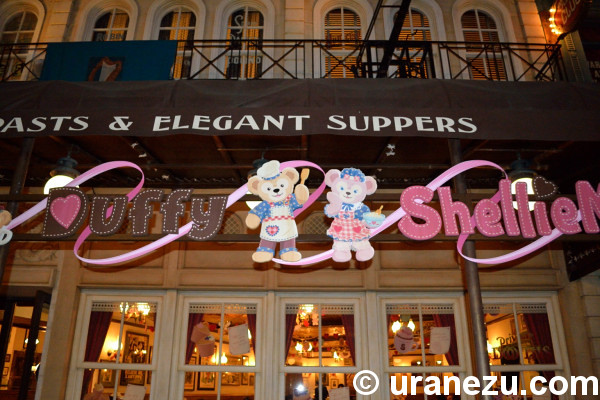 Of course, there are the place mat on each tables.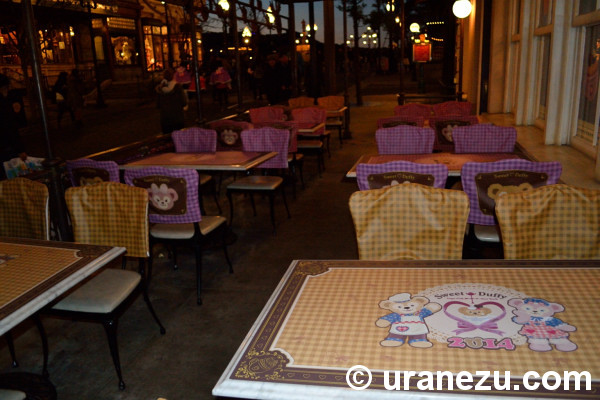 New York Deli has another outside seating area. Wow, many hearts dangle from the glass panel roof.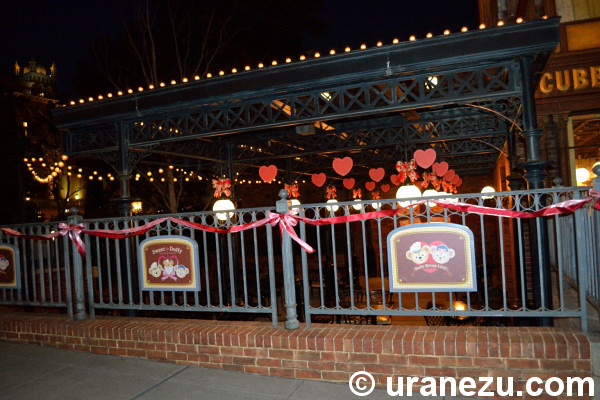 And there are special photo location!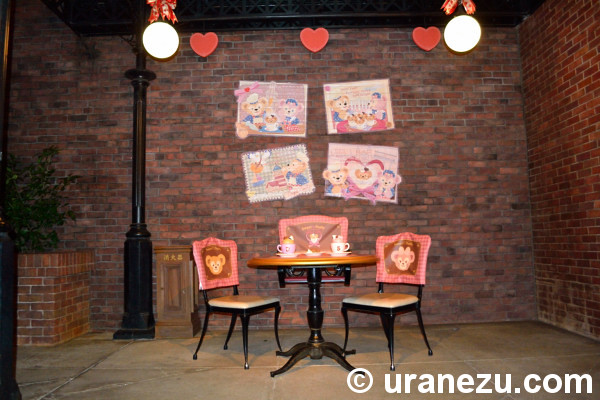 A cute food samples on the table. It's a uranezu trap! (I admit I love this food sample of Sweet Duffy the event. Well, I look forward to better quality food samples next time.)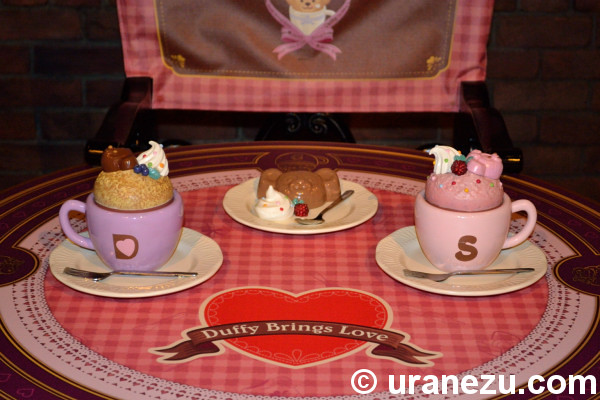 It's table for three!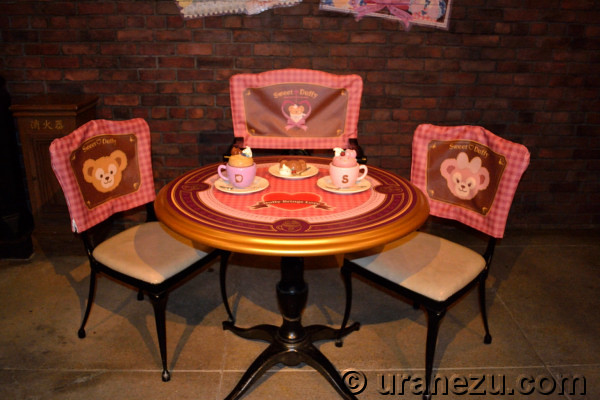 Left seat for your Spoiled Bear 1, Right seat for your Spoiled Bear 2 (the chair for the second bear preferably with pinkish fur.), and you, YES their owner. Bear Slave.

Sorry, practically, there are Duffy seat with Duffy dessert. This photo opportunity place is designed for Bear lover.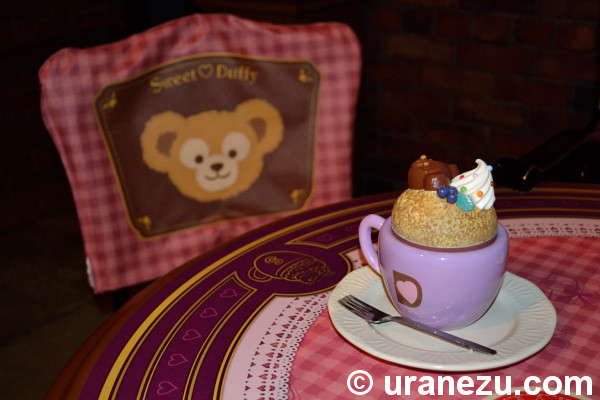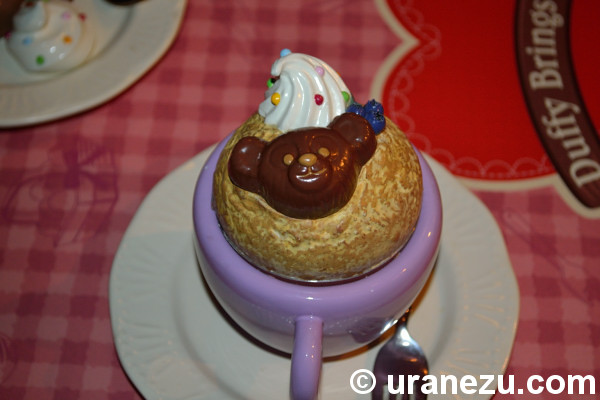 ShellieMay chair with her treat. You'll take a nice picture at there.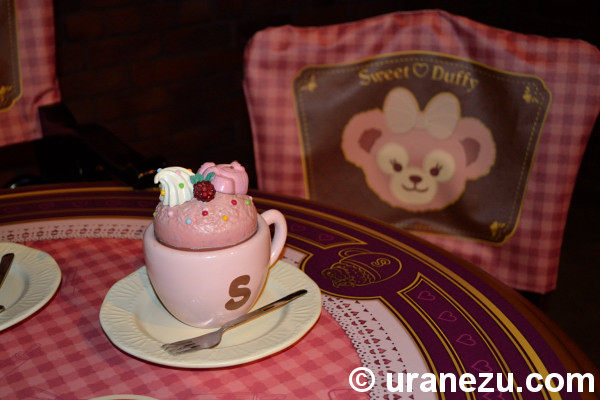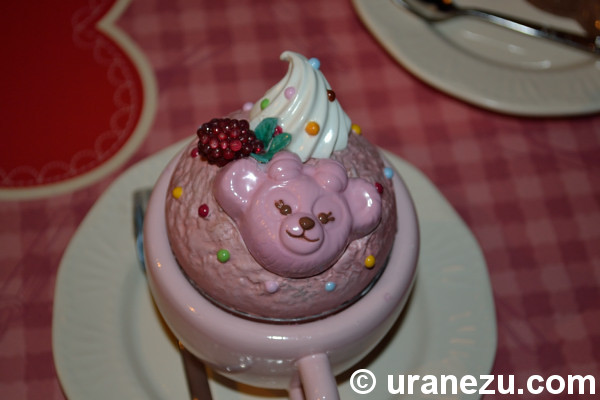 Don't worry, a nice dessert ready for your center seat of the three.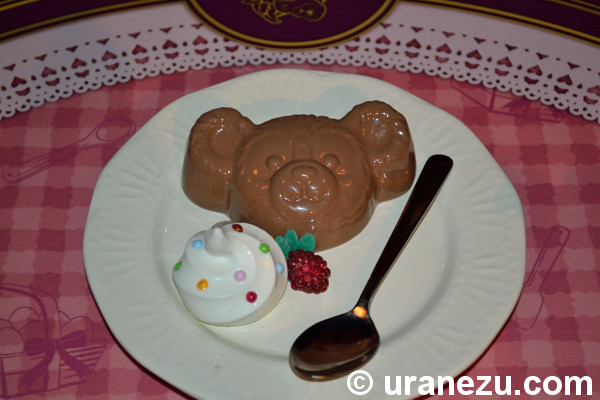 On the back of the table , there are this year's sweet Duffy's story as same as Cape Cad Cook-Off Restaurant.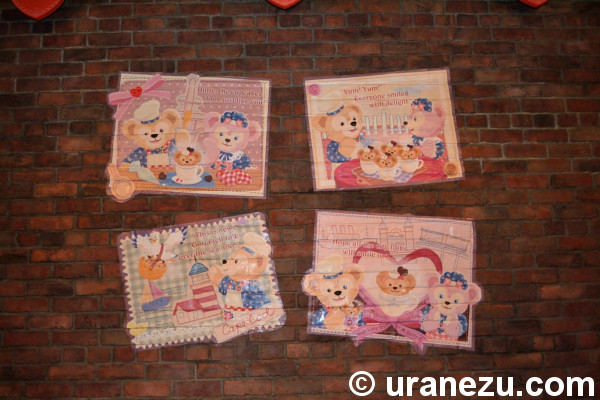 I like this plenty glued fork.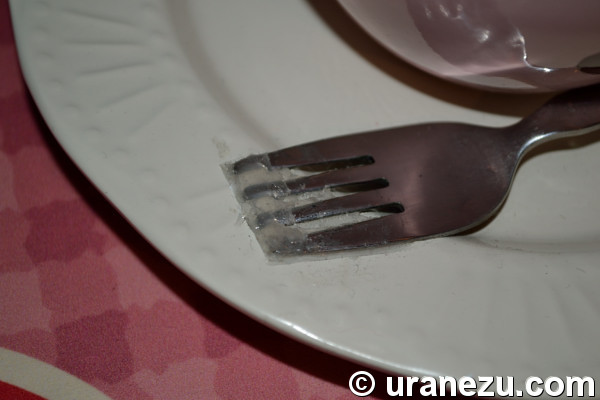 OK, let's go out New York Deli, you'll able to see more special Duffy decorations in this New York area.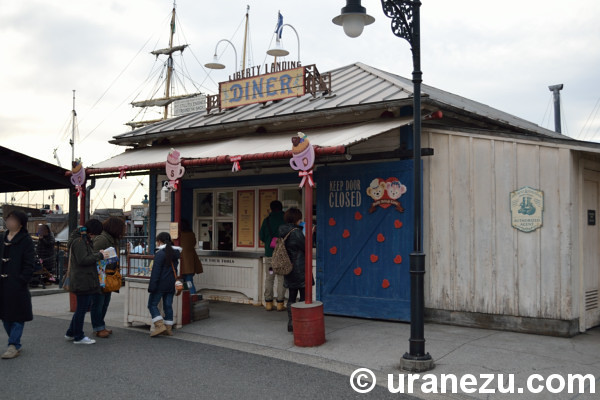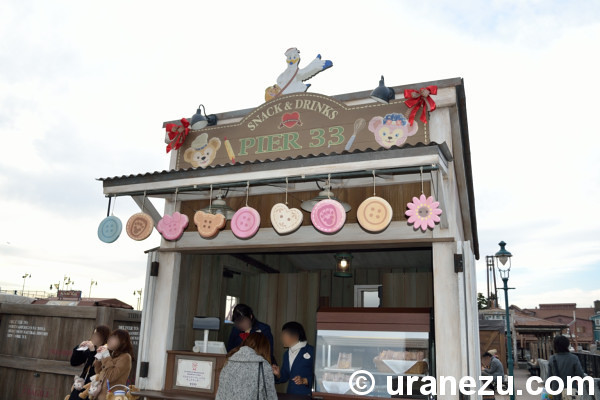 There are little bit interesting situation photo place at Barnacle Bill's the food wagon seating area.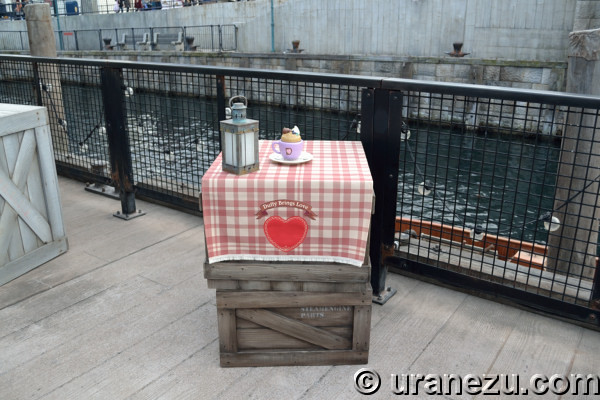 Only one cup dessert (and it's for Duffy) on a heap of crates table. I sensed something teary story from it.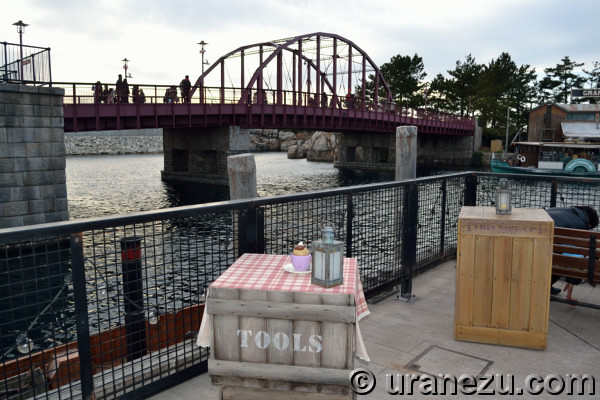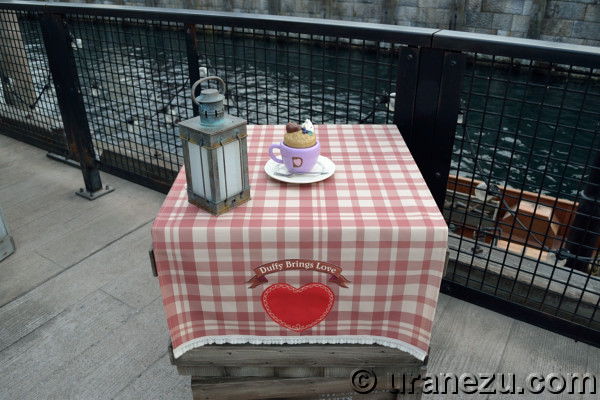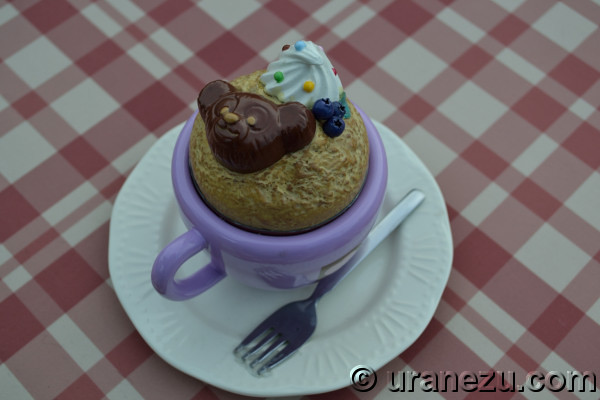 I like this plenty glued fork too.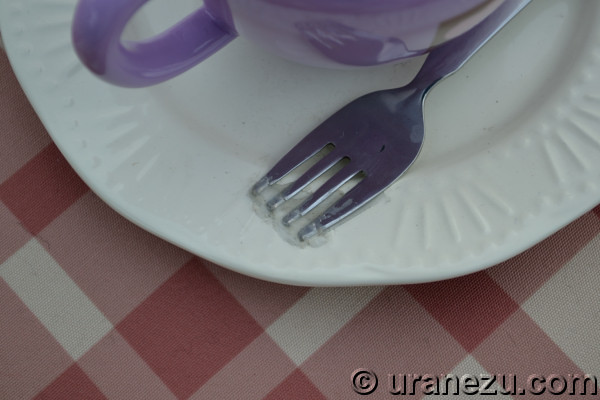 This outside area isn't packed with people, so I think you can take a wonderful picture.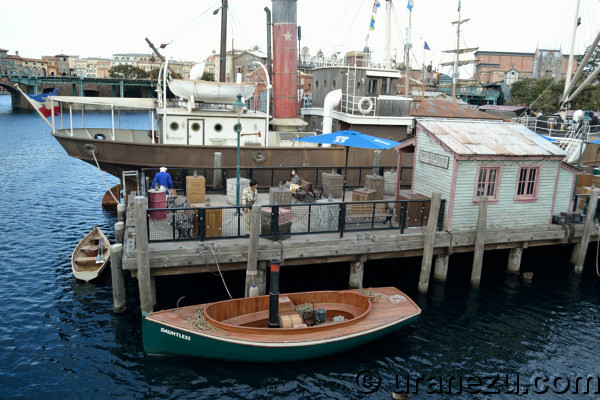 Back to the center of New York area, McDuck's Department Store the big merchandise shop. There are shivering photo spot in front of the main entrance.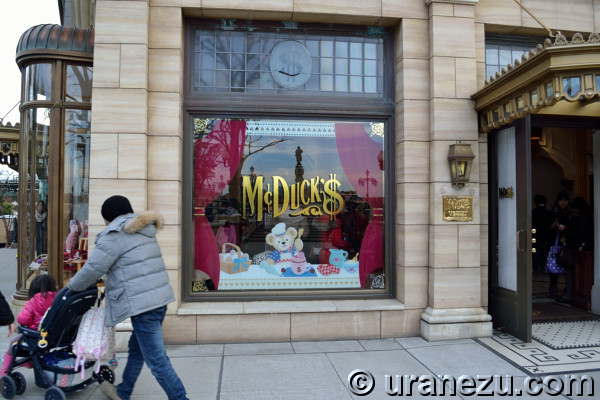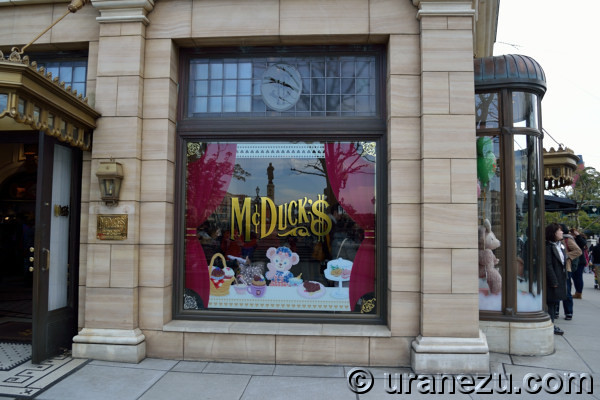 This is the photo location. You can set your Duffy or ShellieMay or both against heart-shaped board with heart warming phrase.
Oh, you can only see a lovely photo place, can't you?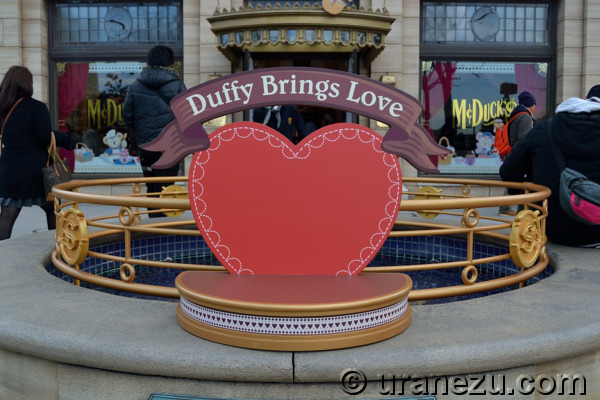 OK, change the angle...you'll get a shudder when you find out a truth with stealth.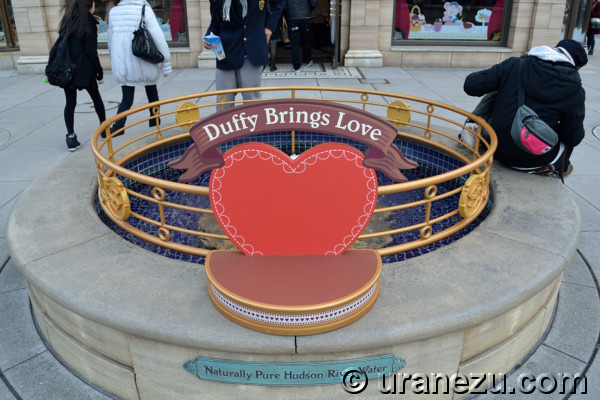 Behind the board which many guests set their Duffy or ShellieMay, there are heap of gold coins in the water.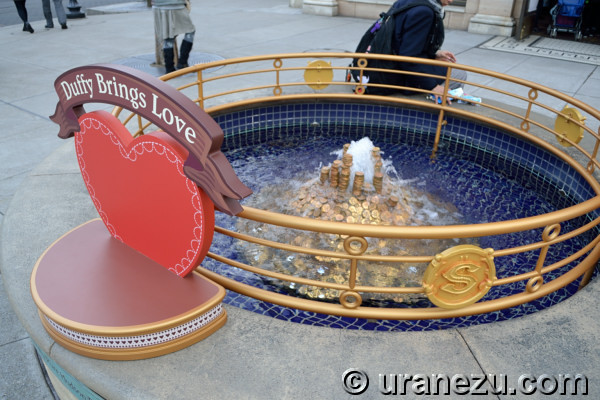 Is that a metaphor? Or a hidden message?
What do you make of it?


Now we can enjoy a birth story of ShellieMay at Cape Cod Cook-Off stage started on 20 January. I'll show you how popular she is.

The below picture was exterior (now refurbished.) one day before the show closed for new ShellieMay show.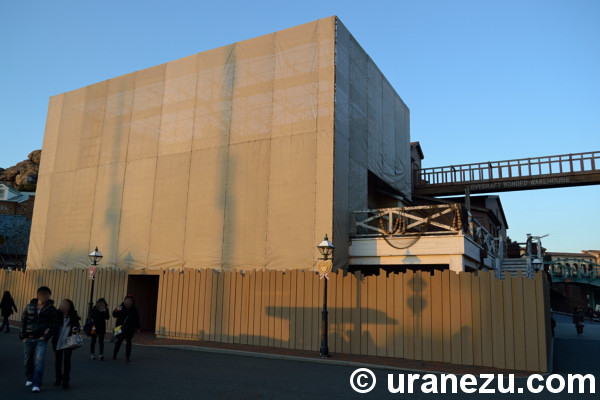 Few days later of an opening, look at these queue line alongside of the building. They were all waiting for the ShellieMay new show.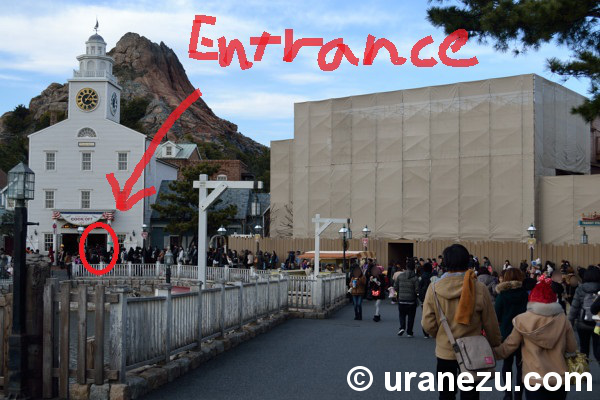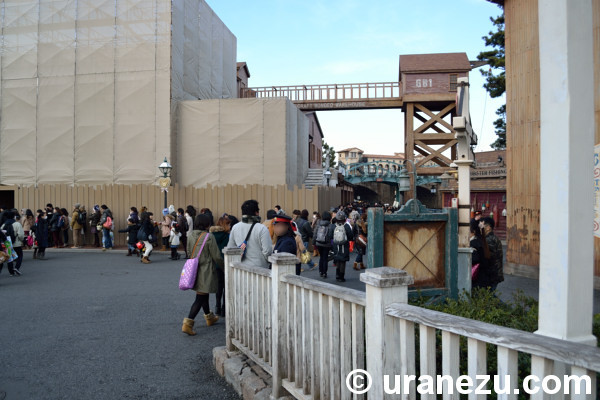 Can you see? A small white square plate is s sign of the tail end.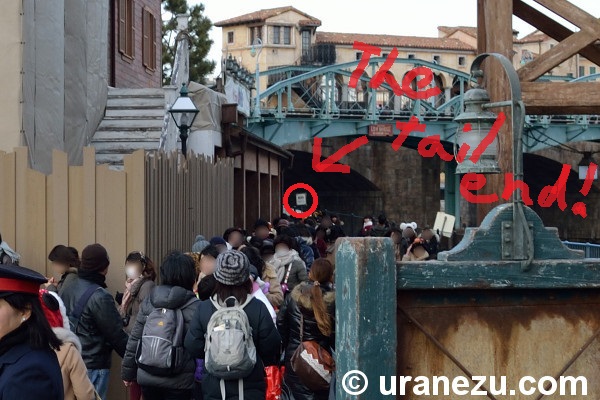 They love Duffy & ShellieMay!
Hooray!!
If you have any questions, opinions and requests,
please contact us.
JAN. 24. 2014 about Sweet Duffy 2014
A bear known as mammal except in TDS. A season of the bear that lays the golden egg came back to TDS. Yes, "Sweet Duffy 2014" the Duffy & ShellieMay feature event started on 14 January. This annual event (I don't know it is justly termed "event" whether or not, because there are no special show or parade during "Sweet Duffy". Only limited design merchandises and some treats.) will end on 14 March.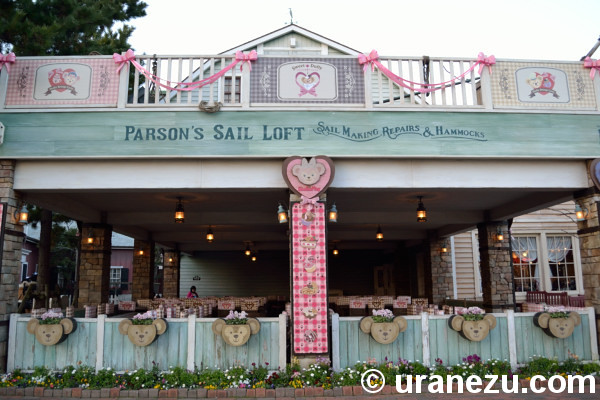 Now we can enjoy a special treats at Cape Cod Cook Off the counter-service restaurant.

Let's grab a special dessert and spend a cozy time at the dining area with special limited decoration.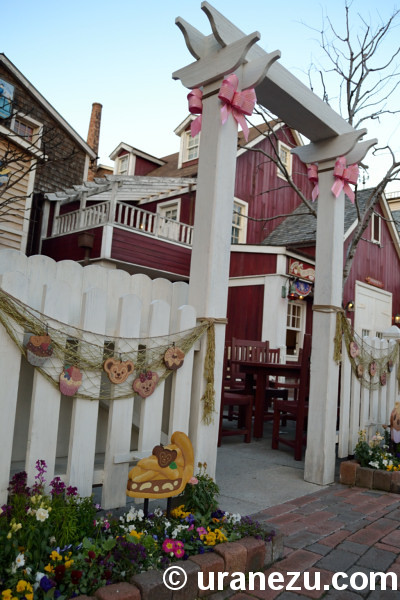 I bet you'll take a time to choose your favorite seat.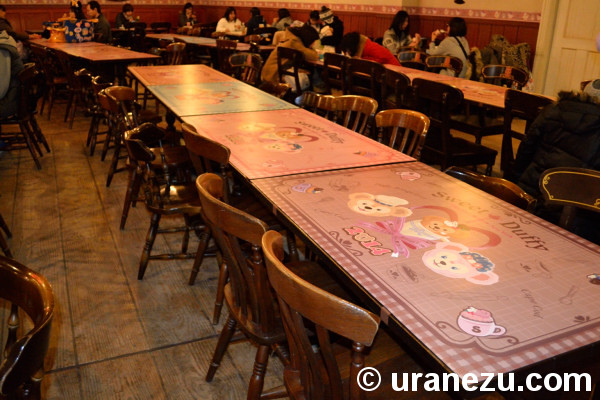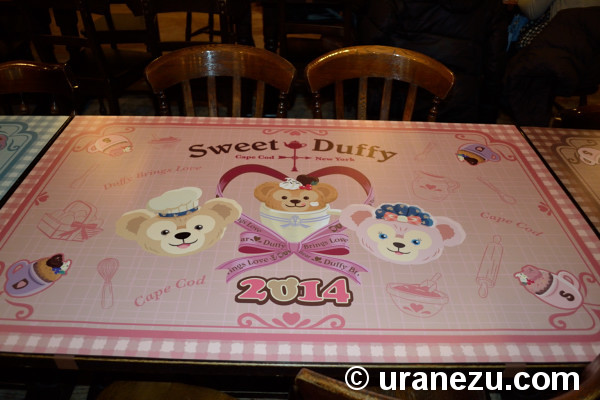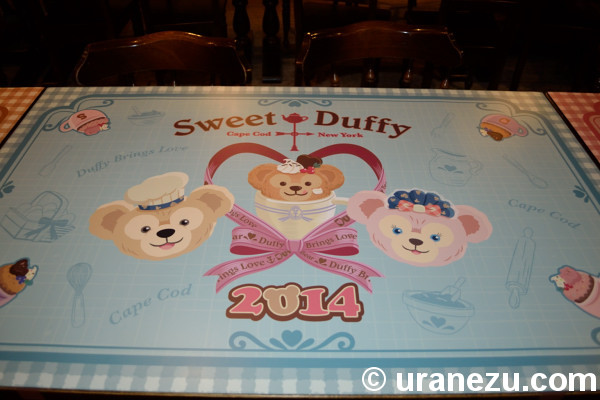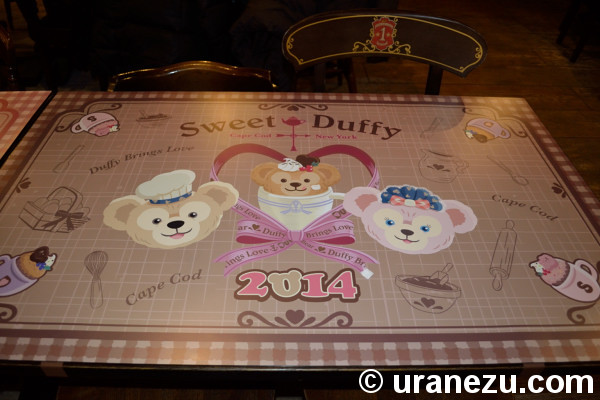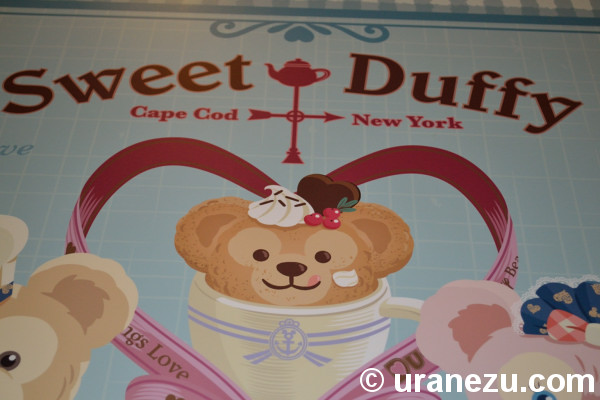 I admit this Duffy dessert with whip cream on the top and cheek.

Inside of the dining area theme a fire department.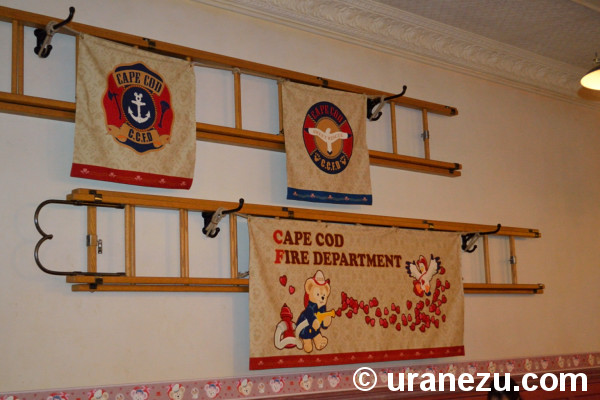 Of course the regular wall installment changed lovely during this season.
There are some cute throws.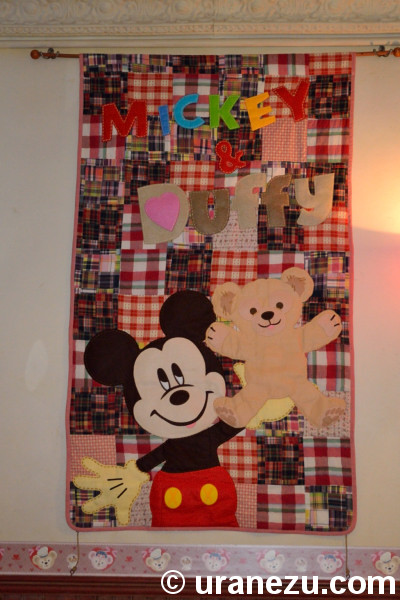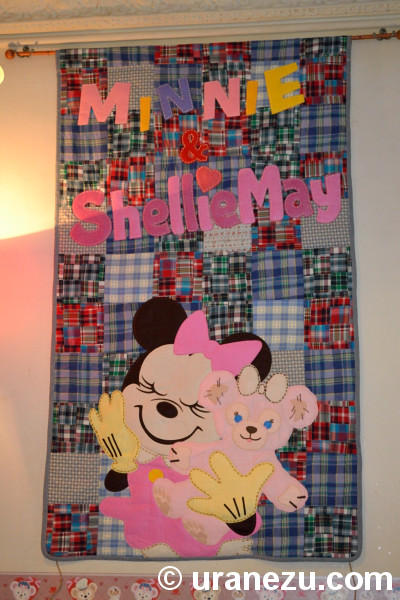 If you'd like to feel an ocean air, you should go to outside dining area.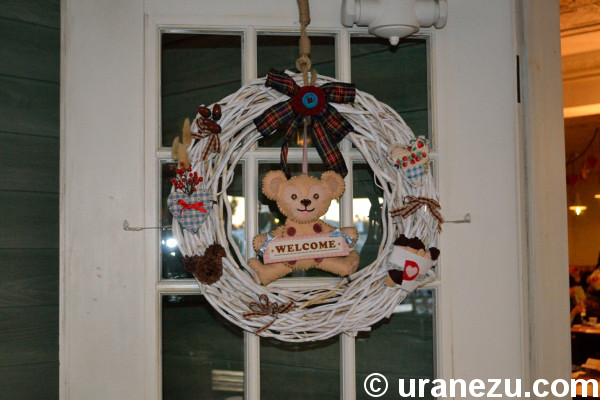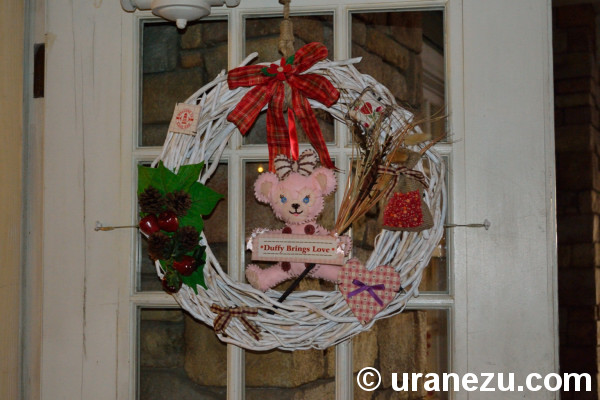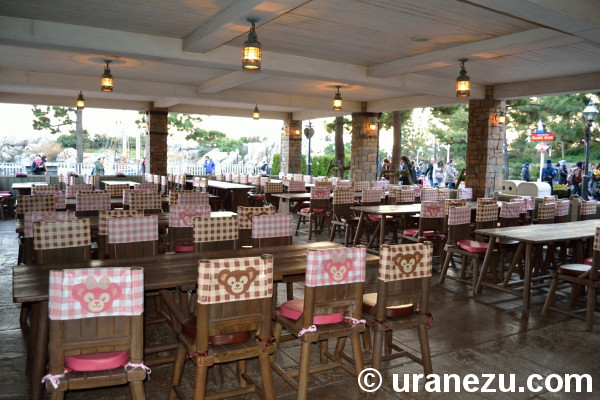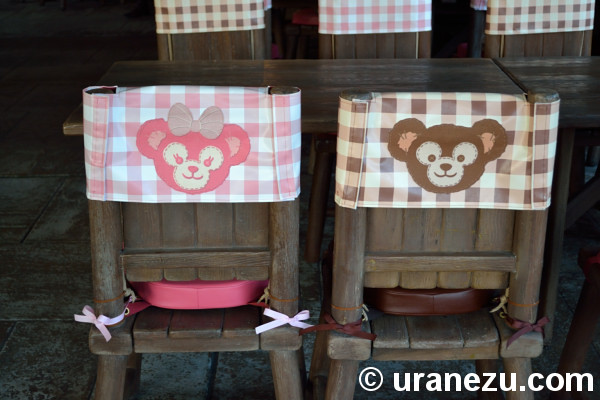 Nice chair cover for Duffy lover.
After finished the tasty treats, don't forget to take a special photo at the dining area.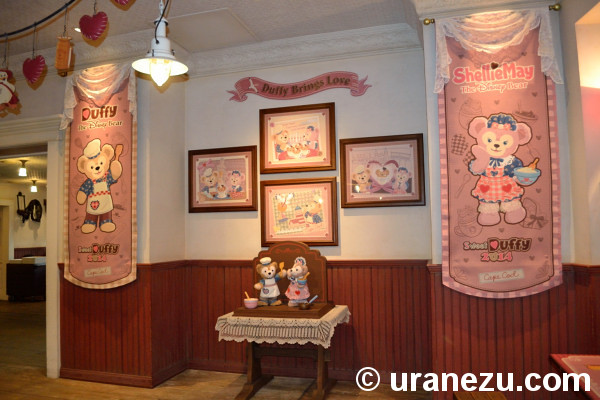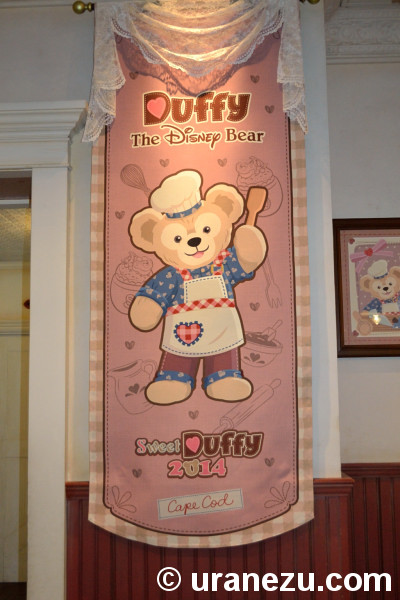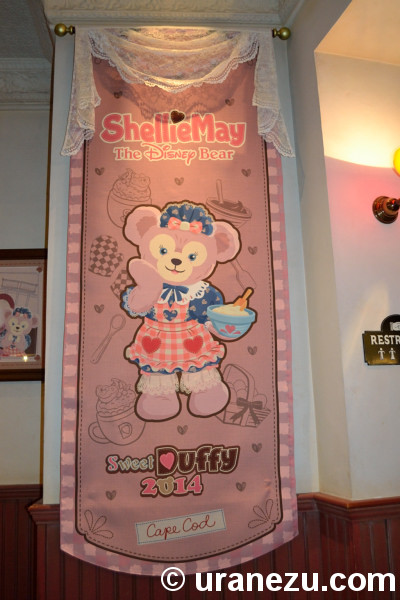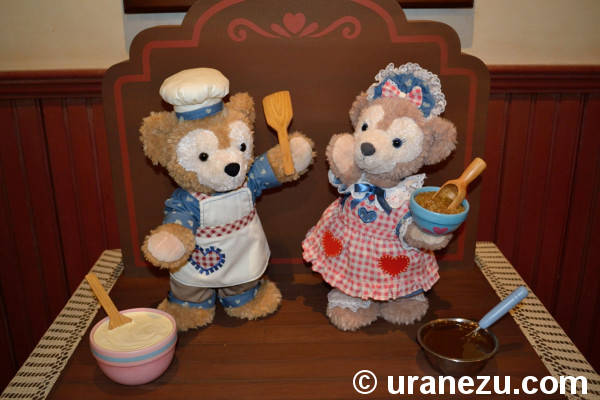 Behind the Duffy & ShellieMay, there are their story on 2014.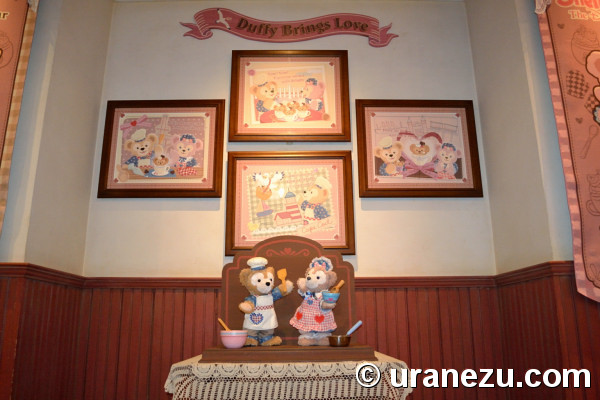 "Duffy, the cupcakes look just like you!"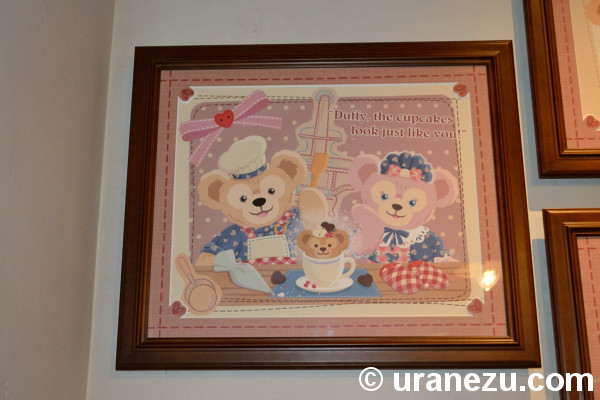 "Yum! Yum!" Everyone smiled with delight.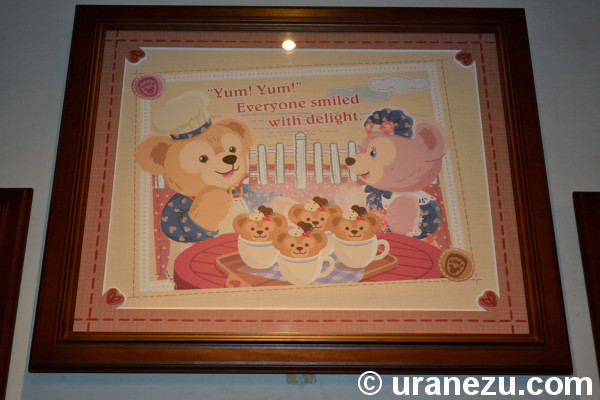 "This is news! Gotta tell folks over the sea, too!"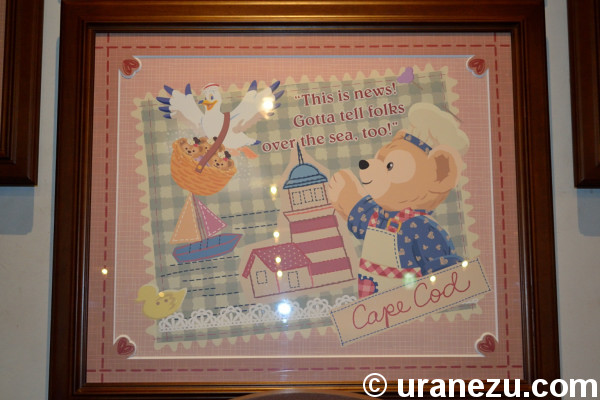 "Hope all the city folks with smile too."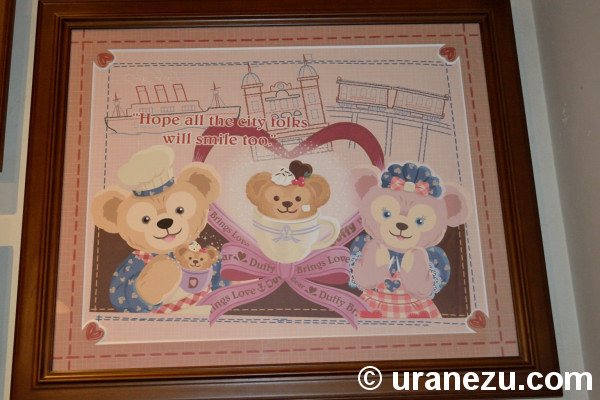 Just wait a moment...
"over the sea"!?, "city folks"!?
...Yes, in this year's Sweet Duffy the special event attacked not only Cape Cod but also other American Waterfont area! (Before 2014, the event was only held at Cape Cod area. Do you want to recall the Sweet Duffy 2013?)

And below Duffy banners of light house at Cape Cod are also first attempt in 2014.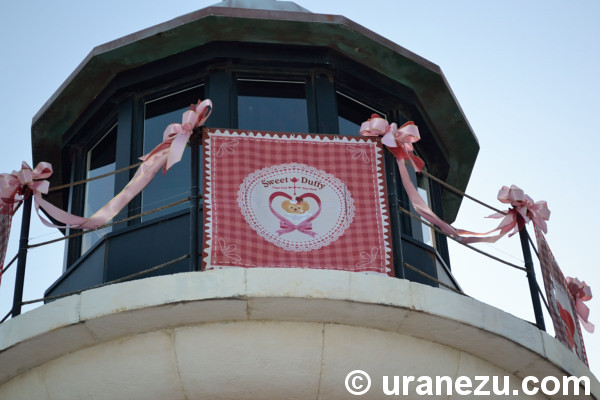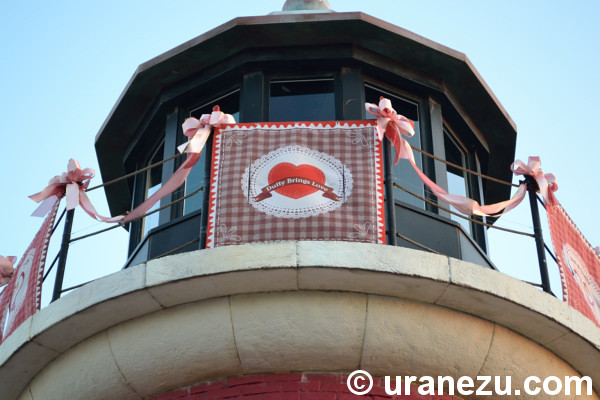 Take a Duffy light!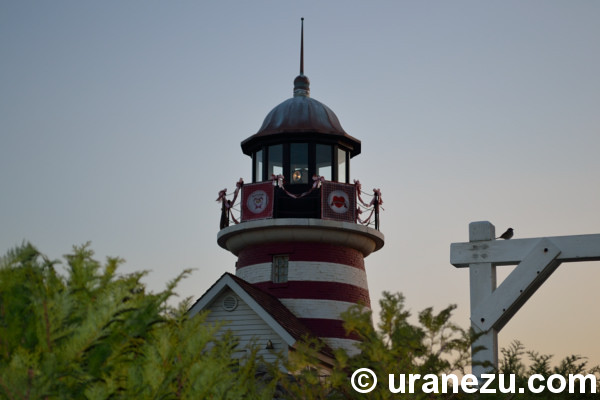 If you have any questions, opinions and requests,
please contact us.
JAN. 01.2014 about Park not Now: New Year at Parks
I know this is "Park not Now", and you really know it well too.
Today I introduced about 2014 New Year's decoration in TDL, and TDS.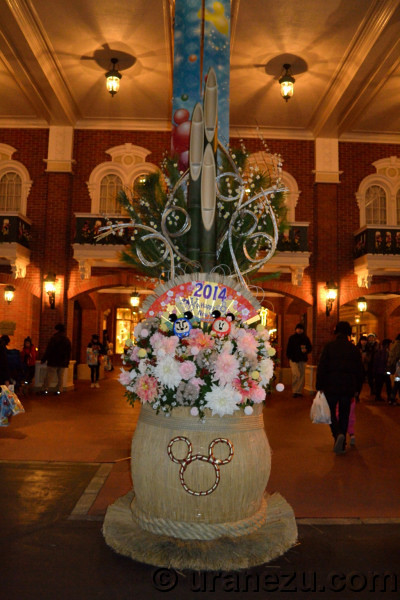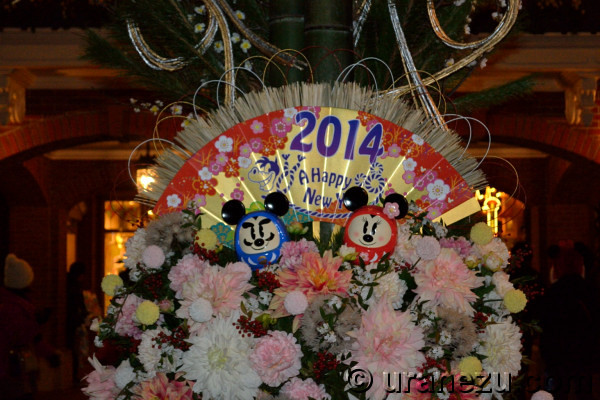 The above picture was "Kadomatsu" the Japanese traditional entrance decoration on New Year. The Daruma (the Japanese traditional good luck doll) Mickey & Daruma Minnie added some New Year's festivity to the kadomatsu. And the below was Kadomatsu from TDS.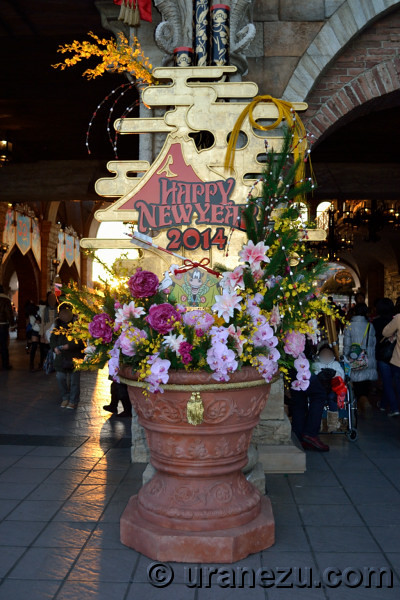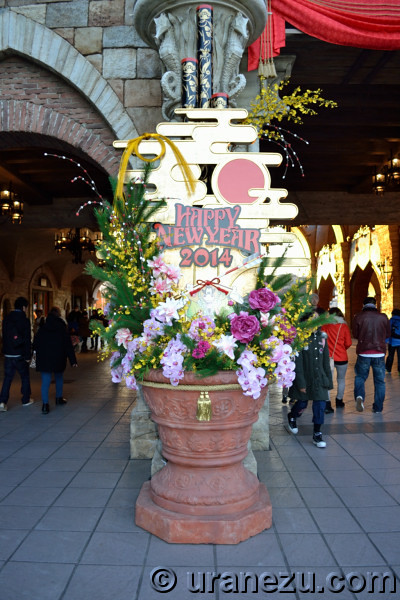 Kadomatsu usually placed in pairs as same design, however this TDS kadomatsu was little bit different. The right one was decorated with the first sunrise of New Year, and the left one with a volcano the symbolic icon.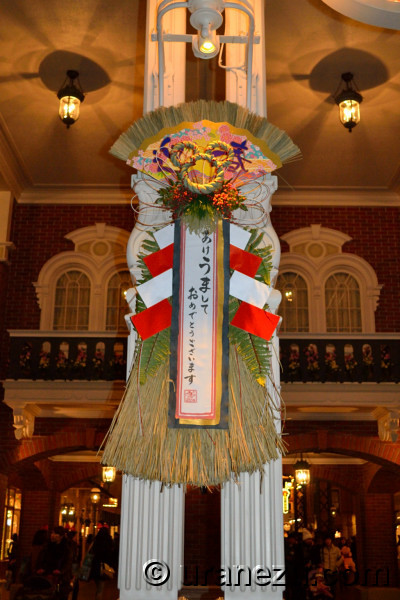 Back to the TDL park, this is a Japanese New Year's banner.
The banner showed "Happy New Year" in Japanese syllabary characters.
But please wait, there was always hidden a trick.

In this year, 2014's was...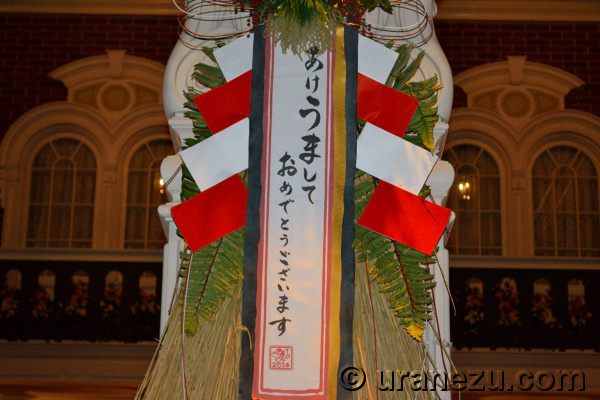 In Japanese "Happy New Year" expressed as "Ake ma shite ome de to", however it read "Ake Uma shite ome de to". "uma" means "horse". Yes, it's 2014's zodiac!

That's why there were many Horace Horsecollar!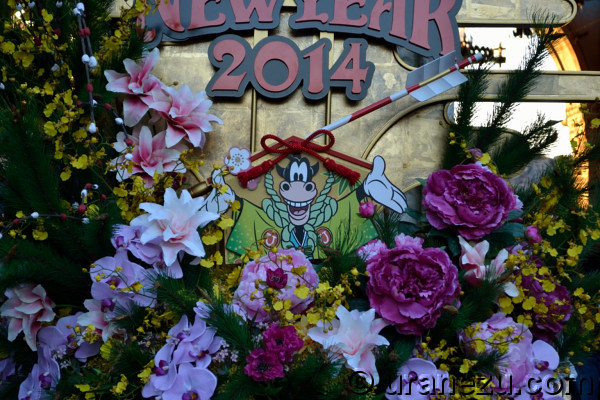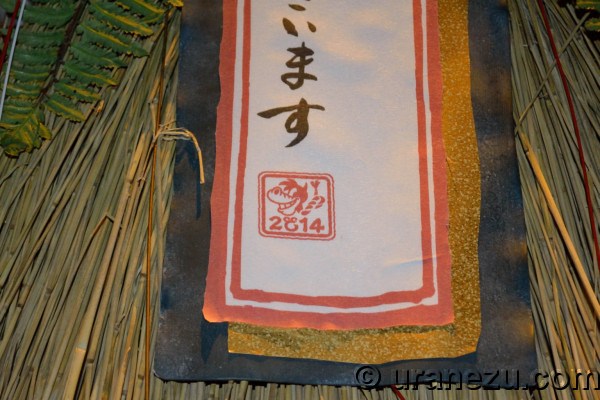 Happy New Year!

I hope you'll spend a wonderful year!
If you have any questions, opinions and requests,
please contact us.