Park Now
>
Park Now Archive
> 2013 Spring Quarter Archive
---
JUN. 27 2013 about Disney's Star Festival
This year's Tanabata the star festival is one week longer than in past years. Disney's Star Festival will be held from JUN 24 to JUL 7 in TDL.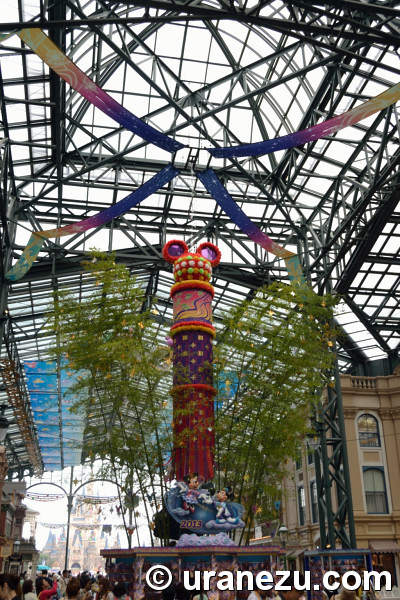 There are typical Tanabata decoration, bamboo wishing tree in World Bazaar.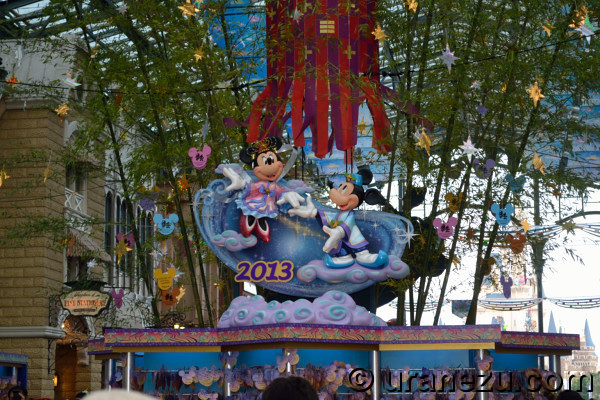 Let's celebrate this day by writing your wish on a special star-shaped card (Typically the wishing card is a simple rectangle piece of paper.) and hang it on the bamboo tree!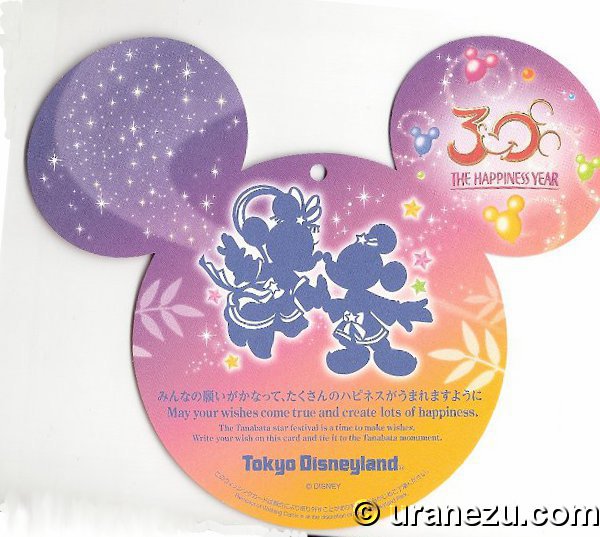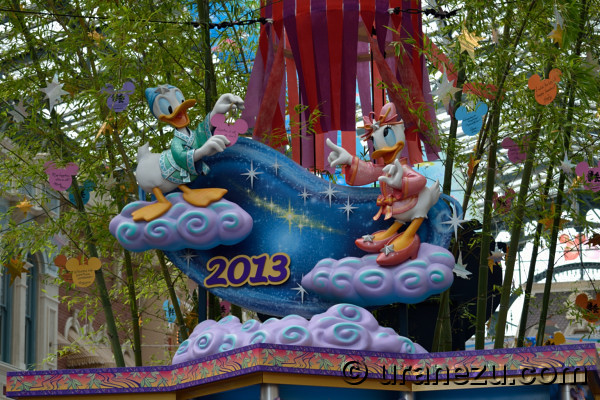 Gentle Donald trying to hang Daisy's wishing card.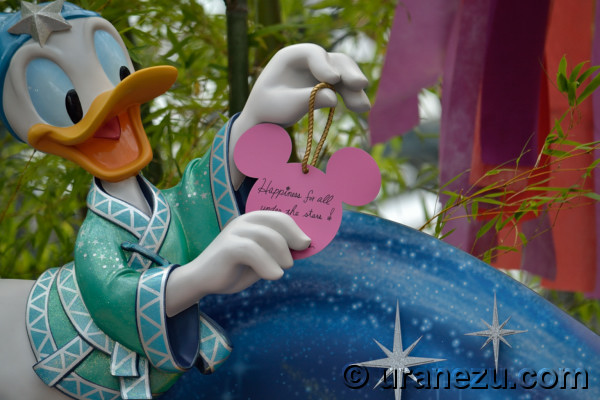 But wait Donald! You're picking wrong one, I think it's the last year's...
Let's sneak a peek at Disney pals' wishing card.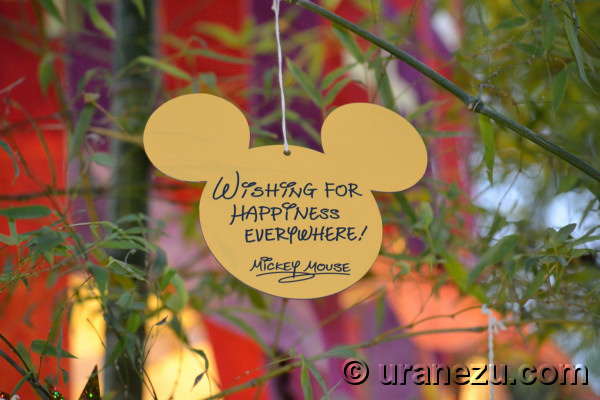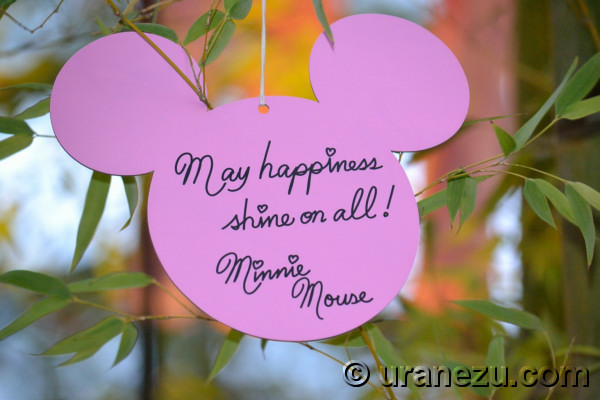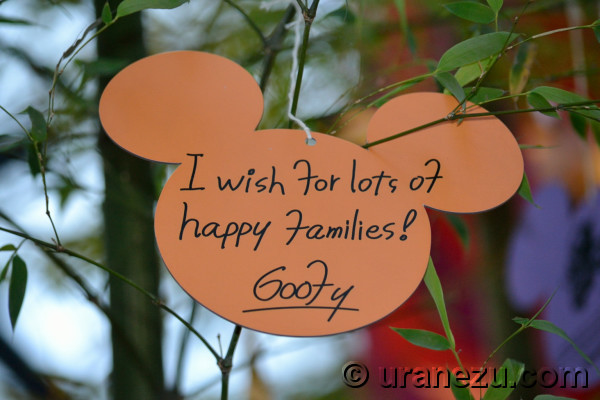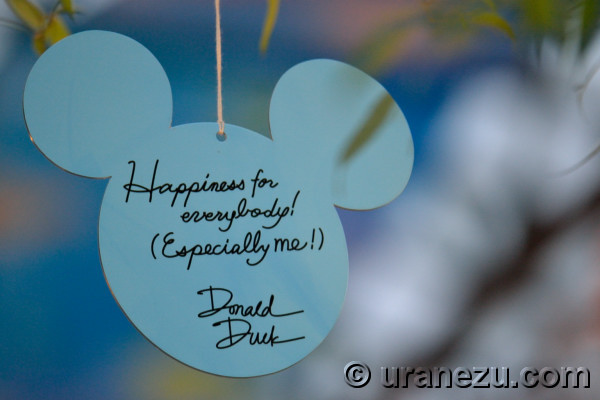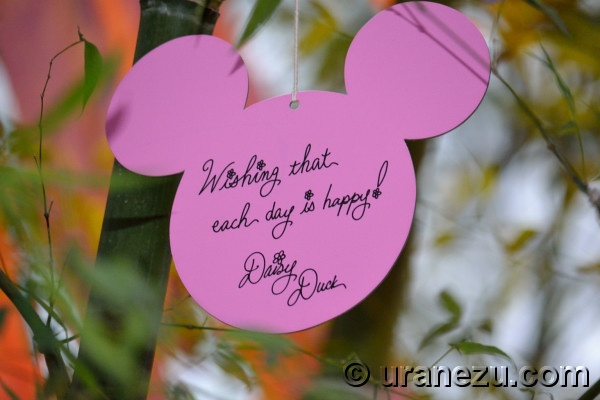 Each wish and writing are in character for them. And they're sure that 2013 key word is Happiness
My greatest care is in the event is...Pluto's wishing card.
This year's his card is...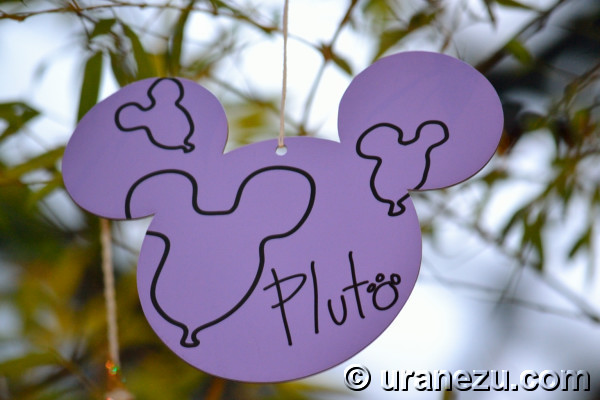 Pretty lots of balloons!!
I know you are wonderful dog, but I recognized that you are genius, Pluto!!
Why do you return and see the wishing card in last year, 2012?
How about 2011?

Inside "Grand Emporium" the biggest merchandise store in World Bazaar, there are several kinds of Disney's Star Festival items.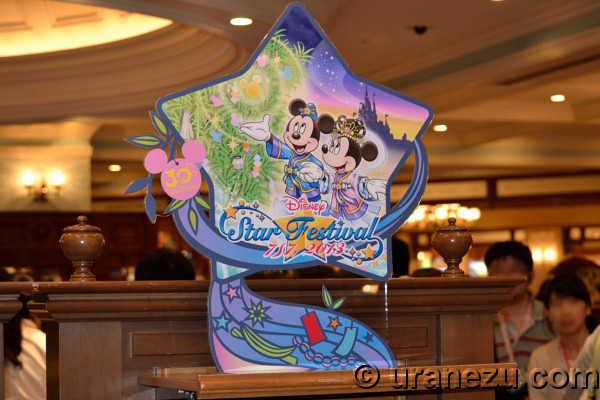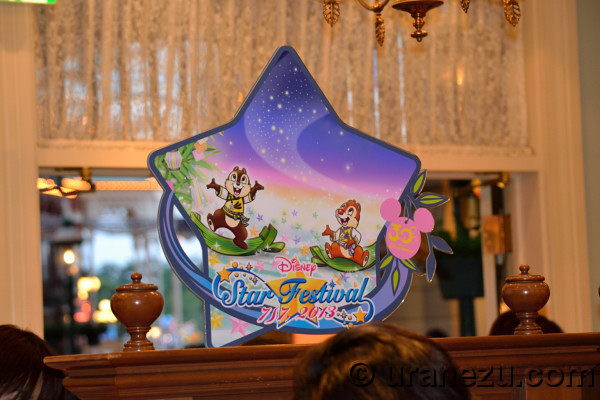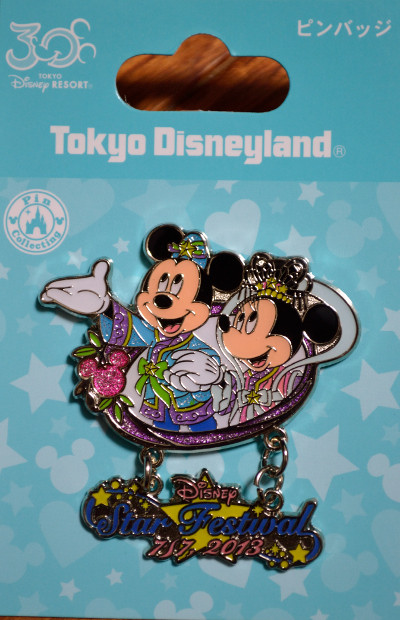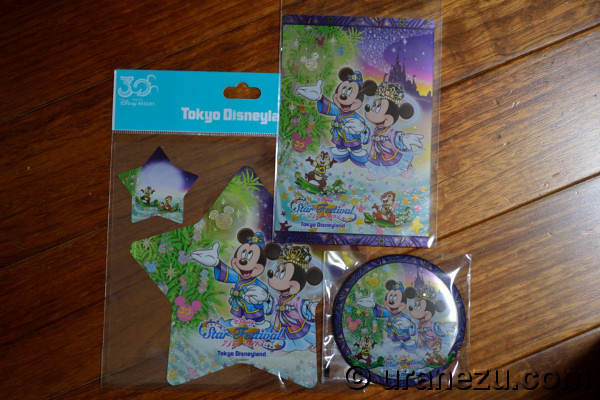 Post Card, Sticker, Button, and Pin. This event design art is always romantic because of the Tanabata legend.
If you have any questions, opinions and requests,
please contact us.
MAY. 19 2013 about Welcome New Star Tours to TDL!
Welcome aboard! Yes, today's topic is new Star Tours.
Star Tours: The Adventures Continue had its grand opening in Tomorrowland on Tuesday, May 7.
The attraction facts are;
Duration: About 4 minutes 30 seconds
Capacity: 40 seats per cabin
Number of cabins: 6 cabins
Investment: About 7 billion yen

Why didn't I post about that on the opening day? There are two reasons.
One of the reasons is about opening ceremony of the new Star Tours.

There was an opening event of it. However, it took place before the park open with only some winner guest cosplayers and news people.
It's completely closed event.
Therefore many geeks couldn't see how was going on and it was really sad for me.
I think that OLC would avoid a big mess by a Disney and Star Wars otaku like me.

And other reason is a Fastpass machine.
Look at the TDL new Star Tours Fastpass machine.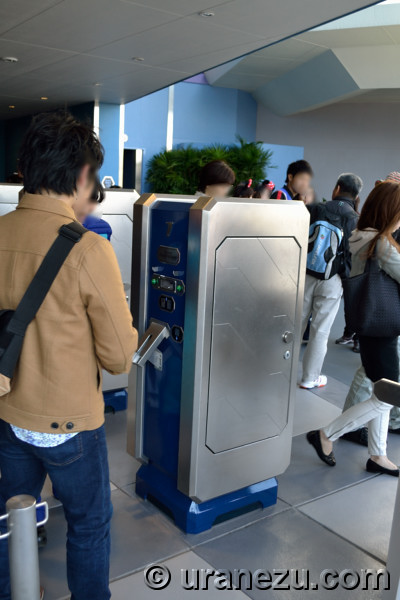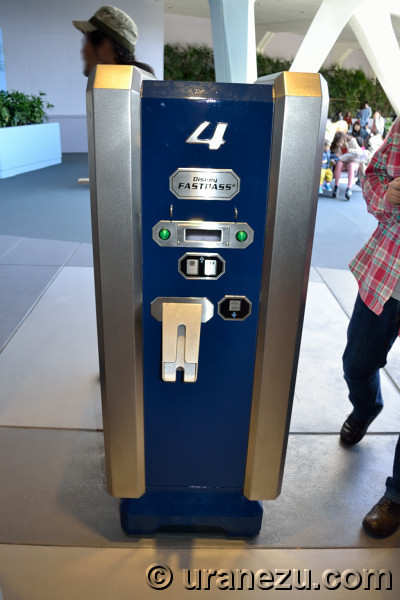 What the heck!?
I've really really waiting for GNK power droid Fastpass machine! (GNK is my favorite droid which appear most of the Star Wars series.) TDL's just data storage!
I was totally discouraged about these things.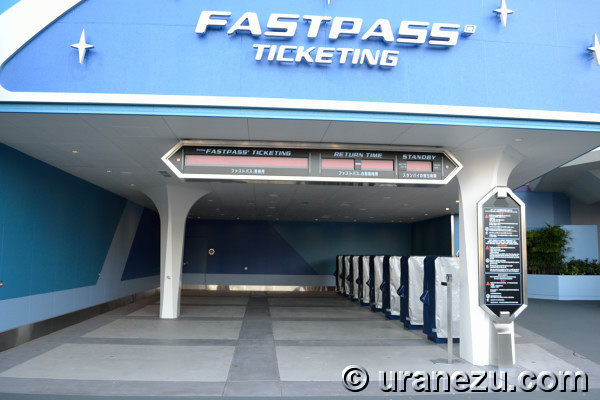 The above picture was taken about a month before the opening. The machines were completely covered, then I had dreamed to see a wonderful droid...
Before the opening May 7, a new Star Tours merchandises had launched on April.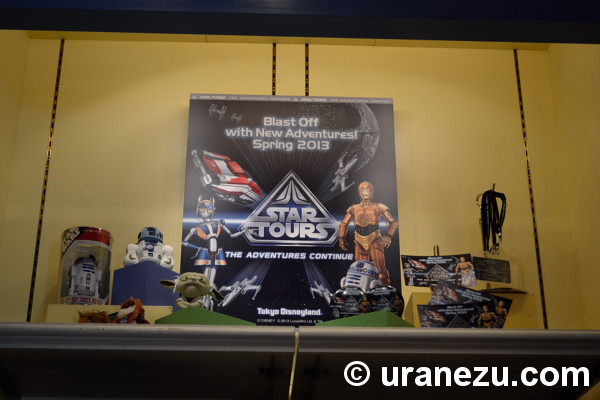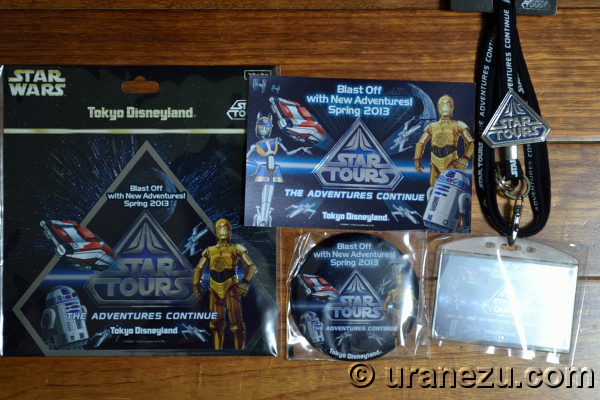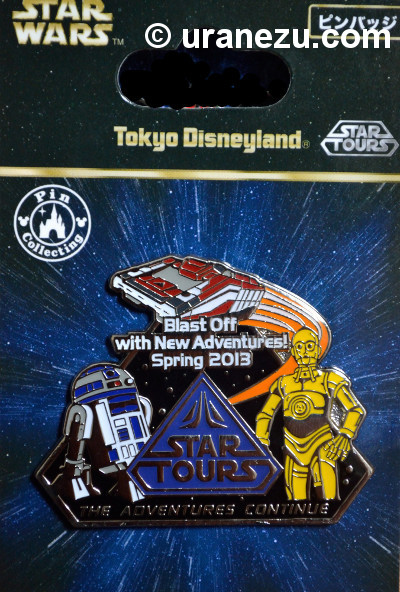 Let's move on the opening day. I think the longest stand-by waiting time on this day was 210 minutes.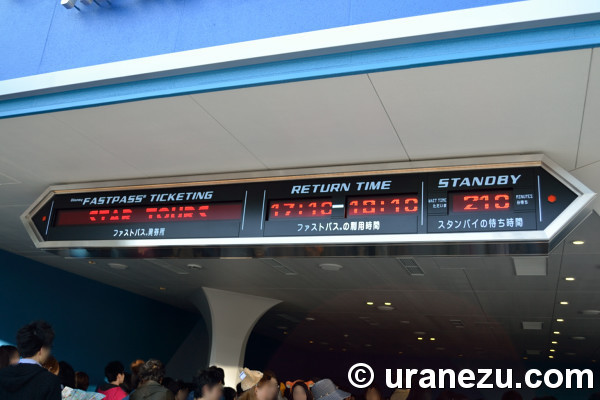 I think that most Japanese are very shy and avoid to stand out in public space, so there is a notification at the entrance for the Japanese include me.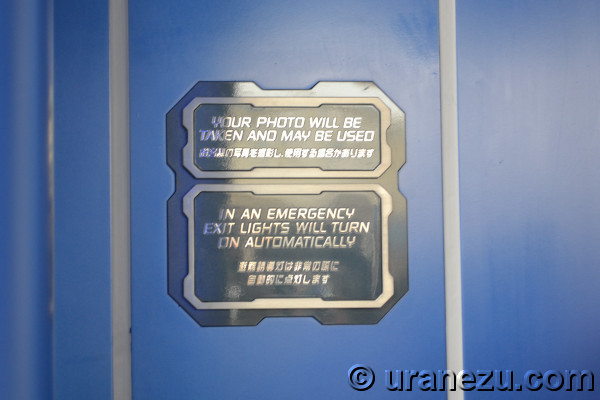 The first room is high ceiling area, we can enjoy an underside of a Starspeeder.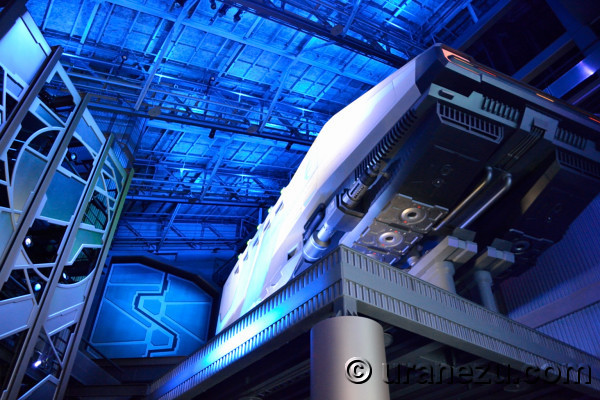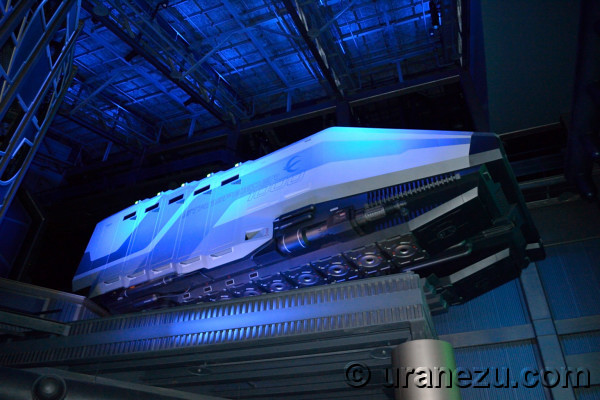 And also big electronic advertisement board capture the imagination of guests to the Star Wars saga. There are many advertisement here are the some of them which I could record it.
Ad Board 1 / Spaceport
Ad Board 2 / Recruit
Ad Board 3 / Dantooine Express
I will try to record more ad movies!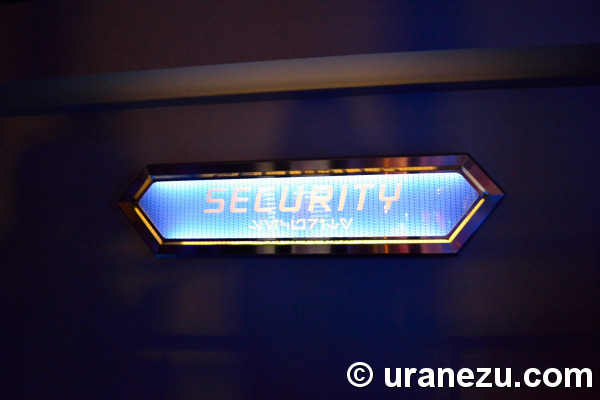 The Security queue area have many droids. It's very fun to see them.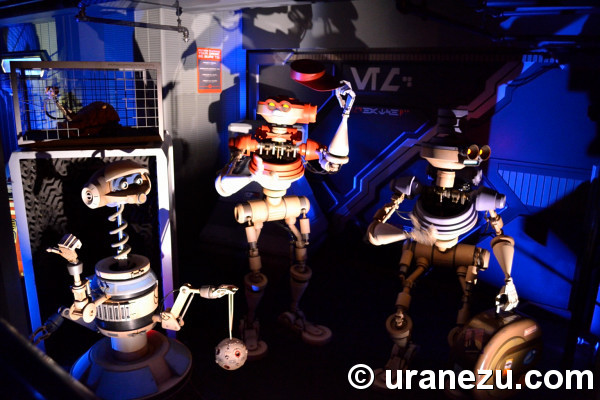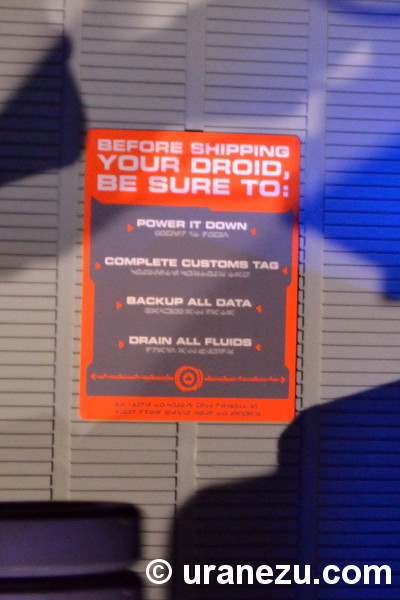 I'd love to the seeker droid pouch!
Underneath the queue line, there are many suitcases.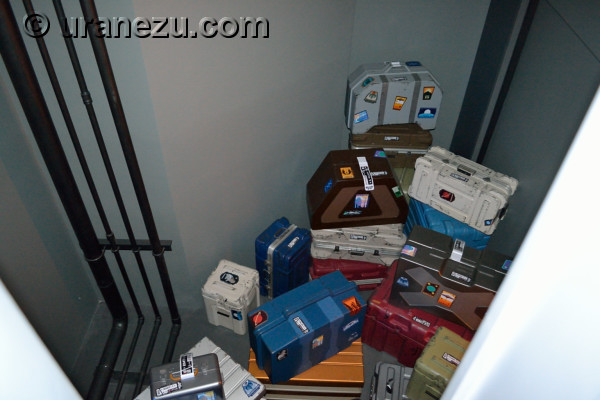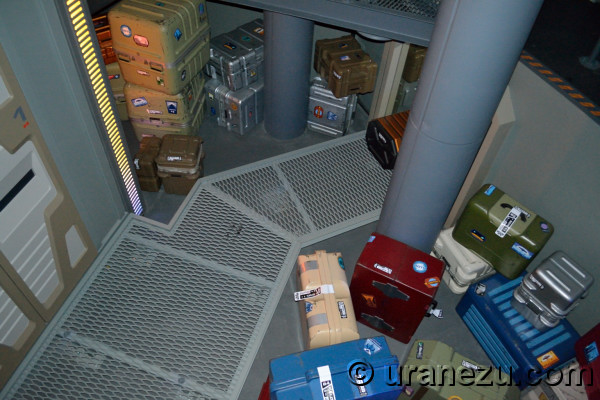 Here are G2-9T droid working movie. It's very short and not good quality,but you'll like it.
♪ And the mome raths outgrabe. ♪ & ξ Poof ξ
G2-4T droid use thermographic measurement to detect all passengers at the end of the queue line.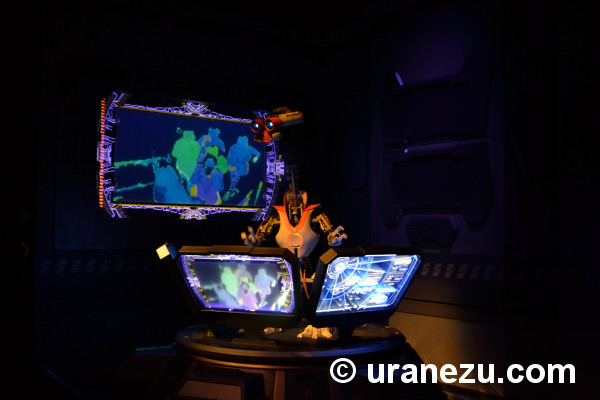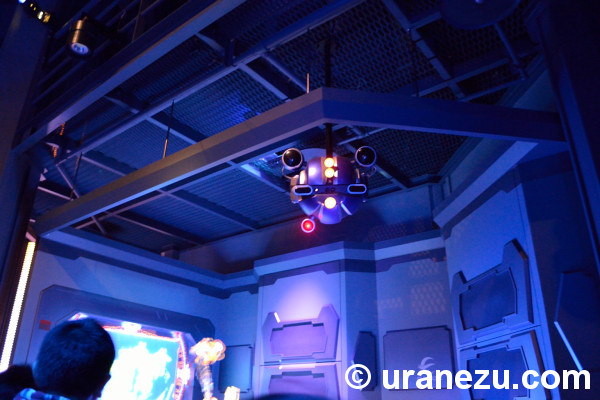 If you come from Mustafar the volcanic planet, your figure display a deep red on the screen.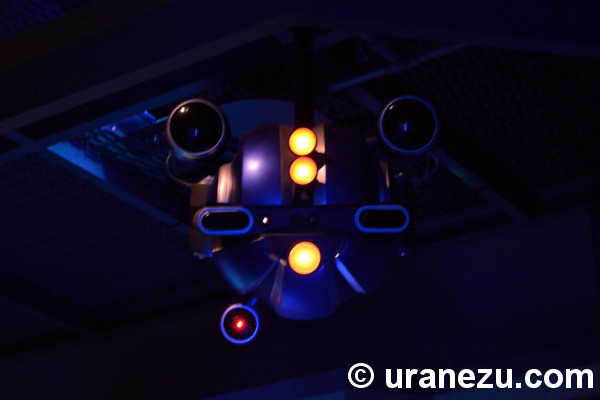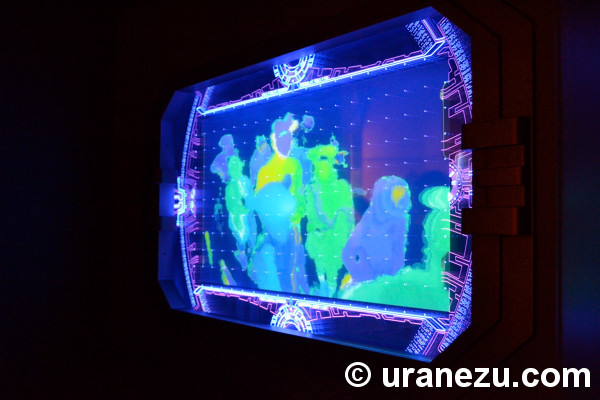 If you come to TDL Star Tours, please don't forget to roll a ball on top of a stanchion before the boarding gate sorting! It's so smooth and only TDL Star Tours experience!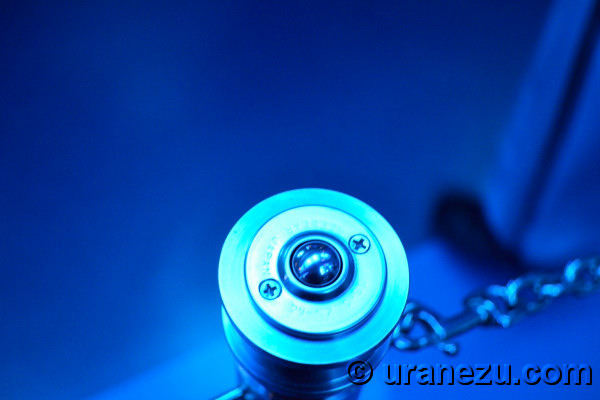 The amazing ball was called "FREEBEAR S-8L" manufactured by FREEBEAR Inc.
FREEBEAR is one of ball transfer unit which mainly use in many fields of logistics.
I tried 13 times, the destination was;

Kashyyk - Princess Leia - Coruscant
Tatooine - Master Yoda - Naboo
Kashyyk - Admiral Ackbar - Death Star
Kashyyk - Princess Leia - Naboo
Kashyyk - Admiral Ackbar - Death Star
Kashyyk - Princess Leia - Naboo
Tatooine - Princess Leia - Naboo
Tatooine - Master Yoda - Naboo
Tatooine - Master Yoda - Naboo
Tatooine - Master Yoda - Death Star
Hoth - Master Yoda - Coruscant
Tatooine - Master Yoda - Death Star
Hoth - Master Yoda - Coruscant
My force was too weak so I couldn't go the original trilogy planet, Hoth, but recently, I trained a lot, so finally I could go to Hoth!!
I love Hoth.
Quick queue line video.
Today's last topic is, yes, merchandise.
There are 2 types of new Star Tours design except the pre-opening merchandise design which I described above.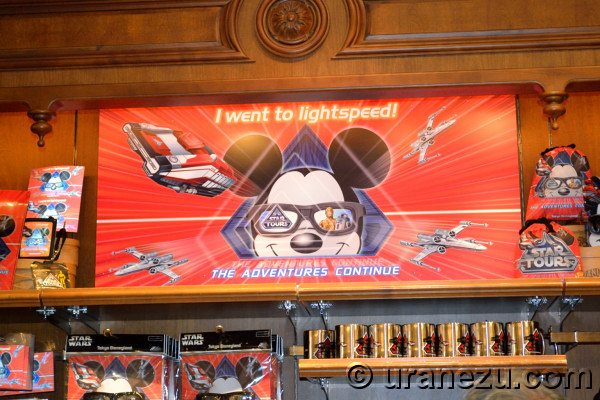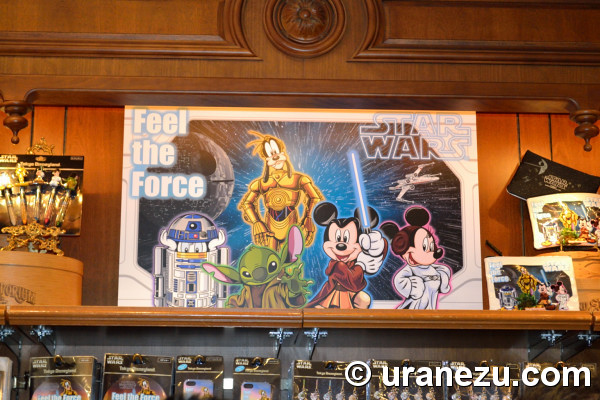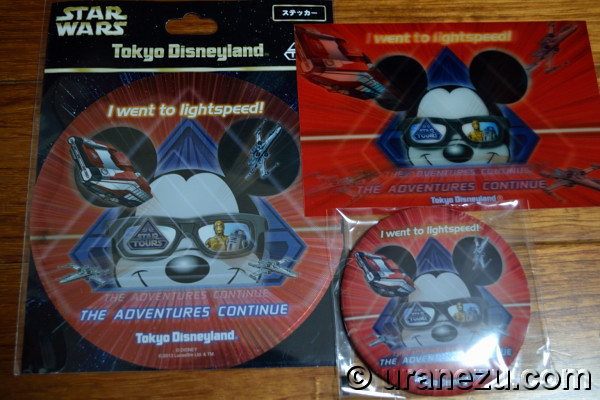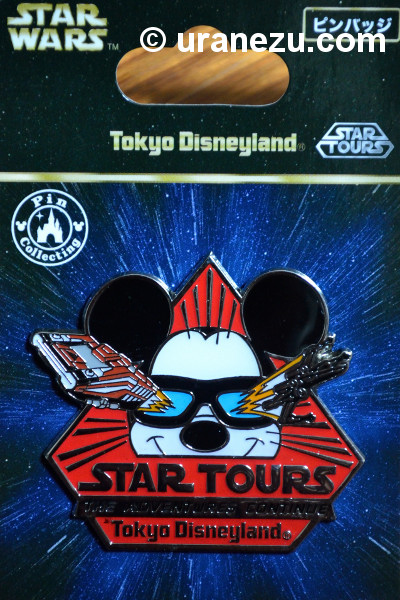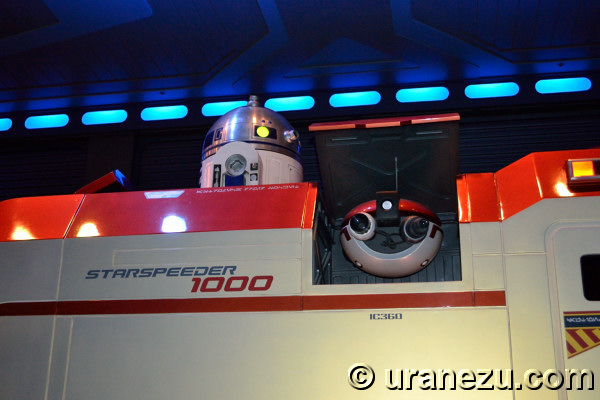 I was reminded how R2-D2 belligerent is! I just can't stop chuckling when he shoot at Darth Vader without the least hesitation. That's the R2!!

Thank you for reading.
May the force be with you!!

If you have any questions, opinions and requests,
please contact us.
APR. 29 2013 about TDL 30th Anniversary Merchandises and More!
First, I introduced the 30th anniversary merchandises.
There are tons of anniversary items in the park.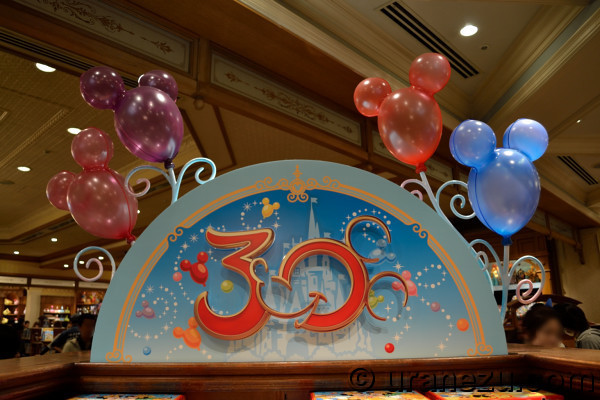 There are two main types of anniversary goods.
One is the main art design which is sky blue based with gently gold & orange red dressed Disney characters.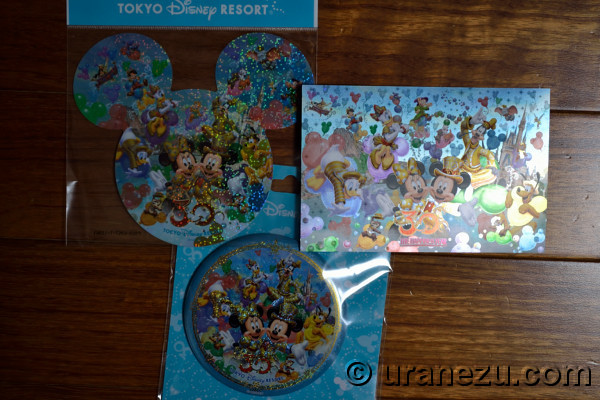 I always bought a sticker, button, postcard, and a place mat. And they also have T-shirt, various packages confectioneries, and more.


And the below is the another 30th anniversary design. There are a various versions of Mickey costume through the 30th event history.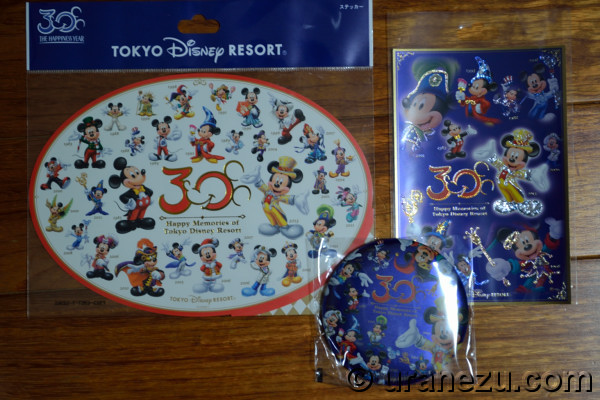 Of course, this design have a lot of other items, include confectionery, stationery, T-shirt, and cap.
If you like a new parade, "Happiness is Here", you can buy a concept art of the parade merchandise.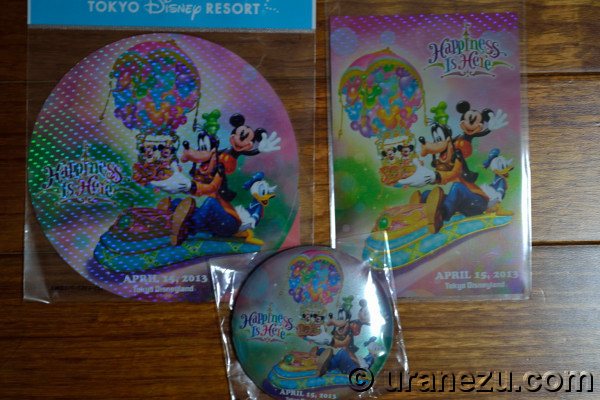 I'm TDL pin collector, the below pictures are new pins for the 30th anniversary.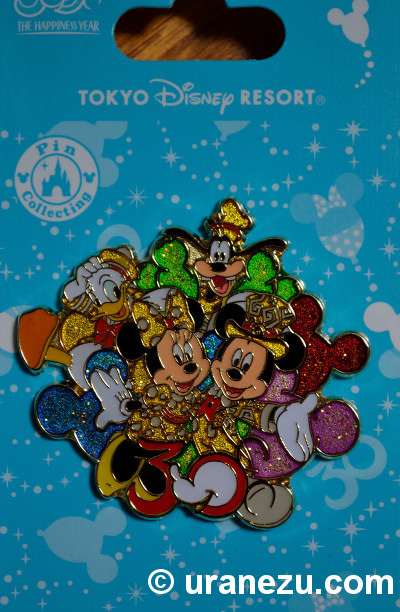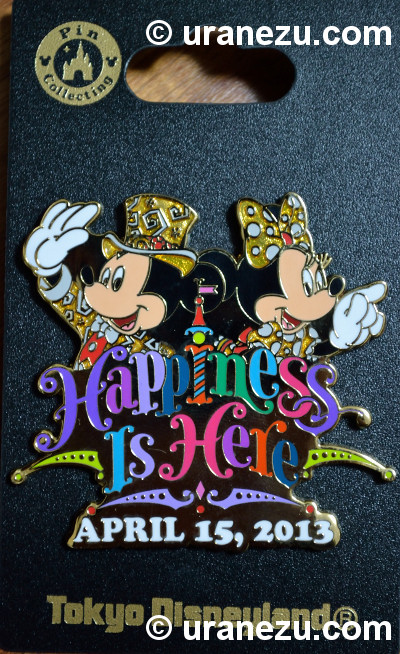 And it's a 30th event history Mickey pins.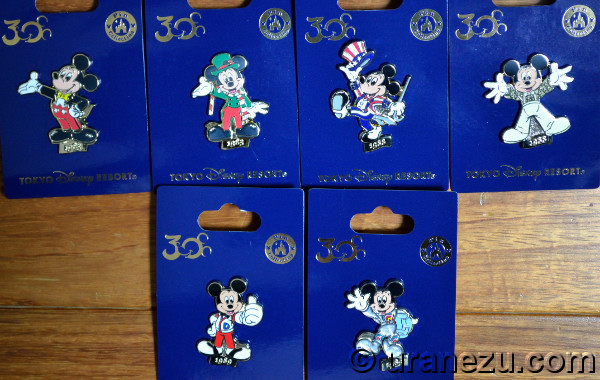 You can buy a single pin which you like.
But I couldn't run away from pin temptation.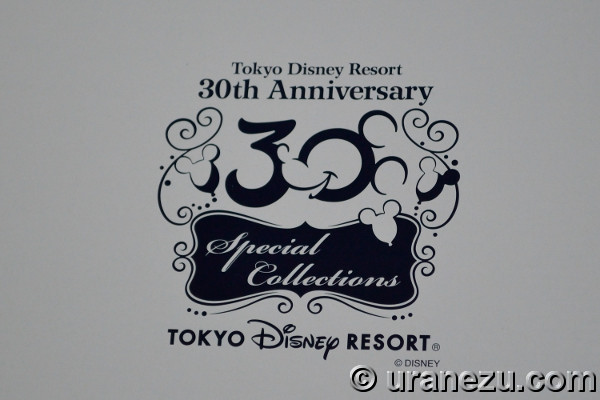 The case was sold at 3,000JPY for the pins.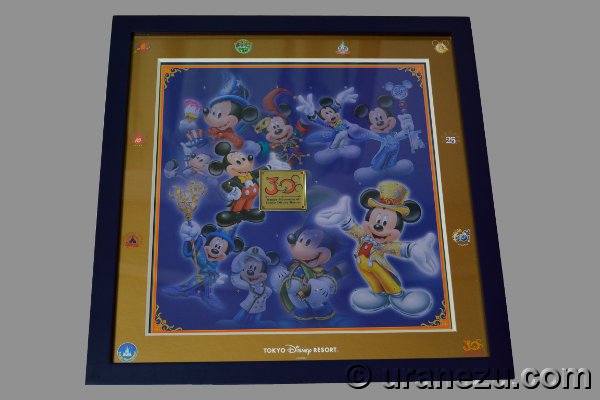 Through the coming 30th year, different 6 pins will be launched in a time period.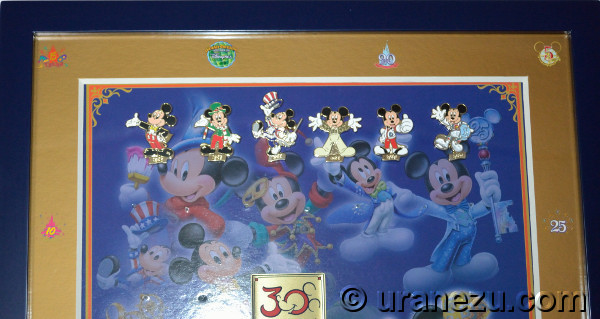 Now I got a first period 6 pins.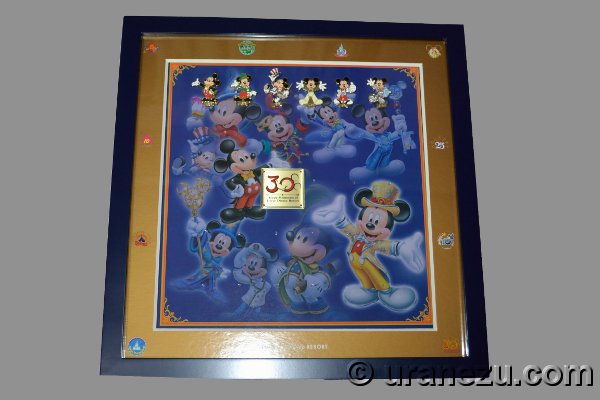 Continue...
Let's move on TDS.
TDS is not 30th anniversary, however inside and outside the TDS park were decorated like TDL.


The below picture is TDS box-office facade.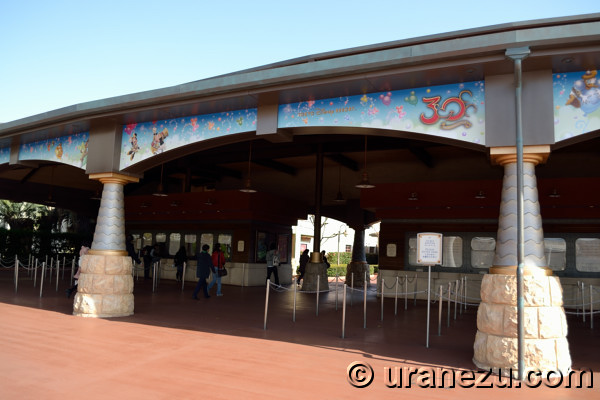 It's like a TDS anniversary.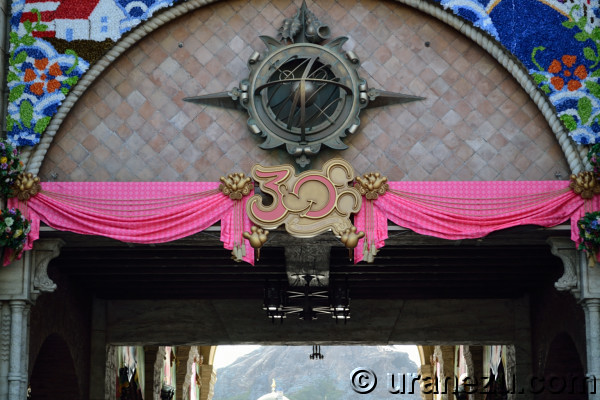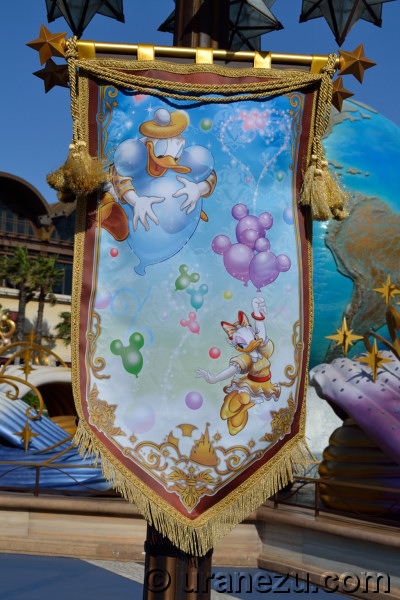 There are a 30th anniversary photo location in TDS.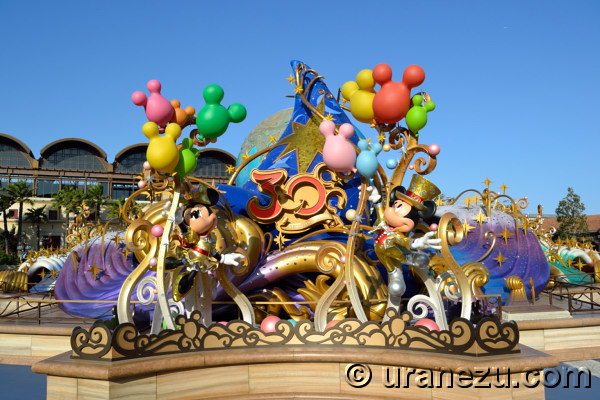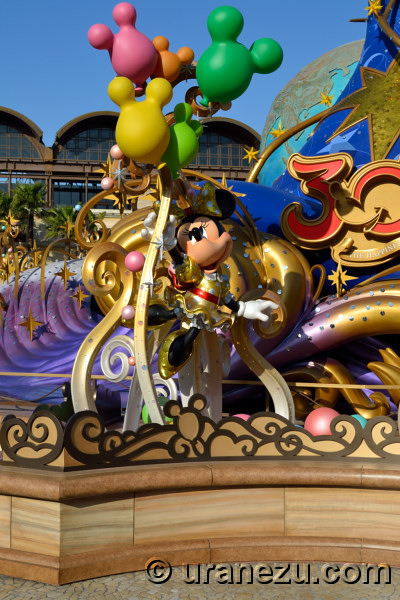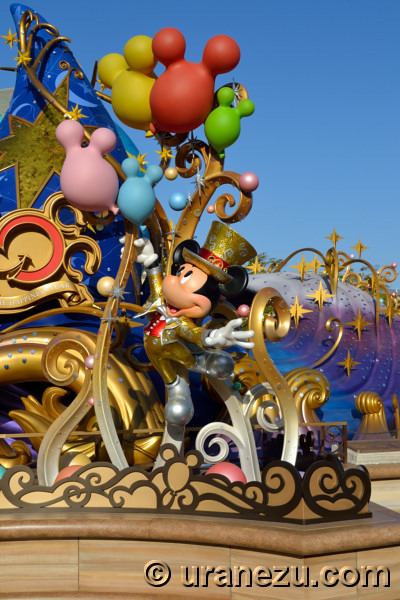 Here are a parts of the park decoration. The (TDL) 30th anniversary key item is balloon. We will be able to enjoy a colorful funny decoration with balloons in TDS.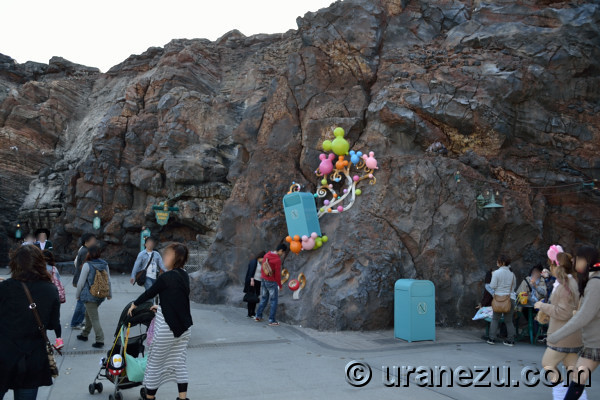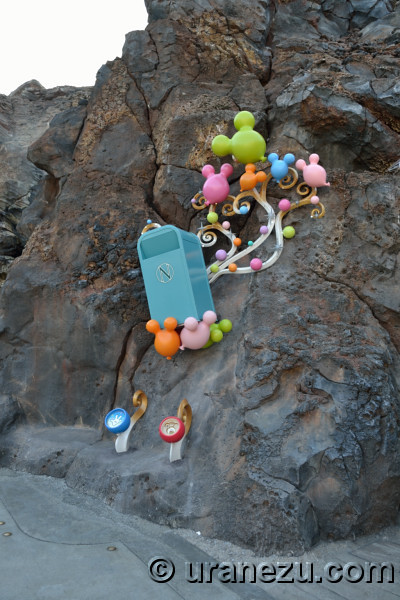 Flying trash can from Mysterious Island.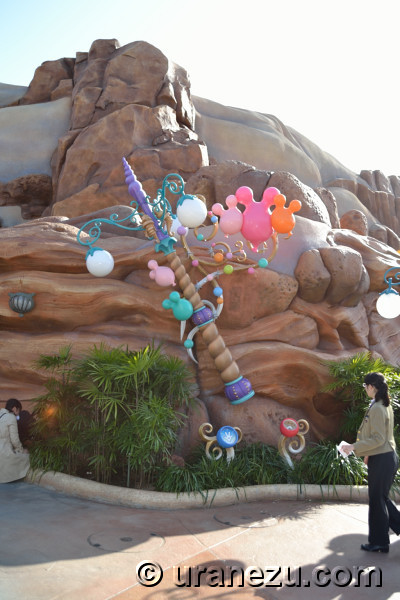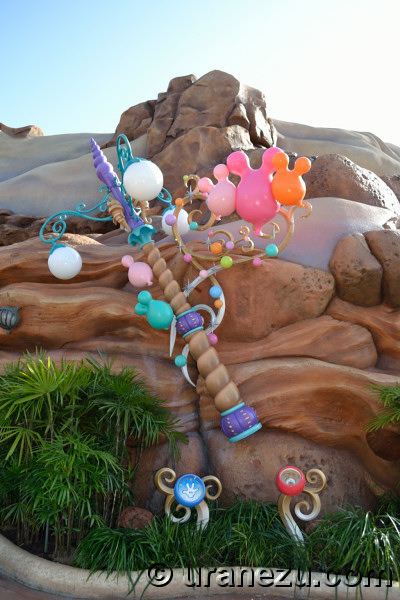 What is flying at Mermaid Lagoon?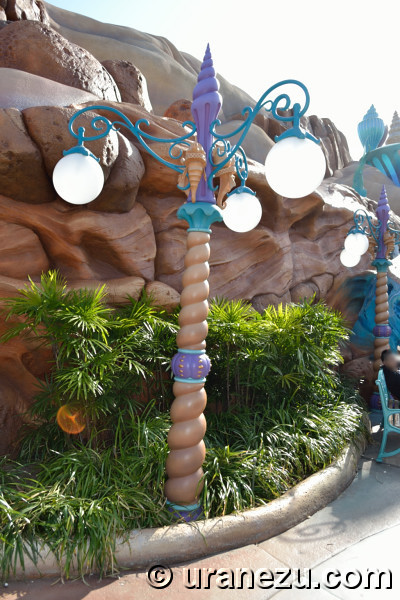 It's street lamp!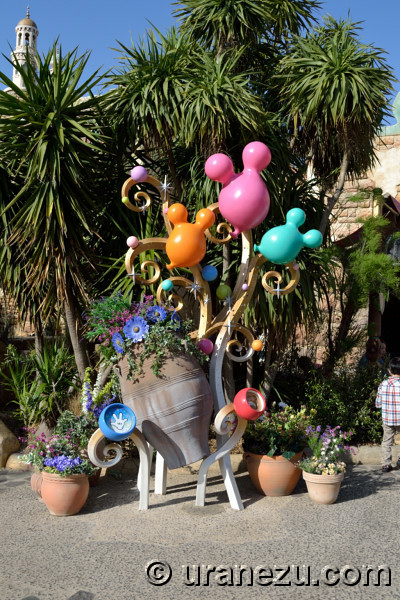 From Arabian Coast is flying flower pot.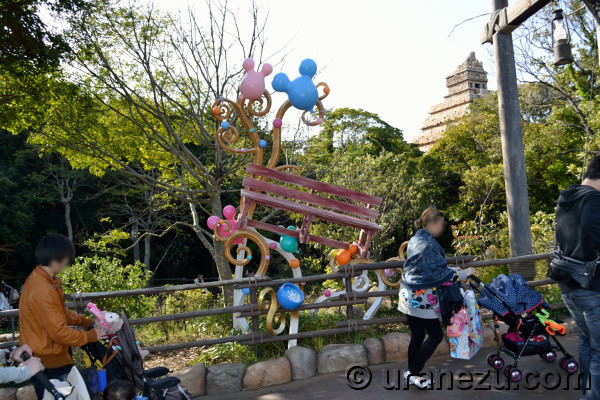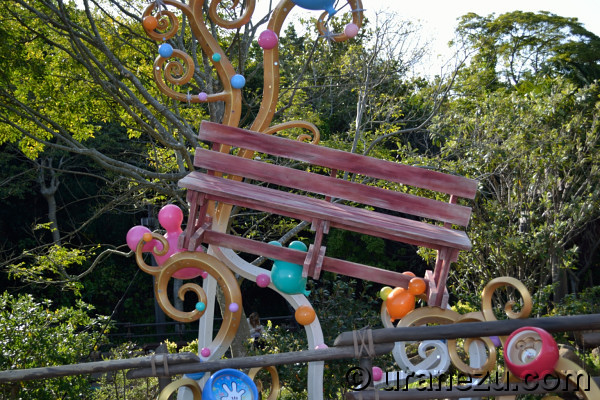 It's little bit hard to see, flying bench from Lost River Delta.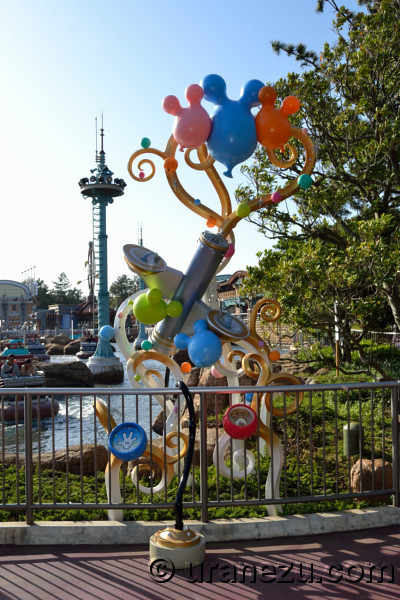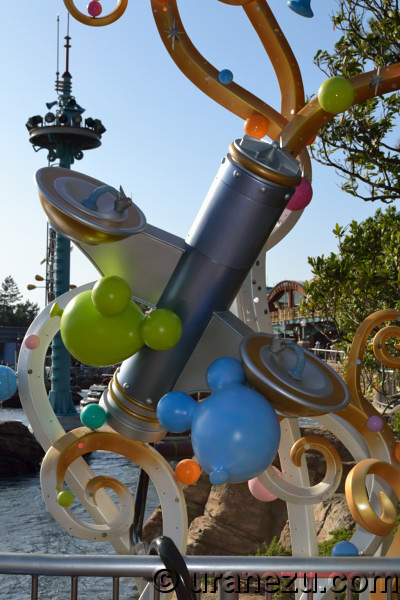 The last balloon photo spot from Port Discovery. It's flying water fountain!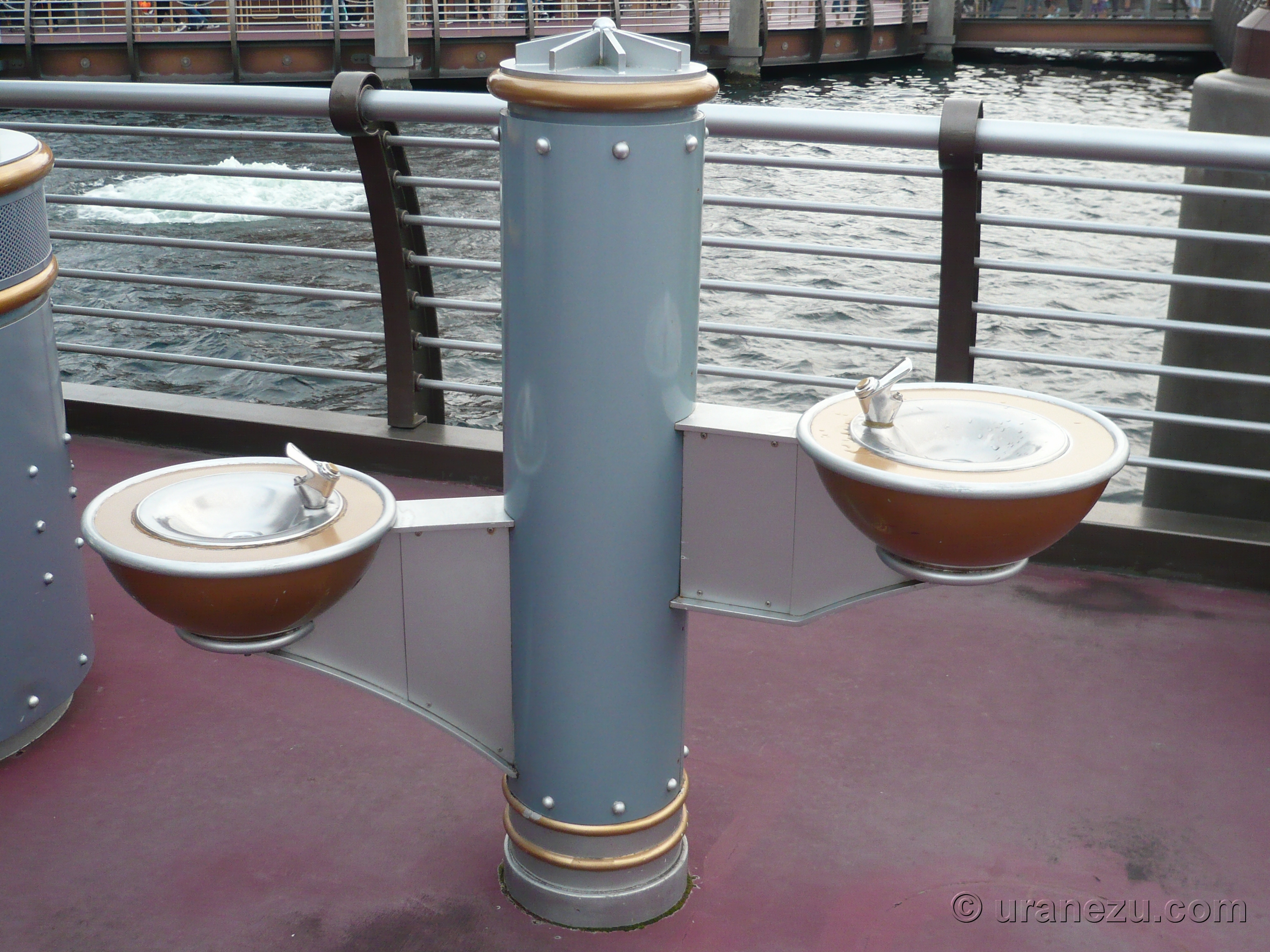 This is not enchanted Port Discovery's water fountain.


Do you like them?
It's worth to see not only 30th anniversary TDL buy also actual 12th anniversary TDS.
If you have any questions, opinions and requests,
please contact us.
APR. 21 2013 about TDL 30th Anniversary
Happy Birthday! Tokyo Disneyland!! TDL became 30 years old on April 15, 2013.
Your 30th anniversary is also my pleasure. I was really impressed that seeing the park growth and success through the hard time.
And I really happy to share this special moment with you.

Before the 30th anniversary, there were a preview night in April 12 and 13.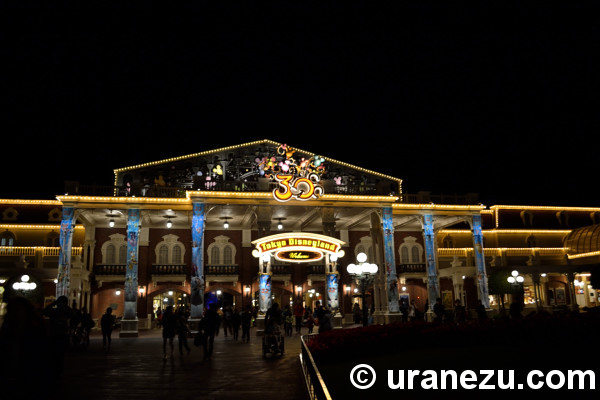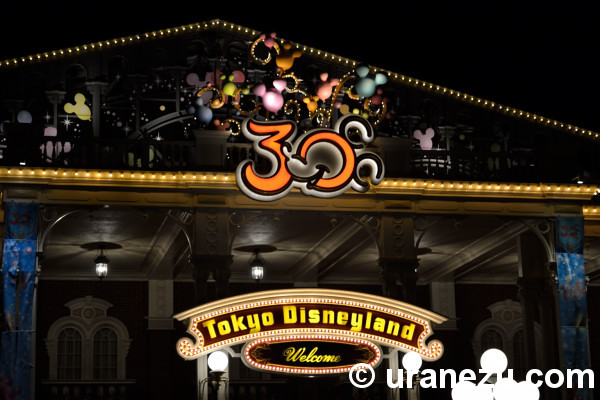 It was like a unveiling party of a new parade named "Happiness is Here". This two nights were completely invitation program. People who came to the night consisted of TDL sponsor's relatives, media, general guests who won the invitation ticket, and so on.
When I entered the gate, many cast members cheerfully and cordially welcomed me.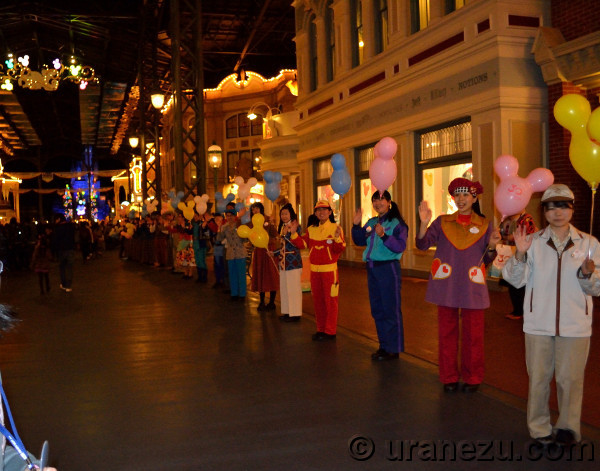 There were many 30th theme decoration everywhere in World Bazaar.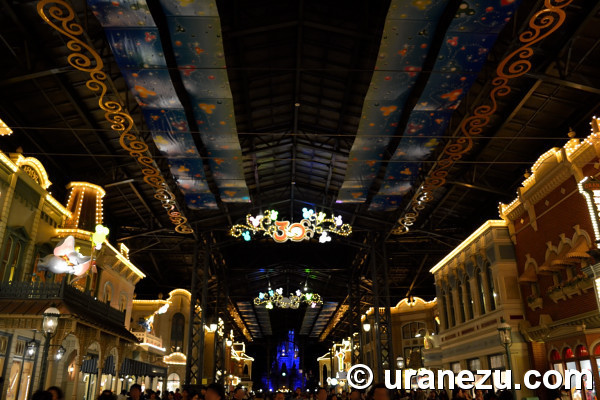 TDL 30th anniversary key motif is balloon.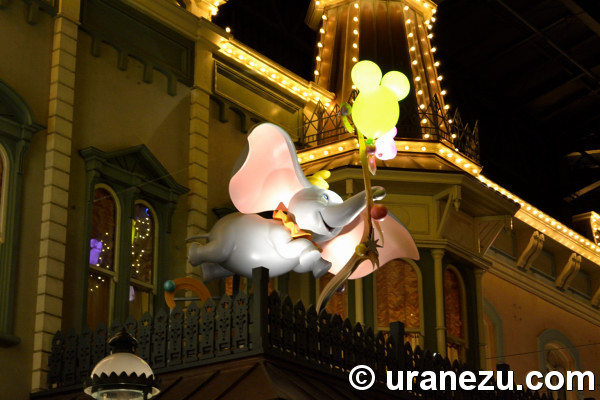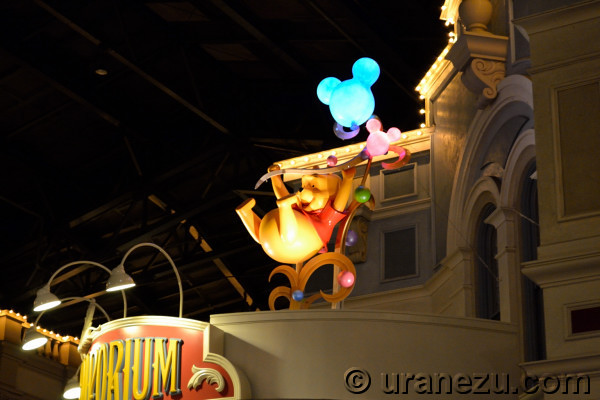 It's so cute with Disney friends with the balloon.
The 30th anniversary daytime parade named "Happiness is Here".
Here are the preview night performance of the parade. The floats aren't glow themselves like Electrical parade floats (because, you know these are for daytime), so many lights illuminated them, therefore there is difficulty in viewing by the reflection.
I hope you enjoyed it. How was it?
I like this parade very much! A simple happy music, Welll-Disney-theme floats, and new Disney characters! I welcomed a debut of Toulouse, Berlioz, from "Aristcats", King of Hearts from "Alice in Wonderland", Ugly Duck from "Silly Symphony". (I also surprised Dopey with Happy!!)
And the dancers costumes are so beautiful. Jazz-loving alley cats dancers, mine mine seagull & jellyfish dancers, especially chimney sweep dance is great.
Another 30th special program is "Happiness on High" the fireworks.
It was only 3 and a half hours, but it was so nice.
And I went to the park again after the April 15.
There are many change for 30th anniversary.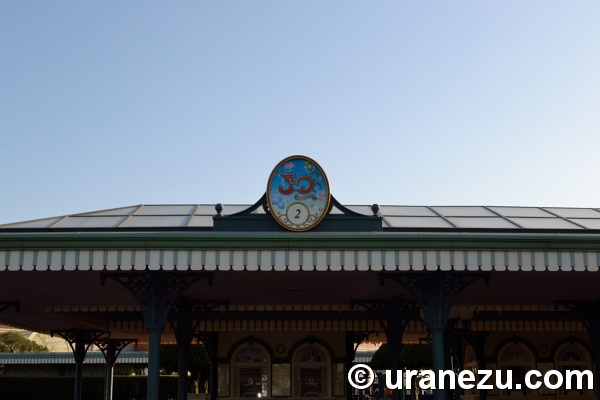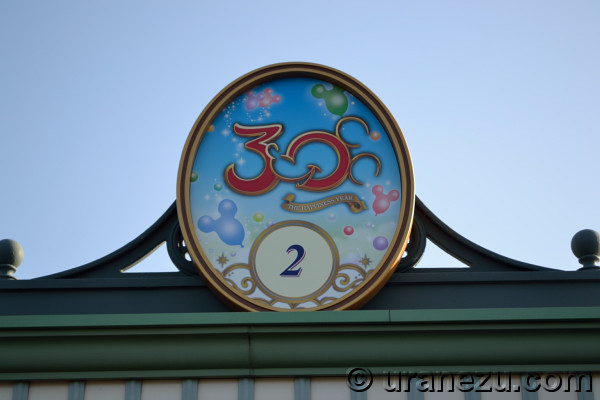 It's a box-office facade.
Disney friends and a colorful balloon on the flowerbed was popular photo location.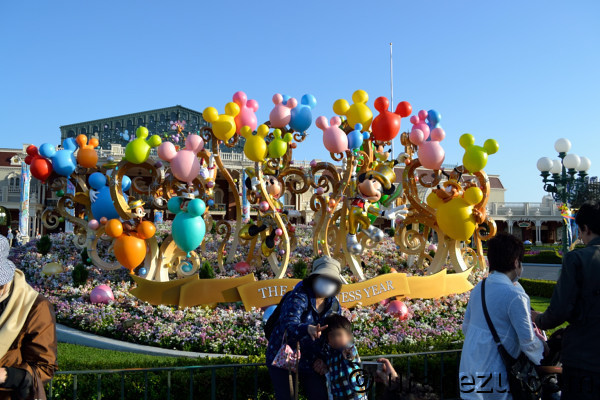 It's fun to see this balloon decoration.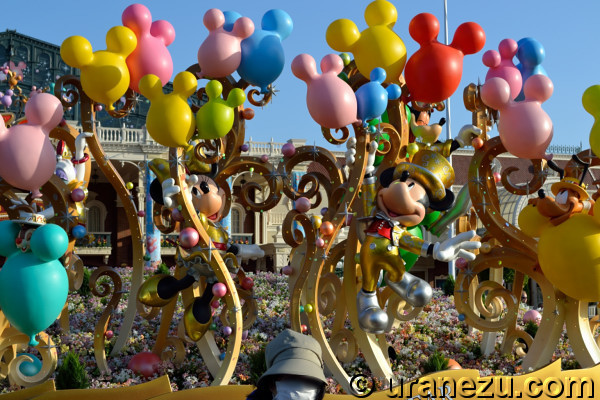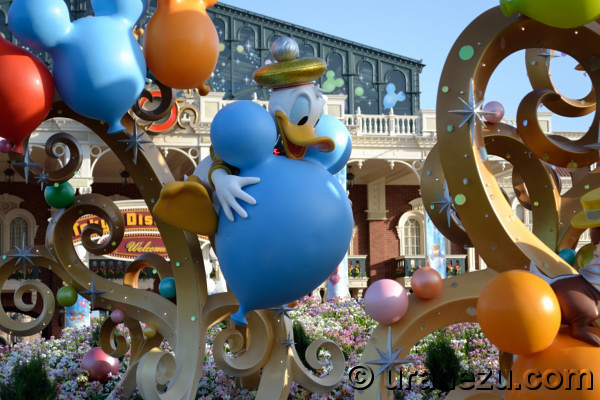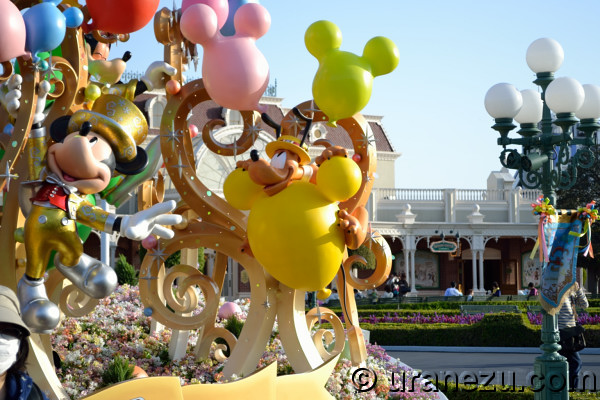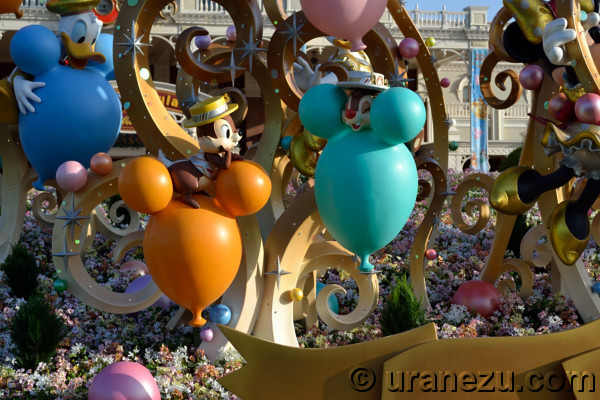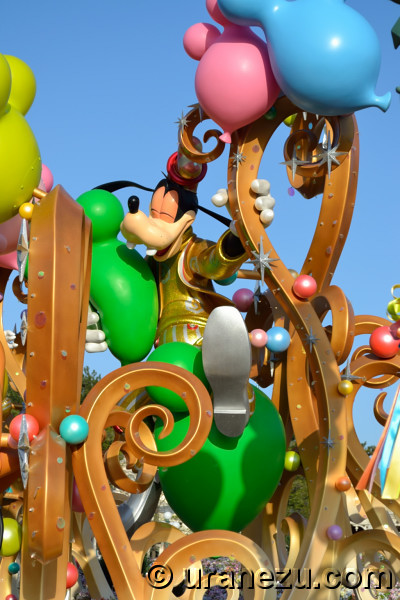 This decoration is amazing but little bit packed, it's difficult to catch a pretty Daisy with balloon.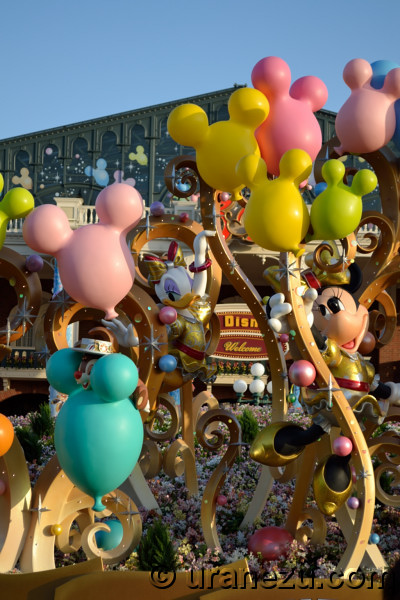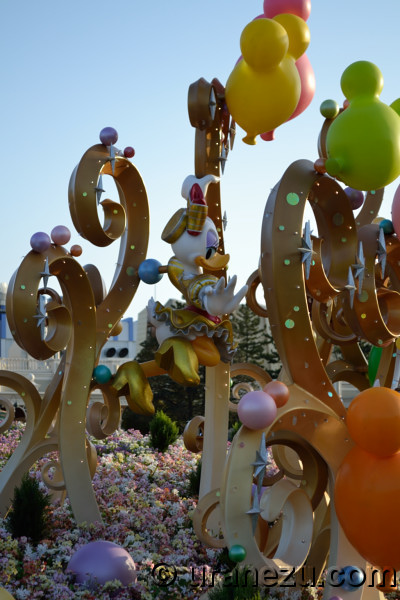 It also beautiful photo opportunity in the night.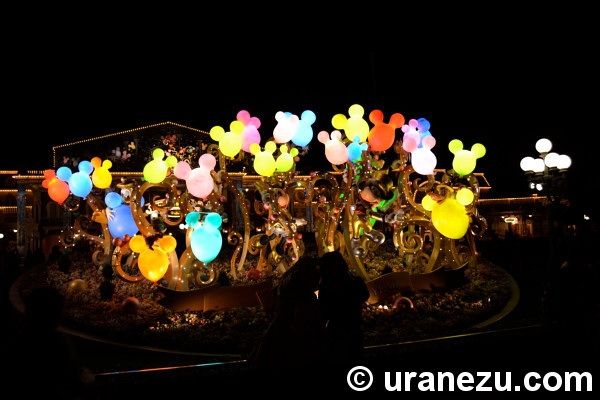 Here are the daytime World Bazaar.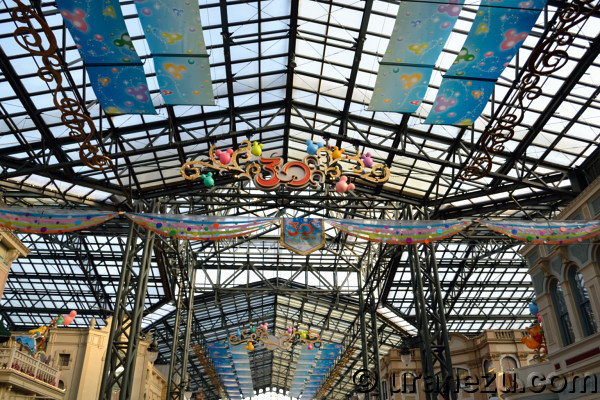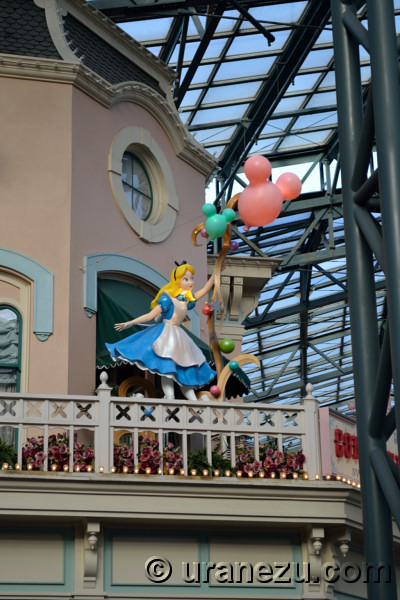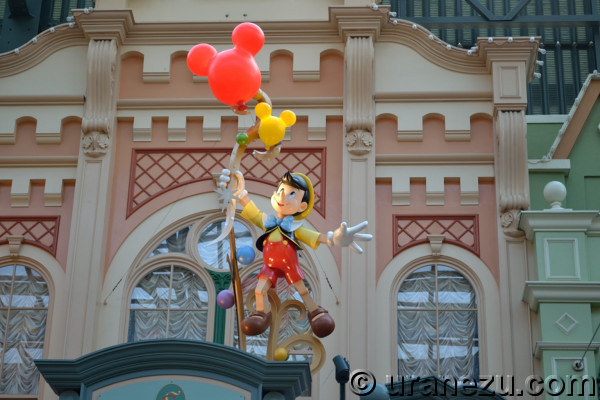 During this TDL 30th anniversary, there are a special Disney character drawing classes (Sorry, Japanese language only) for a fee.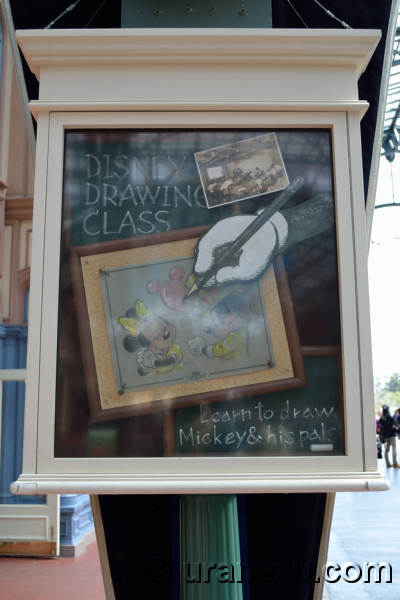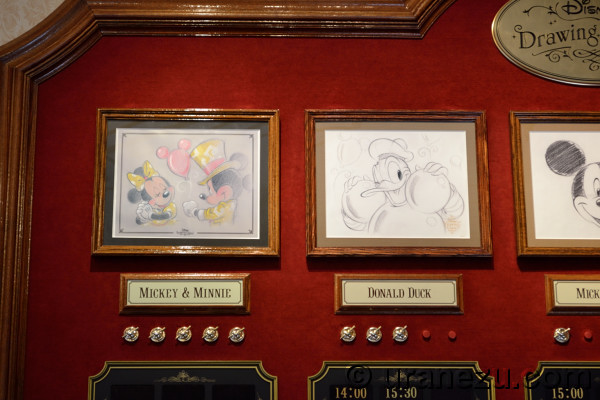 The 30th limited class is drawing for Mickey & Minnie with a balloon in color, and another is Donald and a balloon. After the class, you can bring your drawing with the original 30th design plastic case.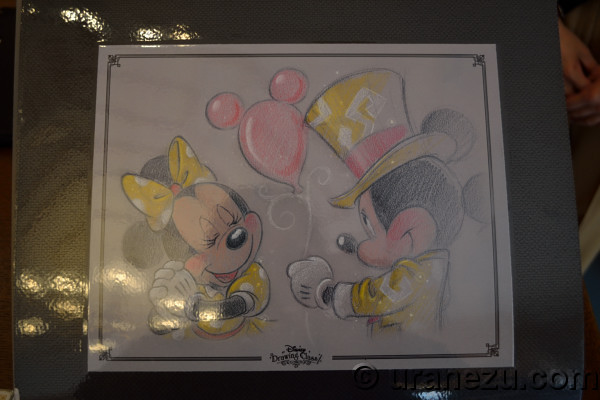 The fee is 1000 JPY per person for 50 minutes class.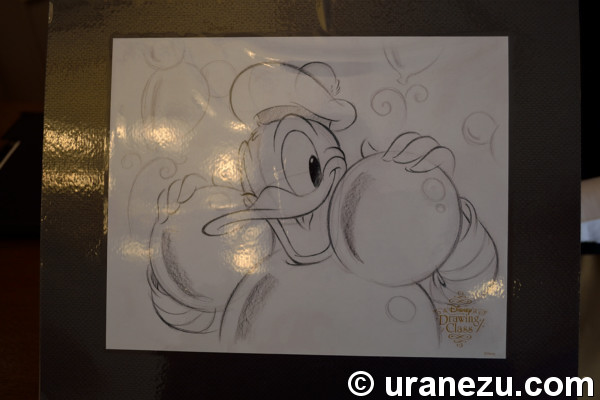 The fee is 500 JPY per person for 30 minutes class.
Why don't you try it?
Let's go to see the castle.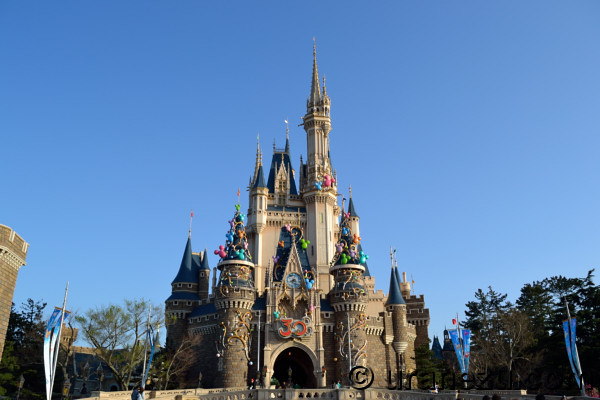 This is the TDL 30th anniversary decoration castle.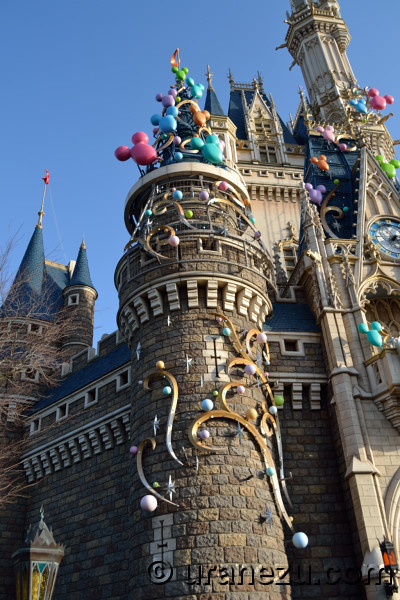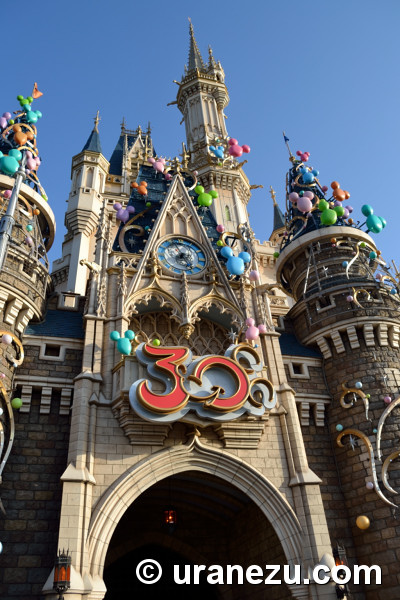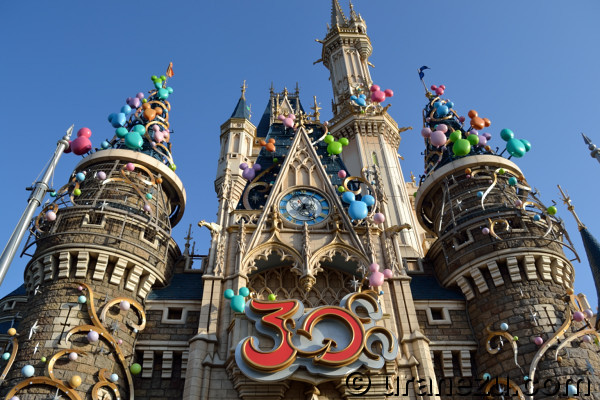 A hub the around the castle, there are pretty 30th banners.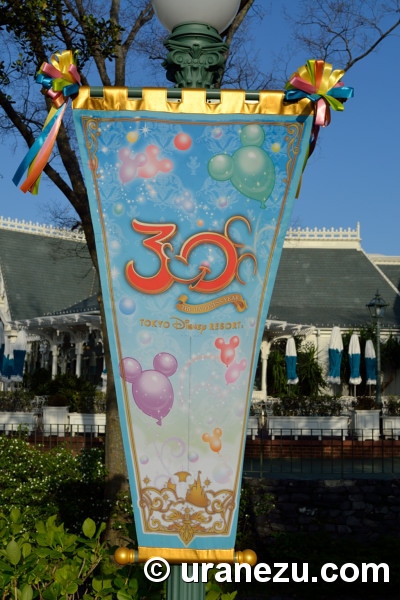 The banners are 30th main art design. We can find the character's costume details from them.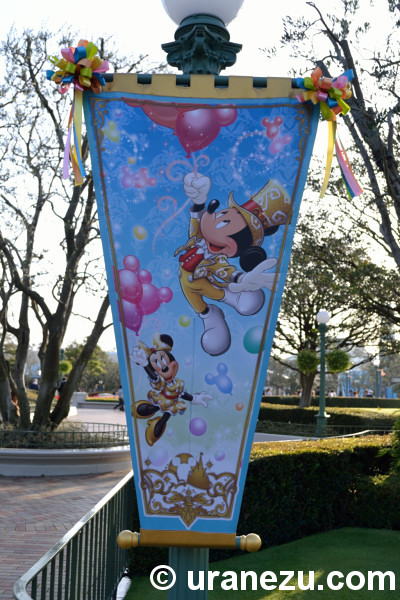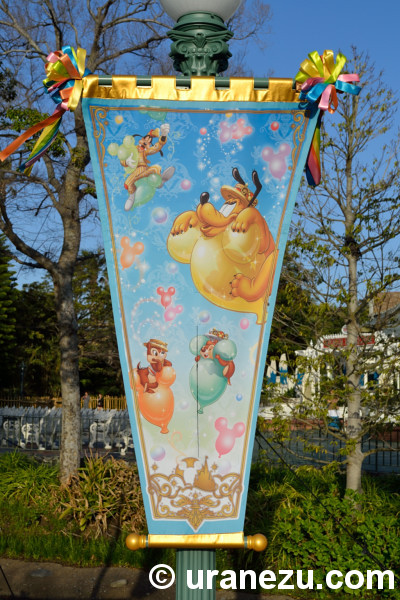 I will post more about TDL 30th anniversary in next week!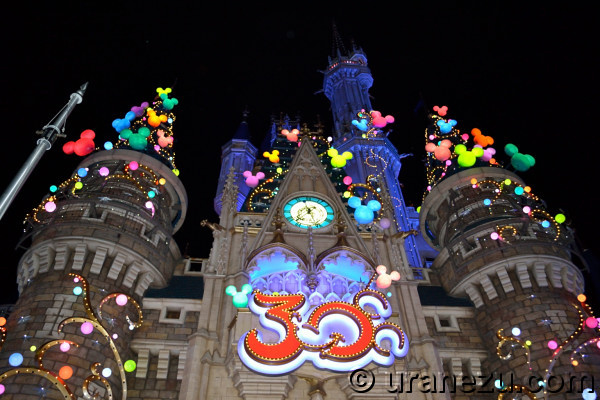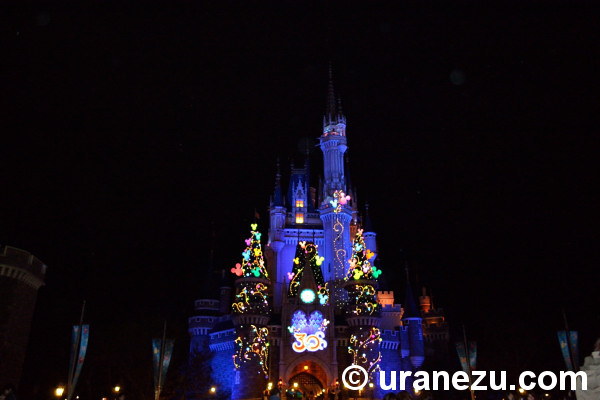 Good night!
If you have any questions, opinions and requests,
please contact us.
APR. 14 2013 about Thank You For Smoking.
I think many smokers always feel small, especially in the park. But, don't worry, still there are some smokers in the park.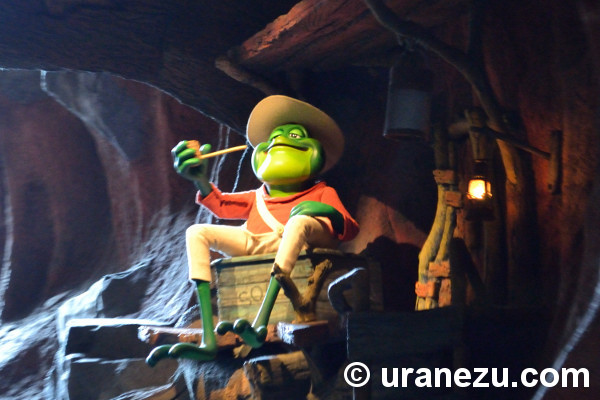 Like him,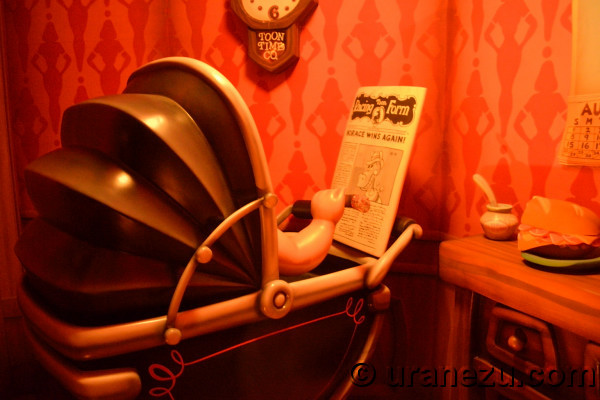 and like him!

(Brer Frog from "Splash Mountain" and Baby Herman from "Roger Rabbit's Car Toon Spin".)
Yes, today topic is a smoking room in TDL & TDS.
On March 30, a new smoking room opened in each park.
The new smoking room is located in Tomorrowland.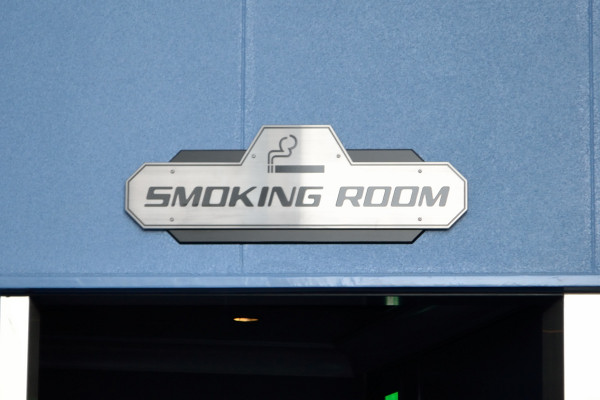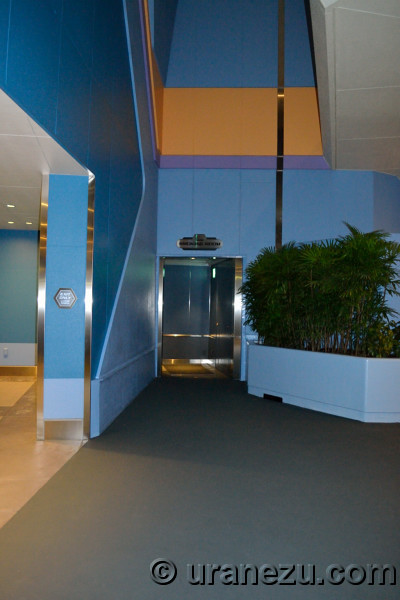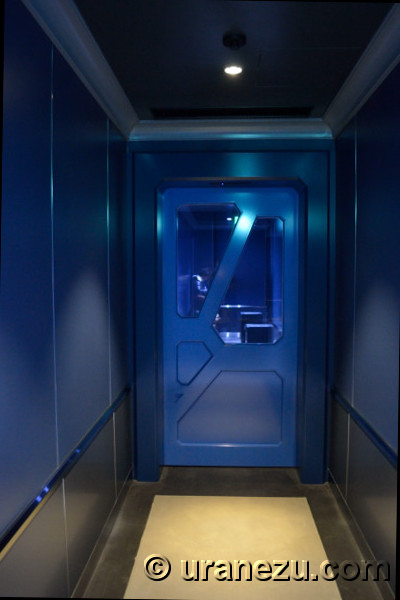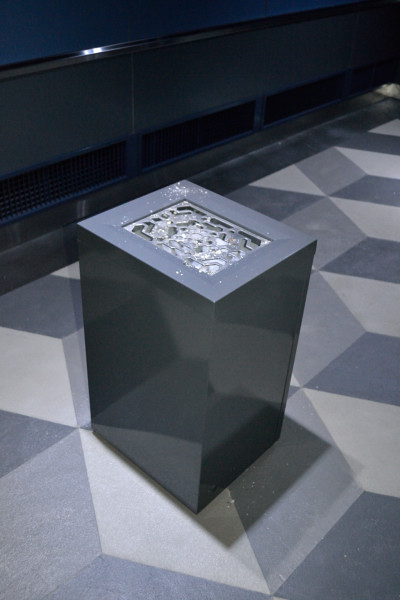 A custodial cast told me proudly that this smoking area is not only a place is new, but also has a new ventilation system. A smoke with a wind which sends from the under silent wafter sucked into the ceiling slot.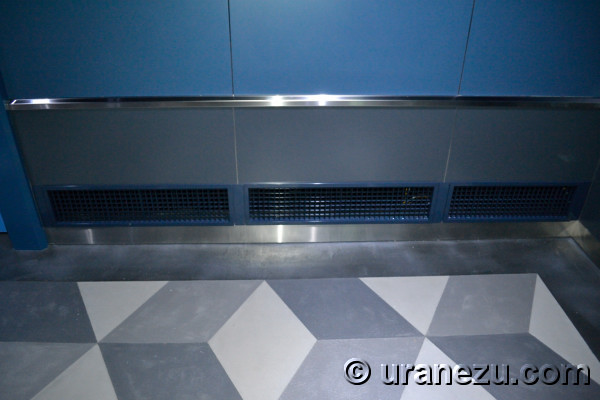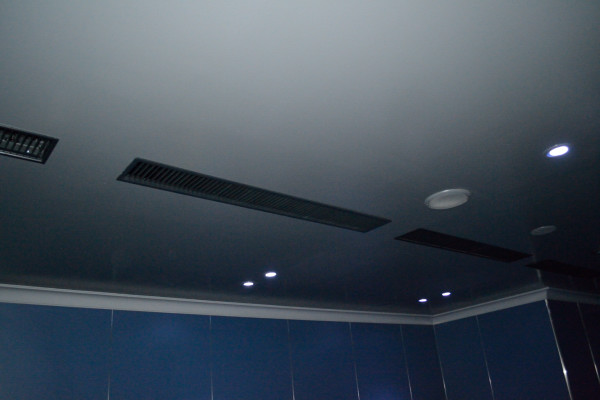 The left picture is the water on the floor, and the right one is ceiling slot.

The dark-tone LED lighting is very futuristic atmosphere.
It's very cool and very Tomorrowland-like smoking room.
And another new smoking room is located in Arabian Coast in TDS.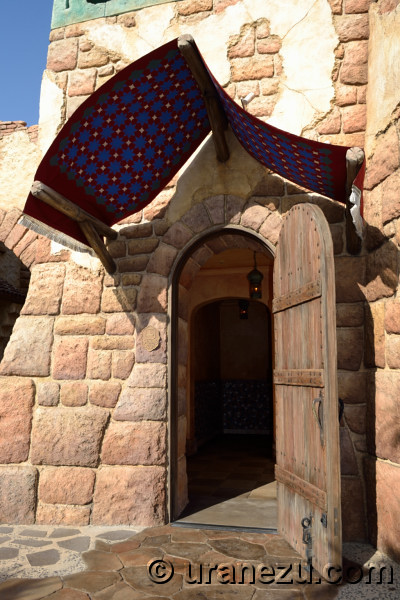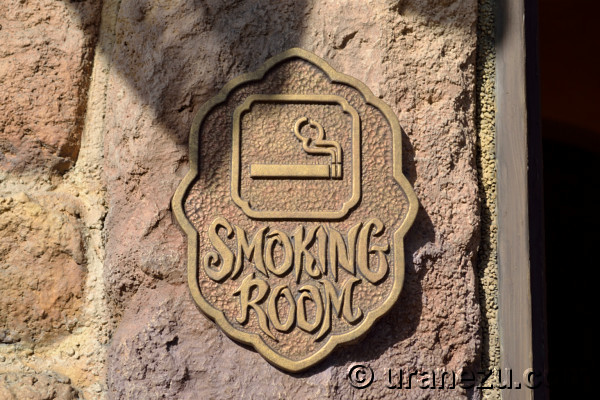 The door looks shabby, but it's automatic.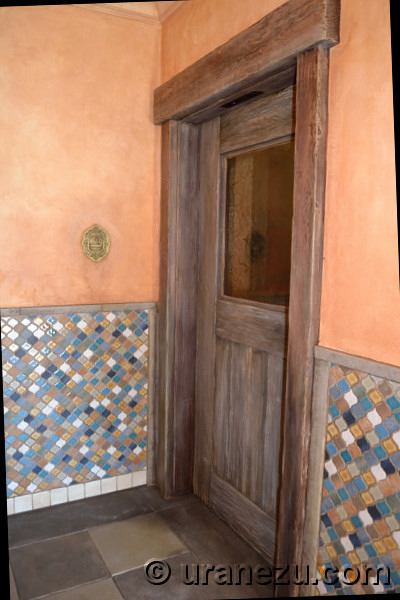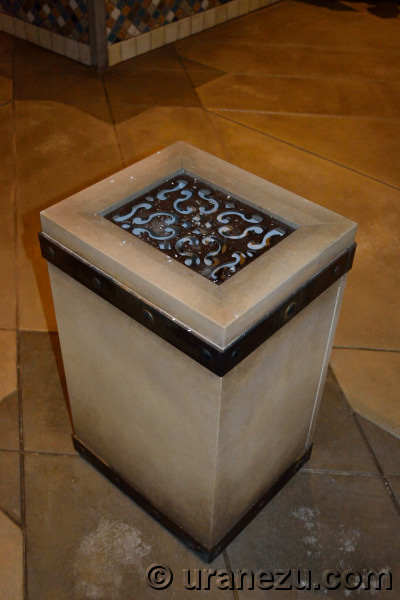 A beautiful frame work ashtray.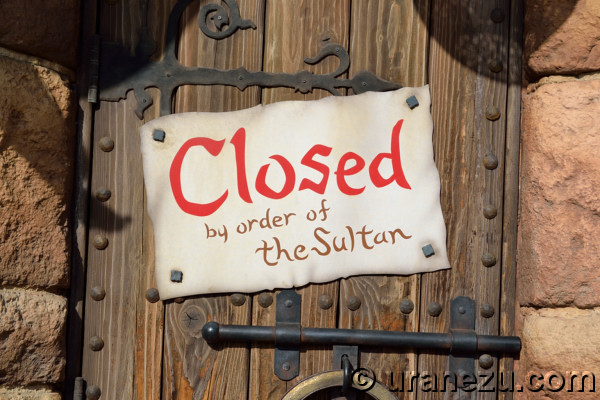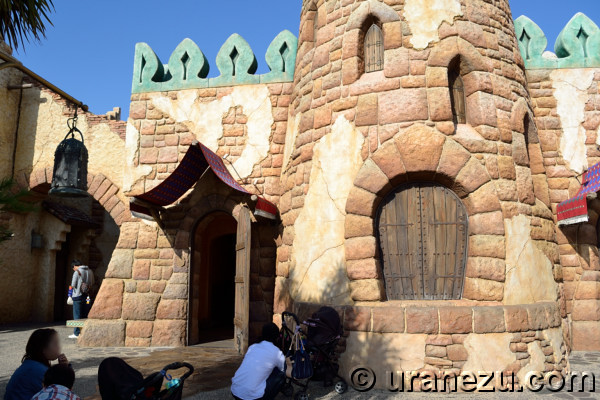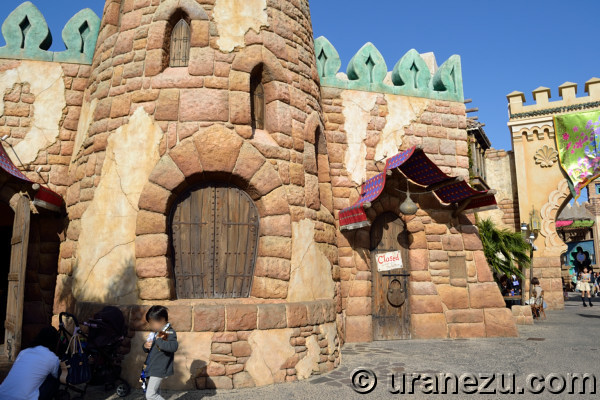 Don't mistake the room you go!
The next to the new smoking room is the entrance of "Jafer's Shop of Wonder"! Of course the door was tightly closed by Sultan's order, but still the door to avoid.
Another smoking room is located underneath "Electric Railway" the attraction in American Waterfront.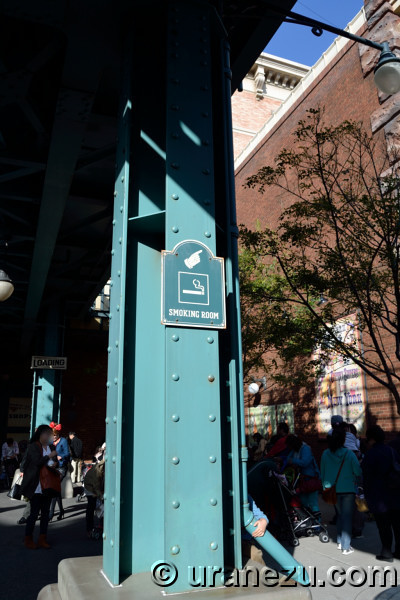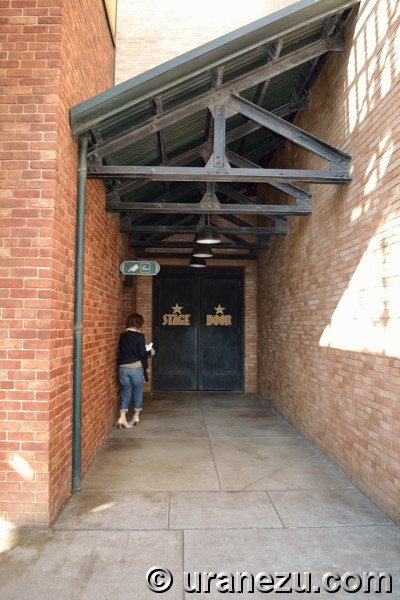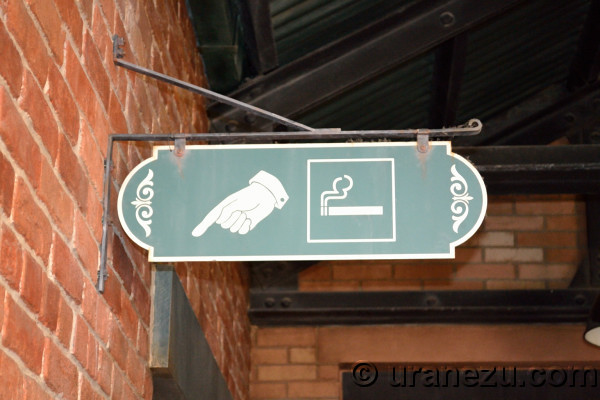 There were many smokers and the door moved all the time, so I'll try the door and some pics in next time.
And back to the TDL, I introduce another inside smoking room which (I believe) you may want to go and take a glance at, if you don't smoke.
It's Adventureland smoking room.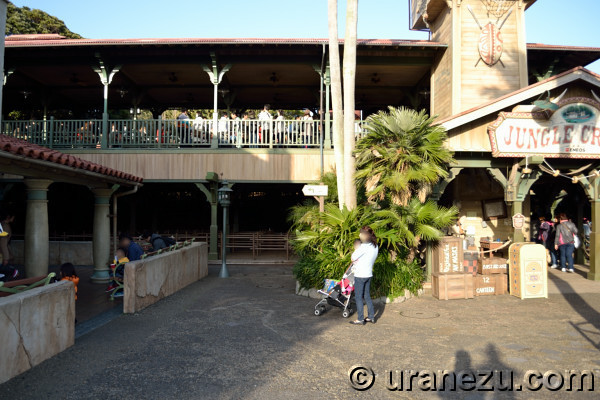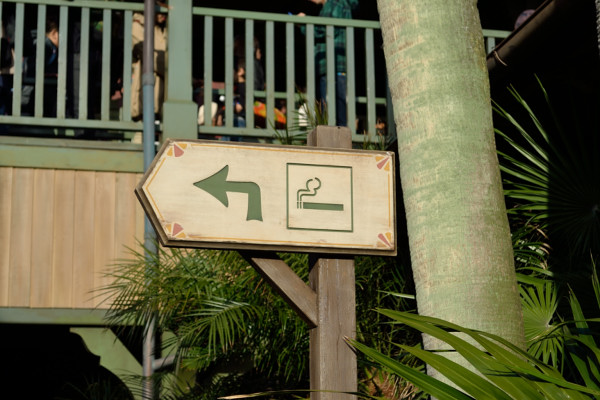 It's a long journey to the room.
The first sign post is located near "Jungle Cruise".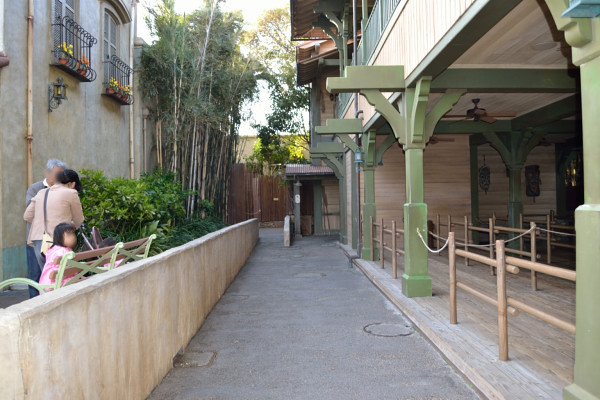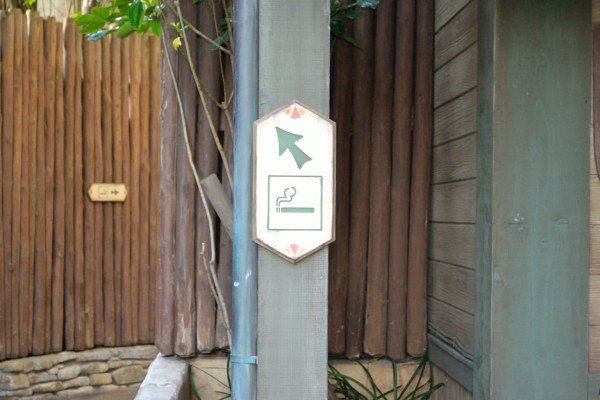 We through the side of "Jungle Cruise" queue line for a big holiday. The upper building is an arrival platform of "Western River Railroad".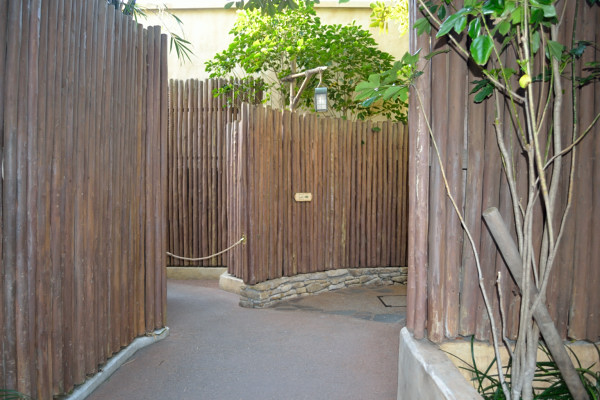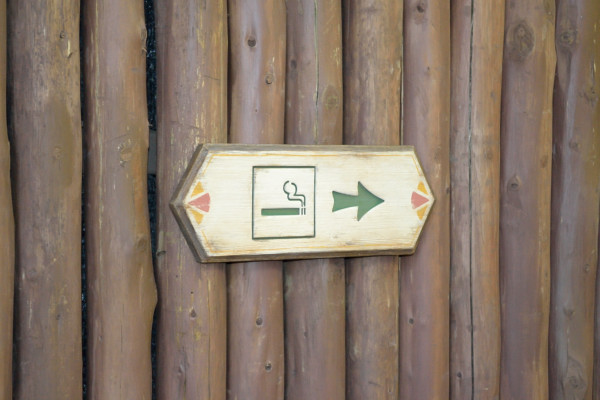 Is it like door to a backstage, isn't it?
Yes, this entrance once only used as cast members entrance.
The right side with the rope is the entrance to the backstage. We'll go to left side.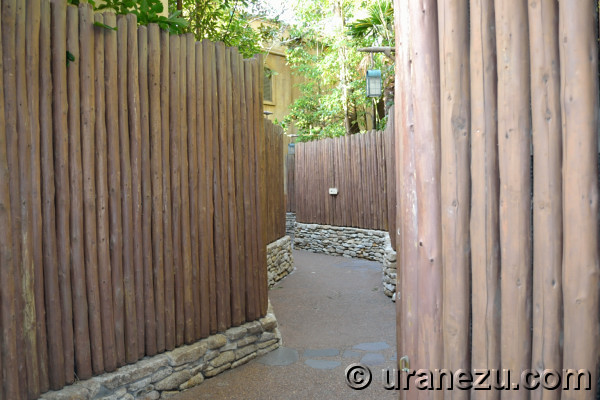 It's fun to walk the winding lane.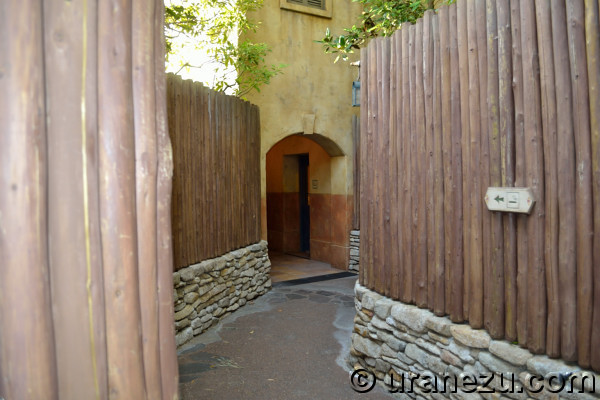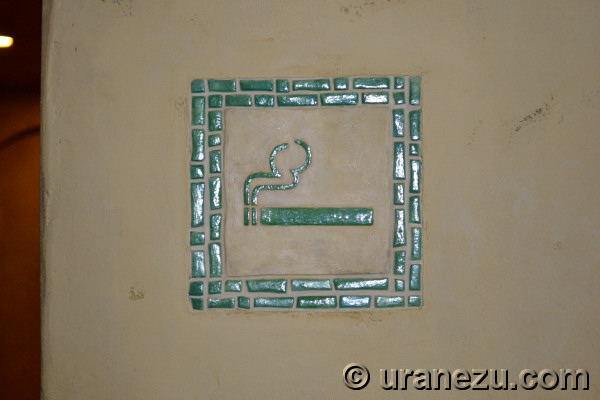 Finally, we reached our destination!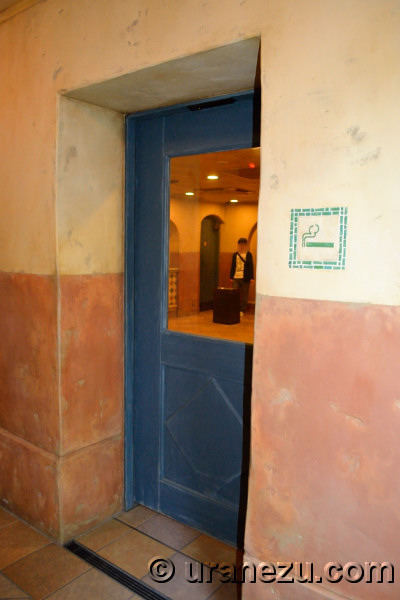 In Adventureland smoking room is a warm color decorating.
Now, there are 4 outside smoking area in TDL, and 6 in TDS. In the future, these area will be replaced a new inside smoking room. It's nice to a smoker and non-smoker.
If you have any questions, opinions and requests,
please contact us.