Park Now
>
Park Now Archive
> 2018 Spring Quarter Archive
---


Jun. 29 2018 Did you "Join the Fun"?


Jun. 15 2018 It's D.D.D. Months!


Jun. 02 2018 Three Refurbishes store in 35th TDL.


May. 20 2018 It's A Refurbished After All.


May. 04 2018 About TDS Easter (still going on now).


Apr. 21 2018 About TDL 35th Anniversary.


Apr. 11 2018 While ISW Is Sleeping.
If you have any questions, opinions and requests,
please contact us.
Jun. 29 2018 Did you "Join the Fun"?
We can still celebrate Donald Duck birthday in TDL and TDS. Yes, his actually birthday has passed already, but we'll able to join his special day, I mean "Months" especially TDL.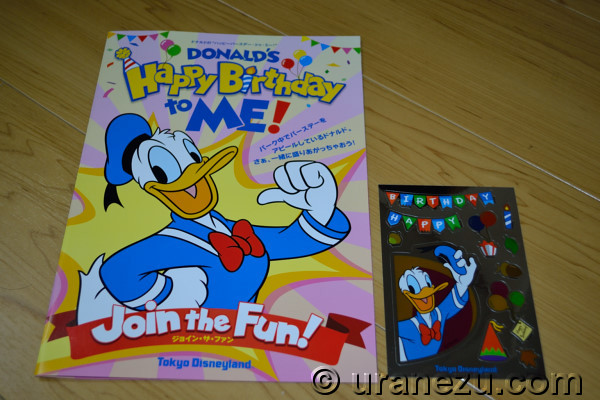 So, today I'd like to share with you how his birthday party took place in the park.
He is decorated his boat very brightly.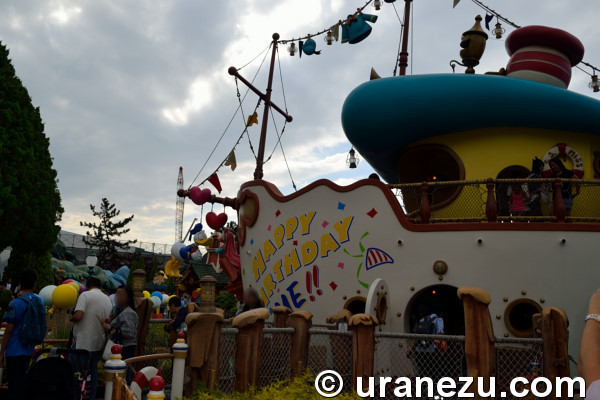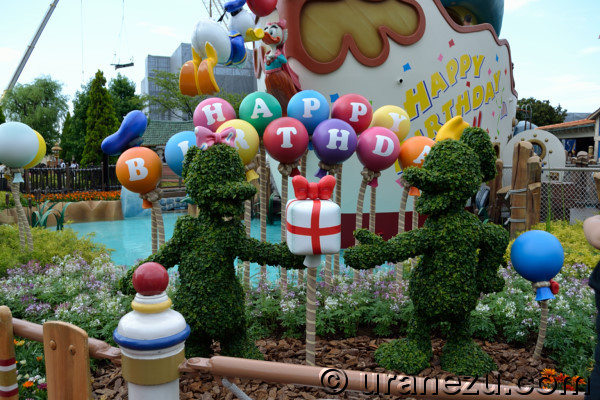 I understood how Daisy is attractive, but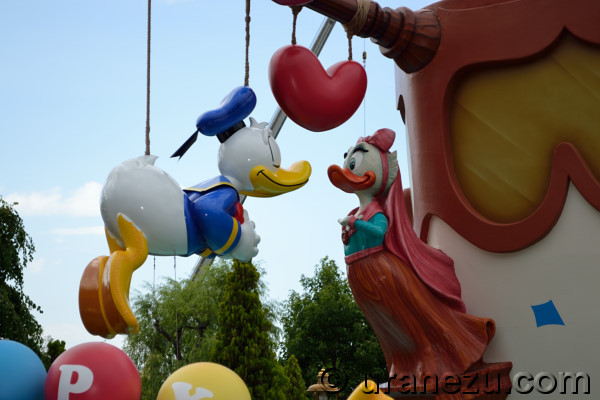 Donald you're jam in! I think it's little bit difficult that Daisy the figurehead to guide the course without a view.
Donald set his birthday request everywhere in Toontown.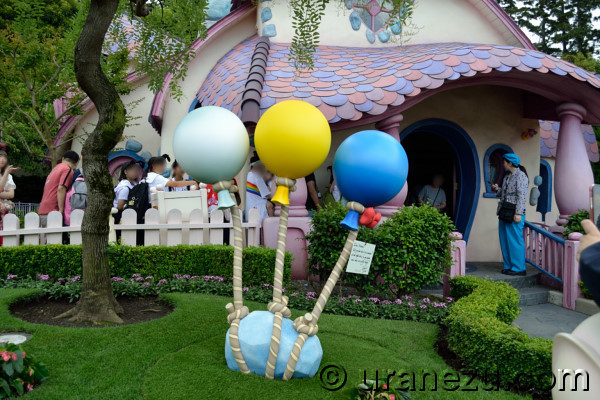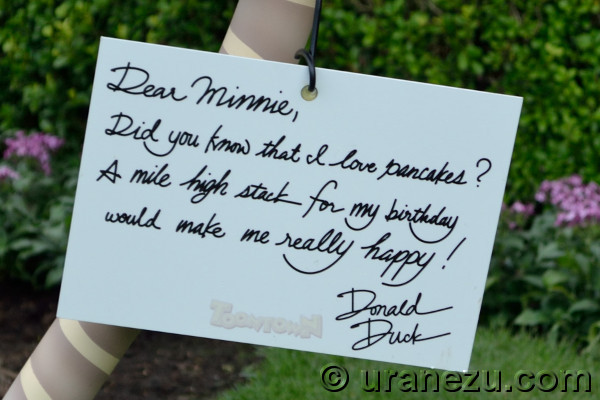 The balloon with his wishing card in front of Minnie's house. I hope see how high the pancakes she'll make.
Sounds fun fishing invitation for Goofy.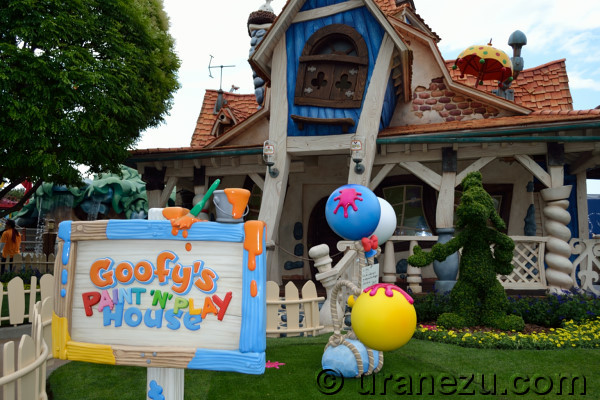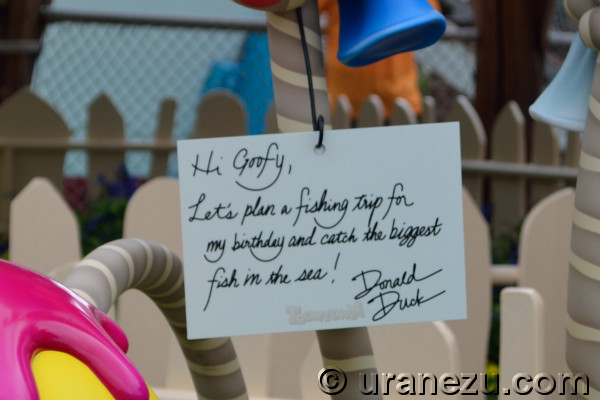 Donald might be enjoy Goofy's paint game, because the ink splash near the balloon.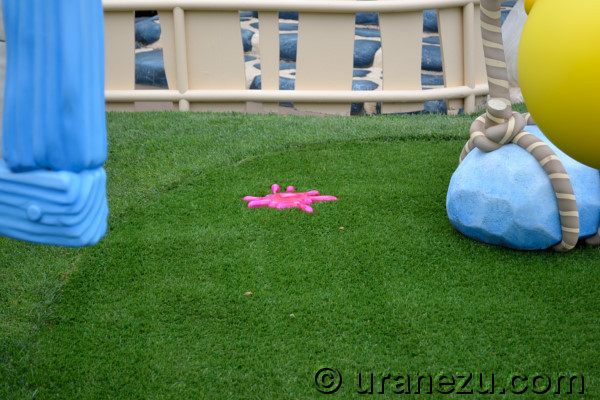 It's miracle splash!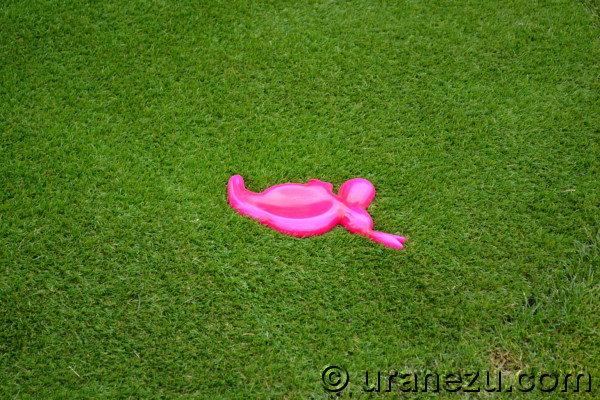 What's his request for Mickey?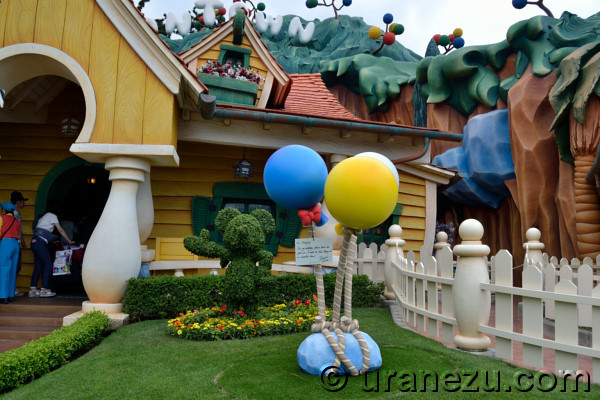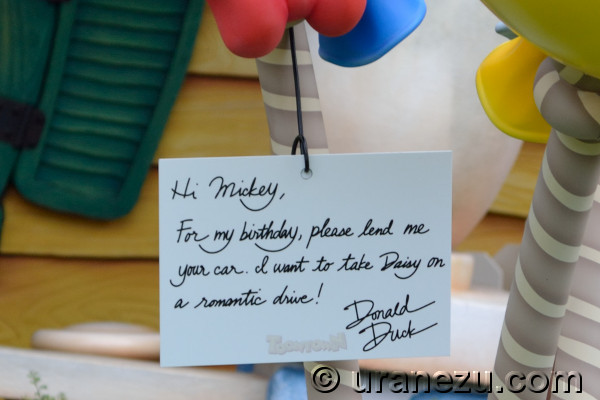 I see for driving date with Daisy.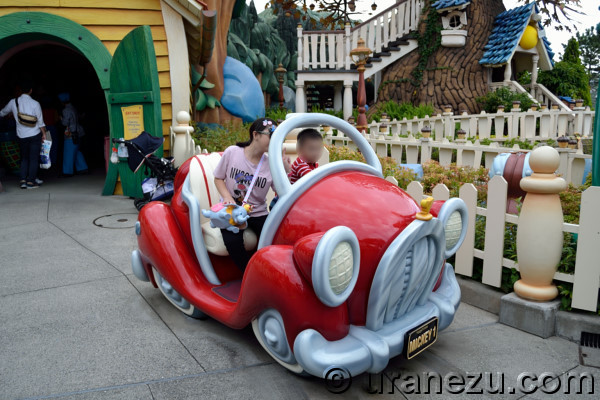 But are you OK with the number plate, "Mickey No.1"?
He pushed the balloon into Chip and Dale's house.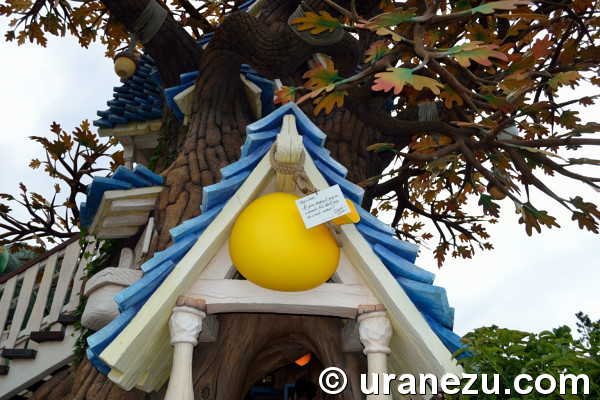 But his message is sweet than my expectation.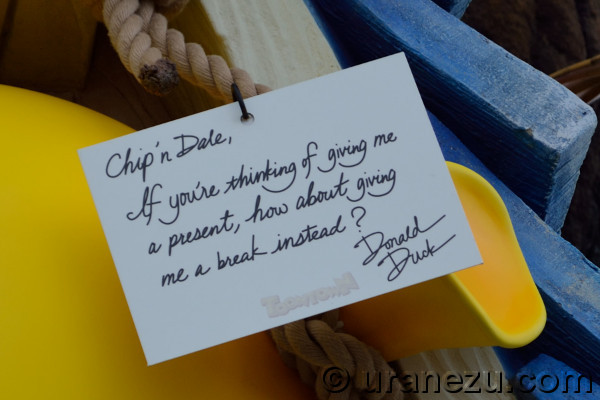 Or is their prank so tense?
The nephew's took place his birthday at Camp Woodchuck.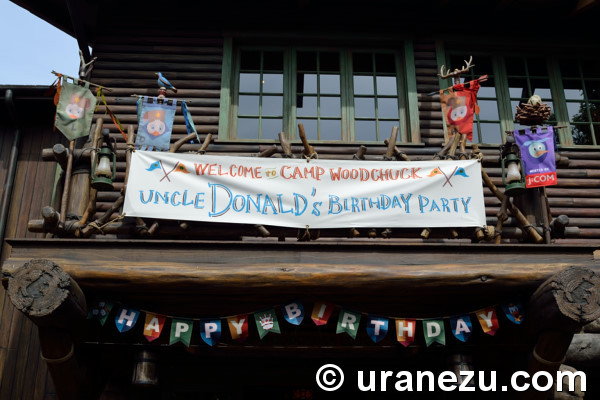 There are special garland on the ceiling.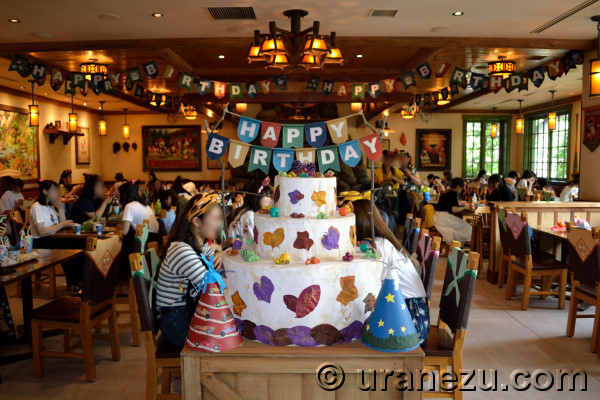 And the cake is made by painted stacked stumps. It's really nice idea! Good Job all three!
Of course, you can see the decoration for Donald in TDS.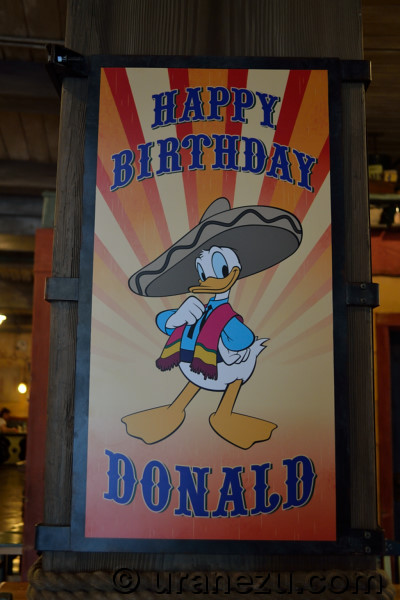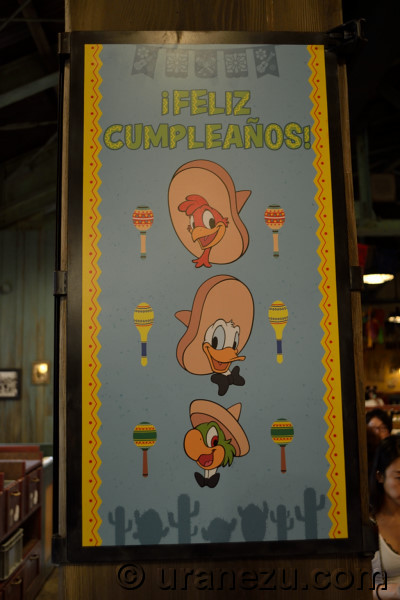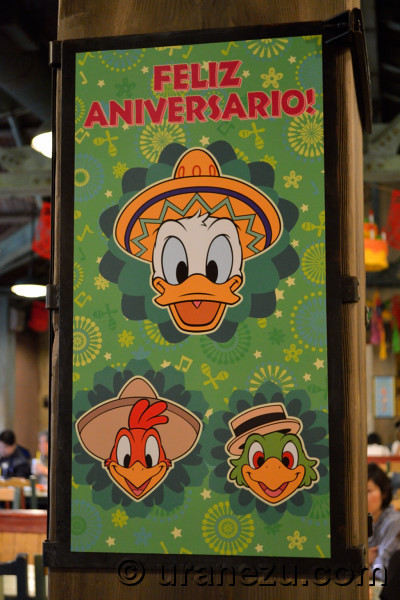 These special banners are located in Miguel's Eldorado Cantina the restaurant.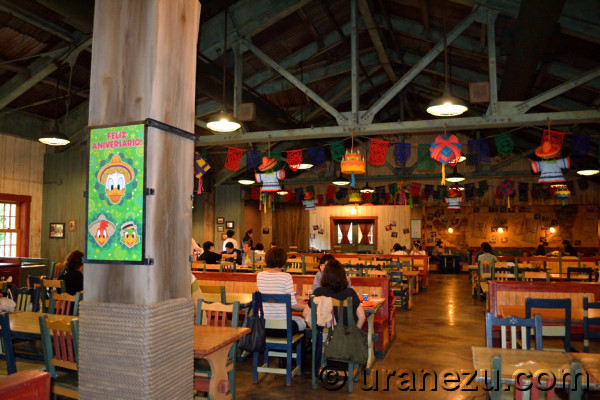 Outside this eatery, there is Aniversario cactus jugo!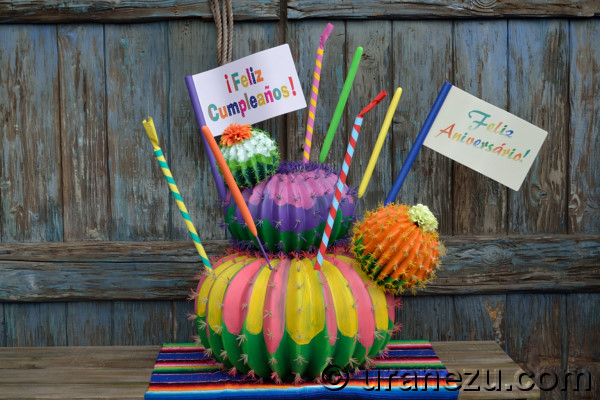 The above is Pinatas!!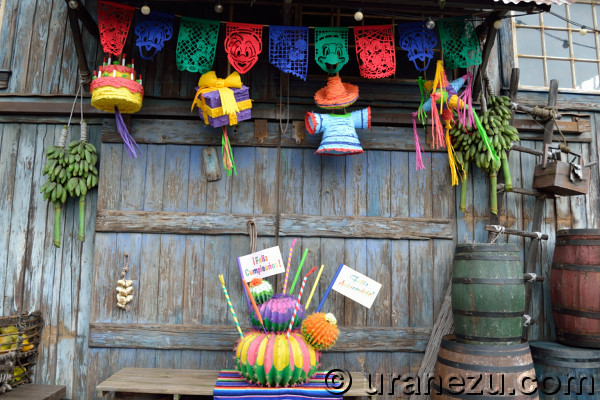 Oh, I'd like to strike the birthday cake pinata!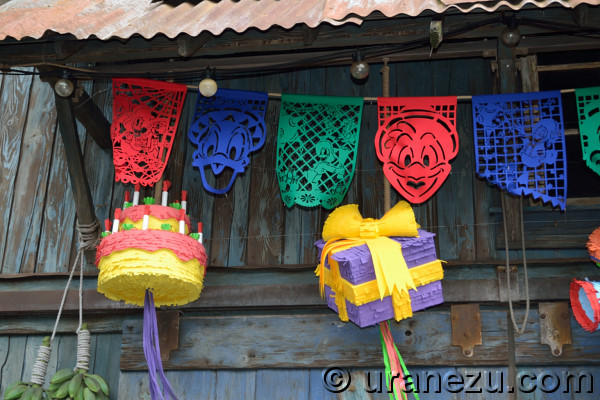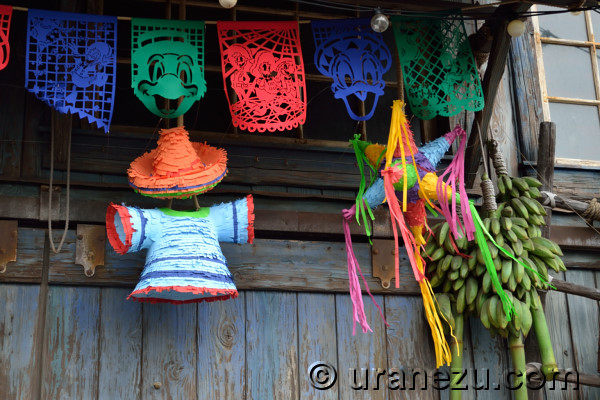 Have a Happy Birthday, Donald!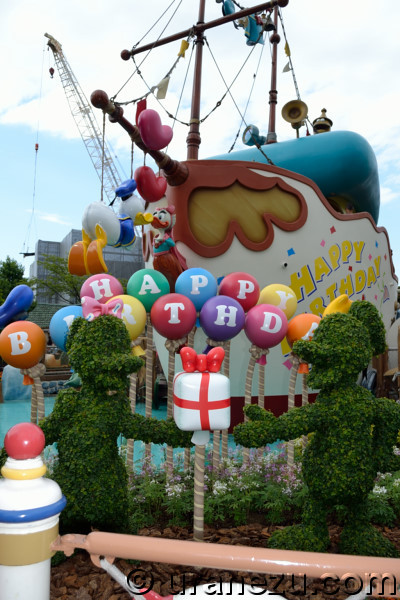 If you have any questions, opinions and requests,
please contact us.
Jun. 15 2018 It's D.D.D. Months!
Hello, everyone! It's DDD Month!
What's the DDD stands for?
- It's Donate for Donald Duck.

Why do we donate for him?
- Because his birthday is 9th June, and he is a nephew of Scrooge McDuck.

What shall we do actually?
- We will be able to get named "Join the Fun" the birthday anniversary kit for 1,500 JPY for Donald Duck in TDL or TDS, if you'd like to buy love for him.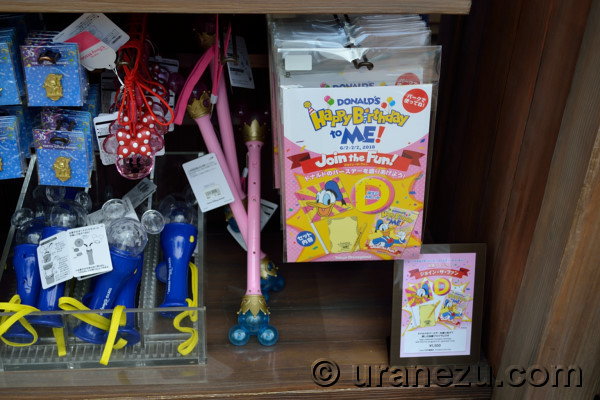 The kit include a special button, special mini flag, a special scavenger hunt map, a special sticker (after the hunting), and a respond from Donald guarantee birthday card. (If you post a message to Donald on the special card at the park post, you'll get a thanks letter from him.)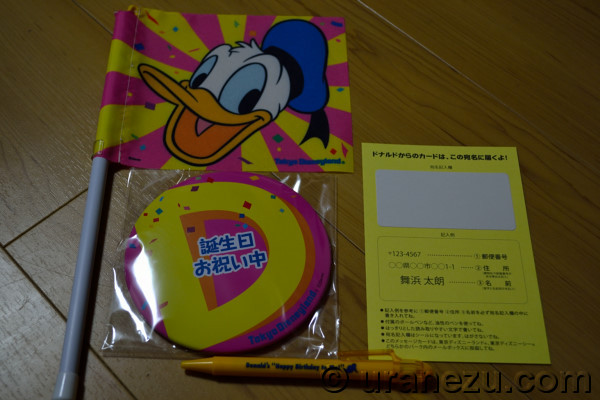 The kit in each park is same design, but TDL kit is pinkish, TDS is blueish, and the quiz is different in each park.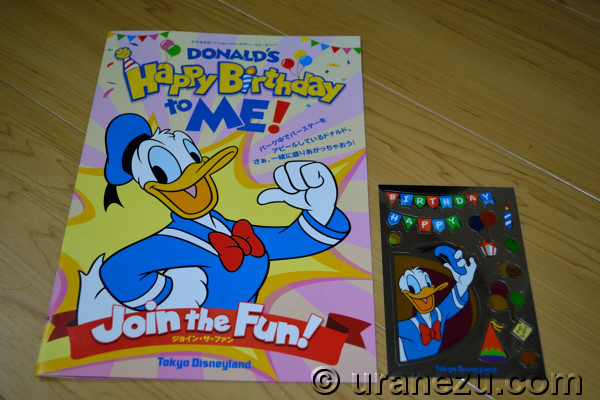 Follow and find six Donald posters from the map.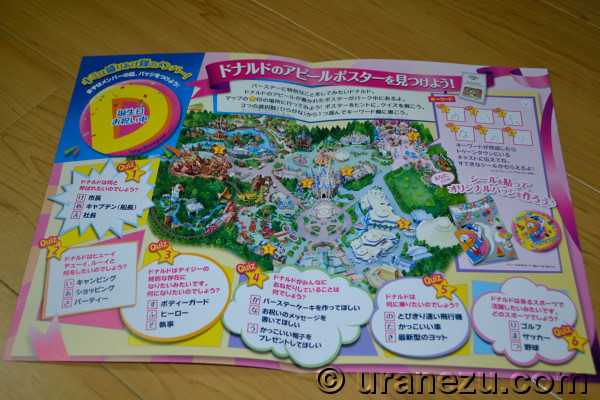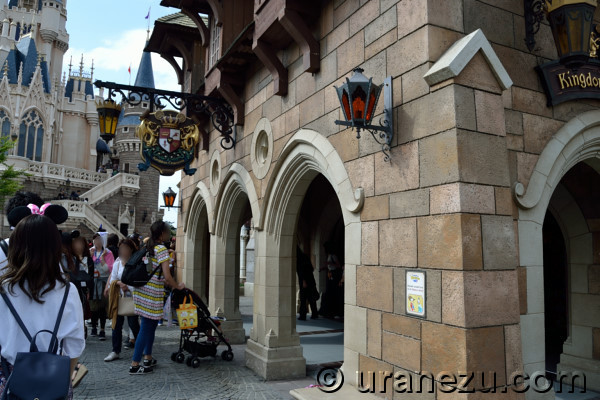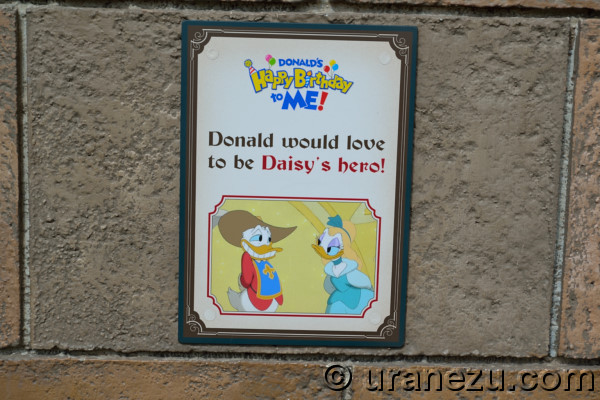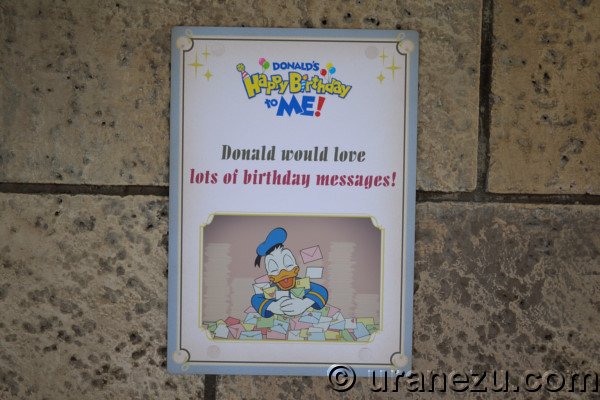 And pick the right word on the map by reference to the poster.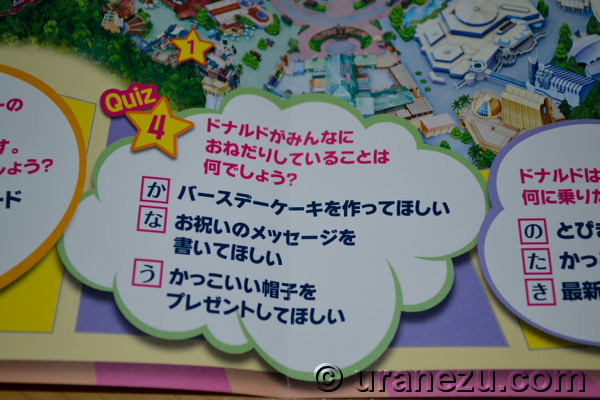 Then you can see a keyword.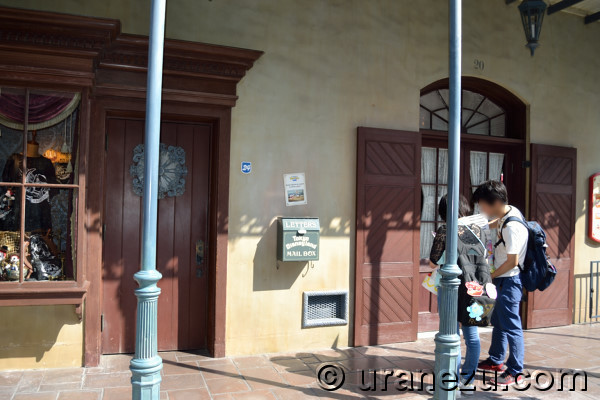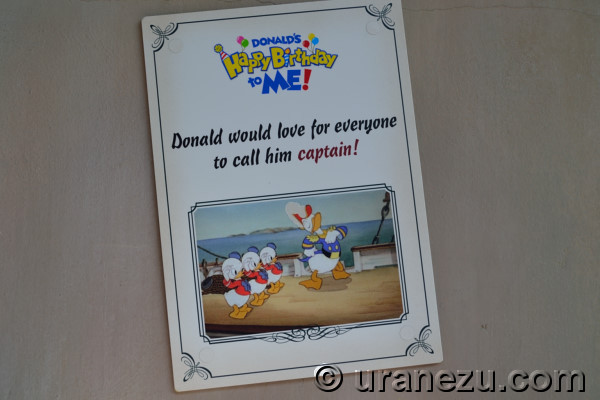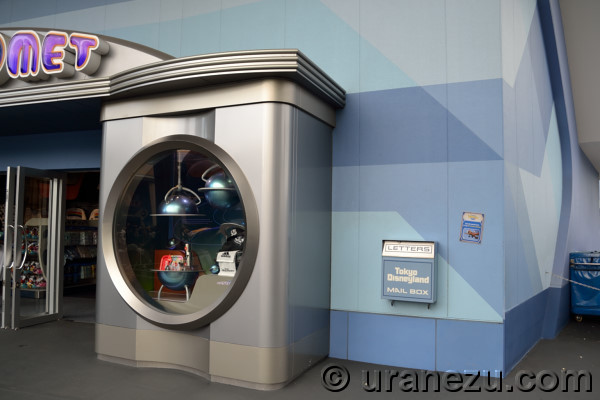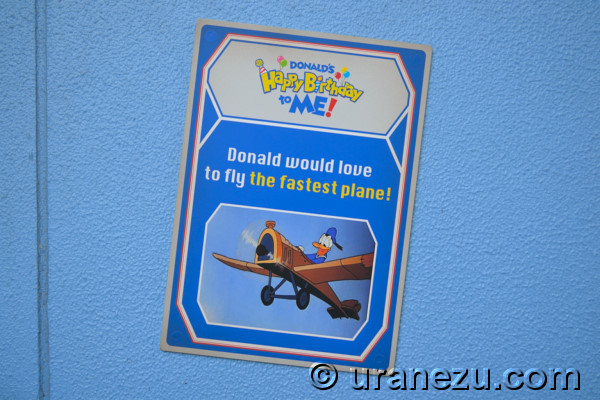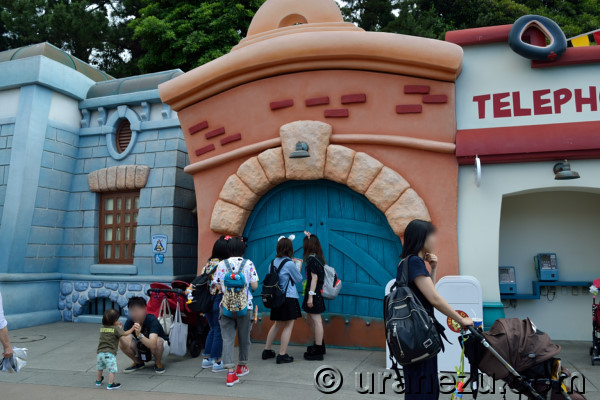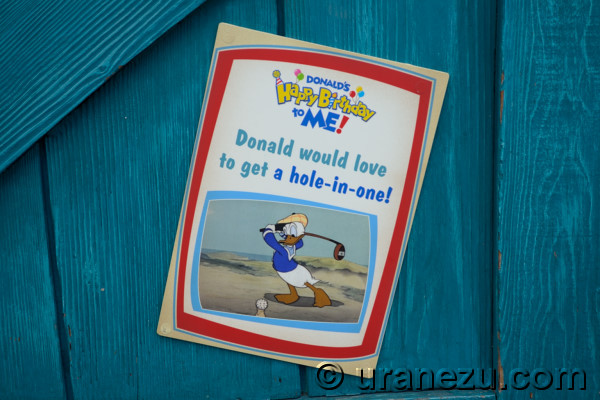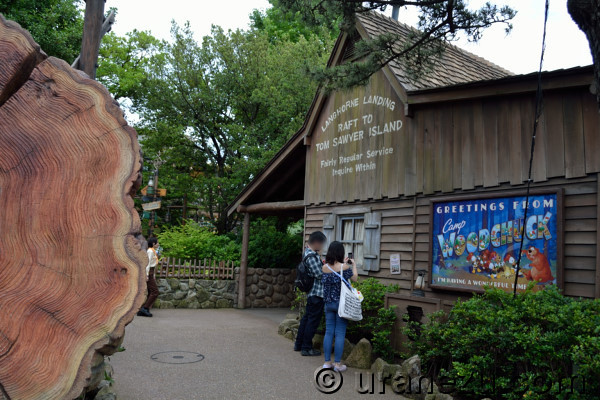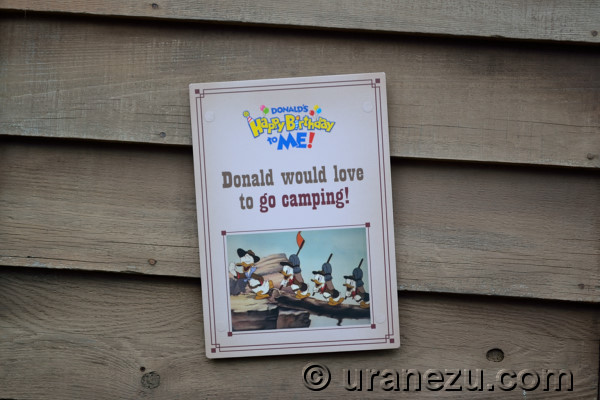 As you can see, these posters in the park are written only in English, but the keyword which have to find the right word is Japanese…It's great challenge that write a hiragana character for foreigner.
It's quite surprised to me this paid campaign has launched in the park. I think this too direct event might be a controversial, which to express a love for Disney friend in cash. Why did they name the paid game for Donald's birthday as "Join the Fun"? It sound "Pay, then you can join his birthday"! Yeah, I know he is celebrity, so that's true.
Anyway, if Donald will be happy by a little money of me, I'll do it again…
The "Join the Fun" kit is sold to 7th July, so I named it as DDD (Donate for Donald Duck) Month.
So let's come and pay, then celebrate Donald's birthday in TDR!
If you have any questions, opinions and requests,
please contact us.
Jun. 02 2018 Three Refurbishes store in 35th TDL.
There are three shops were rebirth on 15 April.
One shop is confectionary in World Bazaar, another one is kids clothing store in Fantasyland, and the last one is food counter in Fantasyland.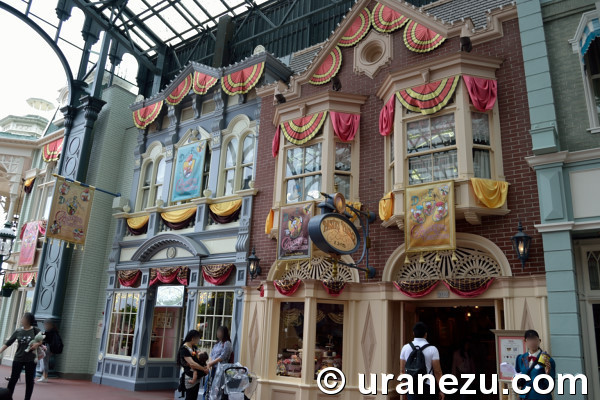 Before I start the renewed store, I'd like to share a chocolate crunch.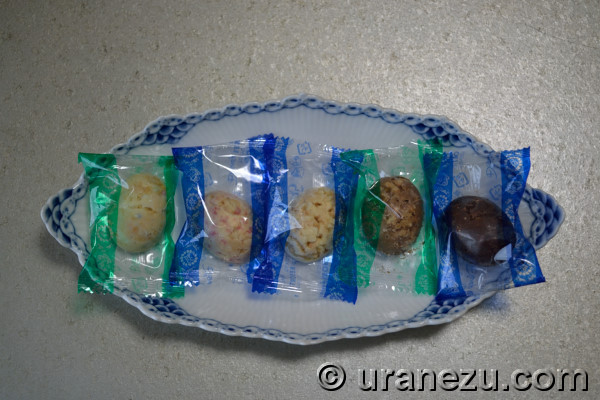 This chocolate crunch is one of a popular souvenir confectionary in TDR.
It's bite-sized chocolate covered cereal chunk.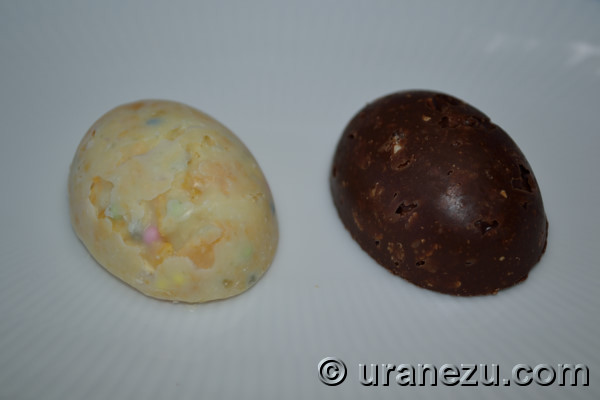 They always launched it with a special design tin can in every event.
A lovely sweet store which called "Pastry Palace"(the sign is remain, but the concept and theme is completely changed) has gone, then "Duck Family Chocolate Competition" the chocolate crunch shop has opened, instead.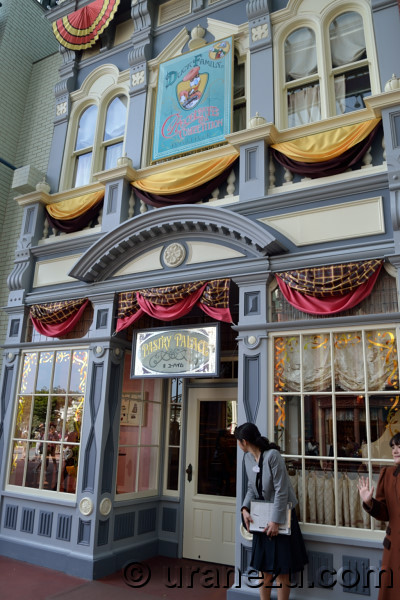 This is create of your own chocolate crunch shop.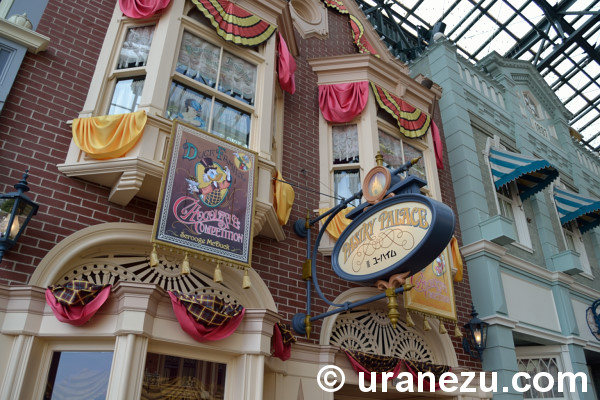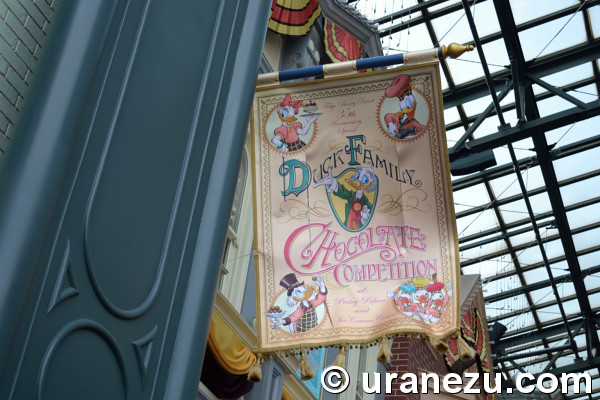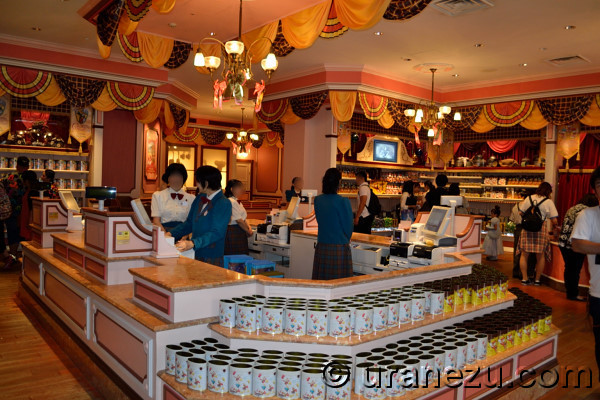 First, you can choice a lid and tin can from 3 designs.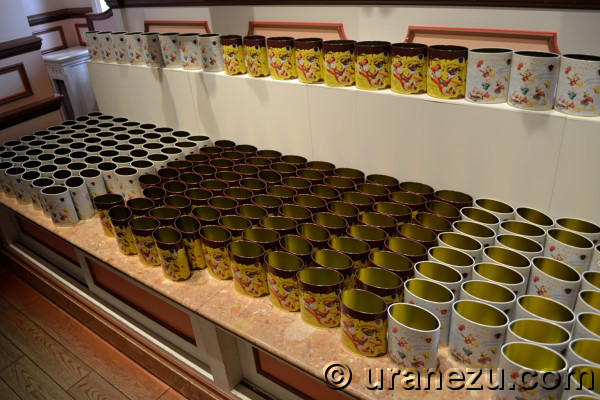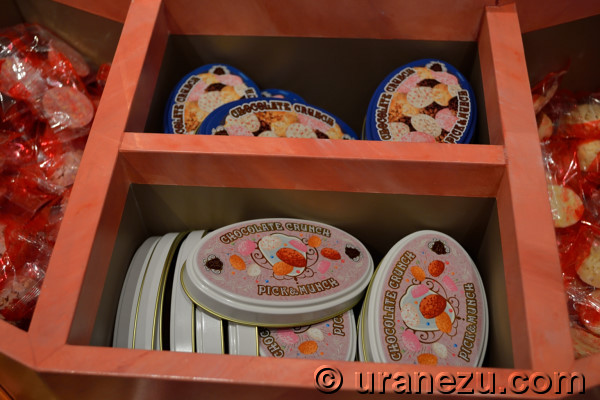 You can pick your favorite 18 pieces chocolate crunch from 6 flavors.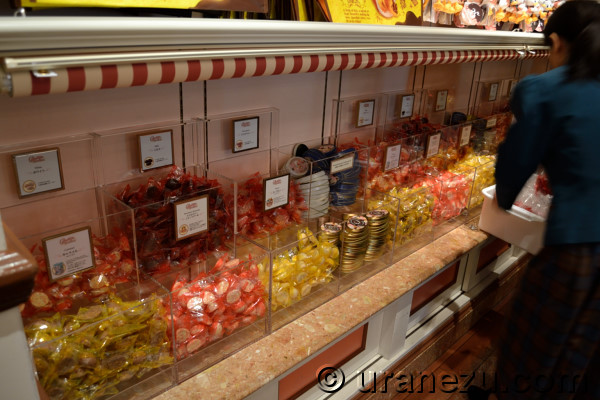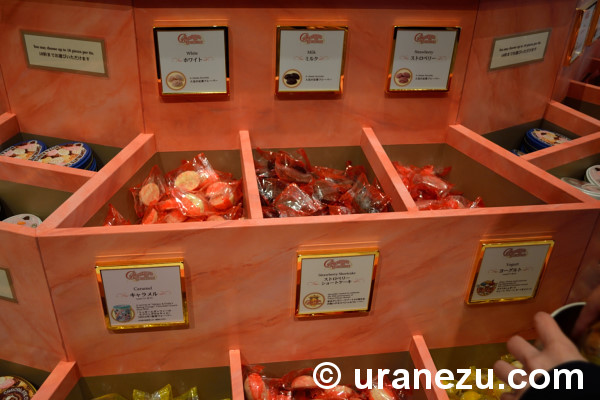 Milk, Strawberry, White, Strawberry Shortcake, Caramel, Yogurt. The Strawberry Shortcake is TDL 35th special flavor, Caramel and Yogurt is time limited flavors by 7th July.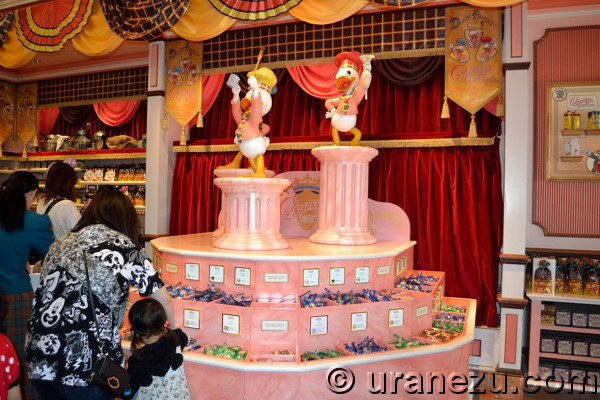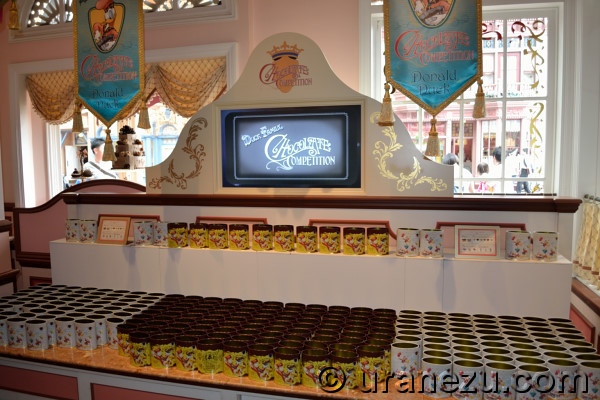 Don't worry, if you can't be bothered the picking in busy store which is packed with many guests, you will be able to get a complete package.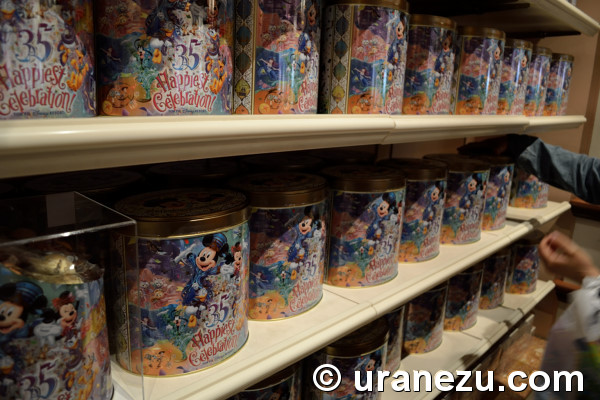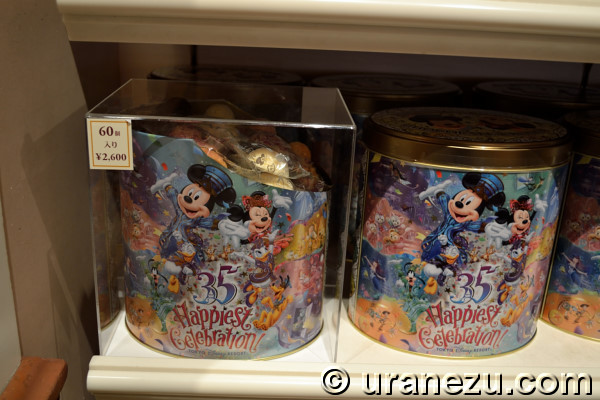 The above is big sized chocolate crunch. 60 pieces in it for ¥2,600. Pick & Mix (oh, I'm sorry that is Lindt chocolate store.), Pick & Munch in TDL chocolate crunch is 18 pieces for ¥1,500.
What do you think?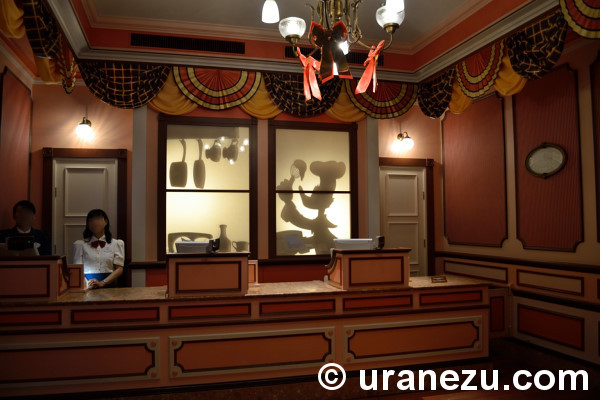 The next to the chocolate crunch store, you can get a special cool treat with this chocolate crunch.
So many TV crews and reporters occupied the seating area to shoot new foods or merchandises.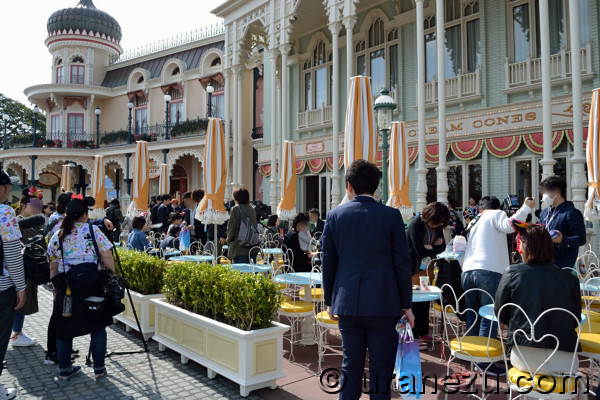 I'm not sure that they needed to do during the park operation hour.
One TV in Japan broadcasted that Disney character in TDL introduced Pluto as Goofy, Alice as Cinderella, and Anna as Elsa!
It's slightly disgusting that these TV news gathering activities hold sway over in TDL or TDS, neither they are interested in Disney nor report them correctly.
But TV advertising brings lots of people to the park and makes big amount of money, so TDR always focus more energy on them than annual pass holders.
So it can't be helped to keep TDR park operate stable.

Let's move on to another reopened store.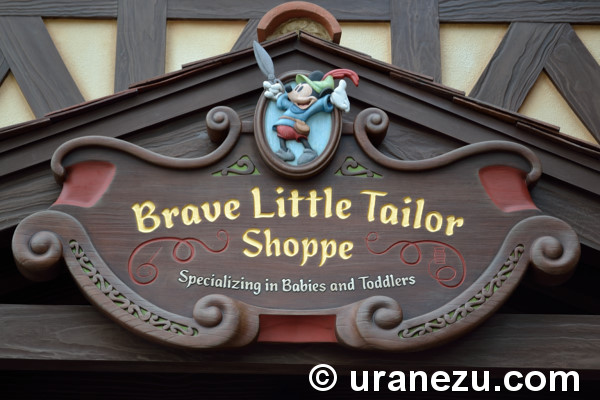 The shop rebirthed as "Brave Little Tailor Shoppe" from the original store was named "Baby Mine".
The inside was not so special, but the window and store sign were very lovely and perfect match for the kid's apparel store.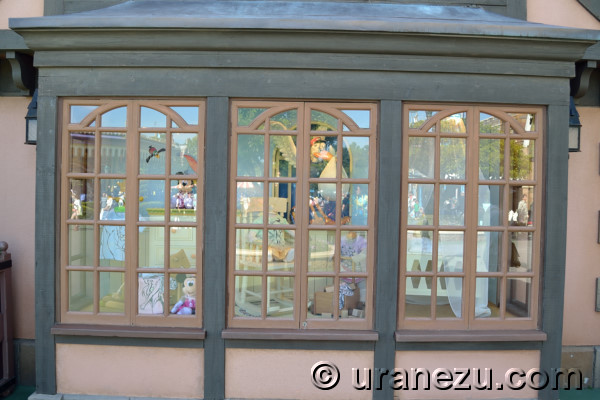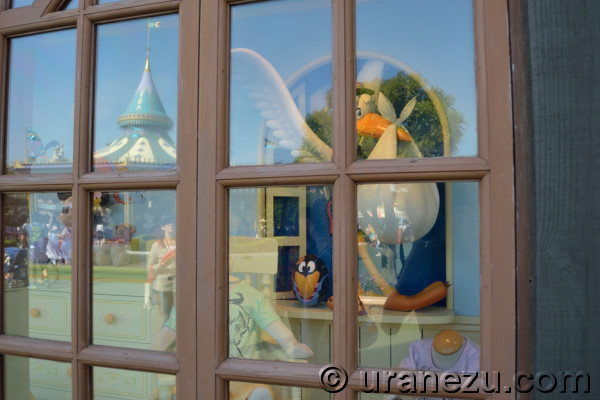 Now the window is changed to new shop theme.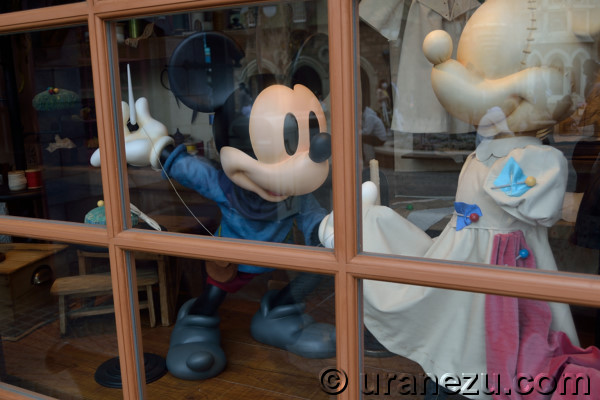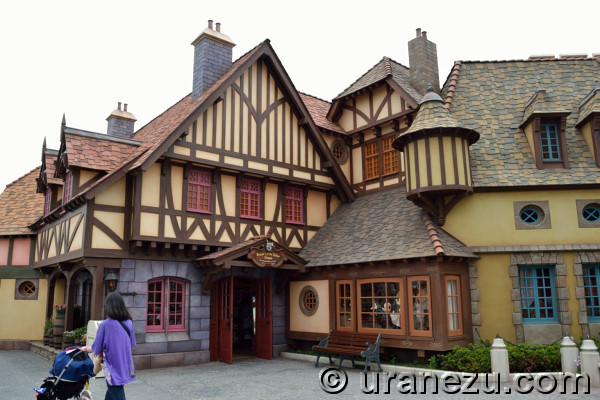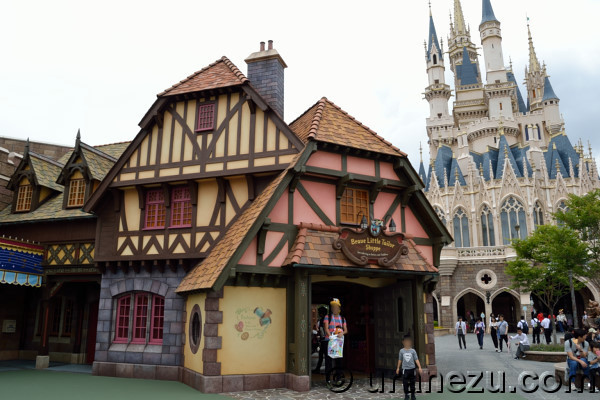 This new themed store changed its layout of the inside, and it turned out to easy access with stroller or many guests.

There are lovely decorations in the shoppe.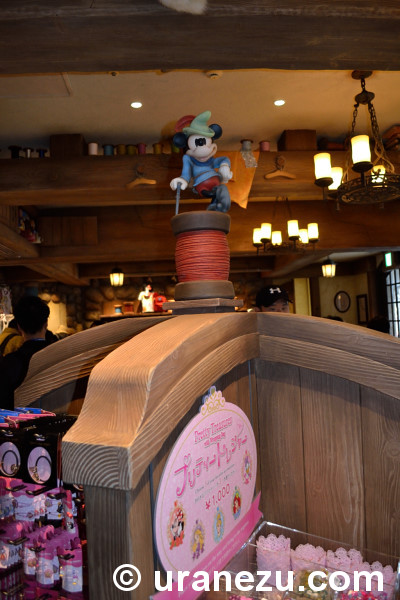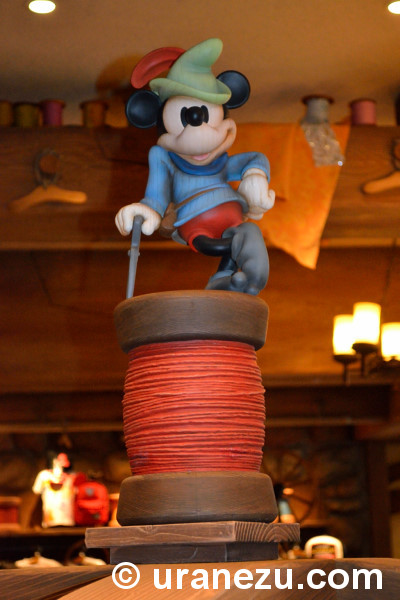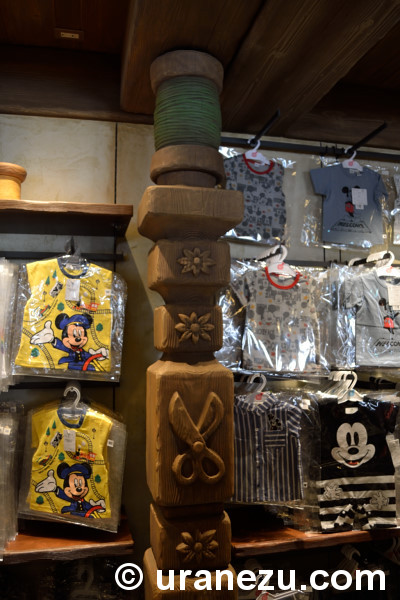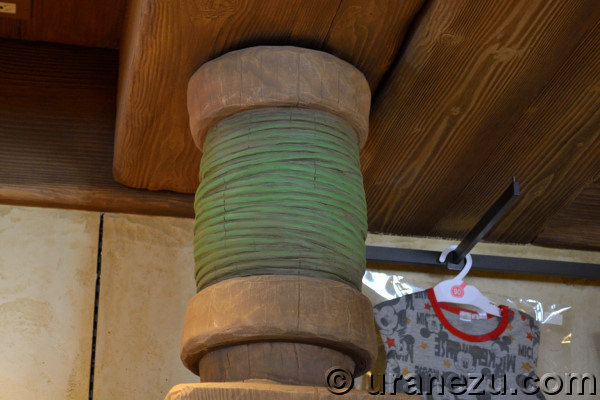 I like the column, but which is little bit taste of Snow White.

Also there are many beautiful gowns and dresses in the shop.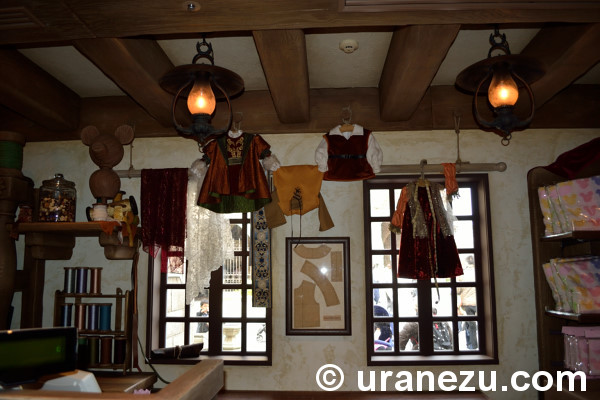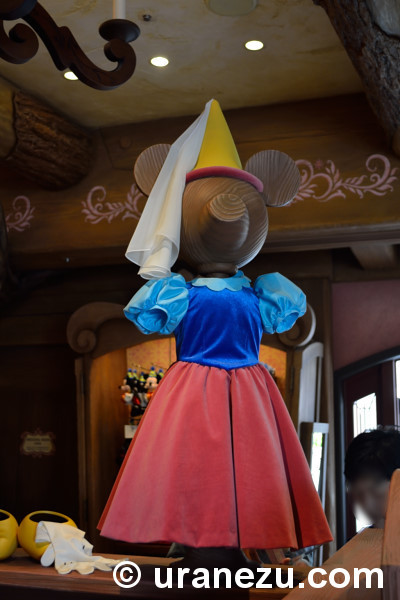 Above these medieval dresses are perfect match for the "Brave Little Tailor Shoppe". But I think the bellows another princesses gowns are too much and far from the store's theme.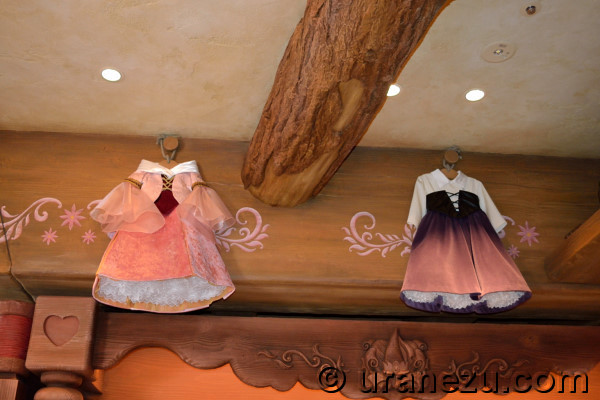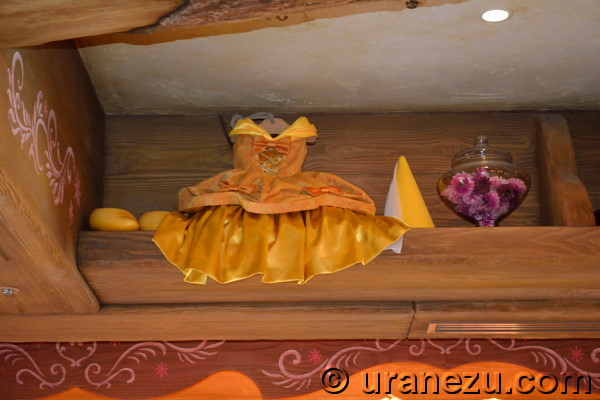 Anyway, they're lovely so that seemed be OK.
I missed the original store very much, but this changing is very welcomed.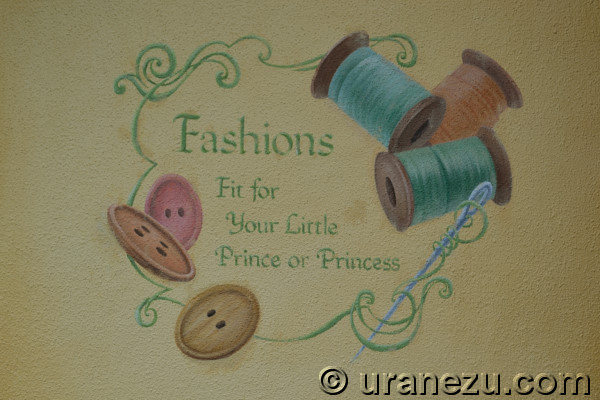 These T-shirt design remind me…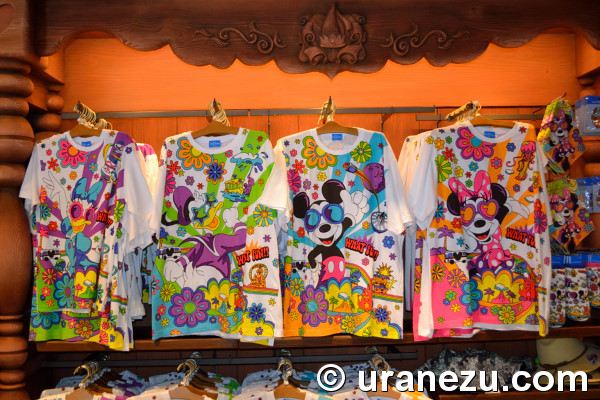 The latest Opening of Osomatsu-san…
The last refurbished shop named "Magical Market" the food counter from "Fantasy Gift" the souvenir corner.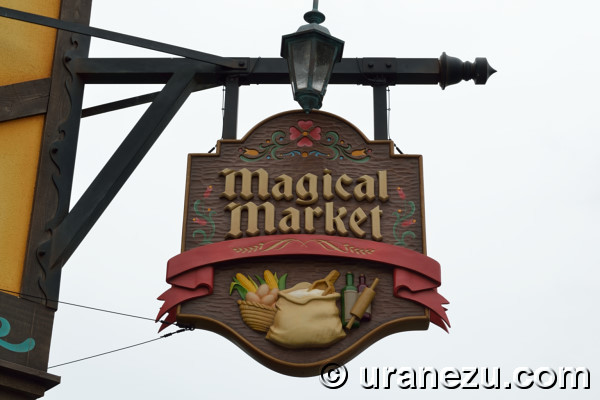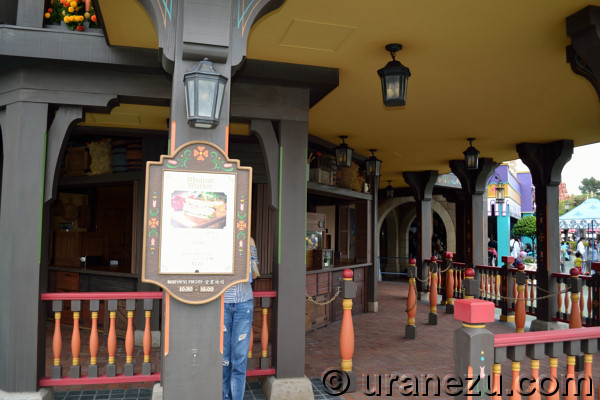 The eatery name sounds wonderful, but I couldn't find any special magical thing to me. I'll report the background story of this "Magical Market", and why they did name as it.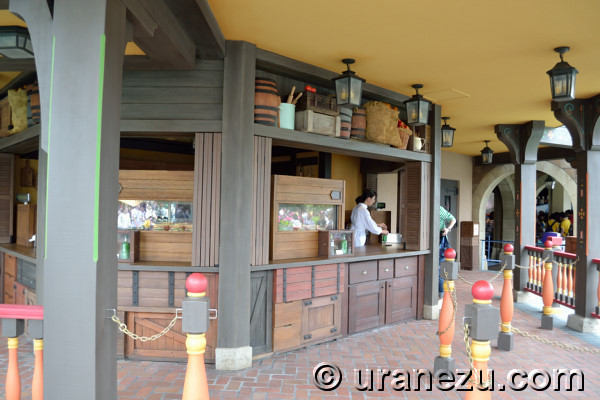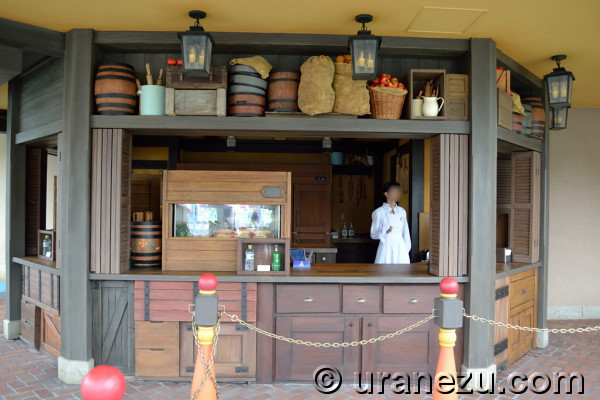 There is no food samples, no menu board on the cashier.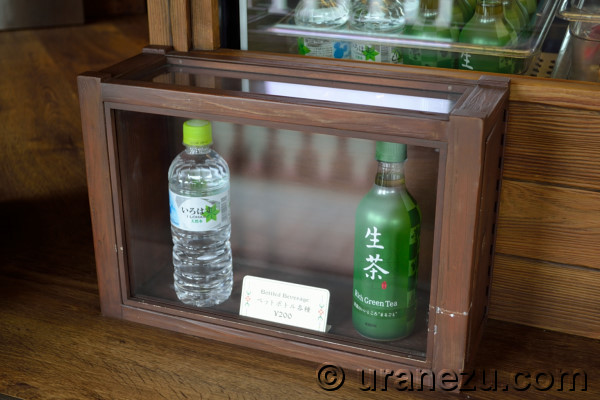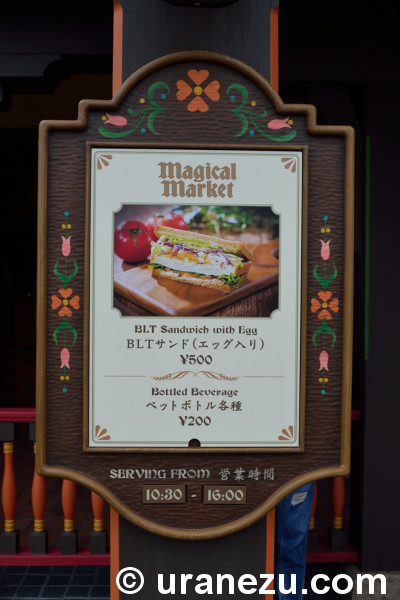 TDL step into 35th anniversary year, so new wind is blowing in many places. Some wind is good, and sometimes not, so please come and check them up!
If you have any questions, opinions and requests,
please contact us.
May. 20 2018 It's A Refurbished After All.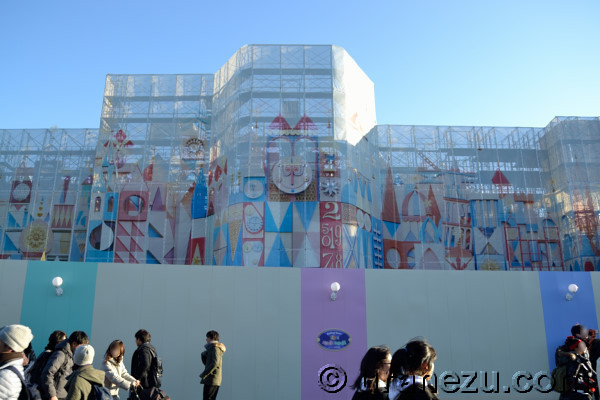 It's A Small World has re-opened after long refurbishment since May 1st 2017.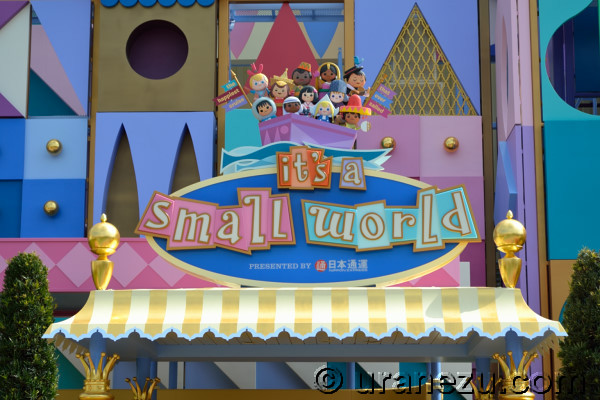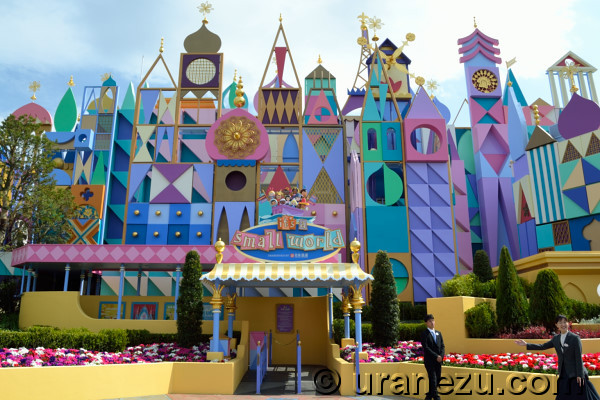 There were no preview or sneak peak for a guest, only could enter a reportorial group for advertisement.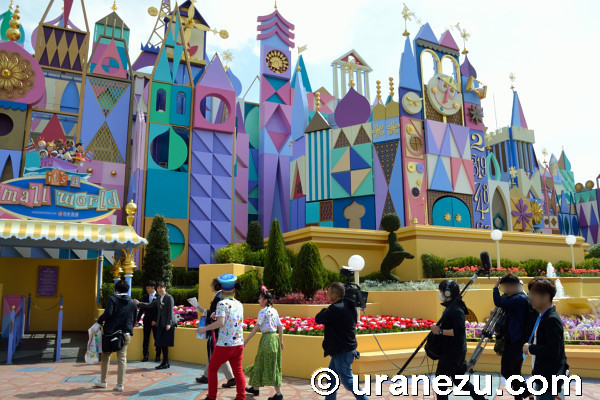 On 15 April, the attraction relaunched for the guest officially. People were waiting for this day, so they prepared a Fastpass.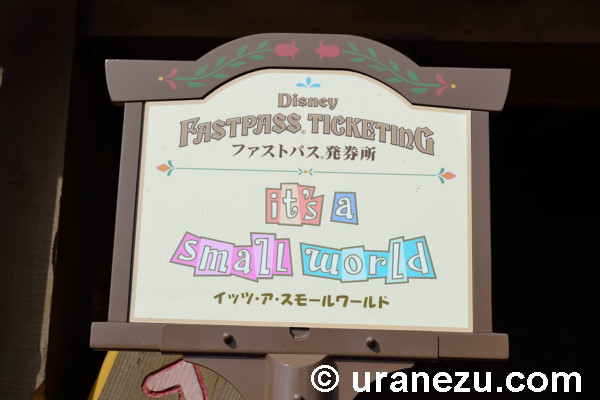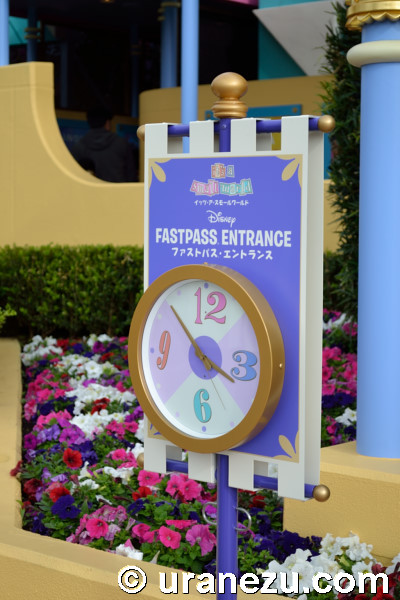 I think it's very rare that the Fastpass for It's A Small World.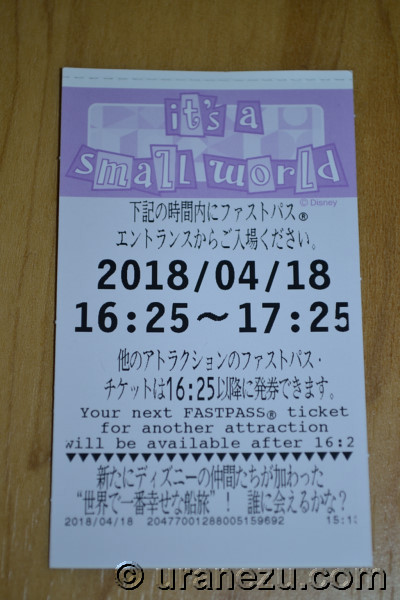 Not only Disney character additional, but also the inside adorn was changed from the original.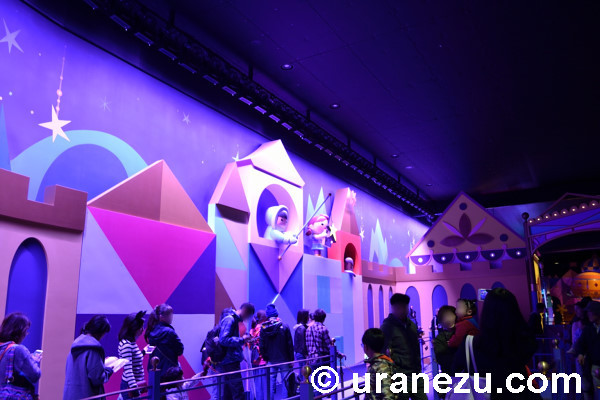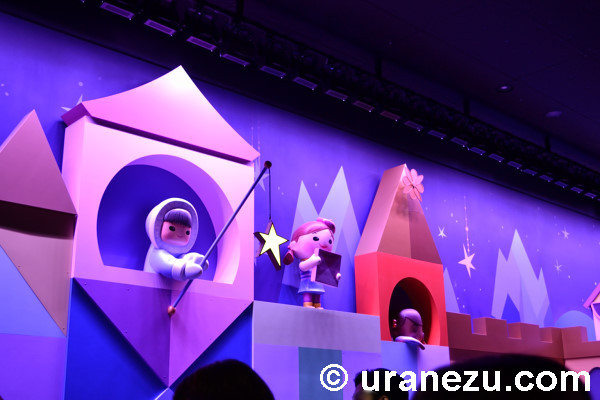 A pink purple light with dangling star ceiling light made the queue line become little bit darker than before.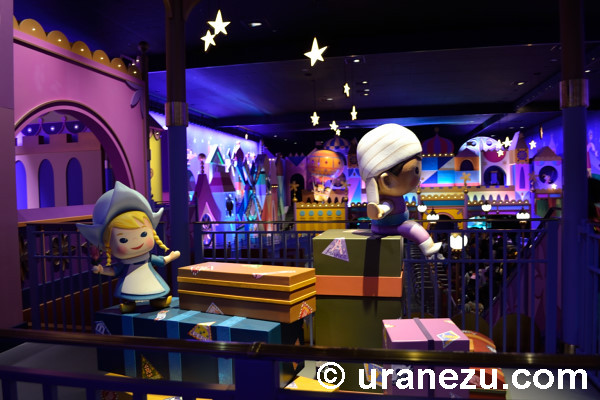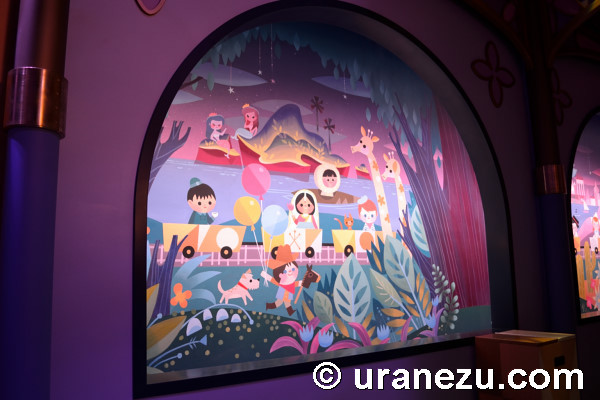 The decoration and wall paint seemed more direct and straightforward as a child friendly than the original design.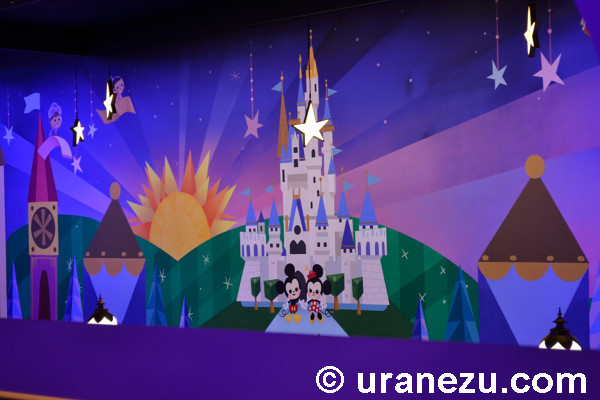 Do you feel need of Mickey and Minnie in It's A Small World?

Almost there!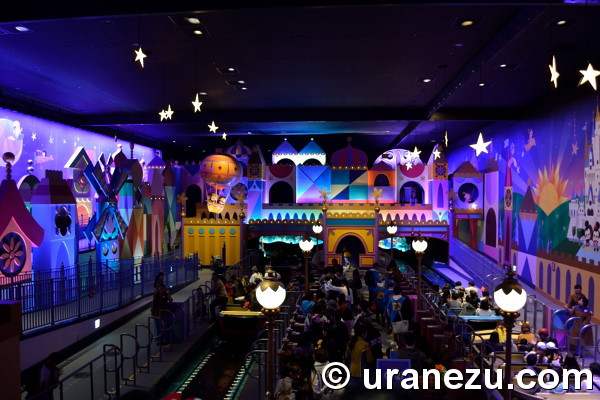 Let's sail away!
How was the new It's A Small World?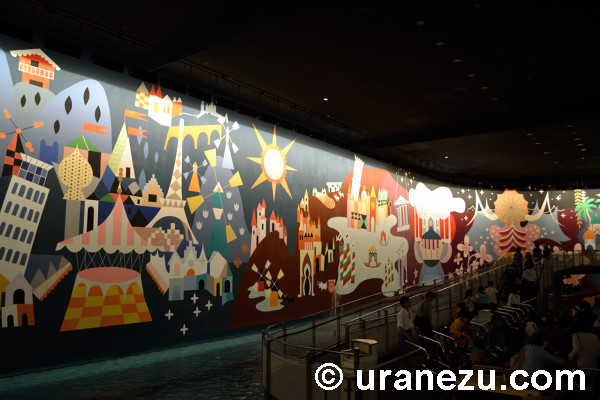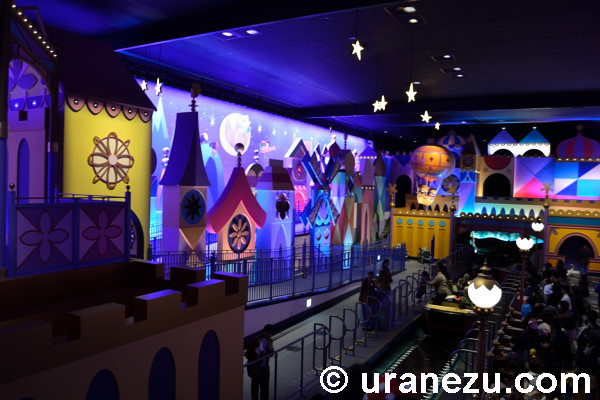 The left picture is the original, the right is after refurbishment.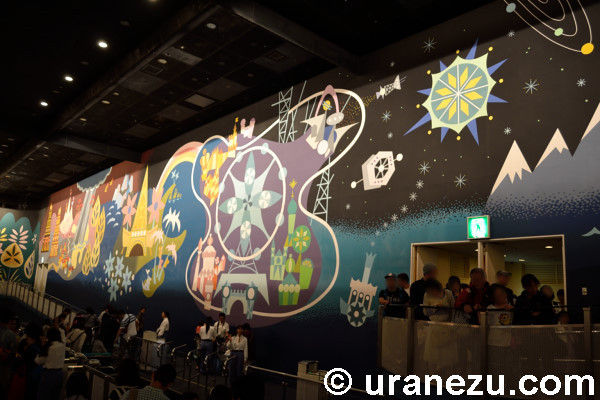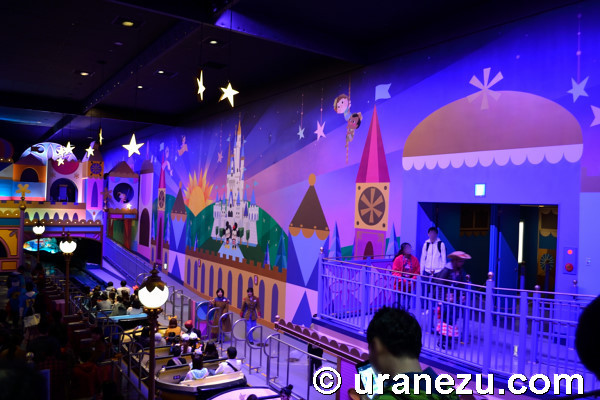 I really love these amazing mural. They stimulated my imagination!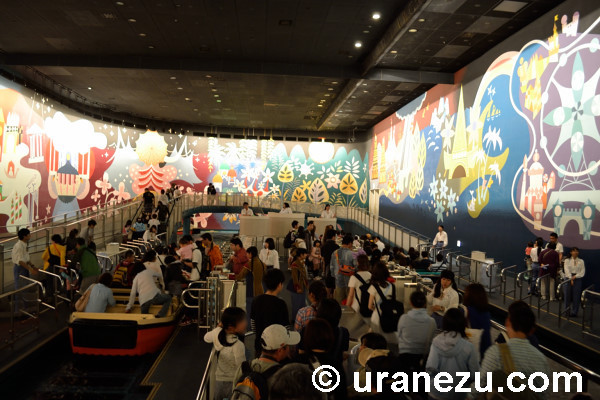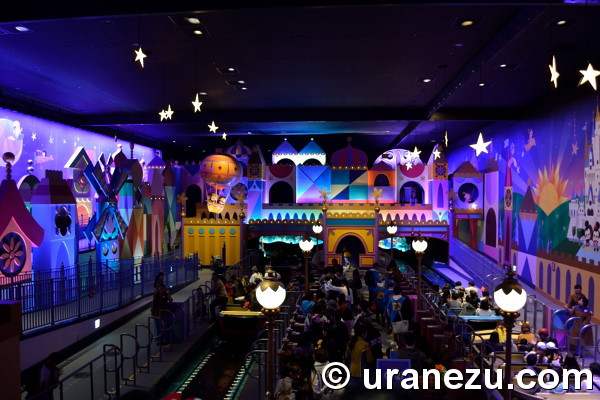 I never remember the original creativeness and beautiful design.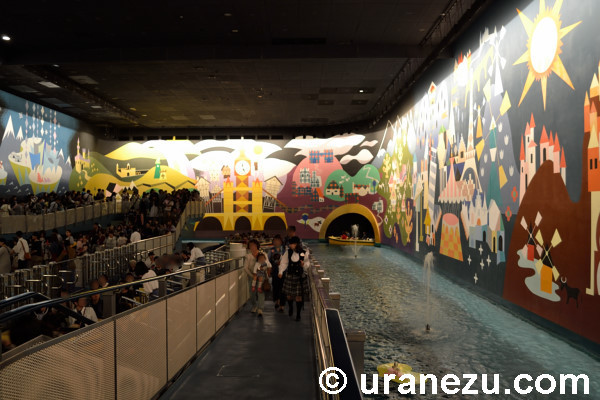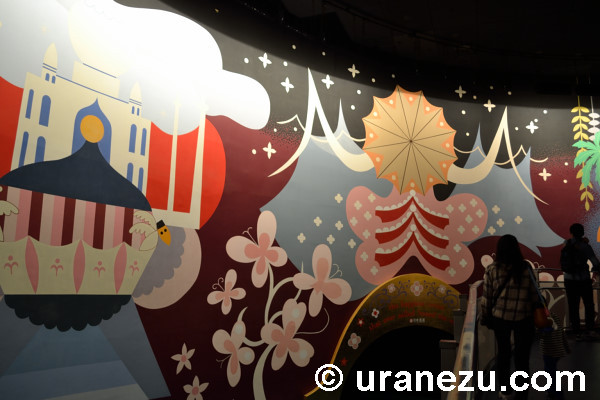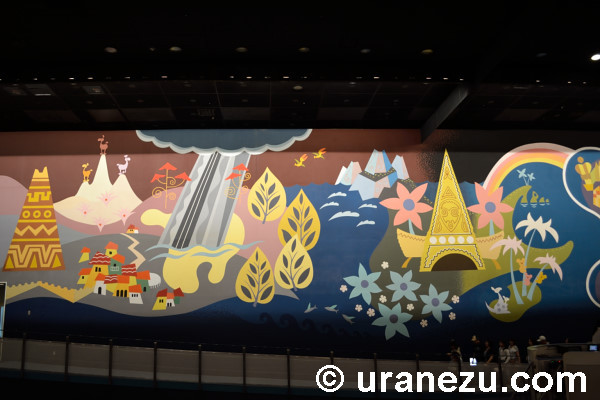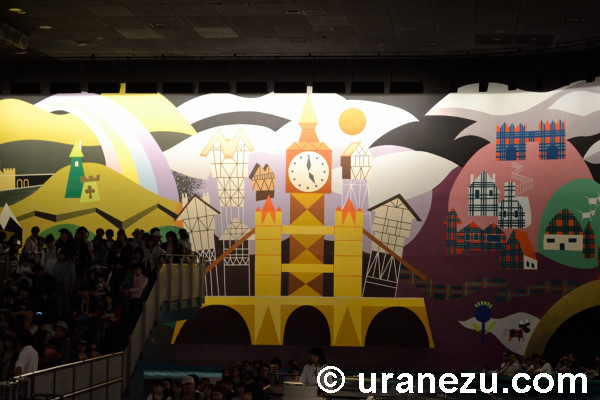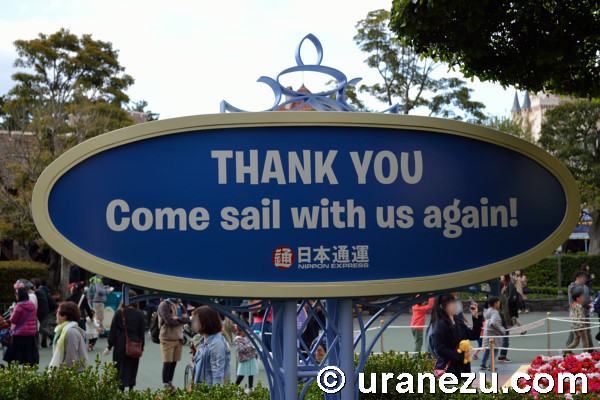 If you have any questions, opinions and requests,
please contact us.
May. 04 2018 About TDS Easter (still going on now).
It's Easter! No joking!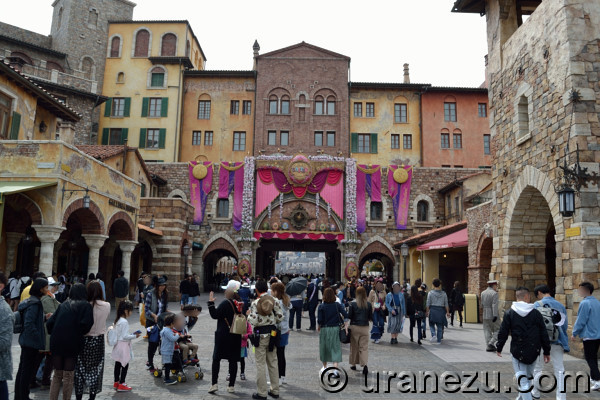 TDS has taken place "Disney's Easter" the special event. It's going to last until 6. June.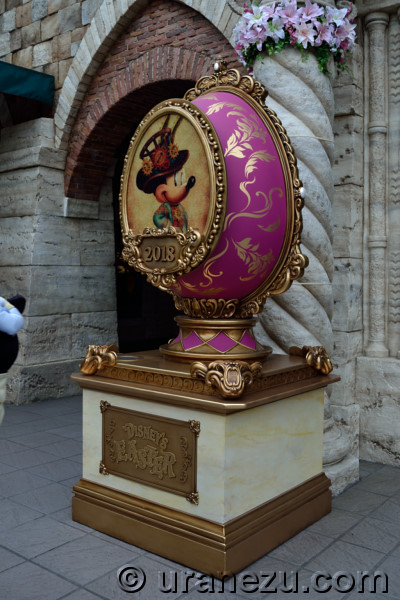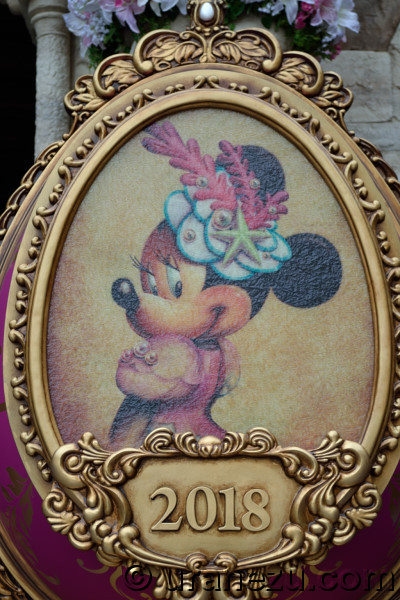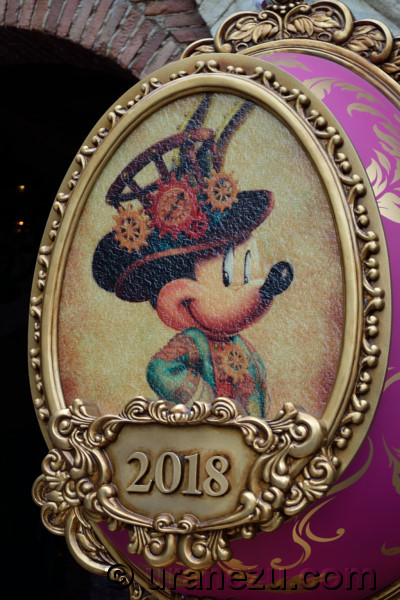 Minnie's bonnet is Mermaid Lagoon themed and Mickey's theme is Mysterious Island, both of their style are related "Fashionable Easter" the special show.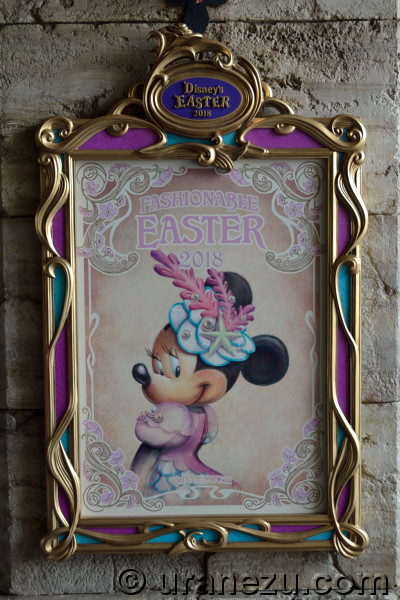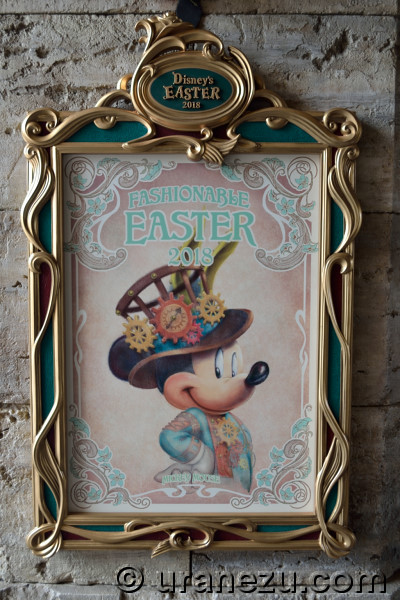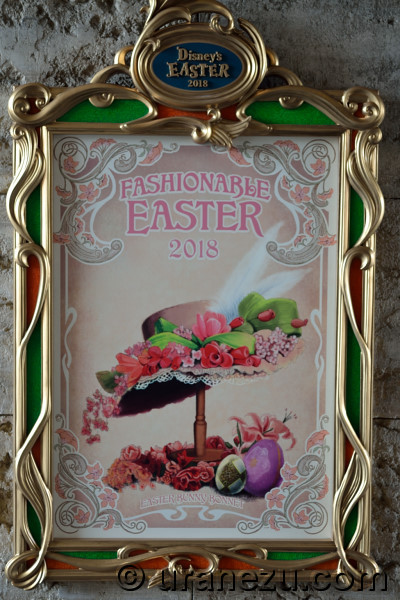 The decoration poster on a columns the park looks really traditional Easter, but the park theme is very different and weird actually.

So let's check a main photo location which shows the theme of TDS Easter.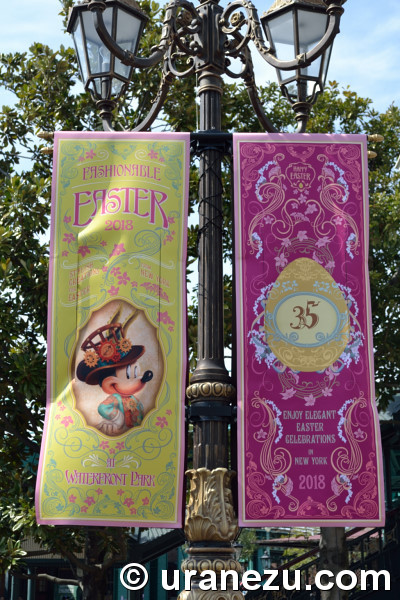 The photo location has set in Waterfront Park.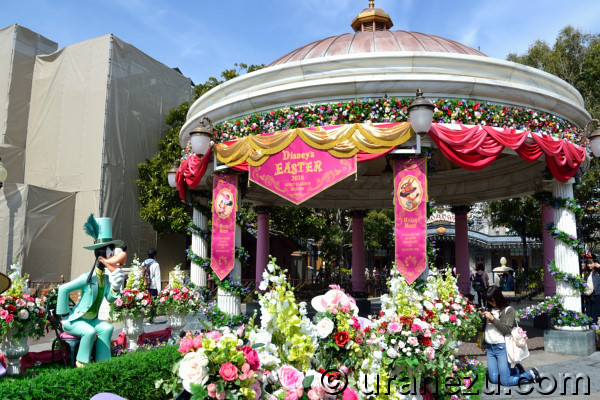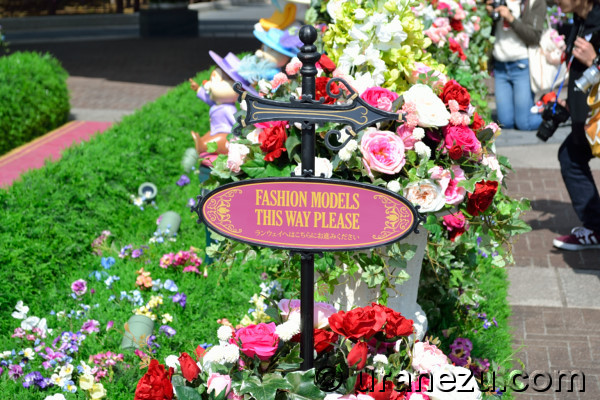 Fashion Models…(I think always TDR tends to trend in the opposite direction as world in general. Many race stop to use a grid girl in car race, or podium girl in every famous road race, like Tour de France. I love grid girl and podium girl in my personal thought, but this TDR views brings discomfort slightly. )
You can stand a middle of runway with many audience include Disney friends.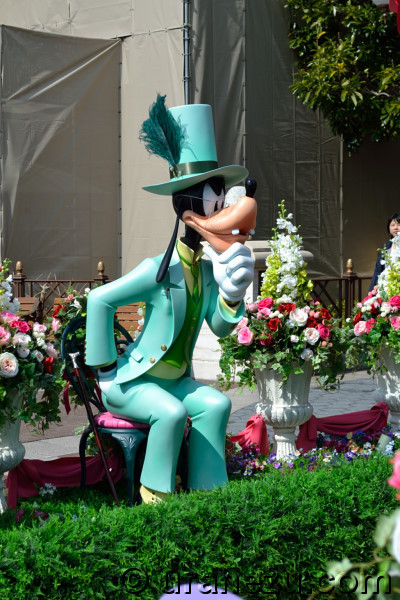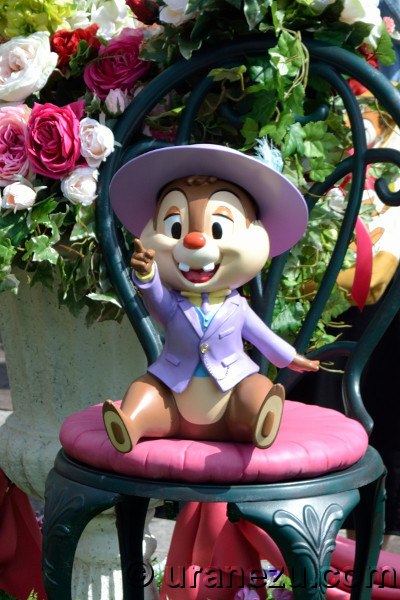 Some guy is thinking judge seriously, other guy looks so fun to see a model.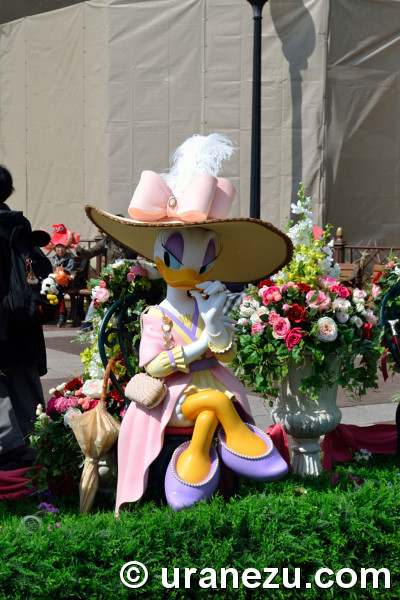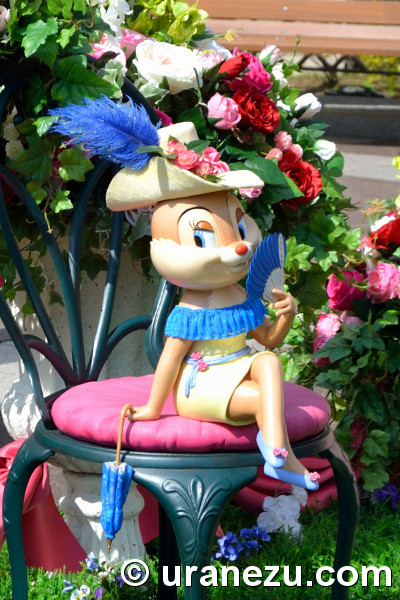 The ladies' expression are "So so" or "A-OK". Always female's critic scared me!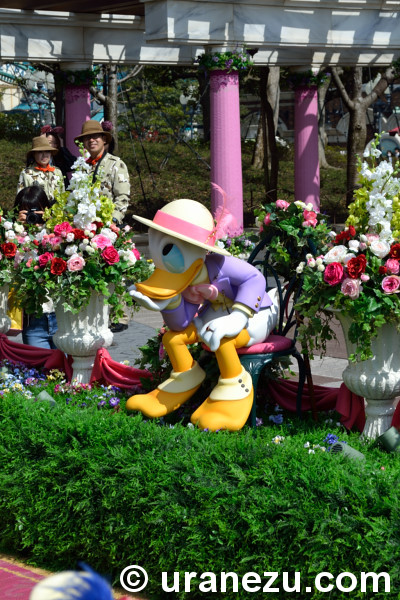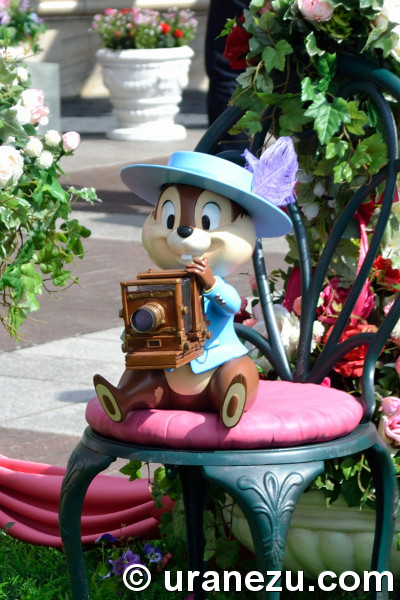 Donald, are you boring about this? Or bite back laughter?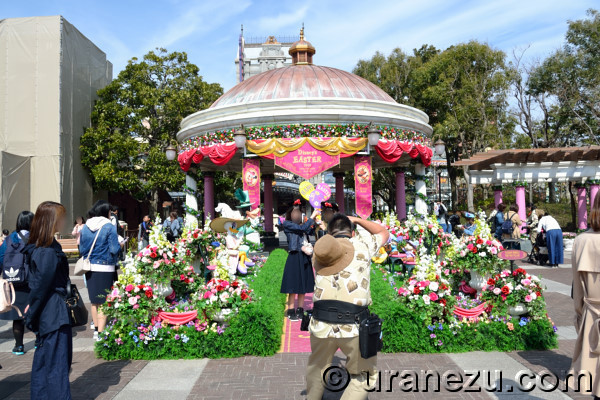 Anyway, don't think it seriously, just enjoy like innocent girl!

So let's doing something really Easter!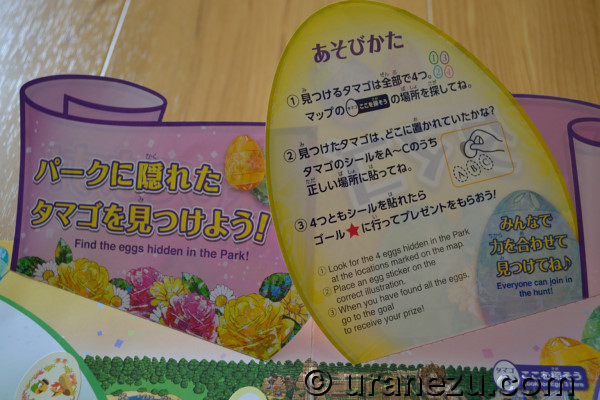 Find four hidden eggs, and get a special bonnet hair accessory as a reward.
There are also some hidden eggs in the parks, above the four eggs.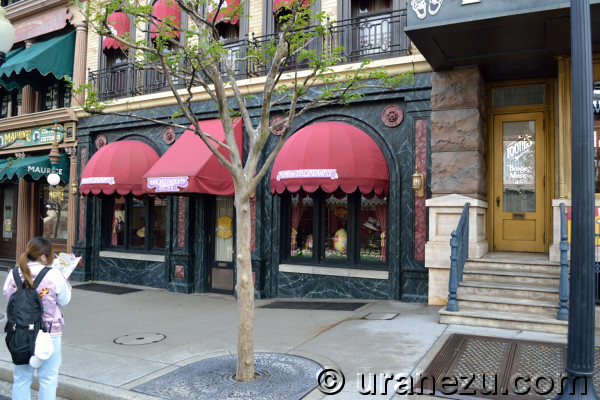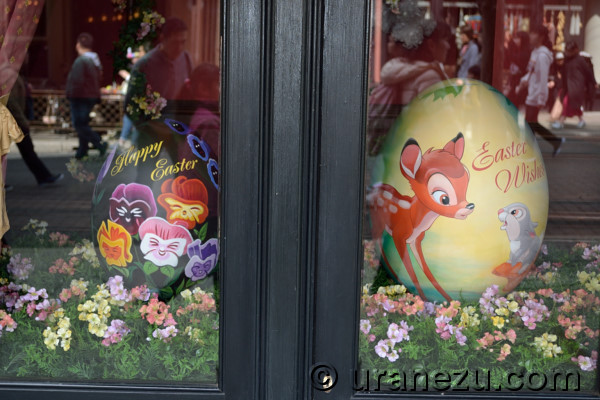 This is the non-reward hidden eggs. The each eggs are very lovely, but there is one disappointing thing. Why they put together in one window? I'd like to know for all Disney beginners the Pansies from Alice In Wonderland, and Bambi and Thumper from Banbi, they're totally different film.

This is the first hidden egg of the paid game.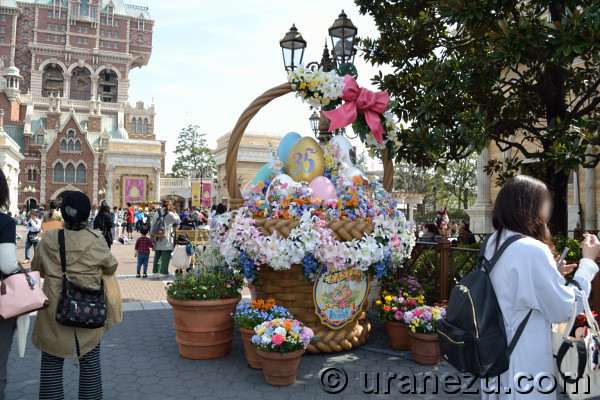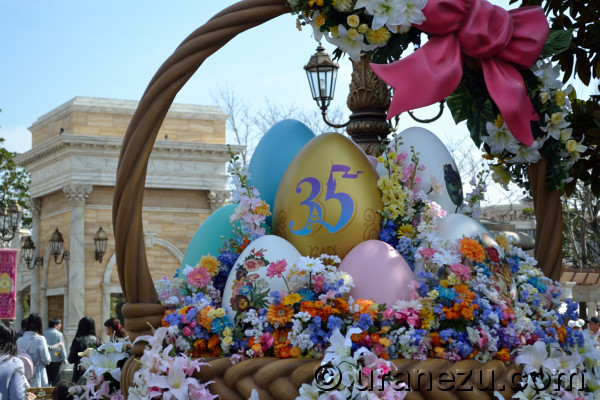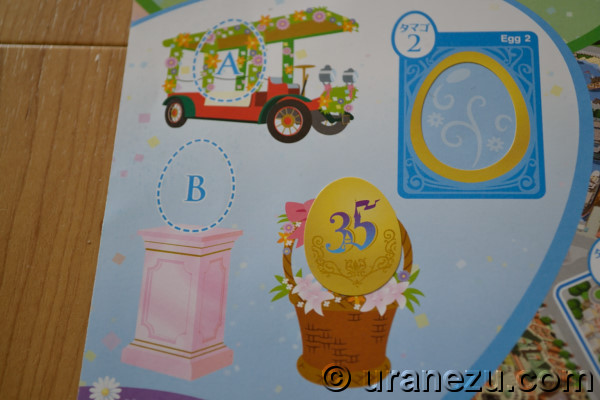 So put on a sticker on the right place.

Mysterious Island has amazing three Easter eggs.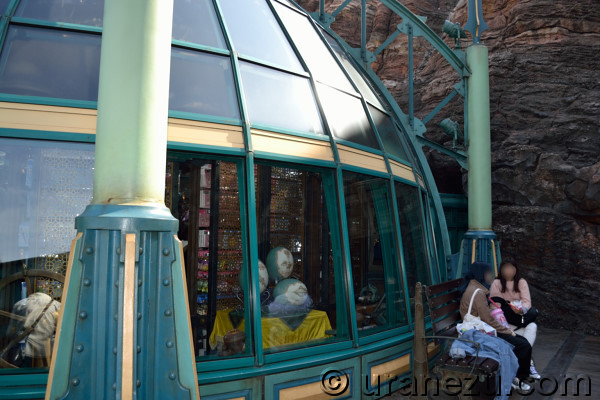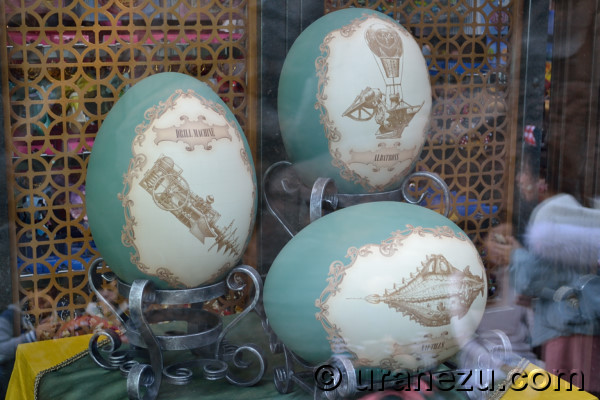 These captain Nemo's sketch eggs are located at a window of "Nautilus Gift" the souvenir store.

Second reward egg with colorful Jose Carioca & Panchito Pistoles are located perfect location, in Lost River Delta.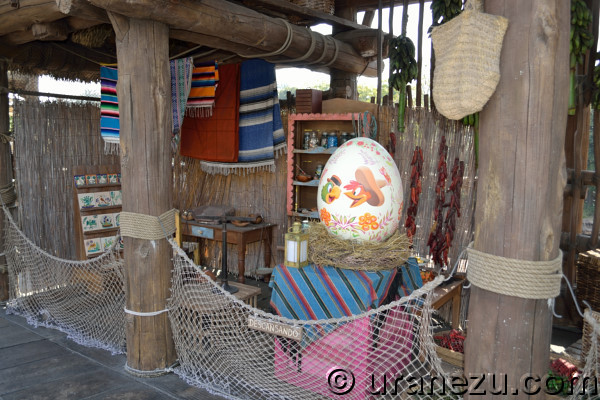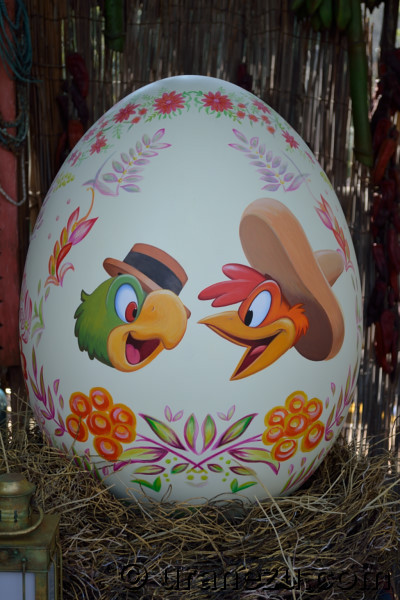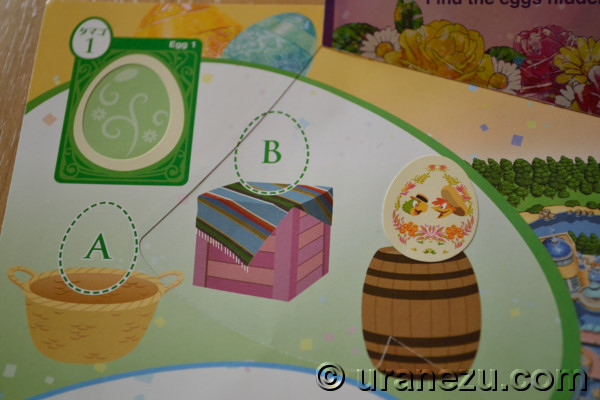 Yes, they never missed Nemo themed egg in front of Searider the attraction.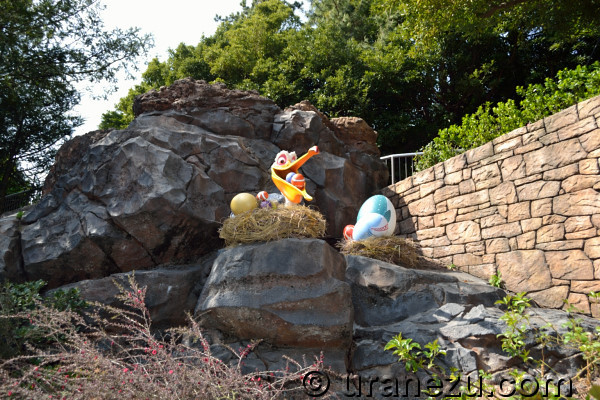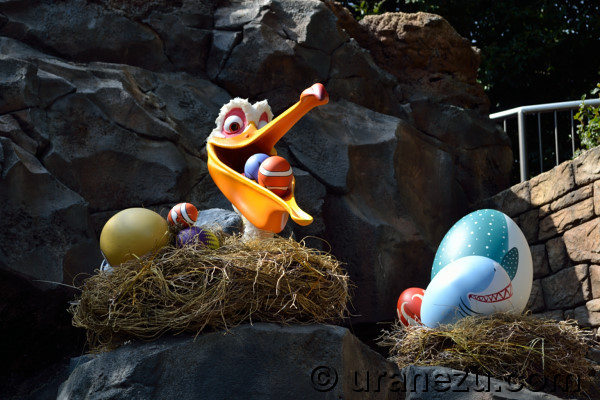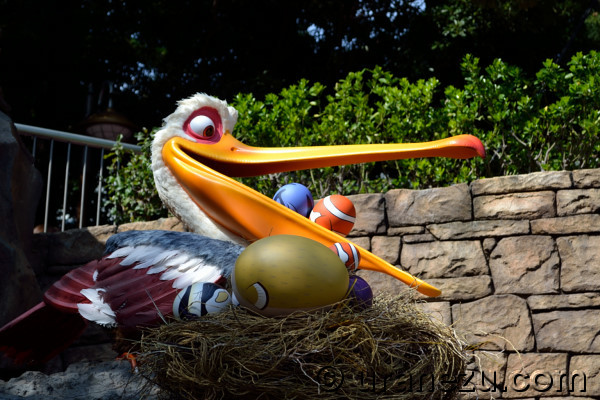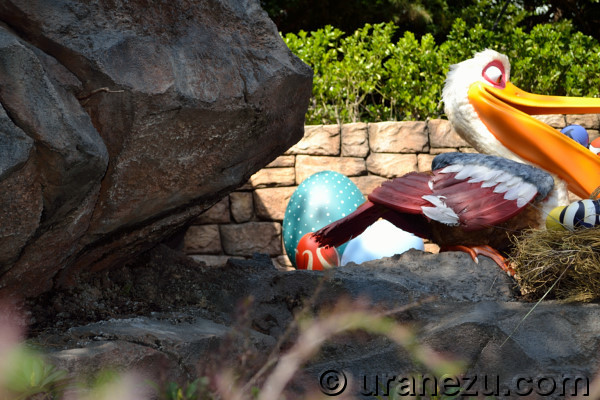 Nigel hold Marlin & Dory eggs, which is so hilarious. And you can see Hunt the octopus in a nest behind him.

If you'll look for Mermaid Lagoon the another sea, you can able to find reward egg.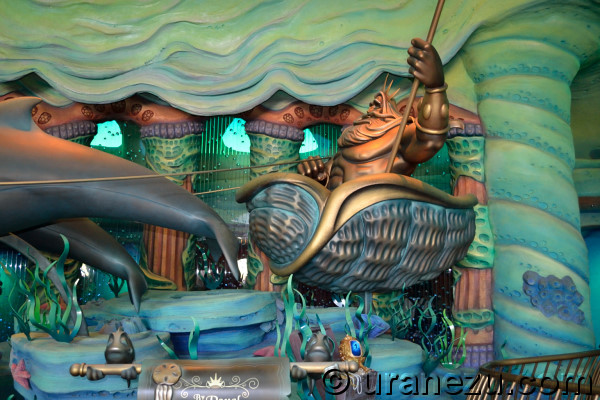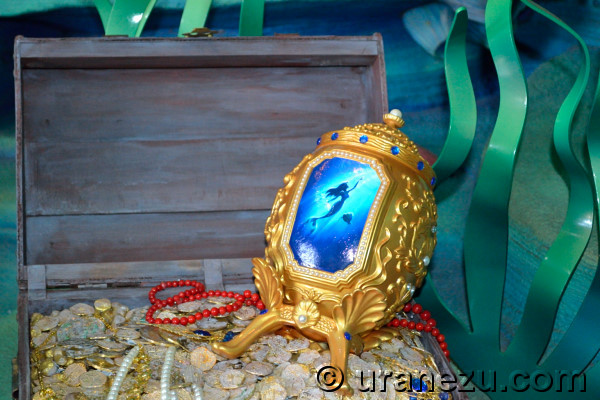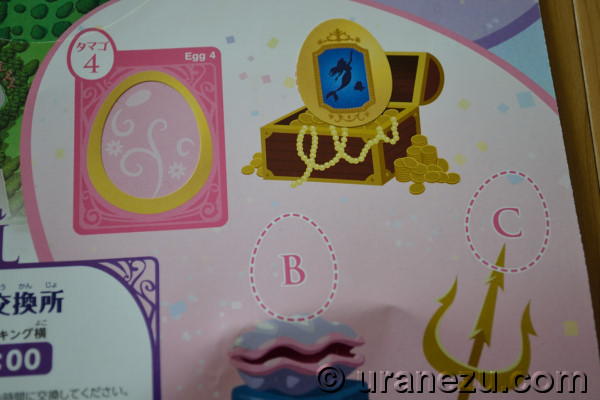 This egg is really easy to find, because one of the main street of Lost River Delta.

A good ambiance pass near Mickey and Friends Greeting trail the meet & greet facility.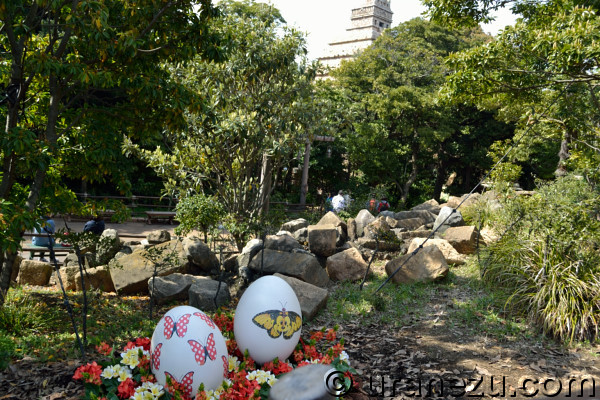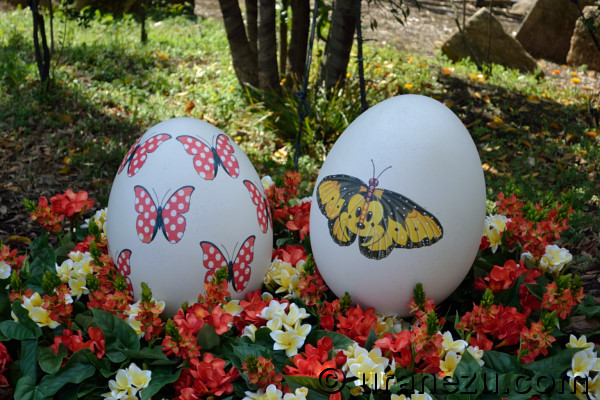 But watch out, there is an outside smoking area near these eggs.

Now we can see "Coco" (In Japanese title is "Remember Me". That's really spoiler name! ) decoration inside and outside of "Miguel's El Drado Cantina".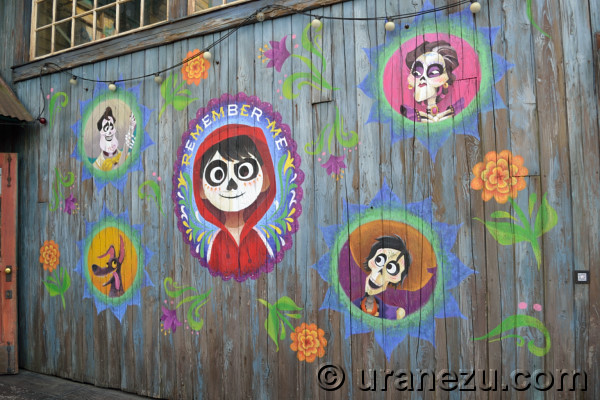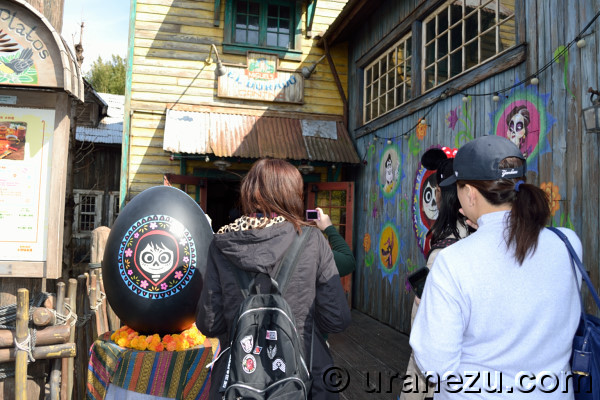 Many of guest only take a quick glance and photo in front of the restaurant.
But…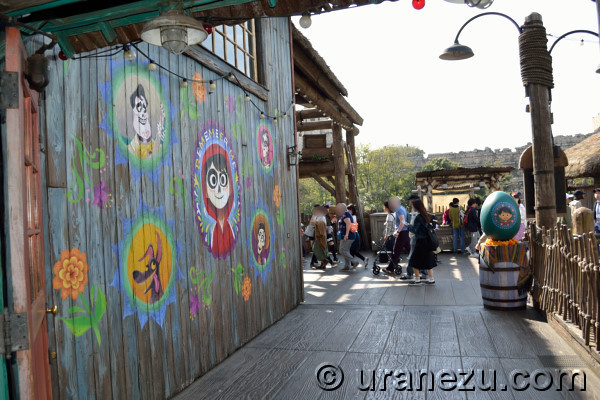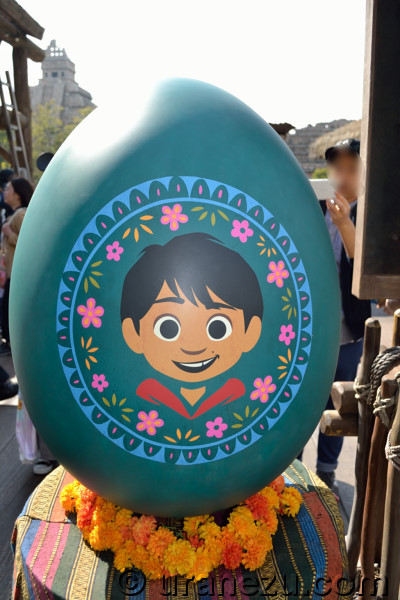 If you'll dine at there, you can find real Miguel.

The last reward egg is in Arabian Coast.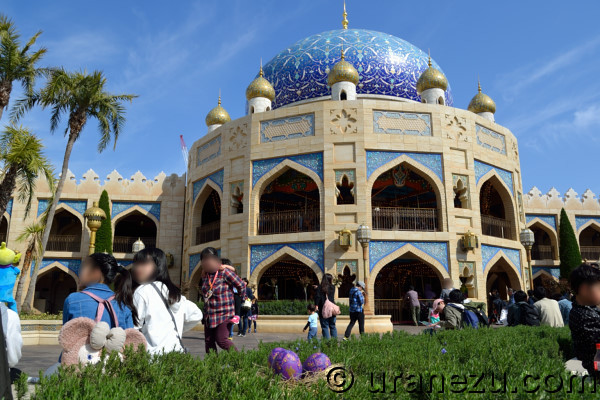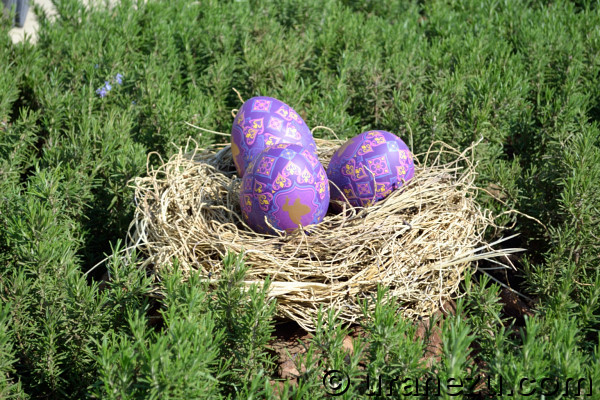 More vegetation is growing, more difficult to see and find the eggs.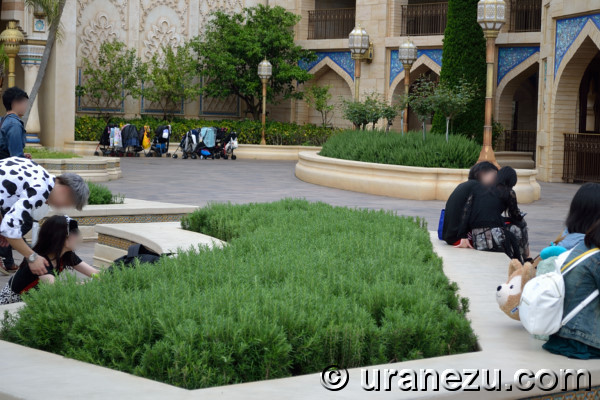 That's really hiding naturally. I love it.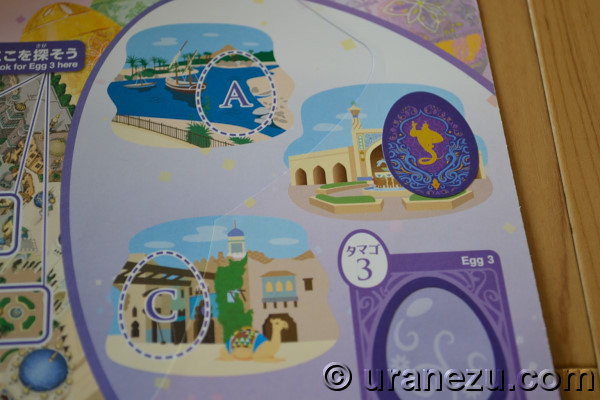 The gold top hat with bunny's ear hair accessory is given out, after the egg hunting.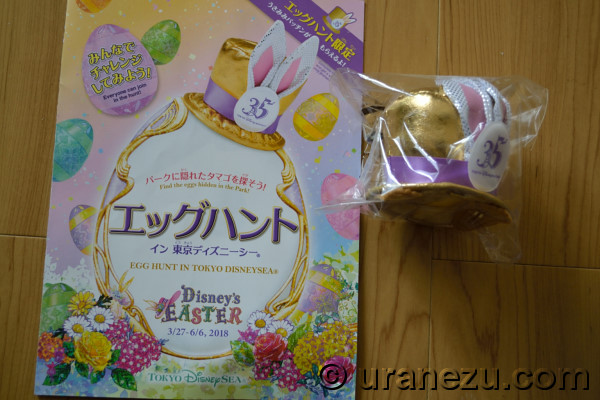 This paid Easter egg hunting map is sold at man shop including some wagons. The price is 900JPY.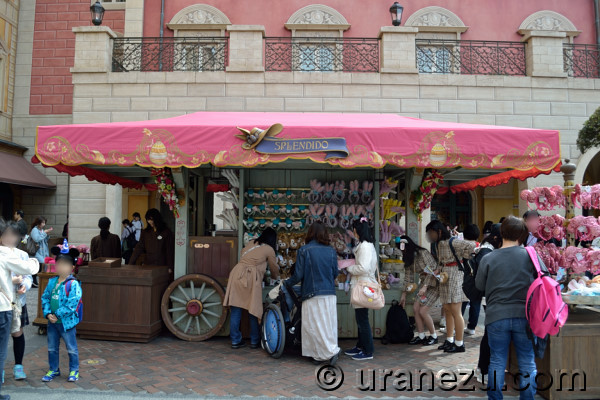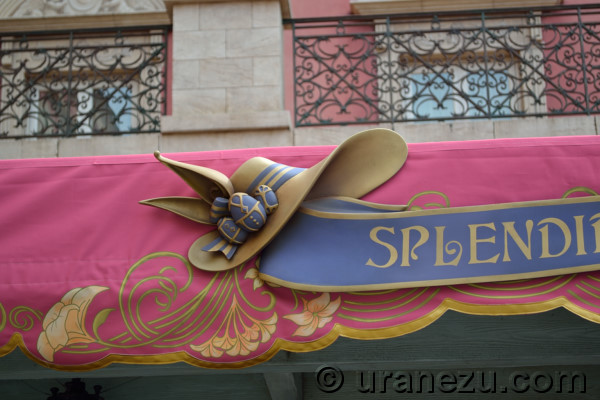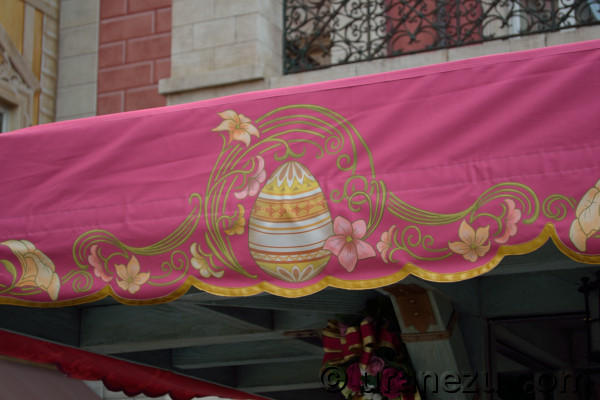 Three merchandise wagon in Mediterranean Harbor dressed up for Easter. They changed their drape which is so very nice .
TDL is not 35th anniversary, and real Easter was end quite some time ago, but TDS is still lovely.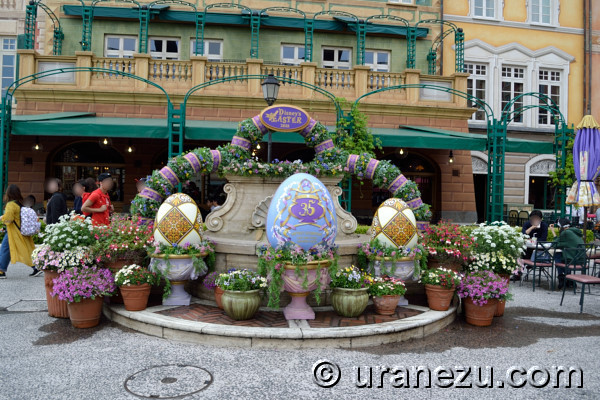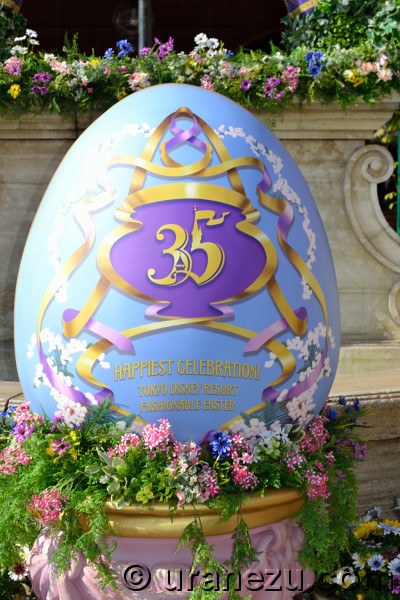 So come and see!
If you have any questions, opinions and requests,
please contact us.
Apr. 22 2018 About TDL 35th Anniversary.
Happy Birthday TDL!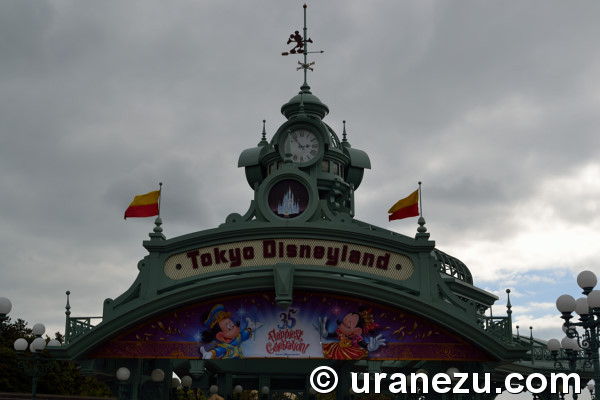 The first Disney park outside America marked 35th anniversary on 15 April.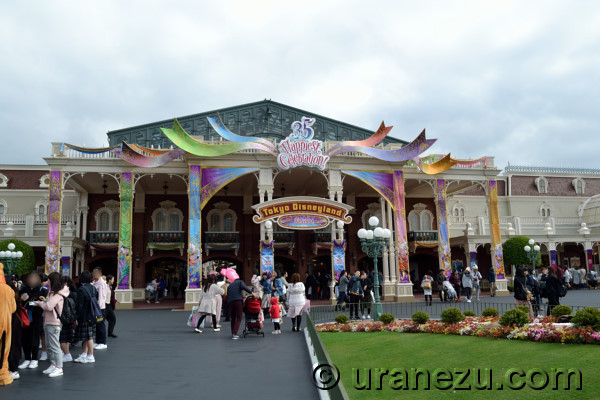 It's not big quarter anniversary, but TDL has celebrated extravagantly for this year of 35.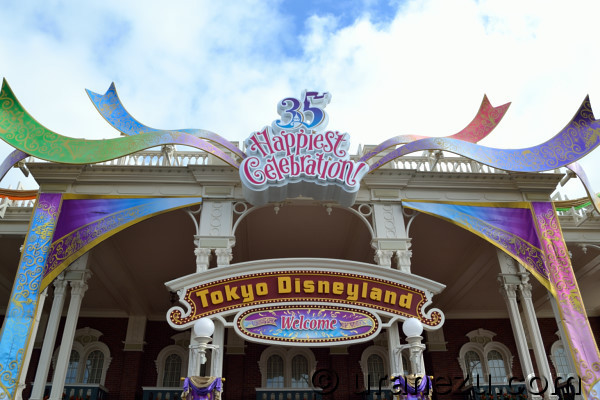 After going through the under the above big bow, a big monument is set in center of World Bazaar.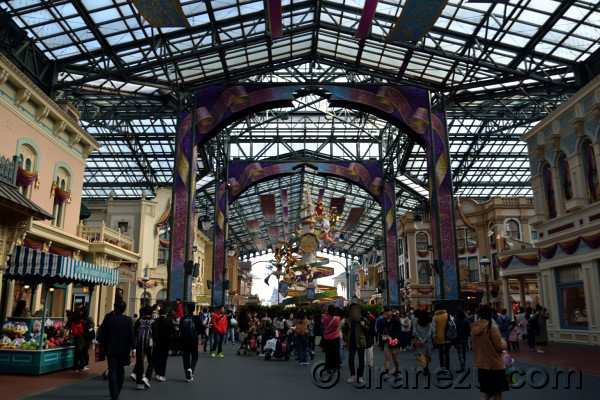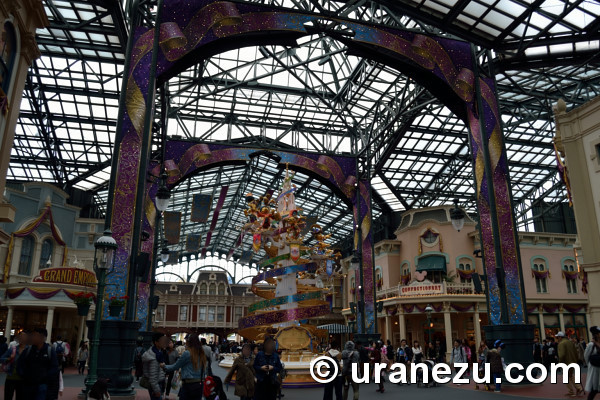 It's called "Celebration Tower" which consisted all milestones of TDL.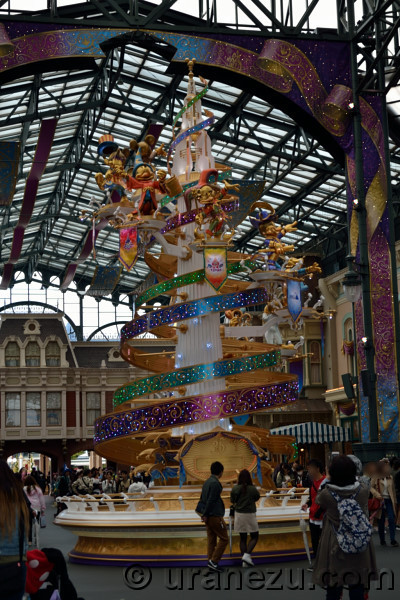 The front is Mickey with 35th anniversary costume.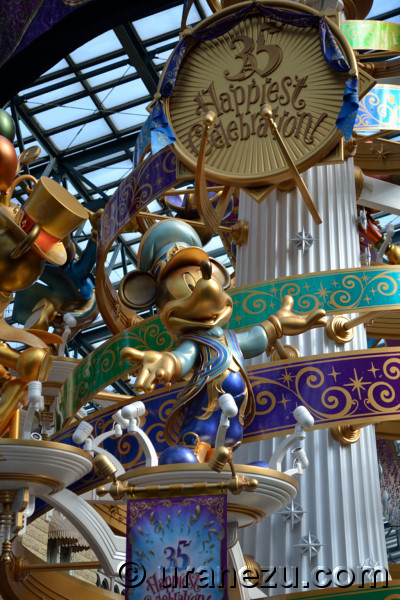 Balloon Mickey from TDL 30th Mickey and Mickey with key from TDL 25th Anniversary.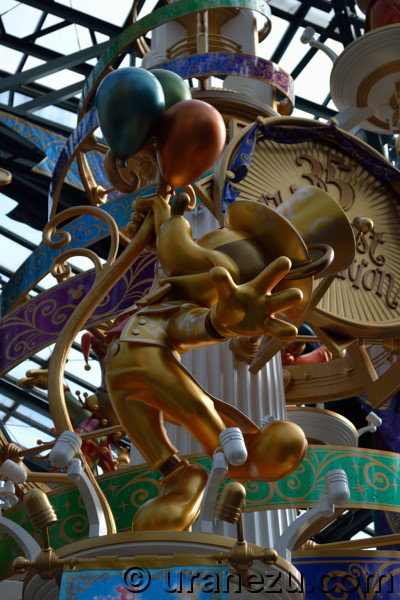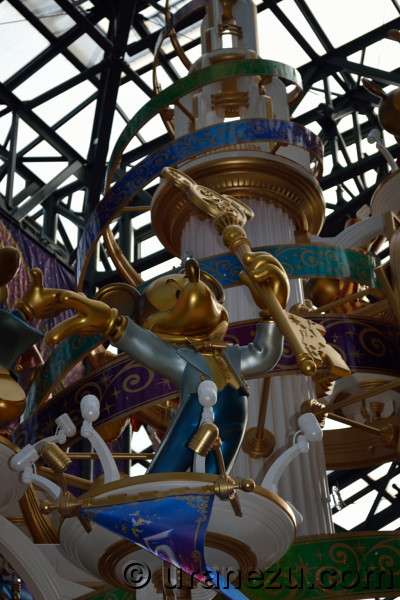 A blue tailcoat Mickey from TDL 20th Anniversary, and binocle & captain hat is opening costume of TDS.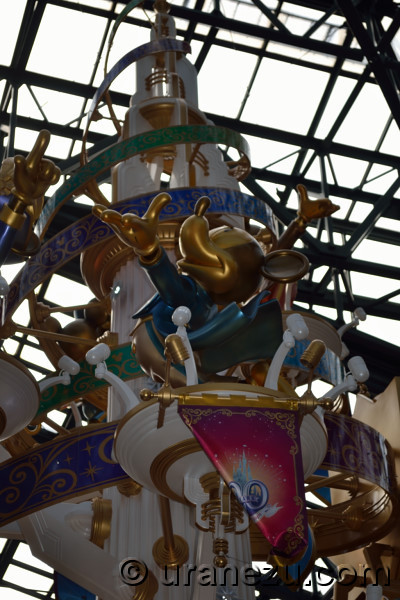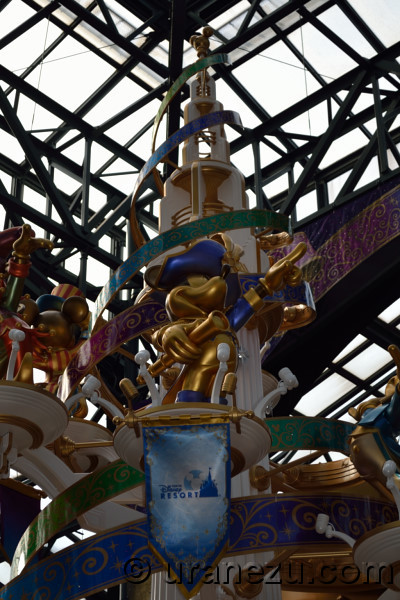 Jester Mickey is from TDL 15th which is best anniversary, and Amazing castle stage, "It's Magical!" costume from TDL 10th Anniversary Mickey.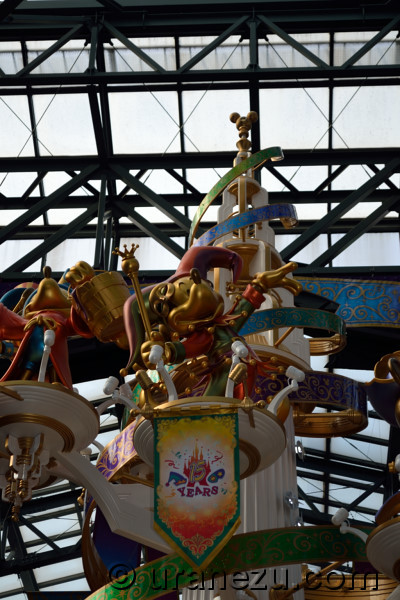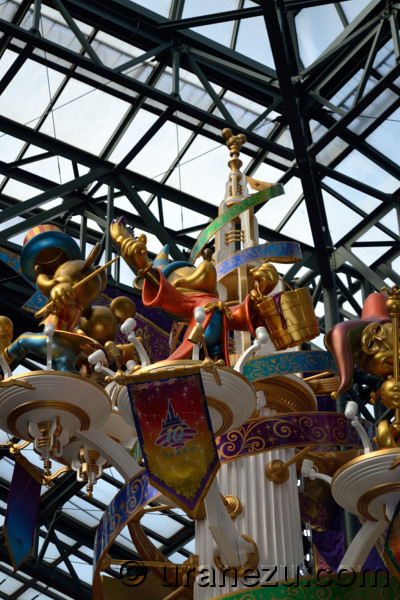 A star-spangled coat Mickey is from TDL 5th anniversary, and the top is most familiar costume Mickey.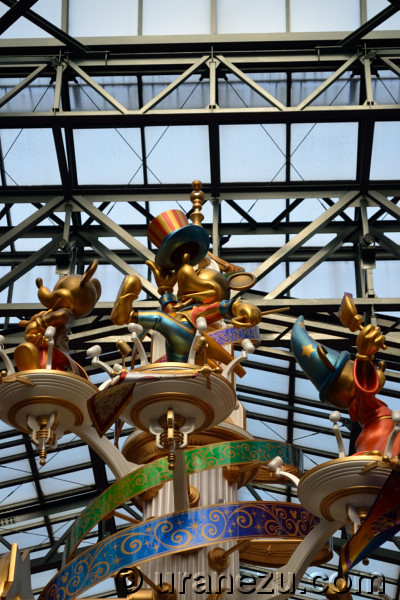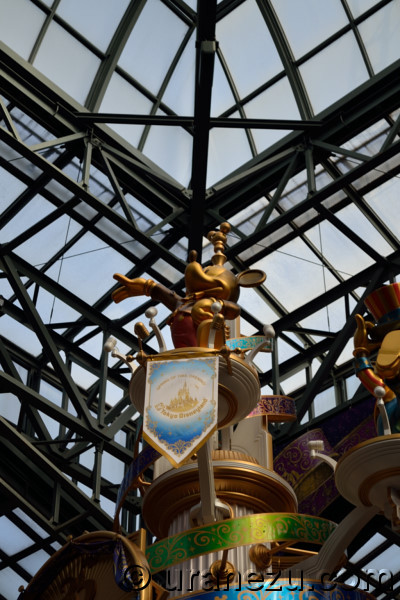 If you're lucky, you can see special moment with a confetti around this Celebration Tower.
If you are not, only can see the confetti on a roof.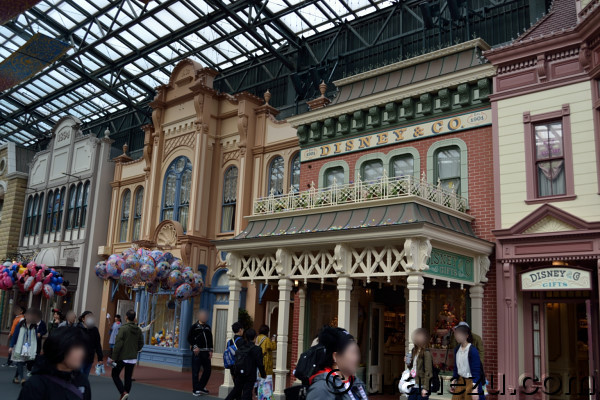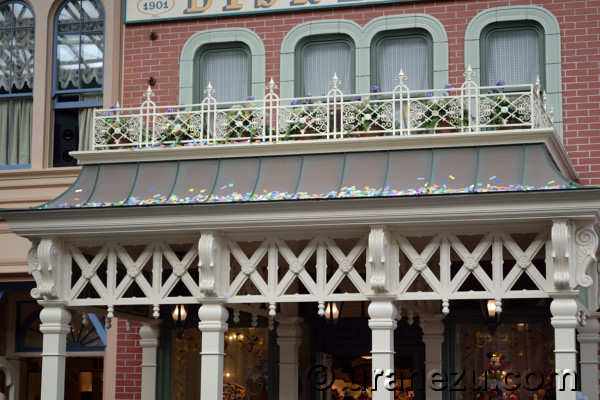 There are lots of news I have to share with you.

It's A Small World has renewal opened!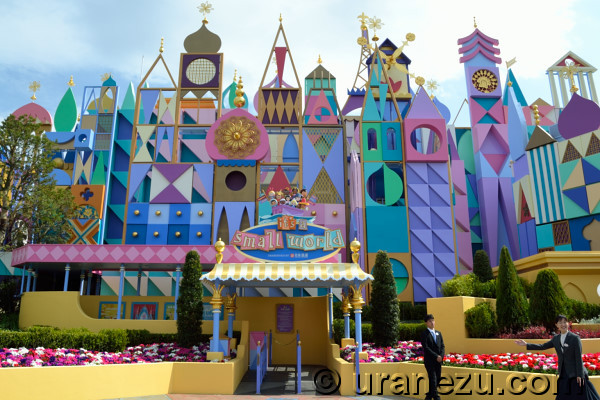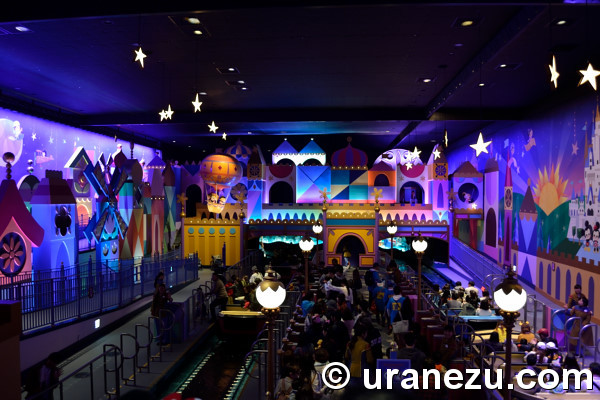 A chocolate crunch the TDL popular souvenir store has opened in World Bazaar.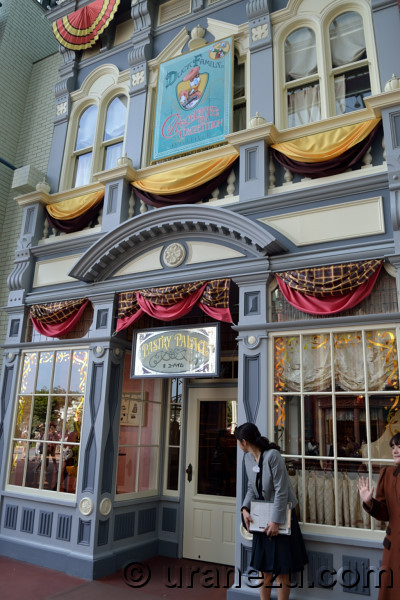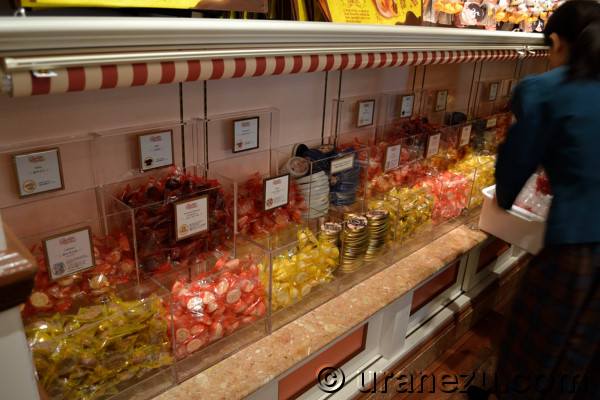 A brand new daytime parade which named "Dreaming UP!" has begun.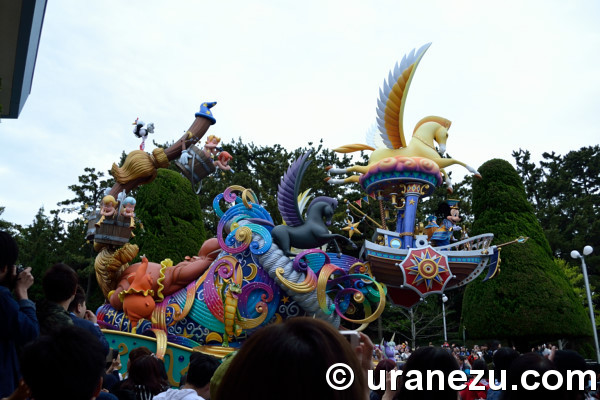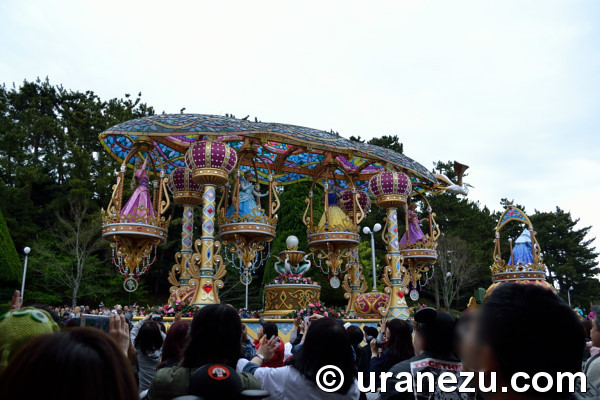 So I'll report all of them soon!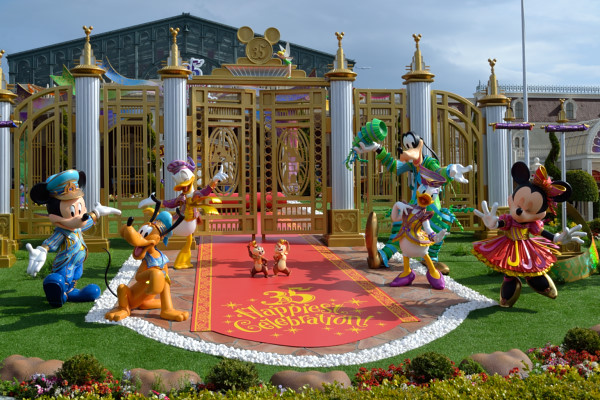 Please come join a party of TDL 35th anniversary!
If you have any questions, opinions and requests,
please contact us.
Apr. 11 2018 While ISW Is Sleeping.
Now "It's A Small World" temporarily closed for new enhancement with Disney friends.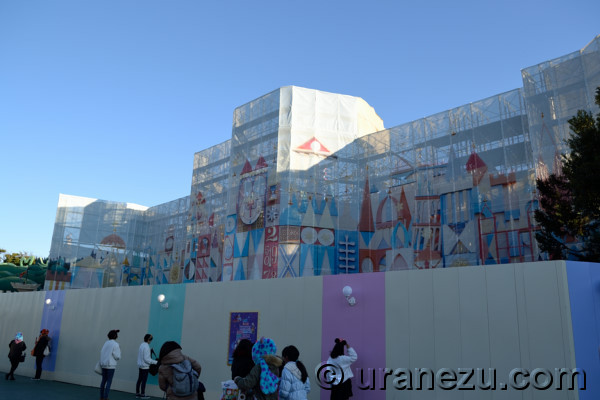 I am not intend to debate over the pros and cons of this coming additional Disney character dolls into the original attraction.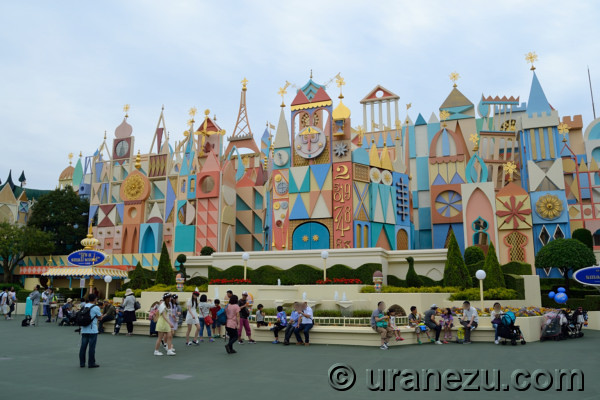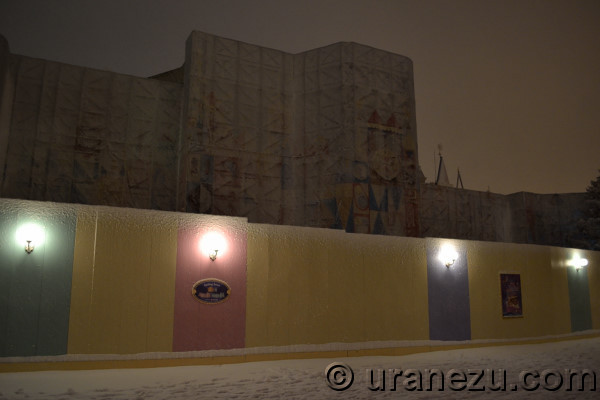 ISW was waiting for reopening though a snow night.
While ISW is sleeping, I'd like you to cruise with me into my old memory about ISW.
Let's sail away!

Around 1998, there was no "Pooh's Hunny Hunt" the amazing track-less dark ride in next to ISW, even no marvelous TDS park, but there was a magic to everyone.

When I was a cast member at that time, I read an event announcement on backstage bulletin board.
I remembered that the event was named "Crazy Voyage".
Sounds exciting? I was so!

Not only the name itself was wonderful. But also the event itself was so great. The "Crazy Voyage" was the charity event by Make A Wish foundation with Disney's VolunteEars. The participant cast member and their family inspired the event with 100 TIMES voyage at ISW.

Even we've gathered in early morning before the TDL park opening, but we couldn't reach the 100 times so far.
My memory said that we could sail only less than 40.
Then we also enjoyed box lunch at "Small World Restaurant" the *extinct* lovely restaurant after the hilarious cruise.

And we got lovable T-shirt!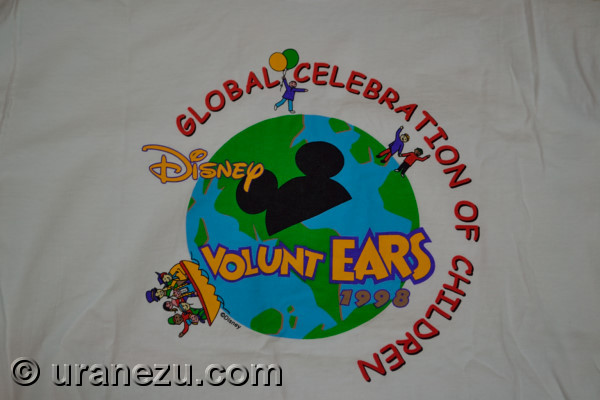 I think it's really rare to keep it mint condition now in Japan!

It was a really good memory not only to me, but also my family. And this event was my first experience of Make A Wish foundation in Japan.

Now I'm not a cast member of TDR, but I hope that they still have some events for the foundation.
Because it's a wonderful opportunity for TDR cast member to know Make A Wish foundation itself and their activities.

This attraction always recall the wonderful event to me.
I'm looking forward this coming renewal ISW.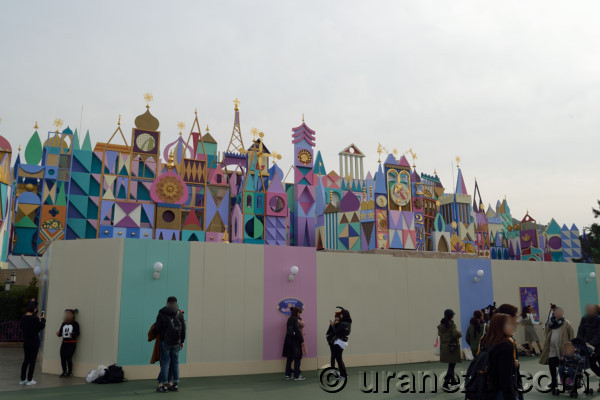 What is your memory of ISW?