Park Now
>
Park Now Archive
> 2017 Third Quarter Archive
---


Sep. 30 2017 About TDS Halloween, Main Feature: Flyboard.


Sep. 16 2017 About TDL Wild Card Halloween Photo Decoration.


Aug. 11 2017 About TDS Summer, Disney Pirates Summer.


Jul. 29 2017 About TDL Summer, Disney's Natsu Matsuri.


Jul. 01 2017 About Tanabata the Star Festival.


Jul. 01 2017 About Tanabata the Star Festival.
If you have any questions, opinions and requests,
please contact us.
Sep. 30 2017 About TDS Halloween, Main Feature: Flyboard.
TDS Halloween in this year is "Disney Villains" themed.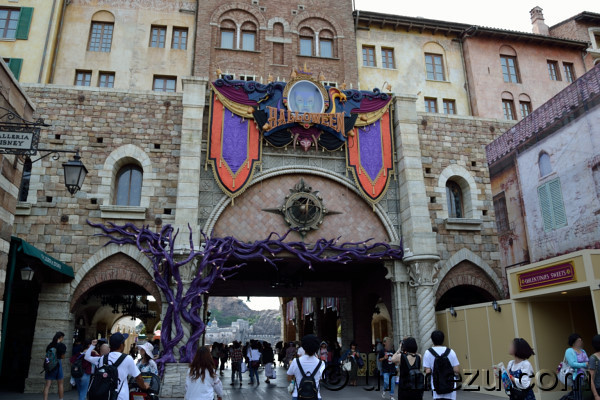 The above pic is the main decoration place in TDS. But the marquee is same as last year's sign.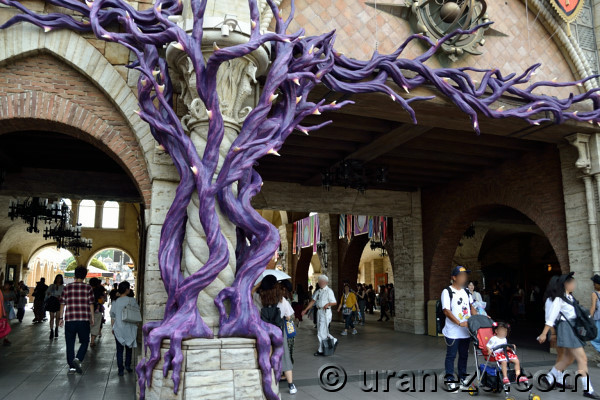 A magic thorn is a new addition to the special decoration.

Maleficent's power is very limited in TDS (I think bears, cat, and bunny have much more enchantment.), so you can see near entrance and underneath the elevated railway tracks.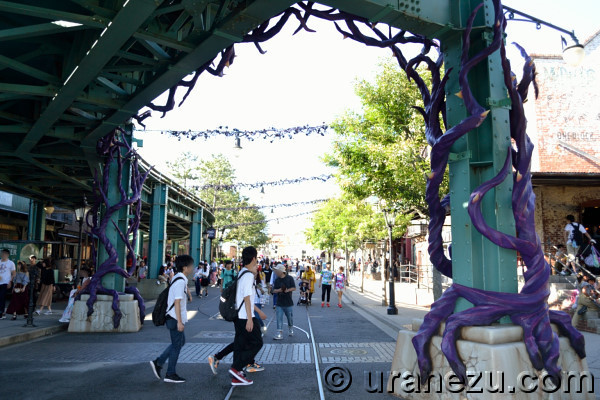 It changed thorny railroad.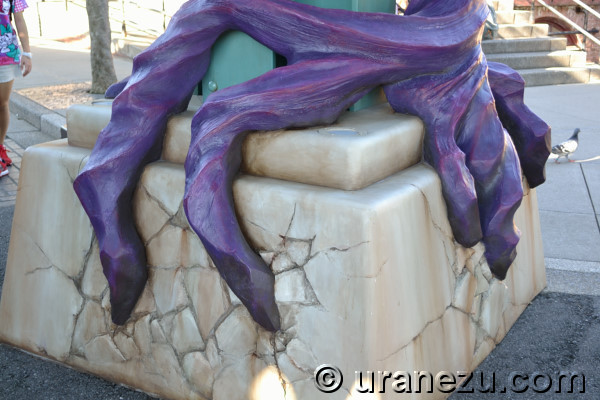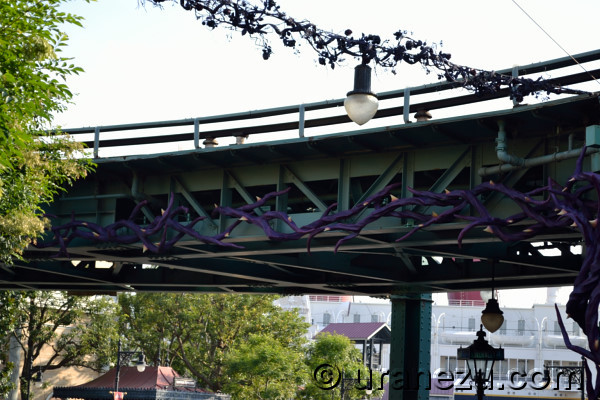 But don't worry, the trail come and go without any problems.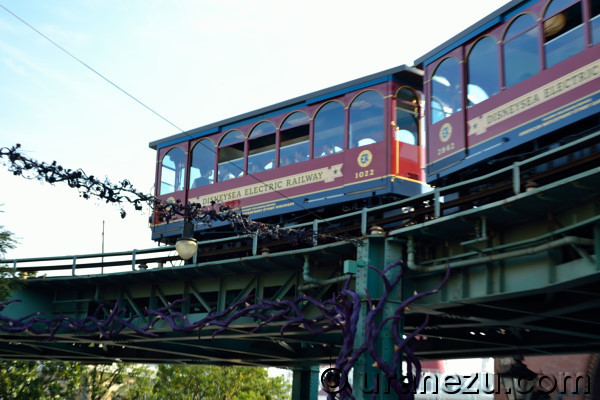 Speaking of fluffy, a canvas in Venice area is changed Halloween picture.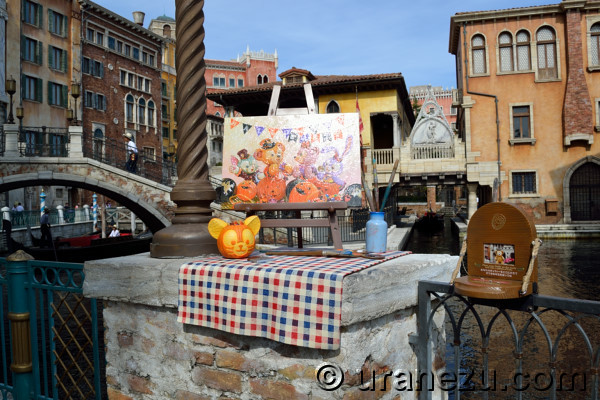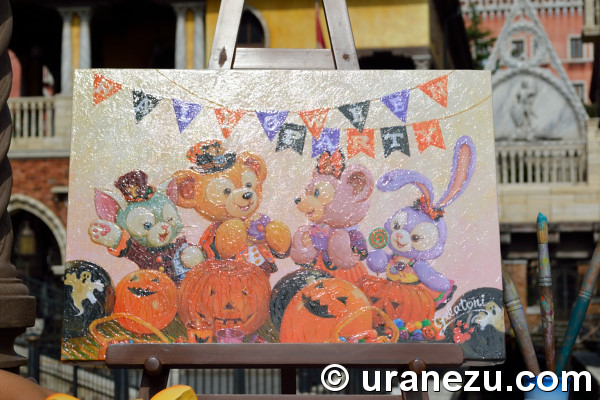 There is no Mickey or Minnie. Only just new comer.

Of course, StellaLou's decoration is debut in Cape Cod.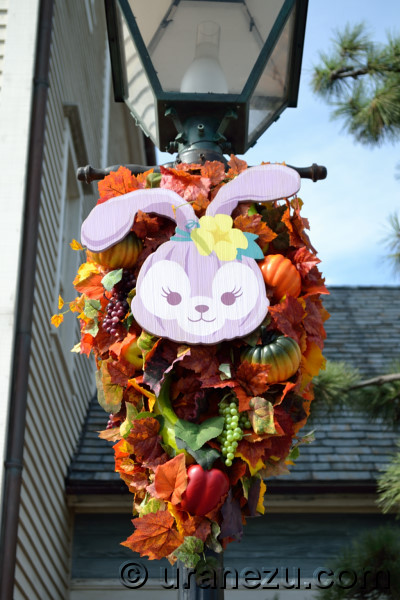 Every street lamp in this town has each Duffy, ShellieMay, Gelatoni, or StellaLou's plate.
"TheVillains World" the special Halloween harbor show is running now.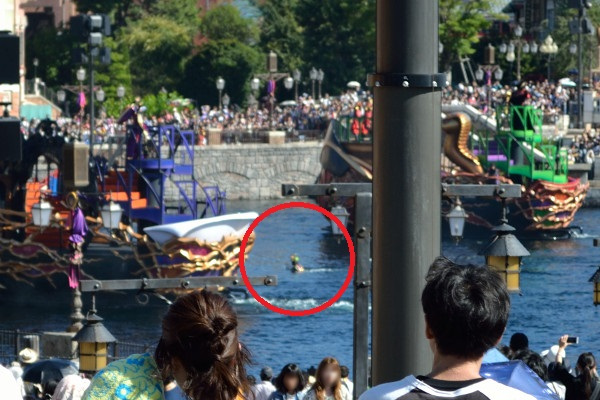 Do you see a man who swims between the barges?

He soared high above so quickly.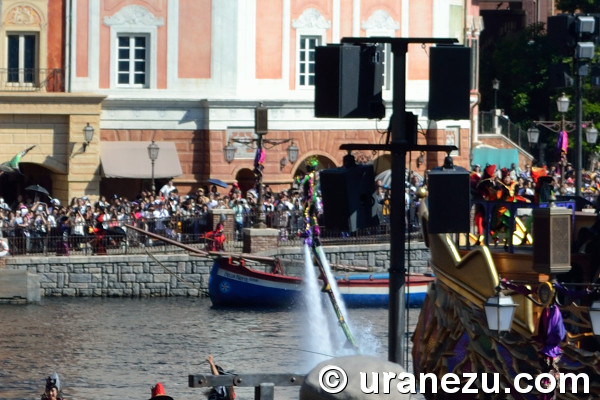 He is able to tornedo spin with ease.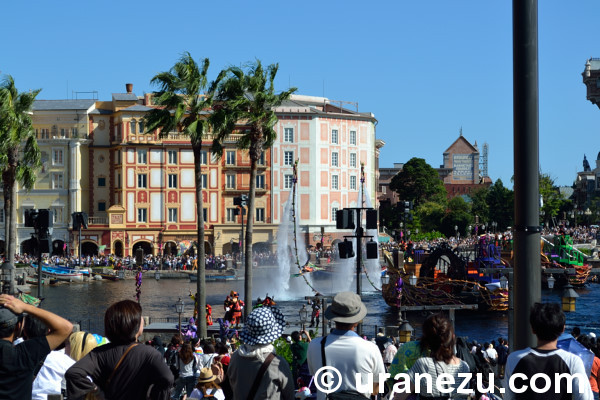 It's just Villains' power!
(I think this power also used at team time trial in this season's road race.)

Anyway, come and feel Disney Villains World at TDS!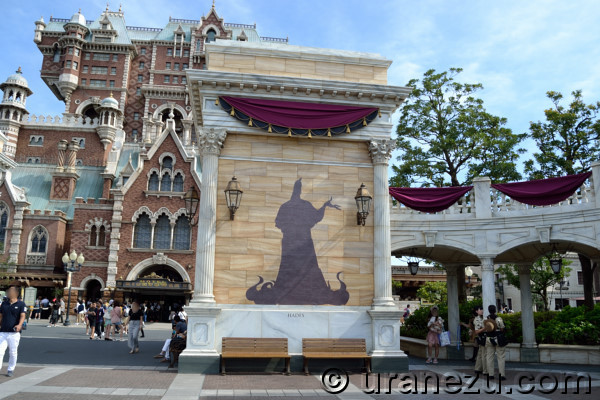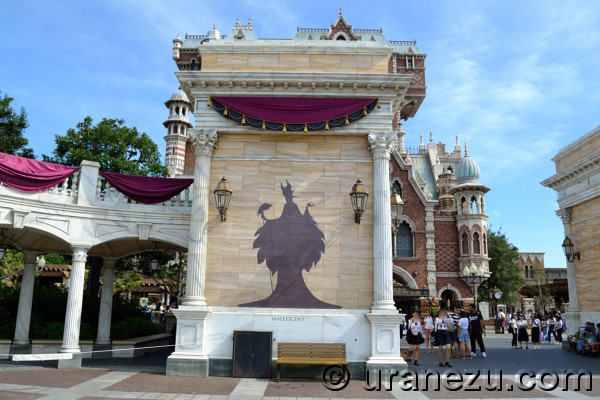 If you have any questions, opinions and requests,
please contact us.
Sep. 16 2017 About TDL Wild Card Halloween Photo Decoration.
TDL and TDS parks have started popular Halloween event from 8 September.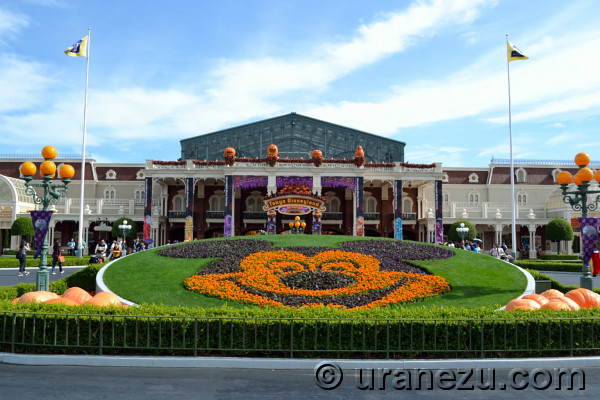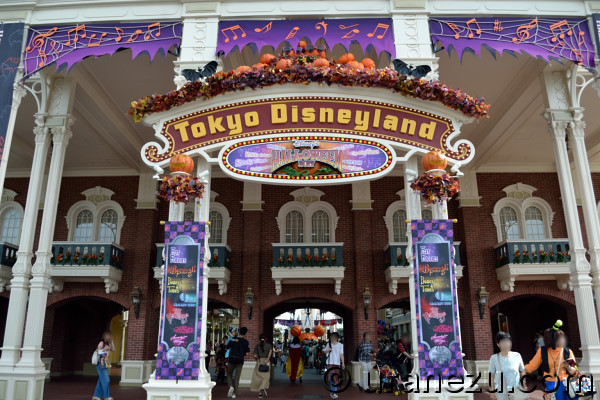 Always TDL adds subsidiary event to the original seasonal holiday.
In this year TDL Halloween is themed to "Halloween music festival" which includes "Halloween Pop'n LIVE" the special day parade.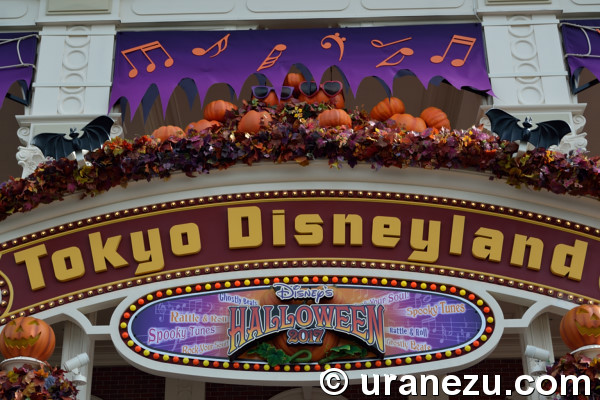 So you can find many music related things than Halloween pumpkins everywhere in the park.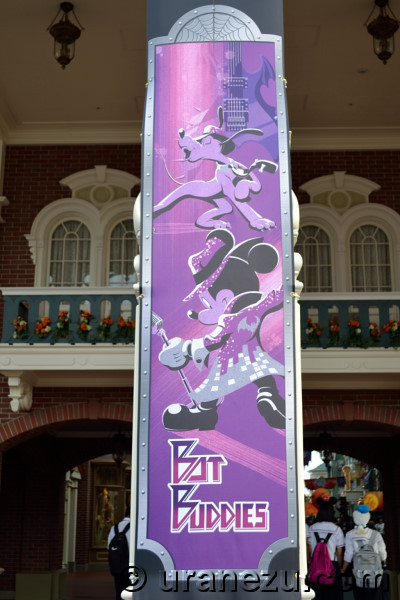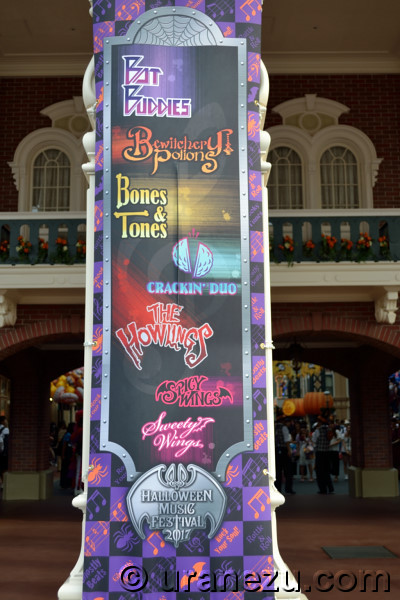 Let's see the special photo location in the hub.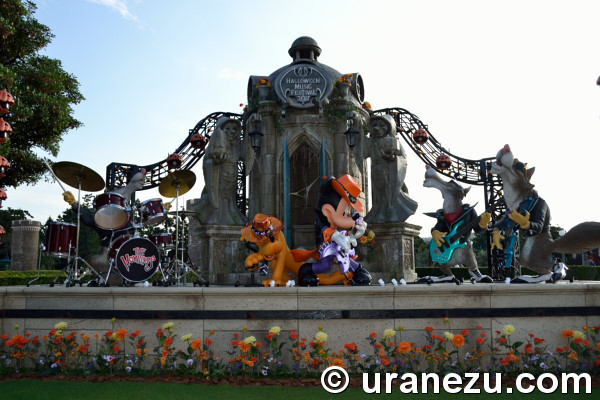 The left side area of the hub is Mickey & Pluto on stage.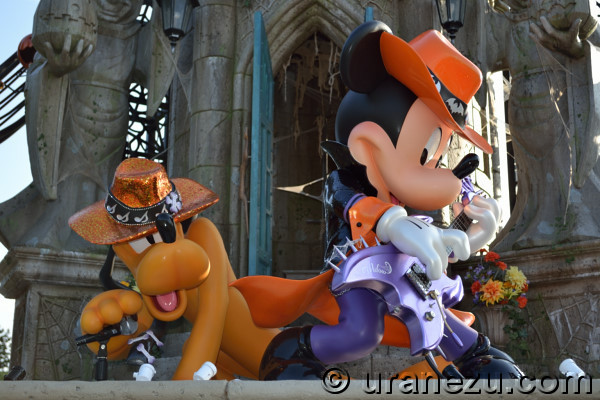 The other side is diva's Halloween performance.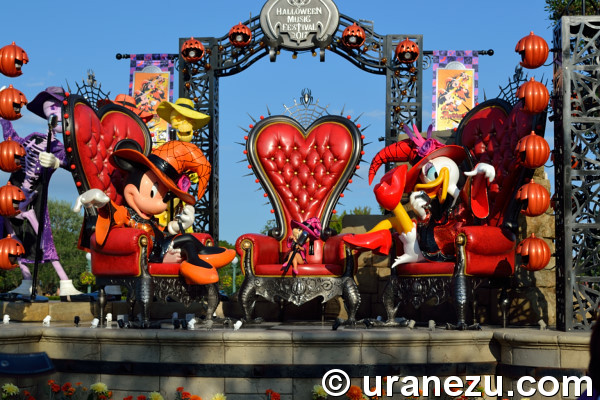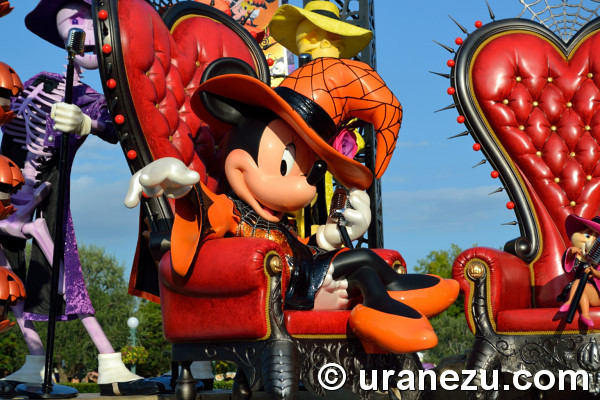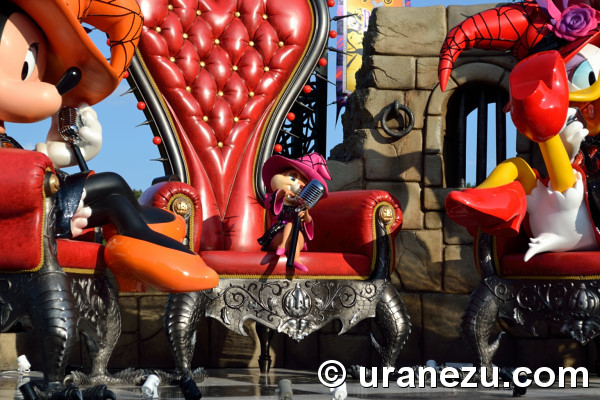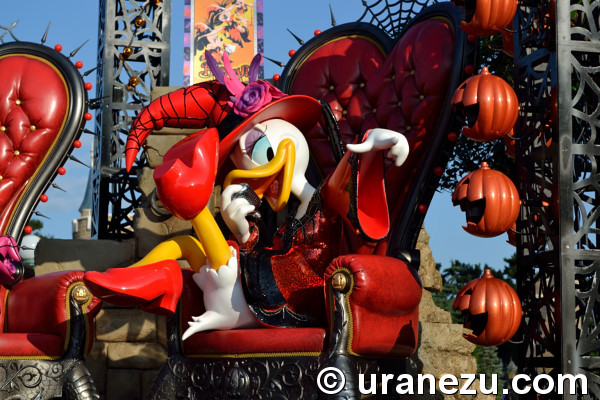 I don't think the stage set is of excellent taste.
I think that a main photo location in center of World Bazaar is a kind of subject of discussion.
Haha! A time difference is so big!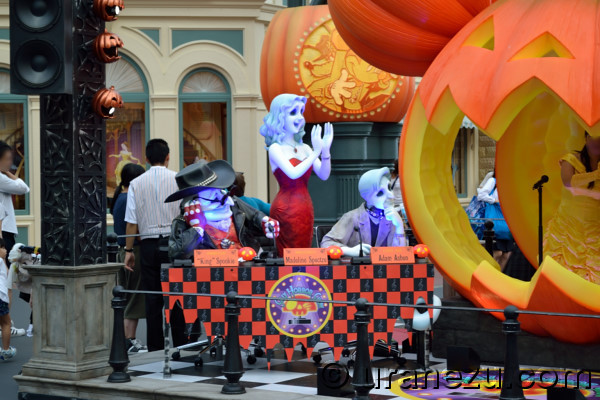 Three judges. And…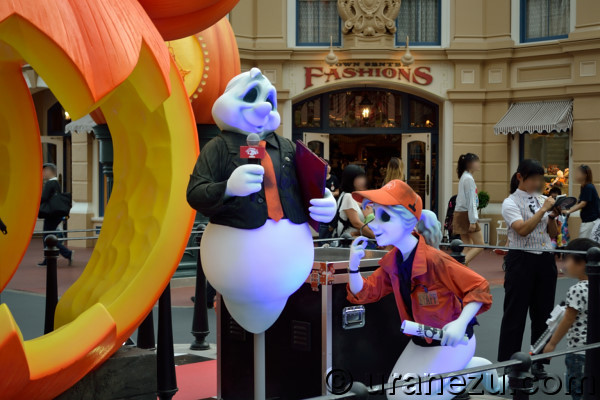 An emcee.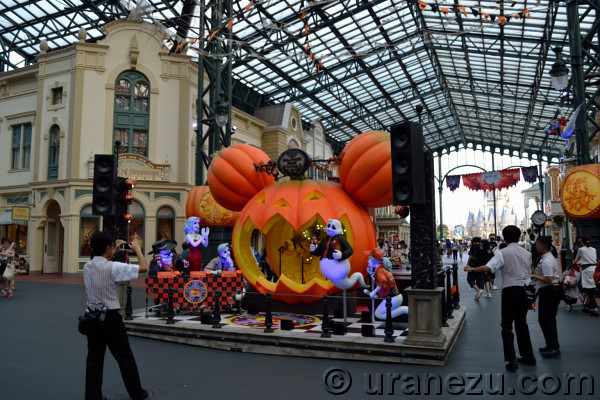 American Idol NOW!?
I think they even don't know there was an addition bus tour at Disney Springs, and it's almost three years have passed since America Idol Experiences had gone!
(Why didn't they use this theme at the time of Clay Aiken was picked for "Proud of Your Boy" singer!?)
Look at the judges.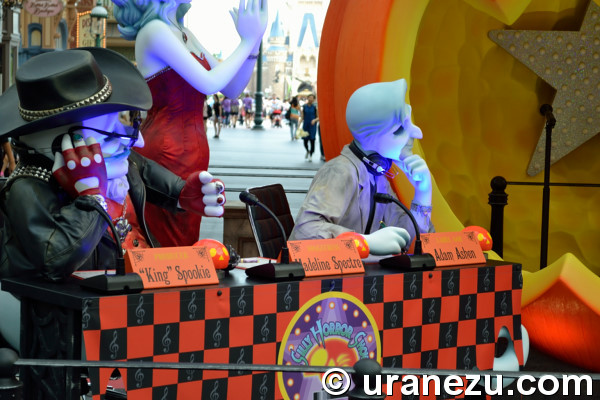 From Left "King Spookie" as Producer, "Medeline Spectre" as songstress, and "Adam Ashen" as Label A&R.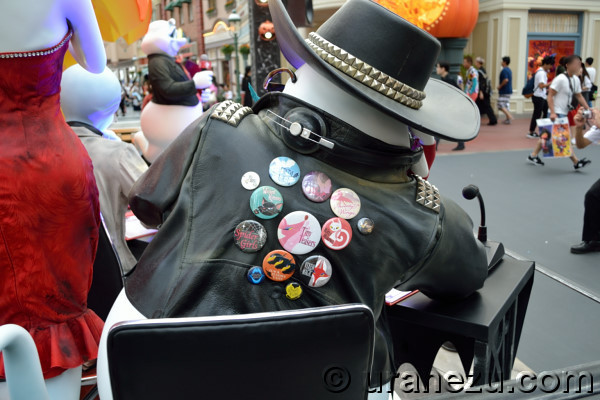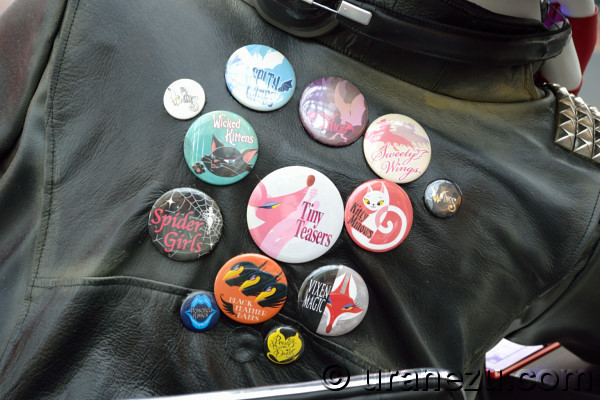 I think Randy Jackson never pick a jacket like this with many cute buttons.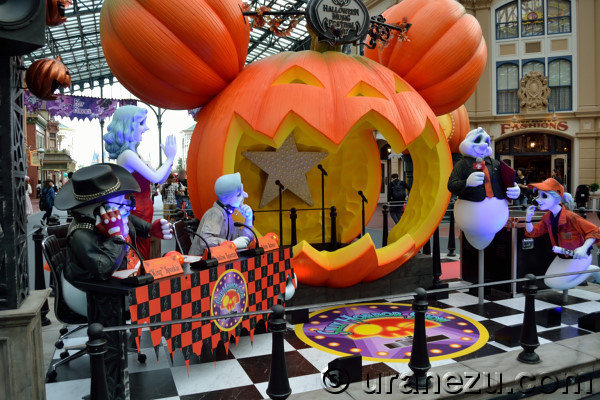 Sometimes I forget this is Halloween.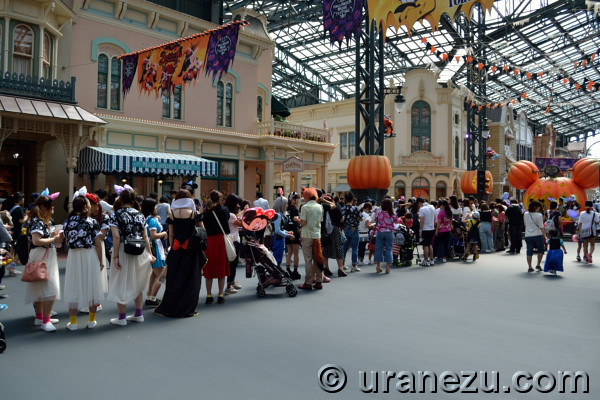 I don't know why this center photo location is taking so long time to take a photo. The line is always long and sometimes it stretches to an entrance of World Bazaar.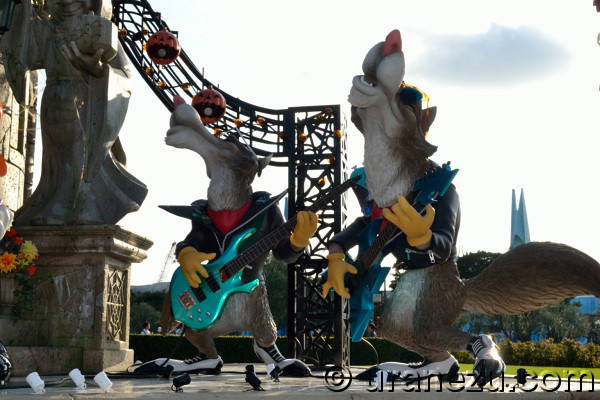 Do they inspired by wolves from Zootpia?
I think good old TDL parks never used a facile idea. It was simple but wonderful, and there was a heart because which come from real American culture or concept.
The below was the decoration in 2006.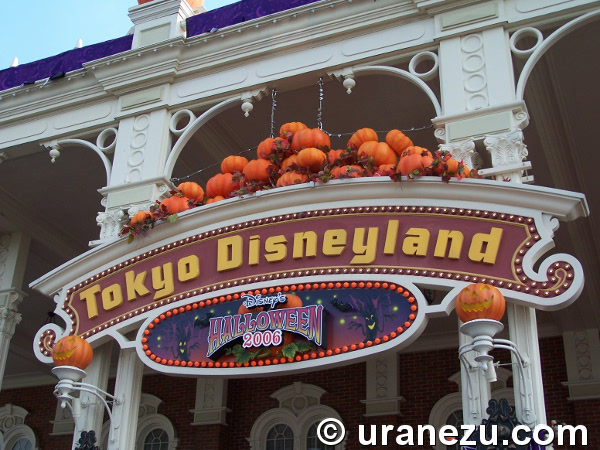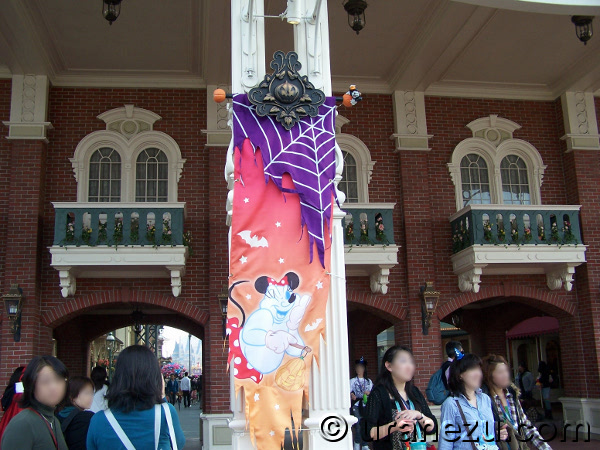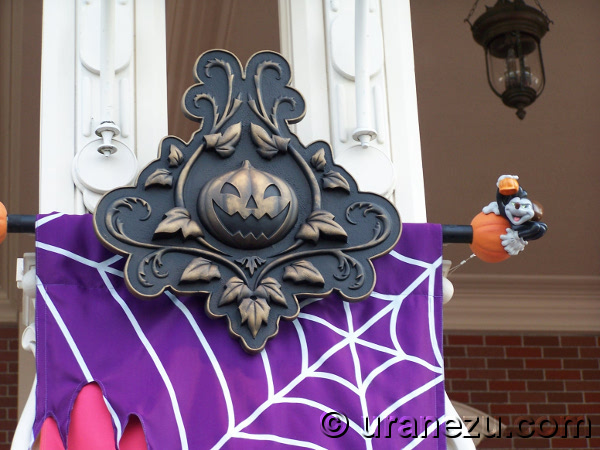 The details are so amazing!

Or how about 2010 TDL Halloween decoration?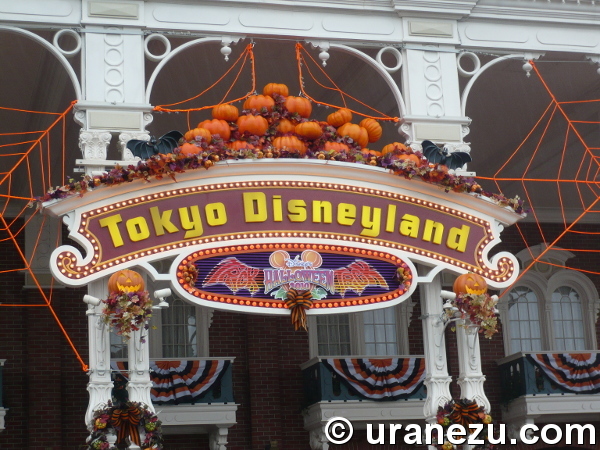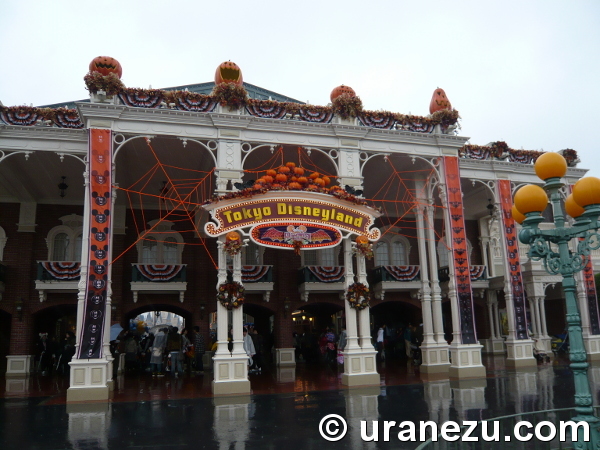 Wasn't is great? And still cool to me!

So I really hope they'll think about go back to basics from these immediate glitz.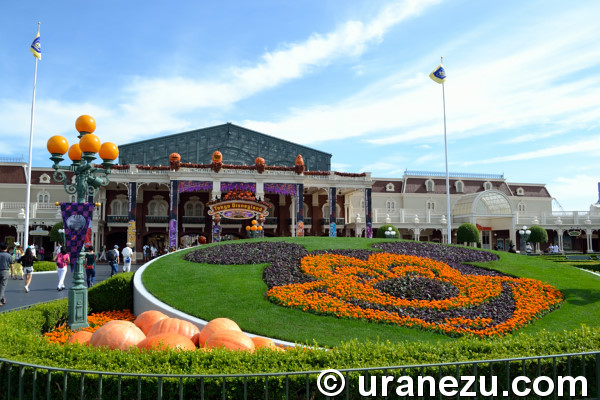 If you have any questions, opinions and requests,
please contact us.
Aug. 11 2017 About TDS Summer, Disney Pirates Summer.
TDS has also welcomed new summer program which called "Disney Pirates Summer".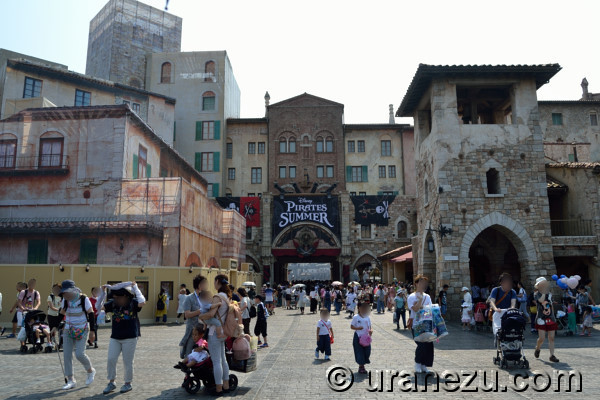 A big banner and cannon liven up a pathway to Mediterranean Harbor.
There are piles of golds!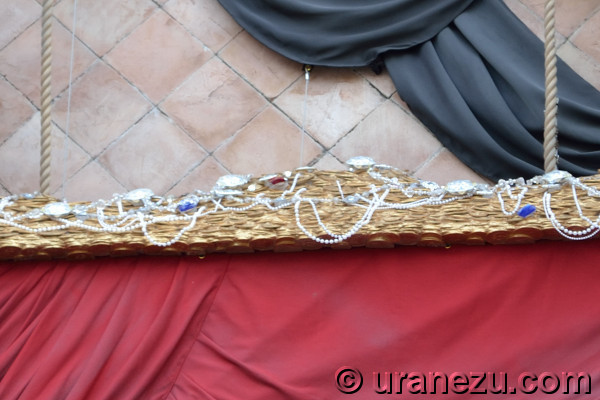 It's perfect decoration for the pirates.
Around the harbor is changed to roughneck town.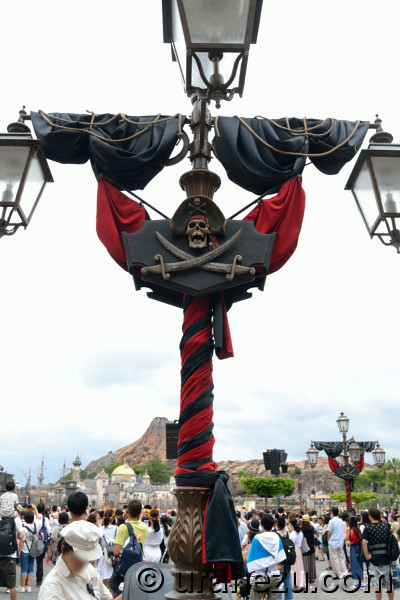 The decoration is so good, but it's little bit strange feeling to see the skull and crossbones in TDS which really evoking "taunting famous one" of "Pirates of the Caribbean" at TDL. (This TDS one never talk!)
First important notice about "Pirates Summer Battle 'Get Wet' " the special Harbor show is no Mickey or Minnie, any Disney friends appearance. Only come to the show are Captain Jack Sparrow and Captain Barbossa with many crews of pirates.

Some good (really get wet) area is provided by a lottery. You can try the lottery at a place is next to "Gondolier Snacks" the gelato counter. I never win the special show in these years!

Jack and Barbossa like dark color attire, so it's difficult to find them in blackish ships.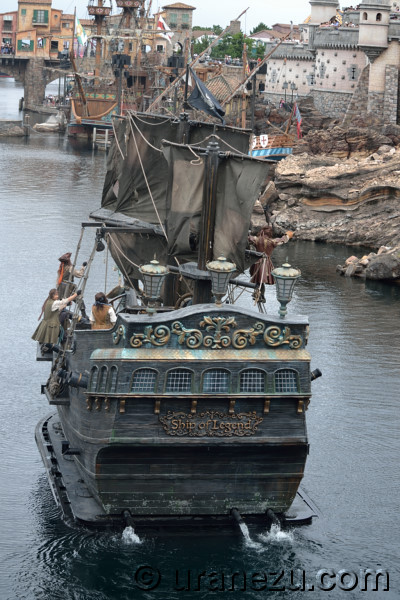 The show is only Japanese, but I couldn't understand very well the story. I think it's just because of the heat, not the bad screenplay.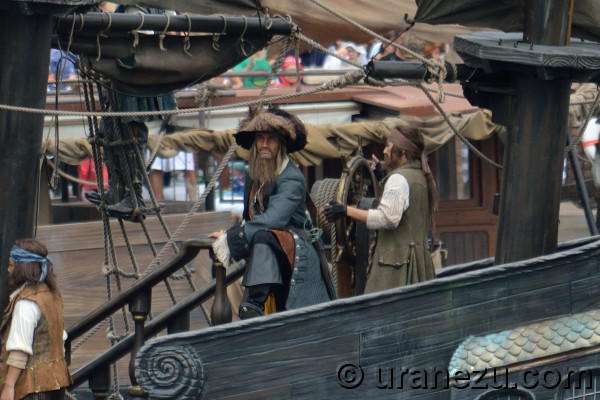 Barbossa come to the harbor, and then Jack reached either by a guided compass.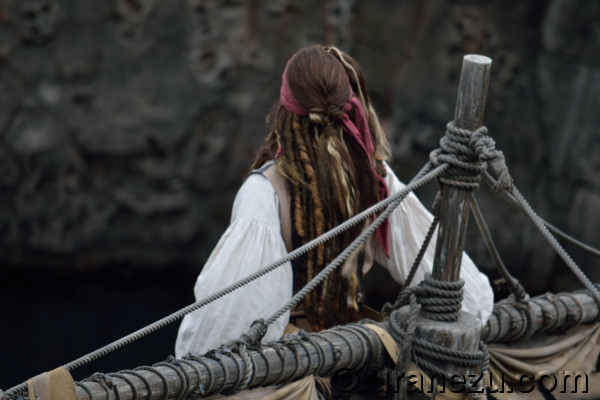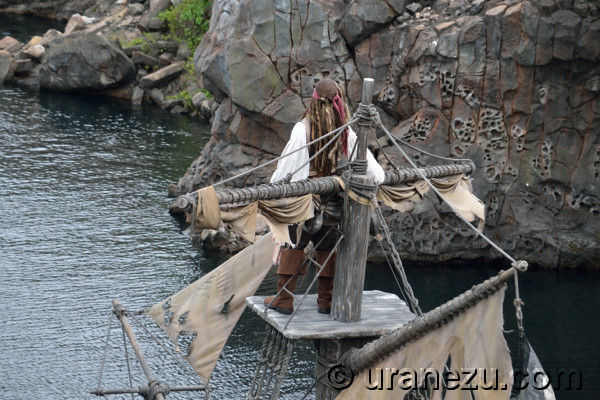 Why Captain Jack stand still on the mast? Because the harbor is so huge, so he is appealing to distant guests.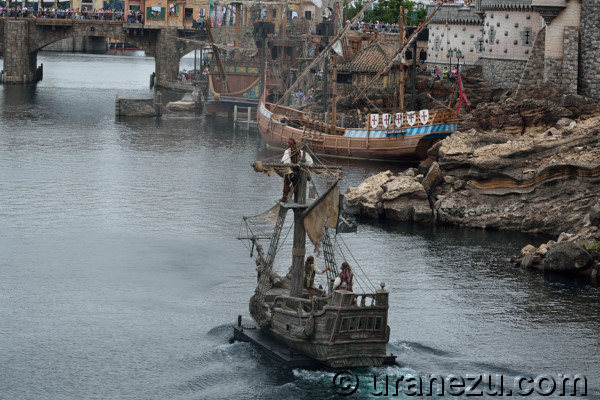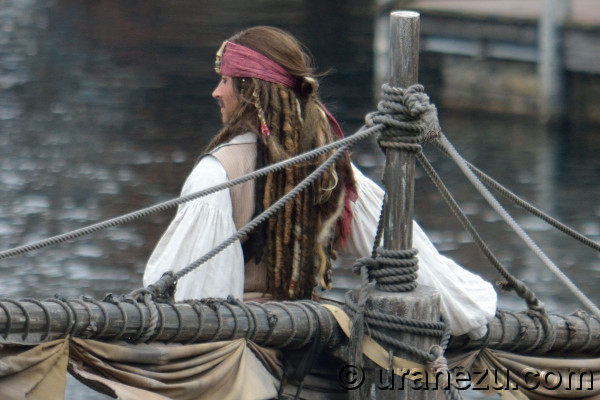 Then suddenly feast began by the two's instant friendship.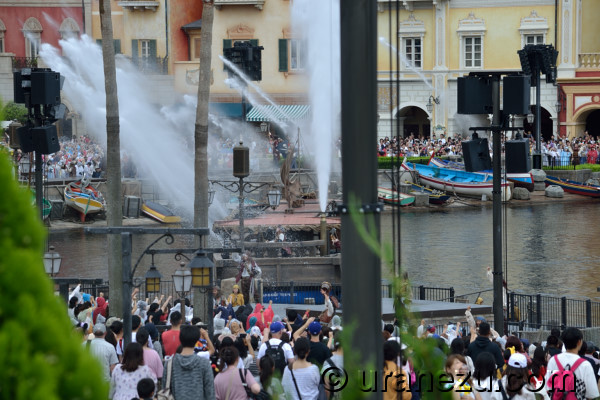 After that, a fighting occurred between Barbossa and Jack Sparrow for the ship. Jack Sparrow won the battle and robs the ship, Barbossa's crew stitched to Jack's side.
Happy Ever After!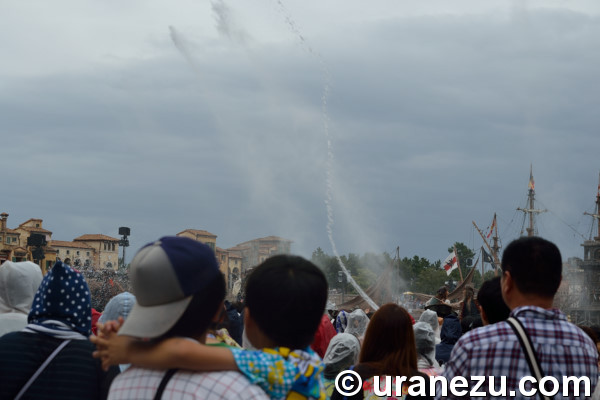 You can't see the show very well, if you get the lottery.
I reported there are many photo locations for SNS lover in last topic. TDS is also prepared many photo opportunity places for them.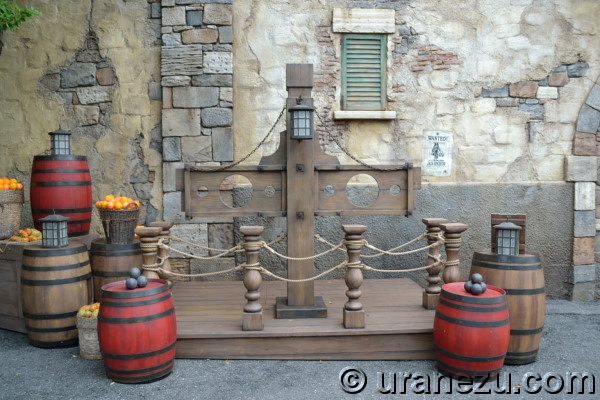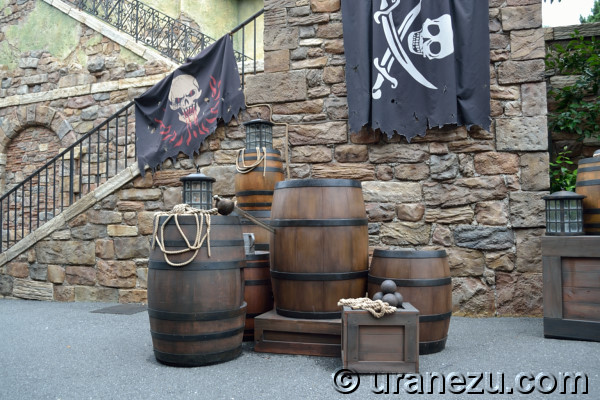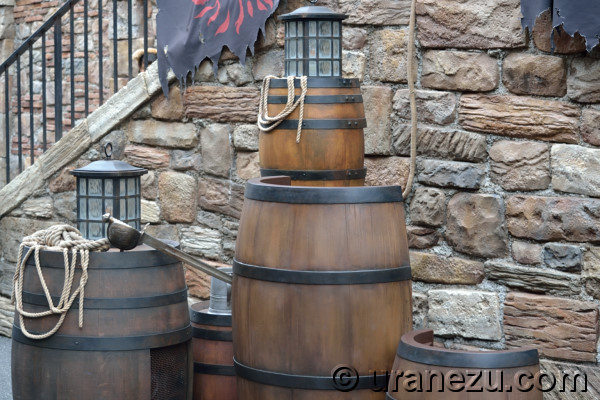 We can mimic a hiding young woman or Jack Sparrow the scene from "Pirates of the Caribbean" the attraction at this place. But it seemed many guests couldn't recognize the scene.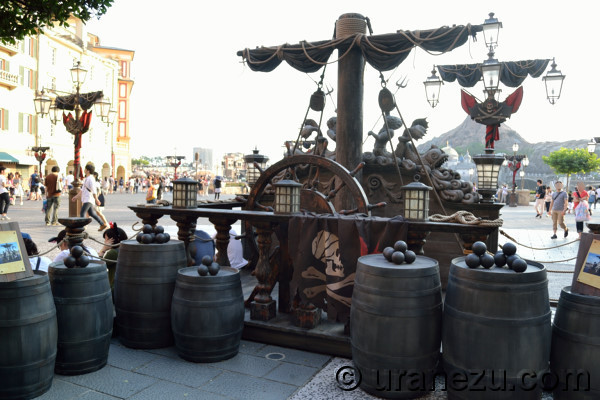 More and more photo location, it's nice but do you think they really fit the location?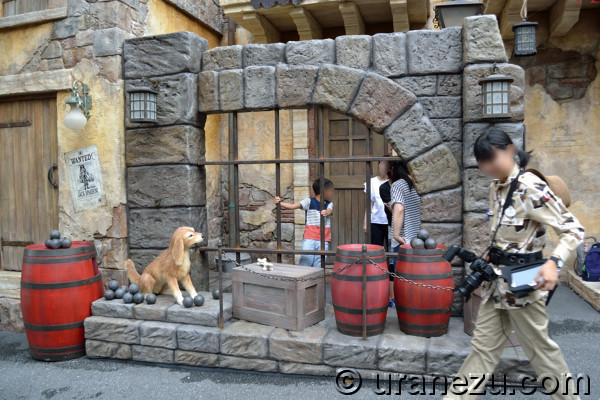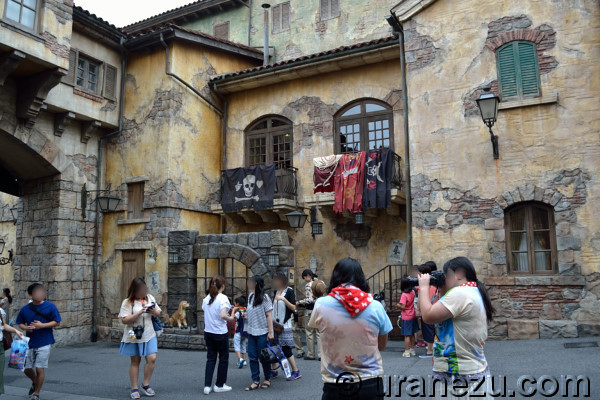 If you are seafaring person, you'll enjoy taste octopus!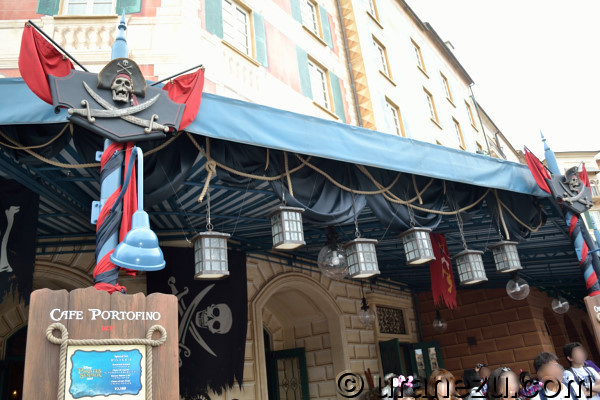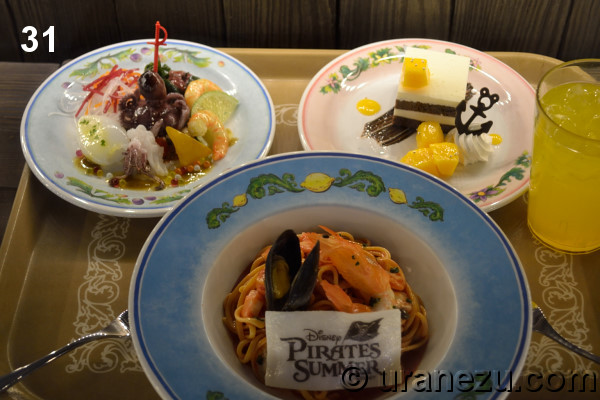 It's really good taste, so let's come and try a special menu at "Cafe Portofino"!

I hope you'll spend a nice preparation days for Halloween summer vacation!
If you have any questions, opinions and requests,
please contact us.
Jul. 29 2017 About TDL Summer, Disney's Natsu Matsuri.
Now TDL has Disney's Natsu Matsuri the annual special summer event.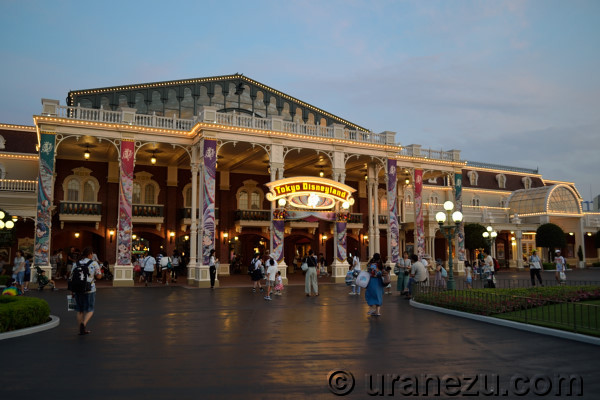 The park is filled with Japanese traditional summer festival atmosphere.
Such as…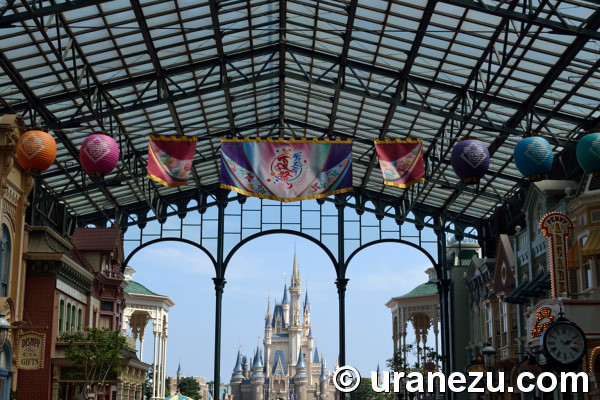 Colorful lantern lights above the World Bazaar ceiling.
Not only the upward, there are special decoration at center of World Bazaar.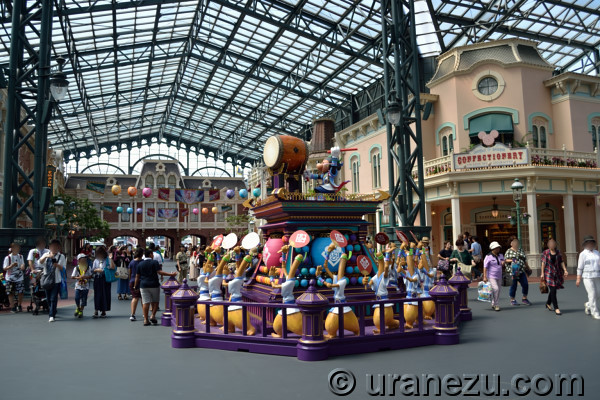 The scene from bon festival dance which is very familiar part of Japanese summer festival.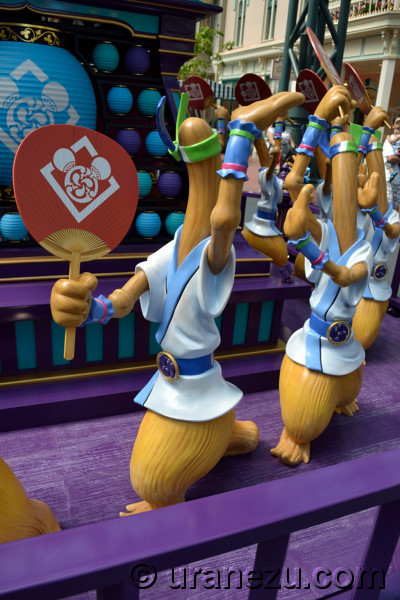 The drummer of wadaiko the Japanese drum isn't sorcerer's apprentice, but the dancer around Mickey are enchants brooms. Hmmm.
Mickey statue is in World Bazaar, the other friends in a hub in front of Cinderella Castle.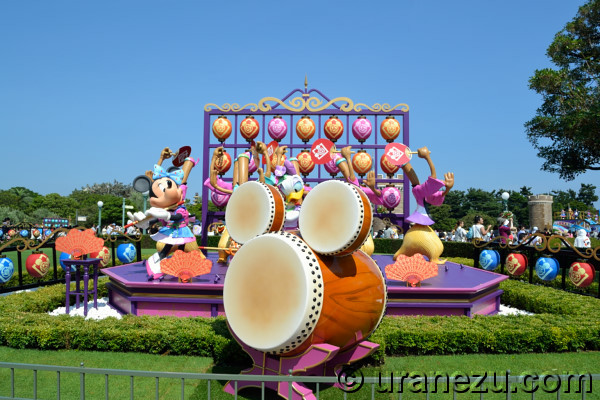 For SNS addicted people, the big Japanese drum is set in middle of the lovely decorative figurine.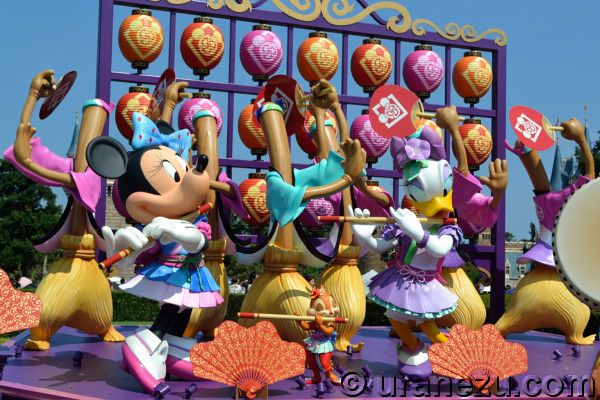 I think the photo sales is going up and more guests who want to take the self-centered picture come to the park.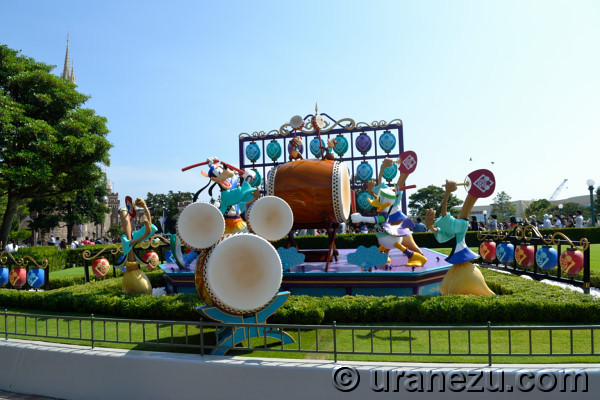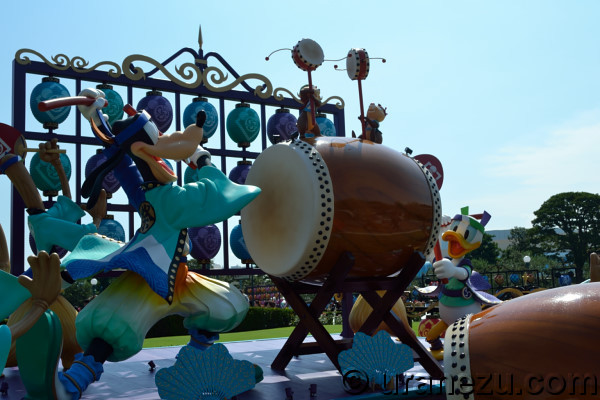 But I really doubt that these kinds of people will be a long lasting guest. If they lose their taste for the studio TDL, what OLC do? I do really want to know that many guests are leaving from the park which shifts for the people.
Anyway, the park is ongoing special summer program, so let's enjoy summer!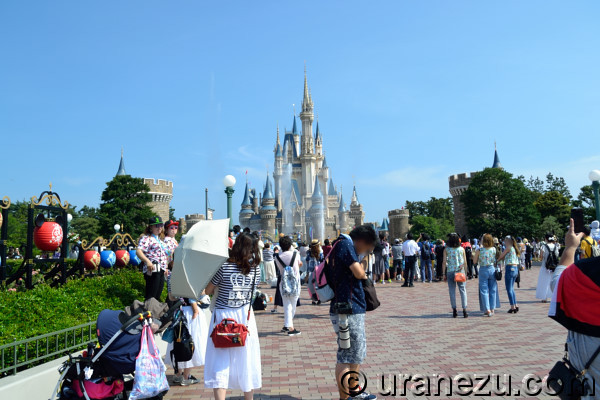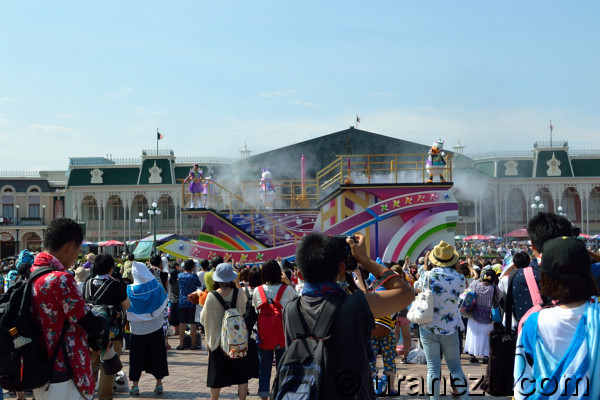 The special day parade floats is moving around the hub, and spraying water.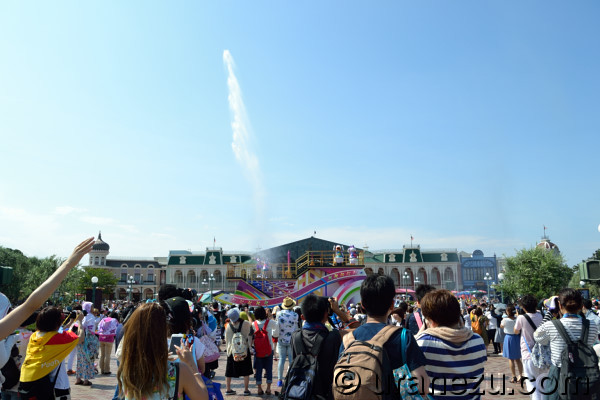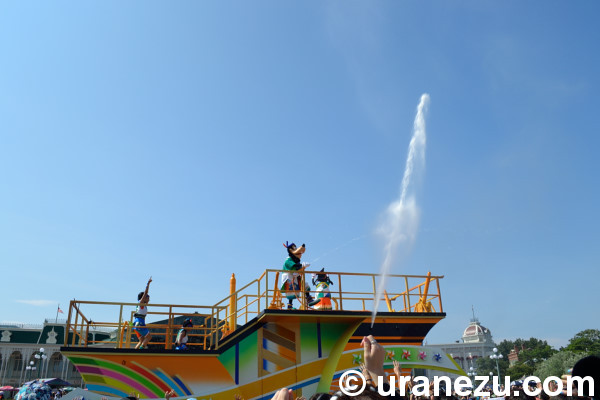 It's time to splash!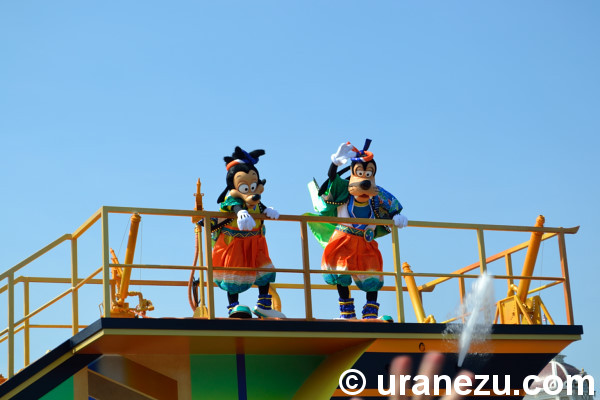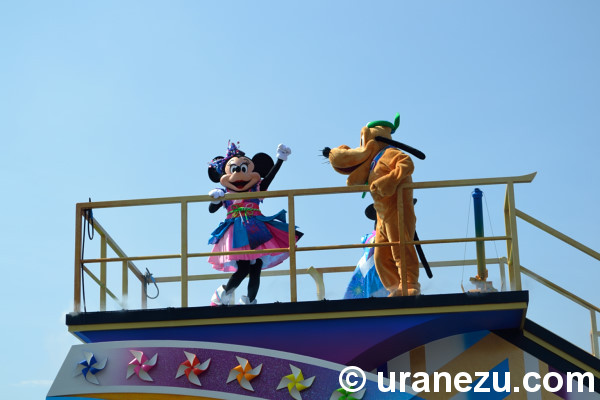 The parade is named "Sansui Summer Beat".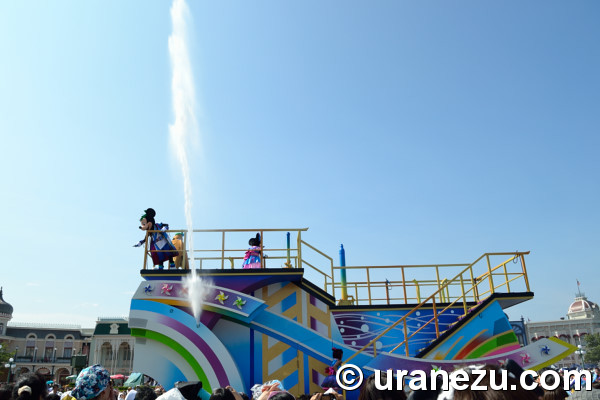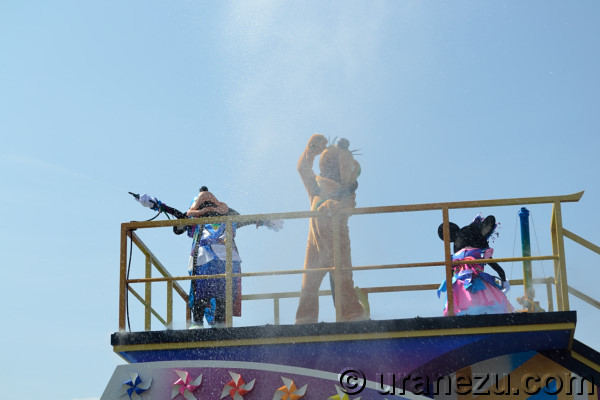 You can see Disney friends costume details from the banner.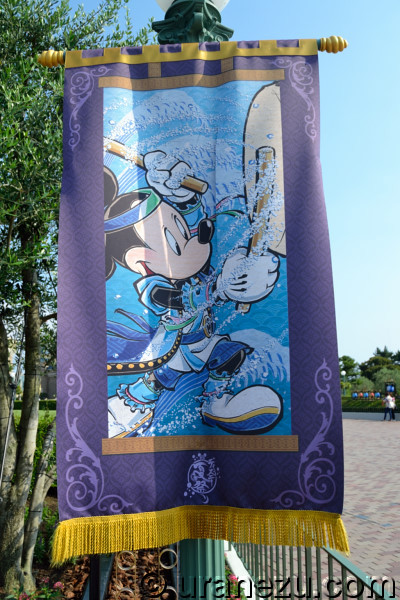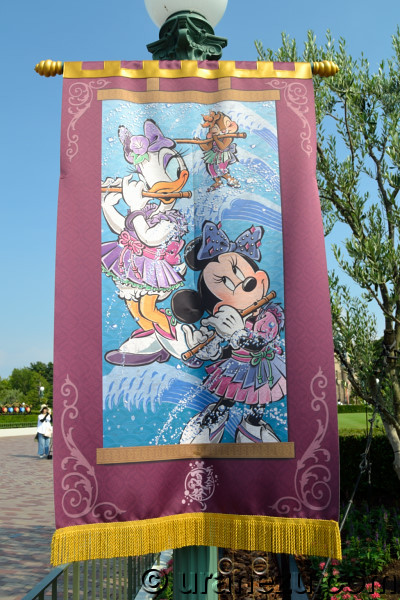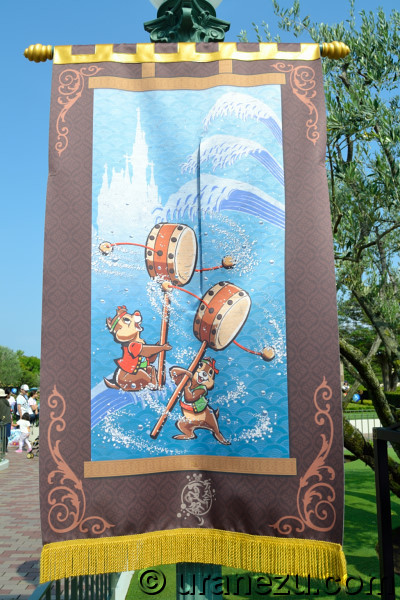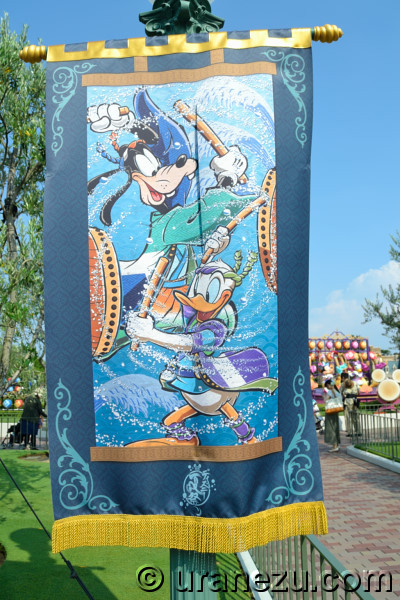 If you'd like to try your luck, why don't you play a lottery?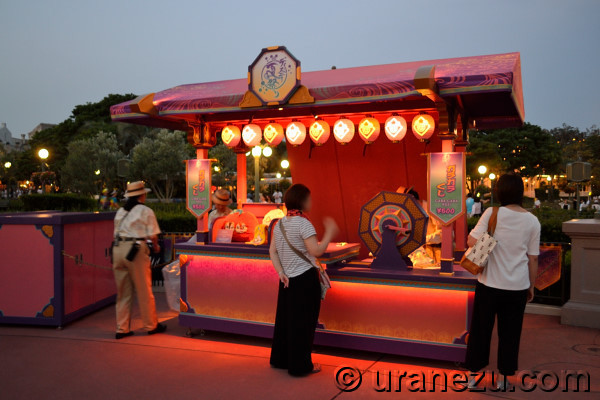 Grip a handle, whirl one time, and then a small ball came from the lottery machine, the color of the ball tells your prize!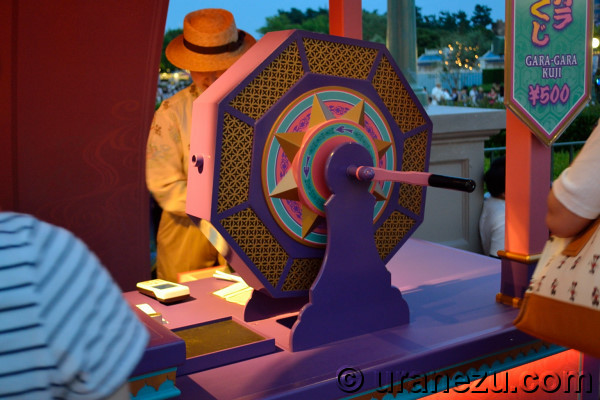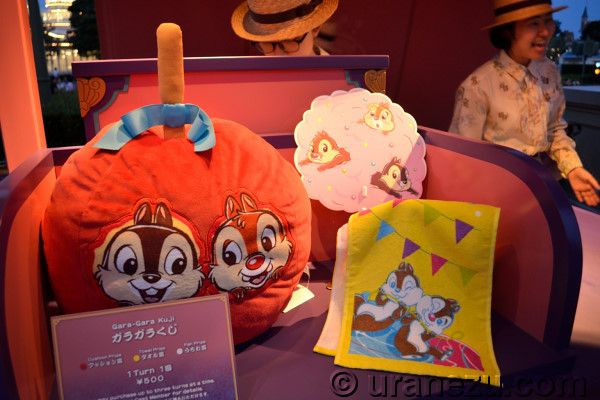 The fee is 500JPY, the first prize is apple candy shape big cushion (red ball), the second is long towel (yellow ball), the third is cotton candy shape fan (white ball).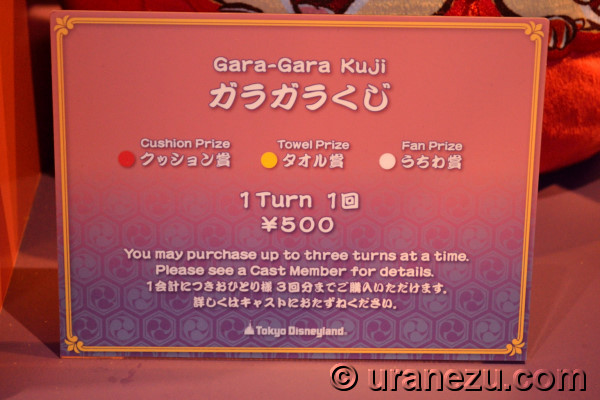 It's so popular to merchandise collector, especially Chipmunk's lover since this game wagon has open, always have long queue lines.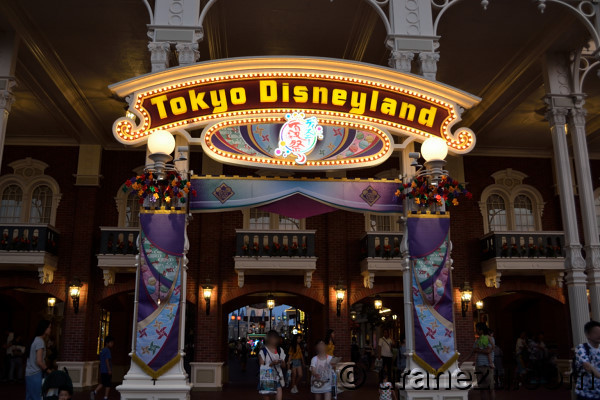 The summer TDL Park is beautiful in the shades of night.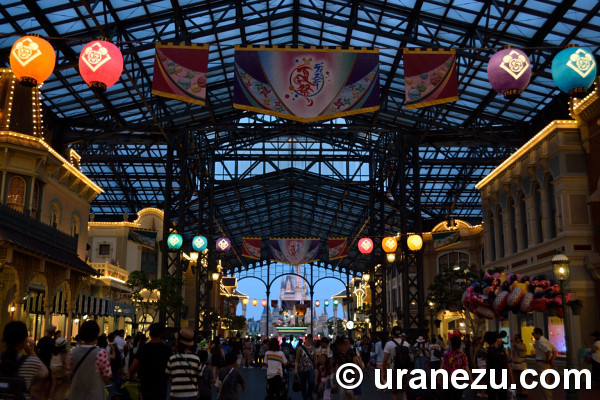 The main window of "Emporium" is decorated Japanese Natsu Matsui.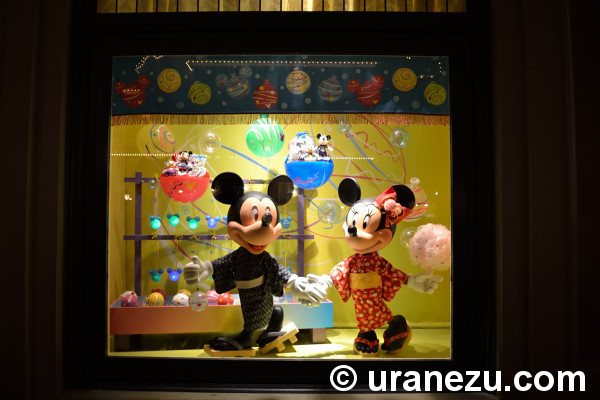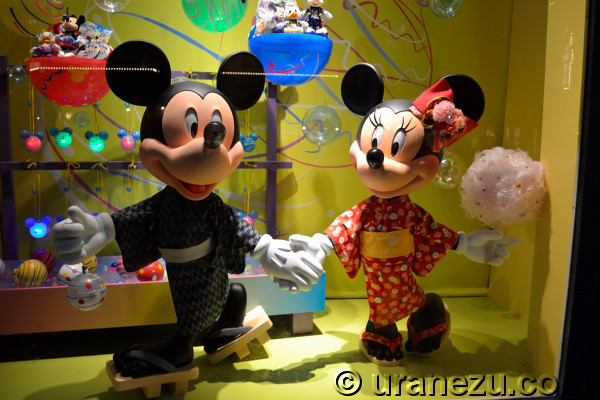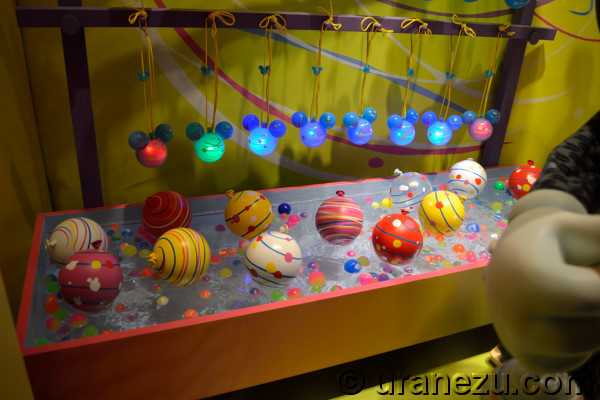 Yo-yo fishing.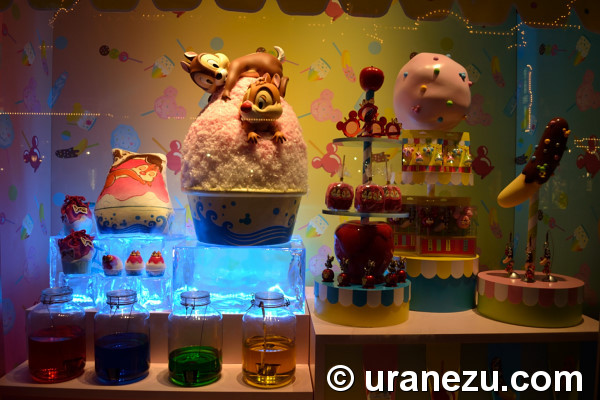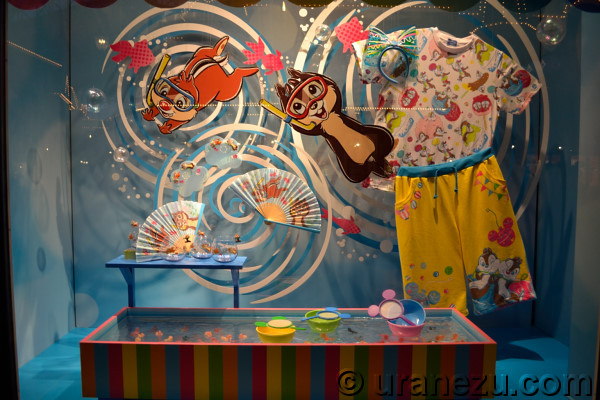 Shaved ice wagon and goldfish scooping.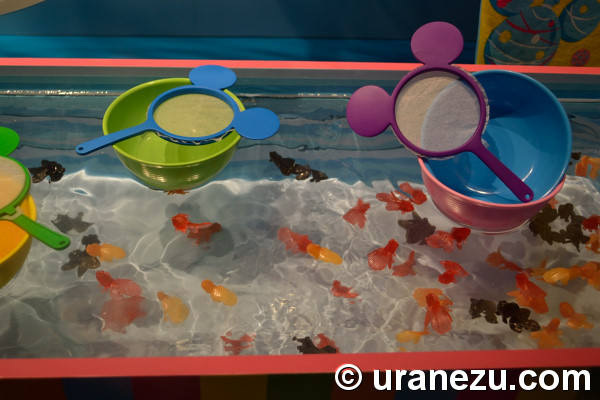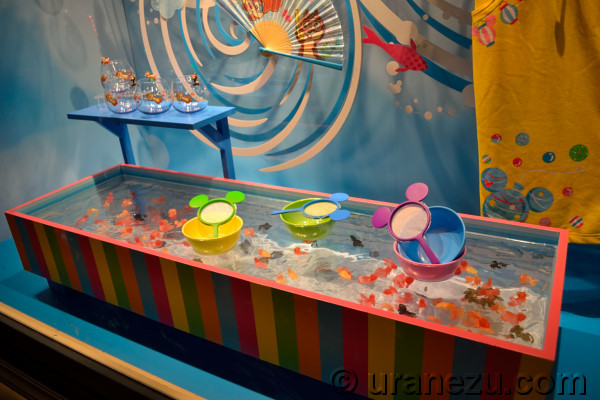 You can learn much traditional Japanese summer festival from the window.
If you'd like to try something special, you can go and pick some cool treats at special wagon.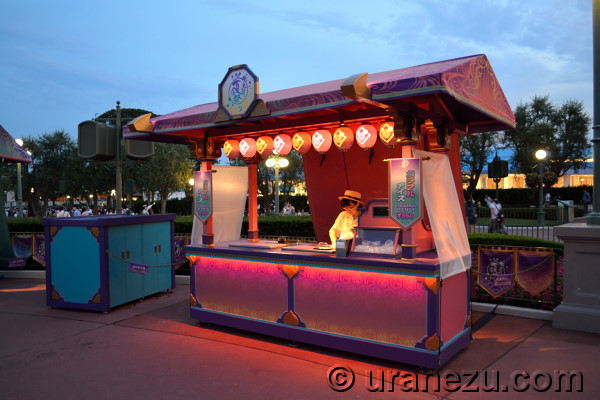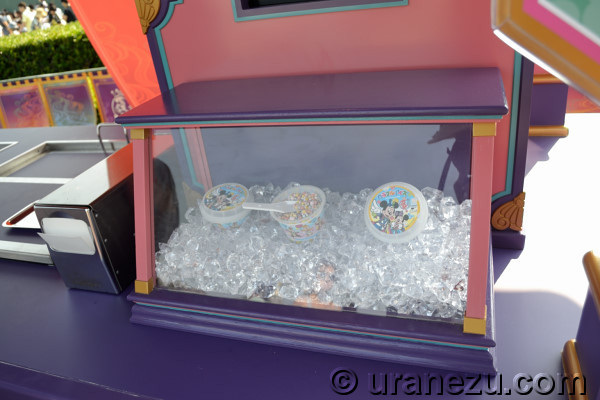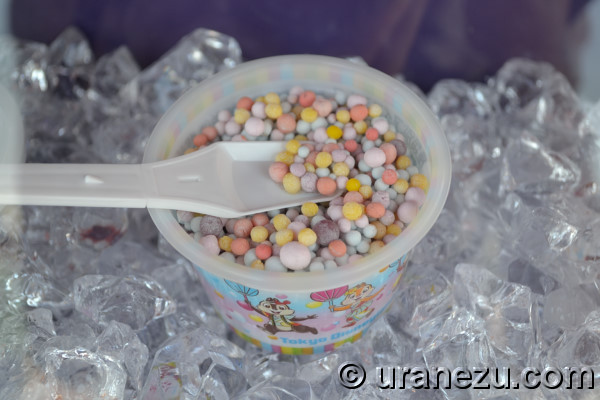 This is Dippin Dots-like ice cream. (actually, I think it's not Dippin Dots)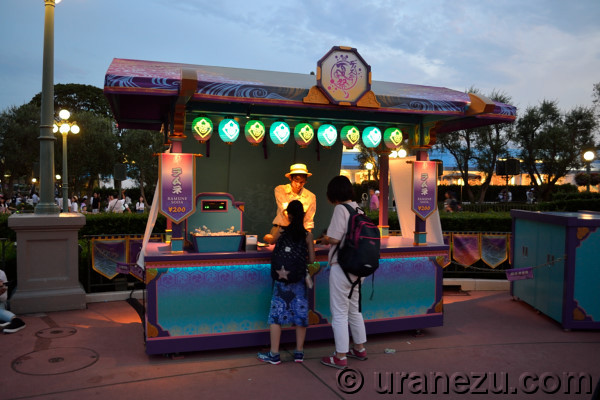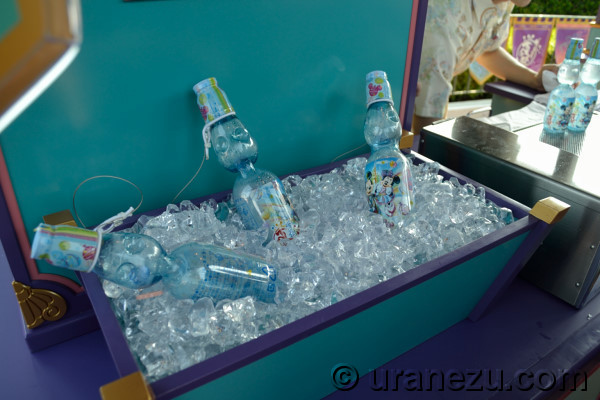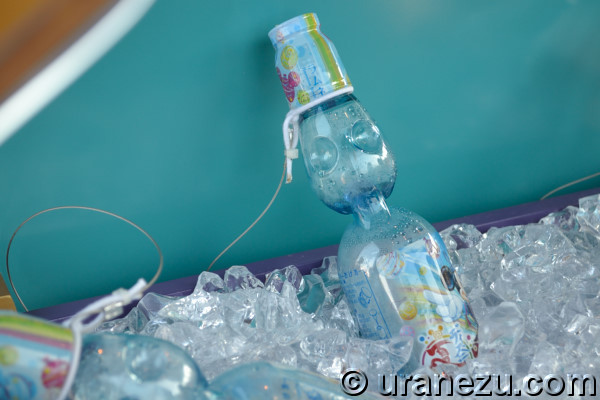 This is the ramune the magical drink is strapped to the case.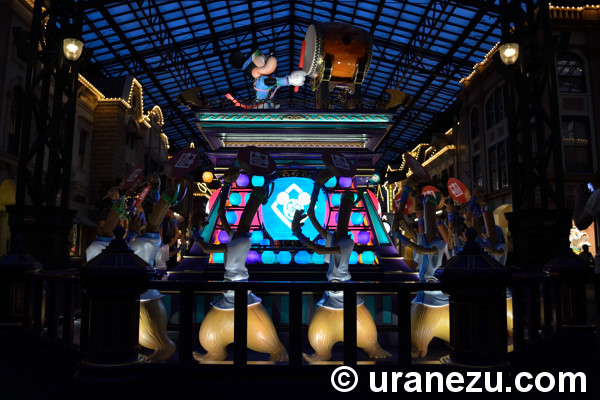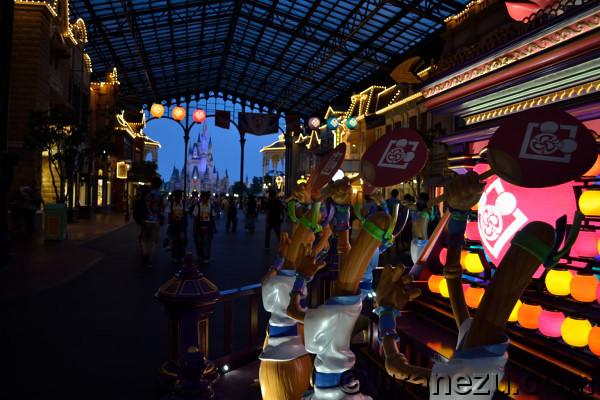 Bon festival dance is keep going. Come on and let's dance with them!
If you have any questions, opinions and requests,
please contact us.
Jul. 08 2017 About Balance of Safety, Profit, and Theme.
We know Disneyland is a theme park which so many people visit to. Disneyland has to take an action for the multiple guests, and also make a profit as a company in an unique environment with Disney theme.
Disneyland is operated well-balanced between the theme and these commitments.

Let's see it and say Ah! or Oh…
Safety with Theme
The first topic starts from Mysterious Island in TDS.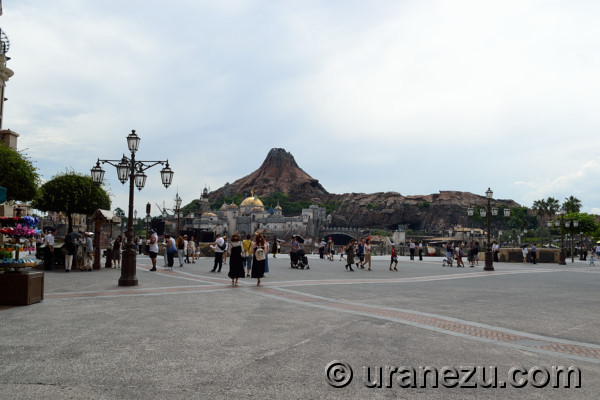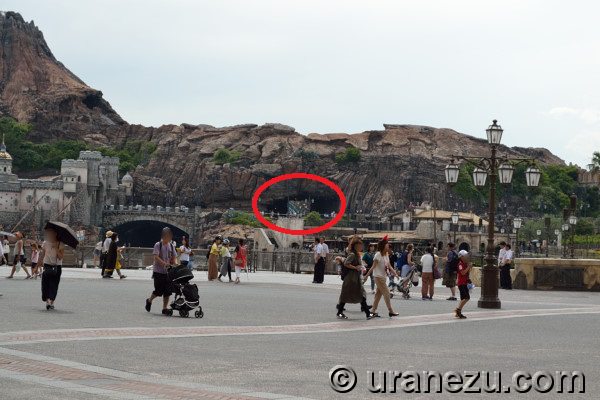 Above red circle is the cave tunnel to the marvelous port.
This theme port is located at the foot of Mt. Prometheus, more precisely, around the caldera lake.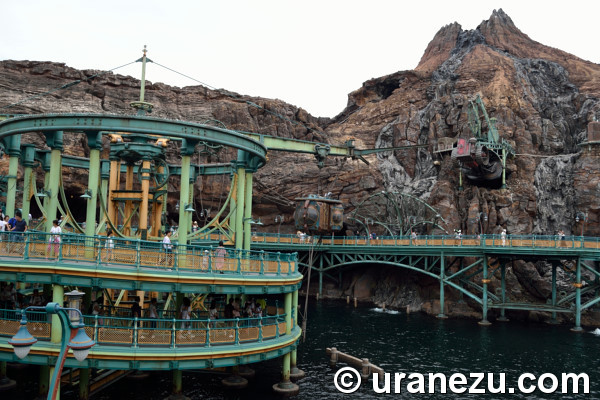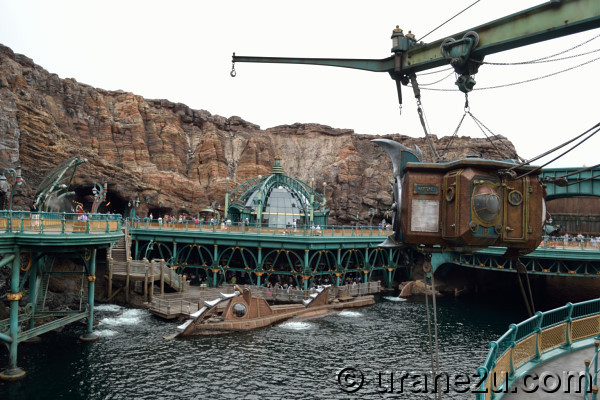 Captain Nemo and his loyal crew based in this area for searching.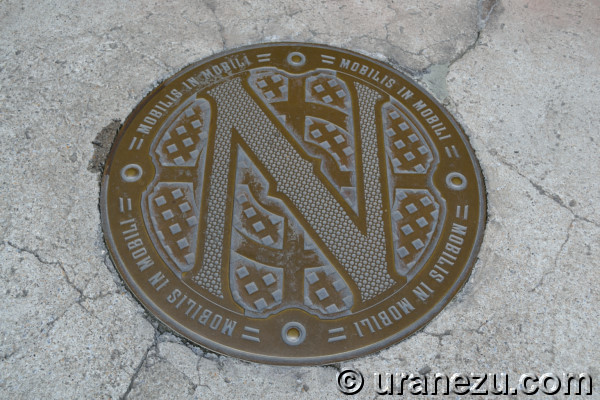 So, everything from architecture to lump is made by dark green color with heavy metals which are similar to his submarine "Nautilus".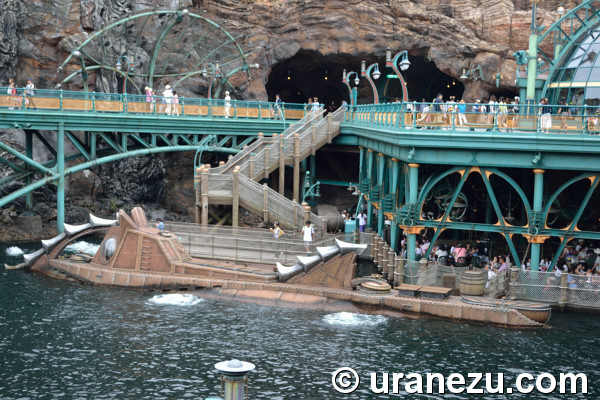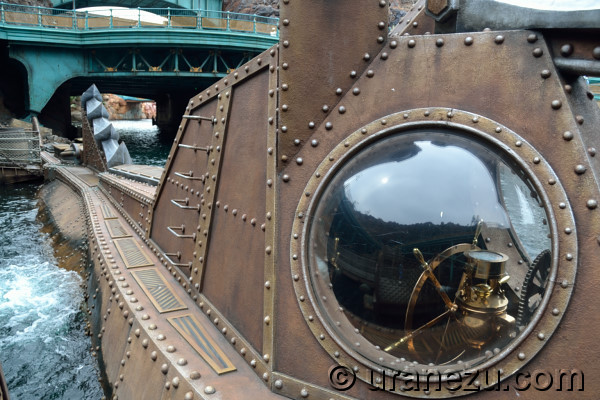 Eye-catching drill machine on the rock is one of the check it out point on this port.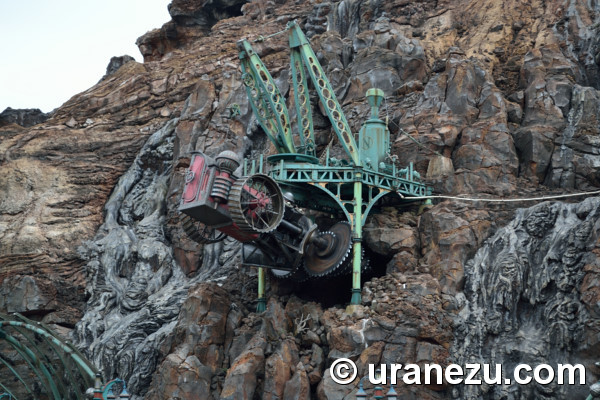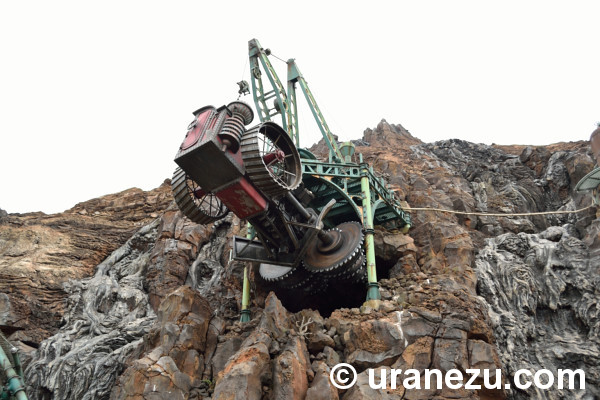 When you go to "Journey to the Center of the Earth", please don't forget to see your back side at the very first attraction entrance.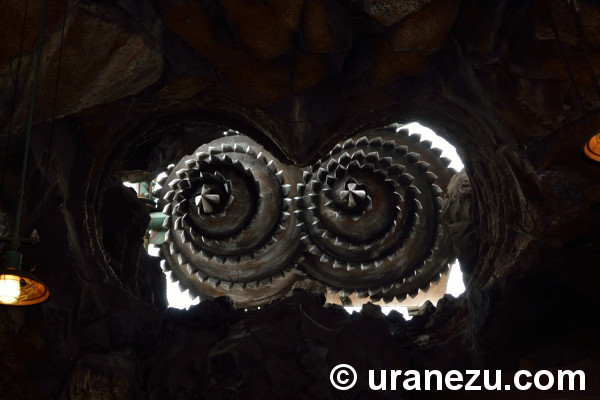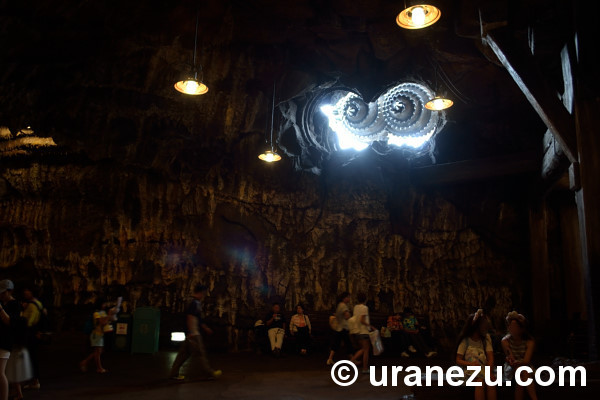 You can see how the drill machine is working.
Not only the background story, but also the area itself is amazing.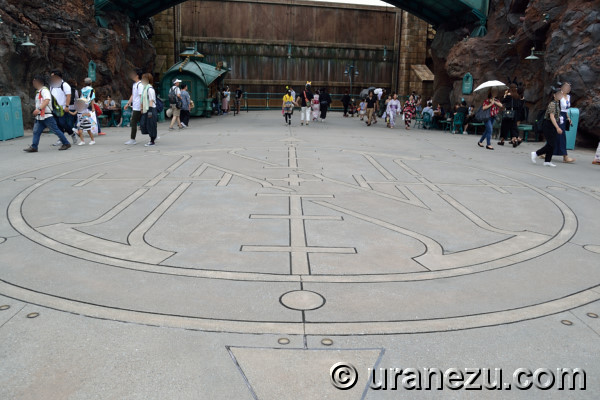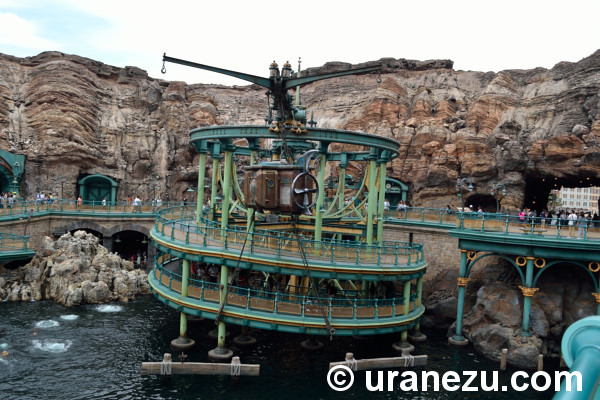 When you stepped into the Mysterious Island, you'll overwhelmed 360-panoramic breathtaking view.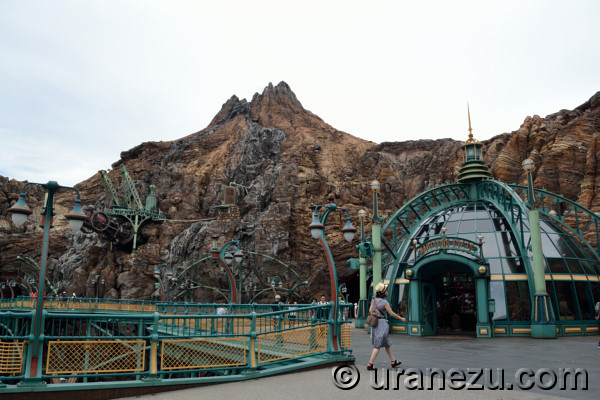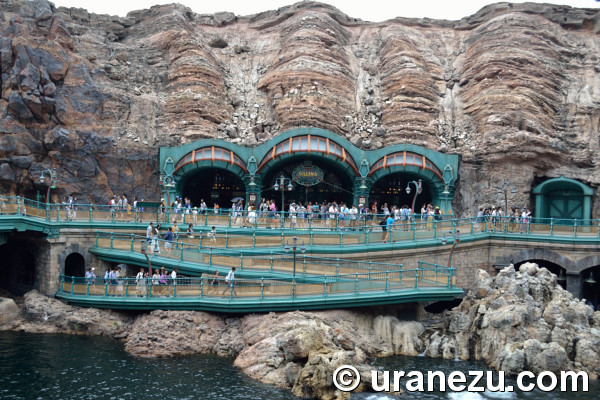 Recently, a new safety measure is taken in this spotless-look area.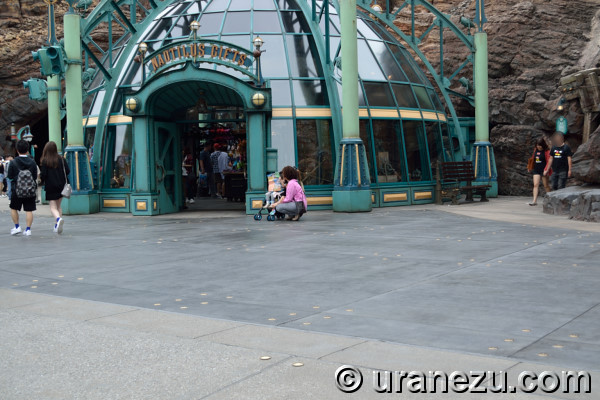 Can you see it?
The original ground studs are round shape. After refurbishment of the area ground, these studs are changed to flat-top with not-skid rubber.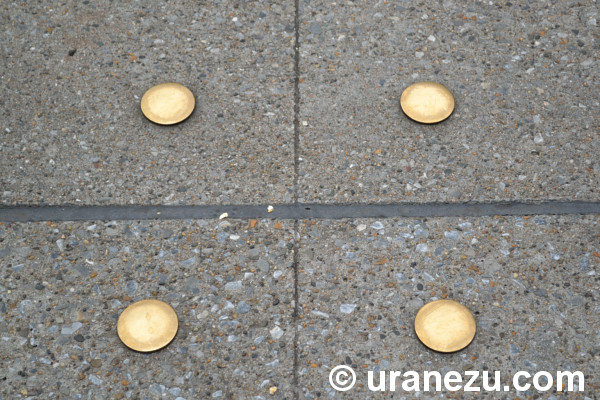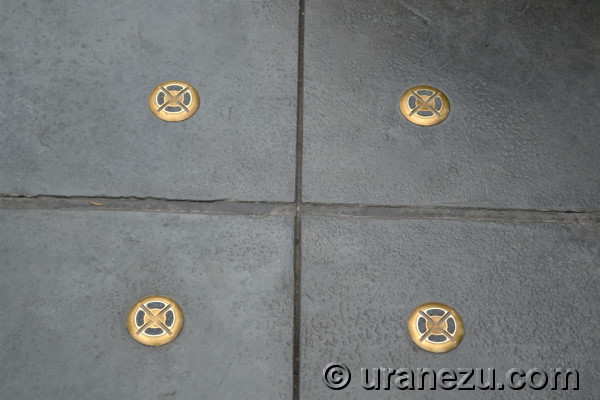 The left is original studs on the ground. The right is the new comer.
We can still enjoy for walking on the original ground.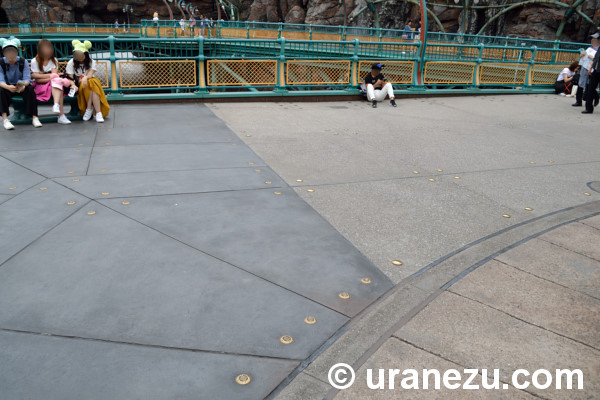 Yes, it's very sad the original was gone, and quite wonder who many people slip on this very tiny spot.
But still remain wonderful theme and nice safety precaution for every guest.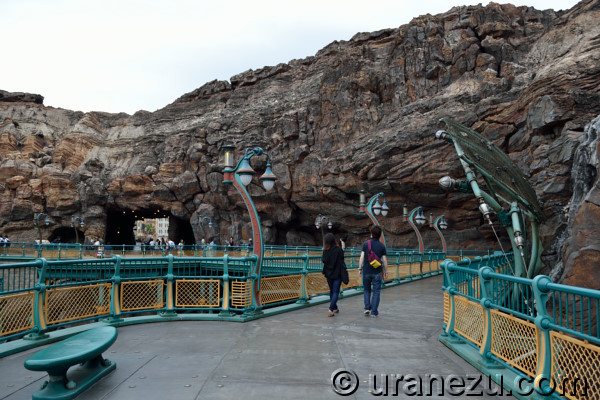 Earnings with Theme
In TDR, there are only three attraction photos. Splash Mountain in TDL, Indiana Jones Adventure: Temple of the Crystal Skull, and Tower of Terror in TDS.
Interesting measure came to the three attractions for a social issue in present-day world.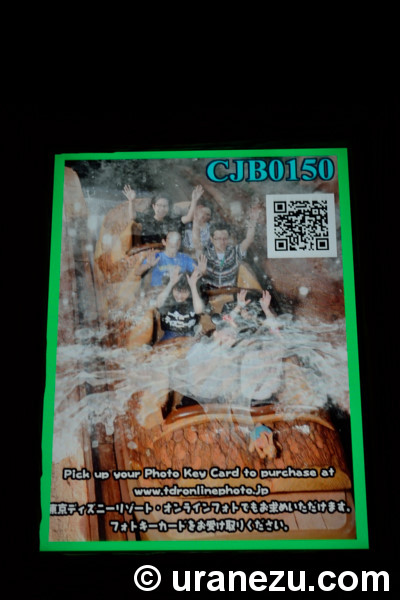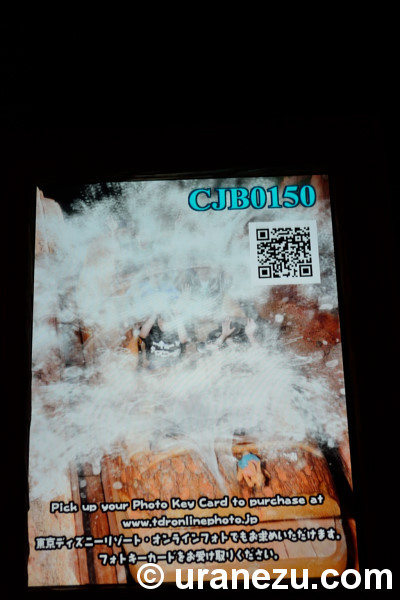 Can you see the big splash on the photo monitor?
And how about lightning in "Tower of Terror"?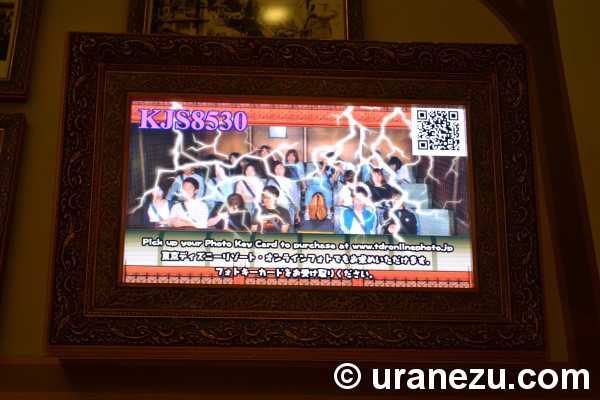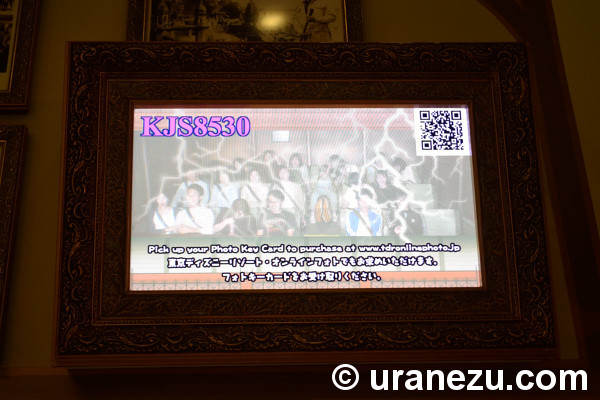 The last is quite dangerous, so many rolling rocks!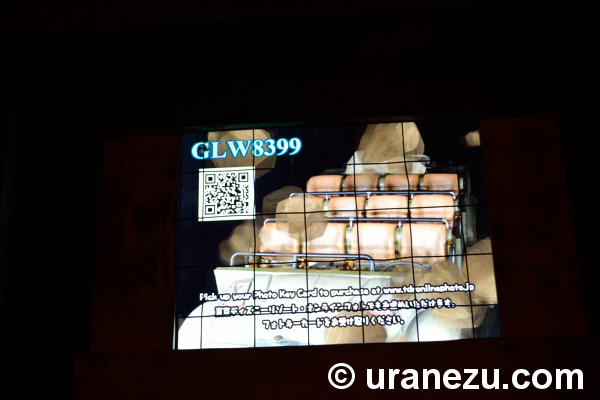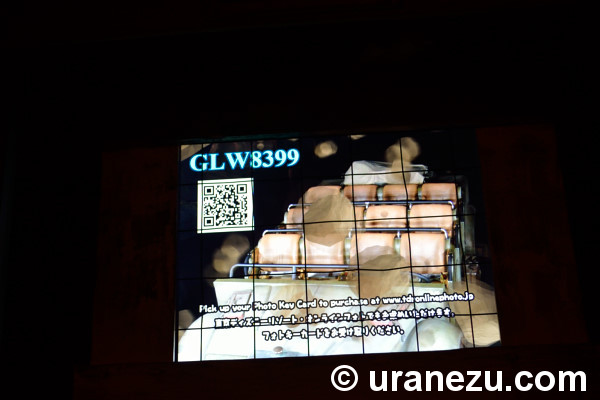 No one can ride! (or the guests got thrown off a car due to the so many rocks?)
These hilarious effects to prevent take the photo away with the mobile or tablet camera. I do really know the photo sales after these entertaining effects.
Anyway if you like the picture, let's but it!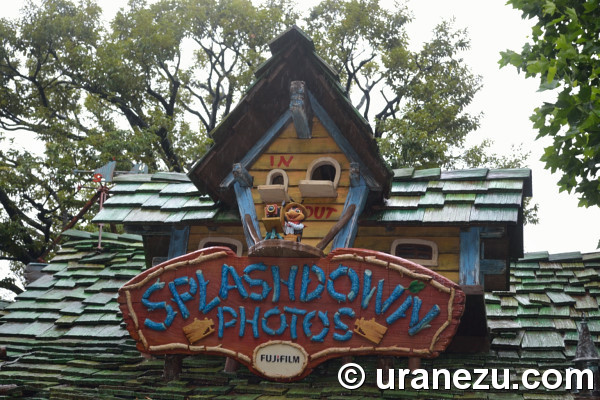 At "Splashdown Photos".
At "Tower of Terror Memorabilia".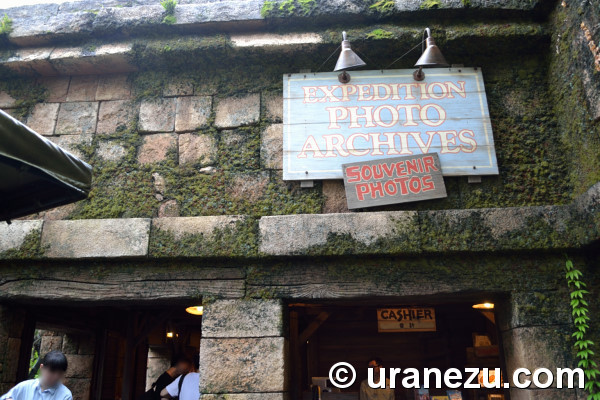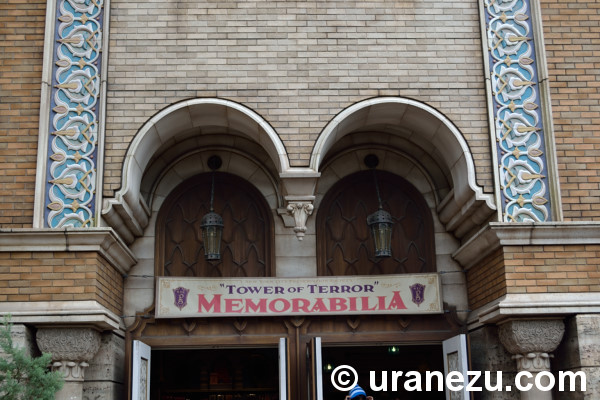 At "Expedition Photo Archives".
I really love this resistance!
Sponsor with Theme
Japanese chemical and cosmetics company, "Kao" has become sponsor of "Splash Mountain" in TDL, and "Toyville Trolley Park" area which has "Toy Story Mania!" in TDS.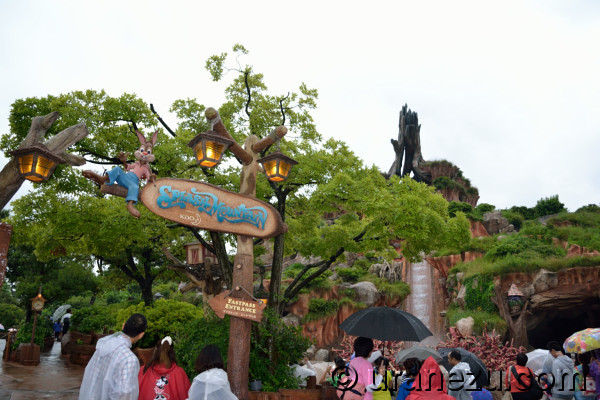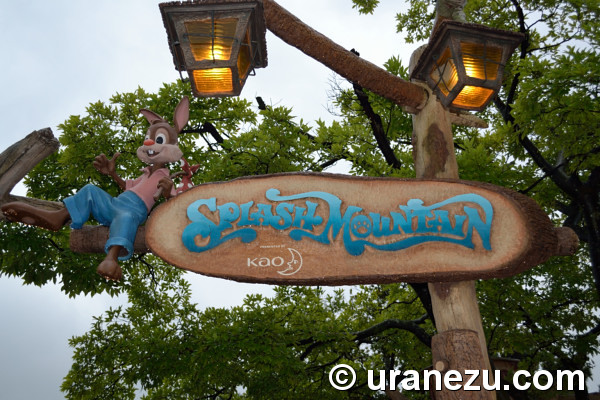 It's comparatively new sponsor. Usually, when attraction has a sponsor, we can only see a new sign with the company's name in the park. (Some guests have a chance to see the sponsor lounge.)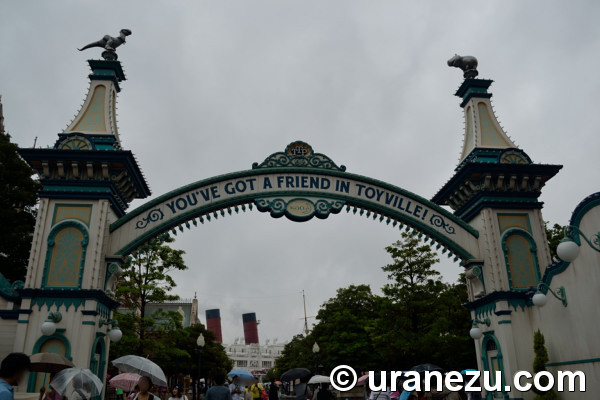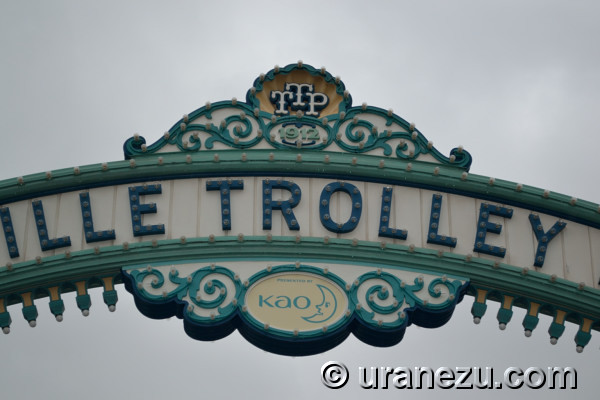 But in this time, the case of "Kao" was different from the other company's sponsorship. A completely new fun sink is appeared in their area, and a magic soap dispenser in each restroom.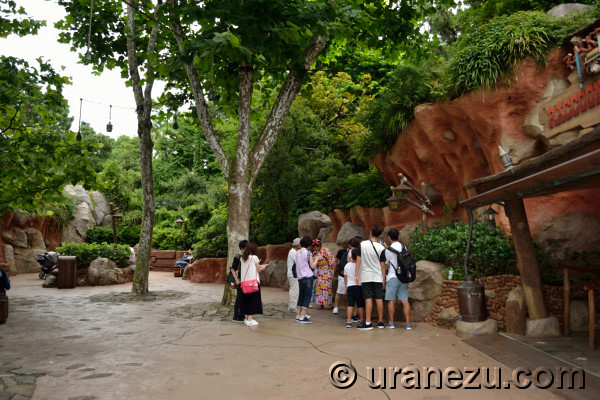 If you find a people to gather round, that is the place in Critter Country.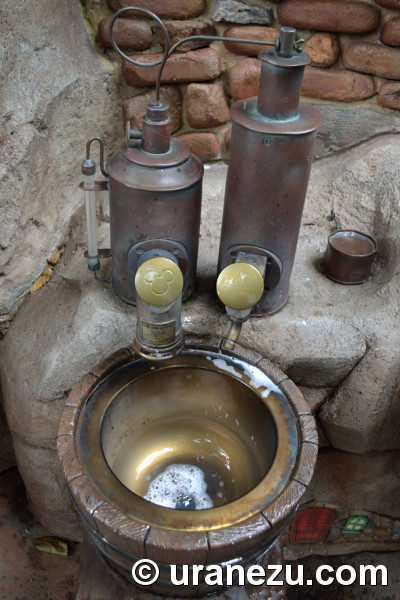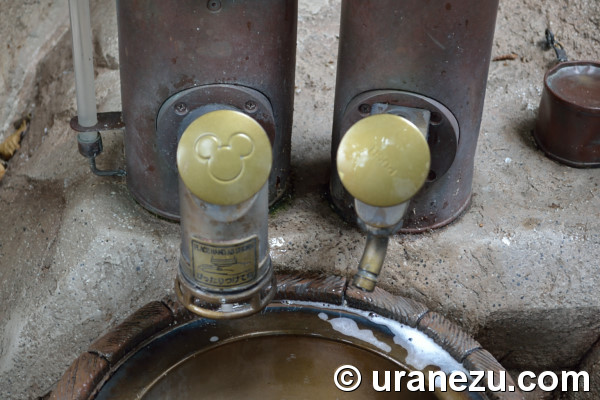 The Mickey embossed button is foam soap, the Push button is water.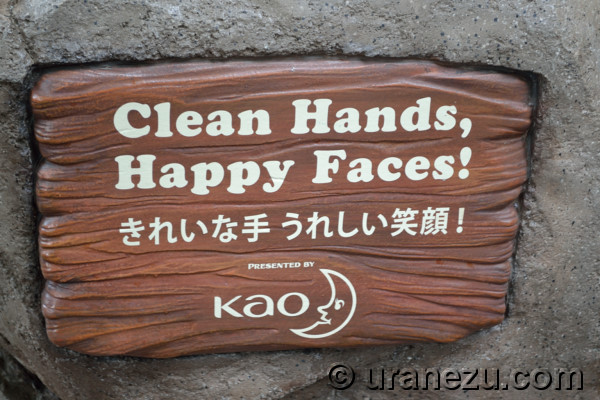 There is the company logo sign.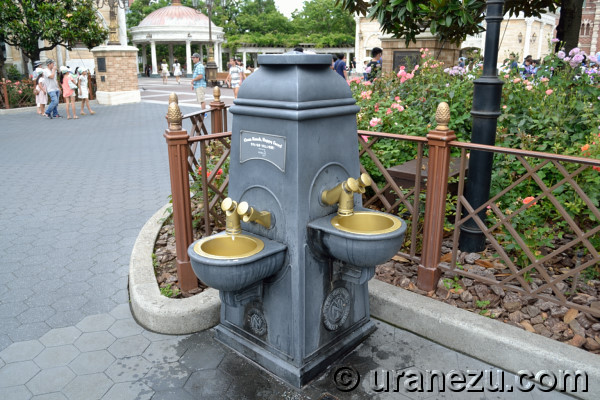 The sink in TDS is located in American Waterfront, so the design is more simple than TDL's hand-wash station.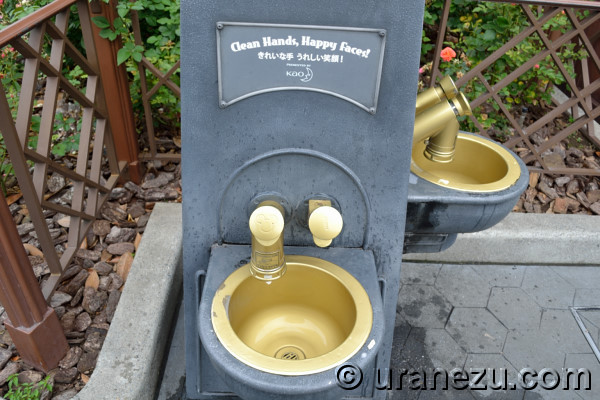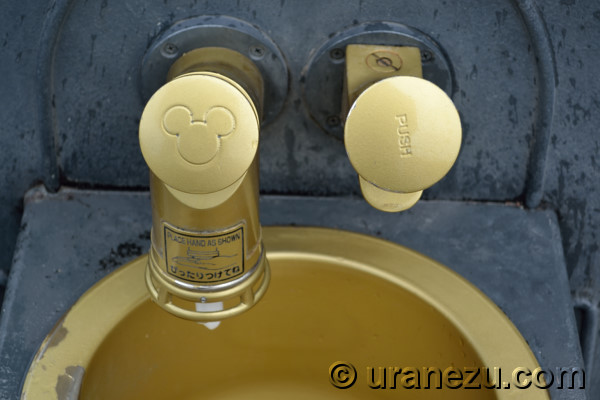 The tap is same design.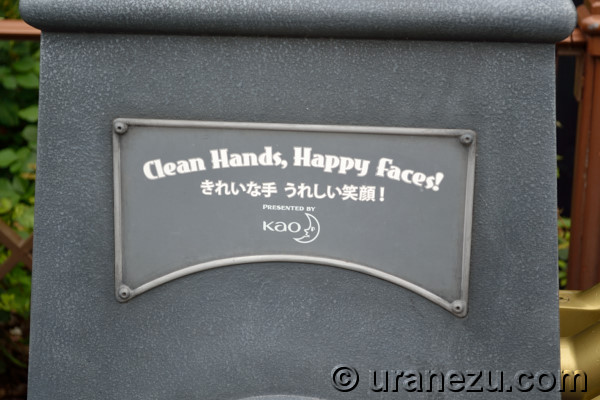 And advertise sign also have.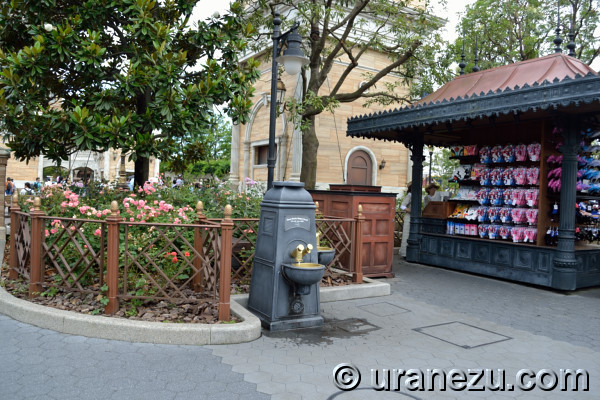 It's still little bit odd to me that the sink with the special soap in outside independently from restrooms. But I think this is the best result, as soft-land present situation of between sponsor's advertisement and Disney theme.

Like it or not, you can fell the hand skin texture after washing is different between Mickey-shape foam soap and regular foam soap, so try to wash your hands both soaps!
Every small detail has each specific reason or curious story. We can accept them easily without a feeling of strangeness because of their great effort which accordance with Disney theme.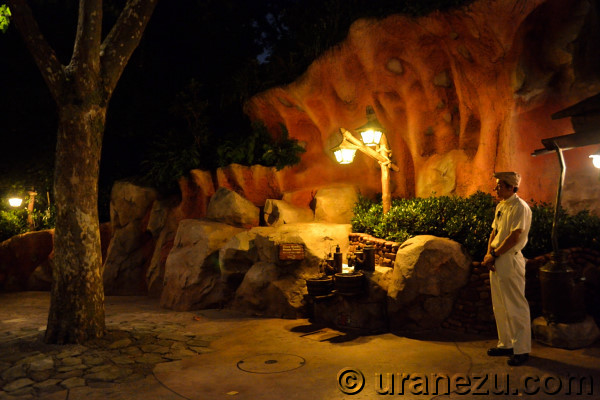 If you have any questions, opinions and requests,
please contact us.
Jul. 01 2017 About Tanabata the Star Festival.
It's time to celebrate an annual rendezvous day of Hikoboshi prince and Orihime Princess.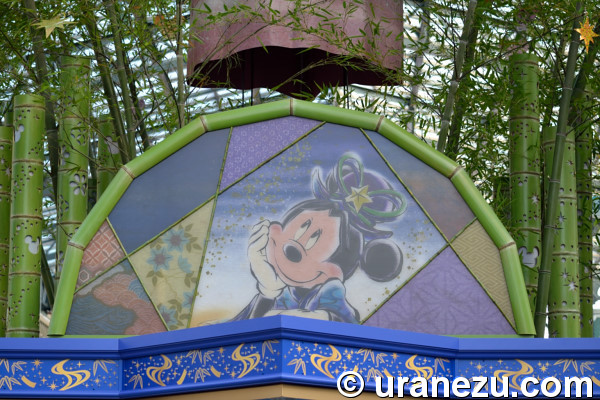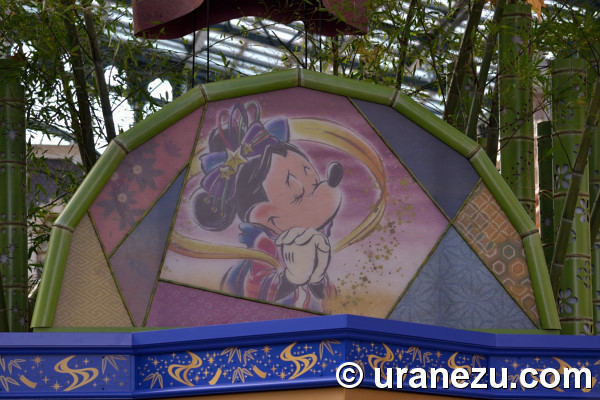 And we're also enjoying decorating the special bamboo with our Tanzaku the wishing card during this period and 7th July the actual day.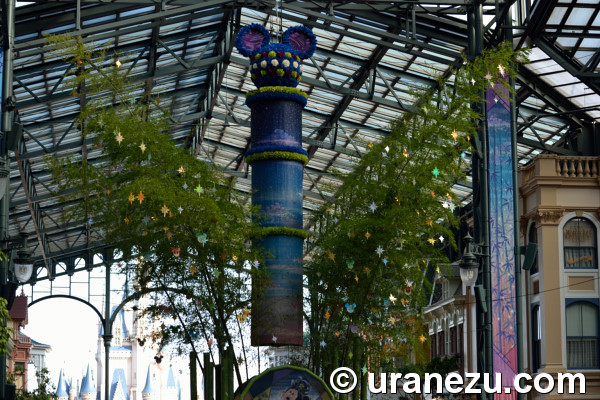 The big bamboo tree with lovely adornment is set in World Bazaar in TDL.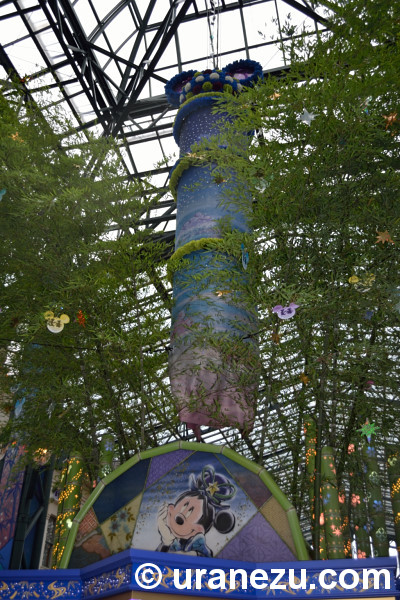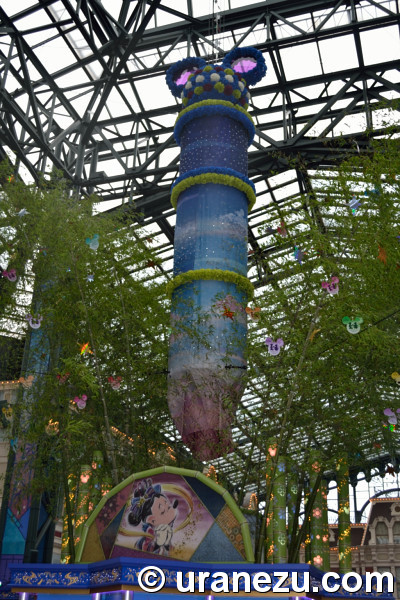 There are Disney pal's wishing cards on high above the bamboo. Let's check it glance who and what wishing.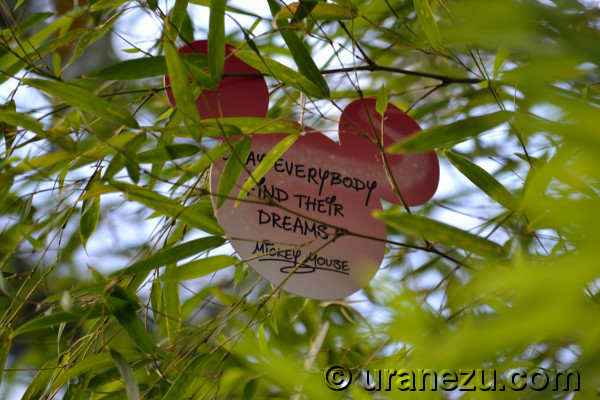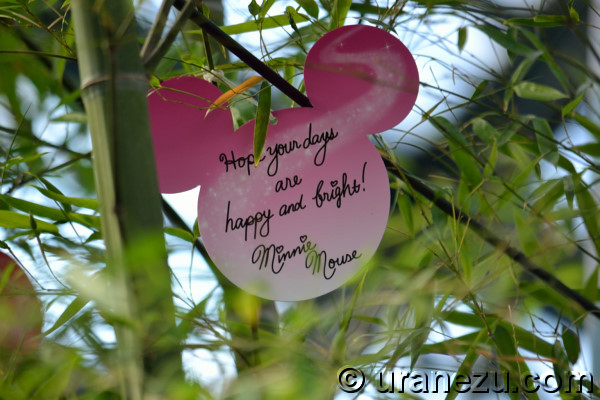 Mickey's wish is more philosophical than late years. Minnie's always simple but lovely.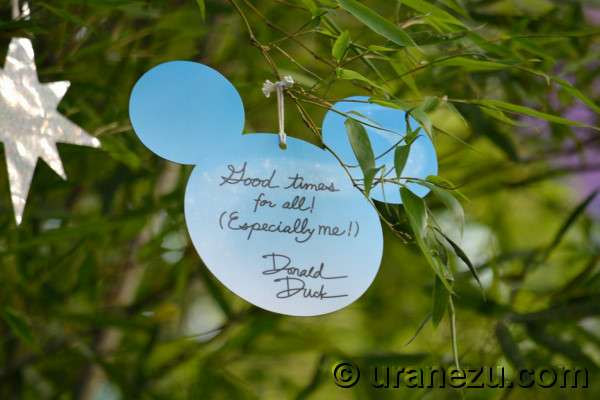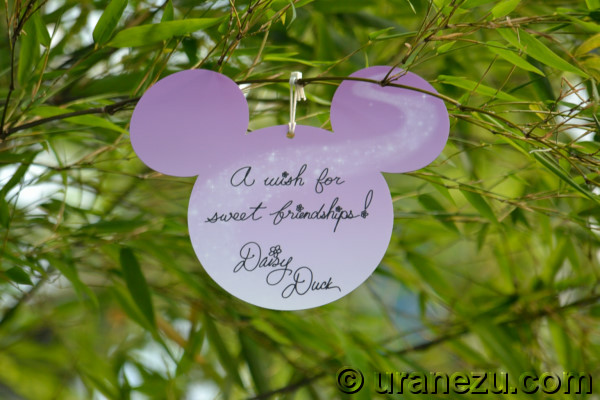 Donald is very Donald. I like his wish. Daisy's romantic notes with daisy flowers are so cute.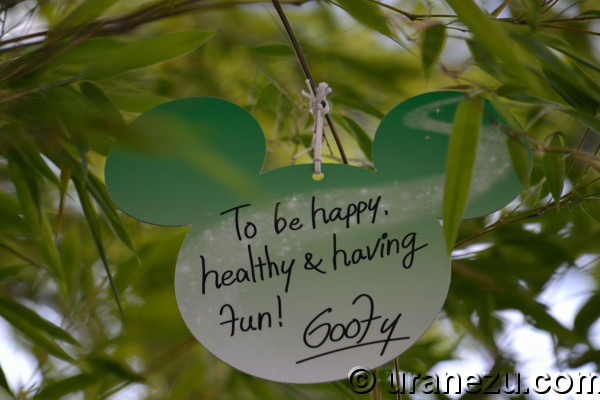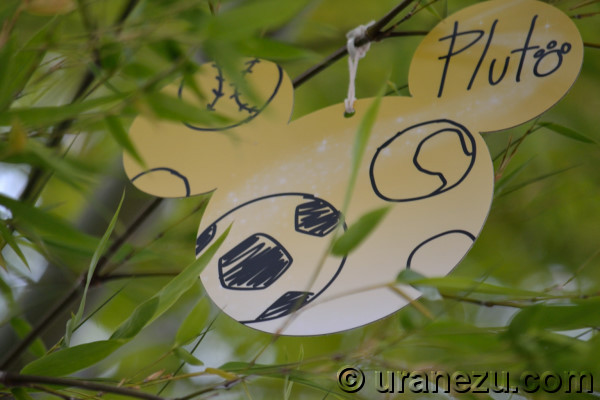 Goofy's wish especially toward his son Max. This year's genius dog Pluto wrote his favorite things. Many kinds of balls! Why so has a talent for painting, Pluto? You are awesome! (I wish Mickey get dozens balls to Pluto. )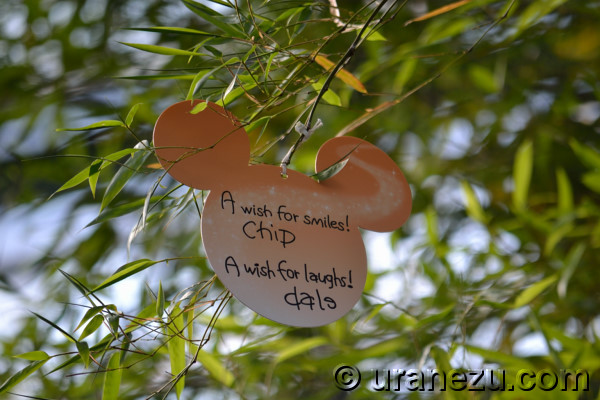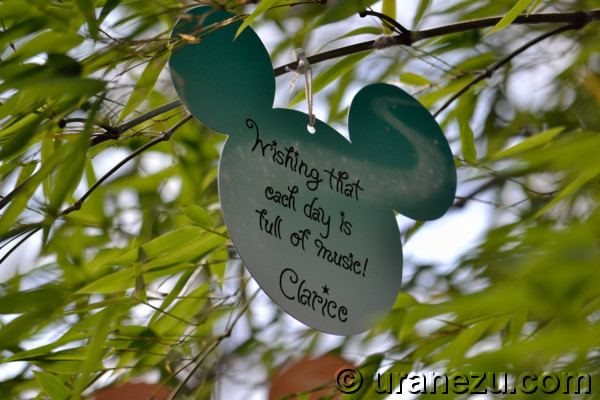 Three chipmunks' wish is modest but essential to a life. Amazing.

So it's your turn!
Yukata the summer kimono casts give your wishing card.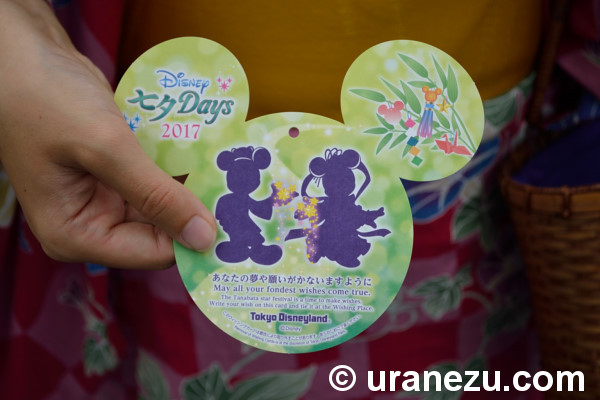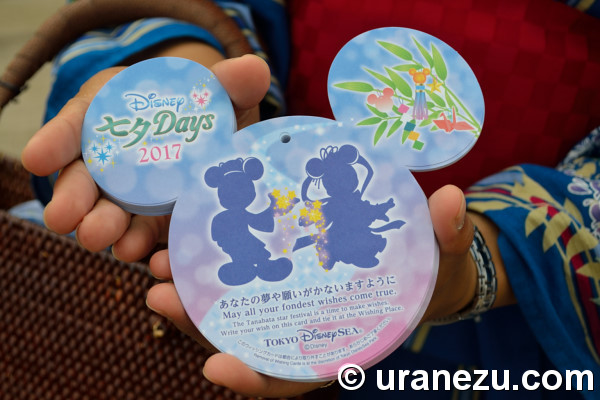 The left card is at TDL, the right one is at TDS.
So let's write and hang it on the wishing place.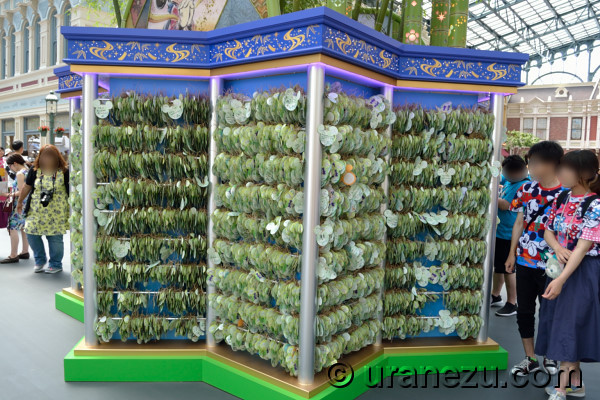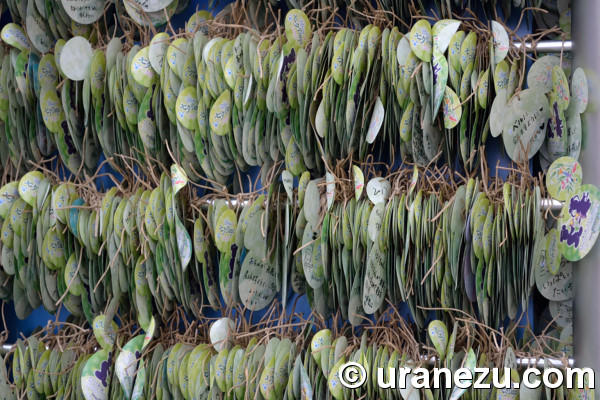 Every piece of cards has their own wishes.
You can find several kinds of wishing card. There are 7 special designs.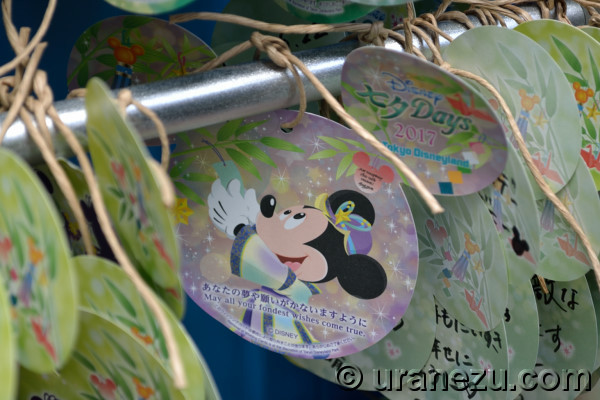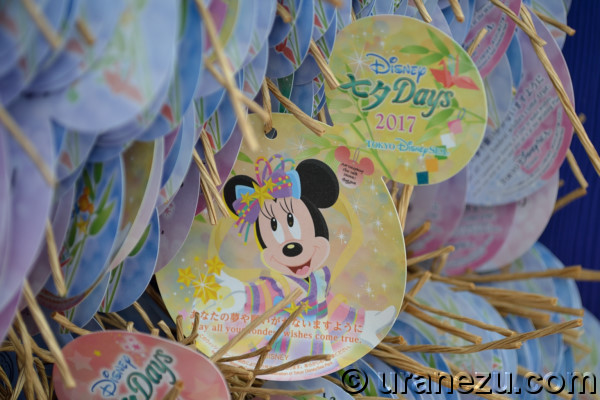 Shopping privilege at each park:
If you buy 3,000JPY include special Star Festival merchandise in one time, you can get a special design card. (Left is TDL, right is TDS.)

And more design.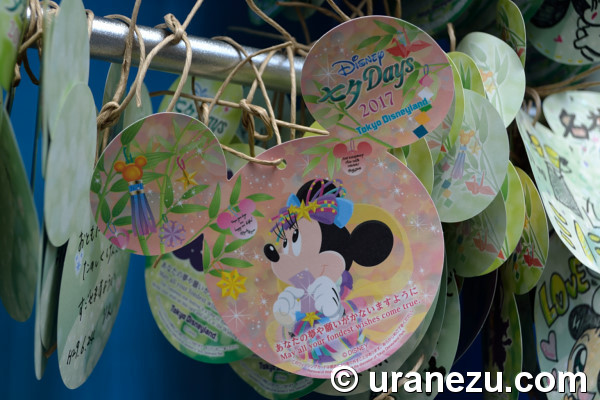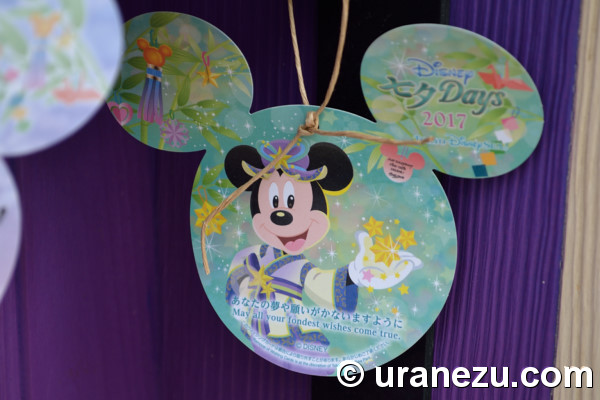 Restaurant privilege at each park:
If you have a reservation and eat "Tanabata zen" the special course (2,880JPY) at Restaurant Hokusai in TDL, or dine the special course at "Restaurant Sakura" (2,880JPY) or "S.S. Colombia Dining Room" (3.390JPY to 5,000JPY), then you can get the above card. (Left is TDL, right is TDS.)

And more and more cards!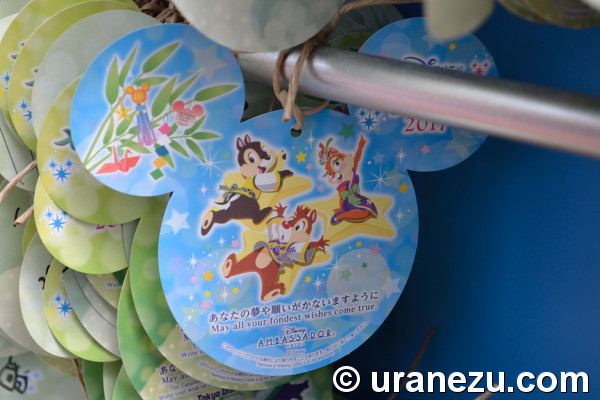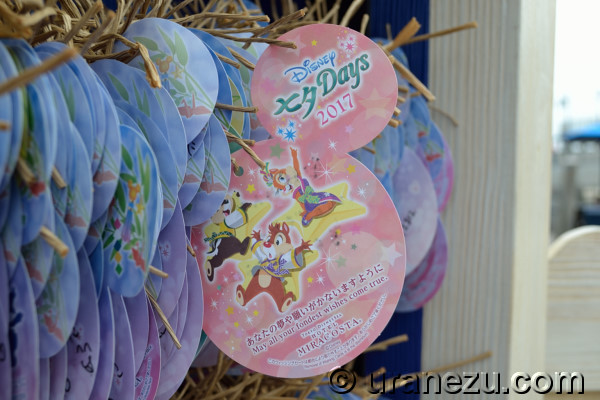 Disney official hotel restaurant privilege:
The chip & Dale card in three colors is Ambassador, Miracosta, and Tokyo Disneyland Hotel's dining experience. (Min. starts special cocktail 1,300JPY to max the dinner course 10,290JPY.)
Tanabata greeting is getting popular in every year.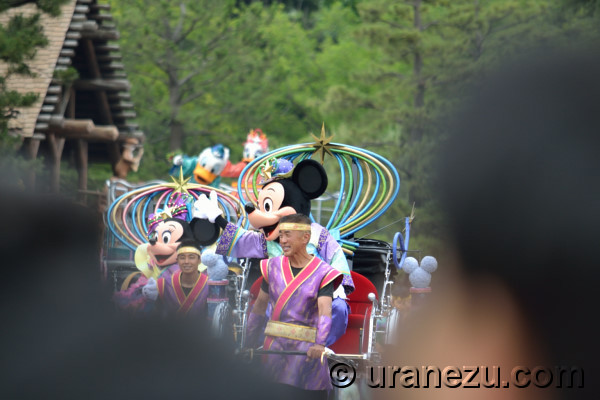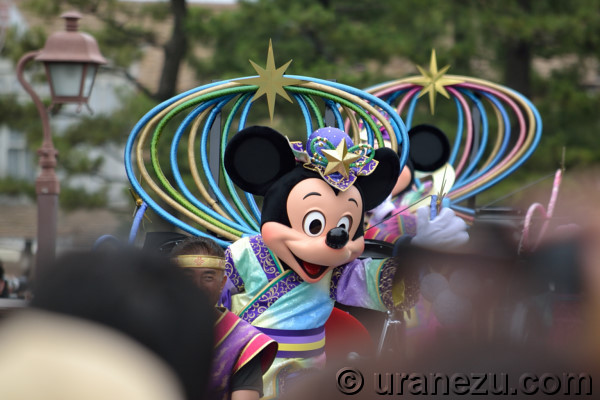 Mickey and Minnie on a rickshaw is same height as guest.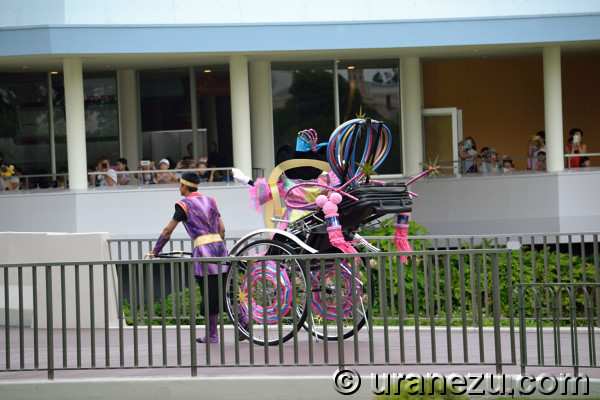 Doggery.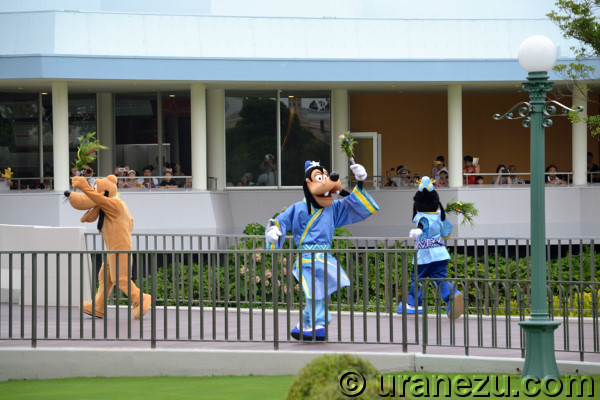 Donald & Daisy on the float is an only hope of this short special greeting.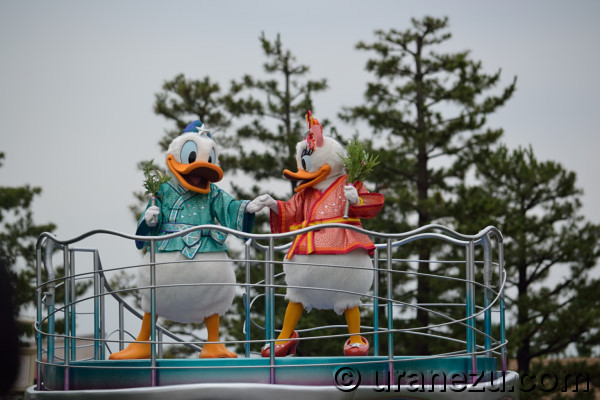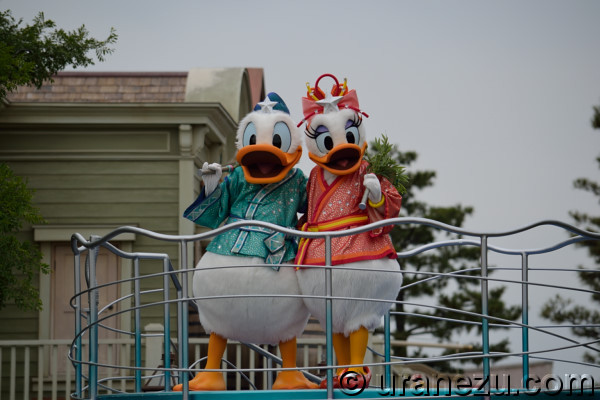 TDS also has a wishing place the Tanabata bamboo trees.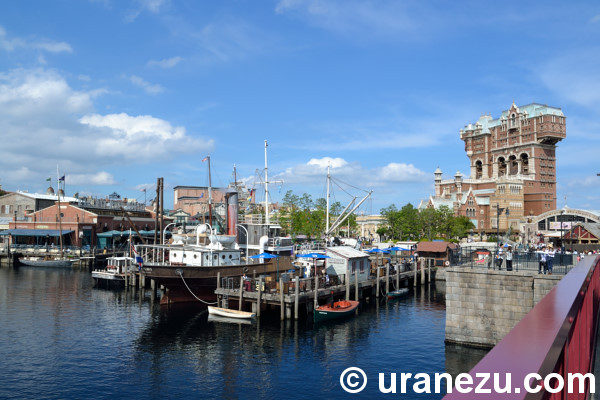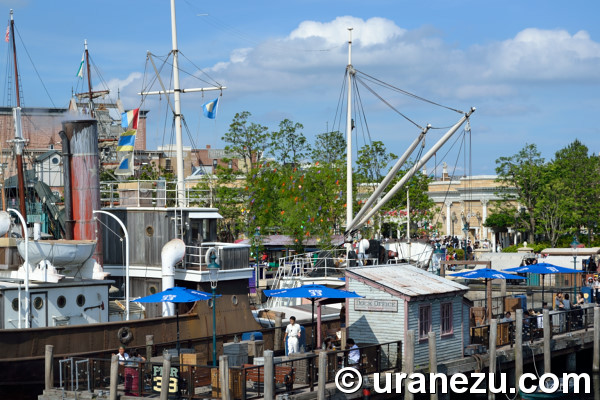 There are smaller than TDL's place, but it's so photogenic location.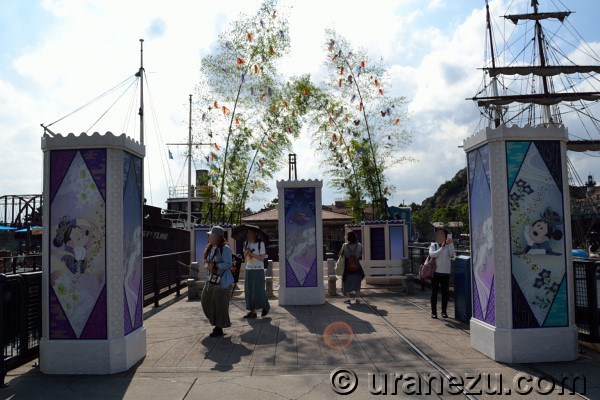 The location is in American Waterfront.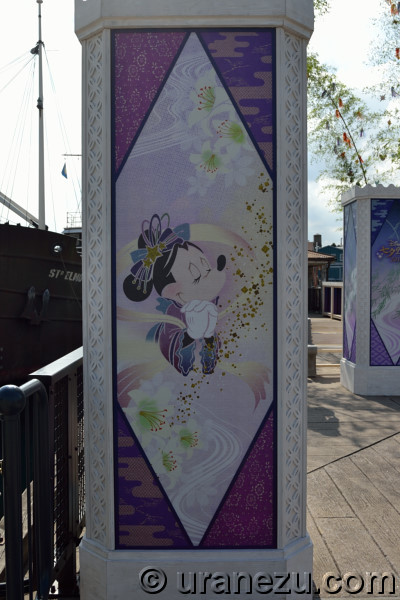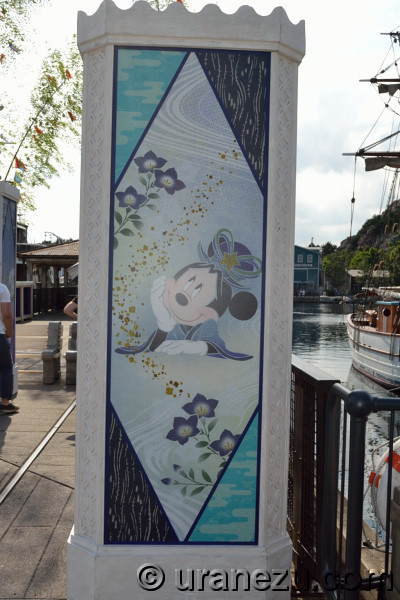 In TDS, you can't miss many columns in this season.

The below is bridge girder of "Disneysea Electric Railway".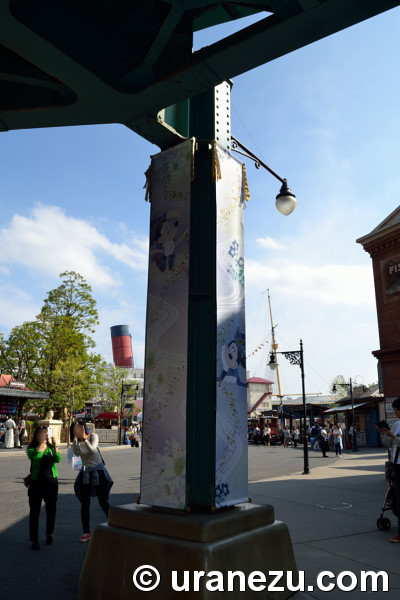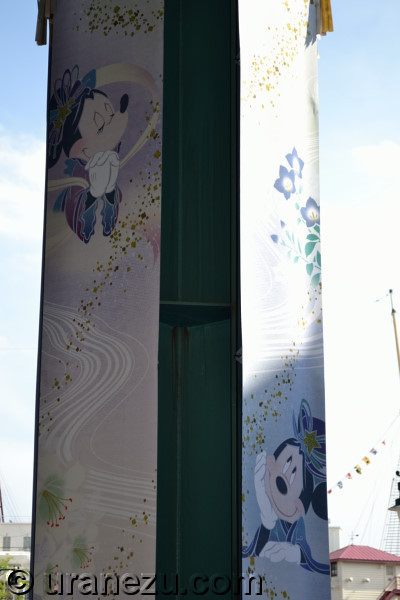 It's so lovely and romantic couple design.

Also you can see Japanese taste Disney banner.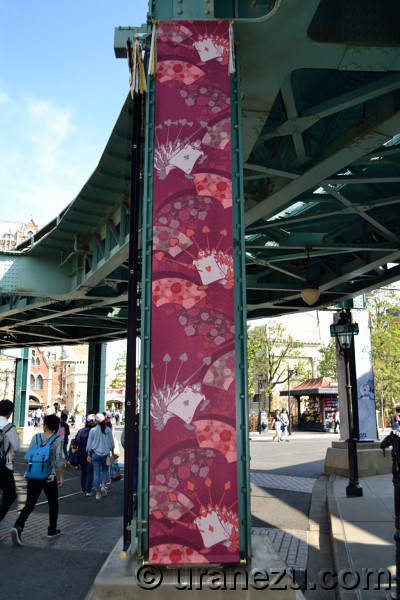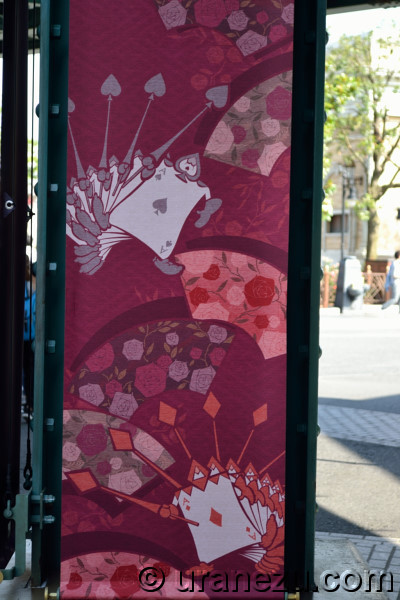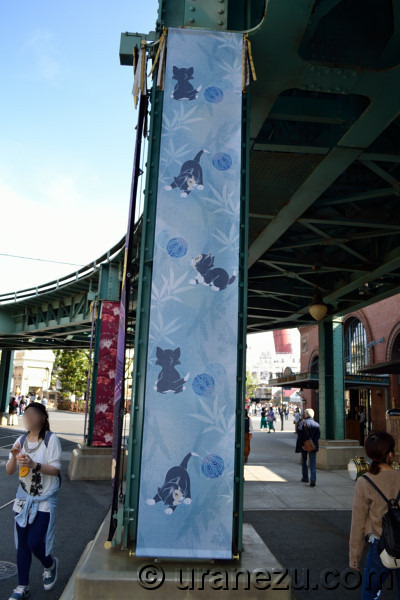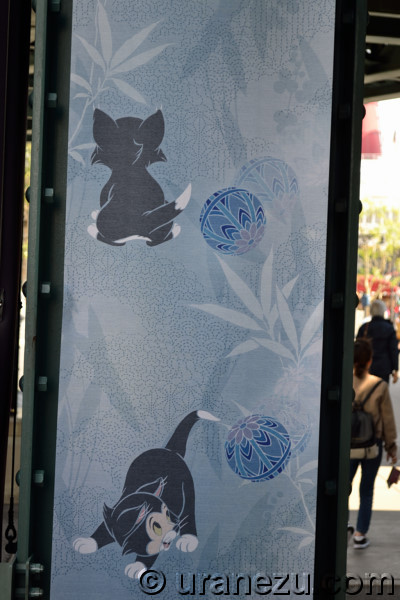 These two is new design in this year. I really love them include the last year's.
It's time to Tanabata Greeting in TDS!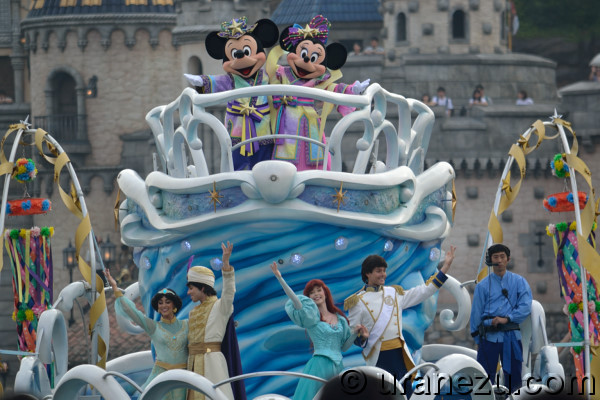 Mickey & Minnie dressed as Hikoboshi and Orihime are so nice.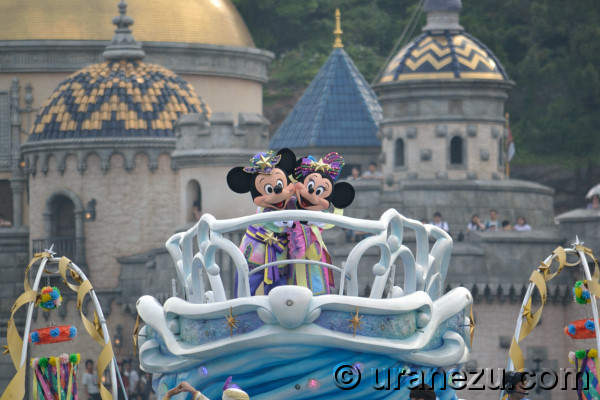 Can you notice it?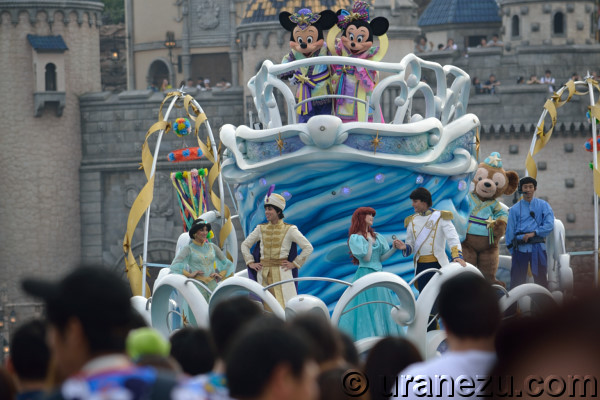 Finally, Jasmine's outfit was changed as same as other parks. I REALLY MISS THE BEAUTIFUL HER TWO PIECES DRESS!!

Yes! I wish…
Princess Jasmine's dress will be back!!

So lovely two.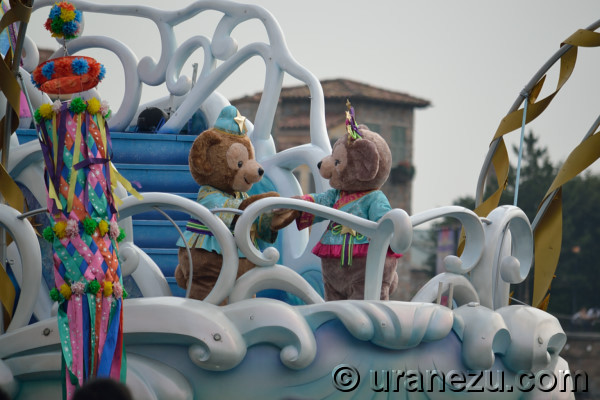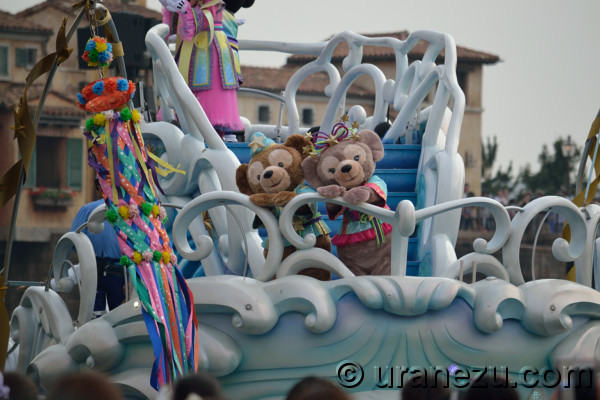 Same as the last year's Tanabata greeting in TDS, we can enjoy "Wishes" the fireworks song. If you miss "Wishes", why don't you come to TDS Tanabata the star festival?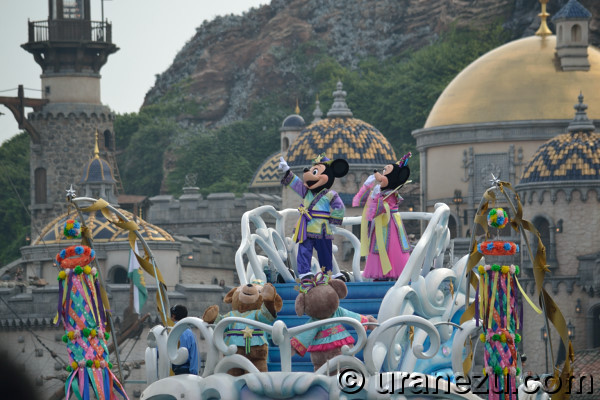 So you wish upon a star for visit TDS!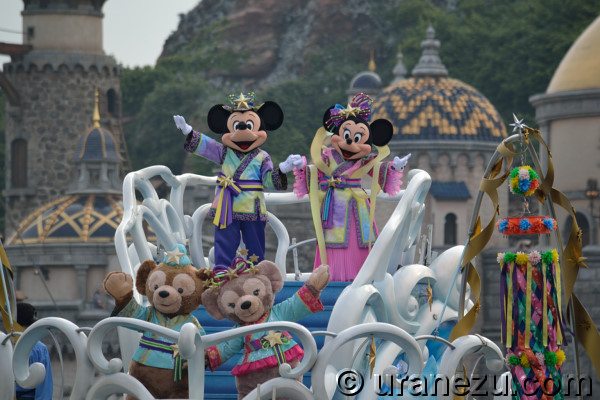 I and TDS are waiting for you!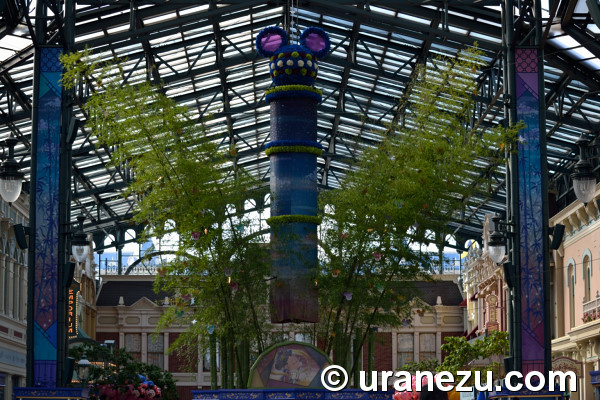 When it comes to dark, there is a light effect at the bamboo tree in TDL.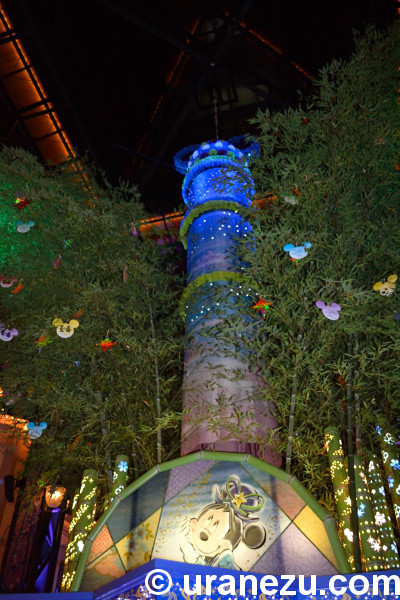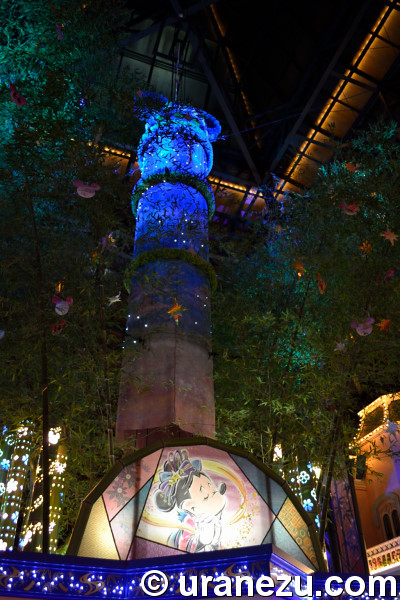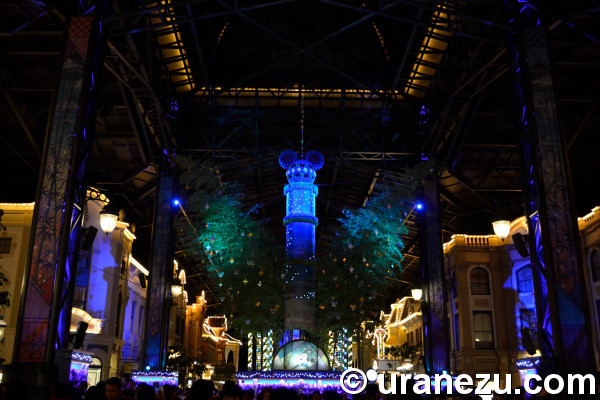 It stared dark then Mickey's star is going up above with a glittering tail.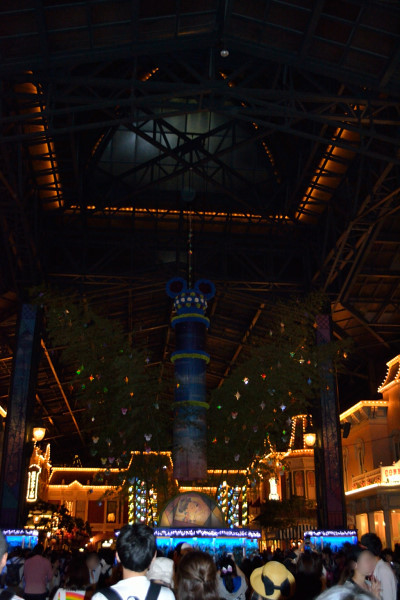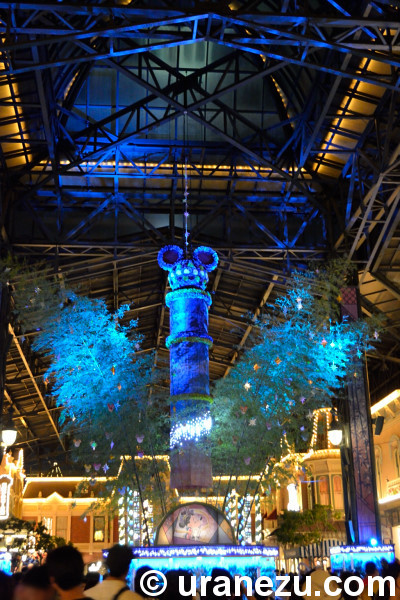 Up up up, then reach the ring.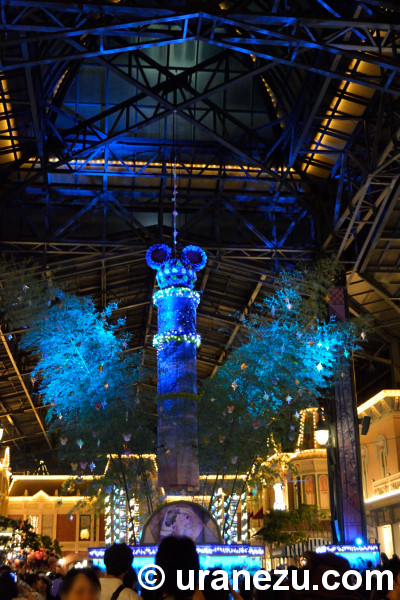 It's Minnie star's turn. Pink light surround the bamboo tree.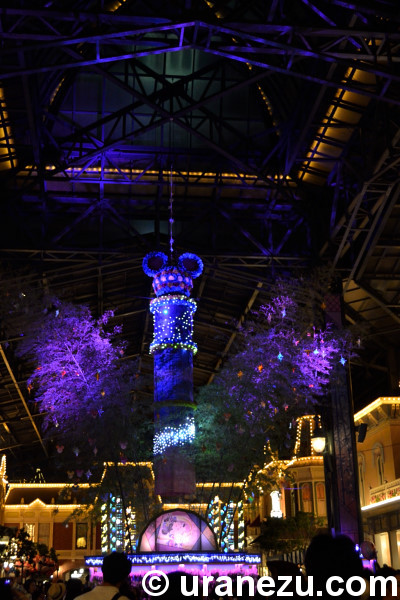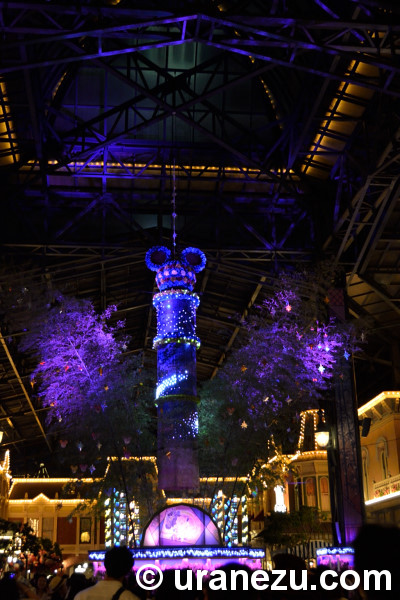 Go upward and the star light get together in the end.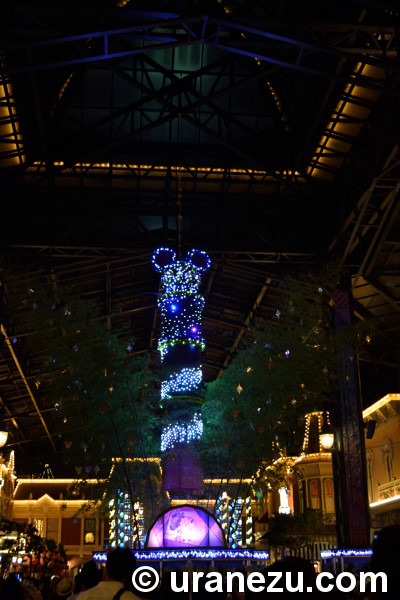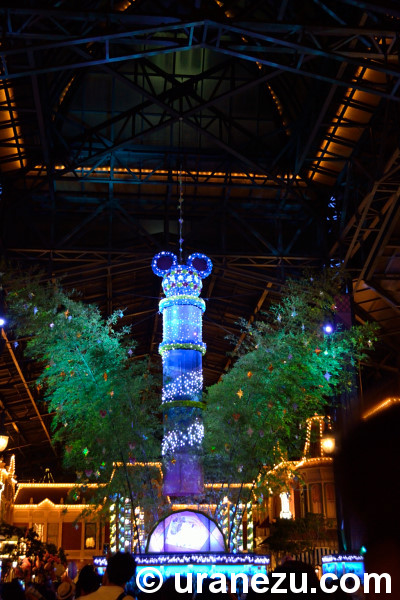 Then, the lovers are brighter than ever.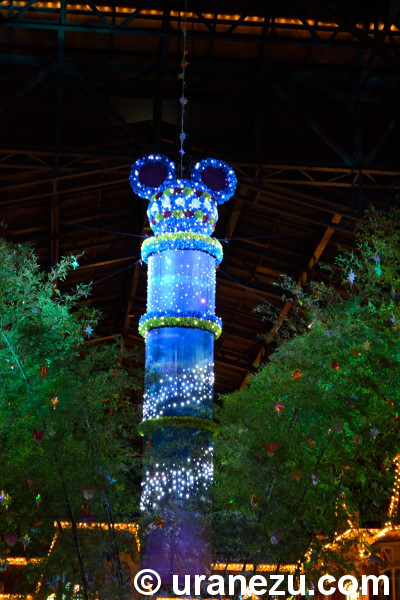 Happily ever after.
If you have any questions, opinions and requests,
please contact us.