Park Now
>
Park Now Archive
> 2017 First Quarter Archive
---


Mar. 18 2017 About One Frozen Night and etc.

Mar. 04 2017 About Putting the Cart Before the Horse. (TDS 15th glass)


Feb. 18 2017 About Snowgies Adventure.


Feb. 11 2017 about Sweet Duffy 2017.


Jan. 28 2017 about Frozen Fantasy 2017.


Jan. 15 2017 about The Last Lap at Grand Circuit Raceway.


Jan. 09 2017 about Happy New Year from TDR.
If you have any questions, opinions and requests,
please contact us.
Mar. 18 2017 About One Frozen Night and etc.
Beautiful snow storm has gone from TDL. I've already missed enchanted snowy park. Today I share with you a scene of one Frozen night, dazzling Queen Elsa, and little cute extra.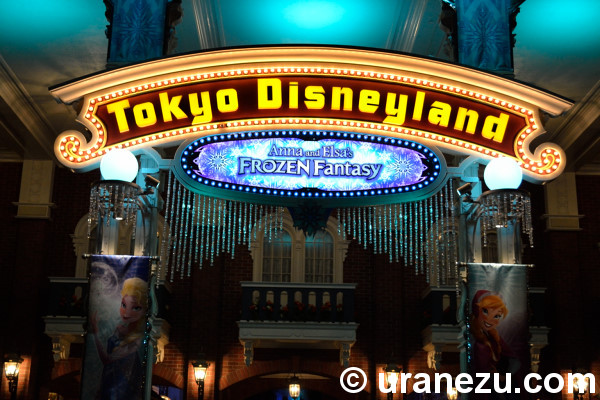 Frozen decorated special car was operated in Disney Monorail during this Frozen event. And some station was also snow covered.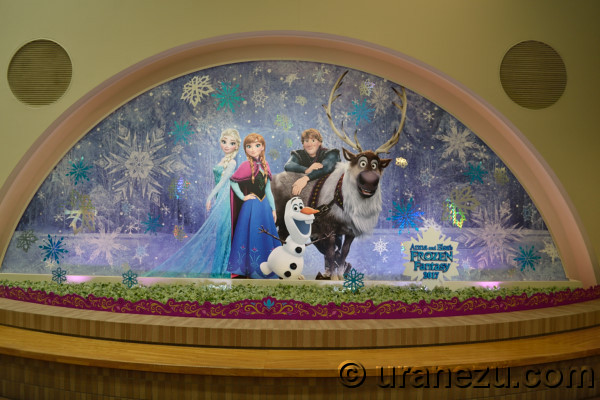 The above was time-limited mural painting at "Resort Gateway Station" very near Maihama Station. No snow?
Just wait and see.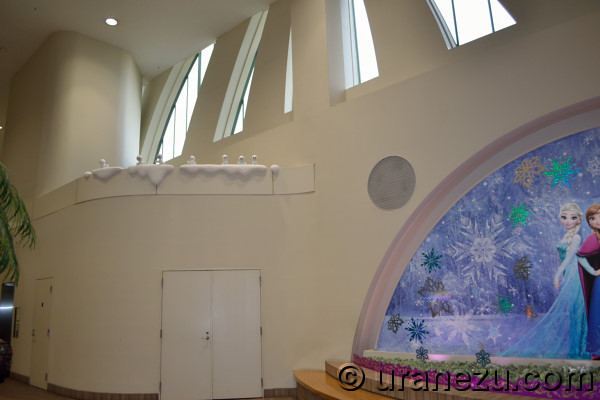 The high above from the painting, you can see some adorable snowgies.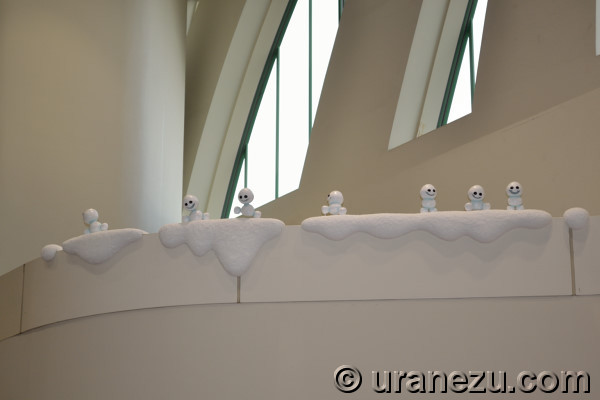 See?
Not only the station, but also Elsa and Anna and the snowgies welcomed a guest inside the monorail.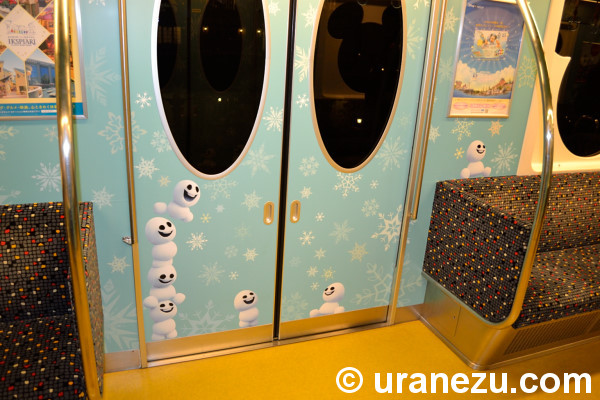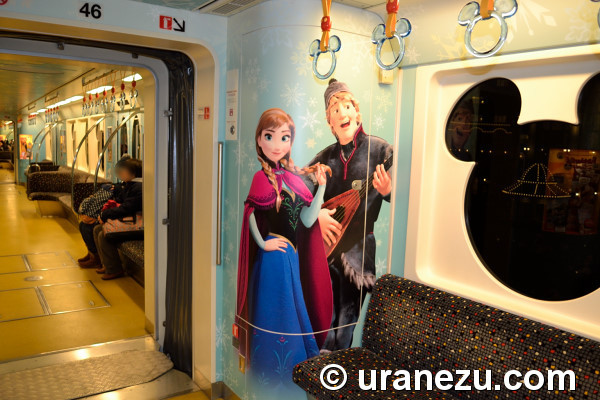 Olaf and Kristoff were too.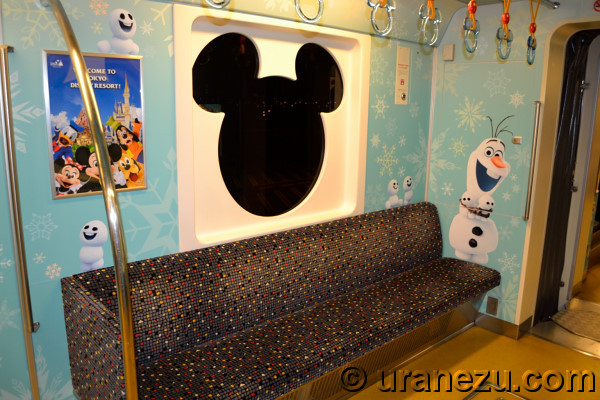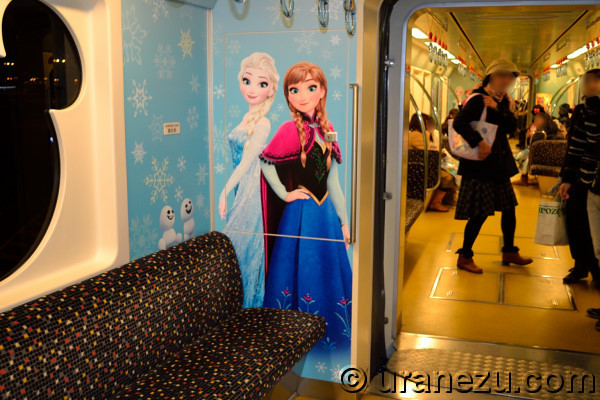 The lovely snowflakes ceiling and icicle strap.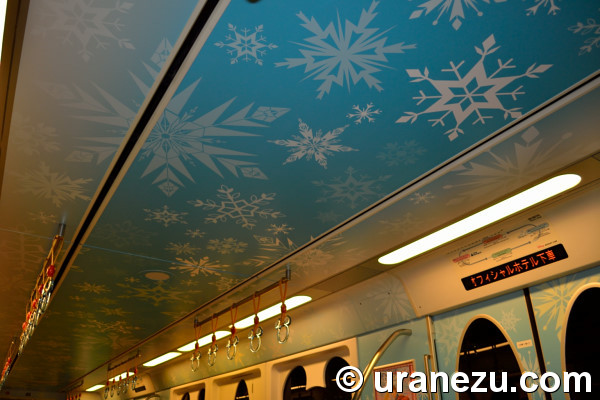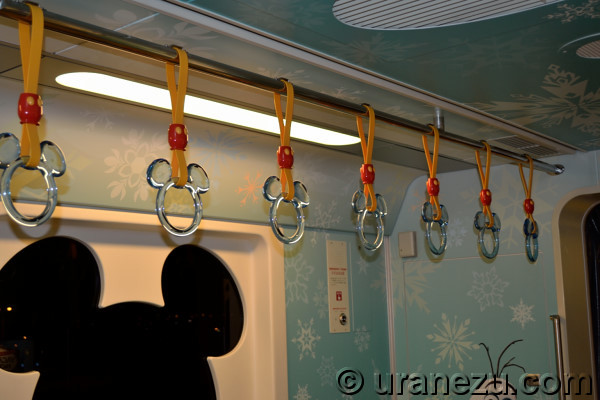 Once get out of the special mono, another snowgies welcomed you at "Tokyo Disneyland Station".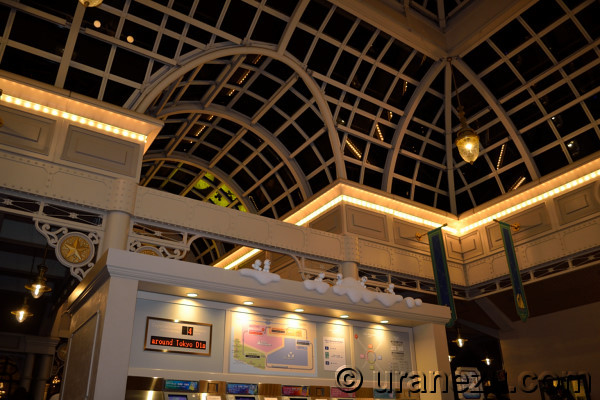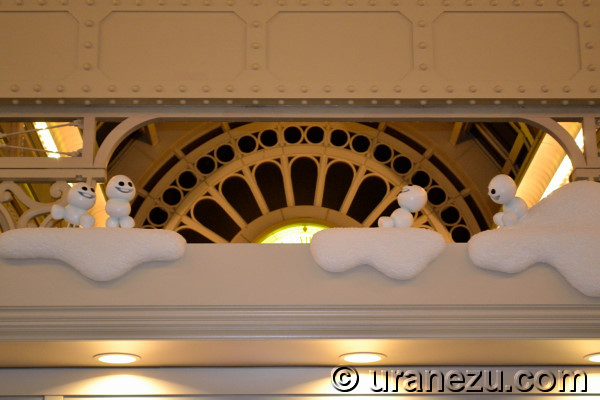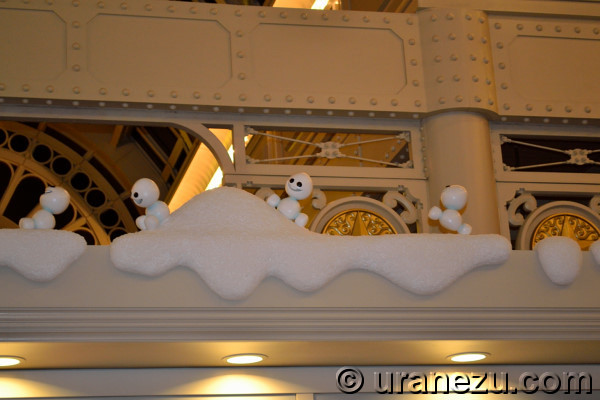 It's most beautiful Frozen time.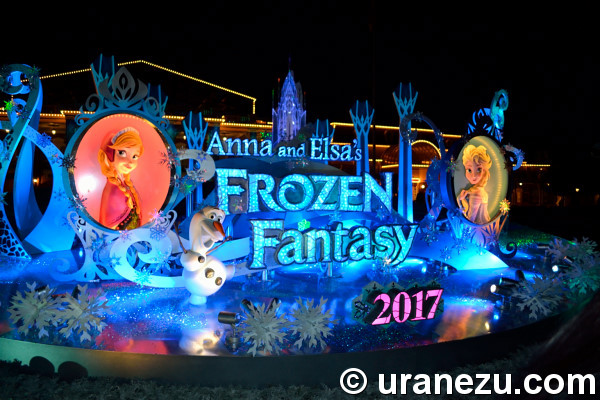 A crystallize icy chandelier was glittering on World Bazaar.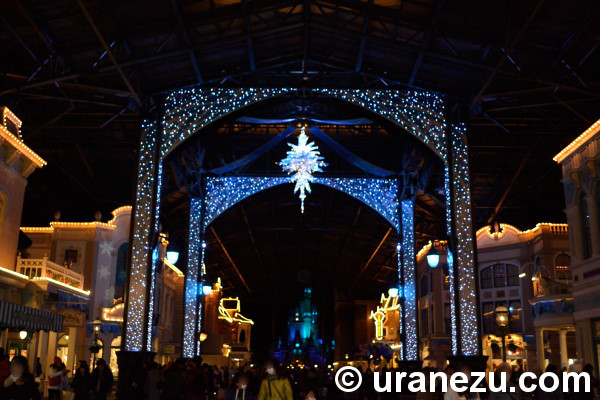 Walk under the fascinating ice,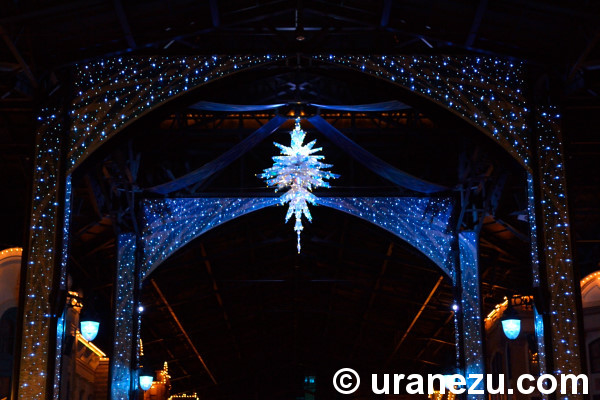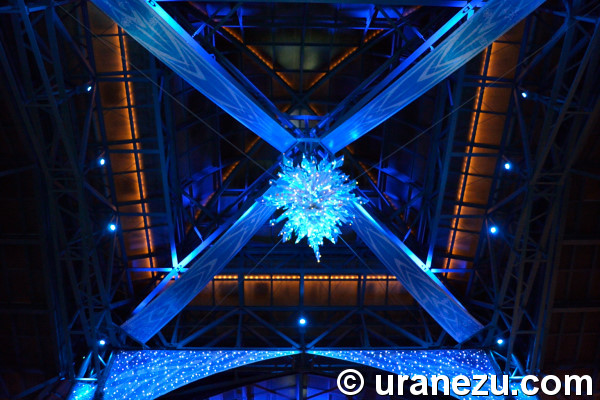 And then let's check the photo location in the night.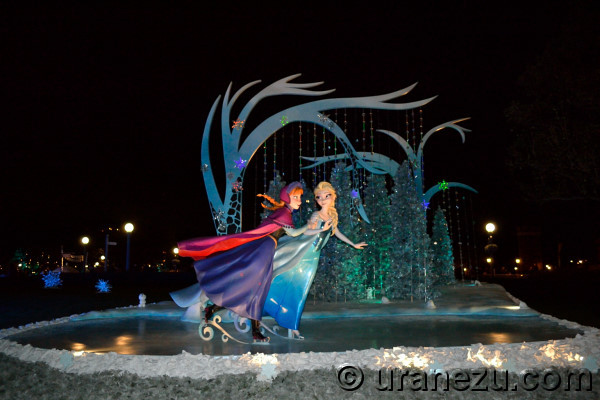 They were more beautiful than the day light.

Also playground Olaf looked really ice and snow.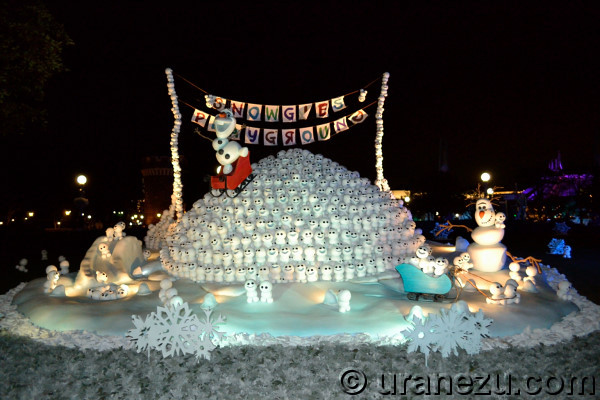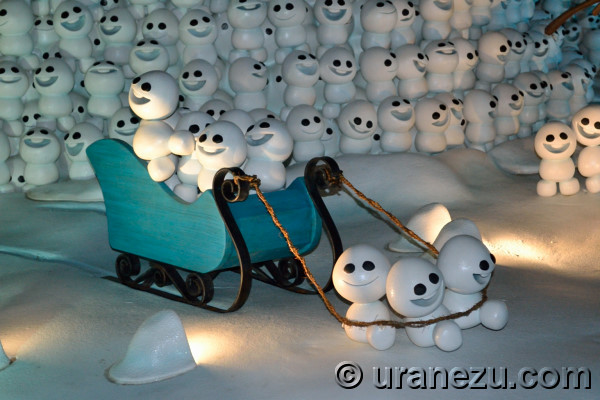 Say goodbye Olaf, let's go and see it closely to special color Cinderella Castle.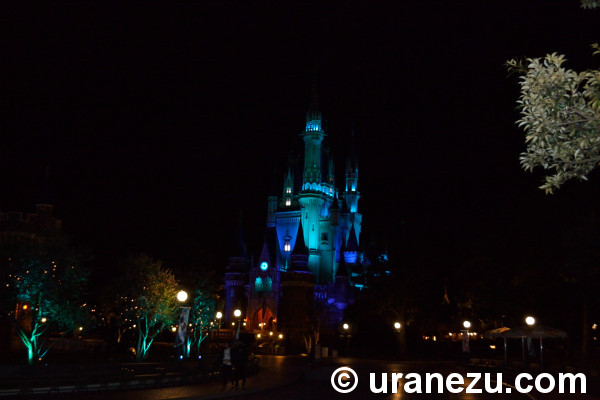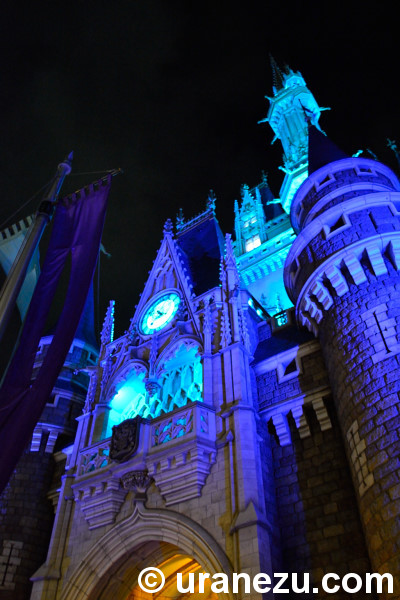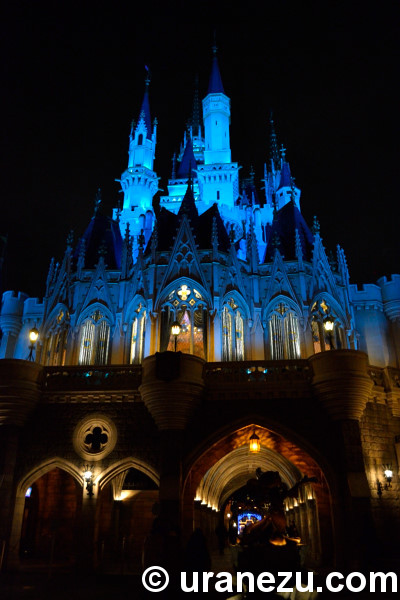 In front, or from backside, every angle was beautiful.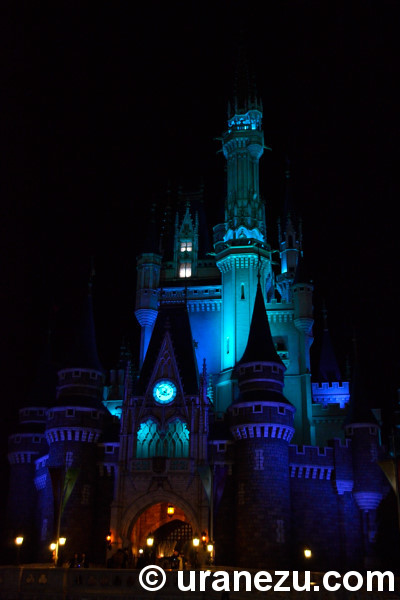 But most exciting angle in this season was…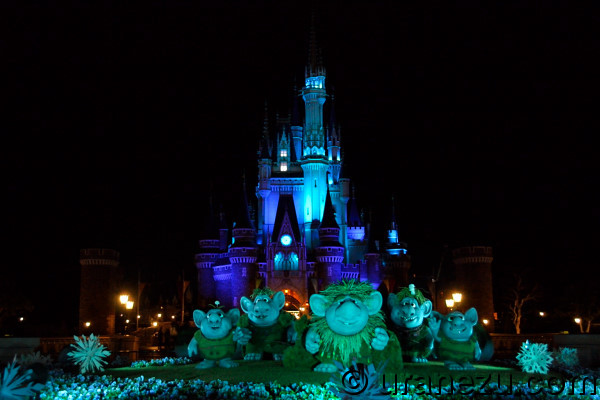 Blue Castle with trolls!

And unexpected thing was happened to the special decoration. Once I introduced the below lovable snowgies as one of my favorite.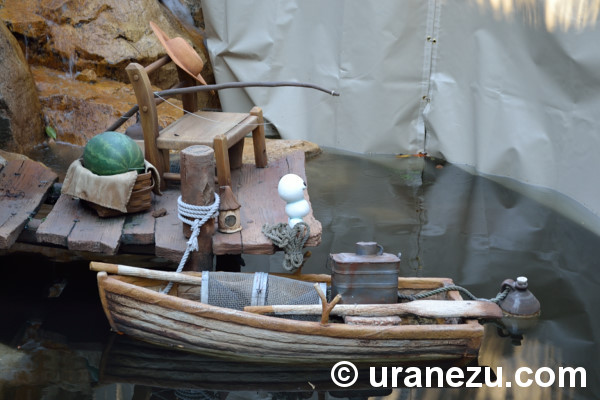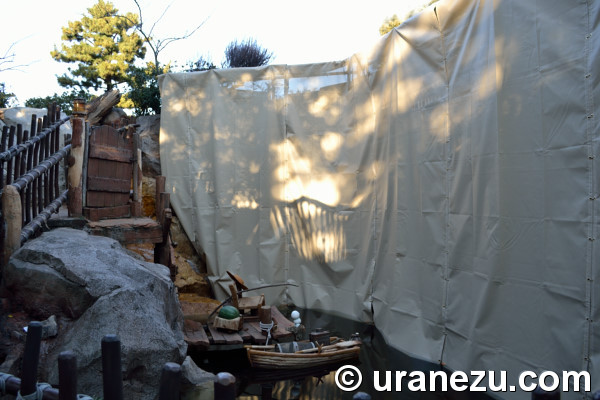 I thought (and mentioned) that "She (or he) is thinking about a better refurbish in front of the cover." And I loved this imaginer snowgies.

But about a month later, he was changed!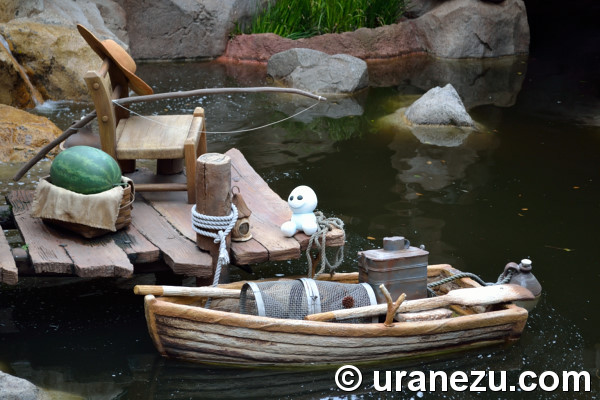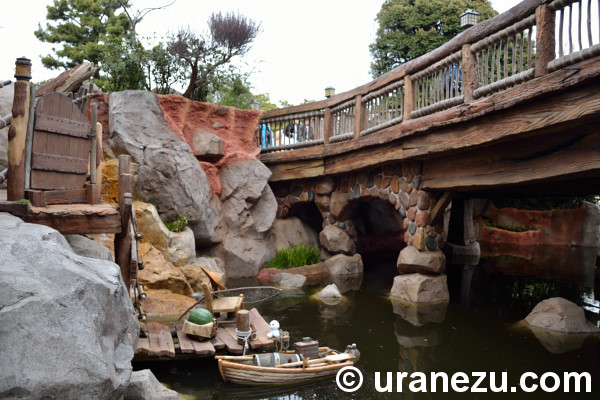 I don't know when this snowgie moved, but I decided to think he is fully enjoying a break after the big refurbishment.
Look at his adorable smirk of satisfaction.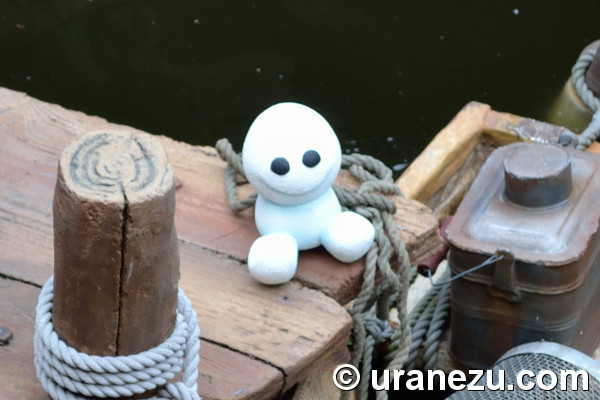 What a cute surprising was happened!
And here is my album of Queen Elsa.
Queen Elsa was always graceful and charming.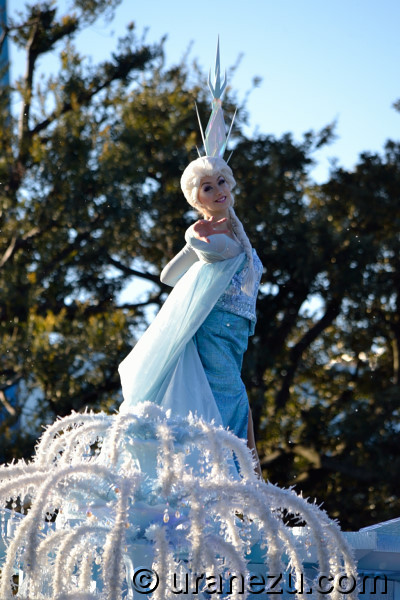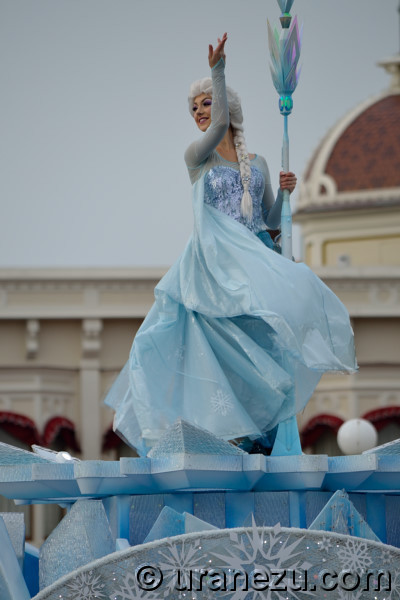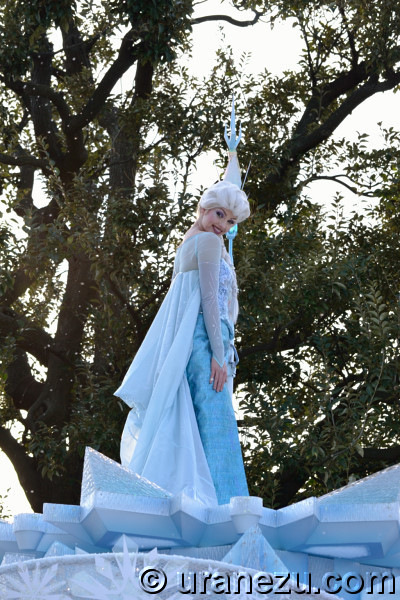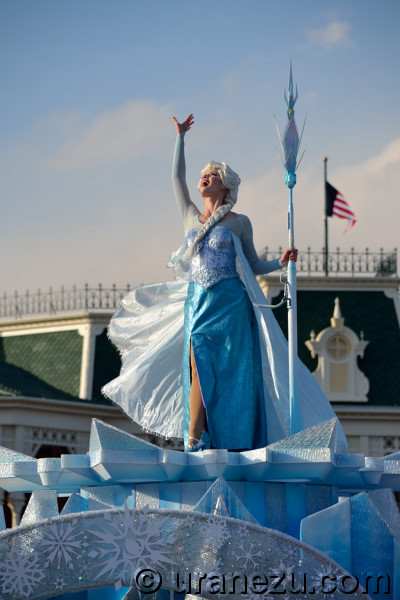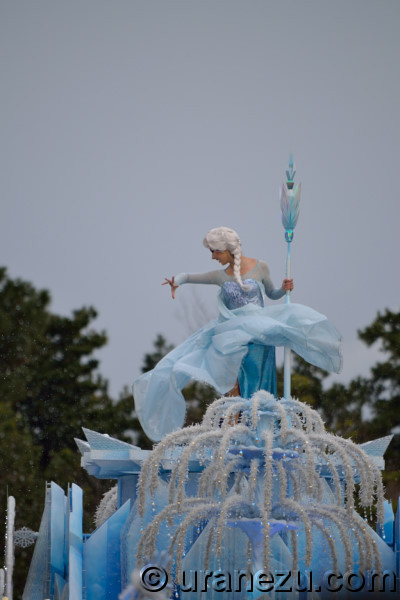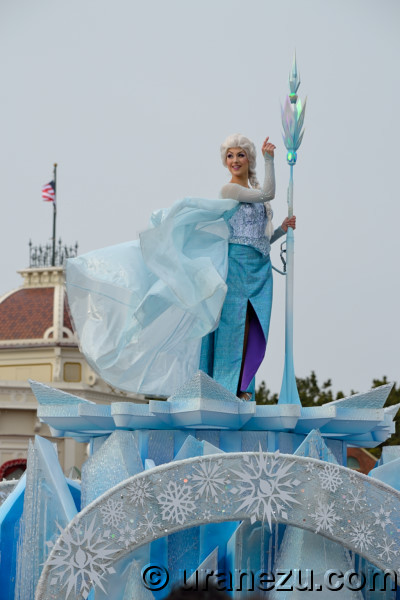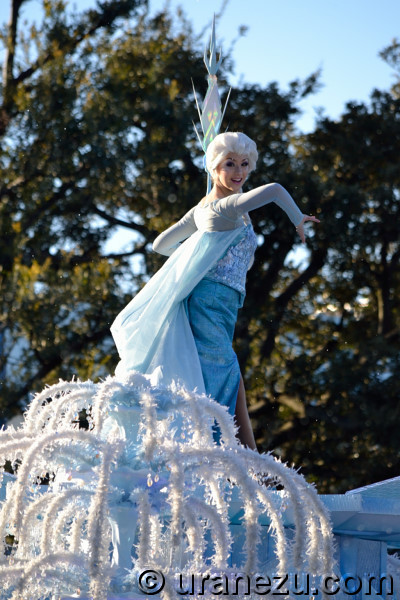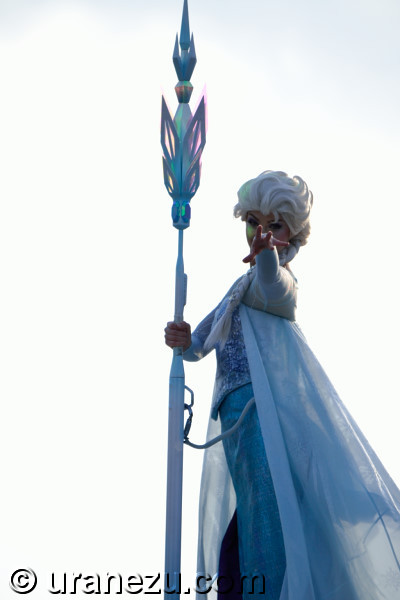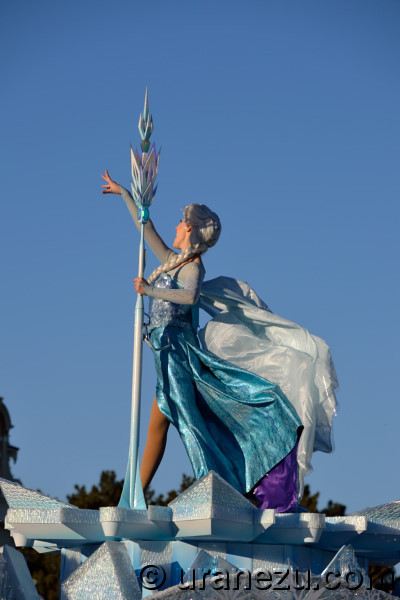 I hope to see Queen Elsa with the party of Alendelle next winter at TDL!
If you have any questions, opinions and requests,
please contact us.
Mar. 04 2017 About Putting the Cart Before the Horse. (TDS 15th glass)
Today I'd like to share with you about a special lighting glass. But I'm not going to tell you the glass itself and I don't want it at all.
Things that I'll show you and I want is…

…a display base of the glass!

Before how the display pedestal is wonderful, I'll give you information of the glass. TDS launched the commemorative glass for a milestone of TDS 15th anniversary. The glass made by a plastic, and with LED lights in the bottom.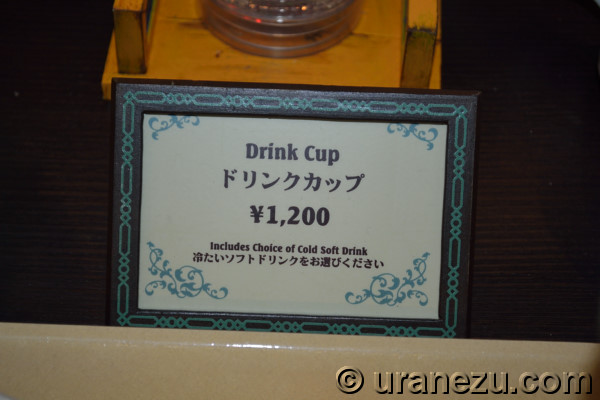 We can purchase it at four restaurants; "New York Deli", "Yucatan Base Camp Grill", "Casbah Food Court" and "Sebastian's Calypso Kitchen".
This special glass is ¥1,200JPY with one cold soft drink.
The glass is displayed in a food sample showcase at each restaurant, reverently.
So, let's go to "New York Deli" in American Waterfront first.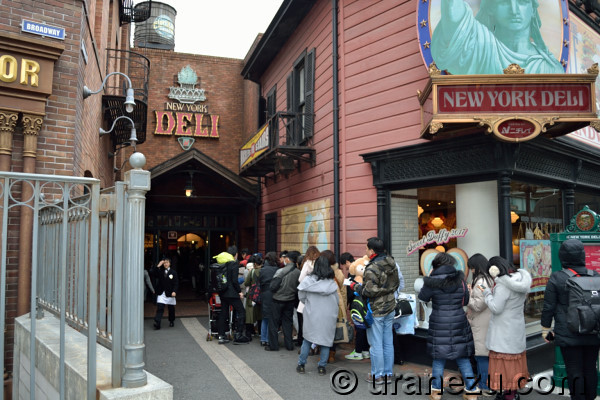 The main part of "New York Deli" was once a popular butcher. We can see a remnant of cooking counter in the showcase.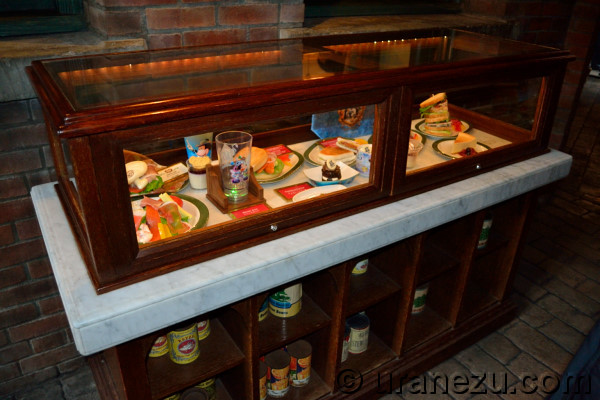 So let's get back to the glass.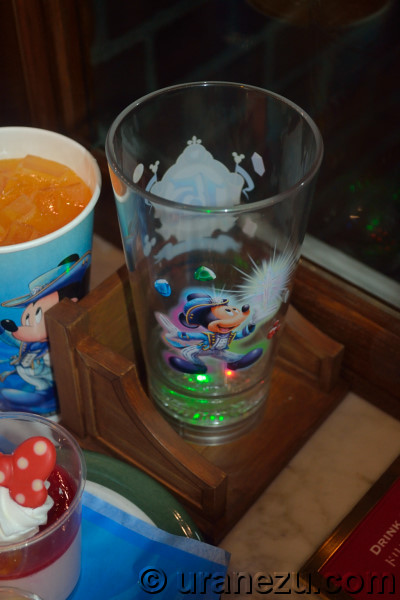 Inside the food sample showcase, an elegant furniture-like plinth holds the glass.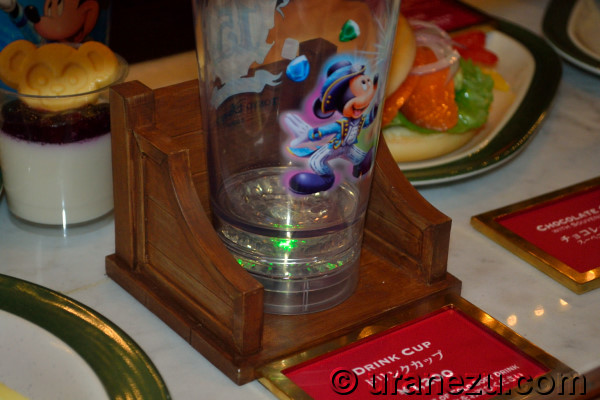 It's really same taste the case curving.
The next restaurant is "Casbah Food Court" in Arabian Coast.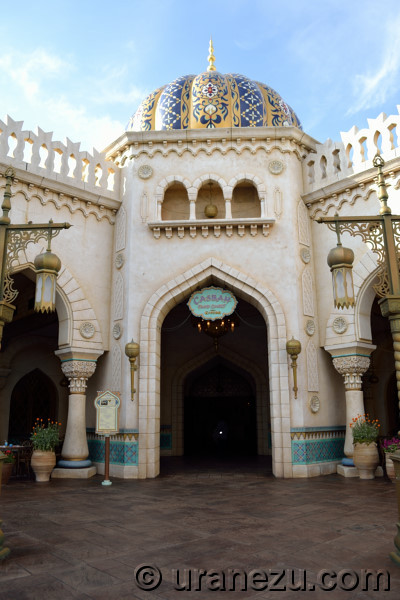 At first glance, we can't find a similarity between the food sample showcase and the base.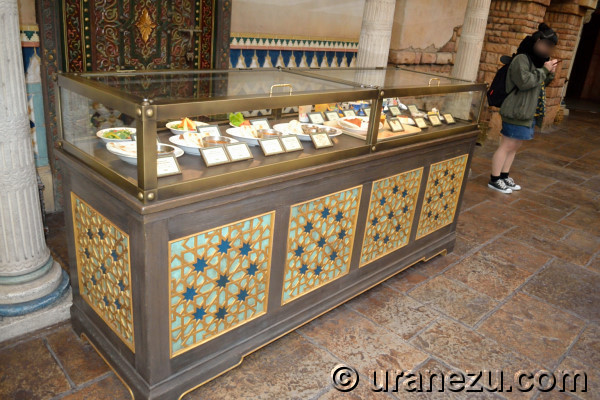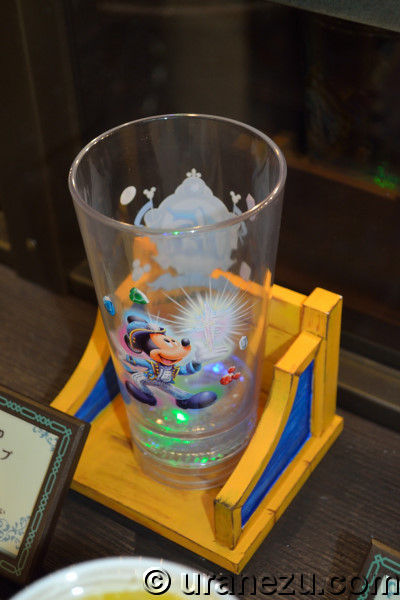 Yes, this yellow and blue pedestal is not the same theme of the showcase appearance.
But if you look at it from a distance, you'll find exactly the same box near the food sample case.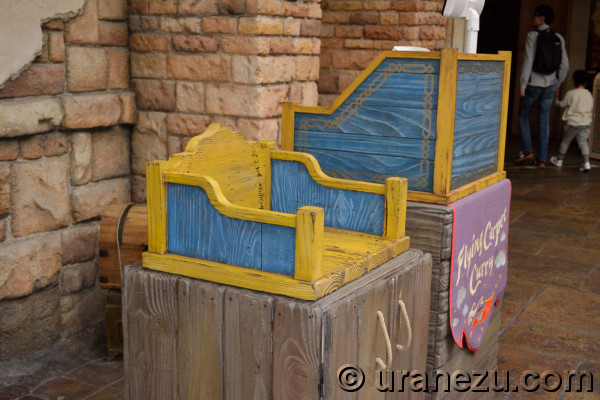 This was a cover of cash register when they had a curry buffet area. This restaurant is served curry a la carte menu regularly, but once there was a buffet for a short time period.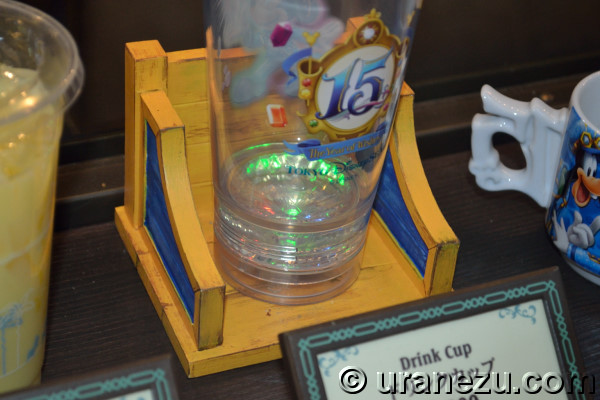 Therefore this base reminds me a memory of wonderful all-you-can-enjoy curry taste!
The next stop is "Yucatan Base Camp Grill" the counter-service restaurant in Lost River Delta.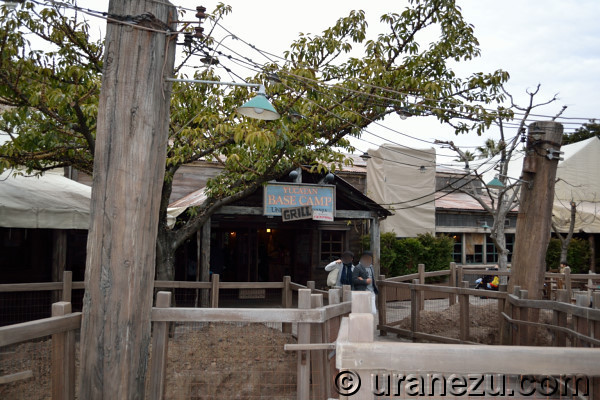 This restaurant is in mining zone which leading by Doctor Jones.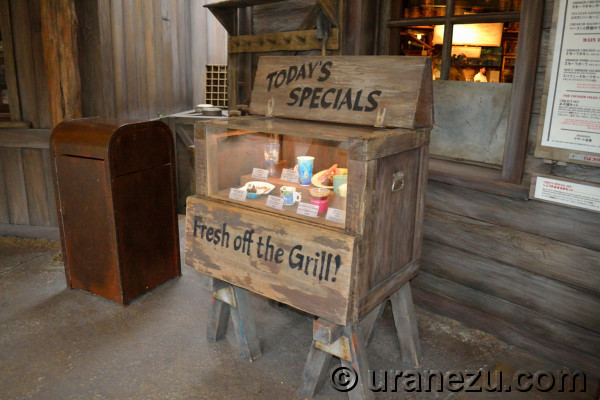 Along the side of this amazing ambiance, the food sample showcase is a based on a crate.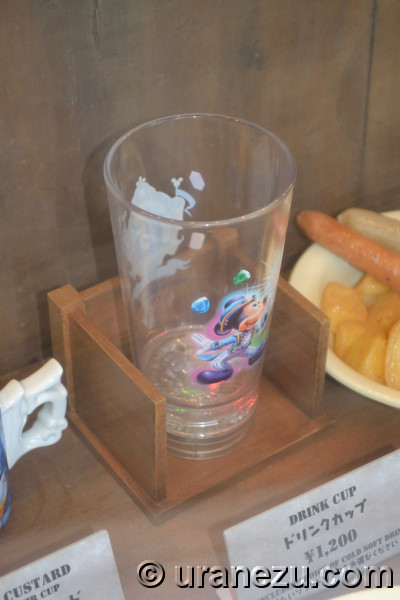 So do the base of the glass, it's a simple wooden box.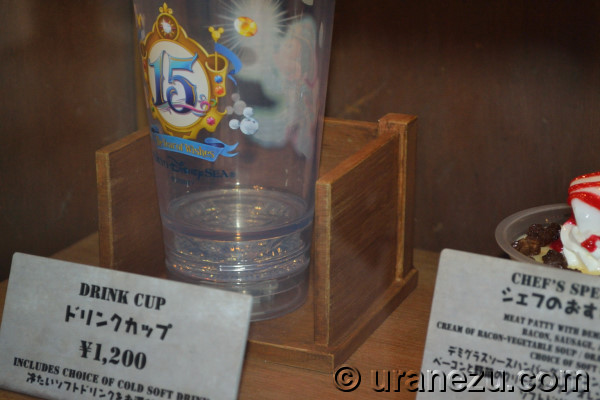 Isn't it wonderful?
The last restaurant is in under the sea, it's "Sebastian's Calypso Kitchen".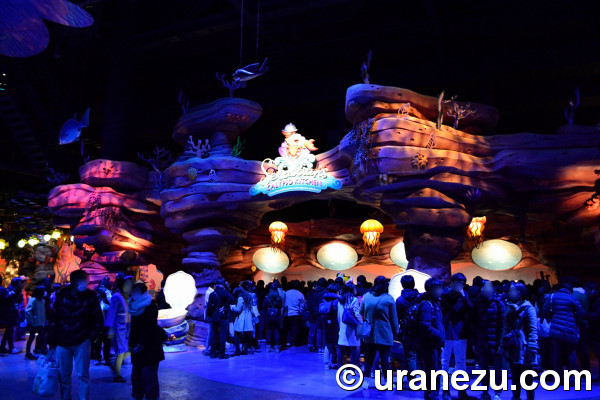 It can tell just by looking how nice is.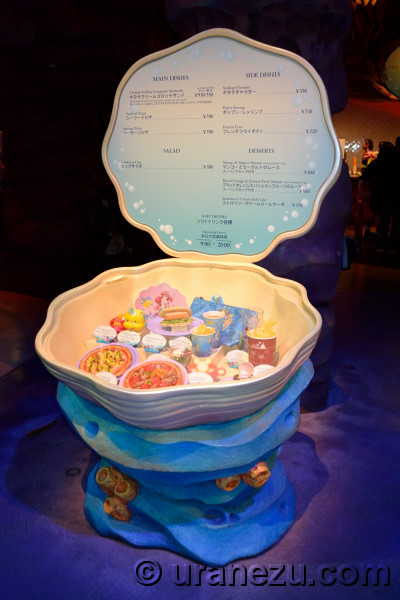 The food sample showcase is amazing.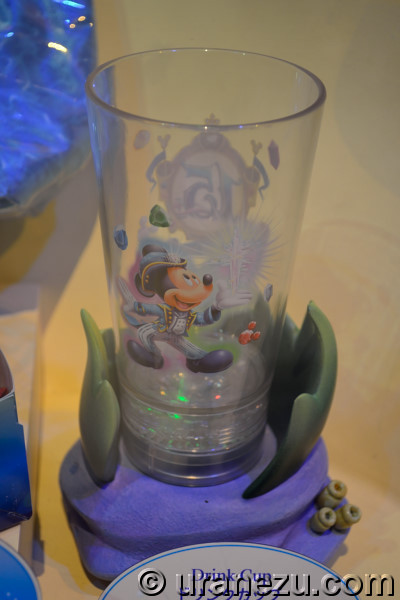 The seaweed is surrounded gently the glass.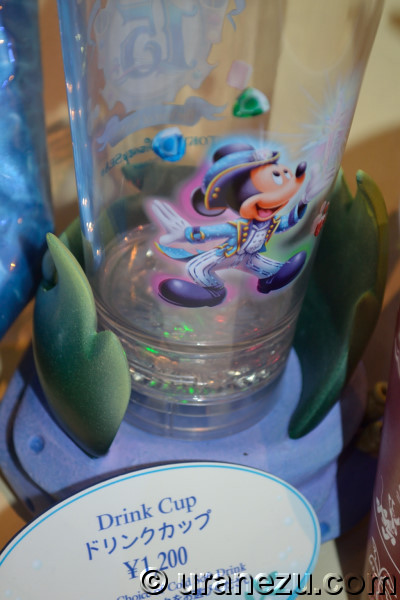 ♪ Isn't is neat? ♪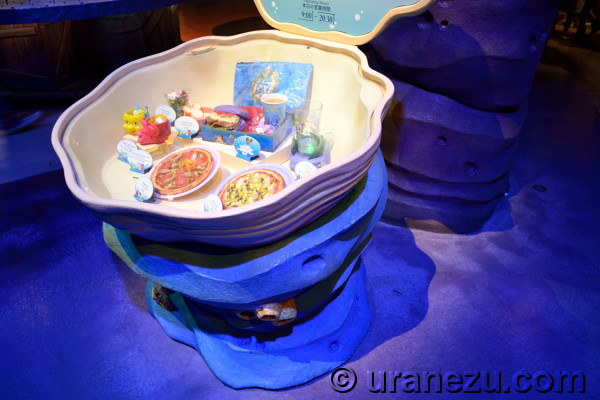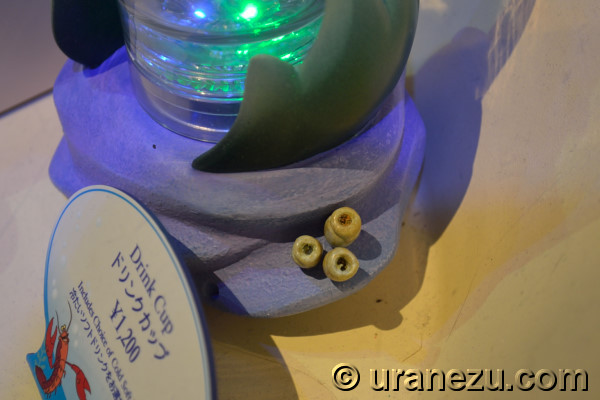 And the both of the base and the case with barnacles!


That's it. Every glass base in the case is so nice design. I really want the base, not the glass itself!
It's the last minutes to see (or get the glass) these wonderful glass pedestal.
Better to hurry!
If you have any questions, opinions and requests,
please contact us.
Feb. 18 2017 About Snowgies Adventure
Queen Elsa with a party from Arendelle will be staying at TDL to 17th March. Throughout that period, snowgies the Elsa's mischievously side snowmen are playing all over the park.

First, I introduced my favorite snowgies from Westernland.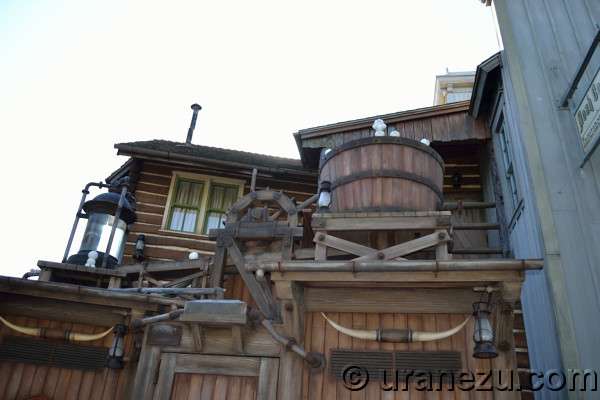 They're enjoying guests go by below from a wooden tub or barrel. The area is quite unbelievable and unordinary in the park, it's bending machine zone.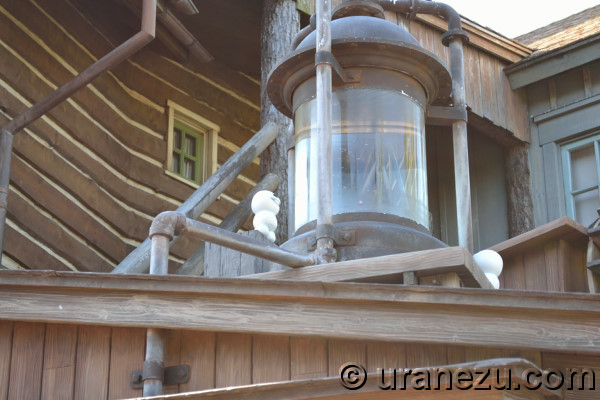 What are you doing behind the water tank?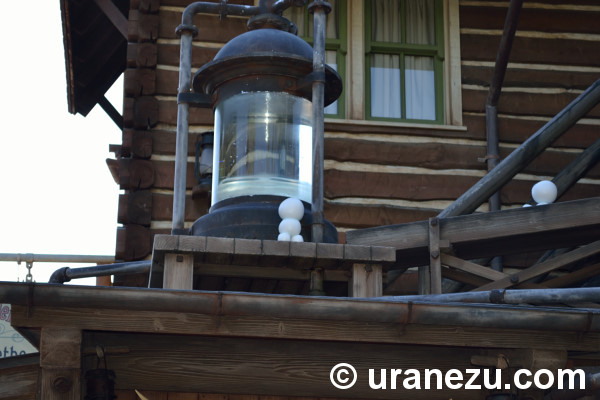 The snowgie is enjoying a view through the water, and the another one is also enjoying the enlarged face.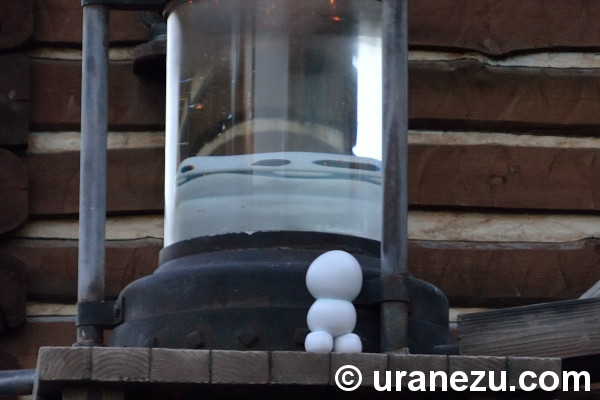 It's really lovely with in view of my not positive impression for the park bending machine.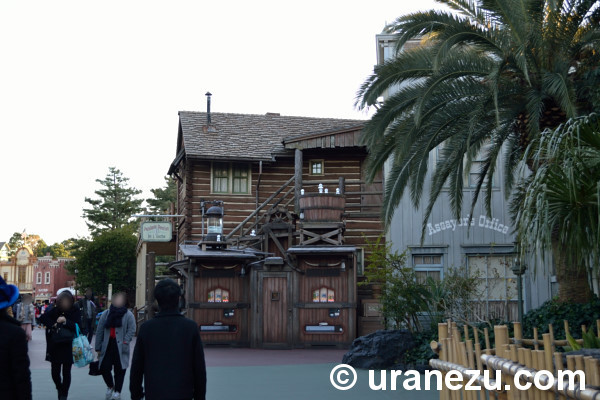 My second best is an imagineer snowgies in Critter Country.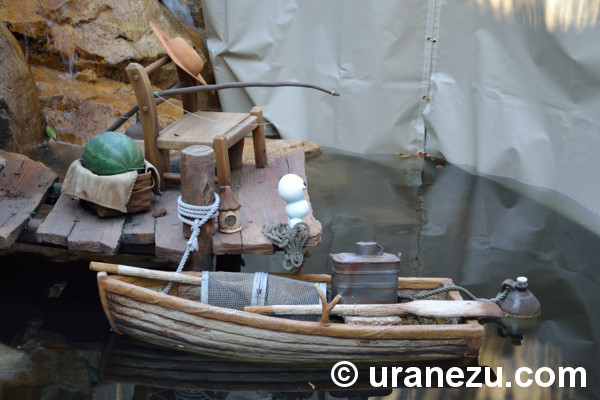 See? She (or he) is thinking about a better refurbish in front of the cover.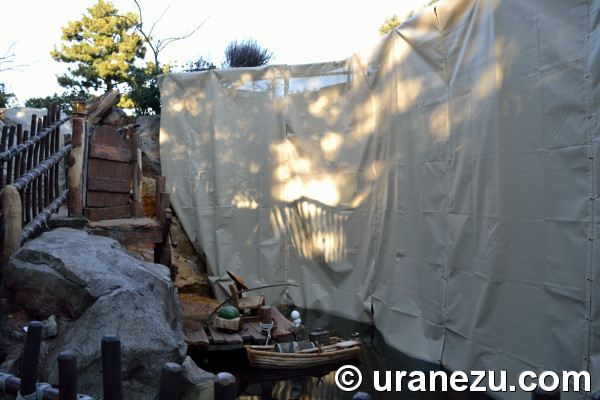 So let's find and check her proud expression. It's so cute and great.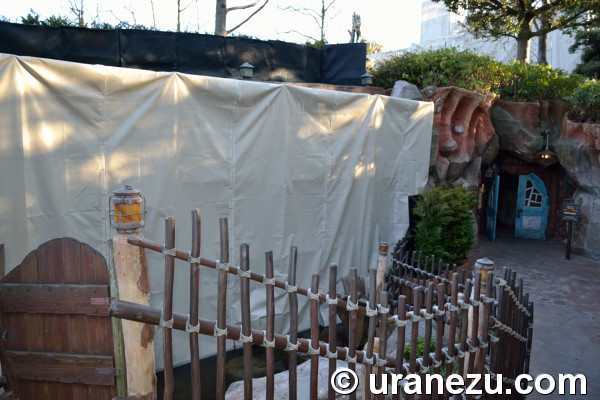 The third place is in front of Cinderella castle.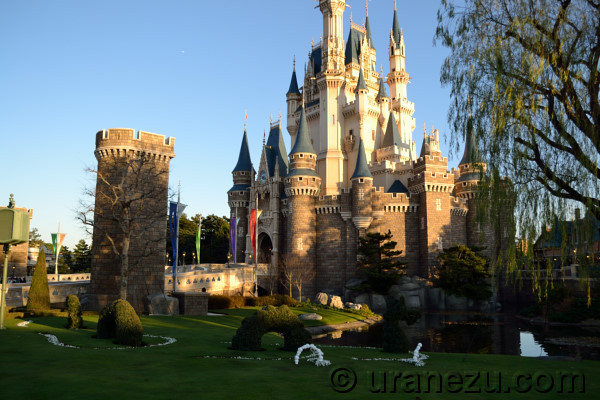 A beautiful dragon in the lawn moat always give us a marvelous impression. Snowgies also moved the great view with the necessary dragon.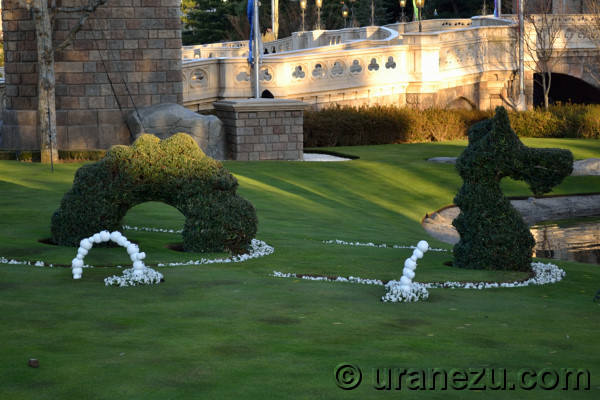 They try to mimic the dragon.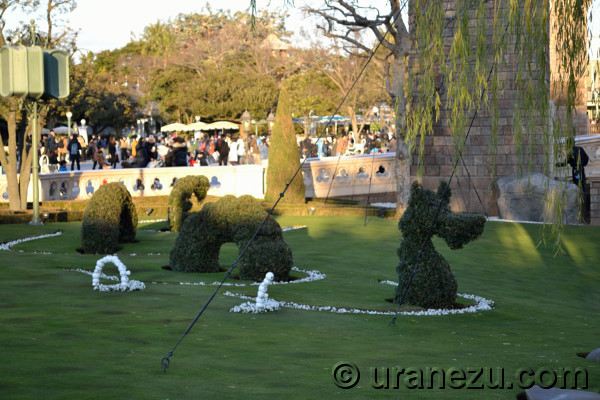 Good Job! I enjoyed the eager-beaver snowgon as same as the dragon.
Some snowgies love flowers in peacefully.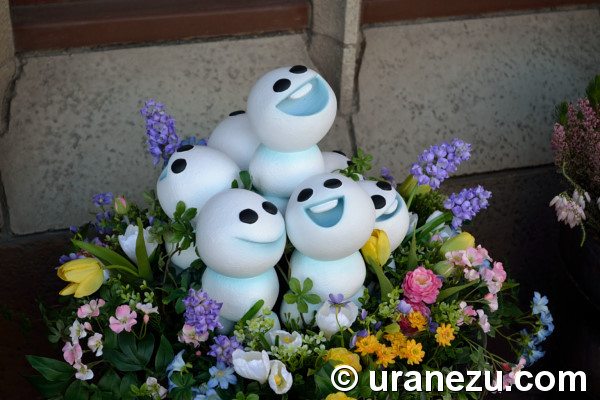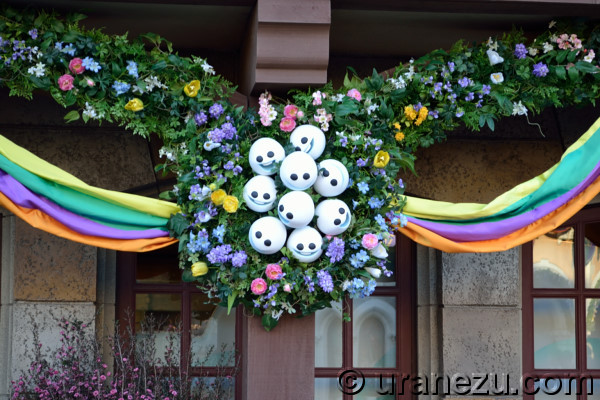 These snowgies flowerbed and wreath are from Fantasyland.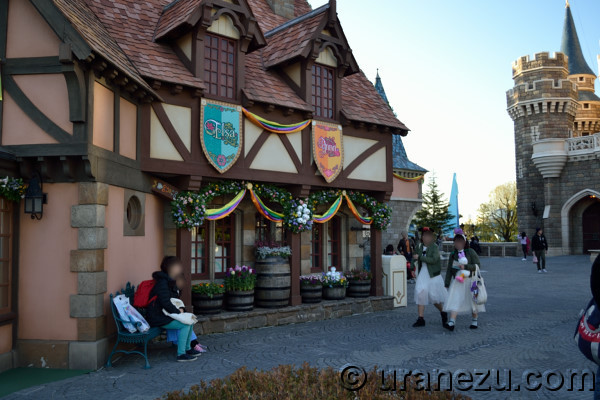 They're also hiding on a beautiful hanging basket in World Bazaar.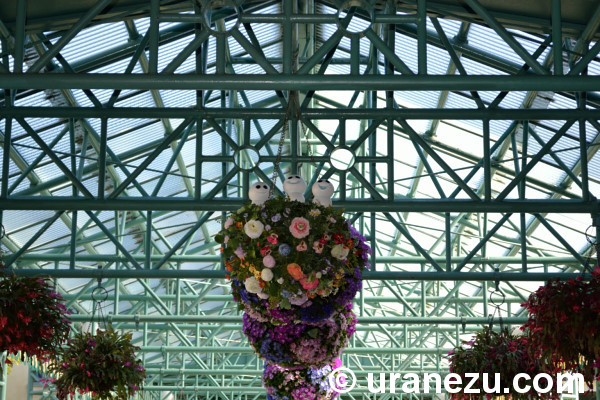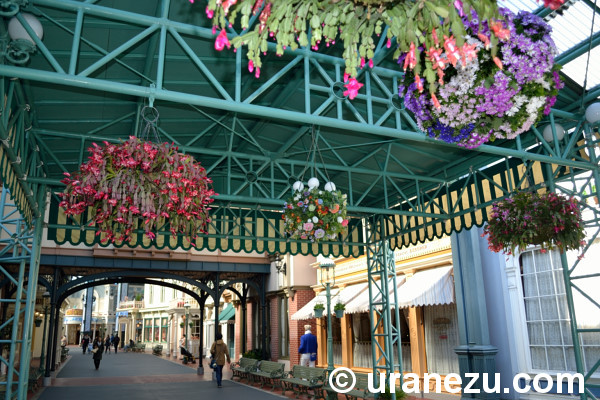 I understand they'd like to stay on this lovely flowerbed.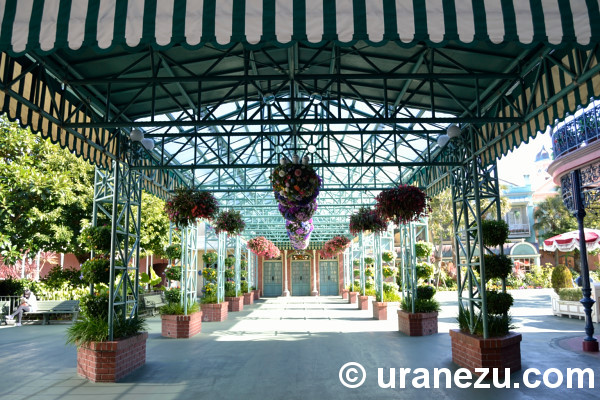 And a snowgies seek an adventure.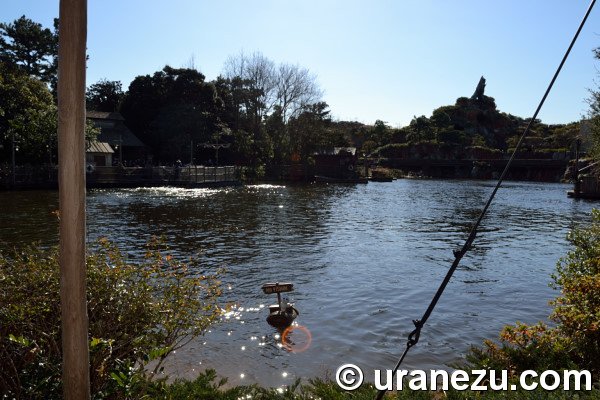 You are so daredevil. Are you abogado in a daytime?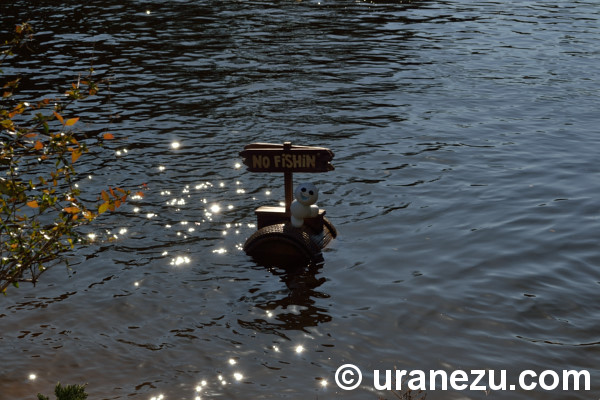 Or how about snowgies love horizontal line?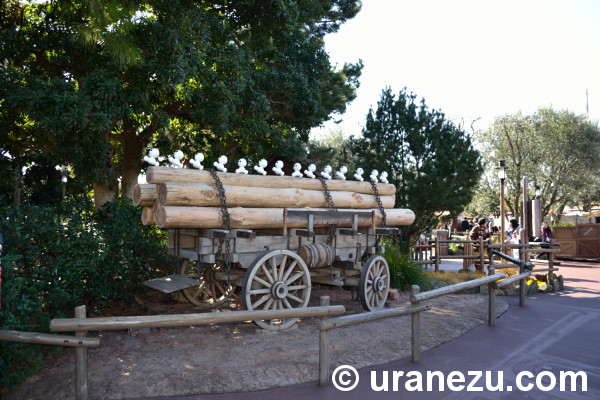 He's so lovely, the attention seeker.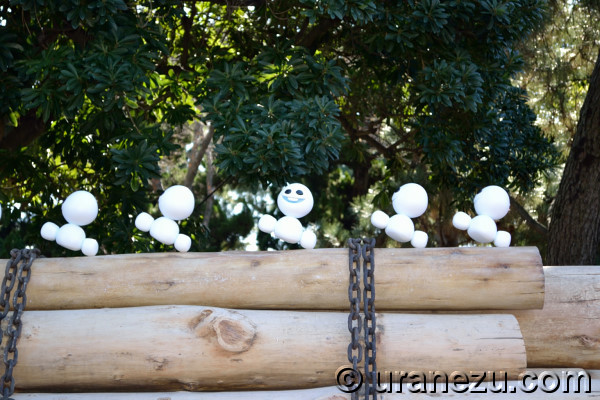 They queue up on the log next to "Frontier Woodcraft" the leather carving store.
Others try to vertical.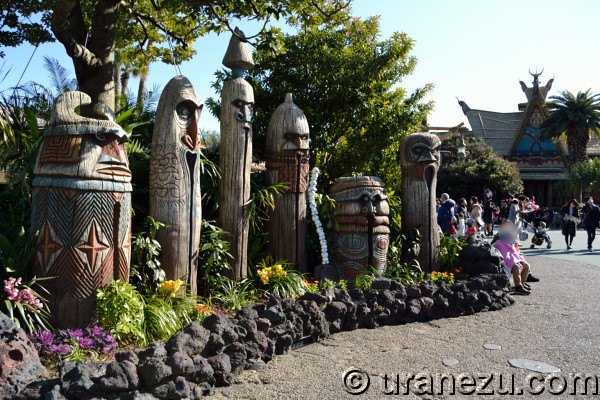 Don't try so hard to go up. You're completely as tall as the Tiki.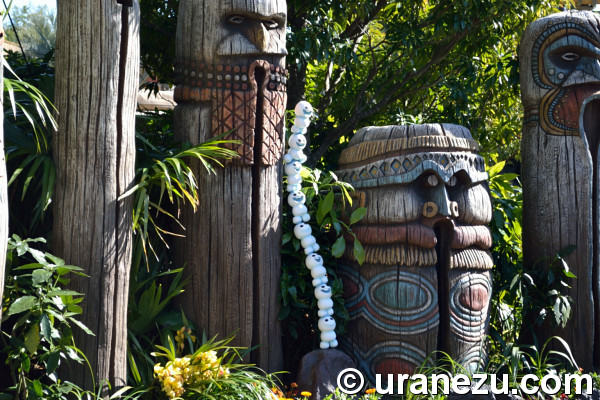 And some more!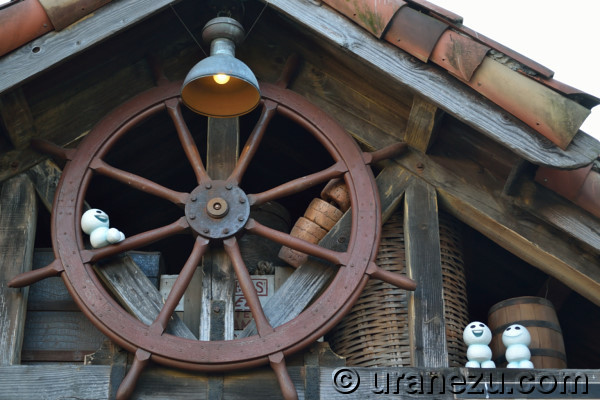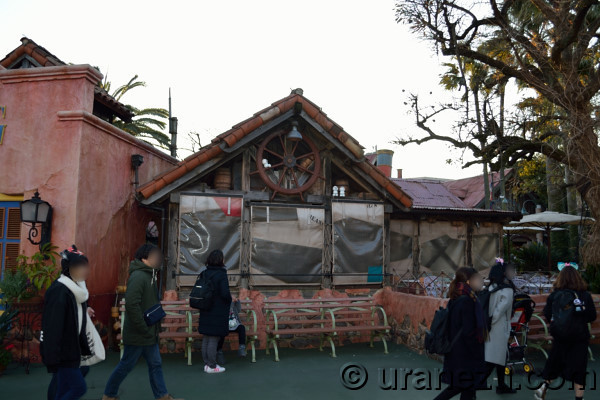 From a wall of "Boiler Room Bites" the counter-service restaurant seating area.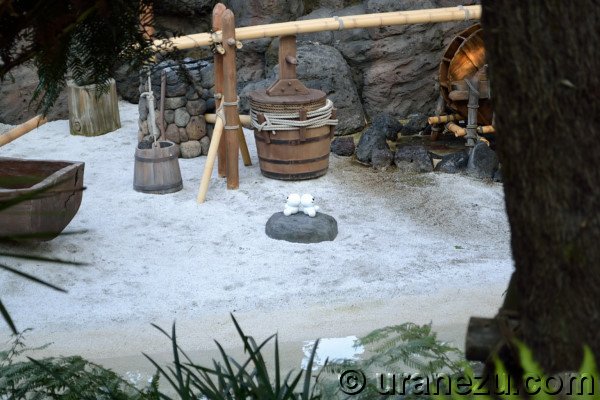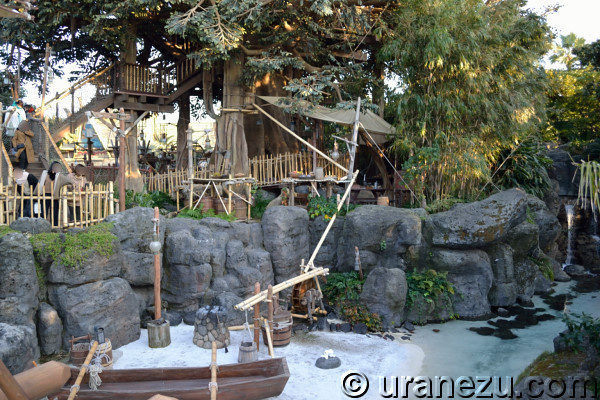 From a shore of "Swiss Family Treehouse" in Adventureland.
Some snowgies love a futuristic area or building.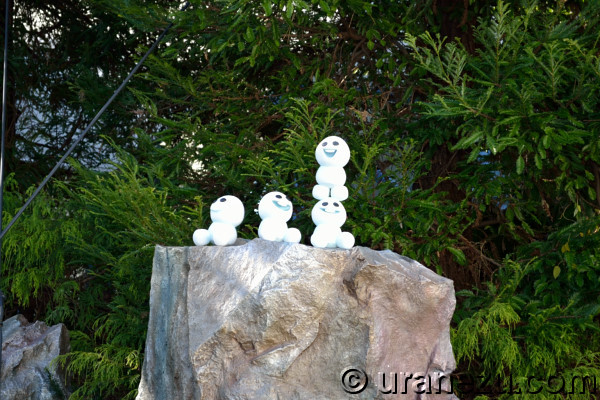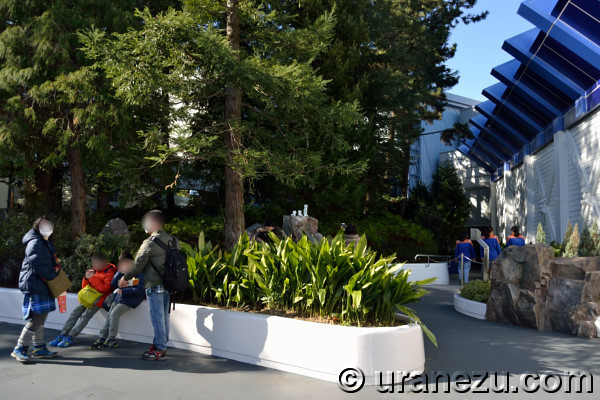 The outside of "Showbase" which is next to "Star Tours".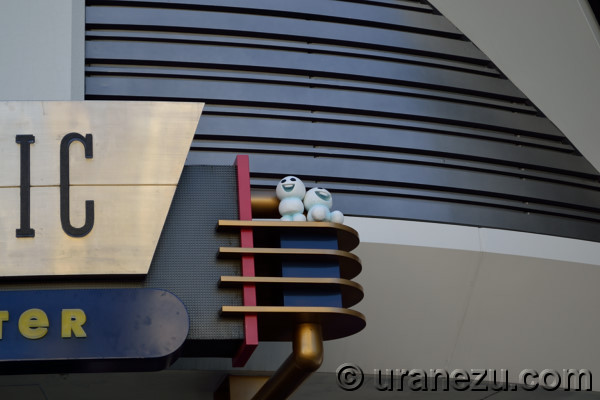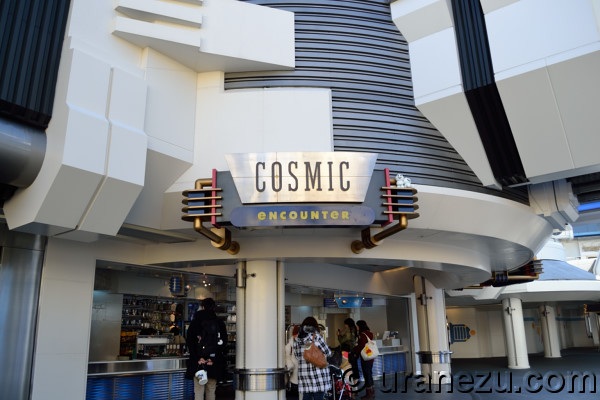 The sign of "Cosmic Encounter" the merchandise shop in front of "Star Tours".
These two snowgies are celebrity. Because…their pins have launched!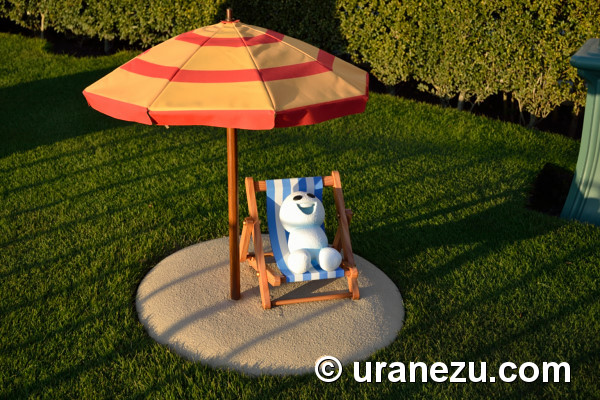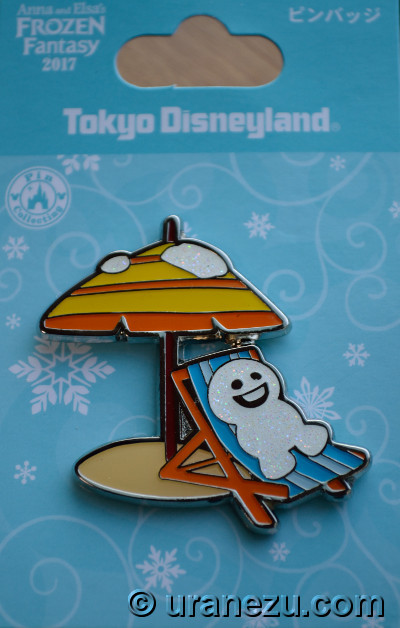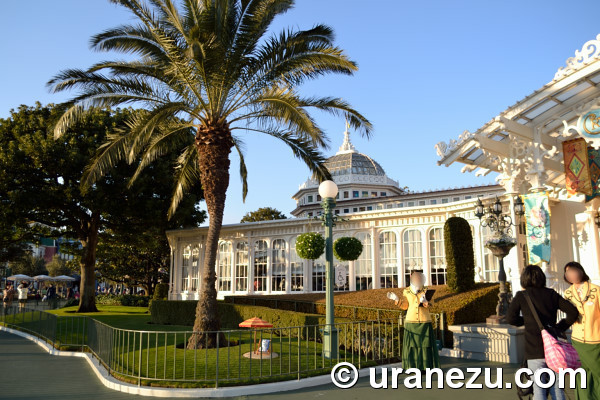 A star whose become commoditized from an entrance of "Crystal Palace Restaurant".
Another hero is from another restaurant entrance.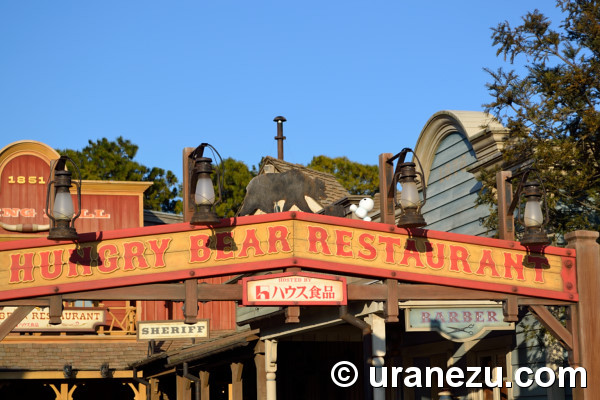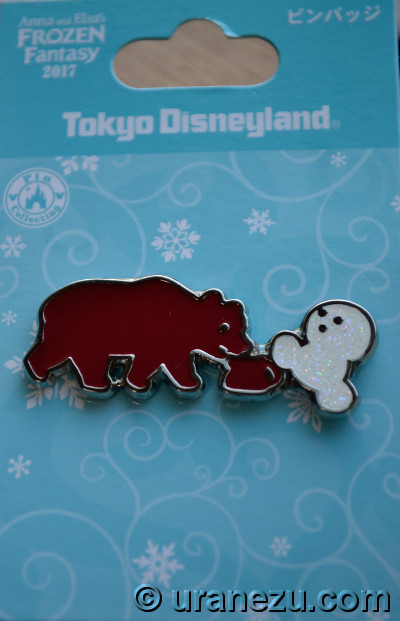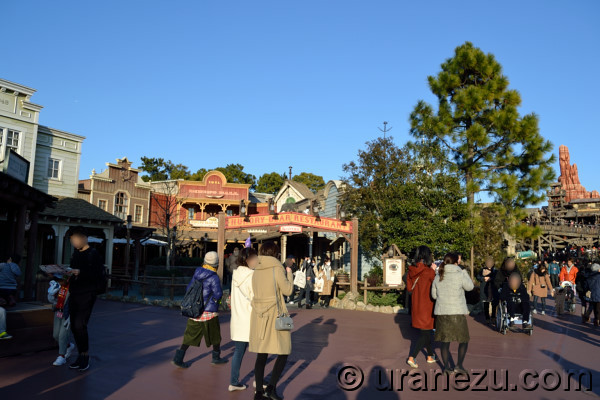 He is on a sigh of "Hungry Bear Restaurant" in Westernland.
It is a fun but little bit tough to find scattered them inside the park. You've walk a lot, so let's rehydration!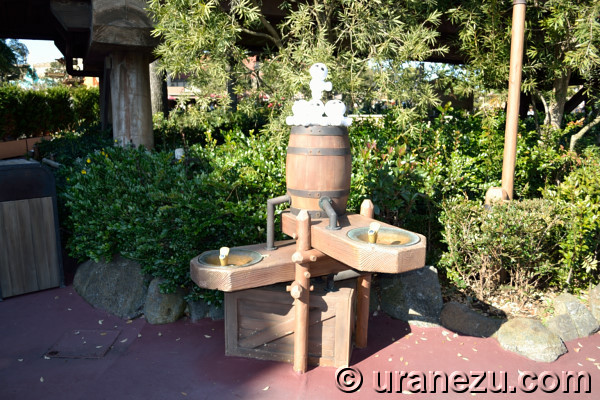 Oh, my!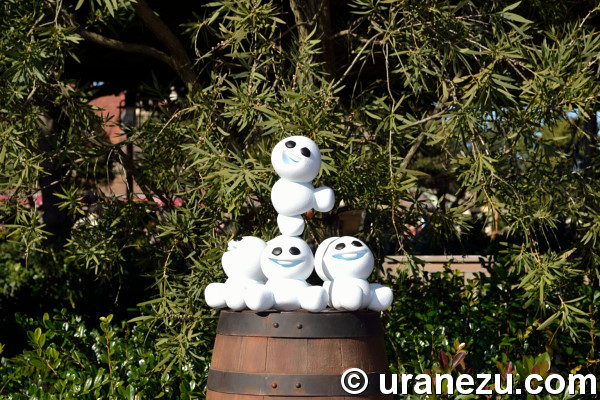 If you have any questions, opinions and requests,
please contact us.
Feb. 14 2017 Happy Valentine's Day!
I hope you had a wonderful Valentine's Day.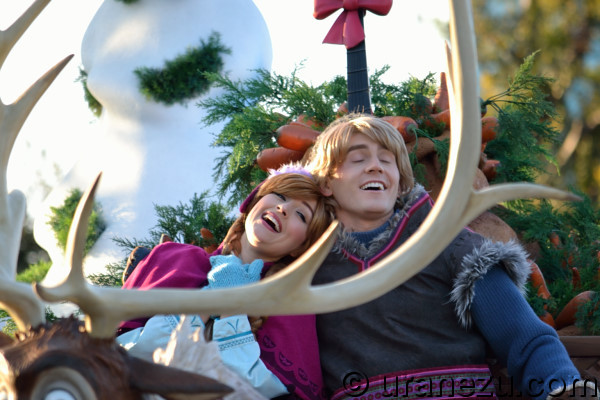 If you have any questions, opinions and requests,
please contact us.
Feb. 11 2017 about Sweet Duffy 2017.
A time period that after the Christmas to before the Easter is a season for a winter special event for two parks. TDS take place "Sweet Duffy" which related to St. Valentine's Day. (of course, also linked to White Day the Japanese original not-public holiday.)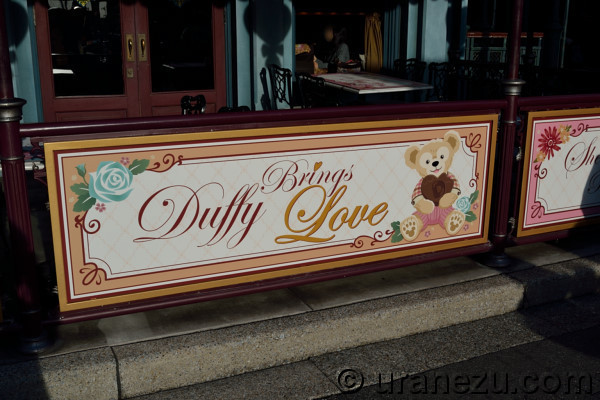 Duffy Brings Love in three months to TDS.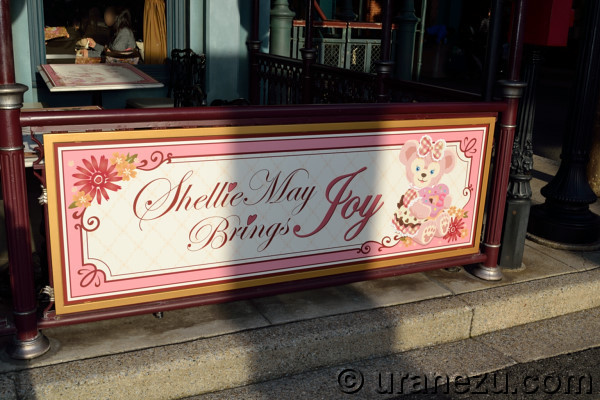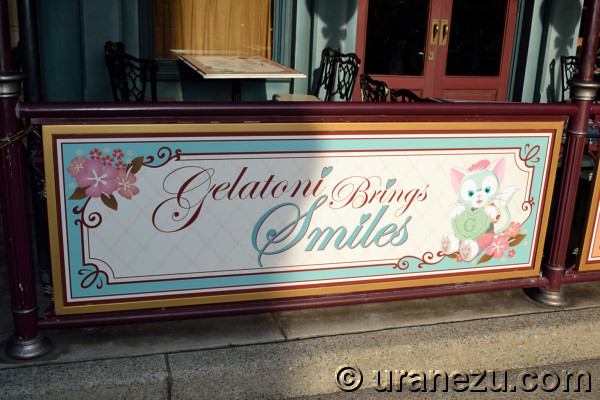 Shellie-May brings Joy, and Gelatoni brings smiles.
Okay, but we have to have patience for a just a little bit before get the love or joy and smiles from them.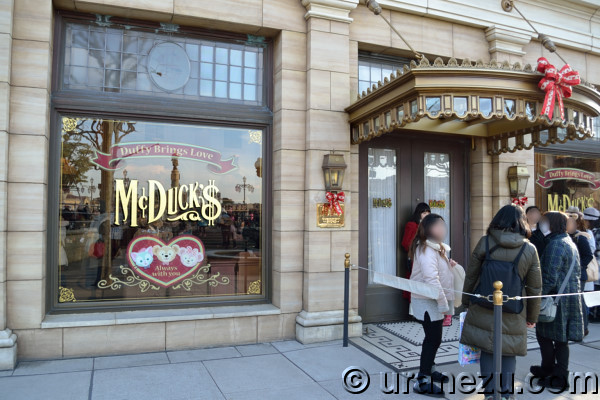 First, you might have to line up for purchasing special merchandise.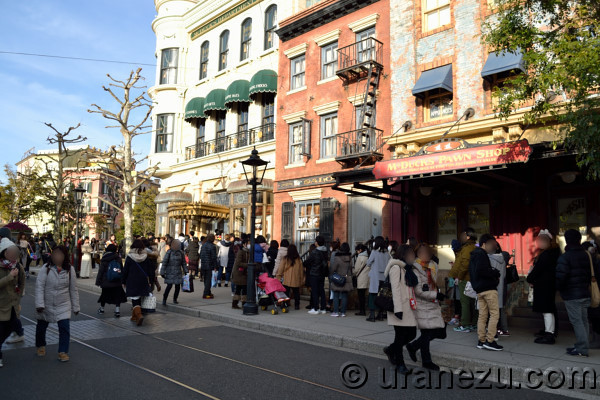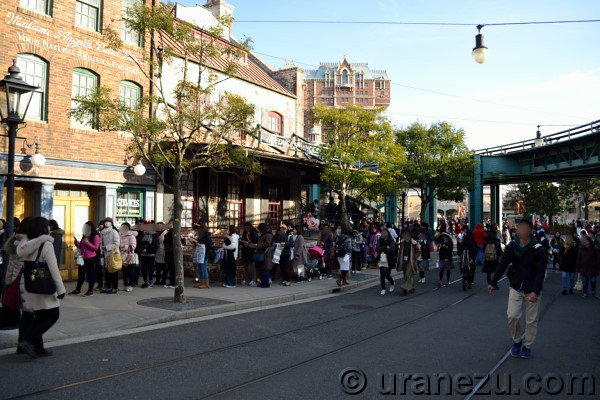 The above is the big queue line of "McDuck's Department Store". The time-limited Duffy items are sold at only three stores include "Galleria Disney" and "Aunt Peg's Village Store" in TDS.

Second, maybe you also take a small amount of time to dine.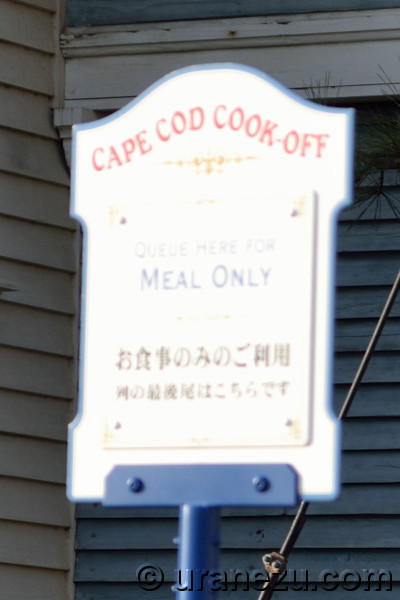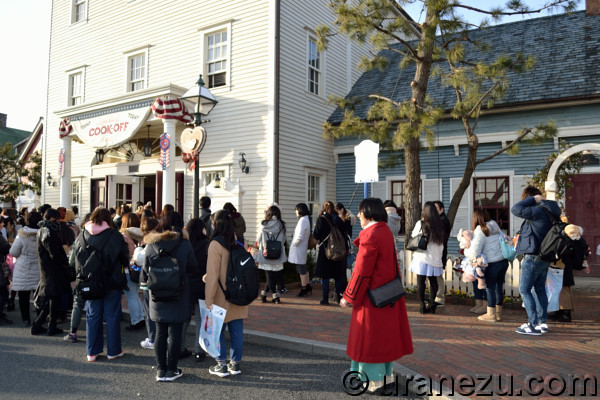 The sign shows "Queue for Meal Only". Because Cape Cod Cook-Off Restaurant has two zones, one is just normal dining area, and another is with show stage.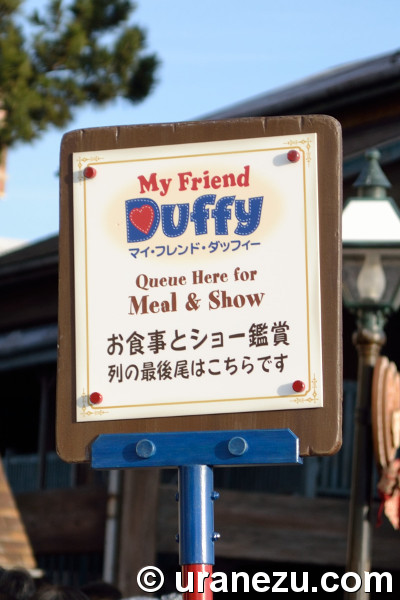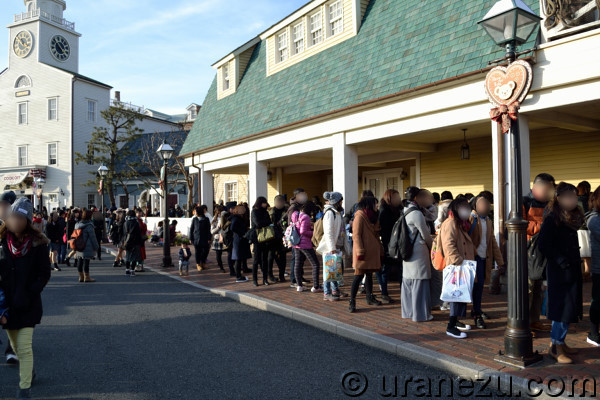 The both area is very popular.
Inside the restaurant, there are four pictures that show us a new story of Duffy and Friends.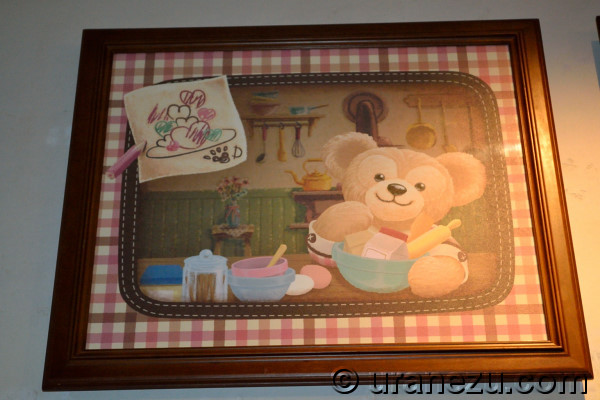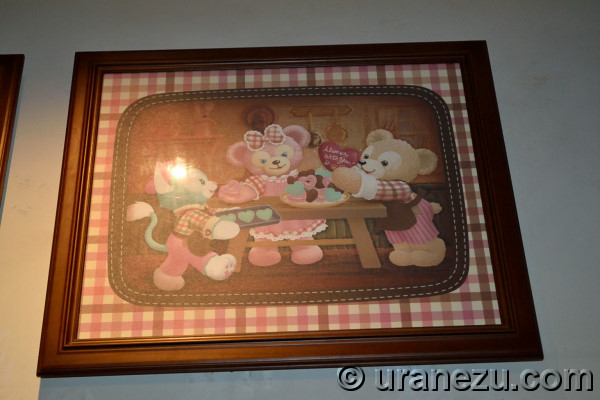 Left: One day, Duffy wants to make Mickey & Minnie happy. So Duffy is making special sweets for them.
Right: Shellie-May and Gelatoni are also helping Duffy. Because they'd like to tickle Mickey & Minnie's heart, too.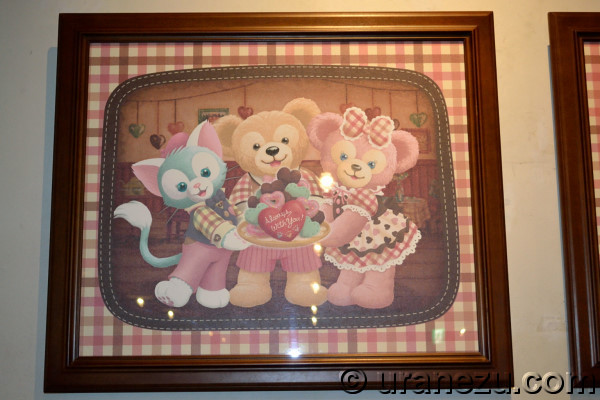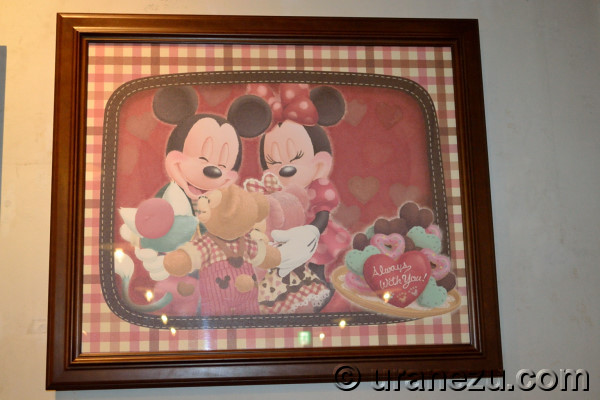 Left: Look at these freshly backed sweets, they're our fruits of efforts. "We love you, Mickey & Minnie! Stay us anytime, anywhere, anyplace."
Right: Mickey & Minnie wrapped Duffy, Shellie-May, and Gelatoni in a big hug. Everyone felt a feeling of happiness.

A place under the story picture is always set for a special Duffy decoration table during the Sweet Duffy event. But there is no more Duffy & friends and any adornments in this year.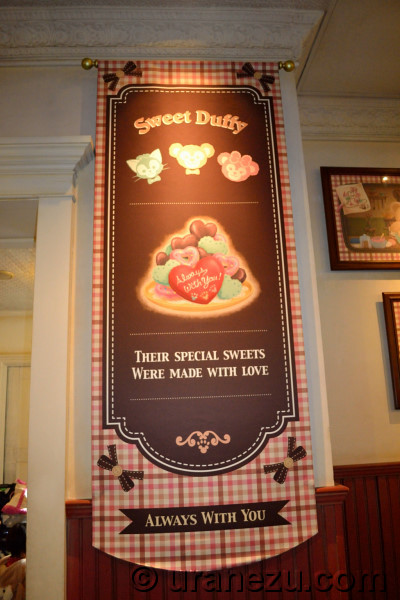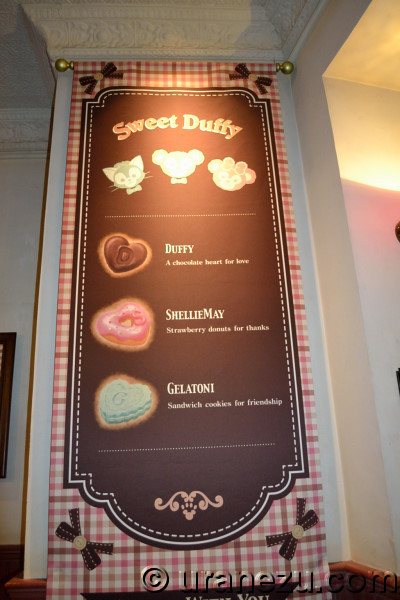 Only a new banner is placed as a special decoration in the area. Duffy is a chocolate heart for love. Shellie May is Strawberry donuts for thanks, and Gelatoni is sandwich cookies for friendship. I want to taste of the three!
It's peaceful night from outside dining area of "Cape Cod Cook-Off Restaurant".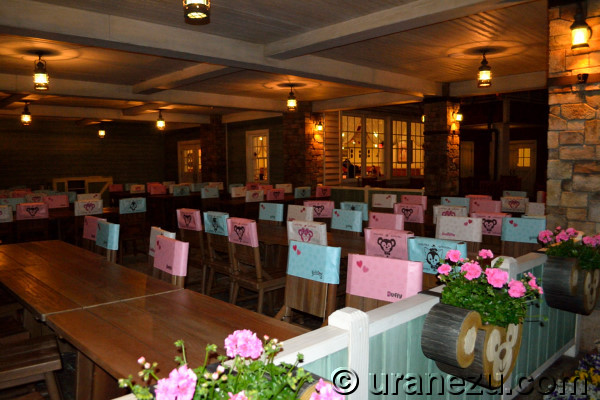 This popular counter-service restaurant is served a special Duffy menu.
The chair cover is time-limited addition.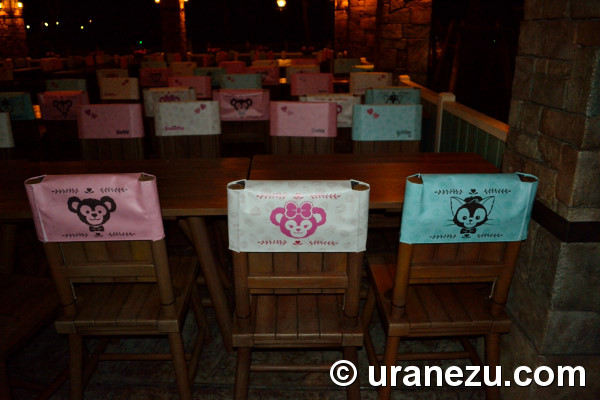 Duffy and ShellieMay are sending love each other. Gelatoni is throwing a stone column. Yes, he is genuine artist.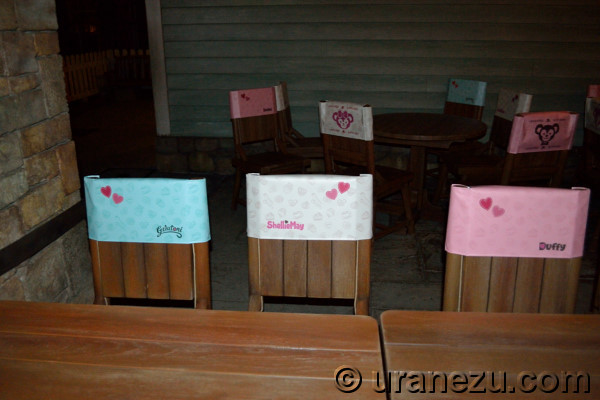 Speaking of Gelatoni, we can't miss his favorite sketching place.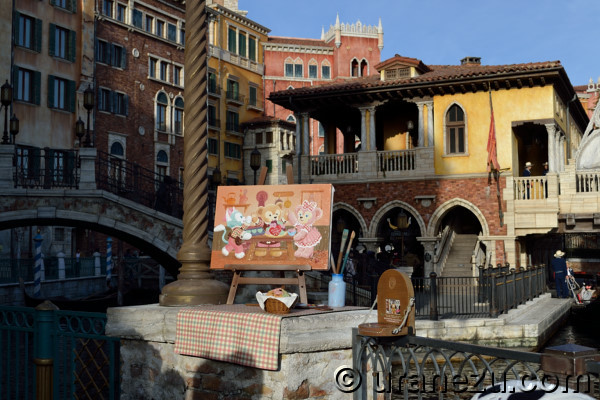 It's a corner of Palazzo Canal. Now he is trying to finish his new paint about a love.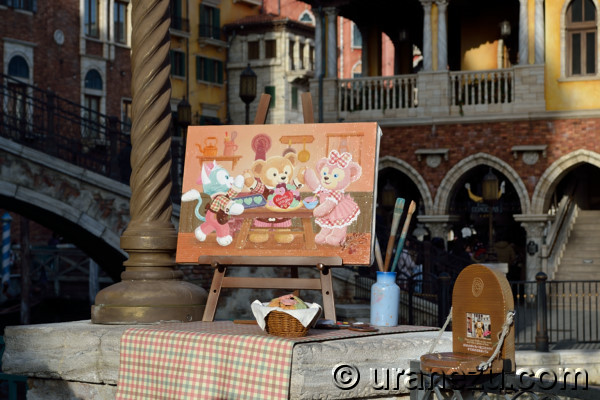 Another can't-miss place is in from of "Aunt Peg's Village Store" in Cape Cod area.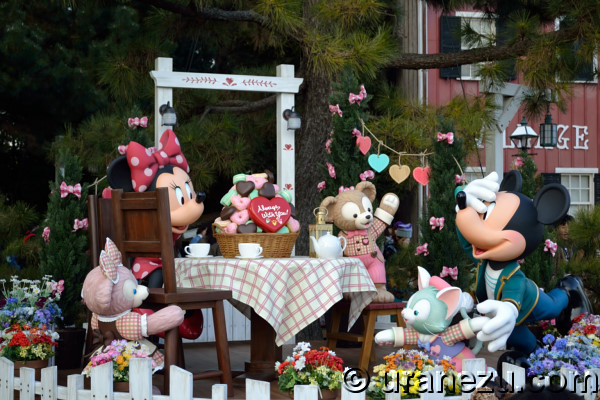 Special big figurines celebrate the season of Sweet Duffy.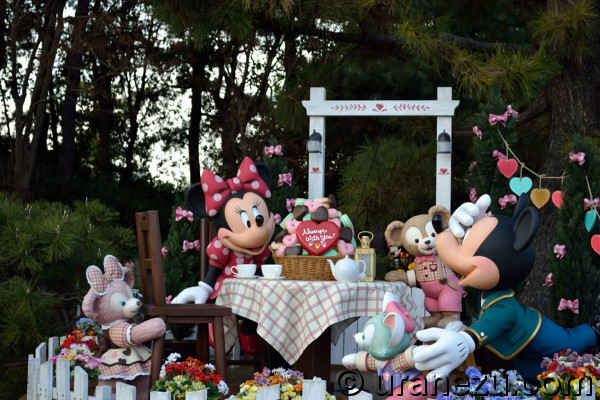 It's quite popular, so I came again in the night for photo shooting.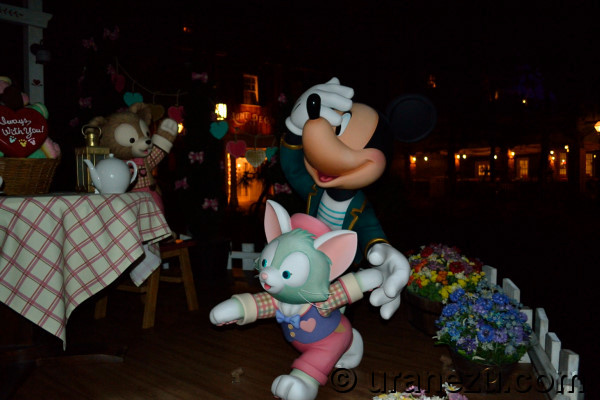 Mickey is escorting by excited Gelatoni. Mickey is half blinded.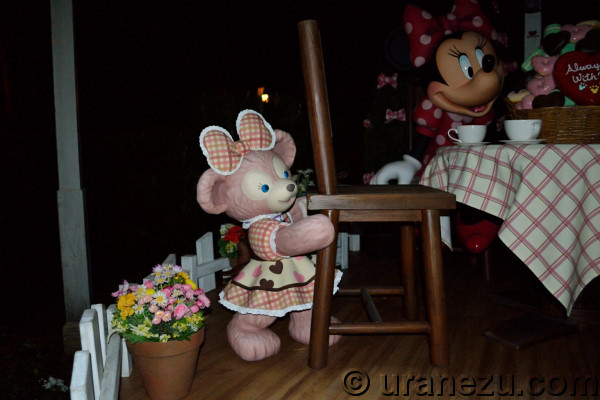 ShellieMay is waiting for pulling Mickey's chair.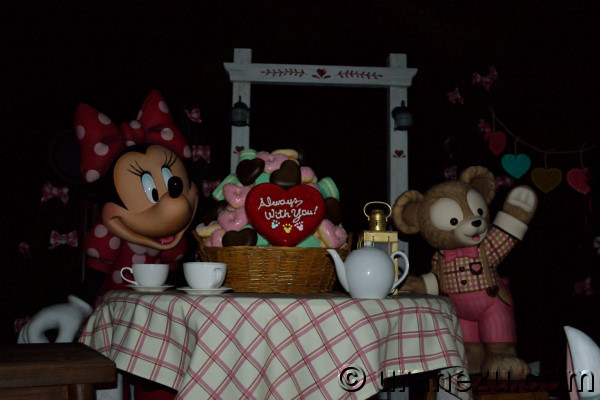 Minnie and Duffy are looking forward to come Mickey and Gelatoni behind big amount of homemade sweets.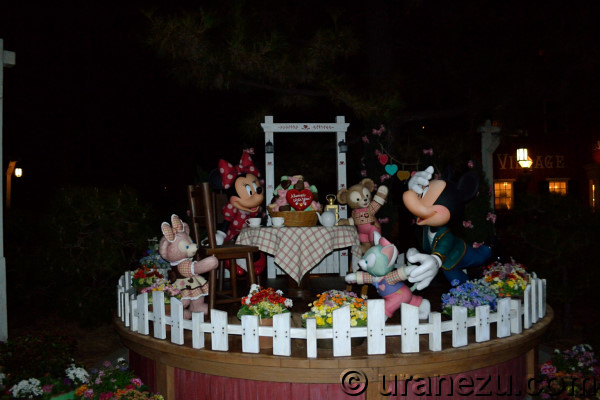 Let's start night tea!
And more Duffy sweets photo area.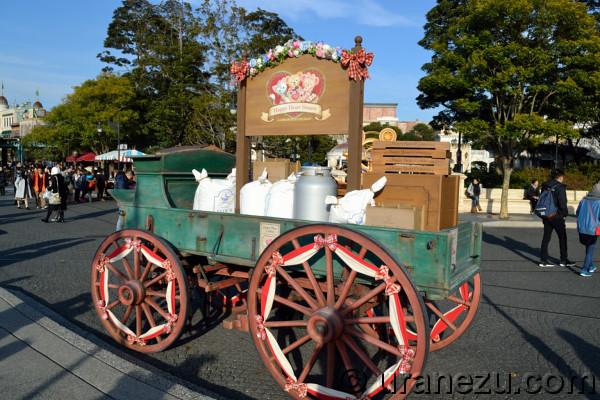 The decorated wagon is located near S.S.Colombia in American Waterfront.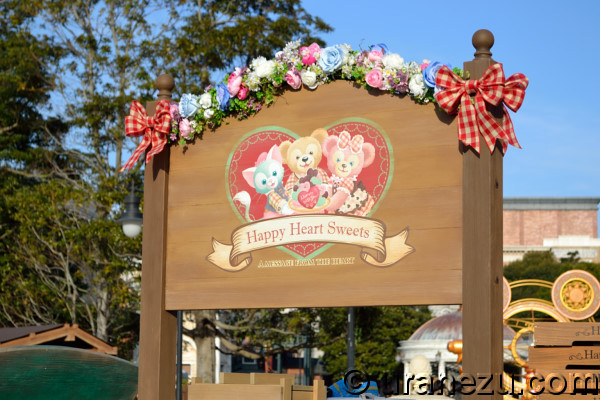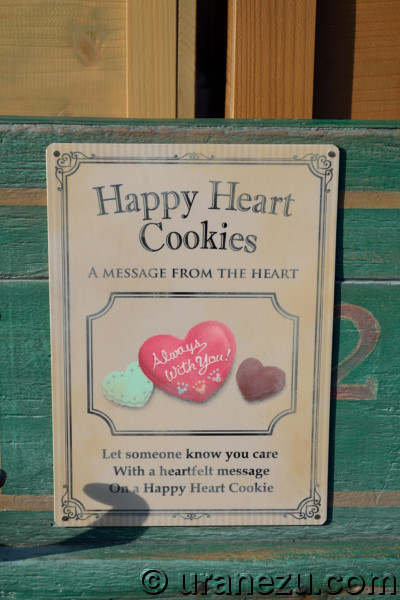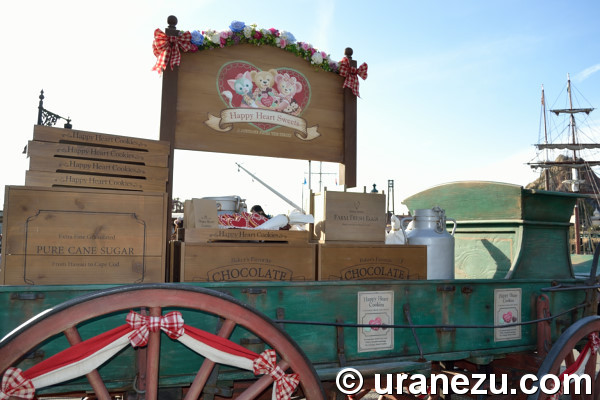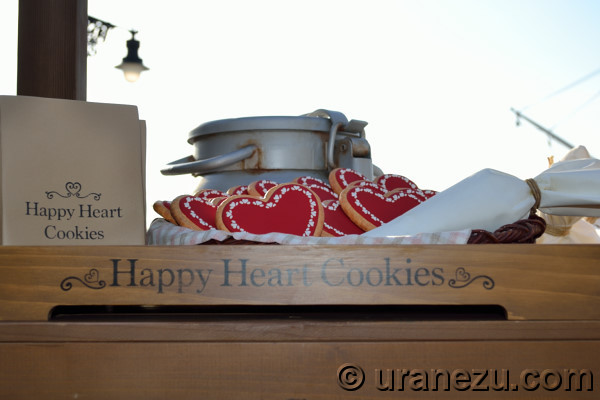 There are icing cookies on the other side of the wagon.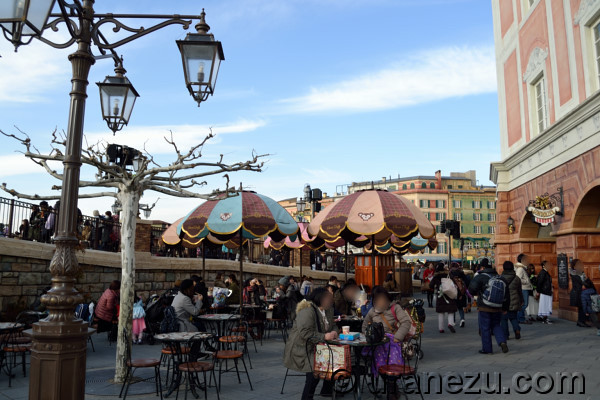 Just around the corner of the Palazzo Canal, you can taste a gelato under a special Duffy umbrella.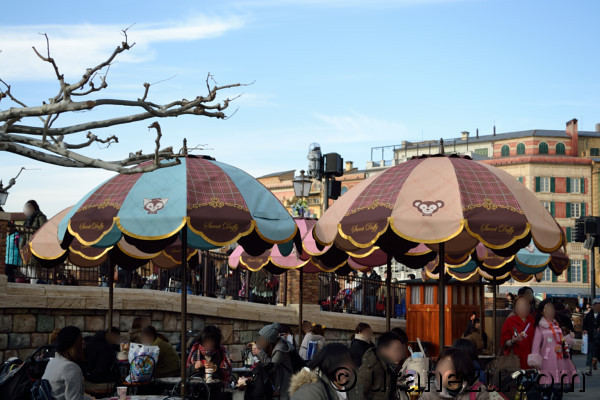 If you need half-decent meal, why don't you go to "New York Deli"?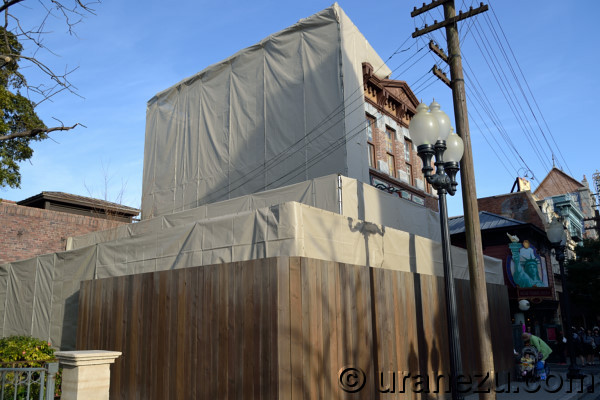 Now the outside dining area is refurbishing with a cover, but don't worry, it opens.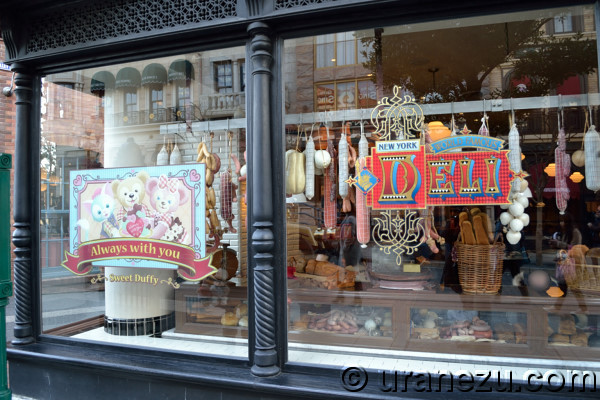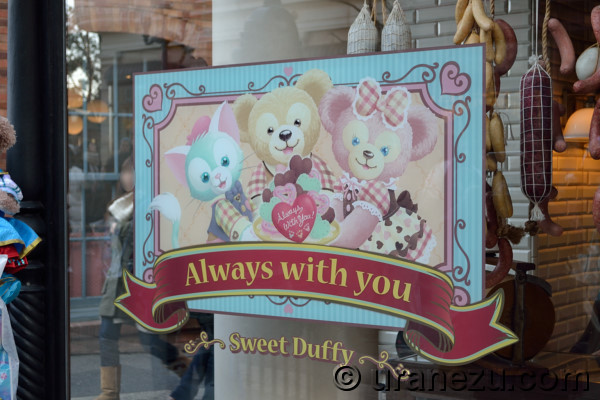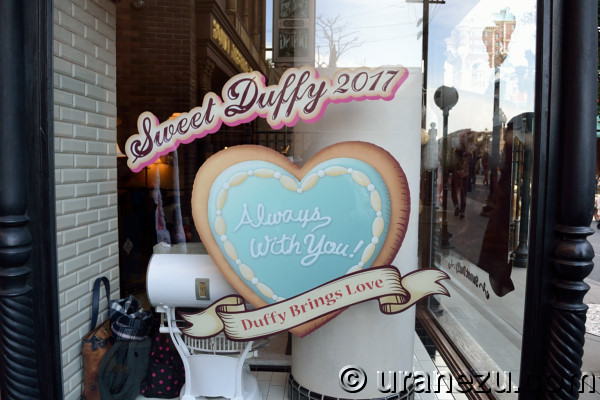 You can see from the window with special Duffy pictures, this restaurant is also prepared a special Duffy menu.
Another outside dining area is open.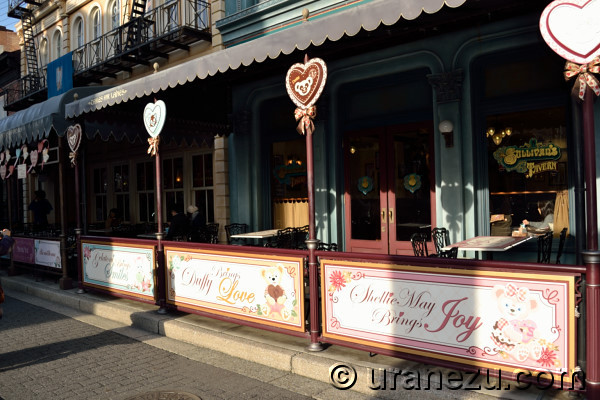 These are special place mat.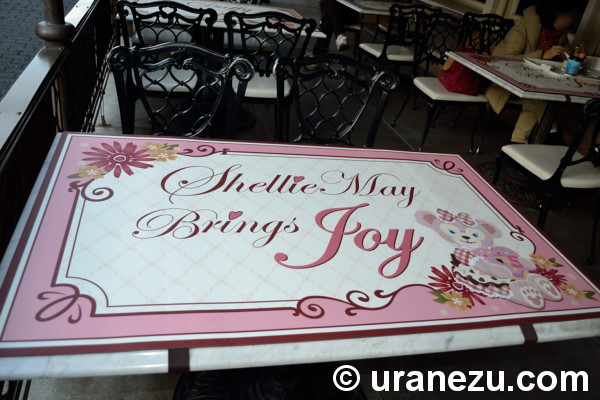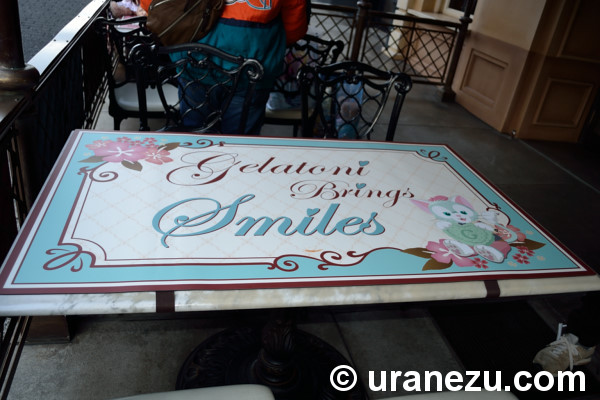 Now you know that need just a tiny patient to get their love, joy, and smiles.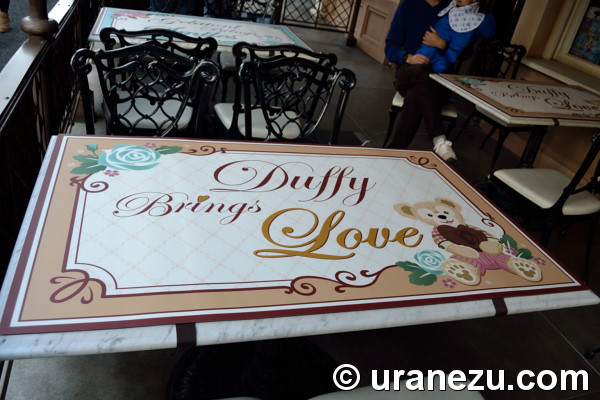 Happy Duffy day!
If you have any questions, opinions and requests,
please contact us.
Jan. 28 2017 about Frozen Fantasy 2017.
The royal family of Arendelle is coming back to TDL!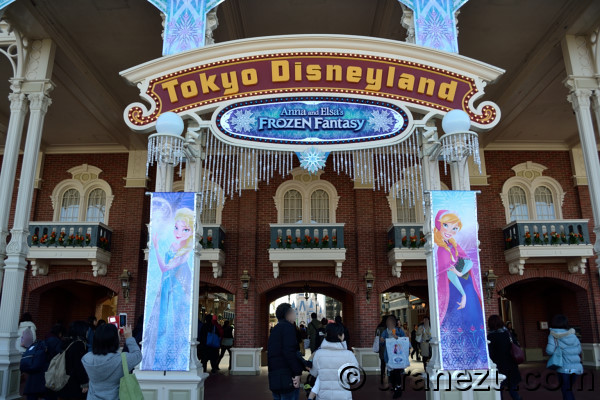 It called "Anna and Elsa's Frozen Fantasy" the special event take place to a middle of March. There are many special time limited decorations in the park.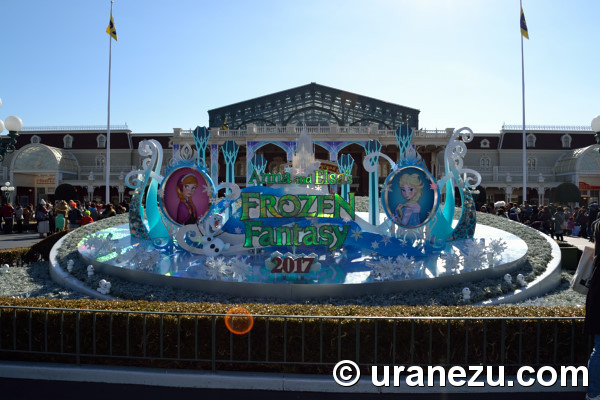 She enchanted with her great power and changed the park so icy beautifully.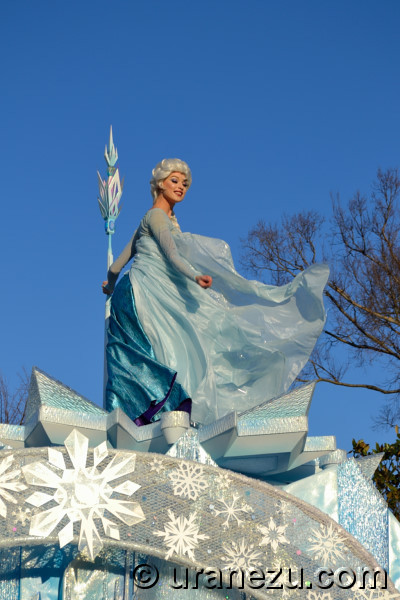 Once you step into World Bazaar, you feel the Queen Elsa's great welcome.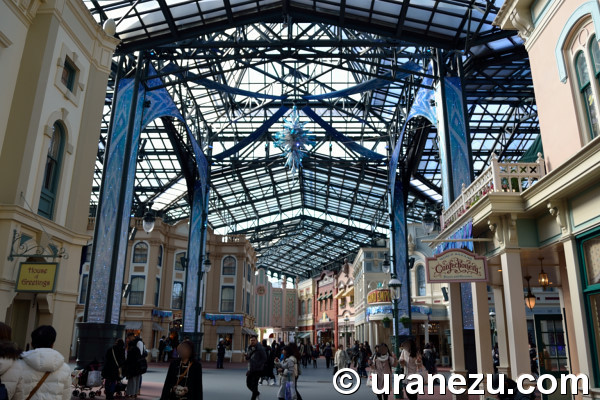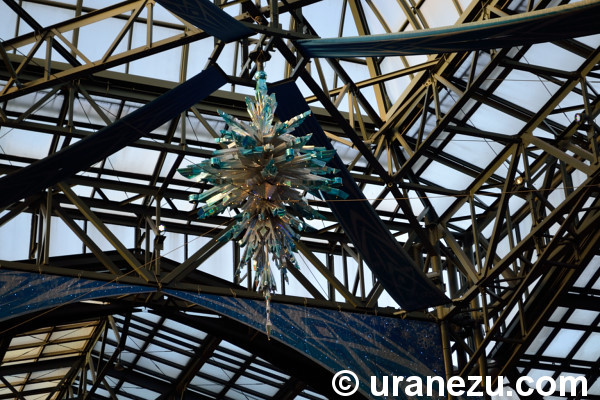 Under the beautiful crystallized ice chandelier, you can find lovely window decoration.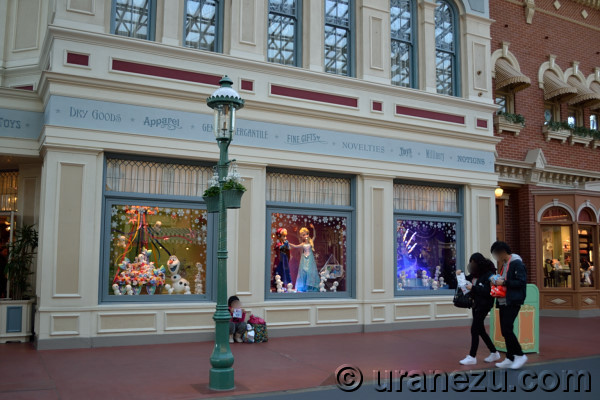 The left picture of below that showed snowgies enjoy a projection mapping show the special version. (During Frozen Fantasy the special event, the new castle projection "Frozen Foever" is performed.)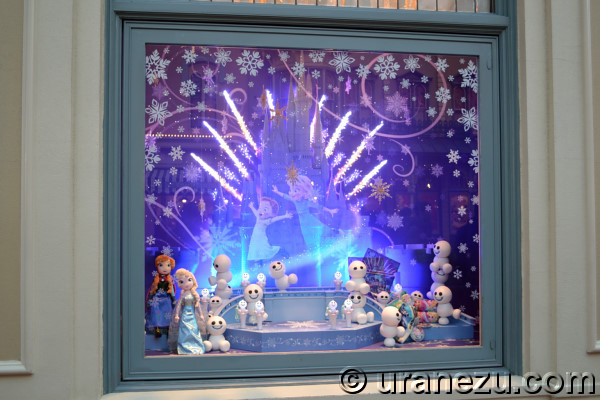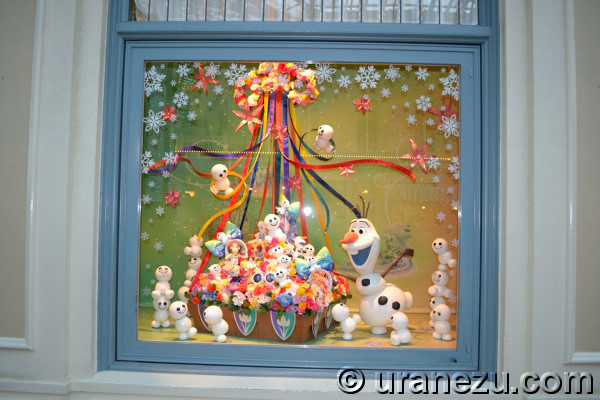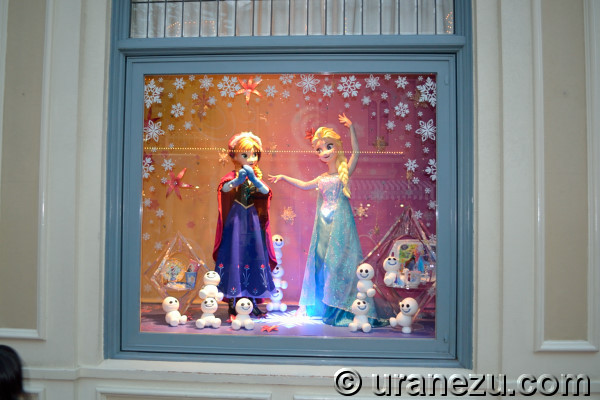 Around the hub at the Cinderella castle, another snowgies are playing.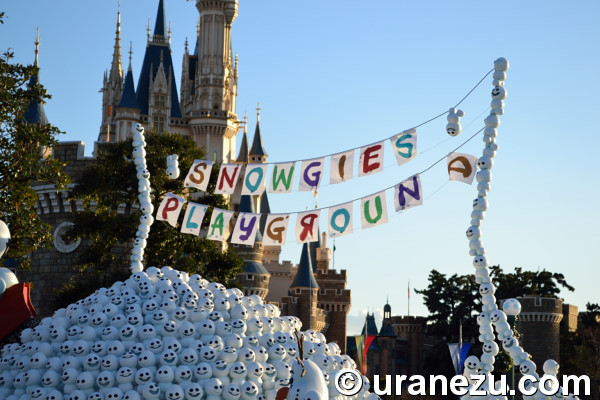 This is one of the main photo location.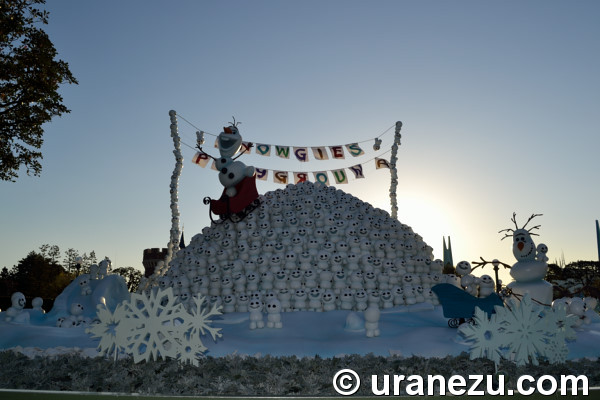 I'm glad that these snowgies with Olaf place little bit weak "catacombe" atmosphere than the last year.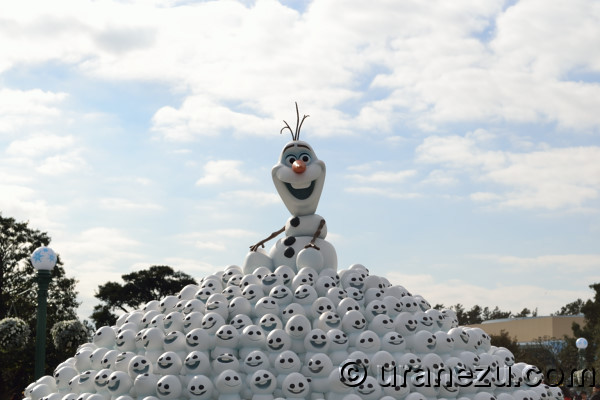 I think the banner with struggling snowgies changed the ambiance.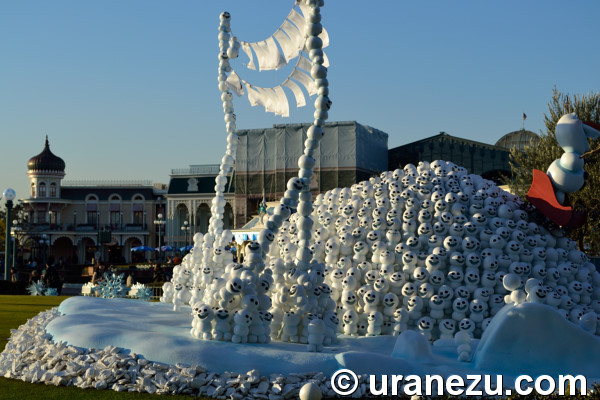 Of course we can take a picture with snow skating Anna and Elsa. (TDL is still not Anna and Elsa's greeting.)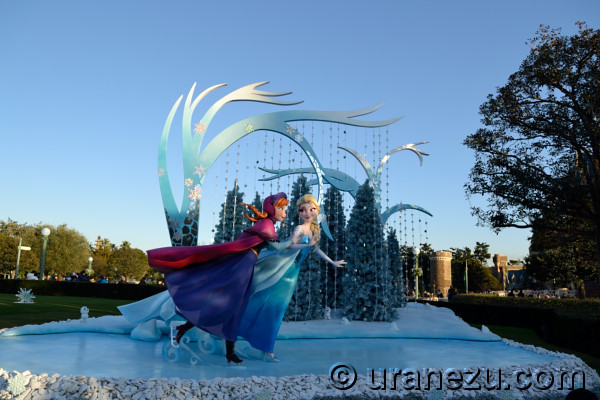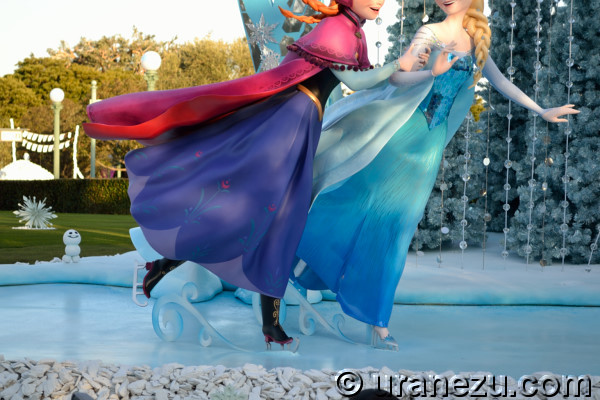 I really love their animation-like magical spur.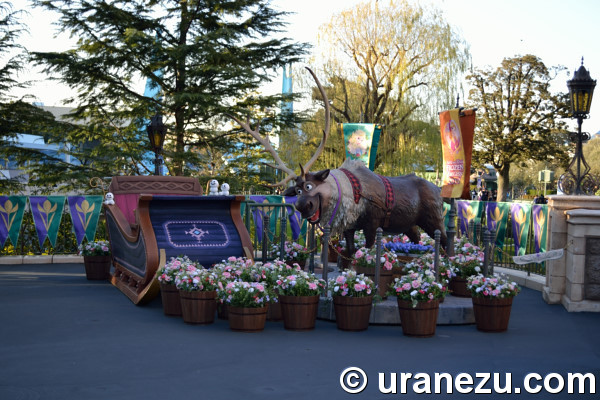 Or you can ride the latest model sled with cute Sven.
There are beautiful special banner around the hub.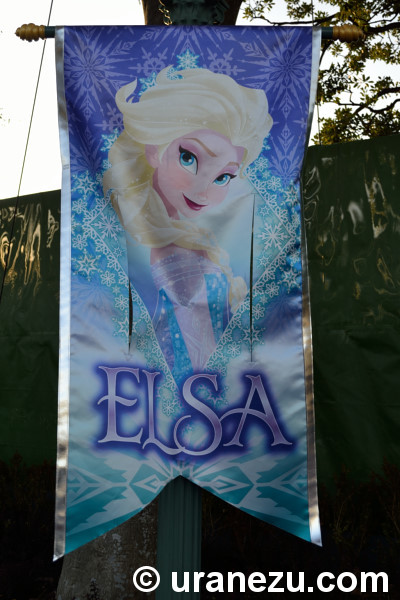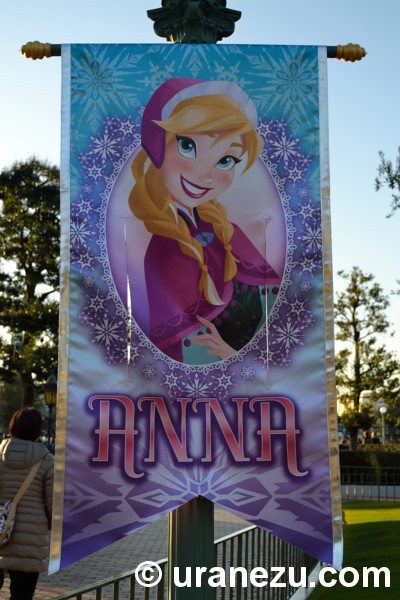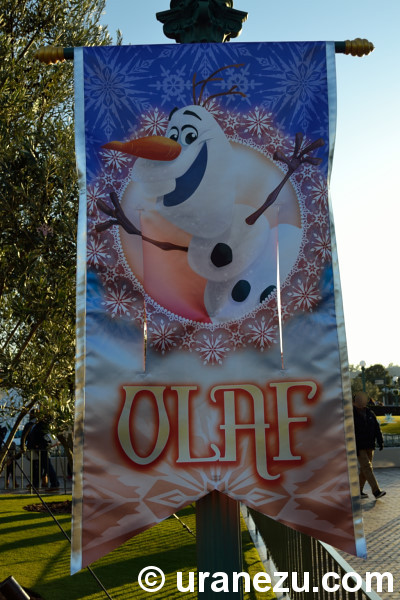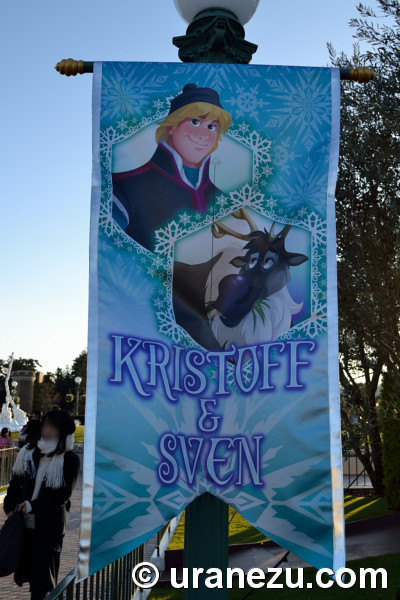 An area of the back of Cinderella castle is decorated "Frozen Fever" theme.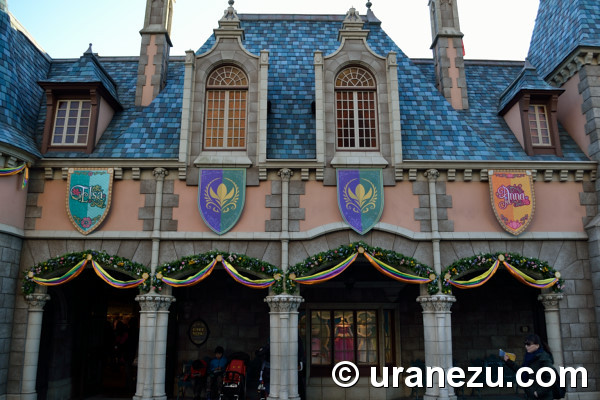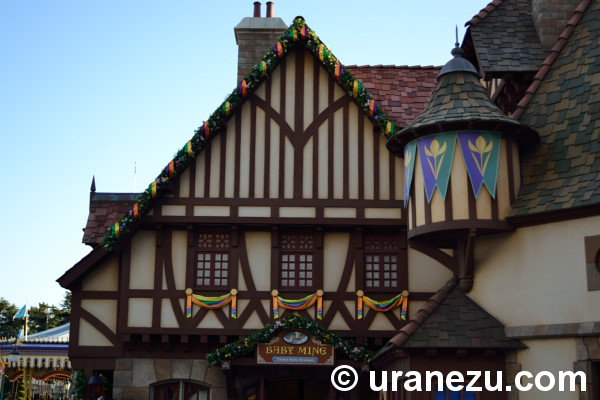 There are more colorful ribbons and flowers than other area.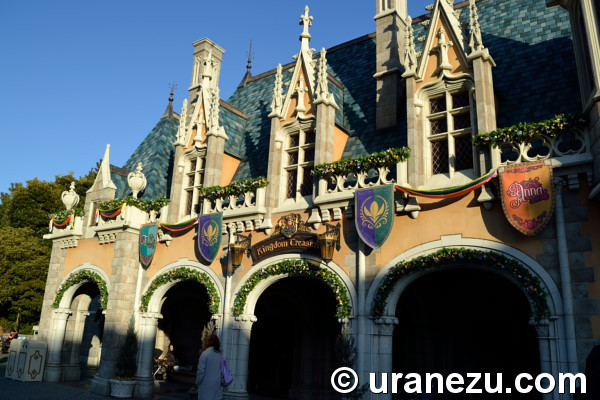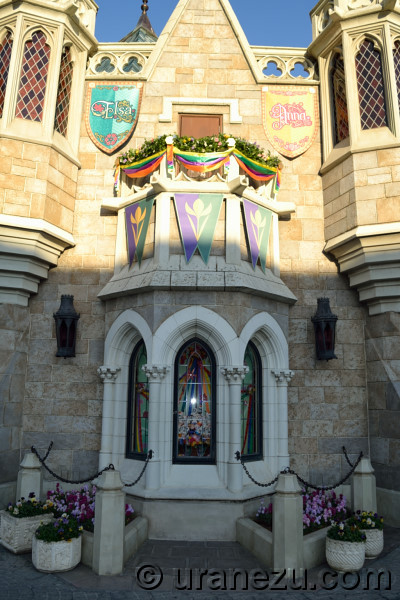 Therefore the banners in the area is different from the hub's one.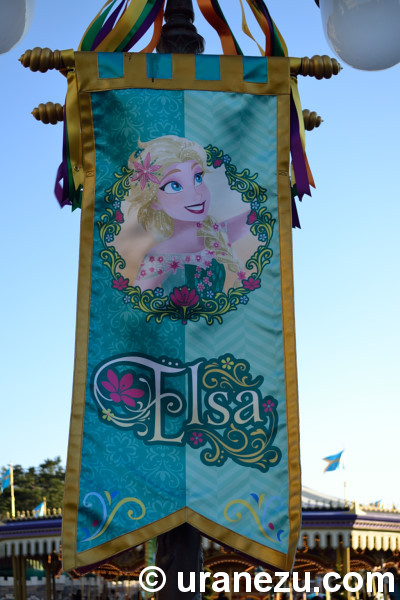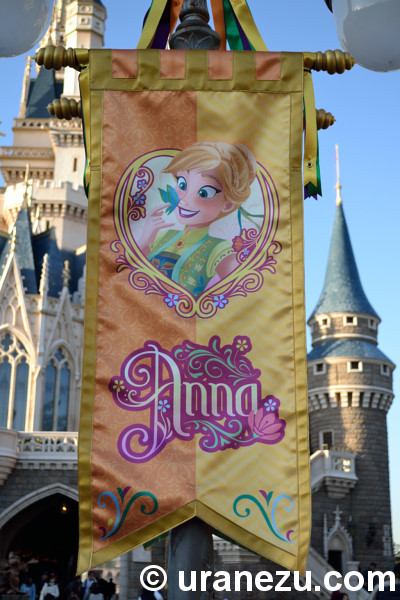 The both design is so lovely.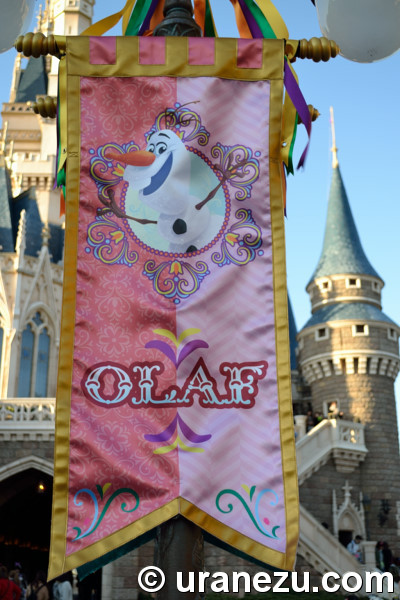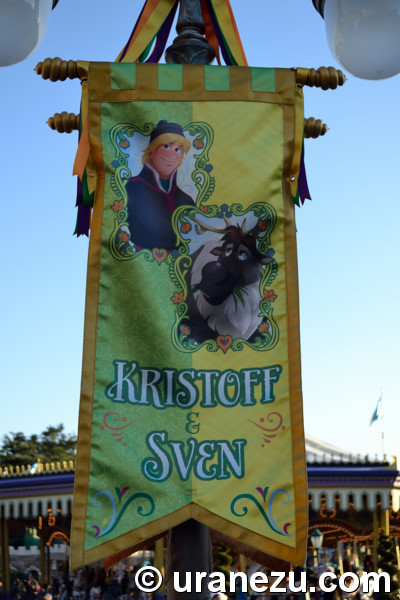 Sorry, the guys' only different their frame.
Don't miss "Frozen Fantasy Parade" the time limited day parade in this season.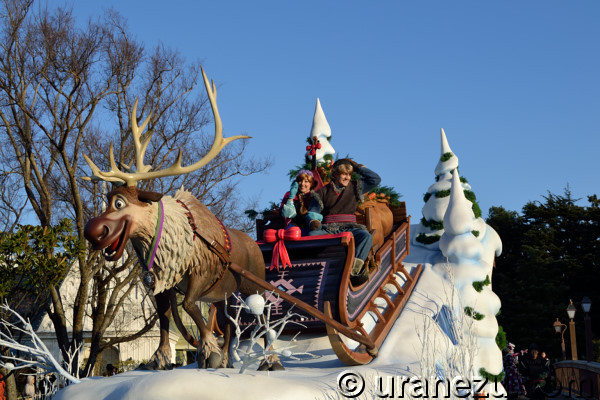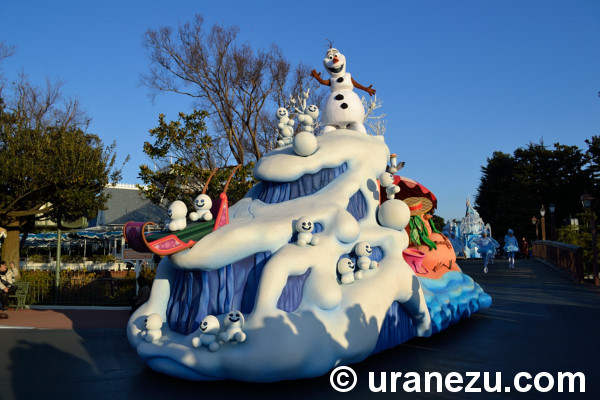 The queen comes to on the frosty garden.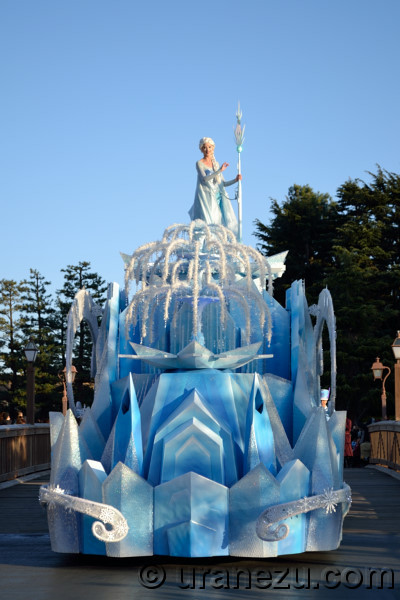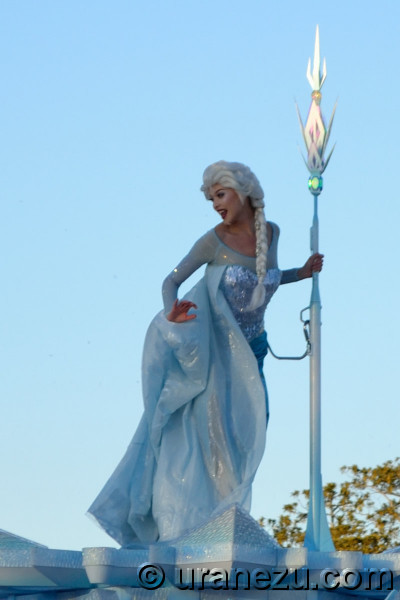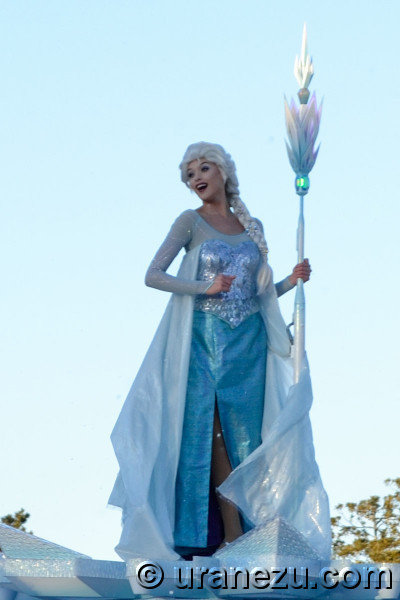 Enormous Marshmallow float is so amazing.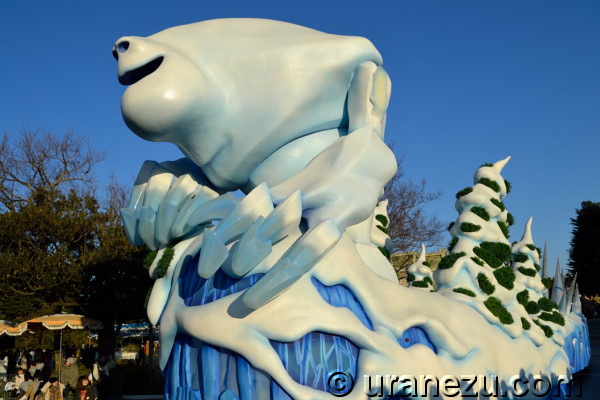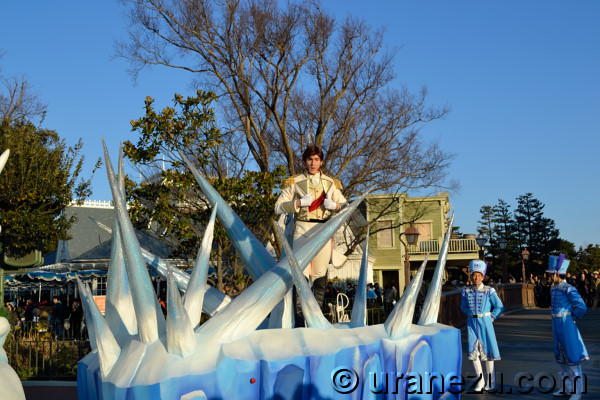 After the Marshmallow, Prince Hans is trapped icicle cage. It's nice punch line.

We have the pleasure of seeing you, Queen Elsa.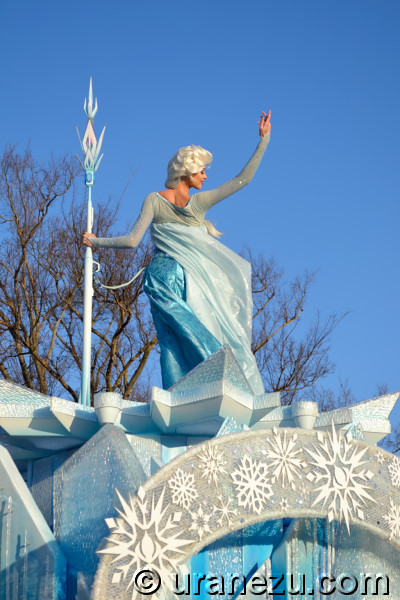 If you have any questions, opinions and requests,
please contact us.
Jan. 15 2017 about The Last Lap at Grand Circuit Raceway.
"Grand Circuit Raceway" the wonderful ride attraction in the vast Tomorrowland area was closed permanently in 11th January.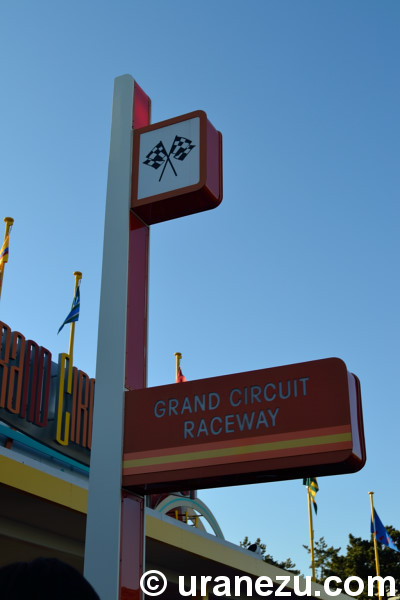 It's for new Fantasyland expansion.
Many guests came to say good bye for the attraction.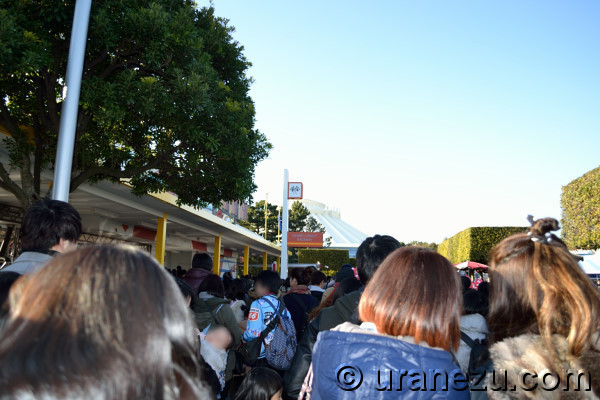 Too many guests to race in the circuit, so the waiting line went long outside the queuing area.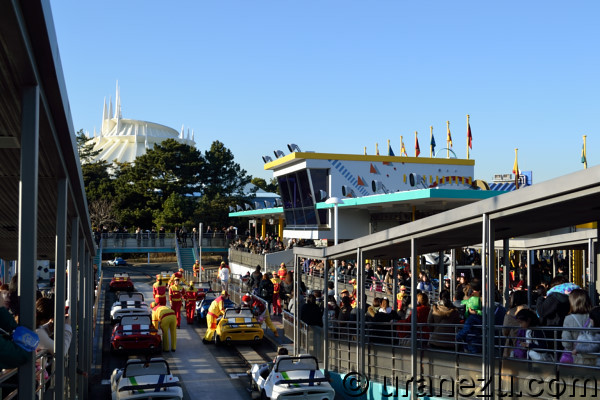 The attraction which designed very first the park opening was very gorgeous.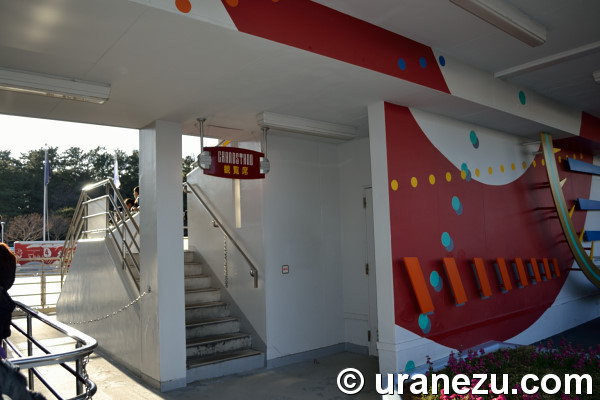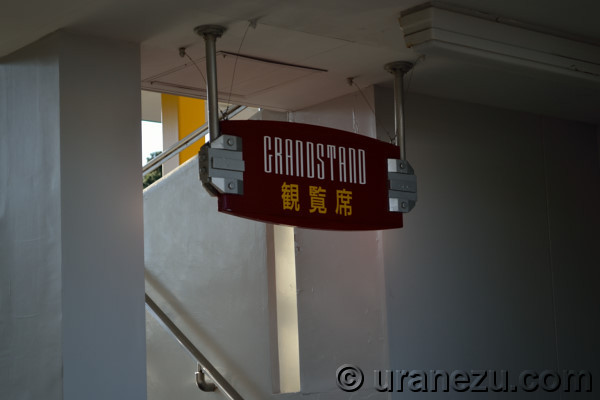 This circuit has a grandstands.
Not only the drive, but can also enjoy to watch their race. It's beautiful side from fantastic facility.
This is my final lap from No. 8 position.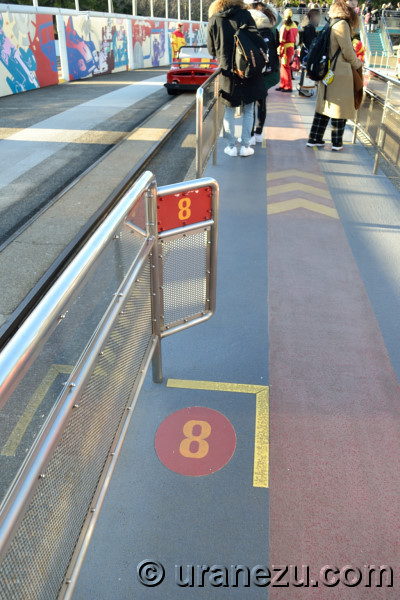 It's great feeling to drive towards Space Mountain.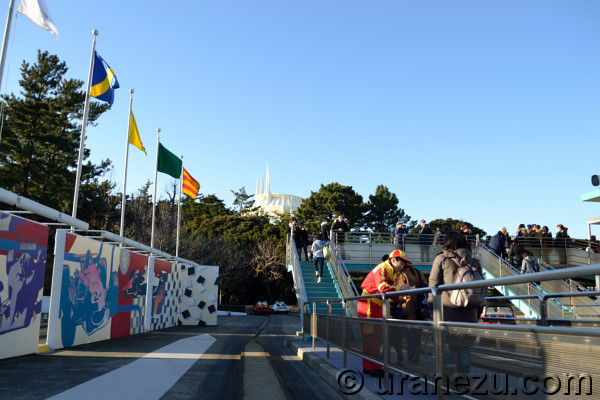 The course is very wide and spread all over the area. We could enjoy the ride close Toontown.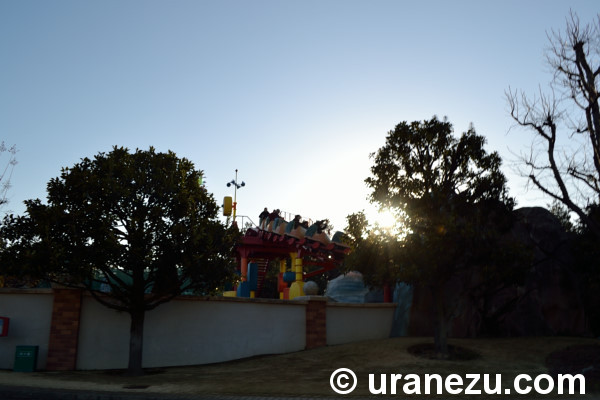 If you were lucky, you could see "Gadget's Go Coaster" in there.

If you could see "Star Jet" in the distance, it's the last corner.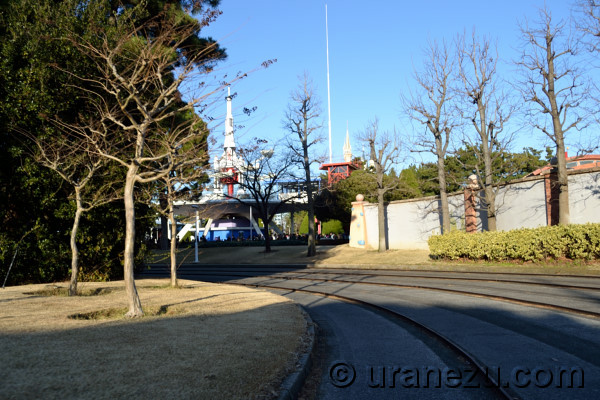 It's really finish line.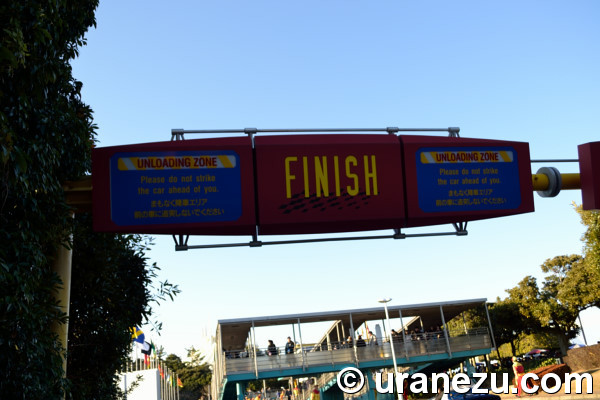 A little bit battered exit sign told us many stories for 34 years.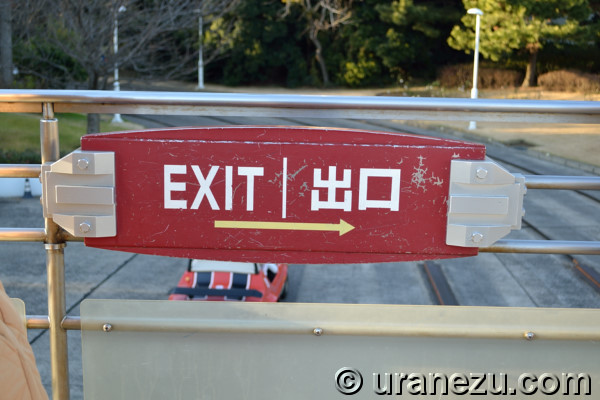 Yes, it's really miss this attraction.

There were a lots of memories.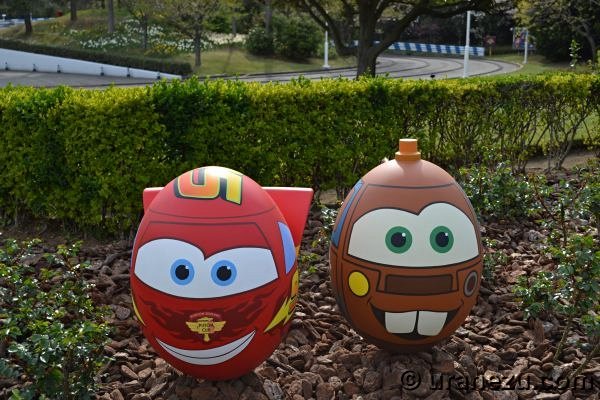 The above picture is the very first Easter eggs in 2011 at Grand Circuit Raceway.

Another Easter season in 2012...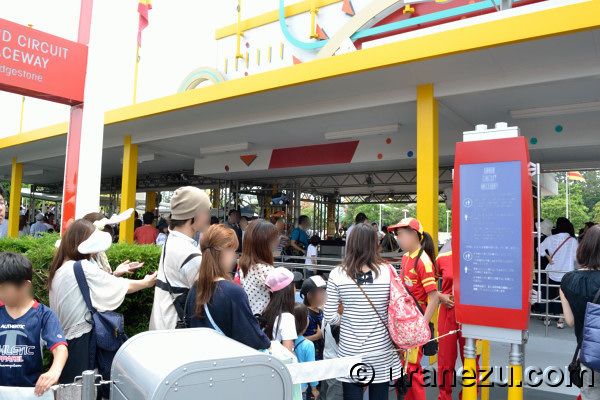 Can you see the hidden egg?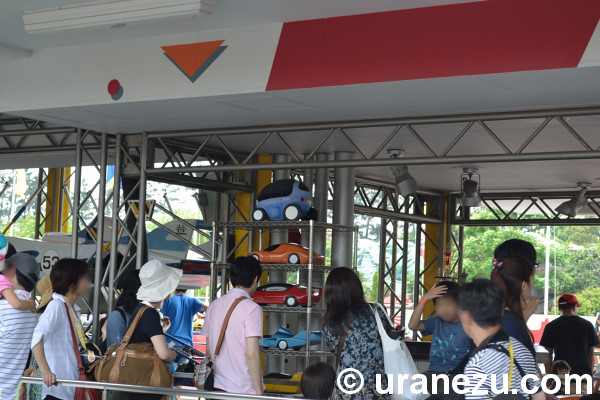 Usually, four mock cars on the wire shelf in the queue area.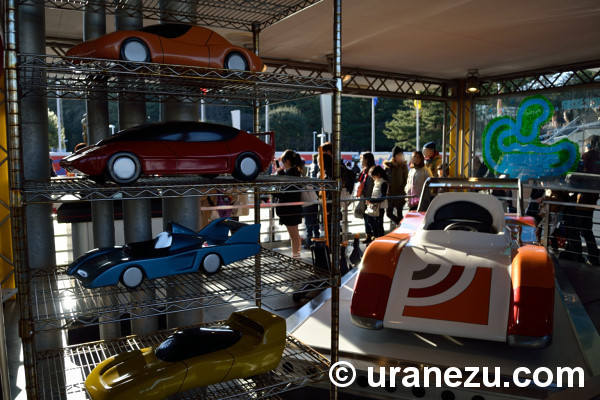 Orange, red, blue, yellow cars.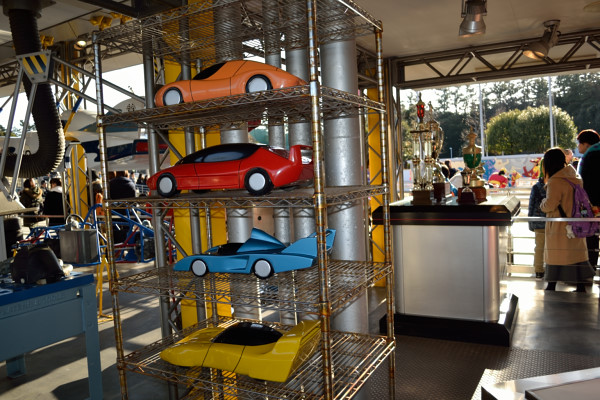 But, in 2012, another car was added on the top of the shelf.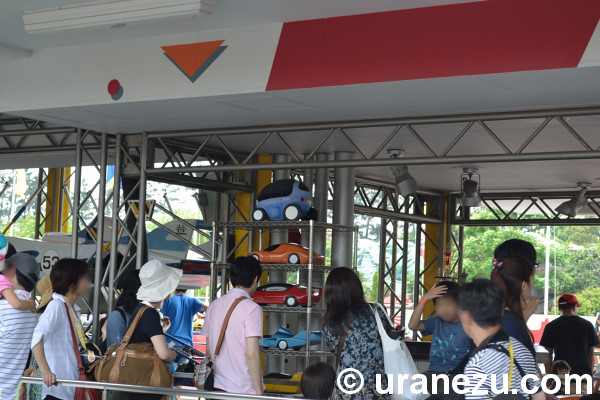 See?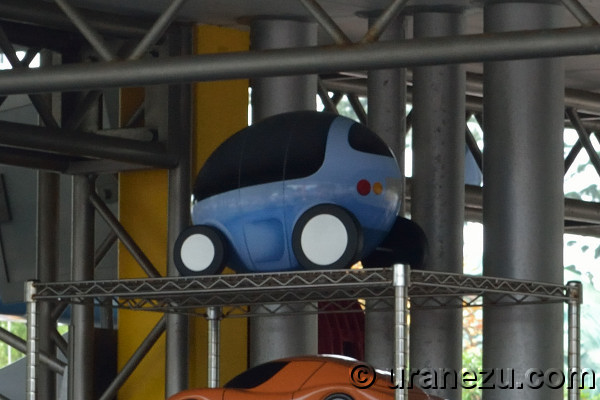 It's really nice egg!

I really miss that no more cars eggs with circuit.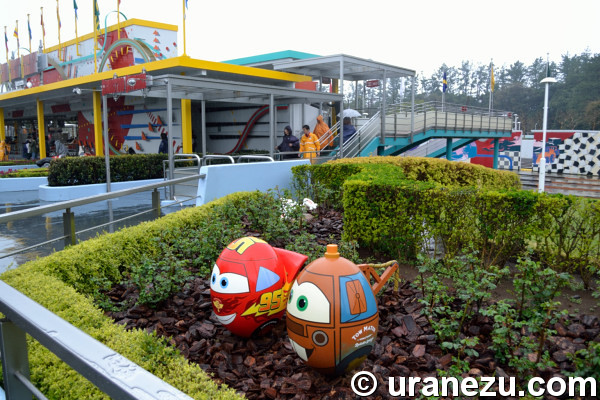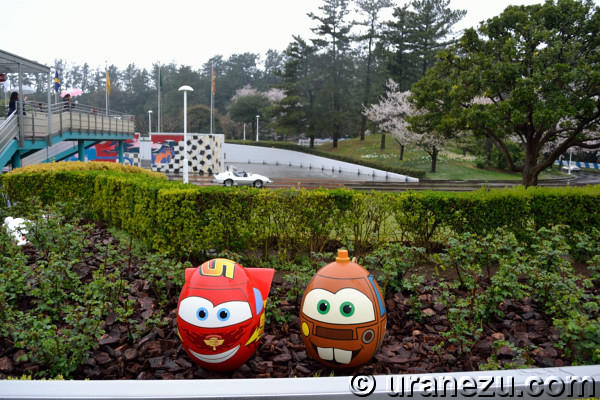 It was really great scenery.
And can't forget the beautiful sight the below.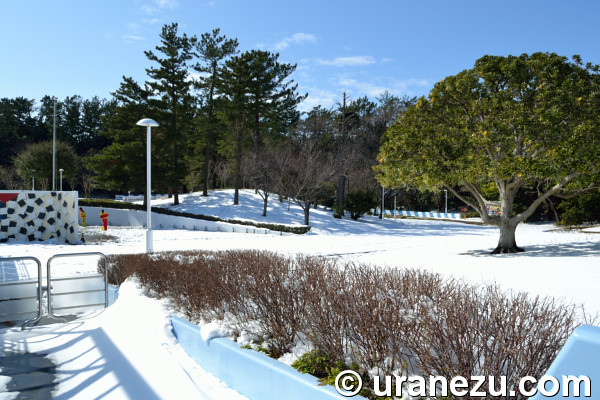 It's snow covered course.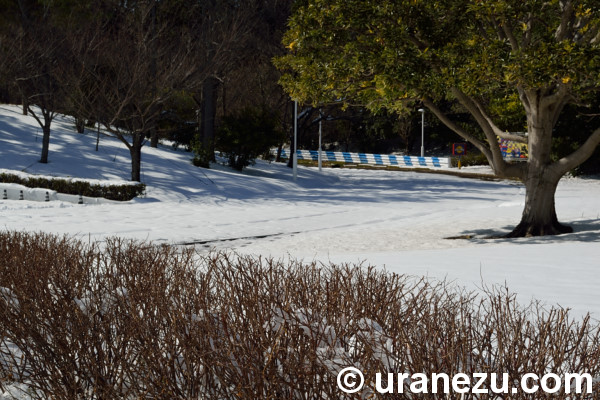 The cast members shoveled the snow.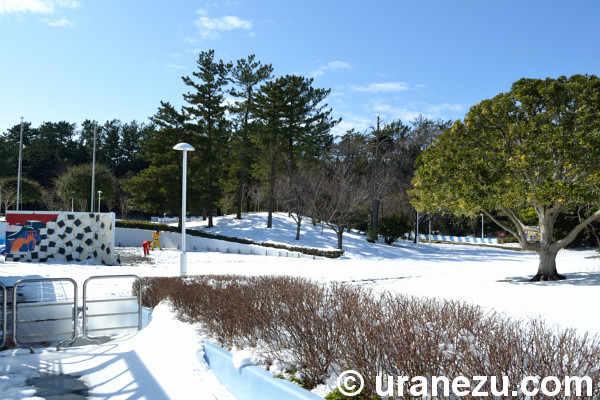 Yes, the attraction was supported many loyal casts.

It's very lovely sight that the cast overhauled lovingly with the car.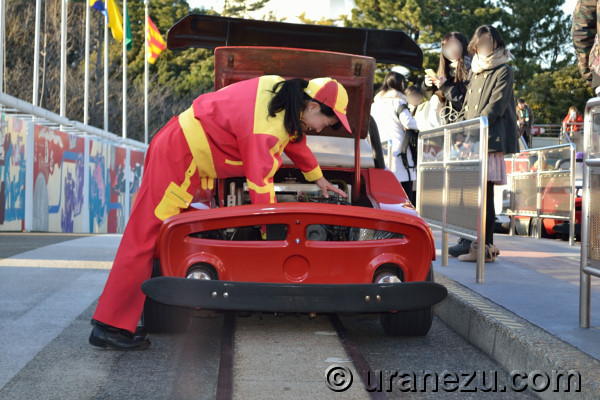 We can feel how cast loved the attraction.
We really miss you,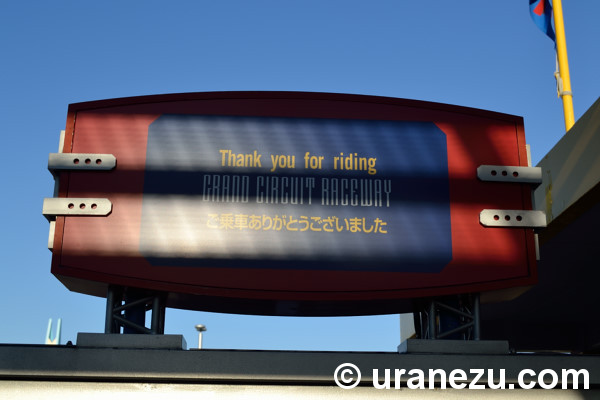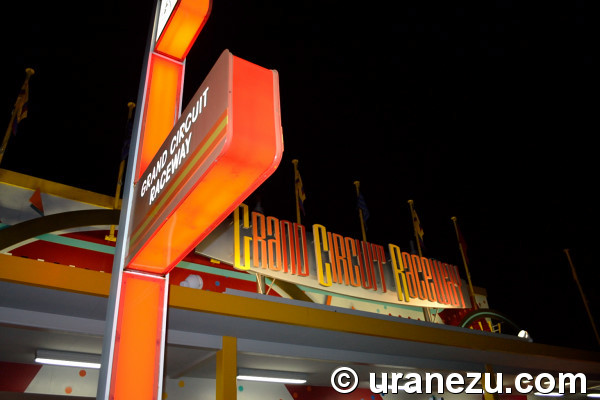 Thanks, Grand Circuit Raceway.
If you have any questions, opinions and requests,
please contact us.
Jan. 09 2017 about Happy New Year from TDR.
Did you have a nice holidays? I hope so! And I'm really happy to start 2017 with you!
We could enjoy Japanese traditional New Year Decoration from 1st January to 7th January.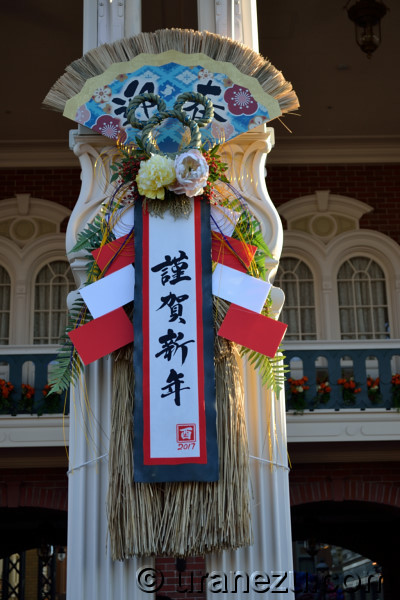 Here are some of them in TDL.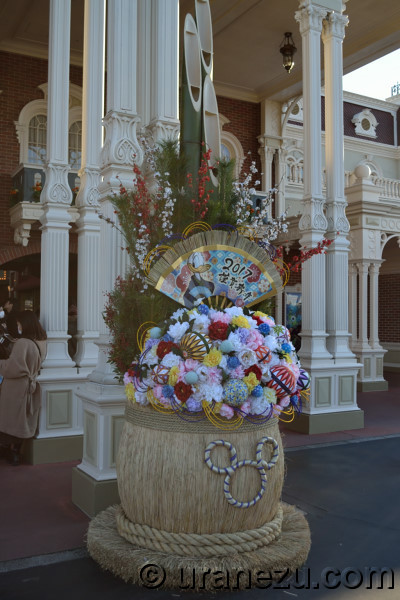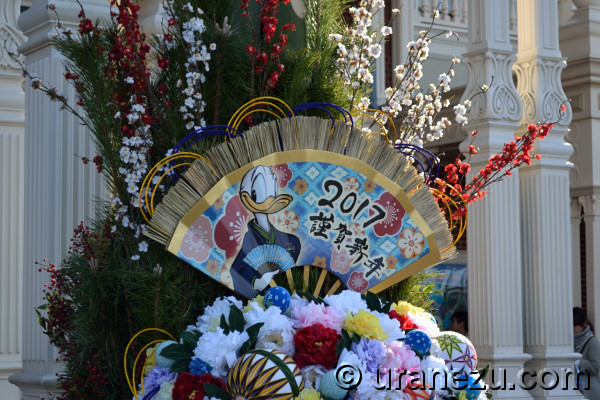 In 2017's Chinese zodiac is a bird, so they picked up Donald from a number of feather candidates.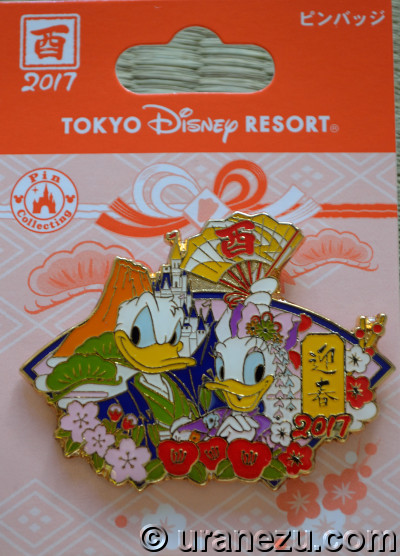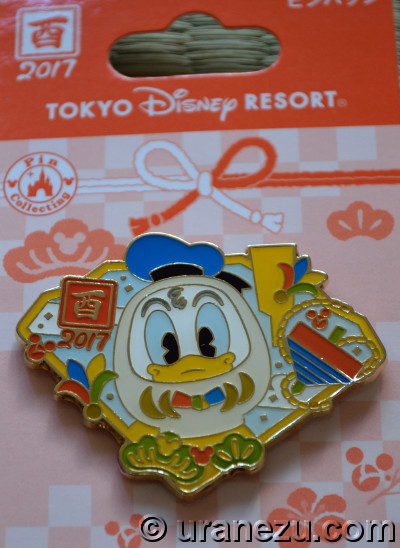 Not too many, but there were some New Year with Donald merchandises were launched.
Another Kadomatsu the special decoration in New Year in TDS is more modern than TDL.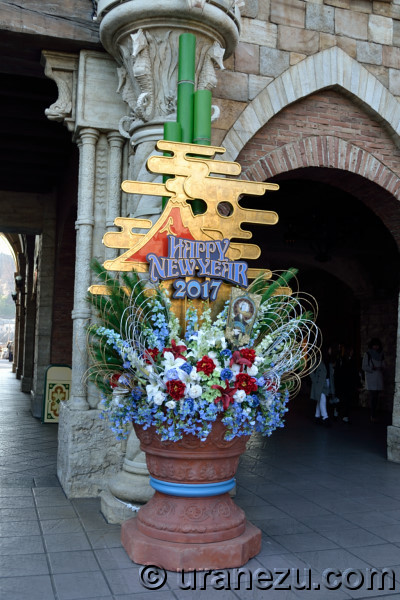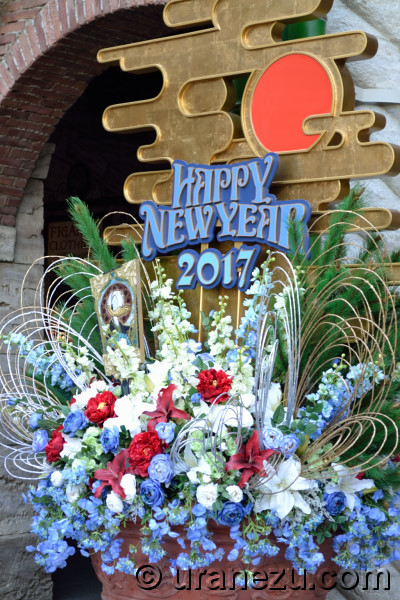 Did you see Donald in the greens? It's hagoita the Japanese traditional wooden racket.
I noticed in the New Year, the two banners changed a new.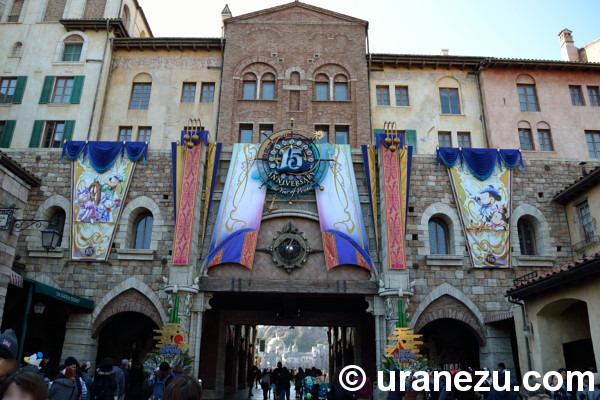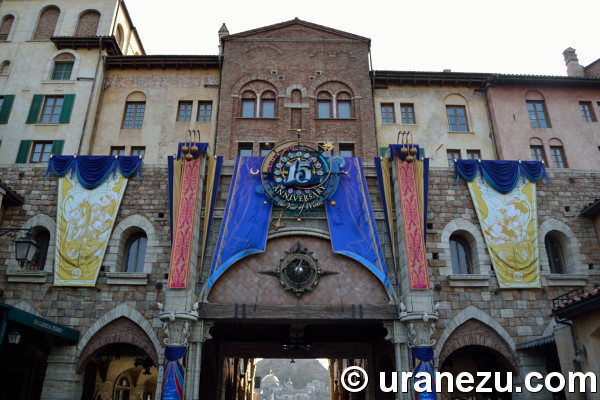 The left picture took in very first 2017, the right one is in 2016 May.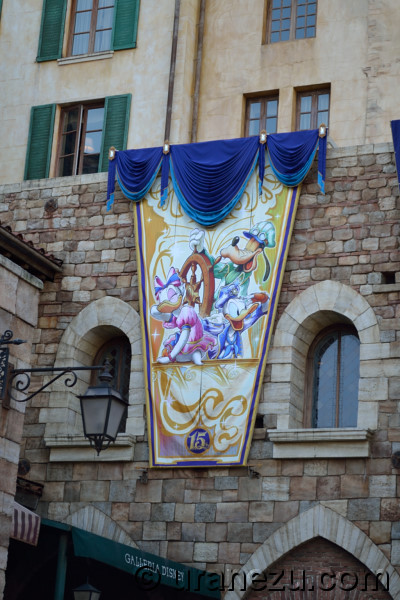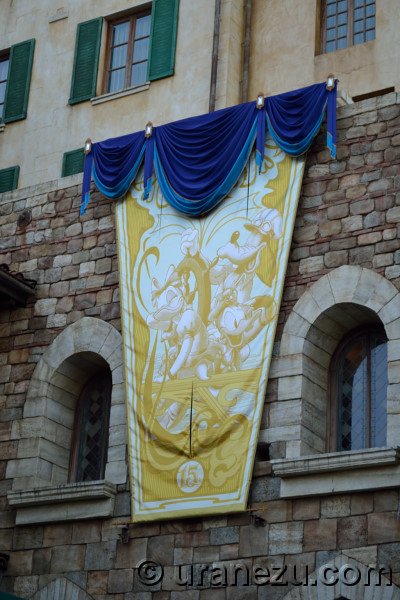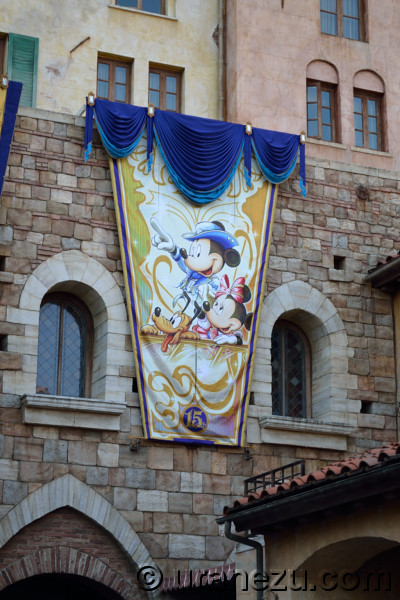 Now the banners are full colored!
During New Year event, there were special greeting mini parade twice a day in each parks.
It's only can see one week in a year, so many people came to watch Disney friends dressed up a very beautiful kimono.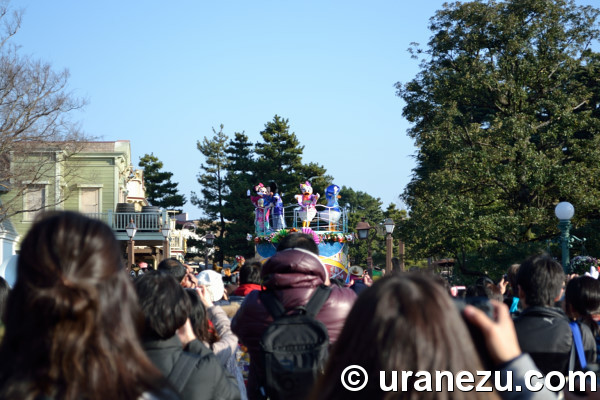 You see, it's very difficult to take a picture nor just watch!
Yes, 2017 is your year, Donald!!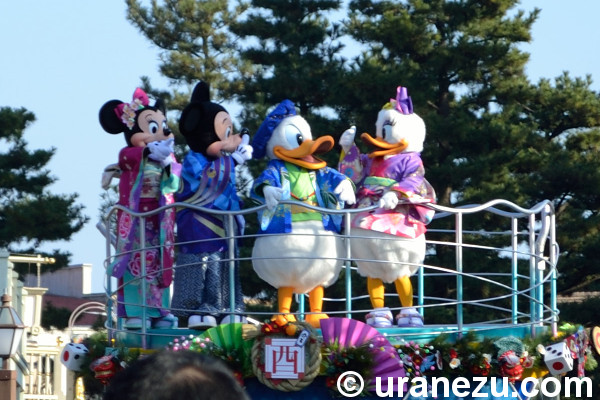 I like a design of his back.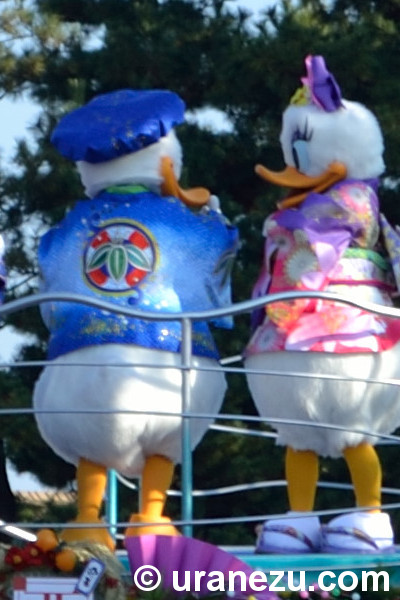 A float with a lucky bamboo grass!
I hope your 2017 will be a great year.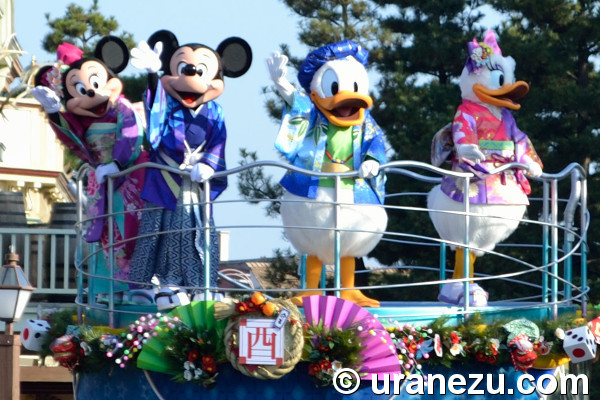 We were lucky, could see Mt. Fuji from the park from the start of New Year.