Park Now
>
Park Now Archive
> 2016 Third Quarter Archive
---


Sep. 24 2016 about TDR Halloween.


Aug. 20 2016 about TDS Summer Splash.


Aug. 06 2016 about TDL Summer Splash.


Jul. 17 2016 about Blah-Blah-Blah about TDS 15 years.
Sep. 24 2016 about TDR Halloween.
Now TDL & TDS the both park are dived into Halloween atmosphere.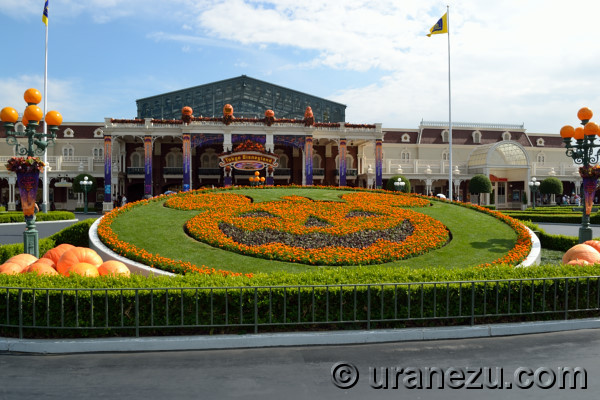 A theme of TDL Halloween in this year is "Music Festival".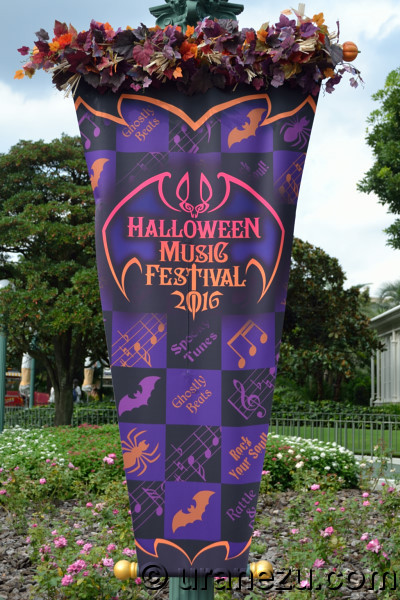 I don't know why TDR add an alternative title to the principal theme (ex. 2016 TDL Easter is athletic festival.); I think it's just fine that Halloween is Halloween.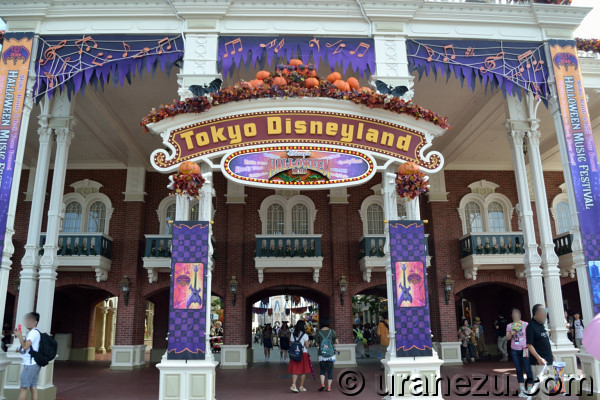 That's why a guitar or music notes on the banner.
Let's check the main photo location one by one.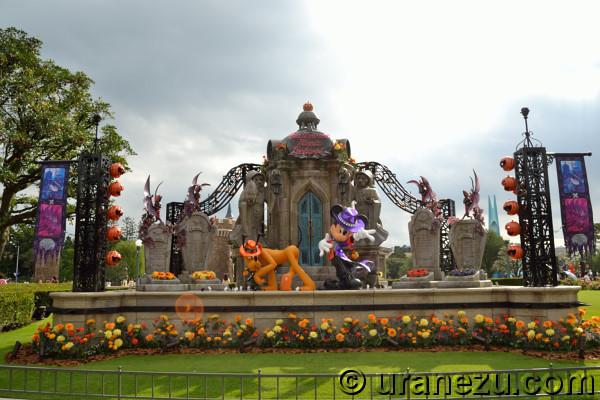 Mickey and Pluto take place the music festival in front of "Guitar of Legend" tombstone.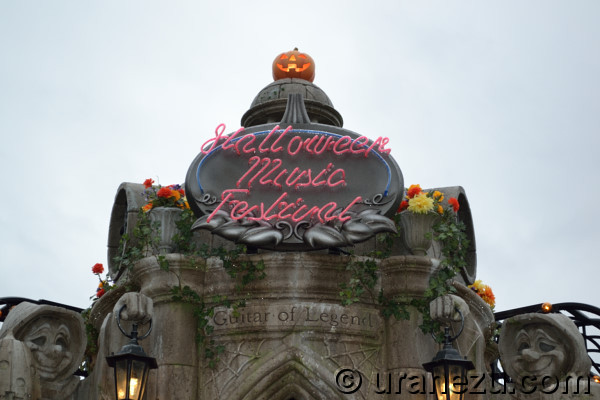 I think the two images MJ.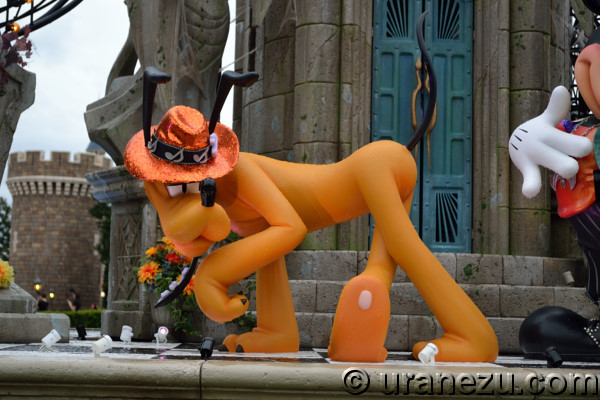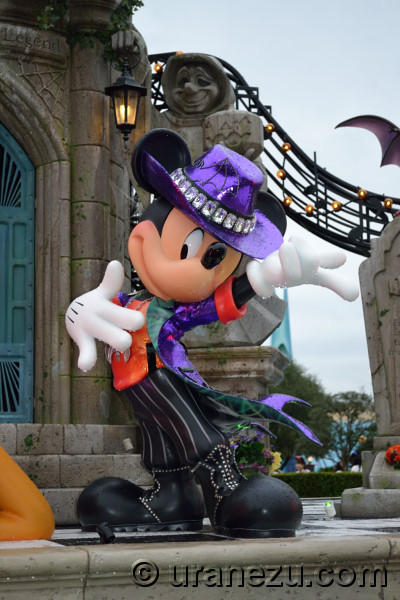 Pluto's pose remind me his "Smooth Criminal". And Mickey is really MJ.
The floor is checker board is truly inspired "Billie Jean"! I like they cared a body color of small spot light on the floor! The white light is on the white floor, and black as do.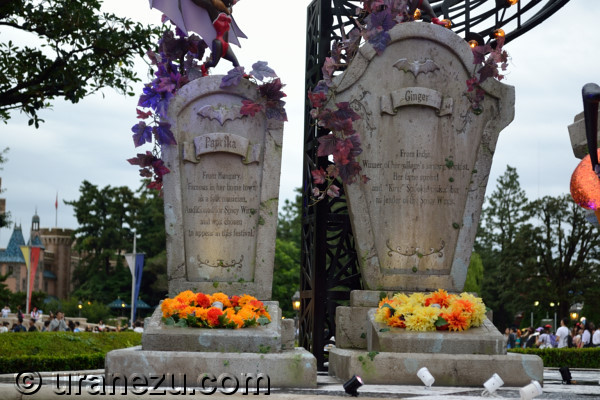 A gravestone says,
"Paprika: From Hungary. Famous in her home town as a folk musician. Auditioned for Spicy Wings and was choosen to appear in this festival."
"Ginger: From India. Winner of Halloween's singing contest. Her fame spread and "King" spooky picked her as leader of the Spicy Wings."
"Cinnamon: From Vietnam. Former Cabin attendant for a night flight airline. Her lovely voice caught the ear of a famous musician who urged her to be a singer."
"Habanera: From Costa Rica. The heir to a coffee plantation, who ran away to pursue her own dream. Spotted sing in a night club."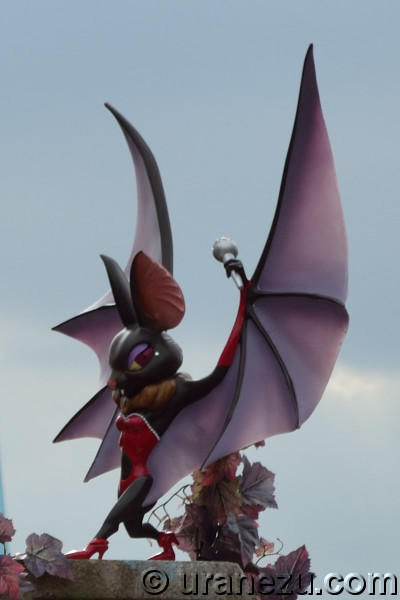 The above is Habanera, a member of Spicy Wings.
There is another big photo location over the roses.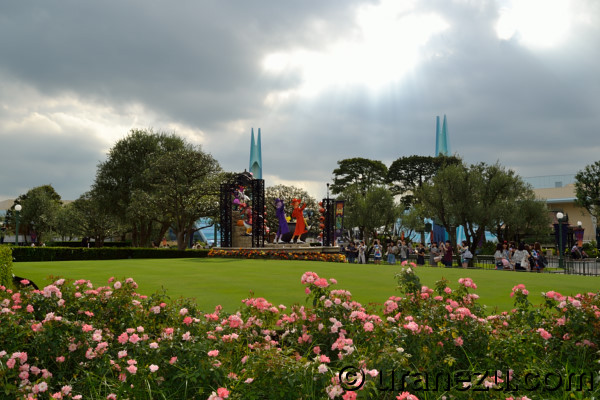 Three pretty girls are singing with skeleton chorus.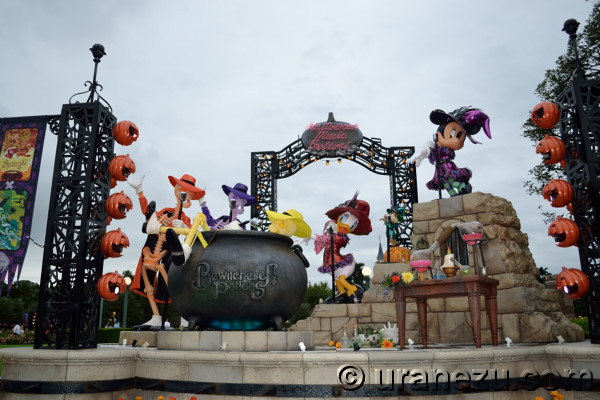 They are really so lovely.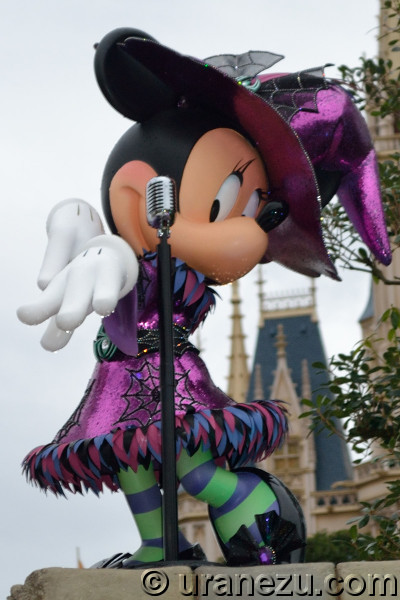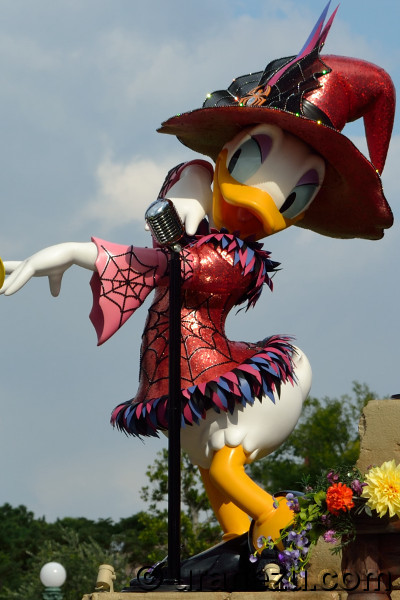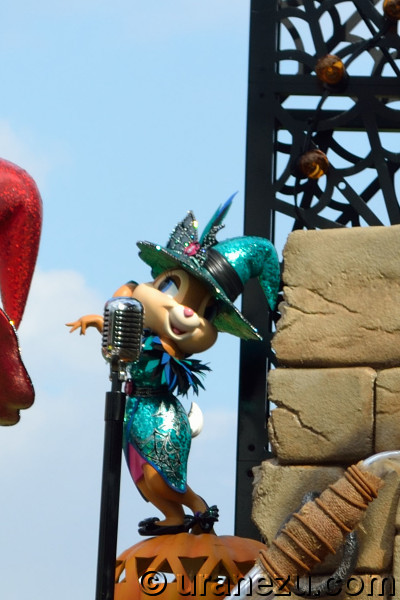 But please be careful, they brewed some bewitchery portions!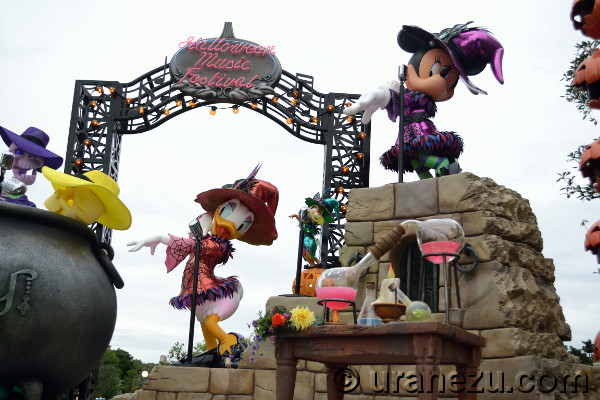 In World Bazaar, there are beautifully tattered banner.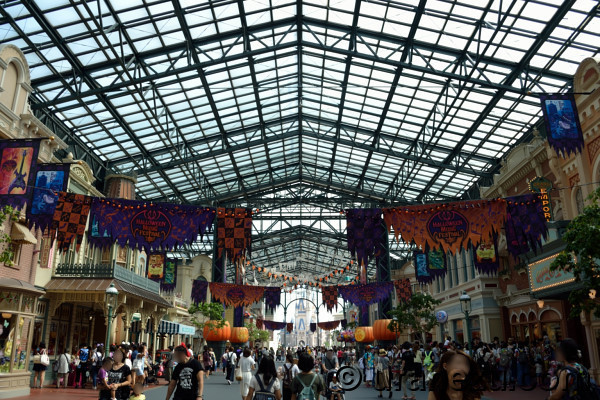 And big curved pumpkin lanterns.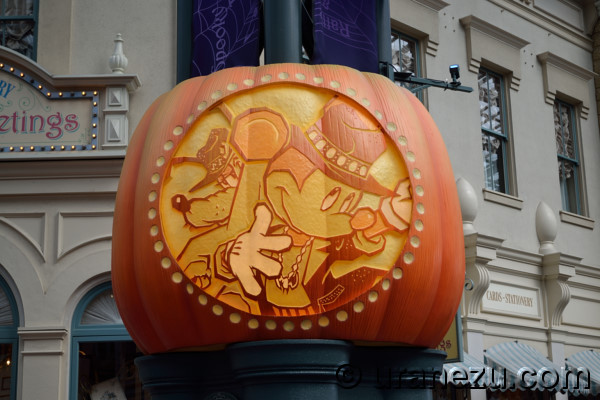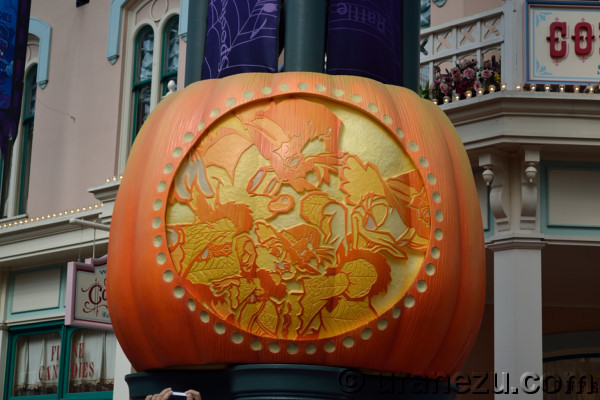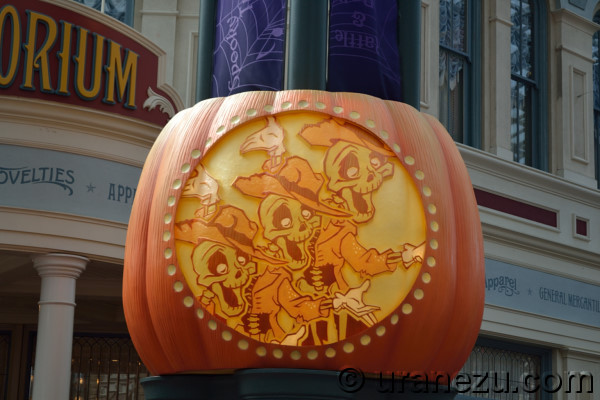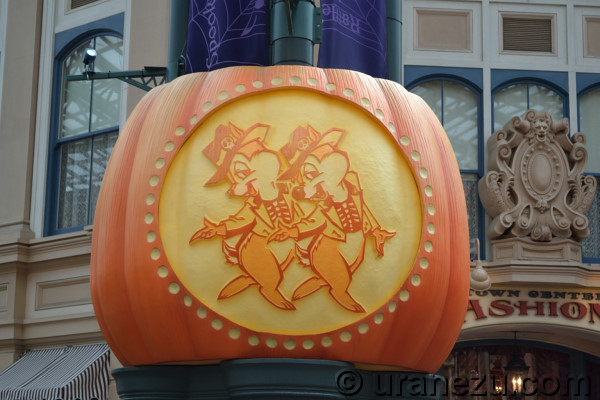 But the area looks the Halloween decoration unfinished.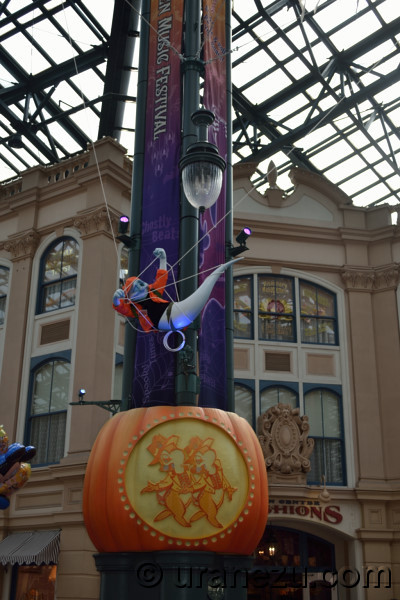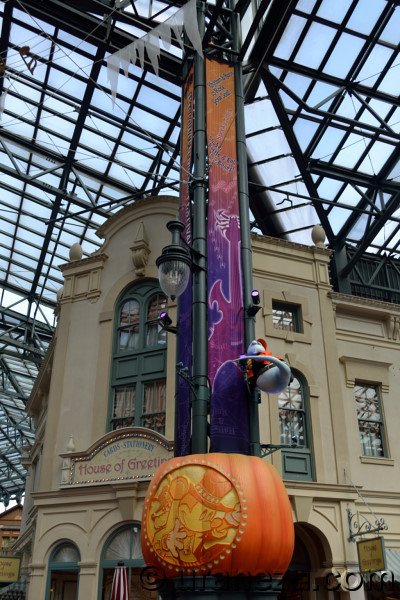 Because, look above the pumpkin...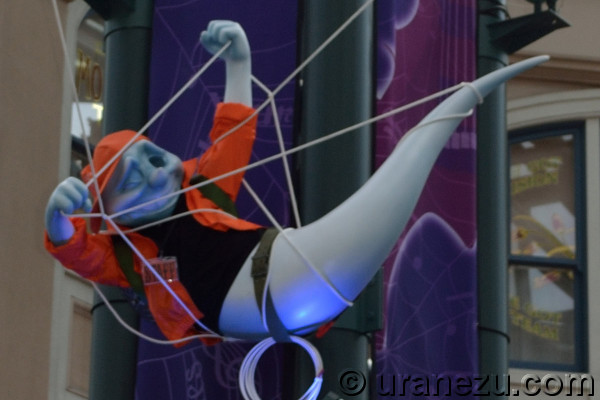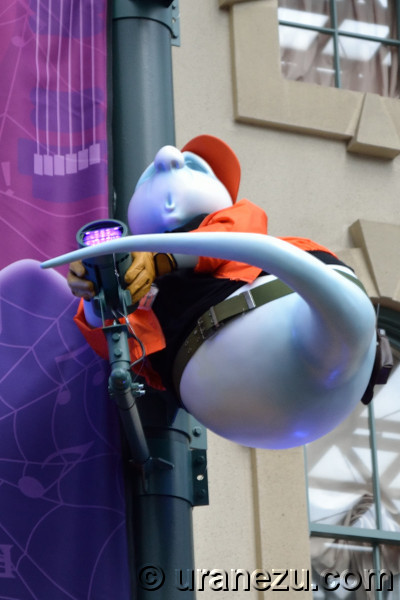 The ghosts are still working!

They are nearly done with a big cobweb on the ceiling.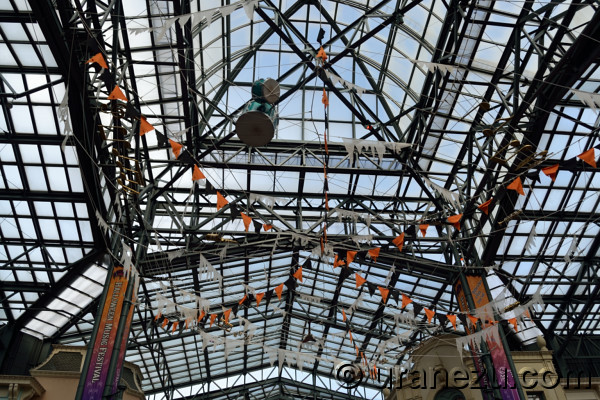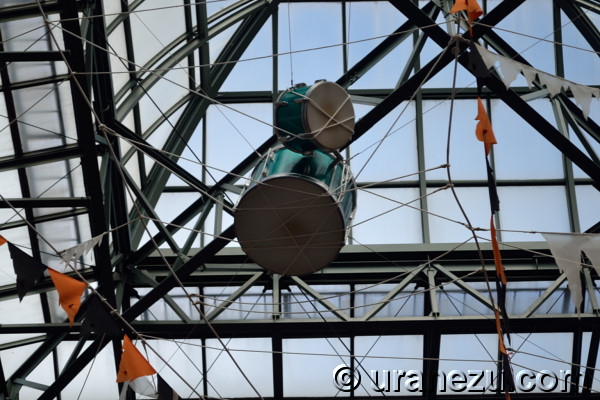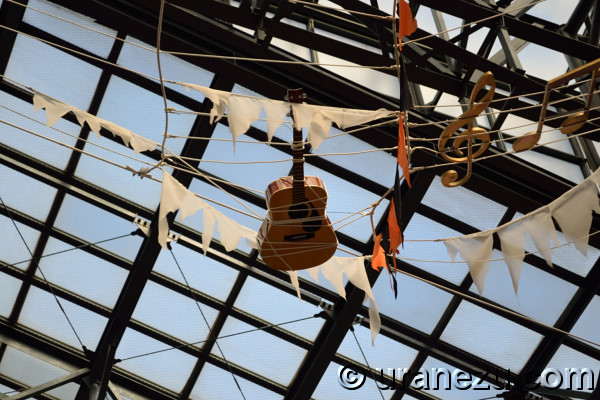 They interlaced many instruments on the web.

Don't forget to watch under the web, there are cute decoration windows.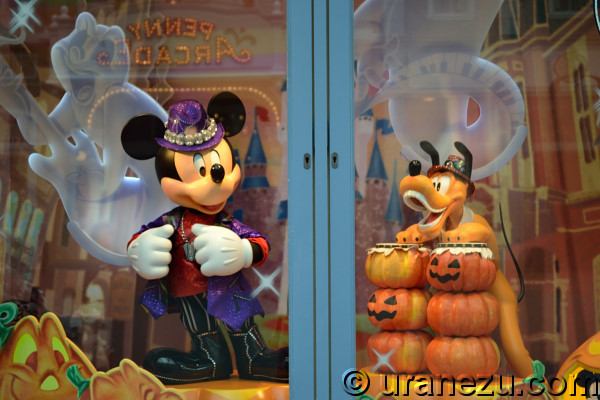 This pumpkin bongo Pluto makes me happy and smile!
On the other hand, TDS' Halloween theme is The Villains World: Wishes and Desires.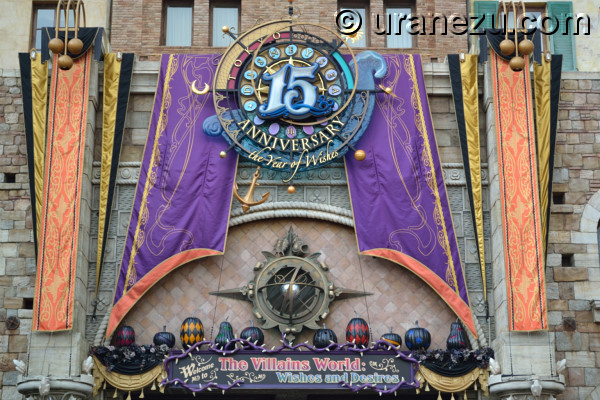 The marquee turned mysteriously and beautifully as evening deepens into night.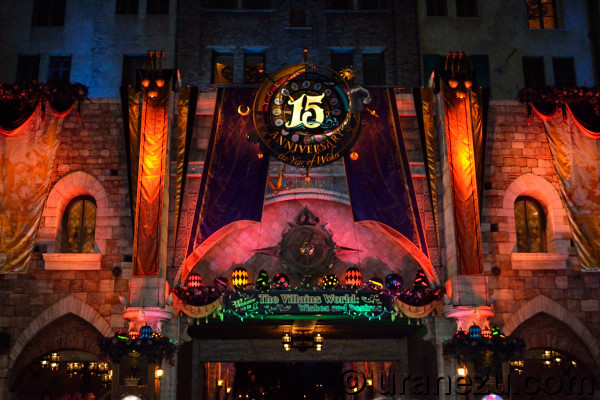 Some of the wagon changed into the theme which is keyed to the Villains.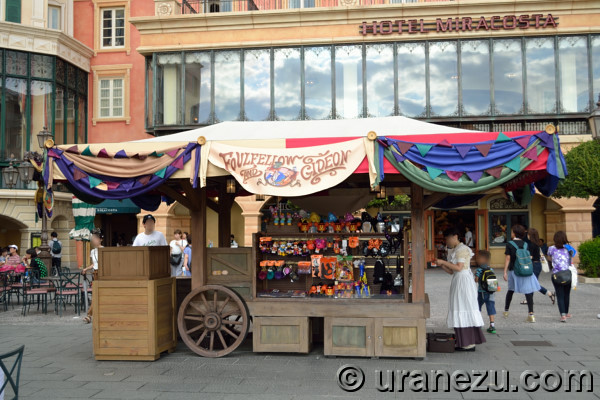 Did you familiar these coloring with big buttons?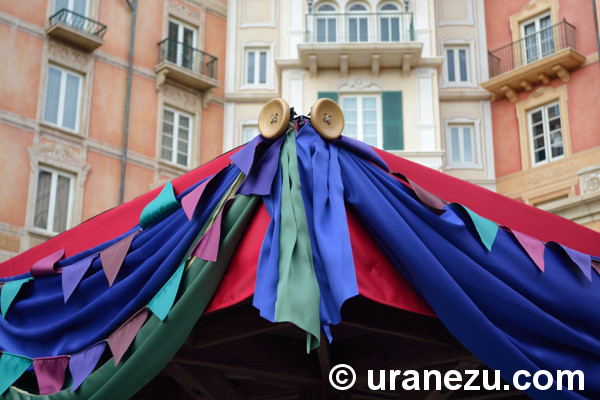 "Piccolo Mercato" the headwear merchandise wagon devoted to Foulfellow and Gideon from Pinocchio.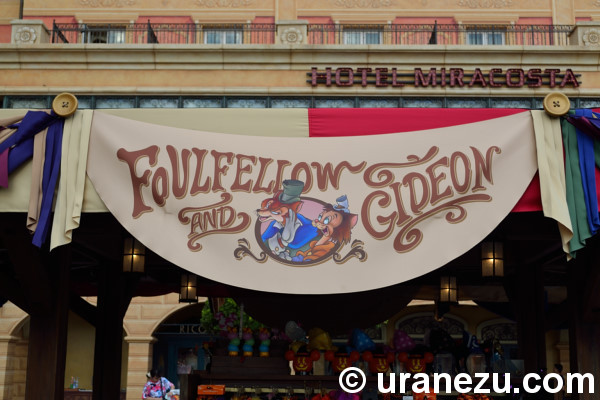 How about next wagon?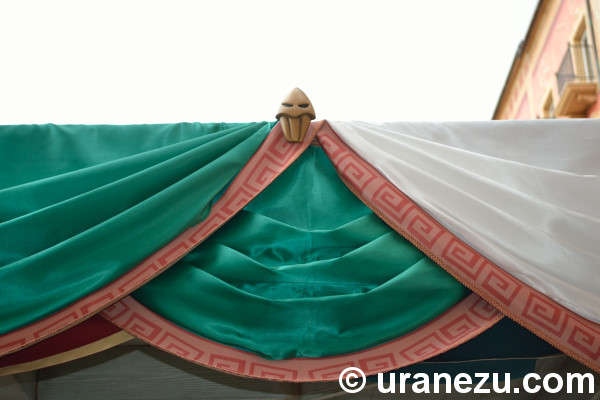 Meander pattern with little bit spooky fibula the broach. I think you know well the movie.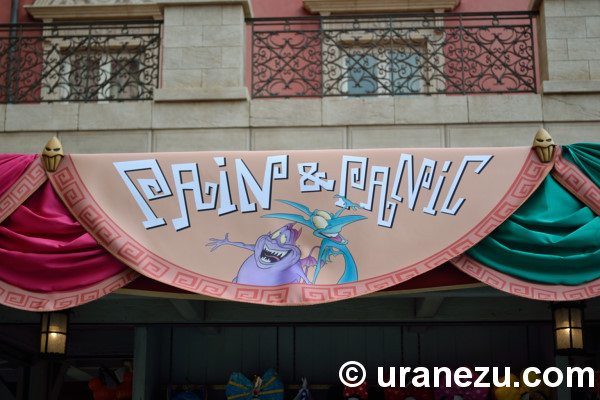 Yes, Pain and Panic from Hercurles.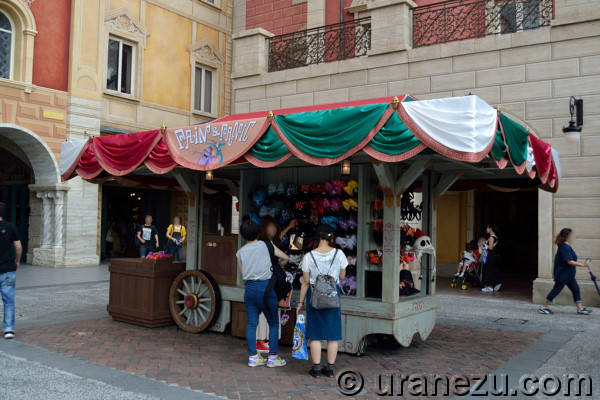 This wagon regularly named "Splendido".

The last one is very easy.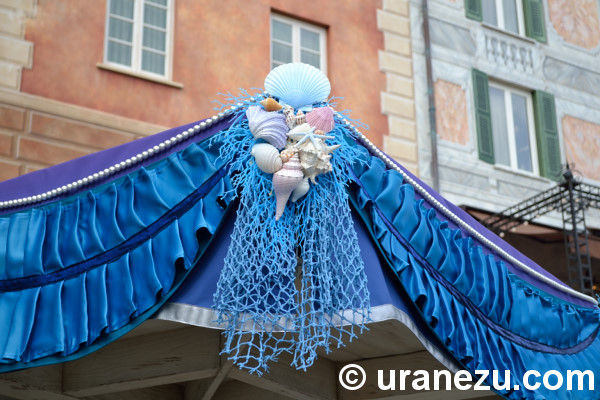 Elegant ruffled with seashells recall you a sea witch's henchmen.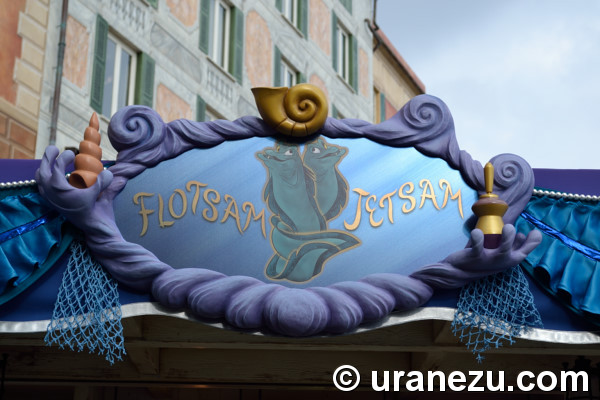 Flotsam and Jetsam. I love this wonderful dresser like wagon plate.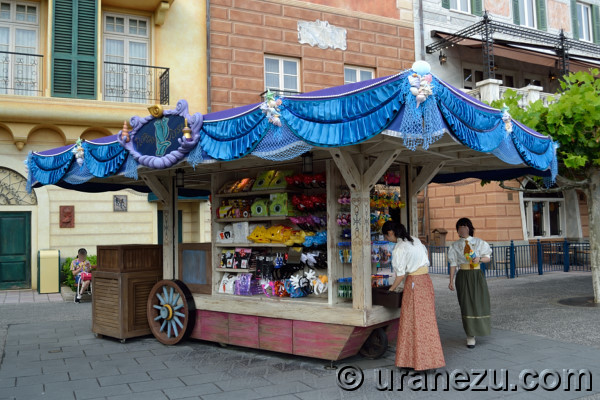 This wagon "Miramare" is welcomed you to want more! Don't worry, compensation is not your voice just Japanese Yen!

Also "Hudson River Harvest" the newest food shack in TDS is adorned by villain.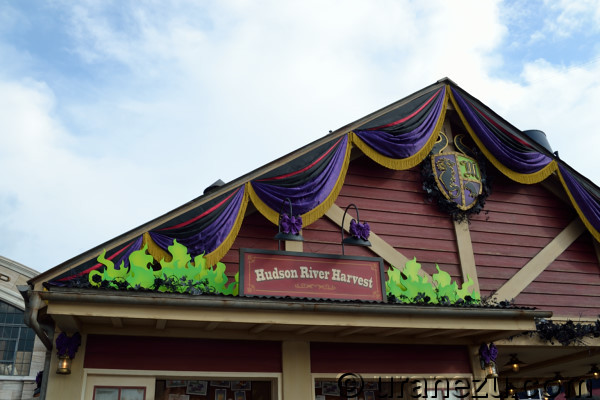 The greenish magic flame with thorn is definitely come from Maleficent the Dragon.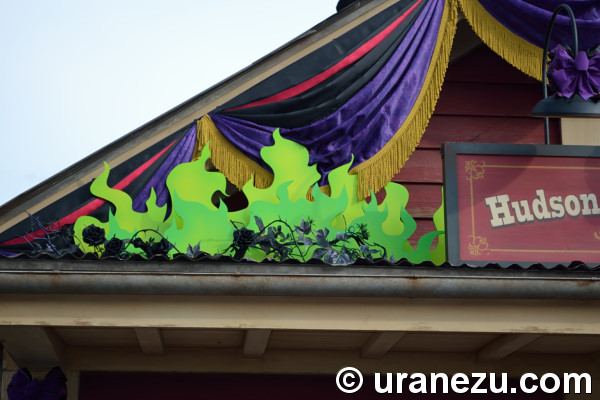 I hope this food counter will have a nice food samples or a show case.

Cape Cod Cook-Off the peacefully port celebrates fall harvest with Duffy and friends.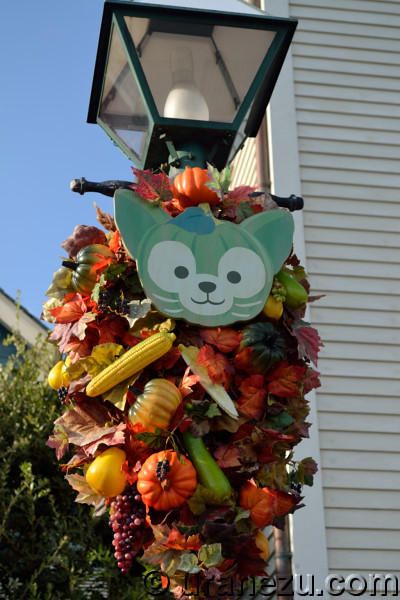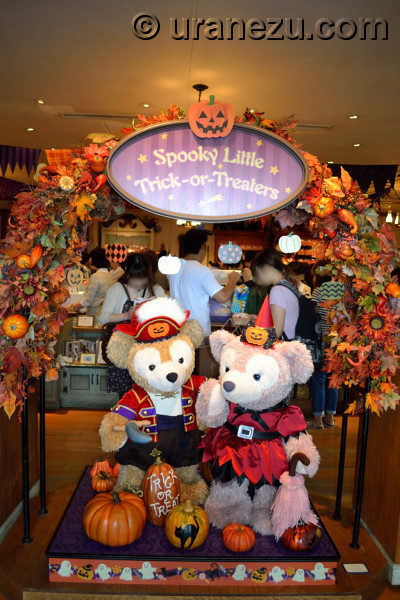 The Gelatoni the gato is in 2016 TDS Halloween.

So which Halloween do you choose?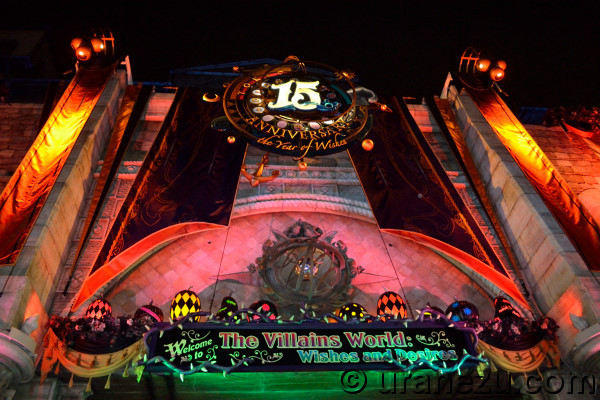 If you have any questions, opinions and requests,
please contact us.
Aug. 20 2016 about TDS Summer Splash.
TDL & TDS welcome a splash summer again in this year. Now the both parks have held a special summer event until September.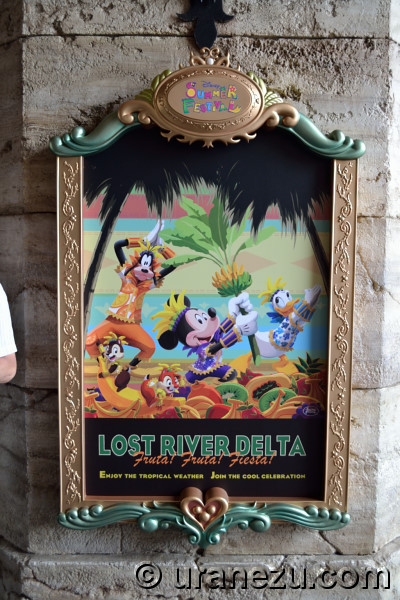 A theme of the "Summer Festival" in TDS is celebration of tropical fruits harvest.
So you can see many eye-catch colorful and watery fruit decoration in the park.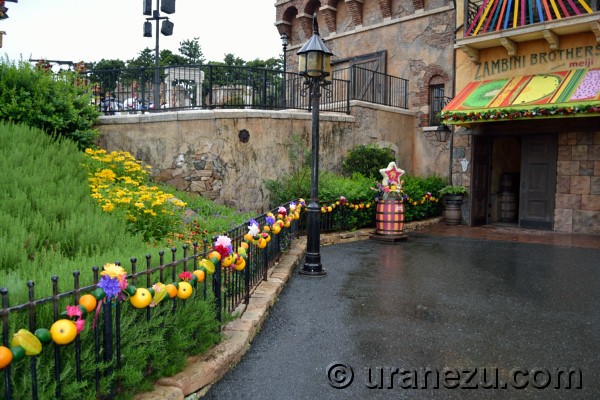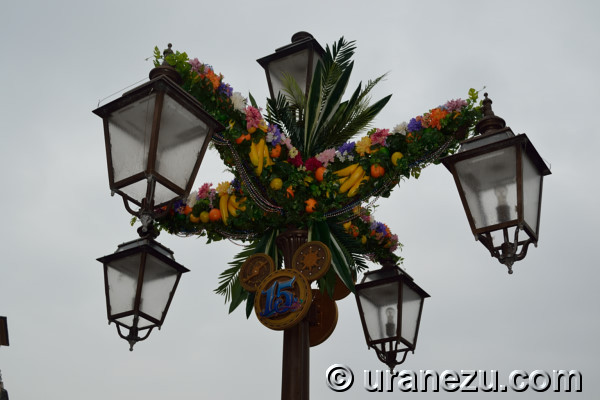 Above left picture is an entrance of "Zambini Brother's Ristorante" the counter-service restaurant.
The right is fruits decorated street lamp with 15th anniversary plate at Mediterranean Harbor.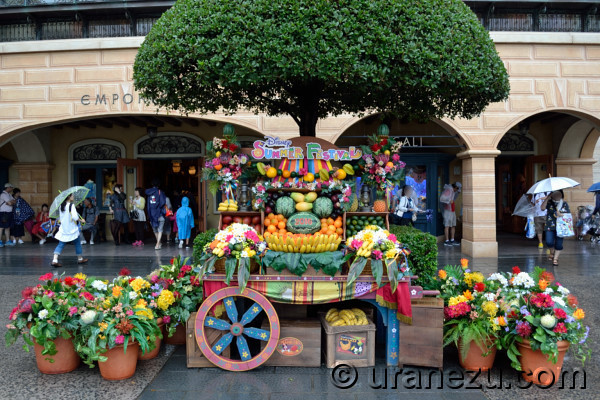 It's so great fake curved watermelon.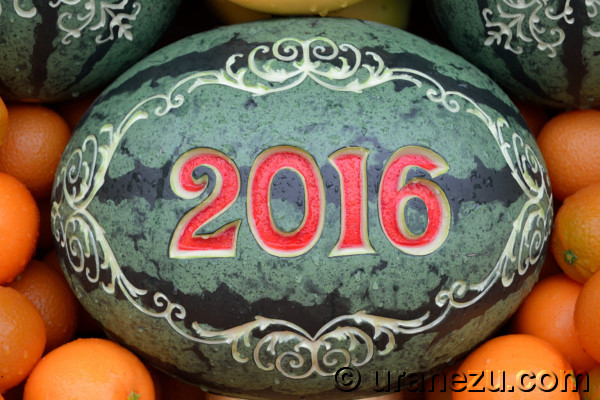 Closely look, still looks so real fruit.
Near this fruit wagon, there are tables with a special summer mats.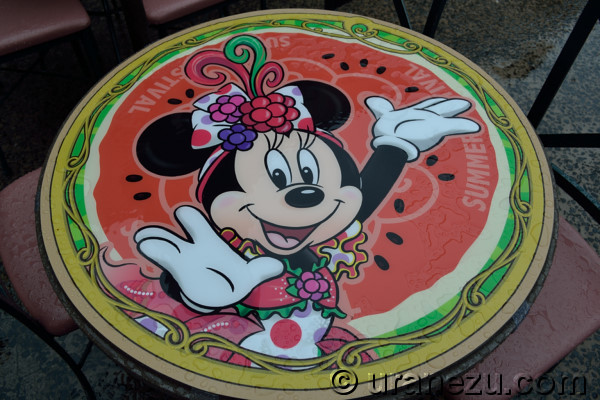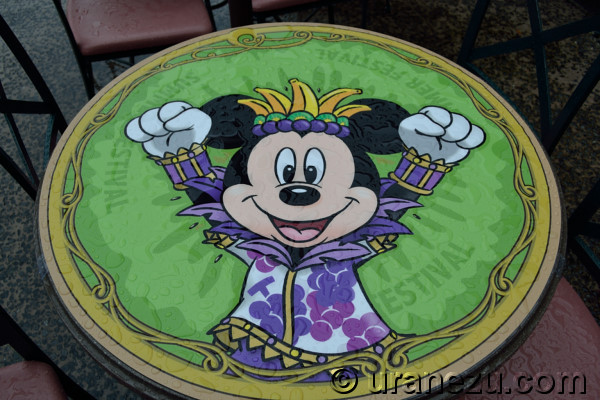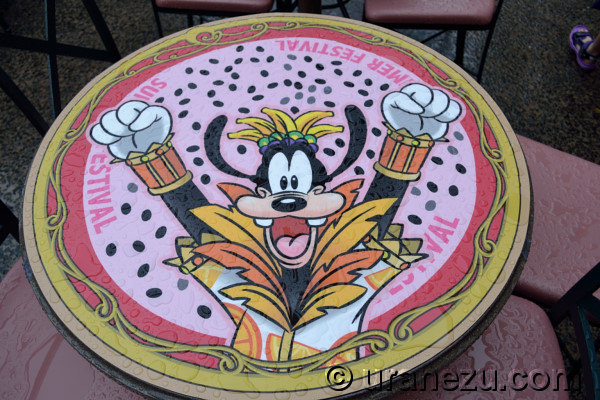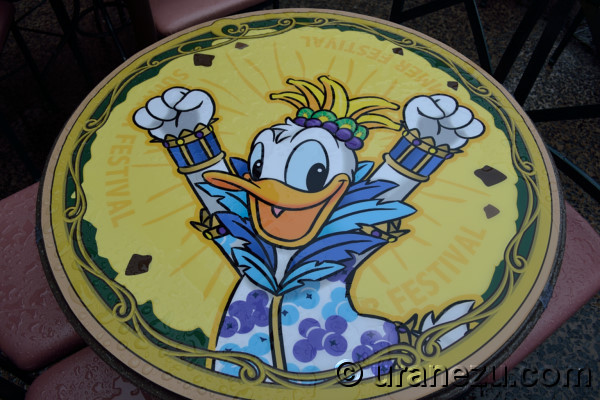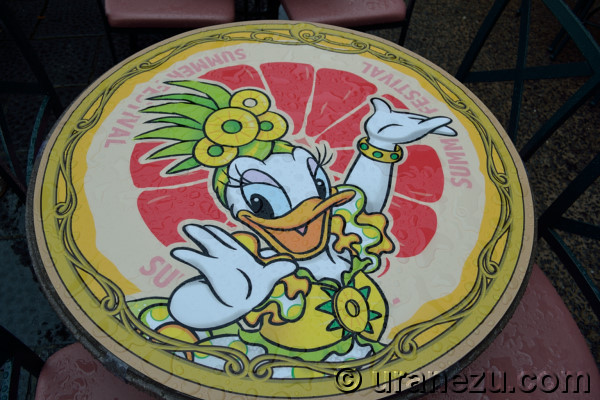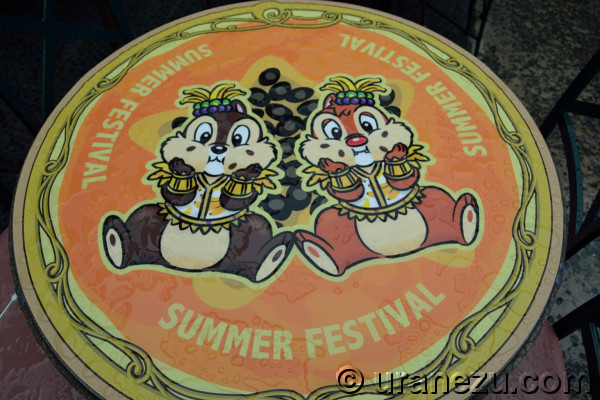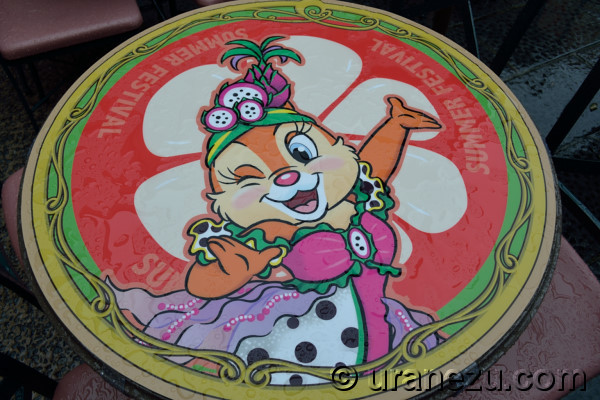 The umbrella in front of "Mamma Biscotti's Bakery" and "Gondolier Snacks" use also special and limited-time-only fruit fabric.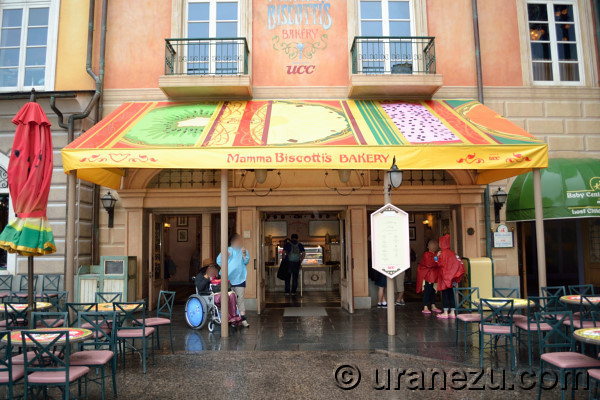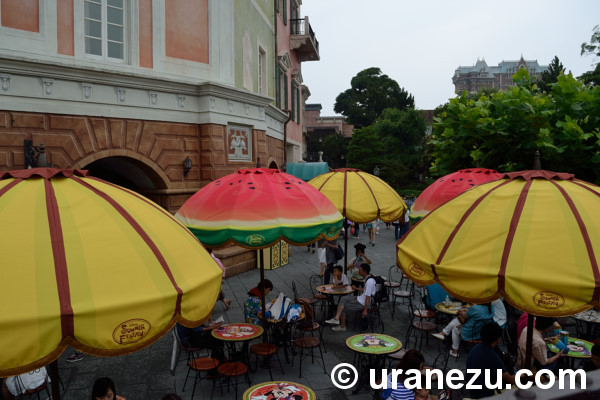 In front of "Miguel's El Dorado Cantina" the counter-service restaurant, the special sticker on some crates.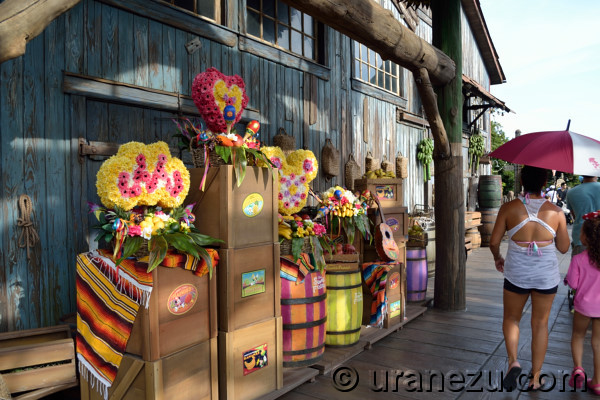 Mickey loves Banana, and Chip & Dale loves Monkey Bananas.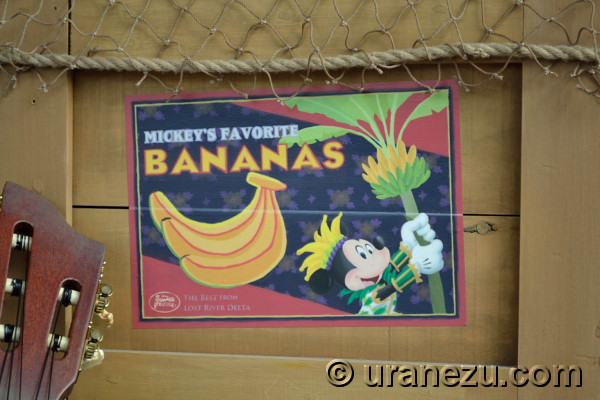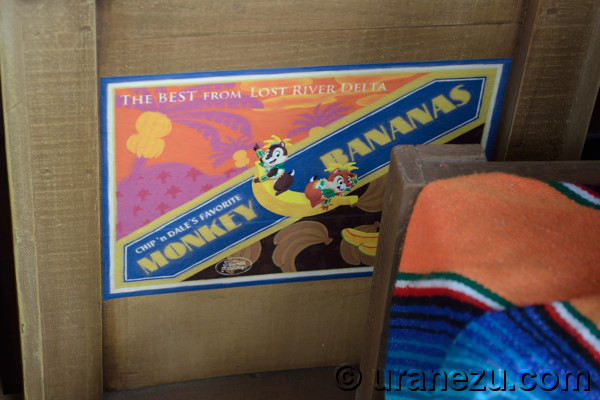 Here are the ladies' choice.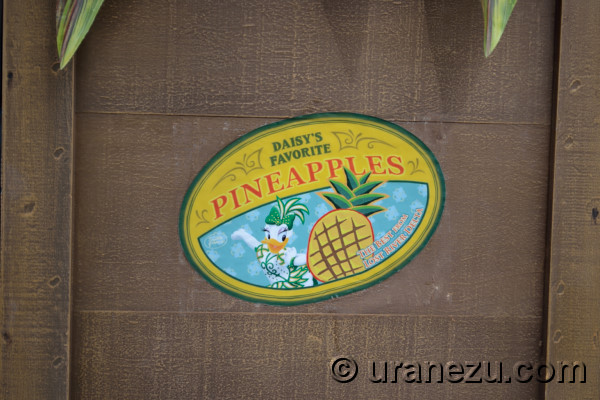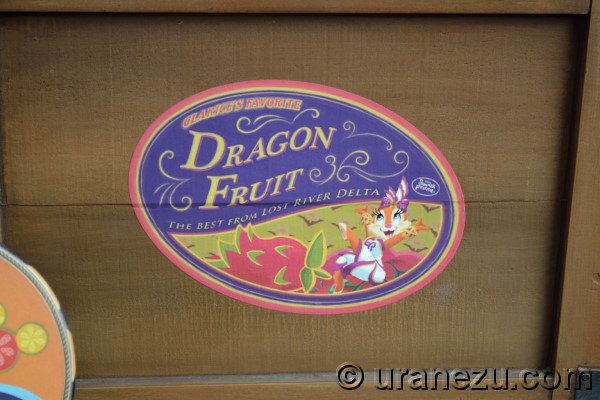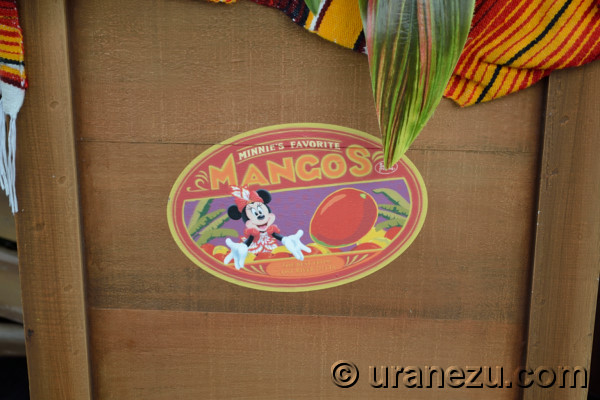 My favorite is Kiwi!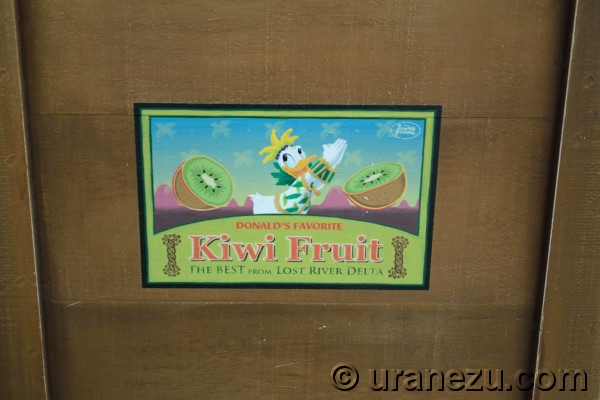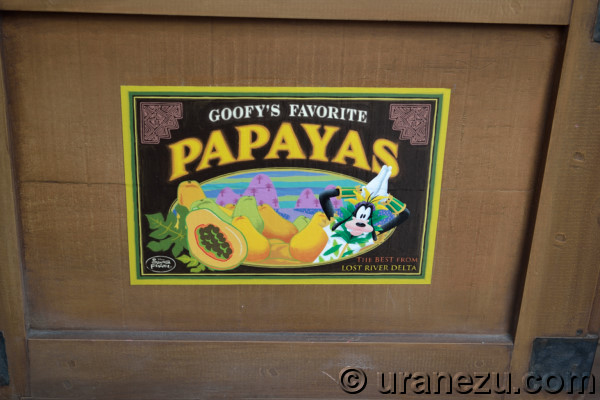 The splash show of TDS named "Minnie's Tropical Splash" which has started 4 years ago.
In this year, three lead girl's costumes are completely renewed.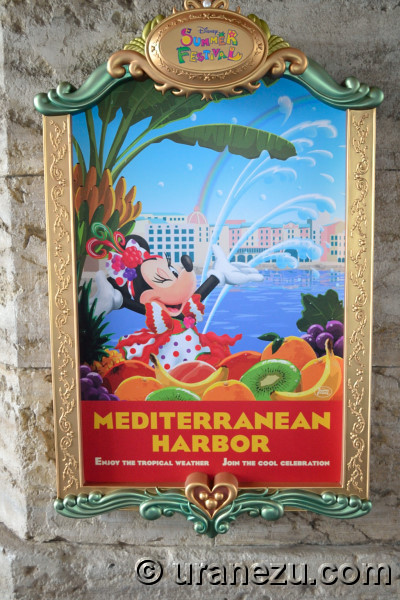 Minnie's dress is featured variety of berries.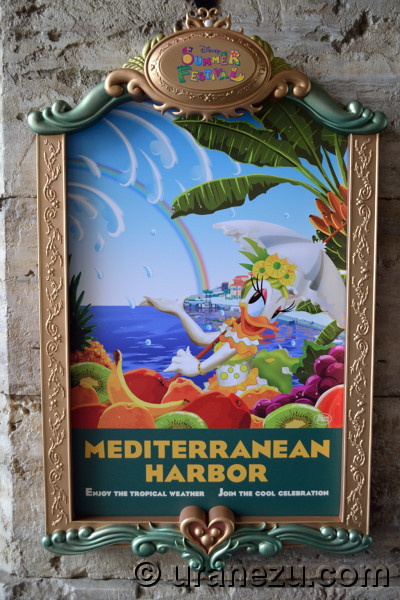 Daisy wear a pineapple dress which really match her beautiful white feather.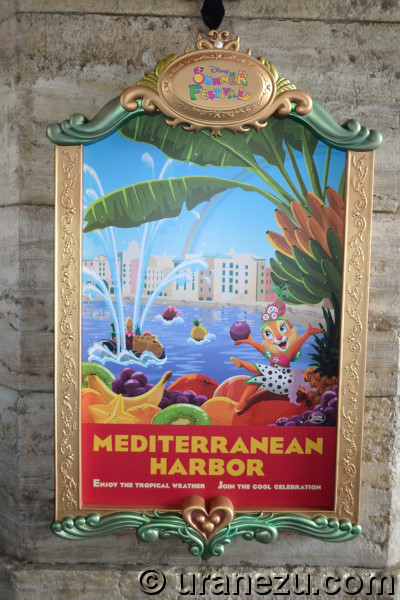 Clarice is dragon fruit. (AKA pitaya.) The dress expressed white fruit with many black seeds and covered with a vivid purplish peal. It's really special tropical fruit dress for her.

It's time to "Minnie's Tropical Splash" the special Harbor show!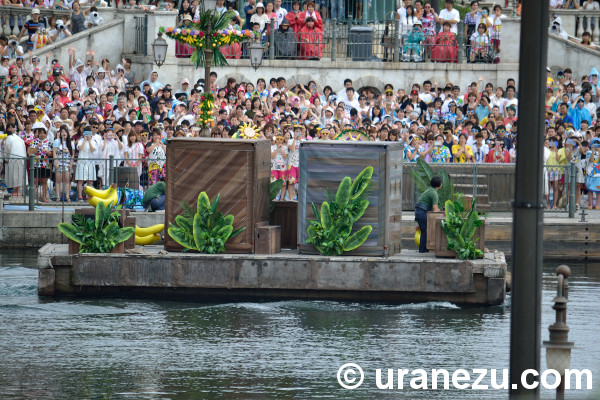 The very first barge is coming, surrounded many crates...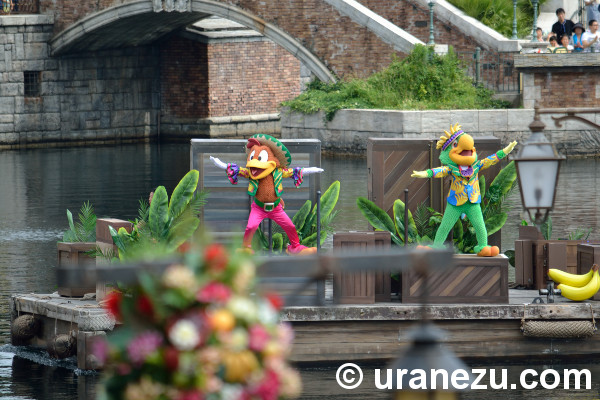 There are Jose Carioca and Panchito Pistoles on it!


Then many Disney fiends come to one after the other.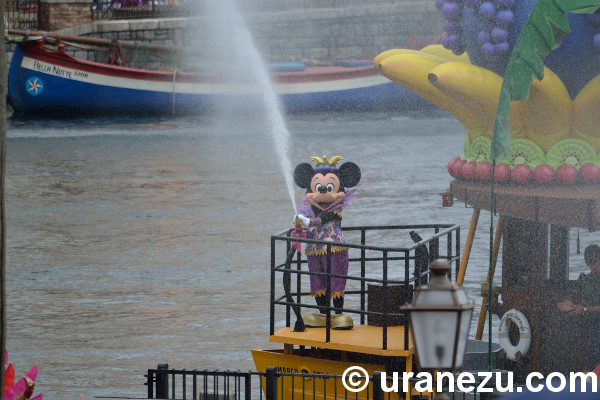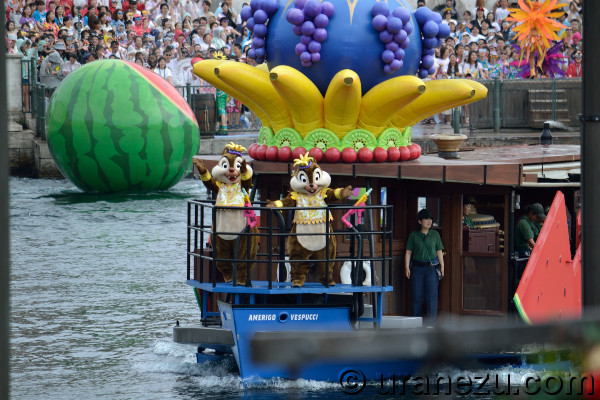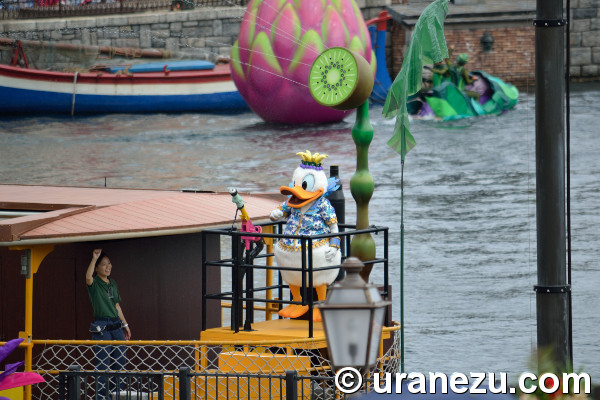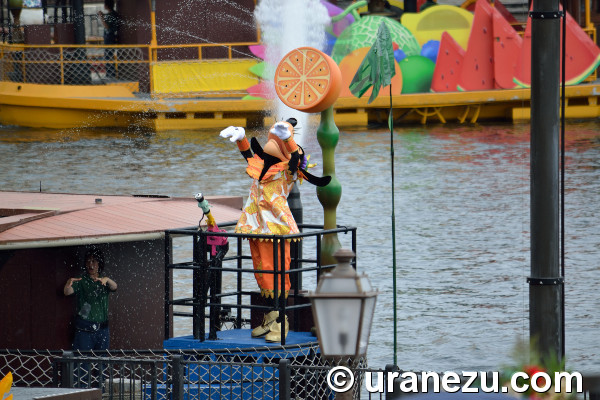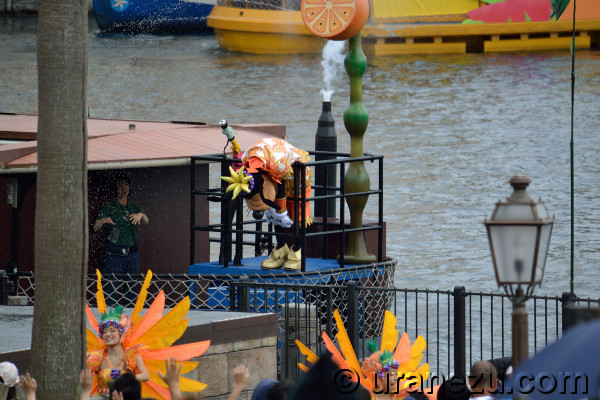 Goofy surprised a geyser eruption.
Here she comes!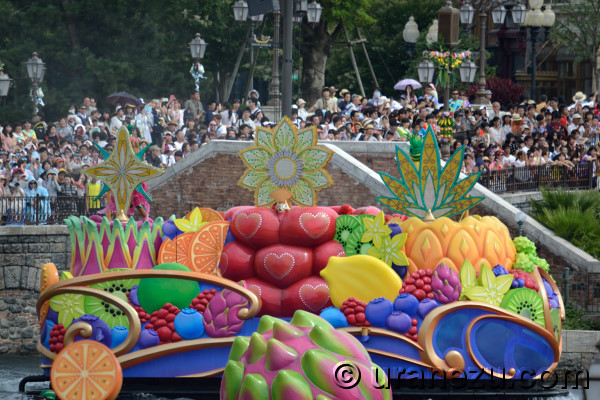 The fruitfull big barge carry...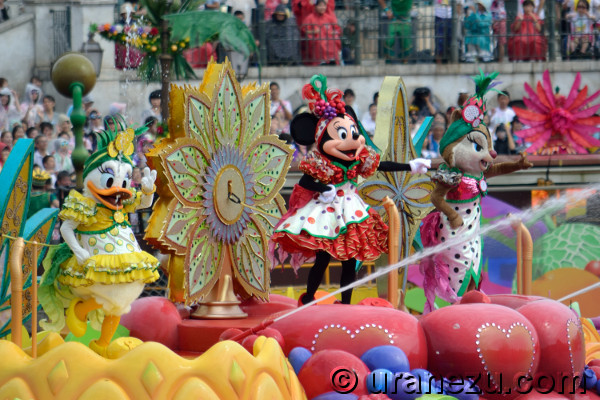 Super cute three girls!!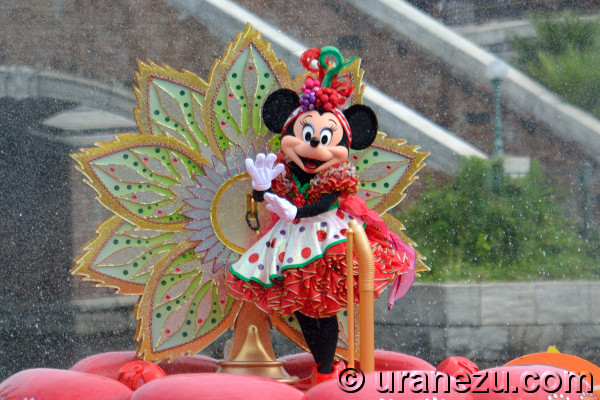 She's so so cute with her brand new princess berry dress.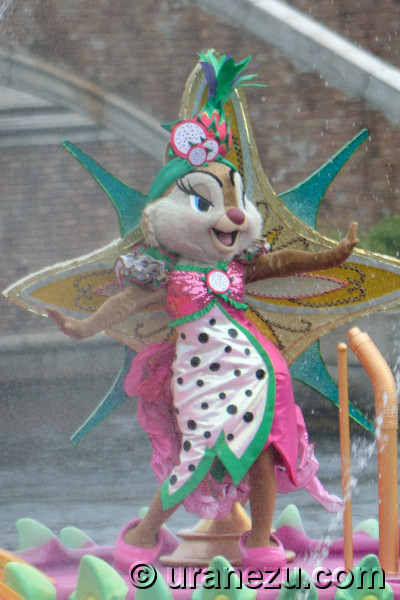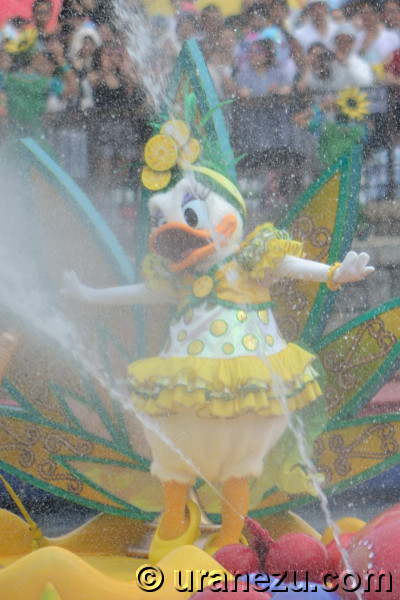 And pinapple queen and dragon fruit diva is also cute cute cute!

When the banana dancer come to you...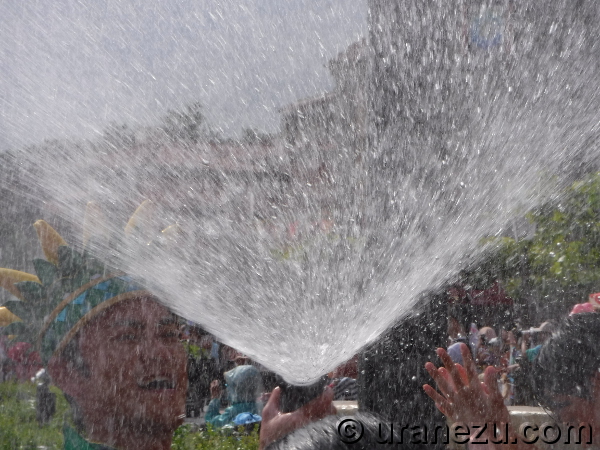 You really get soaked! It's so fun!

Are you ready?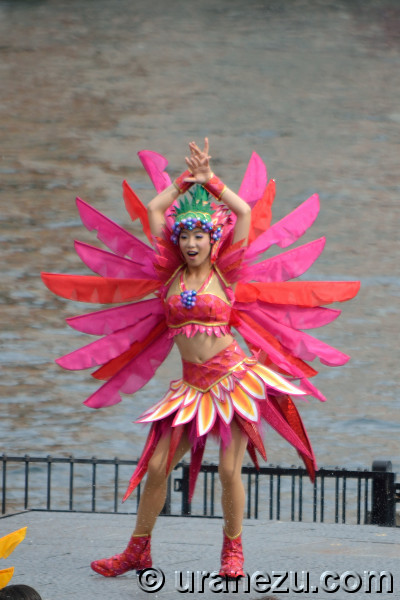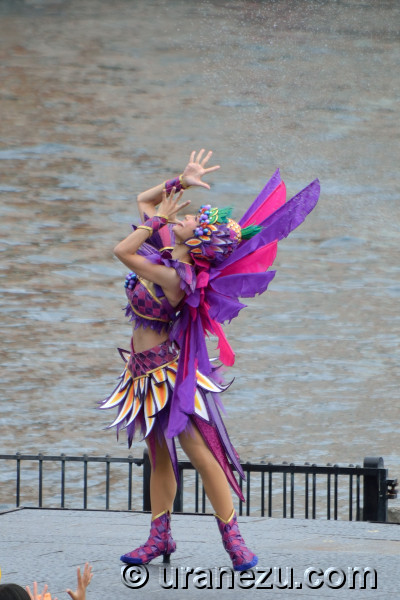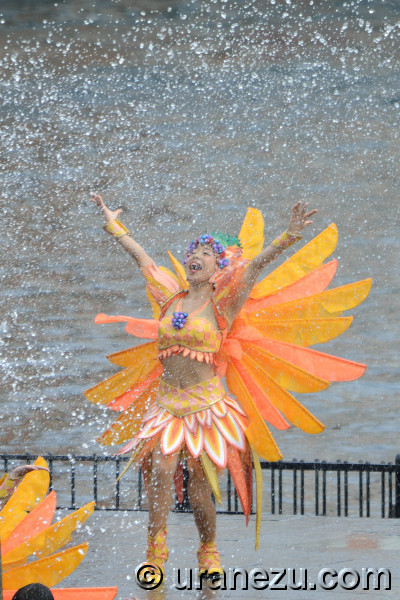 Let's dance and jump full with energy.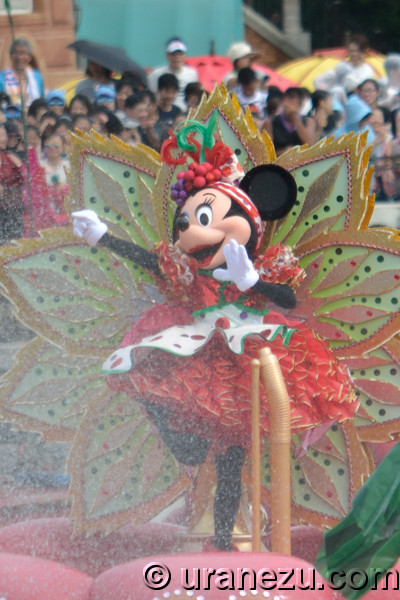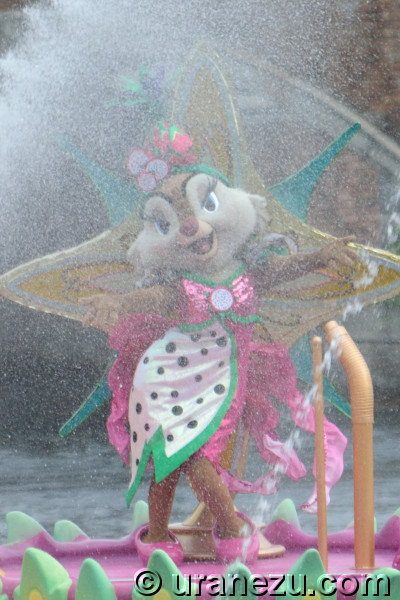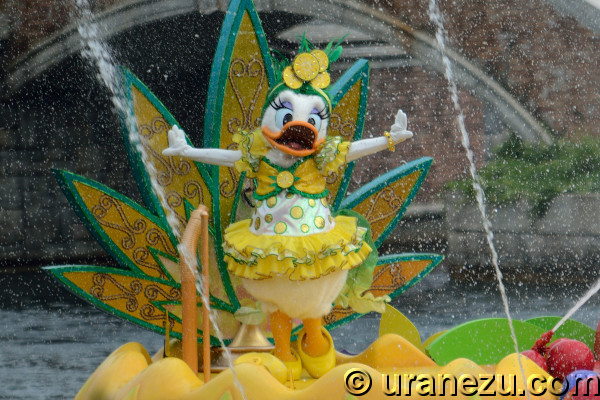 They are so lovely! And more attractive with splash!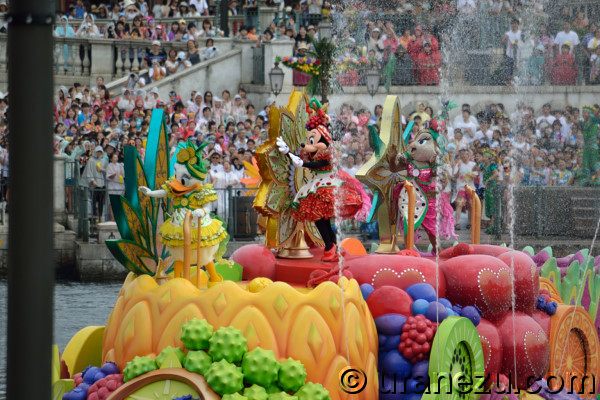 The three beauties look to...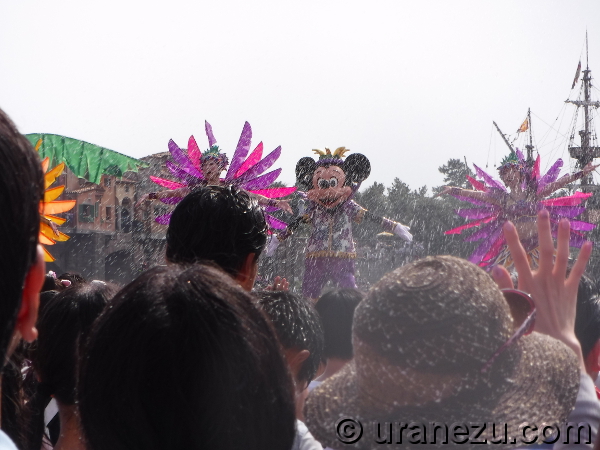 Yes Mickey on the main stage.

Splash!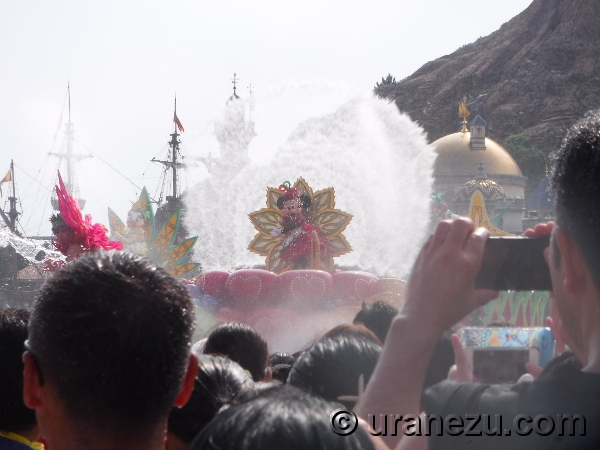 Jose and Panchito come again when the show approach the finale.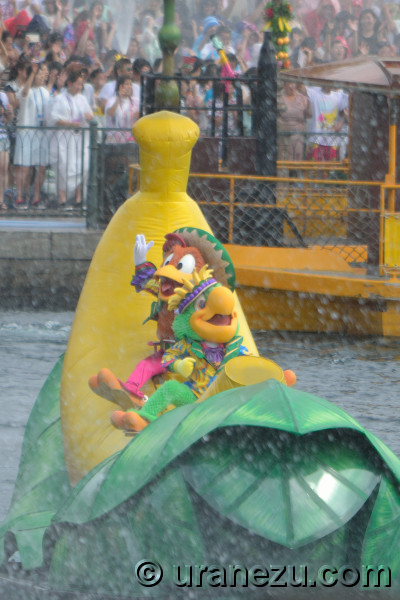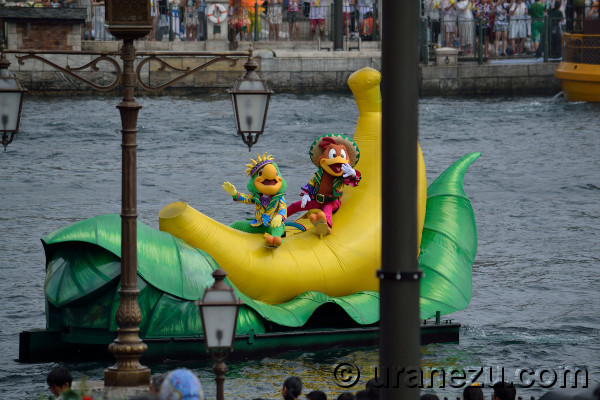 Minnie is watching whether you really danced or not!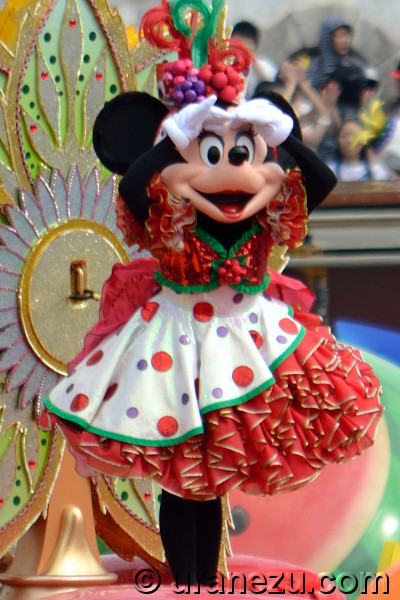 She bend down to wave her hand toward the guests.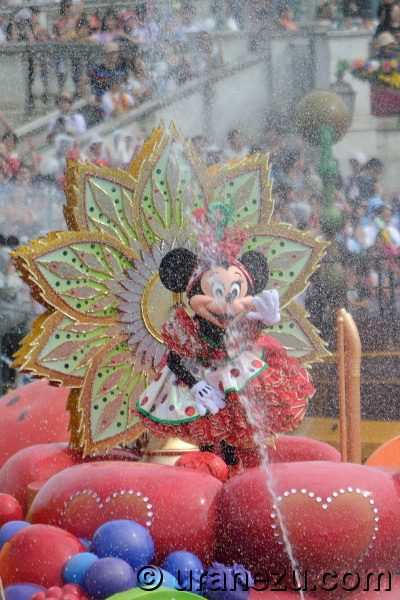 Just lovely.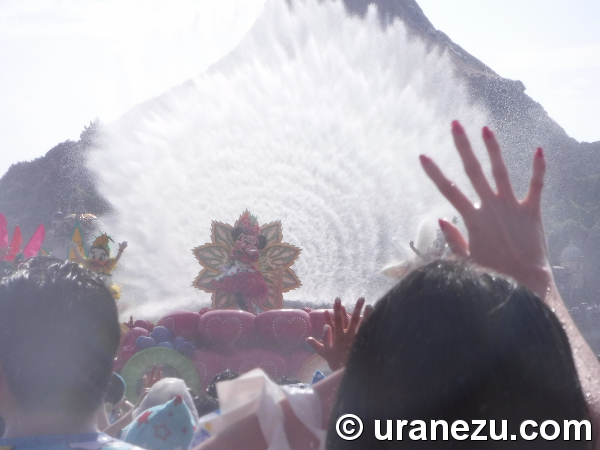 Let's get wet with tropical fruit splash at TDS!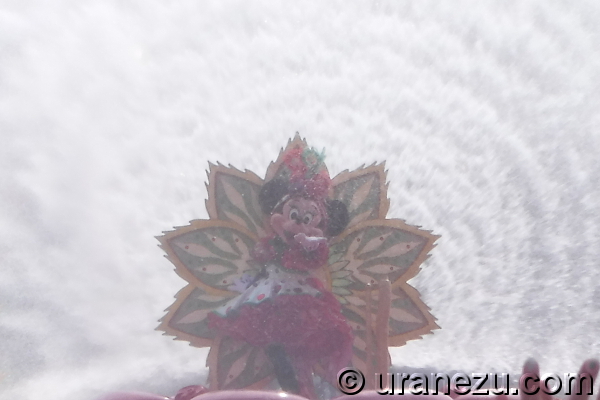 If you have any questions, opinions and requests,
please contact us.
Aug. 06 2016 about TDL Summer Splash.
TDL welcome a splash summer again in this year. Now the park have held a special summer event until end of August.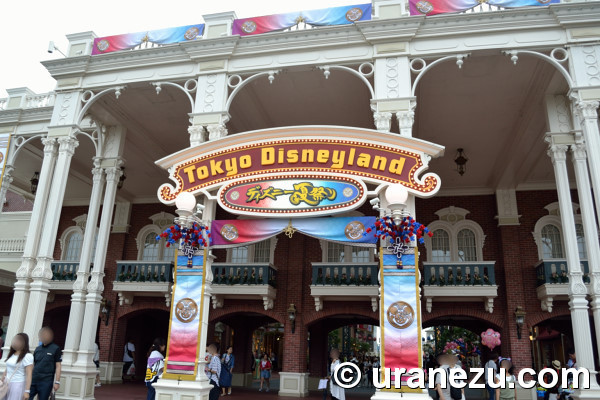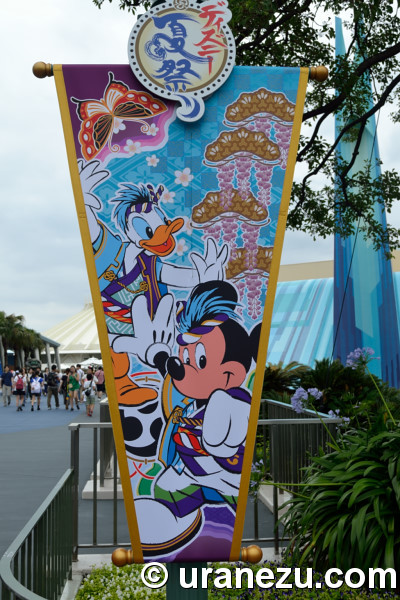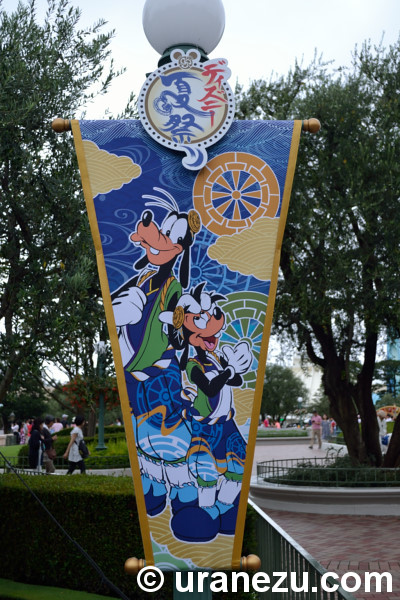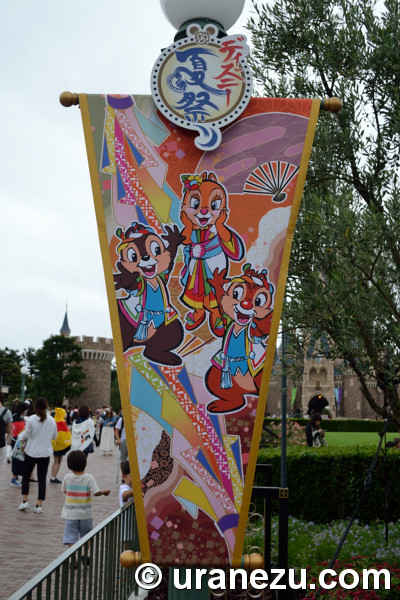 A theme of the event at TDL is "Natsu Matsuri" (It means summer festival in Japanese.) the Japanese traditional style summer festival.
There are two big can't-miss photo locations at a hub in front of Cinderella castle.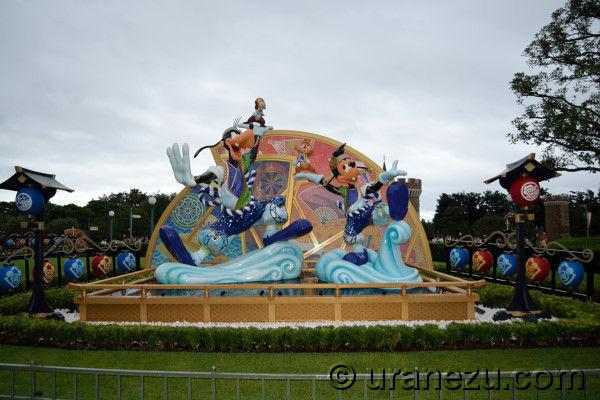 The one side decoration is energetic father and son, Happi the traditional Japanese wear conscious costume Goofy and Max.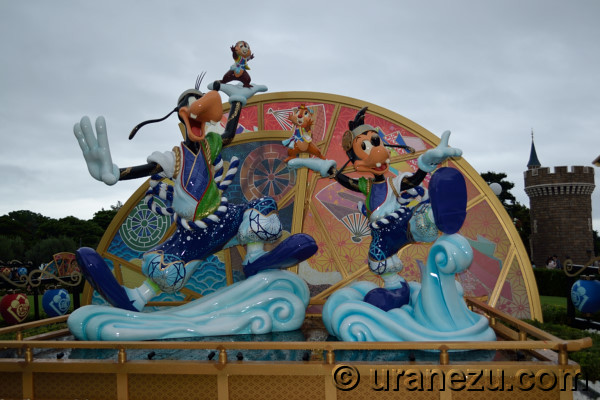 And other side of Goofy and Max, there are sparkling big statue Mickey and Minnie.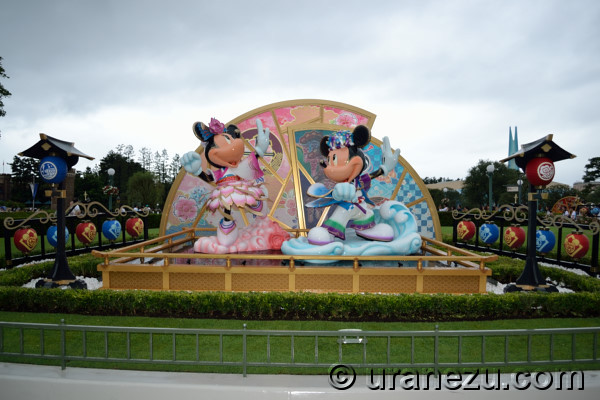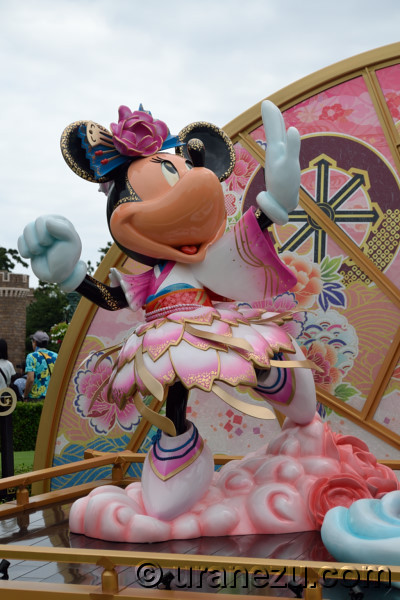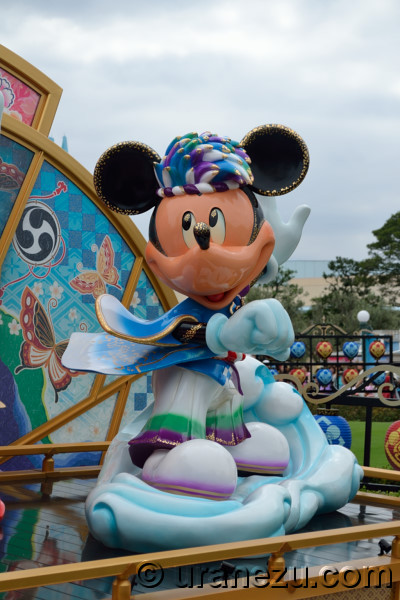 Makie the Japanese lacquer artwork taste make them to simmer under the scorching summer sun.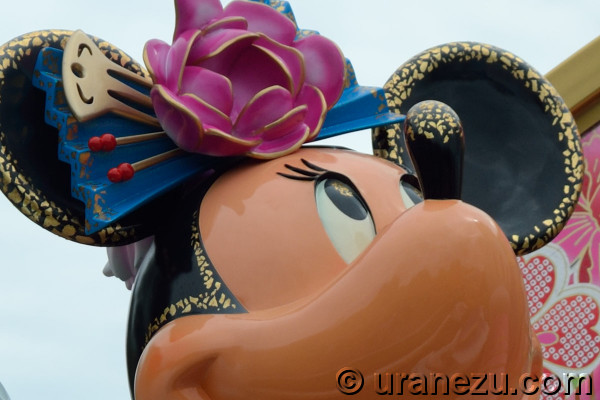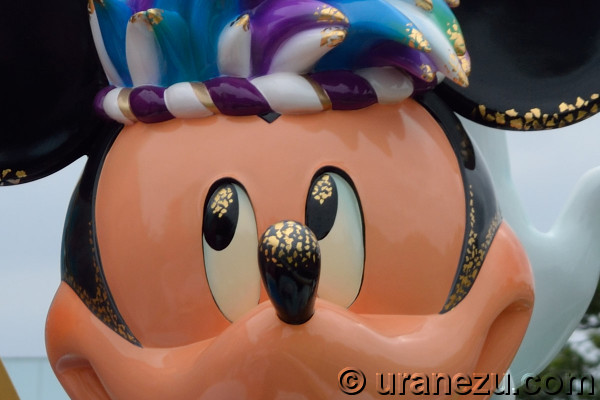 Look at their eyes, so gold and shine.
It's time to must-see-show, "Sairyo Kabu" the special summer entertainment. "Sairyo Kabu" is Japanese which means nonsense word itself, which expressed "vivid", "cool", and "gorgeous" dance. So you'll understand how feeling of the show.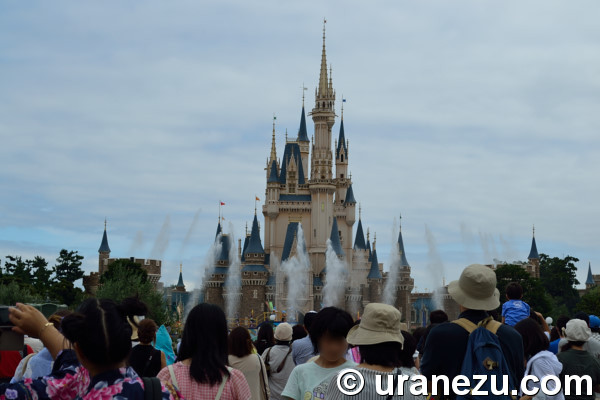 It's really sad to me, this cool dance contest show with water splash change to four floats from castle stage, because of projection mapping show at night.
These lovely Minnie and Daisy's half sleeve featured Kimono, and the other is western sleeve.??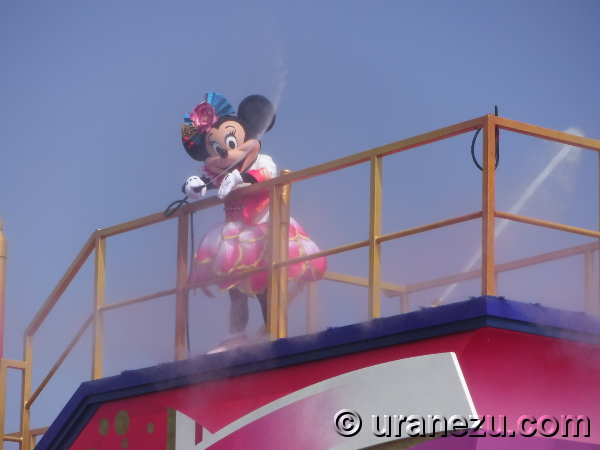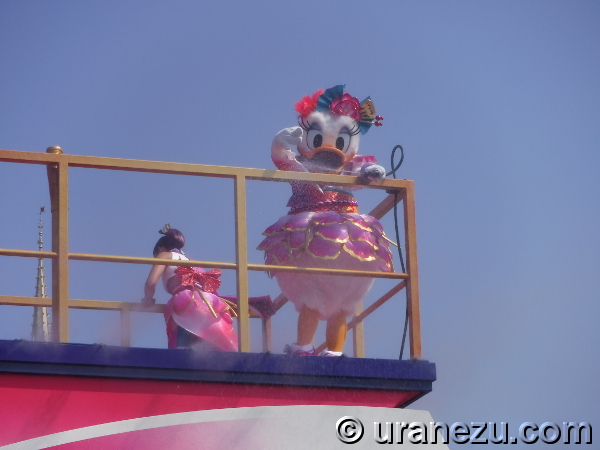 The Clarice also cache-coeur the Kimono taste dress.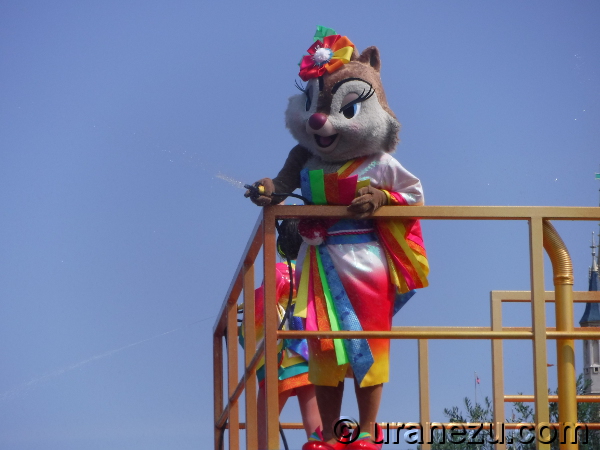 A twilight summer TDL is also very attractive.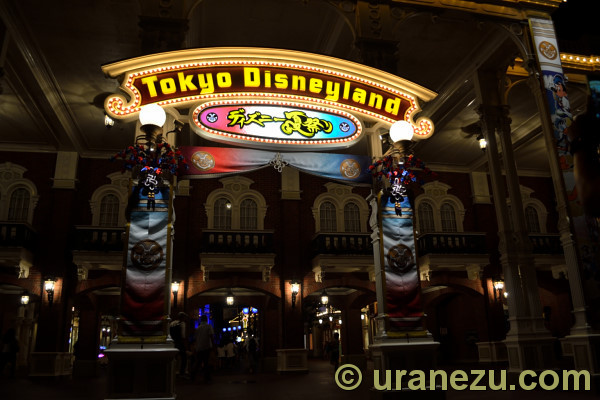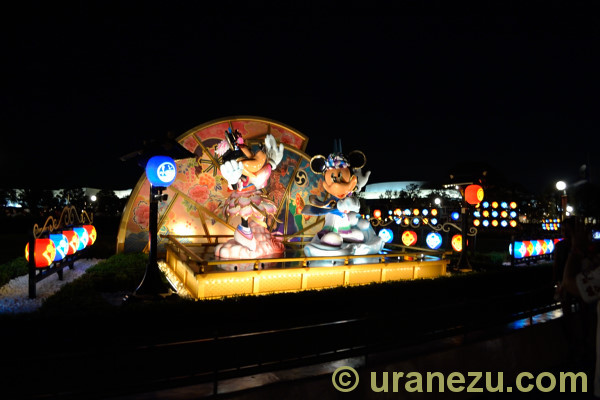 We can see a beautiful special summer decoration in World Bazaar.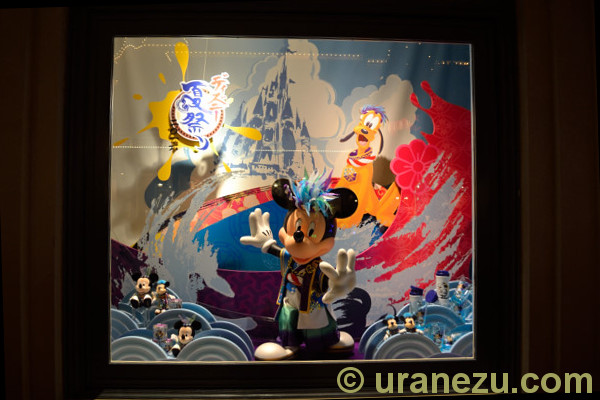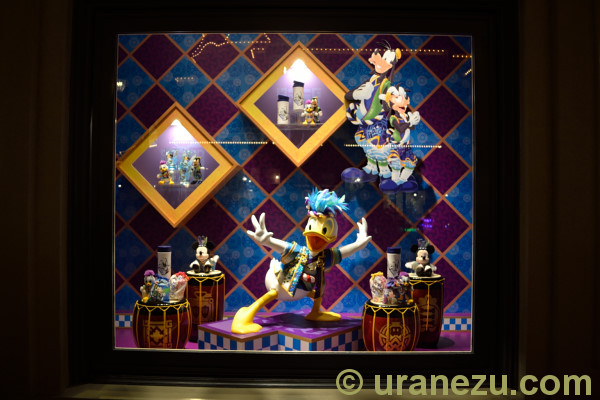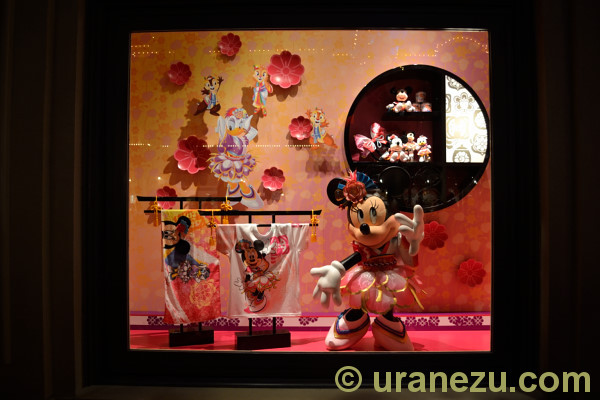 Mickey and his pals wear Cool Japanese taste costume is really beautiful in the bright show window.


I like this rainy blue window at "Disney & Co." the merchandise shop.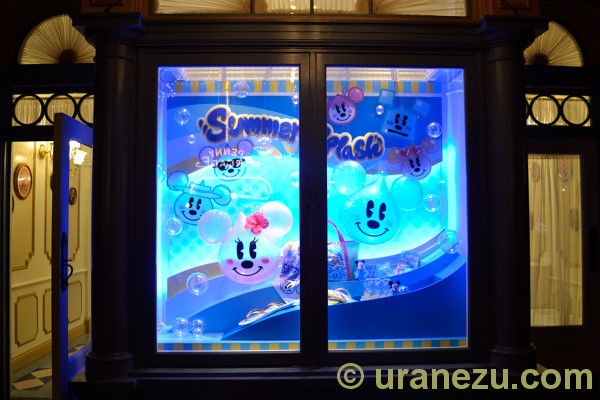 There are many Micky & Minnie rain drop items, include towel cape, plastic tote bag, flip-flap and so on.


When it grows dark, a wagon with full of light merchandises will grab you!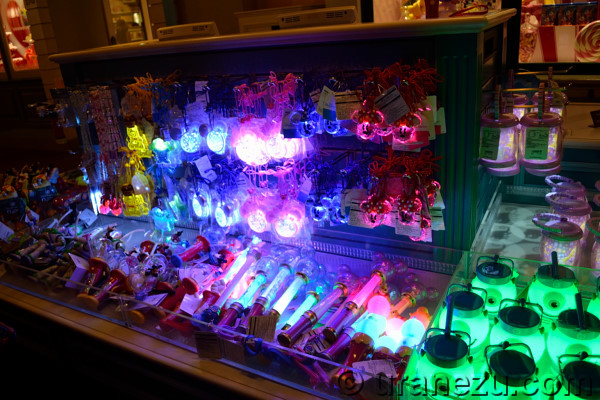 Wow, so many things to select...Which shall I get?

The Rapunzel's lantern for pretty you!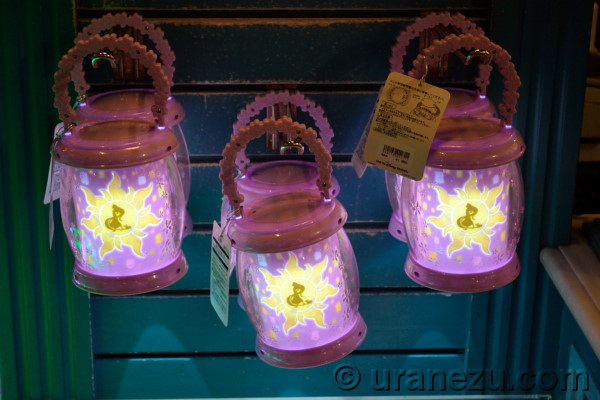 I bet it'll be a perfect item in the Halloween night for the princess.

And how about Wazowski's Japanese lantern for you?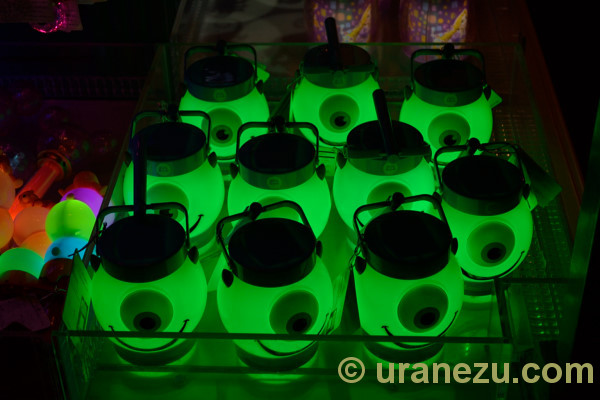 Take your favorite lantern, then let's go out tonight the park!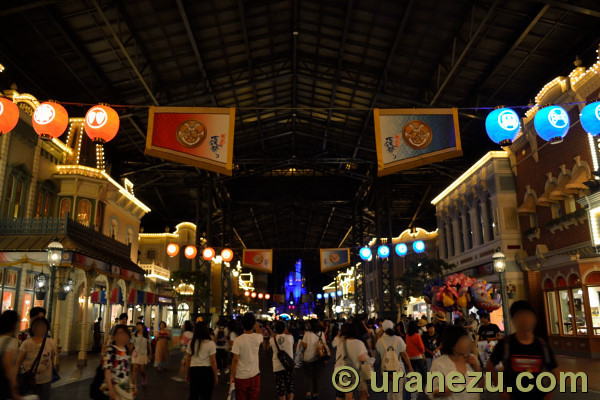 If you have any questions, opinions and requests,
please contact us.
Jul. 17 2016 about Blah-Blah-Blah about TDS 15 years.
Now TDS has became 15 years anniversary. Today as celebrating this milestone at TDS, I'd like to look back these years.
Ticket Price
Tale as Old as Time
Now
Ticket Price
T-1
5,500JPY per Adult
~2006.03.31.
T-6
7,400JPY per Adult
T-2
5,800JPY per Adult
~2011.03.31.
T-3
6,200JPY per Adult
~2014.03.31
T-4
6,400JPY per Adult
~2015.03.31
T-5
6,900JPY per Adult
~2016.03.31
First of all, let's quick review one day passport price in this 15 years.
Seeing from now, it was quite cheap that the opening price only ¥5,100 in 2011. Considering about not existed five attractions include "Tower of Terror" and "Toy Story Mania" in 2011, still the price is so great valuable for me. In this year 2016, the adult ticket has reached ¥7,400.
Yes, I know the entry fee is not reasonable, but I cannot stop renewing an annual passport because I really love TDS.
Attraction
Attraction
Area
C=change
E=Extinct
Open 23 attractions
C=change
N=New
Now 27 attractions
Opening Date
Mediterranian Harbor
DisneySea Transit Steamer Line
DisneySea Transit Steamer Line
Venetian Gondolas
Venetian Gondolas
C-2
Fortress Explorasions
C-2
Fortress Explorasions: The Leonard Challenge
2008.07.07
American Waterfront
DisneySea Electric Railway
DisneySea Electric Railway
DisneySea Transit Stemer Line
DisneySea Transit Stemer Line
Big City Vehicles
Big City Vehicles
N-2
Tower of Terror
2006.09.04.
N-3
Turtle Talk
2009.10.01.
N-5
Toy Story Mania!
2012.07.09.
Port Discovery
Aquatopia
Aquatopia
DisneySea Electric Railway
DisneySea Electric Railway
E-1
StormRider →2016.05.16Close
Lost River Delta
indiana Jones Adventure: Temple of the Crystal Skull
indiana Jones Adventure: Temple of the Crystal Skull
DisneySea Transit Stemer Line
DisneySea Transit Stemer Line
N-1
Raging Spirits
2005.07.21.
Aabian Coast
Caravan carousel
Caravan carousel
C-1
Sindbad's Storybook Voyage
C-1
Sindbad's Storybook Voyage
2007.03.29.
The Magic Lamp Theater
The Magic Lamp Theater
N-4
Jasmine's Flying Carpets
2011.07.18.
Mermaid Lagoon
Jumpin' Jellyfish
Jumpin' Jellyfish
Scuttle's Scooters
Scuttle's Scooters
Flounder's Flying Fish Coaster
Flounder's Flying Fish Coaster
Blowfish Balloon Race
Blowfish Balloon Race
The Whirlpool
The Whirlpool
Ariel's Playground
Ariel's Playground
C-3
Mermaid Lagoon Theater
C-3
Mermaid Lagoon Theater
2015.04.24.
Mysterious Island
20,000 Leagues Under the Sea
20,000 Leagues Under the Sea
Jurney to the Center of the Earth
Jurney to the Center of the Earth
E-1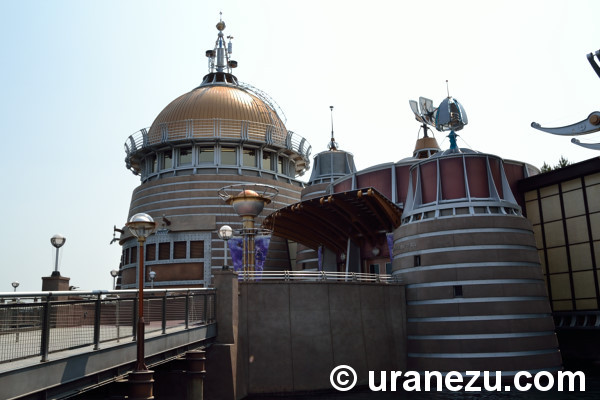 I cannot avoid to talk about StormRider the original TDS attraction. It's completely unique story built along with "Port Discovery" the one of the theme port in TDS. This one and only TDS attraction in the world has closed in 16 May 2016. Whether favorite or not, I really disappointed that they let a decision of StormRider closing. The attraction and building will be remain and will be open again with a new theme, as "Nemo & the Friends, The SeaRide".
But it's not mean nothing to it. The beautiful futuristic building of the attraction is lovable landmark in Port Discovery area was known as "Center for Weather Control".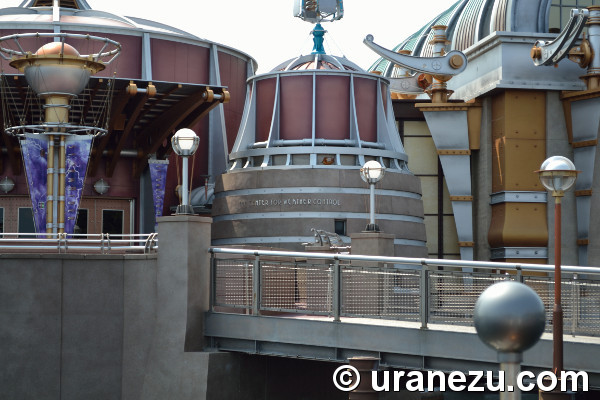 And very eye-catching big windmill on the merchandise store, or fantastic Mola-shaped research vessel around the attraction exterior. Every details in the area is connected deeply with StormRider.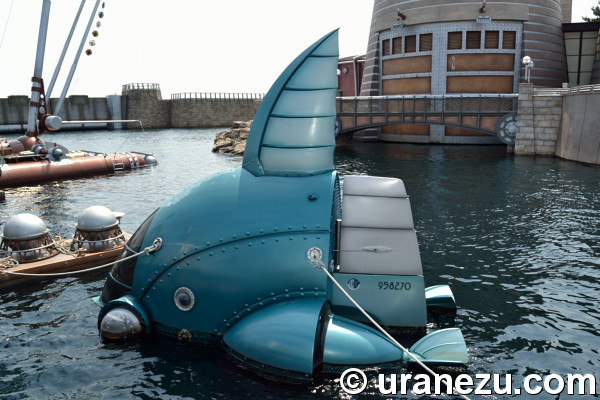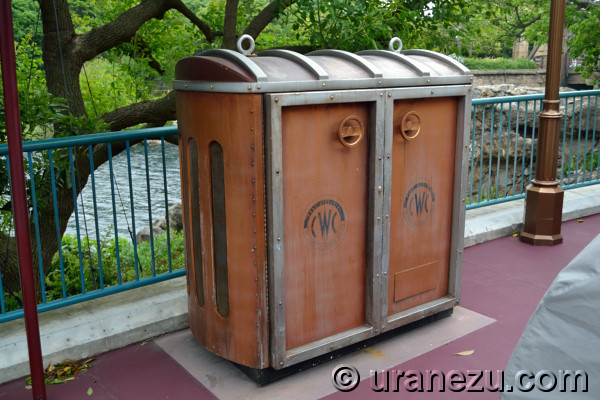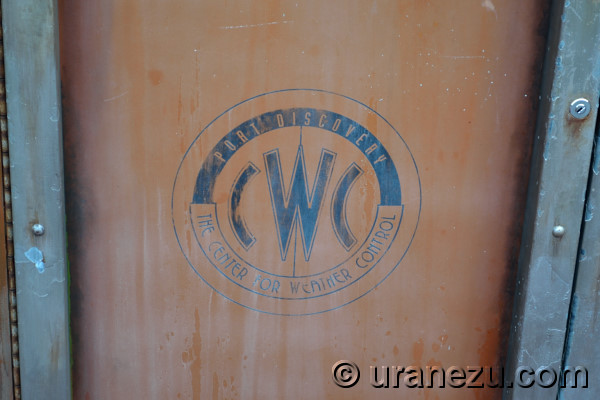 Therefore the vanish of the main column at Port Discovery will shake the original theme.
I remembered that it's like "Orange Stinger" in Disney's California Adventure situation, but it's more impact for the theme area. The loss of the Storm Rider will be tarnished at Port Discovery somehow. It's very sad thing.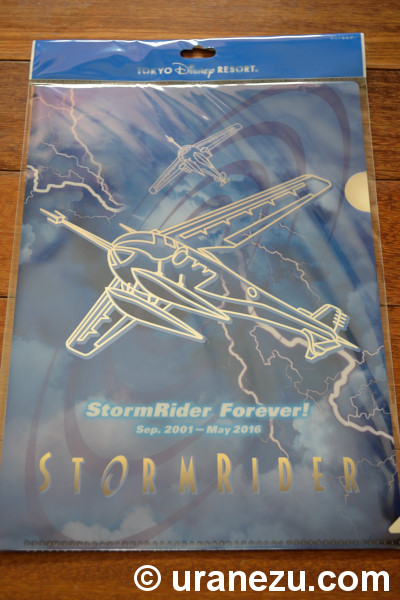 In this fifteen years, 8 new attractions including 2 minor changes have built at TDS.
N-1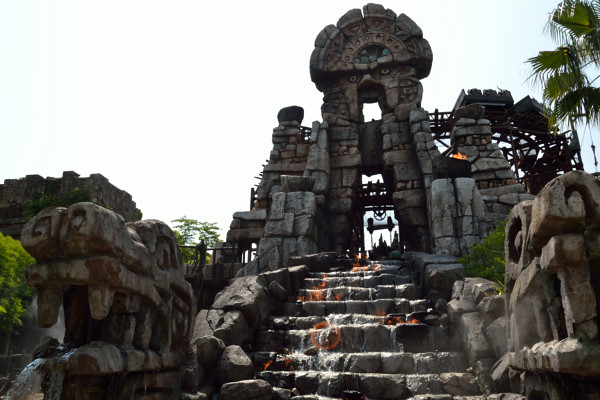 "Raging Spirits" is very first additional attraction at TDS. Roughly speaking about this attraction, it looks like mini "Indiana Jones et le Temple du Peril" in Disneyland Paris. Of course, "Raging Spirits" at TDS has original story and non-Indy-theme. but the vehicle and appearance are very look alike because of the both attraction's maker is same Intamin of Swiss.
It's the very first looping roller coaster in TDL & TDS, but the loop is so small which give you a Back-Hip-Circle feeling than scary ride.
N-2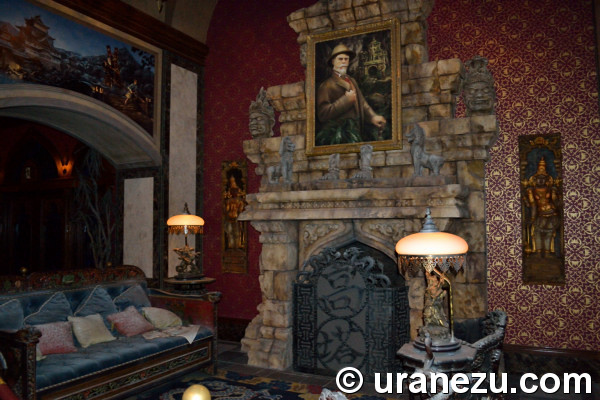 It's quite excited that completely new theme of "Tower of Terror" came as second additional attraction to TDS. The amazing details based on the story of Harrison Hightower III, a main character of this attraction everywhere not only the inside attraction, but also merchandise store.
You can find many Joe Rohde's, whoops! I mean Harrison Hightower III's story!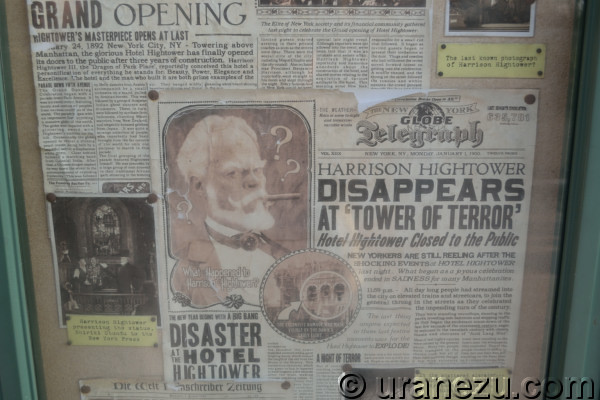 This completely new theme and wonderful details of the attraction is still one of the big reason to visit to TDS.
Do you want to know how wonderful the details are? OK, today is special day, only for you...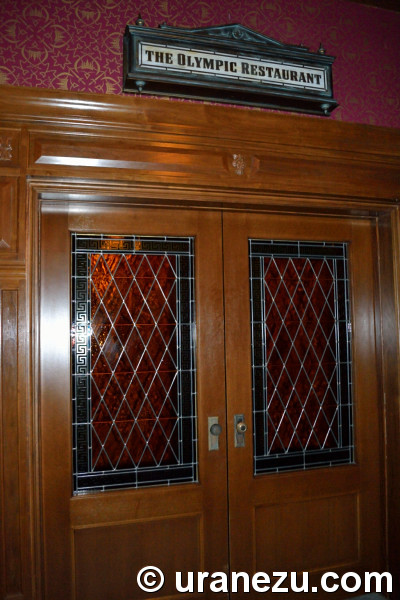 I'll invite you special dine at The Olympic Restaurant in Tower of Terror.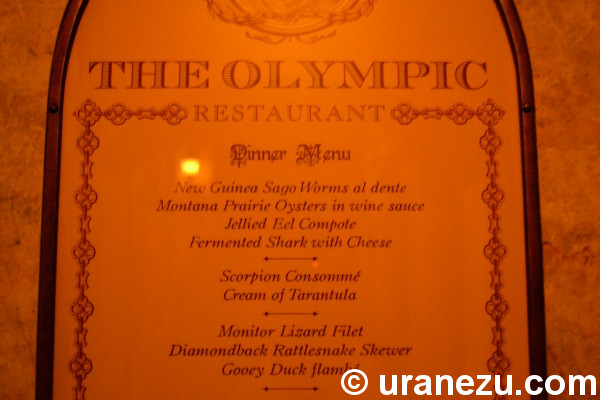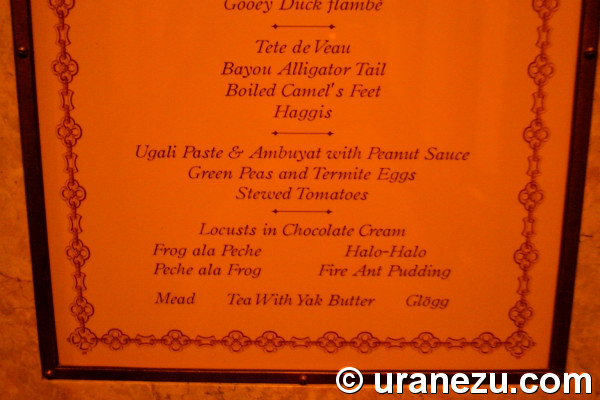 Looks so delicious?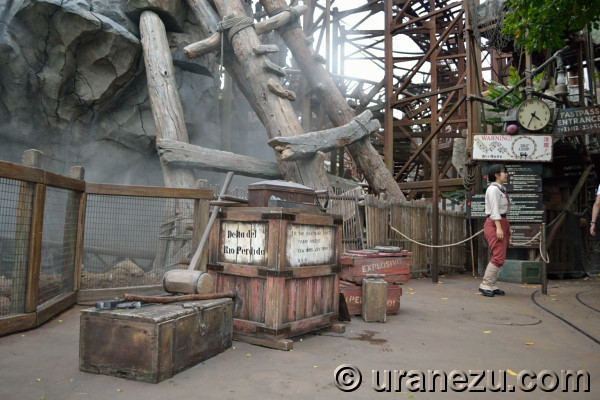 The Hightower III as known as very greedy antiquities collector. After opening of "Tower of Terror", a crates have set in front of "Raging Spirits".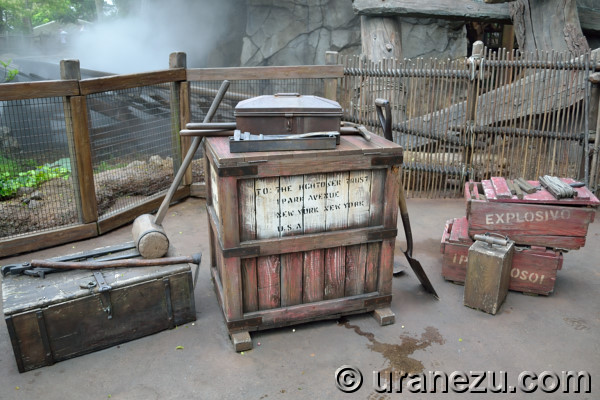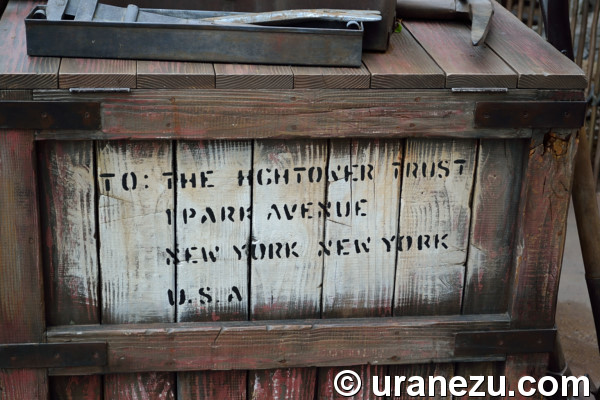 What did he got in this time at here?
C-1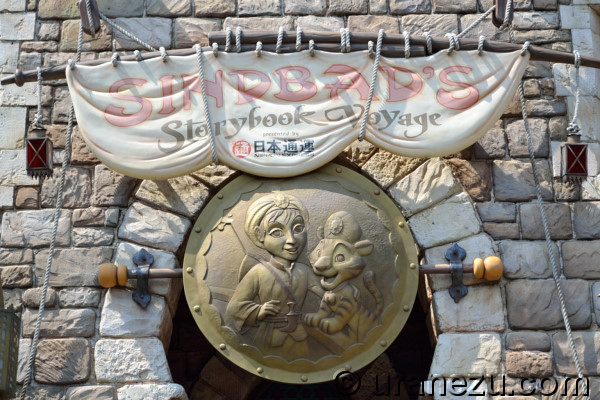 The very first change in attraction at TDS. All scary scene have replaced to peaceful situation. And original new song added in this attraction. This new and heartwarming theme song is named "Compass of Your Heart" which was created by Alan Menken plays in every scene.

The big change scenes are as below;
A angrily giant treasure keeper
→The giant changed to trapped in the wooden jail, and Sindbad is rescuing him.
The Giant picked up the treasure robber scene
→The Giant hold changed to oud the stringed instrument from thief, and the giant is singing with Sindbad.
Monkey rock attack scene
→All rocks who hold monkeys replaced bananas, and the room full with the smell of bananas.
Mermaid tried to wreck guest's boat scene ?
→The plotted mermaid turned to guide of sea. And a splash effect (spray water air curtain) added.
The overall impression of new Sindbad boat ride became moderate adventure.
But the partial changing with the original scenic design, lighting gave us something strange feeling. For example, the monkey's rocks or arrows as their weapons were changed to bananas or instruments, but the monkey is original animatronics with the original oppressing set, the motion and expression is also still remain, therefore it's little bit discomfort.
Please remember an ambiance of ? "Alien Encounter" remaining at "Stitch's Great Escape!" attraction. It's really same feeling.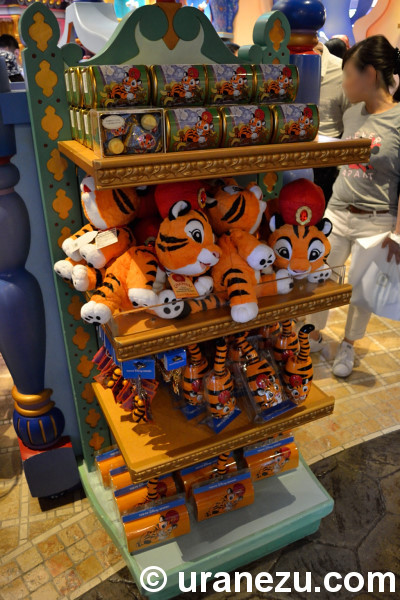 And they've brought Chandu tiger's cuteness to the fore in this change.
N-3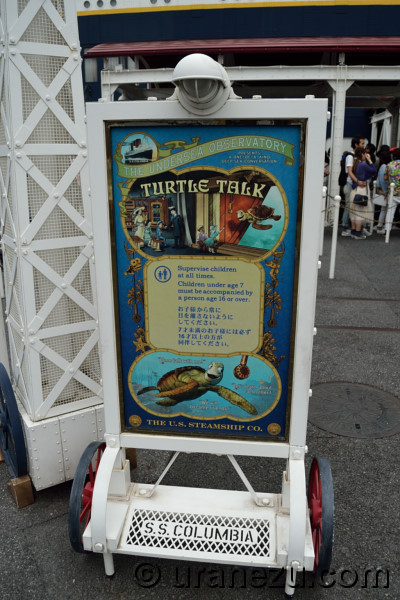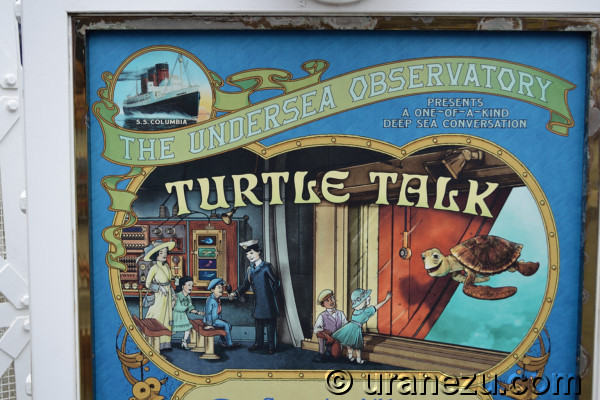 In TDS, "Turtle Talk with Crush" is VIP-treated attraction compared of WDW's one the original. It has opened as completely new attraction which is allotted new place in S.S. Columbia.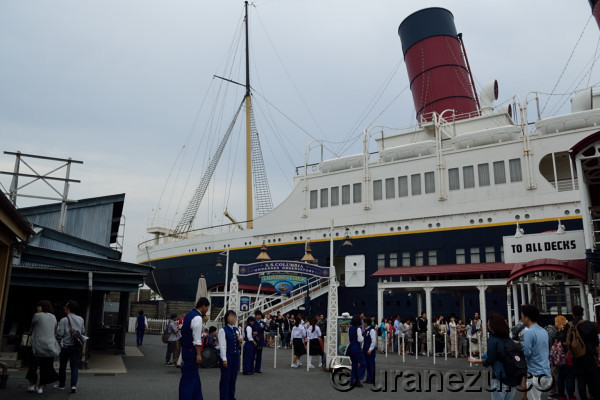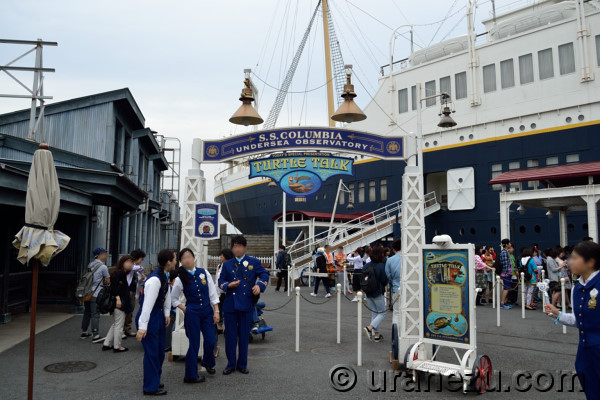 Attraction is same, but it's very different from adjacent attraction of "The Seas with Nemo & Friends".
N-4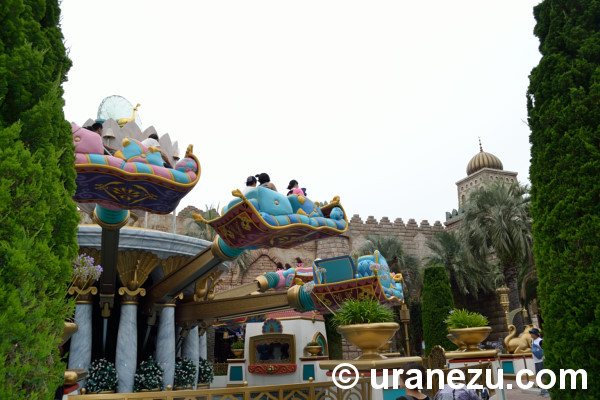 I'm really happy to add simple ride (it's not simple architecture, actually!) not high-tech which use like tons of projection mapping or theater-type attraction.
N-5
I quite surprised that I thought "Toy Story Mania!" might not build in TDS. Because thinking of (original) concept of TDS, "Where Adventure and Imagination Set Sail", this character-full attraction rather strong to mature atmosphere TDS park.
4 years have passed since the attraction has opened, but "Toy Story Mania" still most difficult to get FastPass attraction.
C-3
A big change of "Mermaid Lagoon Theater" was one of the biggest crack-my-heart affair. I really miss Ursula's giant hands which closed upon a guest at "Poor Unfortunate Soul" number. It was so goose-bump moment. And I really loved sprightly fishes with a beautiful back fin and tail fin which are changed to Ariel's sisters on some screens. Speaking more minutely, an artistic-undertoned Ariel's hair with beautifully curled changed to looks like a just wig (it's wavy plain red), and fin based on Ariel's green changed to just greenish fin also sad changing for me.
Show
Show
Theater
Open shows
Closing Date
Now shows
Opening Date
Harbor Daytime
HD-1
Porto Paradiso Water Carnival
2006.05.07.
HD-3
Crystal Wishes Journey
2016.04.15.
HD-2
Legend of Mythica
2014.09.07.
Harbor Nightime
HN-1
DisneySea Symphony
2004.04.22
HN-3
Fantasmic!
2011.04.28.
HN-2
Bravisimo!
2010.11.13.
Broadway Music Theater
BM-1
Encore!
2006.07.04.
BM-2
Big Band Beat
2006.07.14.
Cape Cod Cook-off Restaurant
CC-1
Donald's Boat Builder
2010.01.11.
CC-2
My Friend Duffy
2010.03.20.
Hanger Stage
HG-1
Mystic Rhythm
2015.04.05.
HG-2
Out of Shadowland
2016.07.09.
Dockside Stage
DS-1
Sail Away!
2006.06.19.
DS-3
A Table Is Waiting
2011.04.28.
DS-2
Over the Waves
2010.09.08
Lido Isle
LI-1
Lido Isle Meet & Smile
2006.07.09
None
LI-2
Meet & Smile
2011.03.11.
I really love original show at every theater when TDS has opened. As you can see a name of the very first show, every show was so perfect match for own stage and their area. A firm theme, straightforward but emotional story, simple line, ?and catchy melody, every part of the original TDS show was very beautiful. I really really missed them.
CC-1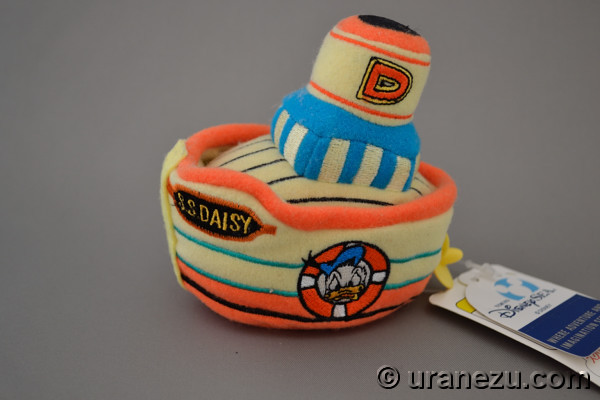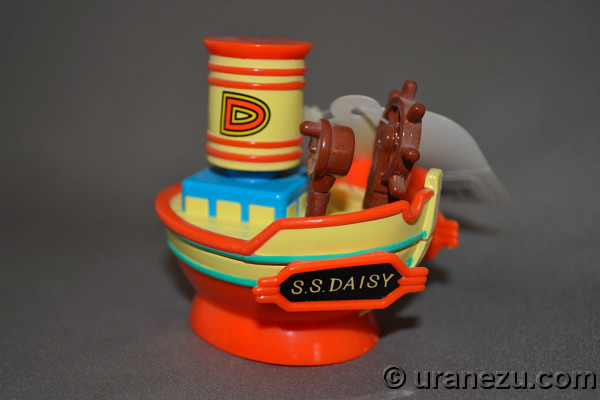 A merchandises of "Donald's Boat Builder".
Why all the boat of the merchandises of the show wobble or disassemble? Because always Donald couldn't fix S.S. Daisy properly at his show!
DS-1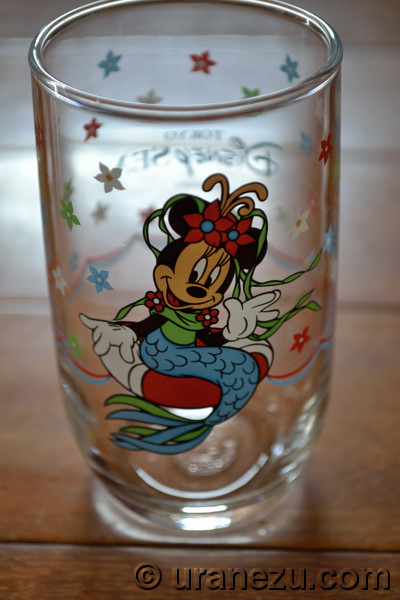 A merchandise of "Sail Away!" the show.
Look at a cute mermaid Minnie on a glass. This lovely Minnie showed up in the show.
Greeting Facility
Tale as Old as Time
Now
Openig Date
Greeting Facility
None
G-1
Ariel's Greeting Grotto
2005.04.15.
G-2
Saludos Amigos Greeting Doc (Mexican Donald)
2010.05.01.
G-3
Village Greeting Place
2011.07.08.
G-4
Mickey & Friends Greeting Trail
2011.04.28.
I remember the very first concept of Disney friends at TDS was "They also come and search for some wondrous adventures at TDS as same as guests". Therefore we could meet Mickey or Minnie, and other characters at the park, but there were no specific character settlement. It was so great agreement based by the theme. Every obsessiveness with details which include this, supported strongly the fabulous TDS.
G-1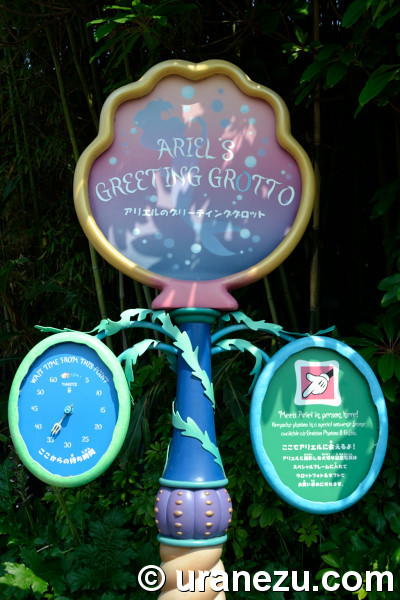 Mermaid Ariel.
G-2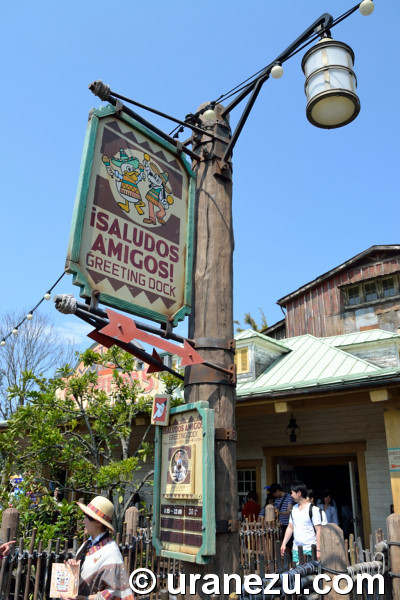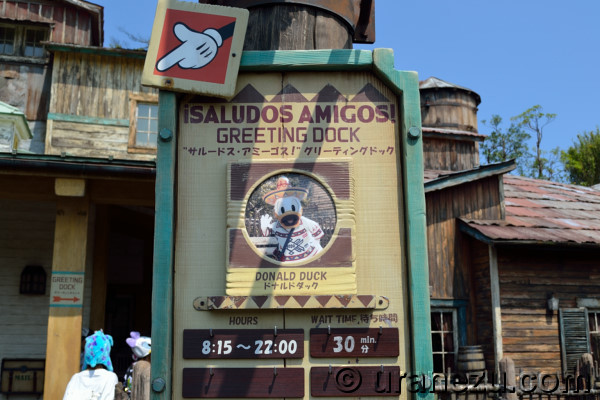 Mexican costumed Donald.
G-3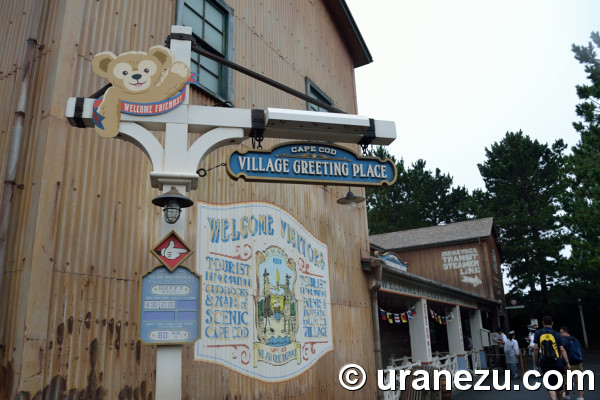 Duffy & ShellieMay
G-4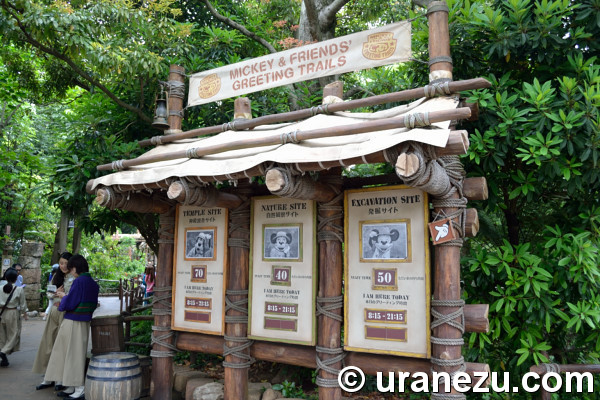 Safari Mickey, Minnie, Goofy.
I still love TDS, but I have to admit that more expensive, more characters, less individuality than the original TDS in 2001.
Why did I taste the original TDS so much at that time? I missed so much good old days.
If you have any questions, opinions and requests,
please contact us.