Park Now
>
Park Now Archive
> 2014 Third Quarter Archive
---
Oct. 18 2014 about Disney's Halloween 2014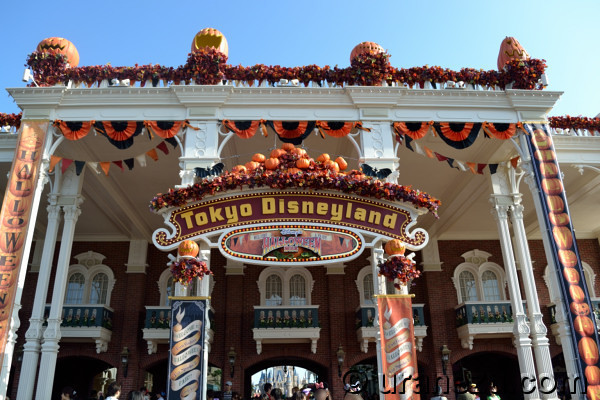 TDL is the midst of the Halloween special event. In this year 2014 at TDL Halloween is almost exactly the same in the last year, it's "Happy Halloween Harvest".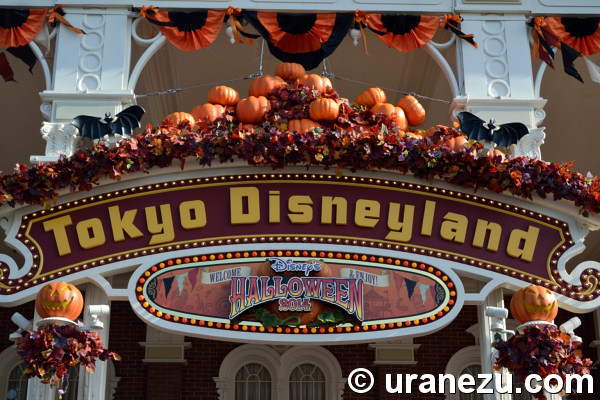 So let's go and see the special photo location during the Halloween at the hub.
If I'm not mistaken, the concept is a warming local fair of Halloween by Disney friends, something like that. However, in this year 2014, much more a big carnival than a fair.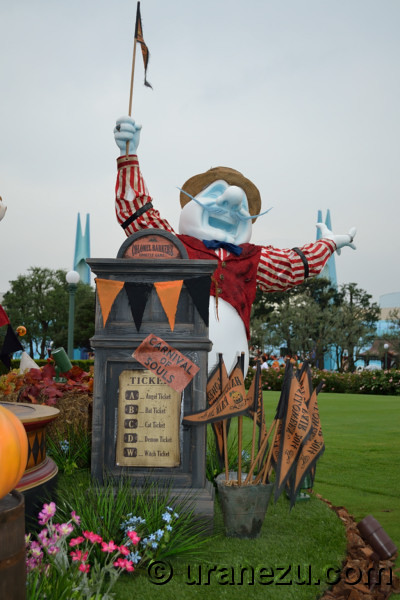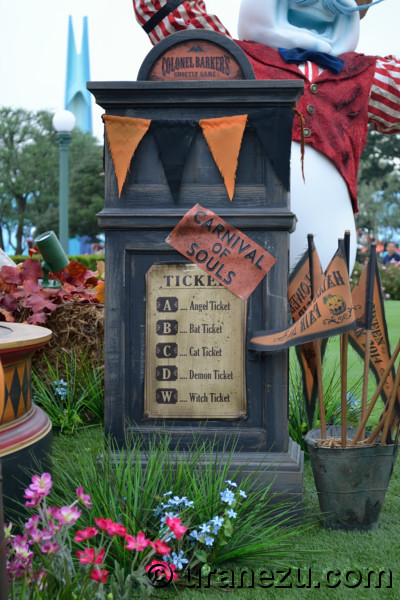 Big(houl) 10 tickets came back in the Halloween. Disney frinds find a great promoter, "Colonel Baker's Ghostly Game".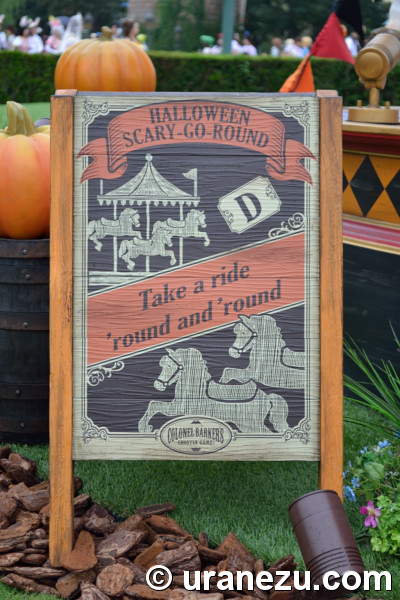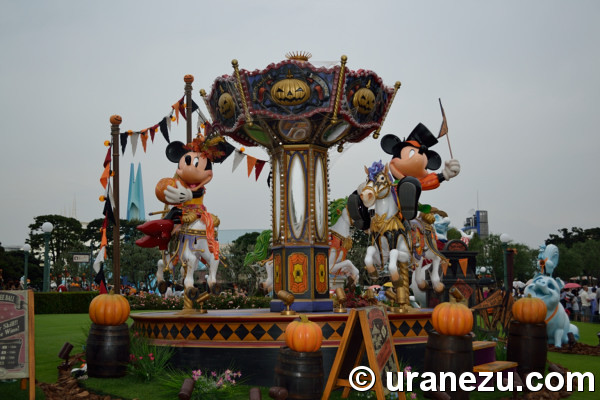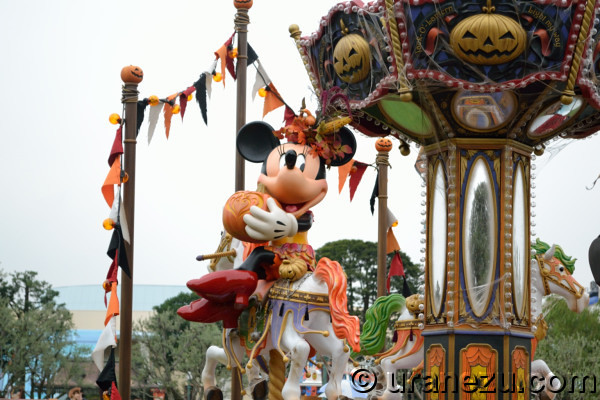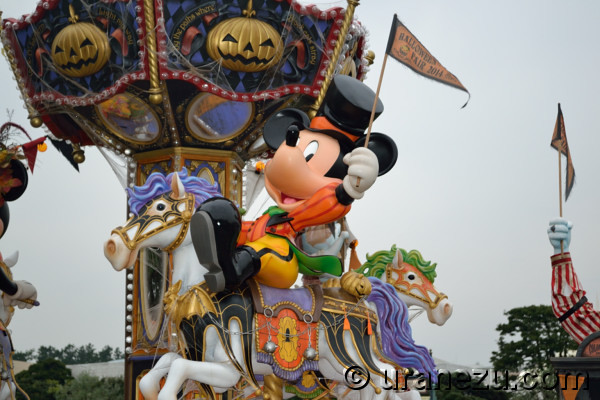 Mickey and Minnie don't hold their rains, made me blood freeze. Yes this ride needs D(emon) ticket.

Not only Disney pals but also ghosts enjoy this festival.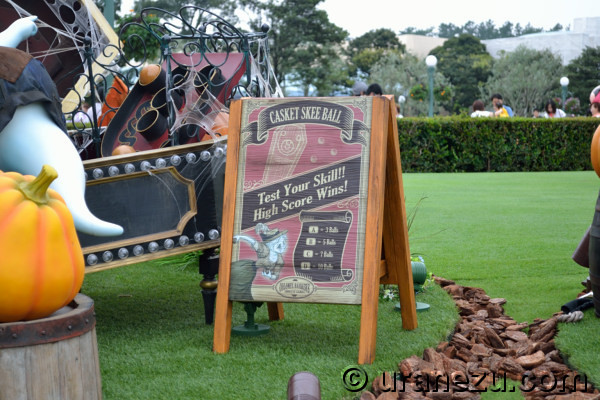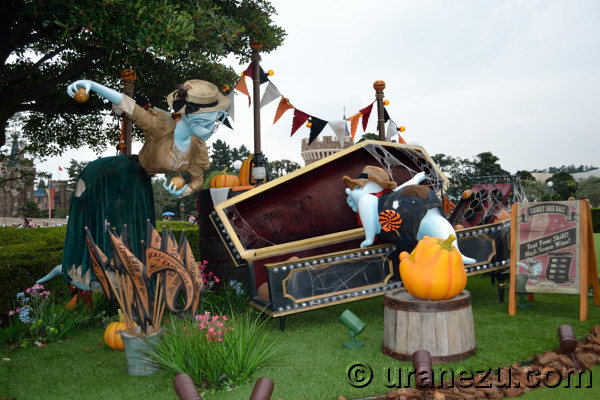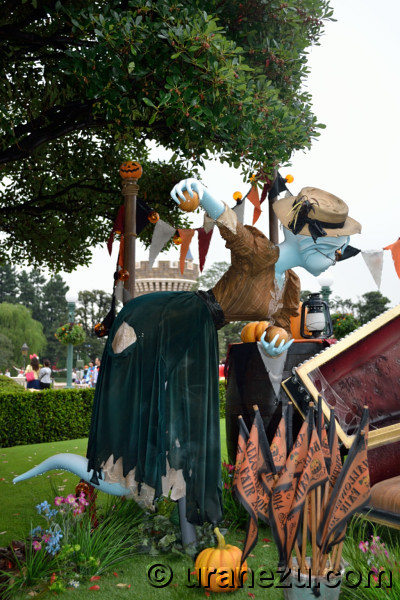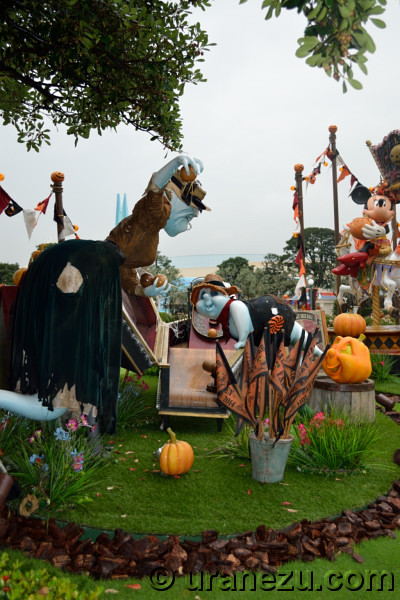 I like this elegant slender ghost lady.

In other corner, pretty plumpy ghost try a high score.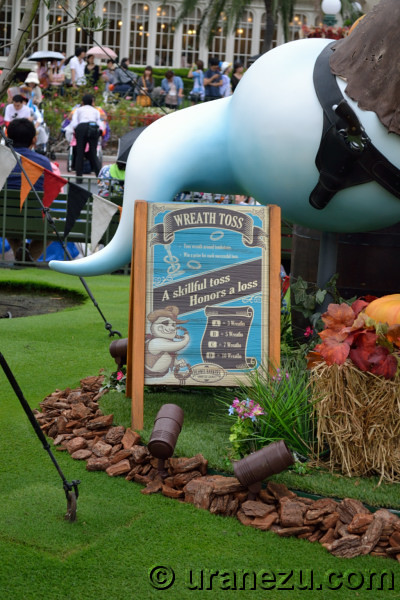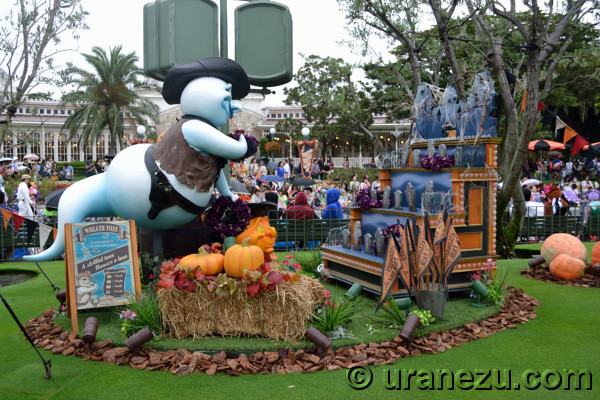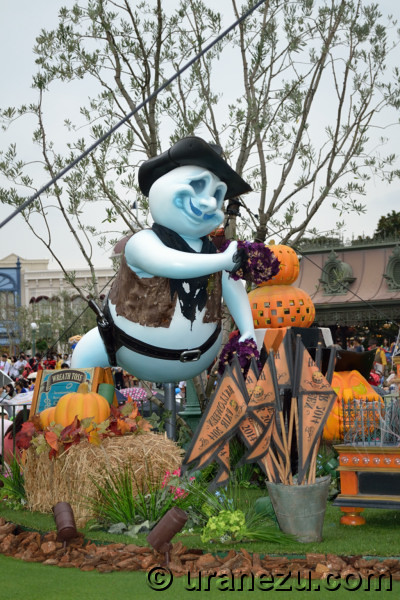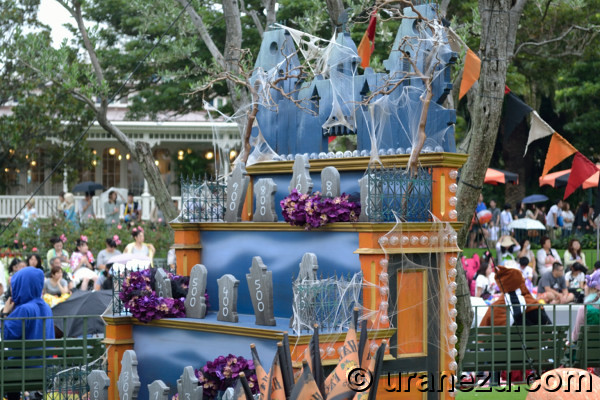 Goofy engrossed in showing his strength.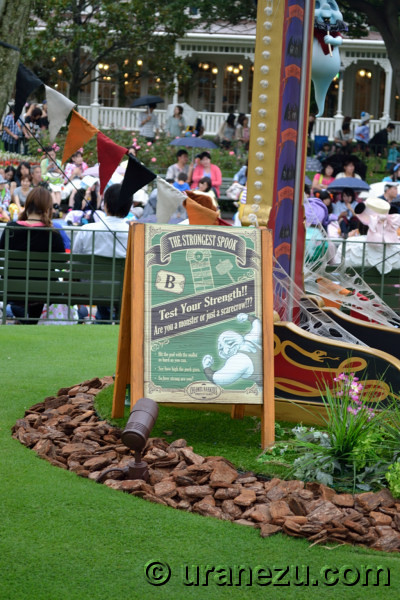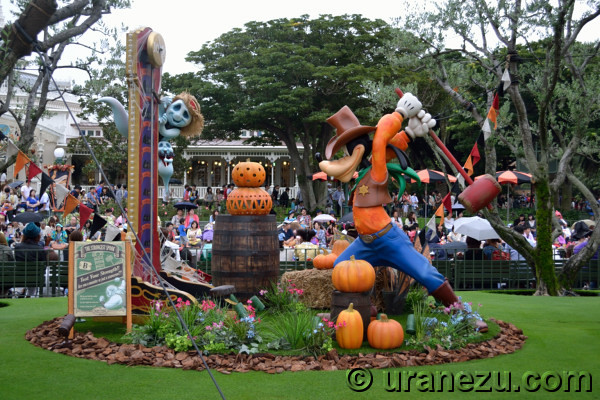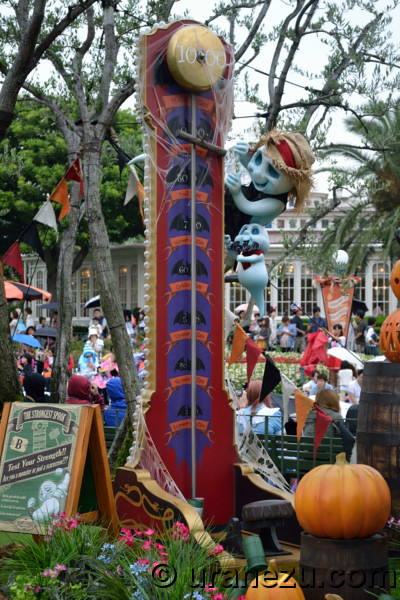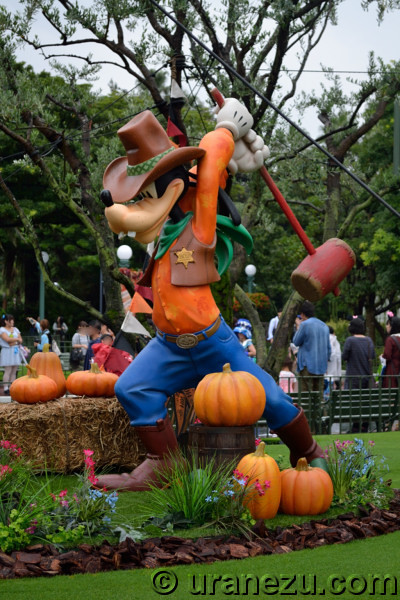 The point & class is; 1000 Monster, 900 Demon, 800 Troll, 700 Werewolf, 600 Goblin, 500 Vampire, 400 Mummy, 300 Scarecrow.
You can take a break with some treats after gaming.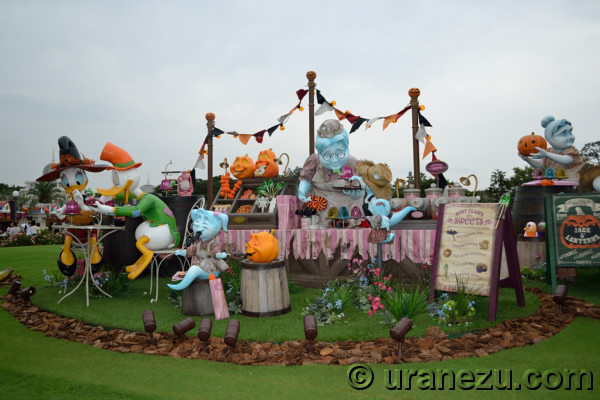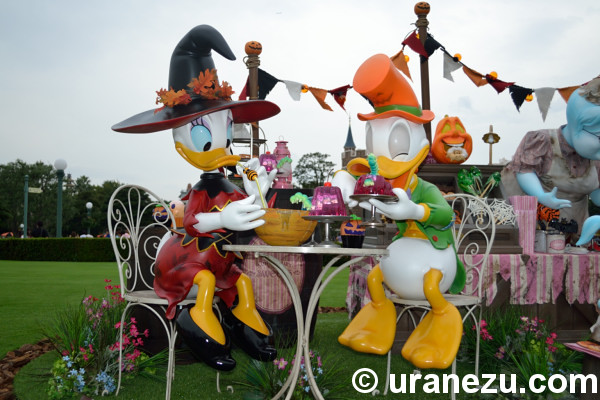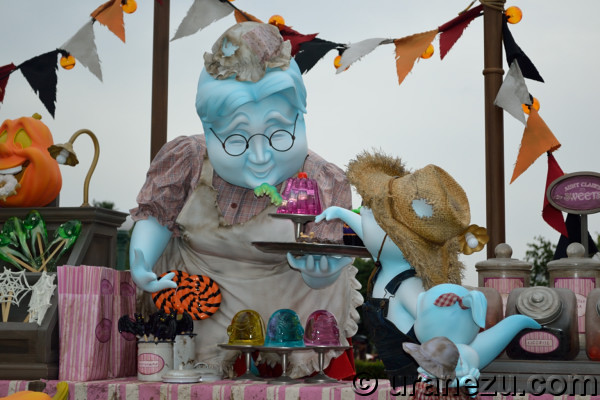 ? There's something funny about the sweets...let's look closer.
Oh, wow! It really looks Timon & Pumbaa's favorite.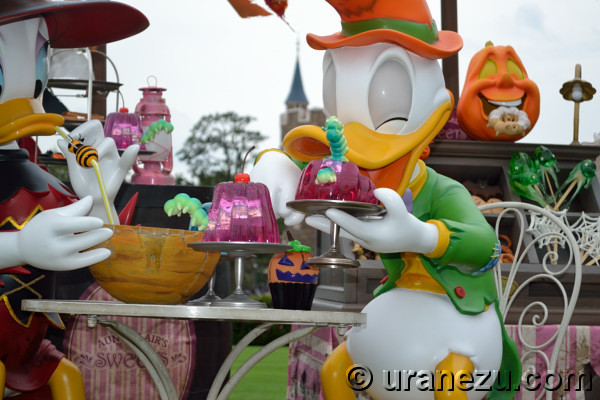 That's really amazing pops! I'd like to frog one. How about you?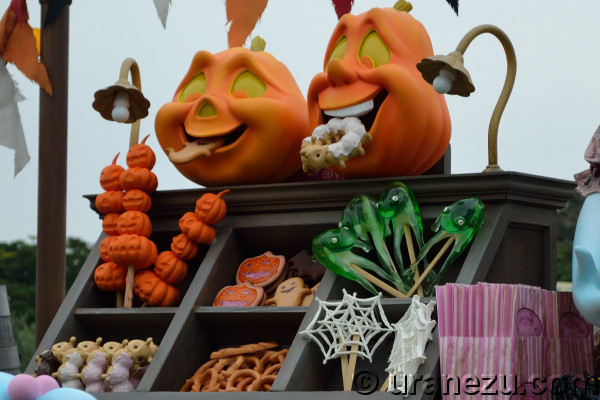 Everybody enjoyed a marvelous treets.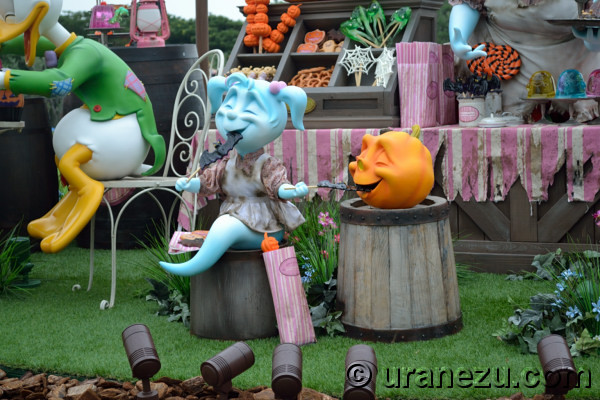 Wow, "Noctarnal Pop"... Is it taste like a shining moon or dark shadow?
Don't worry, there are special Halloween treats for human.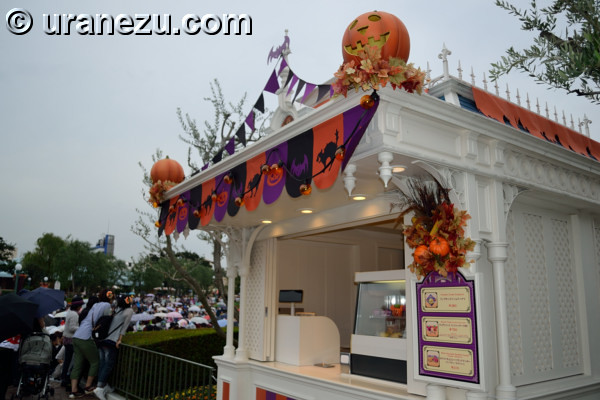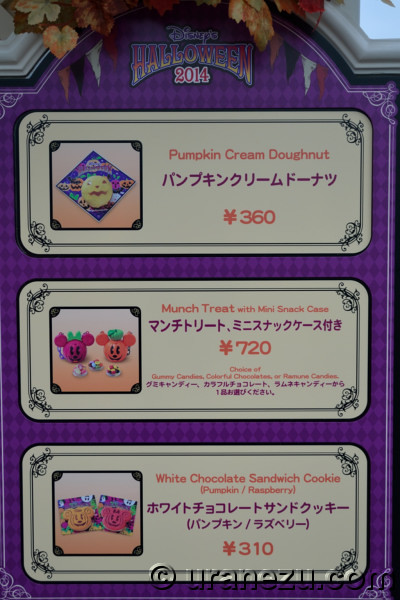 Pumpkin Cream Doughnut 300JPY, Munchy Treats with mini snack case (Gummy Candies or Colorful Chocolate or Ramune Candies.) 720JPY, White Chocolate Sandwich Cookie (Pumpkin or Raspberry) 310JPY.
So let's move on another special halloween park.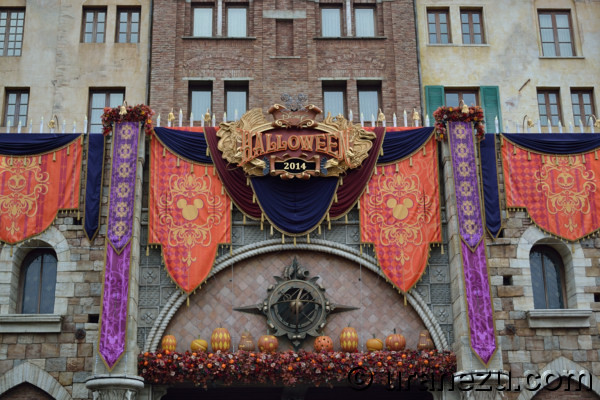 TDS launched completely new Halloween event include some show and greeting which was inspired by 1920s Jazz Age & the Dia de los Muertos(Day of the Dead) the Mexican festival in 2014.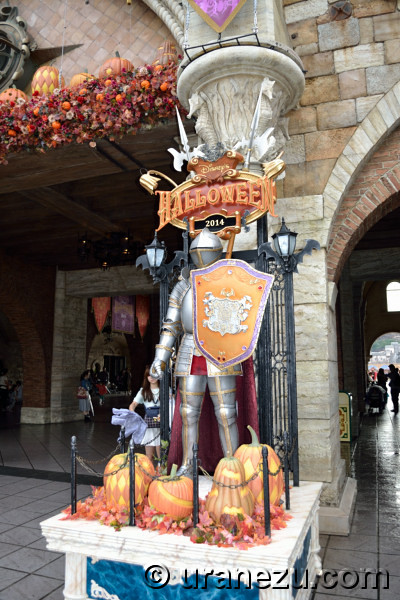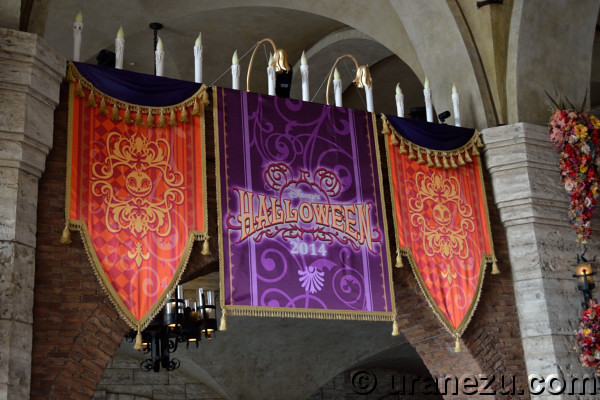 Inside of the Emporio's window, Micney & Minnie dressed as the new special Halloween costume of this year.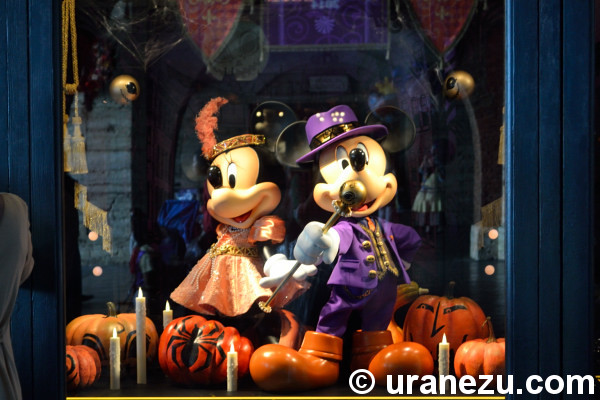 There are main photo location in front of the S.S.Columbia.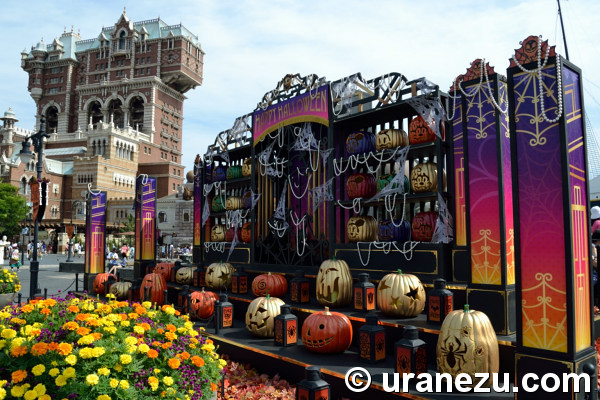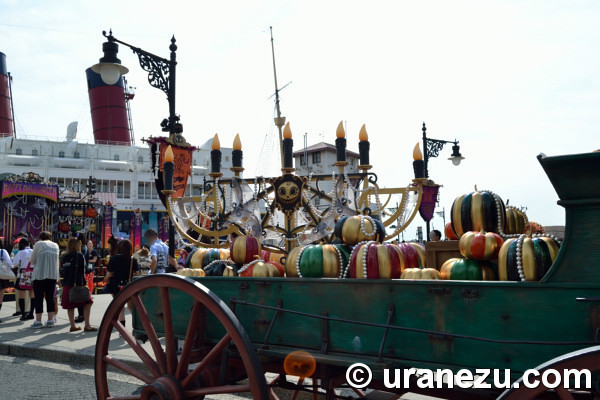 We can't also miss other Halloween special in TDS. Beautiful vegetation with pumpkin, DisneySea Transit Steamer Line with special decoration, and more.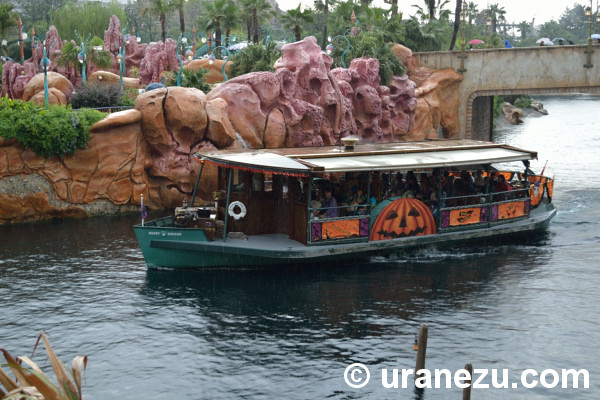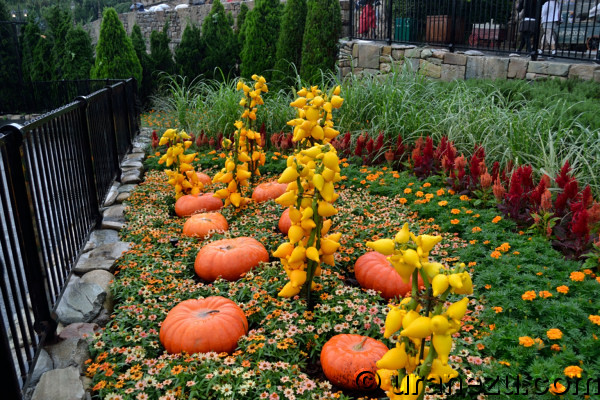 You can buy various special merchandises near this main art of TDS Halloween sign.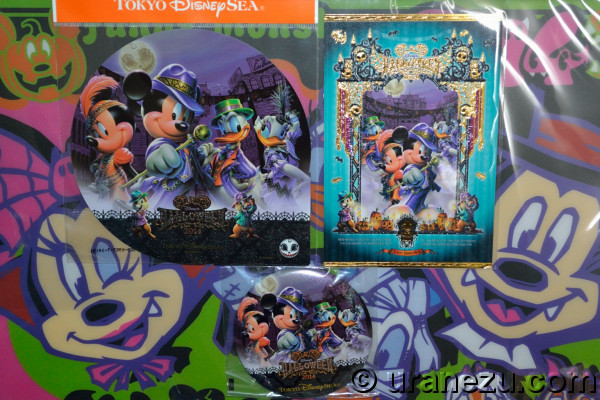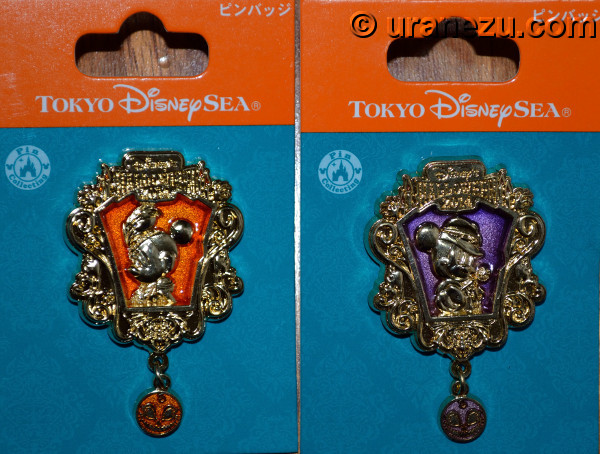 The below picture is TDL merchandises.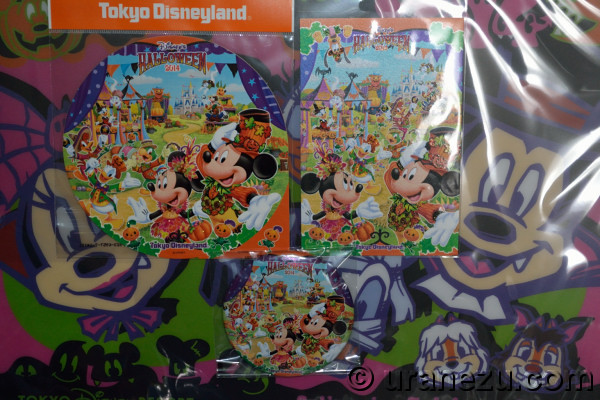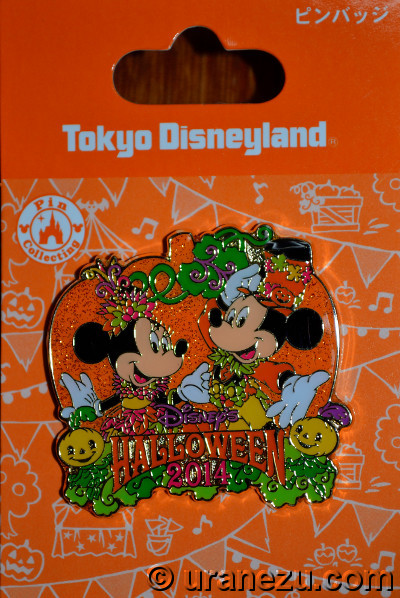 So, let's dive into most horryfing area.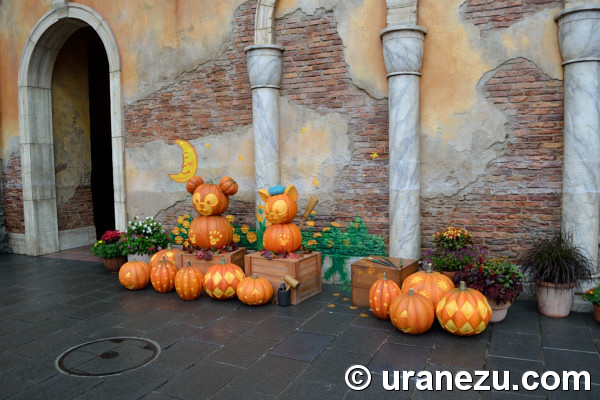 Aside from his painting, he's also well sculptor...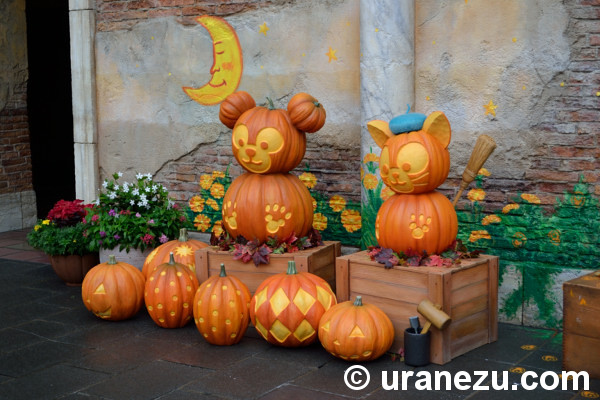 The painting on the stone wall changed smily sun to thoughtful moon and colorful fower to Halloween color calendula. Show-off!

And near this corner, there are his canvas.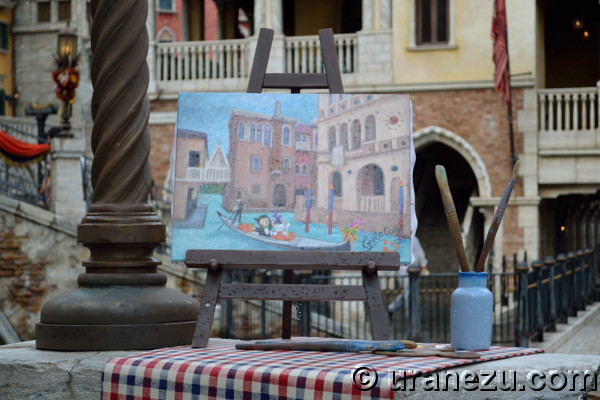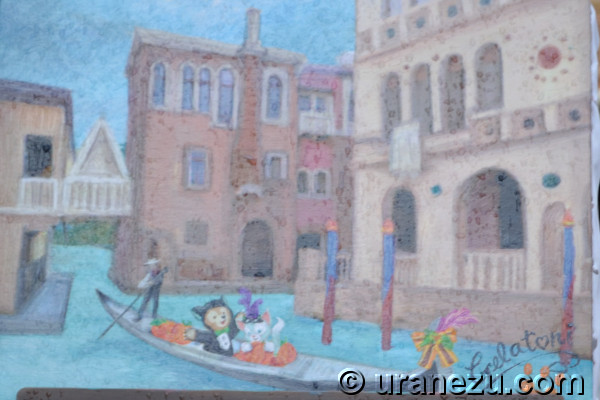 He repainted for this season! You can see his original painting.

AAUGH!!!!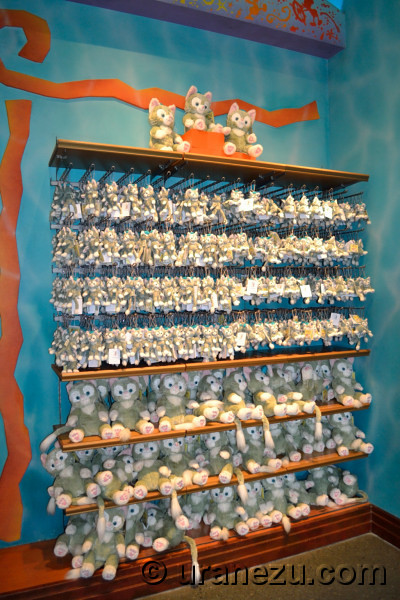 Shall we go back to TDL? It's time to sunset.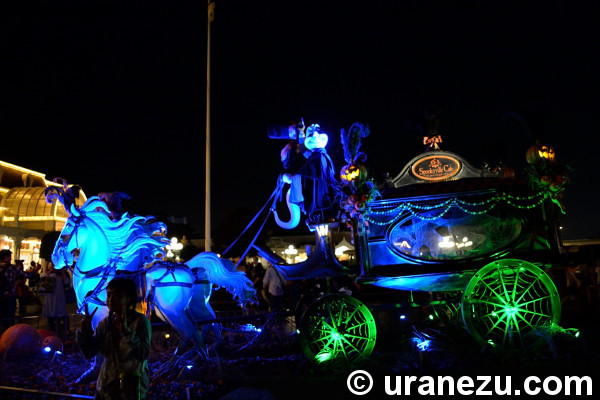 Lick the noctarnal pop? Then let7's go to nighttime Halloween!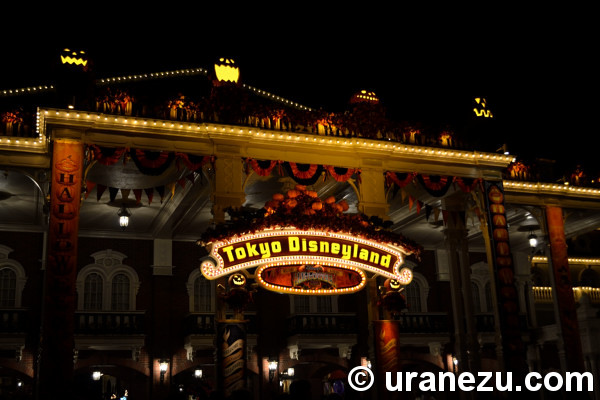 If you have any questions, opinions and requests,
please contact us.
Aug. 07 2014 about Be Coexistent with Once Upon A Time in summer.
Now Disney's Natsu Matsuri the special summer event is being held at TDL.
It's little bit dangerous to stroll around under the burning sun, but you have to visit the park during the summer season. It's worth it! (Of course, don't forget to be stay hydrated and take a rest time to time.) Disney's Natsu Matsuri means Disney's Summer Festival in Japanese, therefore you will be able to see lots of traditional but Disney-like Japanese summer ambience.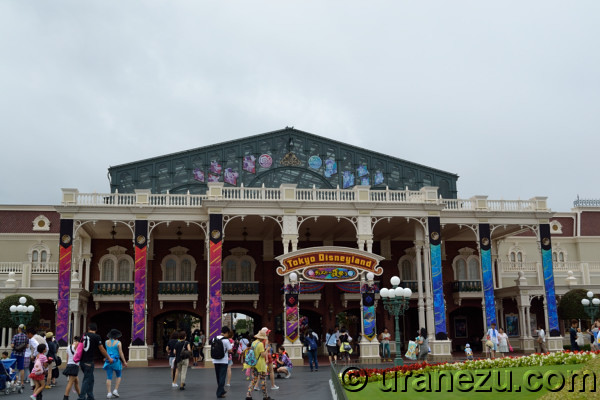 When you through an entrance, you can see the first Disney's Natsu Matsuri decoration.

Disney friends are wearing Japanese traditional summer festival attire.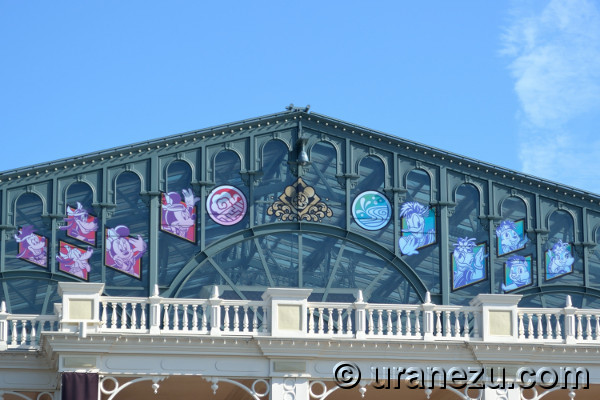 Don't miss them.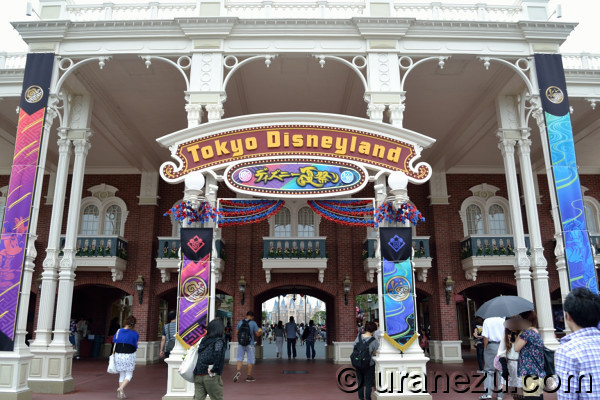 An event sign board of World Bazaar's facade is also Japanese which is only this season.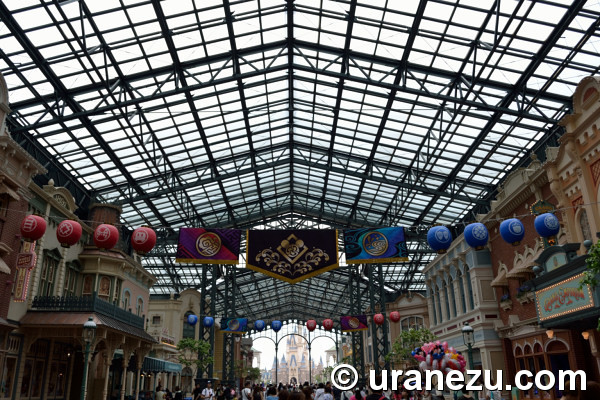 Chochin the Japanese lantern welcome you! It's essential item in Natsu Matsuri the Japanese Summer Festival.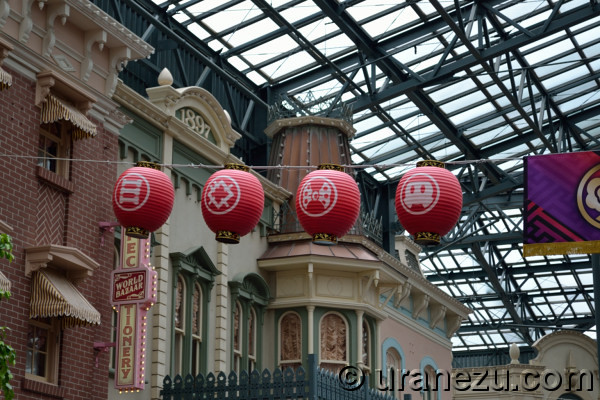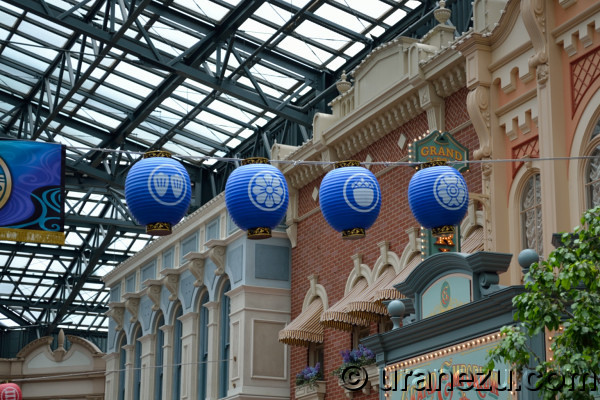 Guess which lantern express Disney friend?
The photo locations of the hub always tell a story. In this summer, the team Donald vs team Mickey gorgeous and cool dance challenge.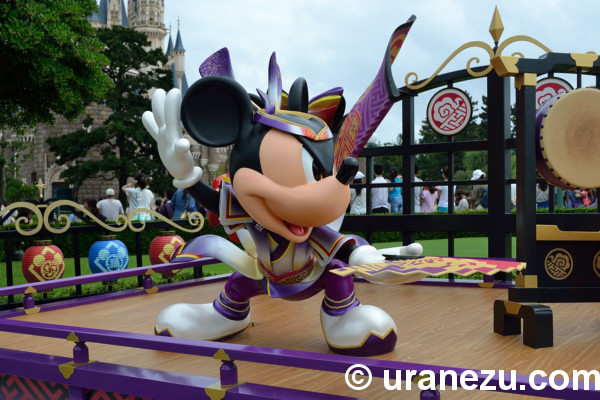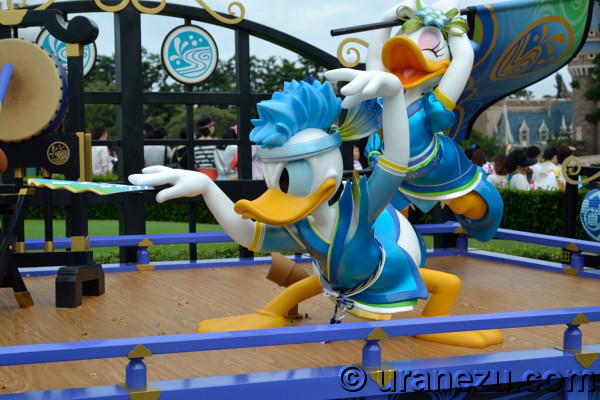 Team Donald with Chip & Dale and Daisy.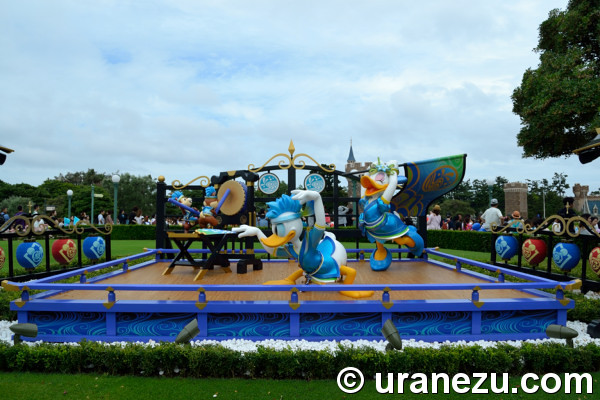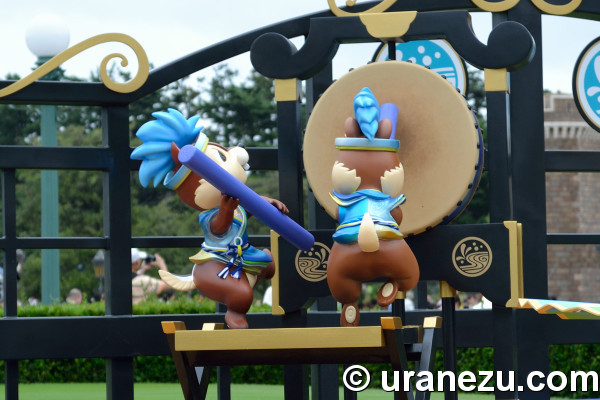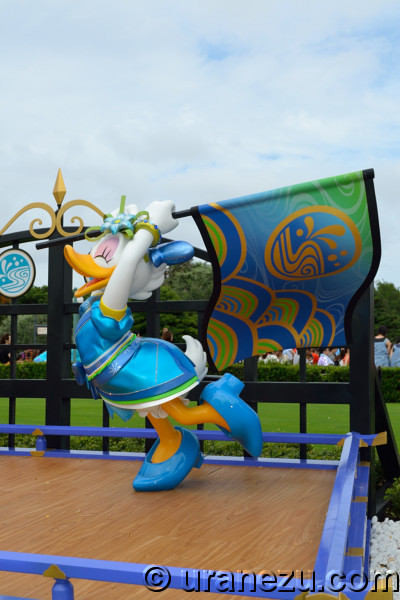 Team Mickey is Pluto & Minnie.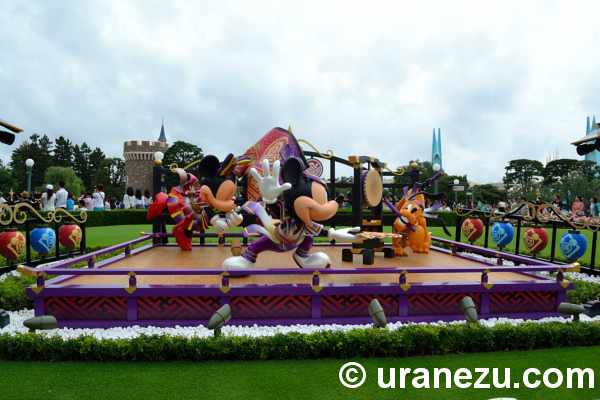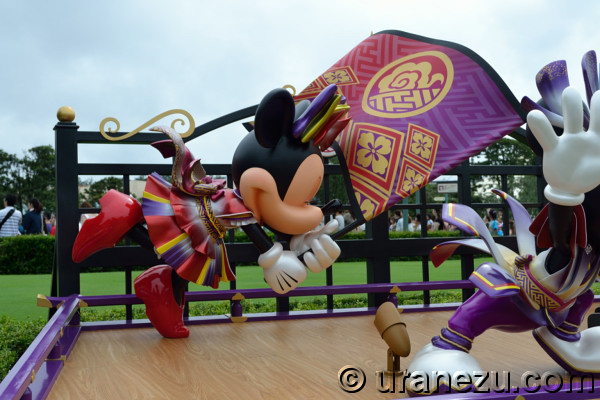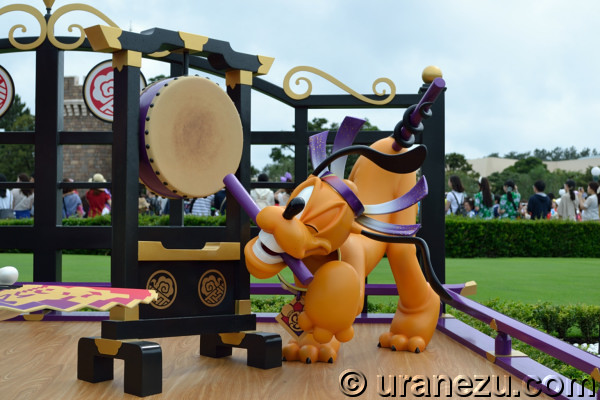 Do you want to participate their exciting dance competition? Don't worry, you will be able to see and dance with them! These dance parades with show take place around the hub in three times in one day.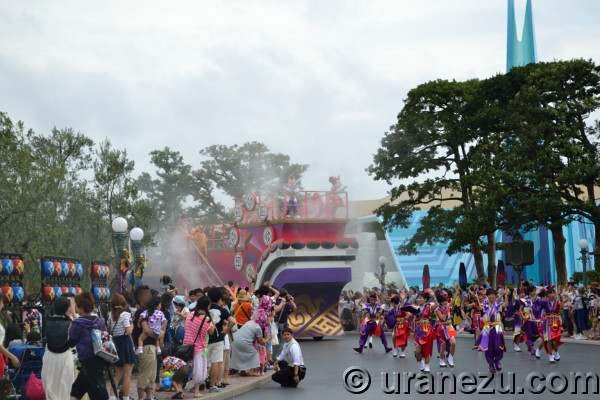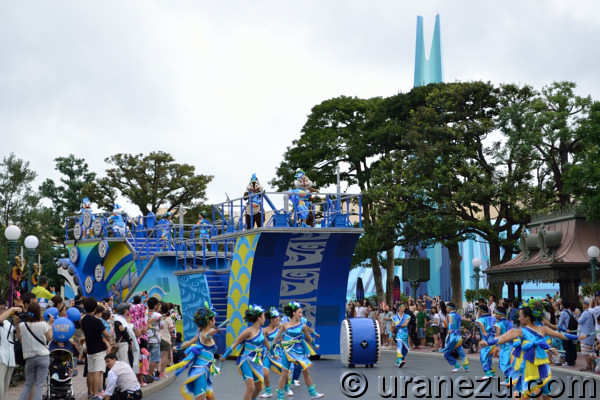 The red float is team Mickey, and blue one is team Donald. This float is very big, wide and very simple because use for the main show as a stage in front of the Cinderella Castle.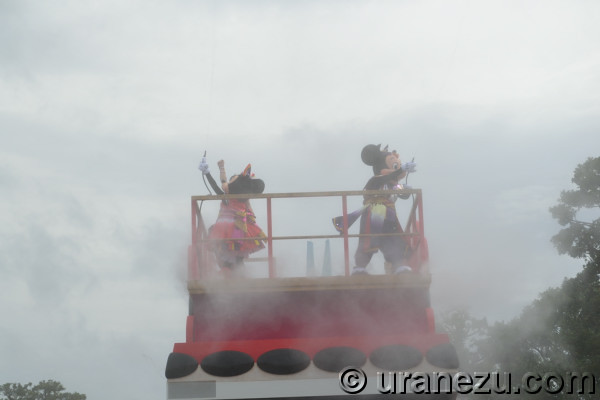 Did you see Mickey and Minnie grab a thin hose? They sprinkle water all over the place. So keep your electronic device or camera inside your pocket or bag.
But Mickey is a gentleman. He never aimed the water at me when I took a photo. Thanks Mickey, but my camera is waterproof. And I would like to get soaked.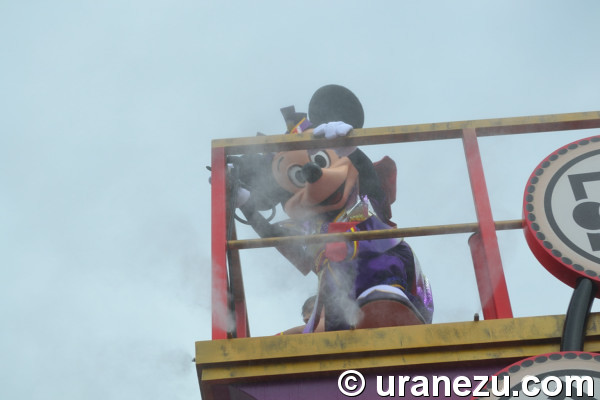 The summer water show at TDL was very popular annual special entertainment, it took place at Castle Forecourt Stage. However another big hit Once Upon A Time the projection mapping show is running in every night, this show use whole building from a bottom of the Cinderella Castle. They have to abandon the stage for the summer. That's why the show uses a big tall and long float for the water show in 2014 season.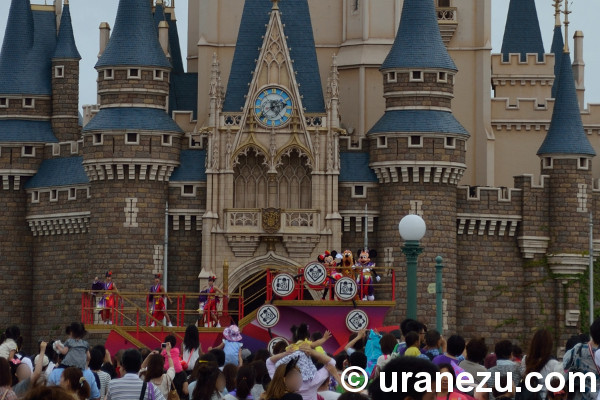 The two big floats come to the hub through the parade route, then the team Donald float stop and make a dance performance in front of the castle first, and another float, team Mickey go round the hub and sprinkle the water to the guests during all that time. After that team Donald float is pushed away from the center of the castle, and they change the position. The show composition is very well. This stop and go parade with show gives many guests who fail to get a good viewing area at the castle a chance to see Disney friends.

The unfortunate thing is that a water dosage in the show. The water is shot out from the float, but it isn't come up to the quantity of water from a stage in the past years. I miss a big splash so much.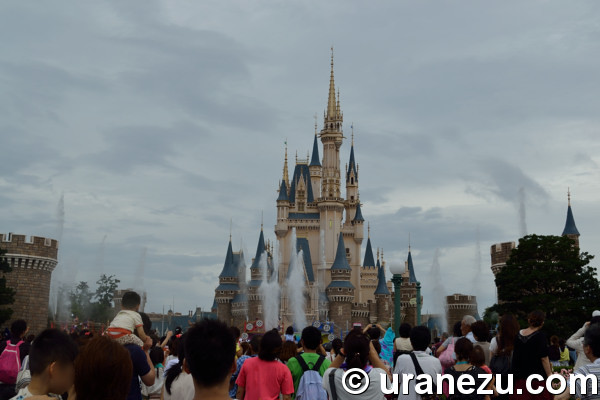 It's little bit difficult to coexist with Once Upon A Time.

(The lantern answer: Red lanterns from left are Pluto, Goofy, Minnie, and Mickey. The blue lanterns from left are Donald, Daisy, Chip&Dale, and Clarice.)
If you have any questions, opinions and requests,
please contact us.
Jul. 09 2014 about Goodbye Good Old Days... and Ciao Gelato Gatto!
You love Duffy & ShellieMay! He loves Duffy& ShellieMay! She Loves Duffy& ShellieMay! Everybody love Duffy& ShellieMay! Hooray!! (Please forget me now.)

Now new friend of Duffy was launched (I hope it launched it into outer space literally. Oh forget it.) at TDS.

His name is Gelatoni the cat. He loves paintings. That's good!

All jokes aside, TDS had an exaggerative constructs for the debutante of this completely new pretty character. They took about a month for the first appearance. They used various tools as TDR official twitter and their website. And of course, TDS the park itself.

They set a location for Gelatoni the new character at one of the corner of Mediterranean Harbor, the Venetian side near "Venetian Gondolas" the attraction.

This area has a beautiful water fountain surrounded amazing scenery. It was a quiet and nice area.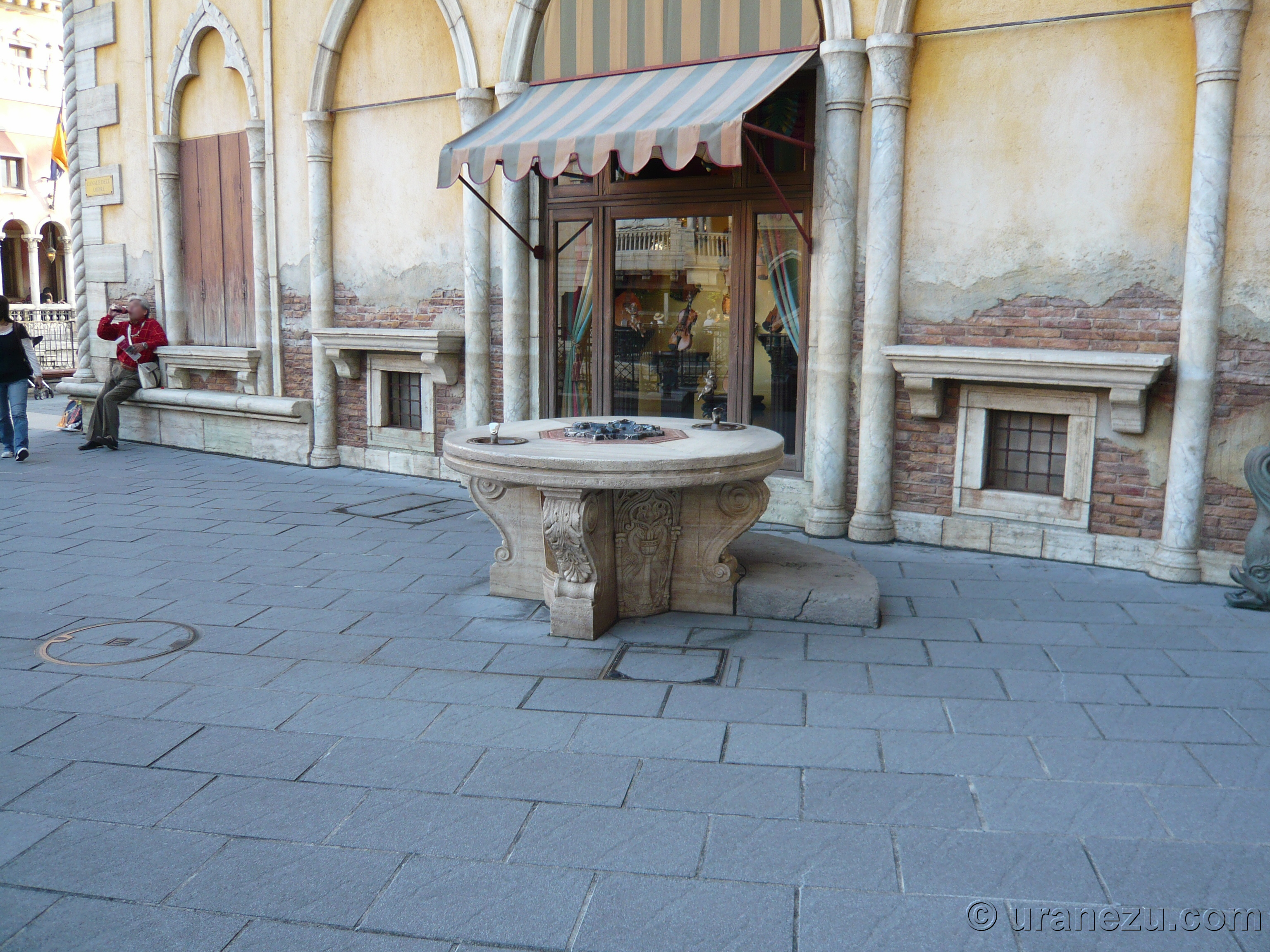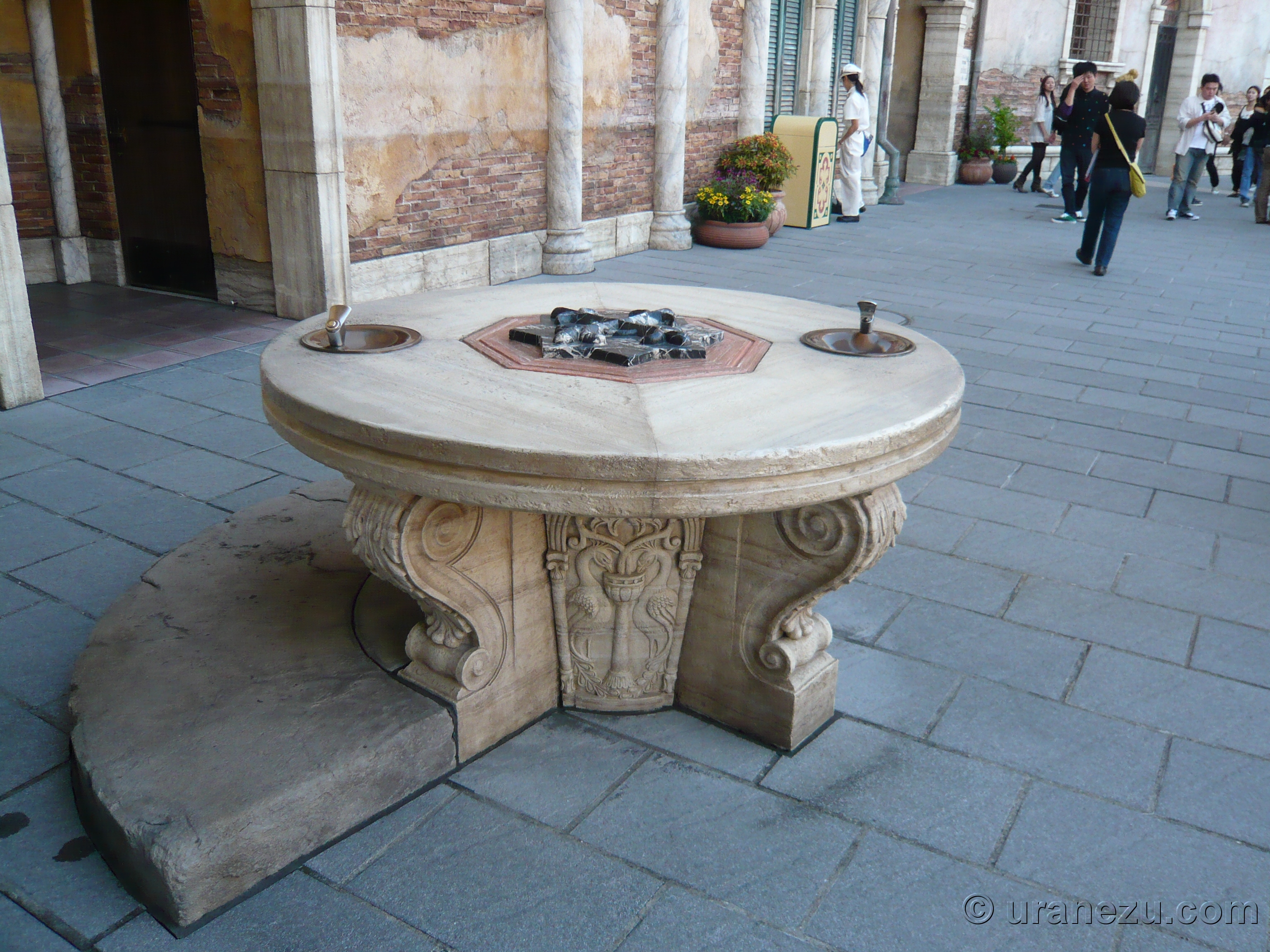 They used a wall as a canvas for Gelatoni's unveiling.


First painting was Duffy with gelato on the wall.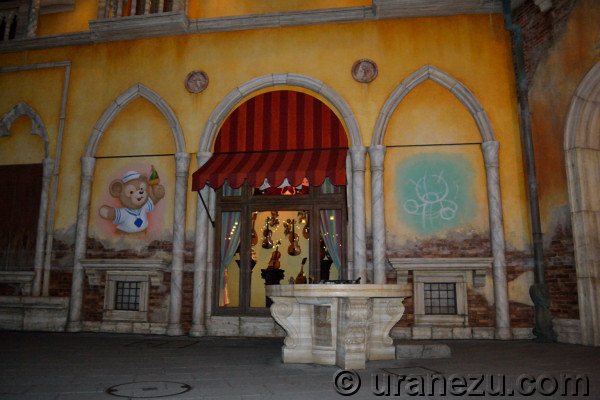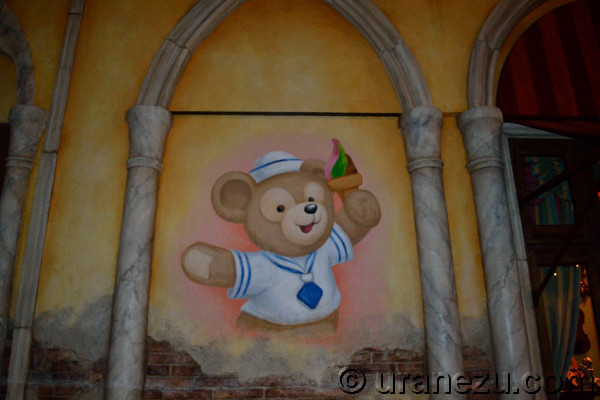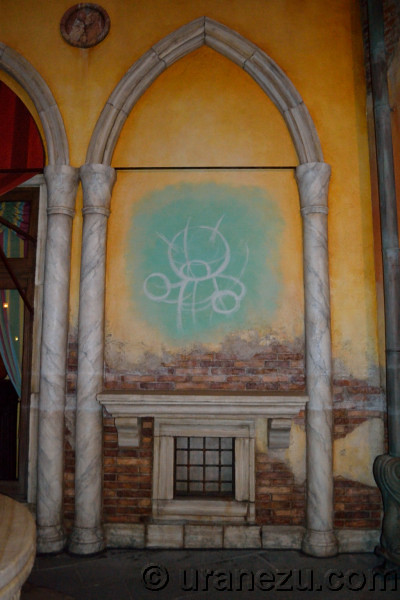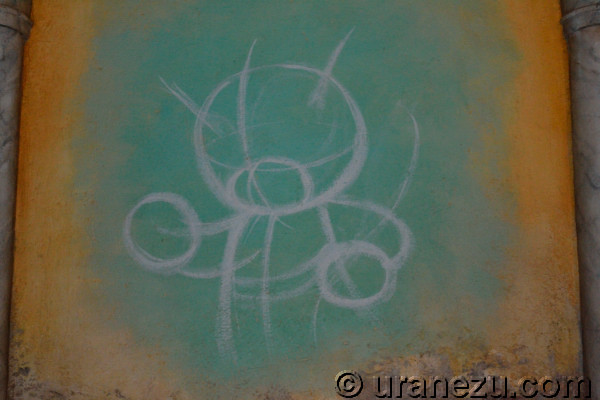 His portrait was veiled at first.
Also shiny smily sun and verdant bushes and flowers picture appeared on the other side of the wall.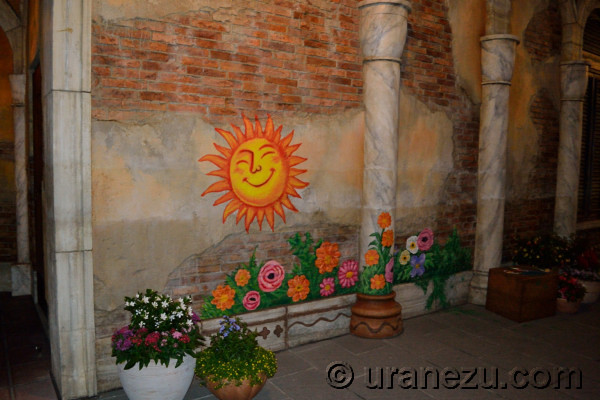 Some drawing tools and crate with handprinting was appeared near the wall.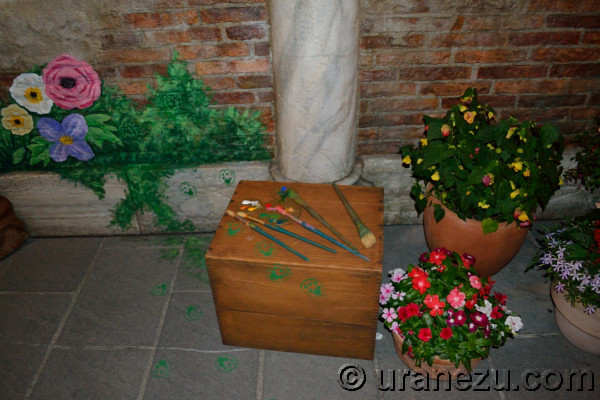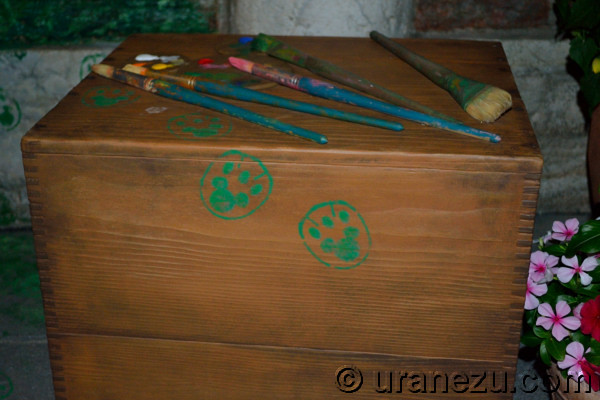 And there are one painting near a canal. I guess it unfinished.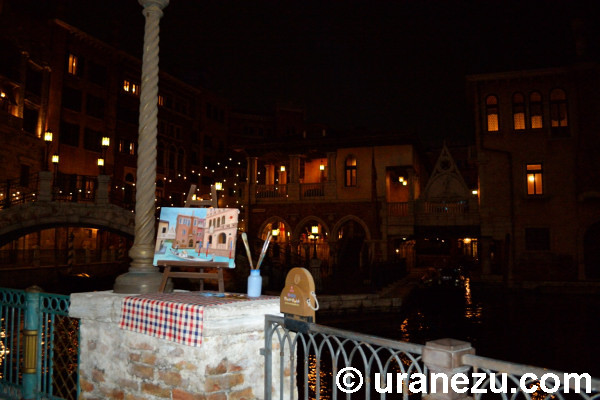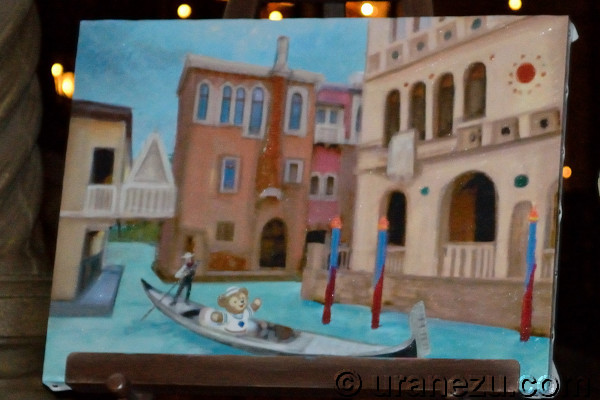 And after few days, the wall changed and foward to a final shape little by little.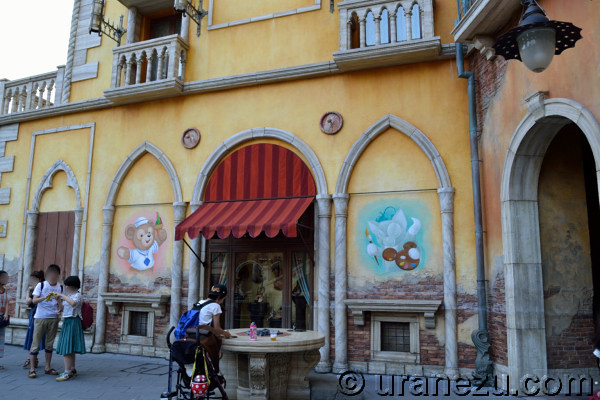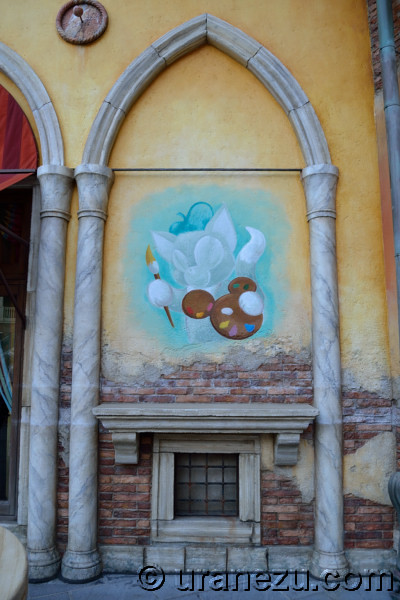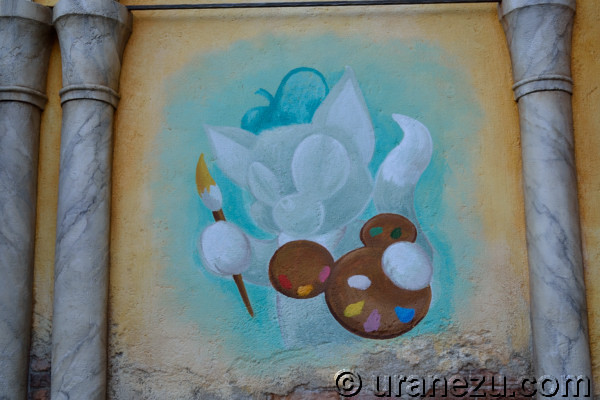 Finally, Gelatoni reveiled himself on 4 July.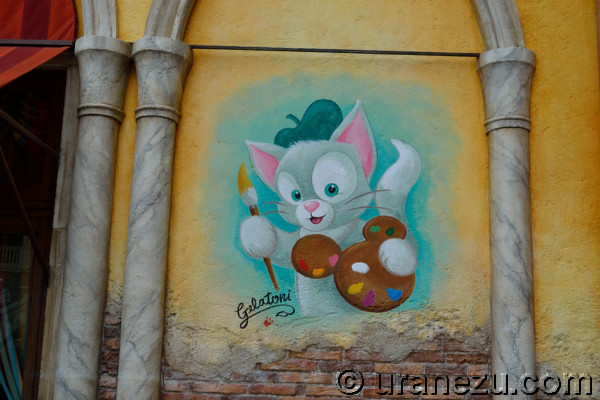 Gelatoni have a blue eyes, and his fur is a blue-greenish gray with blue beret on the head. Most characteristic his part is fluffy tail which can turn into a paint blush.

The painting was completed, too!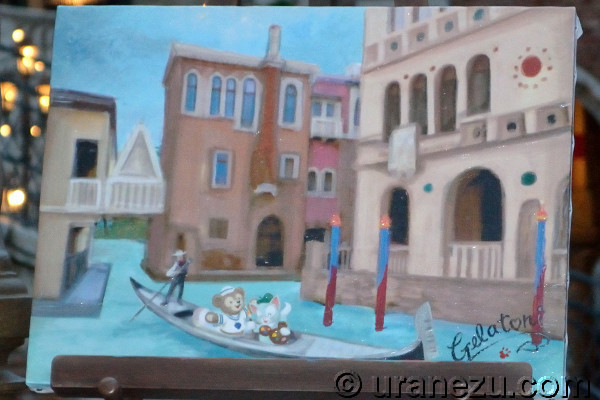 The story of Gelatoni introduced 4 pictures.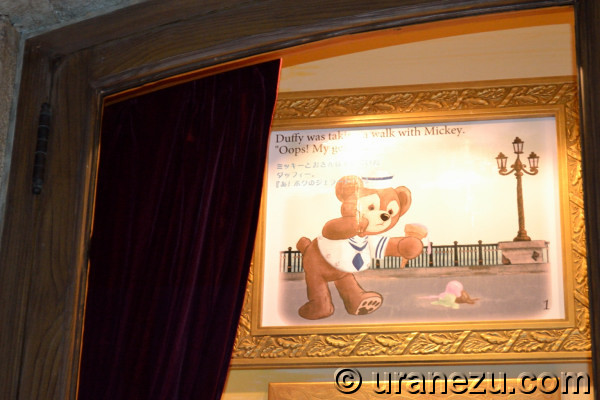 Duffy was taking a walk with Mickey. "Oops! My gelato!"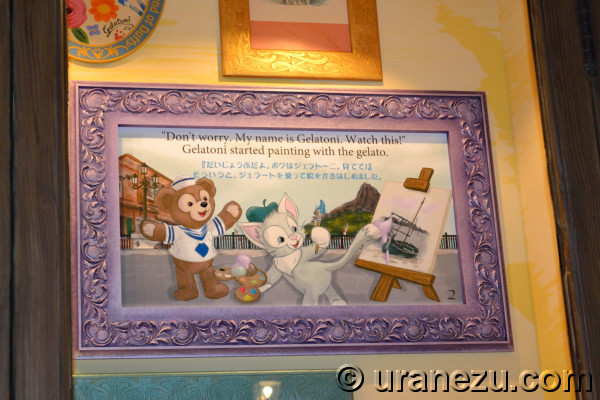 "Don't worry, My name is Gelatoni. Watch this!" Gelatoni started painting with the gelato.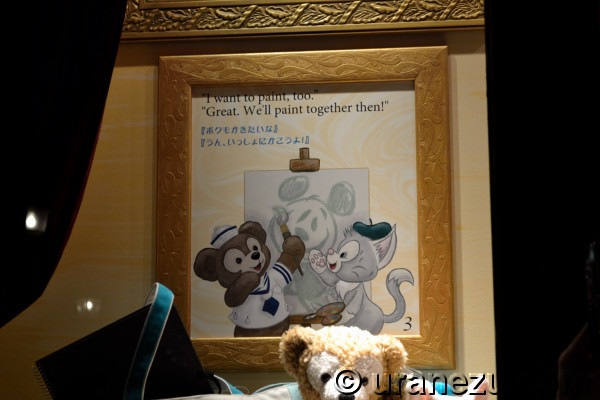 "I want to paint, too." "Great. We'll paint together then!"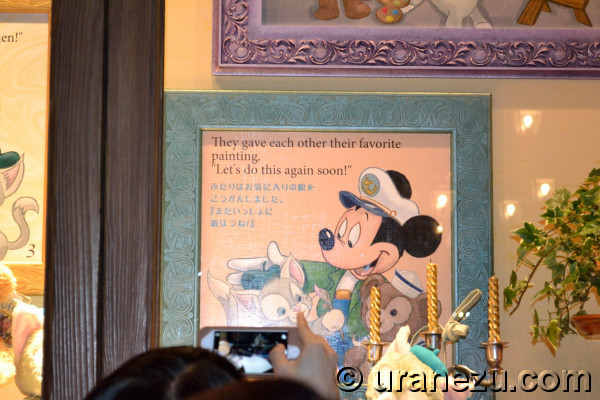 They gave each other their favorite painting. "Let's do this again soon!"
Most guests queued and waited to enter the store to buy new Gelatoni merchandises on the very first Gelatoni items launched day.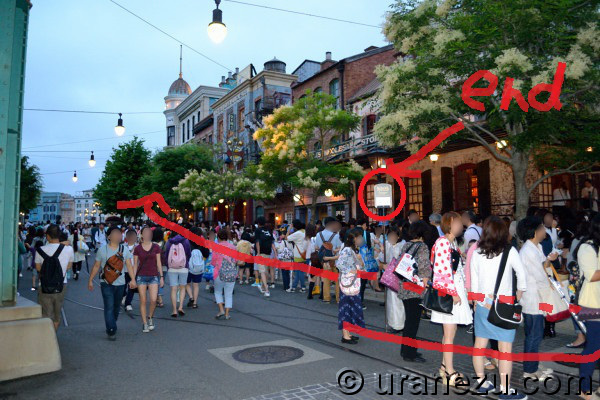 The queue line of "McDuck's Department Store" the one of the Gelatoni items available shop.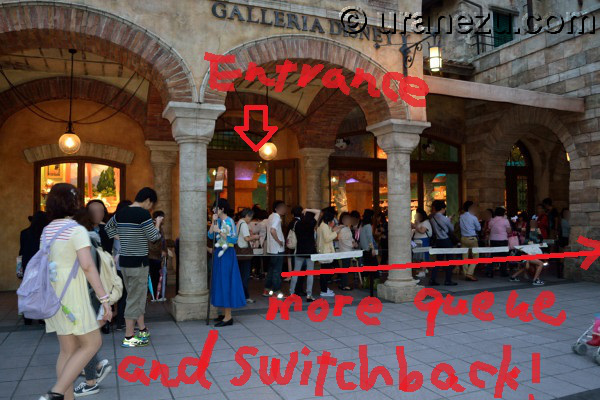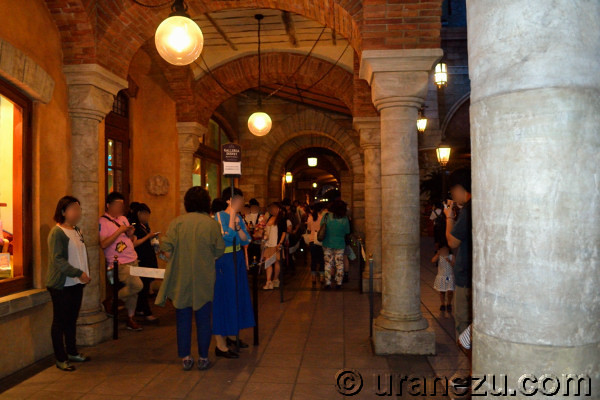 This was from "Galleria Disney" the another shop.
We can meet many "character"s at the park, but they have their own great background as a film or tons of short animation series. The way these character's walking, talking, and every single move built on the great masterpiece with fantastic creators, like supervising animators, voice actors & singers, all of the people who devoted the movie. We can see the character's charm from the beautiful trust. I think many Disney geeks see the character through these things. That's why we love character at the park.
The new "character", Gelatoni the Gelato Gatto's appearance at TDS gave me a great opportunity to recognize how good old characters wonderful are. I hope many guests watch more Disney movies and love the character deeply. Am I say too geeky?
But it's OK, uranezu.com is geeky site, you know!
If you have any questions, opinions and requests,
please contact us.
Jul. 04 2013 about Disney's Tanabata Days the Star Festival
Now one of the short but popular for Japanese annual event is coming back to TDL. It's celebrate for Tanabata the star festival. Recently, the event will be held one week longer than in past years by considering the popularity. And more, the same event take place at TDS from this year. 2014 Disney's Tanabata Day's the Star Festival will be held from JUN 24 to JUL 7 at both parks.
First, I would like to introduce Tanabata Day's at TDL.
There are typical Tanabata decoration, bamboo wishing tree in World Bazaar.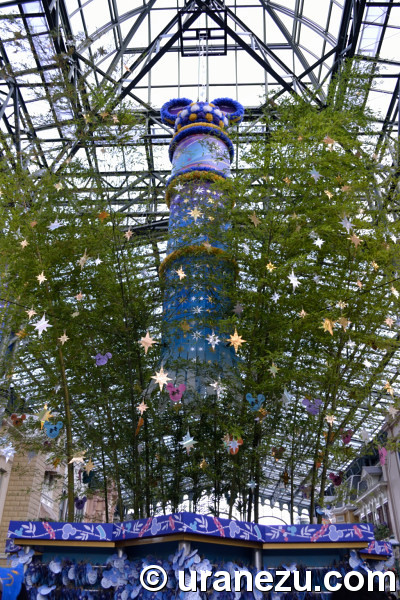 Let's receive a special Mickey-shape wishing card from a cast member.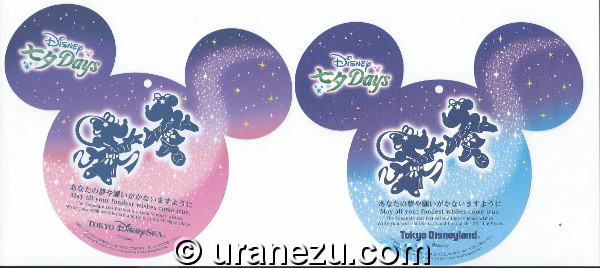 And then writing your wish on the beautiful card (Typically the wishing card is a simple rectangle piece of paper.) and hang it on the bamboo tree!
The beautiful wishing card casts wear a Yukata the Japanese traditional summer attire.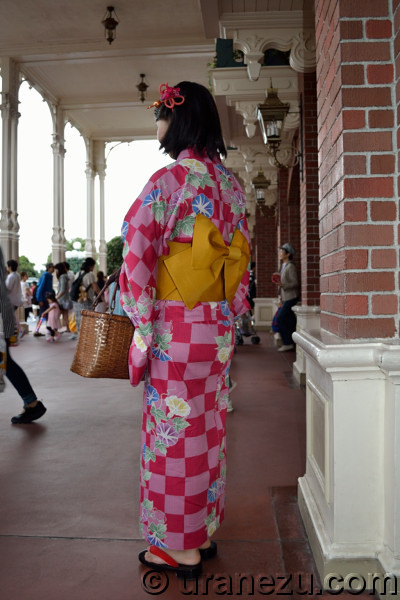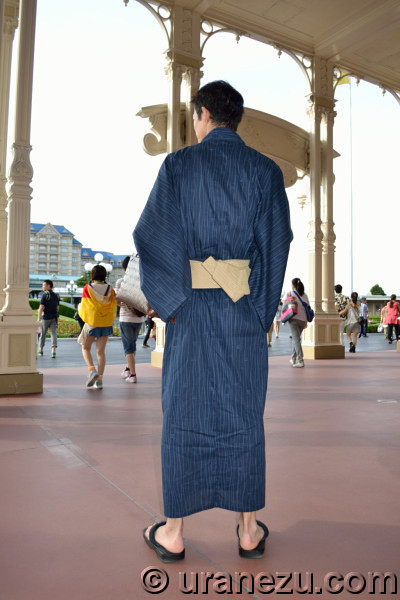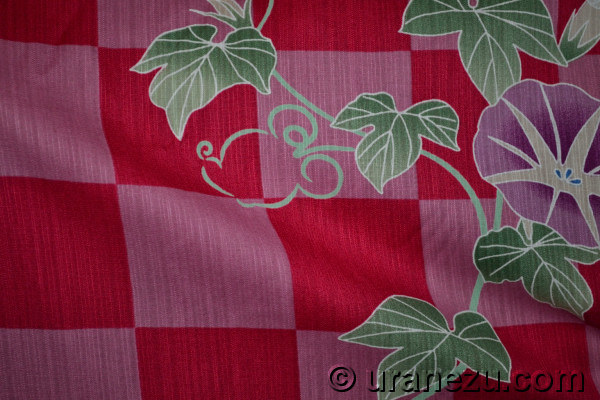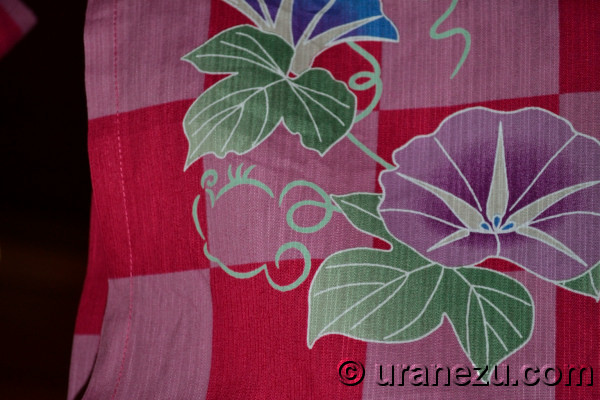 A Morning Glory design of the yukata is very beautiful and have a sense of fun. It's a special costume and we can see them only in this event. Can you see? There are Mickey and Minnie.
Let's sneak a peek at Disney pals' wishing card.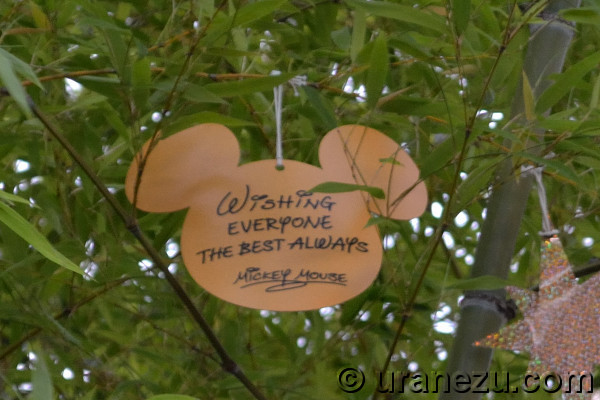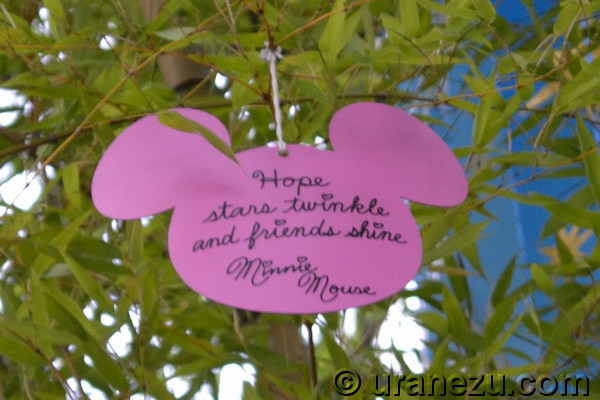 Mickey's wish is really universal benevolence as a leader. Minnie uses prettily-worded is kawaii!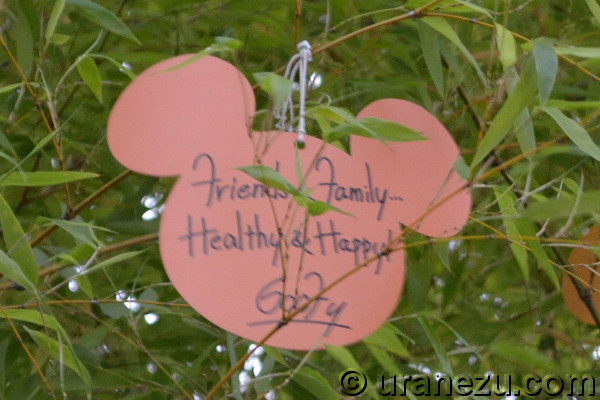 Every year Goofy's wish is simple but touching.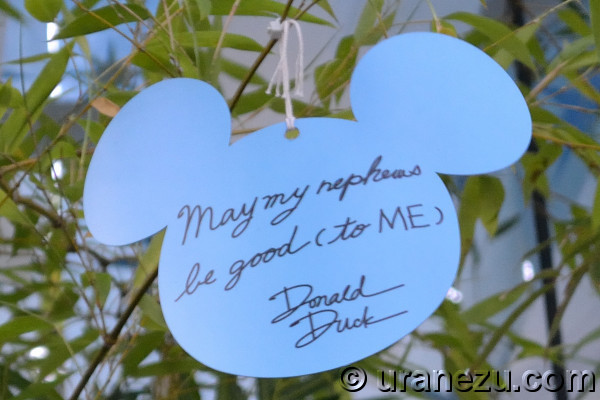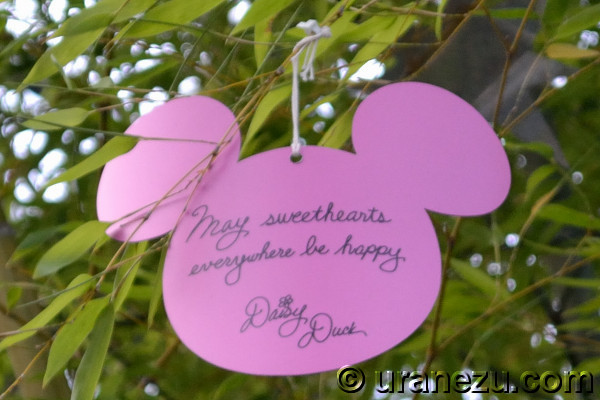 I always enjoying Donald's, his 2014 wish made me giggle.
My greatest care is in the event is...Pluto's wishing card.
This year's his card is...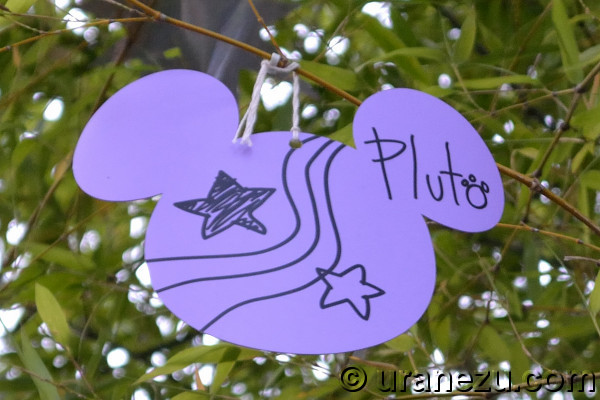 I know Pluto is a gifted dog with art, in this year 2014, his theme is the legend of Tanabata. Hikoboshi the prince as the black big star and Orihime the princess as the small white star face each other across the milky way. You are wonderful Pluto!!

Do you want to see their wishing cards in last year, 2013?
So let's move on to the same event at TDS. I's a first year Disney's Tanabata Days held in TDL. A wishing place the tanabata star festival decoration is located in American Waterfront.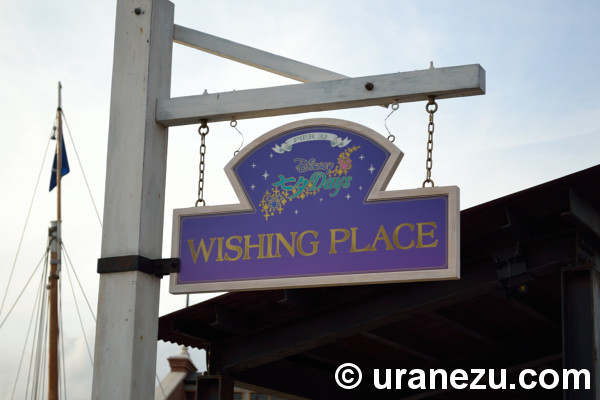 It's narrow but quite nice ambience.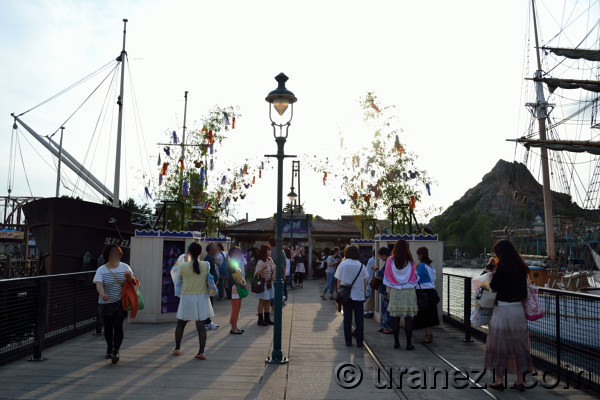 We can enjoy Duffy's & Sherry May's wishing cards only at TDS.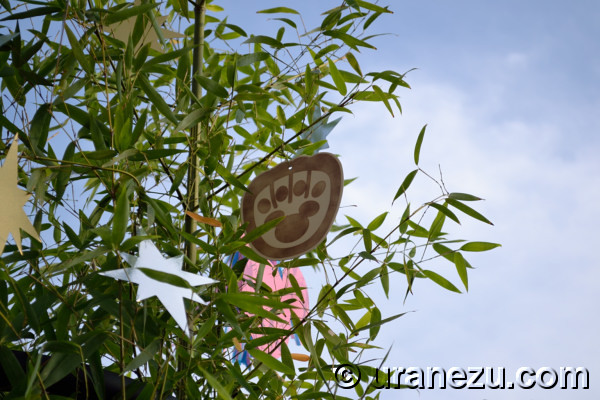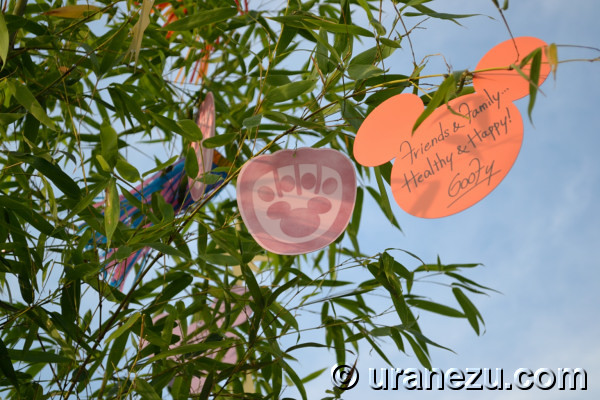 But unfortunately, there are no message or wish at all. They should follow a good example, PLUTO!
TDS cast members at the Wishing Place wear blue Yukata.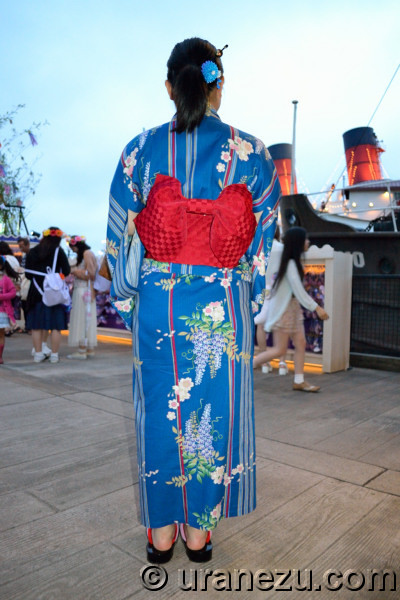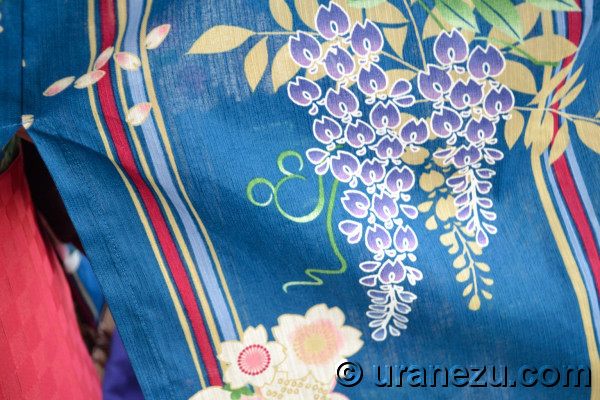 A beautiful Japanese wisteria with Mickey-shape vine.
It's bad angle, but you will be enjoy an atmosphere of Tanabata Greeting the special small show.
In TDS,
In TDL
Here are some merchandises of Disney's Tanabata Days 2014.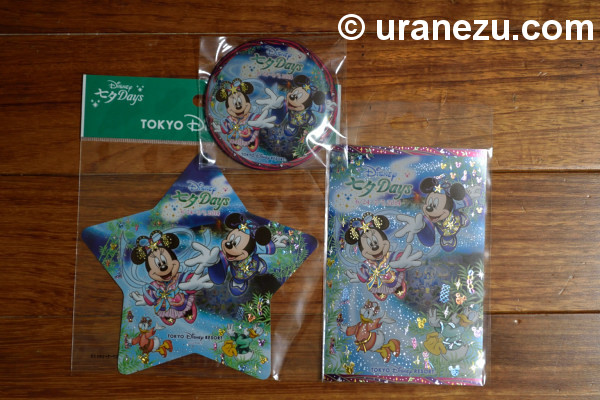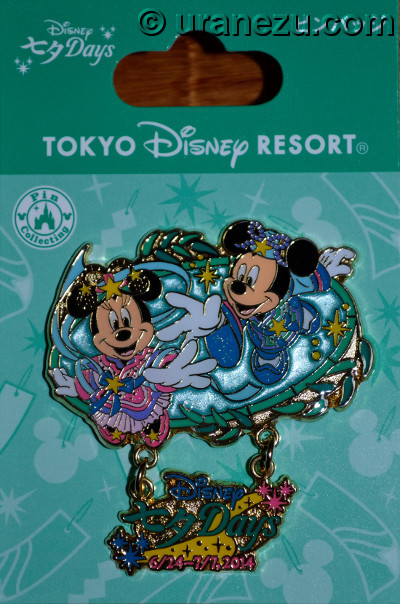 A blue-greenish design is a perfect shade for the star festival.

These event location will be more romantic at dusk.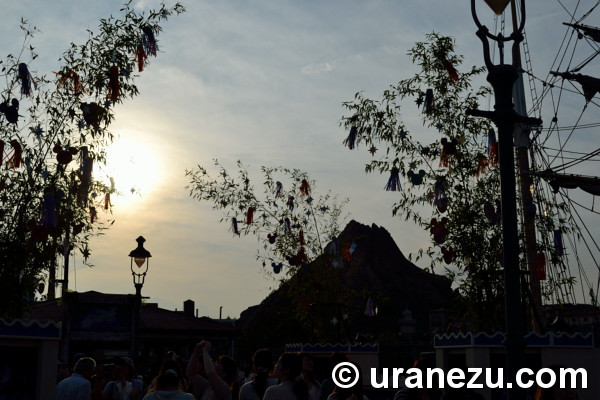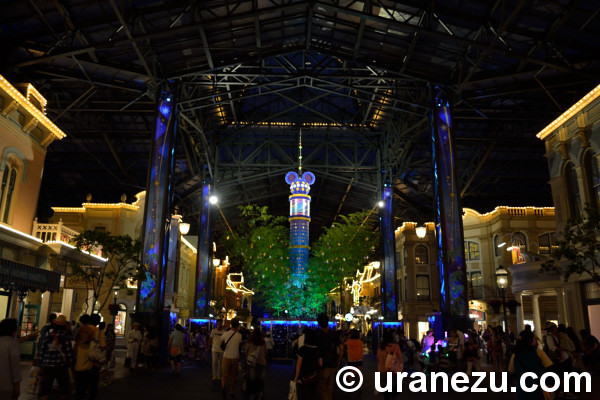 Actually date of Tanabata is 7 July, so have a nice & romantic Tanabata night!
If you have any questions, opinions and requests,
please contact us.